At 14,003 feet above sea level, Huron Peak just makes the list as an official Colorado 14er. The trail up to the summit is no easy task though as you need to navigate over 3,500 feet of elevation gain through the forest and then up the ridge line.
But from up top, you get some of the best views that a 14er can offer. With vast mountains in every which direction including the famous Three Apostles right out in front, it's these views that make the climb that much more worth it.
This guide will give a full breakdown on how to take part of a hike up Huron Peak. From getting to the trailhead to hiking statistics, read on to learn everything there is to know about the Huron Peak hike.
* Affiliate Disclosure: This post may contain affiliate links, which means I may receive a commission if you make a purchase through the links provided, at no additional cost to you. Thanks for supporting the work I put into TripTins!
1) Huron Peak Overview & Stats
Before diving into the hike, below are some very important things to know about the climb that I will talk more about through the remainder of this guide.
Mountain Name: Huron Peak / Mount Huron
Mountain Range: Sawatch Range
Trailhead: Clear Creek / South Winfield Trailhead
Huron Peak Elevation: 14,003 feet
Huron Peak Class: Class 2
Distance: 7 mile round trip (upper trailhead) / 11 mile round trip (lower trailhead)
Elevation Gain: +3,500 feet (upper trailhead) / +3,800 feet (lower trailhead)
As you can tell, there are two main trailheads for the hike. Choosing your starting point will all depend whether or not you have 4WD. I will go into more detail about the trailhead in the next couple of sections.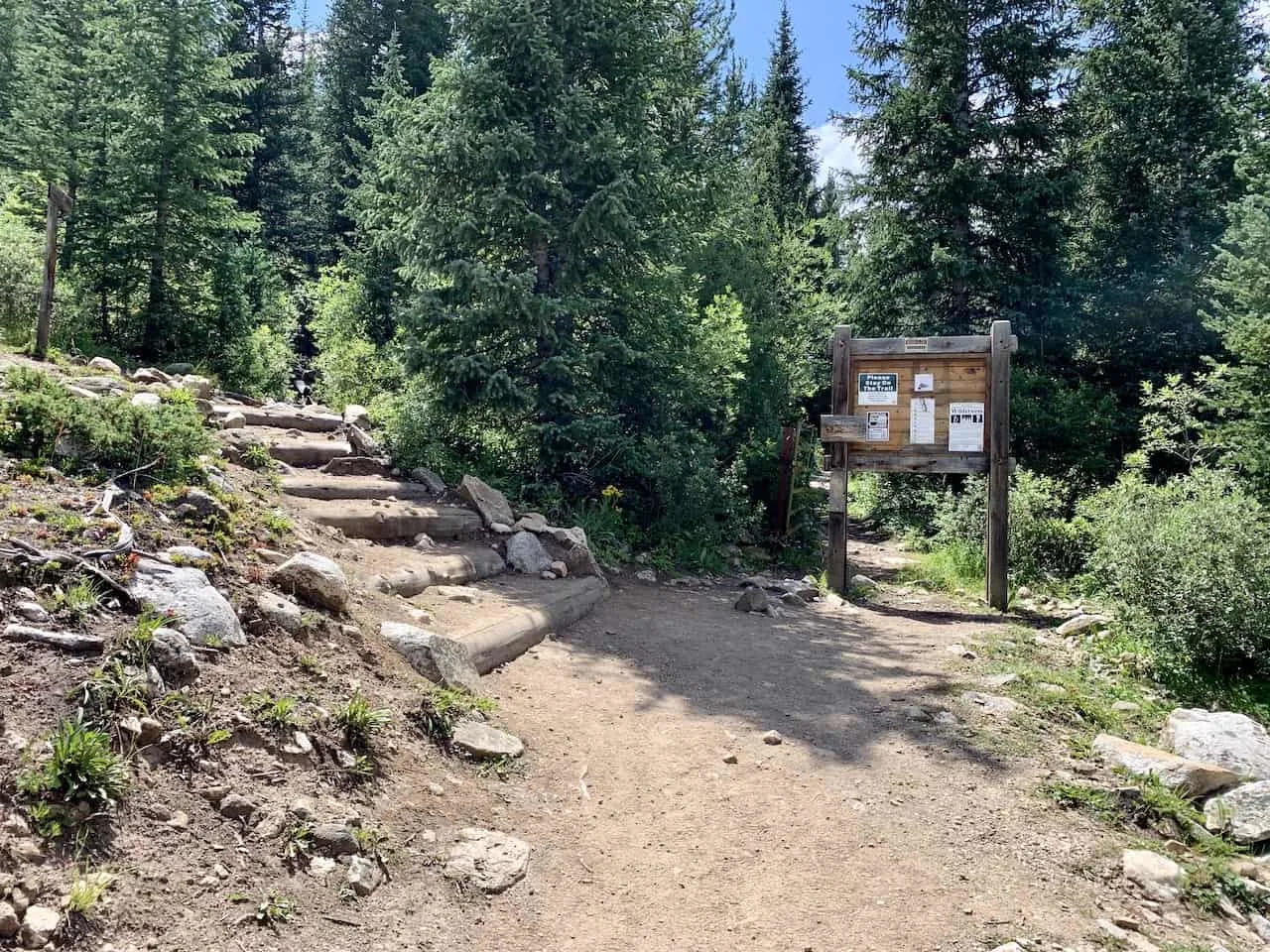 2) Hiking Map & Elevation Gain Profile
Below you can find a hiking map and elevation gain profile for the Huron Peak hike. As you can see it is pretty much a straight climb up and down, with plenty of switchbacks along the way.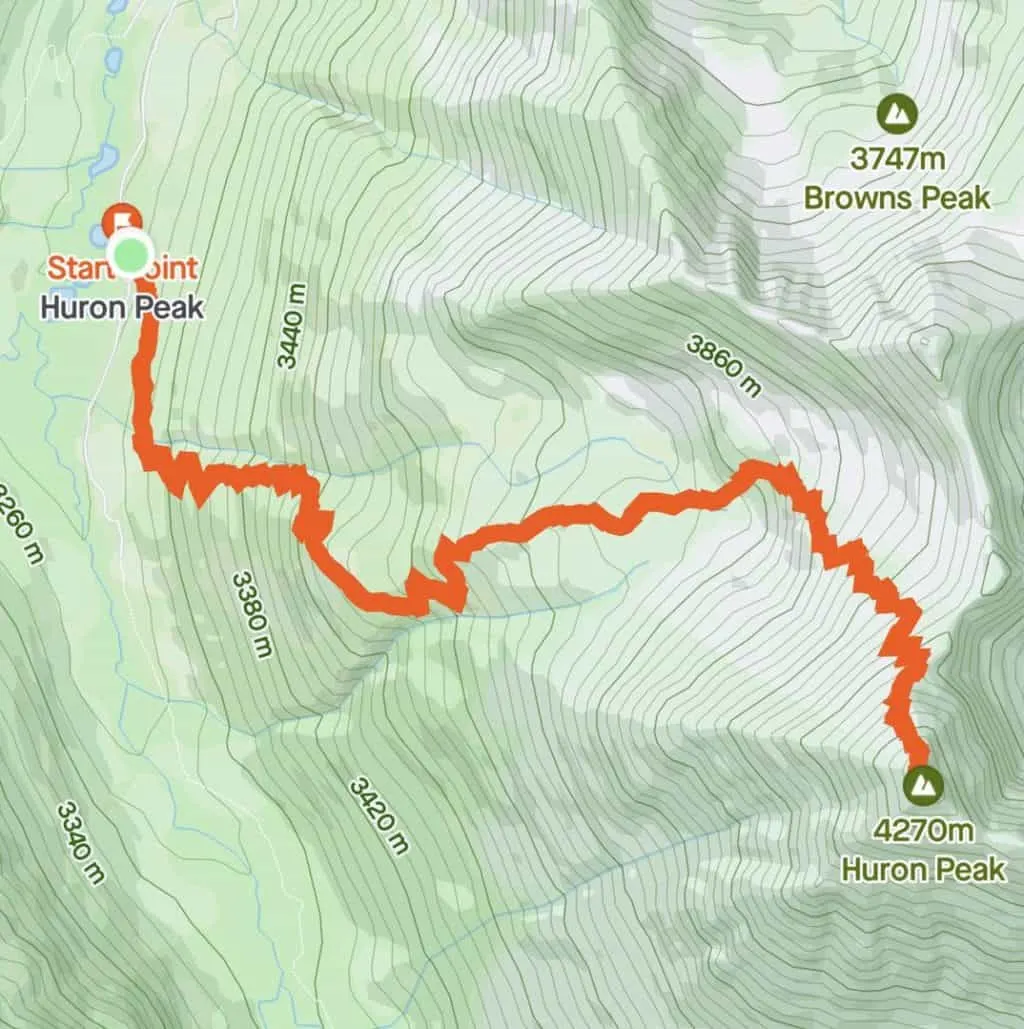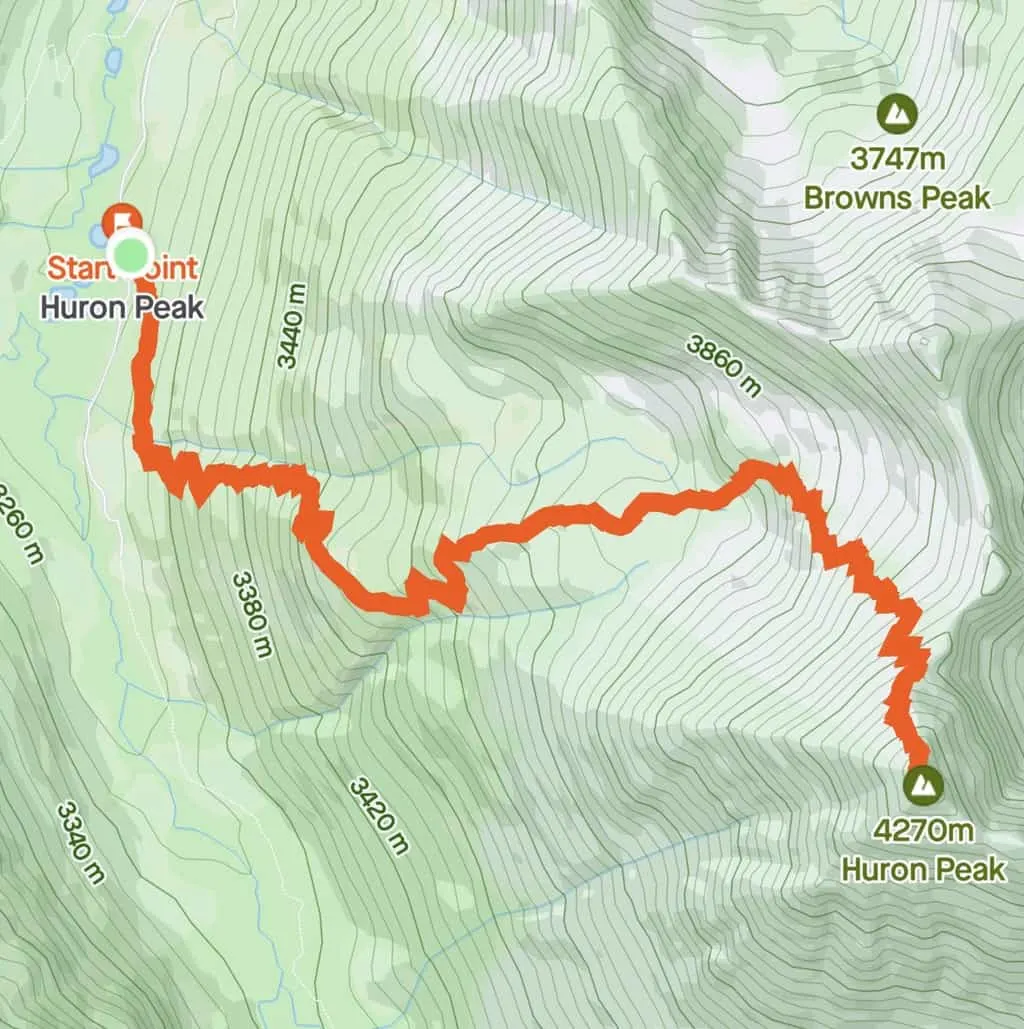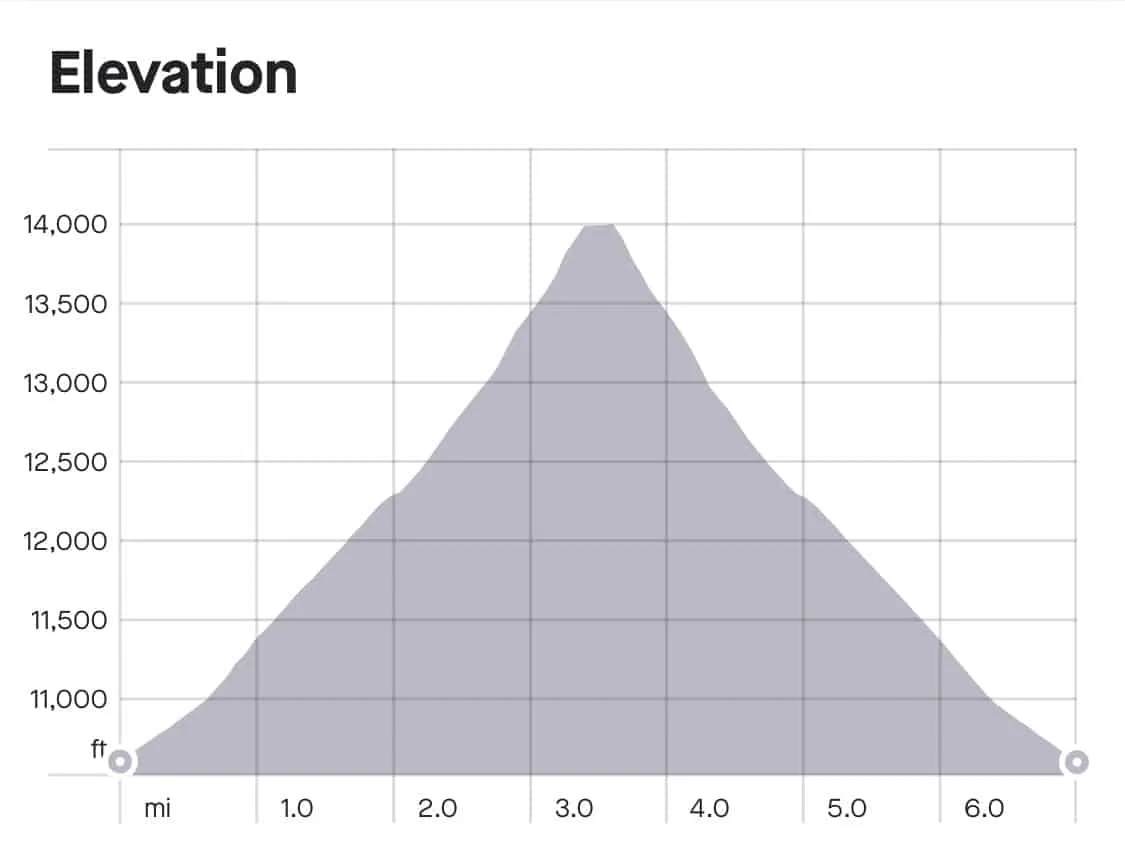 3) Huron Peak Trailhead
The Huron Peak trailhead (Clear Creek / South Winfield) has both a lower and upper starting point that are 2 miles apart. While you can get to the lower trailhead by 2WD, the upper trailhead will require a 4WD capable vehicle.
Lower Trailhead GPS Coordinates: 38°58'59.8″N 106°26'28.1″W
Upper Trailhead GPS Coordinates: 38°57'37.4″N 106°27'39.3″W
While 2 miles each way can add on some mileage to your hike, do not attempt to drive to the upper trailhead unless you have a 4WD vehicle.
If the timing is right, you may be able to hitch a ride between the parking lots with someone who does have 4WD.
→ Renting a car in Colorado? Be sure to check out Rentalcars.com to browse through a variety of car rental options for your trip
Huron Peak Camping
At the trailheads here, you can easily find some spots to set up a campsite. I saw a bunch of campsites near the lower trailhead as well as just off of the 4WD drive road.
Even if you have 2WD, it may be an idea to camp closer to the upper trailhead to save some mileage in the early morning.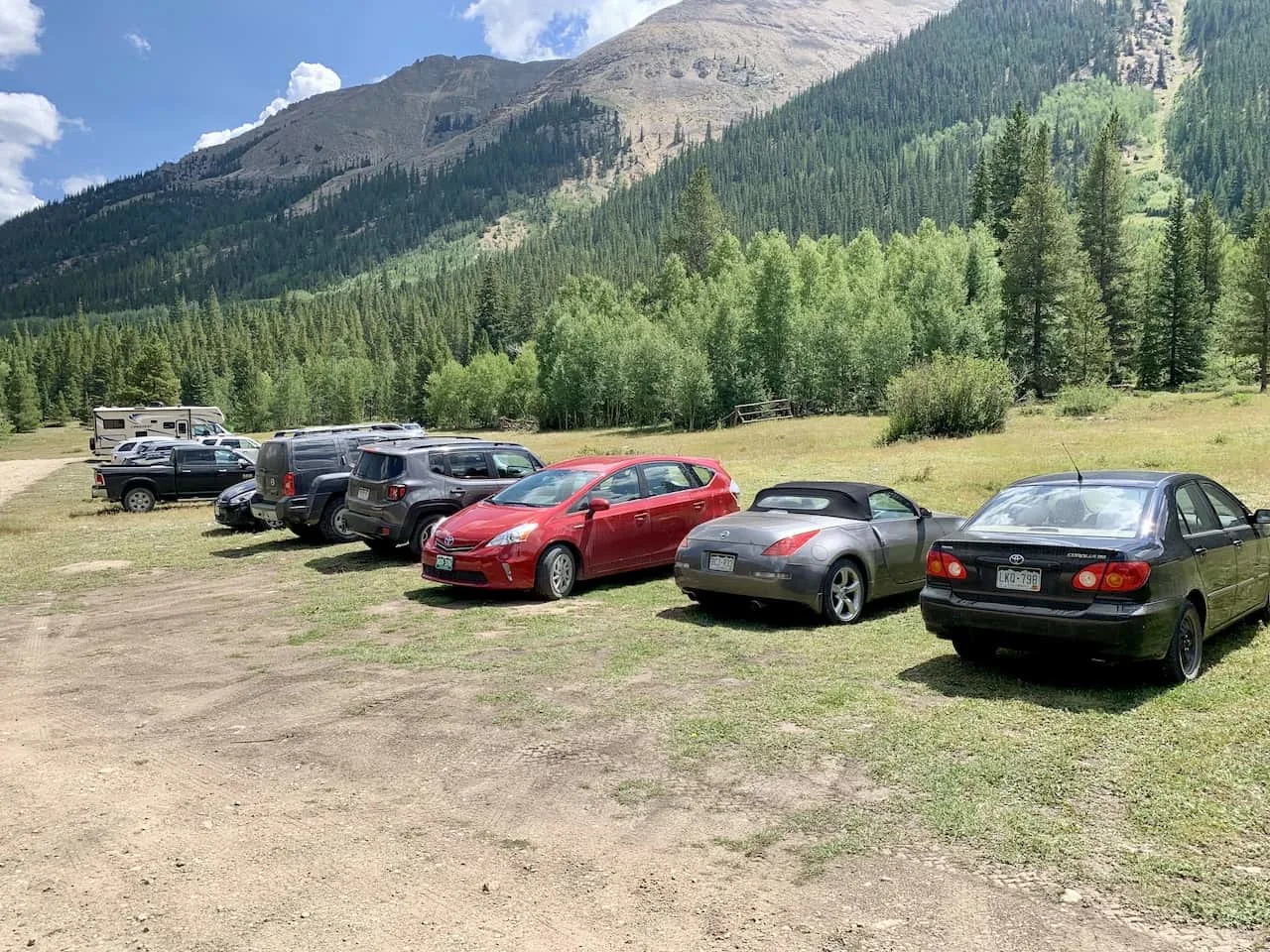 4) Huron Peak Directions
Whether you are coming from the north or the south, you will be coming down Route 24. At the Clear Creek Reservoir, you will want to make the turn onto Chaffee County 390 road.
Chaffee County 390 road is a dirt road that you will need to follow for 12 miles. While some parts of the road are nice and easy to maneuver your way around, other parts can get quite tricky.
There are plenty of potholes and bumps along the way so you will need to be quite careful as you make the drive down.
While there were plenty of 2WD vehicles at the lower lot, there were certainly sections on 390 that could get quite precarious for vehicles without clearance. As long as you take it slow and carefully make the drive, you should be just fine.
After driving for 12 miles you will reach the Winfield Mining Camp Interpretative Site, where you will make a left and continue on 390 for 0.1 miles. Soon after that left hand turn you will see an open field parking lot on the left hand side.
Note: just beyond the 2WD parking lot (before the road gets quite rough), there are some parking spots on the side of the road. This may save around 0.4 miles of hiking time each way.
Huron Peak 4WD Road
If you have 4WD, you can continue on for another 2 miles from the lower trailhead as the road gets more and more unstable.
There are larger potholes, steeper grades, and it can get pretty narrow at times as well.
As mentioned, the first 0.4 miles or so after the lower trailhead is fine for a 2WD, and you could find a spot on the side of the road before the 4WD is really needed (pinned on the map below).
You then will be welcomed to a steeper, more uneven terrain for the next 1.5 miles. The road will start in the forest (where the road is the roughest) and then open up into a less intense terrain.
It is then just a bit further until you reach the upper trailhead and the official starting point for the hike up Huron Peak.
Note: If you are walking along this road (especially in the dark), be aware of the cars and try to get as far on the side of the road as possible.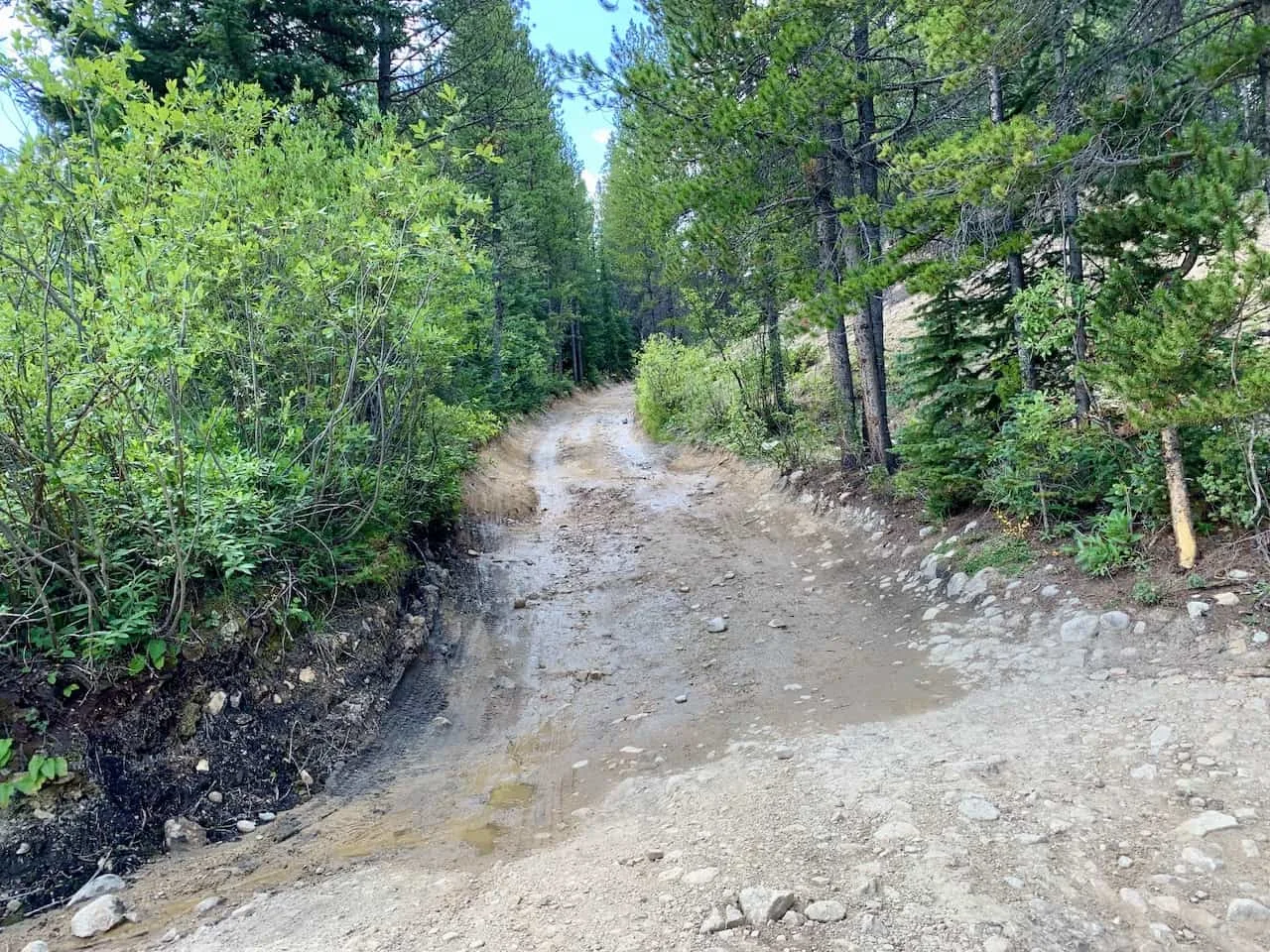 Below is a map that lays out the route with the important points of interest laid out:
5) Huron Peak Weather
The weather is probably the most important thing to consider when going about a hike up Huron Peak.
Hiking in Colorado (especially at elevations like this) can get quite dangerous when the weather turns for the worst.
Before heading out for the hike be sure to check the mountain forecast for the day. It is very important to check the mountain weather and not the weather for the nearest town. The weather in the mountains can be much different than the weather on the ground.
For Colorado 14ers, I like to check a few different sources to get the most up to date and accurate forecasts:
» NOAA
If you are hiking in the summer months, be on the lookout for those afternoon thunderstorms. While the day can start nice and clear, the weather can turn quickly. The last thing you want is to be caught above the tree line during a thunderstorm.
Always be sure to understand the forecasts and get an earlier start to the day just in case.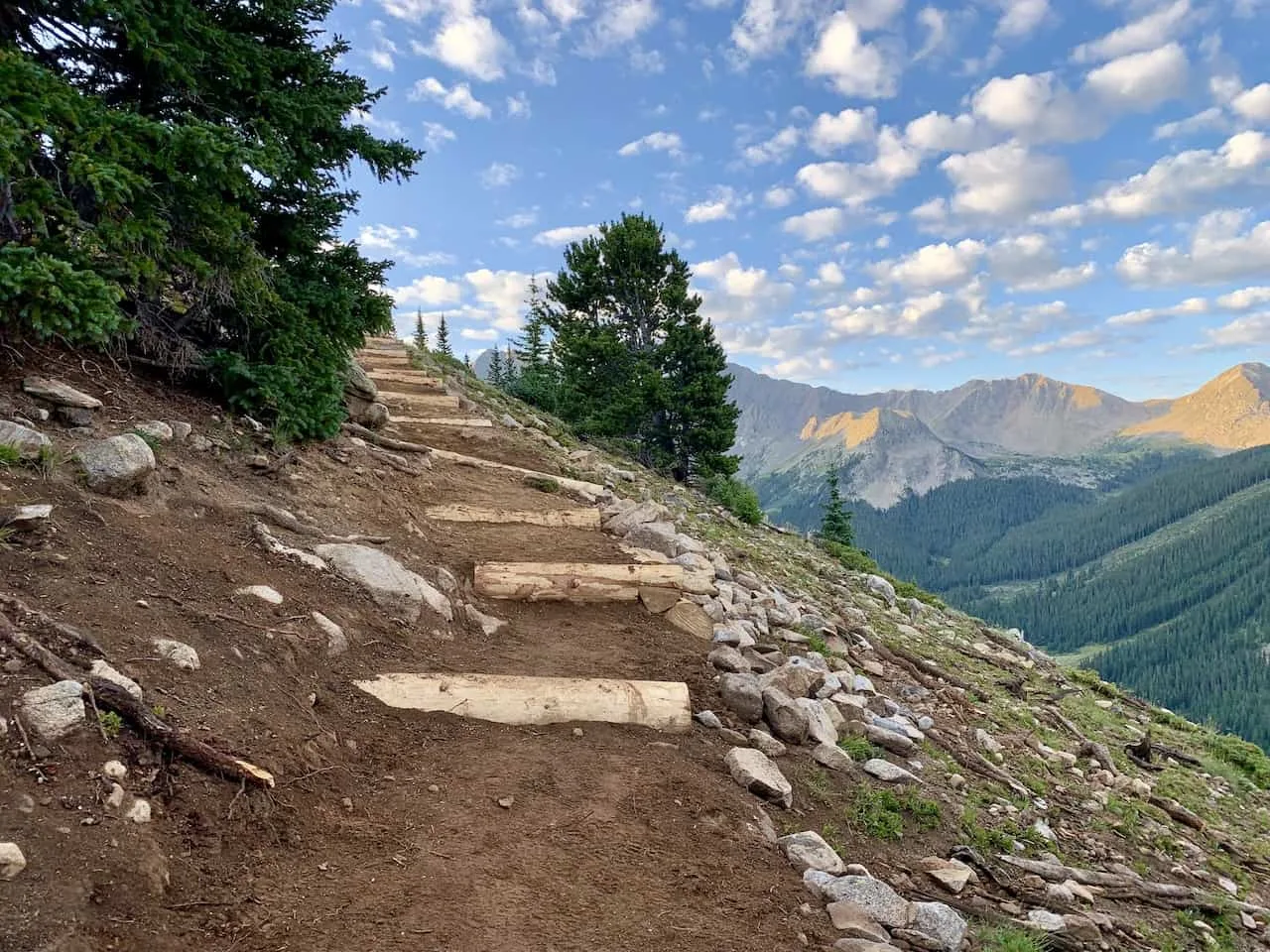 6) The Huron Peak Hike
Now that you have a bit more background about the logistics of Huron Peak, let's talk about the trail itself.
After getting yourself to the upper trailhead (either by 4WD or the extra 2 mile walk), you will come across the signboard pointing you towards Mt Huron.
While the hike from here is just 3.5 miles to the summit, it will be quite a demanding 3.5 miles of elevation gain.
Like many hikes in Colorado, the trail will begin in the forest, and it will zig zag its way up above the tree line. It is a nicely maintained trail in the tree line made up of mostly packed dirt with some rocks as well.
You will come across plenty of switchbacks during the forest ascent, but will have some nice views from time to time of the surrounding mountains.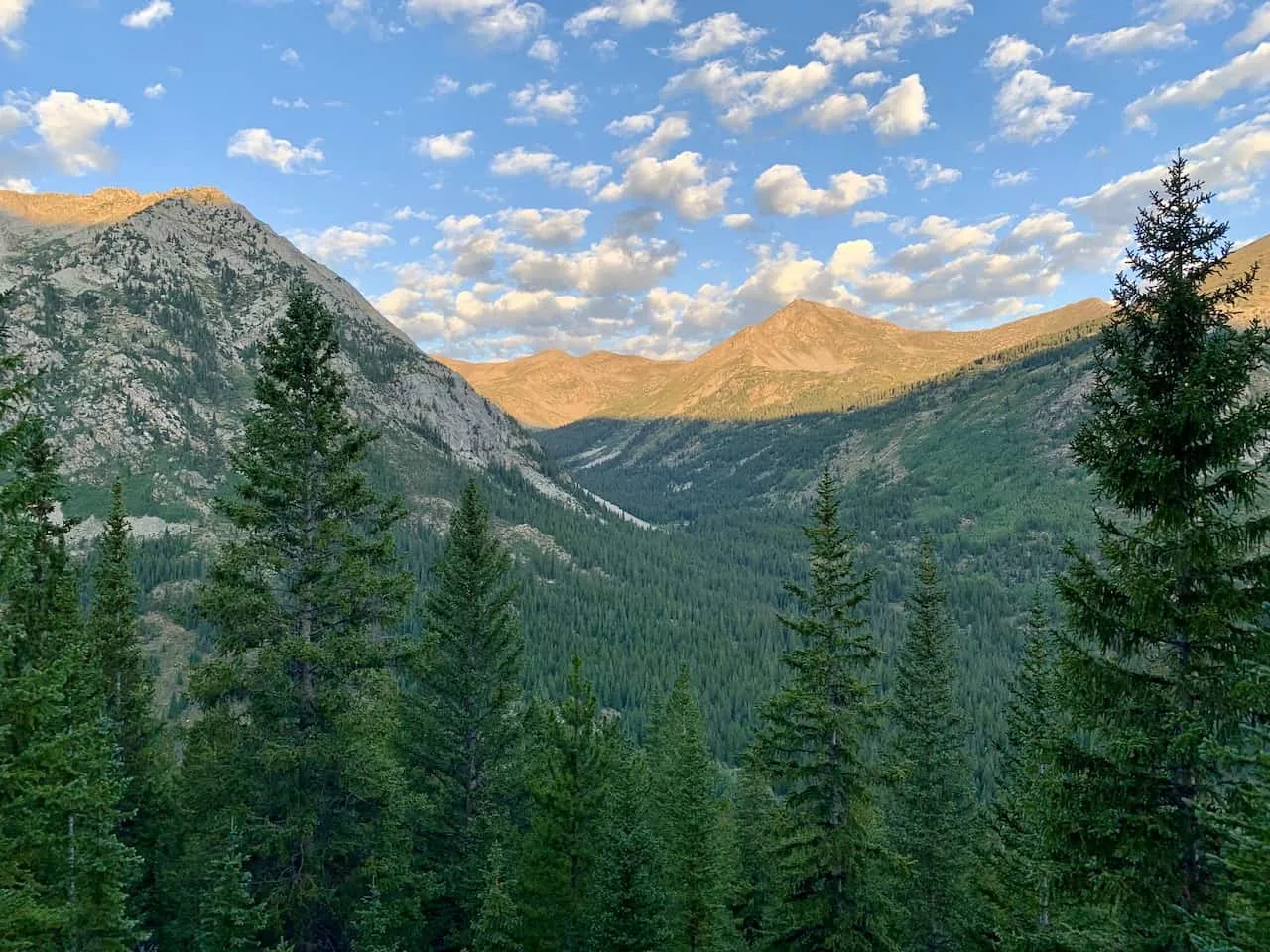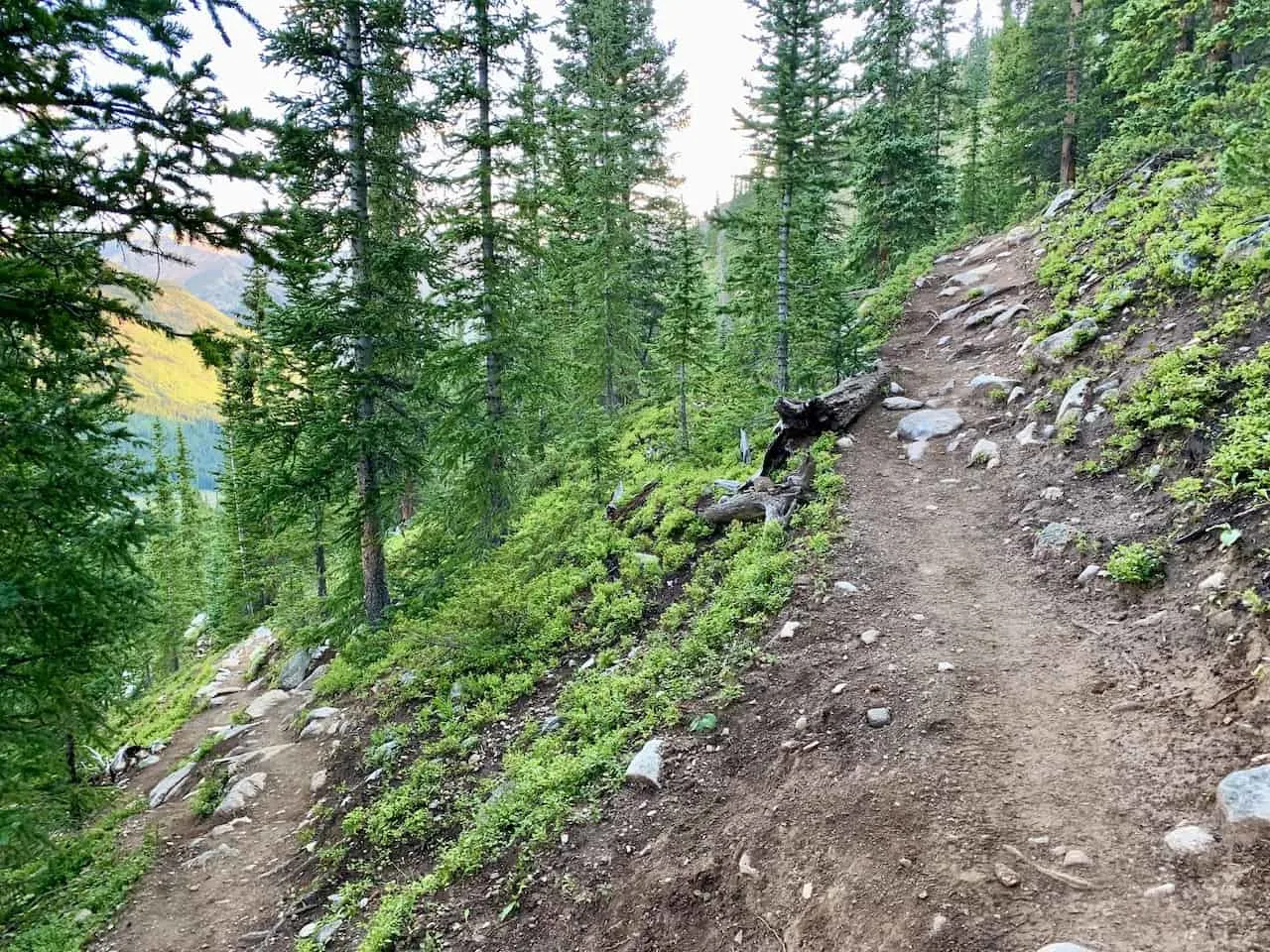 Just around half way up to the summit (1.75 miles) you will exit the forest and be welcomed to Huron out in front of you.
Here the trail does flatten out a bit as you walk through the basin and get closer to the ridge line that will take you to the summit.
This portion of trail is about 0.5 miles long and you can find a nice place to sit back and relax at before tackling the rest of the climb.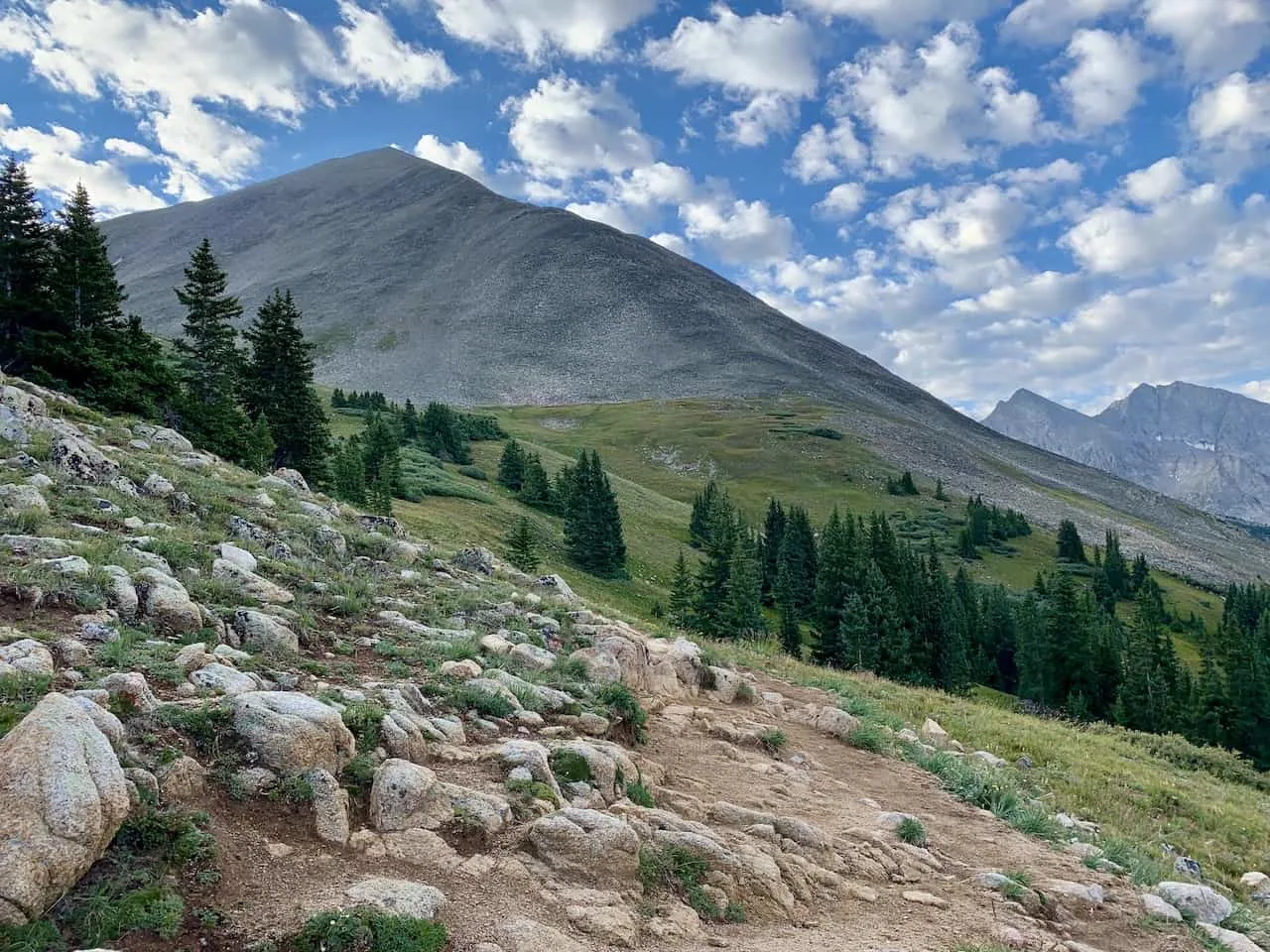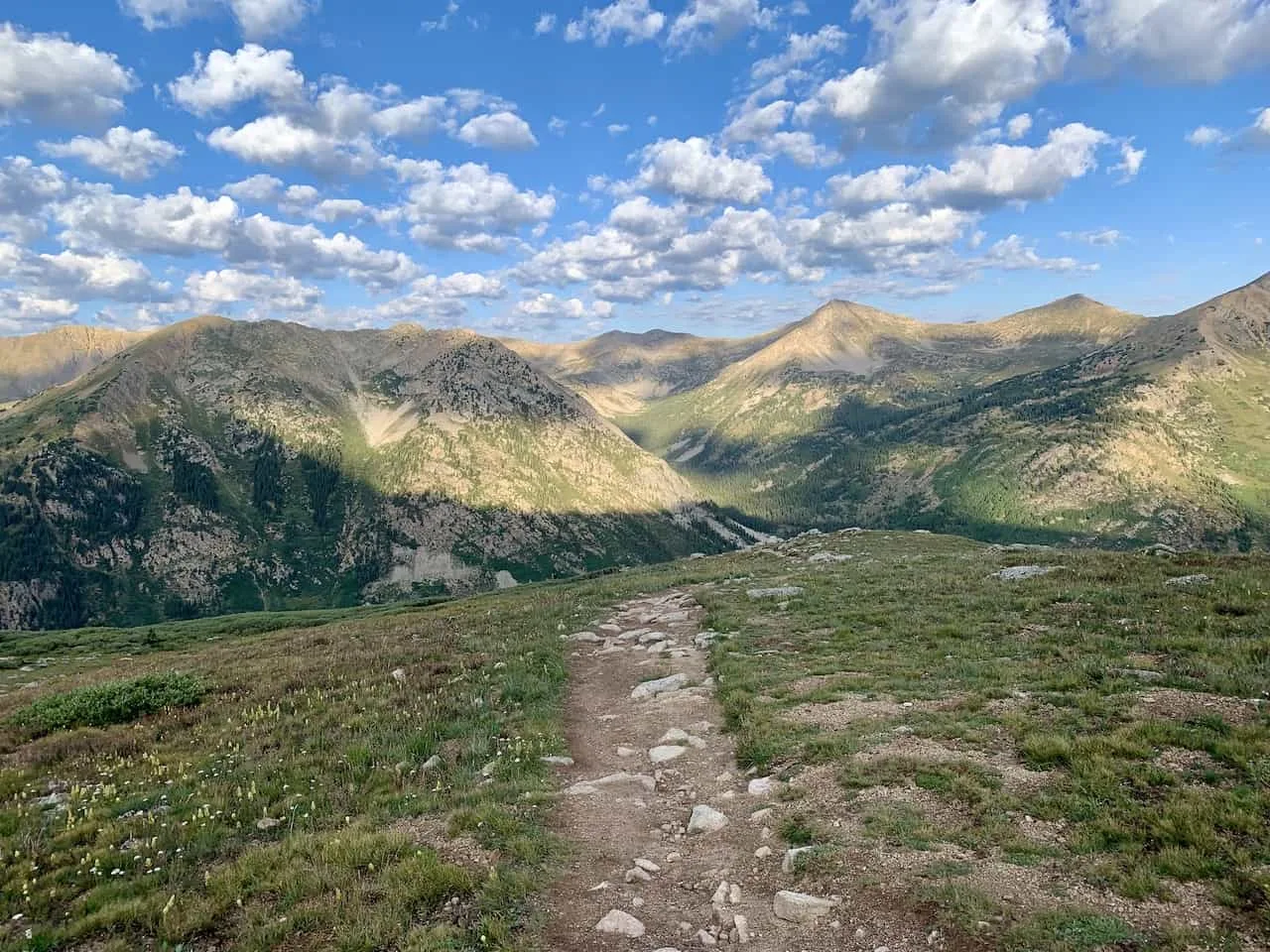 Once you cross through the basin and take in the views of Huron and the surrounding peaks, the toughest part of the hike begins. From here it will be just about 1.25 miles to the summit.
While a mile doesn't sound too crazy, it will include 1,600+ feet of elevation gain to the top of Huron Peak. The trail certainly gets a bit more imposing here as you can see the summit way up in the distance.
The path itself for the most part is not too technical (until further up). You will have a dirt path engrained in the mountain along with rocks to look out for as you take each step.
There are plenty of switchbacks to hike through as you get higher up the mountain. Be sure to take breaks from time to time and enjoy the surrounding landscape.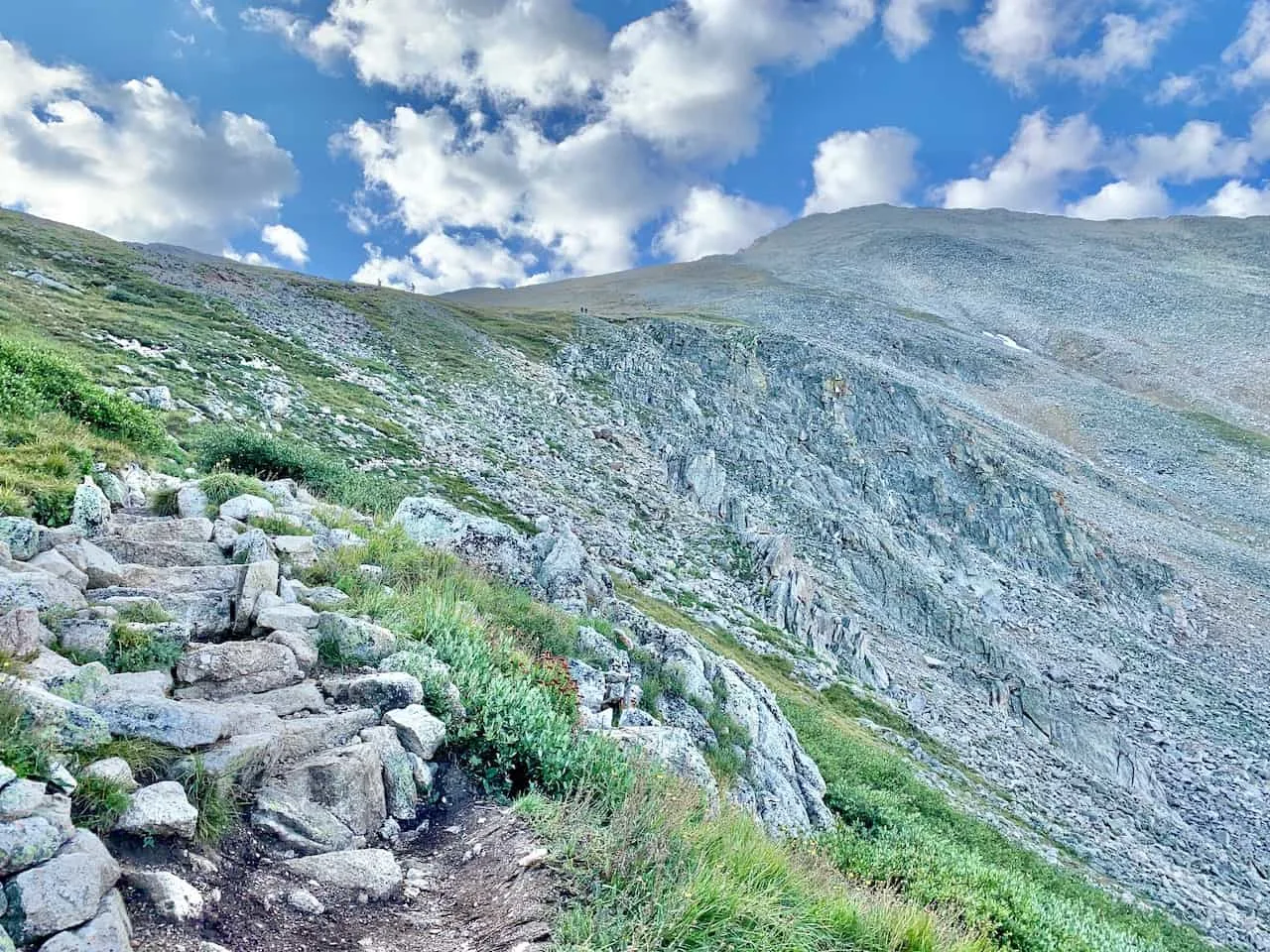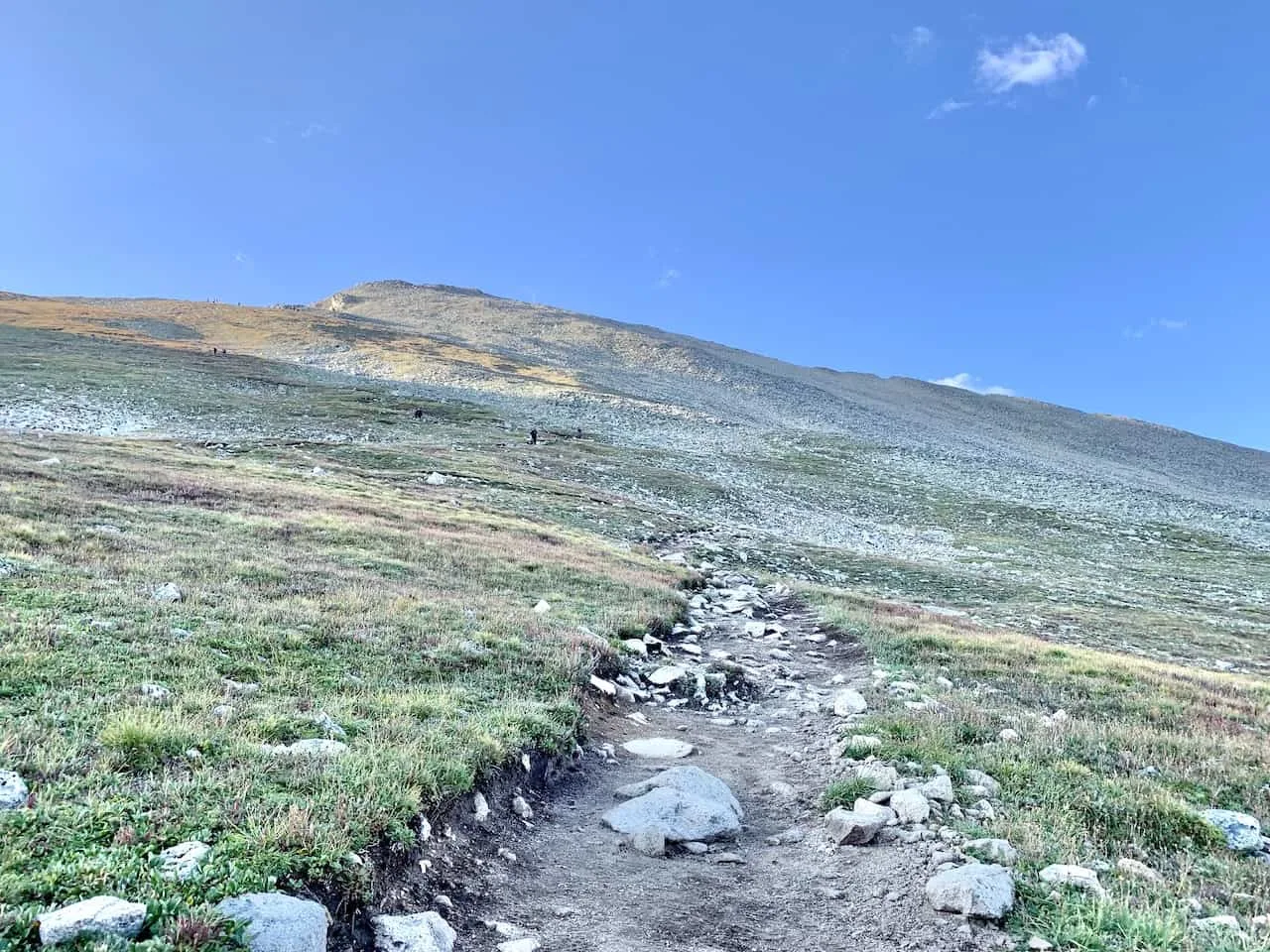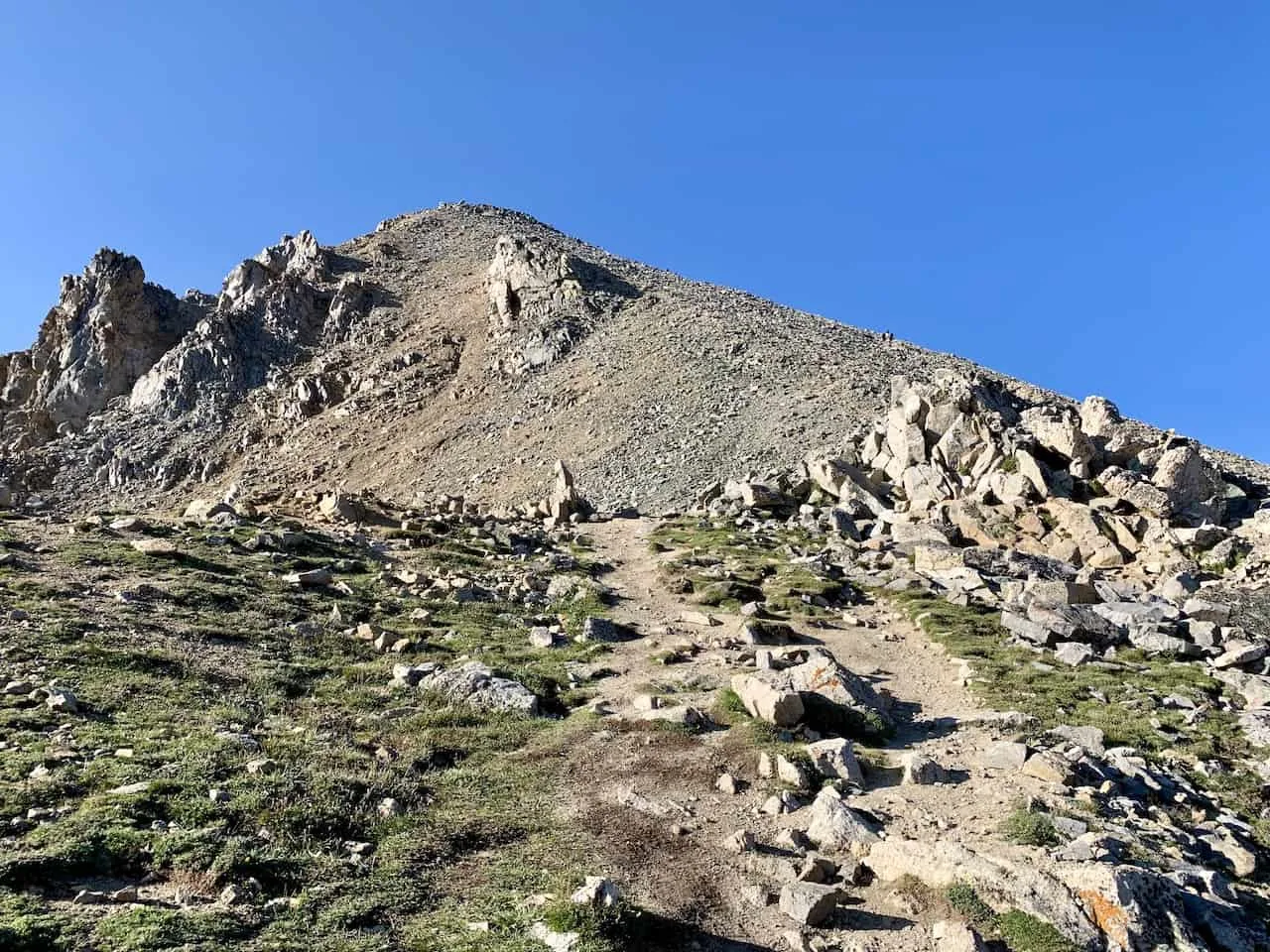 Once you reach that upper section of the mountain and are in striking distance of the peak, the trail certainly gets more technical.
There are many more rocks and more sandy/slippy terrain as you make that last push.
Be sure to watch your step carefully here as it can be easy to lose your balance in places. Not too far after though, you will be welcomed to the Huron Peak summit!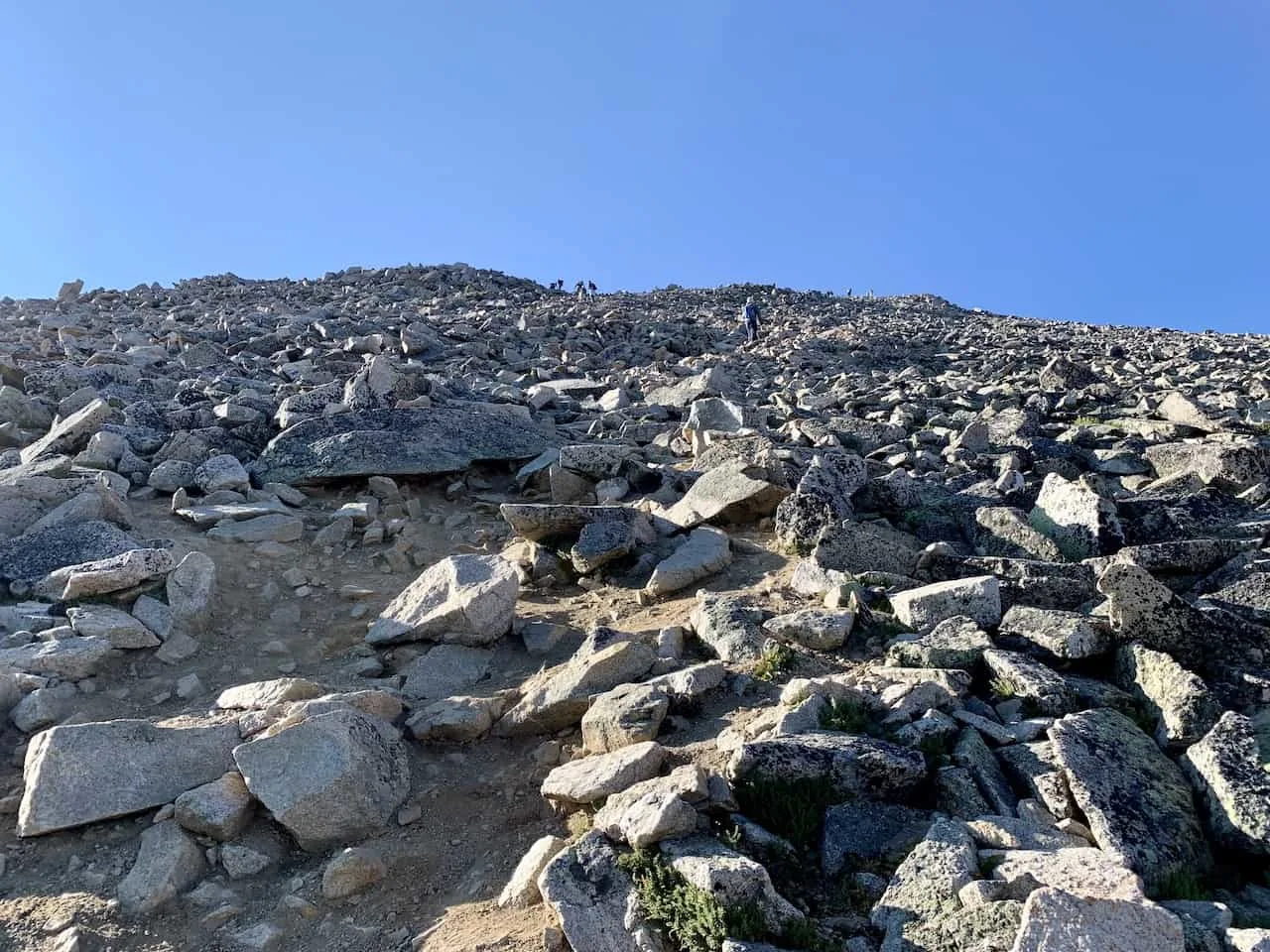 From up top you will certainly get some beautiful views on a clear day as you enjoy the 360 degree landscape all around.
During my time on the mountain, I spent over an hour enjoying those summit views and just sitting back and taking it all in.
That of course will all depend on the weather and wind conditions for your trip but hopefully you are able to get some enjoyable time in.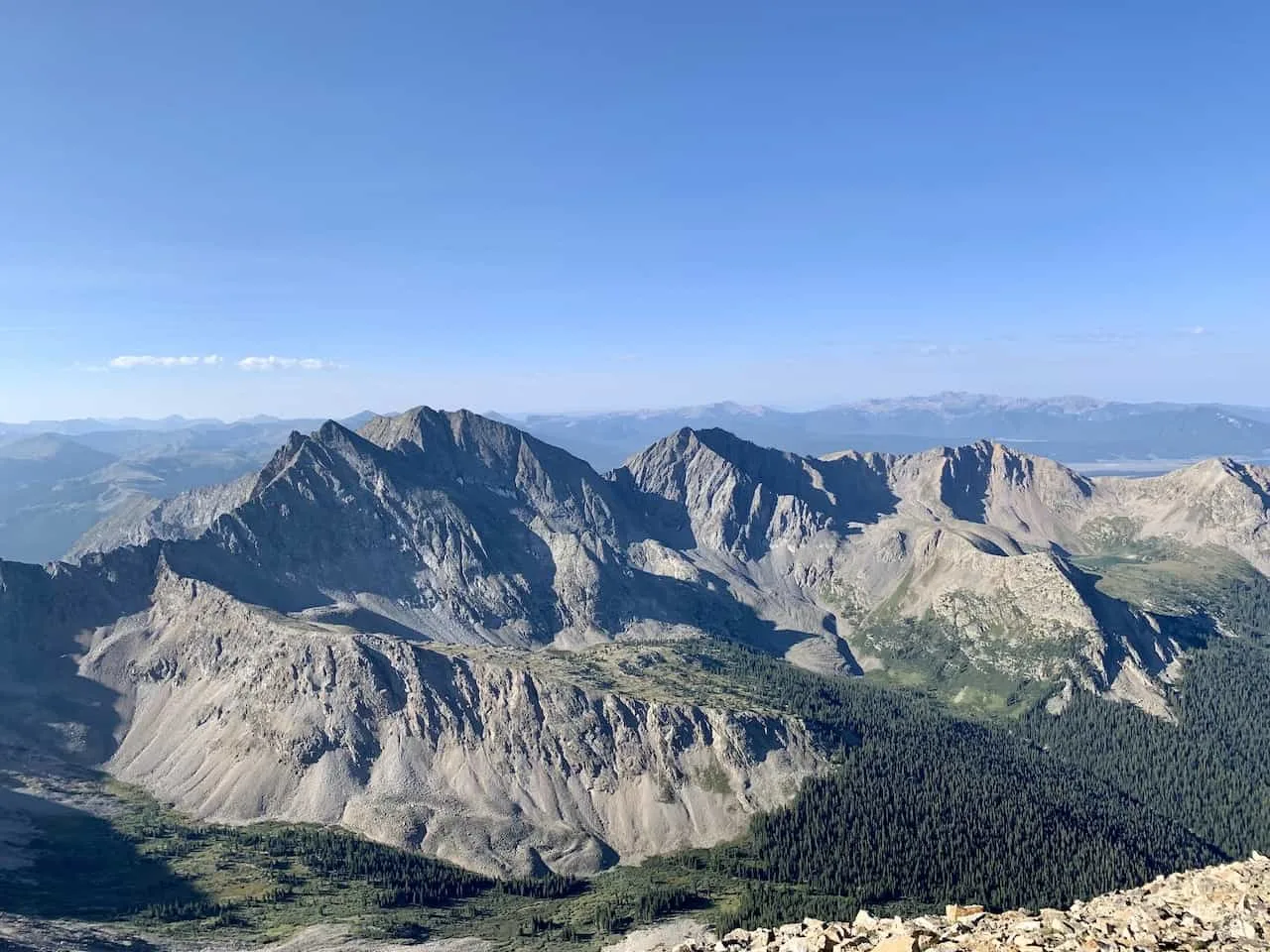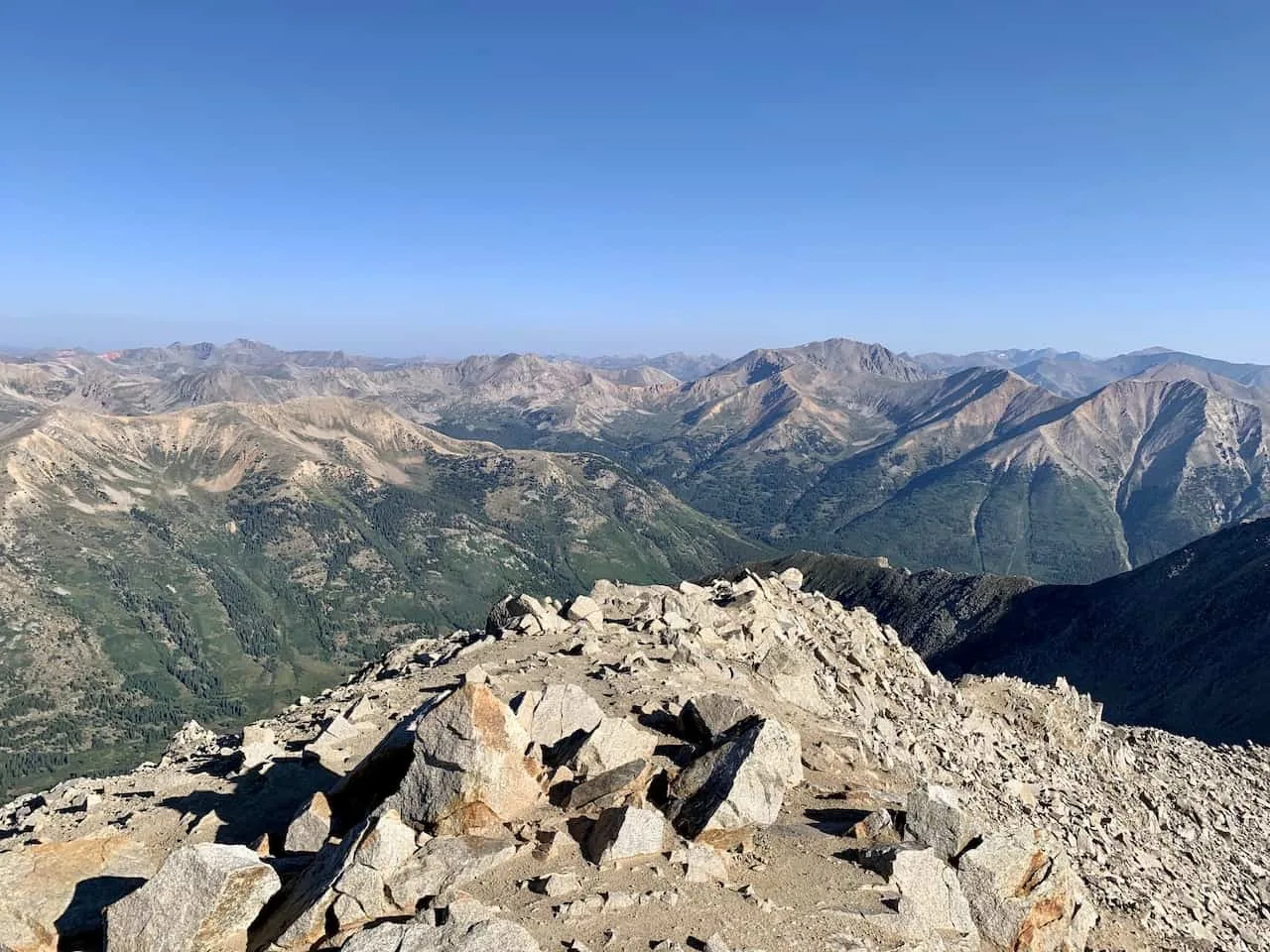 Once you are all done up top, simply follow the same pathway all the way down to the bottom. Remember though to be very careful on this initial upper section. Things can get a bit tricky with the rocky terrain so just take your time.
Soon you will get off the ridge, walk through the basin, and then back down into the forest to the upper trailhead. If you don't have a 4WD, maybe you can get lucky and hitch back a ride to the lower trailhead. If not, it is a pretty easy 2 mile walk down.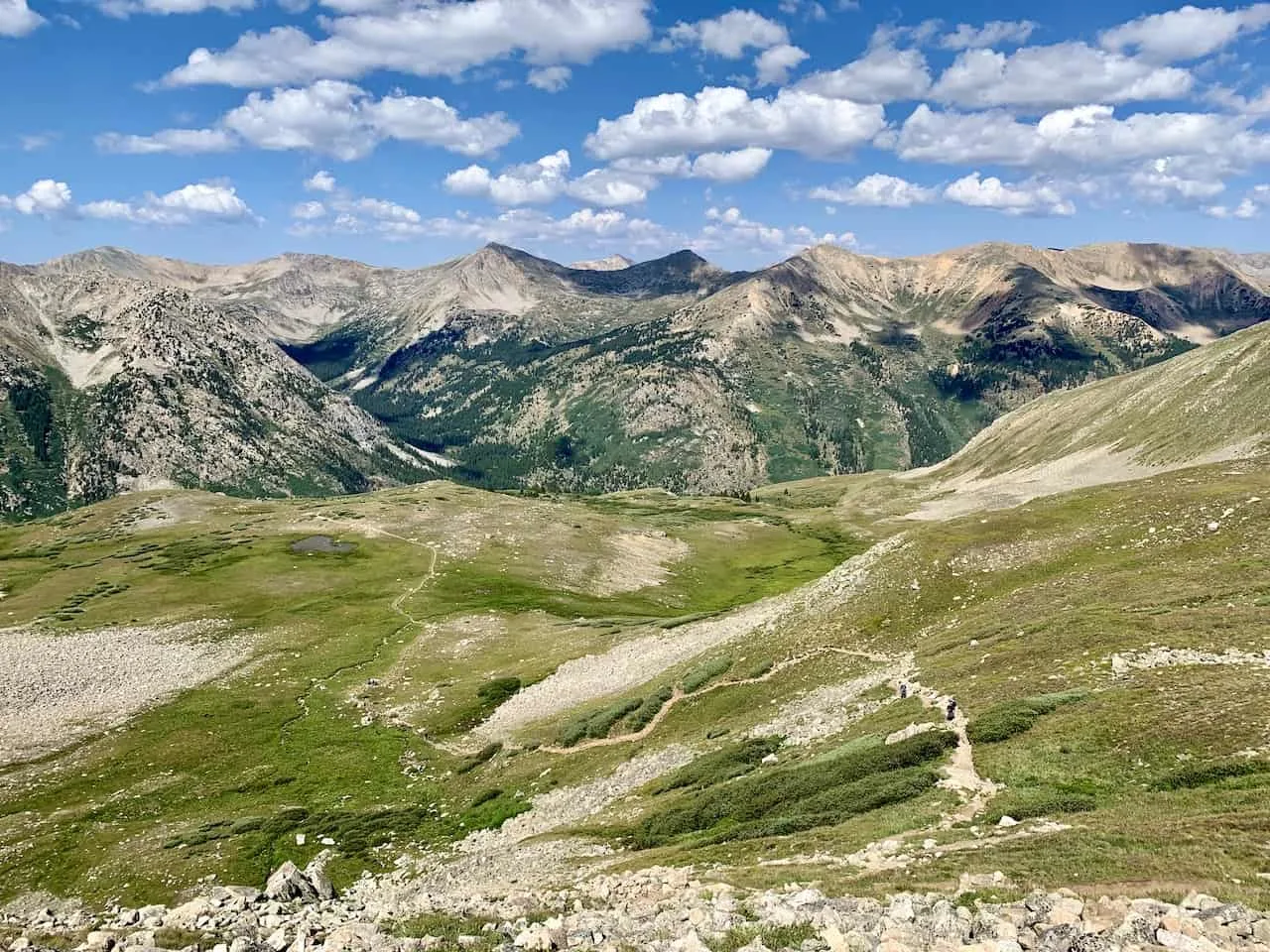 7) Frequently Asked Questions
Below are some of the most frequently asked questions regarding a Huron Peak hike and what to expect during a climb.
Huron Peak Difficulty / Is Huron Peak Hard?
This really all depends on who is asking. For a seasoned hiker who is used to climbing 14ers, Huron Peak would not be considered difficult. It is a moderate class 2, 3,500 feet elevation gain hike with limited technical sections.
However, for those that have not conquered 14ers (or at least more demanding 14ers), this would be considered a difficult climb. 3,500 feet in 3.5 miles is not easy by any means and it should be considered a great accomplishment for those aspiring to hike these higher peaks.
What Class is Huron Peak?
Huron Peak is considered a Class 2 climb. There are very limited technical sections of this trail. From the trailhead up most of the mountain, the trail is easily navigable on packed dirt.
It is only on that last section to the summit where the terrain gets rockier and more precarious. As long as you watch your step here, things shouldn't be too difficult.
How Long Does it Take to Climb Mt Huron?
The round trip hike from the upper trailhead should take anywhere from 4-6 hours depending on fitness levels. If you are heading up from the lower trailhead, that will add another 1.5 hours to the hike.
Is Mount Huron a 14er?
Yes, Mount Huron is officially a 14er. Out of the 53 14ers, Mount Huron is listed as number 52 on the list at 14,003 feet. The only 14er that is shorter than Huron is Sunshine Peak at 14,001 feet.
How Tall is Mt Huron?
Mt Huron stands at 14,003 feet / 4,268 meters. Don't worry though, the actually elevation gain is closer to 3,500 feet from the upper trailhead.
Where Can I Camp Near Huron Peak?
There are many places to camp nearby both of the trailhead areas. You can simply park your car, and head up the road until you find a spot that works for you. It is recommended to camp along the 4WD road closer to the upper trailhead.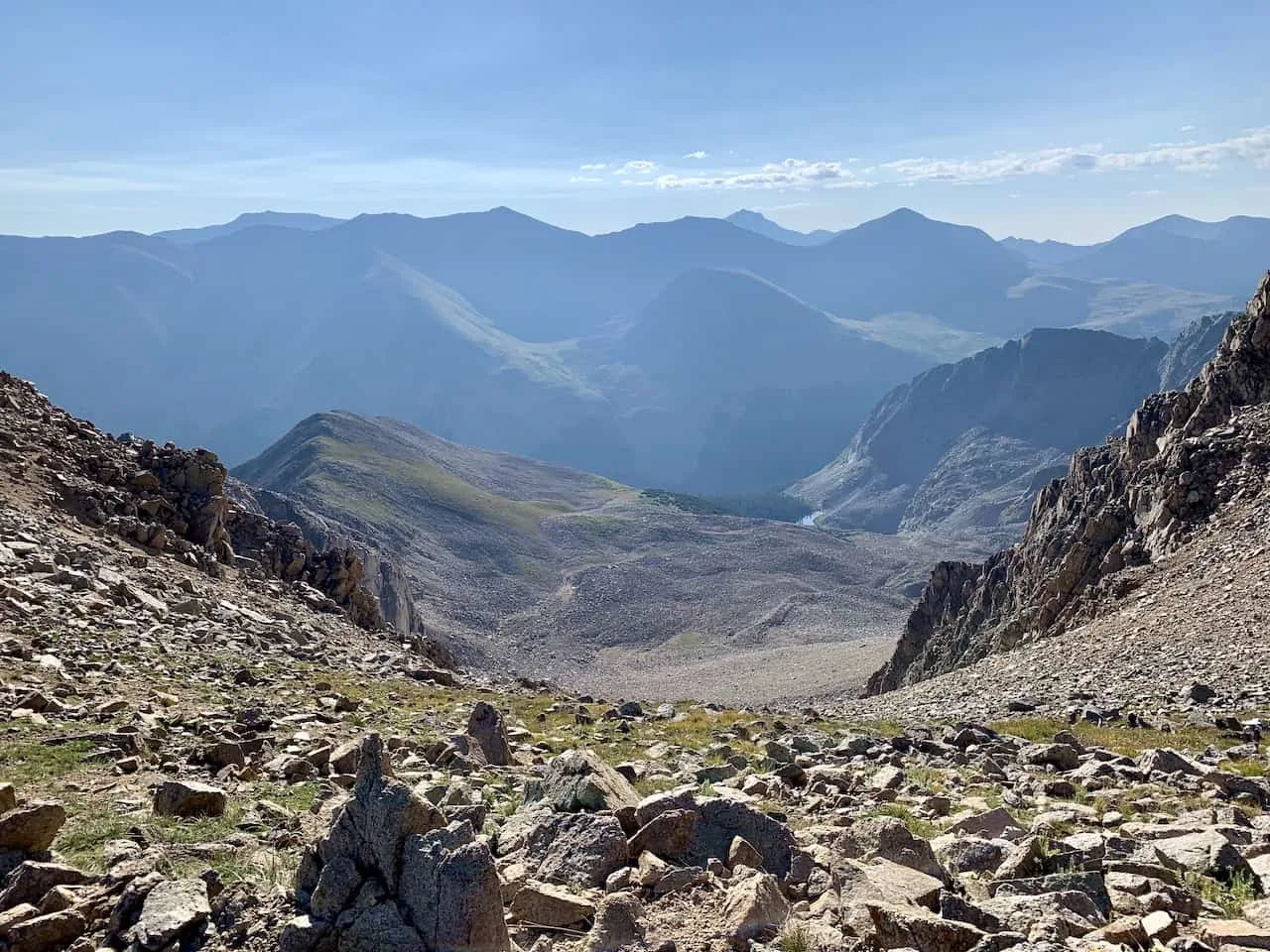 8) Where to Stay
While there are many places you can choose to base yourself around the area, I would recommend staying in either Leadville or Buena Vista.
Both of them are about an hour drive to trailhead with Leadville north of of the 390 turnoff and Buena Vista south of it.
These are great places to stay if you are looking to not only hike Huron Peak but also many of the other 14ers around the area. Below are a few highly recommended places to stay in each of them.
Leadville
Buena Vista
» Mount Princeton Hot Springs Resort (just outside town)
That about wraps up a guide to hiking up Huron Peak. If you do have any questions or comments about the climb, be sure to add them in below.
Do you want to climb 4 14ers in one go? Check out the hiking guide for the DeCaLiBron Loop! The hikes up La Plata Peak, Mount of the Holy Cross, and Mount Elbert are other great 14ers to enjoy as well.
Have fun out there and safe travels!