Rome is absolutely packed with historic sites all throughout the city. You could be in Rome for days and not see them all.
With that said, Rome in a day is certainly possible for those with less time time to see the city.
This one day Rome itinerary will take you on one long day tour of Rome as you see many of the top highlights along the way.
It takes you through Vatican City, the Colosseum, Roman Forum and Palatine Hill, Trevi Fountain, Pantheon, Spanish Steps and more!
Read on to learn how to take on Rome in a day, along with plenty of helpful tips & advice to get the most out of your time there.
* Affiliate Disclosure: This post may contain affiliate links, which means I may receive a commission if you make a purchase through the links provided, at no additional cost to you. Thanks for supporting the work I put into TripTins!
1) Introduction to Rome
The capital city of Rome is one of the most attraction filled cities in the world. At every corner you turn you will find incredible architecture, winding picturesque streets, and plenty of history all around.
It is a must do for anyone who is visiting Italy and you can keep yourself busy for several days seeing it all.
However, if you just have one single day to explore the city, I put together this guide that can take you all around Rome and give you a glimpse to what it has to offer.
Although it will be a long and action packed day, it will be one that you will not soon forget.
Since you will only have one day in Rome, I did want to layout a few helpful tips to consider during your time in the city.
Start Early & End Late
With a single day in Rome, you should plan to start your day as early as possible and end later in the night. This will give you the best chance to see all of the attractions listed out on this itinerary.
I would anticipate a full day itinerary to take 10-12 hours (8:00AM – 8:00PM). If you are visiting during the longer days of the year from May to August, this shouldn't be an issue for daylight hours.
During other times of the year, you may be taking in some of the sites after dark.
Buy Tickets Beforehand
This is mostly relevant just for the Colosseum and the Vatican. But be sure to purchase tickets/tours for these two places prior to your visit.
The last thing you want to do with a single day in Rome is to wait on long lines for half your time there. Instead, by having tickets already purchased, you can skip the line and be on your way in.
While there still may be a shorter queue, you will be able to save valuable time having your ticket in hand.
Within this itinerary, I linked to the various tours & tickets that can be purchased ahead of time.
Check Closing Times
While most of Rome is open year round, there are certain dates/days when attractions are closed. Be sure to always check the latest opening/closing times as you plan your visit.
For example, the Vatican is closed on Sundays (besides the final Sunday of the month), in addition to ~10 other days throughout the year.
Just be aware of these dates and try to avoid them as you plan your day in Rome.
Understand Your Logistics
Usually I am not someone who wants every last minute of a day planned out in advance. However, when I only have a set amount of time in a location, that is going to be needed.
With one day in Rome, you will want to be as efficient as possible with your route and logistics.
Prior to landing, have your itinerary route all set for your day in the city. That way you can save time and not need to worry about figuring our logistics on the go.
Wear Comfortable Shoes
Lastly, be sure to wear some comfortable walking shoes for your time in Rome.
There will be plenty of walking being done throughout your stay there. Having a solid pair of shoes will go a long way with keeping your feet comfortable along the way.
Want to see more of Italy? Check out some of the Italy itineraries up on the site:
Now, let's get into what one day in Rome is all about. Be sure to also check out some sections at the end of this overview that will go over other helpful things to consider for a trip.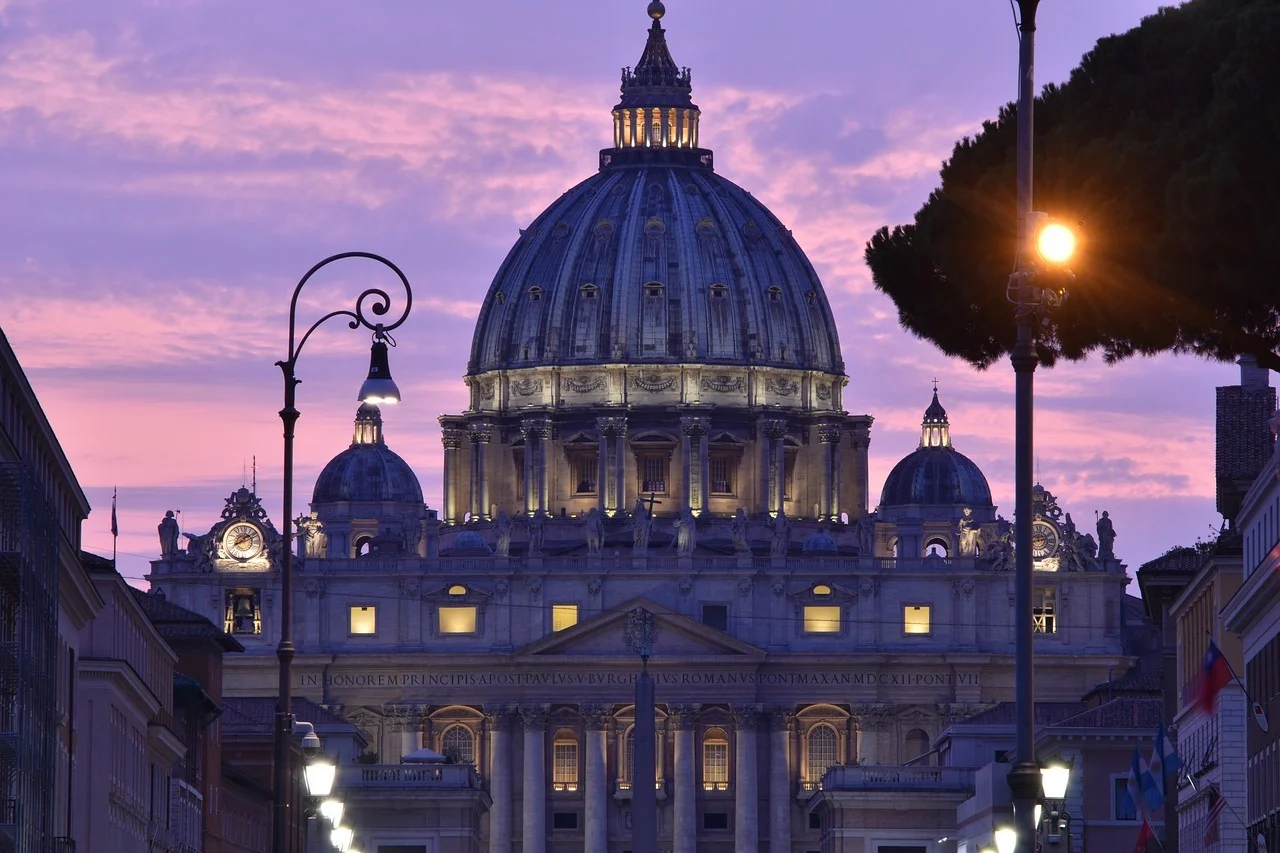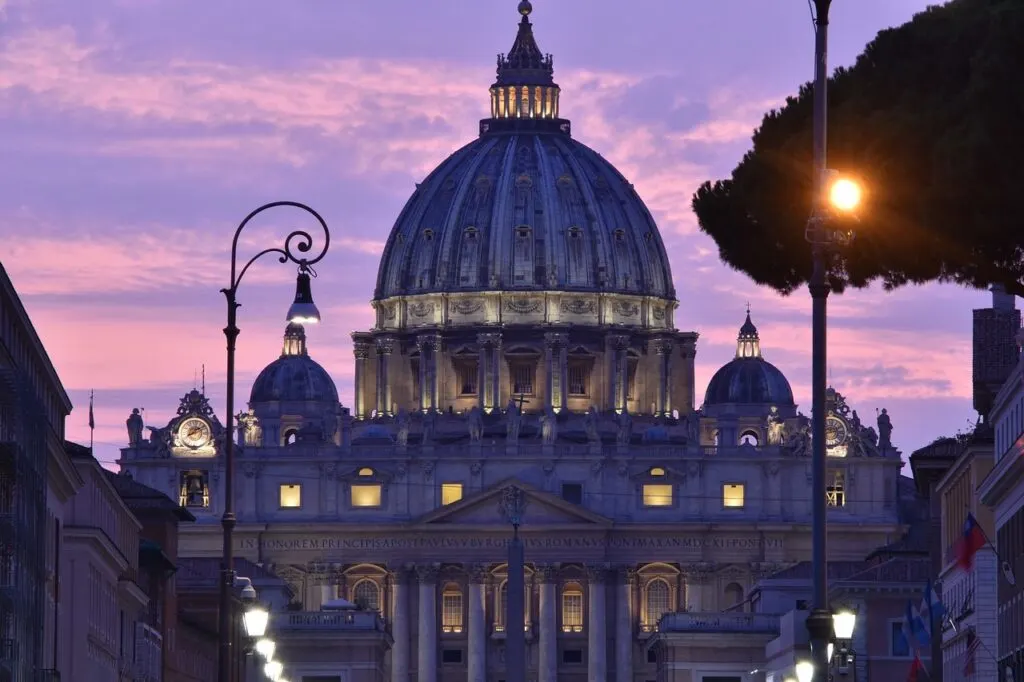 2) Rome in a Day Map
Below is a map that shows the layout of the city and main landmarks that you will find within it. Rome is a very walkable city and you should have no trouble getting from one spot to the next.
I have started the itinerary at the Vatican before making its way all throughout the city ending at the Spanish Steps (the most northeastern pin on the map below). Here are the places you will stop by along the way:
Vatican City
Castel Sant'Angelo
Piazza Novona
Pantheon
The Colosseum
Roman Forum & Palatine Hill
Trevi Fountain
Spanish Steps
3) Rome In a Day Itinerary
Let's now get into how to see Rome in a day. The below itinerary will walk through the various attractions & highlights. Along the way I will include helpful tips, tour options, and an overall route to fully take advantage of your time in the city.
Remember, this will be one full day in Rome. So, we will start first thing early on in the morning.
Note: throughout the itinerary you will find opening hours & ticket prices. Always be sure to check the latest for your visit as these can change at a moment's notice.
Vatican City
The first stop of the day is actually going to be in a whole other country – Vatican City.
While it is a separate country, the Vatican is located within the Rome city center. So, of course many people want to visit Vatican City and see the top highlights that it has to offer.
There are three main places to visit during your visit:
St Peters Square (free of charge)
Vatican Museums + Sistine Chapel (ticket required – timed entry available)
St Peter's Basilica (free of charge but long lines)
Vatican City Highlights
St Peters Square: large square in the heart of Vatican City with 284 columns, 88 pilasters, 140 statues, 2 fountains, and large obelisk. Papal Mass at the square is held on Wednesdays, so be prepared for the crowds then.
Vatican Museums: many highlights including the Spiral Staircase, Pinecone Courtyard, Tapestries Hall, Maps Room, Apollo Belvedere, among many others. And of course, the Sistine Chapel.
St Peter's Basilica: walk around the Basilica and visit the Dome for views of the city
Hours of Operation
St Peters Square: always open
Vatican Museums + Sistine Chapel: 9:00AM – 6:00PM (final entry at 4:00PM, with extended hours on Fridays & Saturdays from May to October). Closed on Sundays (expect for final Sunday of month from 9:00AM – 2:00PM)
St Peter's Basilica: 7:00AM – 7:00PM (closes 6:30PM in winter); closed on Wednesday mornings for Papal Audience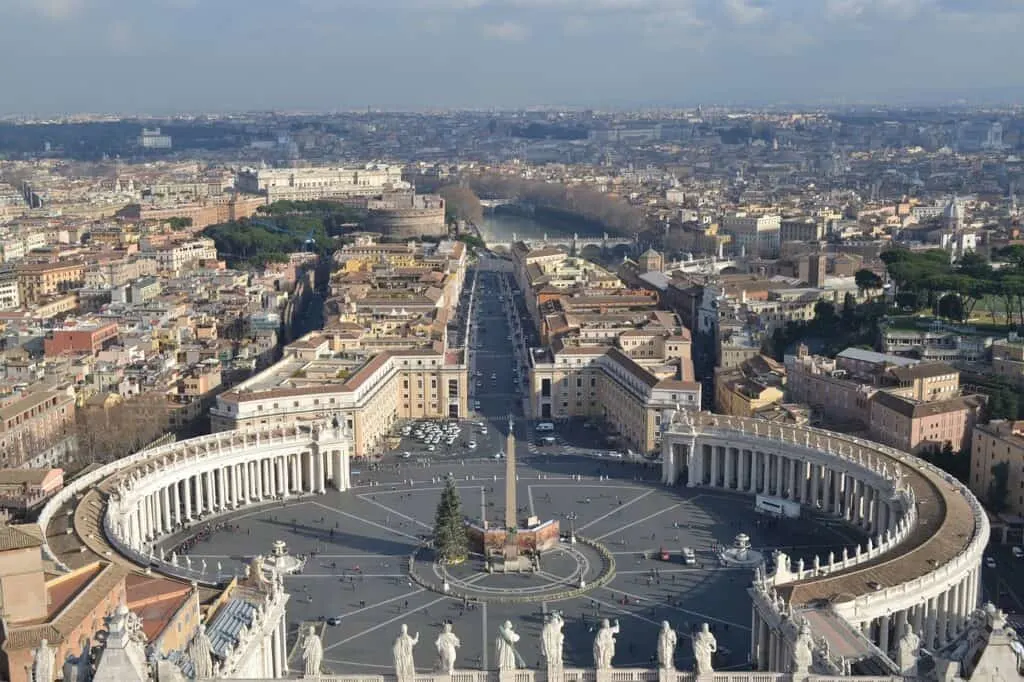 Vatican Museums Note: To visit the museums (which include the Sistine Chapel as the final highlight), you will need to purchase tickets or join a guided tour. This is one spot where you definitely should be buying your tickets/tour ahead of time. By doing so, you will save valuable time and not need to worry about purchasing on arrival.
St Peter's Basilica Note: some Vatican Museums tours include St Peter's Basilica, while others do not. If joining a tour, I would recommend choosing one that includes it. While it is free to enter, tours do have the ability to go directly into the basilica from the Sistine Chapel. If you are not joining a tour, then you must visit the Vatican Museums and St Peter's Basilica separately.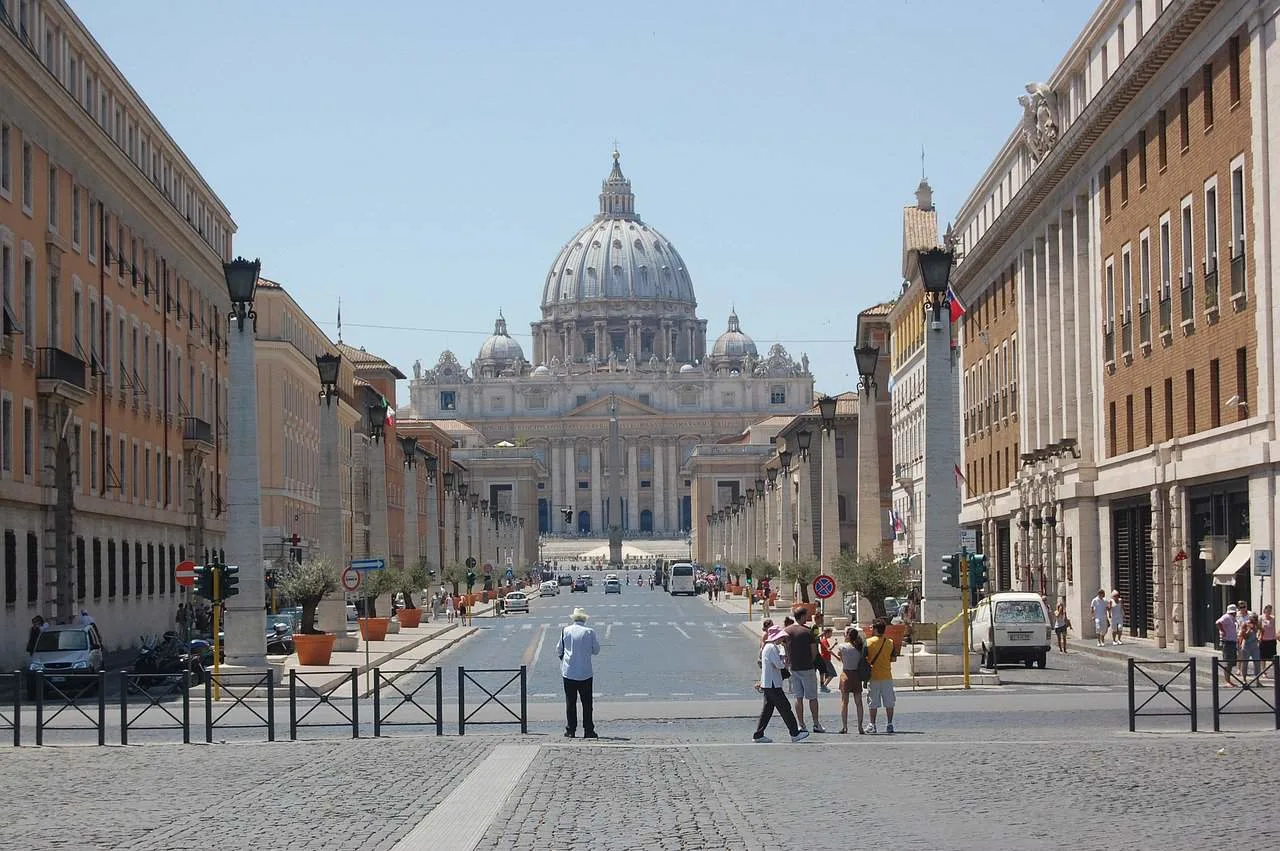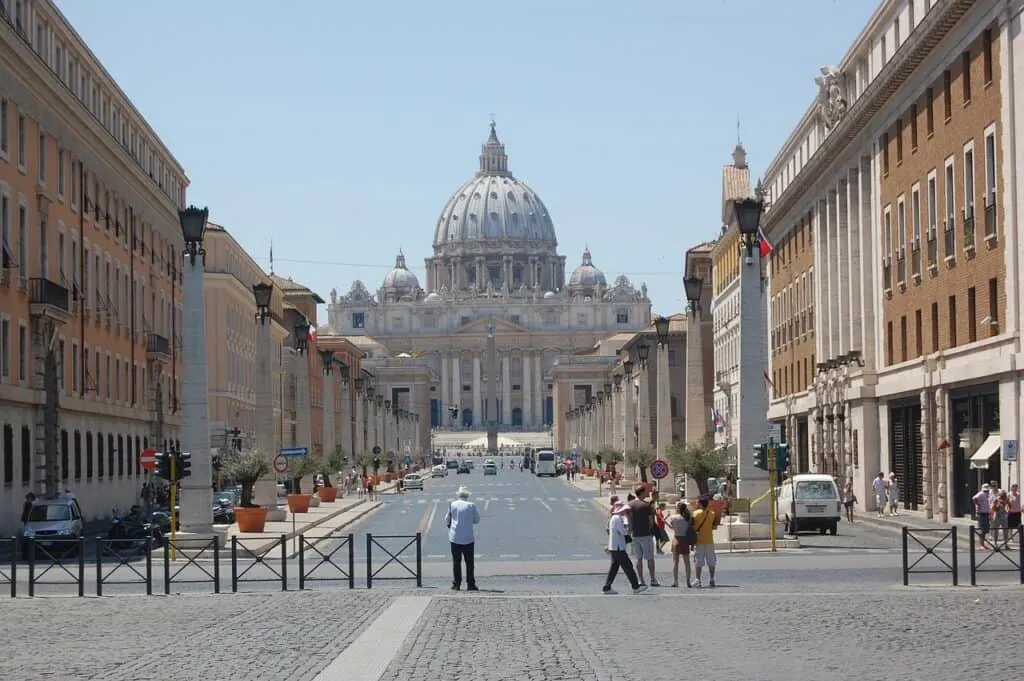 Vatican City Tour Option
My recommendation would be to join the "Early Morning Vatican Tour". These tours are able to access the Vatican Museums prior to official opening time. By doing so, you can get a head start to your day, and visit the museums with fewer crowds.
When looking at other tour options, you will find that some of them include St Peter's Basilica, while others do not. As mentioned, if booking a tour, I would highly recommend choosing one that does include St Peter's Basilica to avoid re-entering the basilica separately.
Note that once your tour is complete in St Peter's Basilica, you then will be able to head up to the dome (for an extra fee). Be aware that there may be lines to get up to the dome, and depending on timing, you may or may not have the chance to go up.
Check out this Early Entry to the Vatican & The Sistine Chapel tour option that offers the early morning option with entry into the basilica as well.
Vatican City Independent Option
If you prefer not to join a guided tour of the Vatican Museums & Sistine Chapel, then I would recommend to go about your visit differently.
Instead, you can start with St Peter's Basilica, which opens at 7:00AM. You can enter around opening, enjoy all that the basilica has to offer, and then make your way out.
Note: the basilica dome opens at 8:00AM. You can head up to the top for an extra fee, as you take in one of the best views in Rome.
From there, you can continue to the Vatican Museums entrance, where you can then enter and see the museums & Sistine Chapel. I would recommend purchasing a Vatican Museums ticket for around 9:30AM.
This way you will have enough time for the basilica (and dome if interested), and then for the additional 20 minutes or so to walk to the museums entrance.
Purchase your Vatican Museums & Sistine Chapel ticket ahead of time to reserve your spot if going without a guide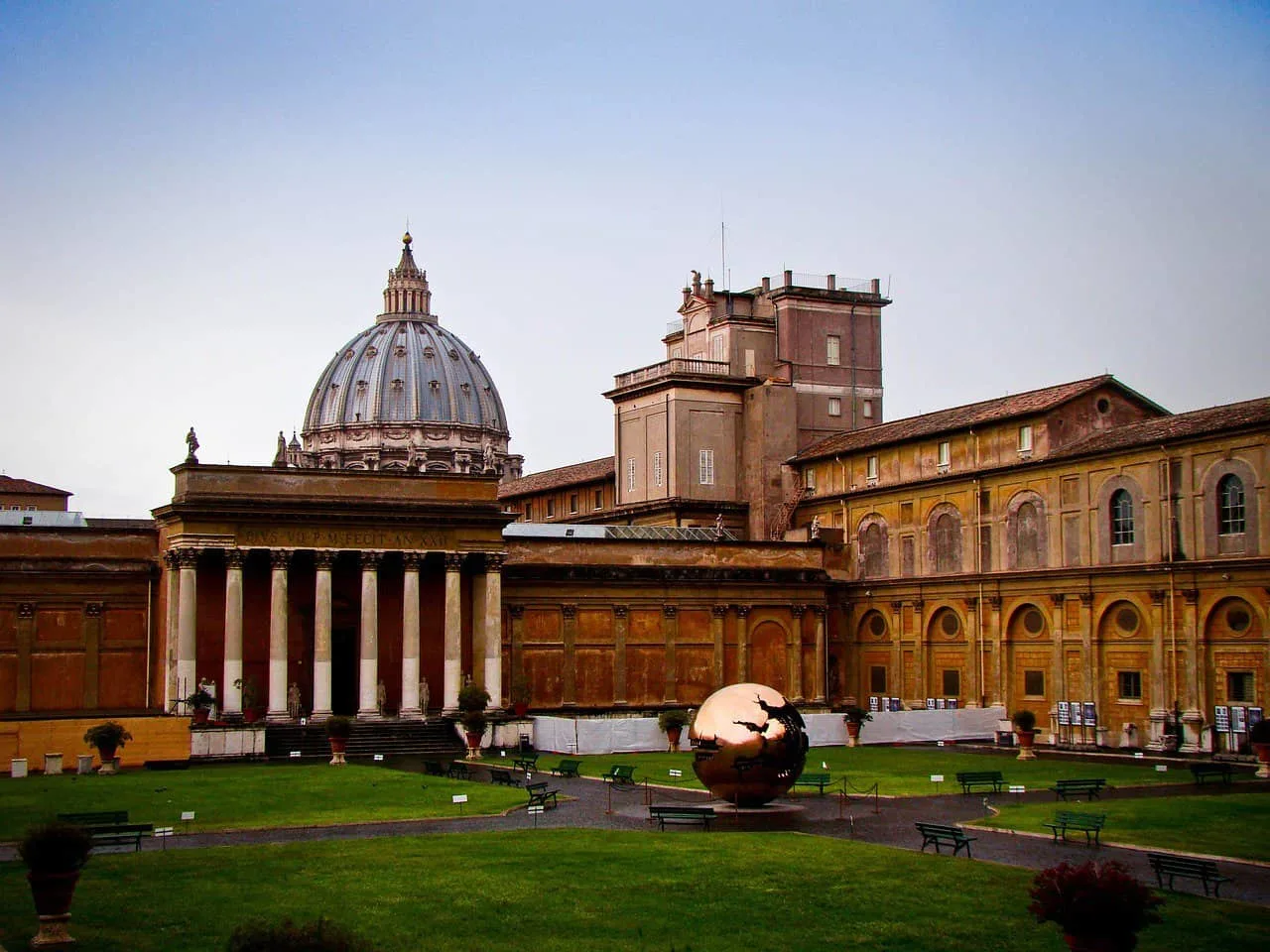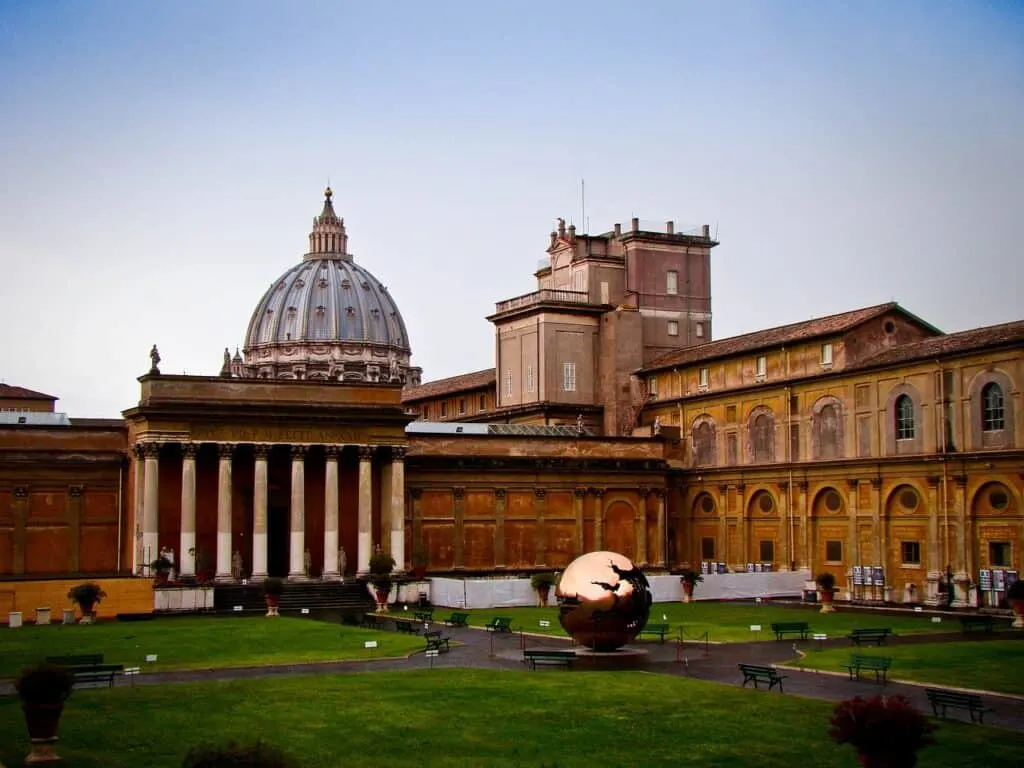 Castel Sant'Angelo
After leaving behind an action packed morning in Vatican City, you can then make your way further east.
Along the way is a perfect addition to your one day in Rome – Castel Sant'Angelo.
Castel Sant'Angelo was originally built as a tomb for the Roman Emperor Hadrian in 135AD. After that, it was transformed into a fortress to protect Rome during the Middle Ages.
Throughout the years since, it was also used as a Papal residence and prison. However, today it has been repurposed as a museum.
While visiting the museum will be a bit too much to take on during a single day visit, you can still enjoy the view of Castel Sant'Angelo from the nearby bridge.
The bridge is just a 10 minute walk from St Peter's Square, so it should be a nice & easy stop to make along the way.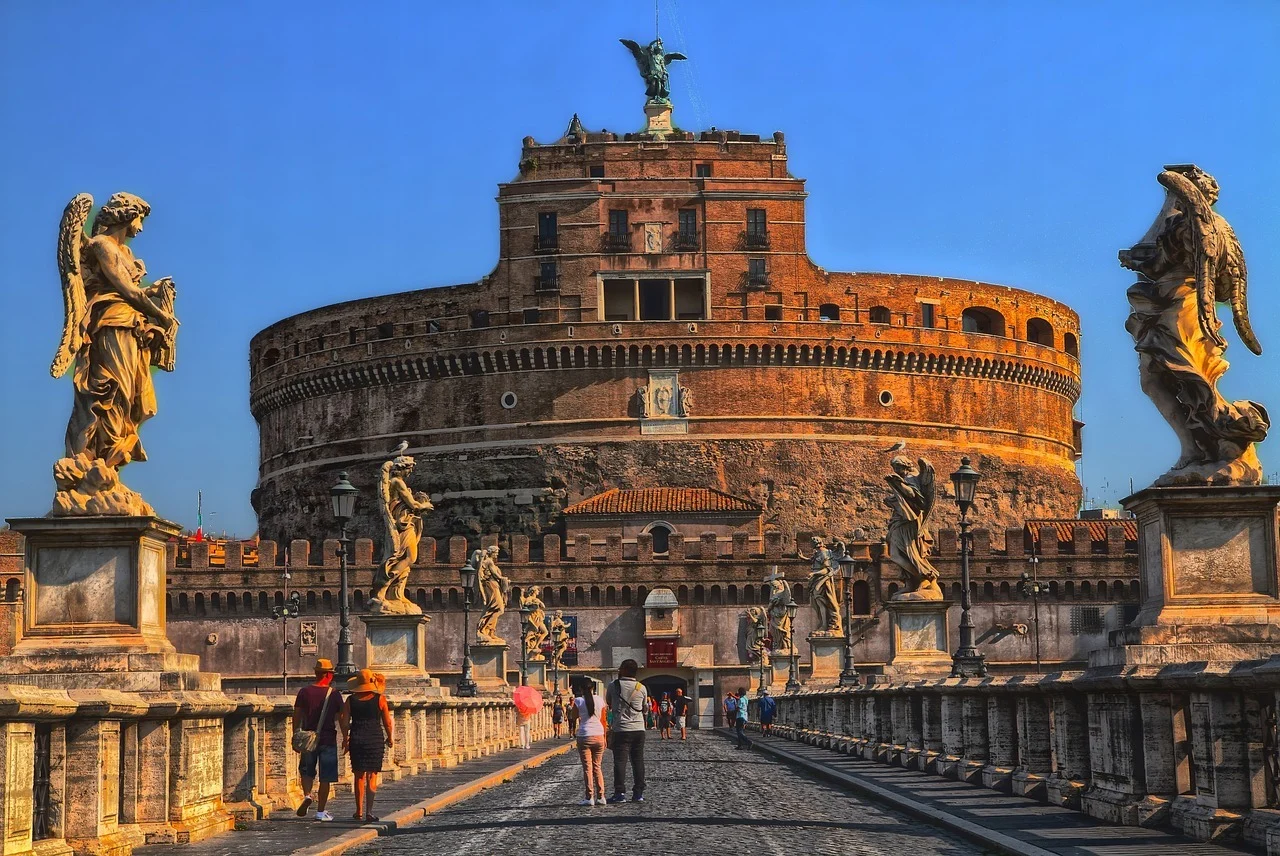 Piazza Navona
When it comes to the most beautiful squares in Rome, it does not get much better than Piazza Navona. The square is just another 10-minute walk from Castel Sant'Angelo.
The square has a history that dates back to 86 CE, when Emperor Domitian created this long unique looking square. It was used originally for athletics and competitions. Once the Roman Empire fell, houses were built around the square, and it slowly transformed into what you see today.
As you walk along the square be on the lookout for the various statues and fountains that call Piazza Navona home.
At this time, it would also be wise to grab some food after a long morning. Piazza Navona is also surrounded by many cafes and restaurants, if you are looking for something to eat.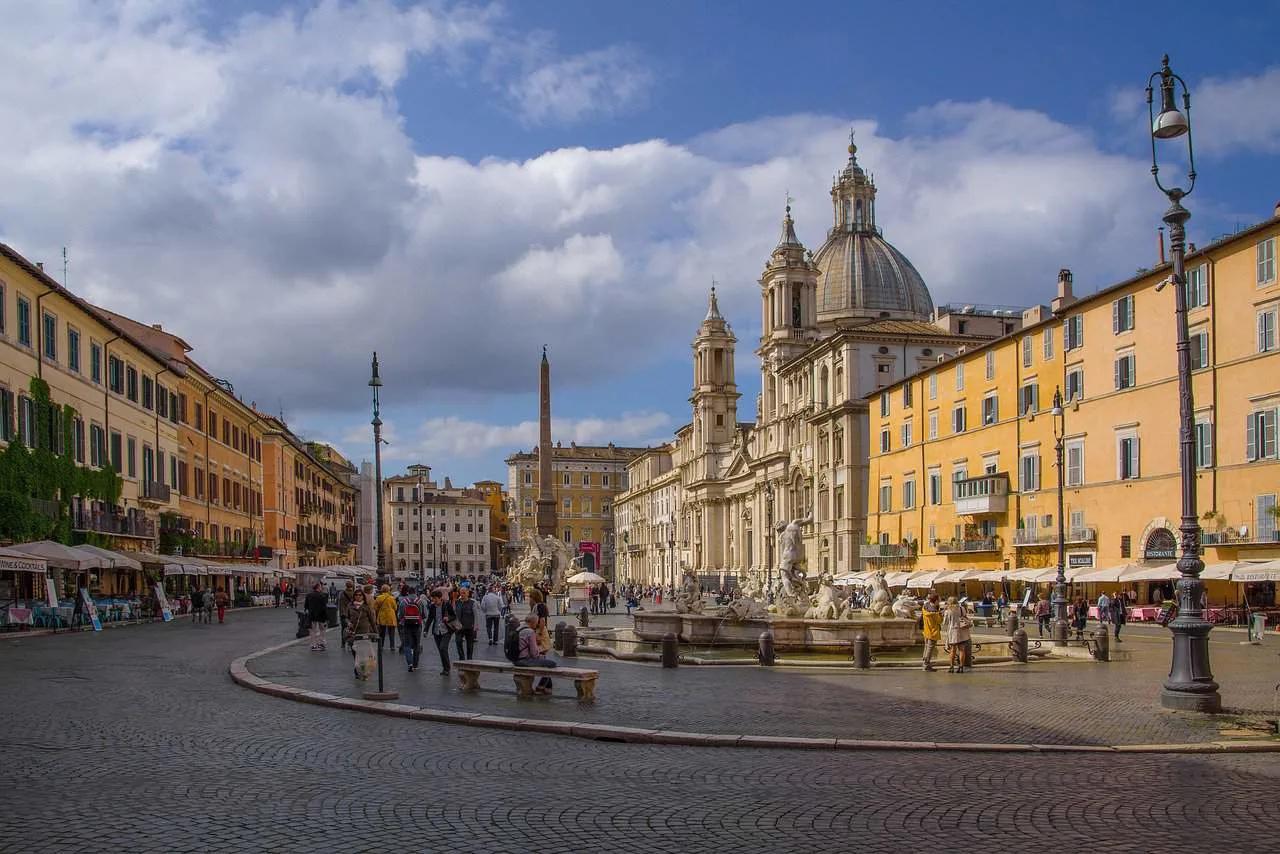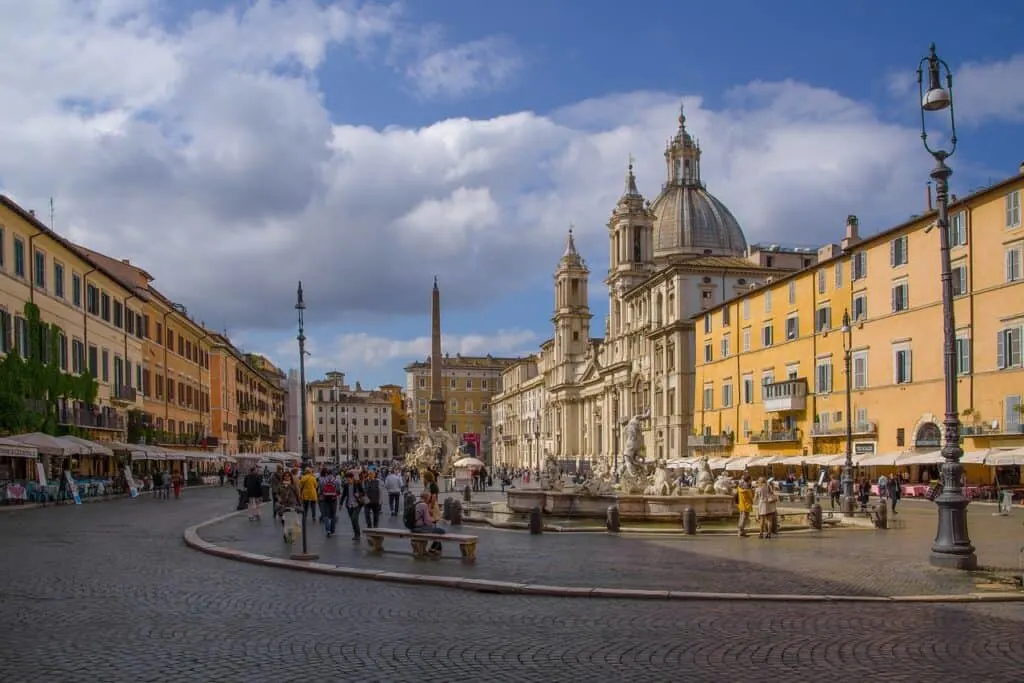 Pantheon
Opening Hours: 9:00AM – 7:00PM
Tickets: 5 Euro
Official Website: Pantheon Website
After wandering around the Piazza Navona, and grabbing some lunch, make the quick walk to the Pantheon, a former Roman temple.
2023 Update: A ticket is now required to enter the Pantheon. As stated on their website: "The entrance ticket can be purchased online on the web-platform of the Ministry of Culture or directly at the entrance of the monument, using cash or electronic payment."
The building itself is basically a huge sphere with an opening for natural light on the very top of the building. You can walk around and spend some time inside before heading out for the Colosseum.
Note: if the line is too long to get in, you may need to just enjoy the view from the exterior
→ Don't forget to check out some of the best food festivals in Italy when visiting the country!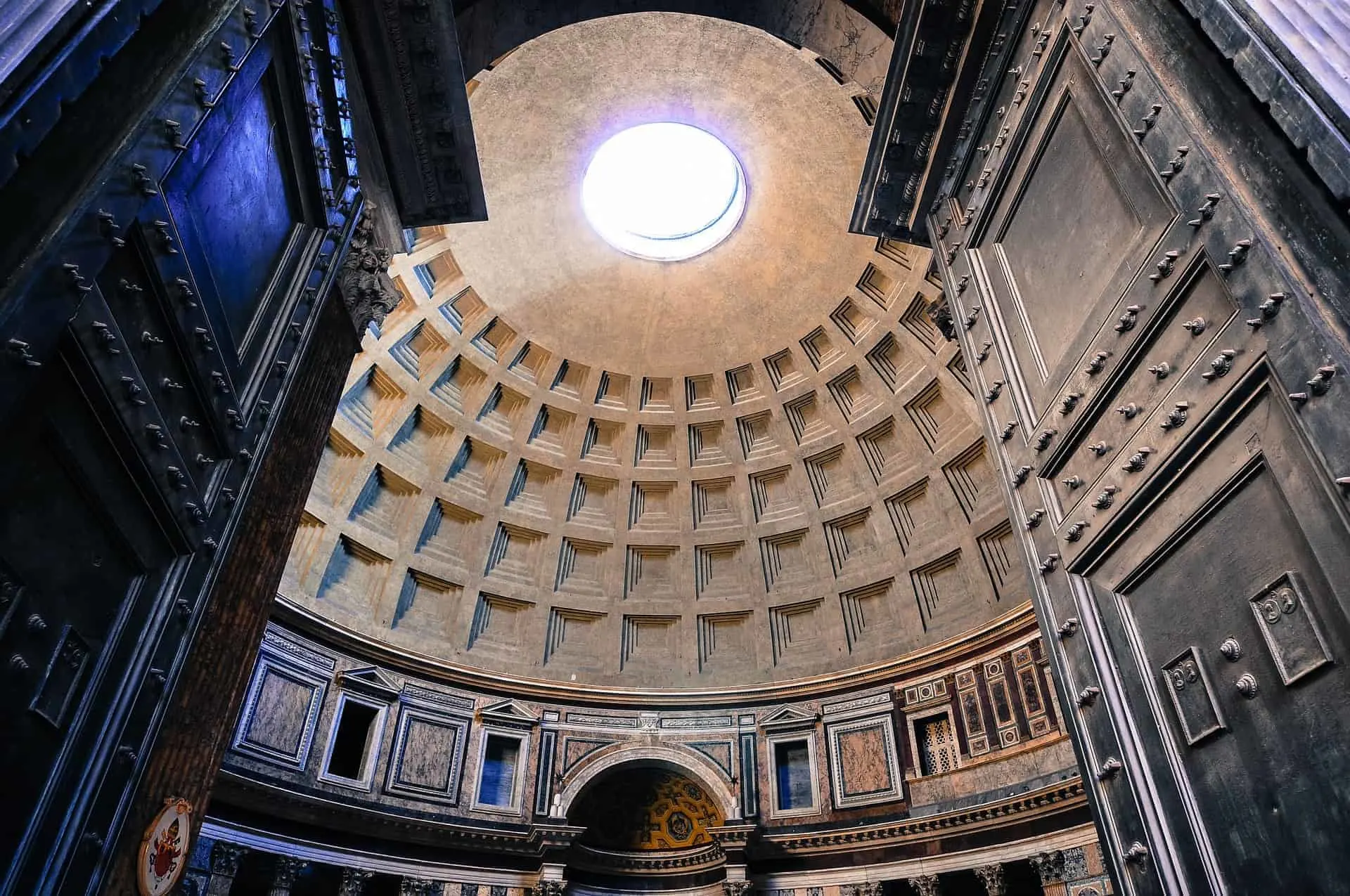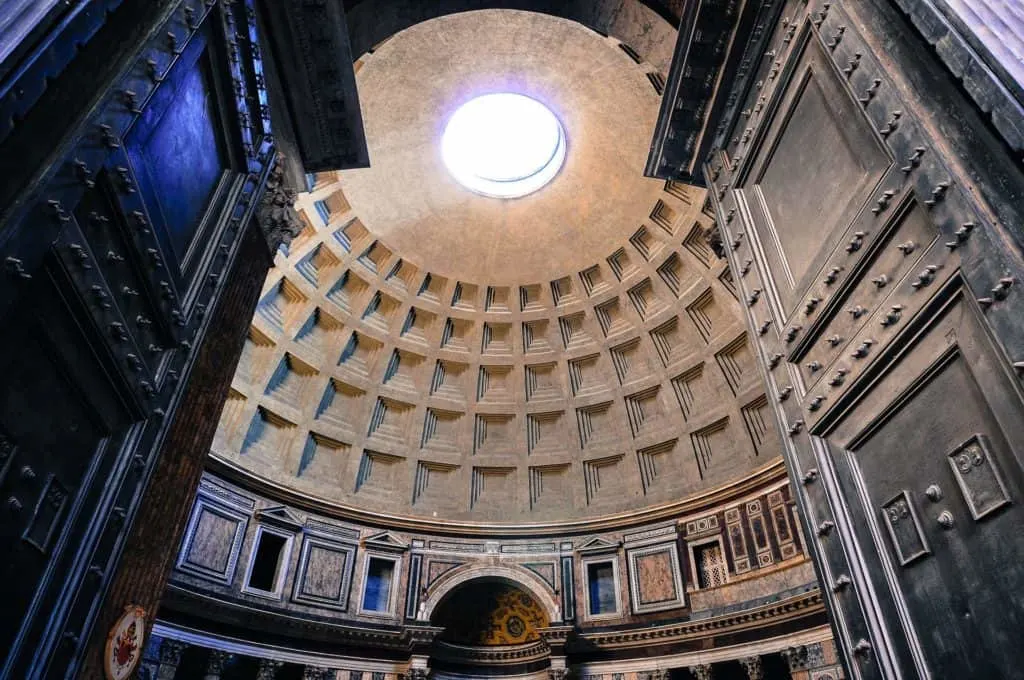 The Colosseum
From the Pantheon, you will then make your way to the next main highlight that Rome has to offer – the Colosseum.
From a logistics perspective, you can either walk the 25 minutes between the two or you can hop on the 10 minute bus ride (line 85/87) that will take you there.
The Colosseum is known to be one of the largest amphitheaters in the world and was used for everything from gladiator fights to animal battles. It was a way to bring the people of Rome together and give them different types of entertainment.
The Colosseum is one of the seven wonders of the world and for good reason. You can spend hours here admiring the architecture and learning about the history of the site.
Note: tickets & tours for the Colosseum also include a visit to the nearby Roman Forum & Palatine Hill (more on those in the following section).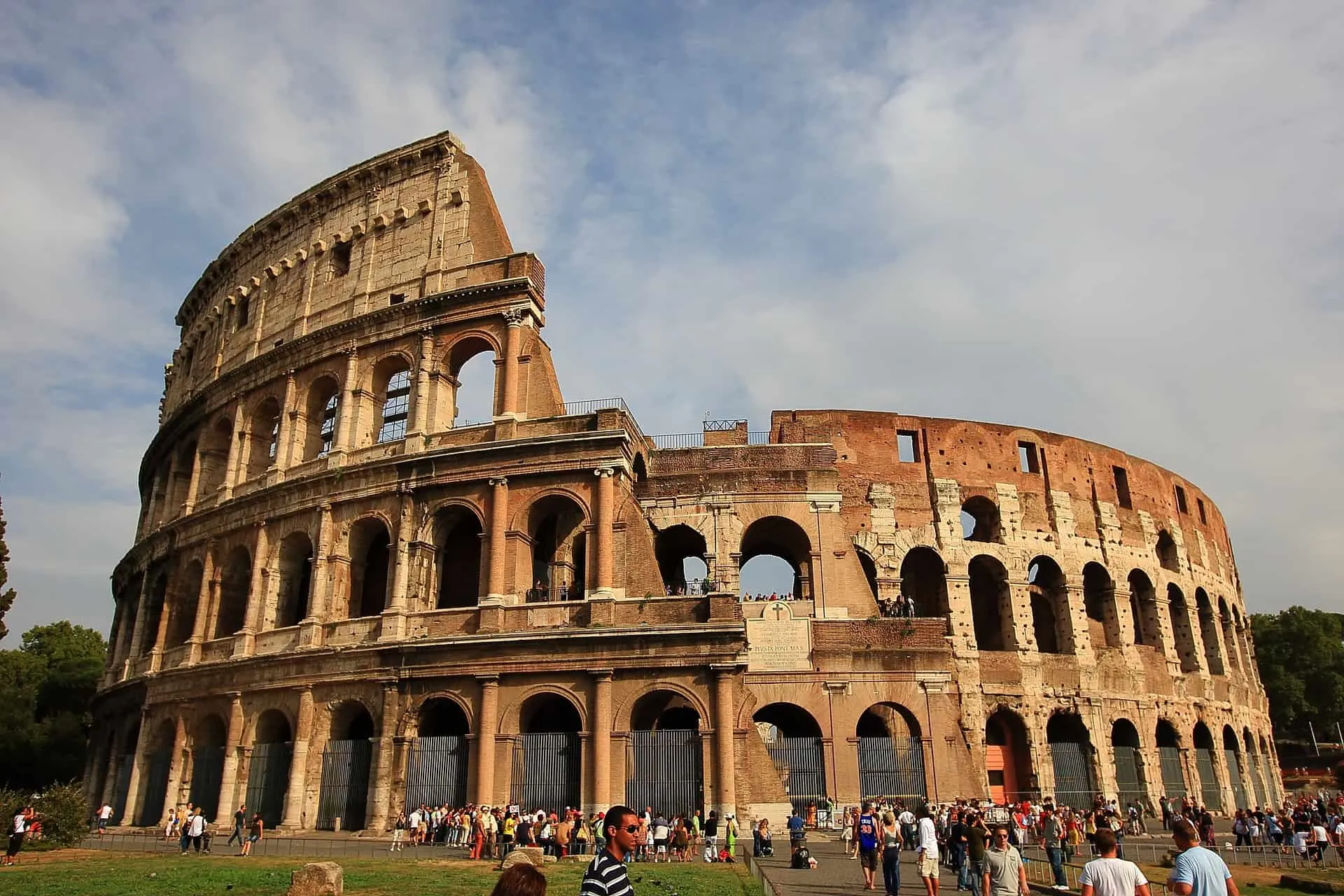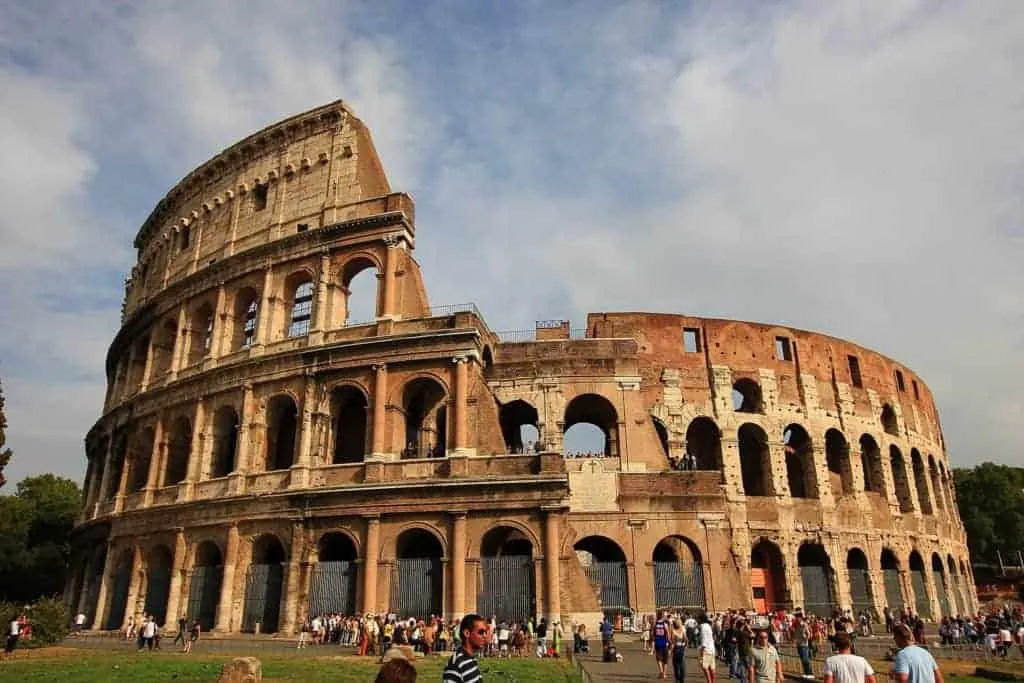 Tickets, Tours & Hours
Due to its significance, The Colosseum is known to have very long lines to buy tickets, especially during the high summer season. You can however avoid all the waiting and head directly into the site if you buy tickets ahead of time.
There are three main ways to go about a visit to the Colosseum:
Self Guided: simply purchase a designated time entrance ticket to skip the line and explore the Colosseum at your own pace. There are three options available:
Ordinary Ticket: Colosseum + Roman Forum/Palatine Hill
Full Experience Arena Ticket: Colosseum, Arena, Roman Forum/Palatine Hill, SUPER sites
Full Experience Undergrounds and Arena Ticket: Colosseum, Arena, Undergrounds, Roman Forum/Palatine Hill, SUPER sites
Guided Tour: you can join a ~3 hour guided tour of the Colosseum, which also included a visit to the Roman Forum and Palatine Hill
Underground Tour: my recommendation for a guided option would be to join the Underground Arena Floor option. This gives you access to the lower level of the Colosseum, in addition to its other highlights (and Roman Forum and Palatine Hill)
Timing Note: if joining a tour (and following this one day itinerary), I would recommend one around 2:30PM/3:00PM. The tours last around 3 hours give or take.
Colosseum Hours
January 1 to February 28: 9:00AM – 4:30PM
March 1 – March 25: 9:00AM – 5:30PM
March 26 August 31: 9:00AM – 7:15PM
September 1 to September 30: 9:00AM – 7:00PM
October 1 – October 28: 9:00AM – 6:30PM
October 29 to December 31: 9:00AM – 4:30PM
Official Website: Colosseum Website
Note: the Colosseum is free on the first Sunday of each month. Advance tickets are not available and you must pick them up at the Colosseum on a first come first serve basis.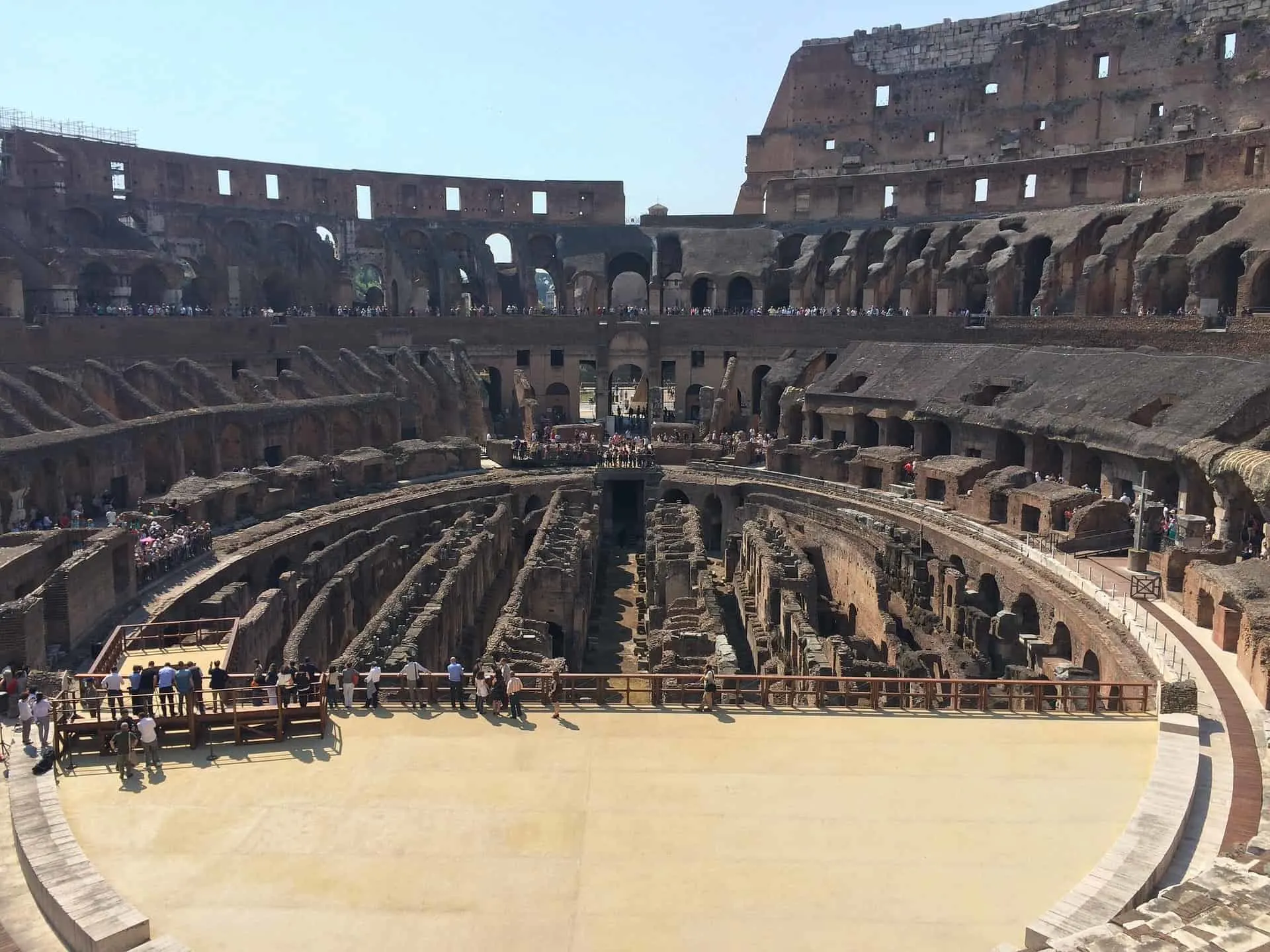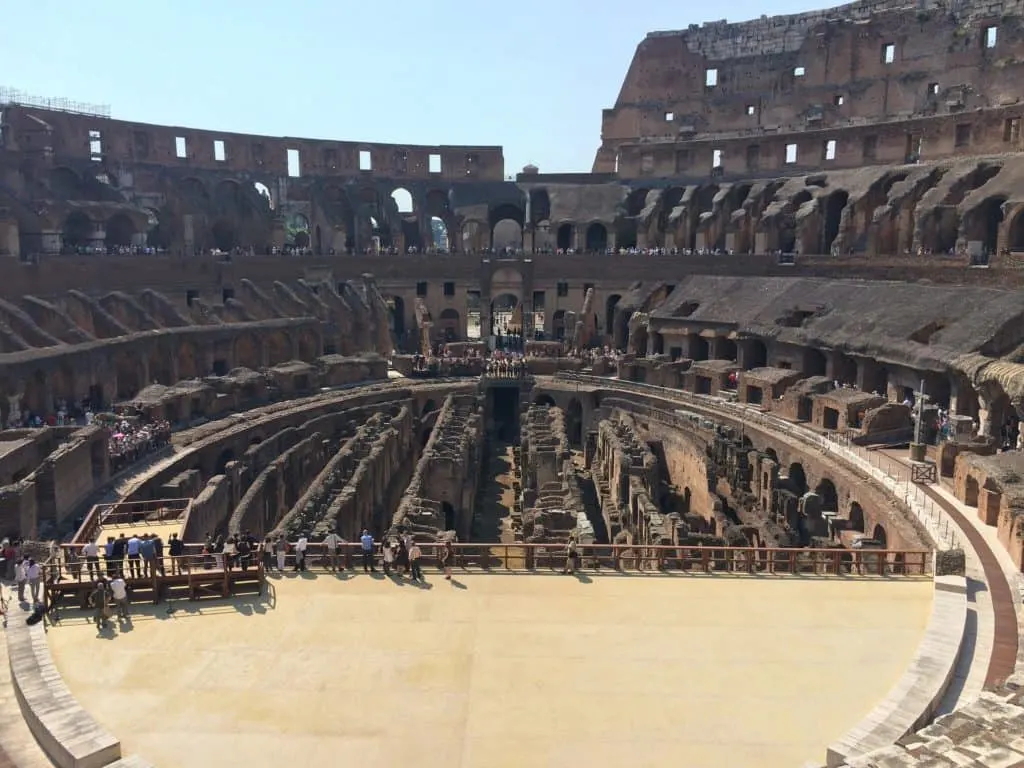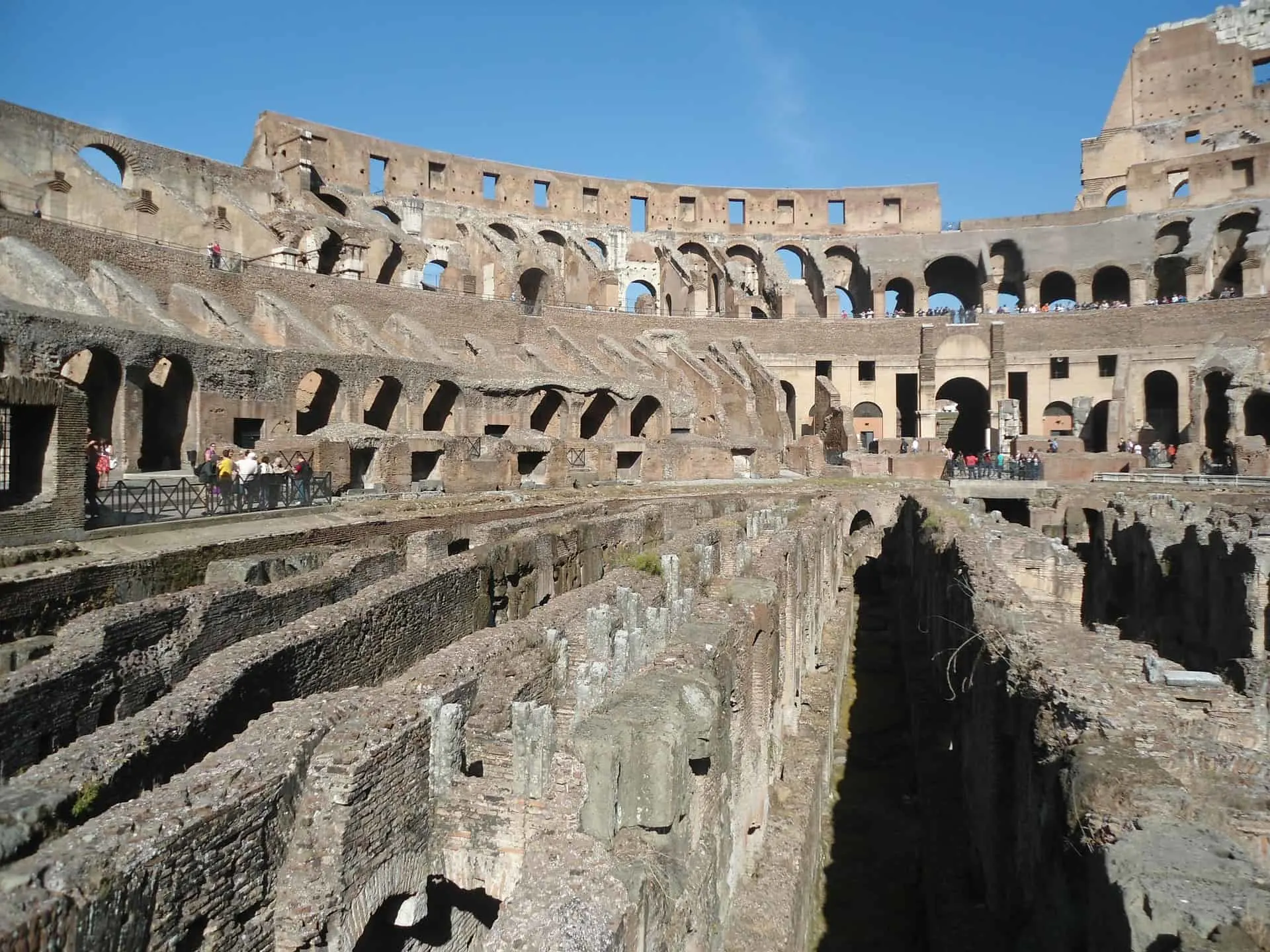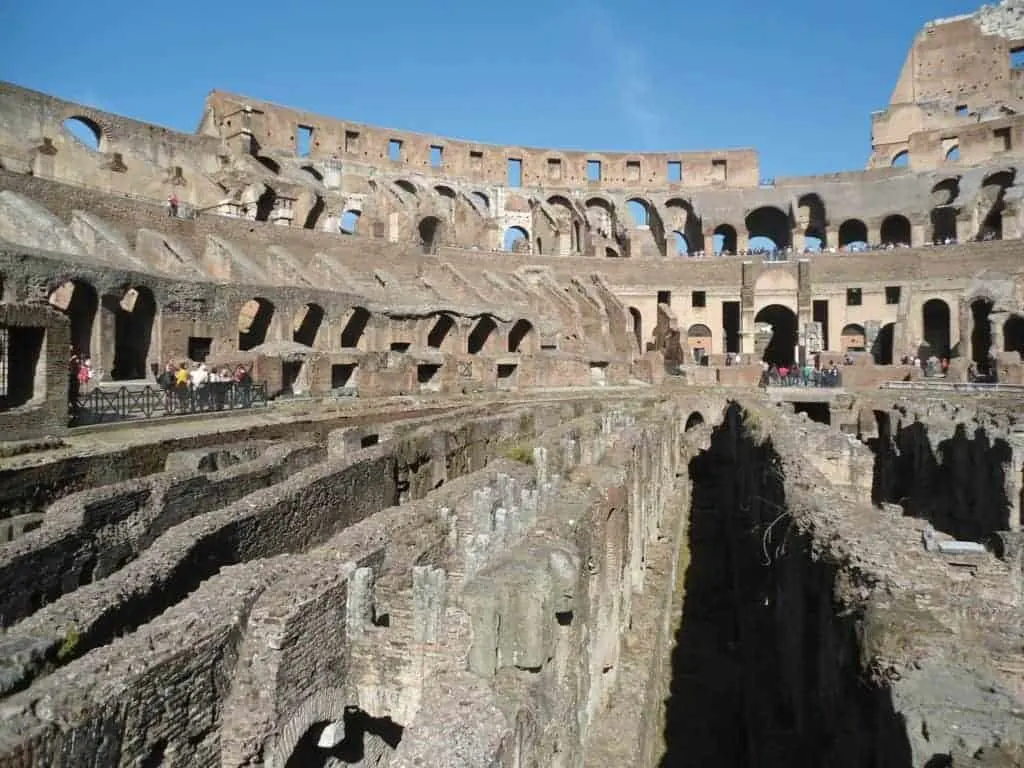 B) Roman Forum & Palatine Hill
Opening Hours: See above for the Colosseum
Tickets: Part of Colosseum ticket
Once you have had enough time browsing around inside the Colosseum you can make your way outside to the Roman Forum and Palatine Hill (both included in the price of your ticket).
The Roman forum area is pretty impressive with numerous historical ruins sprawled throughout the surrounding area of the Colosseum.
Just some but not all of the sites include The Arch of Titus, Temple of Saturn, and Temple of Vesta. There are plenty of others that you will pass by along the way.
You can then also make your way to Palatine Hill, which houses some additional ruins. There is also a great view of the Forum from the Hill that makes for a great picture opportunity.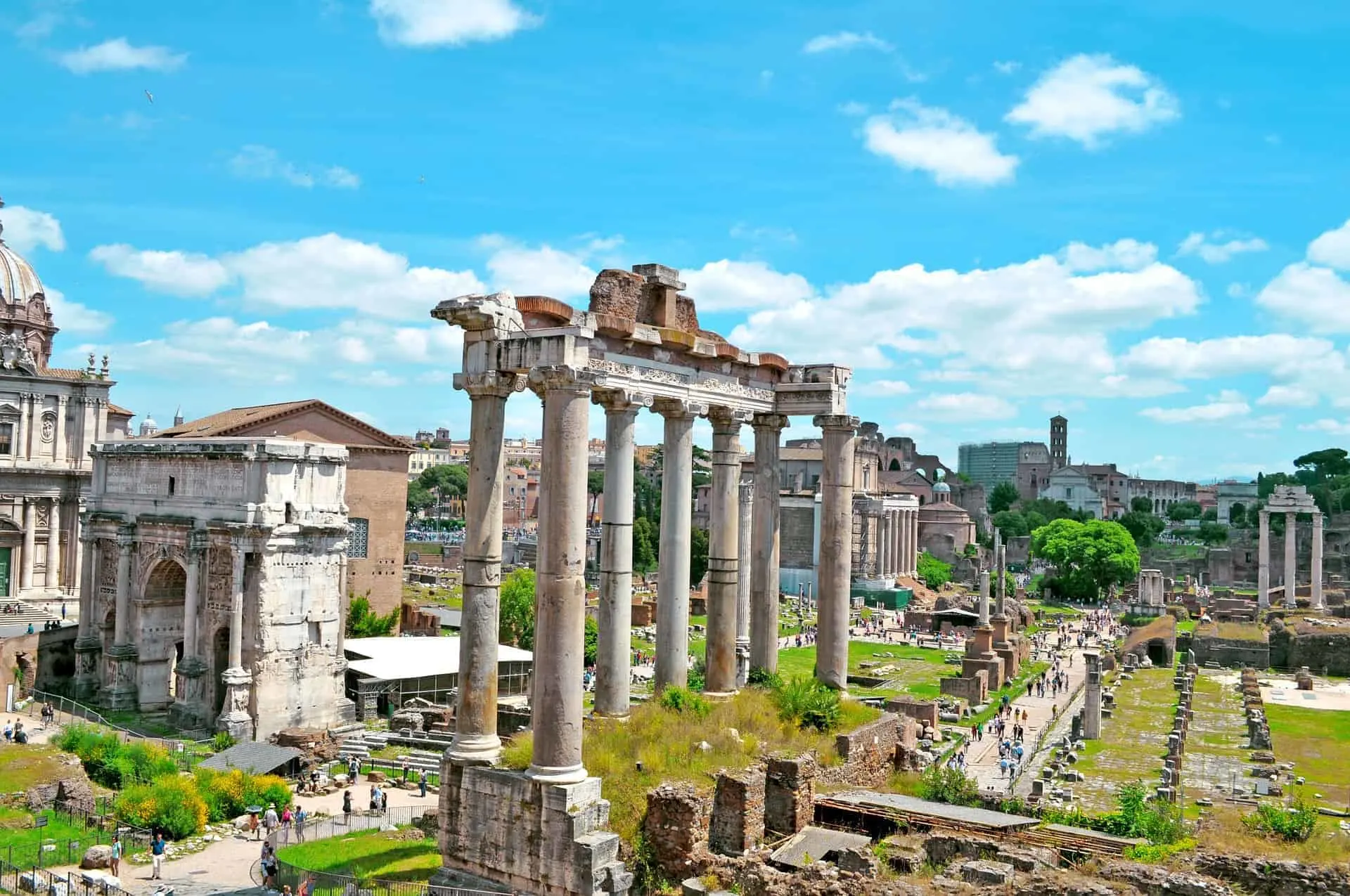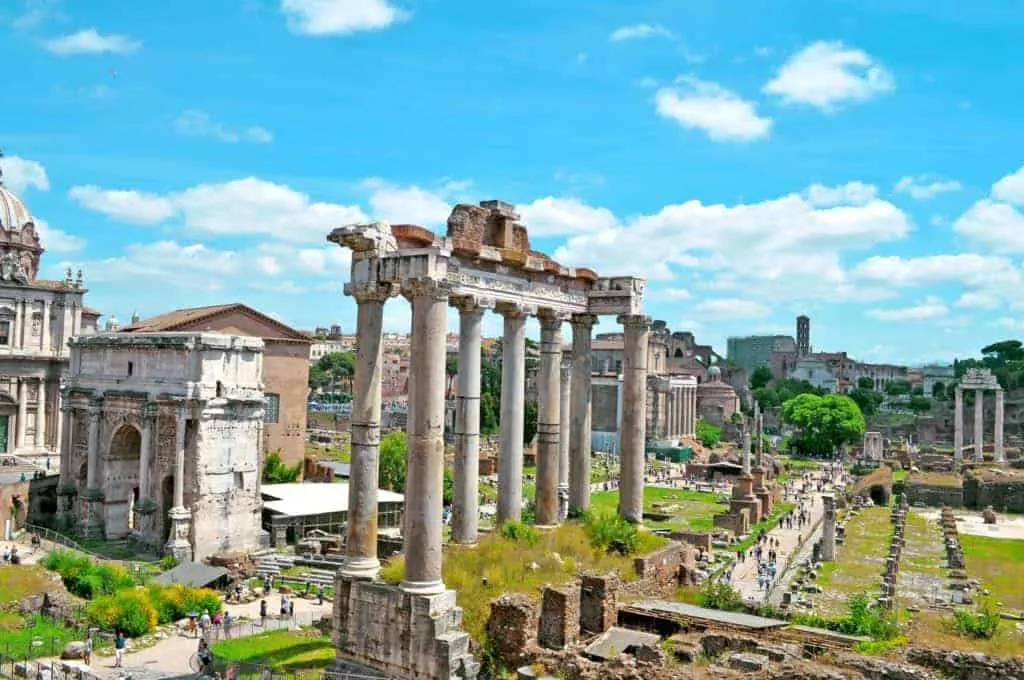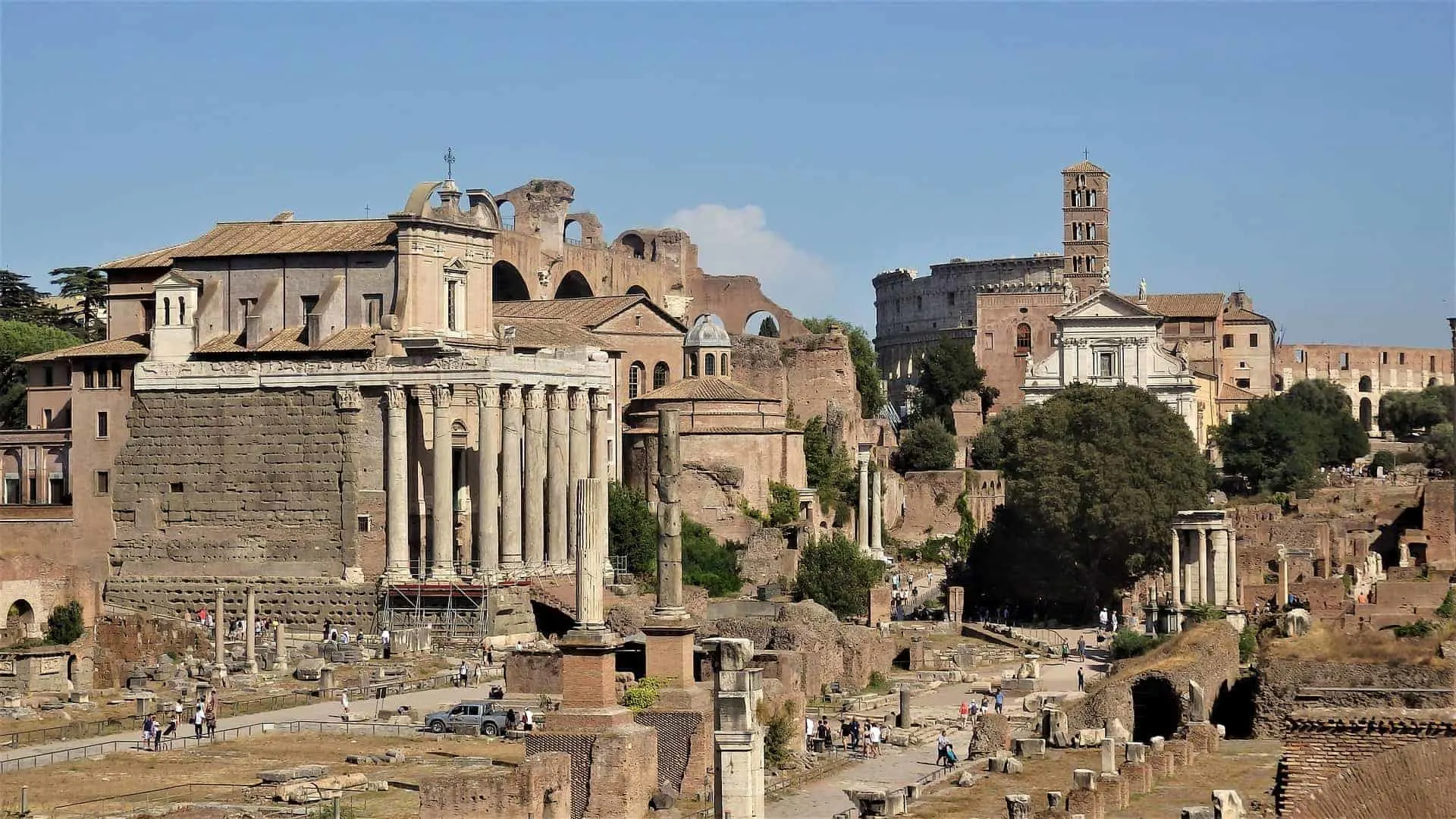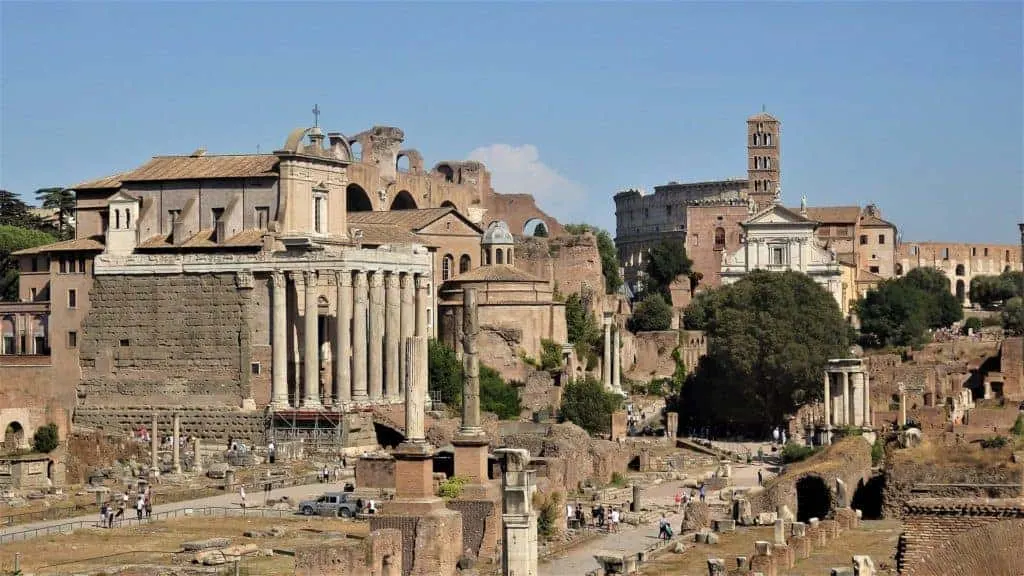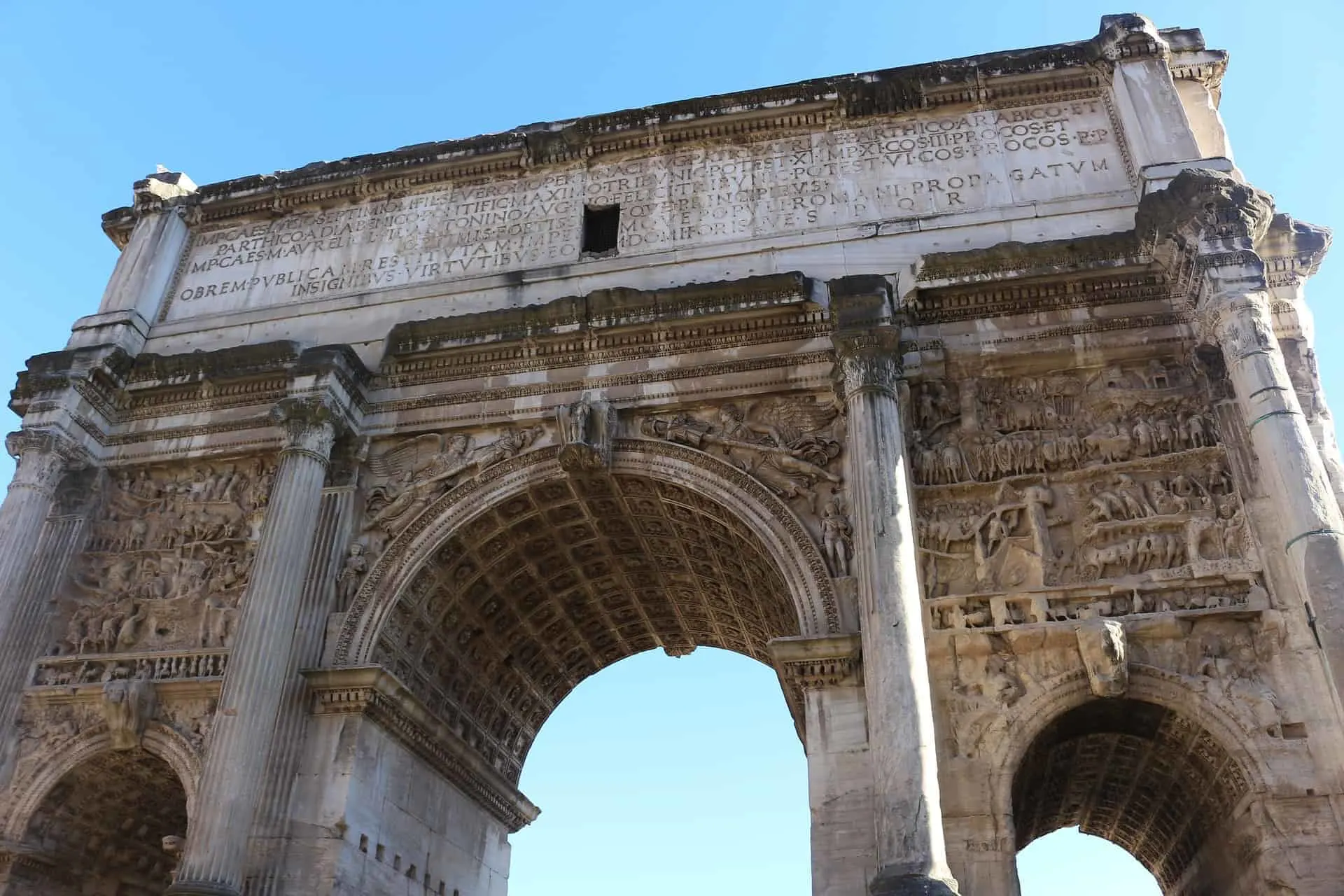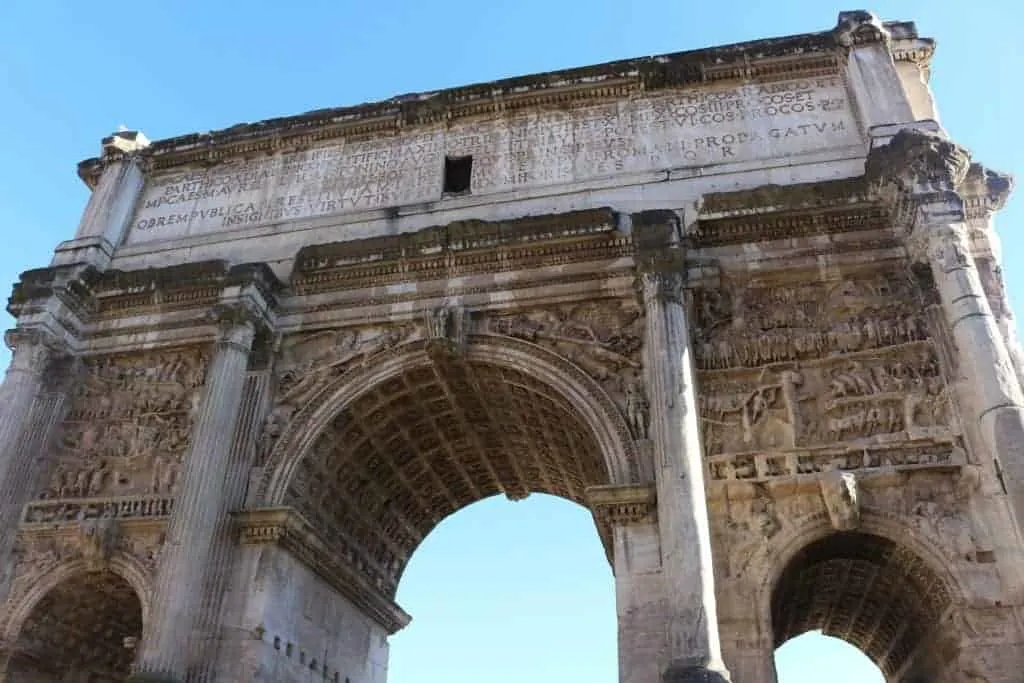 Trevi Fountain
After your afternoon of exploring all that the Colosseum area has to offer, it is time to head back towards the Trevi Fountain area.
By now, it will be later in the day (early evening around 5:00PM – 6:00PM). You can decide to simply make the 20 minute walk or hop on the 15 minute bus (routes 51/85 work here)
Next up on the Rome one day itinerary is the Trevi Fountain – one of the most well known fountains in the world! Not only is it a fountain but also a piece of art with many different statues on or around it.
Don't forget to throw some loose change in there before you leave.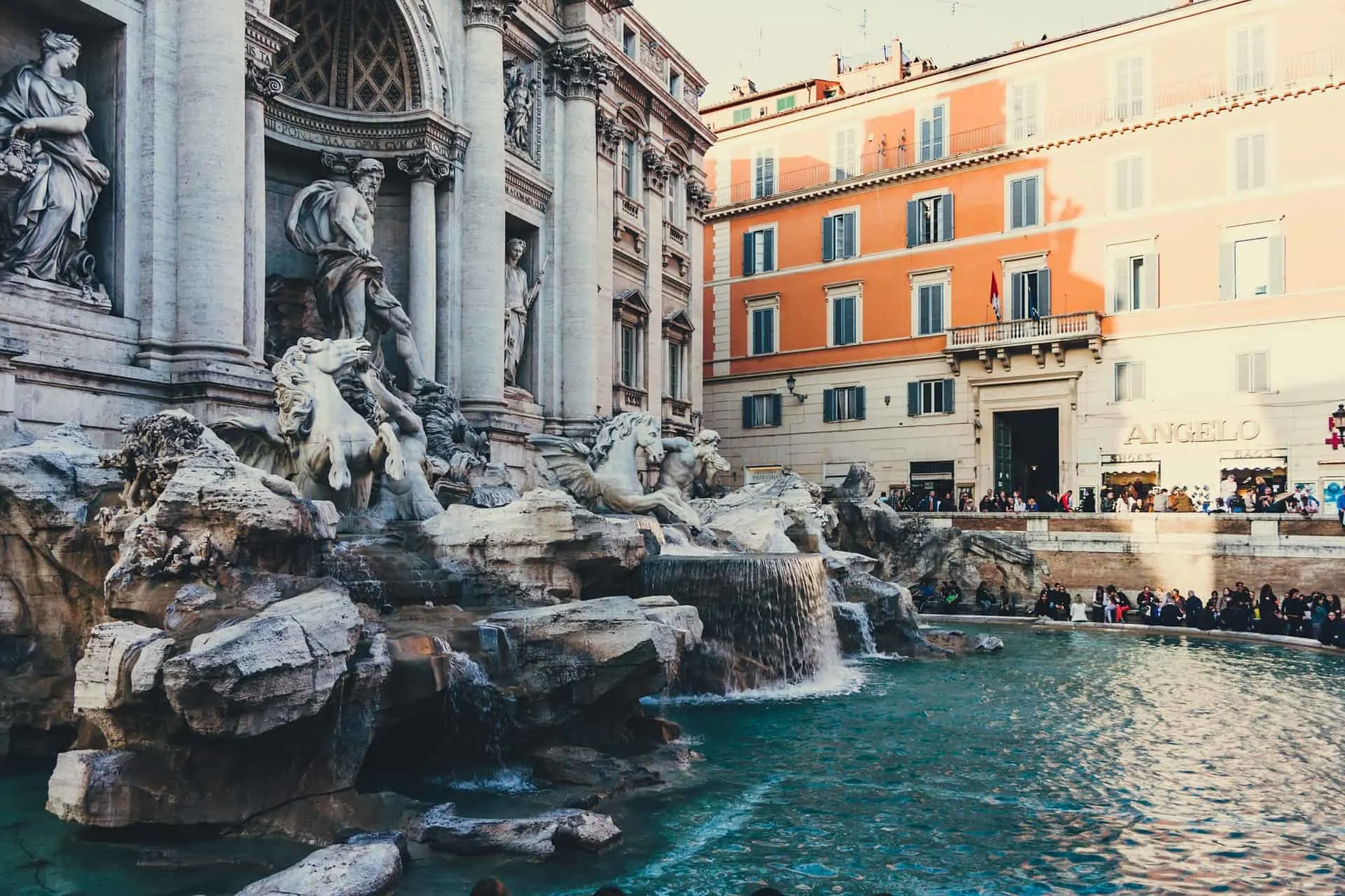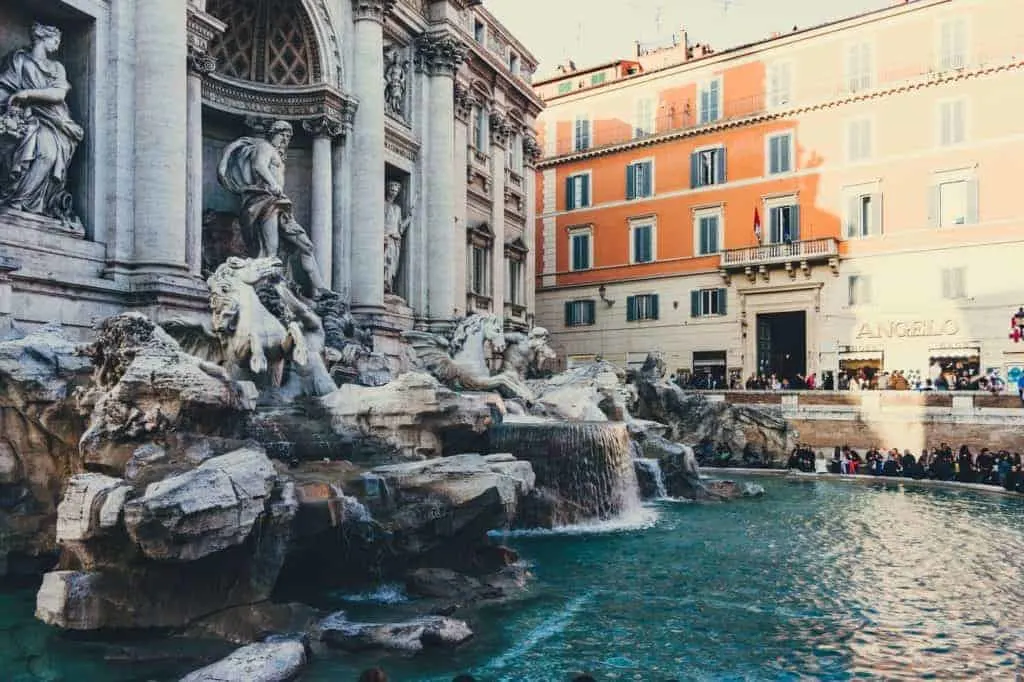 Spanish Steps
The final historical attraction of the day will be the Spanish Steps. From the bottom of the steps at Fontana della Barcaccia to the top, where you will find the Trinita dei Monti church, you will walk up 138 steps.
You will see it is quite the gathering place for many to just hang out and enjoy their time in Rome.
Once complete with the steps feel free to walk around and make your way to any other attractions you might be interested. You are sure to pass plenty of churches, and historical buildings as you walk through the city.
That will then wrap up one long but exciting day exploring much that Rome has to offer. Read on to learn more about the city and how to prepare for your time there.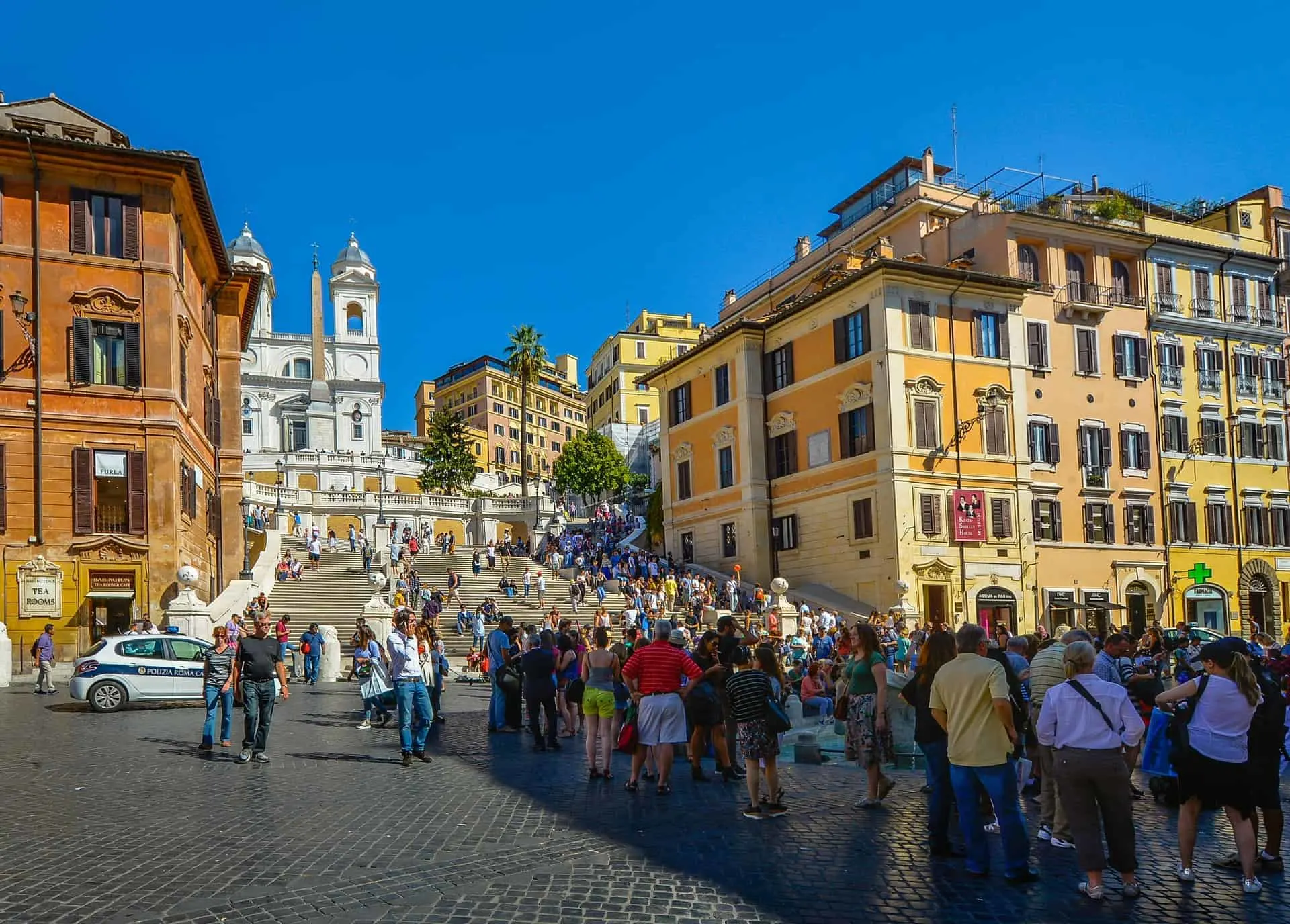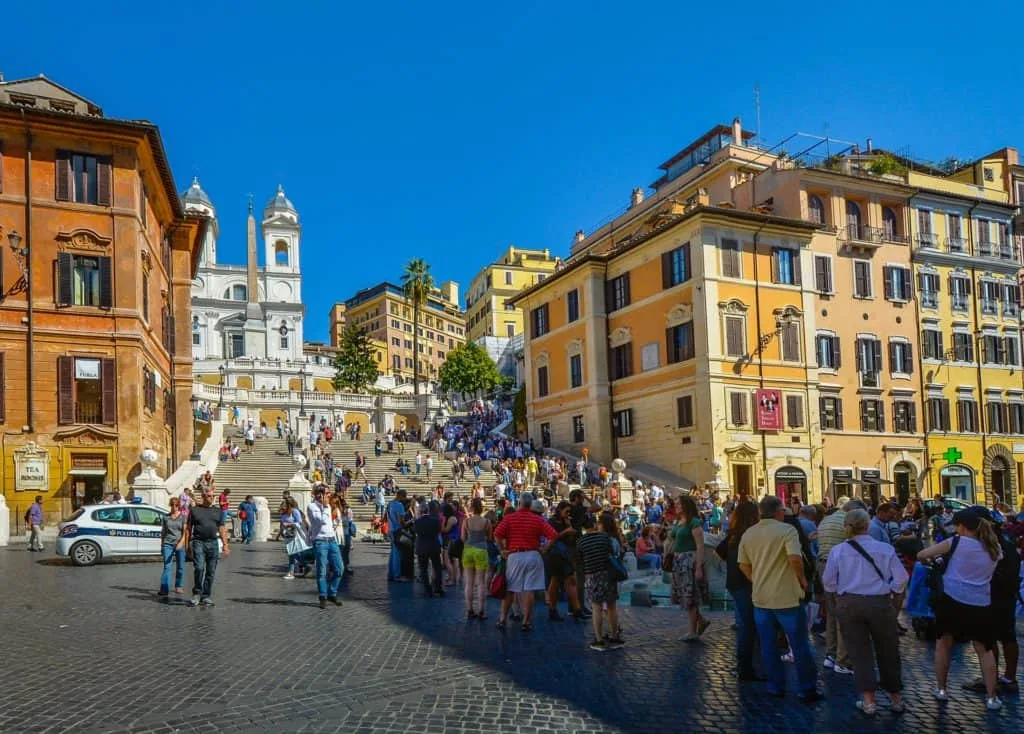 4) Where to Stay in Rome
You will have a lot of different options when it comes to accommodations in Rome.
Taking into account price and proximity to these attractions, here are a few highly rated and valued options that you can find around the city. For more options check out Booking.com.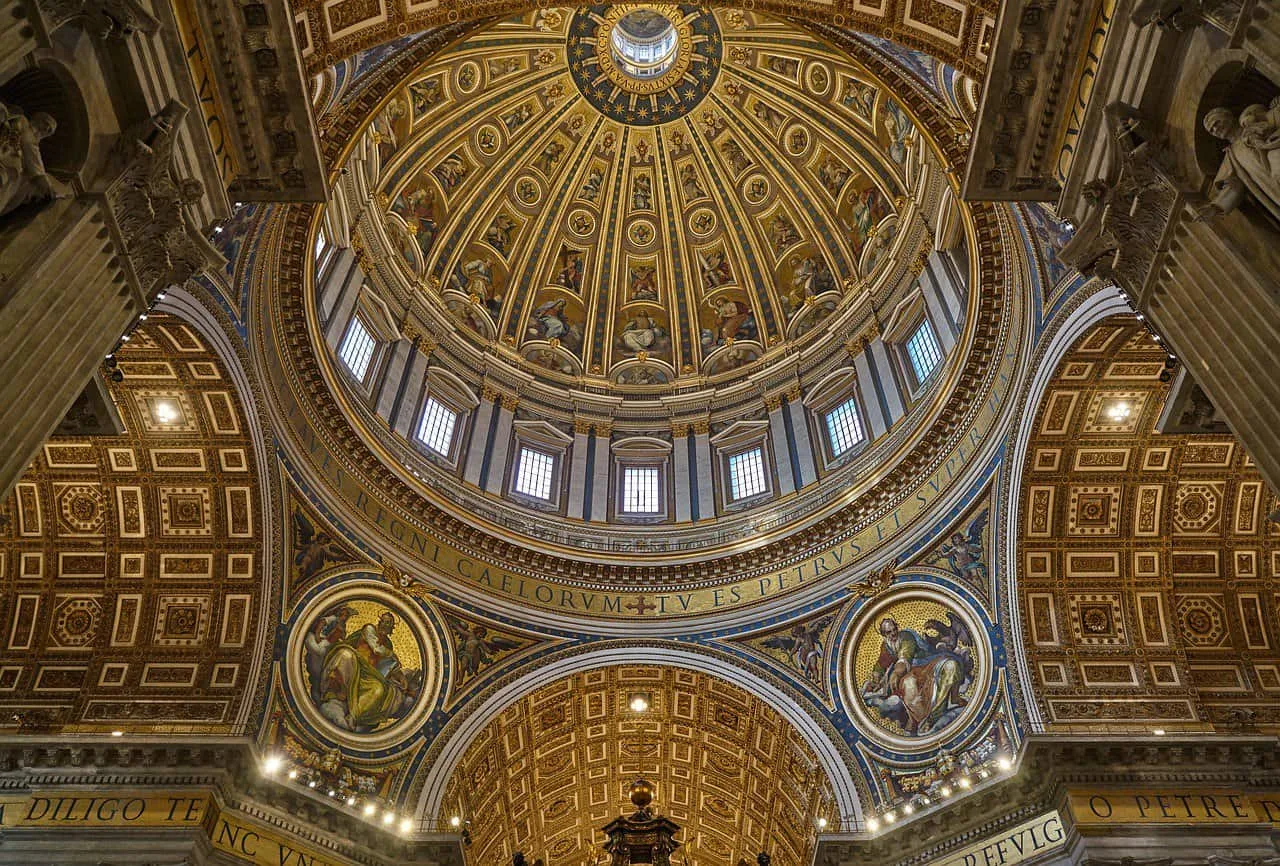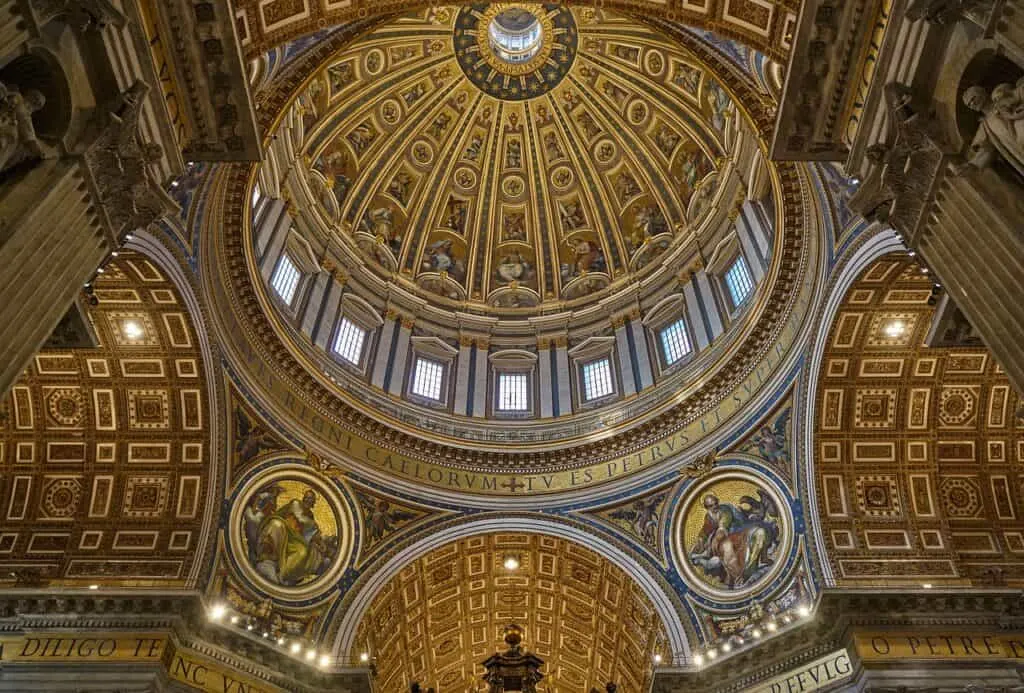 5) How to Get to Rome
There are a few main ways to get yourself to Rome depending on your overall itinerary. Plane, train, bus, and cruise ship would be the main options.
Plane
There are two airports in Rome – FCO and CIA. Most non-European international flights fly into FCO, while CIA is more so utilized by some budget airlines.
Once you arrive at the airport, you can either take a taxi or public transport into the city center. Taxis will cost around 50 Euro for the 30-45 minute journey. However, public transport can be a cheaper (and sometimes more efficient) option.
From FCO, you can take the Leonardo Express Trenitalia train, which is a quick 30 minute ride into the city center.
If you are arriving at the CIA airport, the easiest public transport option would be the SitBus or Terravision Shuttle Bus.
Train
The main train station in the city is the Roma Termini. This station connects Rome with cities all over Italy and Europe.
If you are adding Rome onto a longer Italy itinerary, you should have no issues utilizing the train network to get yourself all around.
For tickets & schedules, feel free to check out the ItaliaRail website.
Once you arrive at the Roma Termini, you can then make your way by foot, taxi, or public transport to get to your hotel.
Bus
While taking the train around Italy is one way to go about it, there are also many busses that make their way between cities as well.
If you opt for a bus, there are a few different main bus stations that are used. These include Rome Termini, Rome Tiburtina, and Rome Anagnina.
Cruise
For many one day visitors to Rome, it is possible that you may be arriving by cruise ship. In these cases, you will dock at the port, travel into the city, have a full day to explore, and then make it back to the port at day's end.
Cruises make their way to the Civitavecchia Port, located northwest of the city.
The most common way to get between Civitavecchia and Rome is by hopping on the hour long train ride that gets you right into Roma Termini. There are also trains that stop by some other Rome stations such as San Pietro and Ostiense.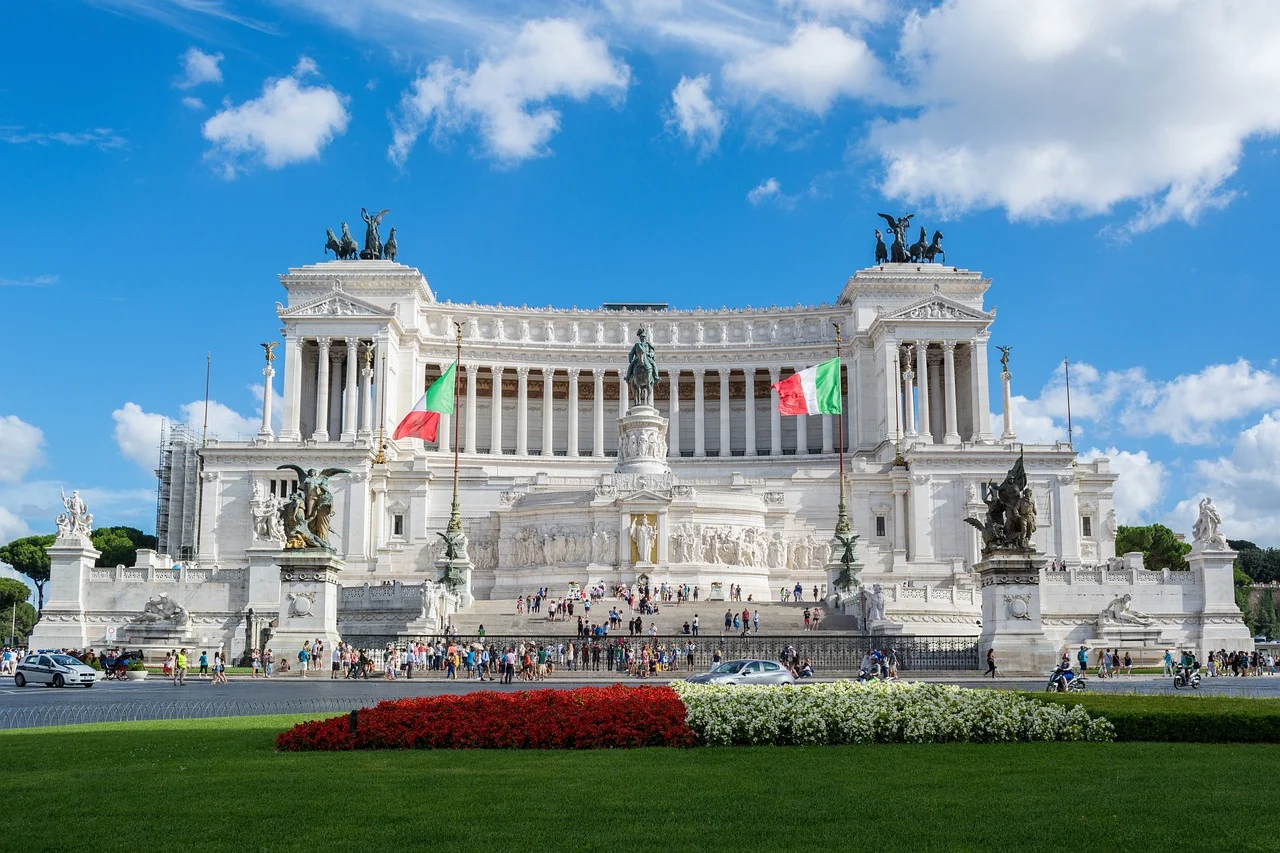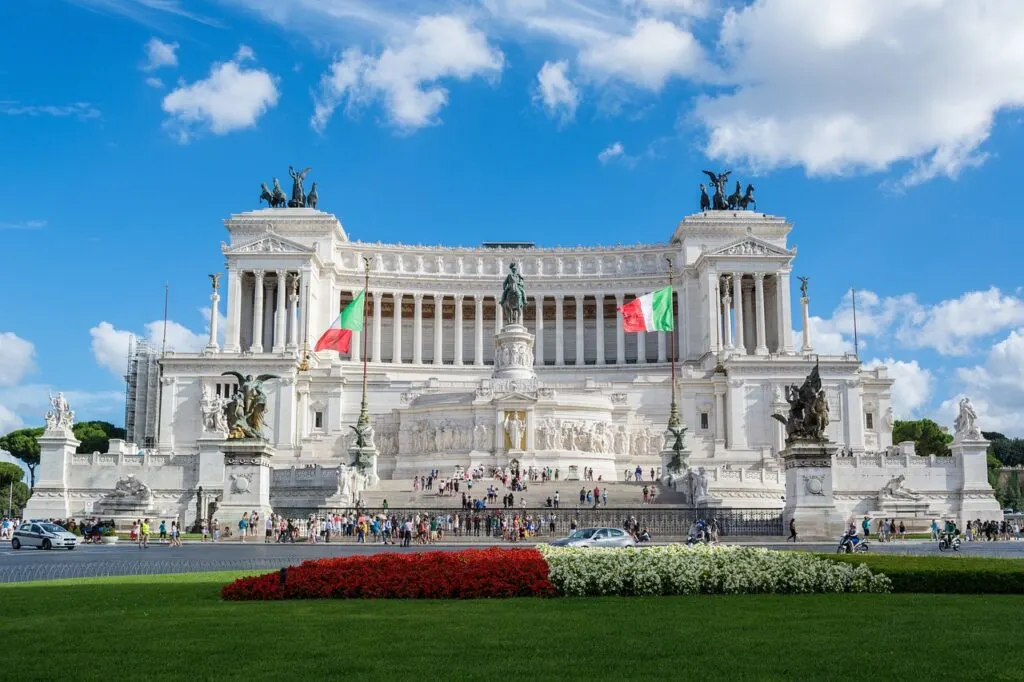 6) Getting Around Rome
Once you have made it to the city center of Rome, you will have a full day of exploring ahead of you. Getting from one place to the next can be done in a few different main ways.
Walk
One of my favorite ways of exploring not only Rome, but also other cities around Italy (like Florence) is by foot. I love the idea of getting to see different parts of the city as I walk from one attraction to the next.
When possible, I would highly recommend walking. However, there will be times where walking may just be too long of a journey. Since you only have a day in Rome, the walk may take up too much time in between the things to do.
So, in these situations you may want to consider either a taxi or public transport.
Public Transport
When it comes to public transport around Rome, there are several different varieties to choose from. Depending on your route for the day will dictate which forms of public transport to use.
In general, there are 3 main Metro lines, 6 tram lines, 3 urban railway lines, and a bus network.
One way or another, you should be able to use one or more of these transport methods to get yourself around.
Taxi
If you would like to simply hop in a taxi, that is also an option for you. Getting a taxi though can be different than in other cities. Instead of hailing taxis down, you will need to make your way to nearby taxi stands, and be on your way from there.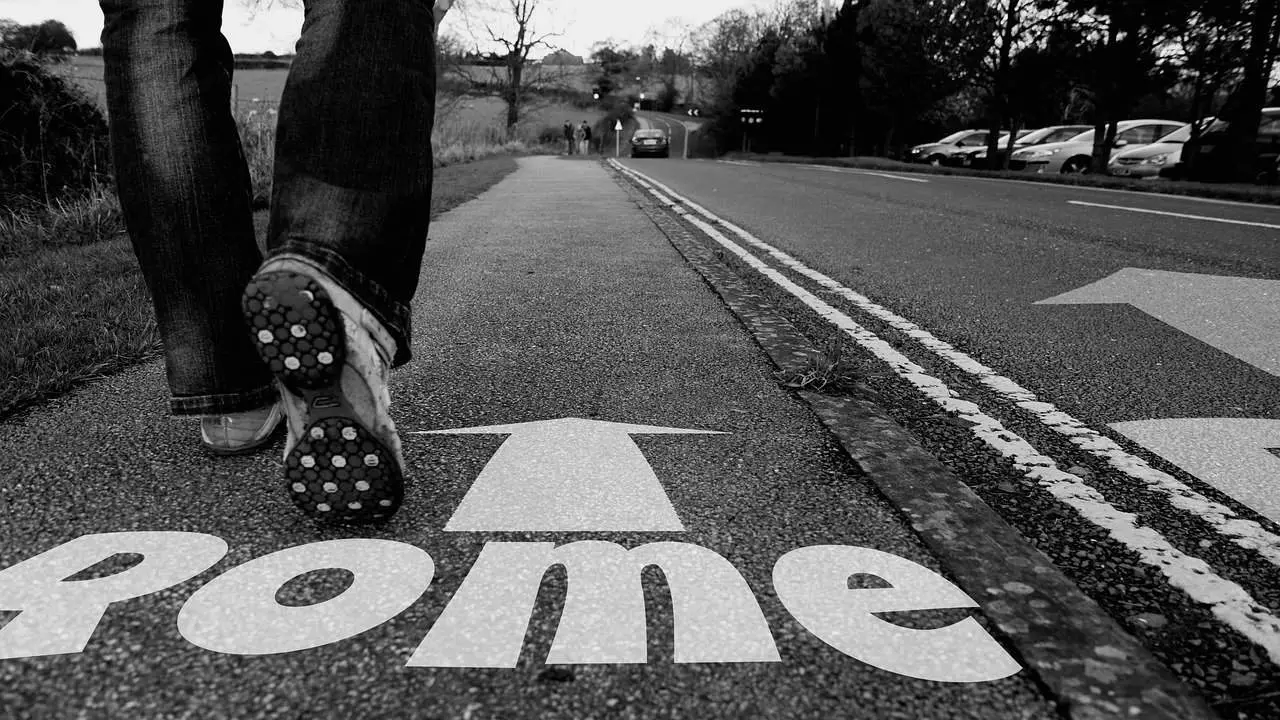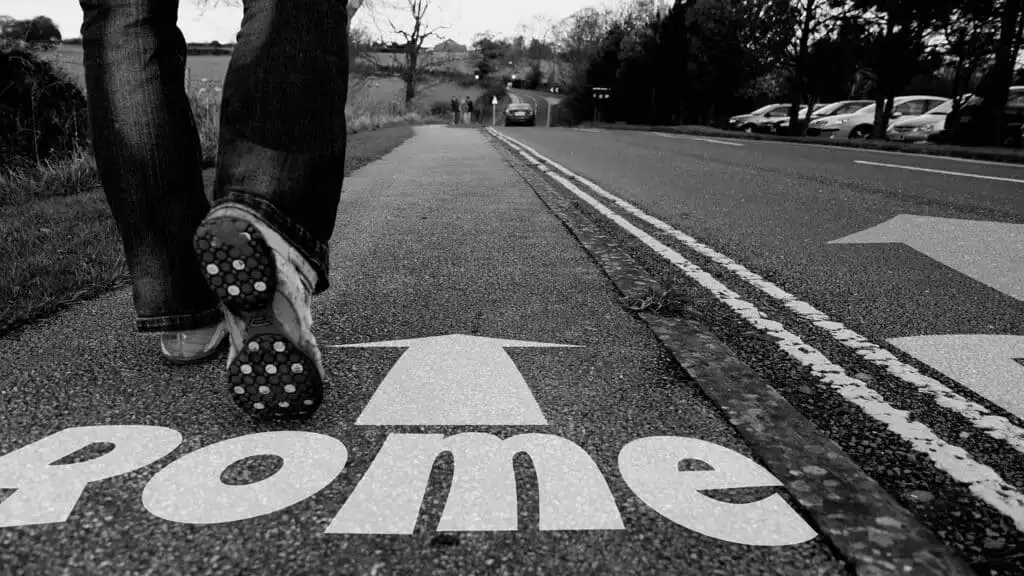 7) Best Time to Visit
While some places in Italy are only summertime destinations, other spots (like Rome and Venice), can be visited year-round.
With that said though, there are certainly pros and cons to the different seasons. Everything from the weather to the crowds can make your trip more or less enjoyable.
Winter
Visiting Rome in the winter is possible, but you will just need to be prepared for some colder weather. Expect the temperatures to range from 37 F (3 C) at night to 55 F (13 C) during the day. From a crowds perspective, this is going to be one of the least visited times of the year.
So, if you don't mind the cold but want to avoid the crowds, then winter may be a great option for you.
Spring
As the days of Winter end, the days of Spring begin. Expect temperatures in the Spring to be around 50 F (10 C) at night and 72 F (22 C) during the day. The further you get away from the Winter months, the warmer it will be.
Tourism in Rome begins to pick up in the Spring, so expect the crowds to start forming around Easter. Altogether though, the earlier parts of Spring can be an enjoyable and comfortable time to visit.
Summer
Once those summer months come around, the temperatures begin to get pretty hot. Nighttime temperatures come in around 65 F (18 C) with daytime temperatures reaching over 90 F (32 F).
With the rising temperatures also come the rising crowds. Expect an influx of tourists during those summer months with less hotel availability and higher hotel rates.
This would be least preferred month to visit given the combination of weather and tourist crowds.
Fall
After August, the temperatures begin to come down with the average Fall night temperatures around 54 F (12 C) and days around 72 F (22 F). This can be a much more comfortable time to visit but do be aware that it can also be one of the rainiest times of the year.
Best Time
If I had to choose, the early Spring months & throughout the Fall would be my top times to visit. The weather will still be warm enough while the crowds will be off of their peak.
This may also give you the chance to still visit some beach towns during a visit to the country too (such as a Positano to Capri day trip).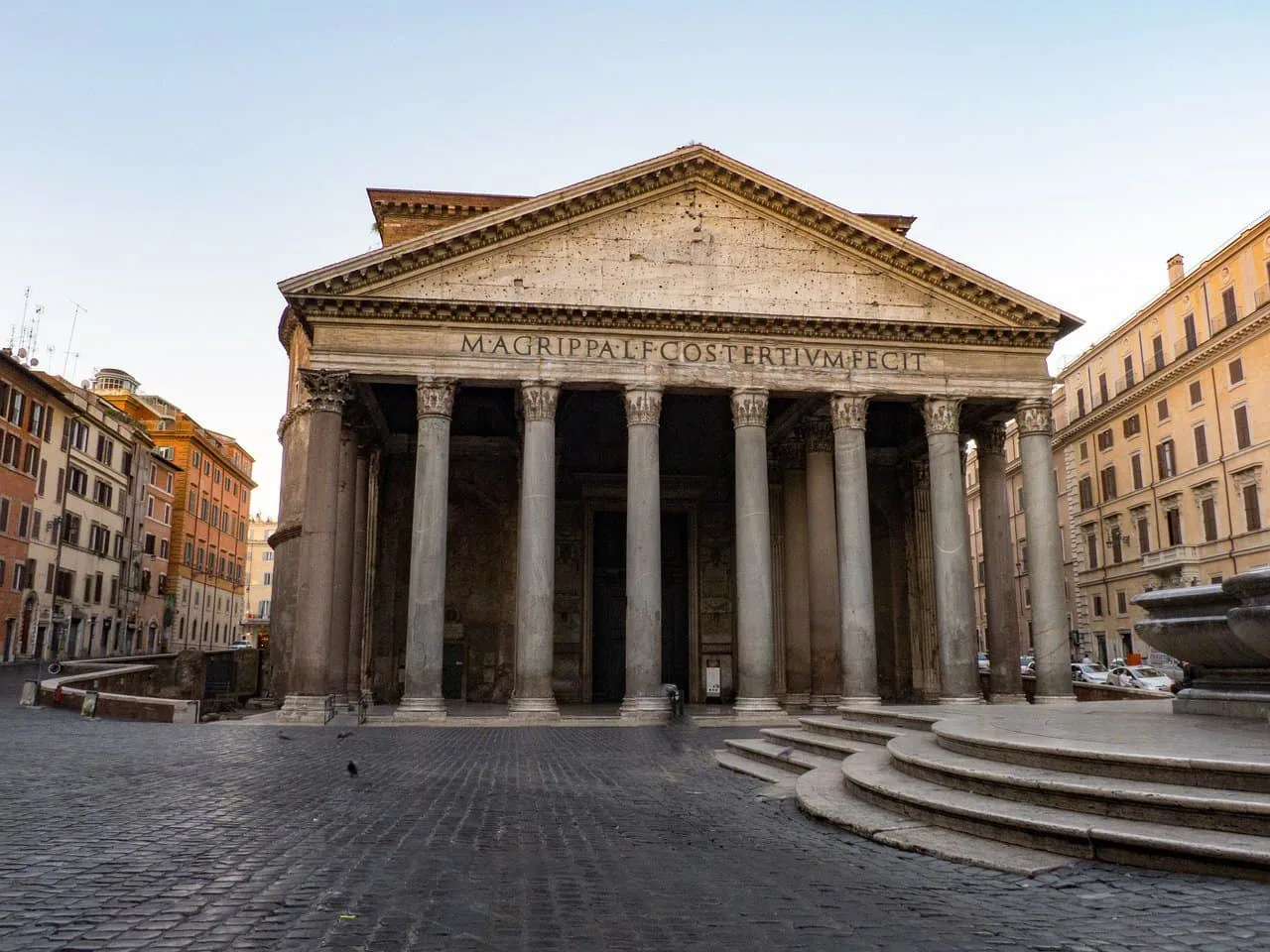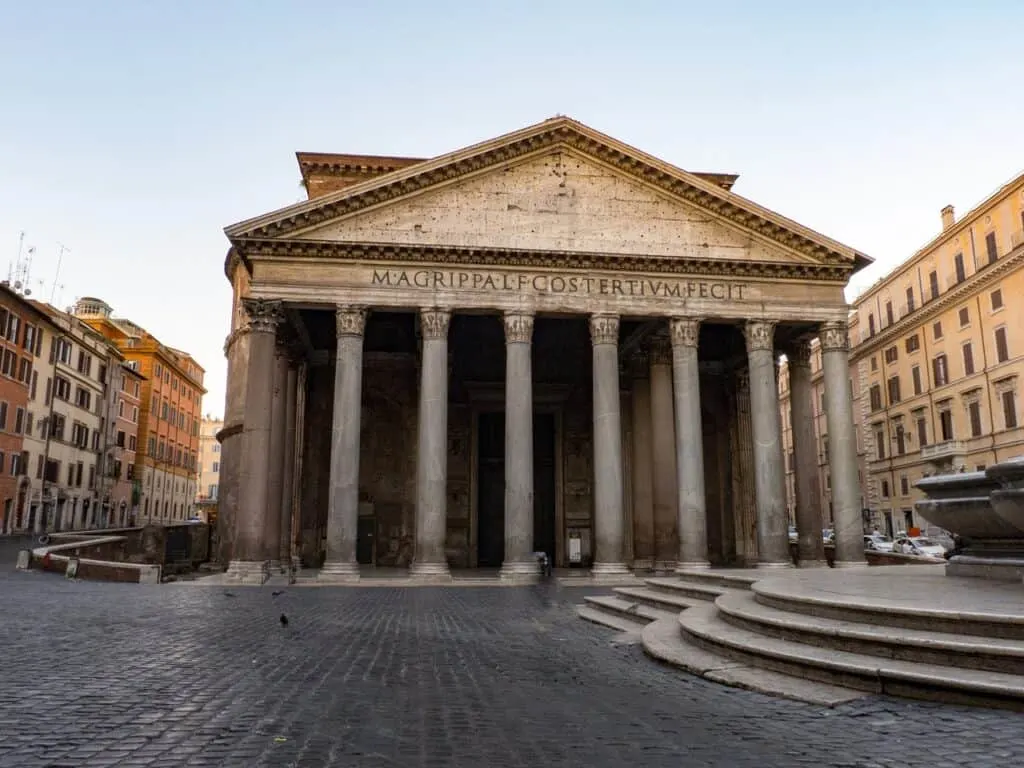 8) Rome in a Day Tour
While completing a one-day Rome itinerary on your own is one way to go about it, the other main option to consider is joining a tour.
A full day Rome tour will take you along to many of the top attractions on this list, as you have a guide by your side throughout the day.
You can check out these highly rated full day tours of Rome as options that could work for you:
Note: I have also included tour options throughout the itinerary for particular attractions. These are great for people who still want that guided aspect at certain spots, but without the need for a full day guide.
Rome in a Day Private Tour
If you are someone who wants that guided tour option, but rather have a bit more privacy, then I would recommend checking out this One Day in Rome Private Tour.
9) How Much Do You Spend in a Day in Rome
With one day in Rome, there isn't too much to consider for your overall budget. Assuming you are there for one night, below are some of the costs to think about as you plan your trip:
Hotel: $200 – $300 (per night)
Food: $50 – $75 (per day)
Activities: ~$50 (unguided) / ~$150+ (guided)
Your daily Rome budget will highly depend on what end of the range you are on as well. While average hotel/meal costs are listed above, these can certainly sway in one direction or another depending on how much you are comfortable with spending.
Of course, if you opt for some of the guided options mentioned in this overview, that will raise your costs as well.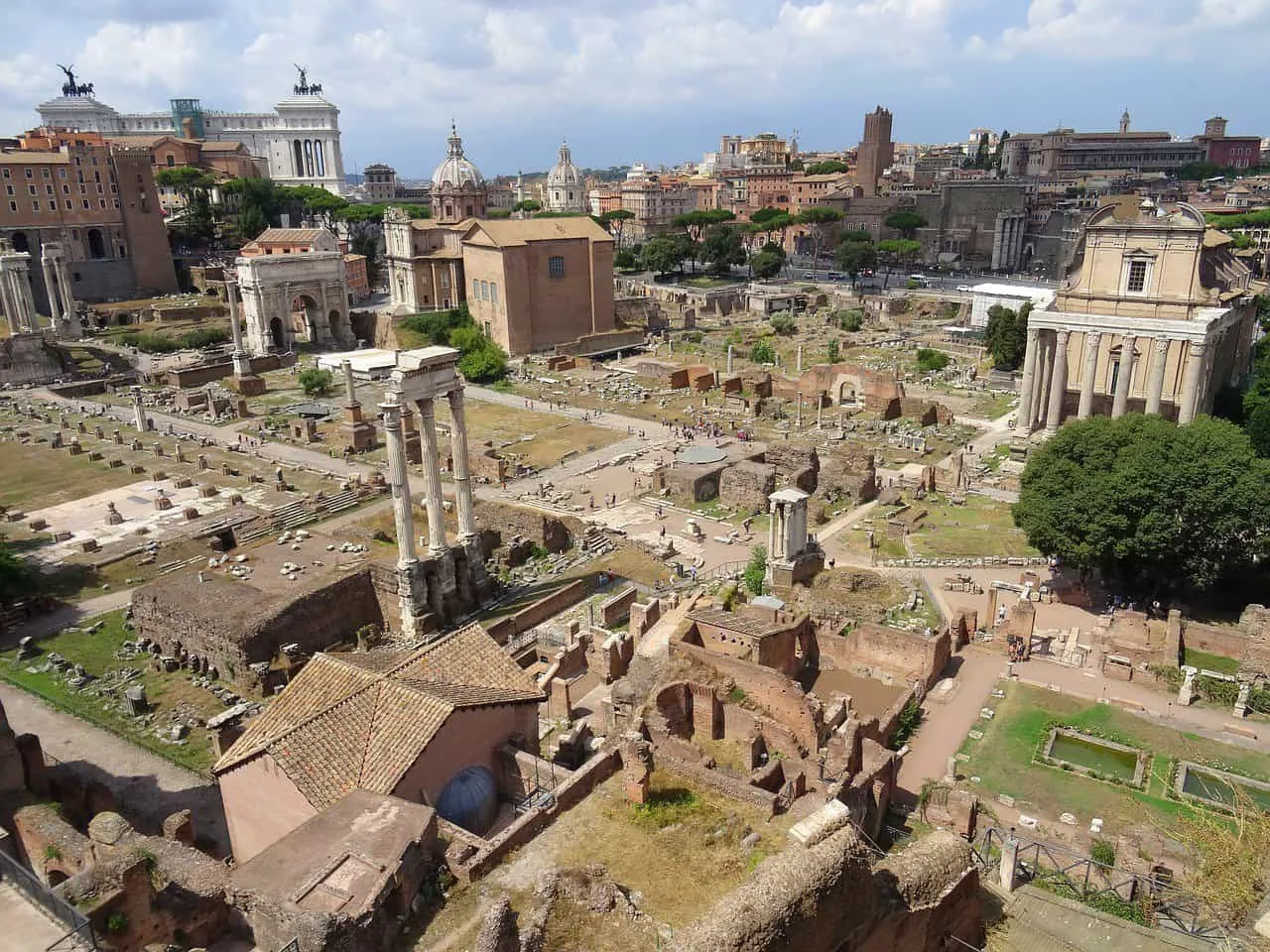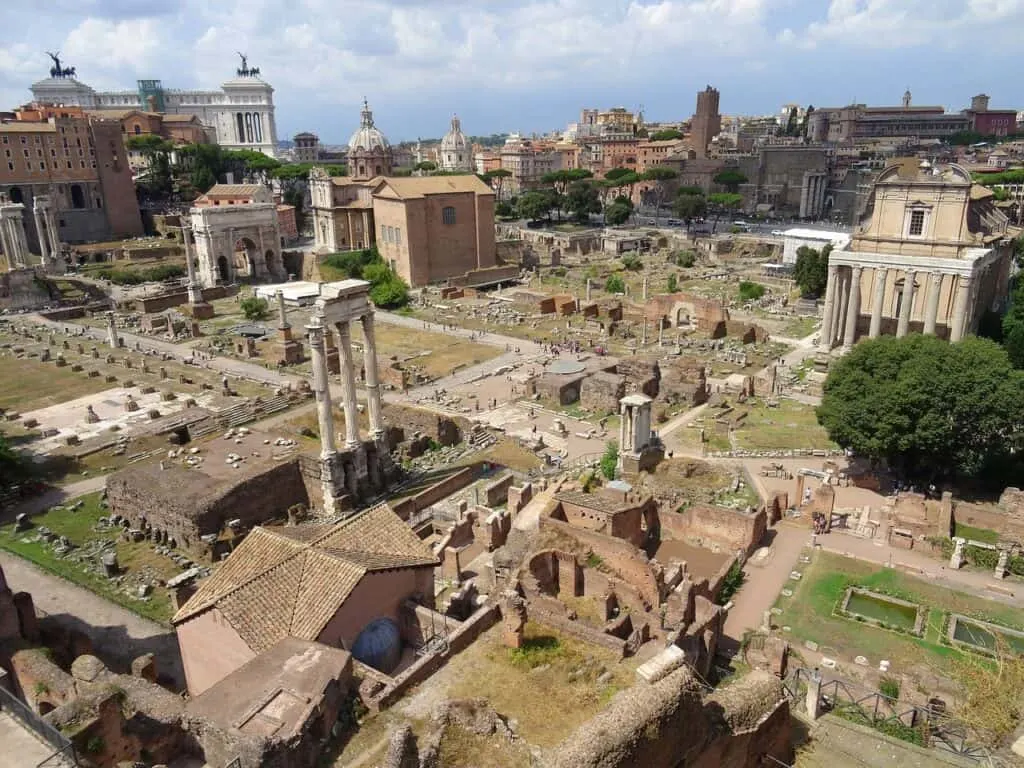 10) Rome FAQs
With one day in Rome, people usually worry one way or another if it is enough time, what they can do with that day, and how many days is optimal for the city.
Here are a few answers to the most frequently asked questions:
Can Rome be Done in a Day?
This is a tough question to answer. Can ALL of Rome be done in a day? No! But can SOME of Rome be done in a day? Sure!
One day in Rome will still have you seeing many of the top highlights that you hear about. However, a single day will not give you the chance to see those hidden gems, or be able to wander the city streets as much.
Instead, you should expect to stick to the main tourist path as you visit the "top attractions" that make Rome so special.
Is One Day Enough in Rome?
So, now you may be asking yourself, is one day enough in Rome? Honestly, one day is not enough in Rome.
For myself, I am not a big fan of jumping from one city to the next. Instead, I prefer to fully immerse myself in a city, taking in the top highlights and hidden gems, while having early mornings and late nights to explore too.
As mentioned, one day in Rome is enough to see the main highlights. But it is not enough to fully appreciate the rest of what this city is all about.
If one day in Rome is all you have, then go for it! But if you are able to squeeze in a couple more days, that would be ideal.
How Much Time is Enough for Rome?
And finally, if one day is not enough, how much time is enough in Rome?
I would recommend for a first-time visitor to spend around 3 days in Rome to get a better sense of what this historical city is all about.
During a 3 day trip to Rome, you will be able to split up some of those main highlights so you don't feel as overwhelmed seeing too much in a single day.
A longer trip also gives you the chance to have that downtime and that extra exploration time. I also love the idea to wake up earlier on in the day to walk around the city center when fewer people are around.
While there is no perfect answer here, spending just a few days in the city will have you much more appreciative of what Rome has to offer.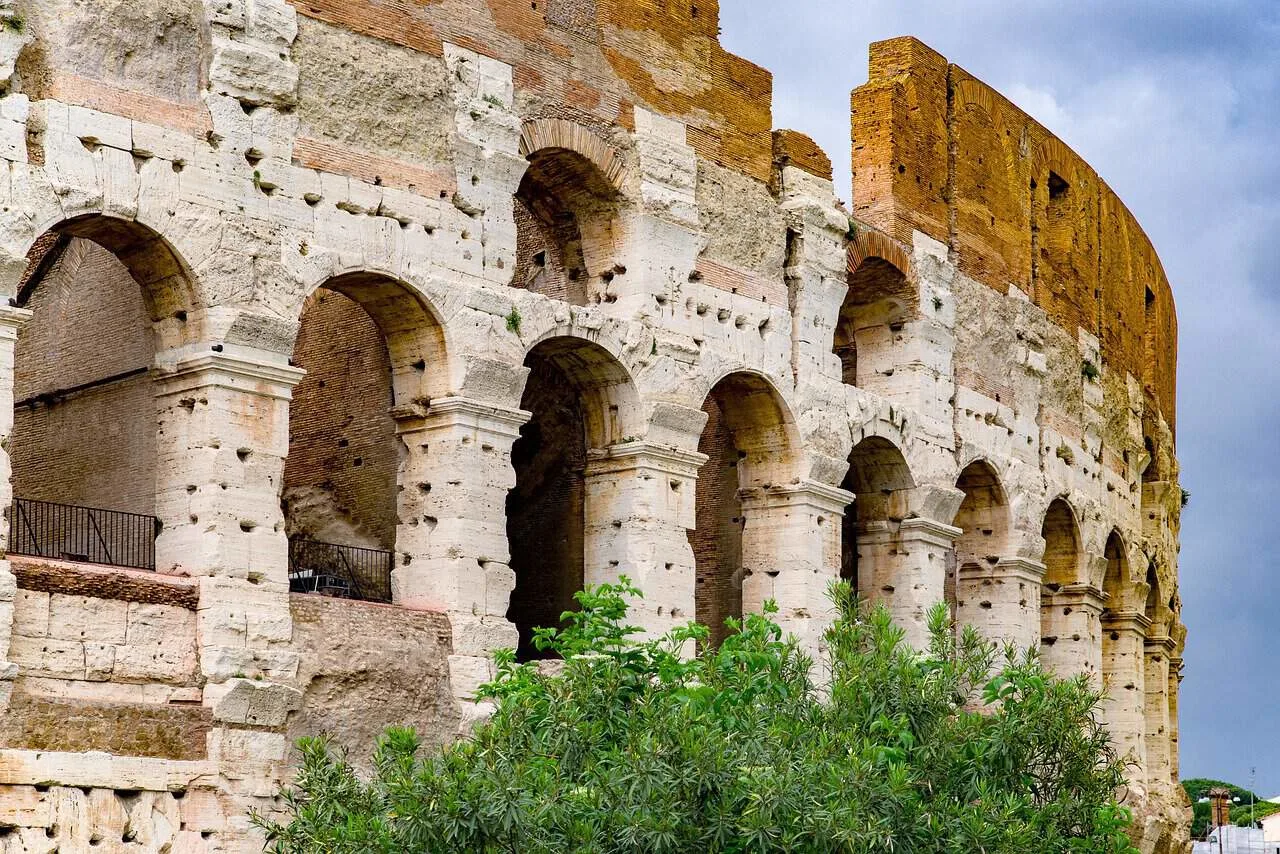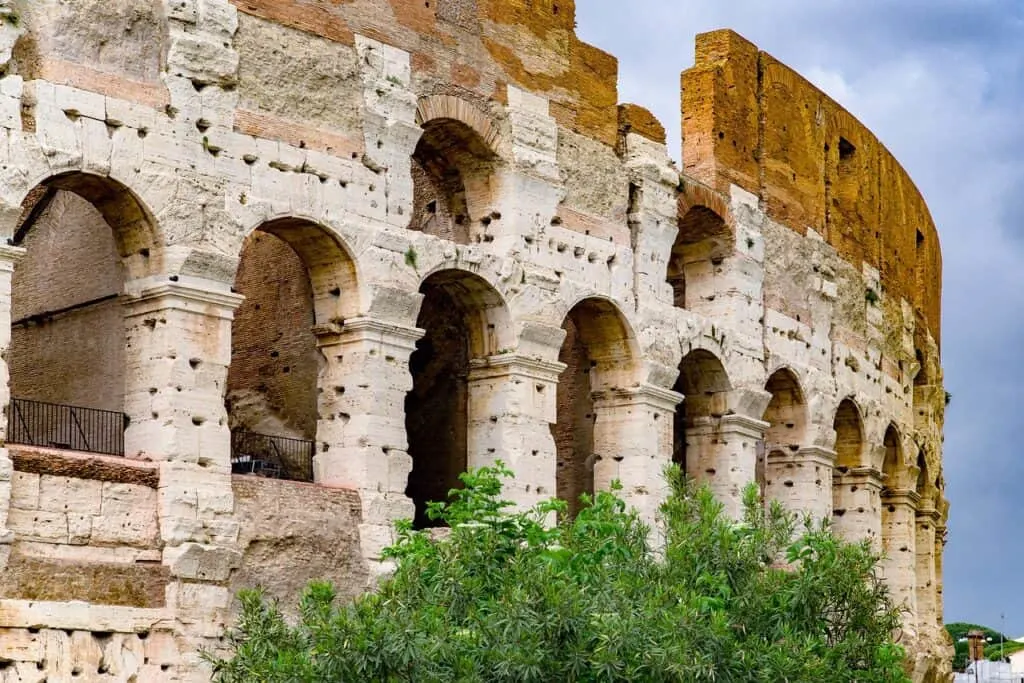 That about wraps up a Rome one day itinerary. Take a look at the other Italy itineraries and guides to help out with any other trip planning. If you have any questions about the trip please feel free to comment below!