No trip to Italy is complete without a stop in Florence. It is a city filled with incredible museums, art galleries, viewpoints, gardens and plenty more.
This Florence 2 day itinerary will cover all of that and more, in addition to many helpful tips & things to know about the city.
Although 2 days will just give you a glimpse of what this city has to offer, you will still be able to see and do so many different types of activities during your time there.
I hope that this guide can get you going in the right direction when figuring out what to do on your trip to Florence. Hope you enjoy!
* Affiliate Disclosure: This post may contain affiliate links, which means I may receive a commission if you make a purchase through the links provided, at no additional cost to you. Thanks for supporting the work I put into TripTins!
1) Introduction & Background
The city of Florence is one of the most famous and most visited cities in all of Italy.
When looking through itineraries for the country, I am sure nearly all of them will include at least a couple days in Florence. And believe me, there is good reason for that.
Florence has so much to offer – from iconic museums and landmarks to picturesque gardens and viewpoints, the city has so much to keep its visitors busy.
What is also so great about a trip to Florence is the walkability of the city. No matter where you are, you can always find yourself in walking distance to a nearby attraction.
Just walking the winding streets is a perfect activity to take part of on its own. You will find yourself passing by markets, restaurants, various little shops, and plenty of scenic architecture all around.
While Florence is an incredible place to visit, it is not only the city itself that makes it such a great city.
Within a couple hour's bus or train from Florence you can find places like the historical Siena, the Leaning Tower of Pisa, the beaches of Forte dei Marmi, and the colorful Cinque Terre.
Florence really is the perfect place to base yourself to visit some of these places on day trips.
Now, lets get a bit more into the city itself and talk about what a 2 day Florence itinerary will entail.
You can add Florence onto a longer Italy itinerary around the country. Check out some of the itineraries up on the site:
2) Getting Into Florence
When traveling around Italy, you may be doing so by various modes of transportation.
These include planes, trains, busses, or rental cars. Depending on your overall itinerary route and preferences will dictate how you are getting around Italy and into Florence.
Below is a quick overview of how these four main modes of transport can get you to Florence.
Plane
Just outside the city center is the Florence Airport (FLR). The airport is connected to other cities in Italy as well as countries throughout Europe.
Once you arrive at the airport, you can either take a 20-minute taxi ride into the city center, or you can opt for the tram. Taking the tram can be just as quick & convenient as a taxi for a fraction of the cost.
Train
While the airport is just outside of the city center, the train station is within walking distance.
Taking trains around Italy is a popular way to get around as they are well connected between all of the major cities.
Feel free to take a look at Italiarail for the latest train schedules & to purchase tickets.
Once you arrive at the train station, you will then either simply walk over to your hotel, take a quick taxi, or potentially take the tram/local bus if it makes sense.
Bus
In addition to trains connecting cities throughout Italy, so do busses.
The main bus station is right nearby the train station. So, once you arrive by bus, simply walk, taxi, or tram/local bus to your hotel.
Renting a Car
Lastly, you may be renting a car during a trip to Italy (and Florence). Renting a car is a great option for those that want to be on their own schedule and not need to worry about public transport.
The downside to renting a car while visiting Florence, is that most of the city is a ZTL Area (limited traffic zone). This means that you must have a permit to be able to drive/park within the city center.
If your hotel is within the zone, then you must confirm with your hotel that they have parking for you. Your hotel will need to add your license plate to the list of approved cars within the ZTL.
In the case where there is no parking for your car, then you must find a parking lot outside of the main city center and then walk/taxi from there.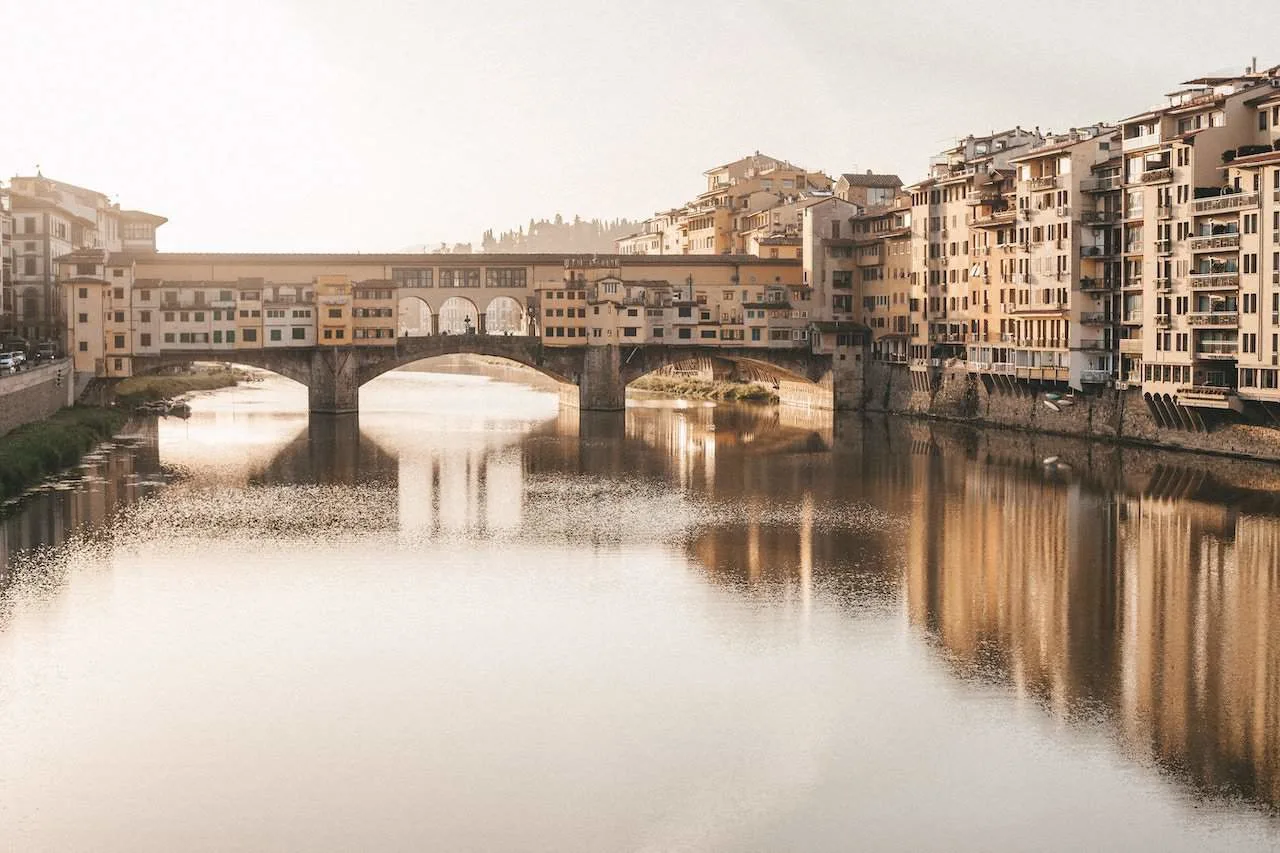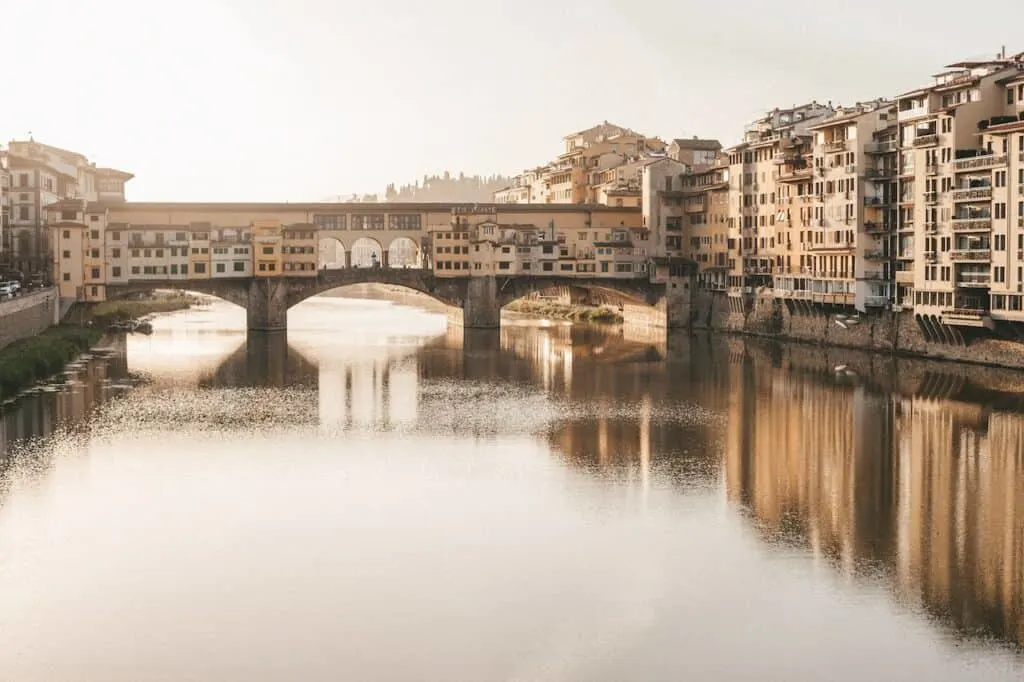 3) Getting Around the City
Once you arrive and are all settled into your hotel, you will be spending the next 2 days in Florence exploring the ins and outs of the city.
The great thing about Florence is that it is very tourist friendly. Due to the limitations on cars, you won't find much traffic around. In addition, there are many pedestrian only streets, pathways, and squares in the city.
So, when it comes to getting around Florence, expect to walk around quite a bit. The main city center is not that big, and it shouldn't be too long as you head from one attraction to the next.
Now, if you do find yourself further away from your hotel or next attraction, then taxis are always a possibility.
However, you may be better off seeing if you can hop on the tram or bus instead, which can be just as fast and cost less than 2 Euros per ride.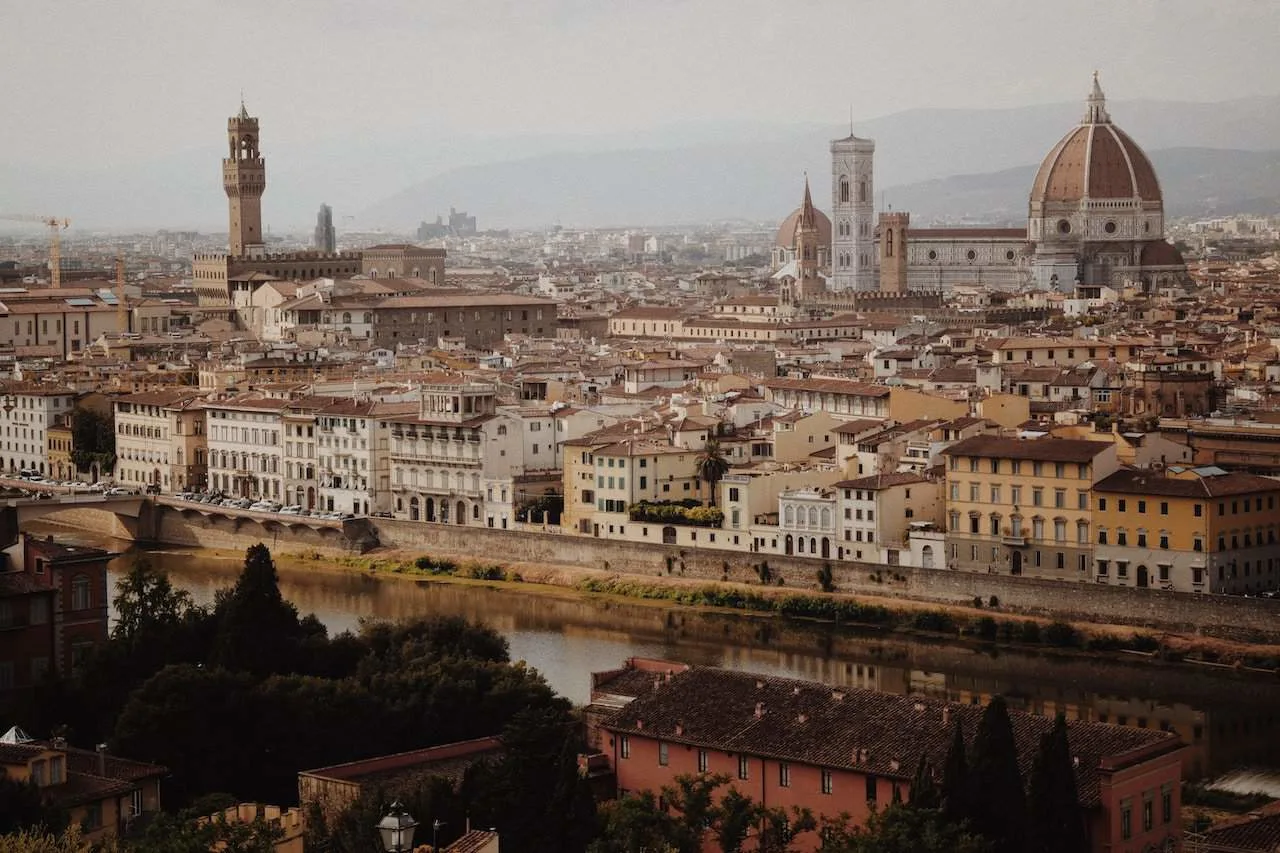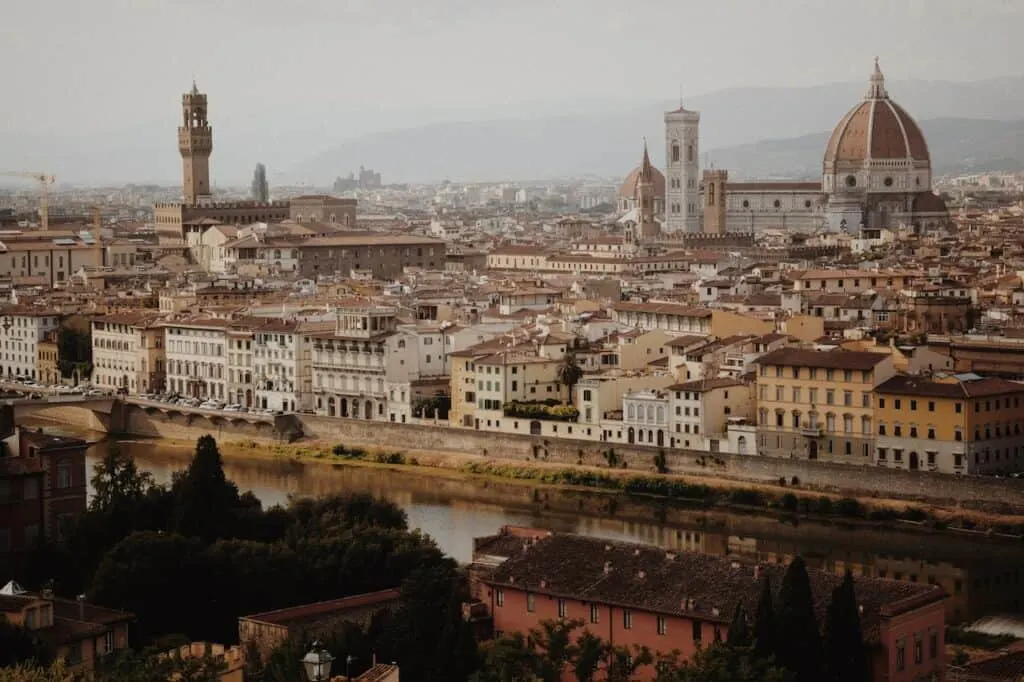 4) Florence 2 Day Itinerary Attractions
Below you can find a map of Florence with the two days of attractions and their designated color coded pins.
I split up the attractions into the two days but of course you can mix and match as you please.
It is important to note that while some people will have no problem visiting these sites in two days, others may need a day or so longer depending on how much time they enjoy staying at each place.
As mentioned before, you will also want to take into account the time you will want to spend just walking the city and enjoying your surroundings.
Based on that, you can pick and choose which places you are most interested in.
Day 1 (green icons)
Accademia Gallery (The David)
Florence Cathedral – Cattedrale di Santa Maria del Fiore
Duomo Climb
La Basilica di Santa Croce
Day 2 (red icons)
Piazza della Signoria
Palazzo Vecchio and/or Uffizi Gallery
Ponte Vecchio
Boboli Gardens
Piazzale Michelangelo
5) Tickets in Florence
Florence is a heavily touristed city especially during the summer months, but do not let that deter you from visiting.
To avoid the crowds and lines be sure to purchase tickets to the major sites beforehand.
This will let you skip most but not all of the line. You do not want to spend half your time in Florence waiting in lines instead of visiting sites.
So once you know your travel dates and itinerary go ahead and purchase those tickets. Under each attraction below I have included a link to their online ticket webpage.
Firenzecard
Another option is to buy the Firenzecard for 85 Euro – all the attractions mentioned are included with the pass.
It is valid for 72 hours and you also don't need to reserve specific time slots for all attractions – you can just show up and head to the priority access line. This is not the case for everything, but the website does a good job laying out the rules for each attraction.


Florence Tours
While enjoying the city on your own is a great experience to have, you may also want to think about taking a couple guided tours around the city or to specific attractions within the city.
I have listed out some of the top options to choose from when visiting Florence: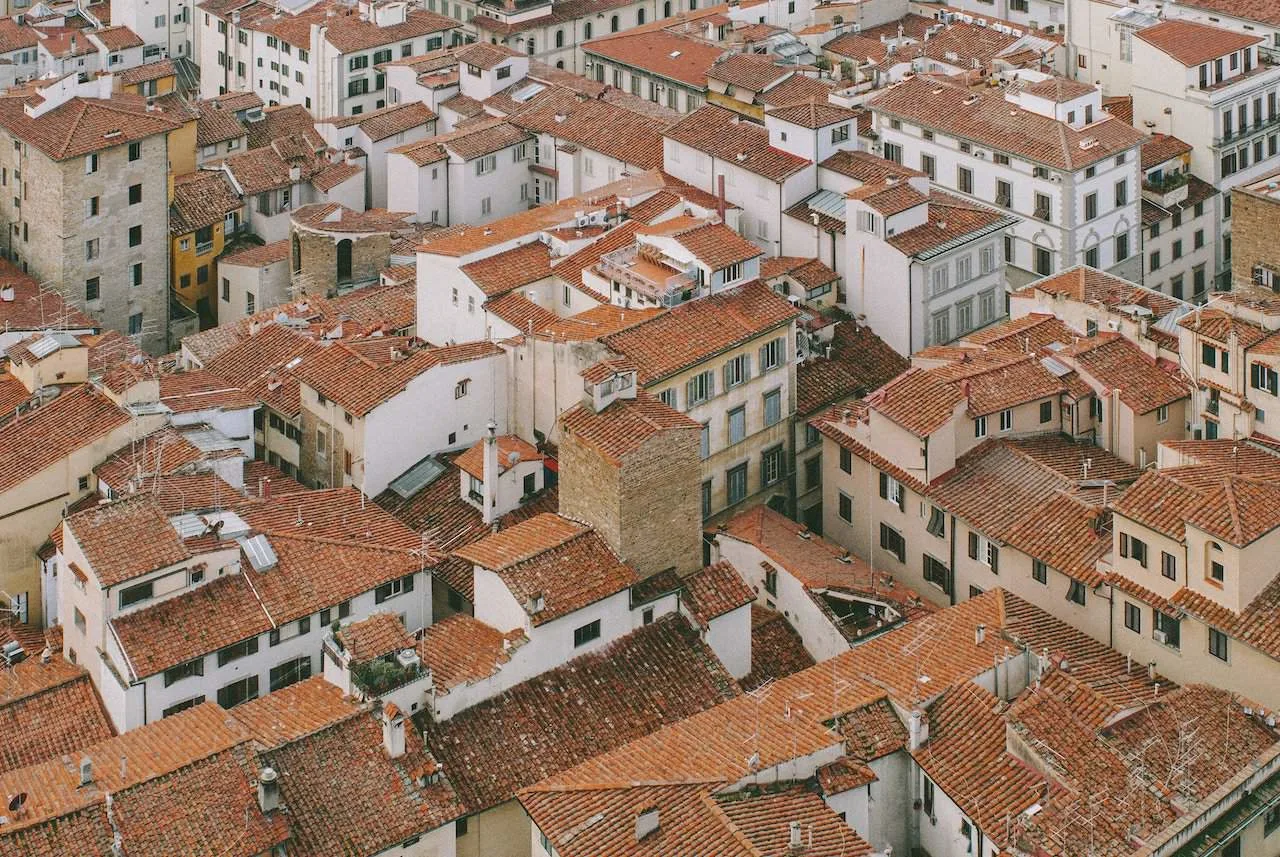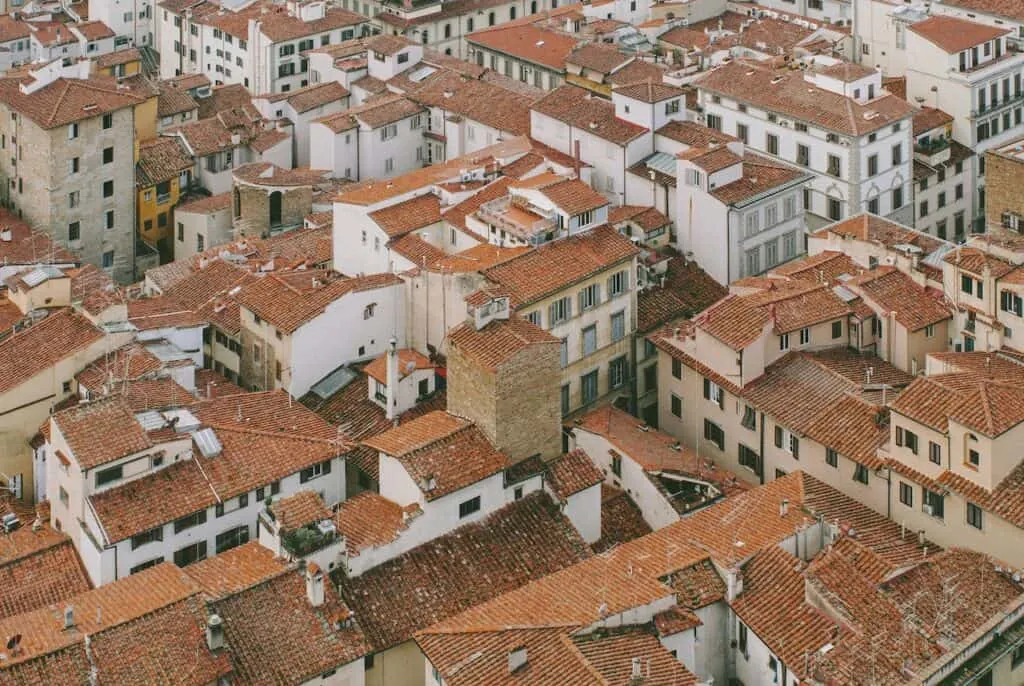 6) Florence 2 Day Itinerary: Day 1
Now that you have some good background about Florence, it is time to dive into some of the main attractions that you can visit during your two days in the city.
A) Accademia Gallery
​You will begin your morning/afternoon at the Accademia Gallery.
The Gallery has numerous rooms and halls that are filled with a variety of different artwork. However the main attraction here is the one and only David statue by Michelangelo.
One of the largest and most intricate pieces of sculpture you will ever come across. At 17 feet tall, this marble masterpiece shows each muscle and body part in great detail.
Since the gallery is not too large and the main attraction will be the David itself, expect to spend around 30-60 minutes at the Accademia.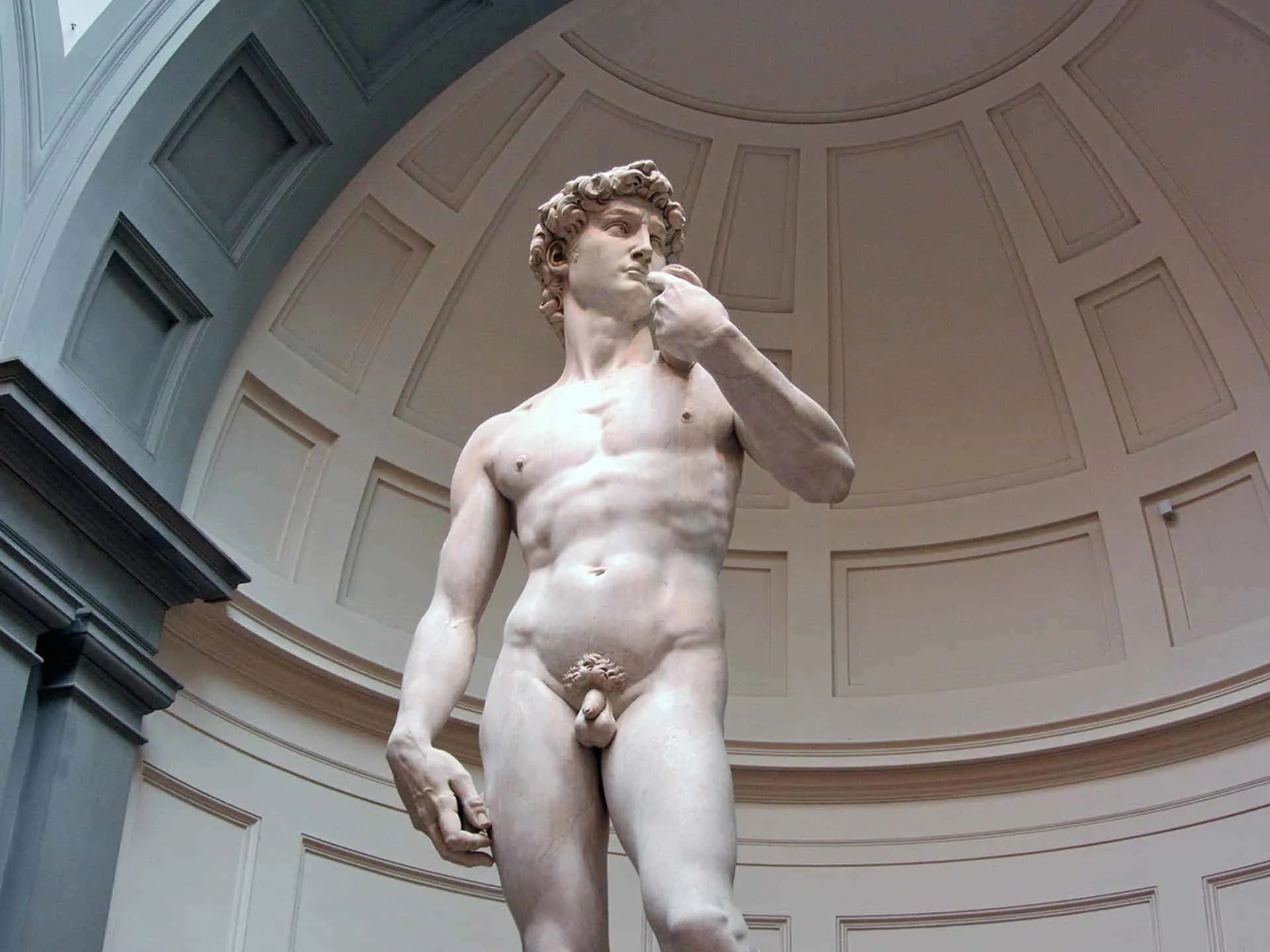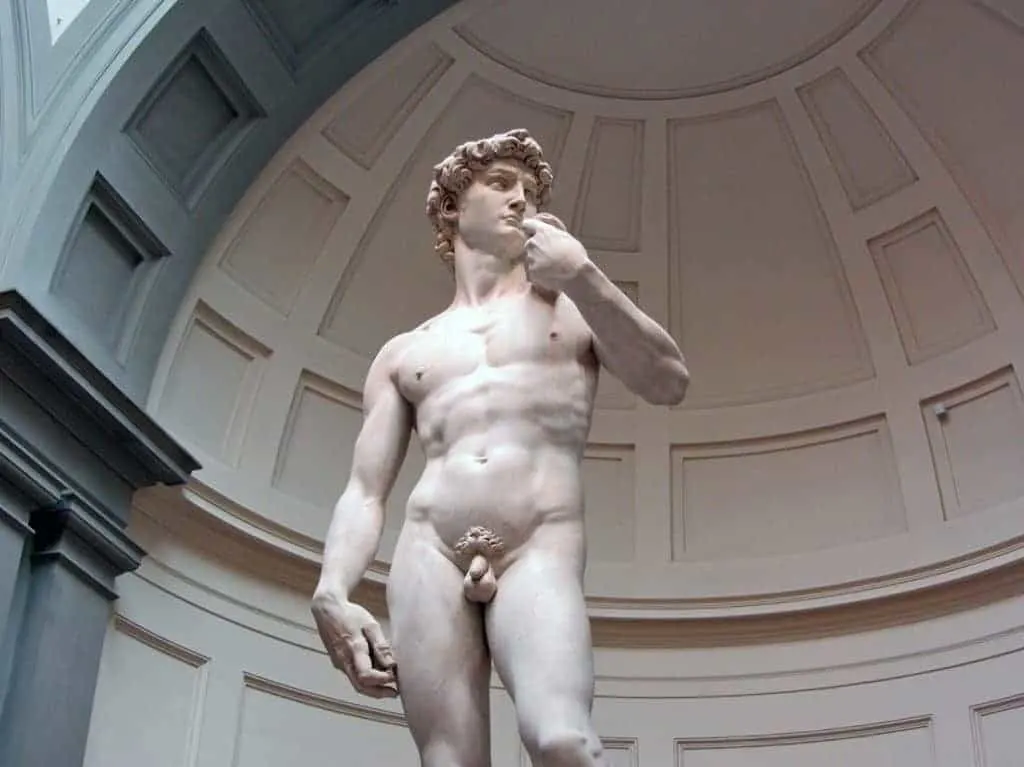 B) Florence Cathedral – The Duomo
​A 10 or so minute walk from the Accademia is the Duomo or Cattedrale di Santa Maria del Fiore – one of, if not the most well known building of Florence and its skyline. This massive building has beautiful architecture inside and out.
A few important things to note regarding a visit The Duomo:
There are several different places to visit when it comes to the Duomo. These include the Cathedral, Brunelleschi Dome, Baptistery, Bell Tower, Santa Reparata Crypt, and Museum.
The sites mentioned all have slightly different opening and closing times. Take a look at the website for the latest hours (linked above).
When you book tickets there will be a choice to pick from a few different options. I would recommend the Brunelleschi Pass since it includes access to all five spots including a climb up to the top of the dome.
During booking your reservation you must make a time slot reservation for the climb.
If you just want to enter the Cathedral it is free of charge.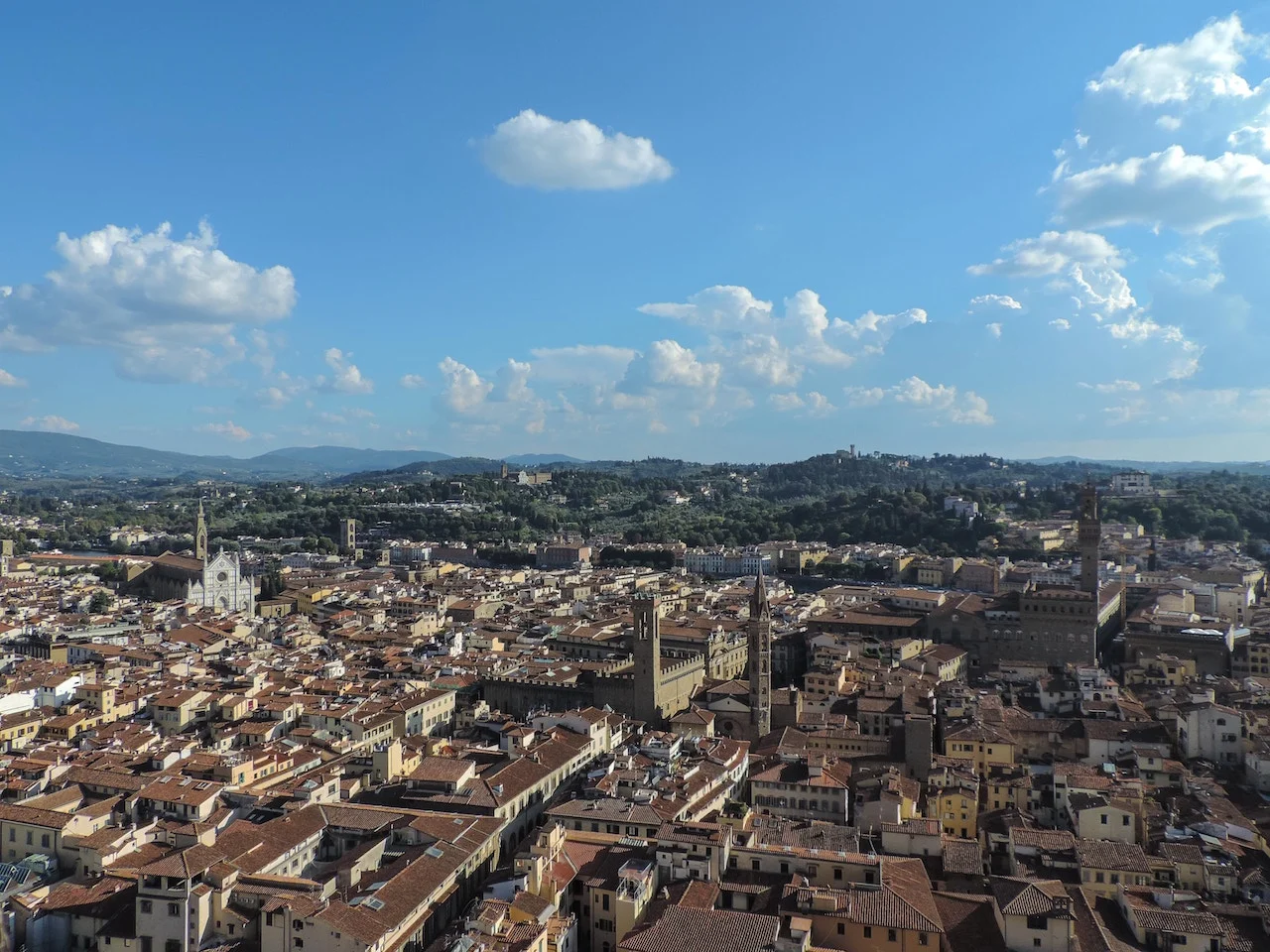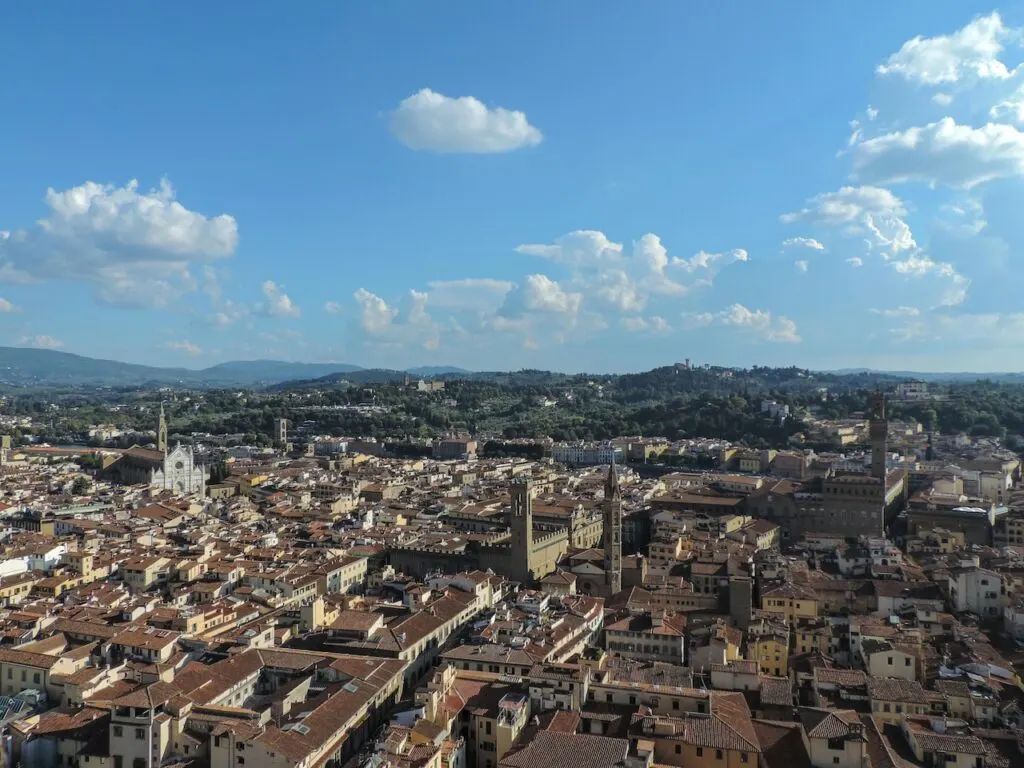 Duomo Itinerary
Since there are so many various places to visit within the Duomo complex, I thought it may be easier to give you a better idea on how to plan your time there.
Explore the Exterior
Before even heading into the Duomo, you can spend some time walking around the exterior of this beautiful building. The architecture and artwork that makes up the Duomo is a true highlight to take in.
Visit the Cathedral
You can then head into the Cathedral itself. Remember, this is actually free to enter. Within the cathedral you can admire the artwork, stain glass windows, and the dome itself.
Santa Reparata Crypt
From the cathedral, you can then enter the Santa Reparata Crypt. Head down the stairs, where you will find the remains of the original site before the Duomo was built.
Brunelleschi Dome
One of the highlights of the Duomo is actually walking up the 400+ steps to the top of the Brunelleschi Dome.
Along the way up you will pass by artwork throughout the building as you climb up small passageways to reach the top. Once there, an amazing viewpoint awaits.
You will get 360 degree views of the city as you snap some pictures before heading back down.
As mentioned if you want to climb the dome, it is mandatory to prebook a reservation time.
Baptistery
After climbing up and down the dome, you can then make your way to the Baptistery. This structure is located across from the Cathedral and is known for its gold ceiling and Gates of Paradise doors.
Giotto's Bell Tower
If you are up for another climb, you can make your way to the Giotto's Bell Tower. This will also require a 400+ stair climb to reach the top.
Once up there, you can enjoy some new angled views of the Duomo and the city of Florence out in front of you.
Duomo Museum
Finally, you can visit the Duomo museum to wrap up your visit around the area. You will be able to learn all about the history of the Duomo with plenty of artwork found throughout.
The museum is made up of 28 rooms over three floors, so you are sure to come across many historical masterpieces within it.
As you can see there is plenty to see and do around the area so set aside at least 3-4 hours in order to enjoy all that the Duomo has to offer.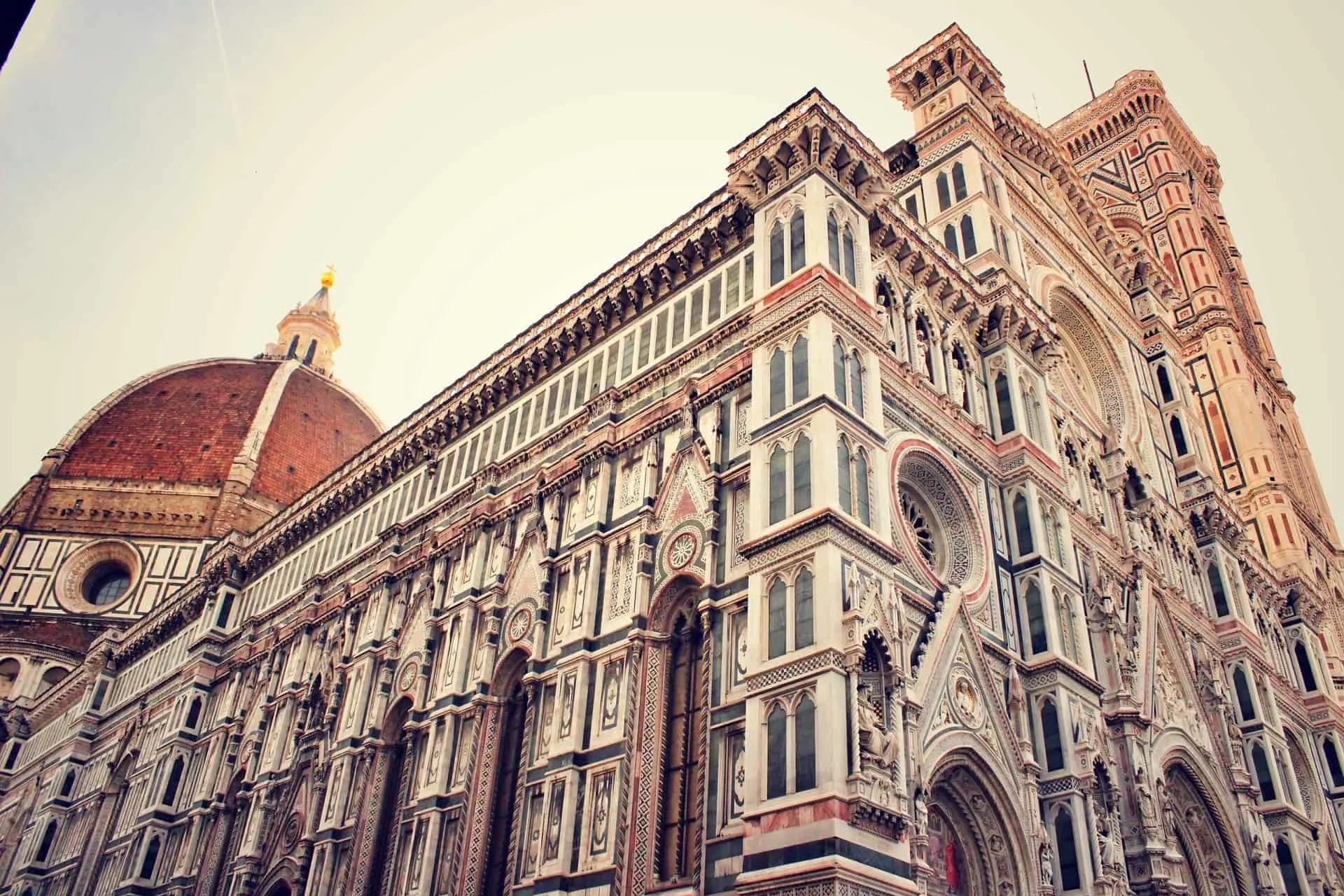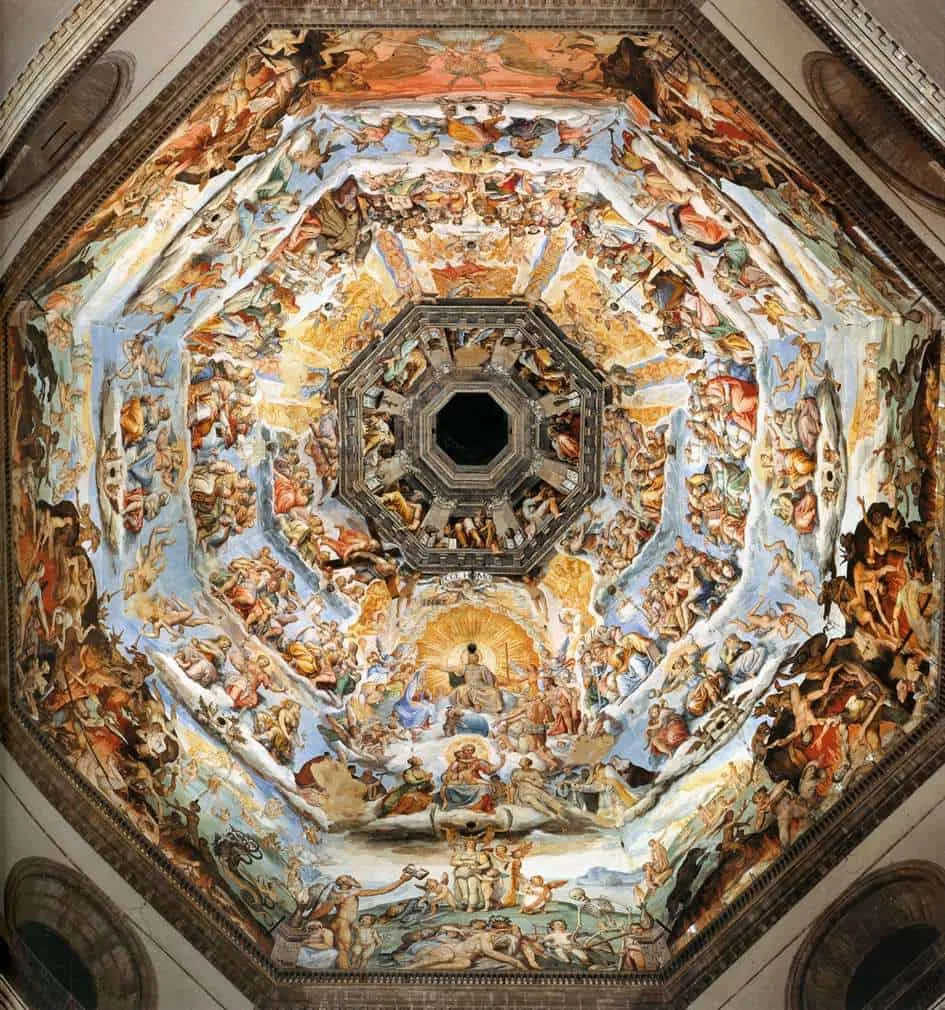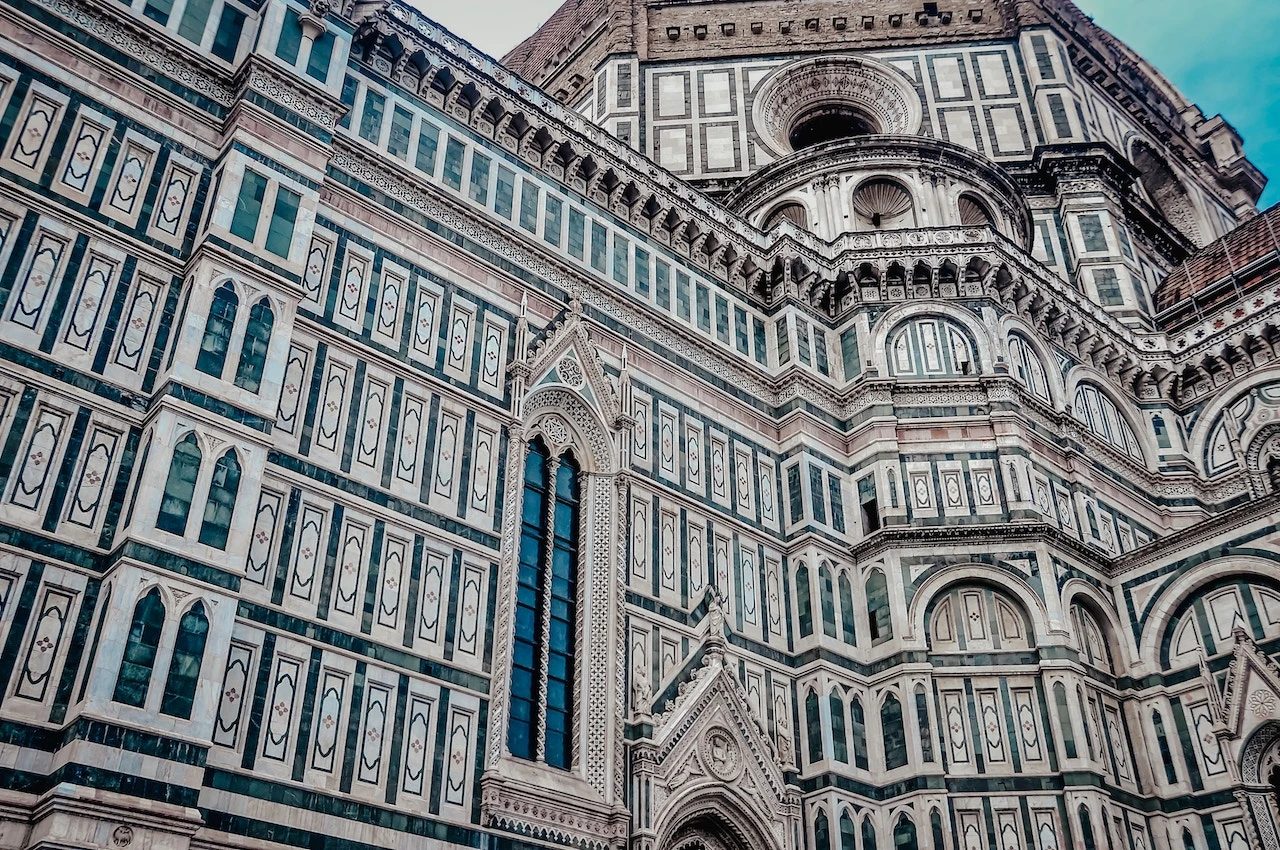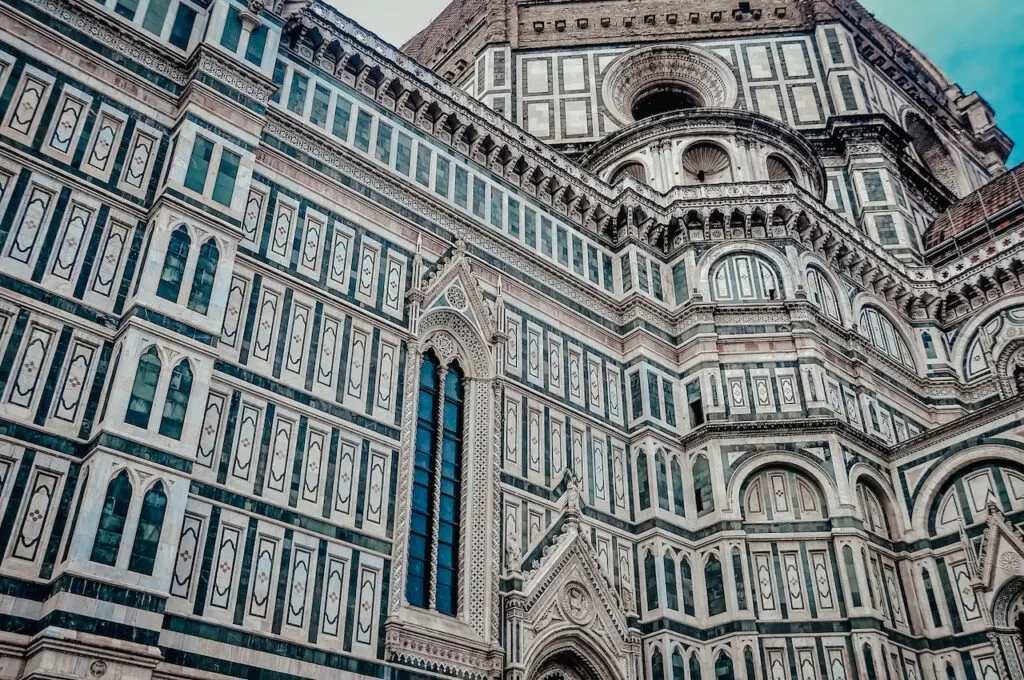 After finishing up with the whole Duomo complex, it is time to grab some food and spend some time exploring Florence.
A visit to the city should not just be rushing from one attraction to the next. Rather, it should be about fully enjoying your time exploring and walking the city streets.
Spend the next couple of hours having a nice meal and strolling the city center, before continuing on to the La Basilica di Santa Croce.
C) ​La Basilica di Santa Croce
To end day 1 in Florence you can make the walk to the La Basilica di Santa Croce.
The church was built back in the 13th century, it is known to be the largest Franciscan church in the world.
What also makes La Basilica di Santa Croce so well known is that it is the burial site for famous artisans and historians such as Michelangelo, Galileo and Machiavelli.
You can take spend time walking around the church, taking in the architecture and artwork all throughout.
Just walking along the outside of the building too is a site upon itself, just like much of the architecture that Florence has to offer.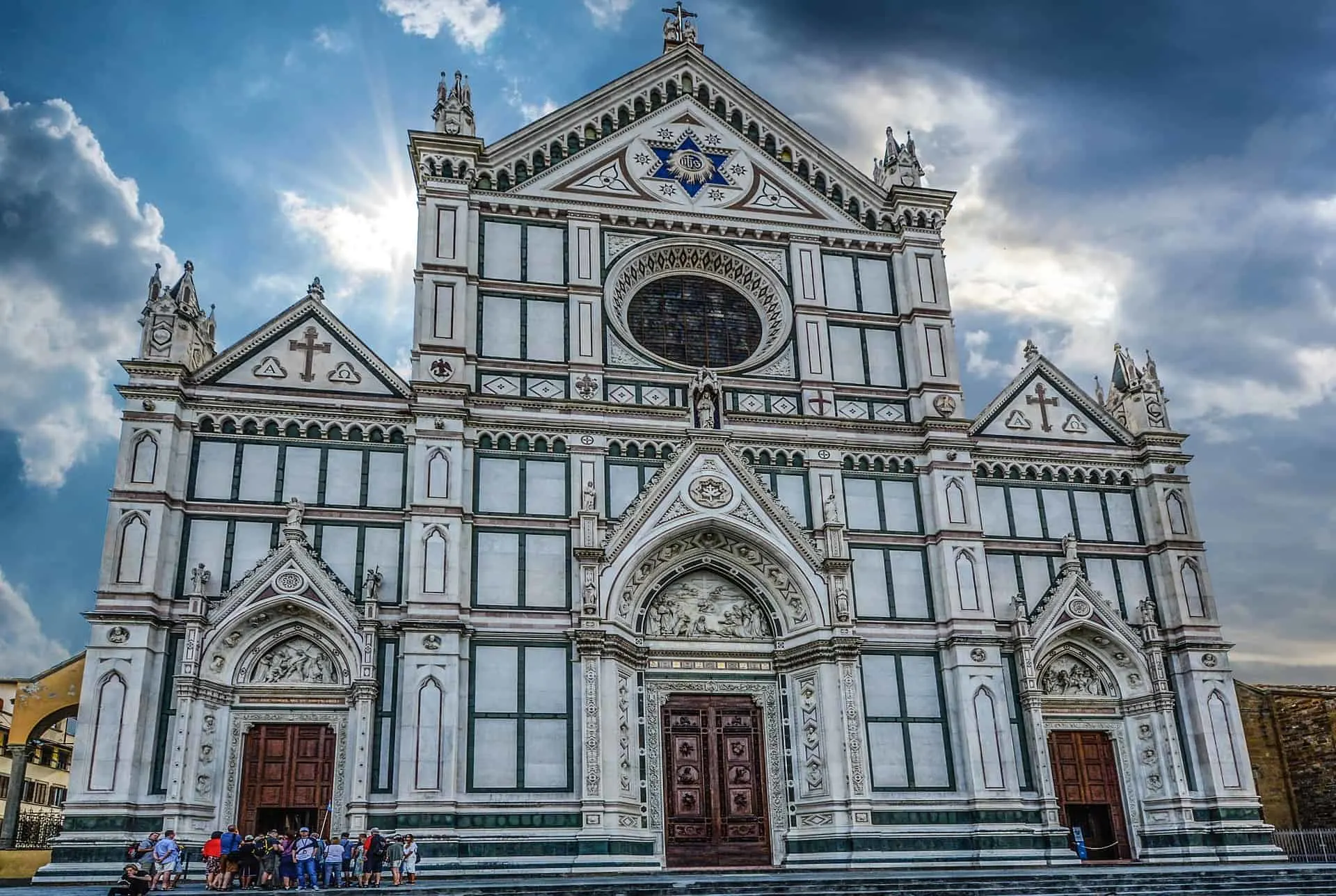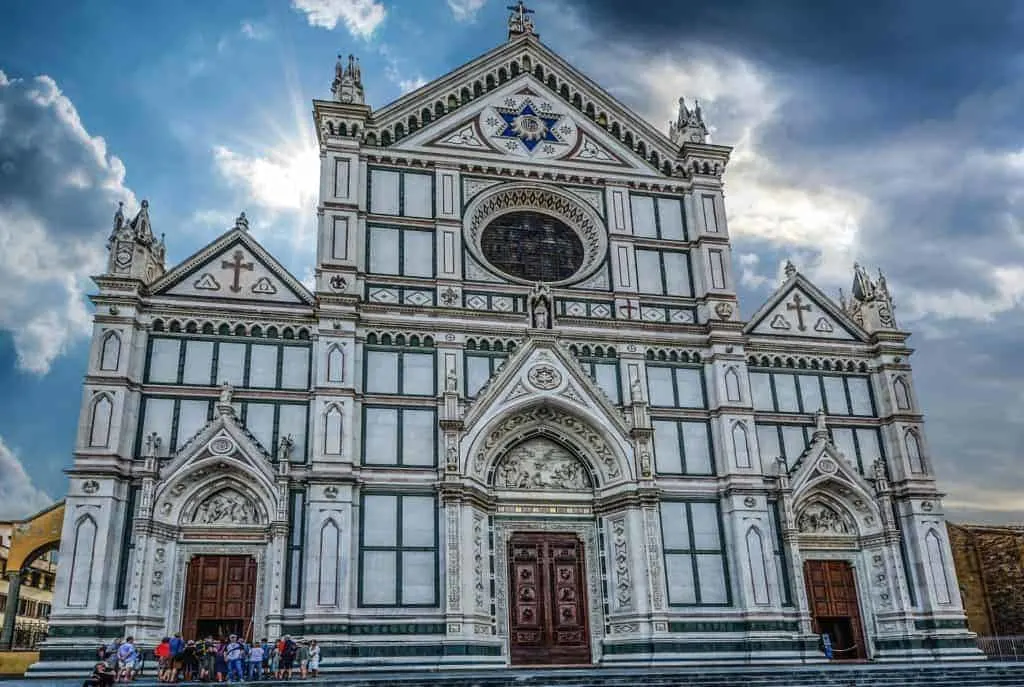 7) Florence 2 Day Itinerary: Day 2
Quick note here: I mention two different museum options to take part of on the morning/early afternoon of day 2 – Palazzo Vecchio and Uffizi Gallery. Depending on interest level and how long you like spending at museums, you can choose to do one or both of these options.
A) Piazza della Signoria
​Now that you had a taste of Florence on day 1, it is time to continue your journey to some more great museums and viewpoints.
One of the most famous piazzas in Florence is Piazza della Signoria. A vast plaza that will include numerous statues, one of which is a replica of Michelangelo's David that you just saw on your first day.
It is definitely possible that you already passed by the piazza already but if not, now is the time to stroll around.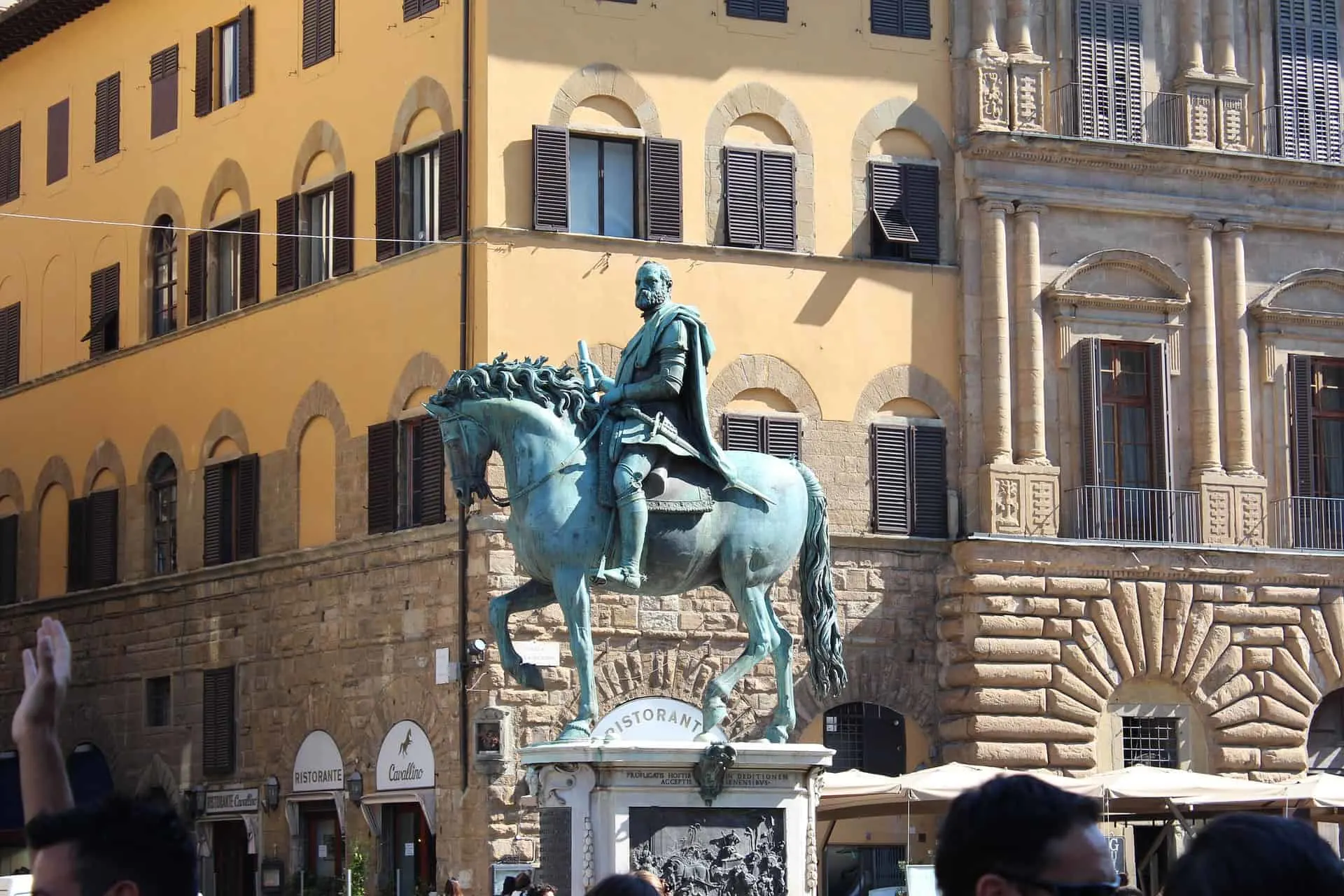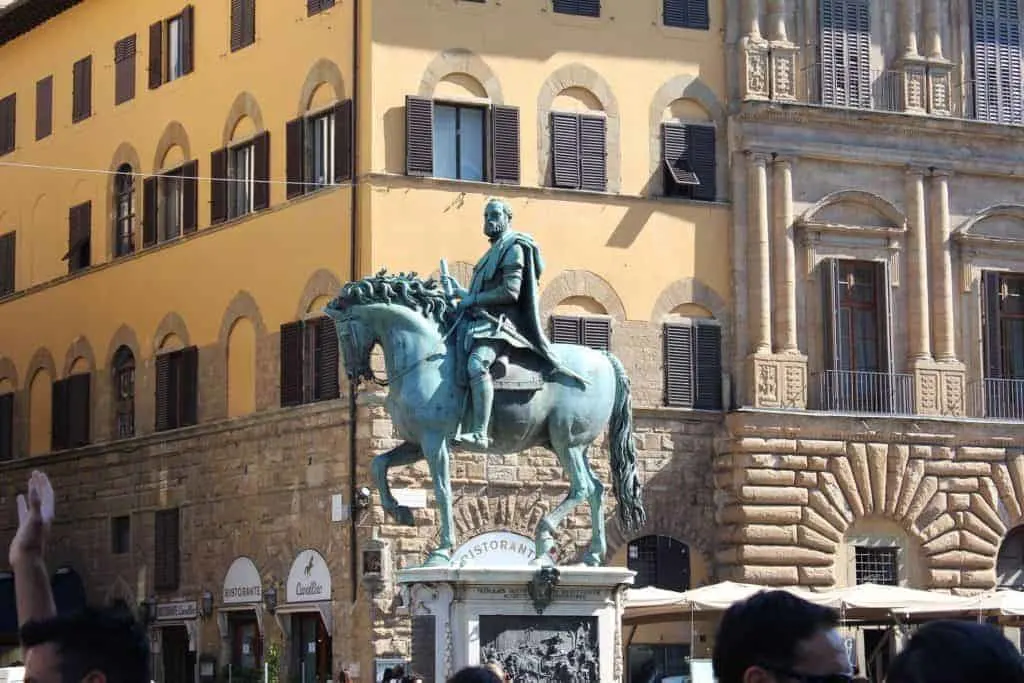 B) Palazzo Vecchio
Your second day will continue at Palazzo Vecchio – a building rich in history and now home to a fantastic museum to walk through (it is overlooking the Piazza della Signoria mentioned above).
A more interesting way to see the museum is through the Hidden Passages Tour that is offered here. Along with a small group of people, you will be able to tour the secret room and passageways that aren't open to the public.
It is a great way to learn a bit more about the history of this great building. There are usually two tours per day (a morning and afternoon tour) but just check the link for the available time slots if it is something that you are interested in.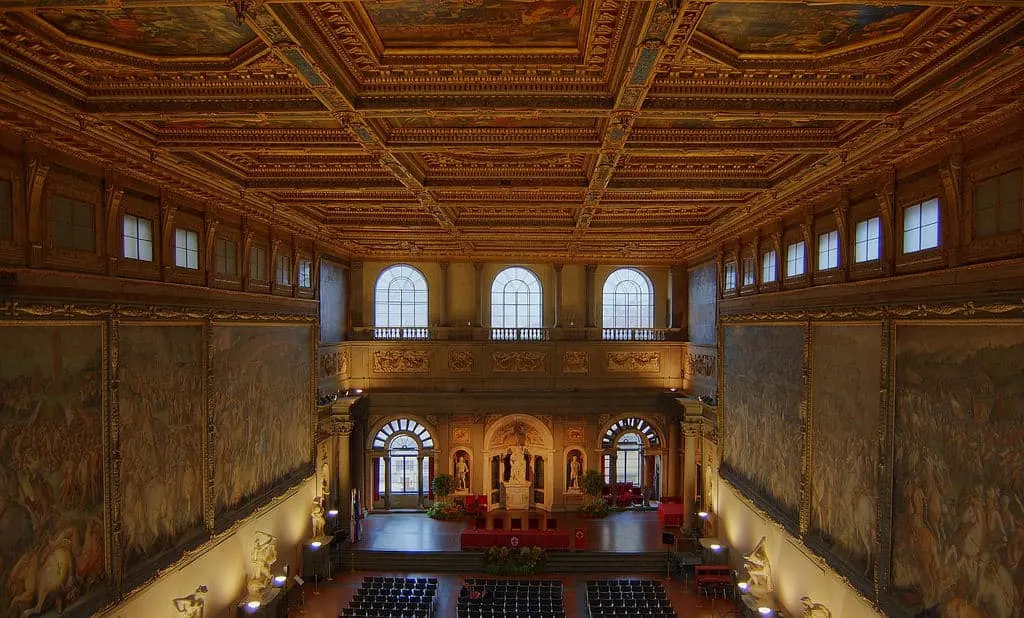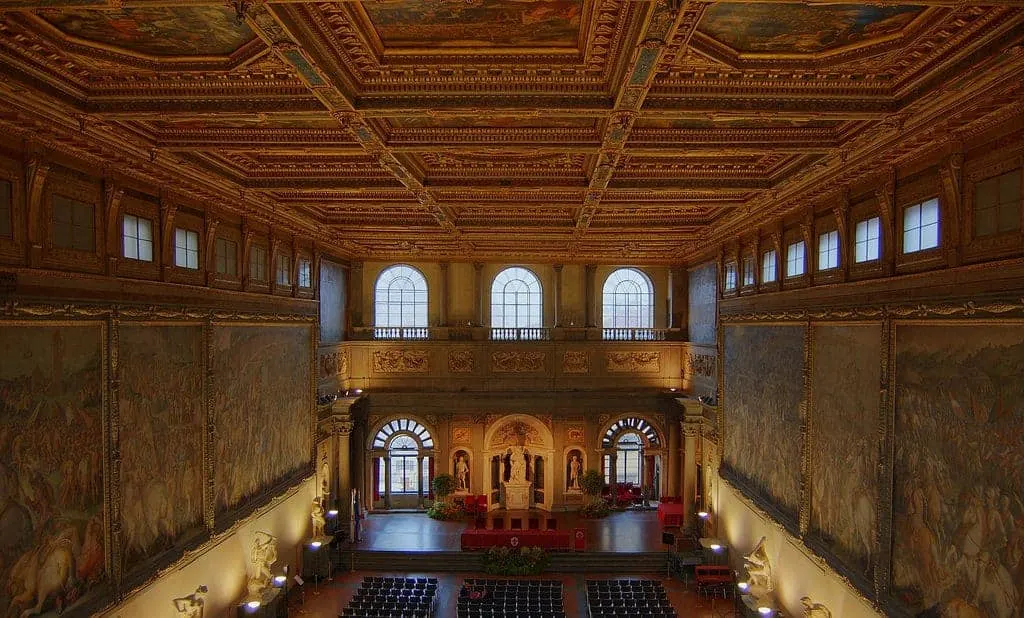 C) Uffizi Gallery
Your second museum option for the day will be the Uffizi Gallery – one of the most well known museums in the world!
It has artwork by everyone from Leonardo da Vinci to Botticelli. You will probably spend a couple hours here exploring the nearly 50 rooms and hallways filled with a variety of different artwork.
If you are an art buff or don't know a thing about artwork, this museum will make everyone enjoy their visit. Don't forget once again to buy tickets beforehand (even though you still might have to stand in a much shorter line before entering).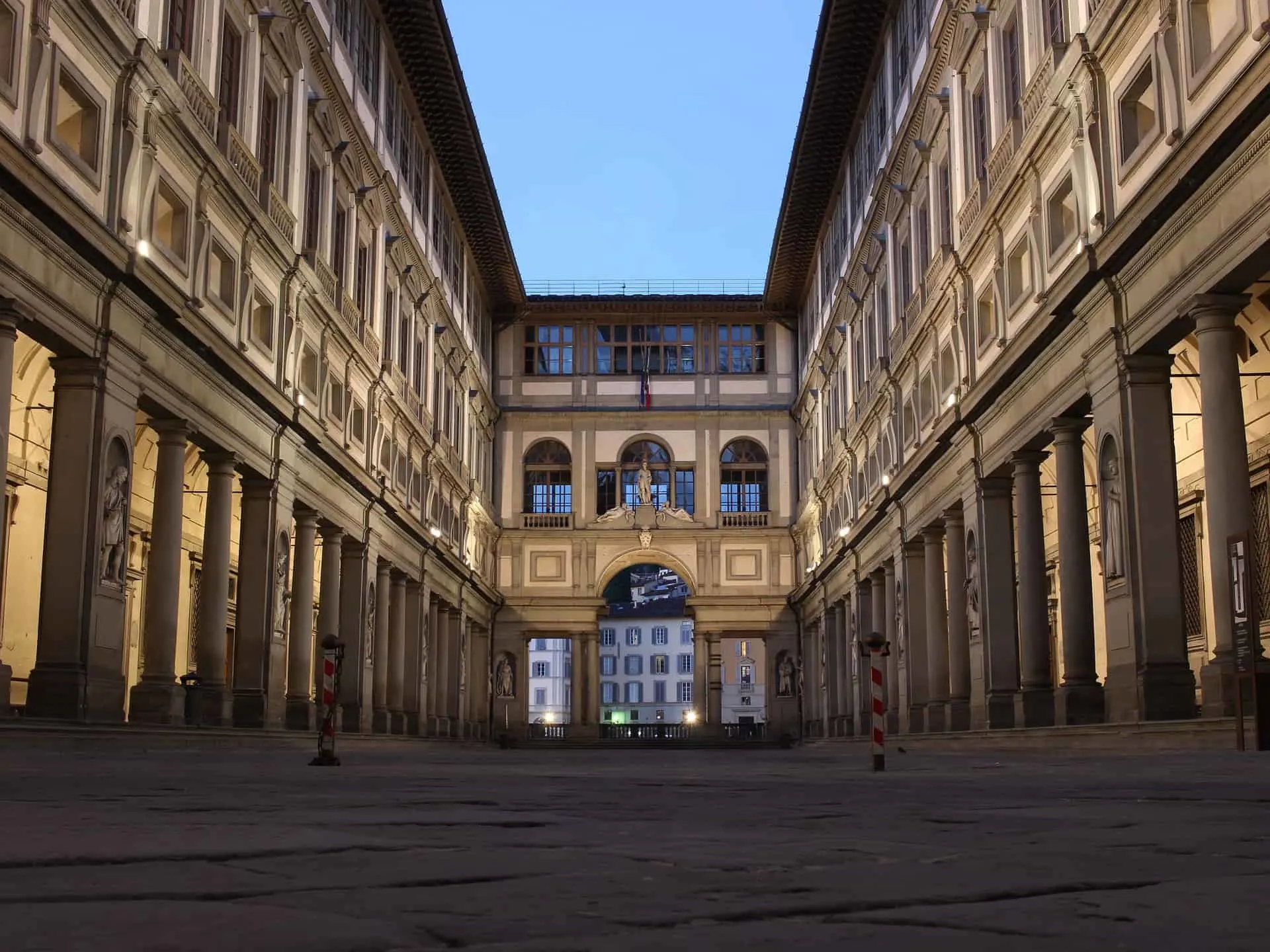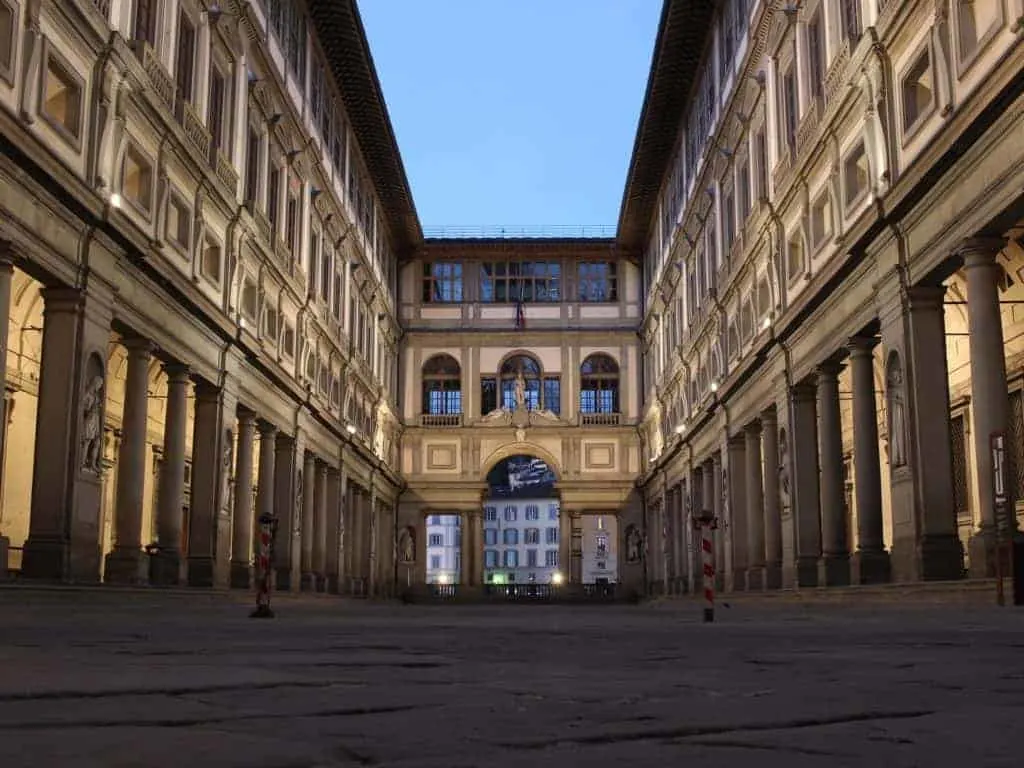 D) Ponte Vecchio
​Once your morning of hitting the museum/s is complete, grab some lunch and then make your way to the most well known bridge around the area – the Ponte Vecchio.
The bridge connects to the two sides of Florence over the Arno River. It is a medieval bridge that was built back in the 14th century and was once lined with butcher shops.
Today, the bridge houses many small jewelry stores, art shops, and other vendors for tourists to enjoy.
Be sure to also walk along the riversides to take in the beautiful view of the bridge from different angles.
Before continuing along, you can also stop for lunch and enjoy the Arno river.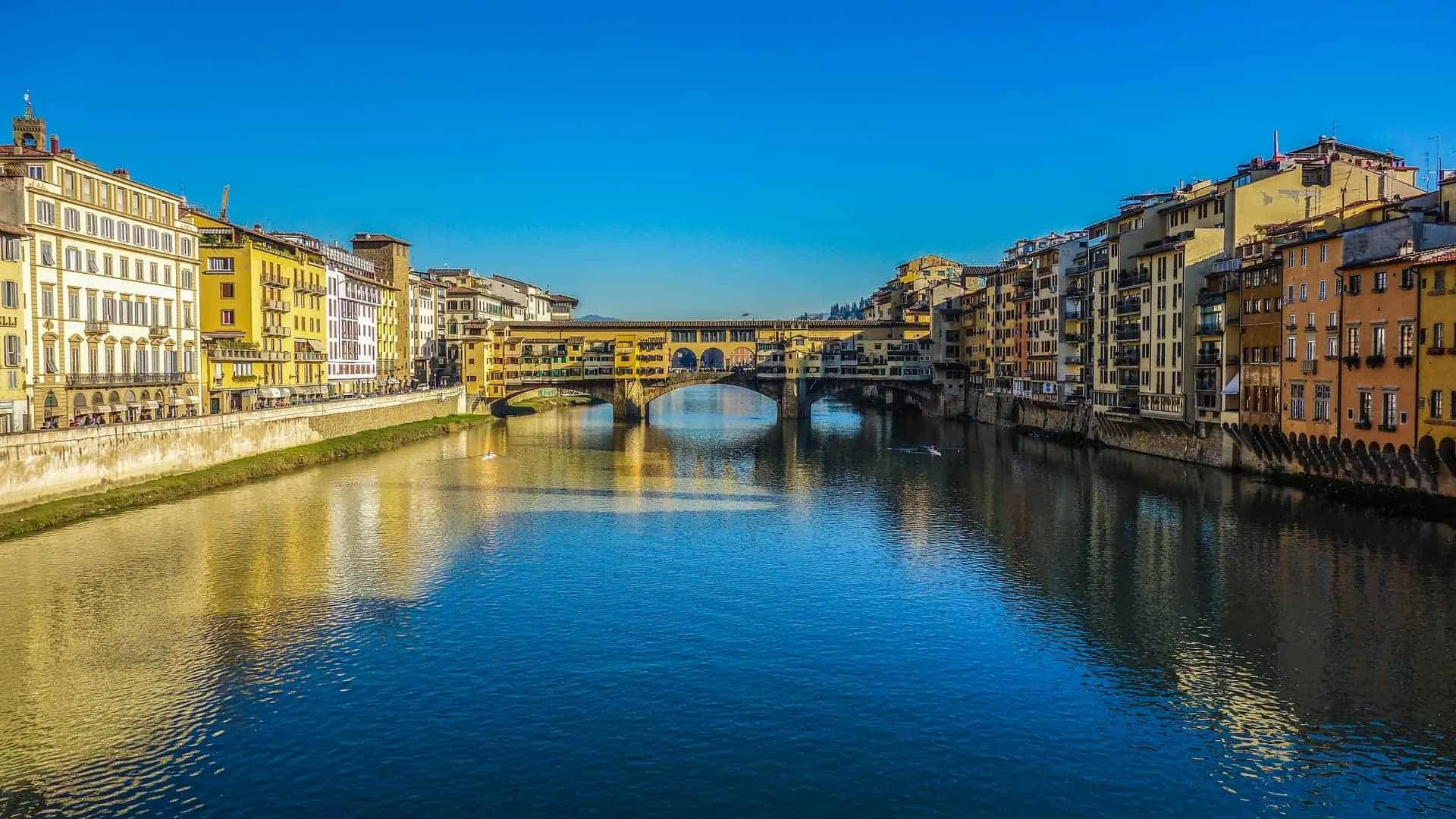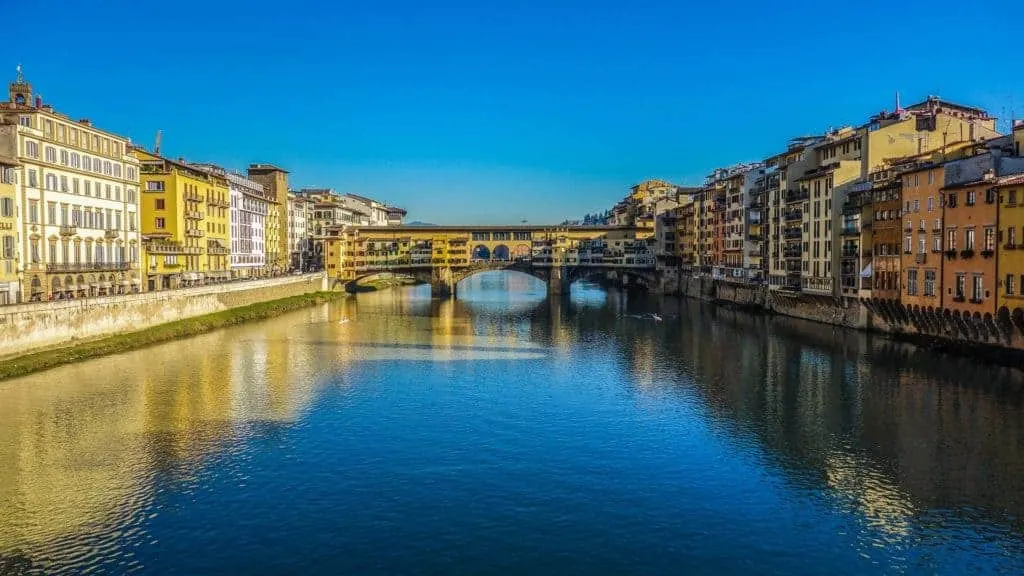 E) Boboli Gardens
Once you make it to the other side of the Arno River you will head to the Boboli Gardens. Since most of the morning will be spent indoors, the afternoon will be spent outdoors.
The Boboli Gardens is made up of over 100 acres of greenery, sculptures, walkways, and fountains.
It is really a great way to just get out of the city feel for a bit and take some time to enjoy one of the most vast gardens you will come by.
If you have the time and are interested, you can also visit the Pitti Palace, which sits at the foot of the gardens.
The palace was originally owned by Luca Pitti, who was a Florentine banker back in the 15th century. It was then taken over by the famous Medici family.
Today it houses several galleries with plenty of artwork that visitors can enjoy during a visit.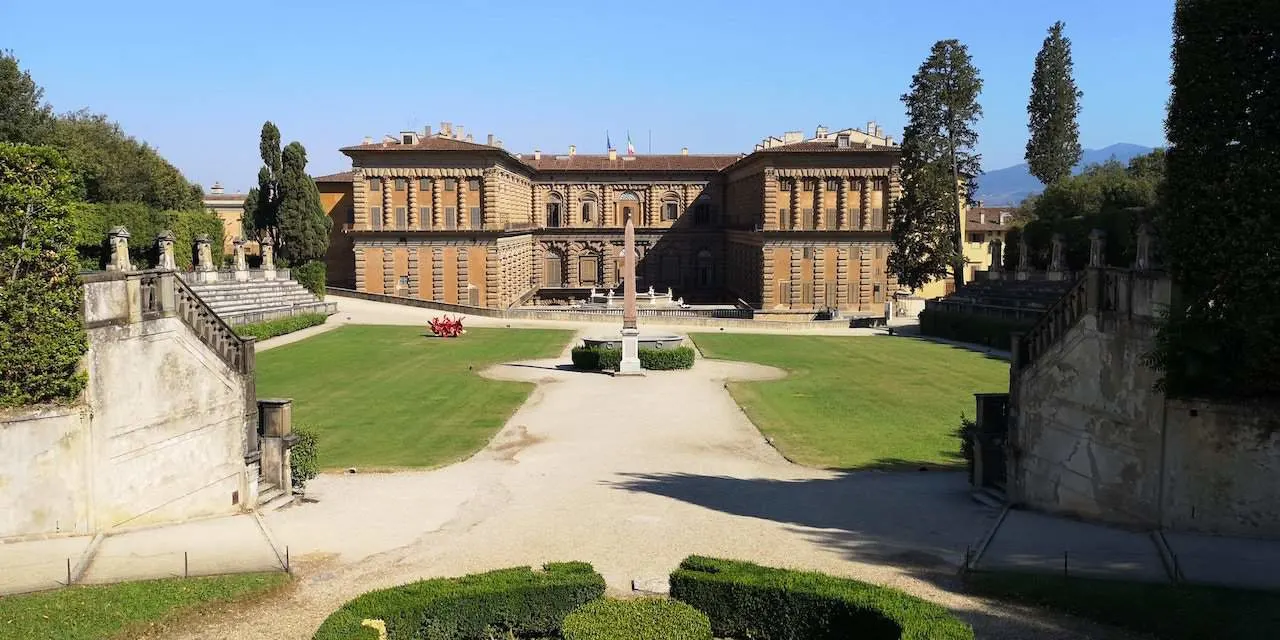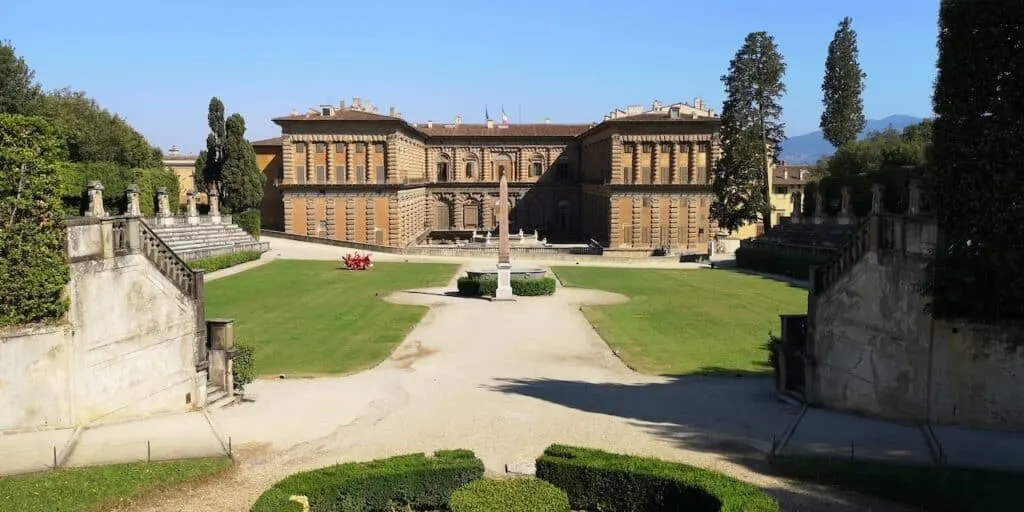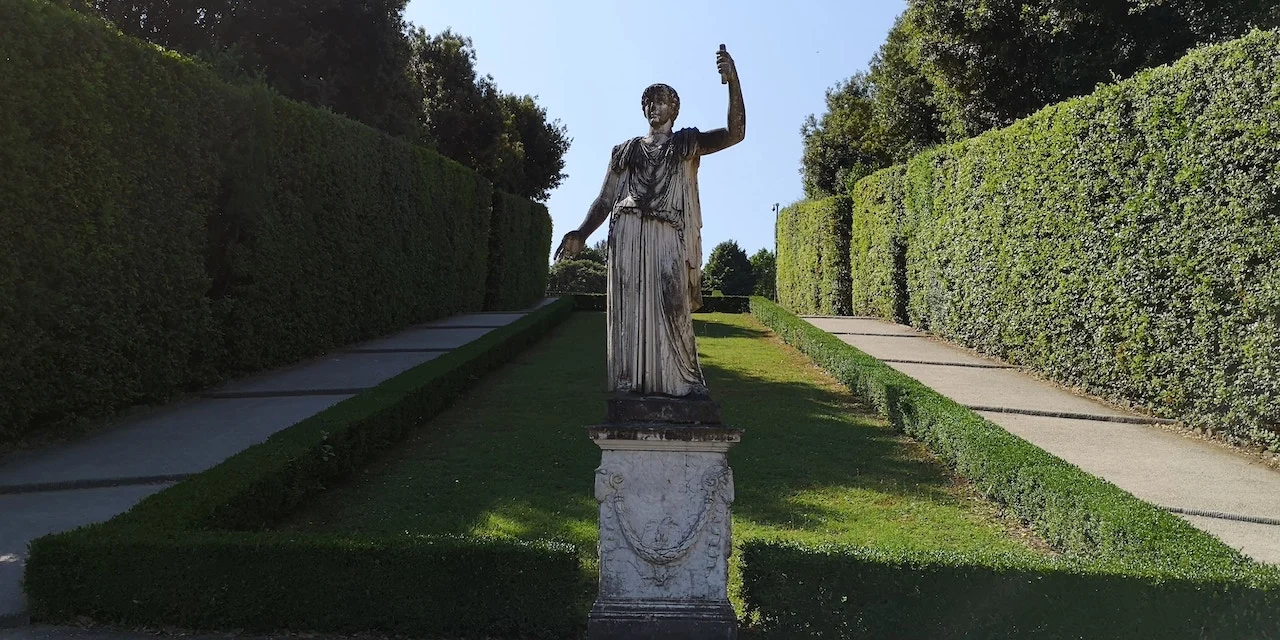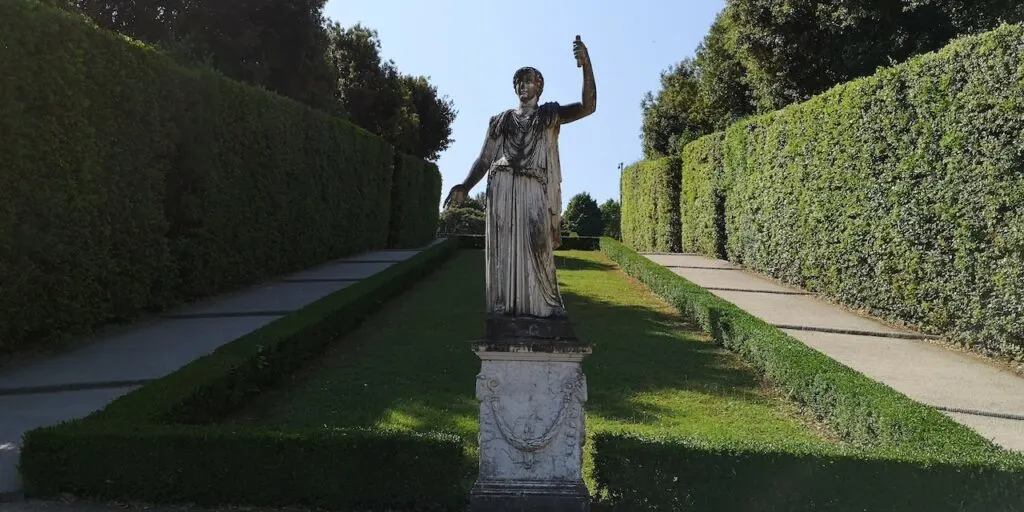 F) Piazzale Michelangelo
​Once you are all finished up with the Boboli Gardnes, make the walk to the most well known viewpoint of the city at Piazzale Michelangelo.
From the top, near the Michelangelo statue, you will be able to see the skyline, rooftops, river and bridges that make up the city of Florence.
If you are here for sunset the view gets even better. You will be able to point out all the different attractions that you visited over the last two days and see all that Florence has to offer.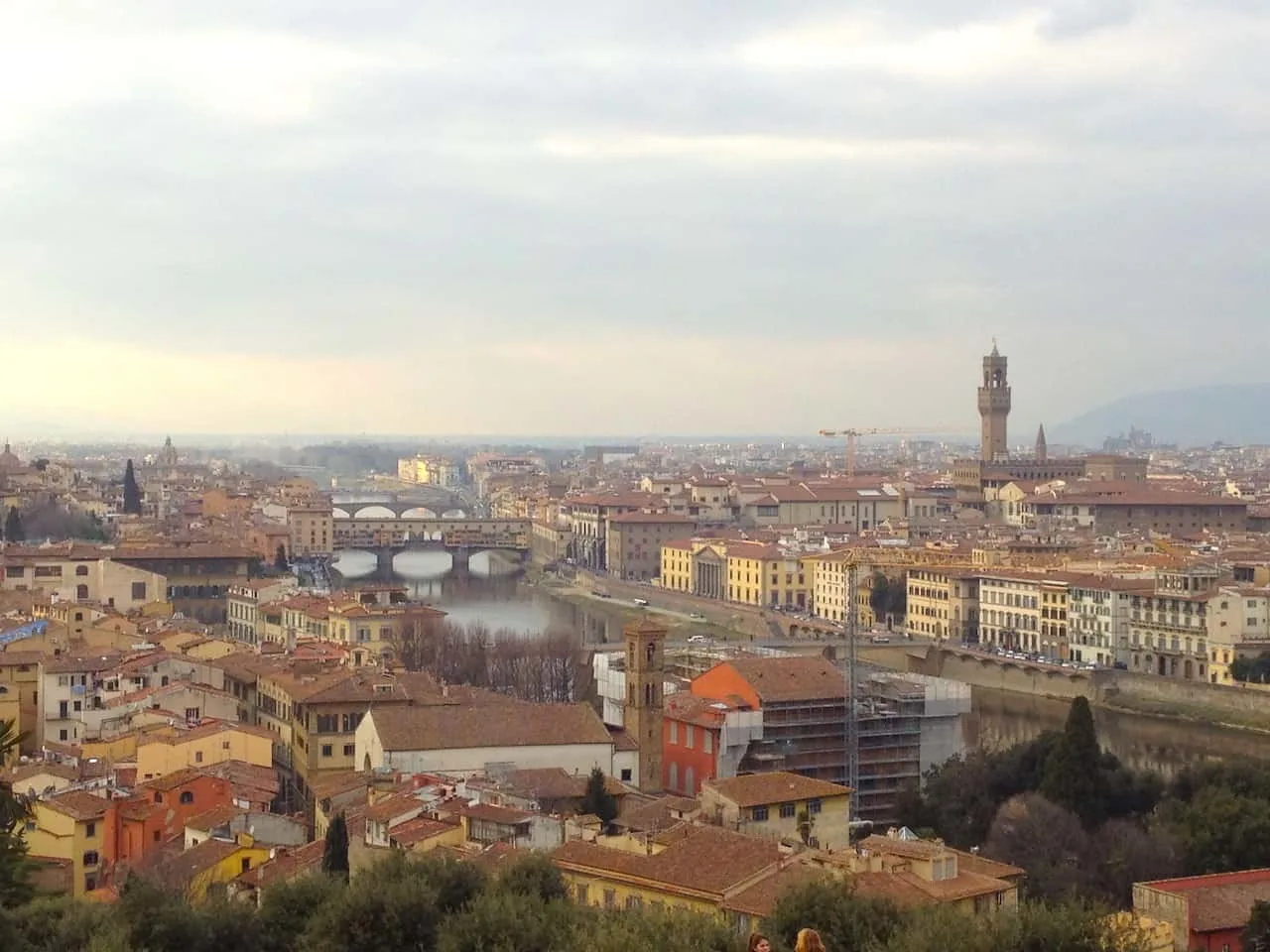 8) Where to Stay in Florence
When it comes to Florence, you will find many boutique hotels lining the streets of the city center.
There is nothing better than being able to wake up, walk right out your door, and be right in the center of Florence.
I have listed out some of the highly valued and rated hotels to look into, all of which are easily accessible to the various sites.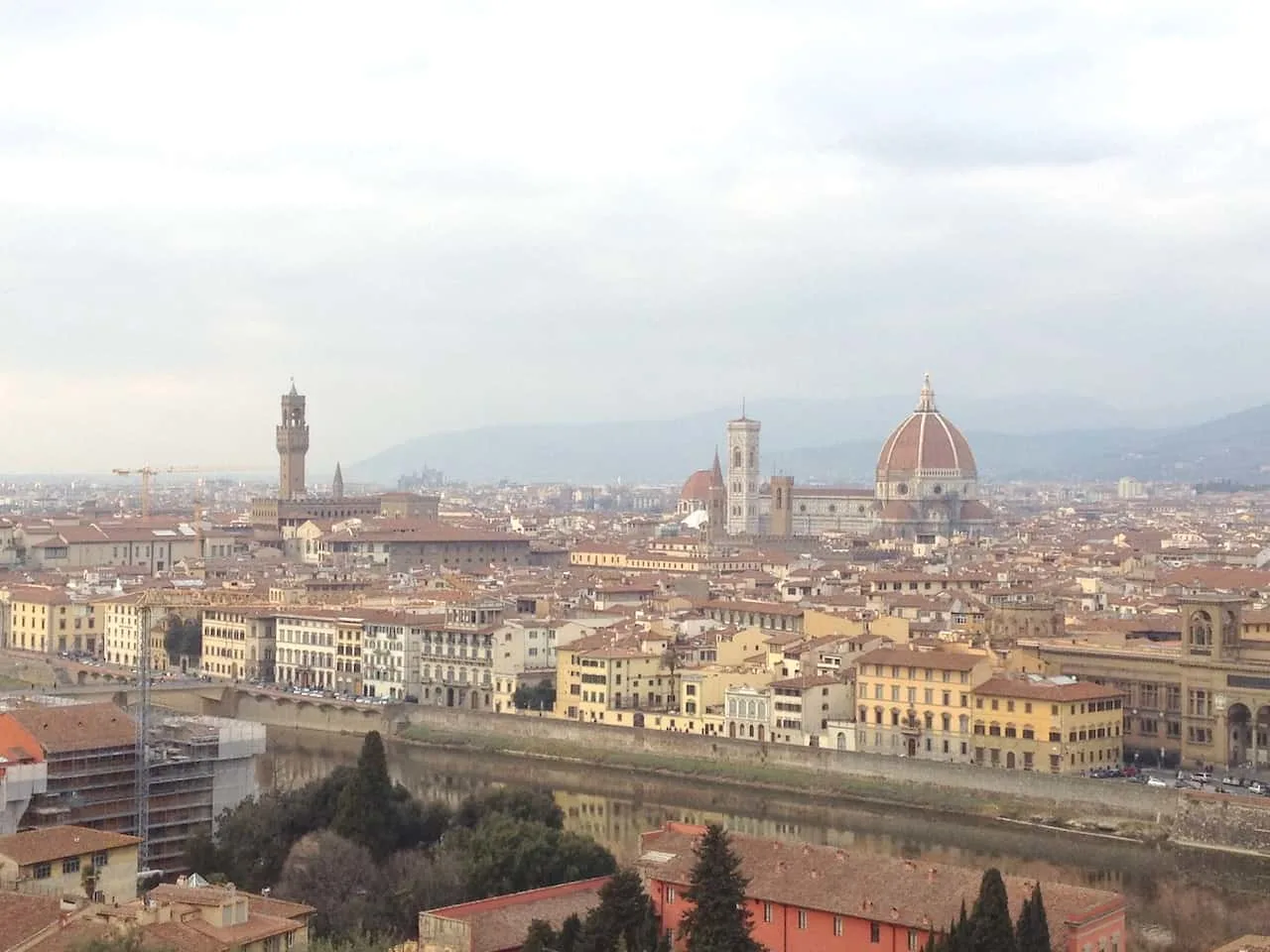 9) Best Time to Visit
While some places in Italy are only summertime destinations, other spots (like Florence), can be visited year round.
With that said though, there are certainly pros and cons to the different seasons. Everything from the weather to the crowds can make your trip more or less enjoyable.
Winter
Visiting Florence in the winter is possible, but you will just need to be prepared for some colder weather. Expect the temperatures to range from 35 F (2 C) at night to 50 F (10 C) during the day.
From a crowds perspective, this is going to be one of the least visited times of the year. So, if you don't mind the cold but want to avoid the crowds, the winter may be a great option for you.
Spring
As the days of Winter end, the days of Spring begin. Expect temperatures in the Spring to be around 50 F (10 C) at night and 65 F (18 C) during the day. The further you get away from the Winter months, the warmer it will be.
Tourism begins to pick up in the Spring, so expect the crowds to start forming. Altogether though, it can be an enjoyable and comfortable time to visit.
Summer
Once those summer months come around, the temperatures begin to get pretty hot. Nighttime temperatures come in around 65 F (18 C) with daytime temperatures reaching almost 90 F (32 F).
With the rising temperatures also come the rising crowds. Expect an influx of tourists during those summer months with less hotel availability and higher hotel rates.
Fall
After August, the temperatures begin to come down with the average Fall night temperatures around 55 F (13 C) and days around 70 F (21 F).
This can be a much more comfortable time to visit but do be aware that it can also be one of the rainiest times of the year.
Best Time
If I had to choose, May, June & September would be my top three. The weather will still be warm enough while the crowds will be off of their peak.
This will also give you the chance to still visit some beach towns during a visit to the country too.
10) Is 2 Days in Florence Enough
Now, you may be asking yourself if 2 days in Florence is enough to see the city.
While 2 days won't give you the chance to see everything in Florence, it will give you enough time to see many of the top highlights (if you plan correctly).
As you can see in this itinerary, there is a lot that you can fit into 2 days in Florence. Museums, squares, galleries, gardens, scenic walks, and more can all be visited during your time in the city.
It will just be important that you start your days early and book in reserve time slots in advance to avoid waiting in lines for most of your stay.
As long as you plan accordingly and take advantage of your time there, 2 days in Florence will be just enough time to enjoy all that the city has to offer.
11) Florence Tips
As you go about your trip to Florence, I wanted to help with pointing out some helpful tips when exploring the city.
I am sure you picked up on some of these as you have been reading through the itinerary.
Museum Closures
Before setting in stone your 2 days in Florence, you will want to be sure that you are visiting when the main attractions & highlights are open.
Many top places are closed on Mondays, while others may be closed during holidays or other days of the week.
In general, I would advise to avoid visiting on Mondays and to just be certain you are up to date on the latest opening/closing hours.
Book in Advance
Since you will want to really take advantage of your 2 days in Florence, you are not going to want to wait in line during your time there.
The best way to avoid waiting in lines is to book your museum and other reservations in advance.
This way you know you will be guaranteed your ticket & spot, and won't need to worry about purchasing tickets when you arrive.
Head on a Tour
Another way to avoid the crowds and the wait is to head on a group/private tour. I have linked many options throughout this itinerary that offer guided tours around each attraction.
This is great for those people that both want to avoid any ticket/line issues & that want to have the opportunity to learn from an expert along the way.
Start Your Day Early
For some of the very busy attractions such as the Duomo, Accademia, and Uffizi Gallery, it is best to get those onto your itinerary at the very beginning of the day.
It is always nice to visit the most popular attractions when fewer people are around.
This will also guarantee that you are getting the most out of your two days in Florence.
Reserve Your Tickets Well in Advance
Once you know your travel dates, go ahead and reserve your tickets. You may be surprised how quickly some of the top spots sell out.
If you do find yourself in a situation where tickets are sold out for your dates, you may be able to sign up for a tour.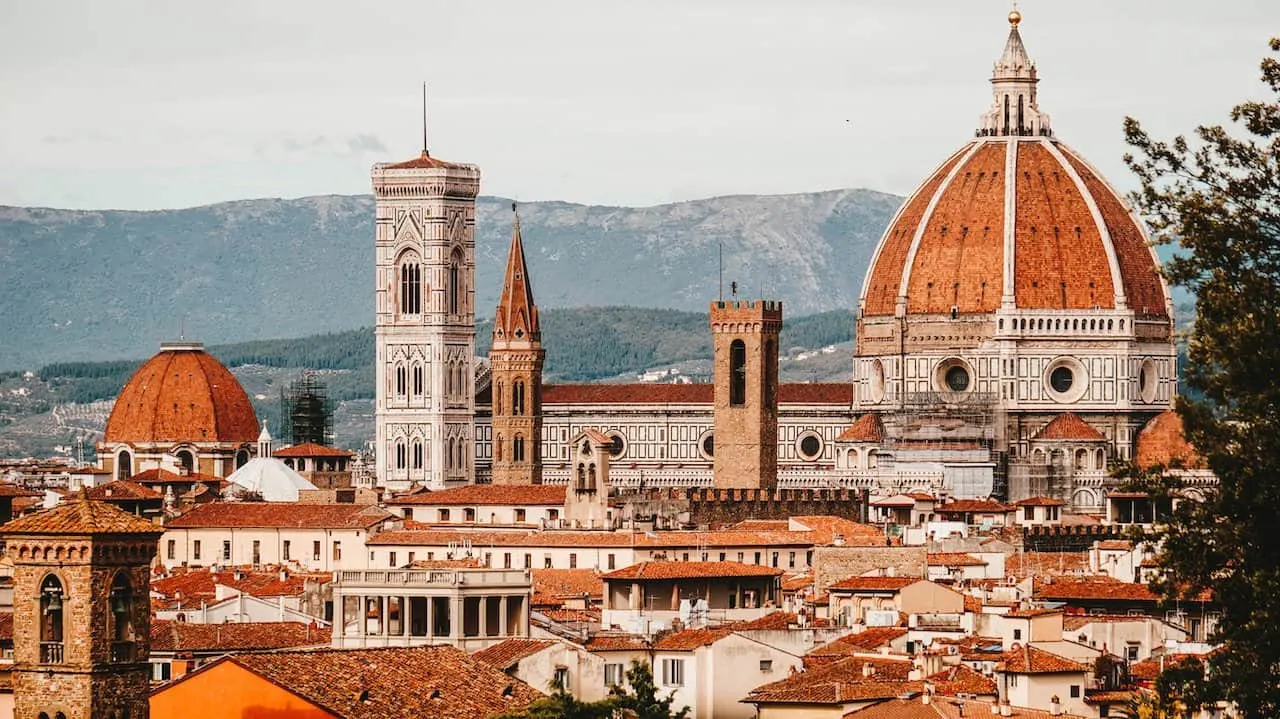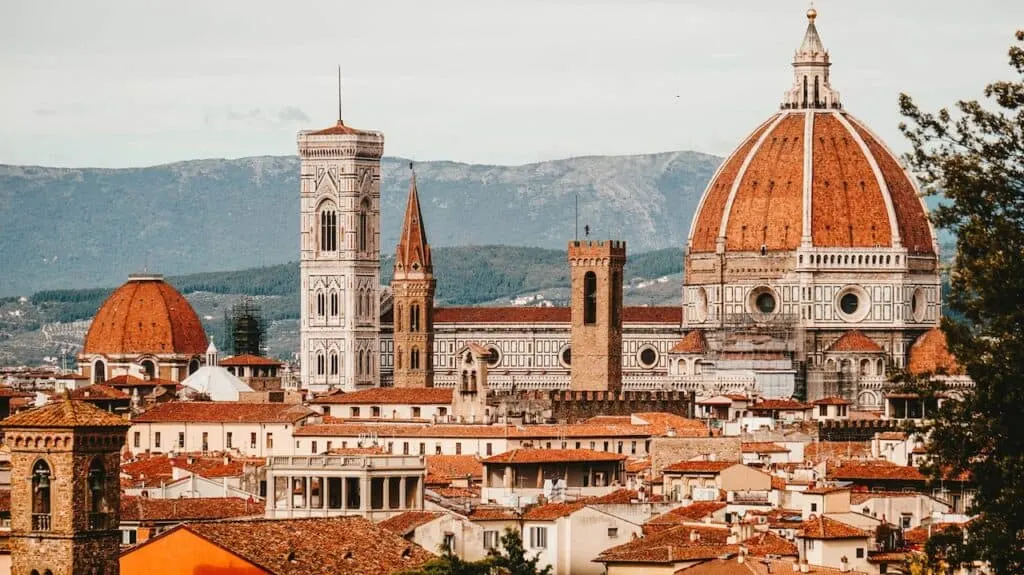 That about wraps up a Florence 2 day itinerary. Take a look at our other Italy itineraries and guides to help out with any other trip planning. If you have any questions about the trip please feel free to comment below!
Take a look at some other city guides such as:
Have fun out there and safe travels!