Just south of Tokyo, you will find Hakone - one of the most unique cities that Japan has to offer. Hakone has plenty to see and do and can be done either as a day trip or even as an overnight stay. You will find beautiful views of Mt. Fuji, plenty of hot springs, and some incredible natural beauty. From the geothermal activity to the area down by Lake Ashi, Hakone is surely not to disappoint. It is also home to the Hakone Round Course Loop – a series of several different transportation options to take you on a full circle around the Hakone area. This guide will focus on everything you need to know when taking part of a Tokyo to Hakone day trip and the Hakone round course loop in particular. By the end of reading this, you should have no trouble getting yourself on your way! With that said lets get into it!
* Affiliate Disclosure: This post may contain affiliate links, which means I may receive a commission if you make a purchase through the links provided, at no additional cost to you. Thanks for supporting the work I put into TripTins!
1) Tokyo to Hakone Day Trip
Before getting into the Hakone Round Course Loop, we first need to get you there. To take part of the Tokyo to Hakone day trip, you will need to utilize the super-efficient train system that Japan offers. And with that said, there are a few different options to choose from depending on whether or not you have a JR Pass handy.
Coming from Tokyo, your first part of the journey to get to the Hakone Round Course Loop will start in Odawara and then onto the Hakone-Yumoto station. Here are your options:
(A) With JR Pass
Getting to Hakone is pretty straightforward if you have a JR Pass. There are trains leaving from Tokyo Station to Odawara and can be as fast as just 35 minutes (with local trains taking closer to 90 minutes).
To get on these faster trains, take a look at the Tokaido Shinkansen on the Kodama or Hikari lines. The timetables can be found on the Hyperdia website (departure Tokyo / arrival Odawara) and the Japan helpful tips section goes into more detail about the JR Pass.
Once you arrive in Odawara you can purchase the Hakone Freepass for 4,600 JPY (more on that soon). This is the price to just have access to all transportation in the Hakone area besides for the cost of the round trip from Tokyo (as you have used the JR Pass to get you there already).
After you arrive in Odawara and purchase the Freepass, you can then hop on the quick 15 minute local train up to Hakone-Yumoto.
« Don't forget to purchase your 7 Day, 14 Day, or 21 Day JR Pass before heading off to Japan »
(B) Without JR Pass
Now if you do not have a JR Pass and want to take part of the Hakone Round Course day trip from Tokyo, you can choose from four different options:
1. Purchase a Hakone Freepass for 5,700 JPY, which includes a round trip from Shinjuku Station on the Odakyu line (~90 minutes). This price not only will include your round trip from Tokyo to Odawara, but also includes the unlimited use of transportation in Hakone.
2. You also have the option here to upgrade and reserve a seat on the faster Romancecar (75 minutes) for an additional +1,090 JPY one way (+2,180 JPY round trip), which will take you straight to Hakone-Yumoto Station (about 15 further along than Odawara), where you can start the round course journey. You can upgrade to the Romancecar by purchasing a seat reservation online or buying at the Shinjuku train station from Odakyu Railway.
3. Even if you do not have a JR Pass you can still opt to take the JR train (35 minutes) to Odawara. This will cost 3,740 JPY one way (7,480 JPY round trip) and leaves from Tokyo Station (not Shinjuku).
4. And lastly you can opt for the local train from Tokyo Station to Odawara (90 minutes) at a cost of 1,490 JPY one way (2,980 JPY round trip).
Options 1/2 make most sense from a cost perspective but if you either want to get there/back as quickly as possible or want to leave from Tokyo station instead of Shinjuku then 3/4 could work as well.
Tip: if you opt for the Odakyu line from Shinjuku to Odawara (not the Romancecar) be prepared to stand or have somewhat of a crowded train as this is a commuter train. If you want the peace and quiet, along with a nice reserved seat then opt in for the Romancecar.
2) Hakone Overnight or Pit Stop
If you ARE NOT day tripping back to Tokyo and rather heading off to your next destination at day's end or staying overnight in Hakone and moving on from there, you can opt for similar options to those mentioned above:
With the JR Pass, simply take the 35 minute fast train from Tokyo Station. If you do not have the JR Pass you can choose from the following:
1. One way ticket from Shinjuku Station on the local Odakyu line to Odawara for 880 JPY one way (90 minutes)
2. Option to upgrade to the Romancecar straight from Shinjuku to Hakone-Yumoto (75 minutes), +1,090 JPY surcharge (1,970 JPY total)
3. JR fast train from Tokyo Station to Odawara for 3,740 JPY (35 minutes)
4. Local train from Tokyo Station to Odawara for 1,490 JPY (90 minutes)
Once you arrive in Odawara you can then purchase the Freepass then. If taking the Romancecar, you should buy the Freepass at the same time of the Romancecar purchase
3) Hakone Freepass
I know I just mentioned the Freepass a few times so let me explain exactly what that is. Basically in the Hakone area there are many different transportation options available such as trains, cable cars, ropeways, boats, etc. – these in essence make up the Round Course Loop.
The Freepass gives you access to all of these by just showing your pass. No need to purchase separate tickets every time for each mode of transportation. Simply show your pass and be on your way.
The Freepass also gives you discounted or free access to many museums, parks and different sites around Hakone, making it a very cost-efficient option for those that will be touring around.
At the end of the day, even if just taking part of the Round Course Loop you will still be saving money (plus the convenience factor) vs. purchasing individual tickets for each mode of transportation around Hakone.
The cost for a Freepass is 4,600 JPY for a 2 day pass – even if just doing a day trip, the 2 day pass is worth the cost (and there is no 1 day pass option).
If you are coming from Tokyo and doing the day trip (or an overnight and going back to Tokyo after) you can pay 5,700 JPY for the 2 day pass, which also gives you the round trip train on Odakyu Railway from Shinjuku Station.
You can purchase the Freepass from Shinjuku Station, or if you have a JR Pass for example and will be arriving in Odawara (from Tokyo Station), you can purchase the Freepass once you arrive in Odawara.
Note: there are also 3 day passes available for those who are not planning on doing the day trip, but rather staying a few days in the Hakone area.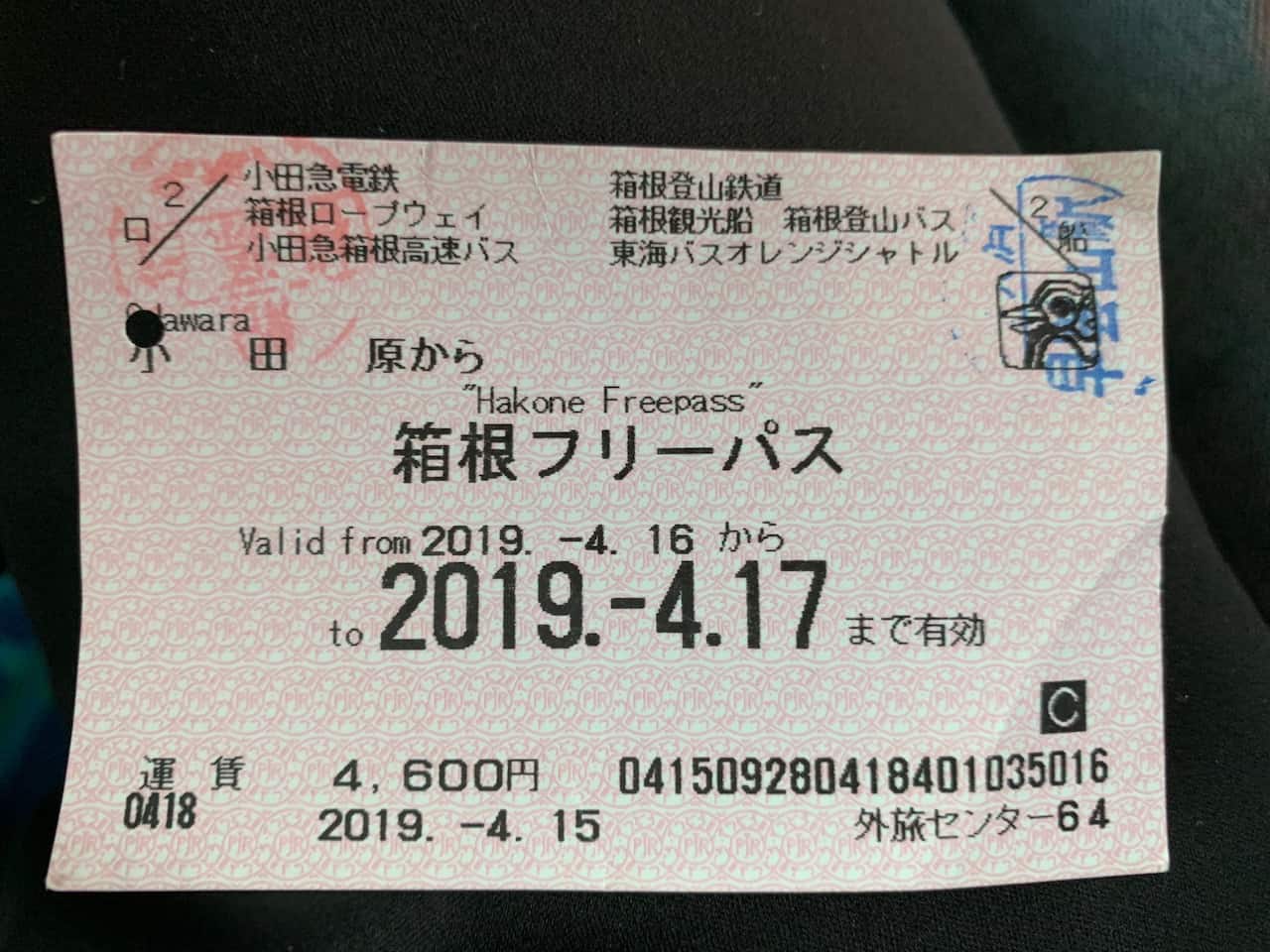 Once you are in Odawara (or Hakone-Yumoto if you took the Romance Car), you will be able to use the Freepass on a bunch of different types of transportation around the round course loop.
The transportation options include (color coded to map below):
(1) Hakone Tozan Railway from Odawara/Hakone Yumoto to Gora
(2) Hakone Tozan Cablecar from Gora to Sounzan
(3) Hakone Ropeway from Sounzan to Togendai (w/ a stop in Owakudani)
(4) Hakone Boat Tour from Togendai to Hakone-machi or Moto-Hakone
(5) Hakone Tozan Bus back to Hakone Yumoto or Odawara (if going back to Tokyo) or Gora (if staying overnight)
Note: if staying overnight in Gora, check into your hotel and drop your stuff off before getting on the cable car (2).
4) Location / Map
See below for a map of the round course with the color coded modes of transportation mentioned above.
5) Hakone Round Course Loop
I will now walk you through each mode of transportation used and what to expect as you make your way around the area. For the most part everything is pretty simple to follow and you should not have much trouble getting from one place to the next.
The whole loop starting and ending in Odawara should take anywhere from 6-8 hours depending on how long you plan on staying in each place. It could take even shorter but at that point you may feel too rushed.
(A) Hakone Tozan Railway from Odawara/Hakone Yumoto to Gora
If you did not opt for the Romancecar, your journey will begin in Odawara. Once you arrive in Odawara and purchase the Freepass (if you have not done so already), you will hop on the quick 15 minute train ride to Hakone Yumoto. Once in Hakone Yumoto you will need to get on another train that takes you up to Gora.
This section will take about 40 minutes as the train zig zags its way up the mountain. Since it is quite an incline for a train, there will be a few switchbacks, where the train will switch directions – as in the front of the train will become the back of the train and vice versa.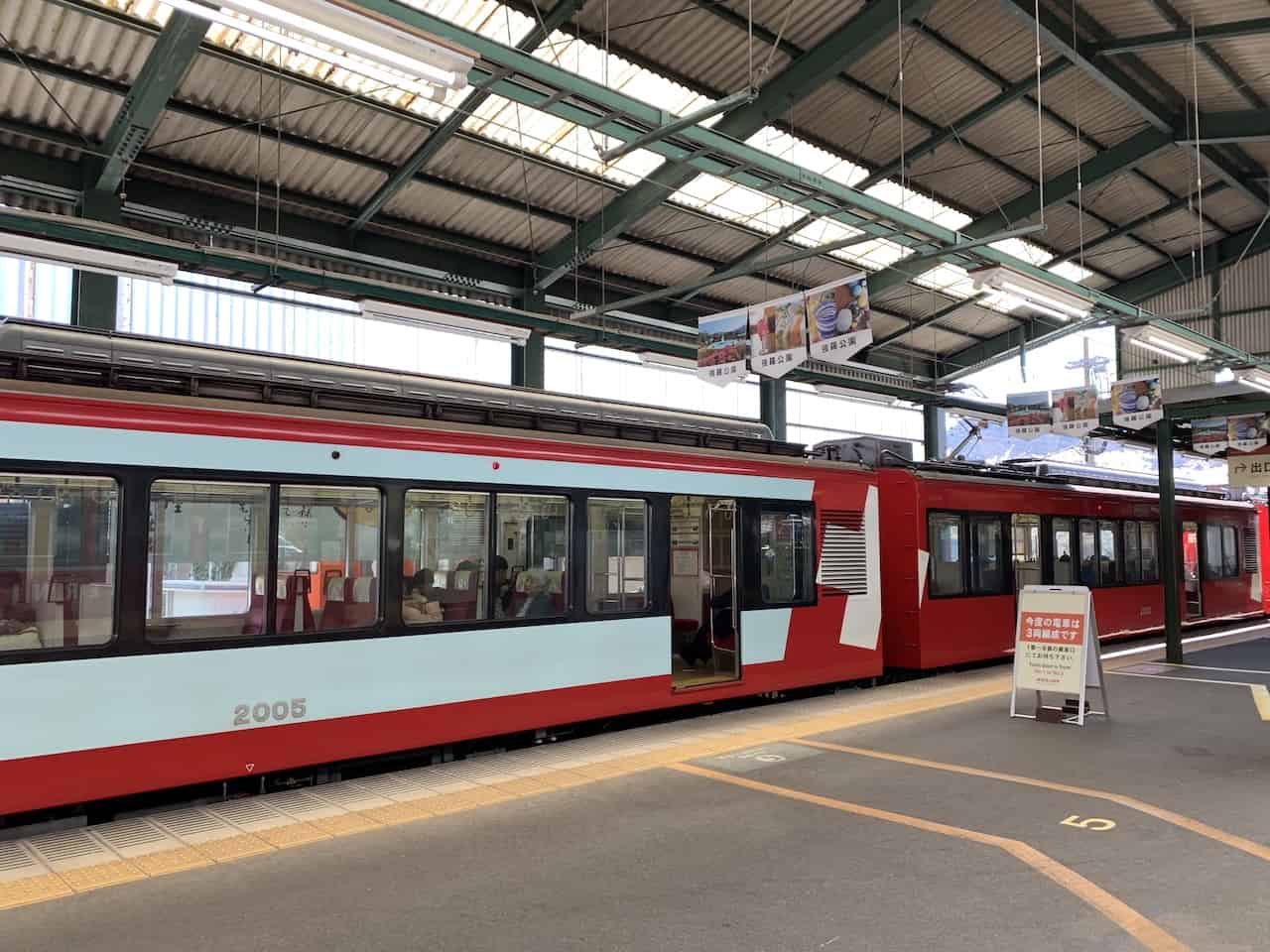 Once the 40 minute journey is complete you will arrive in the town of Gora. If staying the night in Hakone, Gora is one of the more popular options to choose from and you will have plenty of onsens in the area to decide between.
You can drop your luggage at your hotel before continuing on with your day. Even if you are not staying overnight I would still advise to take a walk around town and head to Gora Park. If you are there during cherry blossom time you will have some great flower photos to take!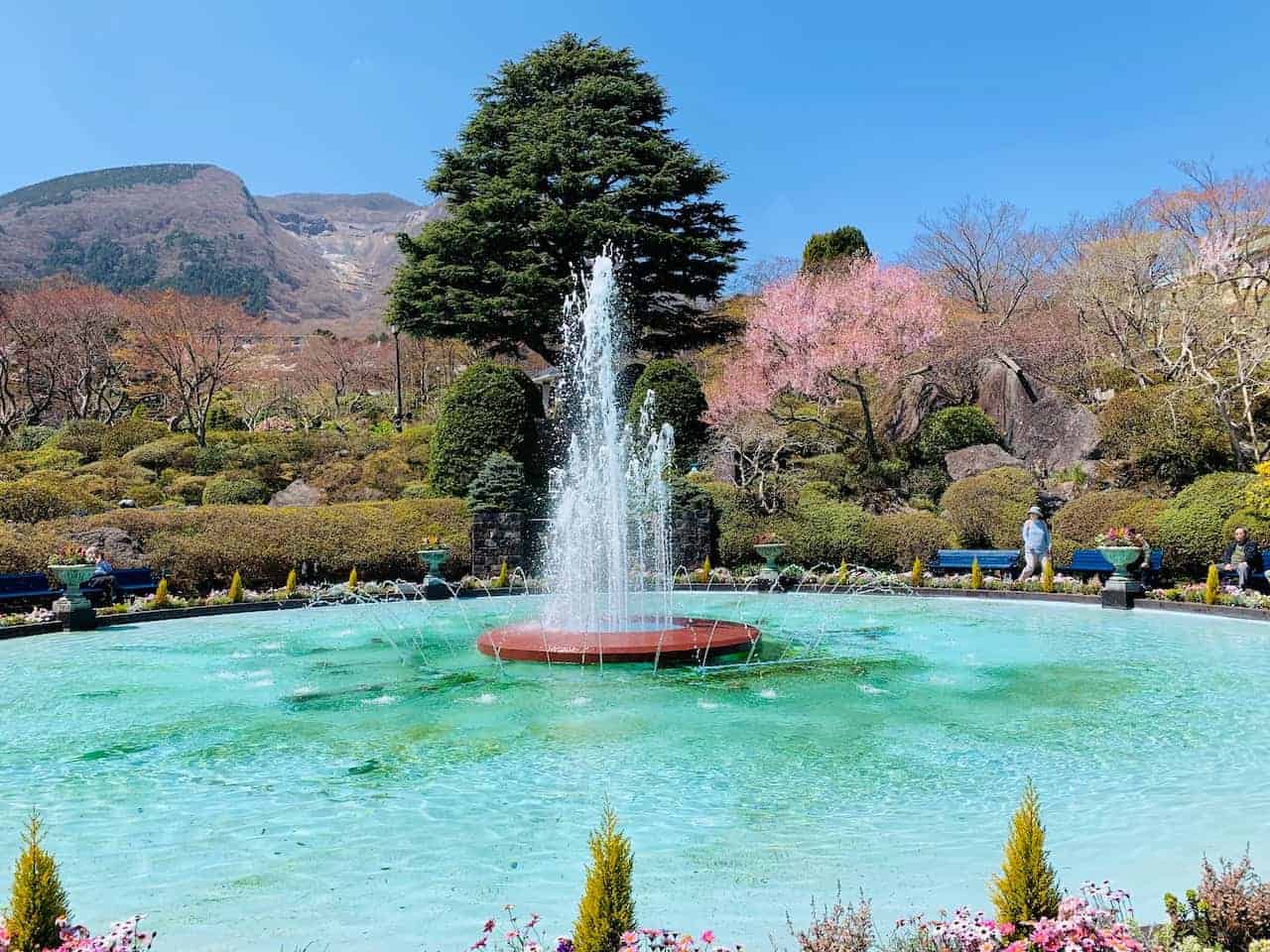 (B) Hakone Tozan Cablecar from Gora to Sounzan
Next up on the round course loop is the quick cable car from Gora to Sounzan. The cable car is about 10 minutes long and it will make a few stops before arriving at the final destination of Sounzan.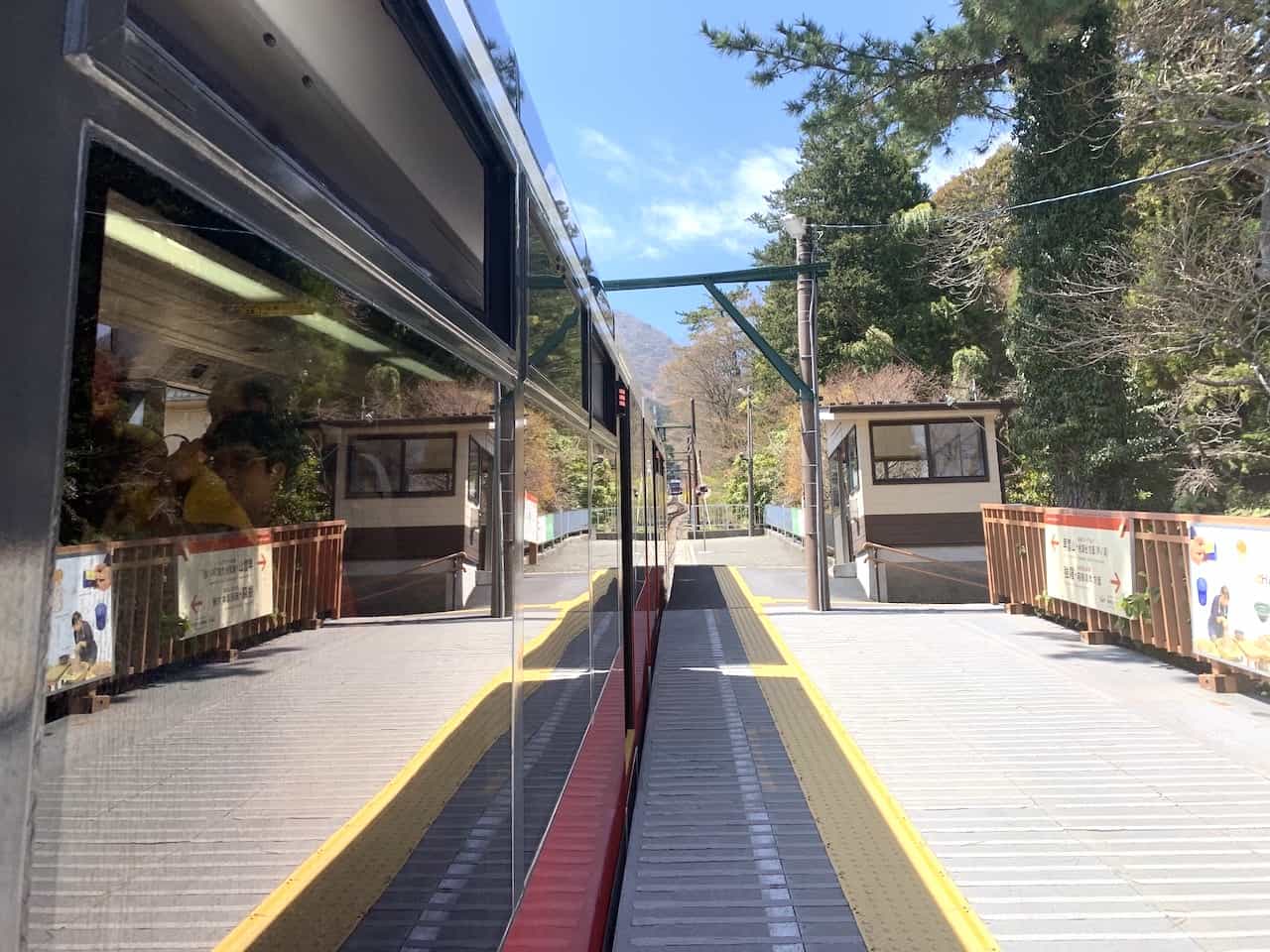 (C) Hakone Ropeway from Sounzan to Togendai (w/ a stop in Owakudani)
After getting off the cable car it is time to hop on the Hakone Ropeway. The ropeway is made up of two parts – one from Sounzan to Owakudani and the next from Owakudani to Togendai. Note that you must get off the cable car and switch in Owakudani. Both of these portions should take about 10 minutes each.
The ropeway is much more than a simple ropeway though. About half way up to Owakudani, you will be welcomed to the one and only Mount Fuji out in the near distance. And believe me, it is quite the site seeing Fuji appear so close for the first time.
Soon enough you will also be hovering over the geothermal area of Owakudani with plenty of sulfur gasses coming out from the ground. The ropeway coupled with Mount Fuji and the geothermal area is one of the most unique experiences I had during my time in Japan.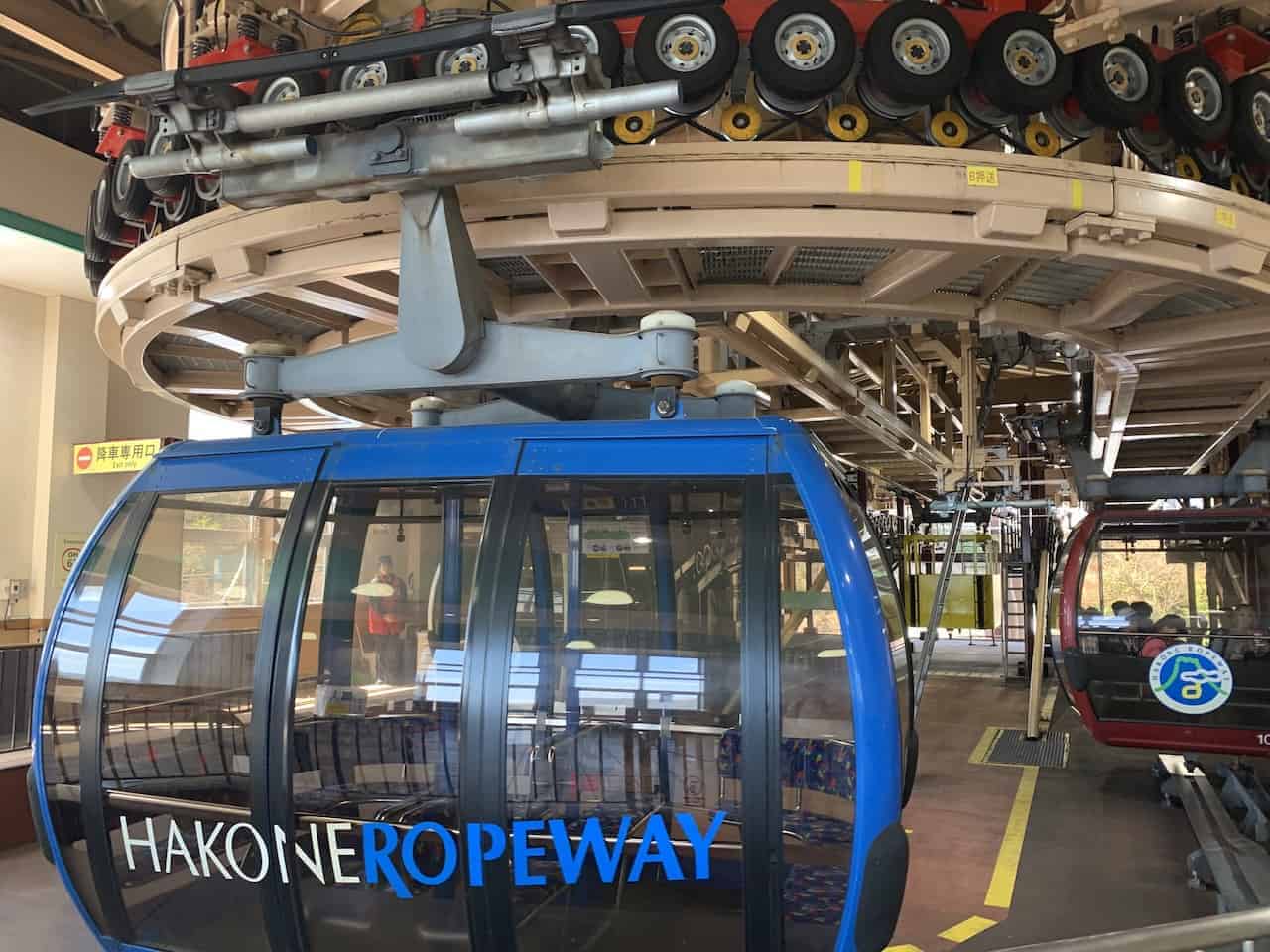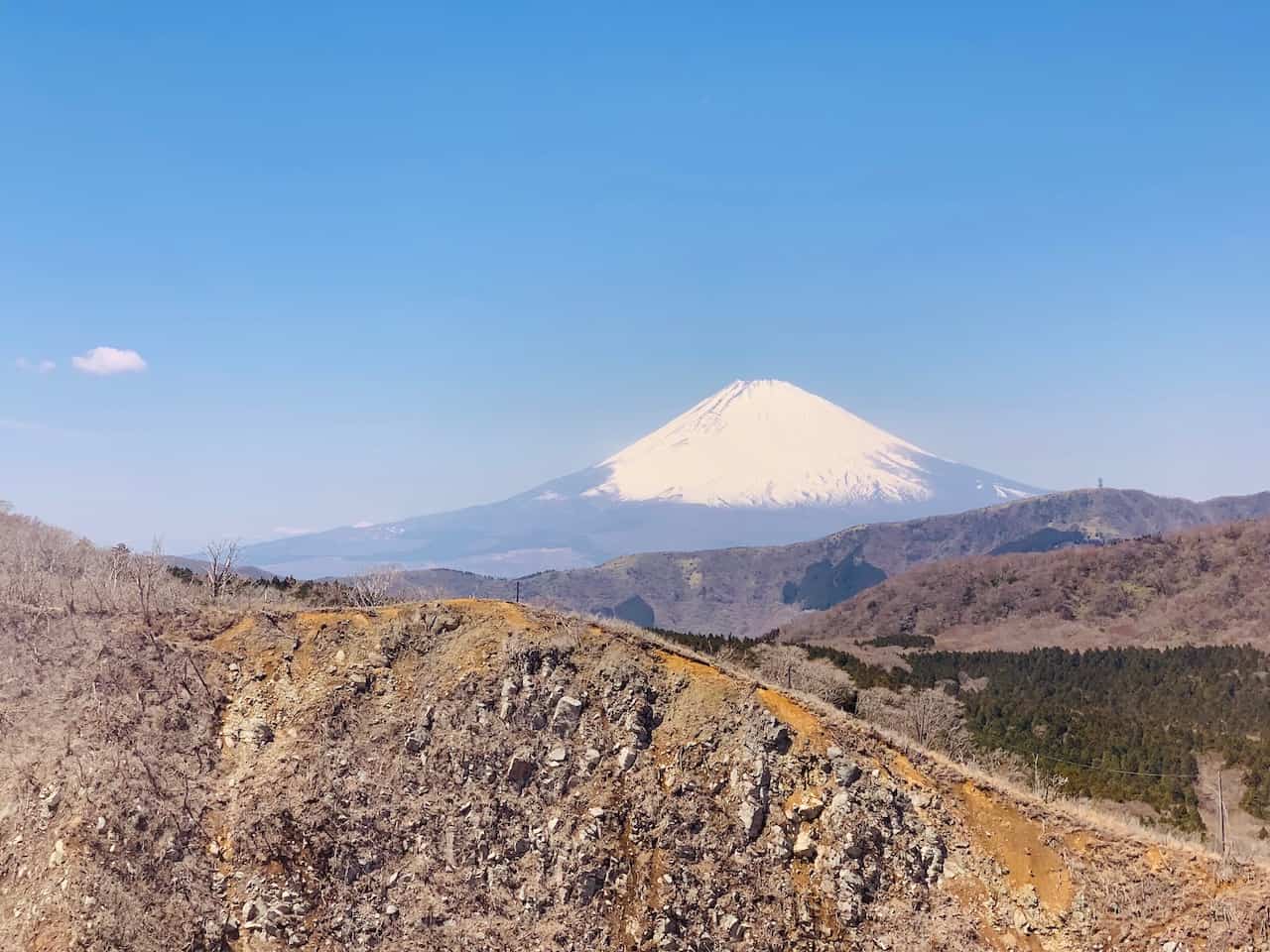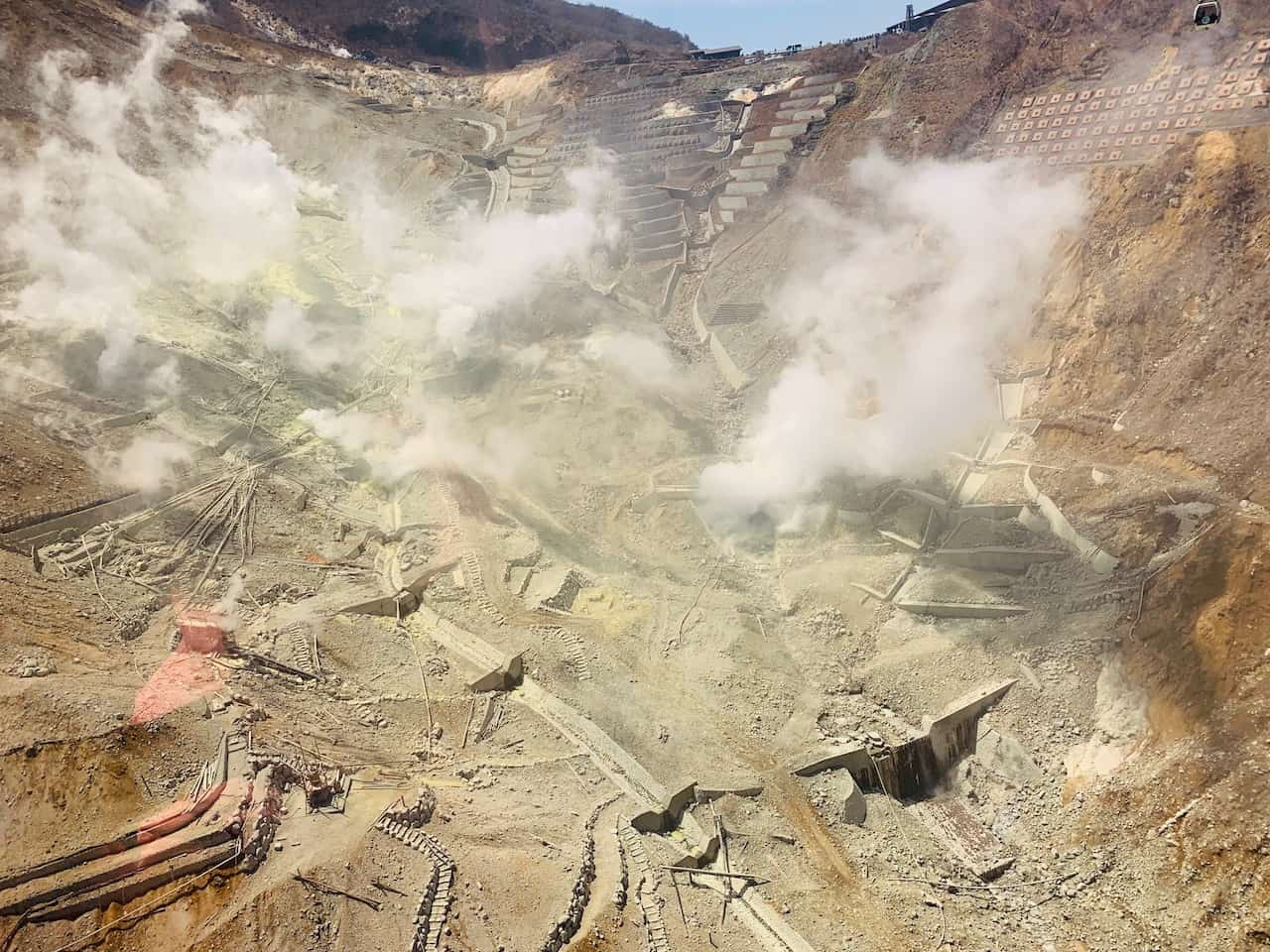 After the 10 minute cable car and taking in some views from above you will arrive in Owakudani. This is the perfect spot to get all sorts of pictures of Mount Fuji (this will be the closest you get during the round course loop) and the geothermal area down below. On top of those views I would also recommend getting some lunch here as there are a couple restaurant options.
And finally don't forget to buy some of those famous black eggs that are boiled in the nearby water – legend has it that eating these eggs can add 5+ years to your lifespan, so why not give one of them a try.
Don't worry though, the eggs themselves don't taste any different from regular eggs, just the shell is black. A pack of 5 costs 500 JPY at the nearby stand.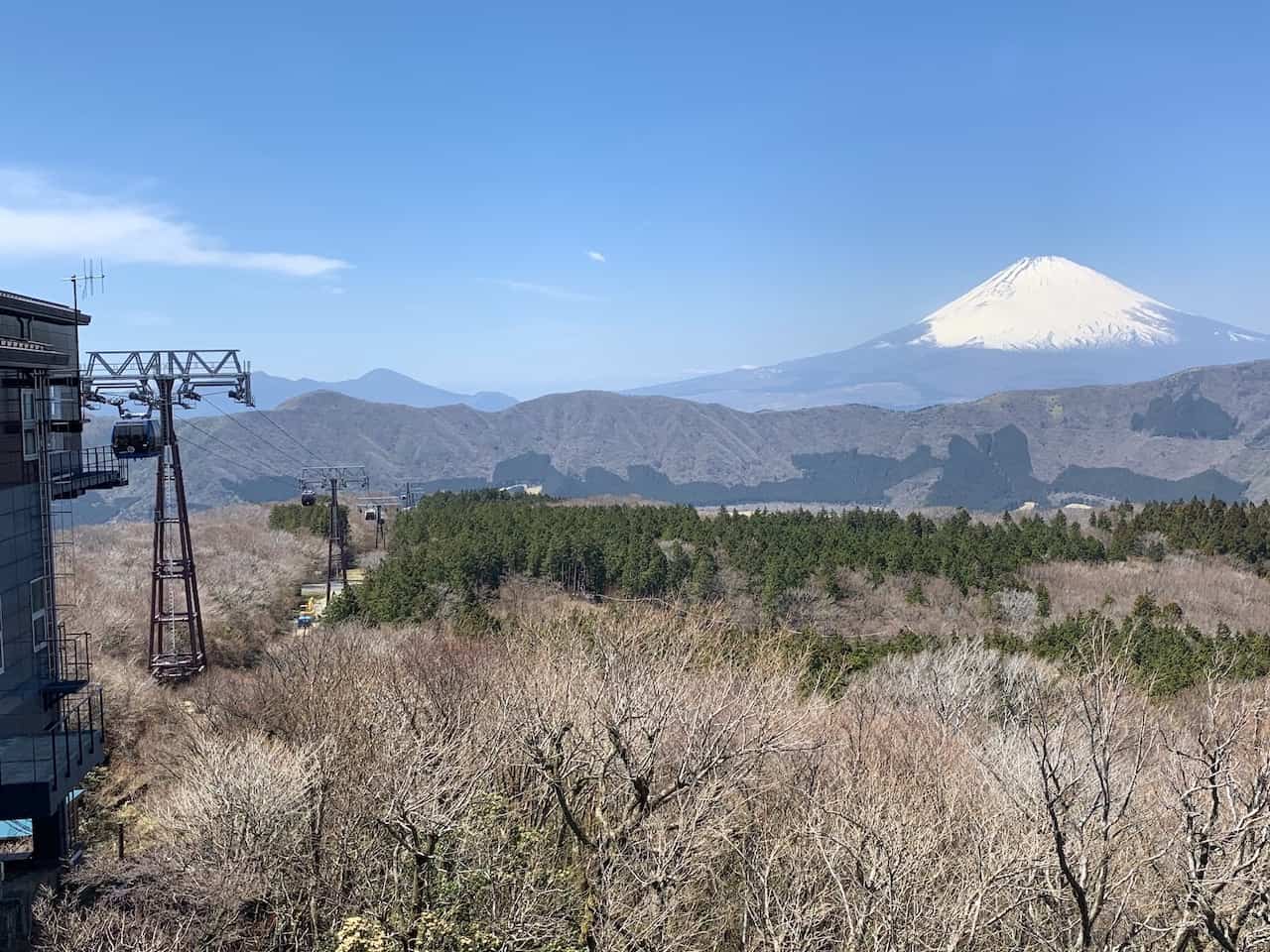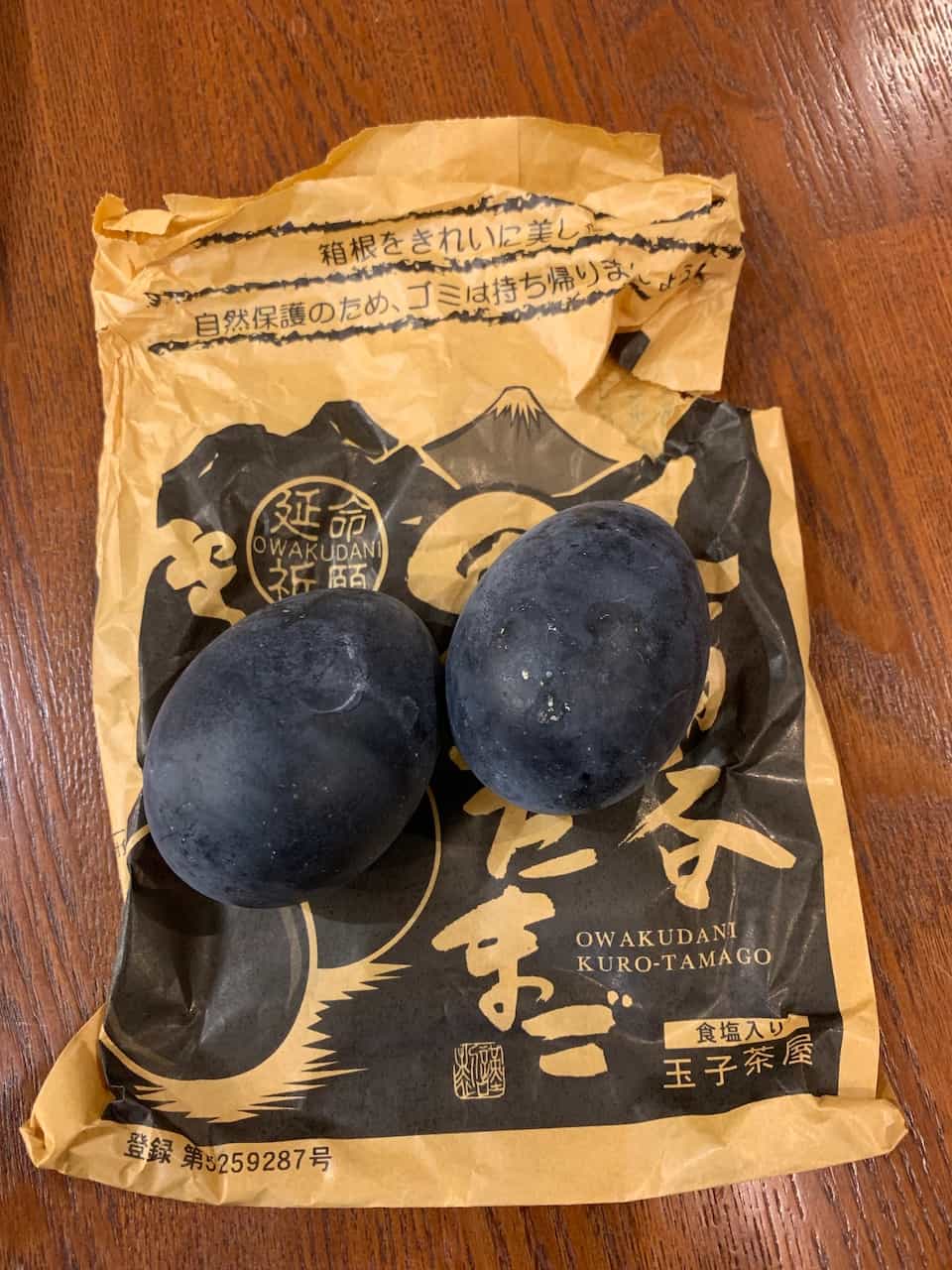 After taking some pics of Mount Fuji and the geothermal area, having some lunch, and trying those black eggs, it is time to hop back on the cable car and down to Togendai.
During this portion of the ropeway you should be able to see Mount Fuji for the majority of the ride – sit on the front right side of the ropeway for the best pics! You have the option to get off at Ubako or just continue along to Togendai.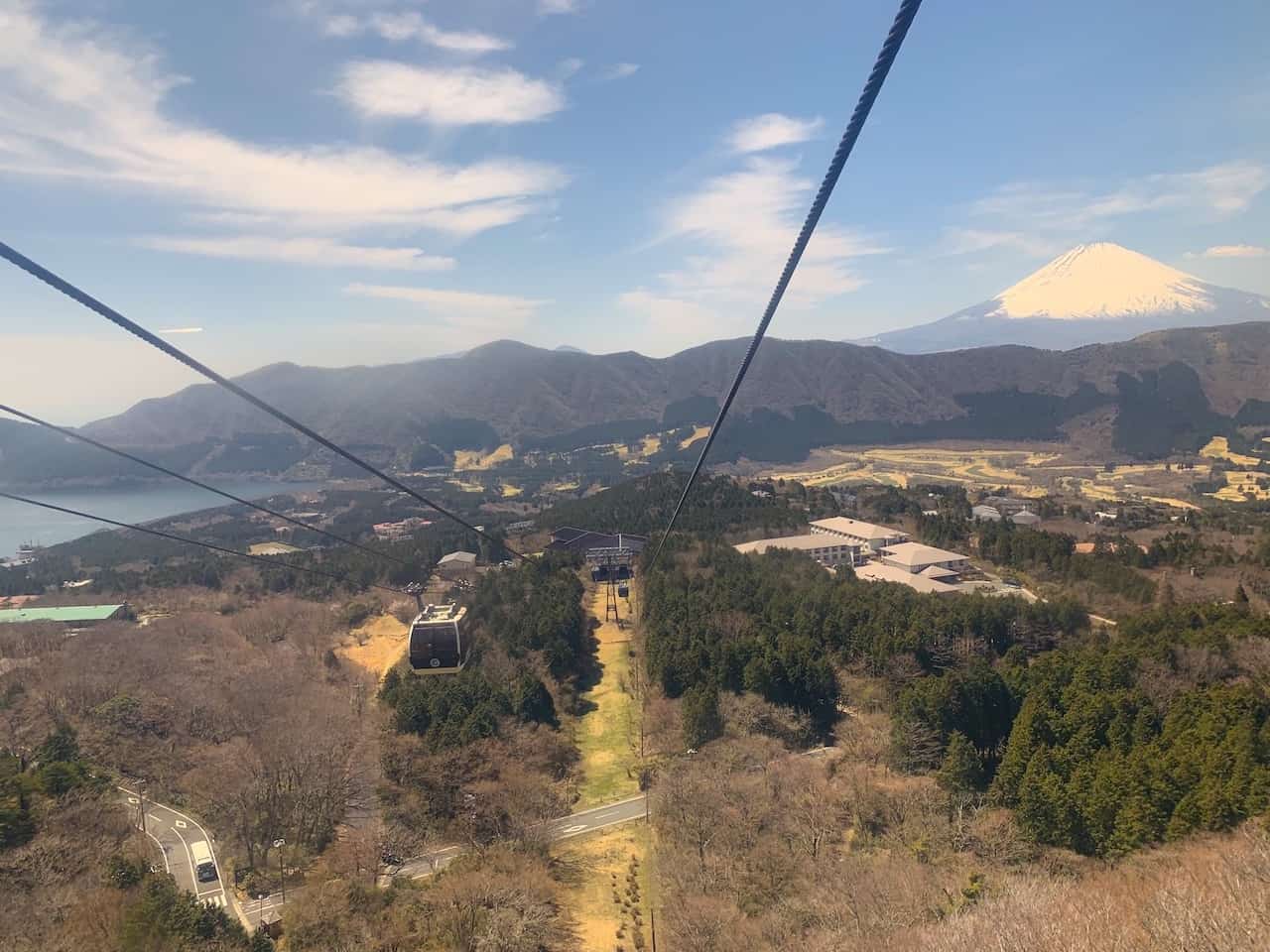 (D) Lake Ashi Boat from Togendai to Hakone-Machi or Moto-Hakone
Lake Ashi will be your next stop on the Hakone round course loop as you board a "pirate ship" at Togendai to the opposite side of the lake to Hakone-machi or Moto-Hakone.
This 40 minute ride will take you through Lake Ashi's waters and as you get further along the route, Mount Fuji will come back into view – this time a bit further away but just as beautiful.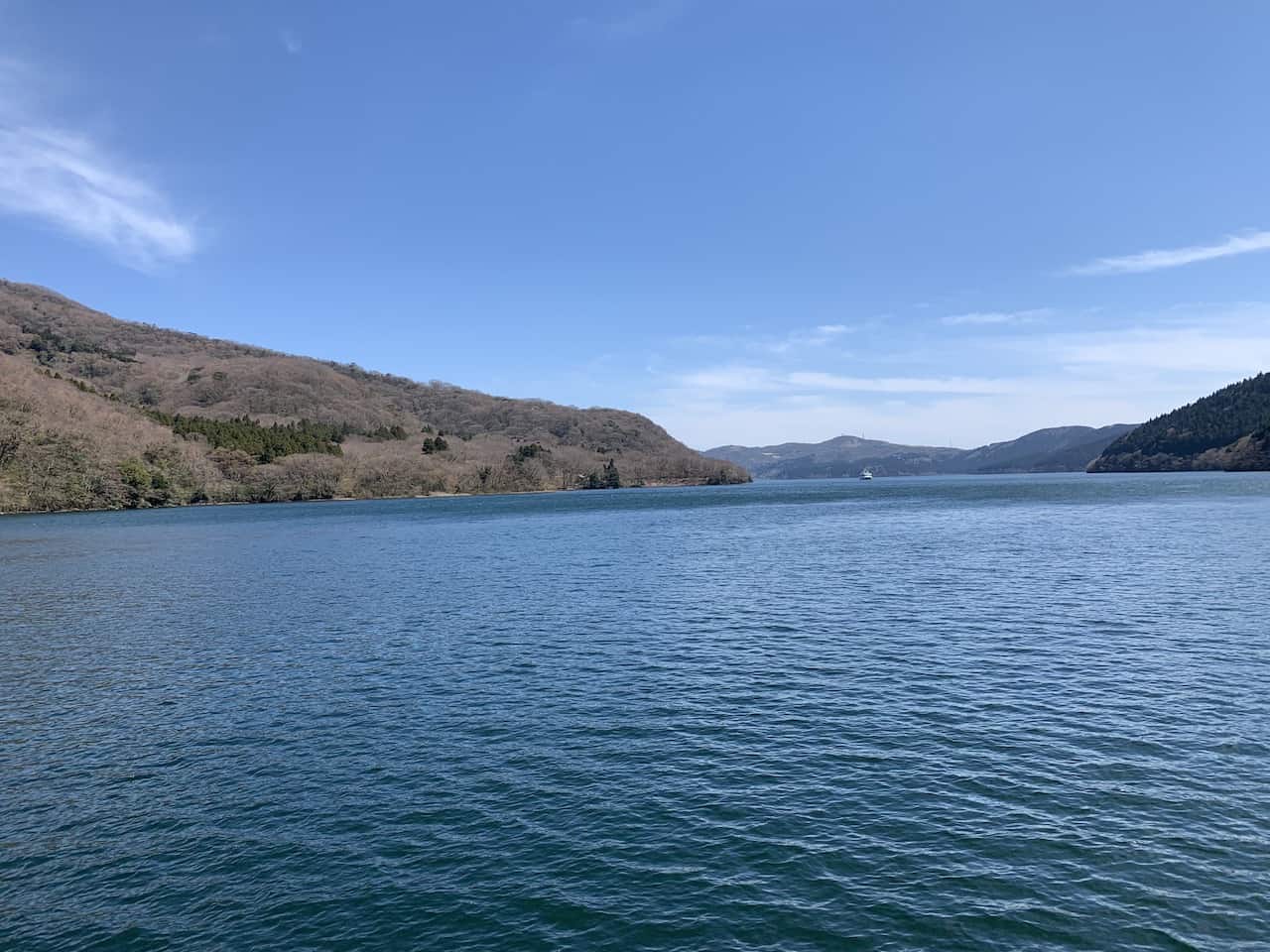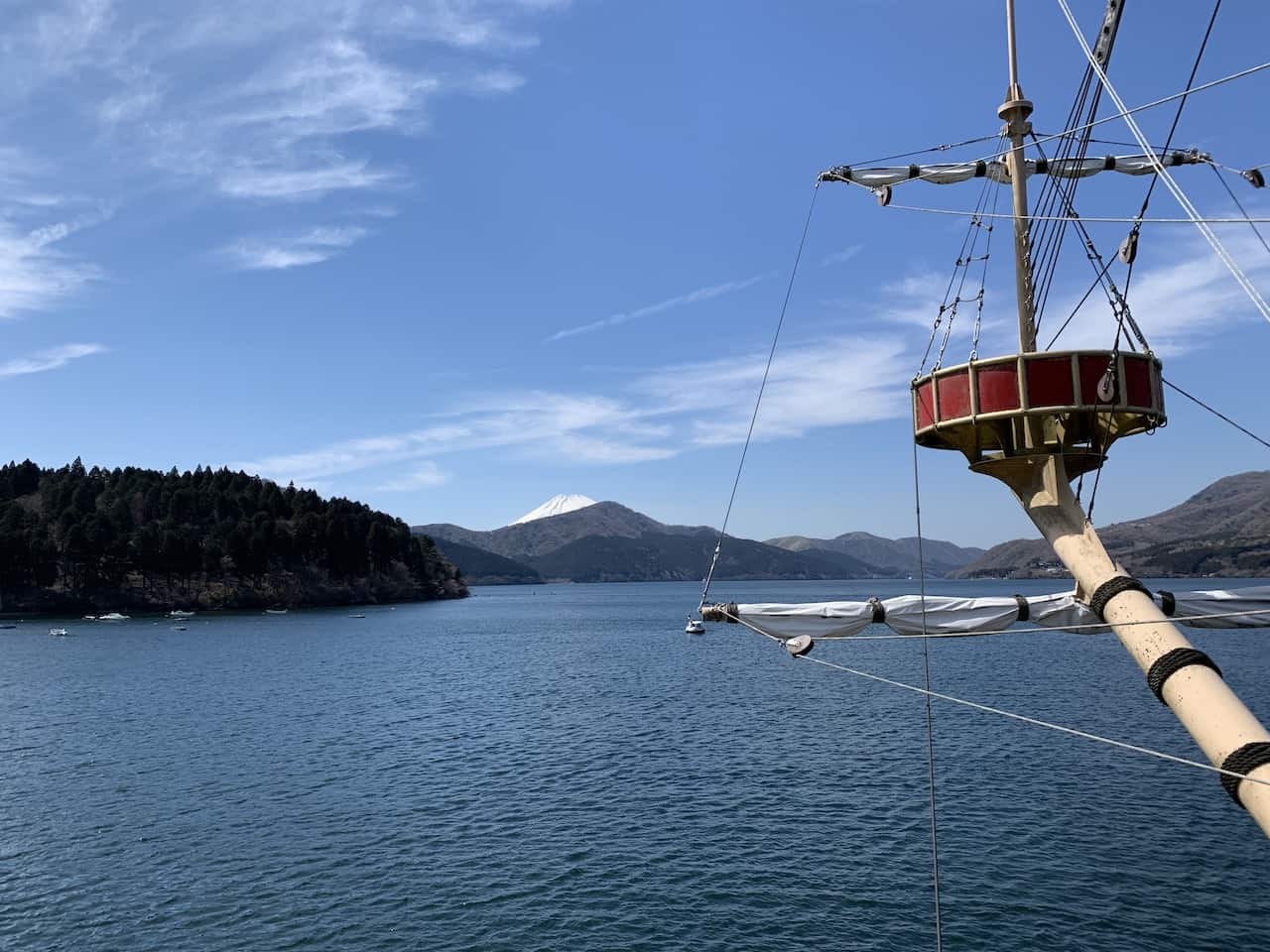 You have two options to choose from when it comes to getting off the boat – either Hakone-machi or Moto-Hakone. If you get off at the first stop Hakone-machi, you can make the nice walk towards Onshi Hakone Koen Park. From the park you can get some great views of Mount Fuji at a higher vantage point.
You can then continue the walk out of the park and along the water, passing the Moto-Hakone port area (where you can get some great shots of Fuji and the Hakone Shrine Torii gate) and on to the Hakone Shrine itself, before returning to Moto-Hakone to catch the bus back.
There are a couple reasons I see to get off at the second port (Moto-Hakone). If you want to capture the shot of the Mount Fuji with the Hakone Shrine Torii gate from the boat, you can only take that picture if you get off at Moto-Hakone. You can however, capture a very similar picture by the shore near Moto-Hakone.
A second reason to get off here is if you have no interest in heading to the Onshi Hakone Koen Park. The second port is closer to the Hakone Shrine area, so you will basically skip the park and just make the short walk over to the shrine before heading back to the port bus stop.
If you zoom into the map I inputted earlier on in the article, you can see where the ports, the park, and the shrine are located.
(E) Onshi Hakone Koen Park
As just mentioned, once you get off the boat you have the chance to head up to Onshi Hakone Koen Park. It is basically right in the middle of the two ports and it gives some great vantage points of Lake Ashi and Mount Fuji from above. There are a few steps to get up there just a heads up!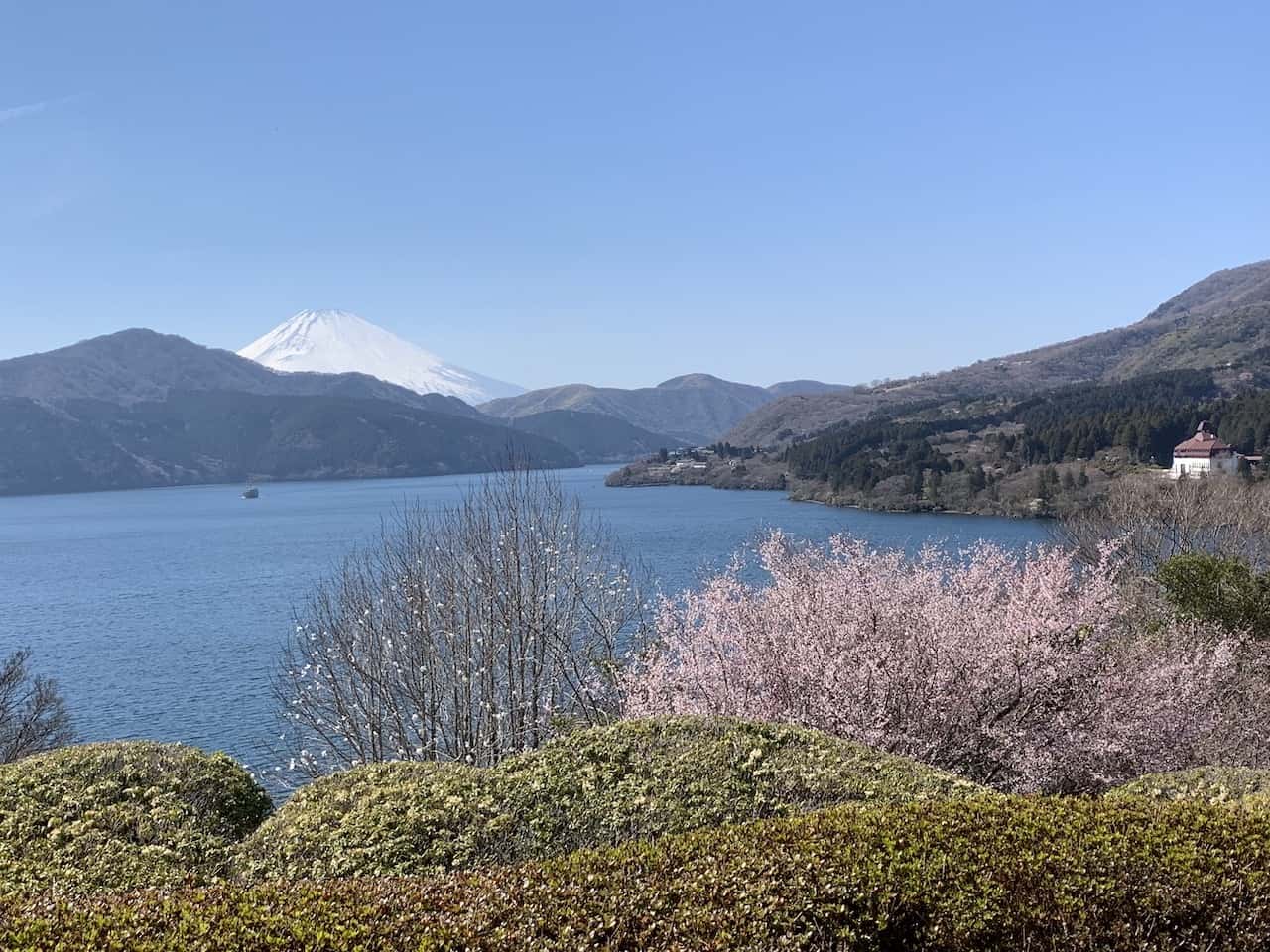 (F) Hakone Shrine
After finishing up with the park if you decided to do so, you can then make the nice walk alongside the water ending up at the Hakone Shrine. You will be able to get up close and personal to the famous Torii gate and get a nice photo op in. Do note though that there most likely will be a line of folks trying to get that same picture too! When I was there, the line was about 20 minutes long!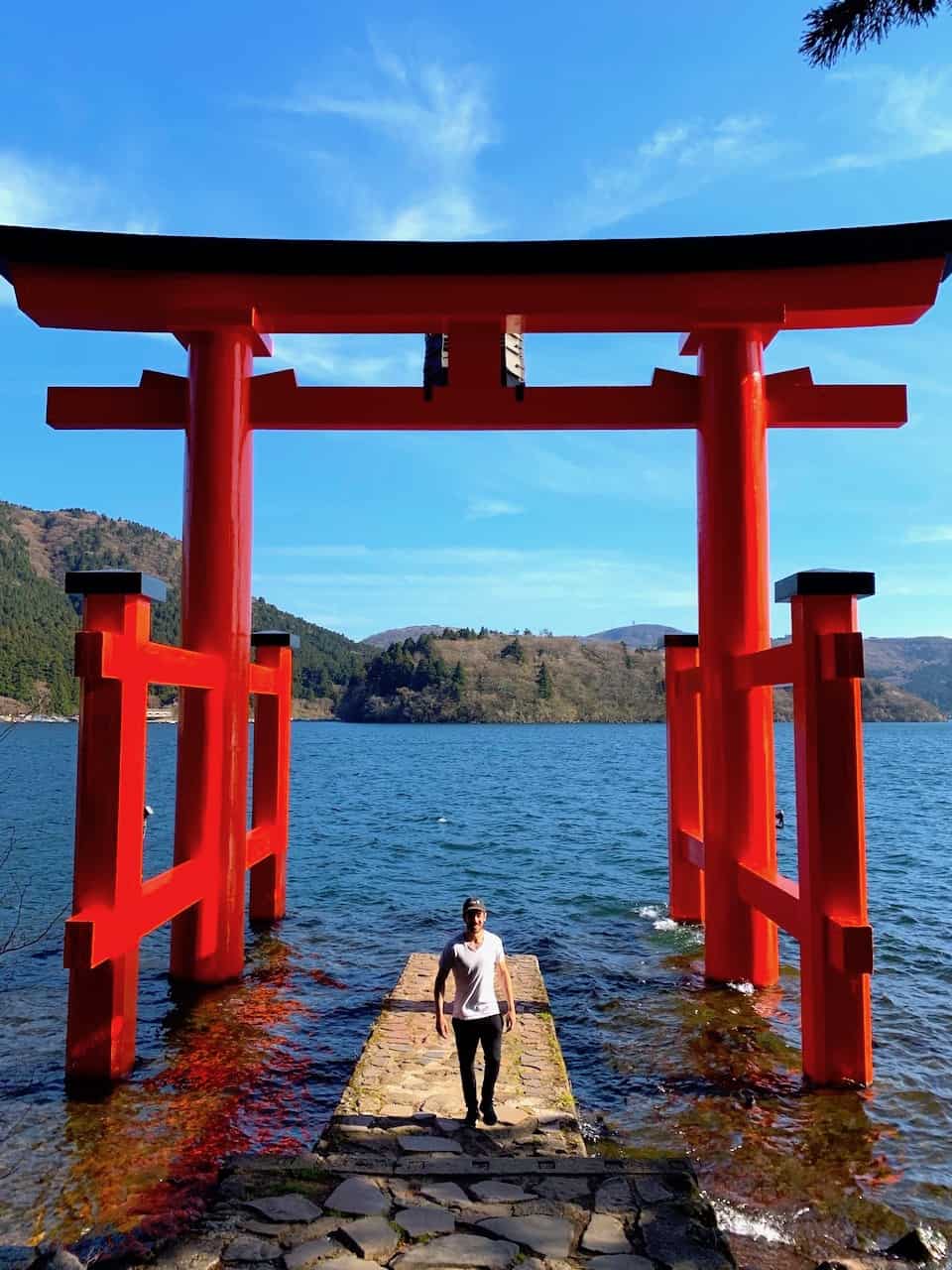 (G) Hakone Tozan Bus
After a full day of exploring the Hakone area, taking various modes of transportation, seeing Mount Fuji, and plenty more, it is time to hop onto the Hakone Tozan Bus and back to either Odawara (back to Tokyo or your next destination), Hakone-Yumoto (Romancecar back to Tokyo), or Gora (if staying overnight) depending on your plans.
There are bus stations right outside the port area and there should be busses every 20-30 minutes or so. Just make sure you get on the right one!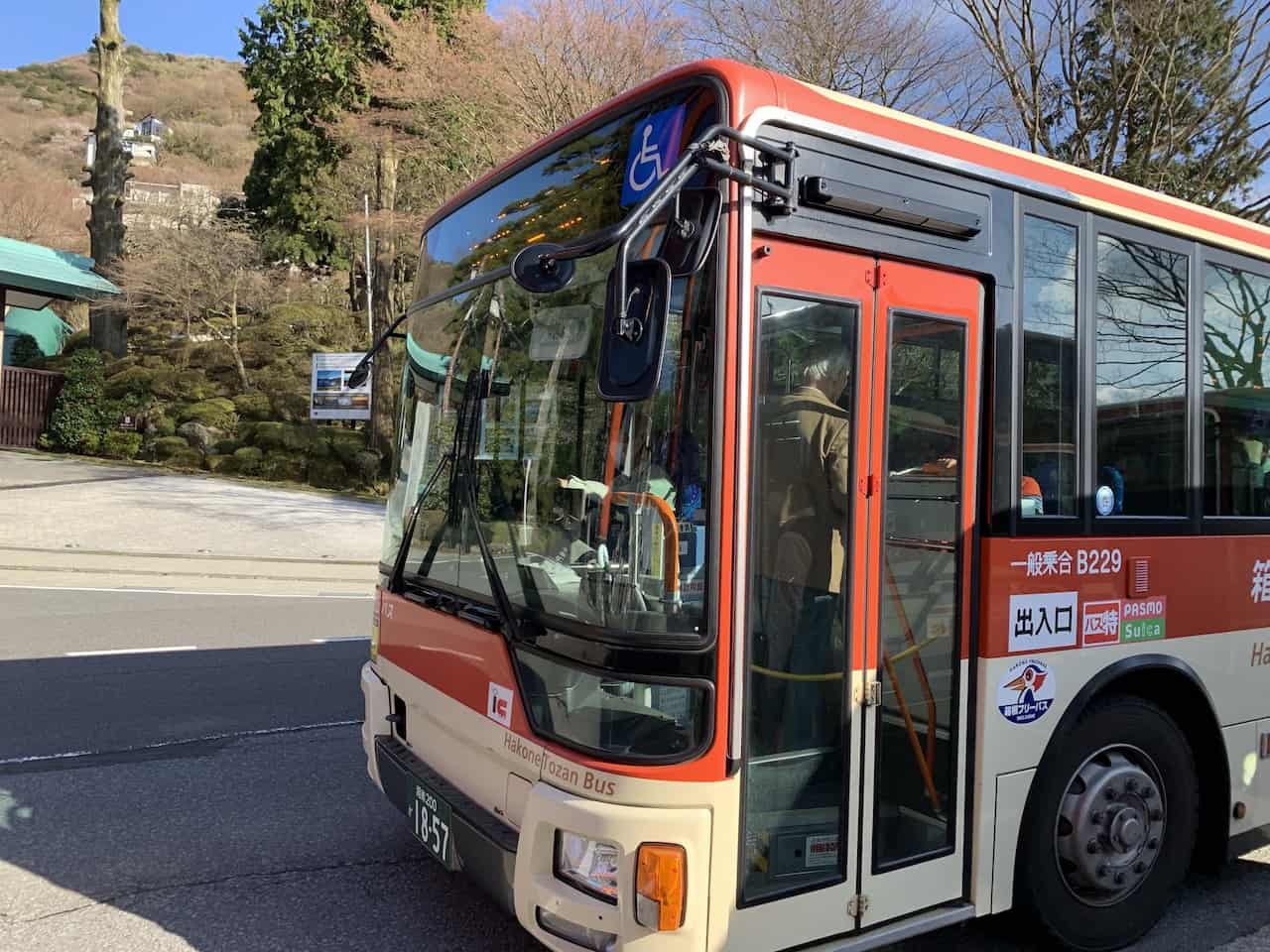 6) Hakone Weather
One of the biggest concerns I had when planning my trip to Hakone was whether or not the weather would hold up. Unlike the cities of Japan, where you do not necessarily need clear days to enjoy your time, Hakone is a bit different.
If you want to enjoy Hakone with those Mount Fuji views then you need clear weather both in Hakone and around Mount Fuji itself.
If it is a cloudy day between the two, you are at risk of not being able to see Mount Fuji at all. And believe me you do not want that to happen!
So, my advice when planning a Tokyo to Hakone day trip is to BE FLEXIBLE. If you are in Tokyo for four days, you do not need to pick one exact day to visit Hakone. You should take a look at the weather forecasts and choose which day out of the four is best for the day trip.
Now if you are planning an overnight to Hakone as you make your way across the country, then it would be a bit harder to navigate the weather as you will be more on a schedule. In that case you just need to hope that the weather is looking good!
7) Quick Luggage Tips
A) If you are using Hakone as a pit stop between two cities (Tokyo and Kyoto for example) and are not staying overnight in the Hakone area, there are luggage storage options in Odawara and Hakone-Yumoto. Once you arrive at either of these stations you can store your luggage before doing the loop and then pick it back up at the end of the day before heading out.
B) You also have the option to use the Takuhaibin luggage forwarding service if you do not want to deal with your bags at all. For around $20 per bag you can send your luggage to your next destination or you can send your bag to your hotel in Hakone if staying the night there.
That way you will not need to worry about putting your bags in lockers or dropping them off at your hotel and simply start your day right away.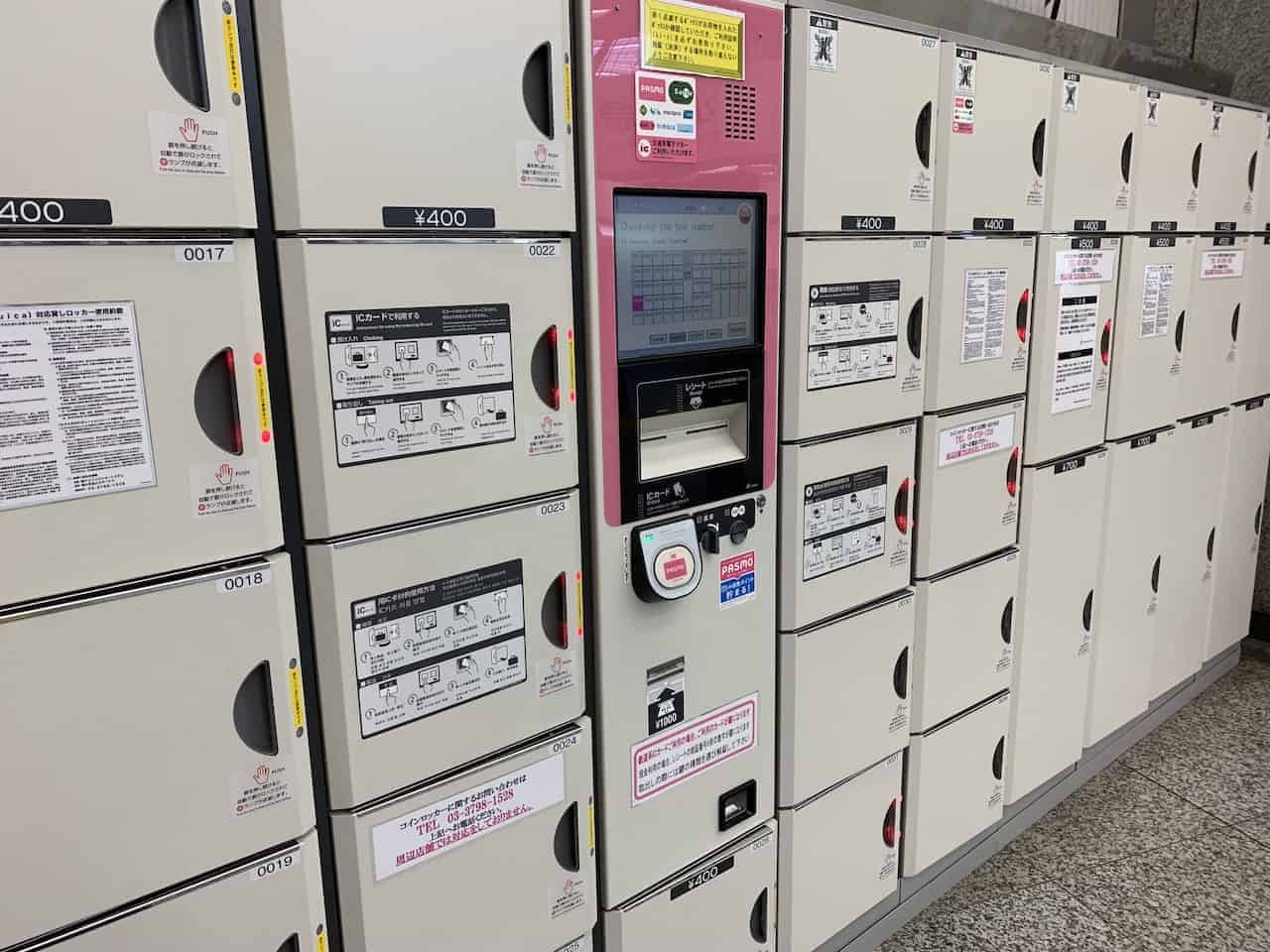 8) Where to Stay in Tokyo / Hakone
There are many different areas to choose from when deciding where to stay in Tokyo. I would recommend staying in or near Shinjuku, which is a great place for nightlife, restaurants, transportation and more!
5) Odakyu Hotel Century Southern Tower
If you are staying the night near Hakone, here are a few highly rated accommodation options to choose from.
2) Laforet Club Hakone Gora Yunosumika
3) Yutorelo-an
4) Gora Tensui
That about wraps up the guide to a Tokyo to Hakone Day Trip. Take a look at the other Japan itineraries and guides to help out with any other trip planning. If you have any questions about the trip please feel free to comment below!
Some other top guides on the site include:
and Plenty More!