One thing I love about Japan is the opportunity to choose from easily accessible day trip options around the country. Even if you are staying in one city, you still have the possibility to visit several other cities throughout your time there.
One of these options is to the beautiful city of NARA.
It is popular option for those that are staying in either Kyoto or Osaka, as it is just a quick train ride away. This guide will go over what a Nara day trip entails and how to put together the best Nara itinerary possible when visiting Japan.
* Affiliate Disclosure: This post may contain affiliate links, which means I may receive a commission if you make a purchase through the links provided, at no additional cost to you. Thanks for supporting the work I put into TripTins!
1) Why Nara?
So, you might have heard of Nara before but what is it all about? Although Nara is just a small city between Kyoto and Osaka, it has so much to offer its visitors.
You want temples? Parks? Viewpoints? Gardens? Mochi? Deer? Well, you guessed it, Nara has ALL of that and more spread throughout the city. It really is a unique place to visit and you will not regret adding it into your itinerary.
In addition to Nara just being a quick 45-60 minute train ride from Kyoto and Osaka, it is also a place where you can spend as much or as little time as you would like exploring.
Since many of its attractions are not too far from each other, you can pick and choose which ones are best for you.
During my Nara day trip, I spent about 5-6 hours roaming the city and its various attractions. But if you are short on time, you can easily just spend a couple hours there too.
The below one day Nara itinerary will go about the day the same way I took part of my trip. If something does not seem of interest to you, go ahead and skip it (although you might regret it!) to save some time.
At the end of the day though, I have a hard time believing you won't have a great time exploring the ins and outs of Nara, Japan.
2) How to Get to Nara
As mentioned previously, getting to Nara is super easy and quick if coming from Kyoto or Osaka. The train ride from either one is just about 45-60 minutes (depending on train routes) and there will be plenty of options to choose from throughout the day.
You will find trains going there and coming back every 30 minutes or so, giving you nothing to worry about when planning your day trip.
When looking up timetables check out the Hyperdia website for the latest schedules and prices. In Nara there are actually two different train stations to choose from – Nara JR Station and Kintetsu Station.
Either one works as they are only a 10 minute walk from one another (Kintetsu is the closer of the two to Nara's attractions).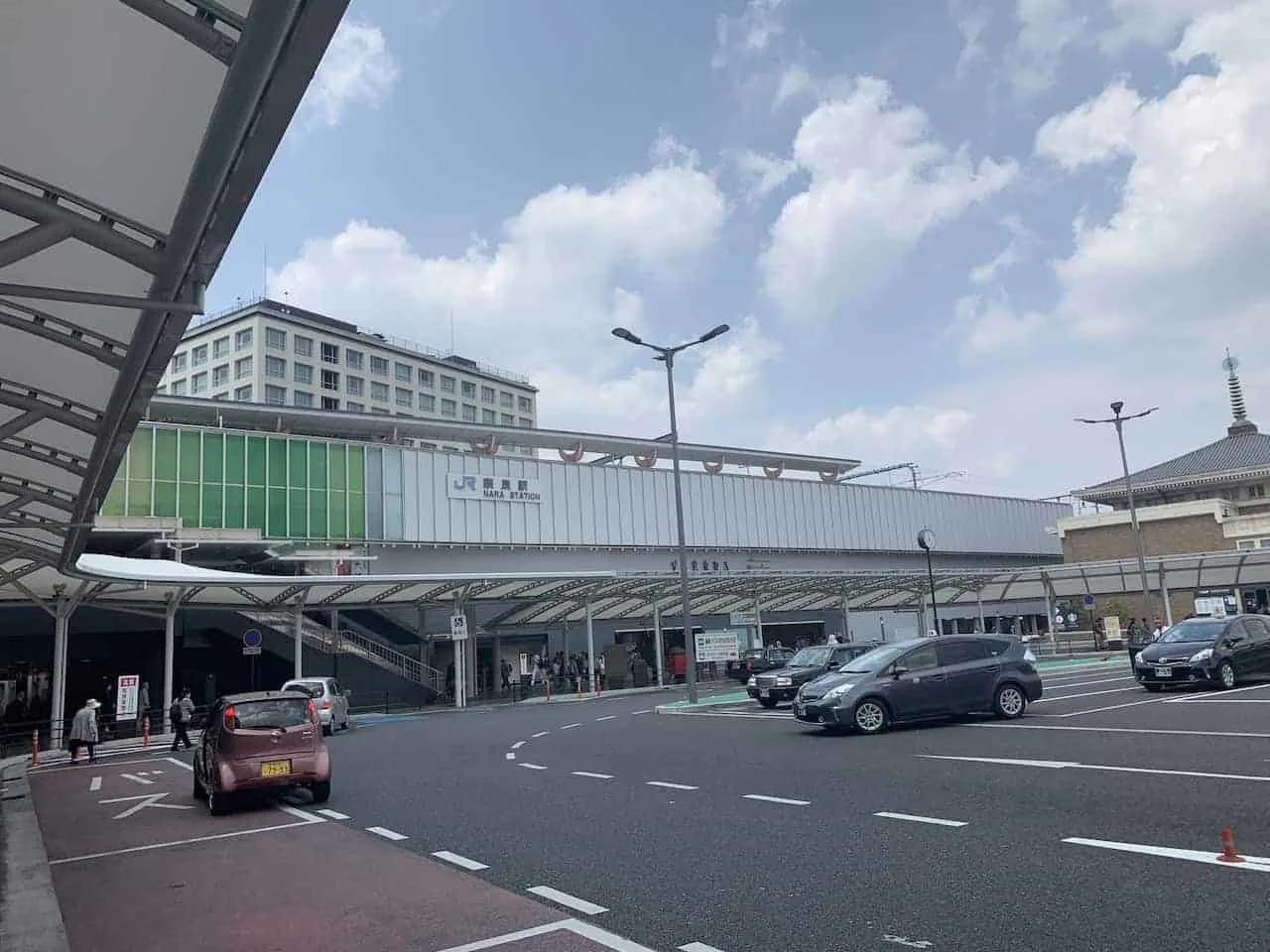 JR Pass Note: if you have a JR Pass you will want to only use Nara JR Station as the train line to Kintetsu Station is not a JR run line.
You will not need to pay anything if going to/from Nara JR Station as the trains would be included in the pass. To learn more about the JR Pass take a look at the Japan helpful travel tips article I have up on the site.
A. From Kyoto to Nara
Nara JR Station
Rapid Service: 45 Minutes; 710 JPY
Local Service: 60-75 Minutes; 710 JPY
Kintetsu Station
Limited Express Service: 35 Minutes; 1,130 JPY
Express Service: 45 Minutes; 620 JPY


B. From Osaka / Osaka Namba to Nara
Nara JR Station
Rapid Service: 50 Minutes; 800 JPY
Kintetsu Station
Limited Express Service: 35 Minutes; 1,070 JPY
Express Service: 40 Minutes; 560 JPY
Note when coming from Osaka to Nara that there are options from both Osaka and Osaka Namba station.
3) How to Get Around Nara
Well this one is really up to you. During my time in Nara I did not use any sort of transportation beyond my own two feet.
I walked from the train station to all the attractions mentioned below, before walking all the way back at day's end.
Calculating it all up, the distance for the day would be just about 5 Miles / 8 KM or 1:45 of walking time (that is from/to Nara JR Station and it does not include the Mount Wakakusayama hiking trail). While that is definitely doable depending on your energy levels, I know that much walking may not be for everyone.
One way to cut a good 30-45 minutes out is to take a Nara bus at day's end from Kasuga Taisha (more on that later on) to the train station. It would cost just 100 JPY and it will save you some time and energy at the end of the day.
Beyond that last part (Kasuga Taisha to the station), the average distance between attractions is only about 10 minutes, so you will not need to worry too much about long walking times.
The day is nicely broken up with attractions spread out throughout the city, and you should have a fun filled day exploring it all.
Note: You also have the option to buy a 1 day bus pass for 500 JPY that covers the main area. In addition to that you can get a 1 day pass bus pass + the train rides on the Kintetsu Line for 1,500 JPY (from either Kyoto or Osaka).
4) Nara Attractions
Below are the attractions that are part of this one day Nara itinerary.
The day will start towards the west at either Nara Station (JR) or Kintetsu Nara Station, and you will then make your way east through the main street and onto the temples, parks, gardens and viewpoints that Nara has to offer. The route will take you to:
1. Sanjo-dori Street & Nakatanidou Mochi Shop
2. Kofukuji Temple
3. Nara Park
4. Yoshikien or Isuien Garden
5. Todaiji Temple Complex
6. Nigatsudo and Hokkedo (part of Todaiji)
7. Mount Wakakusayama
8. Kasuga Taisha
Depending on your schedule (what time you start/end your day) you can either get lunch on the main street (Sanjo-dori) at the beginning or end of your trip, or you can also find some restaurants in the Todaiji temple complex.
5) A Nara Day Trip
Now that you have some more insight into how to get to Nara and some of the different attractions that the city has to offer, it is time to dive a bit deeper into what a Kyoto to Nara day trip entails.
After hopping off the train make your way to Sanjo-dori Street, where you will find the famous Nakatanidou Mochi Shop.
A. Sanjo-dori Street & Nakatanidou Mochi Shop
Sanjo-dori will be your main option when it comes to food and shopping options in Nara. You can either spend your time at the beginning or end of your day exploring all around the area.
Whatever you decide though, be sure to stop at the one and only Nakatanidou Mochi Shop. Besides for selling some delicious mochi, you can also witness the mochi making process right in the front of the shop.
It was quite entertaining seeing these two workers pounding away at the mochi batter with their hands and hammer. They do not do this constantly throughout the day, so if you arrive there and want to see them in action, be sure to hang around for a bit.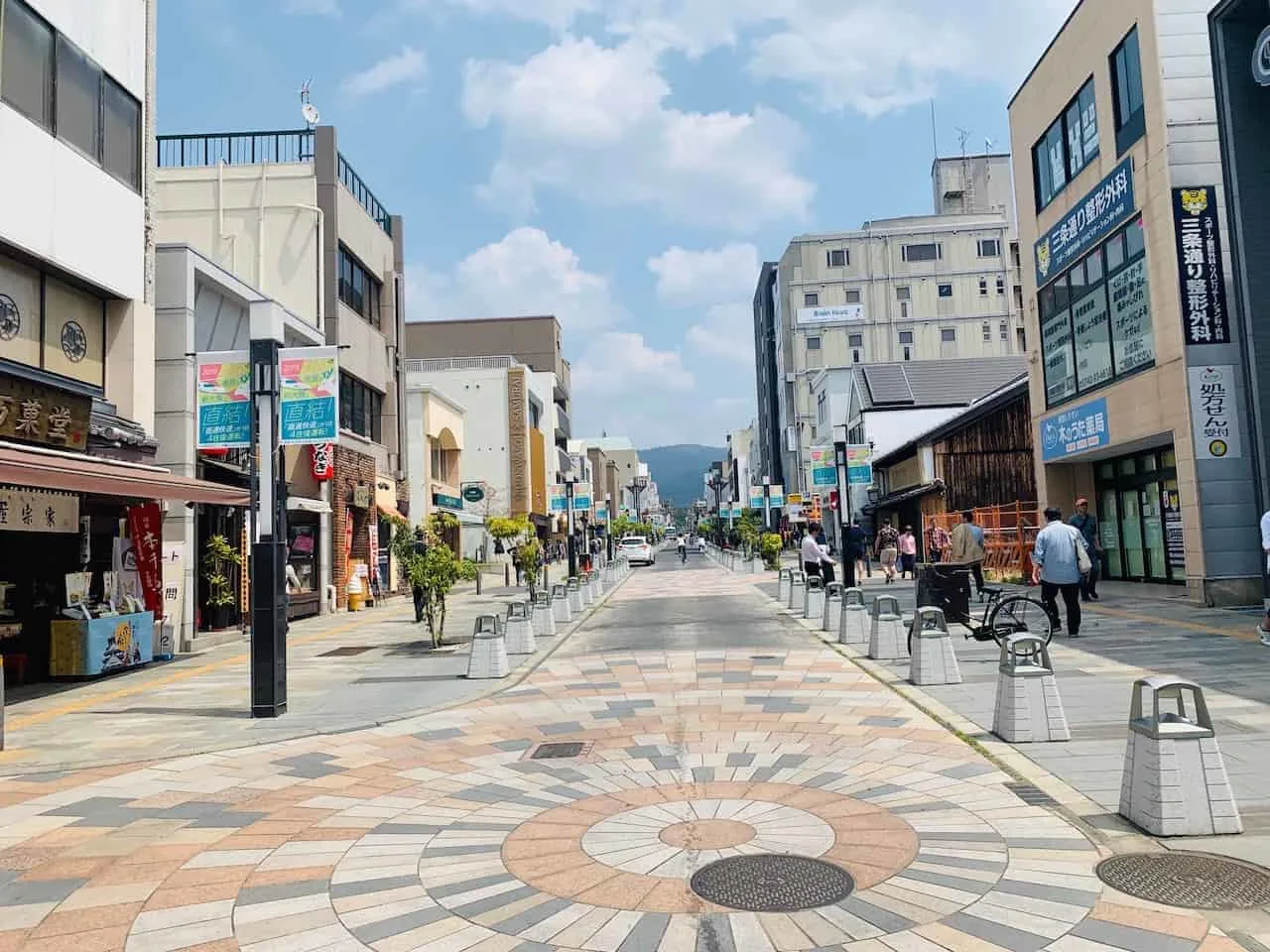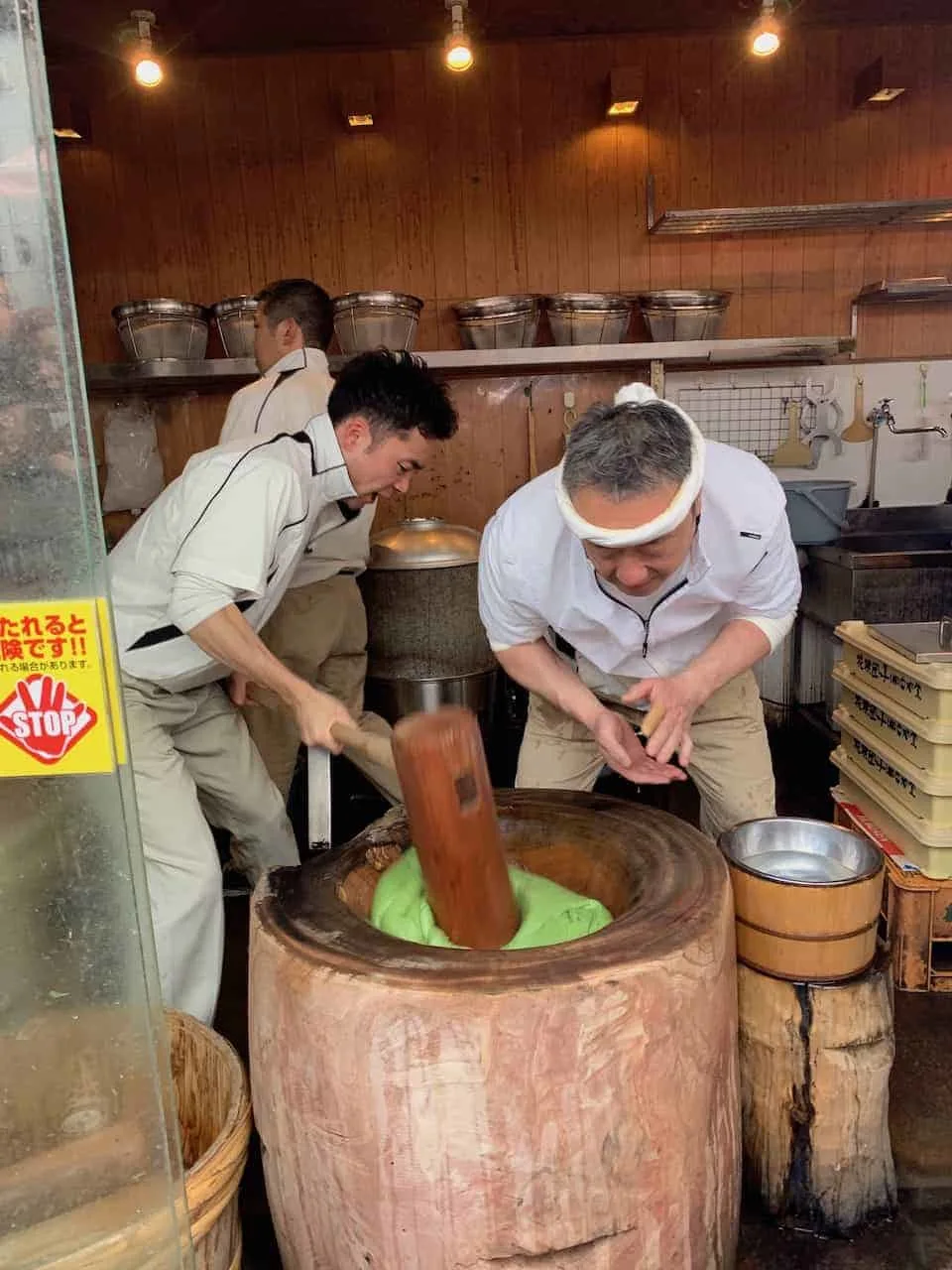 B. Kofukuji Temple
Temple Hours: Grounds area open 24 hours; National Treasure Museum and Eastern Golden Hall 9:00AM – 5:00PM
Admission Fees: Grounds area is free; 500 JPY (Central Golden Hall); 700 JPY (National Treasure Museum); 300 JPY (Eastern Golden Hall)
After spending some time eating some mochi and seeing how it is made, continue along to your first attraction of the day – Kofukuji Temple (if you decide to save Sanjo-dori Street for later on, you can just head straight through the street to Kofukuji).
This historic temple complex was built all the way back in the year 710 and has been reconstructed throughout the years.
As you walk around the Kofukuji area, you are sure to pass by a few of the main structures including the Central Golden Hall and famous Five Storied Pagoda.
To walk around the complex is free of charge but if you would like to enter any of the halls you must pay the fees mentioned above. Even if you do not head into the halls themselves, taking it all in from the outside will be very enjoyable.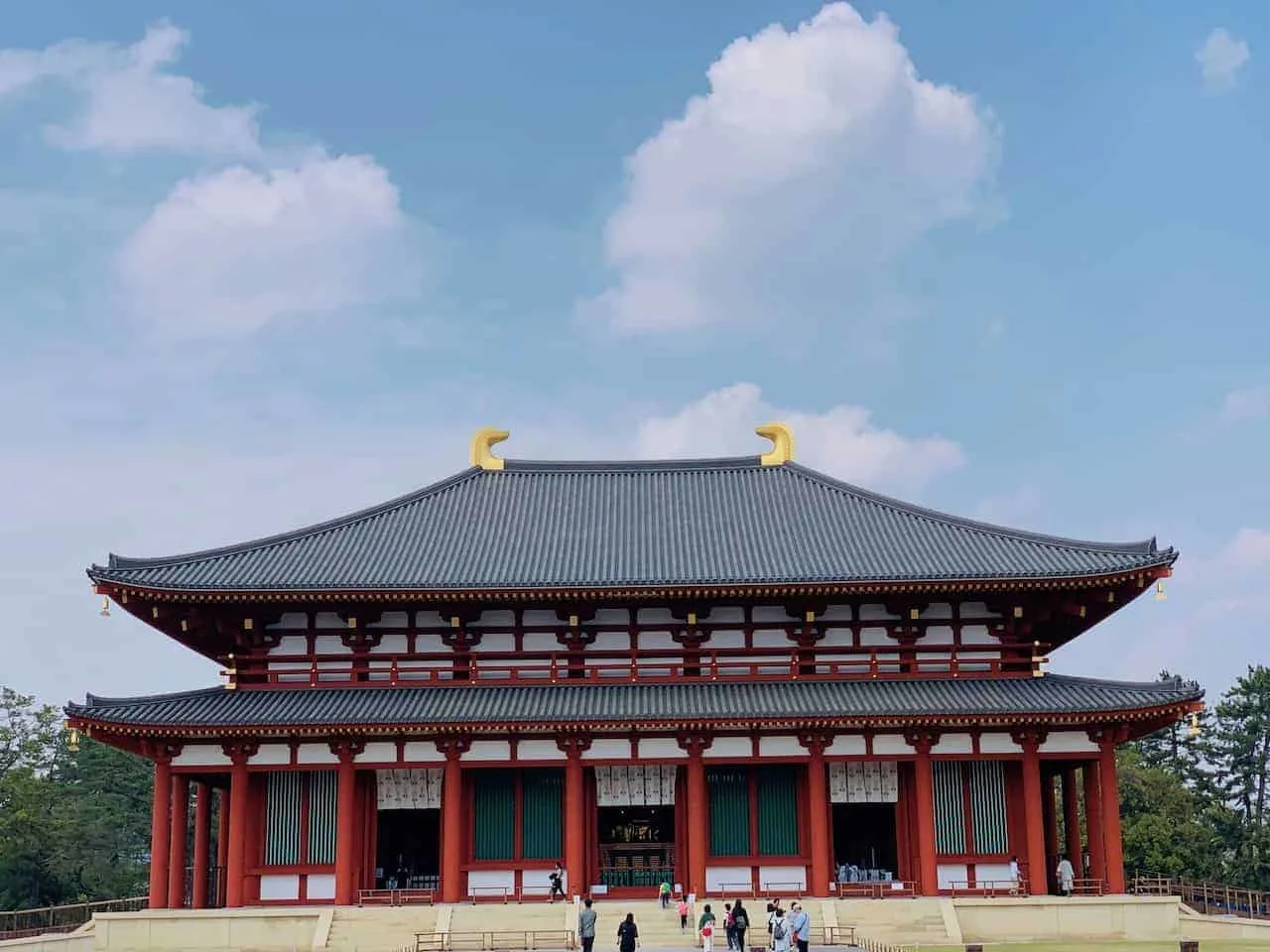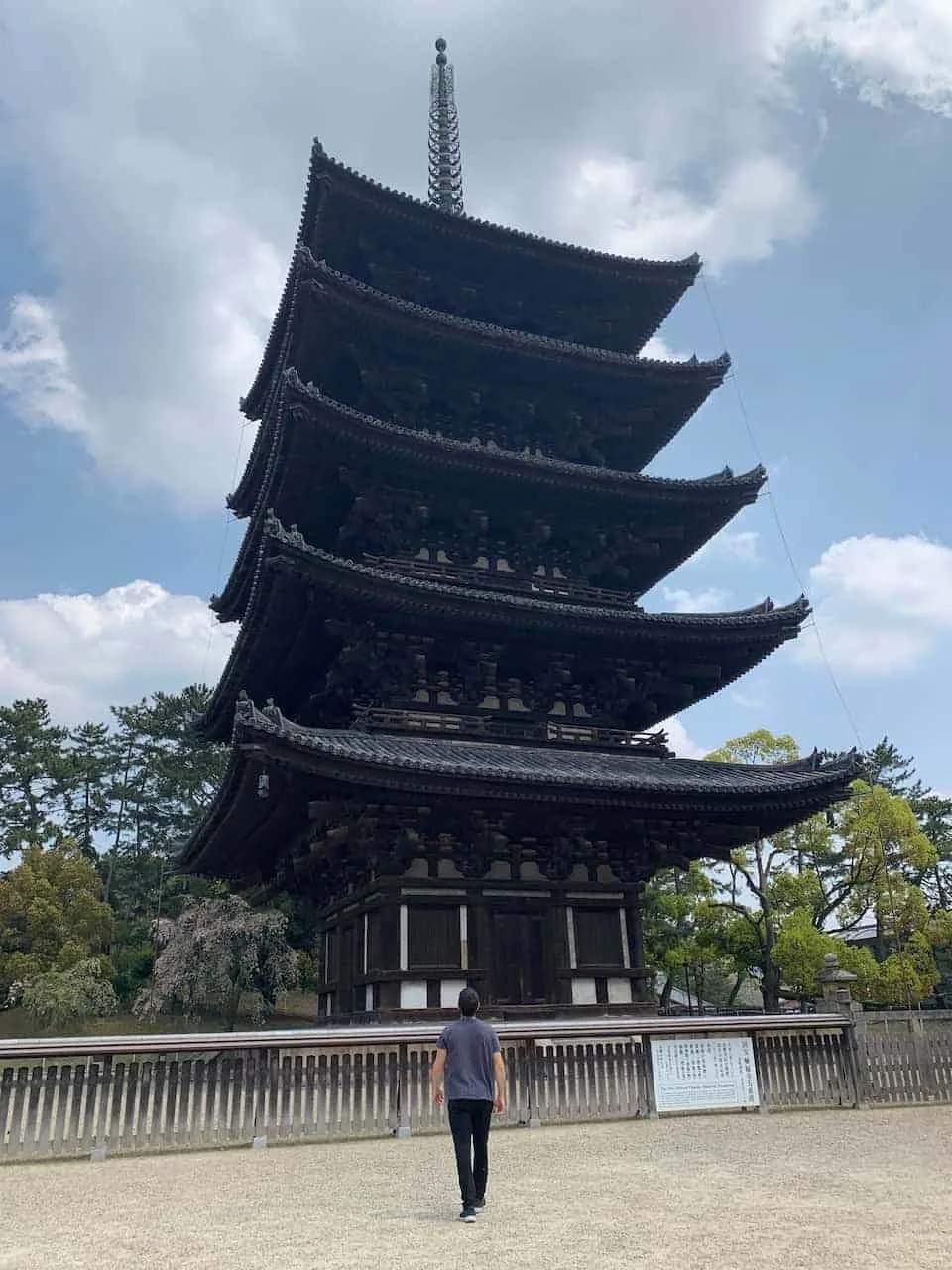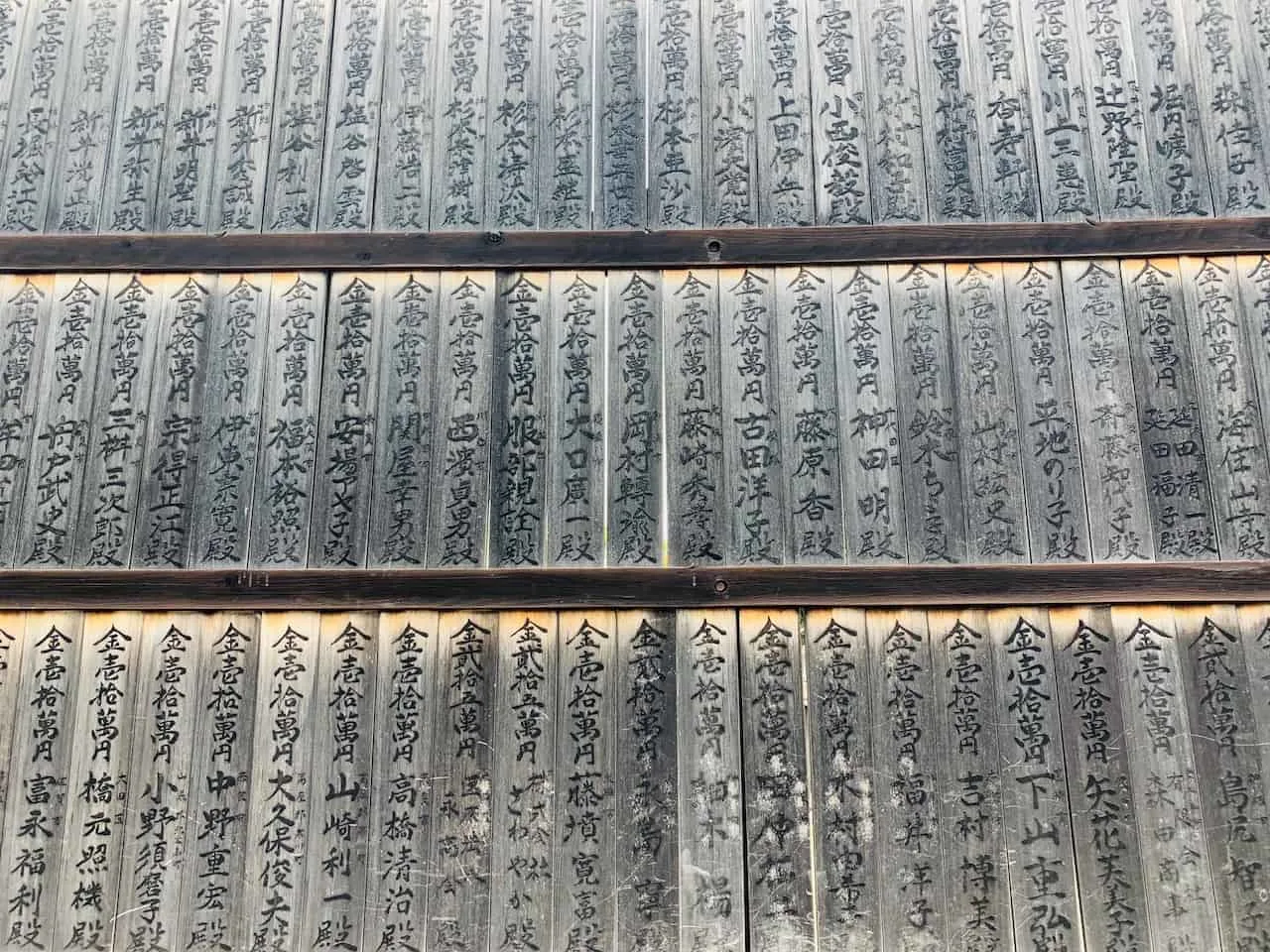 C. Nara Park
Shortly after exiting the main Kofukuji area, continue walking along to Nara Park (technically you will already be in Nara Park as it makes up a great deal of land but you will come across a more open area nearby).
You will know you are entering the main park area when you begin to see the hundreds of deer roaming all around.
The deer of Nara are everywhere and this will be your first opportunity to get up close and personal to them.
If you want, you can buy some treats for the deer from the nearby vendors and feed them yourself. For the most part, the deer are friendly and just are hanging out and enjoying the area just like you!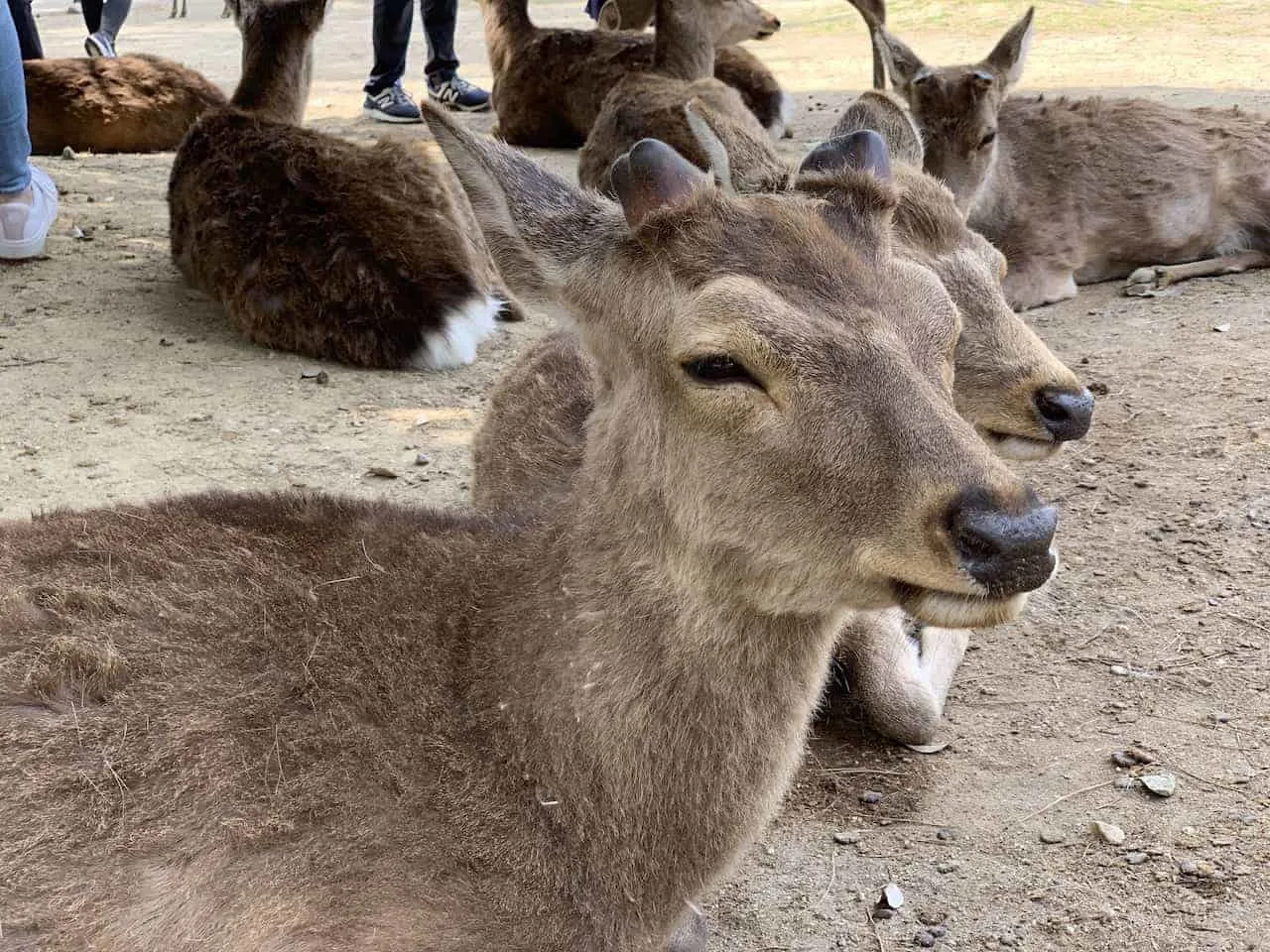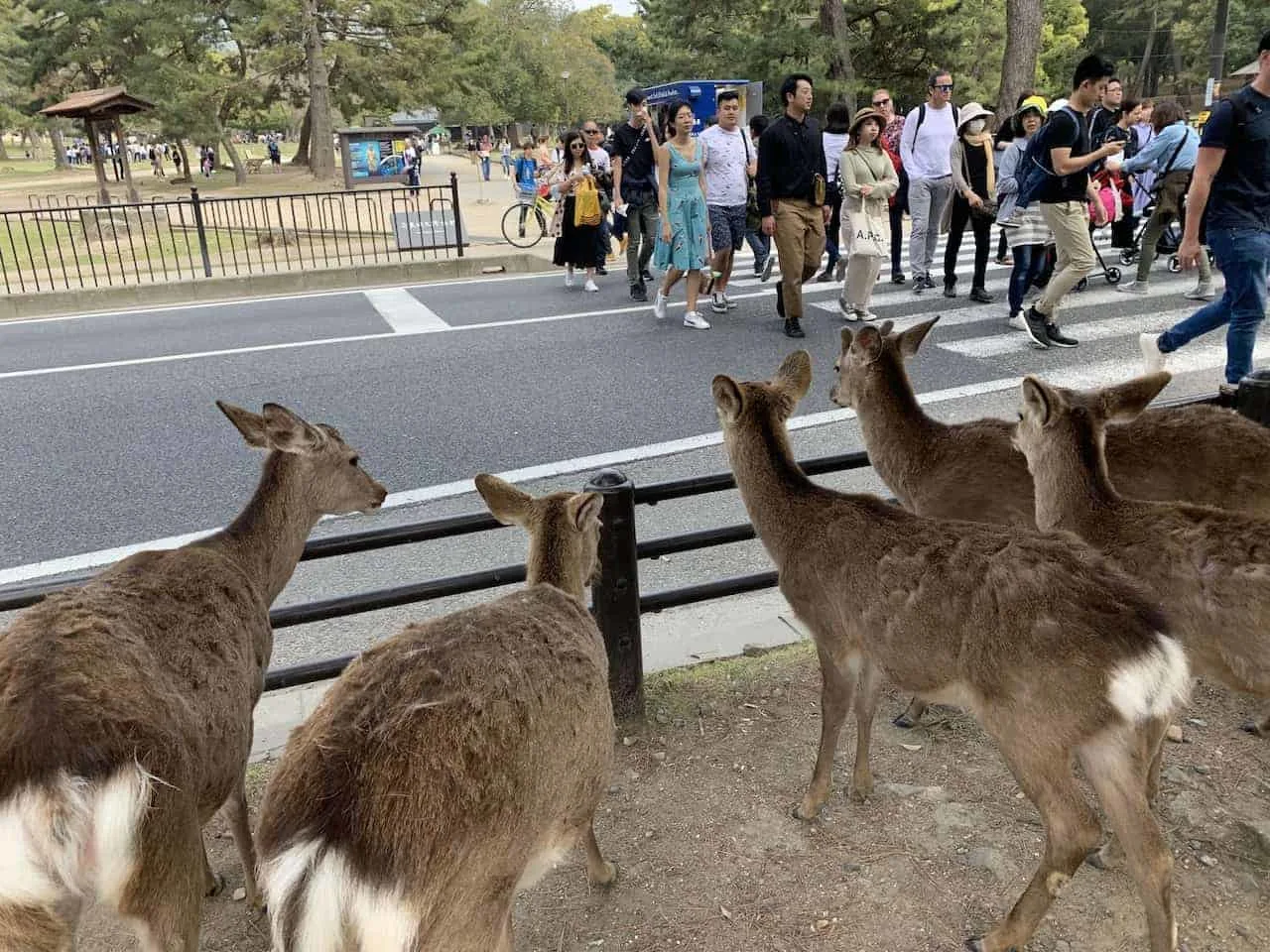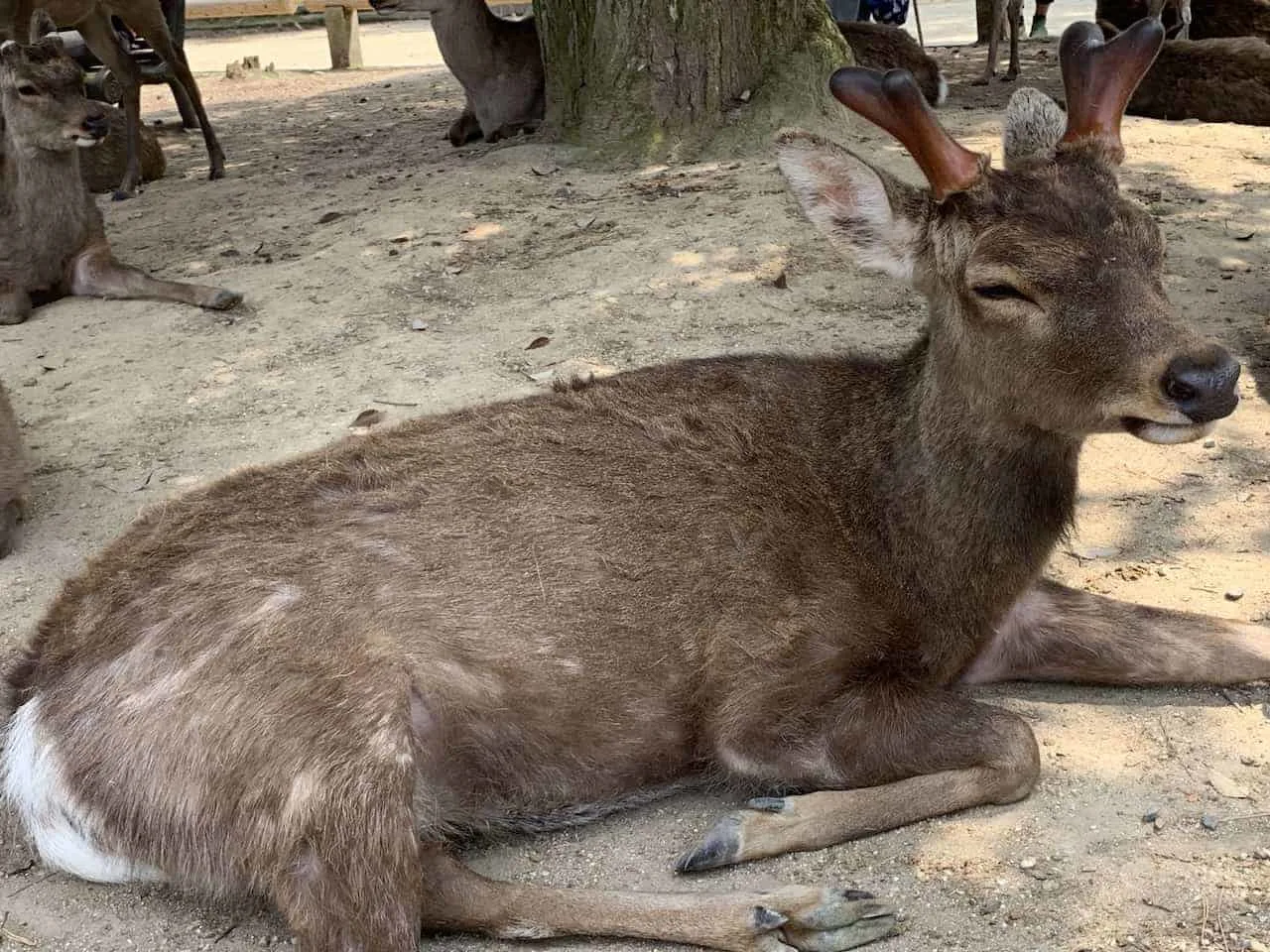 D. Yoshikien or Isuien Garden
Temple Hours: Yoshikien 9:00AM – 5:00PM; Isuien 9:30AM – 4:30PM (closed Tuesdays except in April, May, October, November)
Admission Fees: Yoshikien Free for Foreigners; Isuien 900 JPY
Once you had enough time walking alongside Nara's deer, it is time to head to one (or both) of Nara's gardens – Yoshikien and Isuien. Coming from Kyoto, I am sure you have seen your fair share of gardens as part of larger temple complexes. If you want to see what Nara has to offer now is your chance.
I was not initially planning on heading to the gardens but I realized that Yoshikien is actually free for foreign visitors so why not right? You can make the loop around, taking in the greenery, ponds and wildlife sprawled throughout.
Note: I did not head into Isuien but hear very good things – do note the entrance fee though.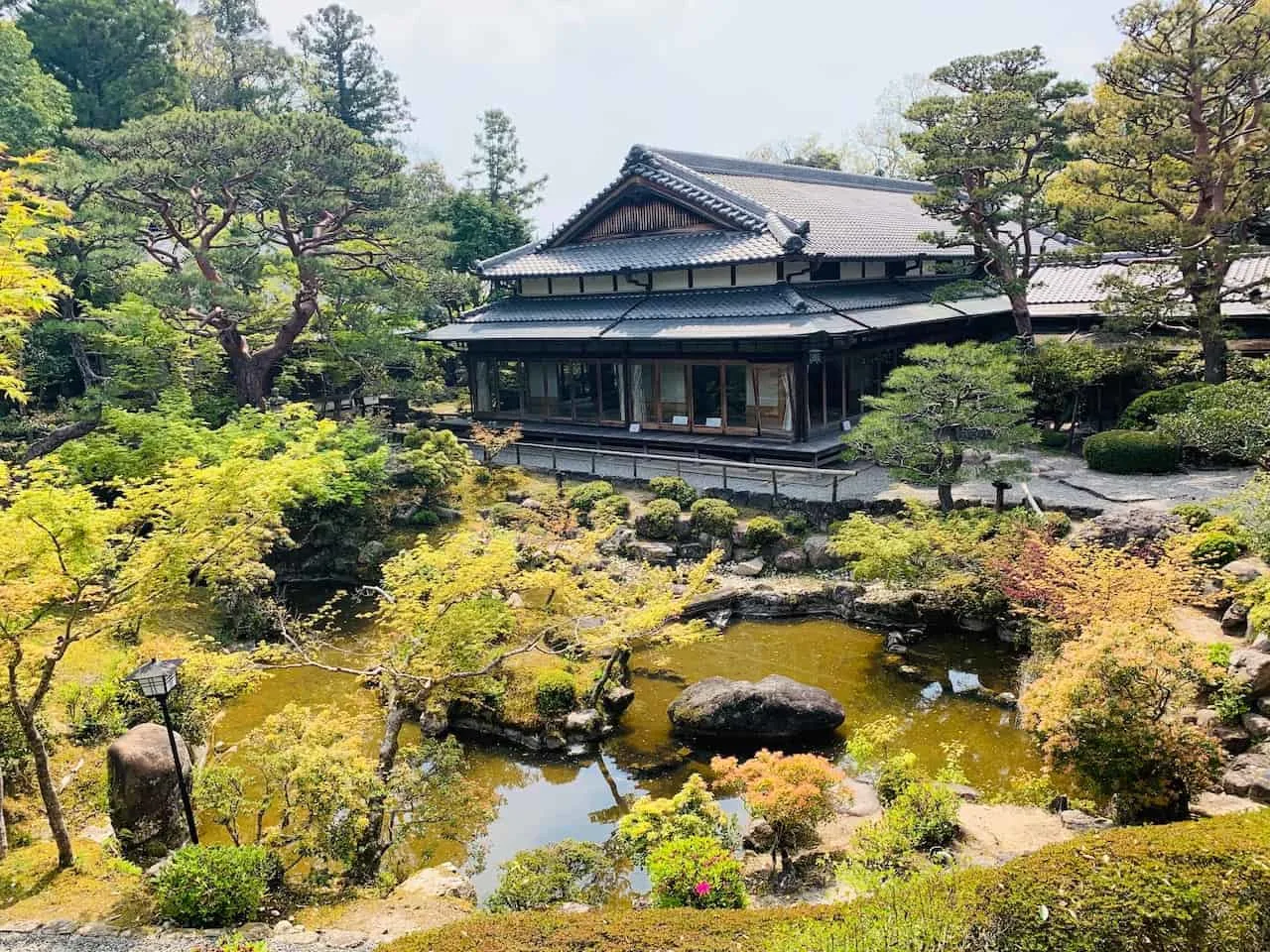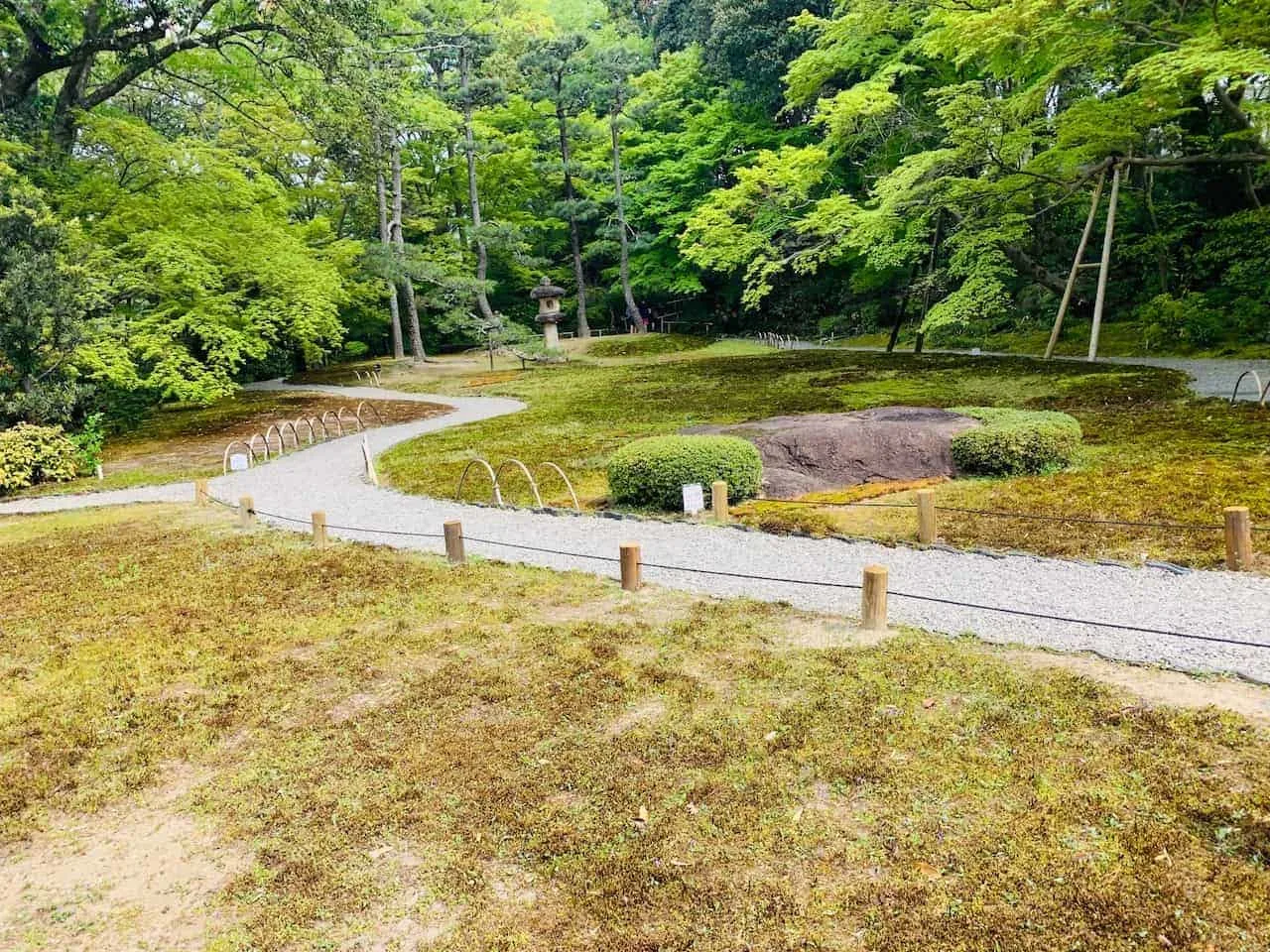 E. Todaiji Temple Complex
Temple Hours: 7:30AM – 5:30PM (April to October) / 8:00AM – 5:00PM (November to March)
Admission Fees: 600 JPY (Great Buddha Hall)
One of the highlights of Nara is its massive Todaiji Temple Complex. There are a variety of buildings and structures sprawled throughout the complex but the main draw here is the Great Buddha Hall itself – the largest wooden building in the world, which houses one of Japan's largest bronze Buddhas!
From the gardens, first make your way to the Great South Gate (Nandai-mon), where you can then walk through the main entranceway.
If you want to head closer to the Great Buddha Hall, you must pay the entrance fee. If not, the furthest you can go is the gate right outside the Buddha Hall complex.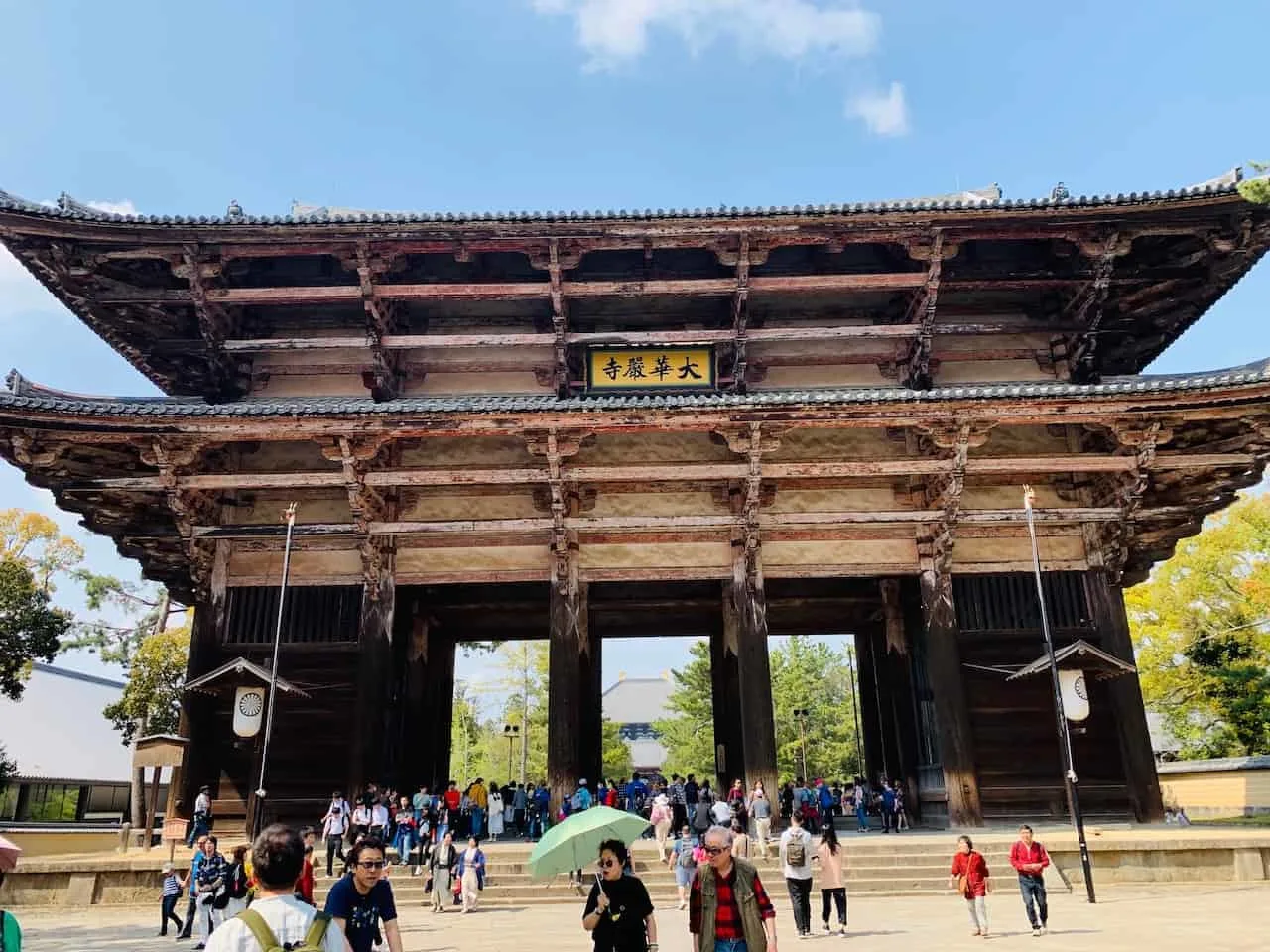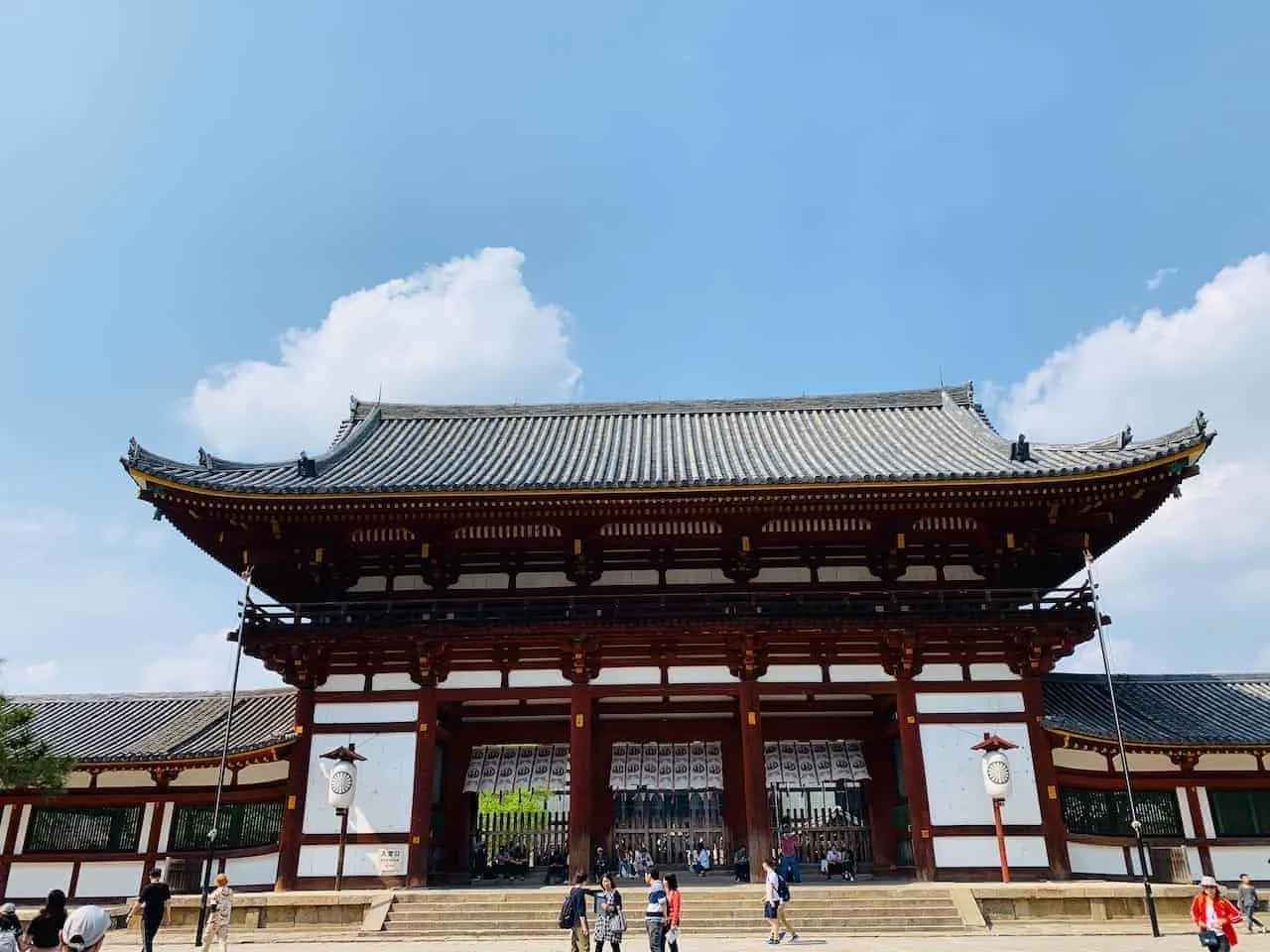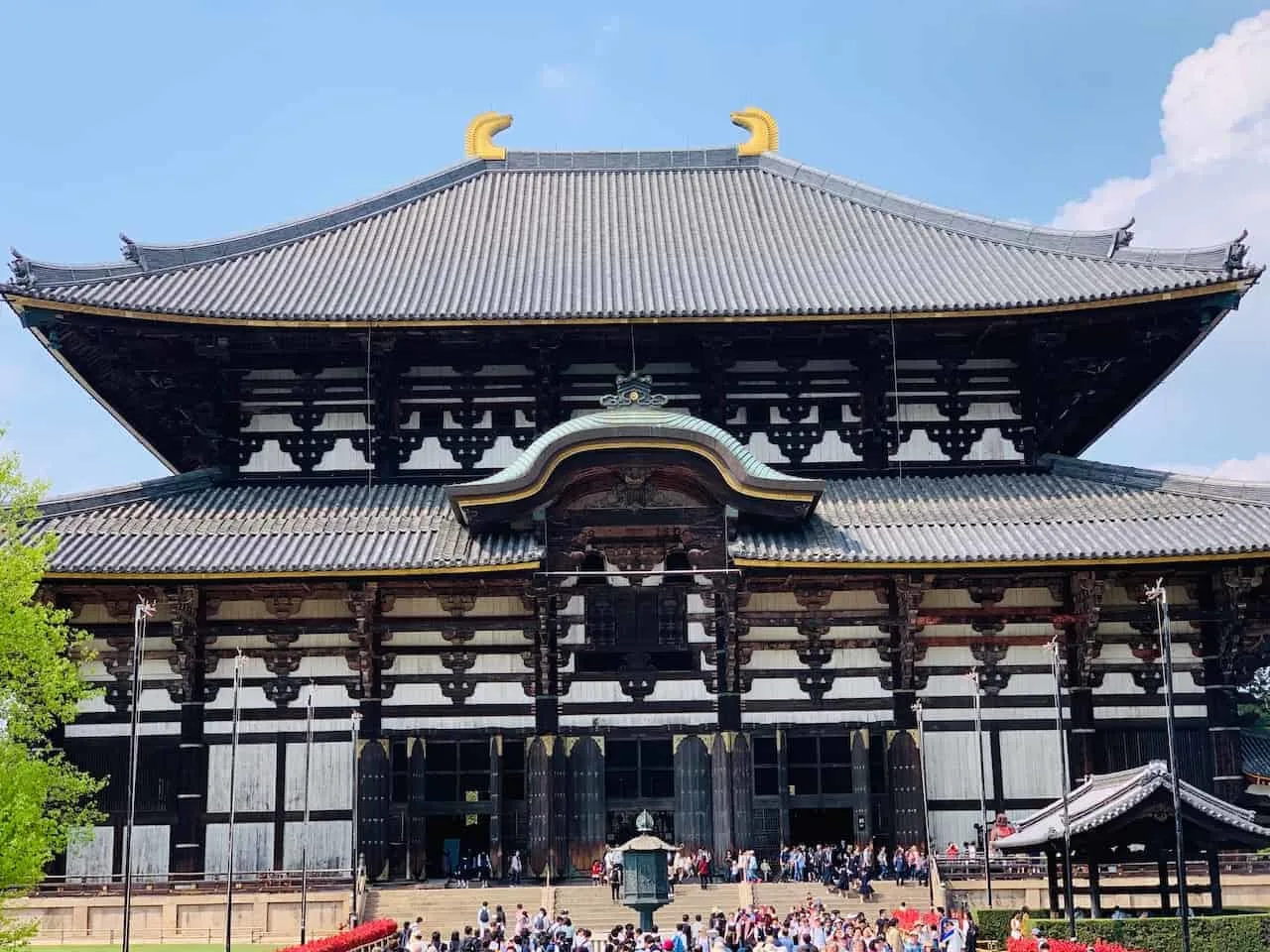 Note that there are many other buildings part of the complex (two of which I mention next). Feel free to explore as much or as little as you would like when making your way around the area.
F. Nigatsudo and Hokkedo (part of Todaiji)
Temple Hours: Nigatsudo 24 Hours; Hokkedo 7:30AM – 5:30PM (April to October) / 8:00AM – 5:00PM (November to March)
Admission Fees: Nigatsudo Free; Hokkedo 600 JPY
After taking in the largest wooden building in the world, continue the walk along to Nigatsudo and Hokkedo, which are both still technically part of the larger Todaiji complex. Nigatsudo is free to enter and you can head up top to take in some great views of the city down below.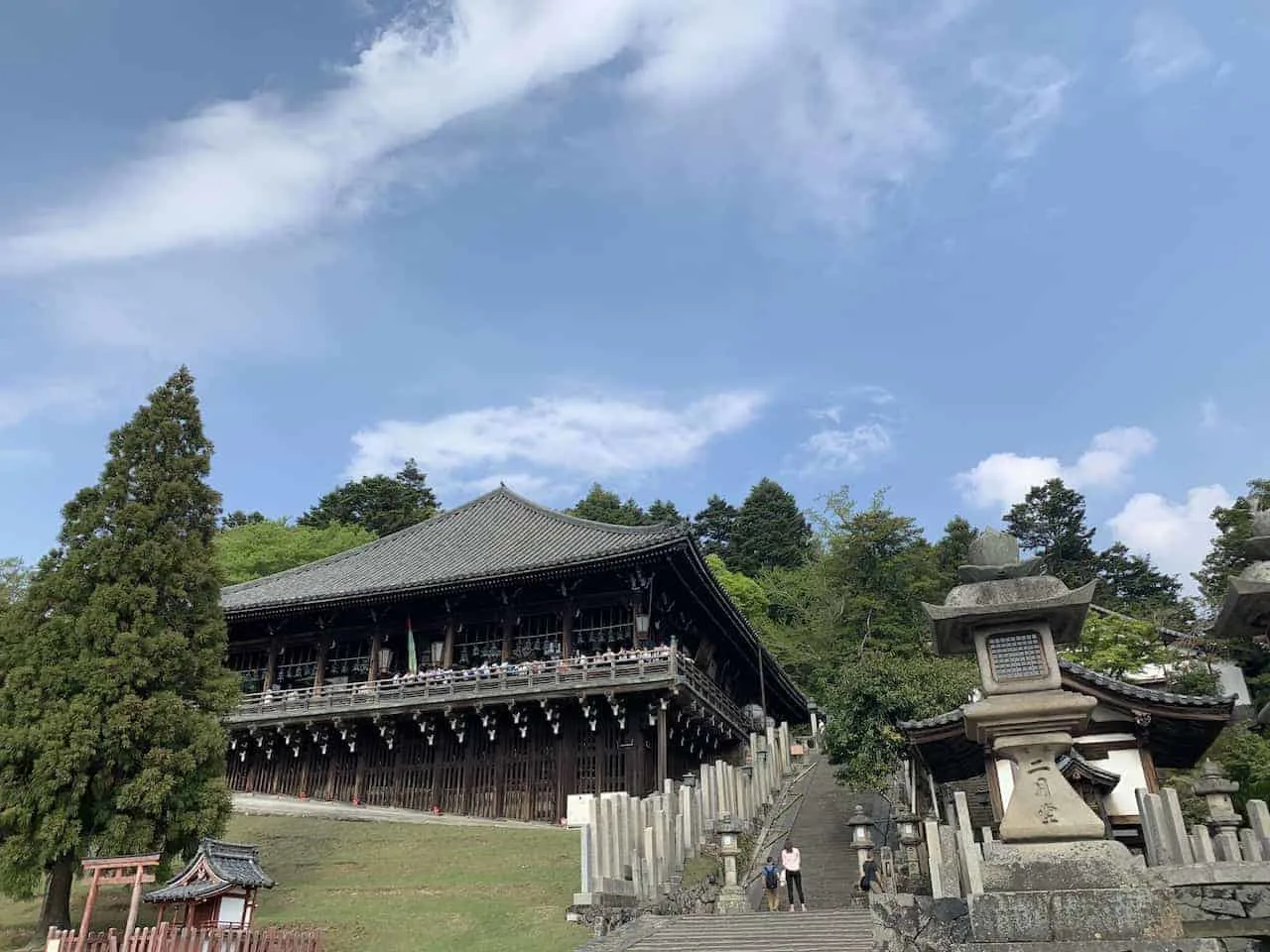 Note here that there are some small restaurants nearby if you would like to have some lunch around the area.
G. Mount Wakakusayama
Mountain Hours: 9:00AM – 5:00PM; Open from third Saturday in March until second Sunday in December
Admission Fees: 150 JPY
After enjoying the Todaiji complex (and grabbing some food if you decided to), continue the walk towards the highest part of Nara – Mount Wakakusayama.
There are a few different entrance points to Mount Wakakusayama, but as you make your way south (towards Kasuga Taisha – the last stop on the day), you will see an entrance point up the mountain.
From here you can head up and then continue the loop around the other side so you will end up closer to Kasuga Taisha once at the bottom.
Mount Wakakusayama also has a few different lookout points – the first one is about a 20 minute walk up and is the most popular but then you can continue the walk for another 10-20 minutes to get to the very top with some other stop off points along the way.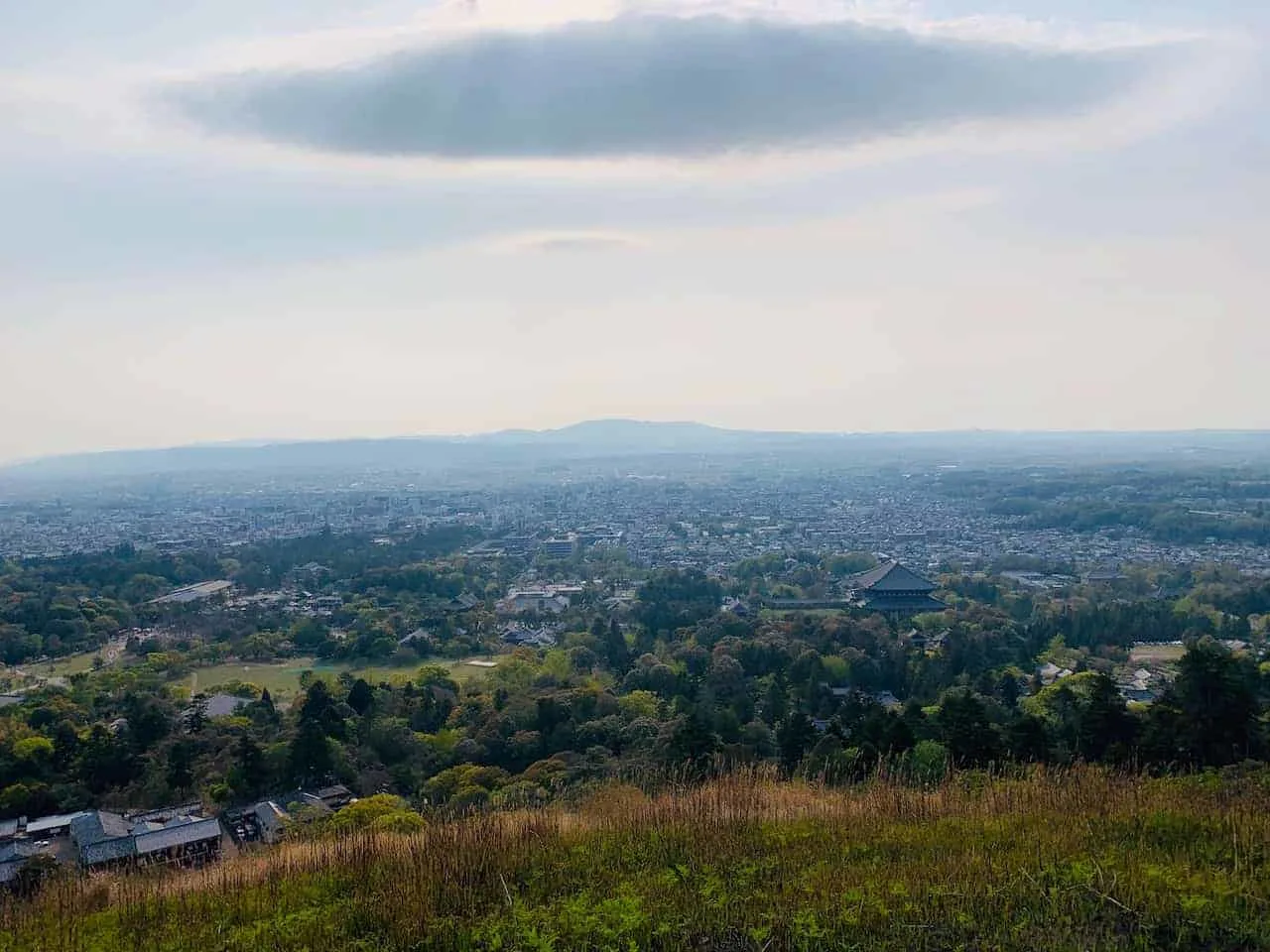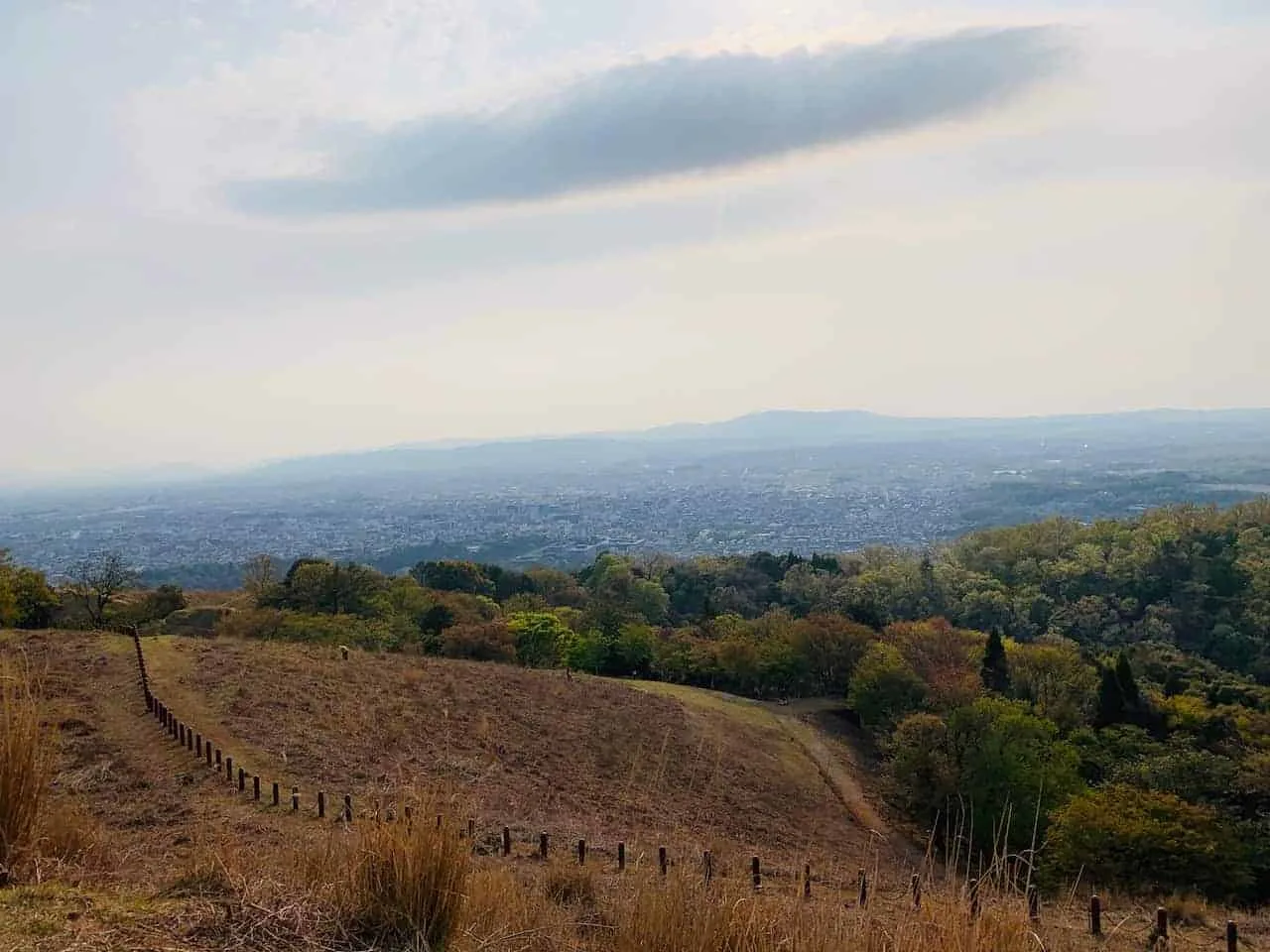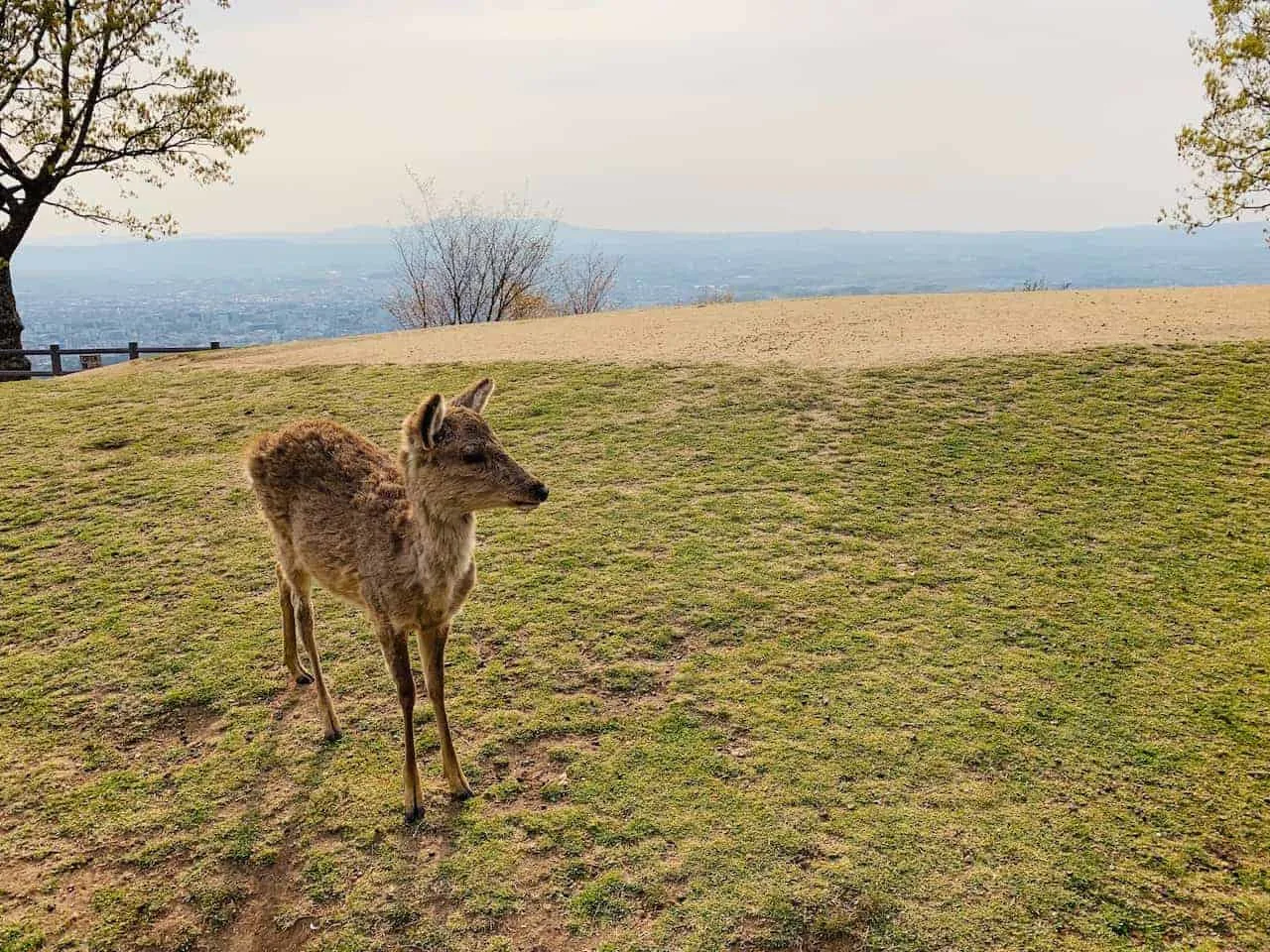 Once complete with Mount Wakakusayama, head on down the mountain (you can continue the loop from the first lookout point), and onto the final stop of the day – Kasuga Taisha.
H. Kasuga Taisha
Temple Hours: 6:00AM – 6:00PM (April to September); 6:30AM – 5:00PM (October to March); Inner Temple Area 8:30AM – 4:00PM
Admission Fees: 500 JPY for Inner Temple Area ; Outside Area is Free
After getting your hiking in for the day, make your way to Kasuga Taisha. What makes Kasuga Taisha different than many other temples you may come across, are its hundreds of thousands of lanterns lining the pathways and inner temple complex.
They have a variety of gold, bronze, and stone lanterns all around, and it is quite a site to be seen. You are able to walk most of the complex for free but if you do want to enter the inner temple, you will need to pay the fee.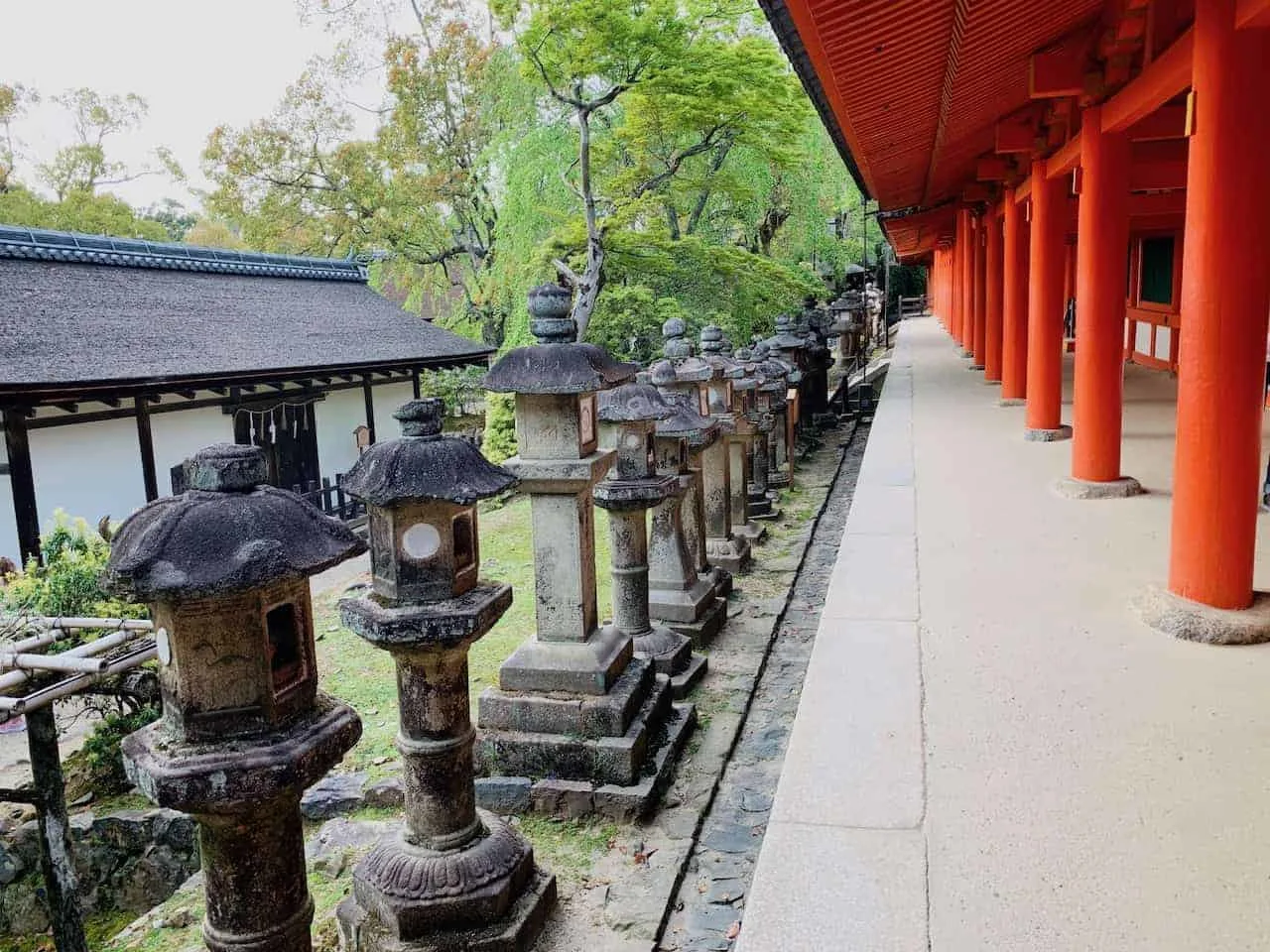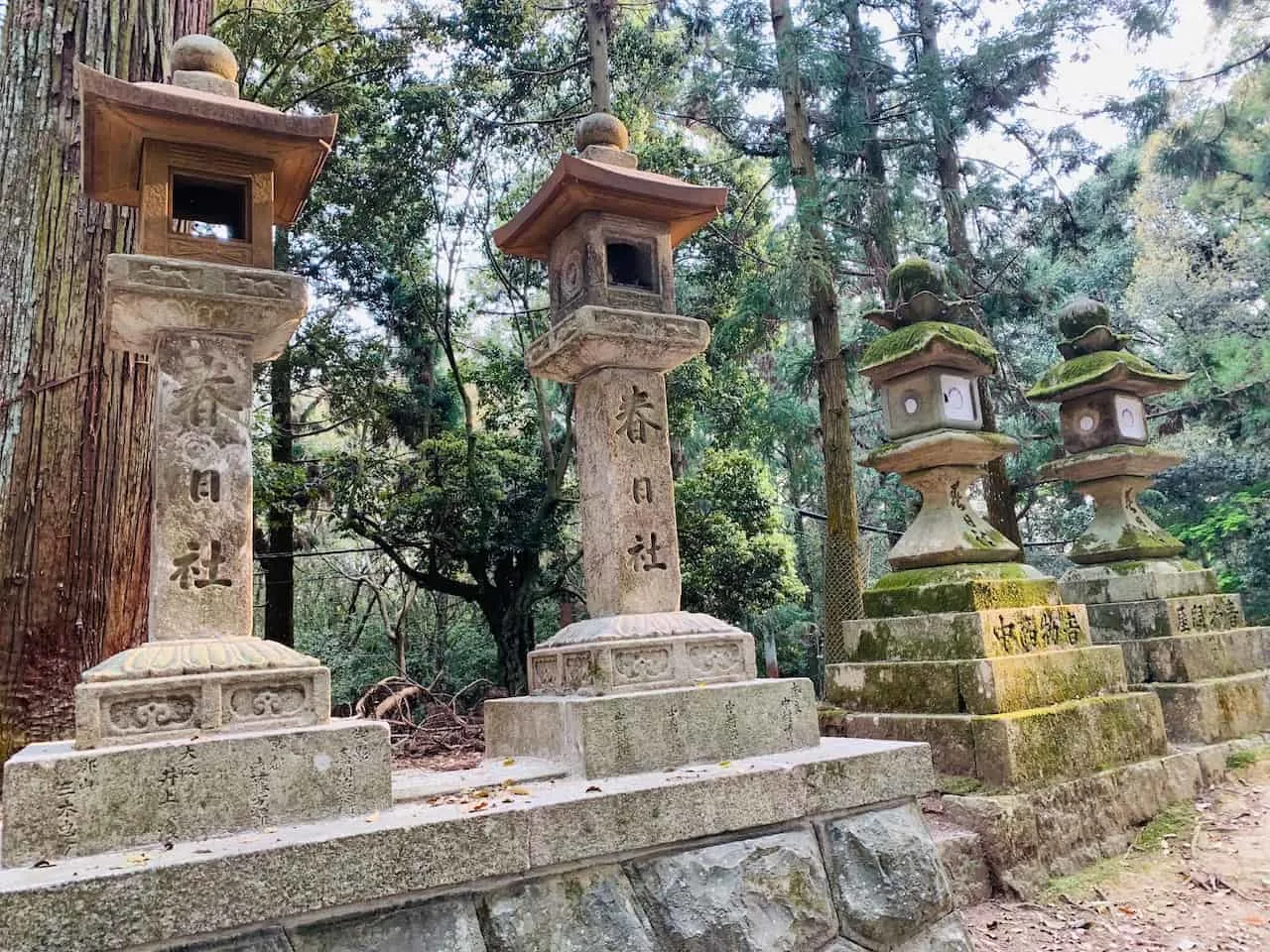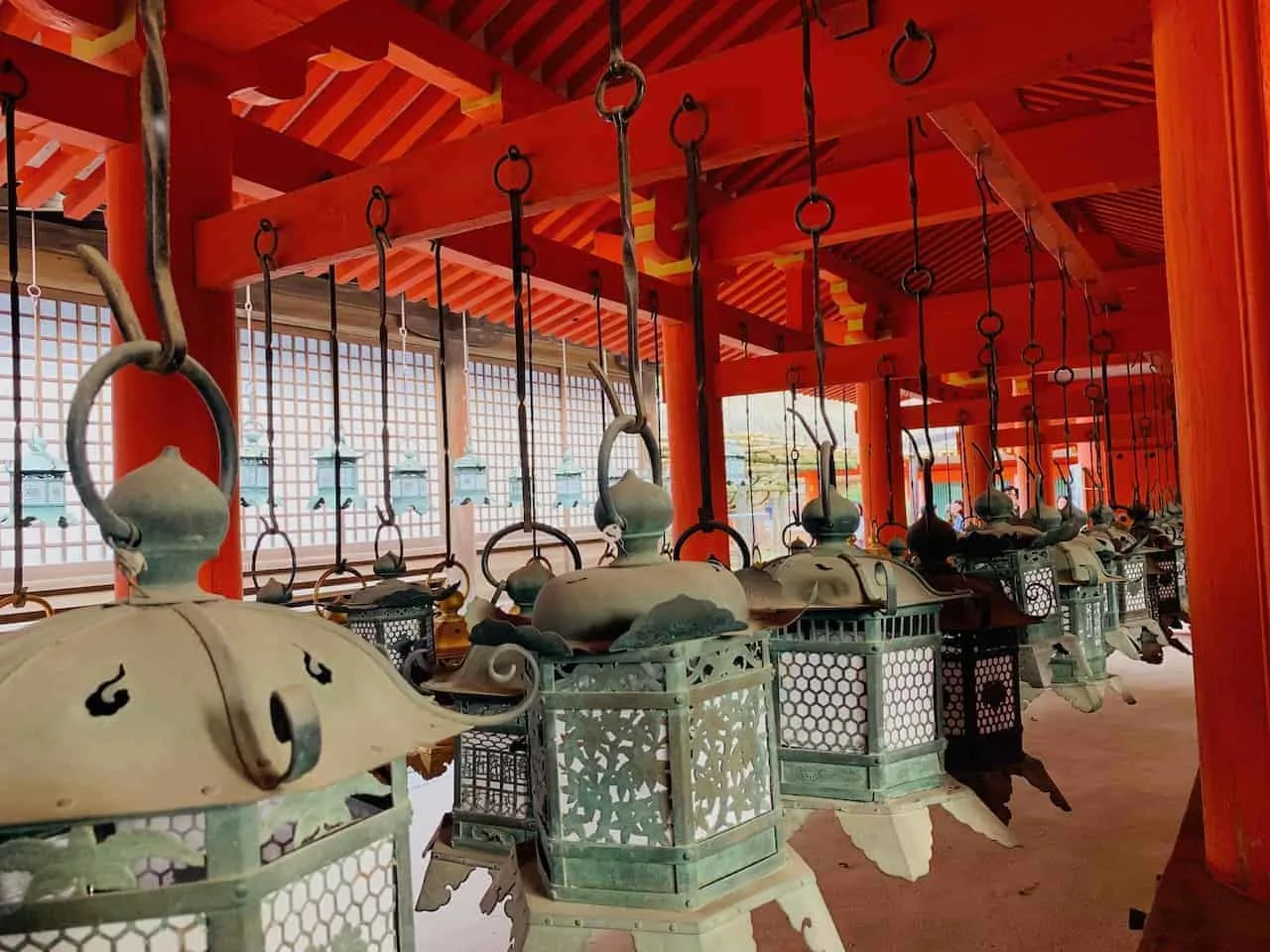 Once your time at Kasuga Taisha is all finished up, it is time to make your way back to the train station to end your day (or to Sanjo-dori Street to enjoy some food and shopping).
As I mentioned earlier on in the Kyoto to Nara day trip guide, this is a longer walk – 40 minutes or so. You can shave off some walking time by catching a bus towards the main street or train station(s).
As your time in Nara comes to a close, head back to Kyoto (or Osaka) from either Nara JR or Kintetsu station and end a successful day enjoying this one of a kind city.
From its temples and shrines to its viewpoints and deer (and mochi!), you are sure to enjoy your time here.
6) Where to Stay in Kyoto
If taking part of this Kyoto to Nara day trip you will need to find a place to stay while visiting Kyoto. While there are many different neighborhoods to choose from I would recommend staying near the downtown Kyoto area.
Here you will find plenty of accommodation options at various price points alongside all the restaurant and shopping you can imagine.
It also offers easy accessibility to visit all other parts of Kyoto either by bus or by subway. Below are some mid range and luxury options all within walking distance from downtown (a few being a 20 minute or so walk).
Also be sure to check out the 3 day Kyoto itinerary up on the site to help you out with your time in the city.
Mid Range
1. The Royal Park Hotel Kyoto Sanjo
2. Hotel Grand Bach Kyoto Select
4. Super Hotel Kyoto Shijokawaramachi
Luxury
5. Mitsui Garden Hotel Kyoto Shinmachi Bettei
There are plenty of other city guides that I put together including Tokyo, Hakone, Kanazawa, Takayama and plenty of others!
Take a look at some of the other Japan itineraries and guides up on the site and if you have any questions or comments feel free to write them in below! Have fun out there!