Japan is an incredibly special place to visit and 10 days in Japan is sure to be a fun filled and action packed trip. I have visited the country twice already and I am hoping to get back there one day soon. This itinerary will go over how to put together the best 10 day Japan itinerary for your next trip and help answer any questions you may have along the way.
* Affiliate Disclosure: This post may contain affiliate links, which means I may receive a commission if you make a purchase through the links provided, at no additional cost to you. Thanks for supporting the work I put into TripTins!
How to Spend 10 Days in Japan Itinerary
Before jumping into the itinerary itself, I wanted to list out some helpful tips to know about Japan and this itinerary in particular:
» Assume that day 1 and day 10 are full days. That means you should plan to arrive the night before or early on day 1 and head out later on day 10 or sometime on day 11.
» You can go about the trip in a few different ways – either starting and ending in Tokyo, starting and ending in Osaka, or starting in one of the two and ending in the other. I will go about the itinerary as if you would be flying into and out of Tokyo as that is one of the more popular options out there.
» Japan is super connected by high speed bullet trains and you will be utilizing them (and other trains) during your time in the country. It is most useful to purchase a 14 Day JR Pass before heading out to Japan.
Essentially a JR Pass gives you unlimited travel travel on JR specific trains, subways and busses throughout the country. The JR Pass can be used on many of the more expensive routes in the country and will save you some money along the way.
It should be noted though that not all trains are included with the JR Pass, especially when dealing with travel within cities. I will talk about that more in the next few bullet points. Check out in the chart below how much you can save with the JR Pass if you follow along with this itinerary (16,000 JPY or $150 USD!!) and that doesn't even include travel within cities: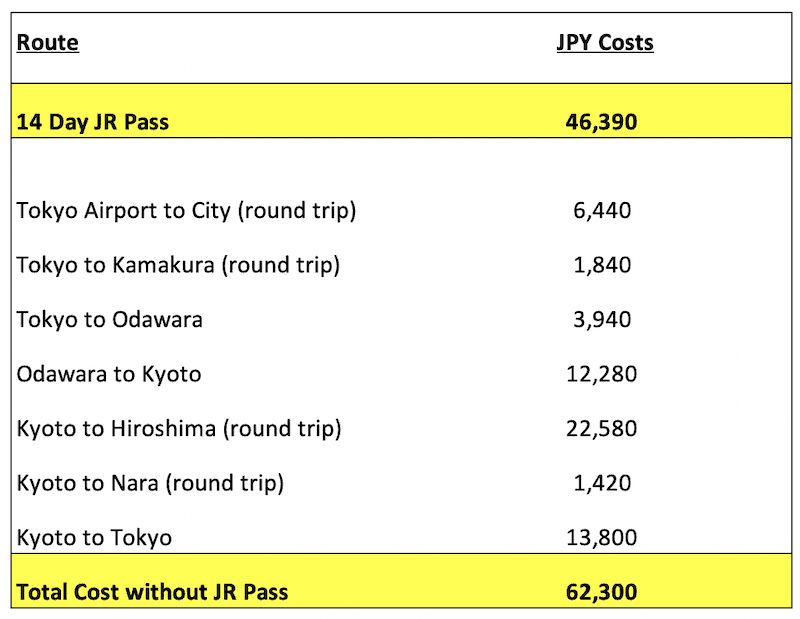 » When looking at train schedules to travel between cities, head on over to Hyperdia, the Japan train website. On the left hand side of the page you can browse different route options by day and time. If you decide to get a JR Pass, you will want to uncheck the "NOZOMI / MIZUHO / HAYABUSA (SHINKANSEN)" and "Private Railway" boxes under the "More options" section. These trains ARE NOT covered with the JR Pass.
» When looking at train schedules to travel within cities, it may be difficult to stick to JR specific routes (if you have the JR Pass) as many subways, busses, etc, are run by private railway companies.
So if looking for routes on Hyperdia, I would advise not to uncheck the "Private Railway" box as that would vastly limit your options (although you could give it a try and see what comes up). Instead I would just head to Google Maps, input your destination, and go from there. Usually trains and busses within cities cost somewhere around 200 JPY or $2 USD.
» Another popular way to travel is to purchase an IC Card (these can be in the form of Pasmo, Suica, ICOCA). An IC card is just a reloadable card that can be used on almost all trains, subways, and busses around the country.
So, instead of purchasing individual train tickets each time, just swipe your IC card and be on you way. So if you have a JR Pass, you can use that for your longer more expensive routes and you can also get an IC card for your travel within cities.
» I want to make the itinerary as simple as possible when it comes to accommodation, and not have you moving around so much. To do this, you will only need to book two hotels during your time in Japan – one in Tokyo and one in Kyoto.
Although you will only be staying in two cities, that does not mean you will only be visiting two cities – based on preference there are 5 different places beyond Tokyo and Kyoto that you can visit as day trips that I will go more into throughout the itinerary.
» Check out the Japan Helpful Tips Guide that goes into more detail about the JR Pass, how to go about buying it and plenty more helpful things to know before heading to Japan.
10 Days in Japan Map View
Take a look at the map below which shows you where each city that is part of this itinerary is located throughout the country. You will start the journey at the northern most point (Tokyo) and begin the journey south to Kyoto.
The itinerary also adds in several day trips along the way – including Kamakura, Hakone, Nara and Hiroshime / Miyajima. Once the trip is complete you will then take one last train back to Tokyo or depart from Osaka.
10 Days in Japan Detailed Itinerary
Below you will find a detailed breakout of the daily attractions and activities on this 10 days in Japan itinerary. Feel free to scroll through and click on any more in depth posts along the way.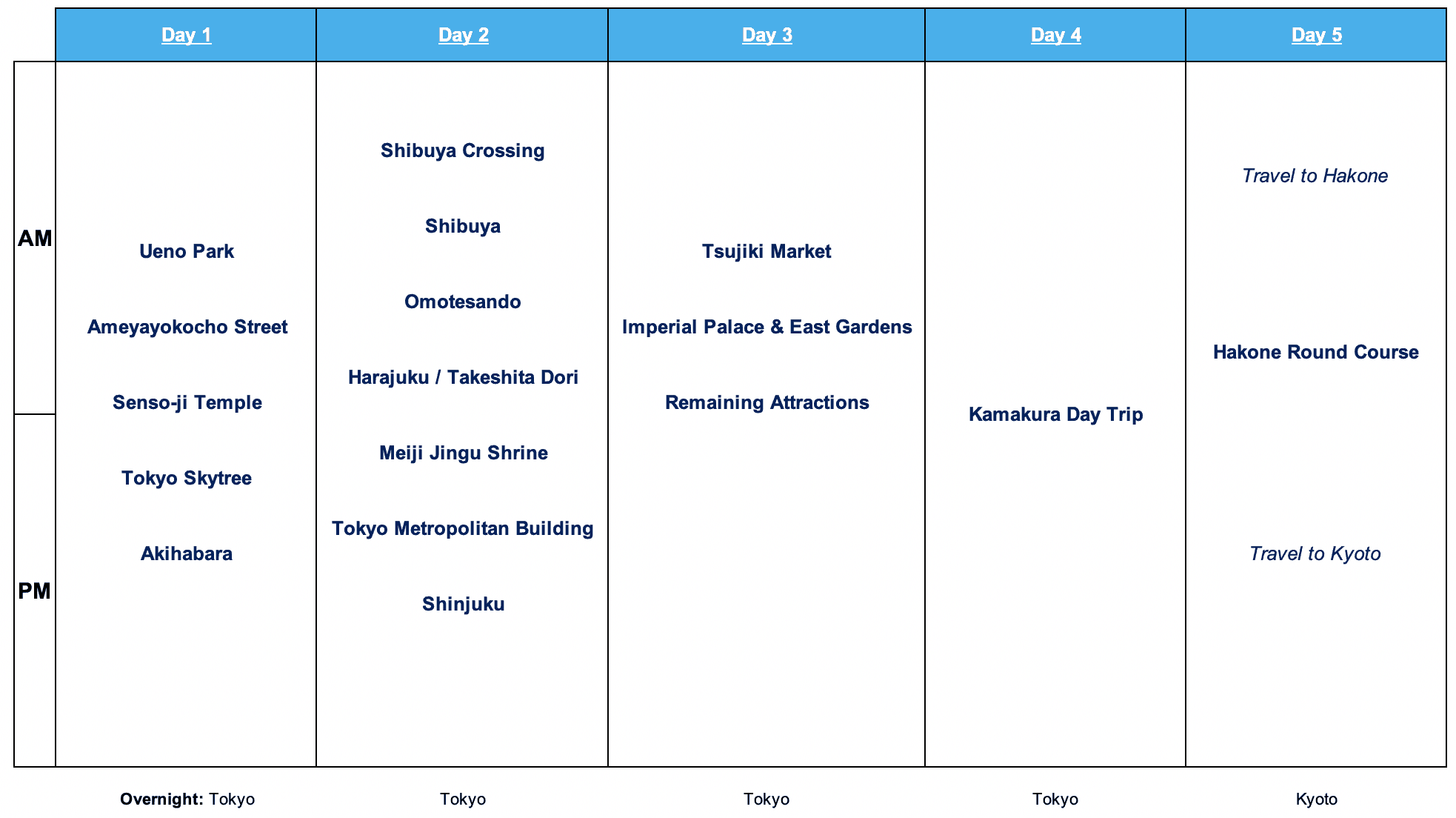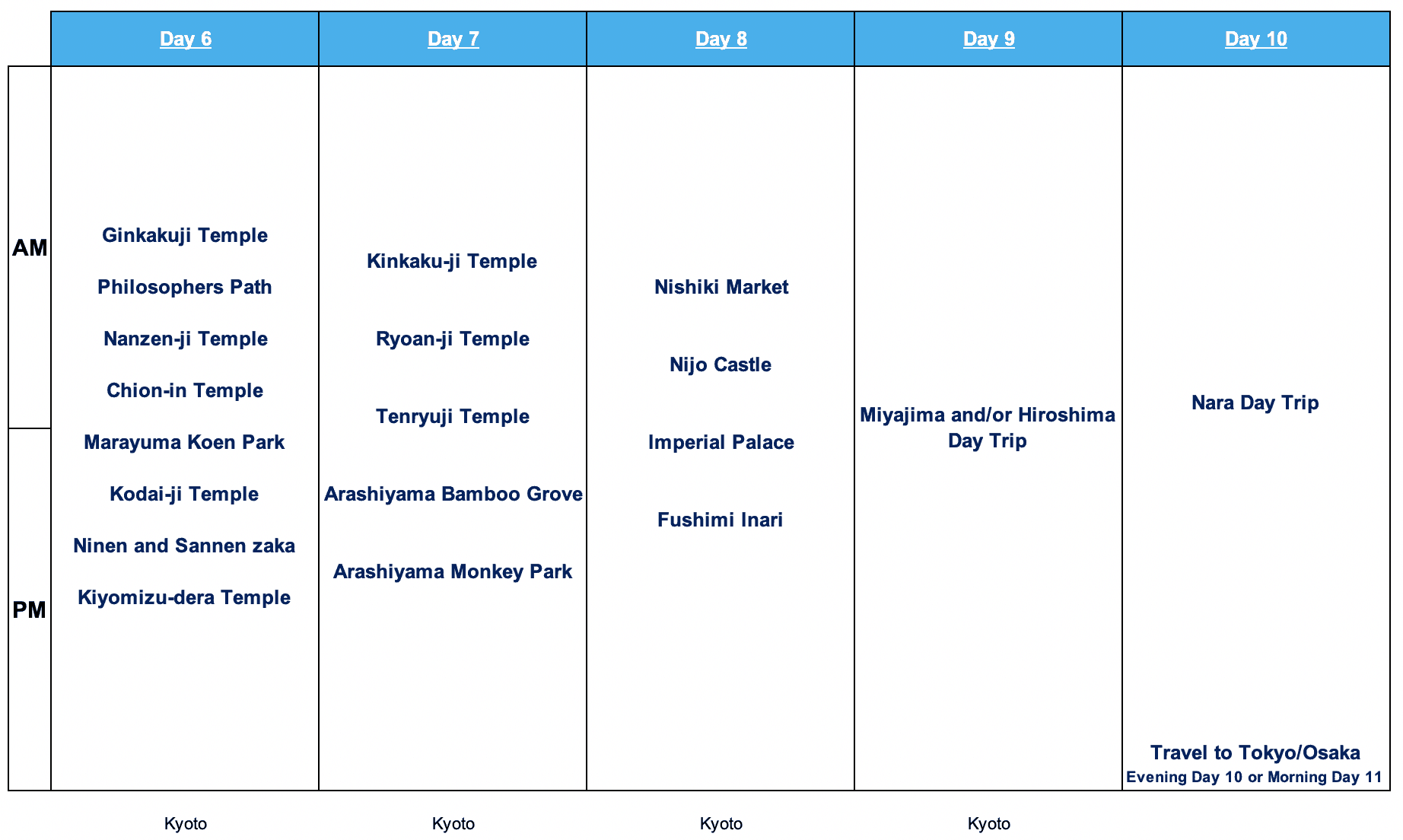 Where to Stay in Tokyo
Since Tokyo is such a large city with so many distinct neighborhoods, it can get confusing to understand where the best places to stay are. In my eyes there are a couple of neighborhoods that stick out to me when it comes to the most convenient (and fun!) options.
A) Shinjuku: #1 on my list is the area of Shinjuku. You will have Shinjuku station nearby when traveling to other parts of Tokyo (and day trips), a ton of nightlife and restaurant options, as well as many of the activities mentioned in this itinerary not too far away. There is always something going on in Shinjuku and it will definitely not disappoint.
B) Shibuya: not too far away from Shinjuku is the Shibuya neighborhood. Famous for the Shibuya Crossing, it is also filled with plenty of shops and restaurants all around its streets.
1. Hotel Century Southern Tower
C) Tokyo Station: moving a bit to the east of Shinjuku and Shibuya is the Tokyo Station area. It is centrally located right nearby the main transport hub making it super easy to get everywhere, and you will also be in walking distance to some of the city's main attractions.
1. Hotel Metropolitan Tokyo Marunouchi
5. Super Hotel Premier Tokyo Station
Of course there are plenty of other neighborhoods to choose from but I think that should be a great starting point to help you out.
Where to Stay in Kyoto
While there are many different neighborhoods to choose from I would recommend staying near the downtown Kyoto area. Here you will find plenty of accommodation options at various price points alongside all the restaurant and shopping you can imagine.
It also offers easy accessibility to visit all other parts of Kyoto either by bus or by subway. Below are some mid range and luxury options all within walking distance from downtown (a few being a 20 minute or so walk).
Mid Range
1. The Royal Park Hotel Kyoto Sanjo
2. Hotel Grand Bach Kyoto Select
4. Super Hotel Kyoto Shijokawaramachi
Luxury
5. Mitsui Garden Hotel Kyoto Shinmachi Bettei
Day 1 – Tokyo
A couple things to note about your time in Tokyo: feel free to move around days as you see fit. The attractions and activities on the days themselves are easiest done in the order mentioned (i.e. Shibuya to Meiju Jingu to Shinjuku) but it doesn't matter much if you switch the order of the days. You can also move around the day trip to Kamakara earlier on as well.
» Get some more details about Tokyo in the comprehensive Tokyo Itinerary up on the site
​You will start off the ten day trip in the capital city of Tokyo. For the next three days you will explore the city hitting a variety of attractions along the way. I will not go into too much detail about each and every attraction, but I will highlight each place to visit along with some pictures so you can have a better idea of what to expect.
On your first day in Tokyo you can head off to several of the city's main attractions including:
1. Ueno Park
2. Ameyayokocho Street
3. Senso-ji Temple
4. Tokyo Skytree
5. Akihabara
Ueno Park
Start off the day at Ueno Park, a vast area in the middle of Tokyo filled with plenty of greenery, temples, museums, and more!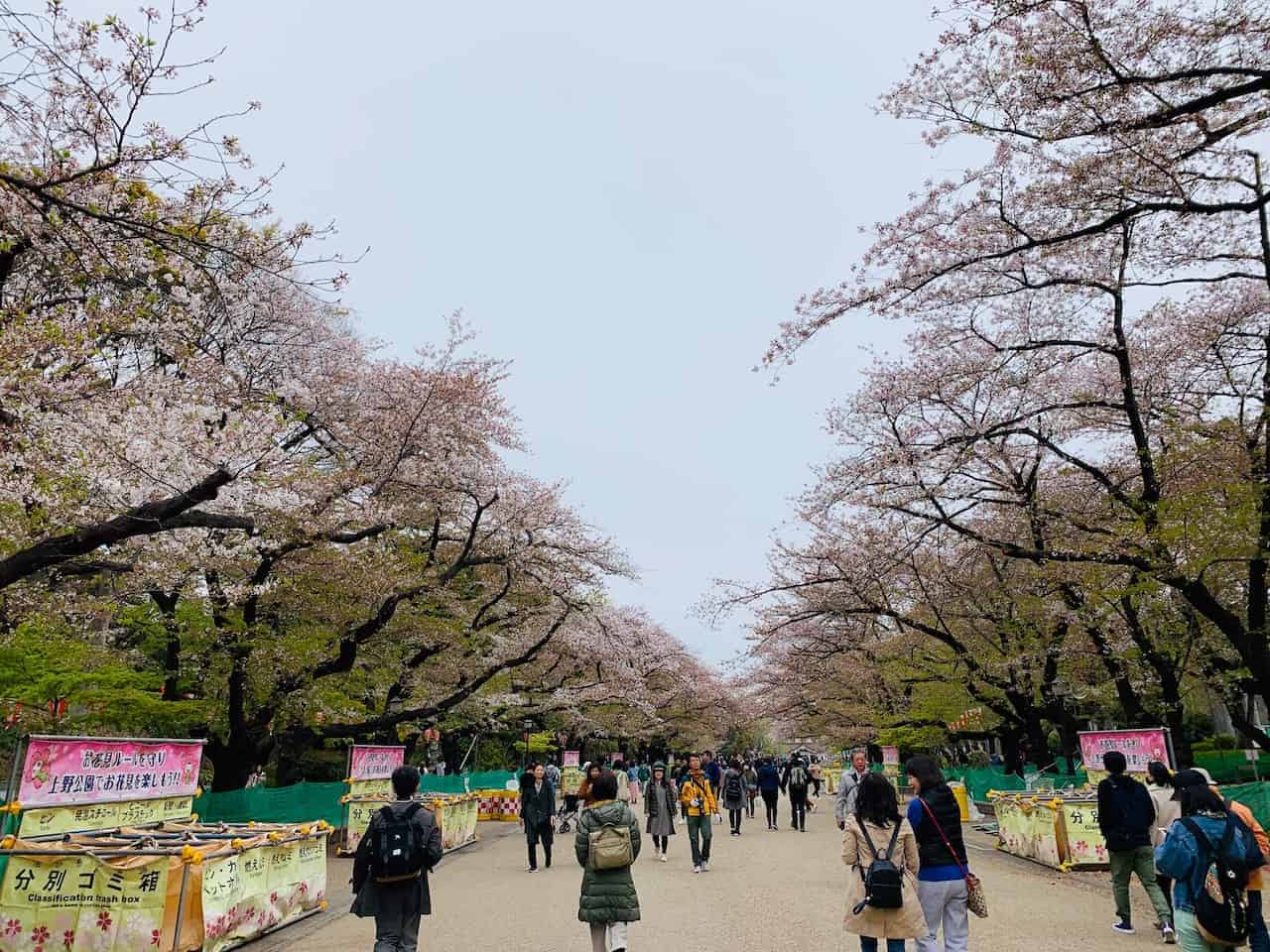 Ameyayokocho Street
Once all finished up at the park, walk on over to Ameyayokocho Street. If you are looking for food, gifts, clothing and plenty more, this is where you can find it all as you experience a traditional Japanese market street.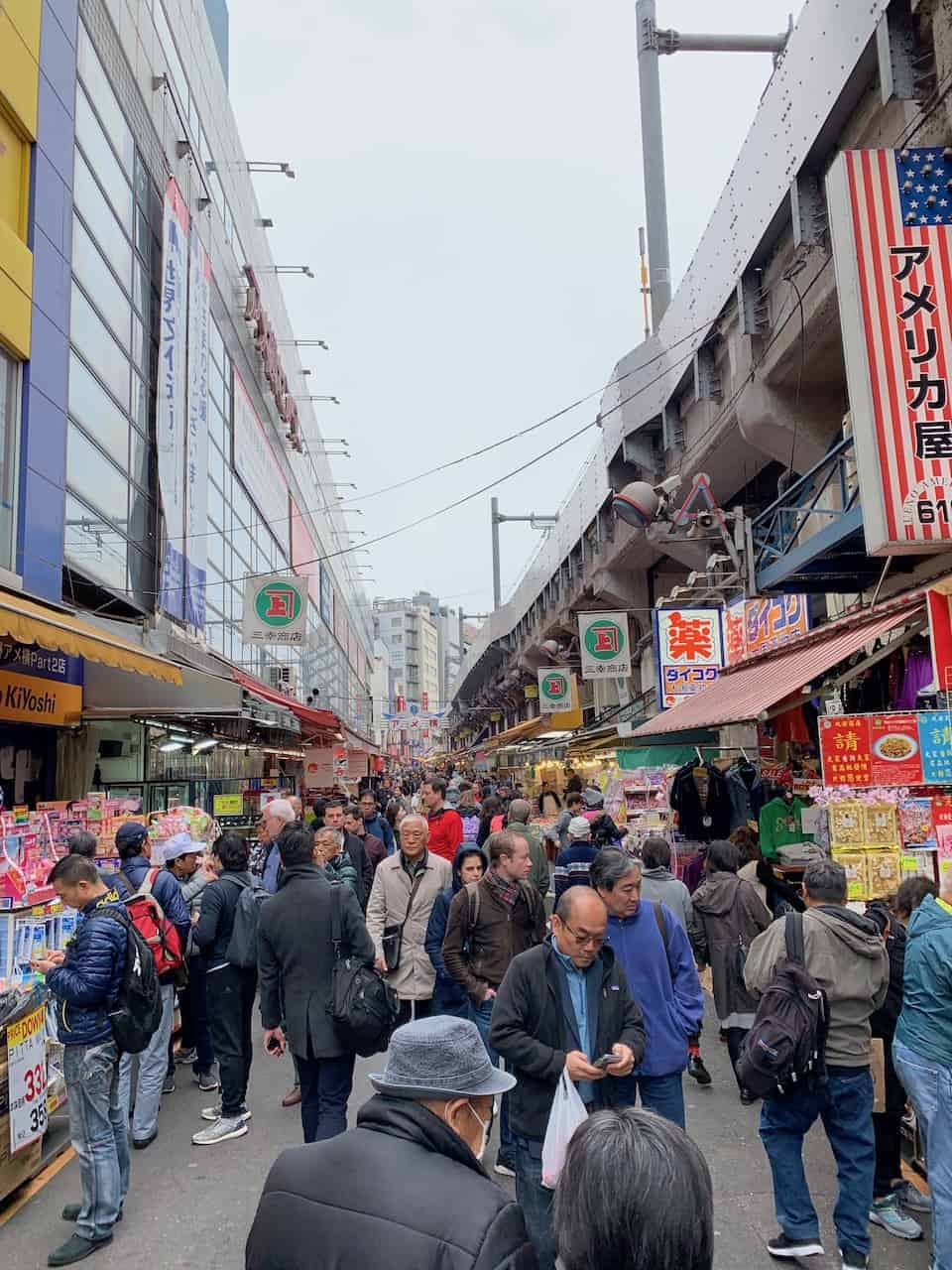 Senso-ji Temple
The most famous of Tokyo's temples is Senso-ji. Before visiting the temple itself you will walk through Asakusa street with hundreds of vendors lining the path as you make your way to the temple itself along with its five storied pagoda.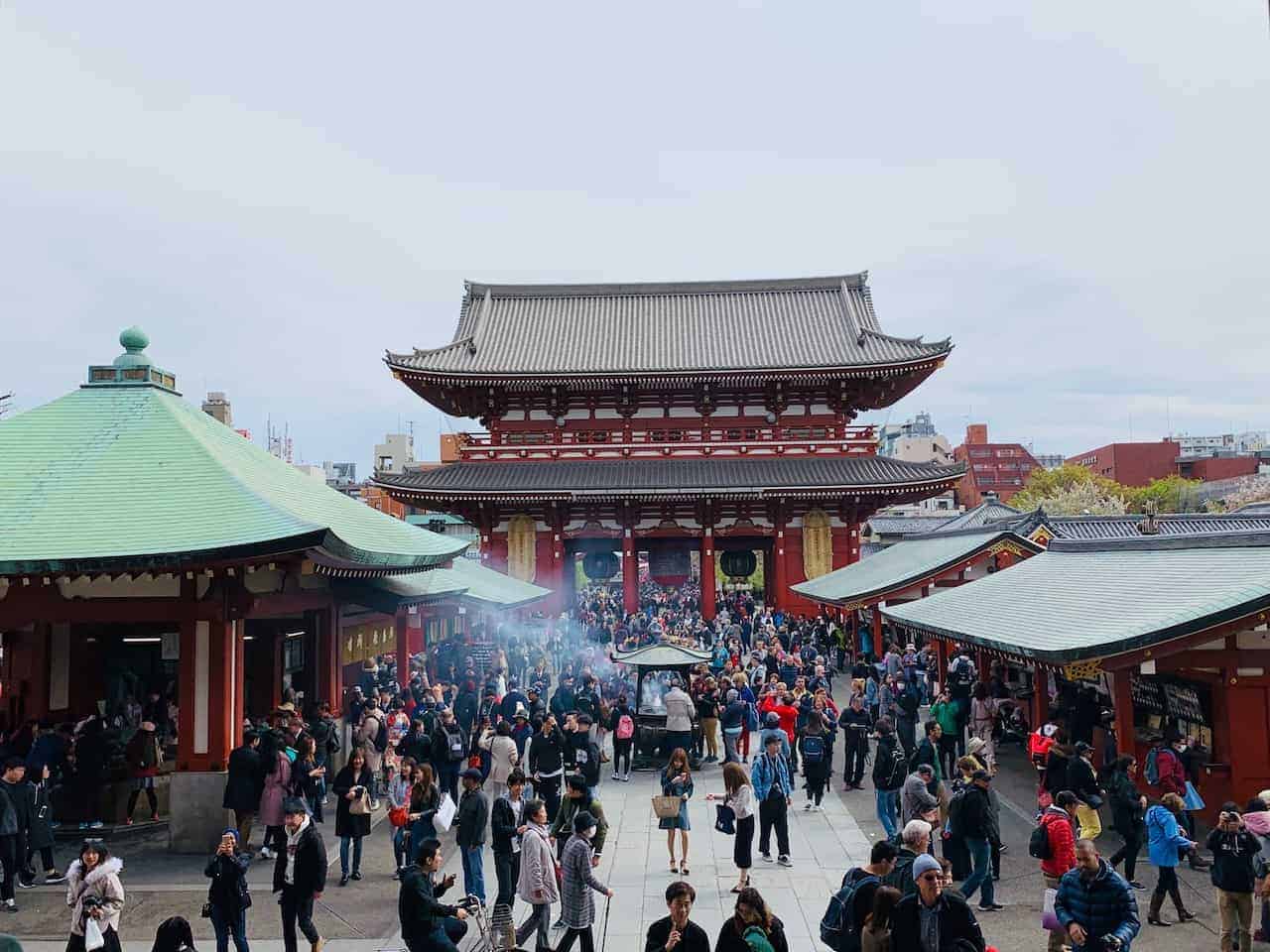 Tokyo Skytree
If you are interested in seeing the city from above then make your way next to the Tokyo Skytree, the tallest tower in the world. It does cost some money to head up but you will be able to take in some great views of the city down below.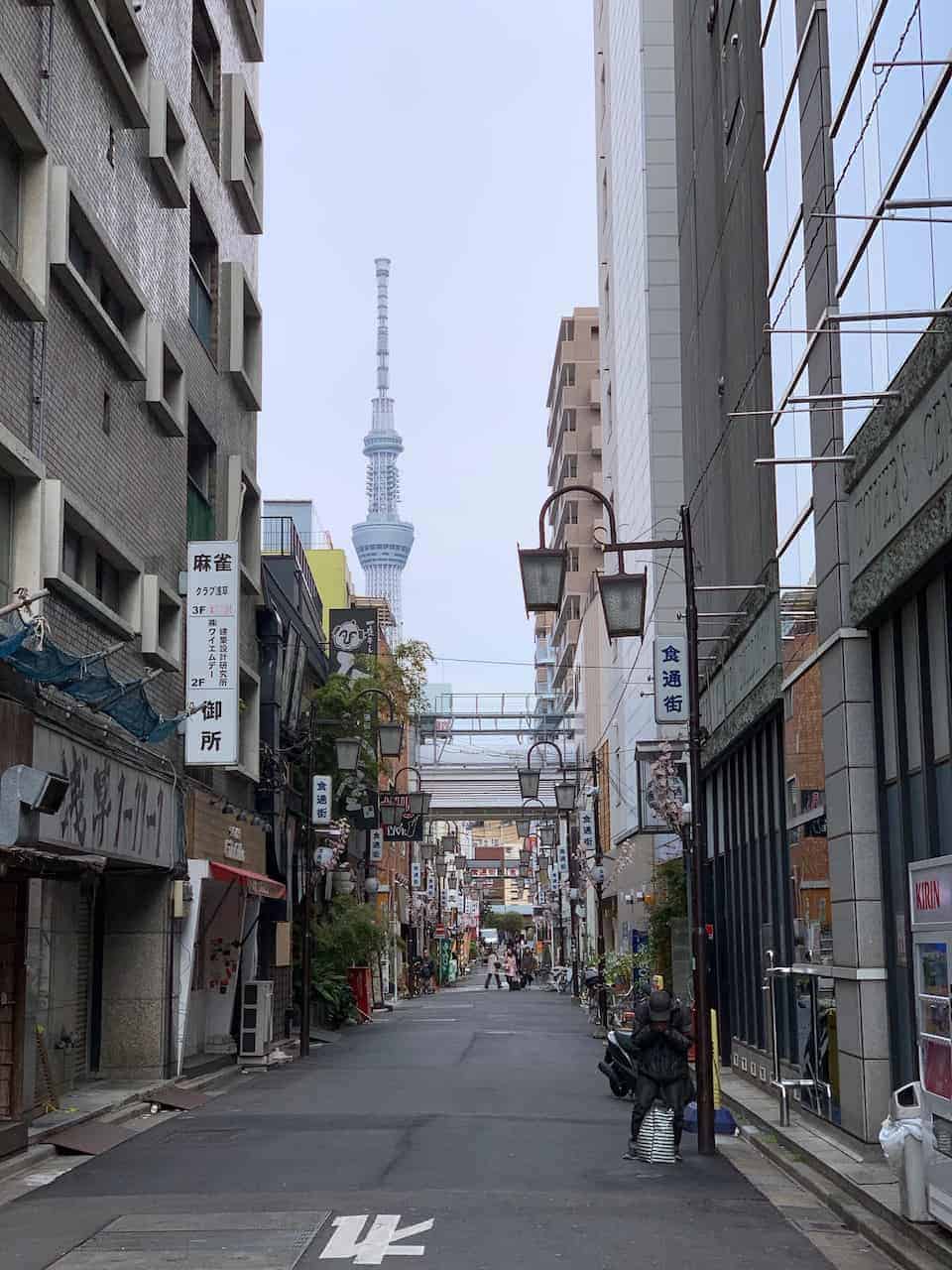 Akihabara
End your day making your way through one of Tokyo's most unique districts – Akihabara. Here is the electronic capital of the city as you will find anything from arcades to anime shops all over its streets.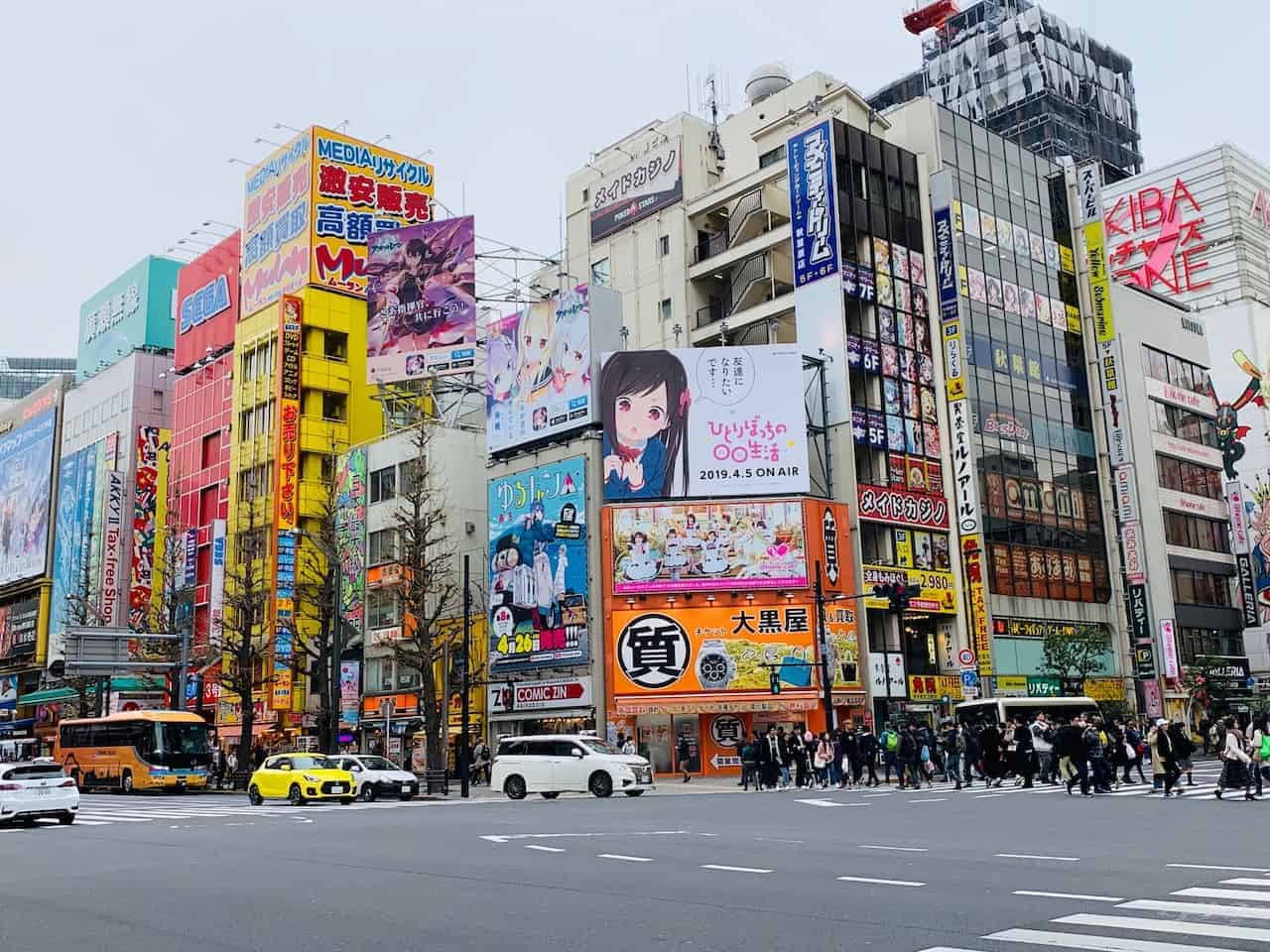 Day 2 – Tokyo
On your second day in Tokyo it is time to focus in on the Shibuya and Shinjuku neighborhoods. If you are staying in either one, all you need to do is walk out your door and start off your day. I will list out the attractions starting in Shibuya and ending in Shinjuku but you can easily go about the day the other way around as well.
1. Shibuya Crossing
2. Shibuya
3. Omotesando
4. Harajuku / Takeshita Dori
5. Meiji Jingu Shrine
6. Tokyo Metropolitan Building
7. Shinjuku
Shibuya Crossing
Probably the most famous intersection in the world, the Shibuya Crossing is a site to be seen and experienced. Feel free to make your way through the intersection itself, and if you want a view from above head to the top floor of nearby Mags Park.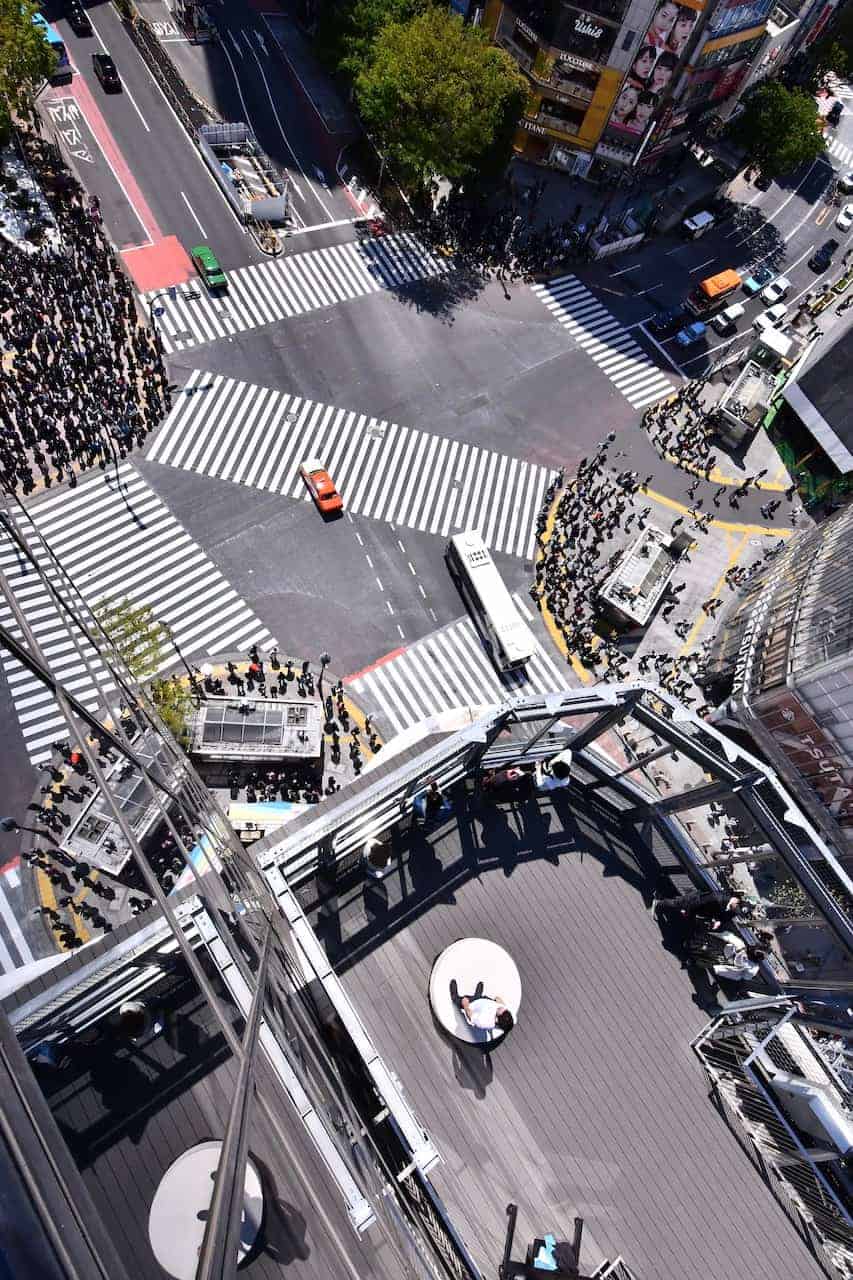 Shibuya
After the Shibuya Crossing, it is time to explore the neighborhood of Shibuya itself. With many shops and restaurants filling its streets and alleyways, Shibuya makes for a great place to get lost in and enjoy.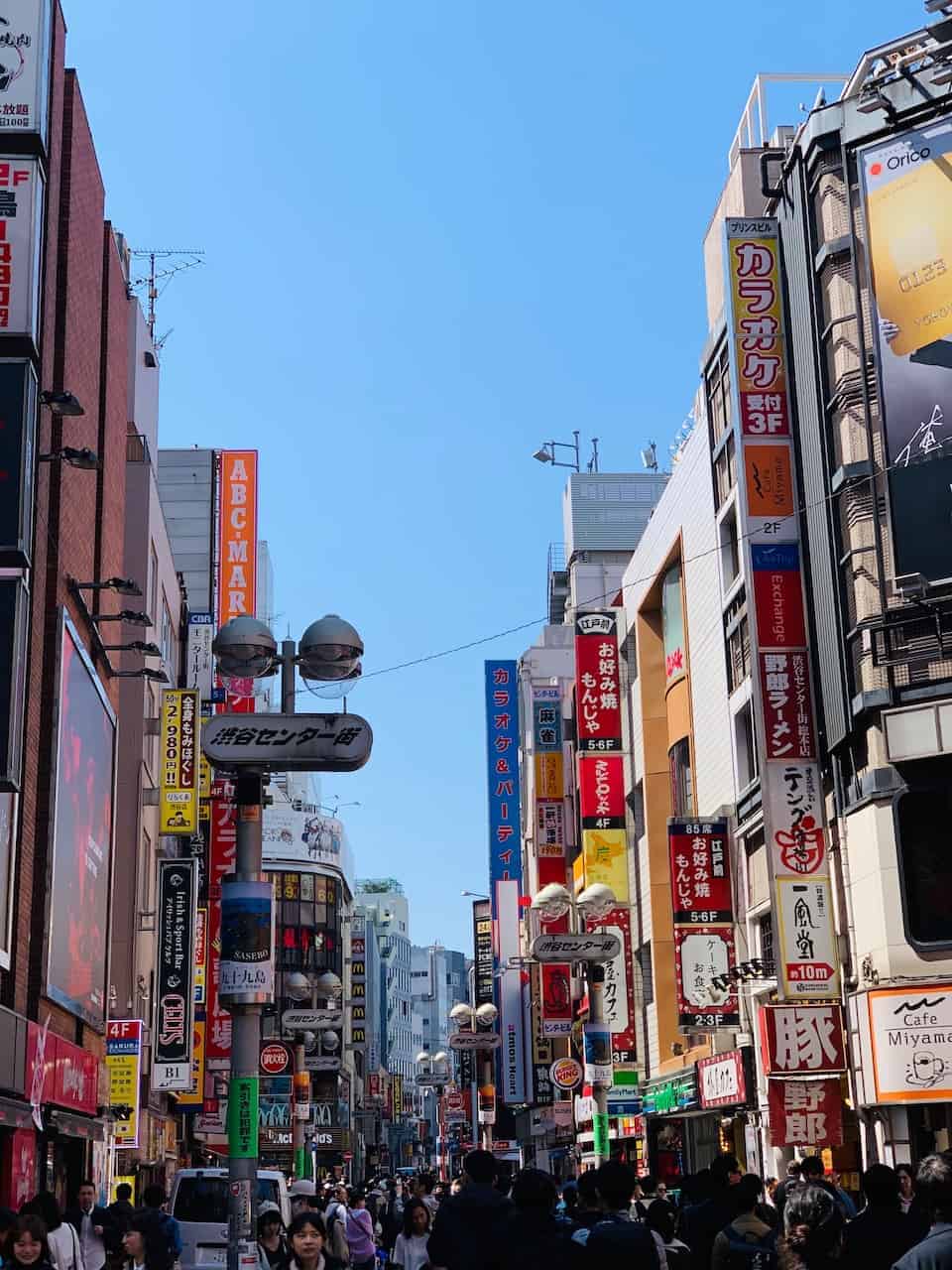 Omotesando
After exiting the Shibuya area, you will soon come by Omotesando Street. If you are interested in the whole shopping scene, Omotesando has you covered. What I also found great about the street was its unique and distinct architecture from other parts of Tokyo.
Harajuku / Takeshita Dori
Next up on the day is one of the more crazier streets you will ever experience – Takeshita Dori. The street is located in the heart of Harajuku and is packed to the brim with people walking along the narrow pathway.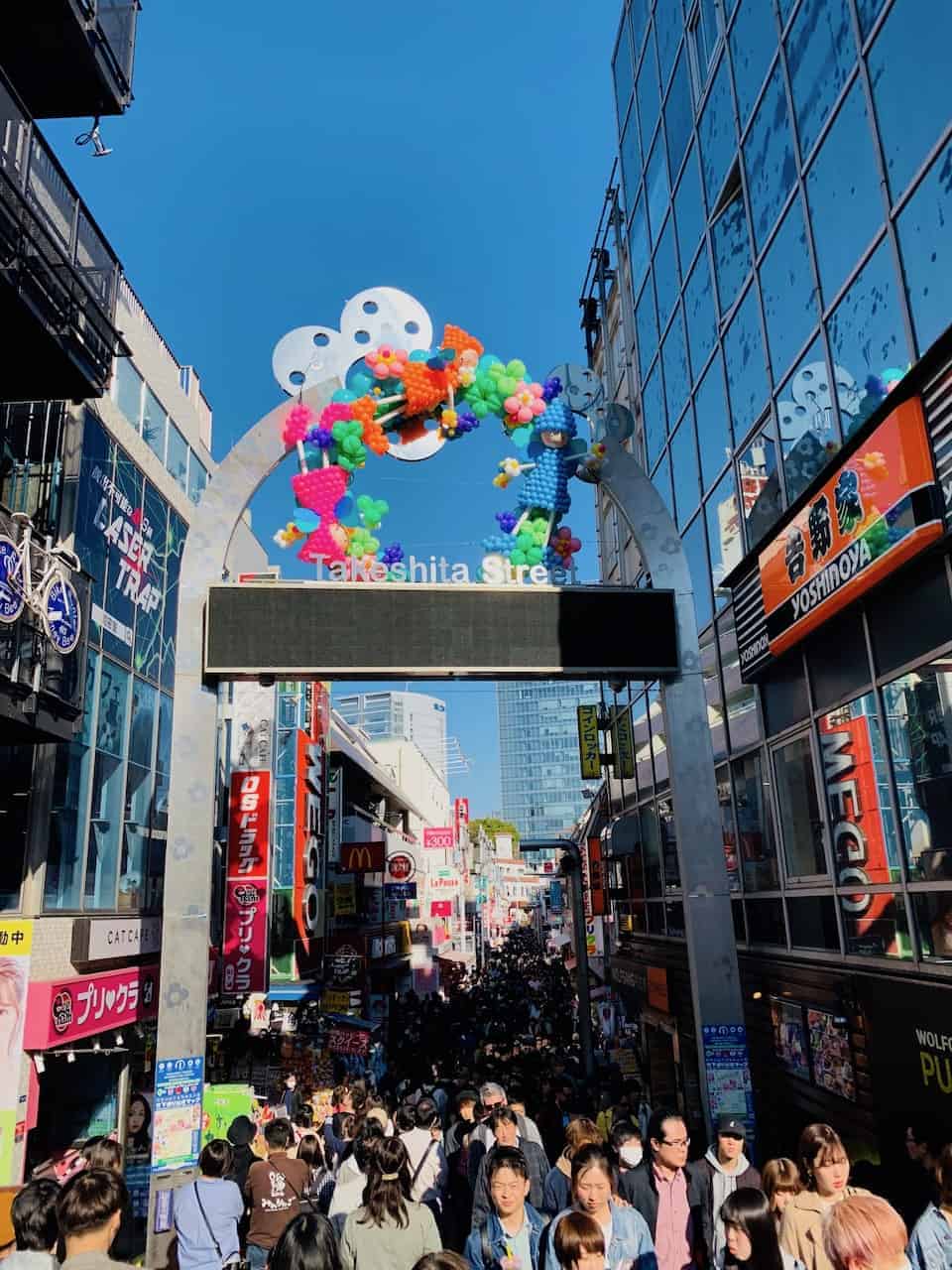 Meiji Jingu Shrine
One of the must visit places in Tokyo is the Meiji Jingu Shrine. As you make your way through Yoyogi Park, you will pass by the famous torii gate, sake barrels, and prayer cards as you slowly approach Meiji Jingu itself.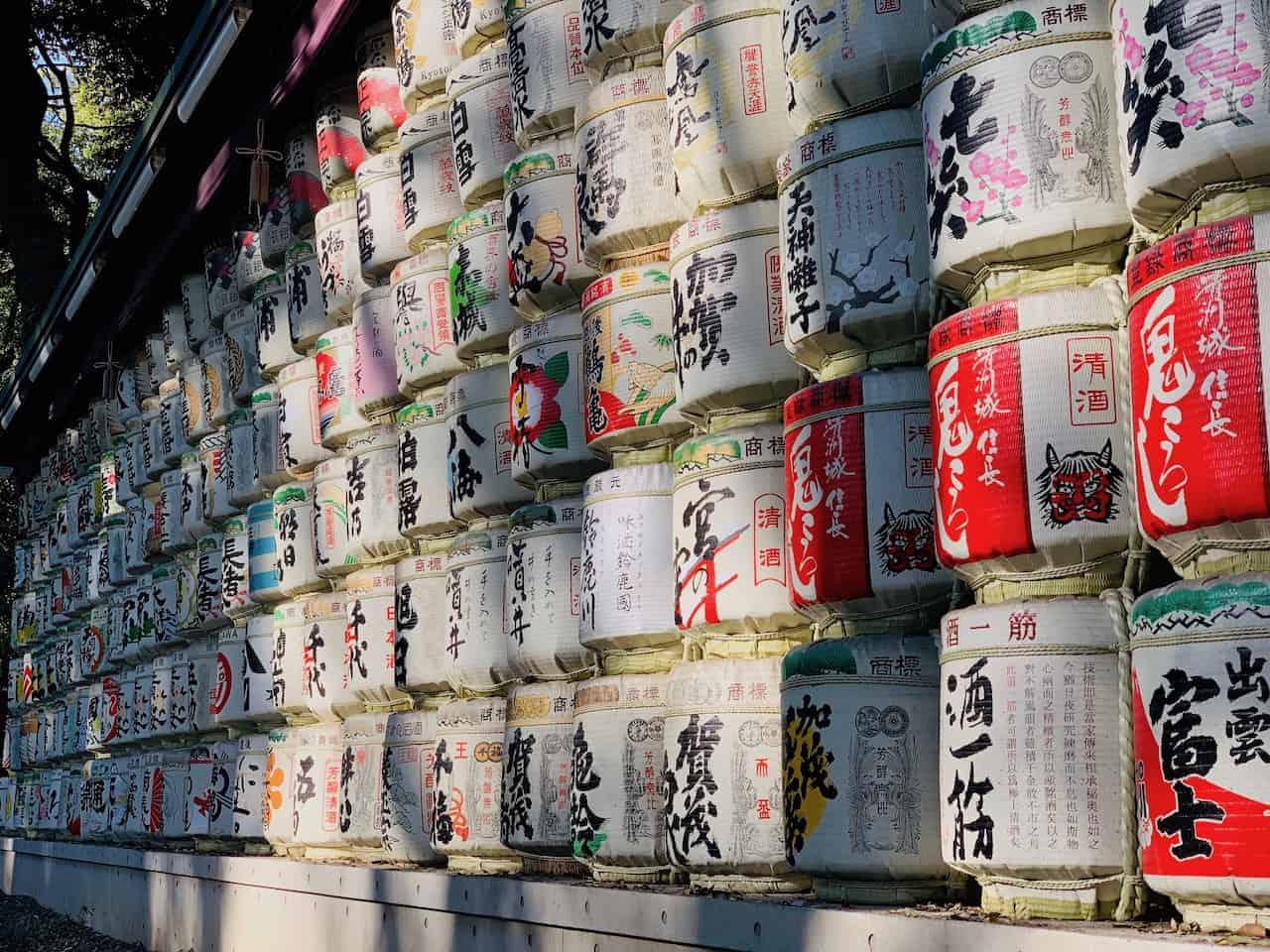 Tokyo Metropolitan Building
The Tokyo Metropolitan Government Building has two different free indoor observation decks to enjoy – the North and South. If you want to see the city from above then this is a great option for you.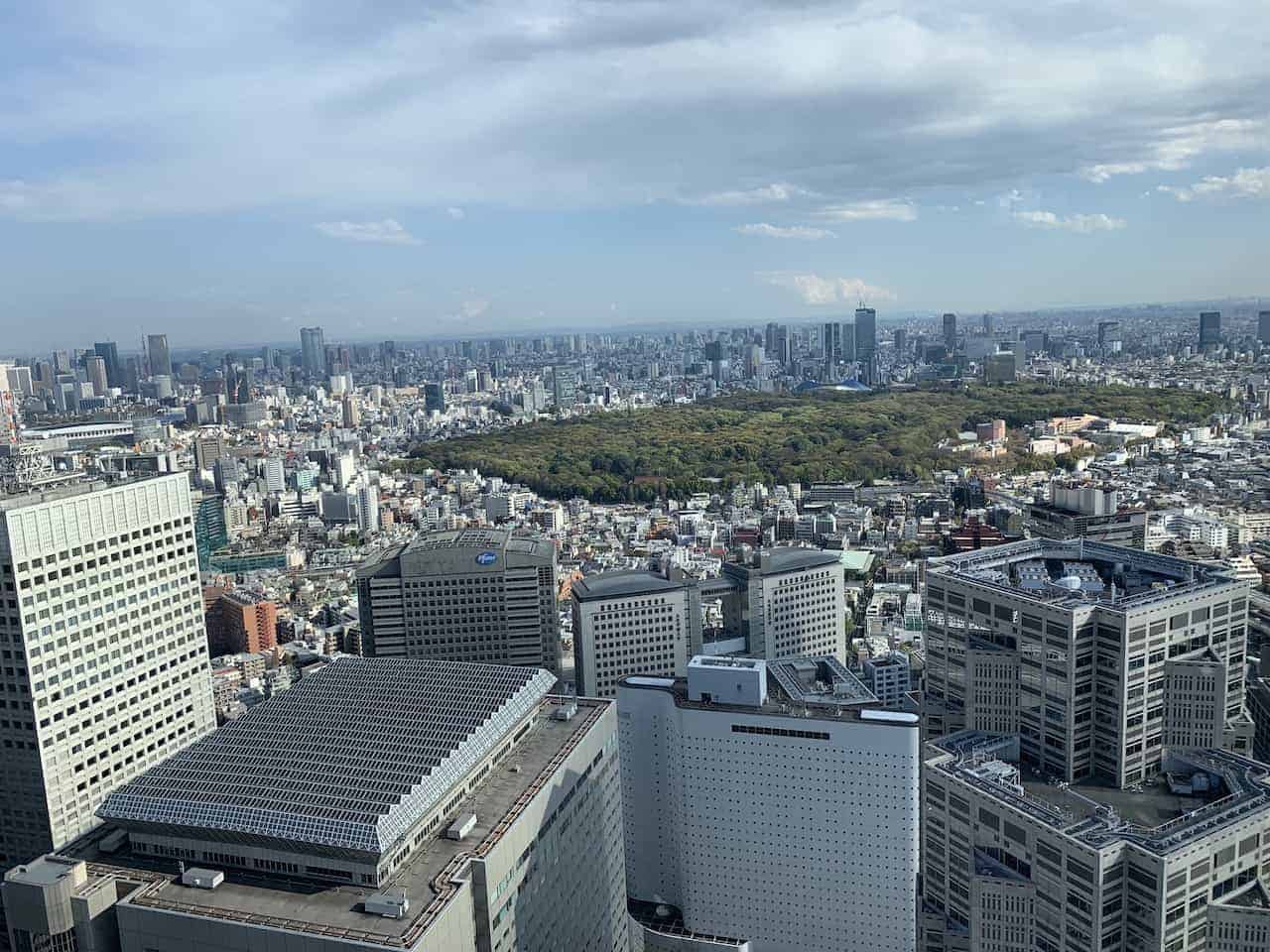 Shinjuku
Last but not least is the Shinjuku neighborhood itself. No matter when you visit there is sure to be plenty going on with its bright lights, restaurants and bars. I would definitely advise heading to Piss Alley and Golden Gai – two narrow streets filled with small bars and eateries.
And if you want to experience one of the crazier shows of your life, head to the Robot Restaurant for a one of a kind performance.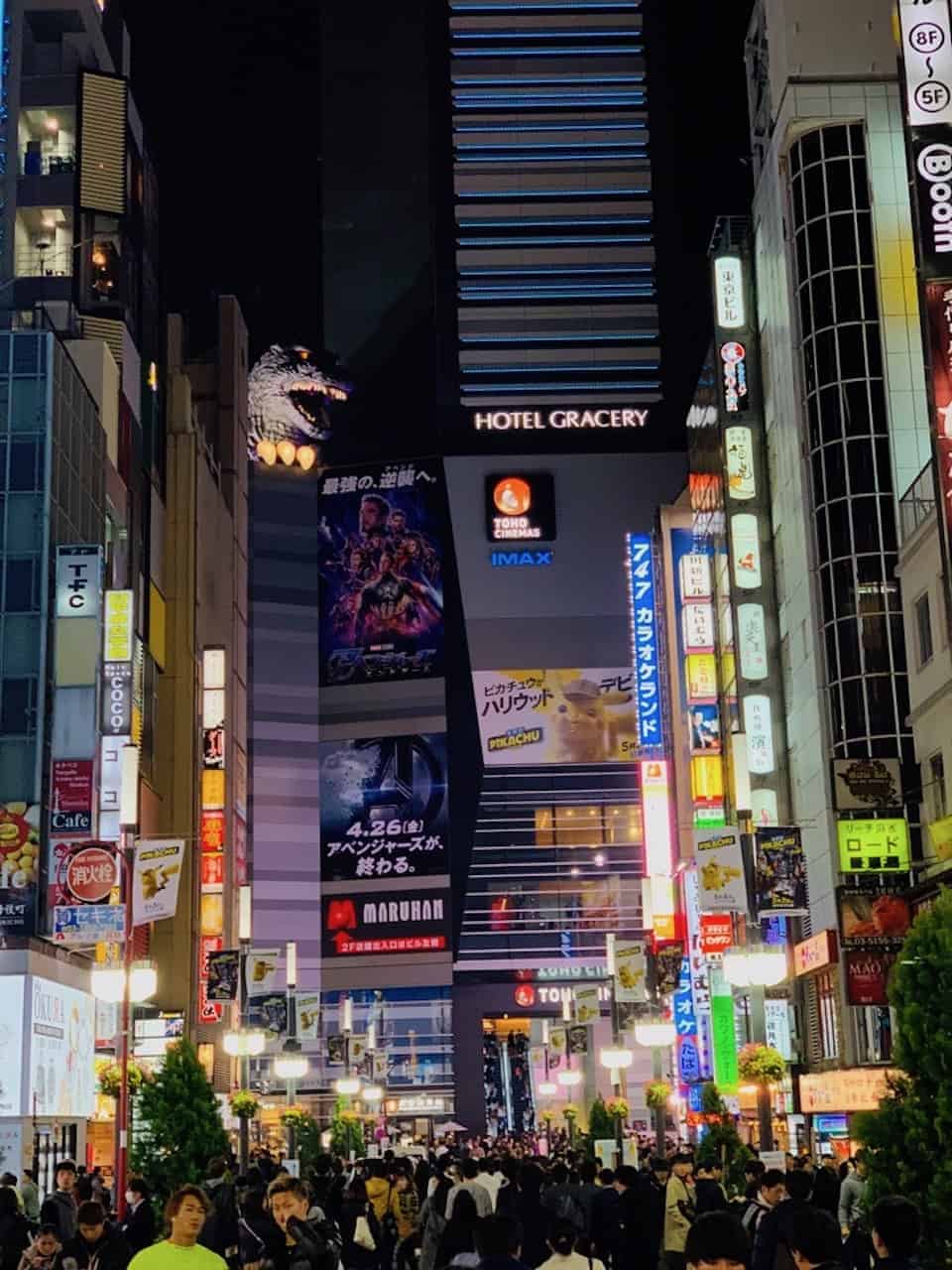 Day 3 – Tokyo
On your last full day in Tokyo itself, you can head to a famous fish market, check out the Imperial Palace and Gardens, and then visit any other attractions you may not have had time for previously.
1. Tsujiki Market
2. Imperial Palace & East Gardens
3. Remaining Attractions
Tsujiki Market
Head on over to Tsujiki Fish Market for one of the most well known markets in Japan. While the market does not hold the famous tuna auction anymore (that can be found at Toyosu), you can still spend plenty of time roaming the aisles and eating your way through them.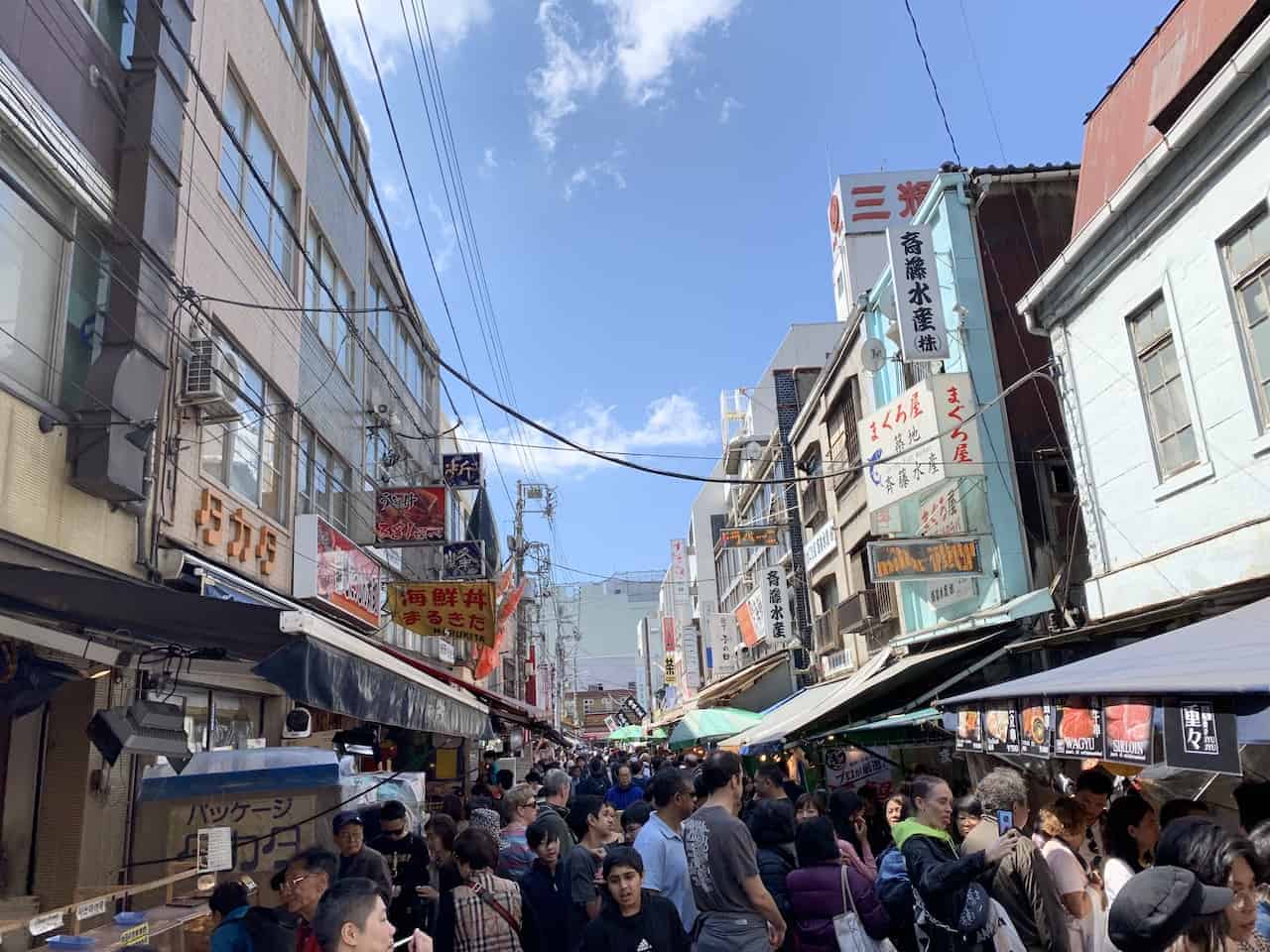 Imperial Palace & East Gardens
During the afternoon of day 3, head on over to the Imperial Palace and East Gardens. An absolutely massive complex located in the heart of the city, you can spend a couple hours here exploring all around.
The outer area is open all the time, where you can view the famous moat and outer structures. You can then head inside the East Gardens, where there are lakes, flowers, fauna and more to enjoy.
Remaining Attractions
Odds are you may have other places you want to visit during your time in Tokyo. You should have some time on day 3 to add anything else you want to experience. If you were not able to complete any other activities from day 1 or 2, you can add them in here as well.
Day 4 – Kamakura Day Trip
On day 4 you can take a great day trip from Tokyo to the beachside town of Kamakura. Now there is A LOT more to Kamakura then just the beach though – temples, hiking, and of course the famous Great Buddha. It is an easy day trip to take part of with plenty of trains going in either direction multiple times per hour. Simply head to Tokyo or Shinjuku Station and be on your way. A day trip to Kamakura will include:
1. Engaku-ji Temple
2. Jochi-ji Temple
3. Daibutsu Hiking Trail
4. Kotoku-in Daibutsu Great Buddha
5. Hase-dera Temple
6. Yuigahama Beach
7. Kamakura Shopping Street
Note that I started my trip by getting off at Kita-Kamakura station (one stop before Kamakura Station) as that stop is closer to the hiking trail I mention in the guide. If you do not want to take part of the hiking trail, then you can get off at Kamakura Station instead.
» Take a look at the Tokyo to Kamakura Day Trip Guide for more!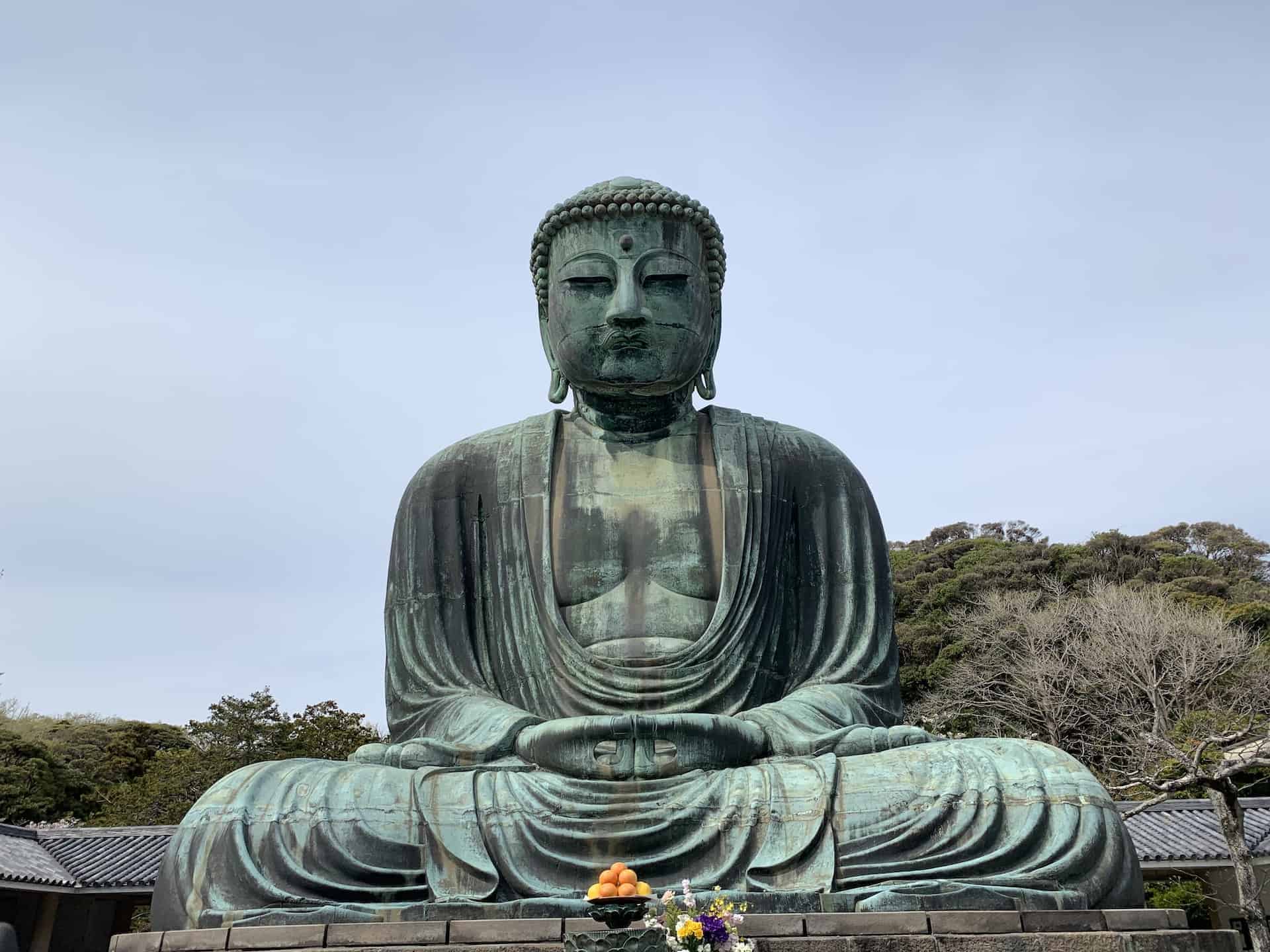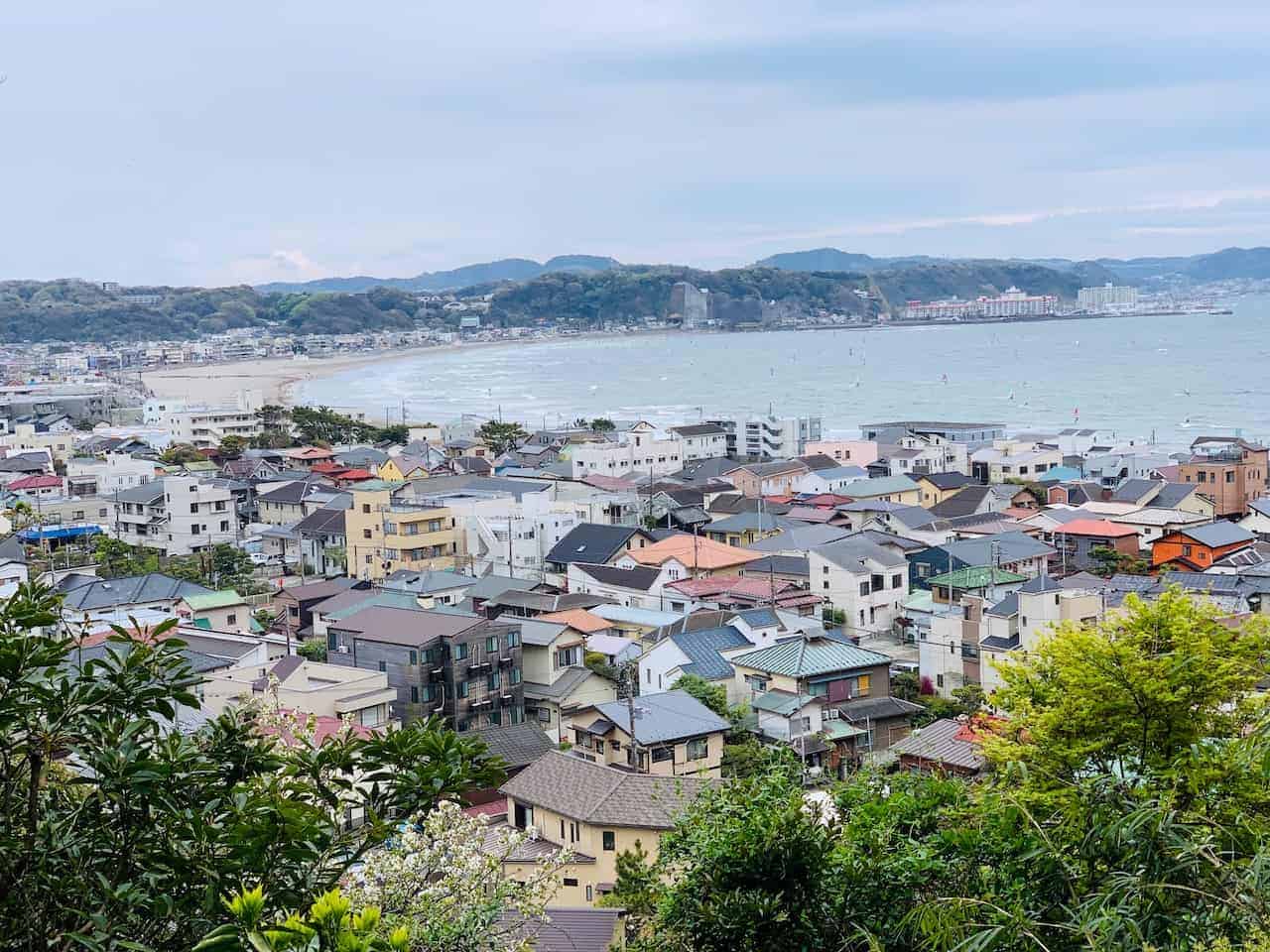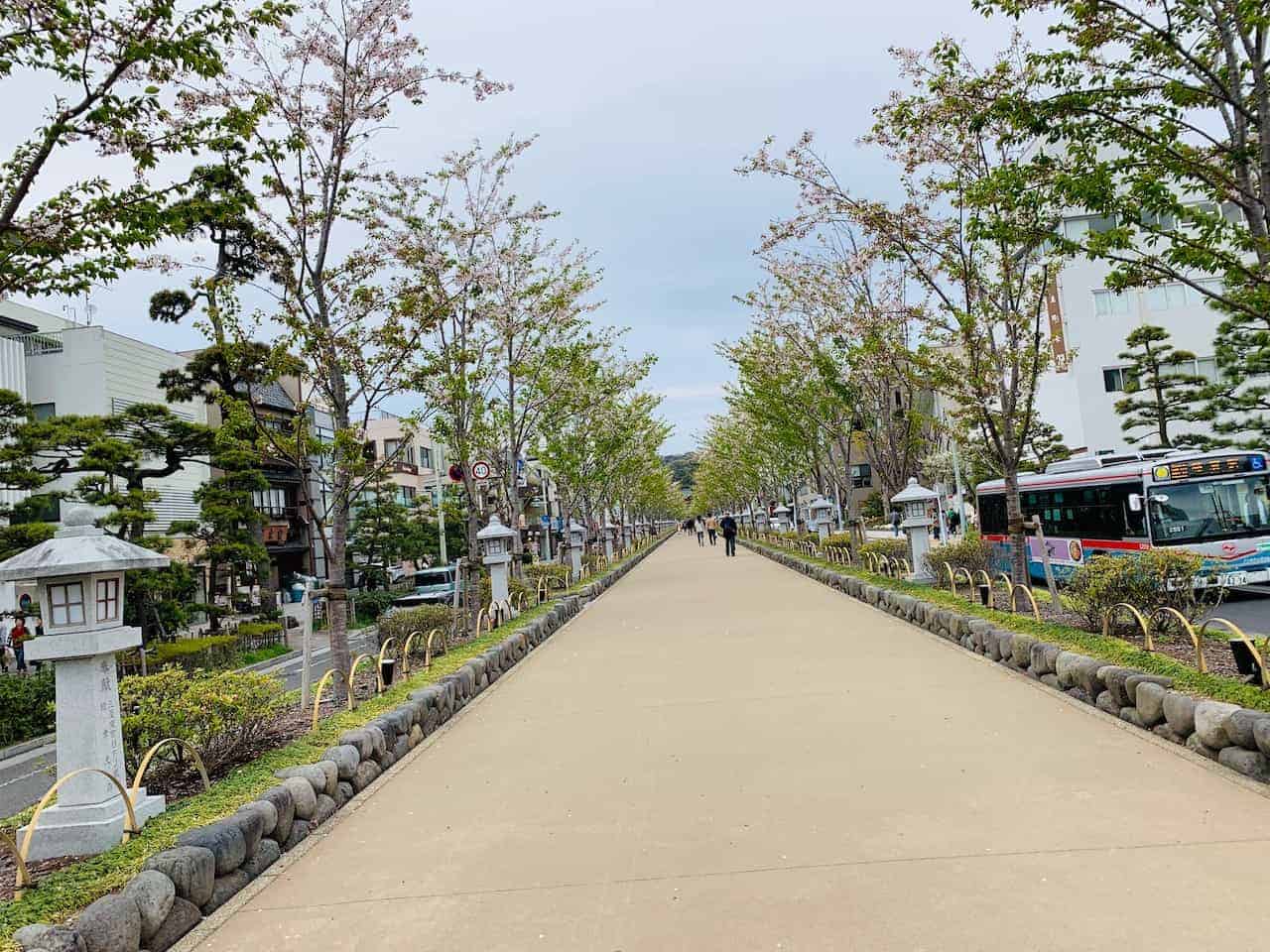 Day 5 – Hakone / Travel to Kyoto
Day 5 of your 10 day trip to Japan will have you on the move. Starting in Tokyo you will head on over to the beautiful city of Hakone for the day before heading off to Kyoto later in the evening.
Since this will be a travel day you will need to figure out luggage logistics and there are two ways to handle that – 1) Store the luggage in lockers at either Odawara or Hakone-Yumoto Station or 2) Send your luggage ahead to your Kyoto hotel using the efficient Takuhaibin luggage forwarding service. Your hotel should be able to help out with this and for about $20 a piece, your luggage will be waiting for you in your Kyoto hotel when you arrive.
You will start the day at either Tokyo or Shinjuku Station, make your way all the way to Hakone-Yumoto and begin the famous Hakone Round Course Circuit. This will take you on trains, cable cars, ropeways, boats, and busses as you complete one of the most scenic routes that Japan has to offer with Mount Fuji right nearby.
» Head on over to the Tokyo to Hakone Round Course Guide to learn more
Note: if you do not want to make this a travel day (Tokyo – Hakone – Kyoto), you also have the option to make this a day trip to Hakone on days 1-4 (Tokyo – Hakone – Tokyo). That way you will not need to worry as much about your luggage.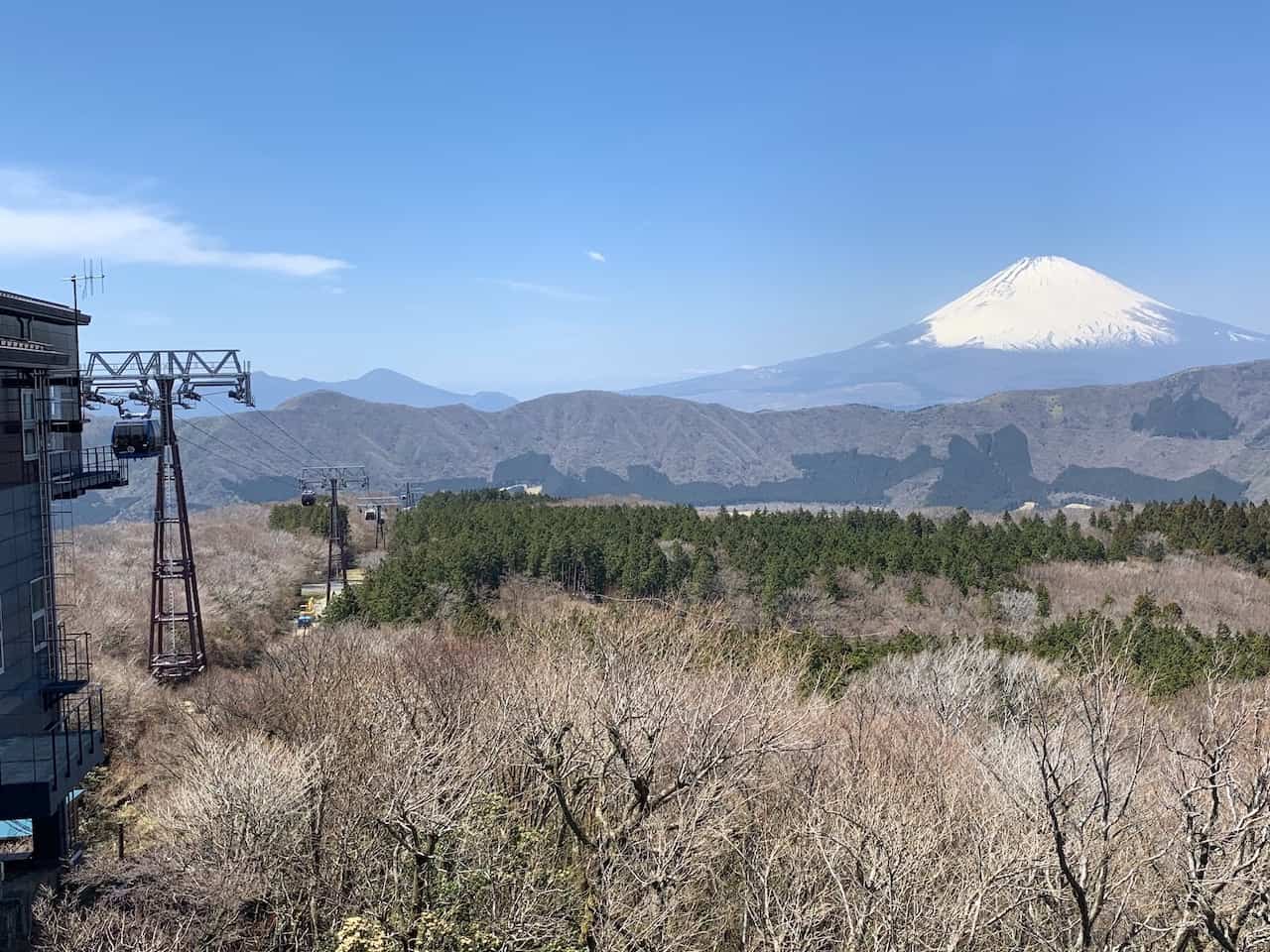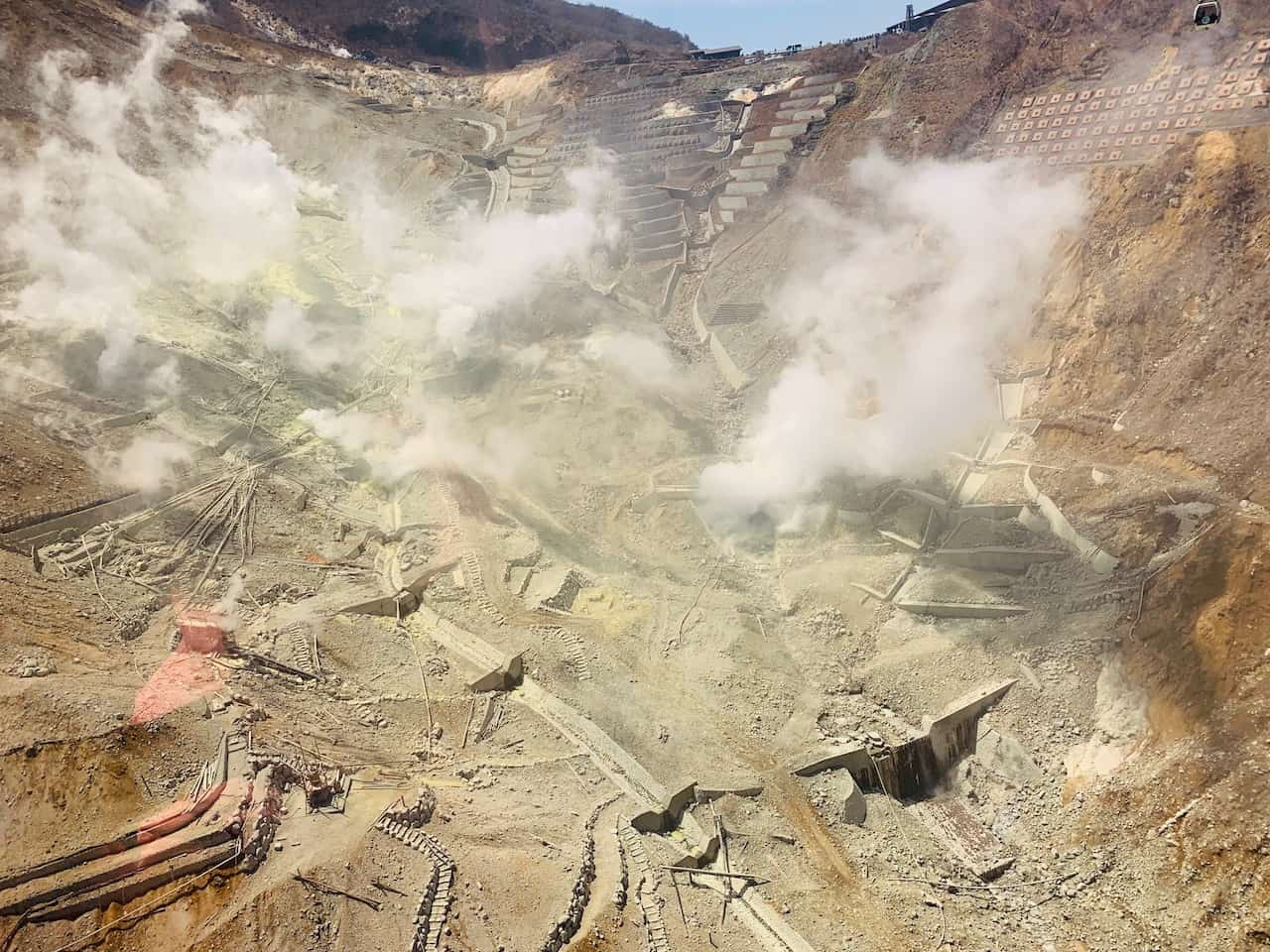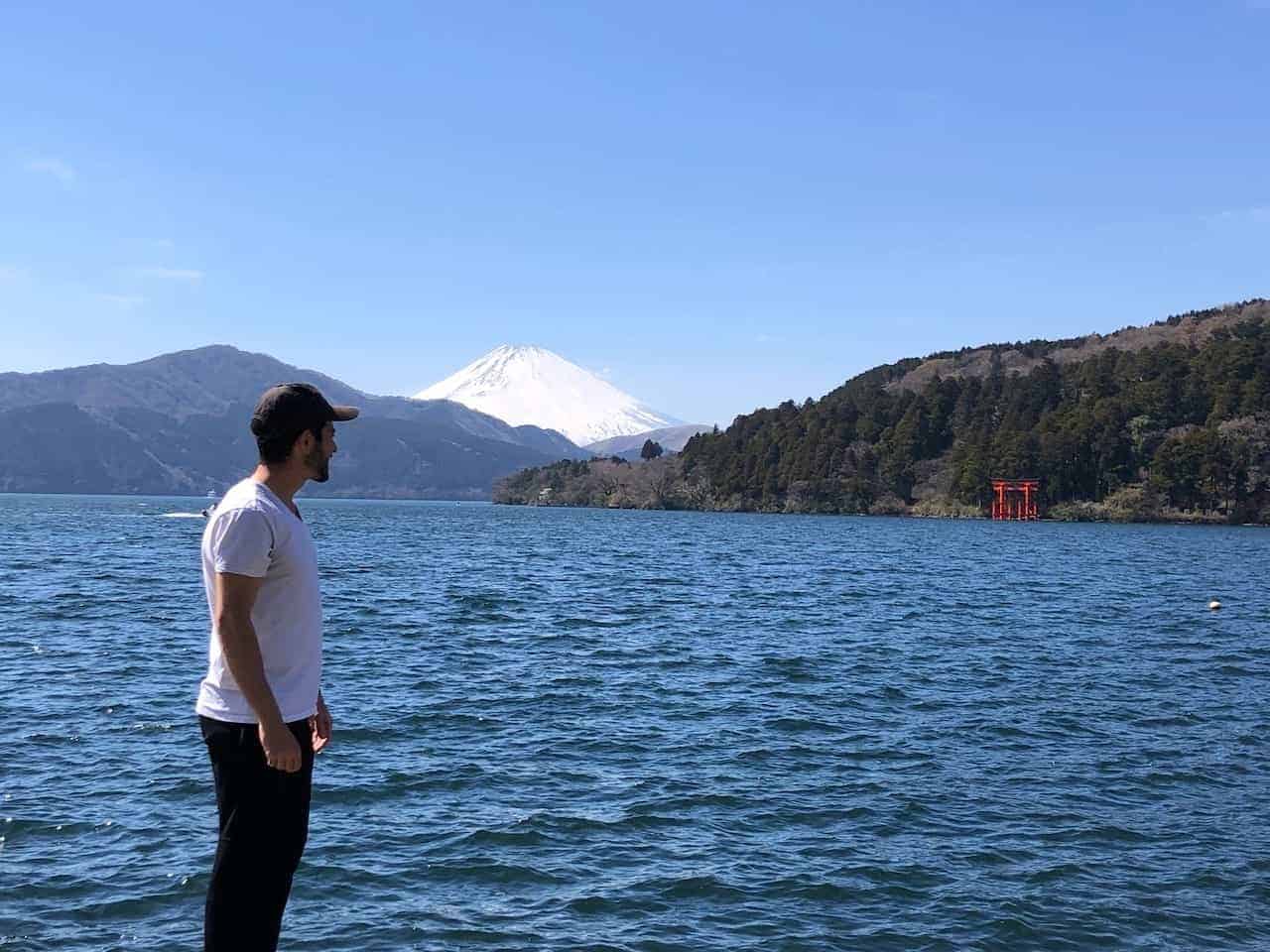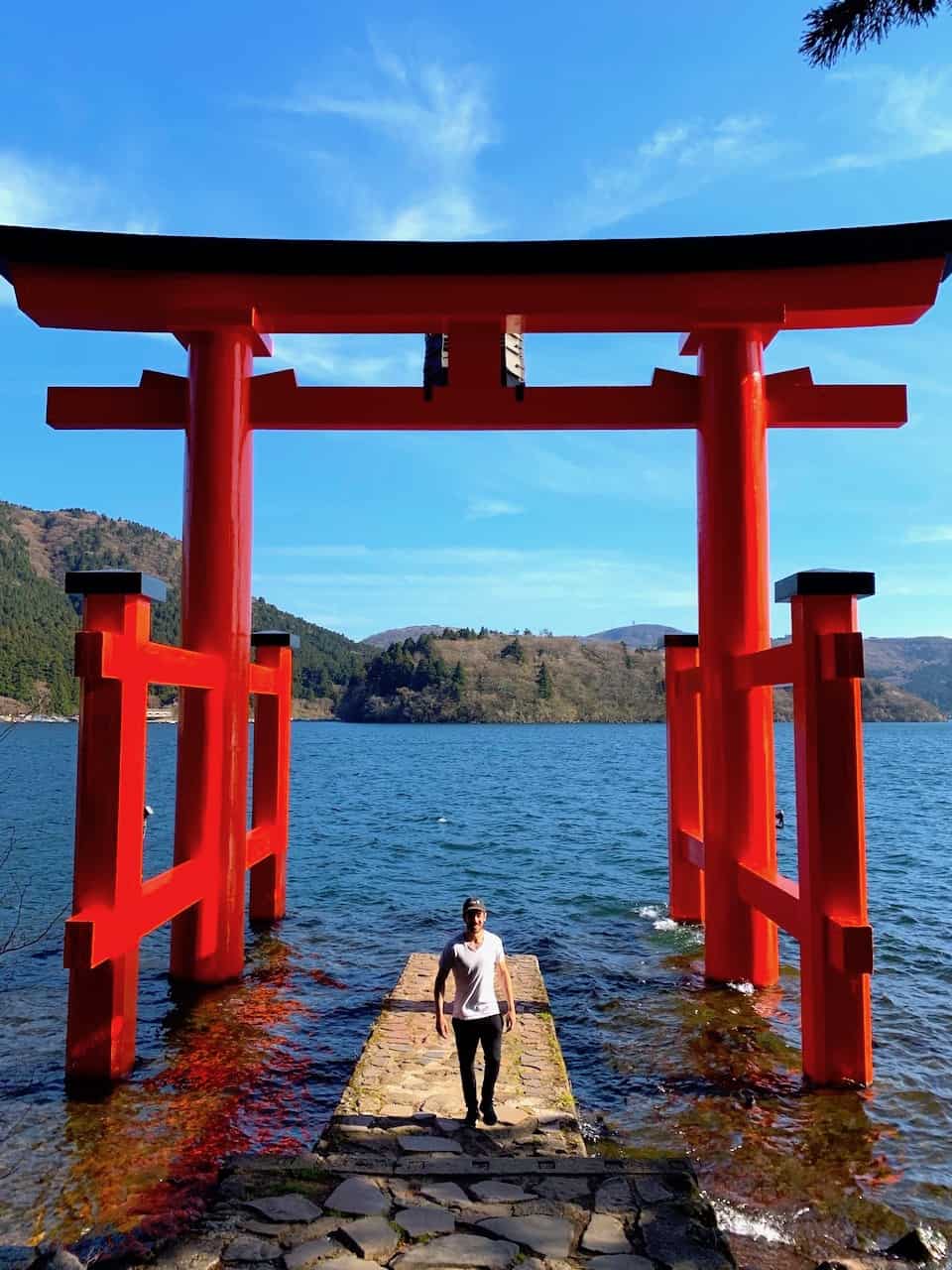 « Don't forget to purchase your 14 day JR Pass before heading off to Japan »
Day 6 – Kyoto
Now that you are in Kyoto, it is time to explore the city and the vast amount of attractions that it has to offer. This itinerary goes over 3 days in the city itself and then takes you on two day trips – one to Nara and one to Miyajima and/or Hiroshima.
Similar to Tokyo – feel free to move things around in whichever way you see fit. Depending on your travel plans out of the country, you may want to keep day 10 a bit more open, in case you need to get back to Tokyo at the end of the day to catch your flight at night or on day 11.
» Head on over to the 3 Day Kyoto Itinerary for all you need to know about the city
Your first day in Kyoto will have you seeing some of the best that the city has to offer. It will be a full day of sightseeing as you make your way down the east side of the city, stopping by plenty of temples and attractions along the way including:
1. Ginkakuji Temple
2. Philosophers Path
3. Nanzen-ji Temple
4. Chion-in Temple
5. Marayuma Koen Park
6. Kodai-ji Temple
7. Ninen and Sannen zaka
8. Kiyomizu-dera Temple
Ginkakuji Temple
Known as the Silver Pavilion, although not silver in color, Ginkakuji is one of the more well known temples in Kyoto. It has a unique sand garden, some viewpoints from above, and of course the temple itself behind the reflective pond.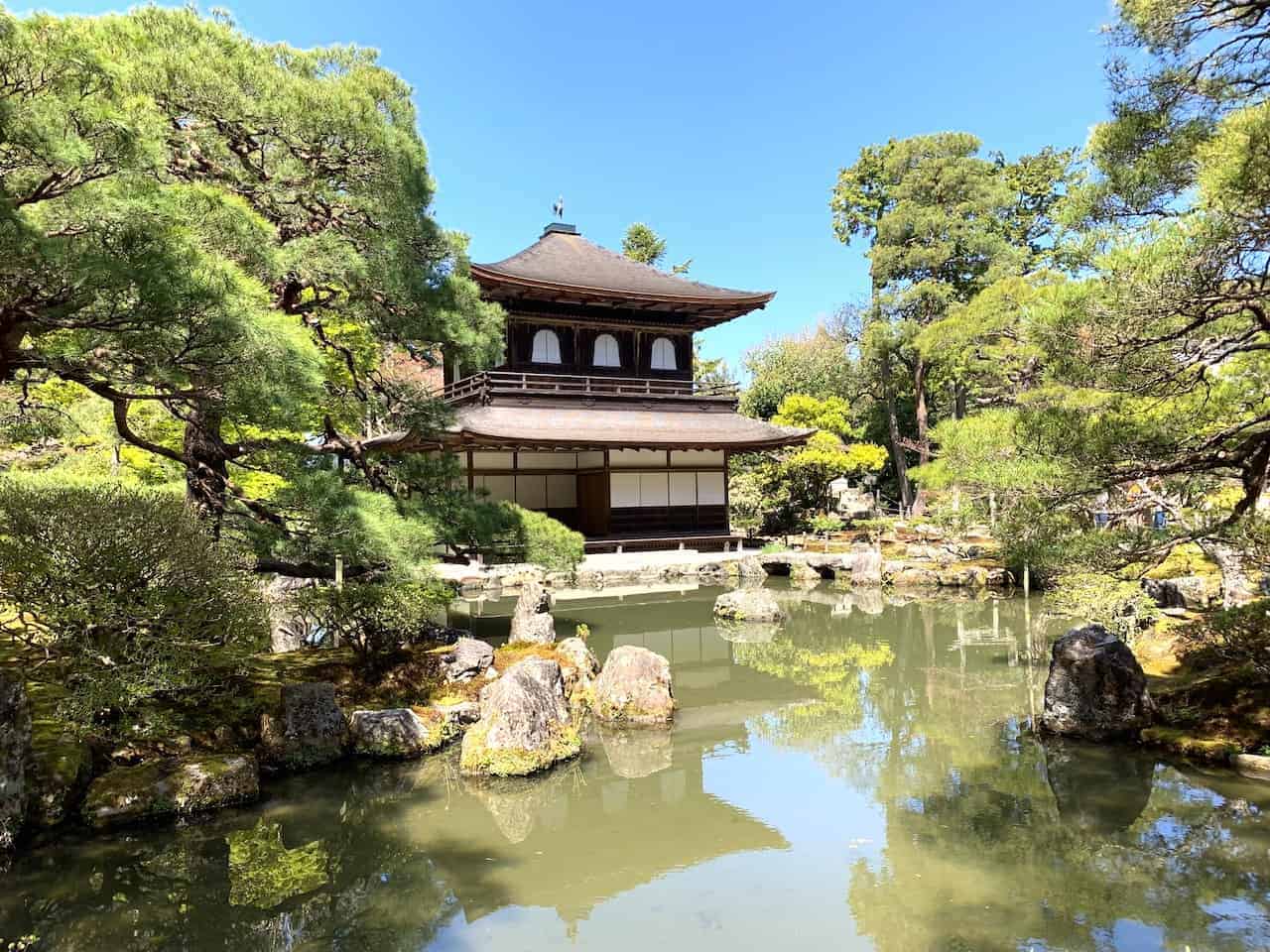 Philosophers Path
You can then continue south following the Philosophers Path. The path follows a stream with some beautiful trees lining the way. Heading there around cherry blossom time and you are in for a treat!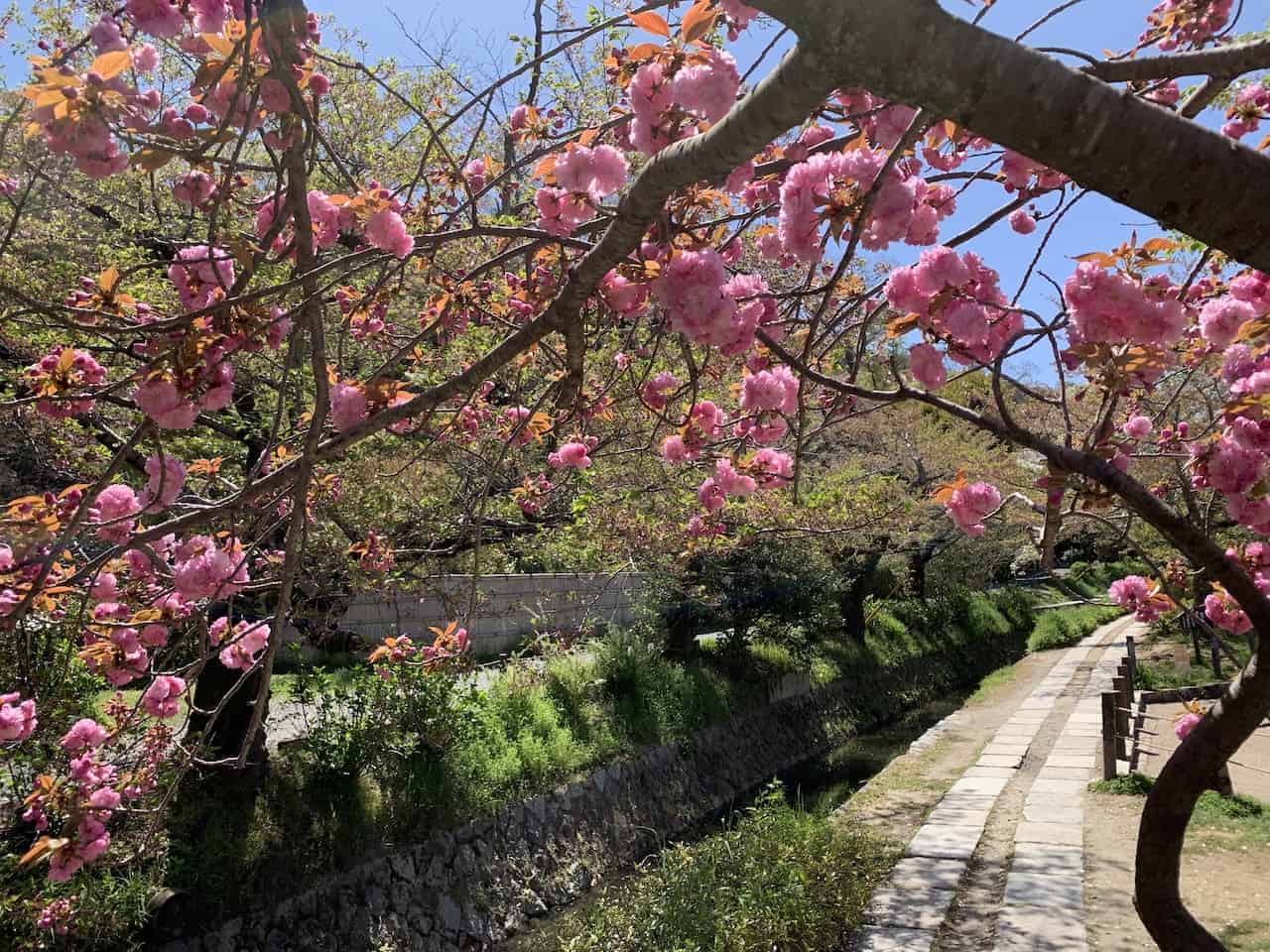 Nanzen-ji Temple
You can make the stop at Nanzen-ji Temple and roam its grounds that are full of unique buildings and structures throughout – don't forget to check out the aqueduct out back too.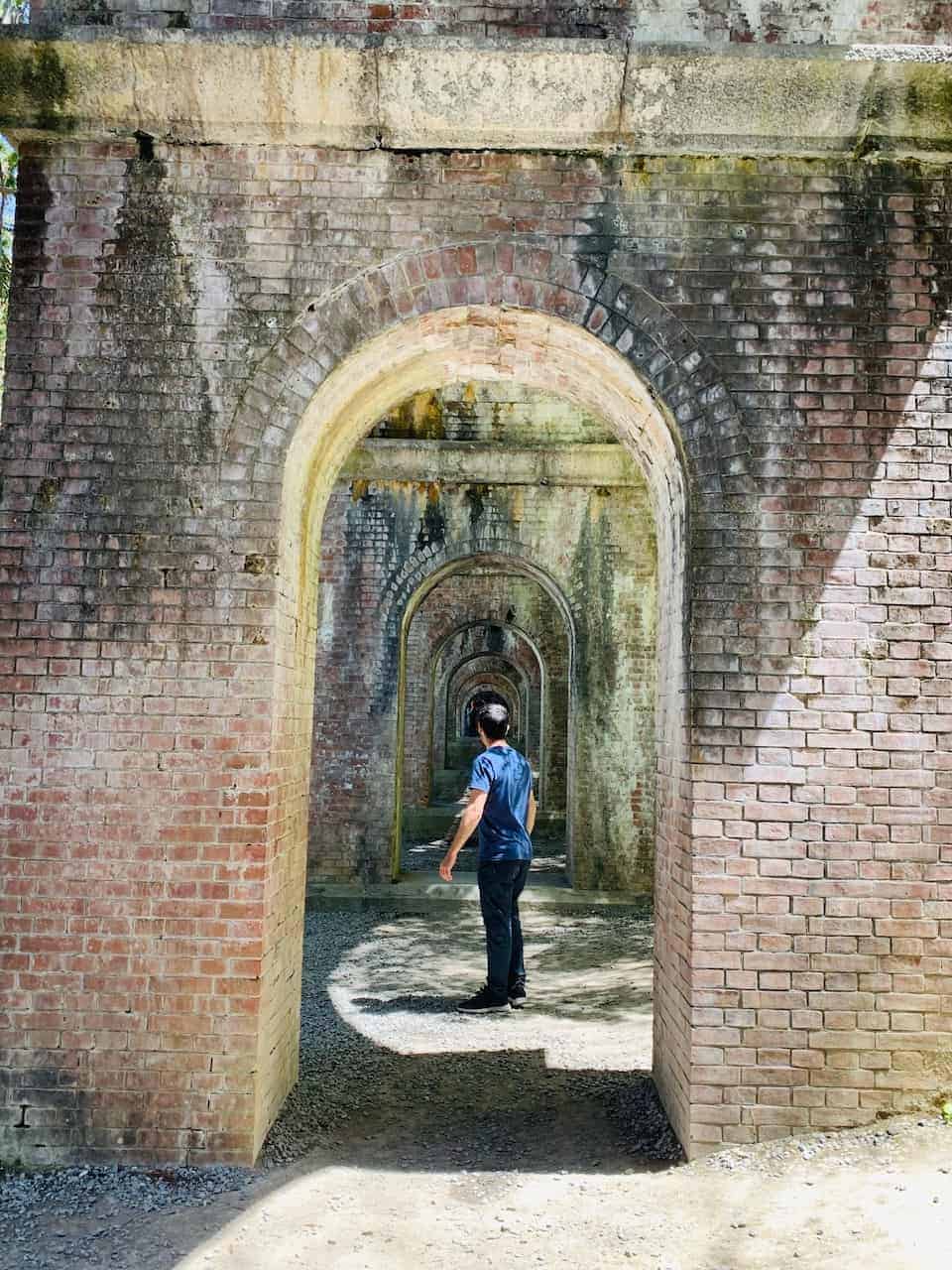 Chion-in Temple
The Chion-in Temple has some incredible architecture to take in and enjoy. You will find a spread out temple grounds with some ornate buildings and beautiful gardens.
Marayuma Koen Park
Now that you have explored some temples, continue along to Marayuma Koen Park. Not only will you find a great spot to enjoy some nature here, but you will also find the Yasaka Jinja Shrine.
Kodai-ji Temple
Another top temple to visit along the route is that of Kodai-ji. You will find a unique and pristine sand garden here alongside ponds, temple structures, and a small bamboo grove.
Ninen and Sannen zaka
You can then make your way to two of the most famous streets in Kyoto – Ninen and Sannen zaka. These walking streets are full of small shops and eateries as you head to the final stop of the day at Kiyomizu-dera Temple.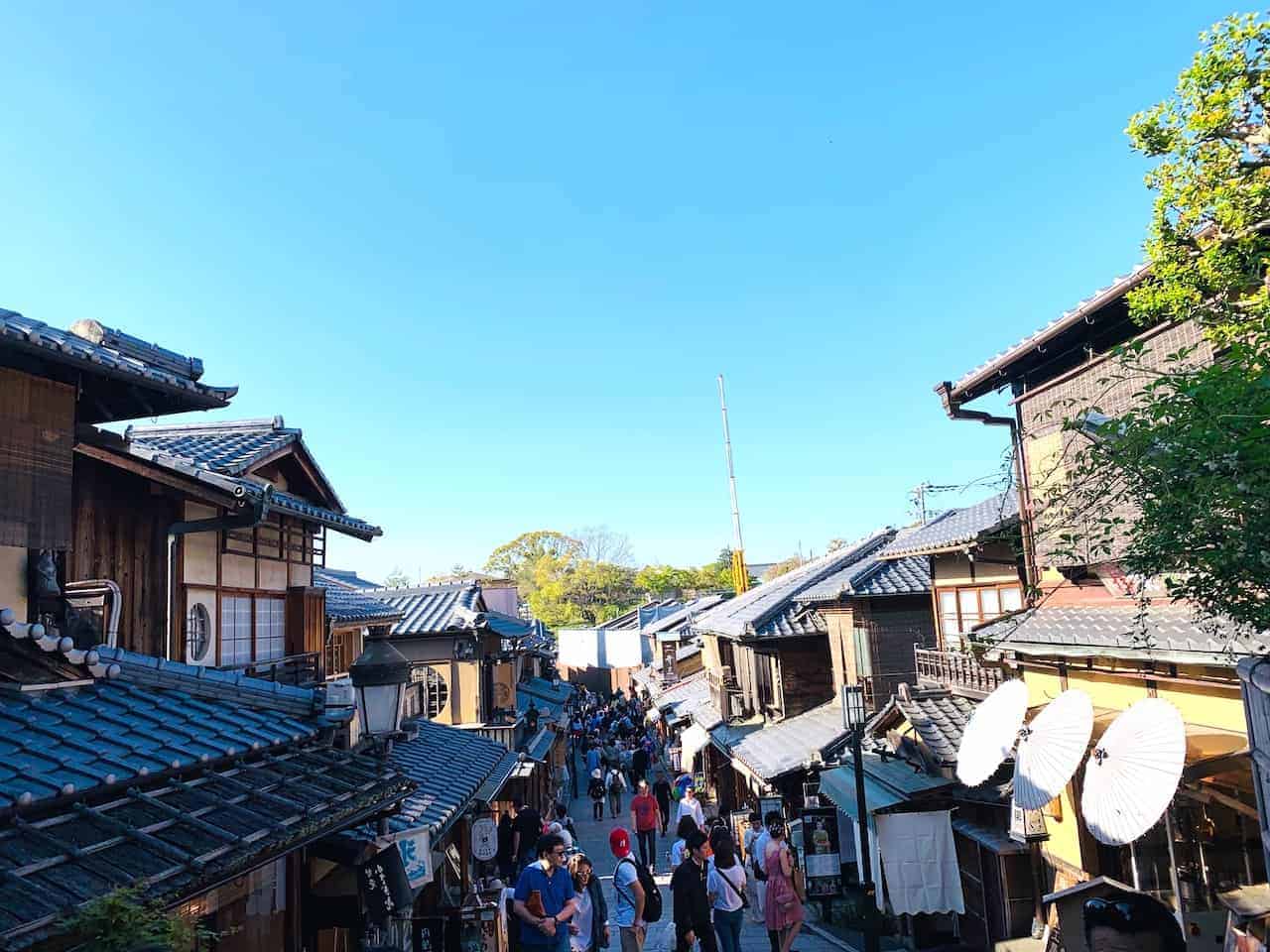 Kiyomizu-dera Temple
Finish off your day at the Kiyomizu-dera Temple grounds. You will find a massive temple structure along with some pagodas, the Otowa waterfall, and a great vantage point of the city of Kyoto from above.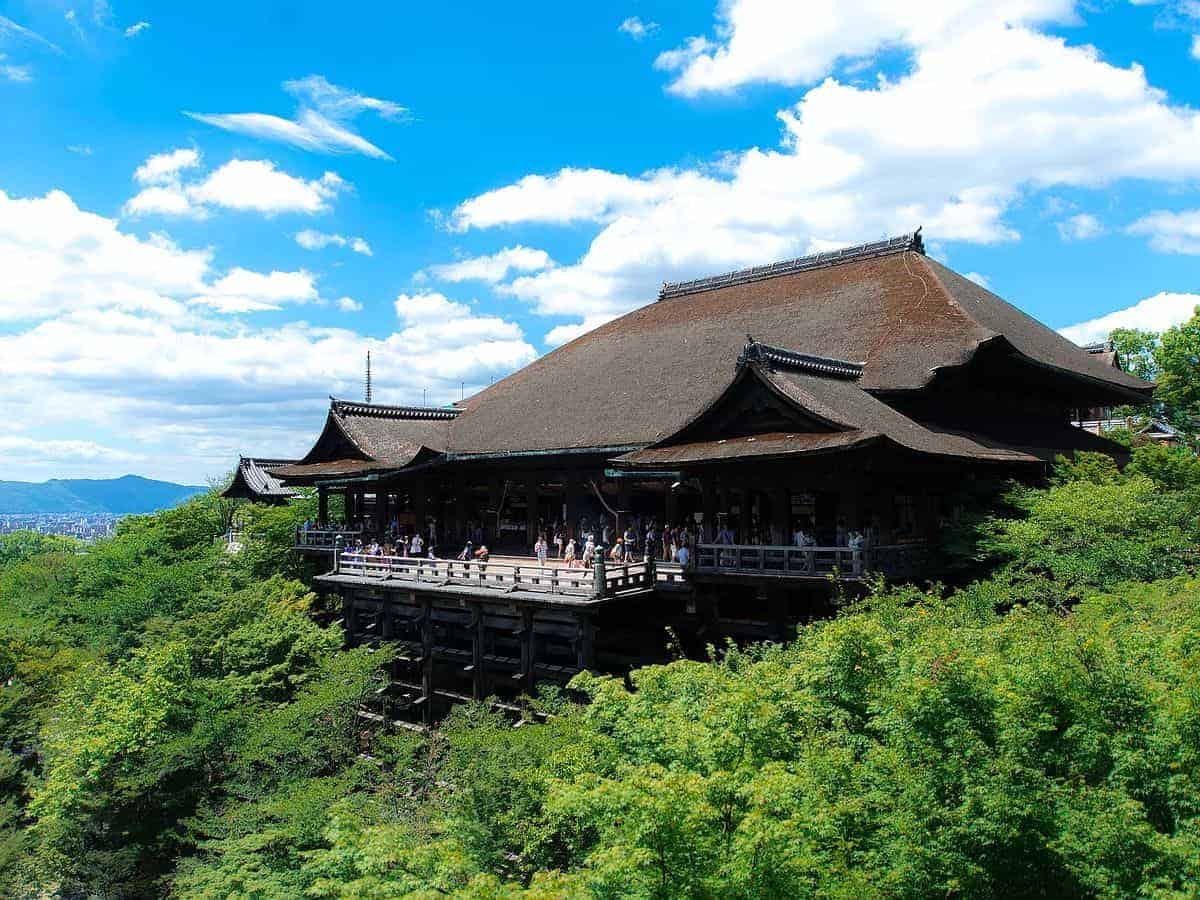 Day 7 – Kyoto
It is time to continue exploring all that Kyoto has to offer. Day 7 will bring you some of the most well known spots in Kyoto (do be prepared for the crowds!). These will include:
1. Kinkaku-ji Temple
2. Ryoan-ji Temple
3. Tenryu-ji Temple
4. Arashiyama Bamboo Grove
5. Arashiyama Monkey Park
Kinkaku-ji Temple
The most famous of temples in Kyoto has to be Kinkaku-ji. Its golden color makes it one of the most well known places in all of Japan. Head there close to opening time to avoid the crowds!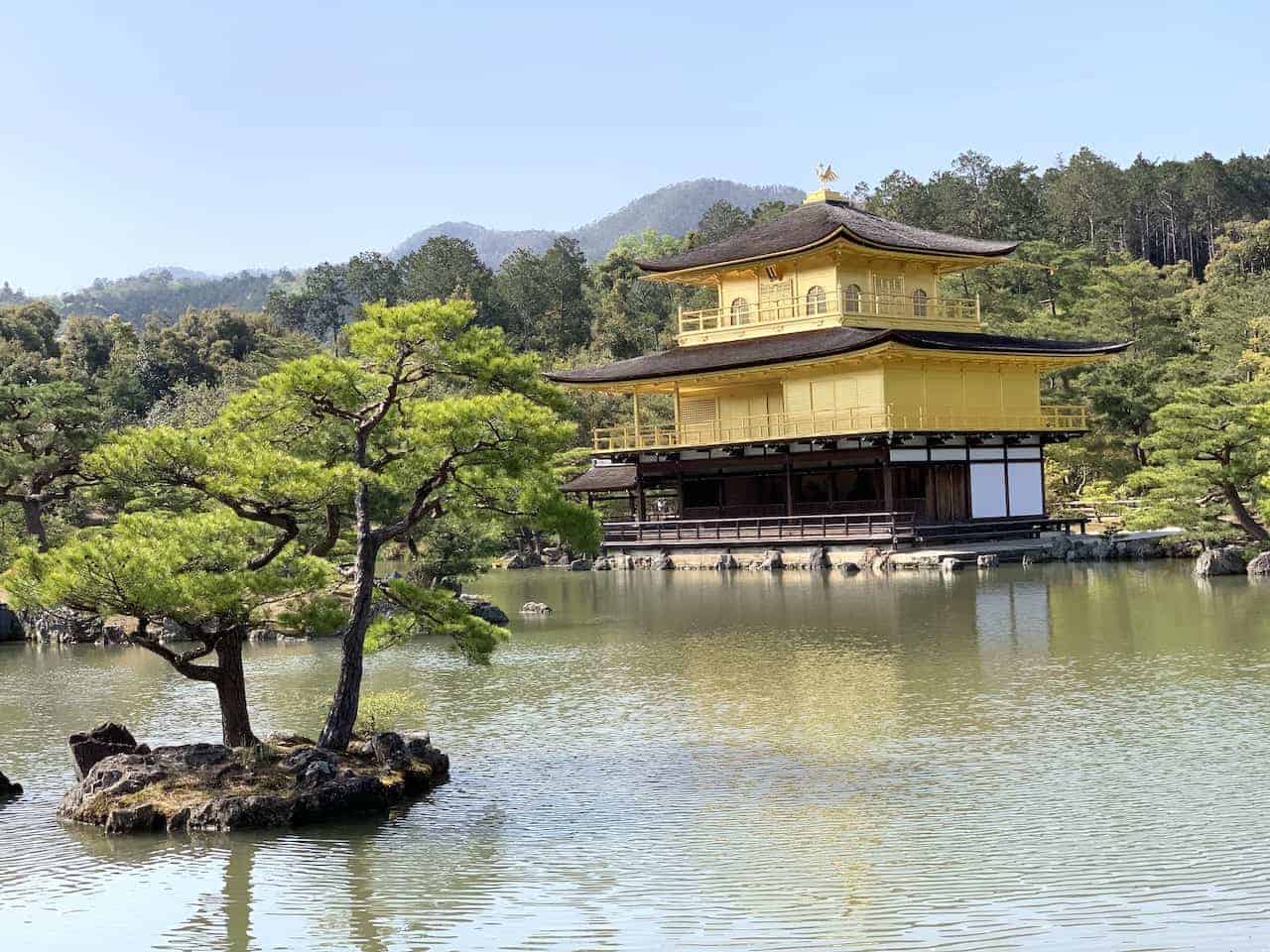 Ryoan-ji Temple
Up next is Ryoan-ji Temple and its 15 piece rock garden. No matter where you stand you won't be able to see all 15 rocks at the same time. Give it a shot yourself!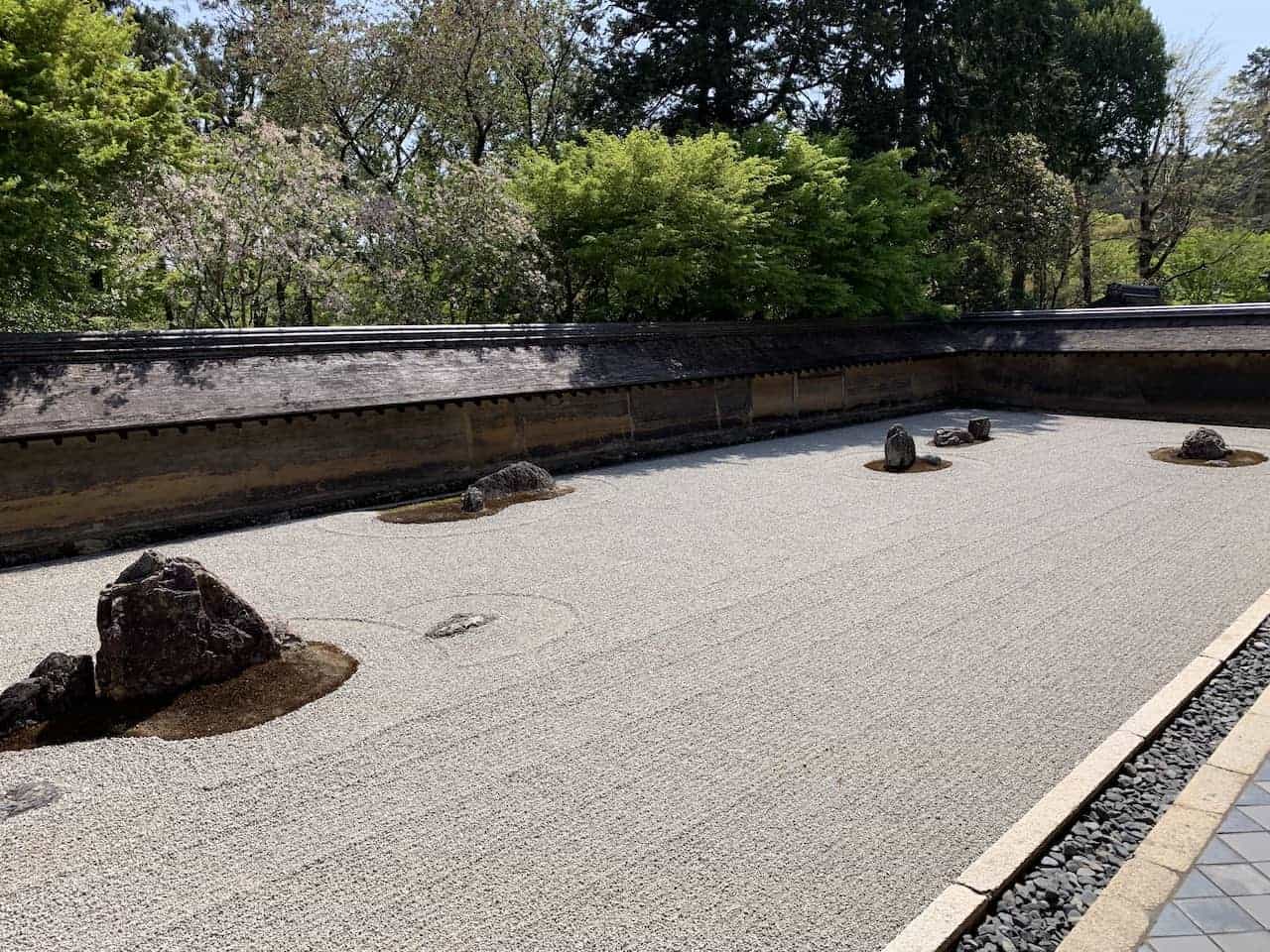 Tenryu-ji Temple
Head on over to the Arashiyama area, where you can first make your way to the Tenryu-ji Temple – the most important Zen temple in Kyoto!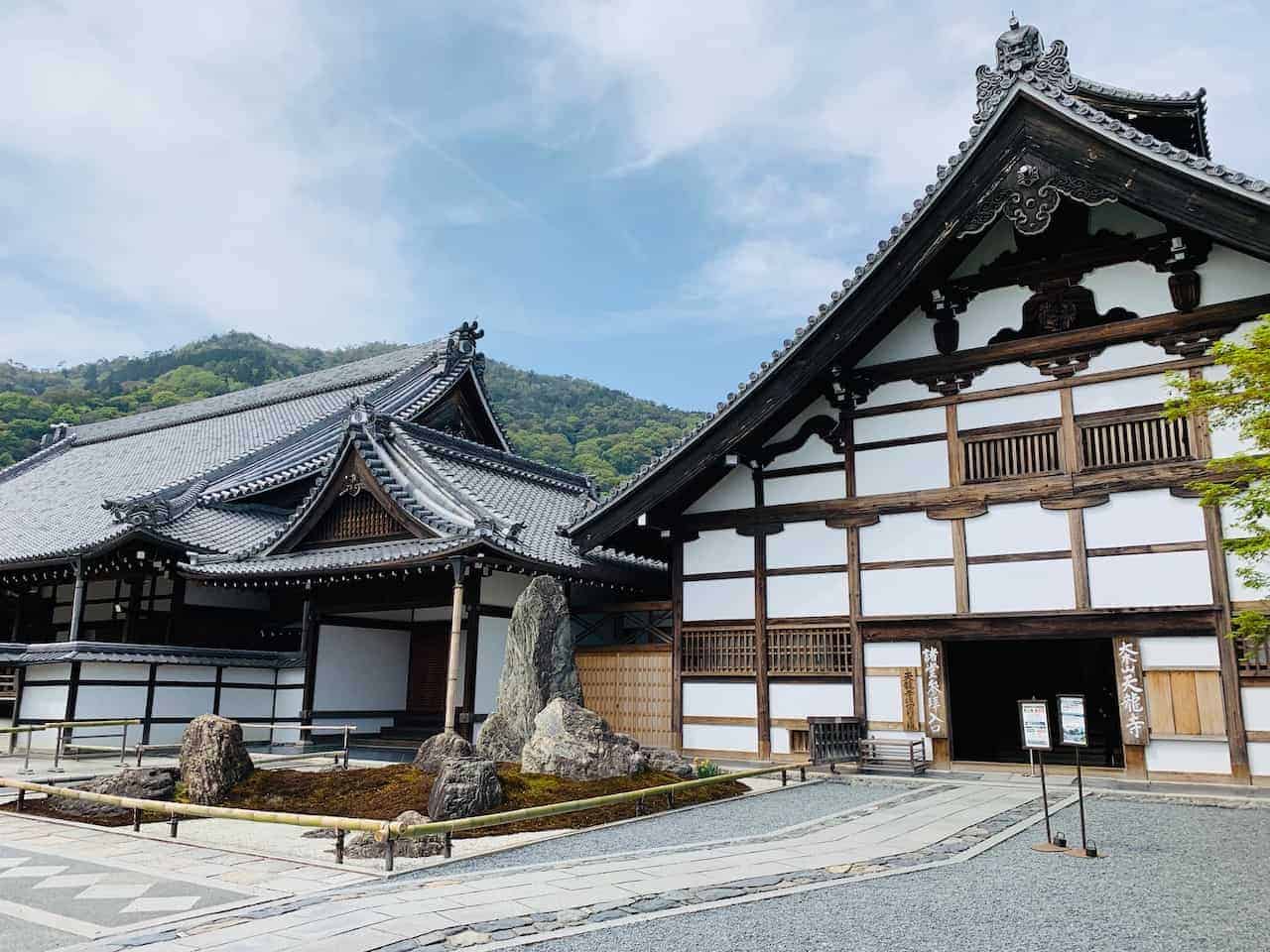 Arashiyama Bamboo Grove
The bamboo grove it right nearby where you can make your way through the towering bamboo trees all around you. It is a quite a sight to be seen but be prepared to share the path with many others.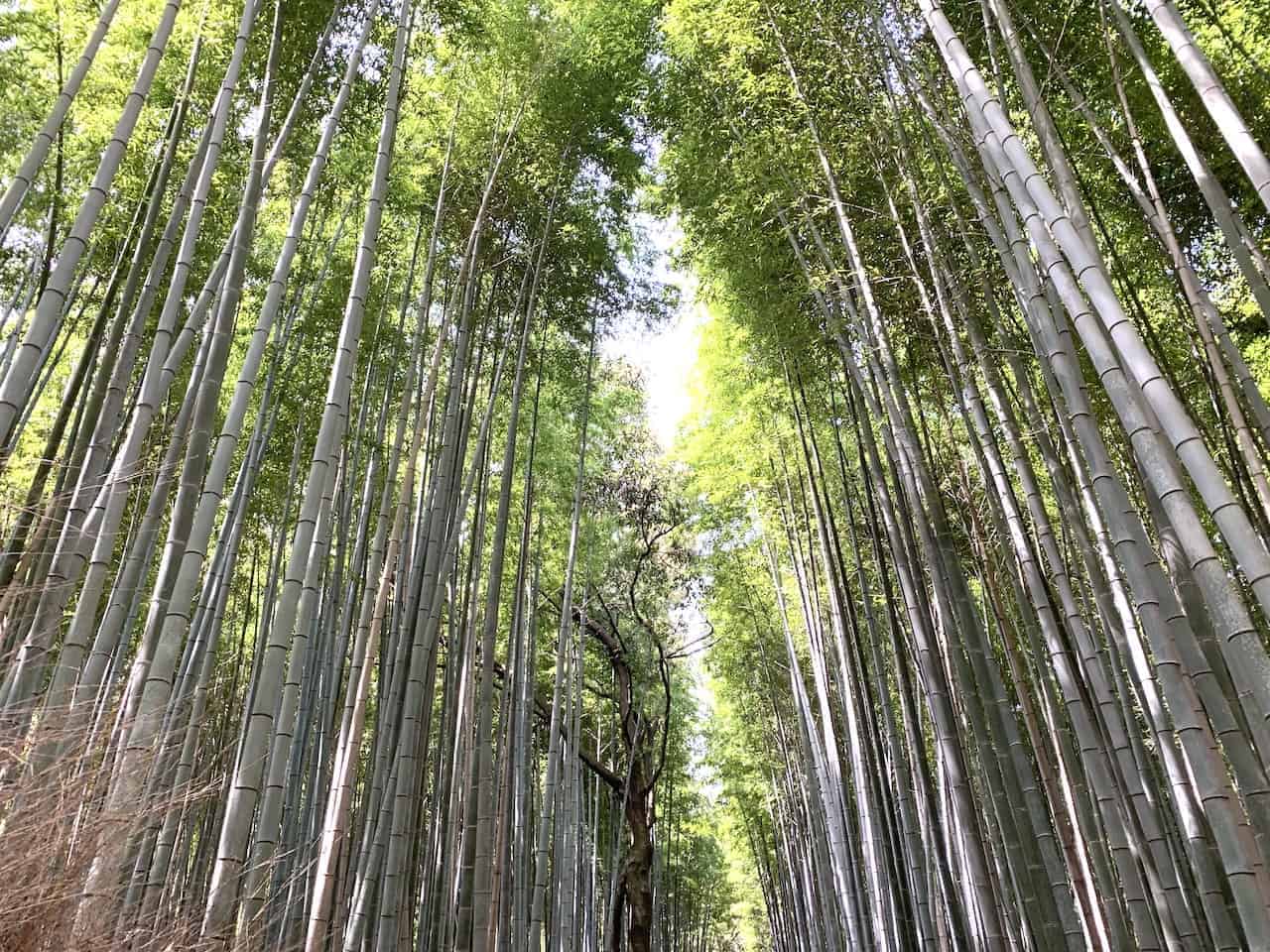 Arashiyama Monkey Park
Last up is the Arashiyama Monkey Park – don't worry this isn't a zoo where monkeys are caged in. They are free to come and go as they want around the area. Make the way up the hill and be welcomed to plenty of monkeys roaming around and some great views of the city.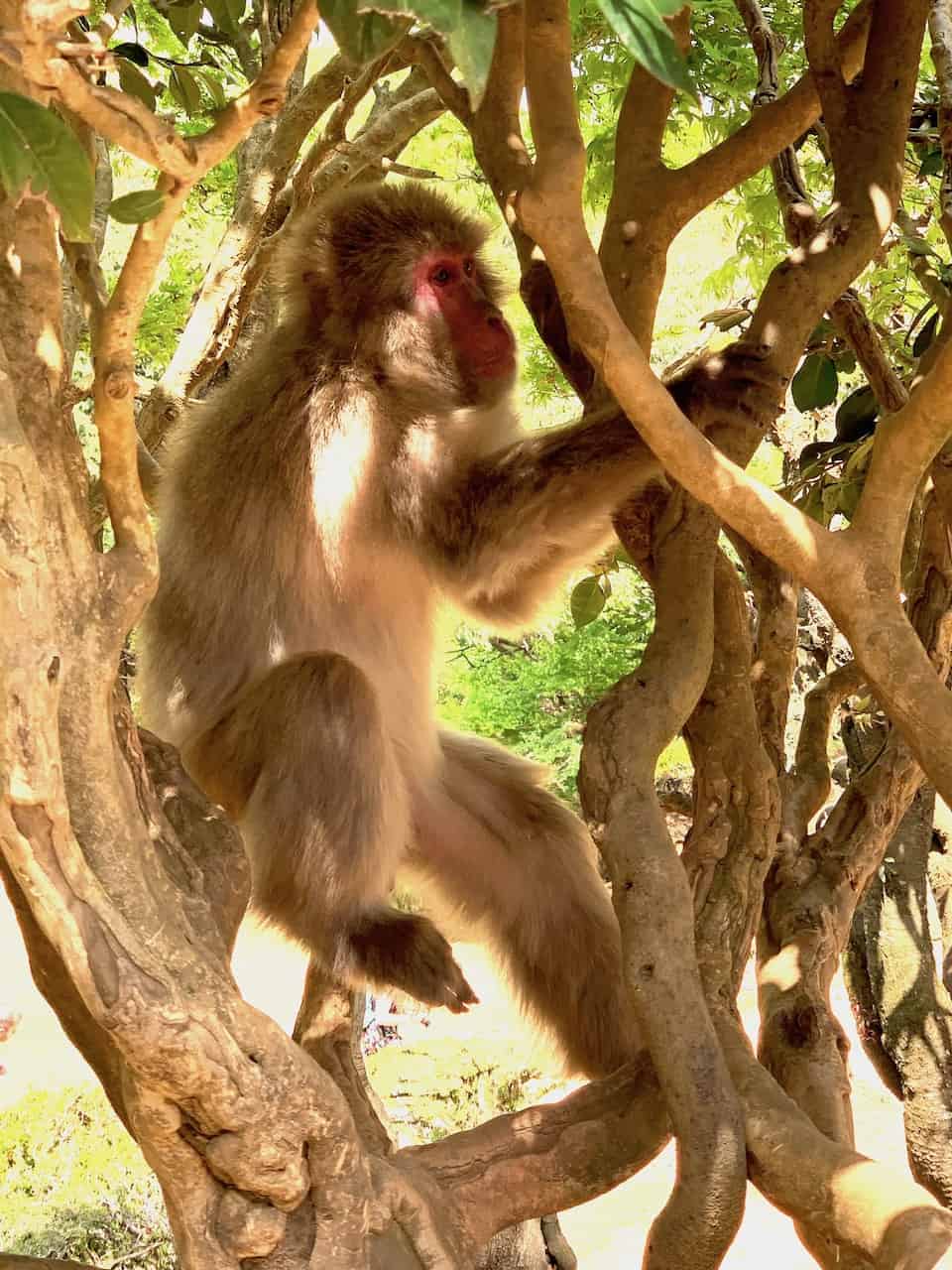 Day 8 – Kyoto
Your last day in Kyoto itself will take you to some more of Kyoto's main attractions as well as one of the best food markets out there. You can follow this route for the day:
1. Nishiki Market
2. Nijo Castle
3. Imperial Palace
4. Fushimi Inari
Nishiki Market
Your first stop will be Nishiki Market, where you will find a long long corridor filled on either side with all types of food options. You can try a bunch of different types of Japanese cuisine before continuing on with your day.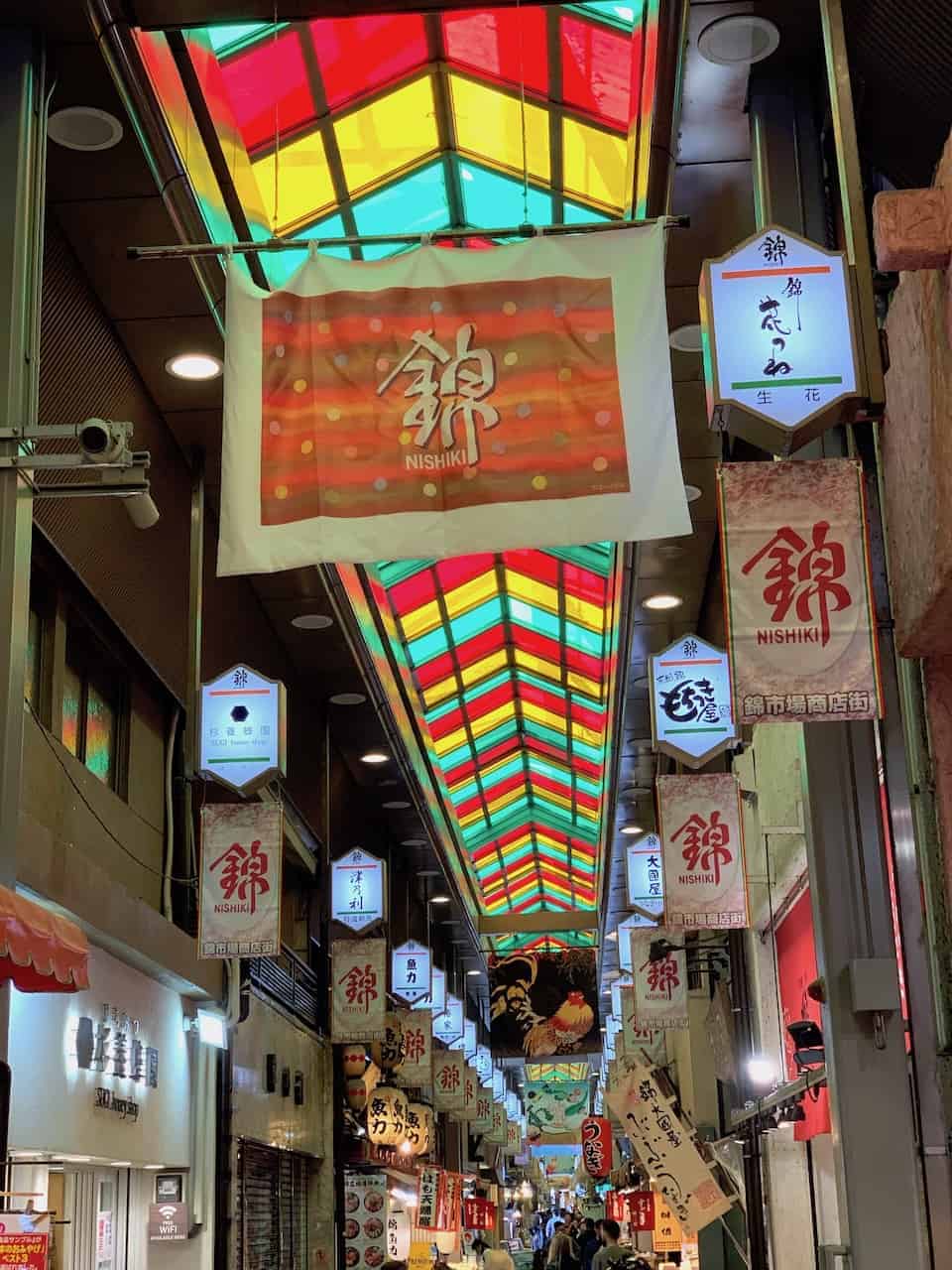 Nijo Castle
At Nijo Castle you will be able to tour around all areas of the castle including gardens, palaces, gates and plenty of other structures. And don't forget to check out the famous nightingale floors – a squeaking floor security system that helped catch intruders who entered the building.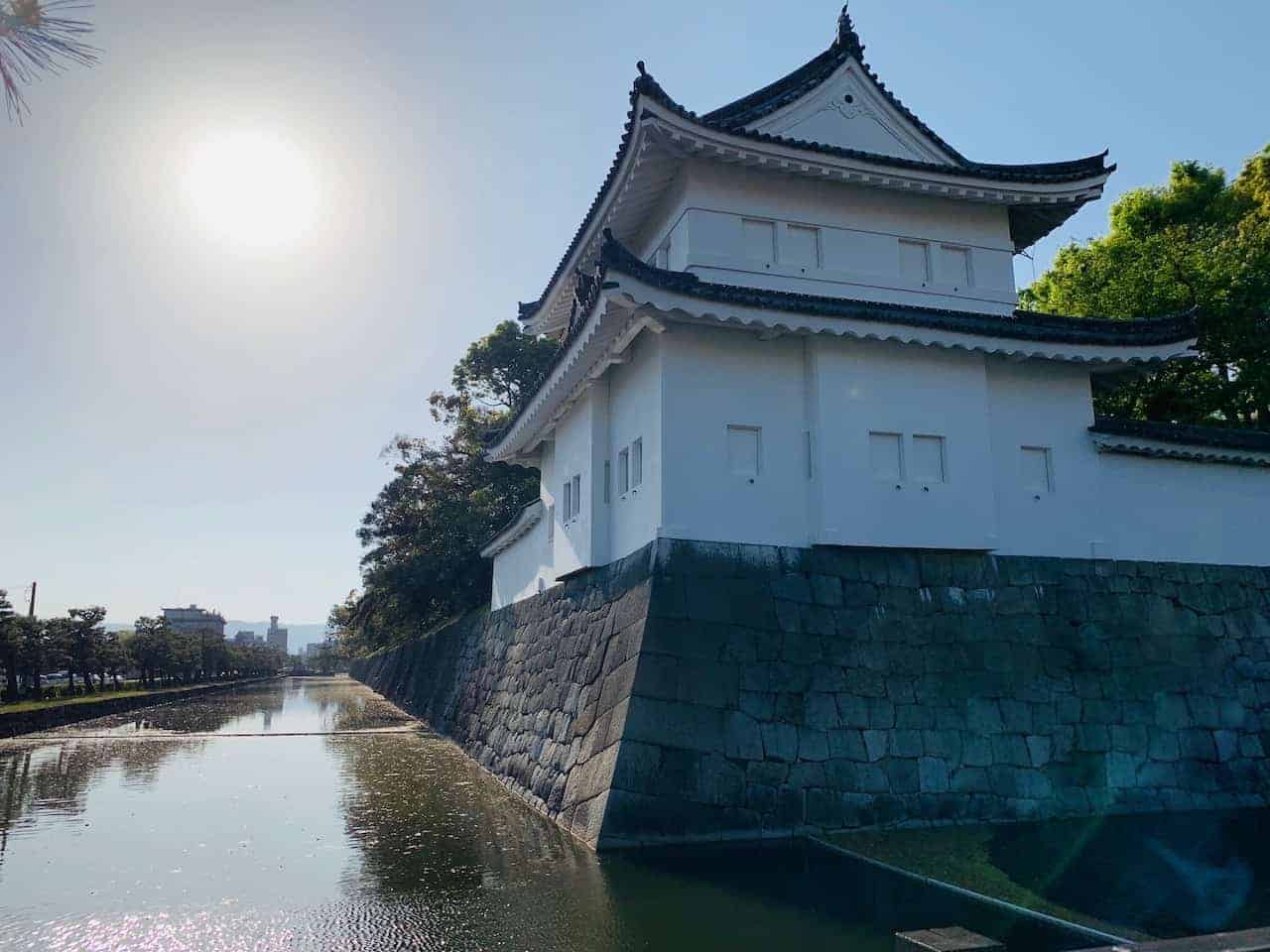 Imperial Palace
Next up is the Imperial Palace of Kyoto, which is part of a larger park area. This place is absolutely massive as it makes up a huge piece of land right inside the city. You can spend time just wandering the park grounds and you can also choose to enter the Imperial Palace area too.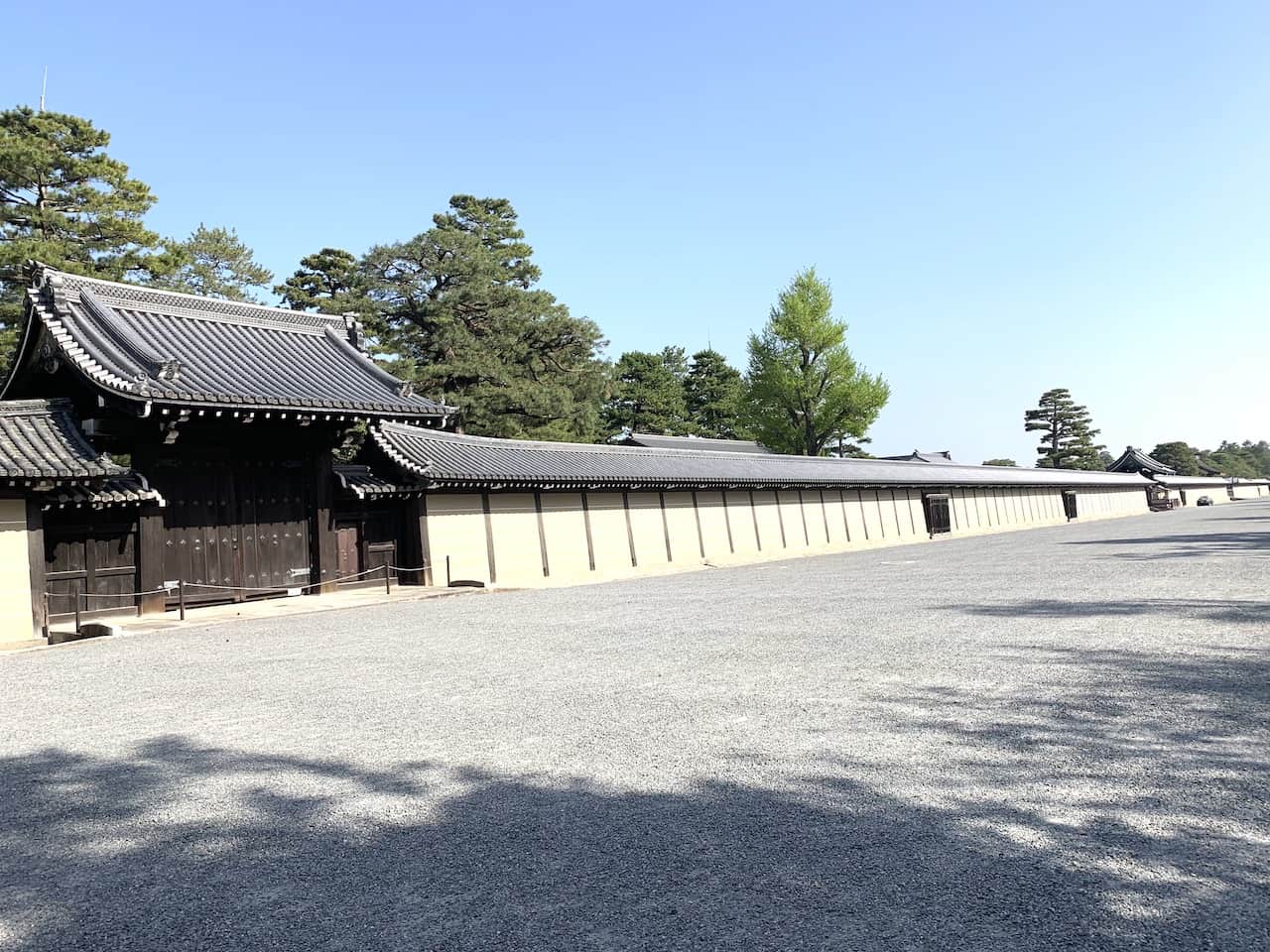 Fushimi Inari
End your day in Kyoto by visiting Fushimi Inari – a temple with thousands of torii gates lining up the mountain. You can head up as far as you would like before turning around and heading back down.
I would recommend heading there for sunset and walking up to the Yotsutsuji Intersection, a great spot to see the sun come down over the city.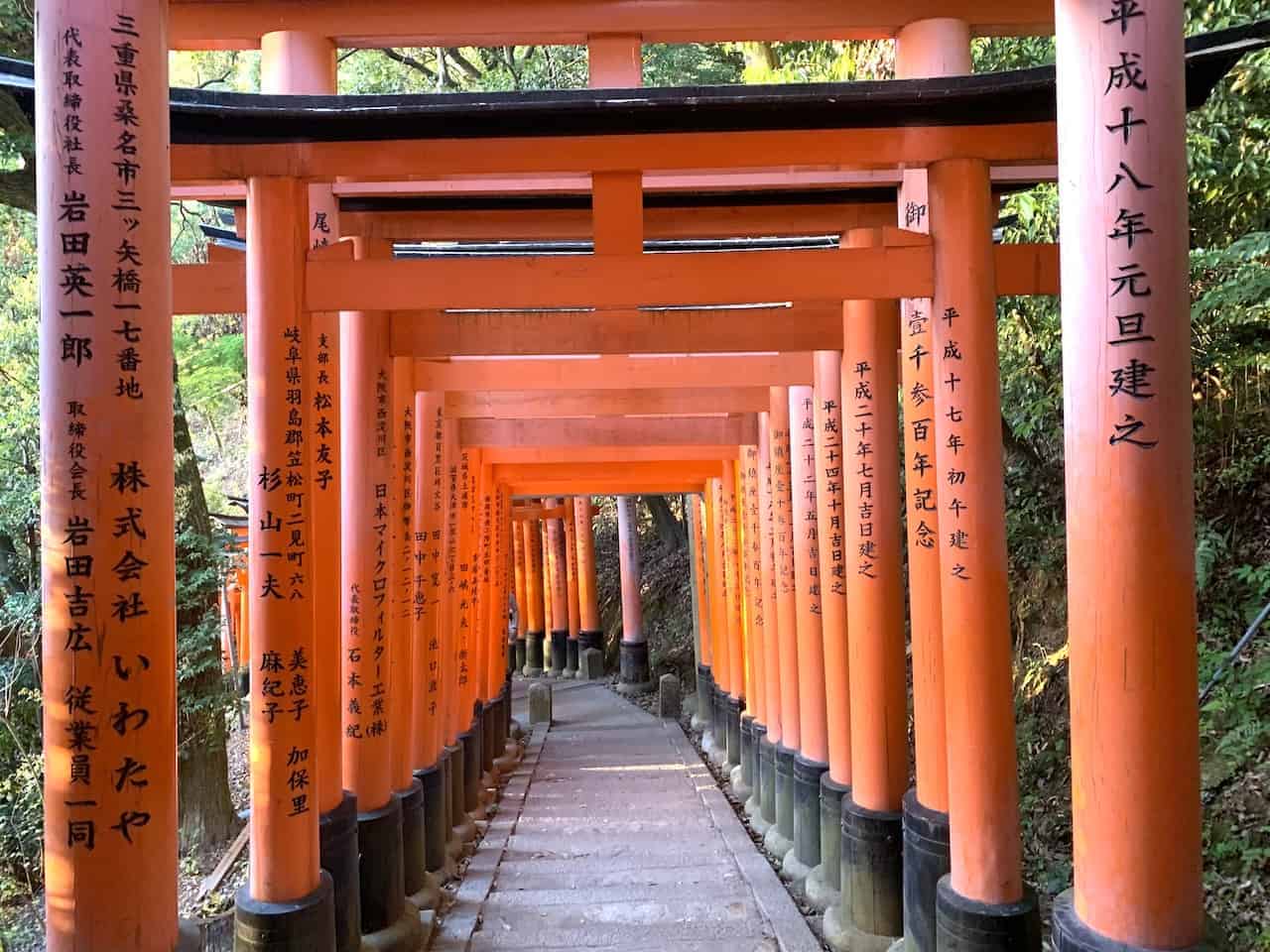 –> Don't forget to head to the Gion area one night – maybe you will be lucky enough to spot a geisha!
Day 9 – Miyajima / Hiroshima Day Trip
It is now time to head out of Kyoto on some day trips. The first of which is to Miyajima and/or Hiroshima. You can choose to head to one or another, or even both of them. If you want even more time to visit each, you can consider an overnight in Hiroshima, and cut out a day somewhere else on the itinerary.
If heading to both Miyajima and Hiroshima, I would advise on a very early start to the day to take advantage of everything they have to offer. You can start the day by taking a train from Kyoto to Hiroshima (2 hours), then transfer to Miyajimaguchi (30 minutes), and then take the ferry from there (10 minutes) to Miyajima.
In Miyajima, you can see the famous Itsukushima Shrine complex and its massive torii gate, check out some other temples such as Senjokaku and Daisho-in Temple, and then make your way to Mt. Misen by cable car or by hiking. After seeing everything you would want to see in Miyajima, head back to the mainland by ferry, take the train to Hiroshima, and then head into the city center.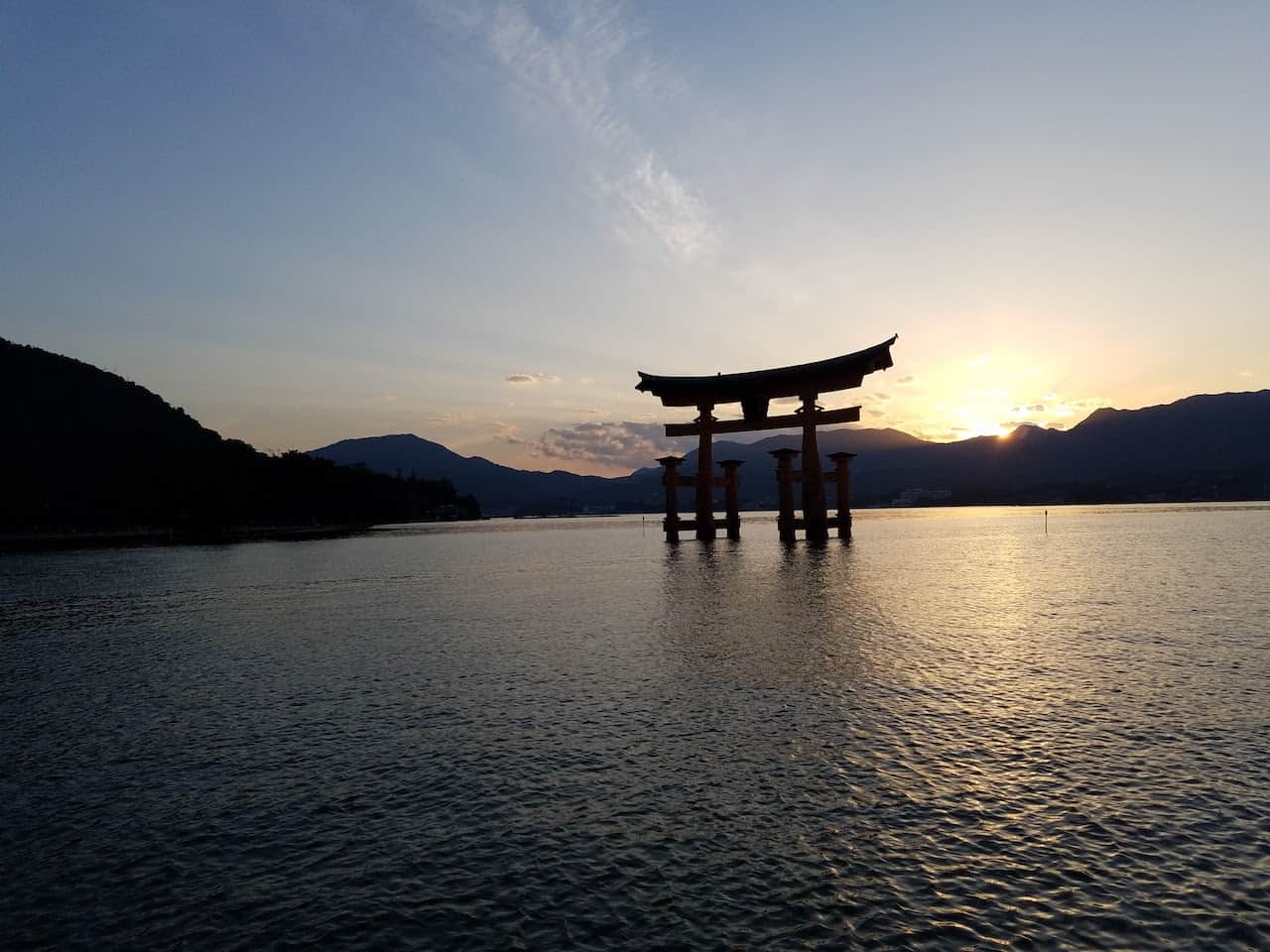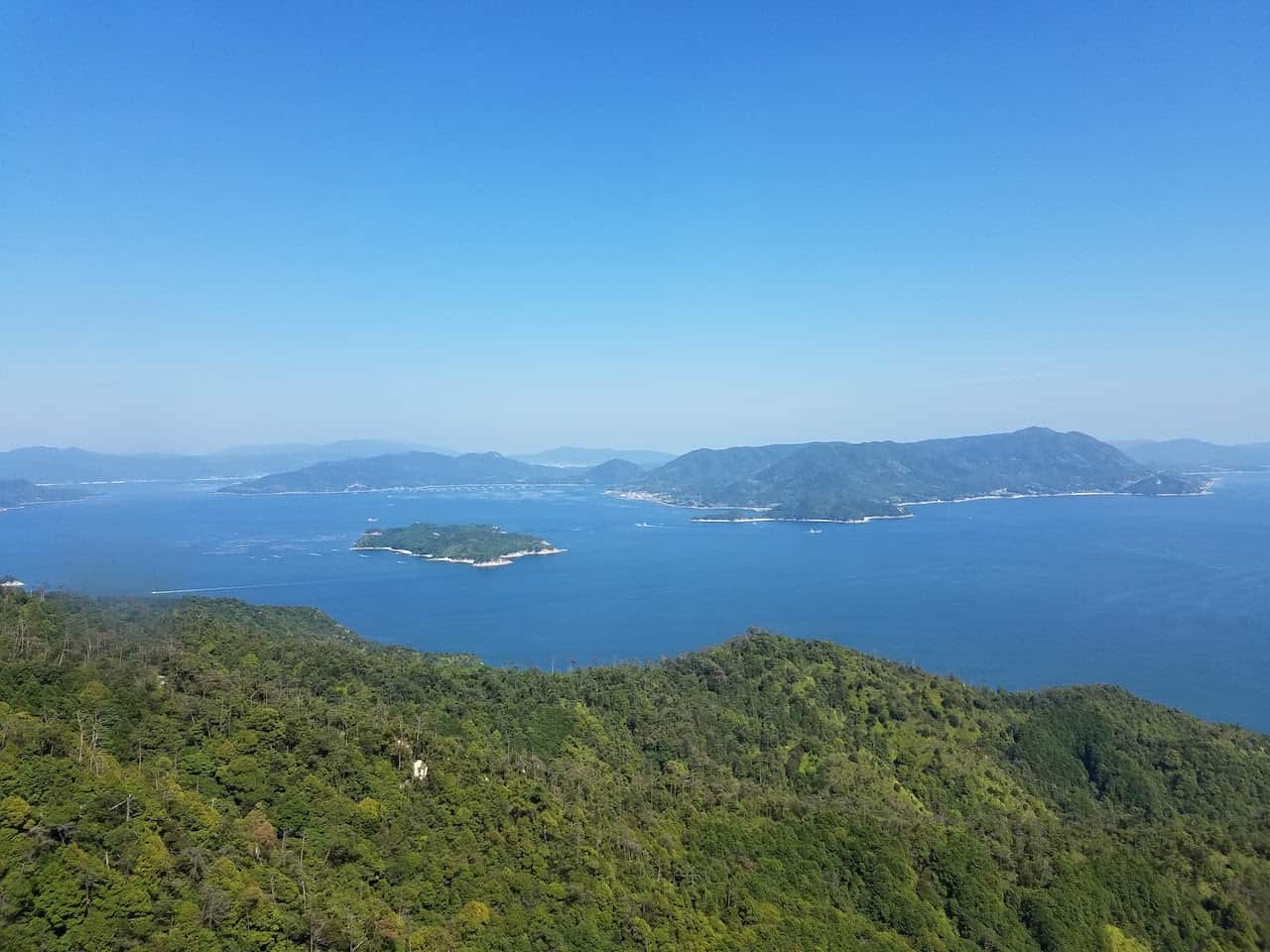 For Hiroshima, I do not think you would need a full day here and you can certainly fit in a lot in just a few hours as many of the city's main attractions are not too far apart. You can visit things such as the Atomic Bomb Dome, the Peace Memorial Park, the Peace Memorial Museum and Hiroshima Castle.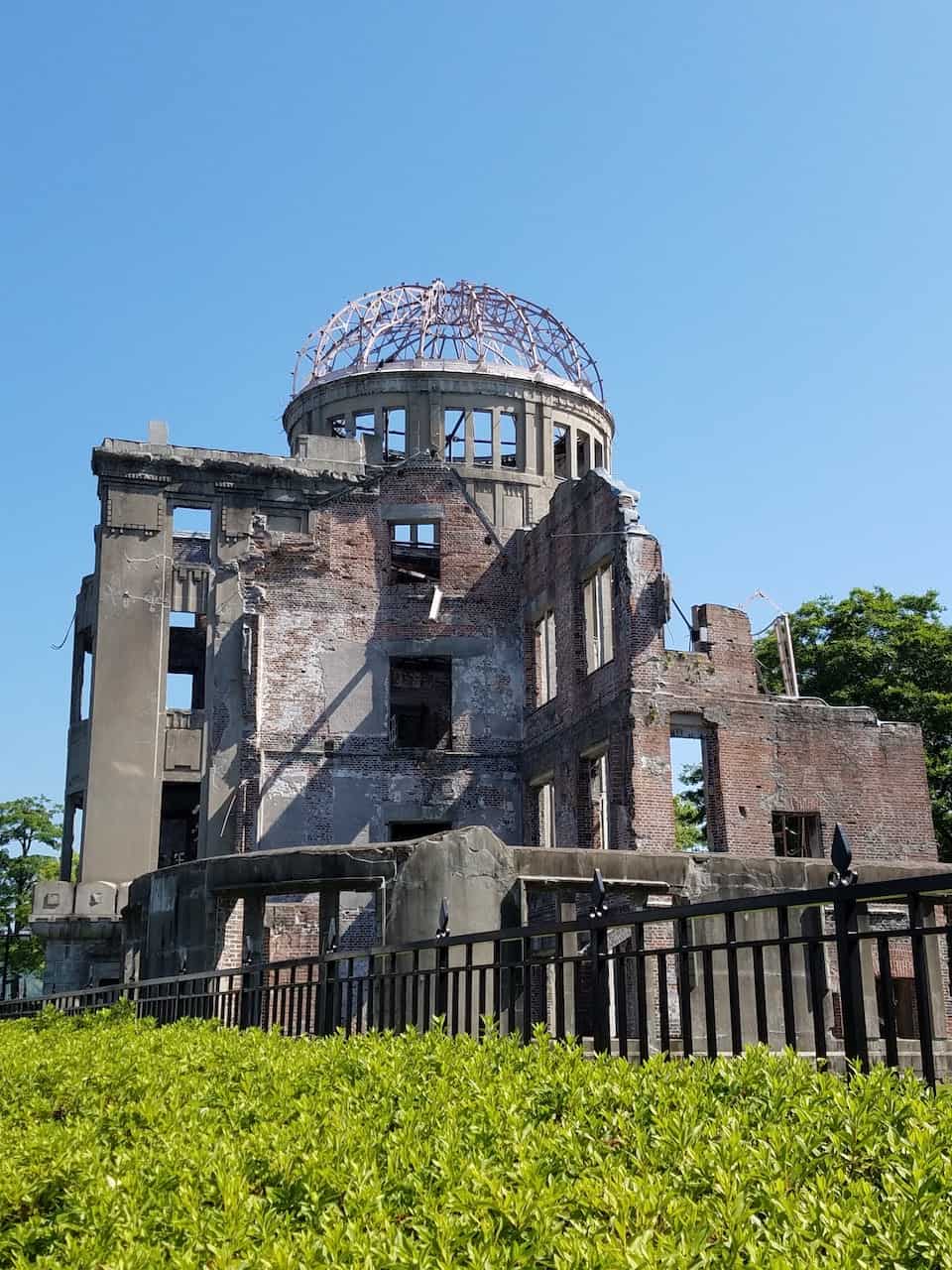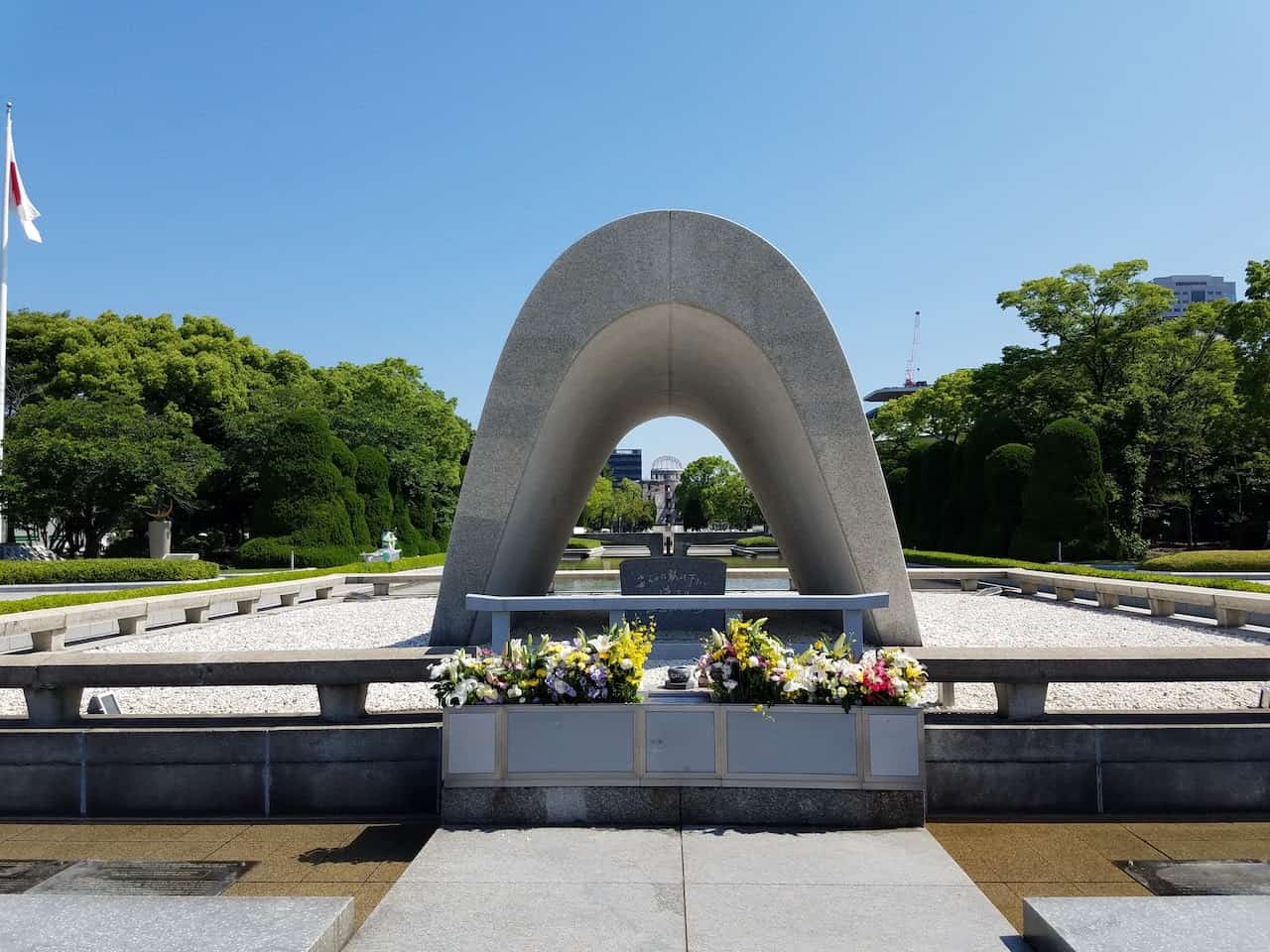 Once done in Hiroshima, simply make your way back to Hiroshima Station and hop on the train back to Kyoto. It is sure to be a long day but it will be well worth it.
Alternatively, if you do not want to head to both in a single day, then simply just head to one of them and you will be able to take your time as you make your way around either of the two.
» Take a look at the Hiroshima and Miyajima guides up on the site for more details about each
Day 10 – Nara Day Trip
On your last day in Japan, you can make the day trip to Nara. If you have not seen the pictures or read about Nara before, imagine a town with thousands of deer roaming all around. Heading to the park, checking out temples, going on a hike – well you are sure to pass deer everywhere you go. And there is much more to Nara than just the deer. During your time in Nara be sure to check out:
1. Sanjo-dori Street & Nakatanidou Mochi Shop
2. Kofukuji Temple
3. Nara Park
4. Yoshikien or Isuien Garden
5. Todaiji Temple Complex
6. Nigatsudo and Hokkedo (part of Todaiji)
7. Mount Wakakusayama
8. Kasuga Taisha
» Be sure to read through the Nara Day Trip Guide for everything you need to know about the day
Day 10 Note: Remember you can easily move your days around in Kyoto so your last day is not a day trip (in case you need to head to Tokyo or Osaka later on in the day to catch your flight). If your flight is on day 11 and not too early in the day, you can spend one last night in Kyoto before heading to Tokyo.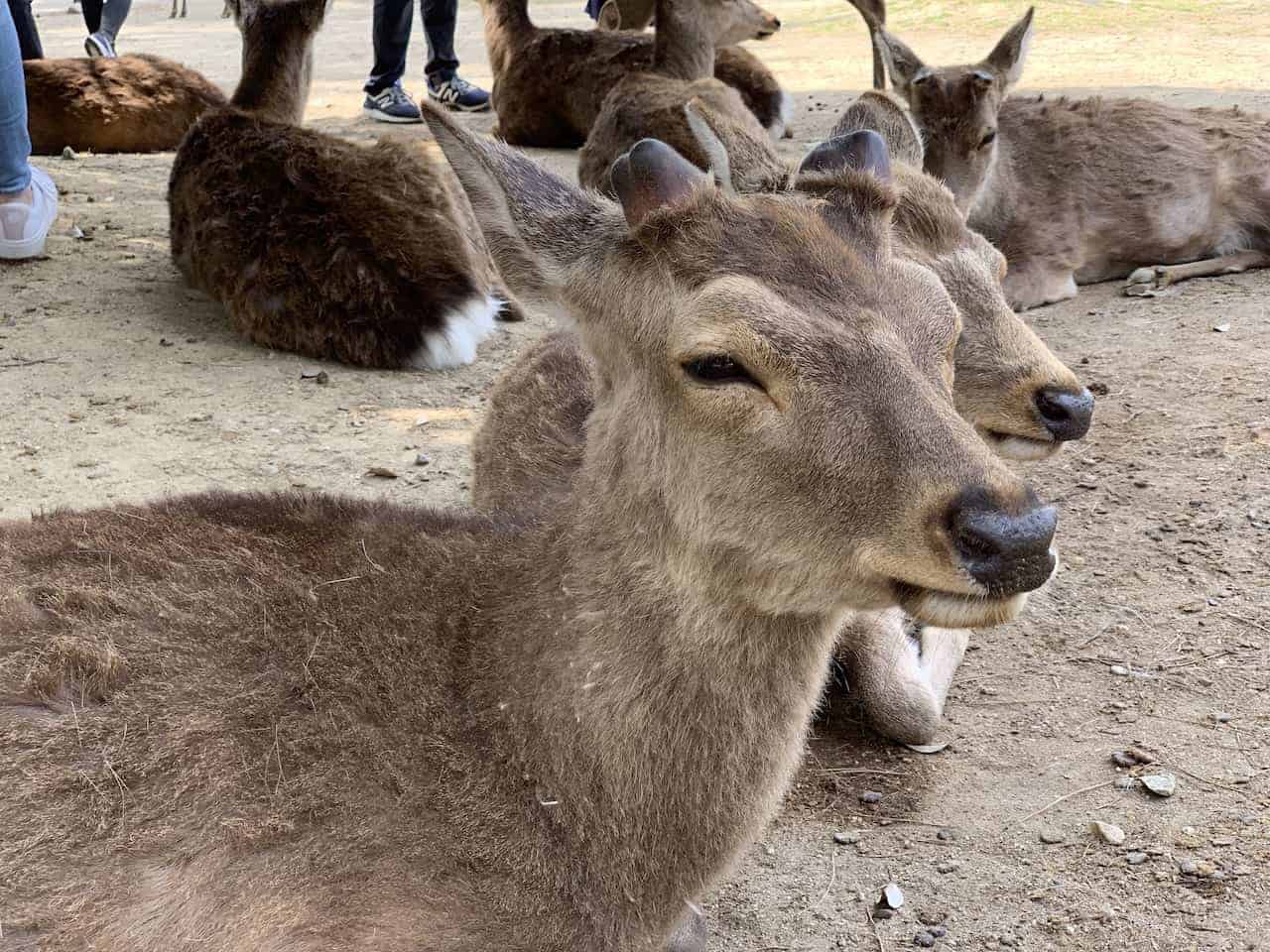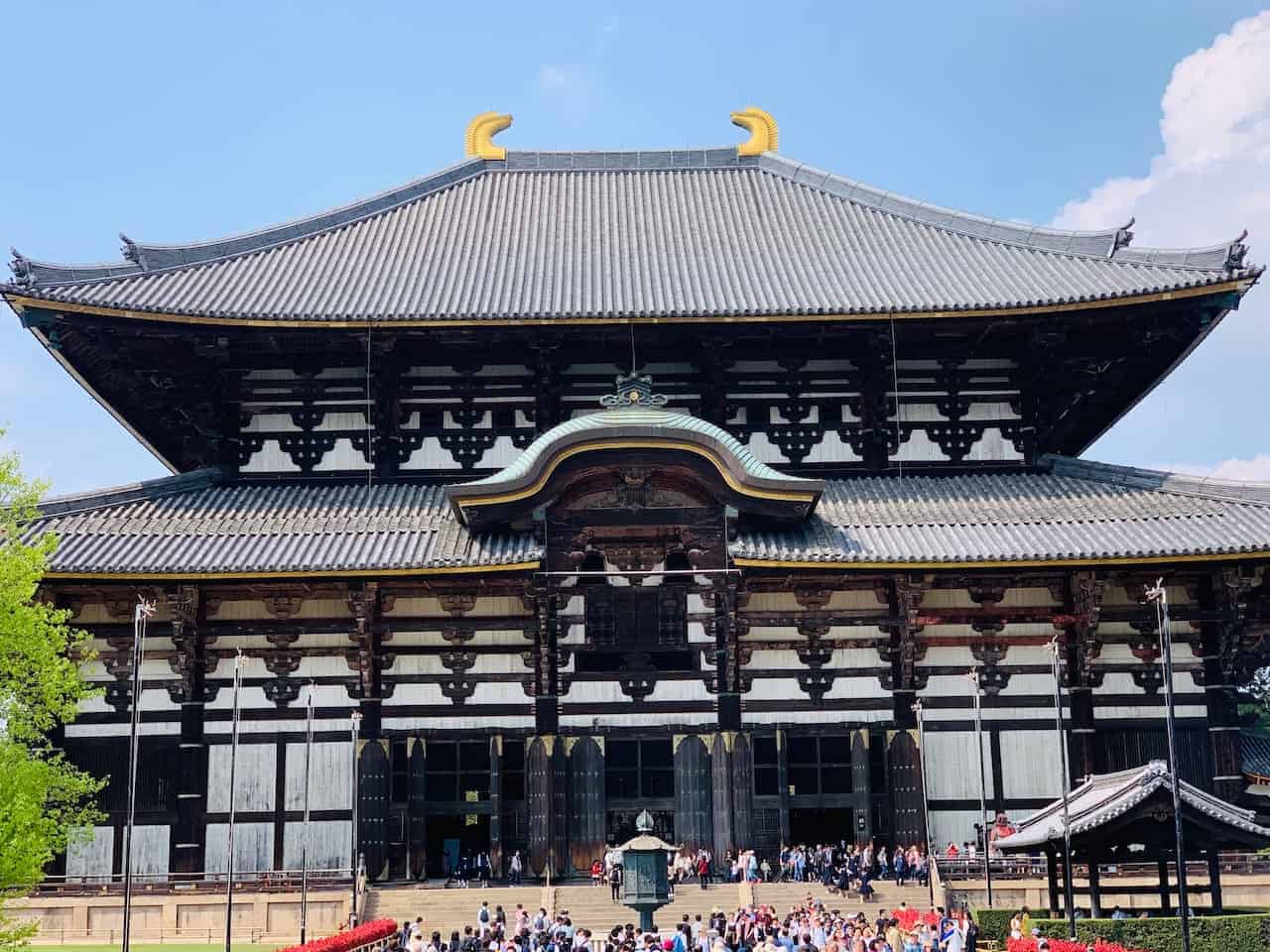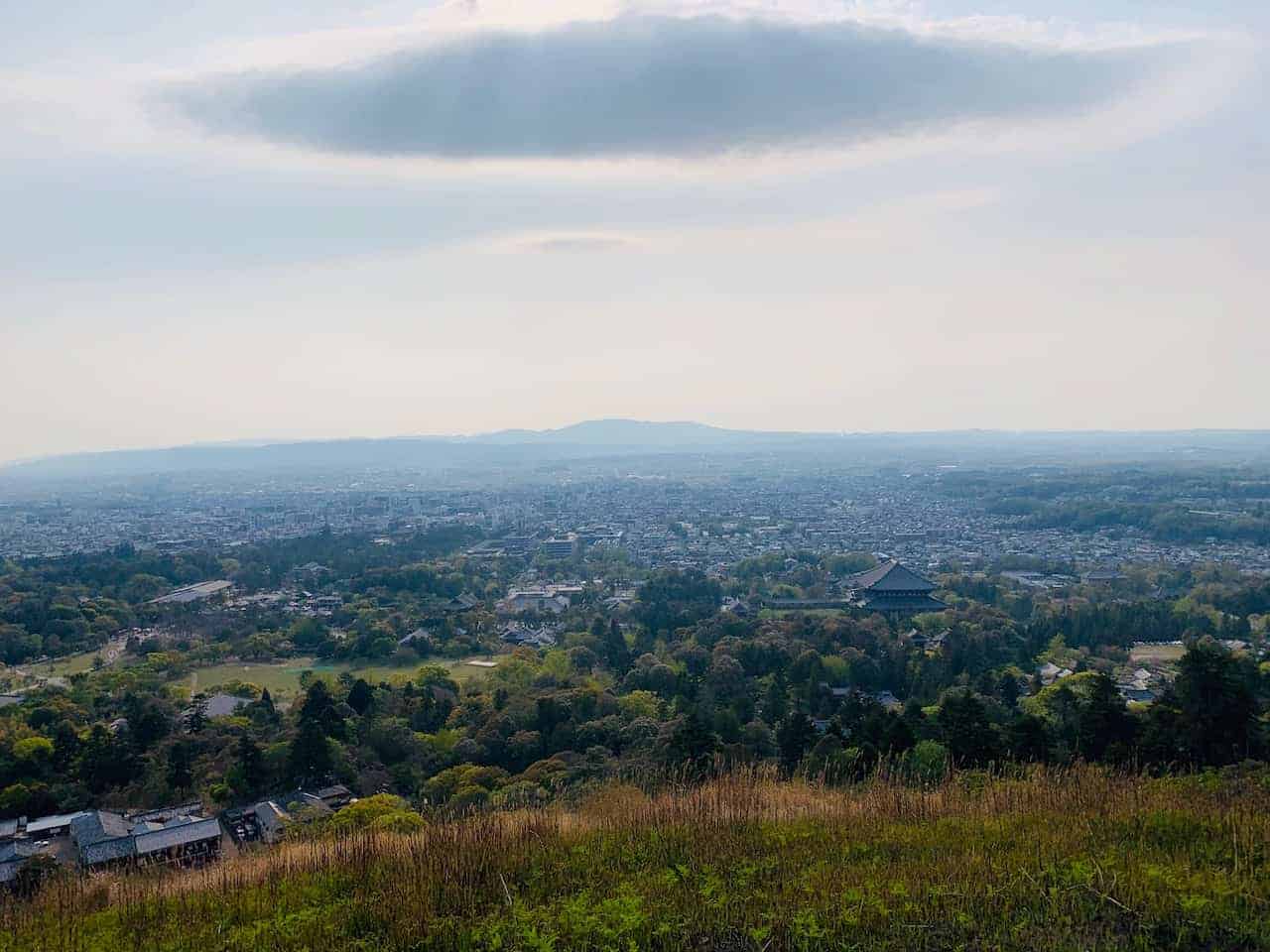 ​I hope that this itinerary has helped you out a bit more to prepare you for 10 days in Japan. There is just so much do see and do in the country, and I think this can be a great starting point for your trip.
Head over to the Japan itineraries and guides page to check out some more helpful posts. Have more or less time to spend – check out the 7 day Japan itinerary and 14 day Japan itinerary up on the site.
Feel free to comment below with any questions! Have fun out there and safe travels!