Are you headed to Japan and want to put together the best possible trip? Well, this one week in Japan itinerary will walk you through how to mix and match cities to create the best route for you!
Given how many different places there are to visit, it can be difficult figuring out an itinerary for one week in Japan. By reading through this overview, you should get a better sense of the many various option to consider as your itinerary comes together.
So, feel free to read on to learn more about Japan and what one week in the country can look like for you.
* Affiliate Disclosure: This post may contain affiliate links, which means I may receive a commission if you make a purchase through the links provided, at no additional cost to you. Thanks for supporting the work I put into TripTins!
One Week in Japan Overview
For most of the itineraries you will find on the site, (including the 10 day Japan itinerary and 14 day Japan itinerary), I list out a day to day approach of what to follow.
However, for this itinerary, I thought it may be a better idea to lay out many of the top options, and for you to decide what places interest you most.
The idea here is to give you several different cities, activities, & attractions to choose from, and you can then mix and match a one week in Japan trip that best suits you!
Don't worry though, I will also list out some great potential itineraries later on if you would like to just build off of those.
Before jumping into the itinerary itself, I wanted to list out some helpful things to know about Japan and this itinerary in particular:
» Assume that day 1 and day 7 are full days. That means you should plan to arrive the night before or early on day 1 and head out later on day 7 or sometime on day 8.
» If you follow my advice and include both Tokyo and Kyoto in your itinerary, you can decide to fly into and out of Tokyo, into and out of Osaka (1 hour train from Kyoto), or into one and out of the other.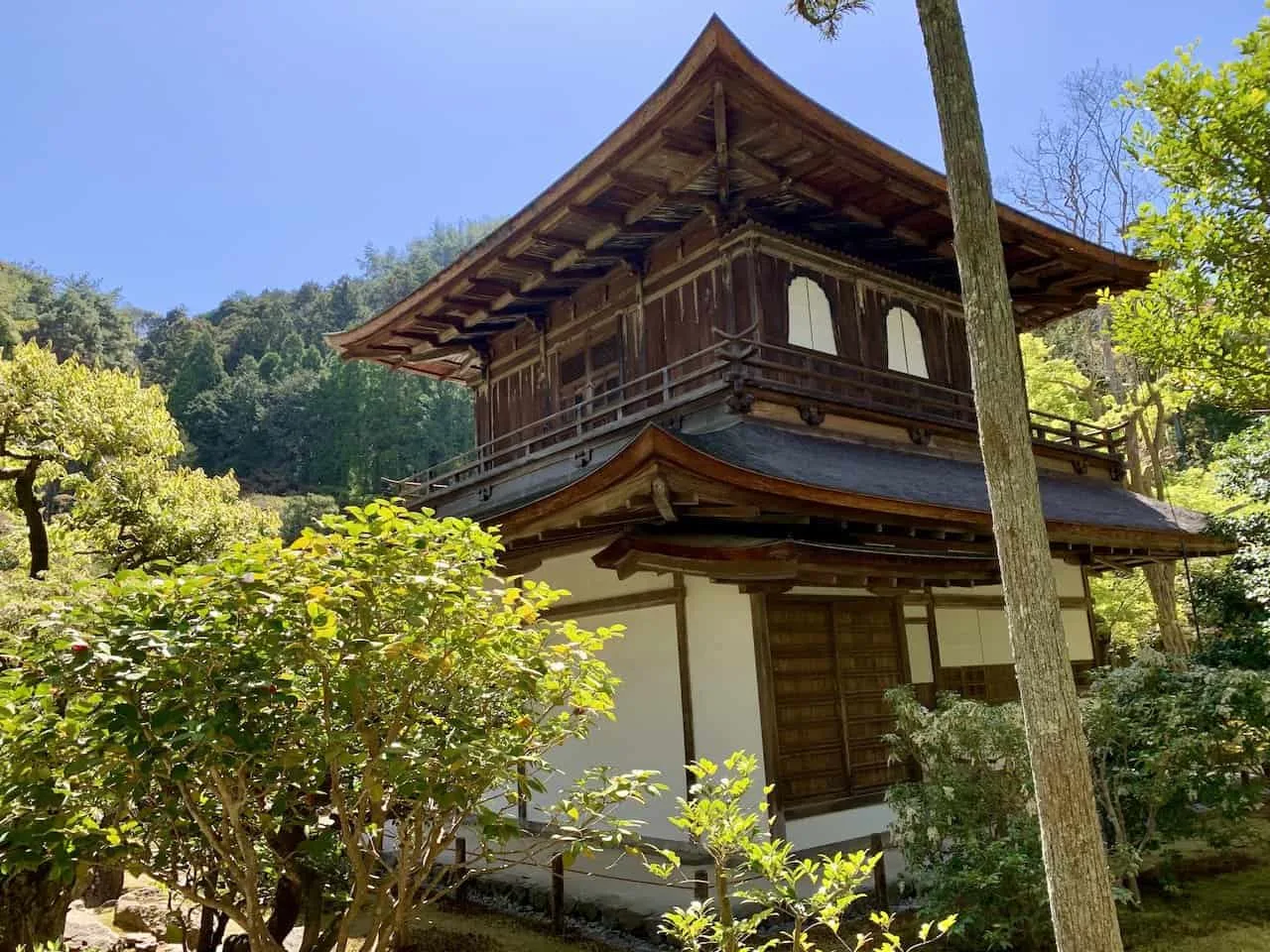 Is 7 Days Long Enough in Japan?
The first question you may be asking yourself when putting together a trip like this is if 7 days is long enough in Japan? The answer to that really depends from person to person.
As you will see in this rest of this itinerary, there is so much to do all throughout the country. While some people may want to do it all and spend multiple weeks there, others may be more than happy with a one week trip.
If anything, 7 days will give you just the perfect amount of time to explore multiple cities and get a little taste of a whole lot that the country has to offer.
There will be no need to rush through things and you will still get to experience several of the top spots.
By the end of your trip, you will either be completely satisfied with your choice of spending 7 days in Japan; or you may decide to plan another trip there in the future because you loved it that much.
Whatever happens, I have a hard time believing you won't fully take advantage of your time there.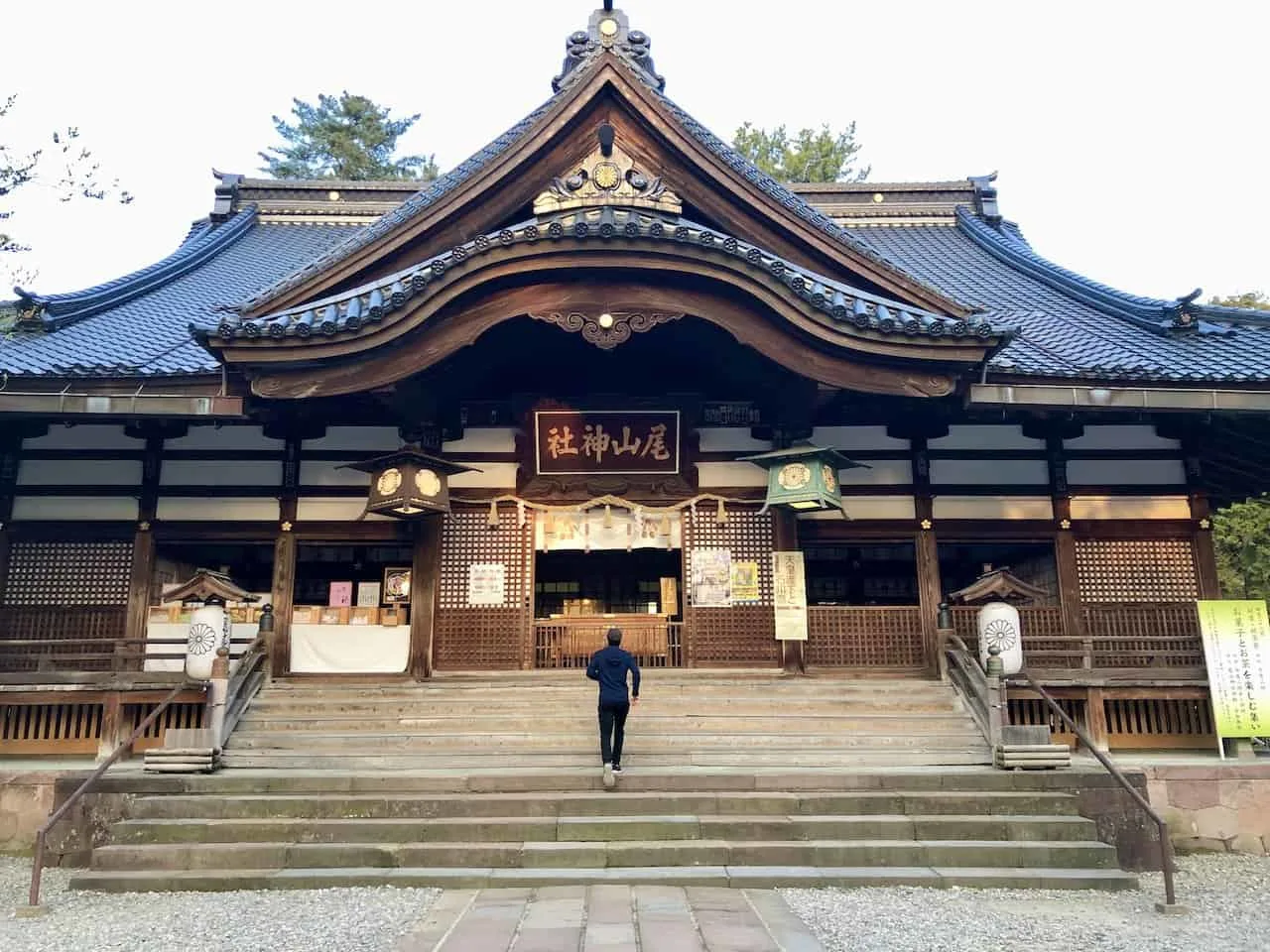 How to Get Around Japan
Before getting into the itinerary, it is very important to get a better understanding of traveling around Japan. More likely than not, you will be utilizing the vast and efficient public transportation network around the country.
Below you can find more information about traveling between cities, within cities, and everything in between.
JR Pass
The first important aspect to talk about is the JR Pass (Japan Rail Pass). The JR Pass is essentially a one time purchase, which can then be used for a variety of transport throughout Japan.
By purchasing this single pass, you can end up saving a lot of money vs. purchasing individual tickets for each leg of your journey.
→ Japan is well connected by high speed bullet trains and you will be using them (and other trains) during your time in the country. For this trip in particular, it is most useful to purchase a 7 Day JR Pass before heading out to Japan. There are 14 day and 21 day JR Passes available as well.
→ A JR Pass gives you unlimited travel travel on JR specific trains, subways and busses in Japan. The JR Pass can be used on several of the more expensive routes in the country and it can certainly save you some money along the way.
→ In order to purchase a JR Pass, the best way is to buy it prior to going to Japan. You can order the pass online, and then exchange your voucher for a JR Pass once you arrive in Japan.
→ I also wanted to point out that not all trains are included with the JR Pass (especially when dealing with travel within cities). I will talk about that more in the next section.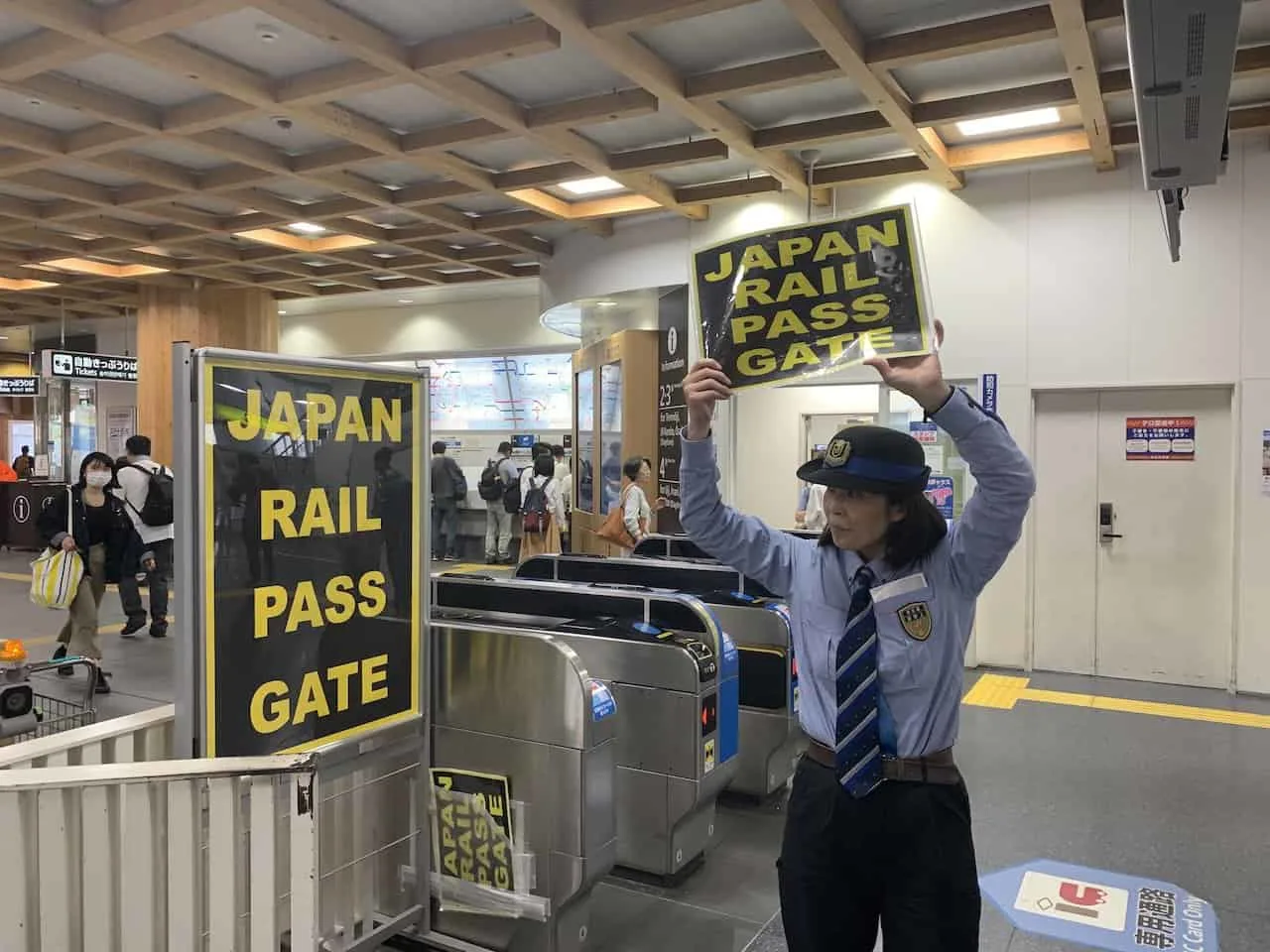 Japan Train Tips & Things to Know
When looking at train schedules for your one week in Japan, head on over to Hyperdia, the Japan train website. This site will give you a whole choice of schedules and options for traveling on Japan's public transport network.
Below is some helpful info for traveling between cities and traveling within cities:
Searching for Routes Between Cities
On the left hand side of the page you can browse different route options by day and time.
If you decide to get a JR Pass, you will want to uncheck the "NOZOMI / MIZUHO / HAYABUSA (SHINKANSEN)" and "Private Railway" boxes under the "More options" section. These trains ARE NOT covered by the JR Pass.
The trains between cities are going to the more expensive trains as part of your overall journey. So, if purchasing the pass, you will want to ensure you are taking these journeys on JR trains.
If you do not purchase a JR Pass, then feel free to keep these boxes checked.
Searching for Routes Within Cities
When looking at train schedules to travel within cities, it may be difficult to stick to JR specific routes (if you have the JR Pass). This is because many subways & busses within cities are run by private railway companies.
So when looking for intra city routes on Hyperdia, I would advise not to uncheck the "Private Railway" box as that would vastly limit your options (although you could give it a try and see what comes up).
Instead I would just head to Google Maps, input your destination, and go from there. Usually trains and busses within cities cost somewhere around 200 JPY or $2 USD. This would mean that you will need to pay for individual routes within cities based on whatever the most convenient option is.
To make things simple you can purchase an IC Card (these can be in the form of Pasmo, Suica, ICOCA depending on what region you are in).
An IC card is just a reloadable card that can be used on almost all trains, subways, and busses around the country.
So, instead of purchasing individual train tickets each time, just swipe your IC card and be on you way.
To summarize: If you have a JR Pass, you can use that for your longer more expensive routes, and you can also get an IC card for your travel within cities.
» Check out the Japan Helpful Tips Guide that goes into more detail about the JR Pass, how to go about buying it, and plenty more helpful things to know before heading to Japan.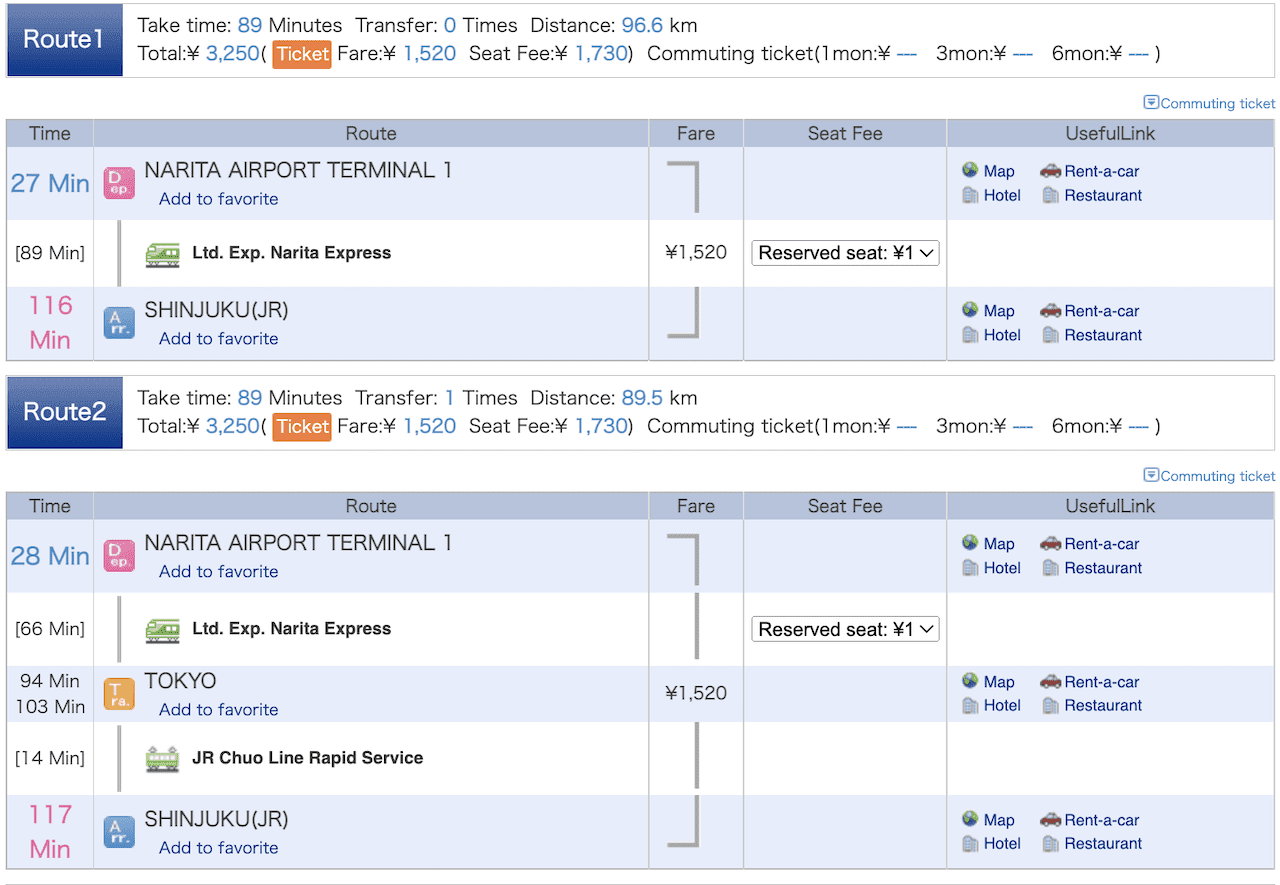 When to Visit Japan
As you are planning your trip to Japan, you will want to decide what time of year to travel. For the most part, the main consideration when traveling to Japan will be the weather.
In general, the top two times of year to travel to Japan in terms of the best weather would be from March to May and from September to November. During these time periods, the temperature is comfortable and the weather is more stable.
In addition to the weather, the Spring time gives you the chance to see the famous cherry blossom trees while the Autumn offers vibrant foliage colors.
If you want to travel during the summer period between June and August, you should be prepared for some more hot & humid weather. You will also find that from May to July (give or take), the rain is more frequent around the country.
Lastly, a winter trip is also possible from December to February. However, you will be dealing with some colder conditions and potential snow. If looking for some of the best skiing in the world though, northern Japan has some options for you.
When I went on my around the world trip, I also took into consideration the local holidays – one of which is Golden Week. This happens end of April to beginning of May.
During this time you will find much of the country is traveling, making it more expensive & more difficult altogether. You may want to consider avoiding this time period for your own trip.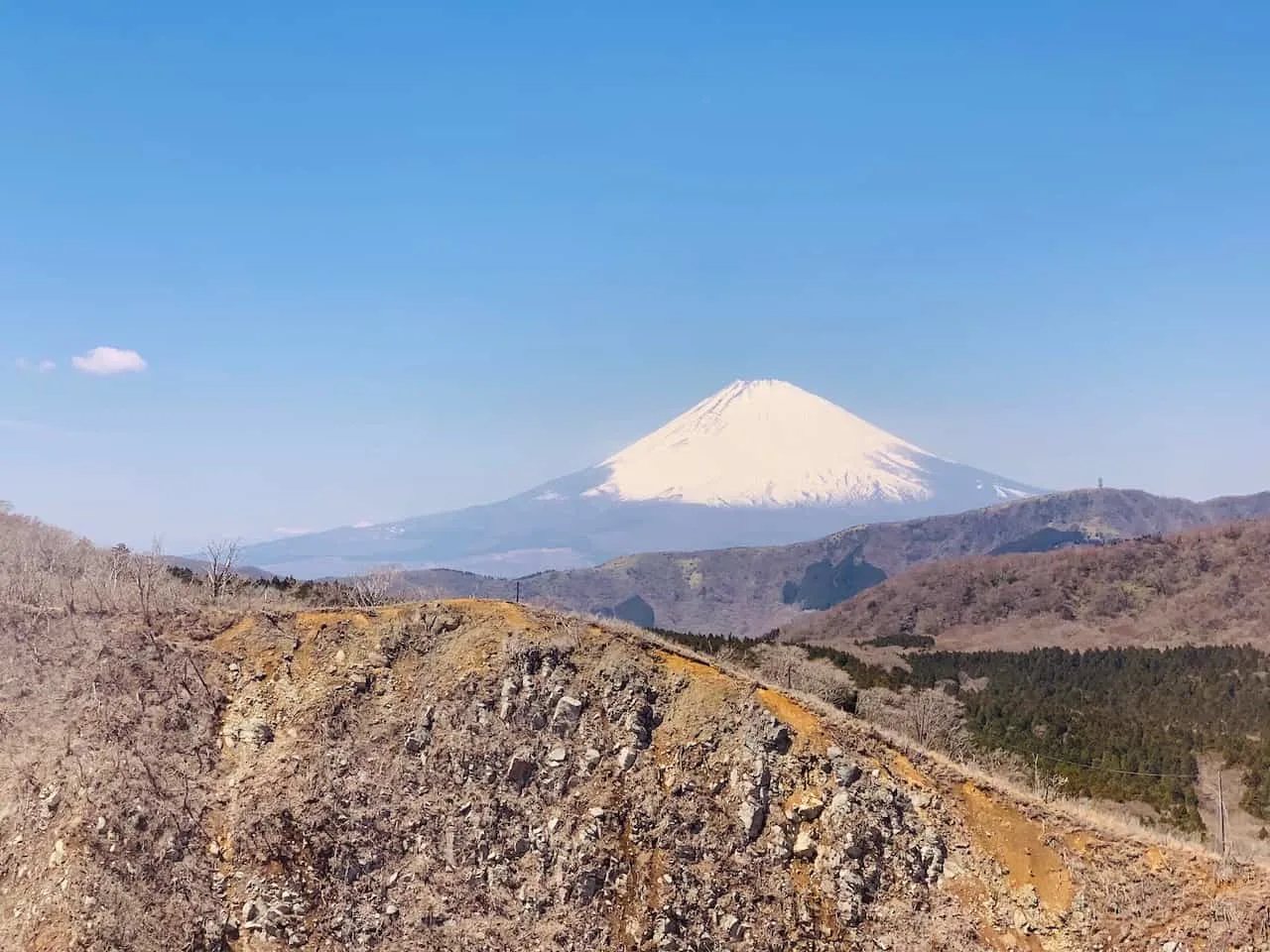 Japan Etiquette & Other Tips
When visiting Japan for 7 days, you may be have a bit of a culture shock. There are certainly some normal habits in parts of the world that would be considered rude in Japan. Here are a few etiquette tips to consider as you are making your way around the country.
Etiquette Tips
→ Whether it is a teahouse, restaurant, or temple, many places request you take off your shoes prior to entering. Be sure to pay attention for this as you don't want to head in with your shoes on if you aren't allowed to.
→ You should not smoke out in the streets. Instead, you will come across designated smoking areas throughout sidewalks in cities.
→ When eating at restaurants, you do not have to tip. The price you see on the bill is the price that you pay. If you do try to tip, don't be surprised if the tip is refused.
→ When taking local trains, do not eat or drink during a ride. Although you may come across vending machines in stations all throughout the country, it is customary to not actually drink or eat on the train itself. If taking longer inter city routes, then you should not need to worry about this.
Other Tips
→ While credit cards are accepted in the country, you will come across many restaurants and shops that only accept cash. Be sure to always have yen on you so you are not stuck in a tricky situation.
→ English is not that well spoken or understood by the locals. While there are signs in train stations and throughout the country in English, many locals will have limited to no English. Having Google Translate handy will always be helpful.
→ If visiting temples and other attractions, be sure to understand opening hours before you go. Each temple, market, and attraction will have different hours and can be closed on certain days of the week. Read up on the latest before you head out for your trip.
→ Within Japan's train stations you will find luggage lockers. For a few dollars, you can put your luggage in a locker and then spend time exploring a city. This is very convenient if traveling between cities and visiting somewhere in between.
→ Japan also has the option to send your luggage ahead right to your next hotel. This service is called Takuhaibin and costs around $20 per piece of luggage. Overall, it is just a very convenient way to go about traveling in Japan.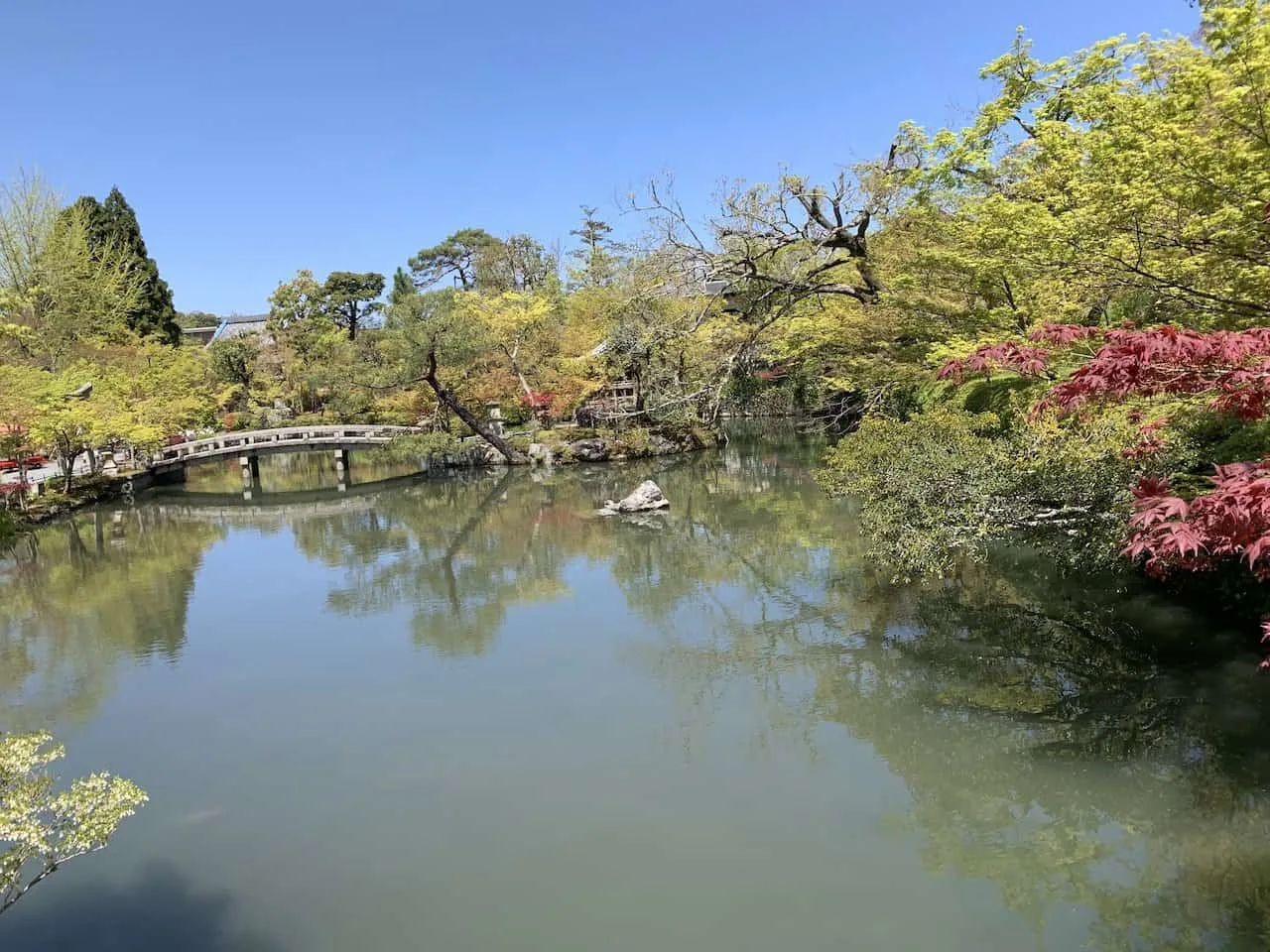 Japan Travel Insurance
Considering travel insurance for your trip to Japan?

World Nomads offers coverage for more than 150 adventure activities as well as emergency medical, lost luggage, trip cancellation and more.

For years, World Nomads has been protecting, connecting & inspiring independent travelers, offering travel insurance & safety advice to help you travel confidently. Their mission is to support and encourage travelers to explore their boundaries.

World Nomads has simple and flexible travel insurance that has been designed by travelers for travelers. Even if you leave home without travel insurance or your policy runs out, you can buy or extend out on the road.

Get a quote for a World Nomads travel insurance policy today!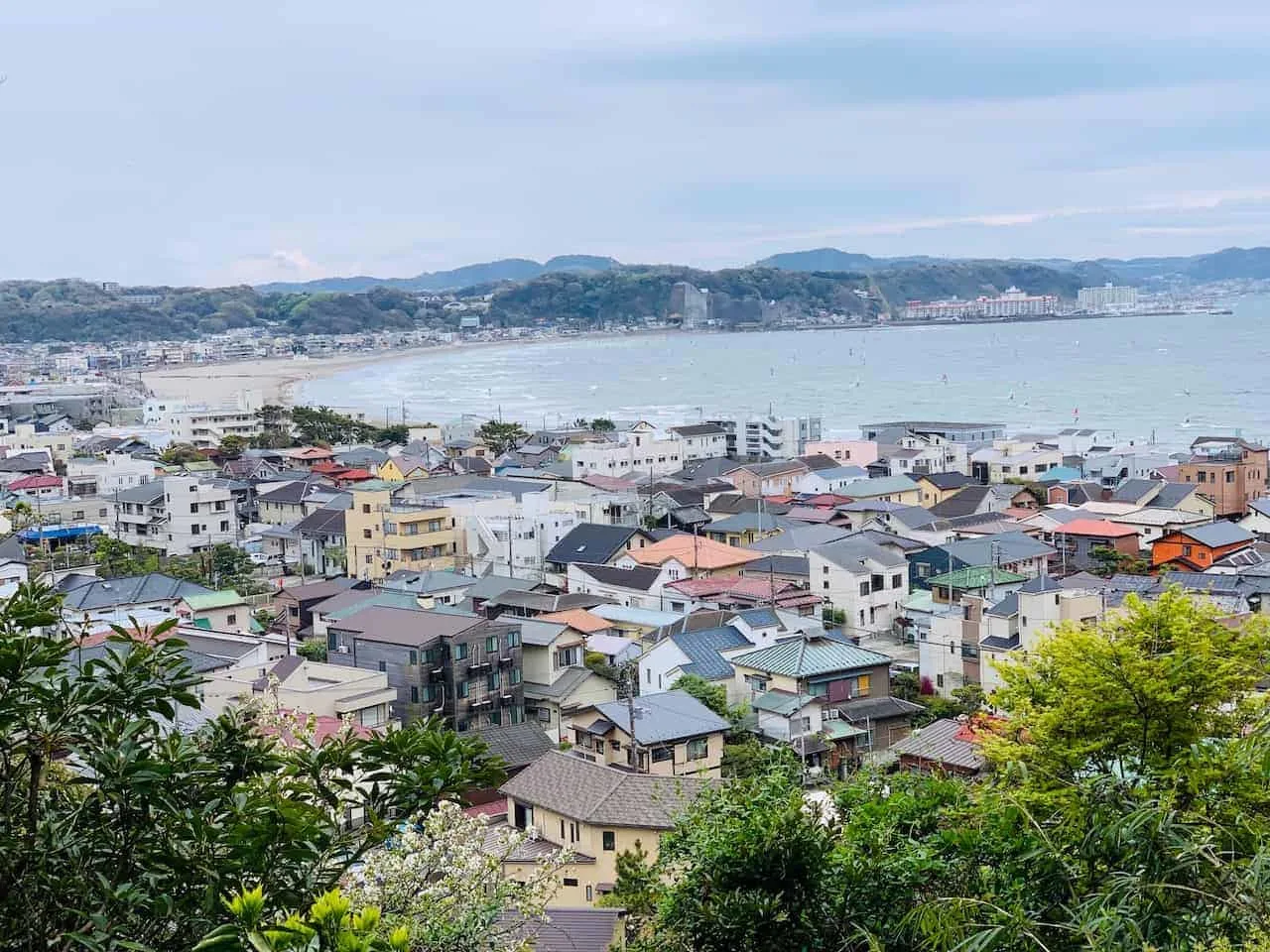 Japan Itinerary 7 Days
Throughout the site you will find many city guides to different places in Japan. These include Tokyo, Kamakura, Hakone, Takayama, Shirakawa-go, Kanazawa, Kyoto, Nara, Hiroshima, and Miyajima.
In the two week itinerary I have up, you would have time to go to them all. But since you will only have half the time, you will need to pick and choose what itinerary works best for you.
The rest of this guide will be broken up into three main sections of cities:
1) Tokyo & Kyoto: my advice for a first timer going to Japan, is to definitely keep Tokyo and Kyoto on your itinerary for a couple days each.
From there you can build your trip around those two cities as there are several day trips to choose from below. Of course you can decide to skip one of them and just build your trip around the other.
2) Day Trips: I have included several options to choose from both Tokyo and Kyoto.
These includes Hakone, Kamakura, Nara, Hiroshima and Miyajima. Based on preferences you can decide which ones you are most interested in adding to your trip.
3) Takayama, Shirakawa-go, & Kanazawa: Lastly I have added in three additional cities that you can visit between Tokyo and Kyoto.
All three cities are located within 2 hours of each other by bus, and can all easily be added into a one week itinerary. If you decide to do so, you most likely would have to leave some day trips.
At the end of talking through all these various cities (and attractions within the cities), you will come across some potential one week Japan itinerary options to choose from.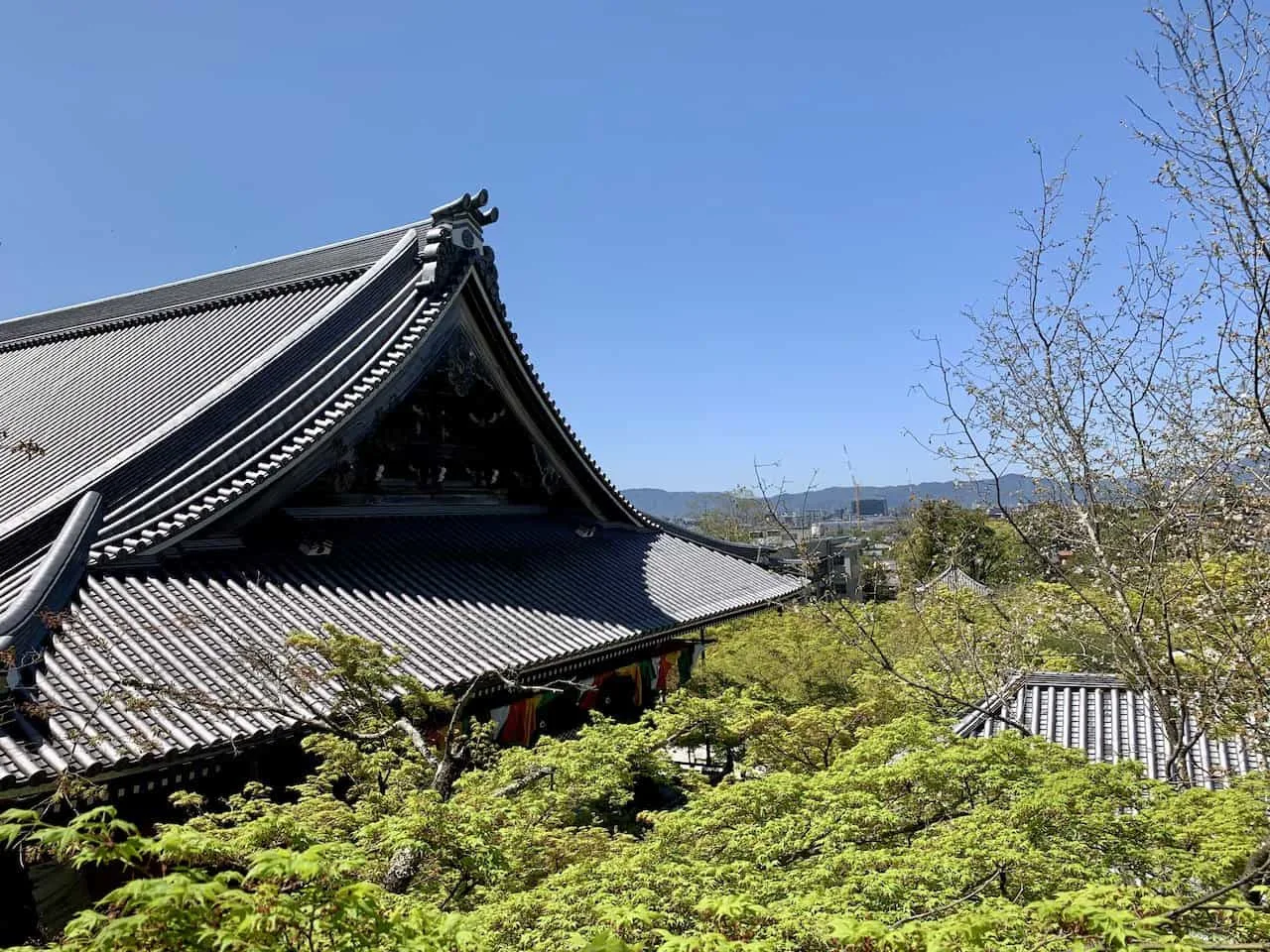 1) Tokyo
The biggest and most happening city in Japan is the capital city of Tokyo. For a one week itinerary I would recommend spending two full days exploring the ins and outs of what the city has to offer.
There are many different neighborhoods to make your way through and many different activities and attractions to take part of all throughout Tokyo.
» In the Tokyo overview I have up on the site, I list out what can be done with 3 days in the city itself.
Since I am recommending 2 days though for this itinerary, I have listed out below what you can do on each of those days:
Tokyo Day 1
Your first day in Tokyo will focus in on the Shinjuku and Shibuya neighborhoods. If you are staying here, you should easily be able to walk around without needing to take any sort of public transportation.
You can do this day in either direction – the below is going from south to north (Shibuya to Shinjuku) but you can do it in the opposite direction as well.
A) Shibuya Crossing
Start off the day at the famous Shibuya Crossing. A multi laned intersection with cars and people coming in from every which direction, the Shibuya Crossing is one crazy place to experience.
During peak times there are over 2,500 people making their way across the crossing per light! After walking through the intersection yourself, you can make your way to a viewpoint to take it in from above.
One of the best free options is the 2nd floor Starbucks overlooking the crossing. If you want to see it all the way from the top, head to the top floor of Mags Park, where for a small fee you can see the crossing in action from above.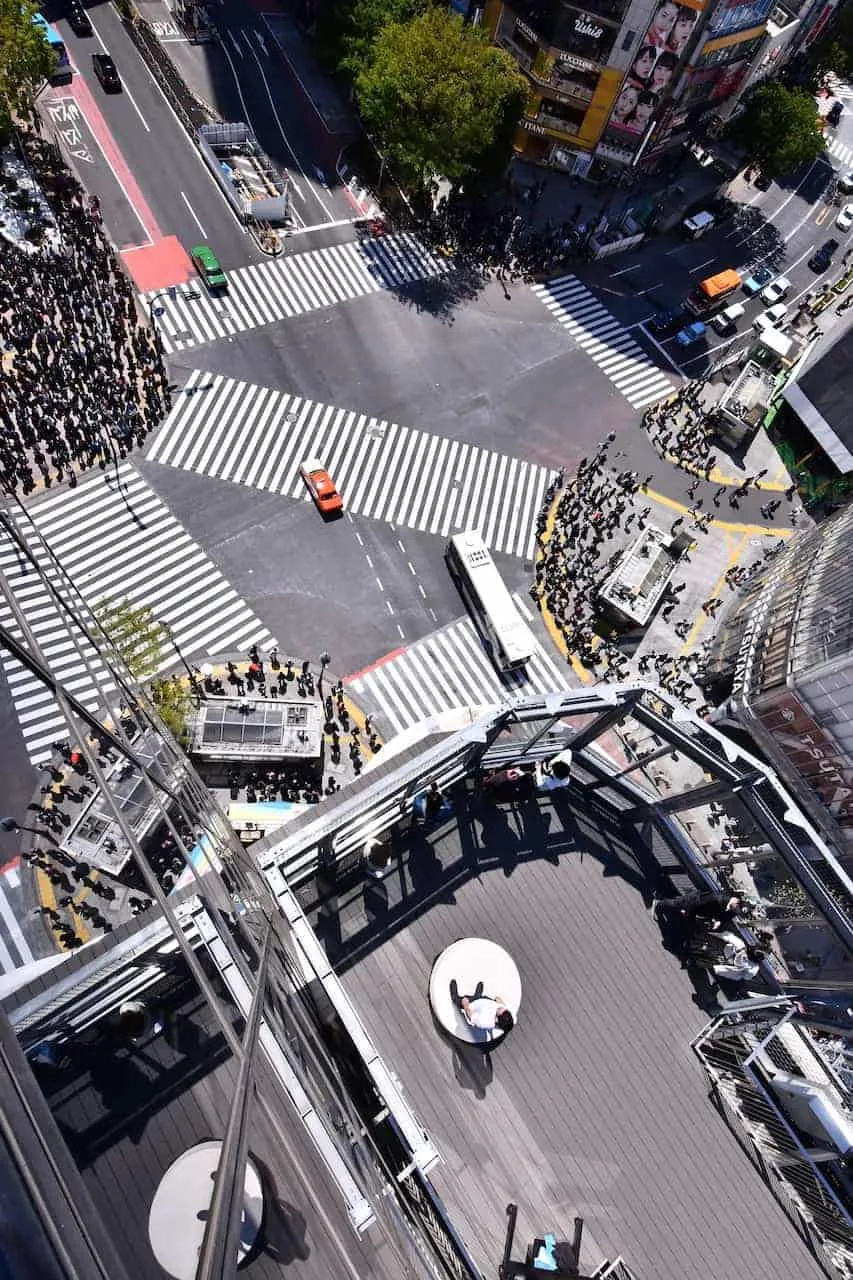 B) Shibuya
After the Shibuya Crossing, it is time to explore the neighborhood of Shibuya itself. With many shops and restaurants filling its streets and alleyways, Shibuya makes for a great place to get lost in and enjoy.
C) Omotesando
After exiting the Shibuya area, you will soon come by Omotesando Street.
While I am not so into the whole shopping scene, there are plenty of higher end stores to visit if interested. What I found great about the street was its unique and distinct architecture from other parts of Tokyo.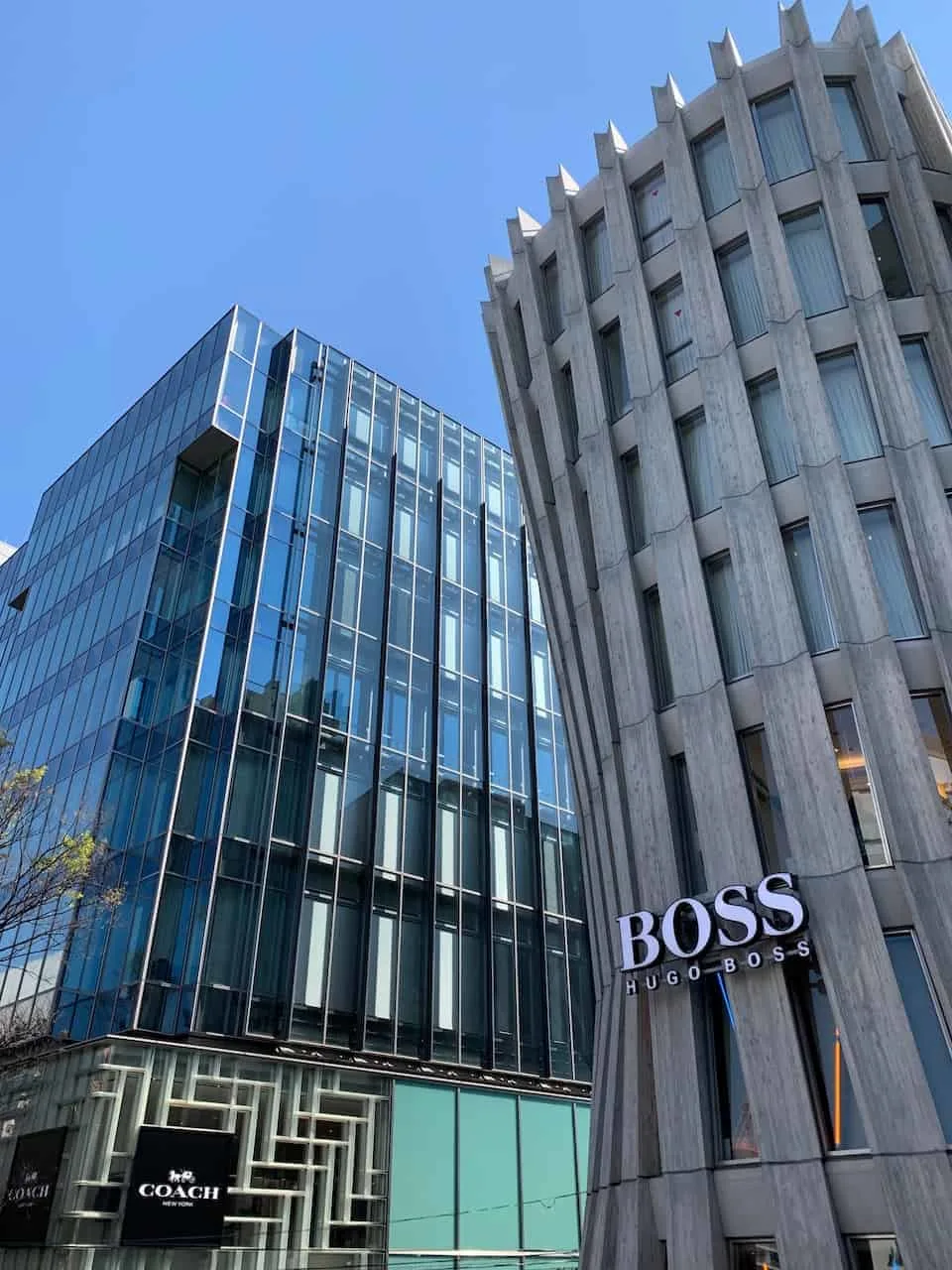 D) Takeshita Dori / Harajuku
Next up on the day is one of the more crazier streets you will ever experience – Takeshita Dori. The street is located in the heart of Harajuku and is packed to the brim with people walking along the narrow pathway.
On either side there will be plenty of different food and snack options to choose from and you can head further around the area to grab some lunch for the day.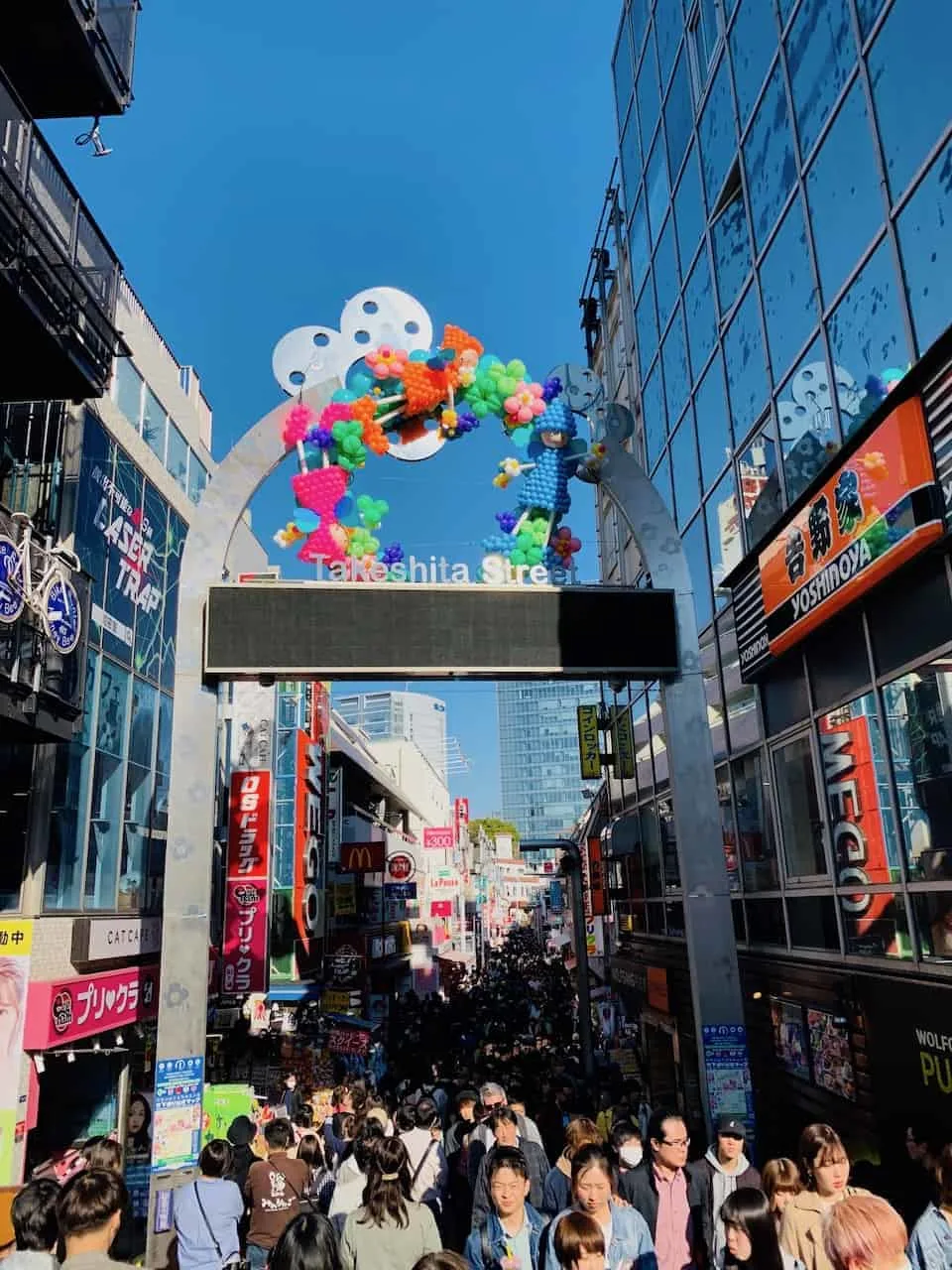 E) Meiji Jingu Shrine
After taking in some of Tokyo's best neighborhoods, head on off to the Meiji Jingu Shrine located within Yoyogi Park. The path within the park is surrounded by trees as you slowly make your way through to the main temple complex.
As you approach the shrine, you will see the famous sake barrels off to the side that were donated by breweries all over the country.
You will then pass through the massive wooden torii gate and onto the shrine itself. There are places to write down some prayers/wishes and wash your hands before approaching Meiji Jingu.
The shrine itself is open from sunrise to sunset so it gives you plenty of time to visit at any time of day.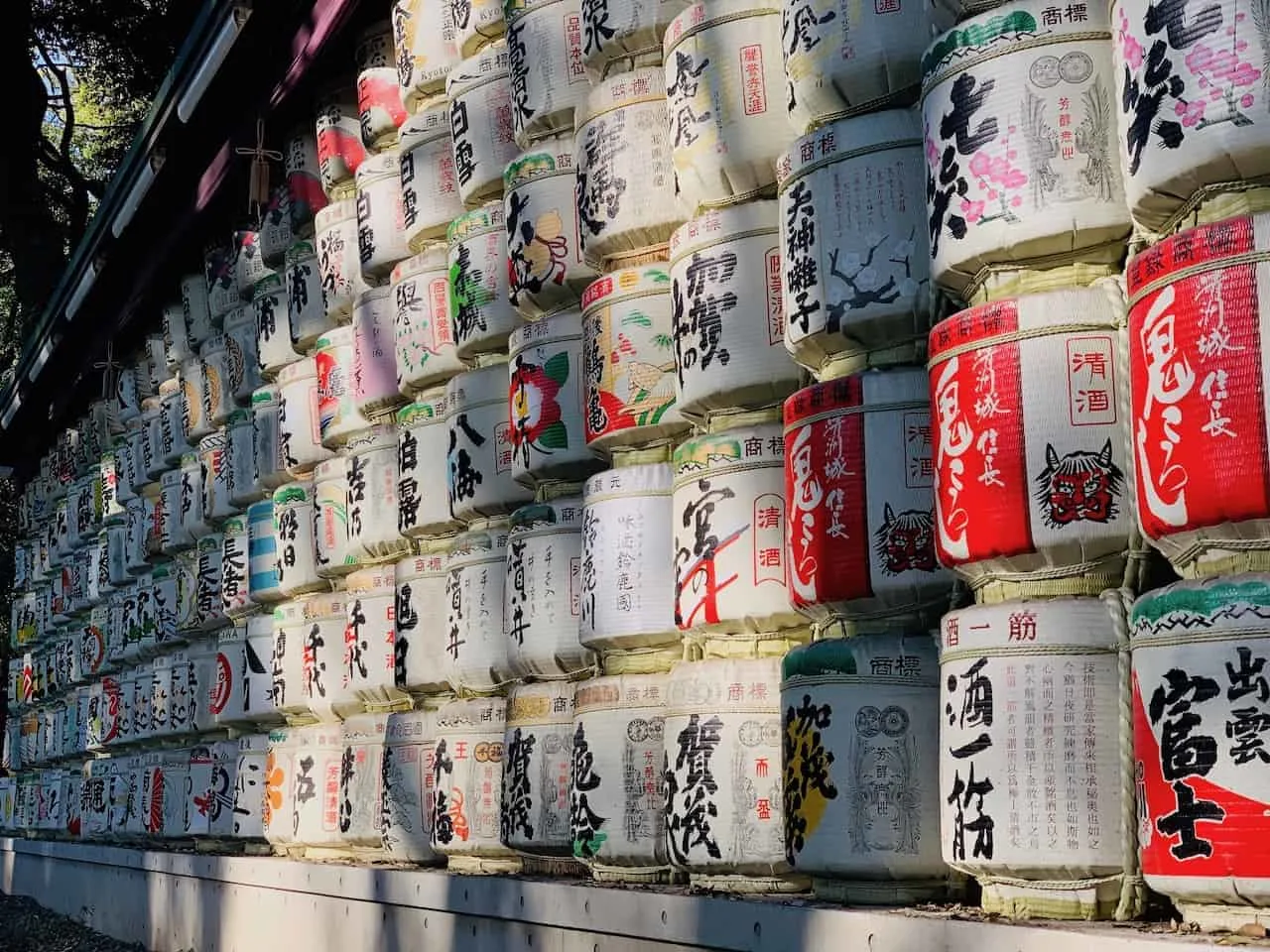 F) Metropolitan Government Building
While a government building seems like an odd add on for an itinerary, it does offer some of the best viewpoints of the city of Tokyo. The best part? It's free!
The Tokyo Metropolitan Government Building has two different indoor observation decks to enjoy – the North and South.
I headed up to both but would give the slight edge to the South one as the North one did have a restaurant inside blocking some of the views of the city.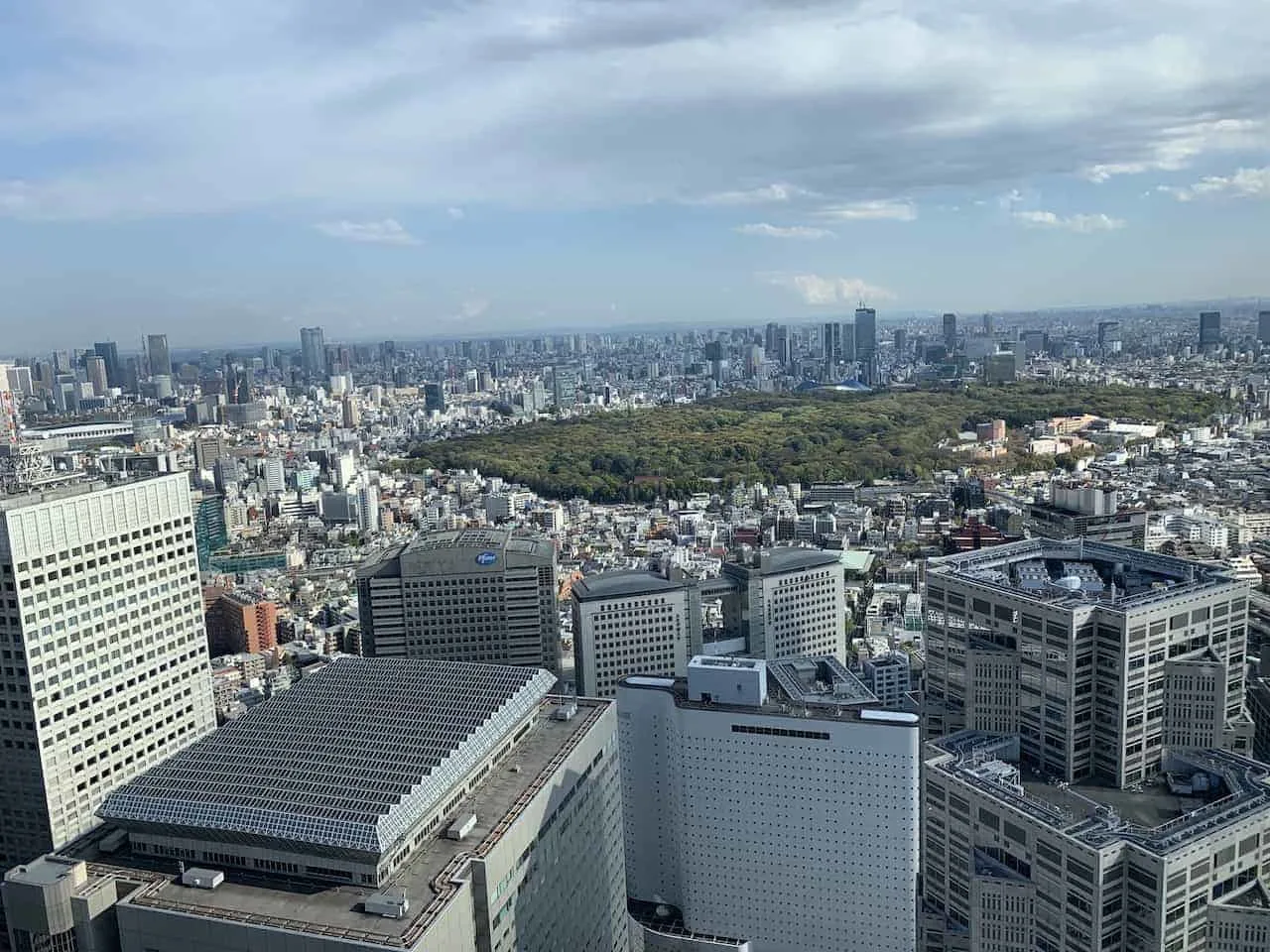 G) Shinjuku
End your day in Shinjuku. Whether you are staying there or not, be sure to spend at least a night or two walking its hectic streets with plenty of bright lights, restaurants, and bars.
Believe me you will find no shortage of any of those are you make your way around Shinjuku.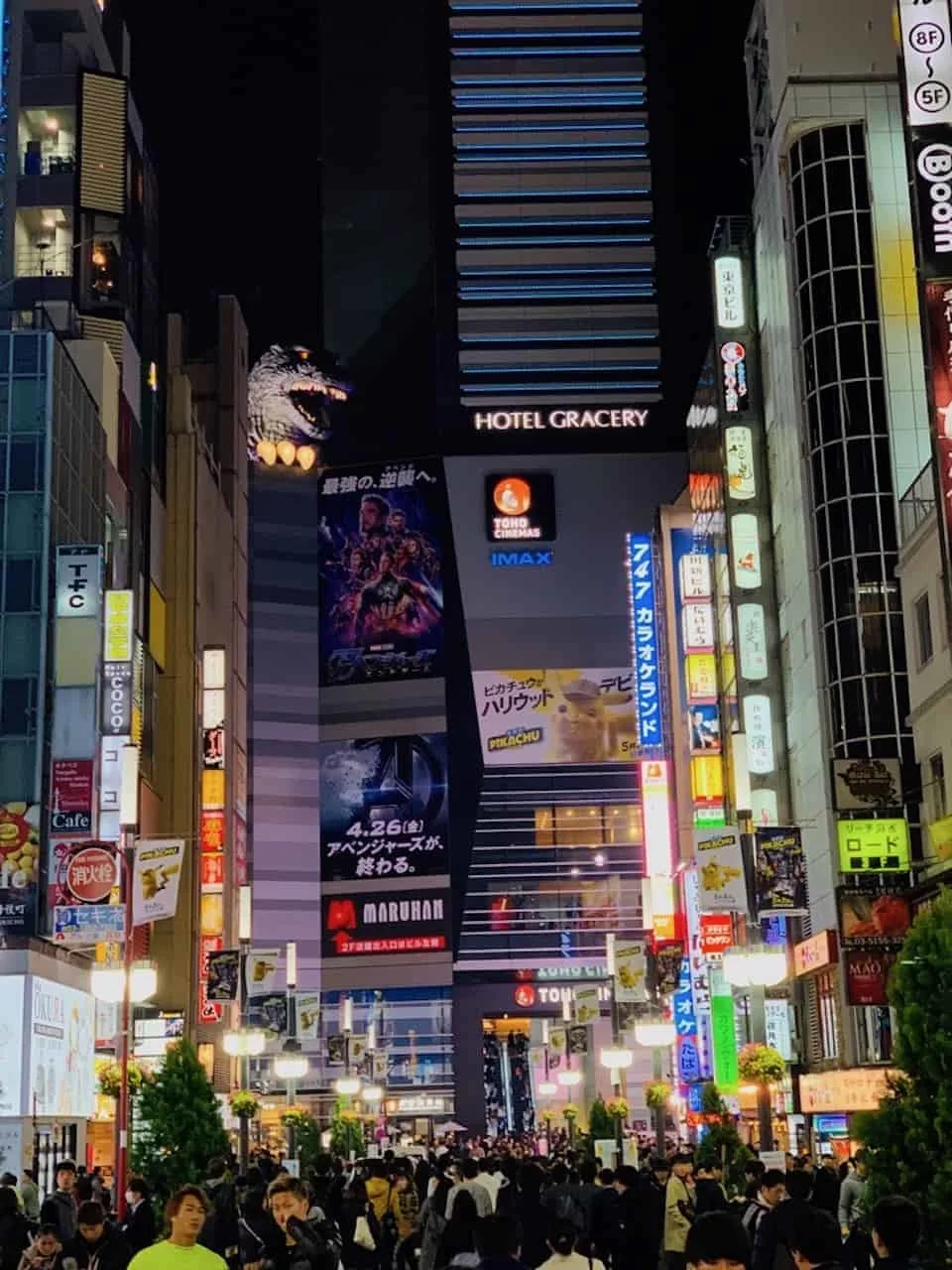 Tokyo Day 2
On your second day in Tokyo, you will get to experience a little bit of everything. Temples, gardens, markets, and more!
A) Imperial Palace and East Gardens
Start you second day in Tokyo by heading on over to the Imperial Palace and East Gardens. An absolutely massive complex located in the heart of the city, you can spend a couple hours here exploring all around.
The outer area is open all the time, where you can view the famous moat and outer structures. You can then head inside the East Gardens, where there are lakes, flowers, fauna and more to enjoy.
Note: if you want to head into the Imperial Palace yourself, you can do so by signing up in advance online through their official website. There did seem to be a first come first serve line as well for a select number of tickets.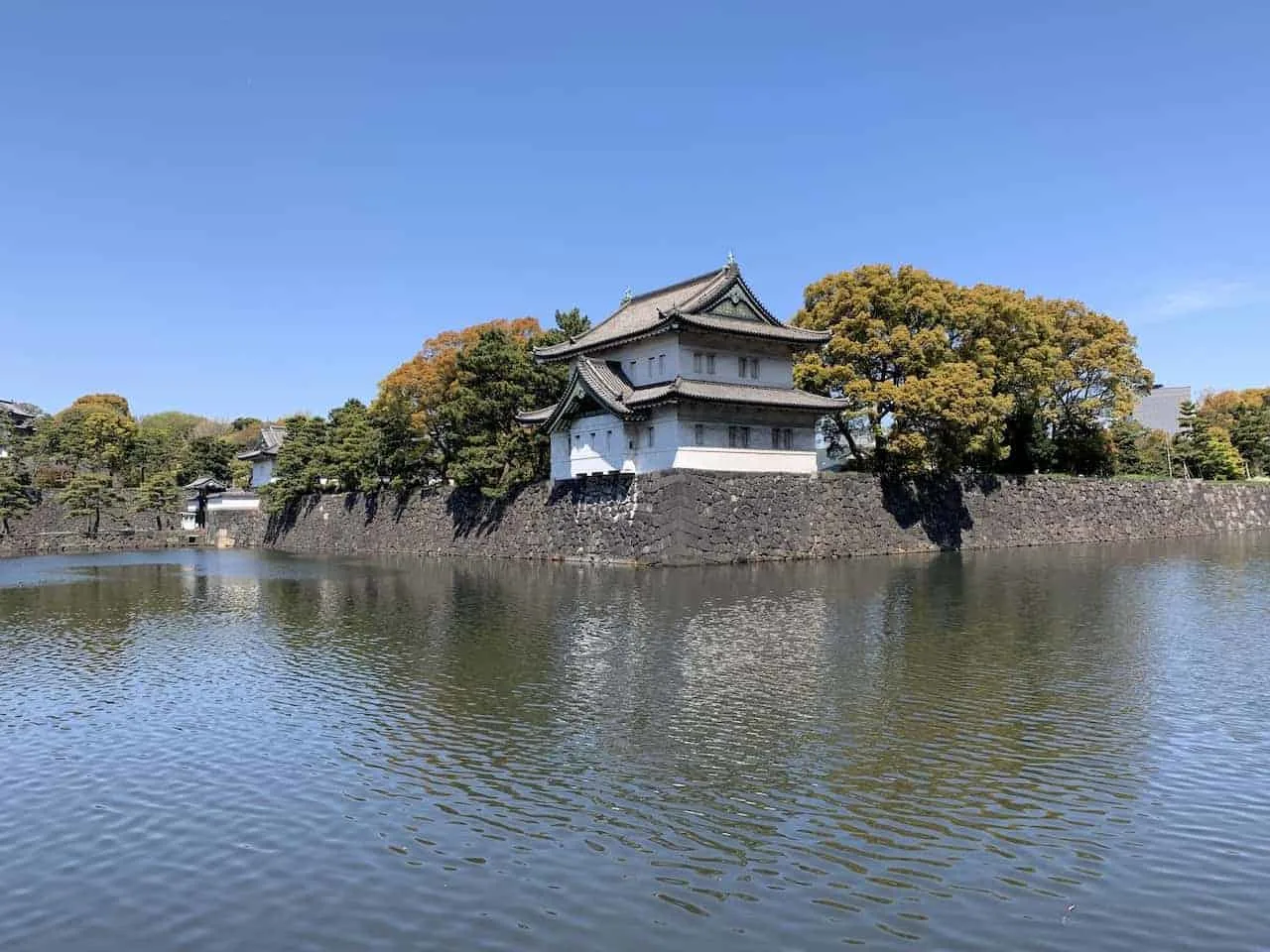 B) Ueno Park
Ueno Park was a late addition to my itinerary but I could not have been happier adding it in. It is much more than just a simple park – there are temples, ponds, gardens, museums, greenery and much more spread throughout the complex.
If you are lucky enough to be there during cherry blossom season, it is one of the best places in the country to view them.
During my time exploring the park I headed to the Shinobazu Pond, Toshogo Shrine, Five Storied Pagoda, Hanazono Inari Shrine, Gojo Shrine, among a few other places along the way.
You will also find such places as the Ueno Zoo, the Tokyo Metropolitan Art Museum, Tokyo National Museum, and National Museum of Nature and Science if you are interested in heading to a couple of those too.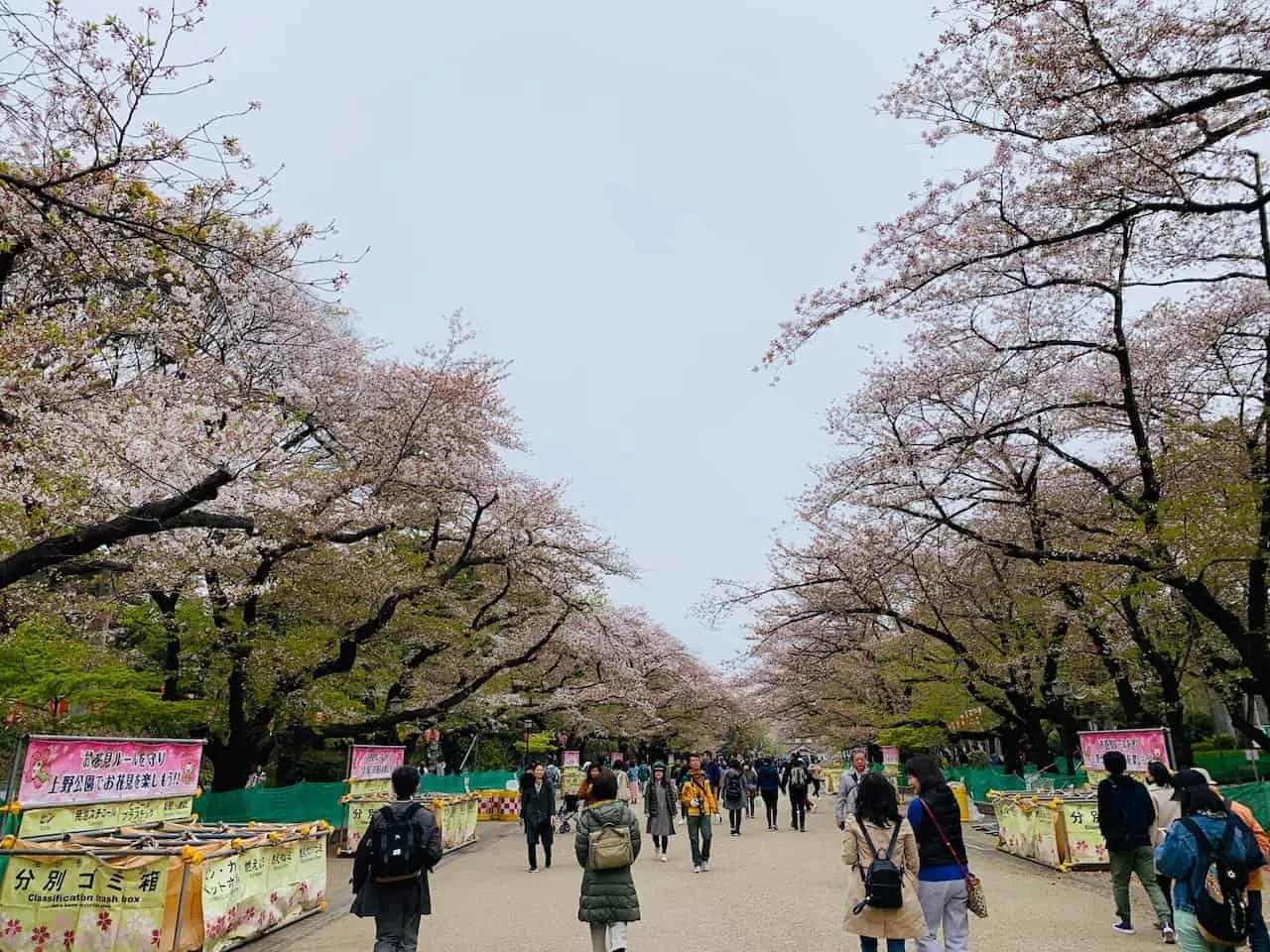 C) Ameyayokocho Street
After enough time exploring the park, make the short walk to Ameyayokocho Street. If you are looking for food stalls, restaurants, and a variety of different shopping options then Ameyayokocho is for you.
It is a classic Japanese street filled to the brim with all sorts of stores and hundreds of people making their way through. If you have not experienced what a Japanese market street is like then you are in for a treat.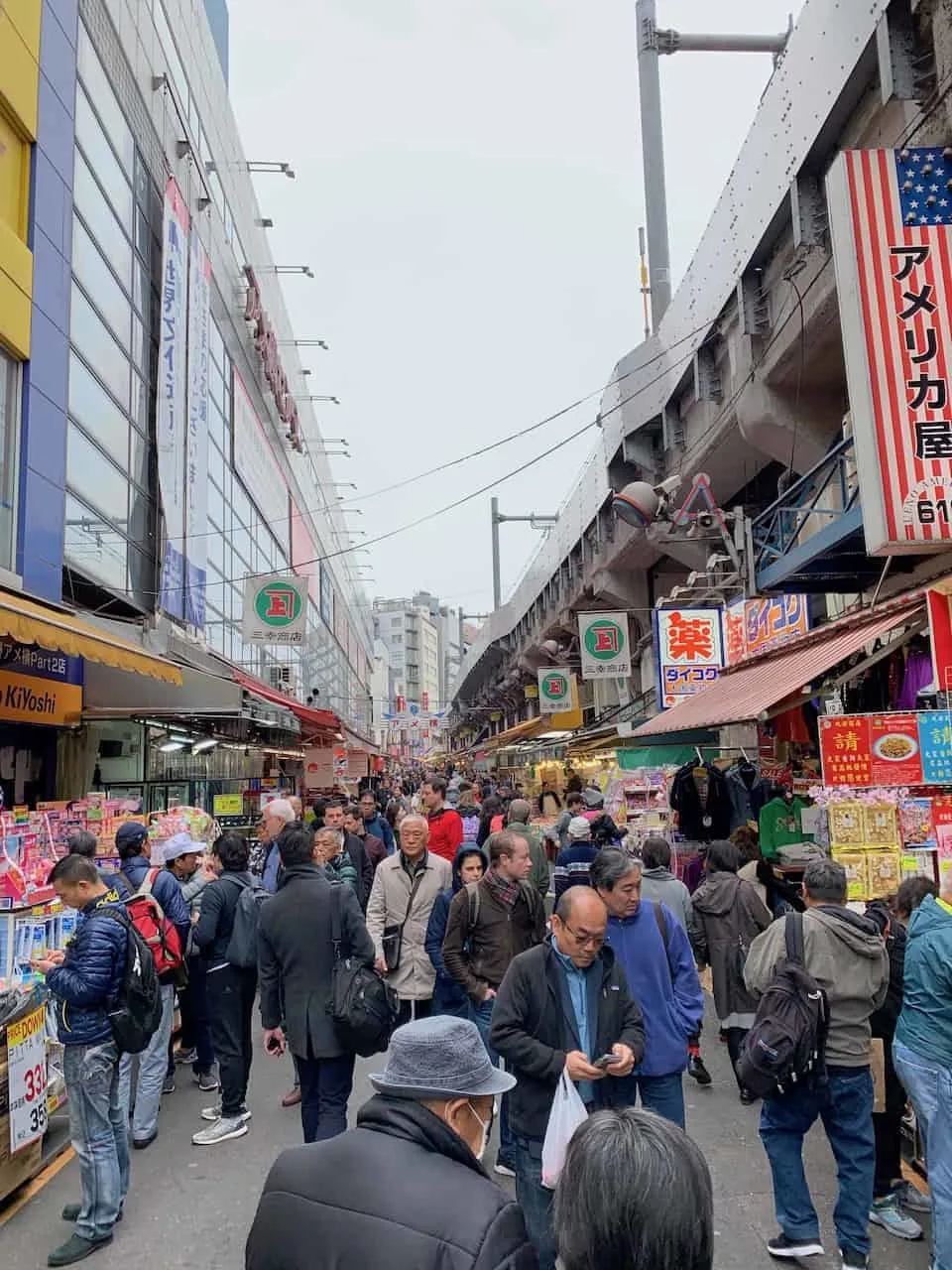 D) Senso-ji Temple
One of Tokyo's most famous temples is that of Senso-ji. The temple itself is not only impressive but so are the two gates (Kaminarimon and Hozomon) leading up to it with a market lined street (Nakamise) in between.
As you walk this path alongside hundreds (if not thousands) of other people, you will pass by small shops, food stalls, and more to explore. You will then slowly approach the gate and onto the temple and five storied pagoda area, which you can walk around and take in.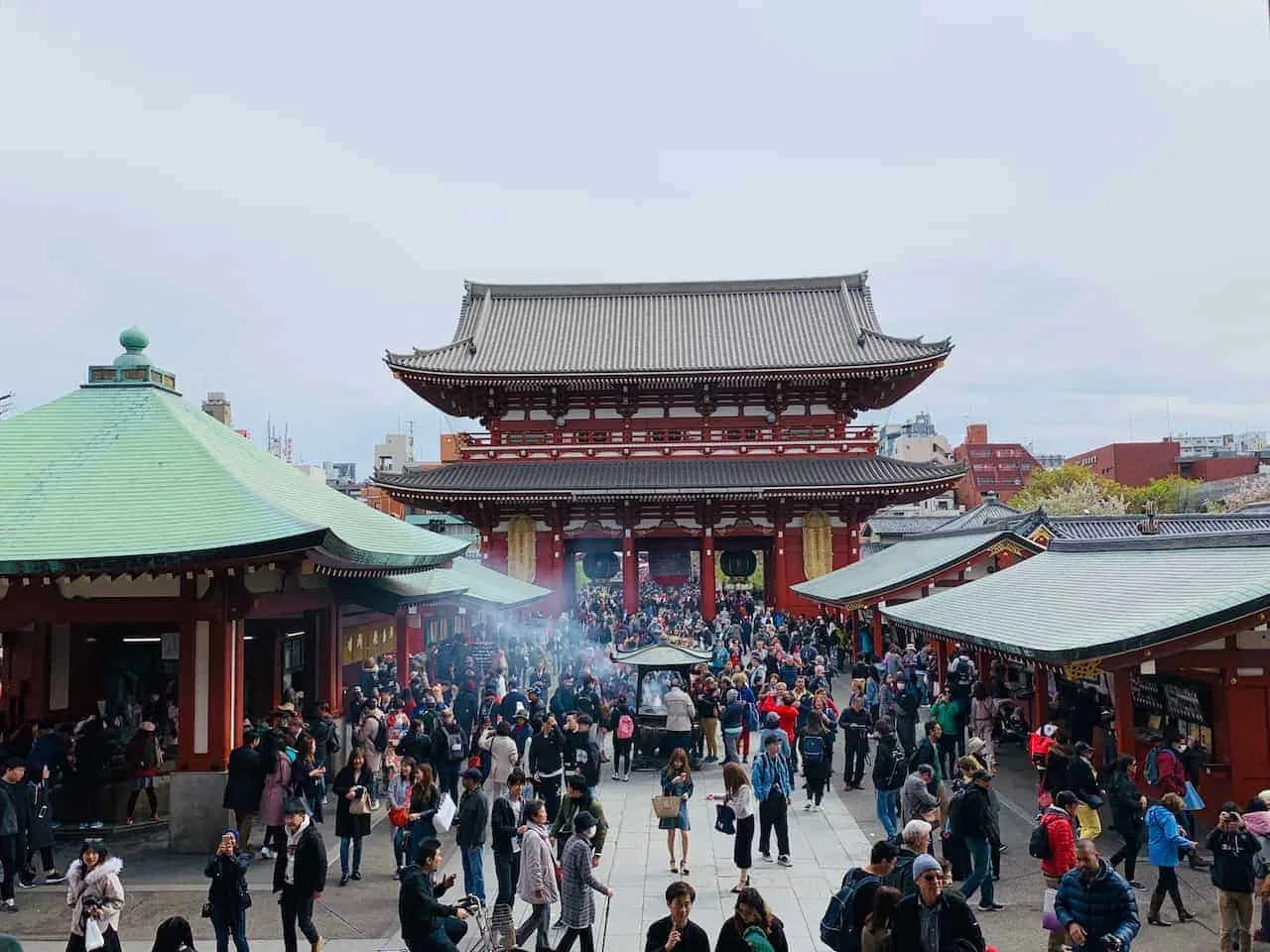 E) Akihabara
Last up on the day is Akihabara, the electronic capital of Tokyo (and possibly the world!). The whole area around Akihabara is crazy to say the least.
You can find electronic stores, arcades, anime stores, maid cafes, pachinko games, among plenty of others.
Walking around the area and heading into these places will have your head spinning! A few popular places to head to are the Mandrake Store, Gachapon Kaikan, and the Sega Arcade. But literally any place you walk into, you are sure to enjoy.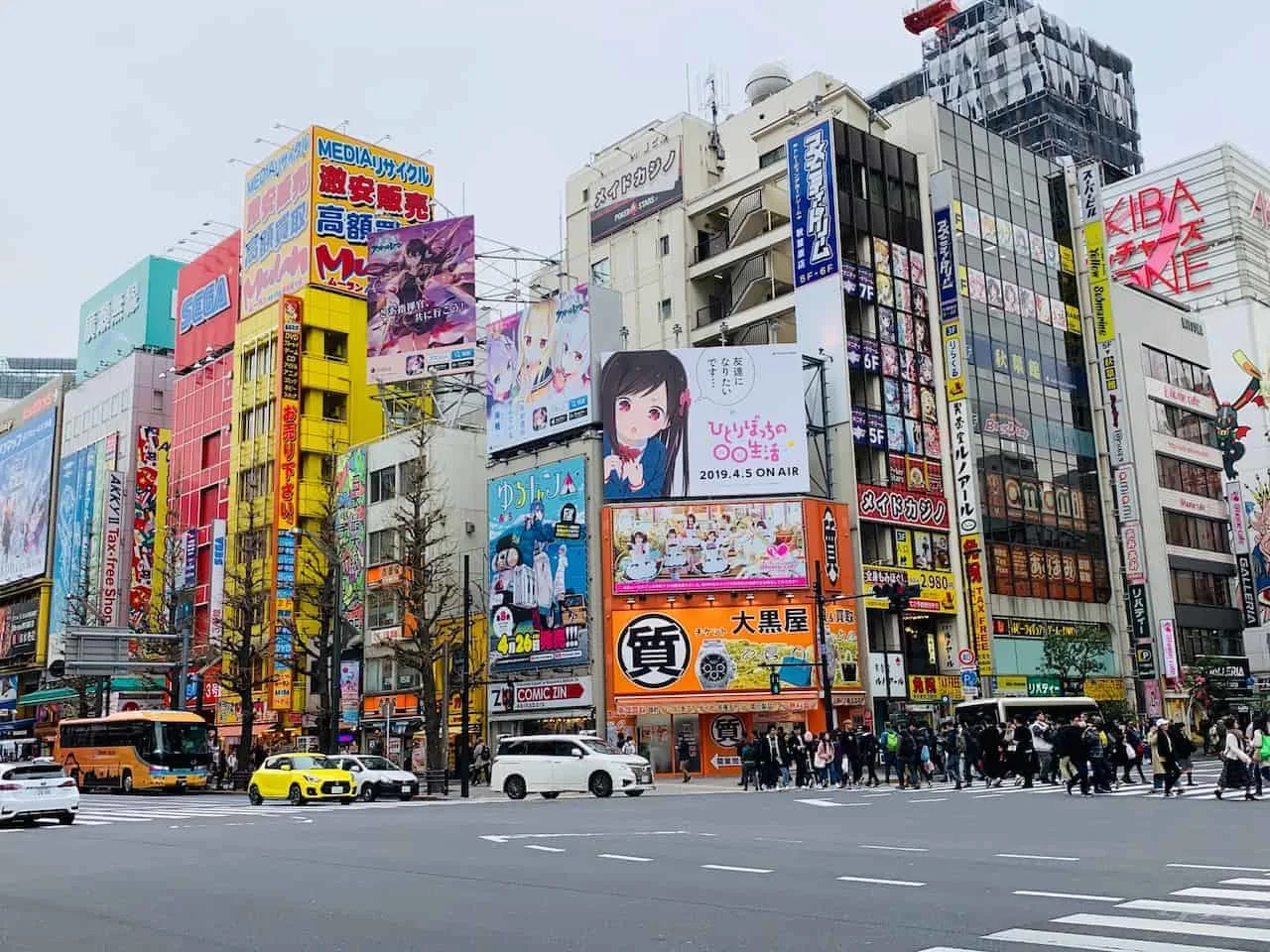 2) Kyoto
The next "must do" city on many people's Japan bucket lists is Kyoto. In Kyoto you will feel a much different vibe than you would in Tokyo. N
o more bright lights and craziness, but rather a more laid back Japanese vibe with plenty of temples sprawled throughout the city. If spending a week in Japan, I would also recommend spending two days here exploring Kyoto.
» In the Kyoto overview I have written up, I go over what to do with 3 days. Below is how to mix and match those same activities to fit into two action packed days.
Kyoto Day 1
The first day in Kyoto will be focused in on the eastern end of the city. All you need to do is hop on a bus to Ginkaku-ji Temple and start your day from there.
Between the first stop of Ginkaku-ji to the last stop of Kiyomizu-dera, you will be able to walk along the route stopping at plenty of attractions along the way.
A) Ginkaku-ji Temple
One of the most well known temples in Kyoto is that of Ginkaku-ji, also known as the Silver Pavilion. Built by Ashikaga Yoshimasa in 1482, Ginkaku-ji was actually modeled after his grandfather's Golden Pavilion – probably the most famous temple in Kyoto (more on that on day 2).
Don't expect though that the Silver Pavilion will be silver in color! It is thought that Ginkaku-ji was nicknamed the Silver Pavilion to distinct itself from the Golden Pavilion.
As you enter the temple grounds and begin to walk the path, you will be welcomed to a beautiful sand garden, various temple structures, a moss garden, a nice viewpoint from above, and of course Ginkaku-ji itself, reflecting off the forefront lake.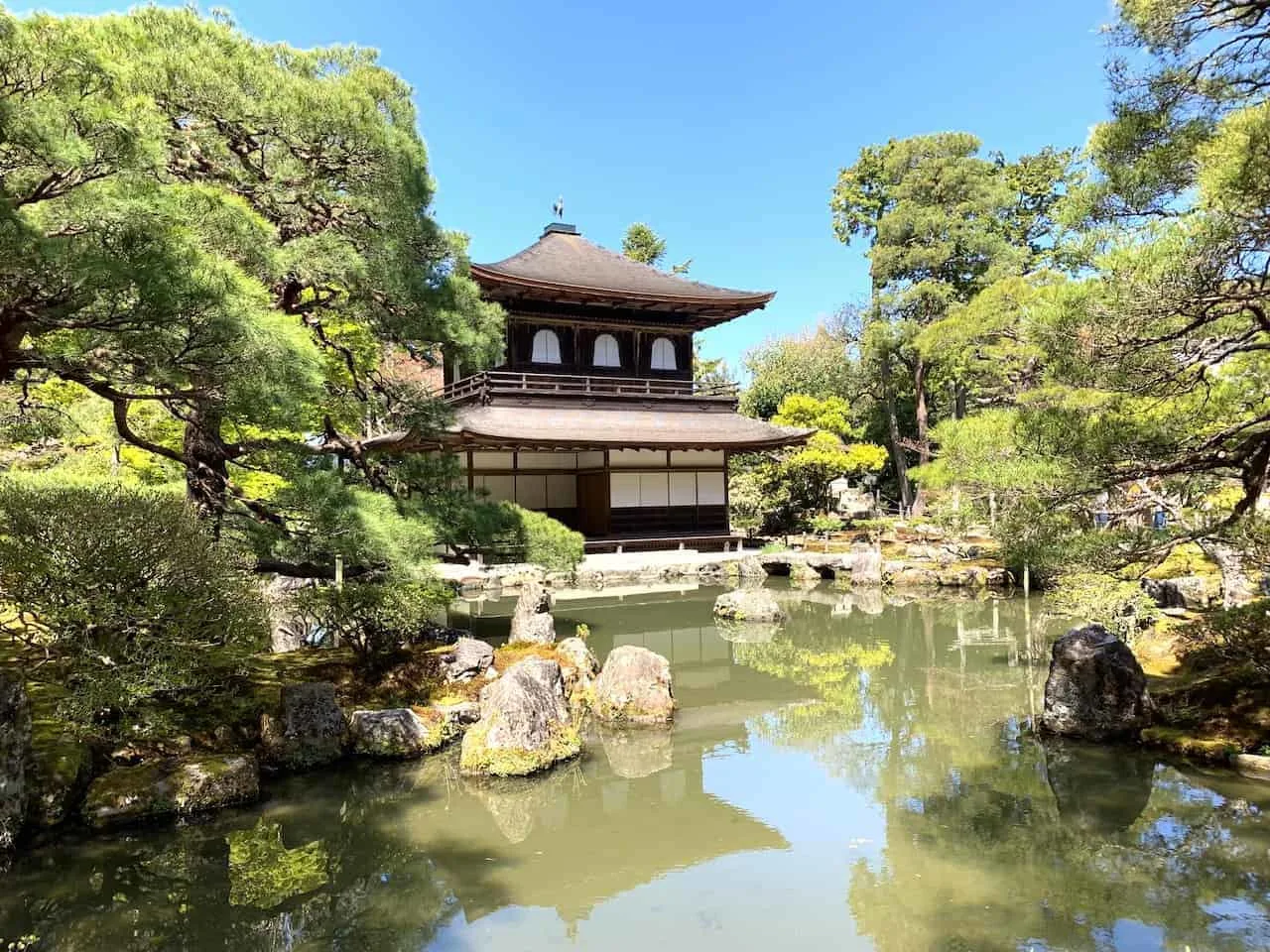 B) Philosophers Path
After finishing up with your first temple of the day, it is time to make your way south on the Philosopher's Path. This 2 kilometer long path goes along a small canal with plenty of natural beauty along the way.
If you are lucky and happen to be there during cherry blossom season, you will be welcomed to one of the most colorful sites in the city with blossoms lining the path.
Even if you are not there during that time, it is still a great place to stroll through and enjoy as you make your way to your next destination – Nanzen-ji Temple.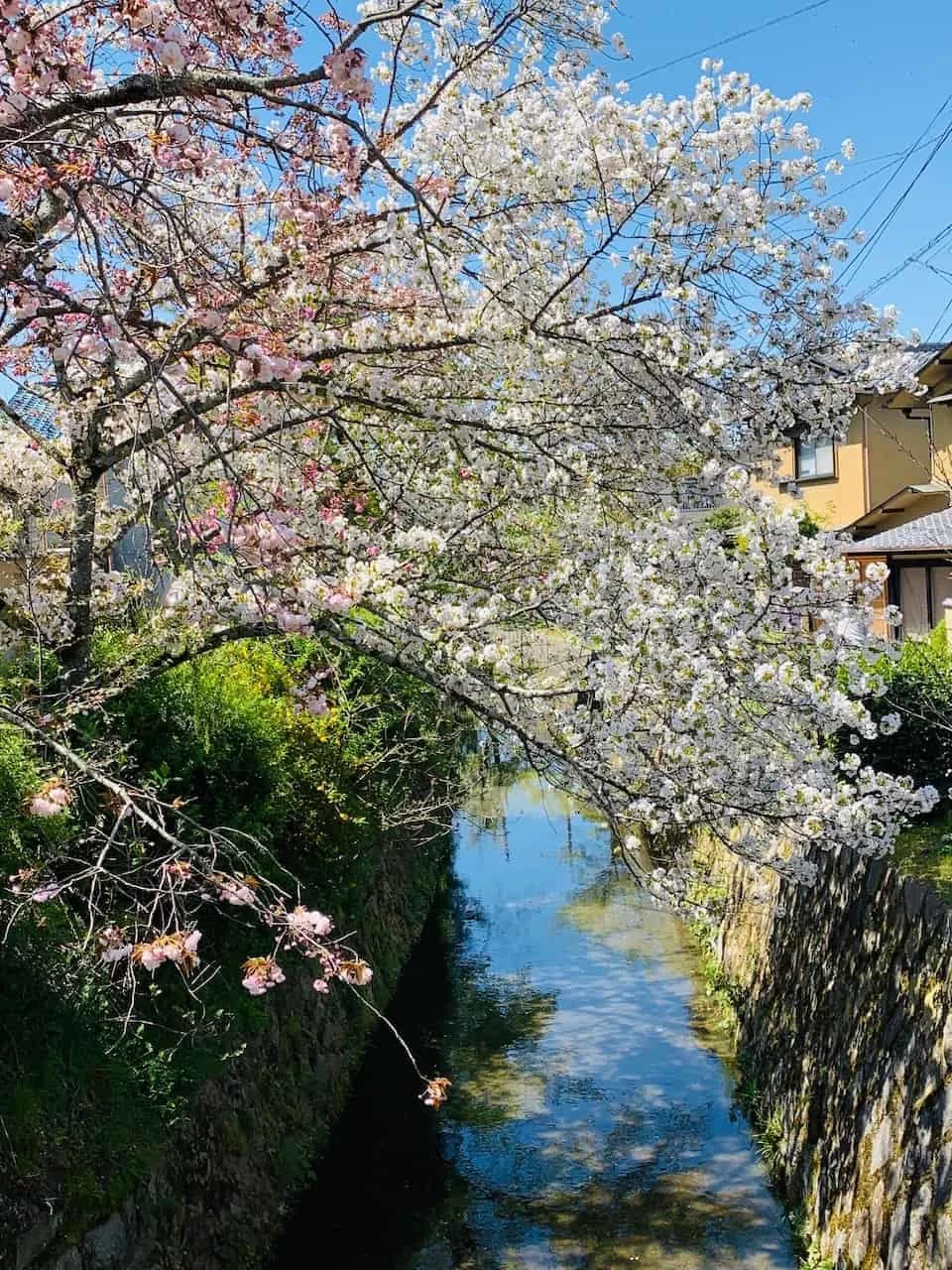 C) Nanzen-ji Temple
Nanzen-ji is more than a simple temple. Its grounds make up a huge area and you can spend plenty of time taking it all in. To enter the grounds is free of charge, however if you would like to actually enter some of the structures/complexes you will need to pay a fee.
The Sanmon gate for example can be viewed from the outside, but if you would like to head up and take in the view from above, you will need to pay an entrance fee.
The same goes for most other parts of the complex. And don't forget to head to the big stone aqueduct too! It makes for a great picture opportunity and gives you a different perspective of what Kyoto has to offer.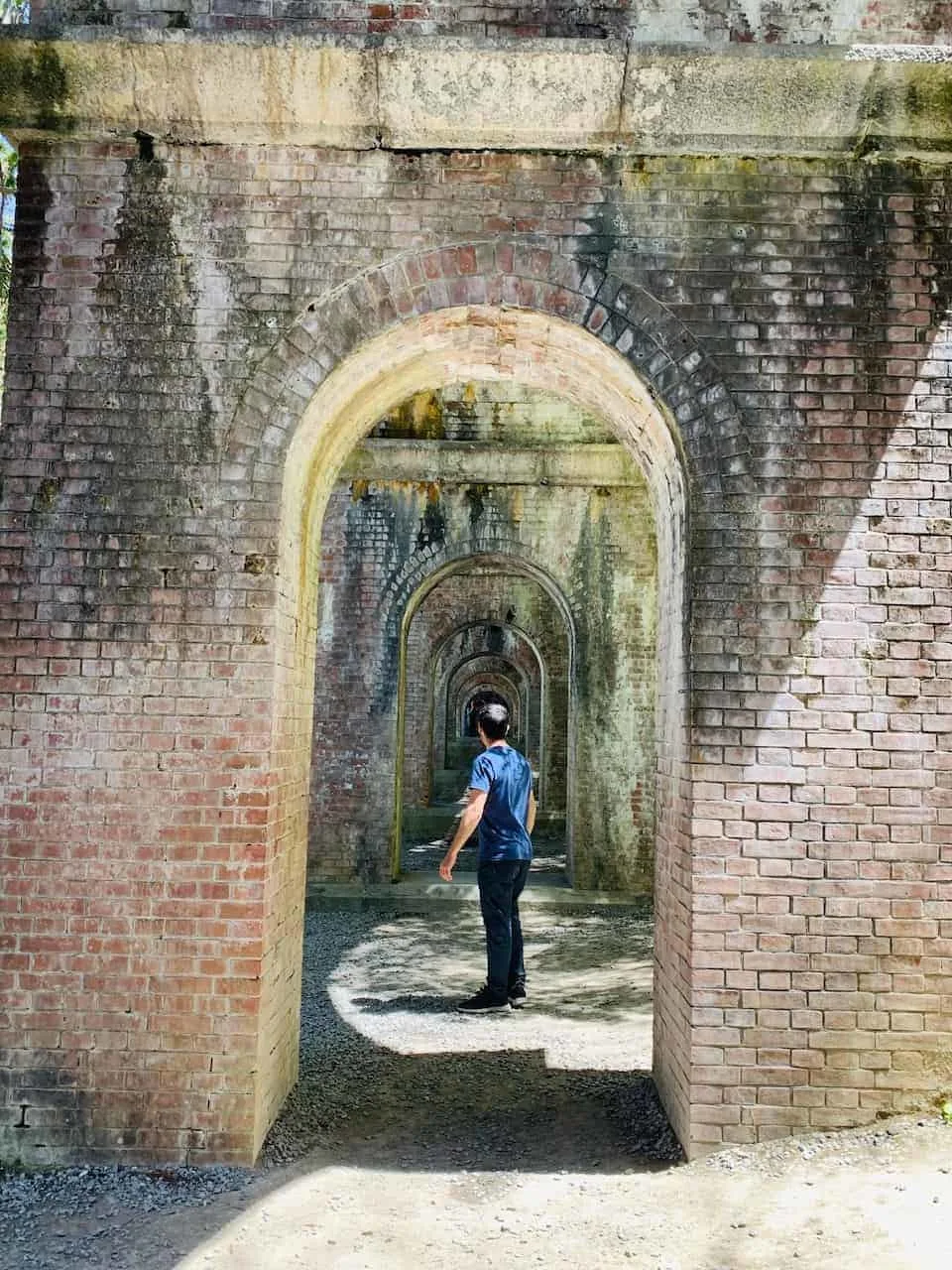 D) Chion-in Temple
After finishing up with Nanzen-ji, continue along to Chion-in Temple. This temple is free of charge and has some incredible architecture to take in and enjoy.
You will find a spread out temple grounds with some ornate buildings and beautiful gardens.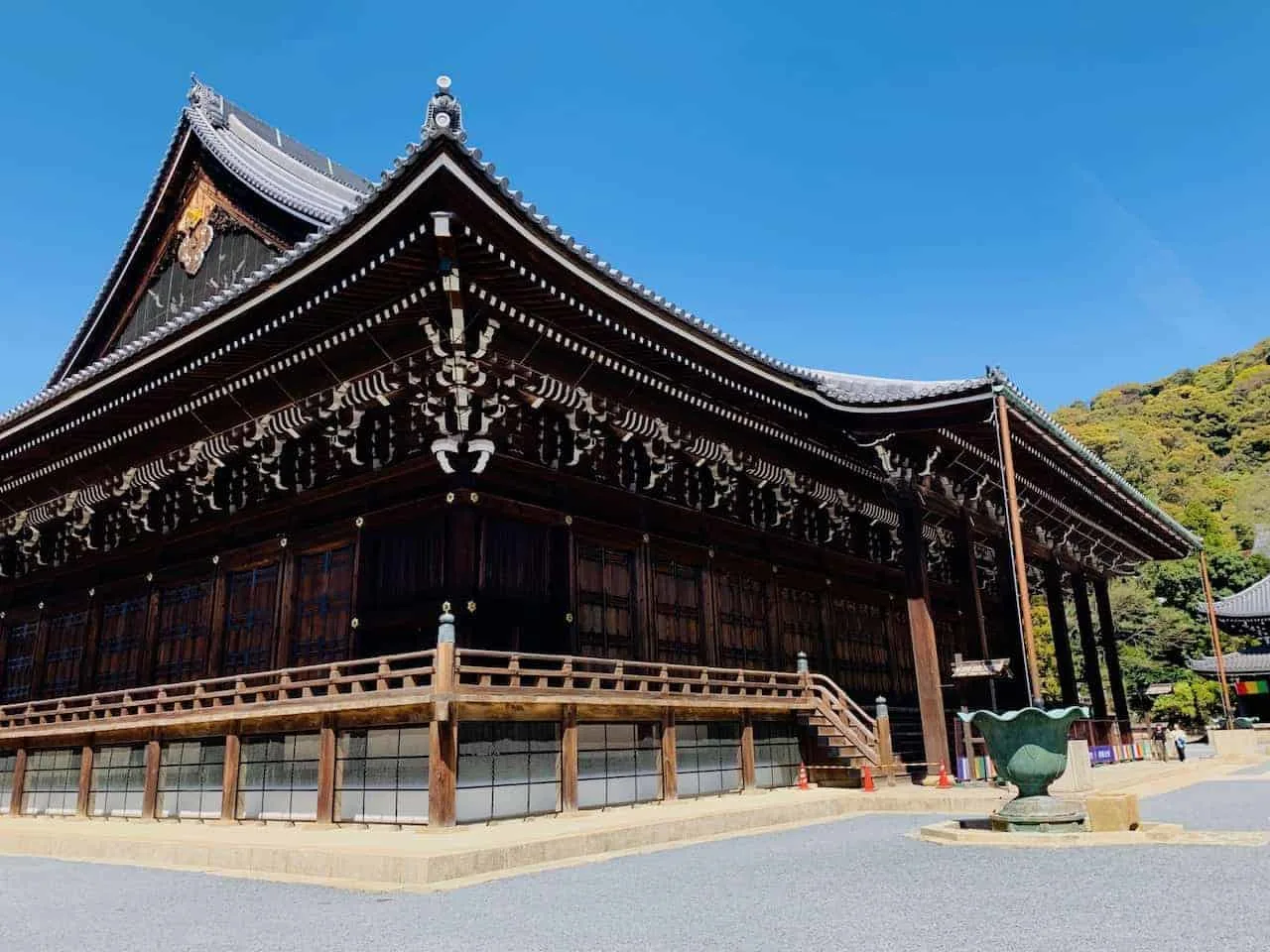 E) Marayuma Koen Park – Yasaka Jinja Shrine
Now that you have explored some temples, continue along to Marayuma Koen Park. Not only will you find a great spot to enjoy some nature here, but you will also find the Yasaka Jinja Shrine.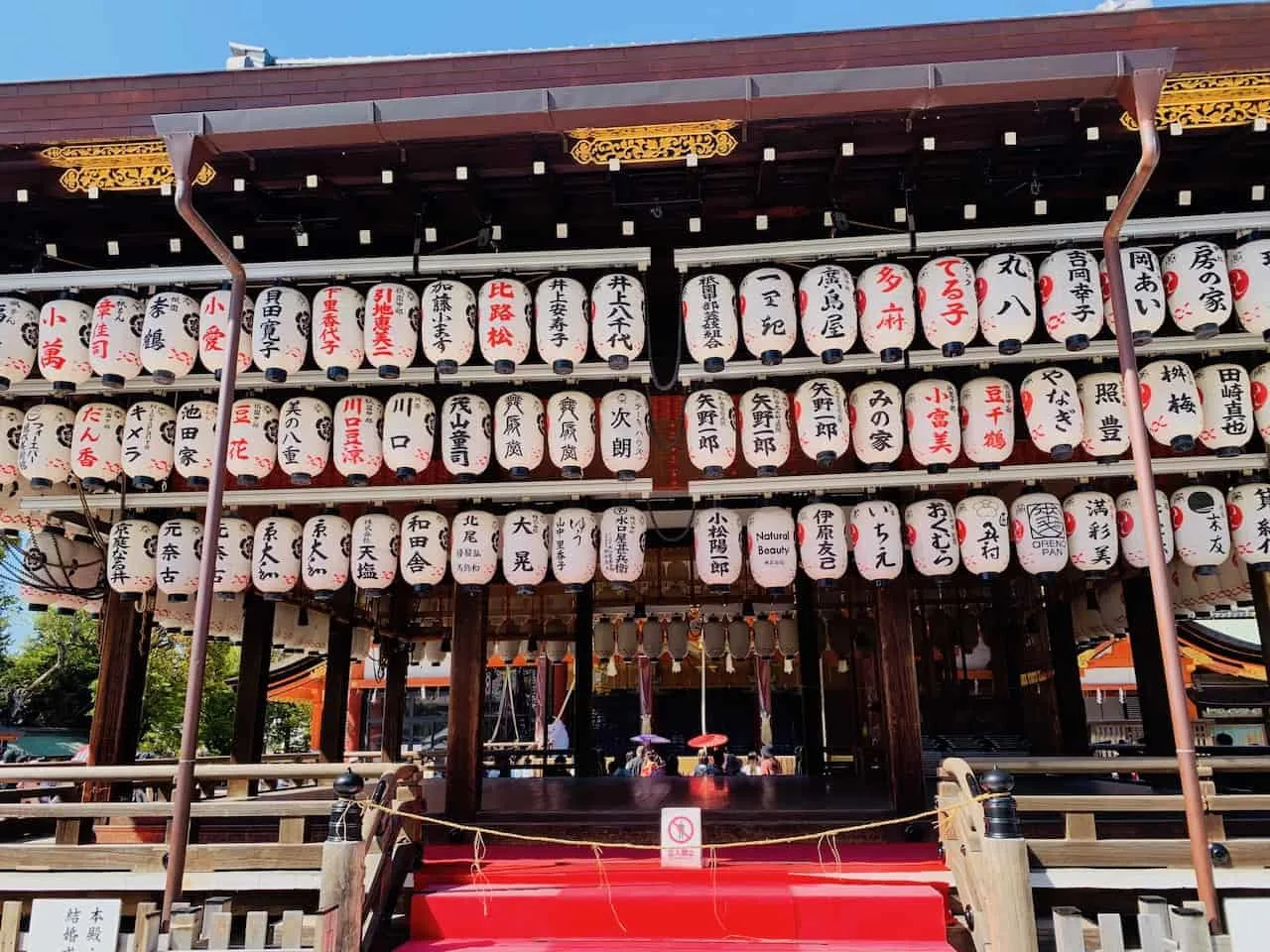 F) Kodai-ji Temple
Another top temple to visit along the route is that of Kodai-ji. You will find a unique and pristine sand garden here alongside ponds, temple structures, and a small bamboo grove.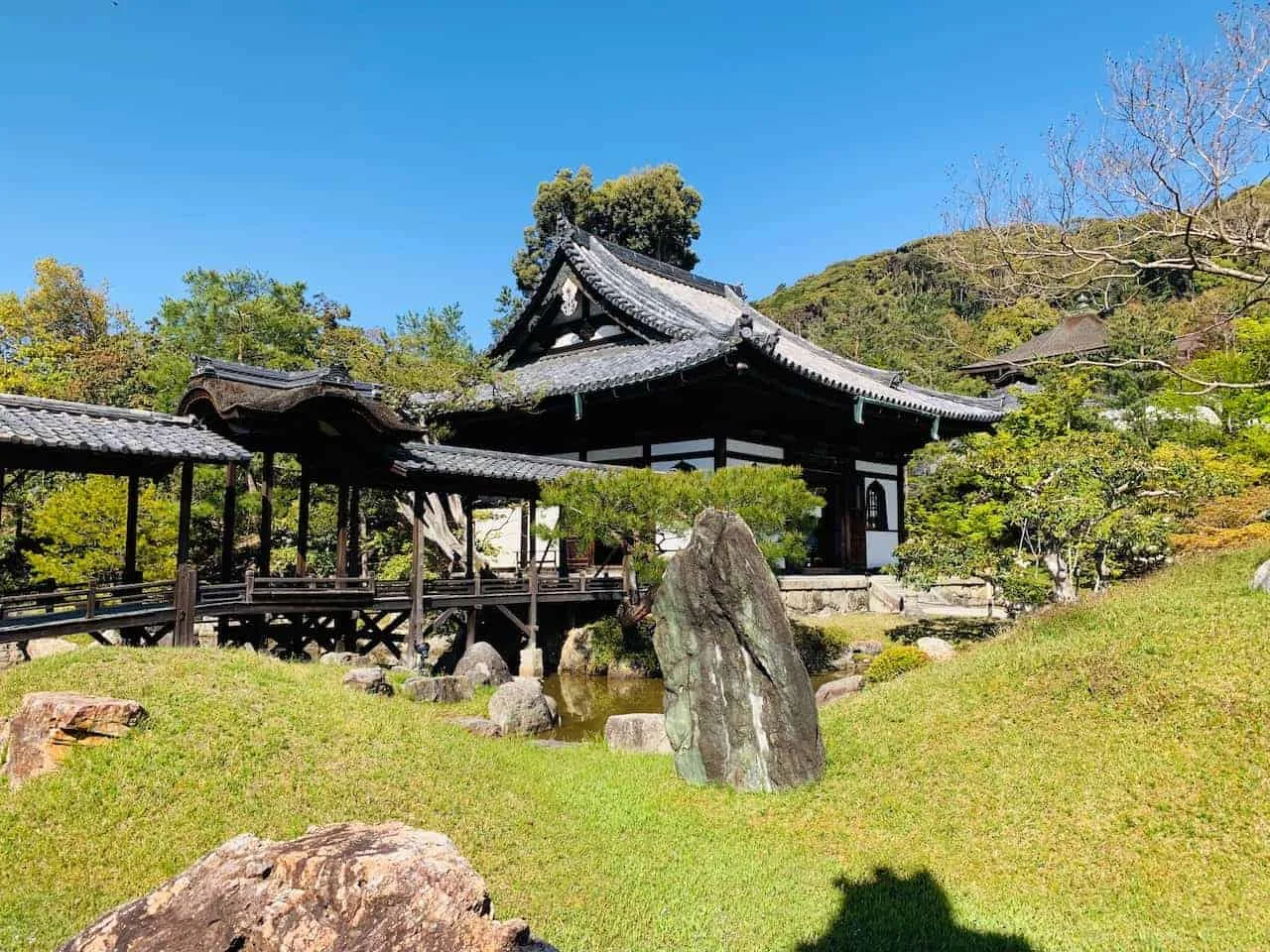 G) Ninen-zaka and Sannen-zaka
After enough time temple hopping, it is time to head off to two of Kyoto's main pedestrian streets – Ninen-zaka and Sannen-zaka. You will find them just a 5 minute walk from Kodai-ji as you shop and eat your way up and down the area.
The two streets are full of small food shops, local stores, and plenty more. Just people watching along the way is a highlight within itself. After spending enough time around the streets, it is time to head to your last attraction of the day – Kiyomizu-dera Temple.
Note: Kiyomizu-dera Temple closes at 6:00PM so as you go about your day just remember that so you do not miss out on this incredible temple.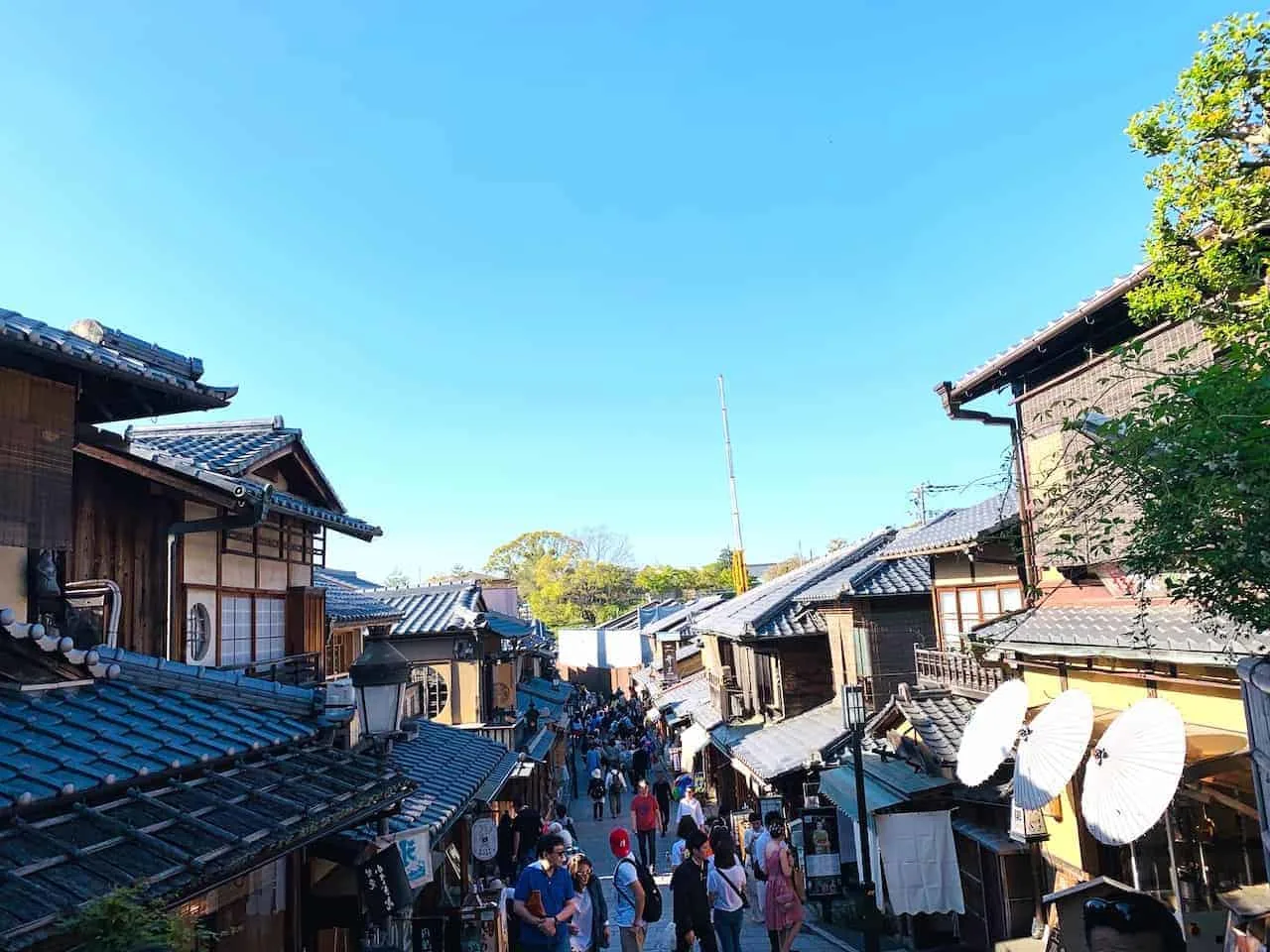 H) Kiyomizu-dera Temple
To end your day head to the Kiyomizu-dera Temple complex. You will find things such as a five storied pagoda, the Otowa Waterfall, and of course the main temple itself. And lastly, don't forget to take in those views!
You will have some great vantage points of the city from the main viewing platform of the temple as well as at various other spots as you make your walk around to the other structures in the complex.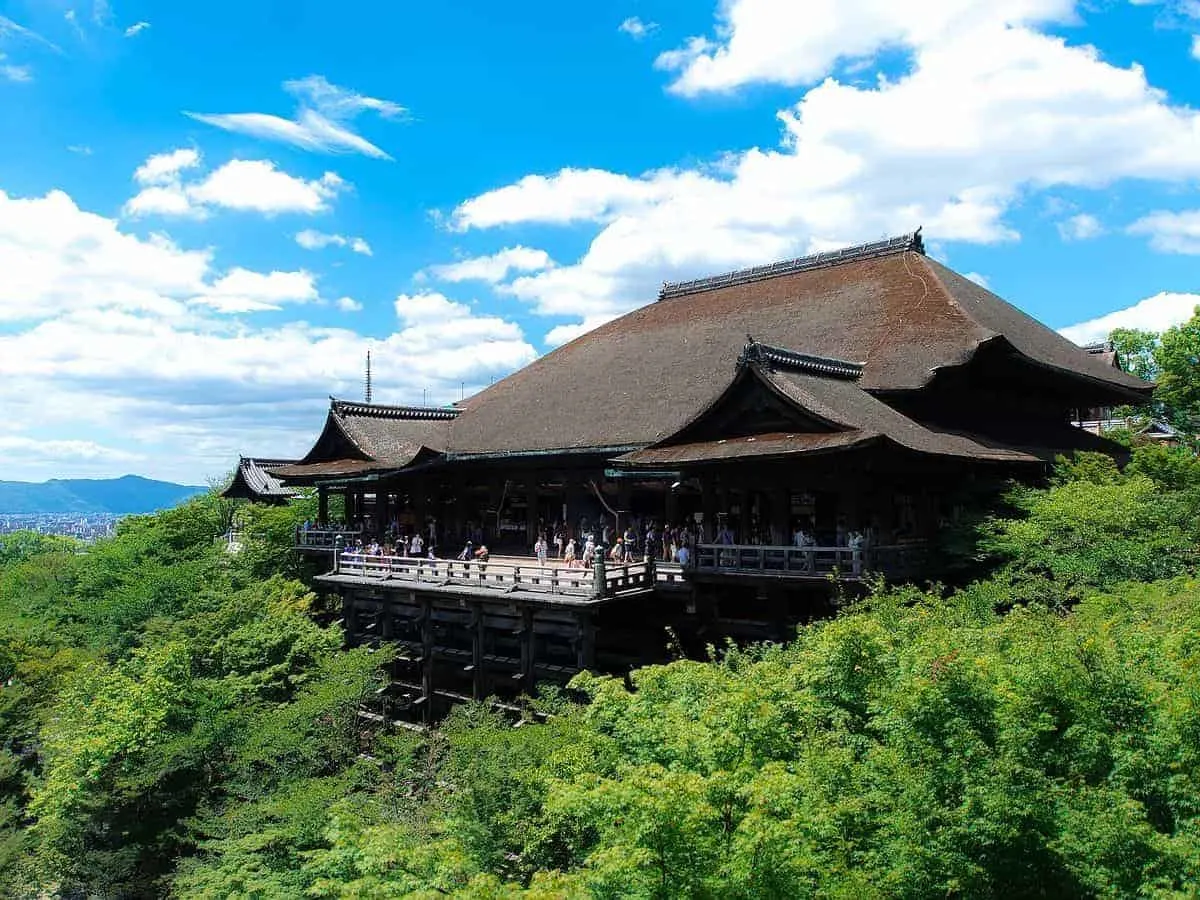 Kyoto Day 2
Your second day in Kyoto will take you to a few of the "must dos" when visiting the city including the Golden Pavilion, Arashiyama Bamboo Grove and Fushimi Inari Temple.
Since these places are some of the most visited in all of Kyoto you can expect to see crowds at them. You can do this day starting with either one and if you want to avoid the crowds (at one of them) I recommend getting an early start to the day.
Kinkaku-ji Temple
Start the day by hopping on a bus towards Kinkaku-ji also known as the Golden Pavilion. Unlike the silver pavilion which isn't silver in color, the Golden Pavilion is most definitely gold in color.
You will find Kinkaku-ji sitting on the base of a beautiful pond and you will have the opportunity to take in some vantage points from afar and right up next to it as well. All you need to do is follow the path around and enjoy!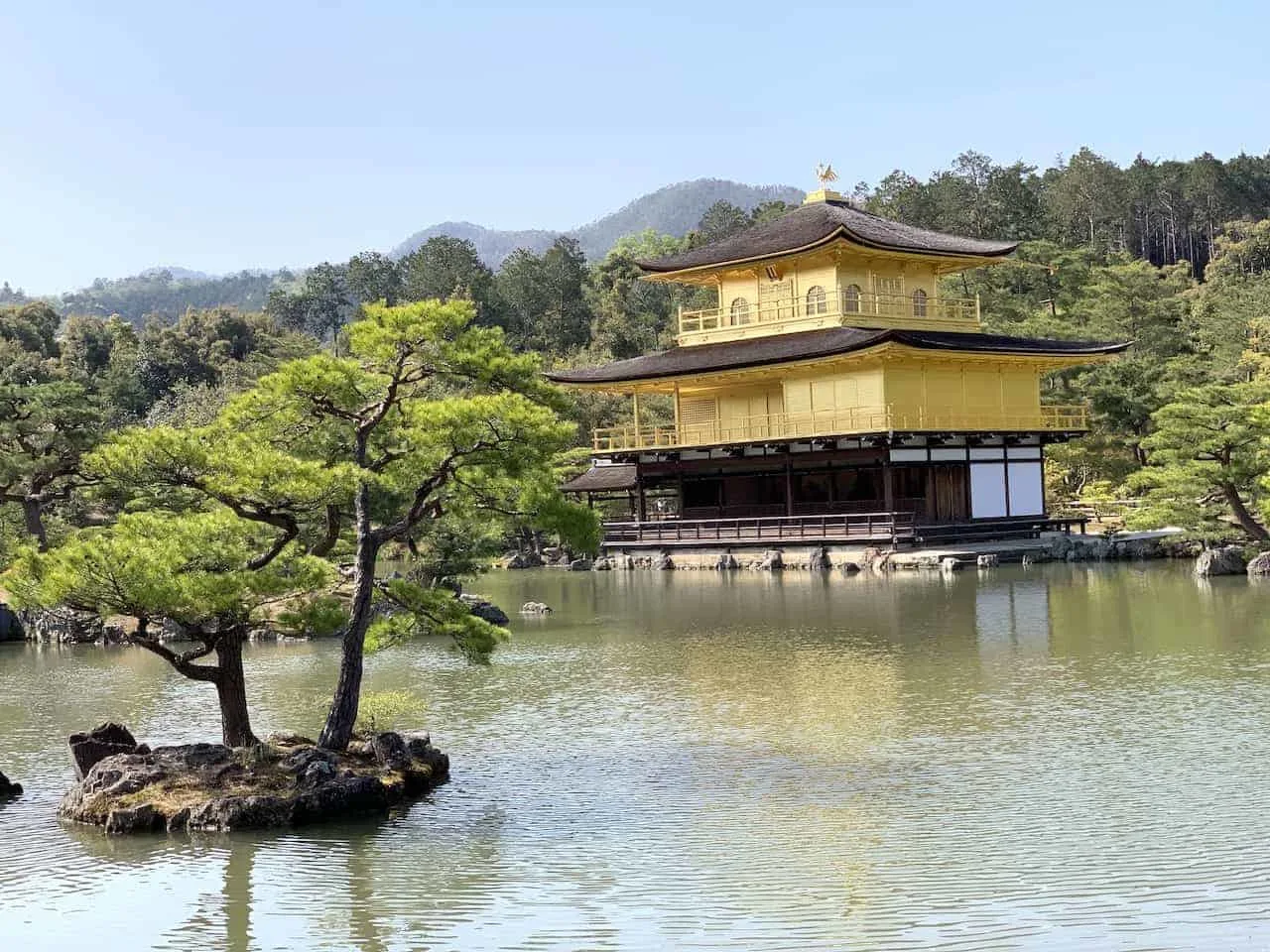 Ryoan-ji Temple
After taking in the Golden Pavilion you can either make the 20 minute walk or quick bus ride to Ryoan-ji. Beyond the nice garden and temple area, Ryoan-ji is well known for its famous rock garden, with 15 unique stones. Take a seat on a viewing platform and enjoy the peacefulness all around.
What is unique about the garden, is that at any vantage point you cannot actually see each and every rock.
Feel free to make your way across the viewing platform to test it out for yourself. A pretty unique place on my Kyoto bucket list.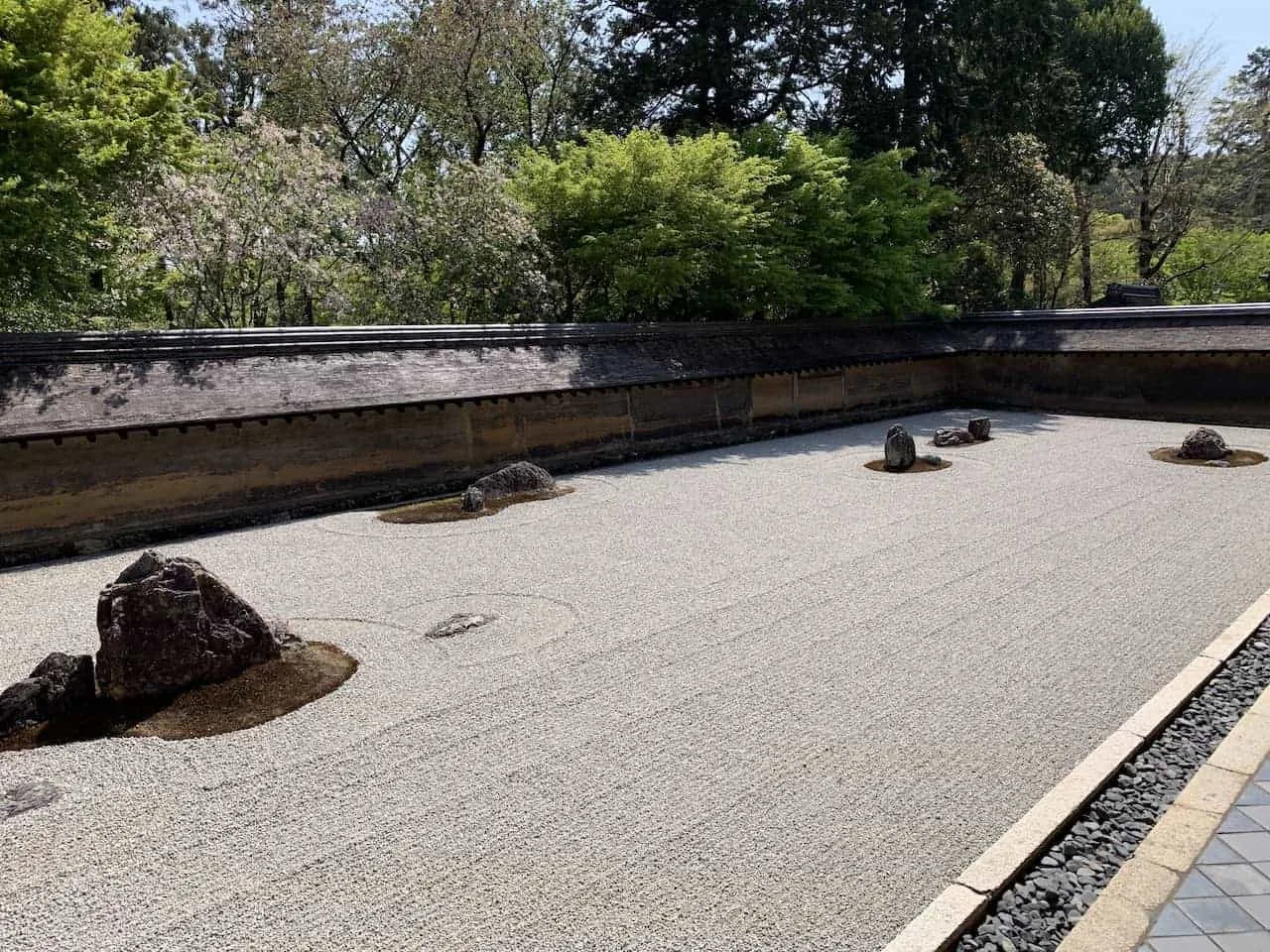 Tenryu-ji Temple
Now that you have seen two of Kyoto's highlights it is time to make your way to the Arashiyama district. This is one place I wish I actually had more time to visit. I didn't realize how many different temples and attractions were around the area.
Start off at the Tenryu-ji Temple, which is the main one in the area. It was built all the way back in 1339 and is actually the most important Zen temple in all of Kyoto (it is even a world heritage site!). There are a few main halls here to walk through as well as a beautiful garden to enjoy.
Arashiyama Bamboo Grove
After taking in the temple it is time to check out the Arashiyama Bamboo Grove. This is one of those spots in Kyoto that you may have continuously come across when researching the city.
While it is an incredible piece of nature with thousands of bamboo trees all around, it also comes with the crowds. Unless coming very early or late, expect there to be plenty of crowds walking the path.
You can actually enter the bamboo grove from the back of the temple complex instead of walking all the way around. The main walking path of the bamboo grove is pretty short – only about 10 minutes long.
Around the area though there is plenty of other bamboo and park features but the main attraction is the short walkway itself.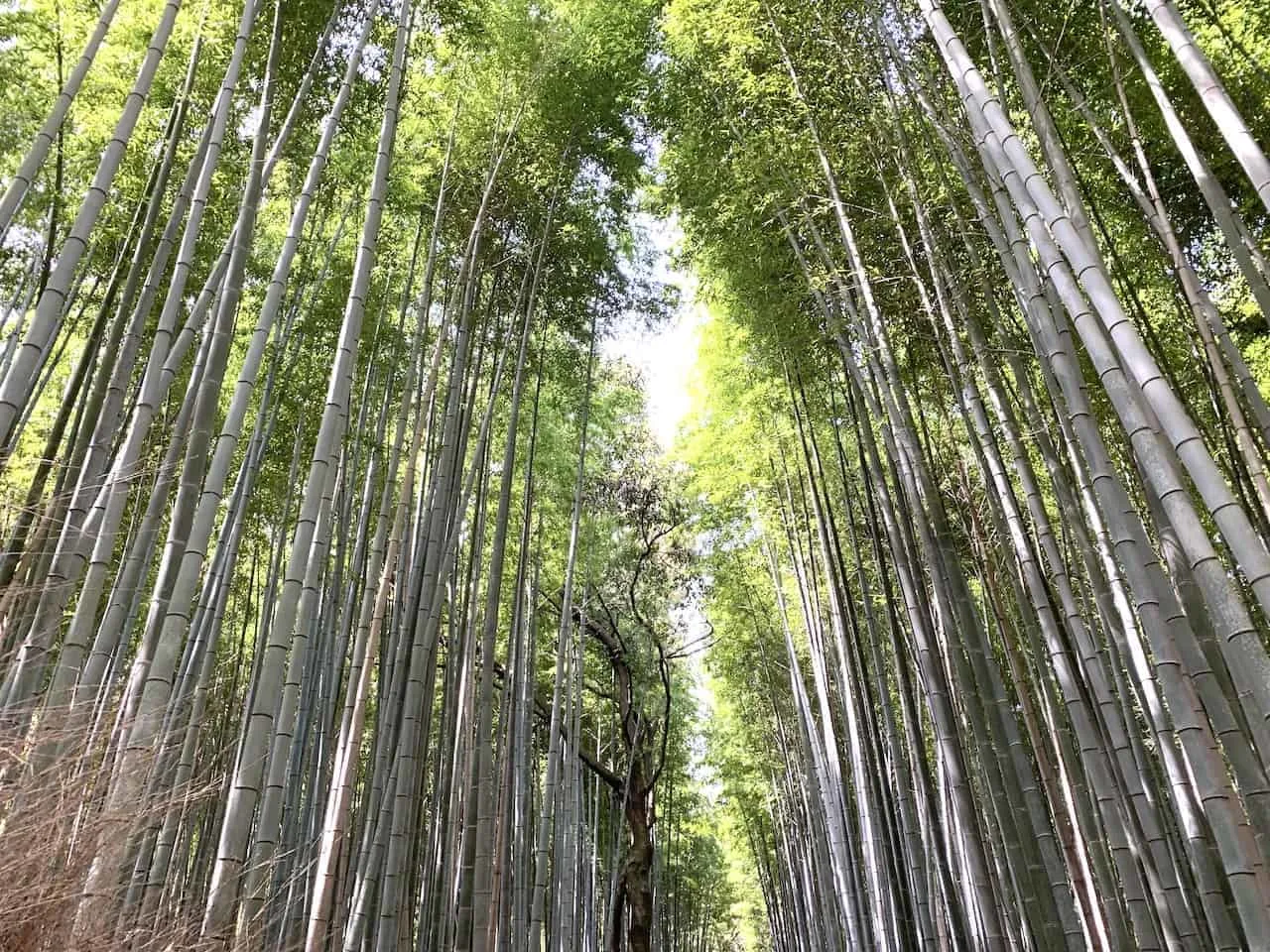 Arashiyama Monkey Park
After walking through the grove and the rest of the park, make your way to the river area, where you can enjoy a stroll alongside the riverside and over the bridge. On the other side of the bridge is the Arashiyama Monkey Park.
Now this monkey park is not a zoo. The monkeys are not caged and they are free to roam as they want. The reason they stick around the area is because they know a lot of food is given out by visitors.
The trail up to the monkey park is about 20-30 minutes uphill so you will need to work for it a bit.
But once you are up there, not only do you get to see a bunch of monkeys roaming around but you also will get a fantastic viewpoint of Kyoto down below.
Spend some time enjoying the monkeys, taking some pics and enjoying the view. Don't forget to listen to all the rules too! You don't want an angry monkey attacking you!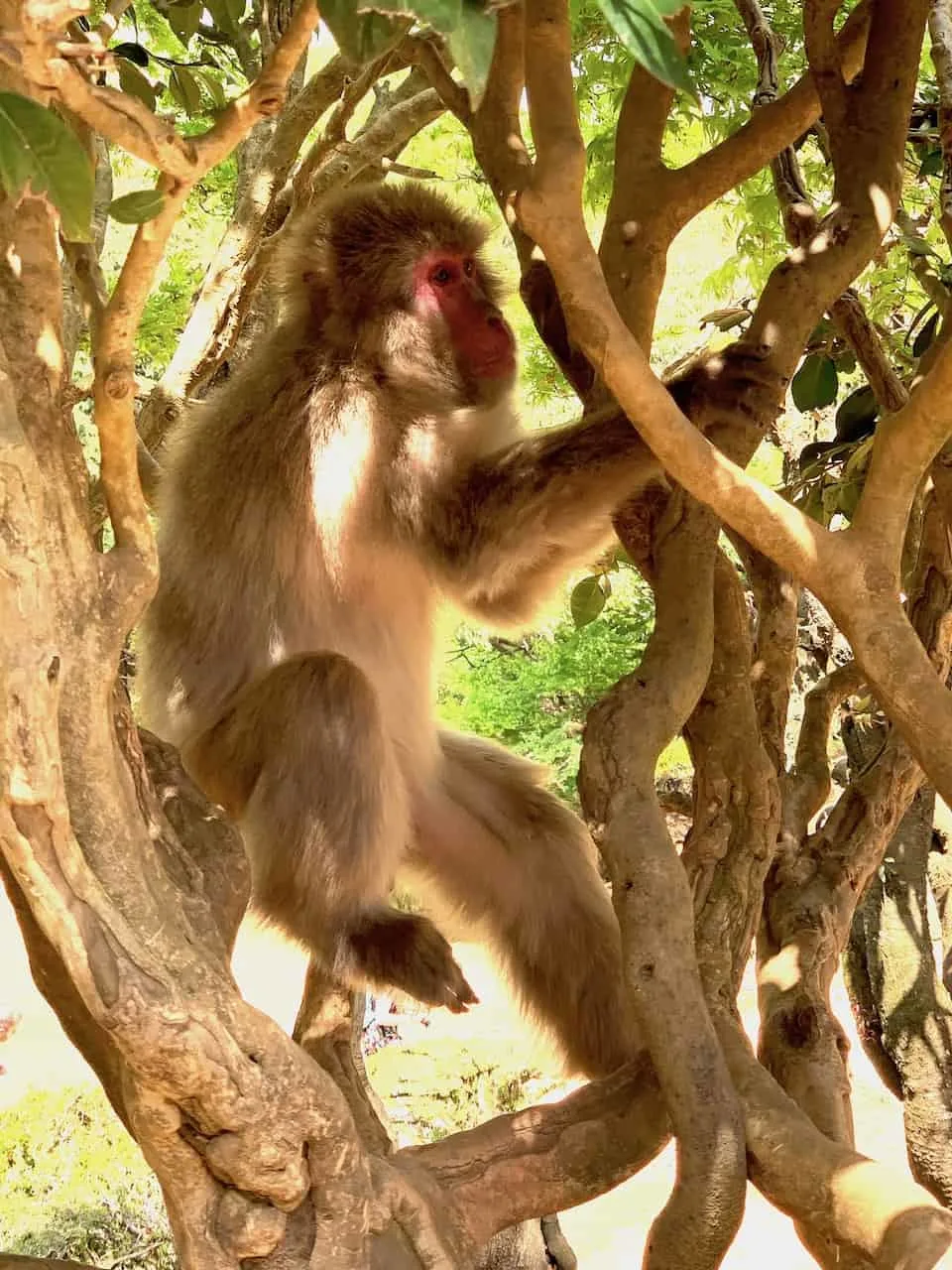 Fushimi Inari
To end the day head all the way out to Fushimi Inari. Now this is not your normal temple – there are literally thousands of red torii gates lining the paths up the mountain.
You can spend some time at the main temple before following the path up and through the torii gates. The further up you go the fewer people you will begin to see.
You can head all the way up to the top but the best viewpoint of the city down below is thought to be at Yotsutsuji Intersection. It can take around 30-45 minutes to make the walk there but I would definitely recommend doing so if you have it in you.
BIG TIP: depending on your timing for the day, I would try and plan to get up to the viewing point a bit before sunset time. Seeing the sun set over the city at Fushimi Inari is a site you will not soon forget!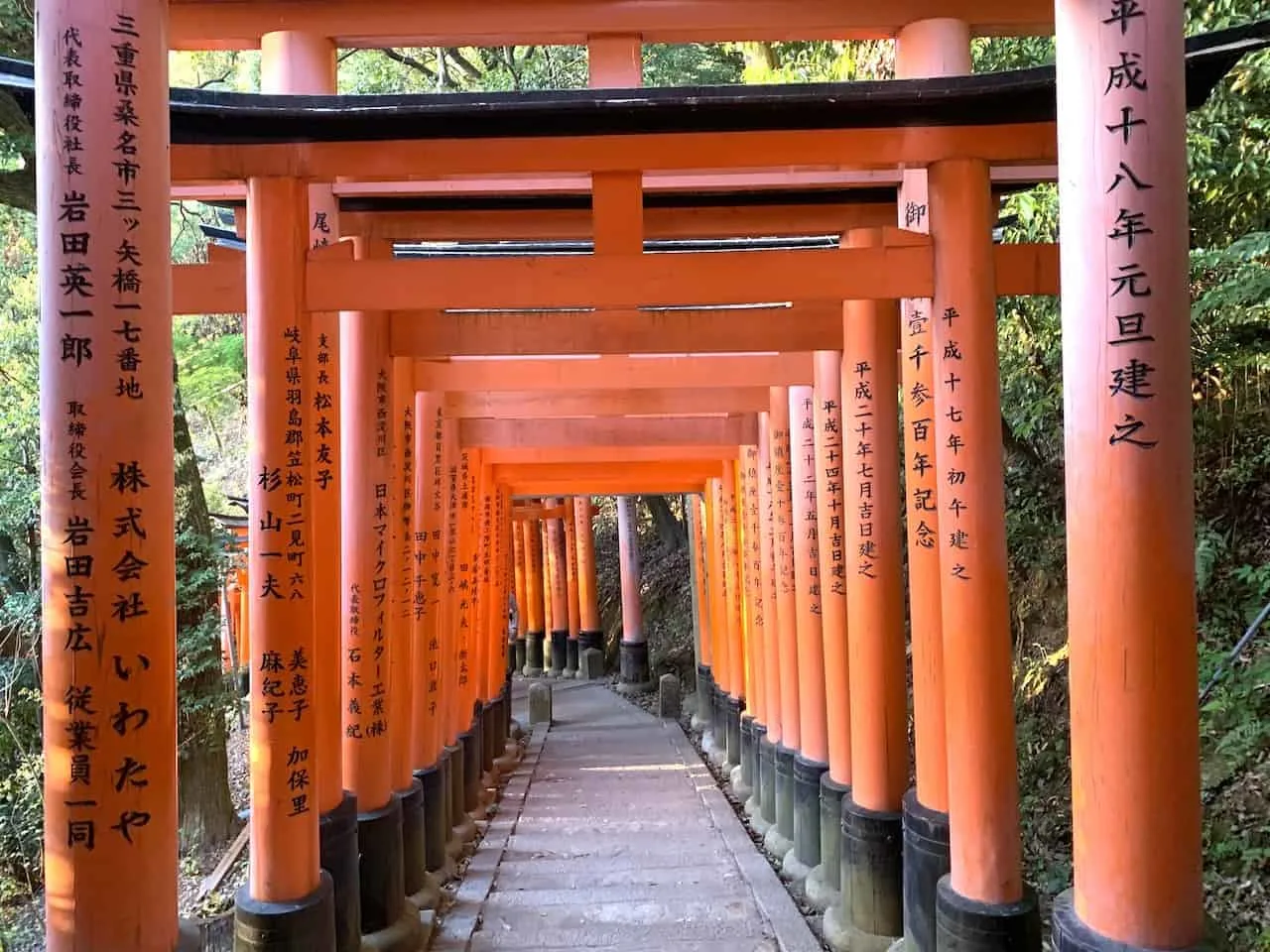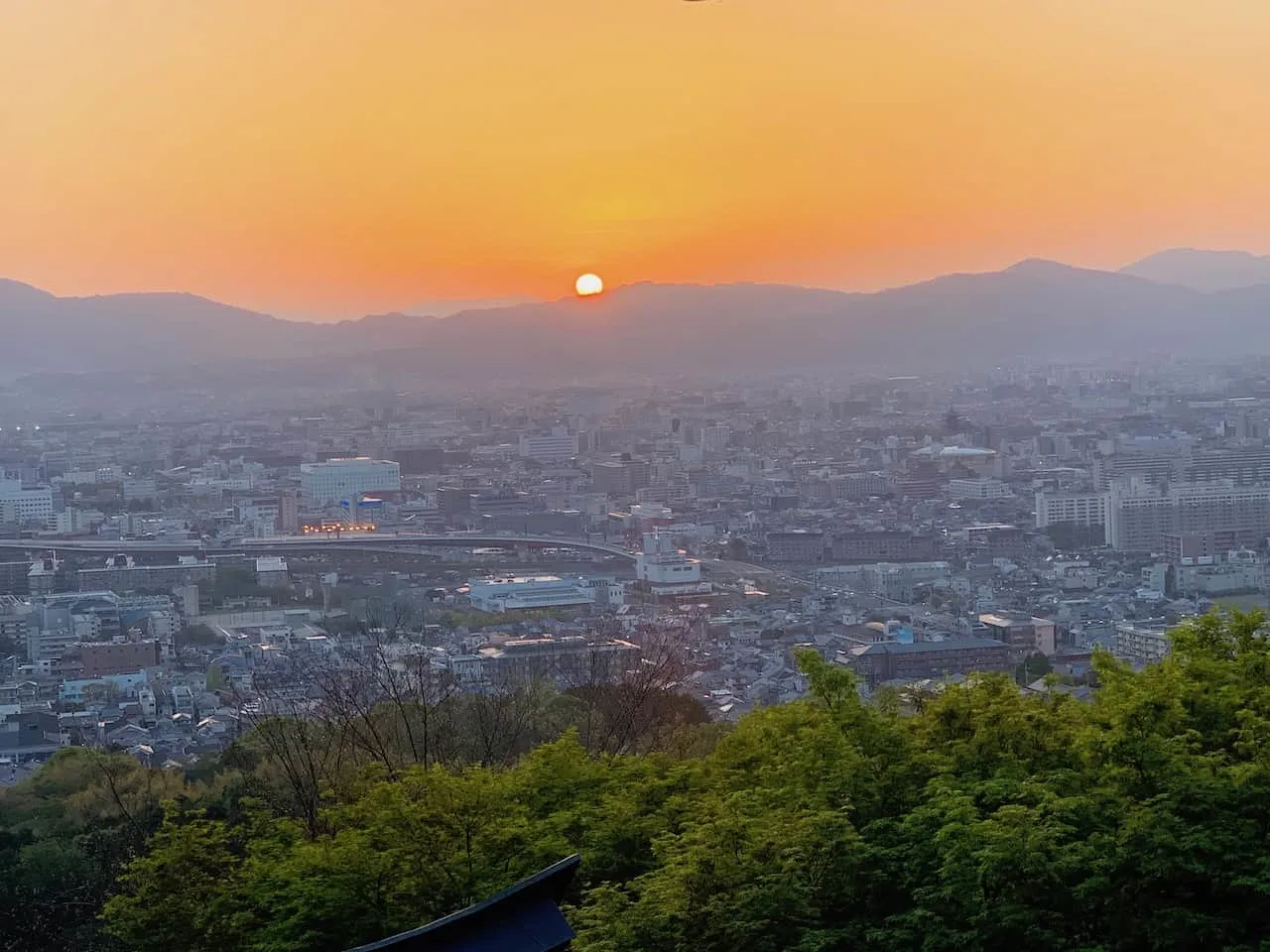 Now that you have a better sense of what can be done with a couple days in both Tokyo and Kyoto, it is time to talk about all the other add ons that you can choose from to complete your itinerary.
Below are some of the top day trip options that could work well for one week in Japan.
3) Kamakura (from Tokyo)
A day trip to Kamakura will get you out of the capital and onto the beachside town of Kamakura. Now, there is much more to see in Kamakura than just the beach though.
You will find hiking trails through the forest with some expansive views of the city, the Great Buddha – one of the most iconic buddhas in the whole country, as well as plenty of other temples, shopping streets, and of course the beach too.
This is a great option for those that want to spend more time in Tokyo but also get out of the city for the day.
» Be sure to take a look at the Tokyo to Kamakura Day Trip Guide to learn much, much more about this city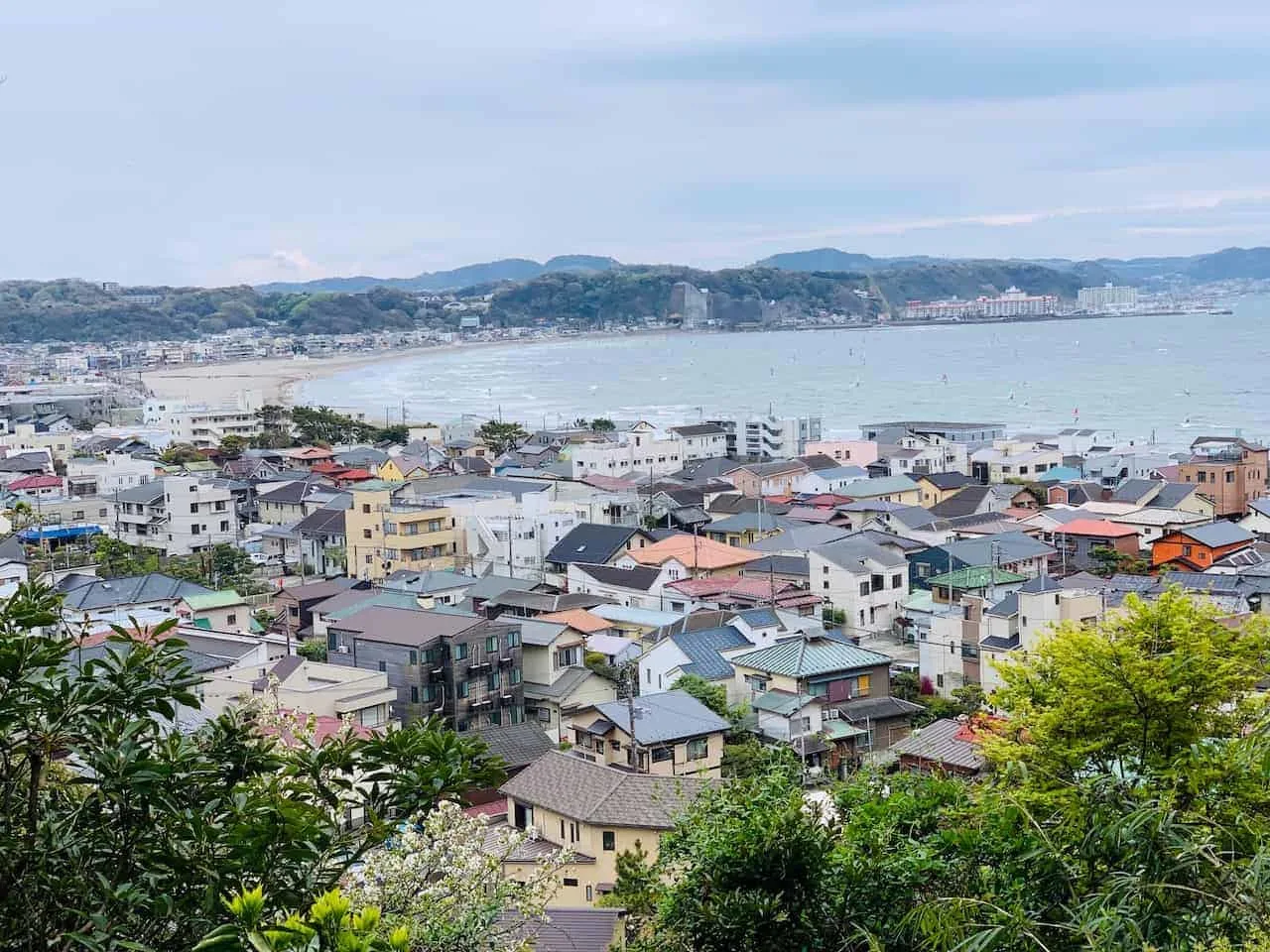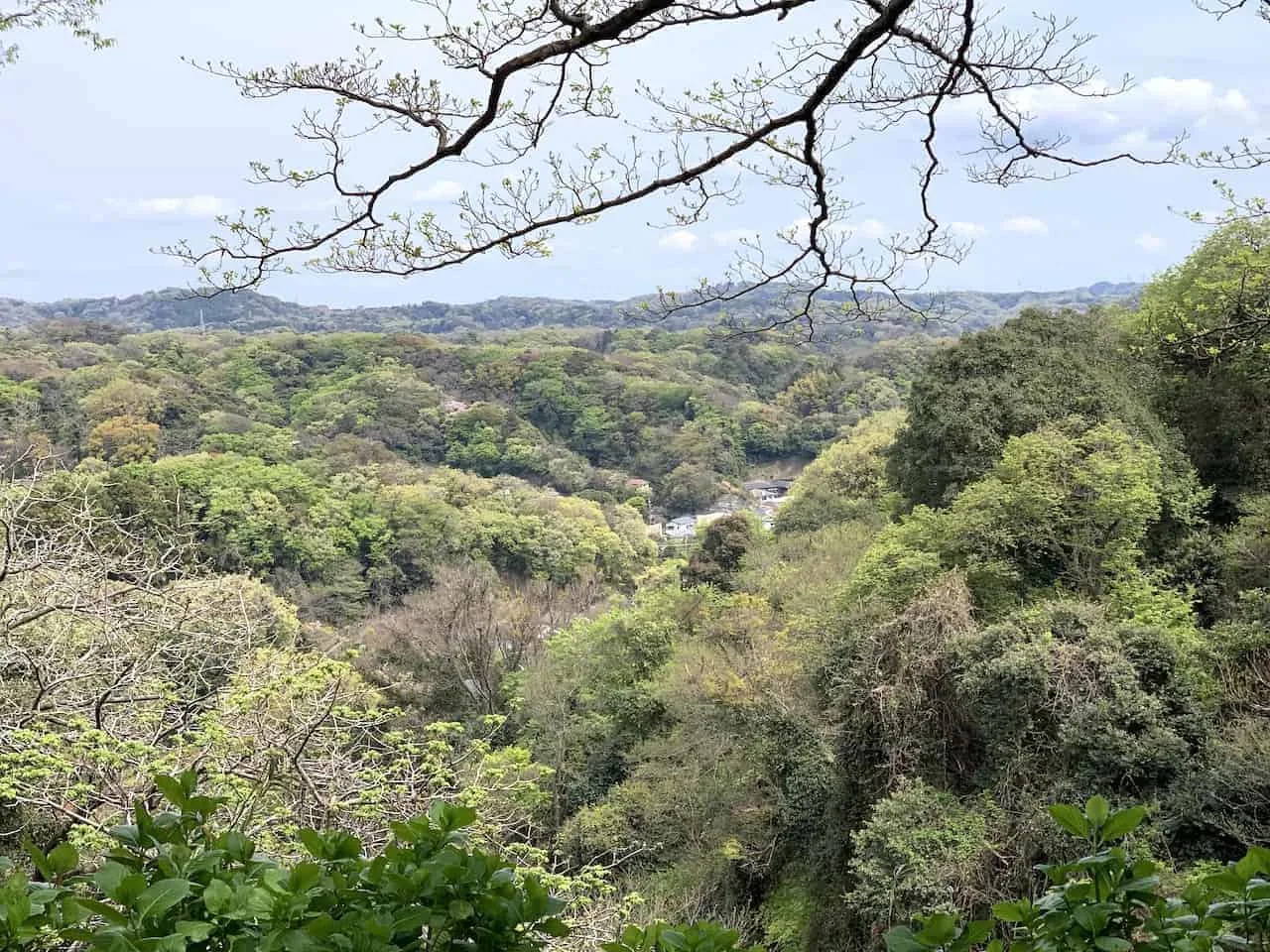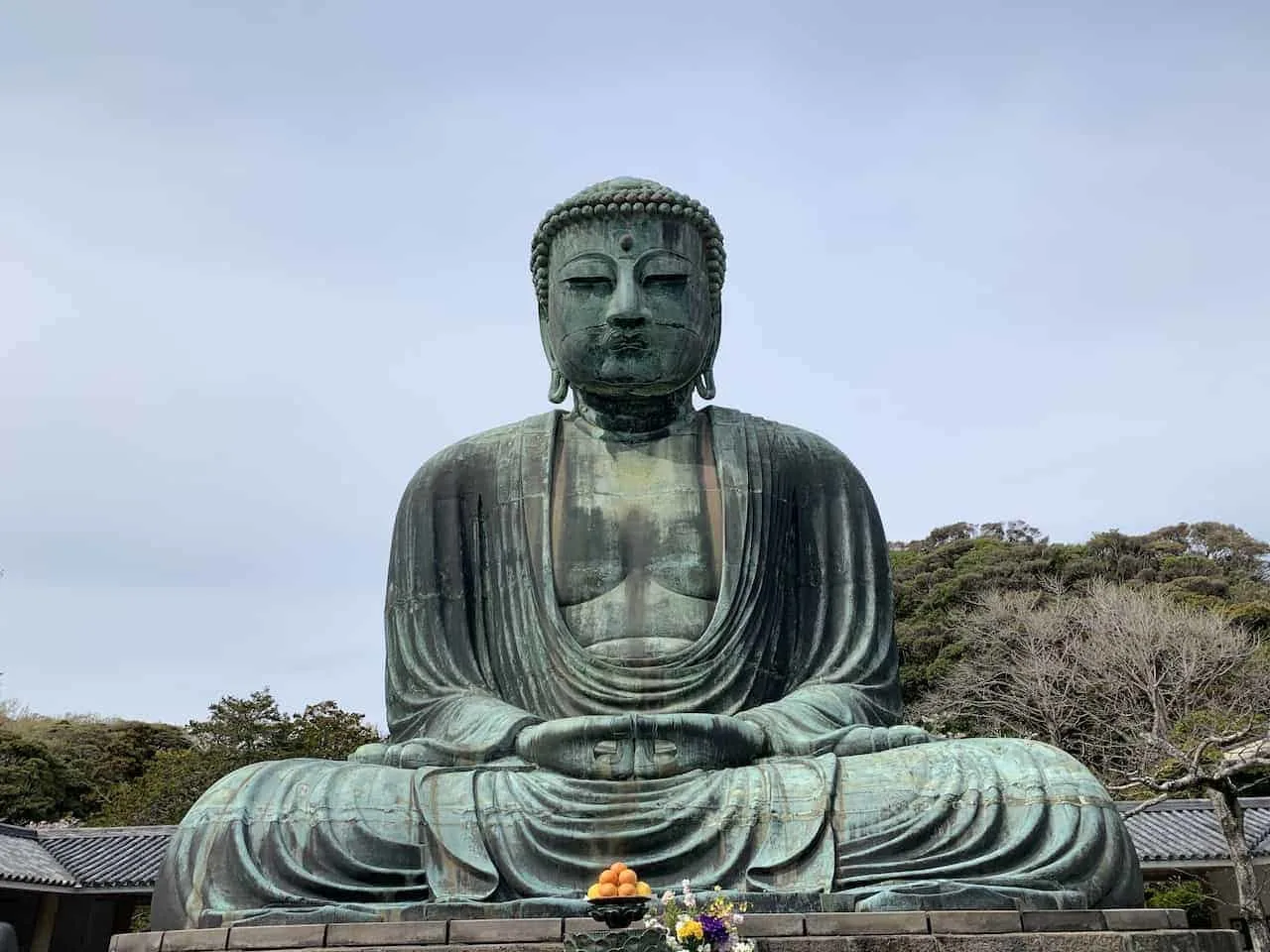 4) Hakone (from Tokyo)
Another day trip option from Tokyo is the town of Hakone. This day trip should be taken if you want to get some Mt Fuji time into your itinerary. Hakone is one of the closest places to see Mt Fuji and on a clear day, it is one of the best views in all of Japan.
Hakone is not just a place to get a view. A day trip there will entail what is called the Hakone Round Course Circuit. This circuit takes you on a variety of transportation options including trains, cablecars, ropeways, boats, and busses on a loop around the Hakone area.
It is a full day of exploring all that Hakone has to offer, as you see Mt Fuji from a variety of different places and enjoy all that the area has to offer.
An additional option here too – if you do not want to make this a day trip, you can also complete this day as a pit stop between Tokyo and Kyoto for example. All you would need to do is store your luggage at the Hakone train station (or send it ahead to Kyoto using the Takkyubin service), go about your day in Hakone, and then train to Kyoto at the end of the day.
» The Hakone Round Course Circuit Guide goes into much more detail on how to go about your day in the area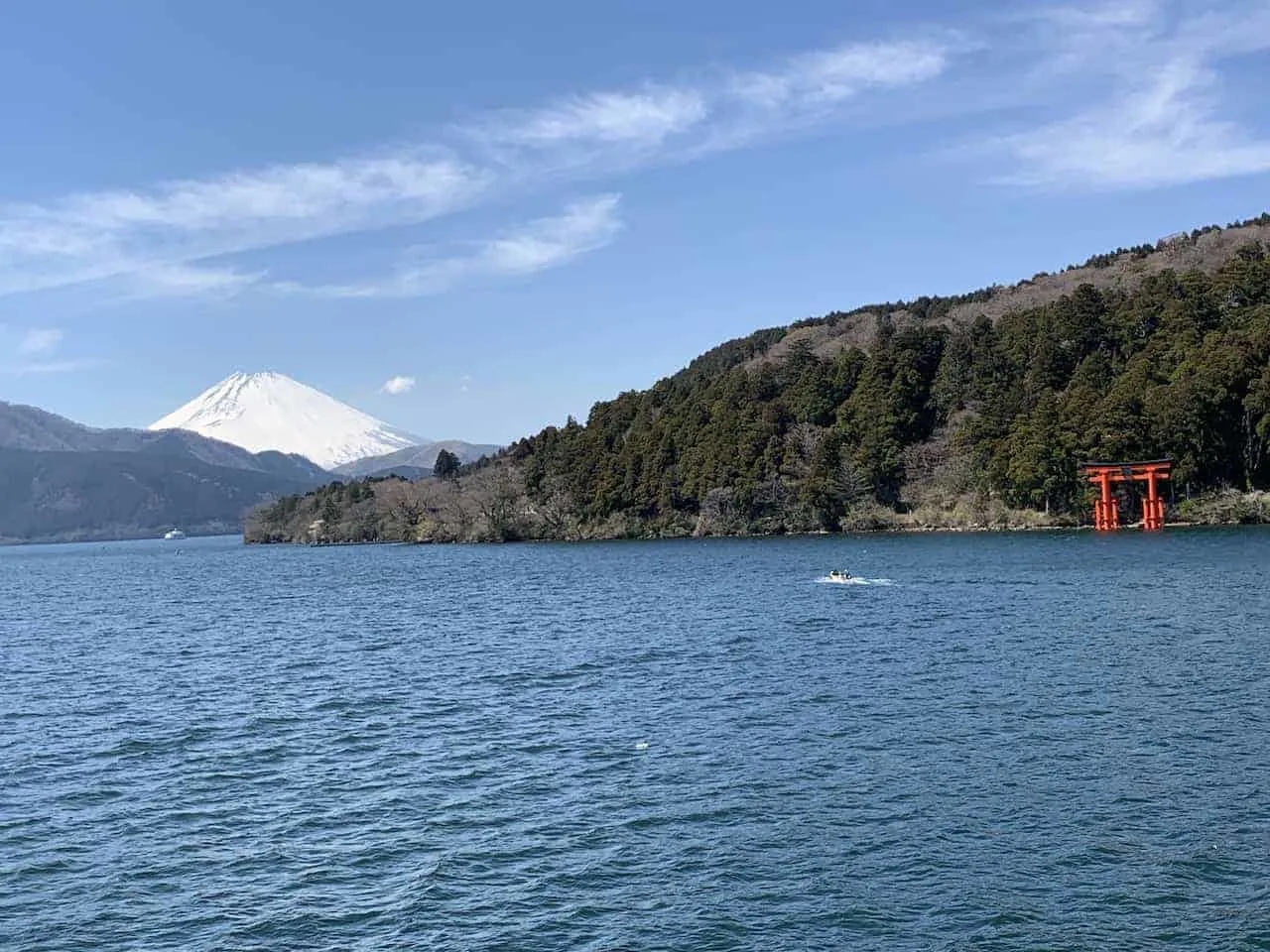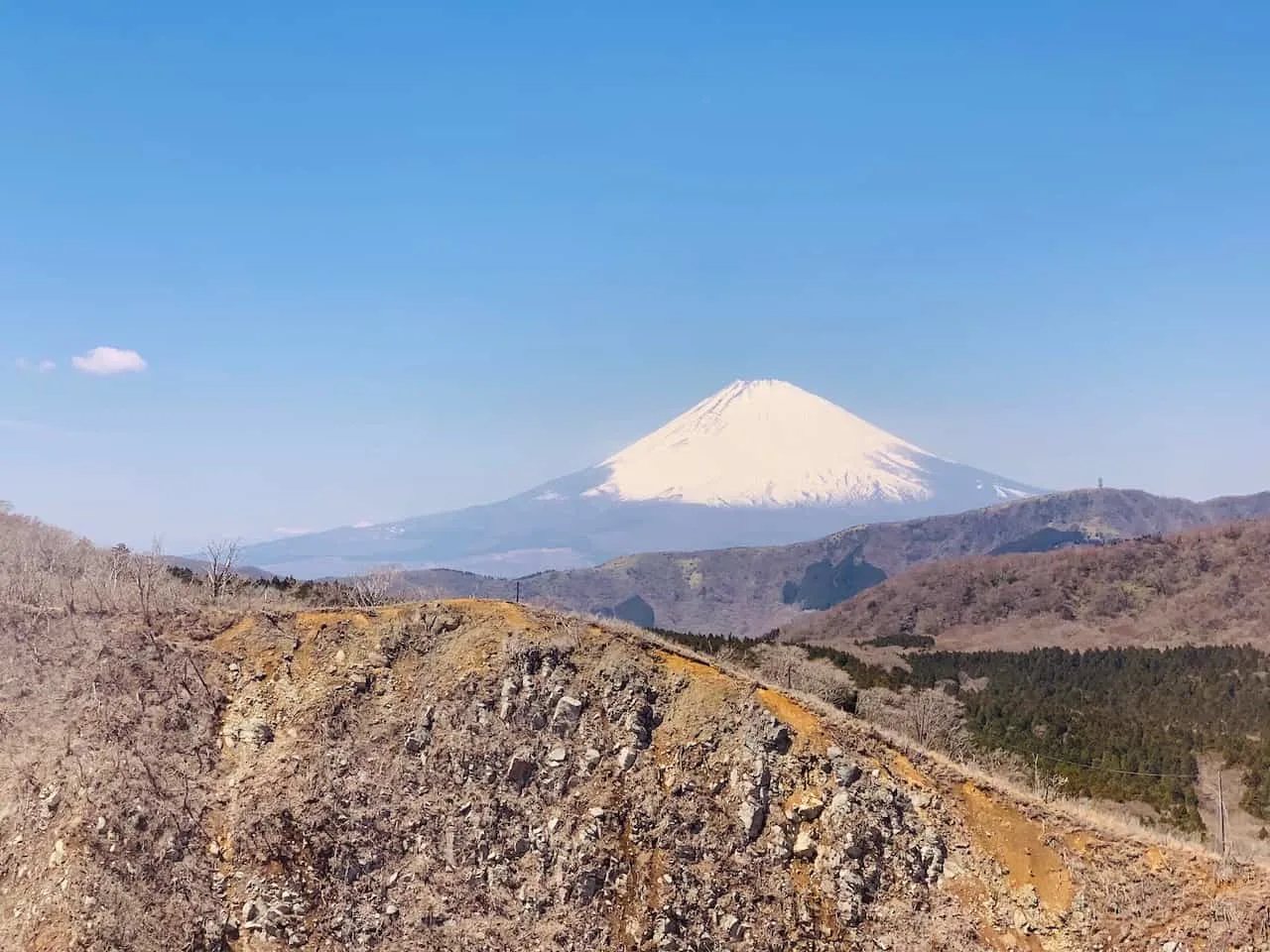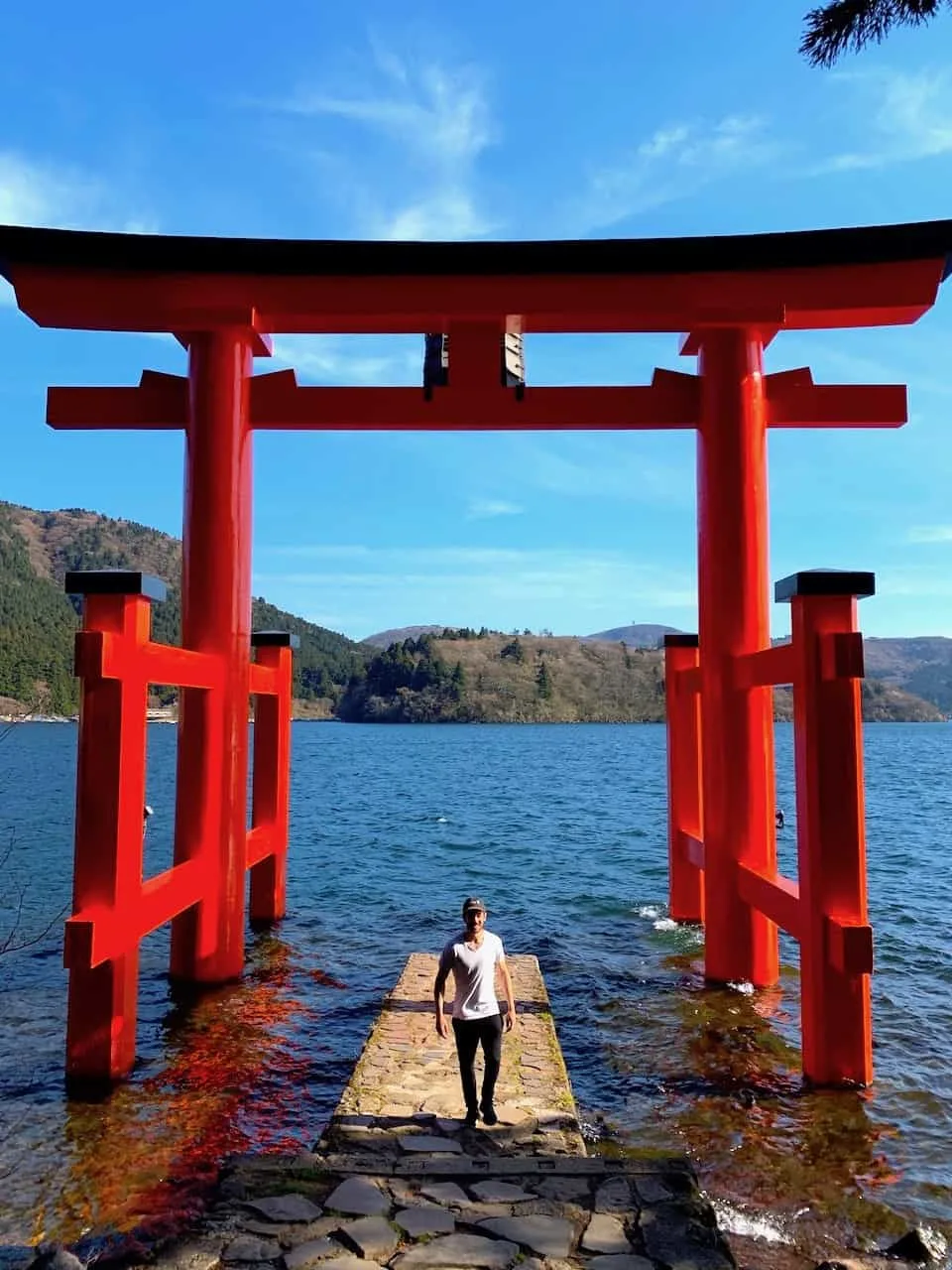 5) Nara (from Kyoto)
The city of Nara is the perfect day trip to take for those that want to spend more time in the Kyoto area. Less than an hour away from Kyoto, Nara is a place packed with temples and deer. Yep, that's right – deer.
Everywhere you go, whether it be to the park, gardens, temples, or up the Mount Wakakusayama viewpoint, you will be surrounded by deer.
The great thing about Nara is that you can spend as much or as little amount of time exploring the city before heading back to Kyoto.
During my time there I spent about 6 hours making my way around to several different of the major sites and I felt it was the perfect amount of time to get to know what Nara was all about.
» Take a look at the Kyoto to Nara Day Trip Guide to learn more about this incredible day!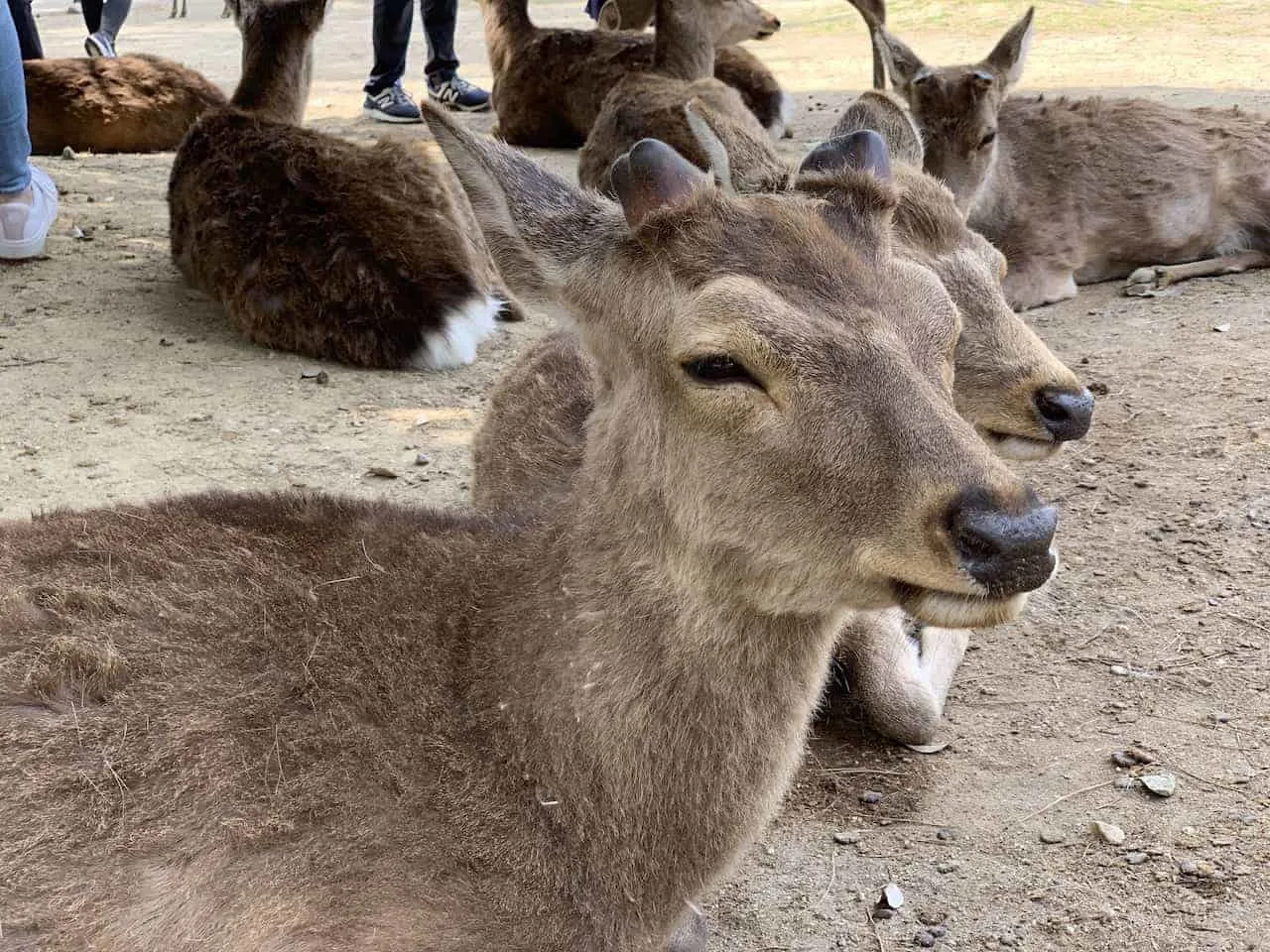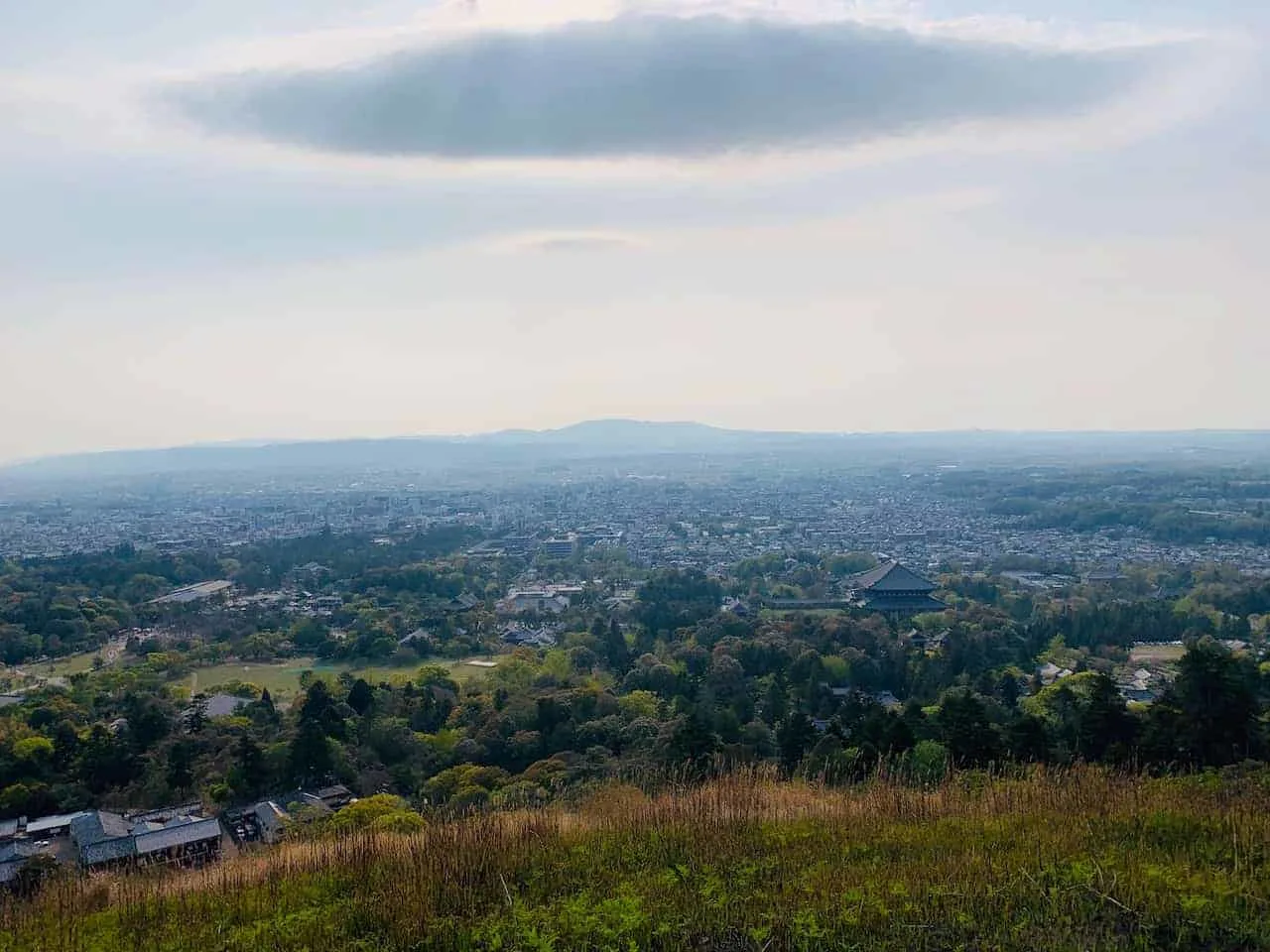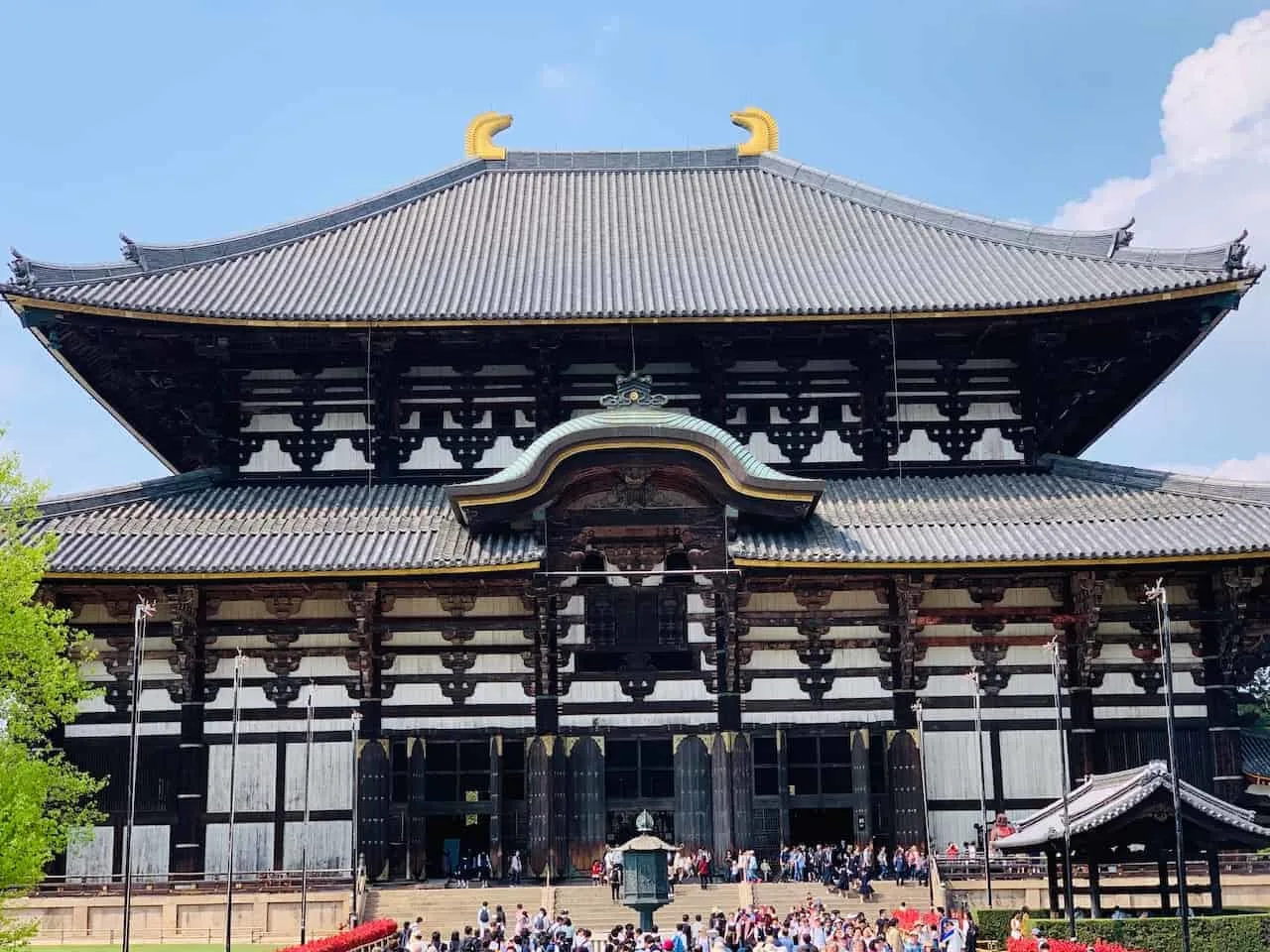 6) Hiroshima (from Kyoto)
If you want to get a bit of important history into your trip, a trip to Hiroshima is a must. This is a bit further of a train ride away from Kyoto (2-3 hours) but is well worth the trip. Hiroshima's city center is where the atomic bomb struck during the end of World War II.
You now will have the chance to explore this area, visiting different memorials, the Hiroshima Peace Memorial Museum and the Atomic Bomb Dome.
It is a chilling place to visit but again it is a very important city to learn more about the history that Japan once went through.
» The Hiroshima 1 Day Itinerary will walk you through all you need to know for the day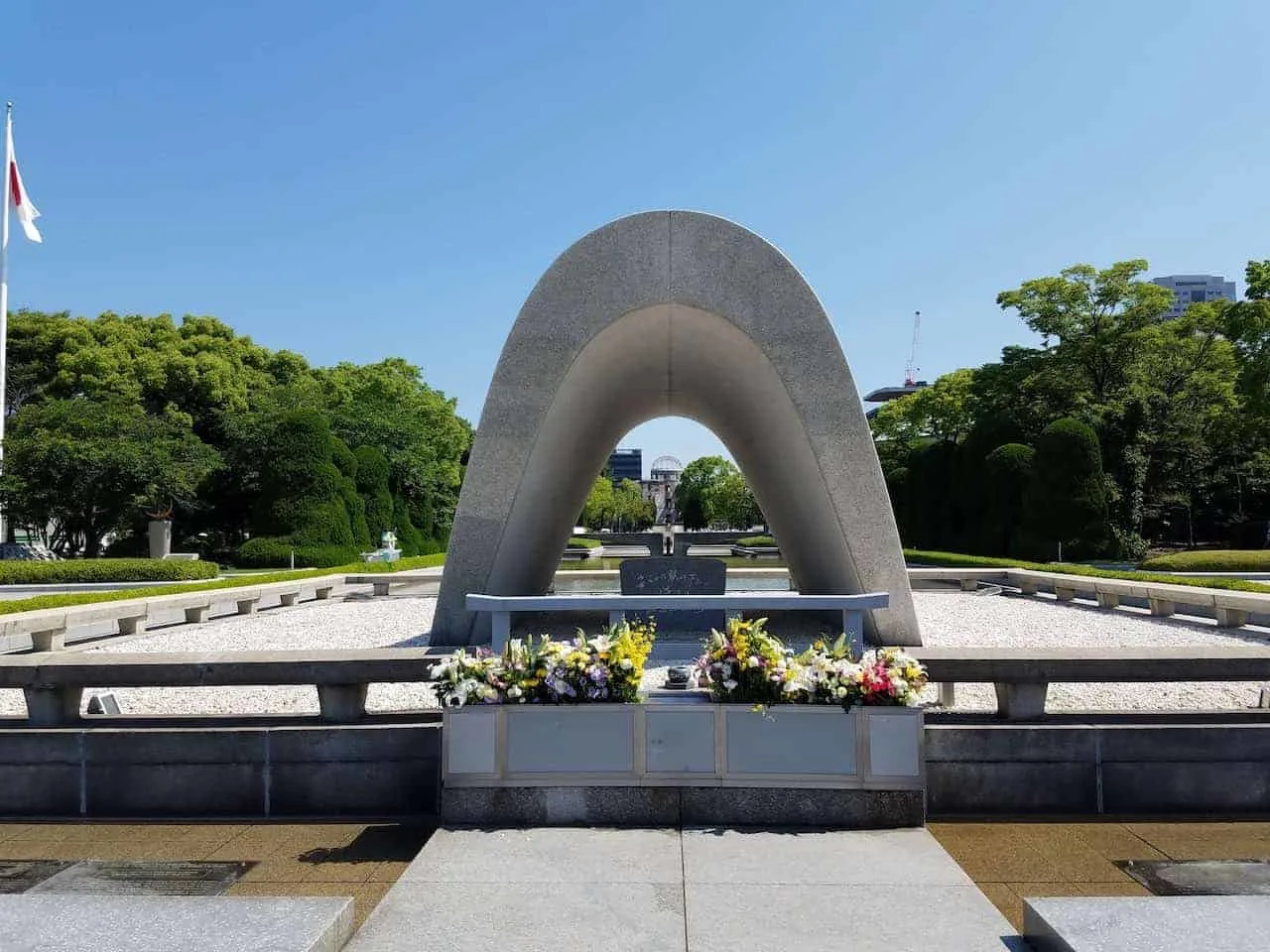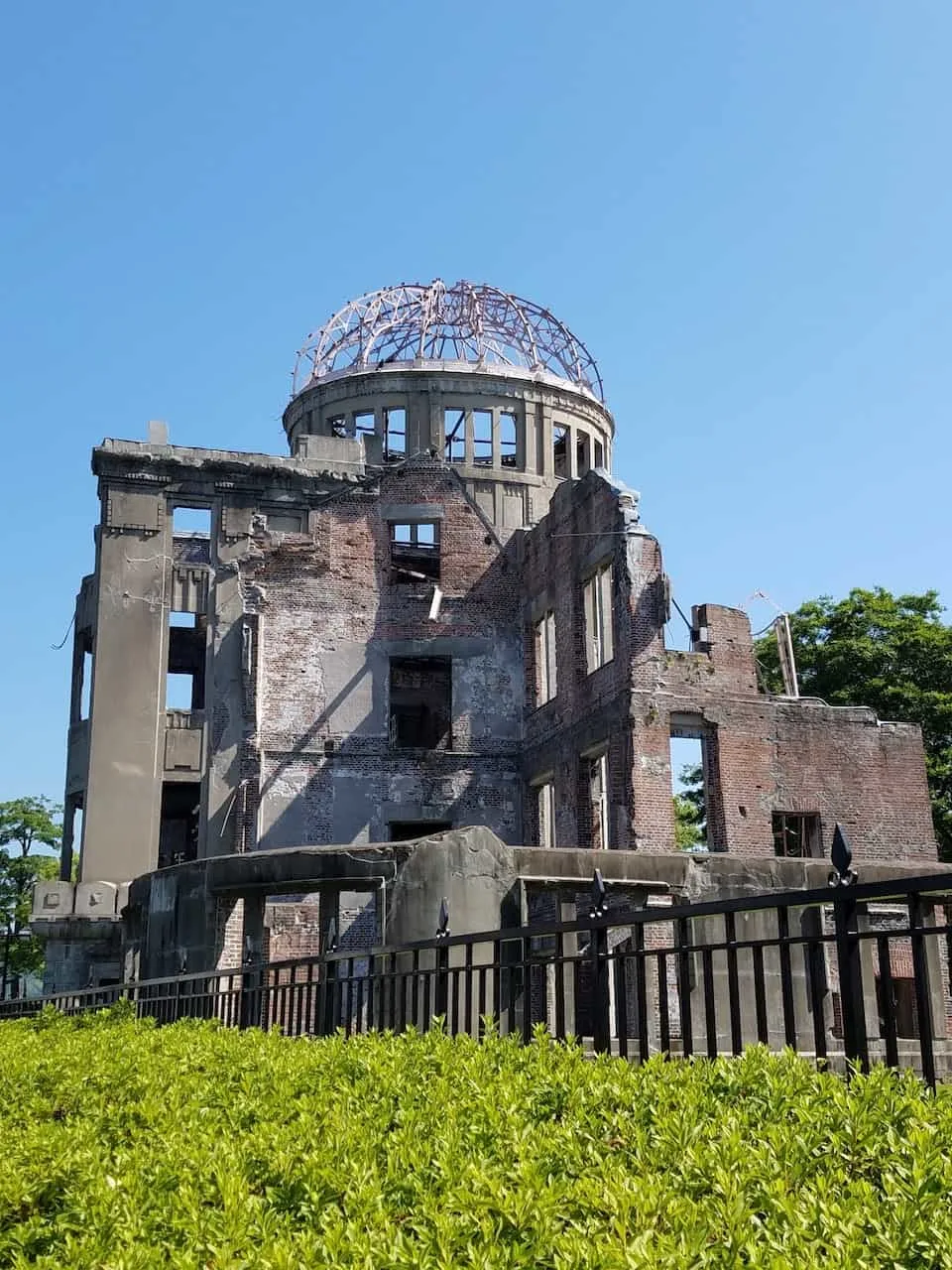 7) Miyajima (from Kyoto)
Another option from Kyoto is to the picturesque island of Miyajima. The island is located about 30 minutes further south than Hiroshima so if you wanted to combine Hiroshima and Miyajima into one long day trip from Kyoto that is definitely doable too!
In Miyajima, you will be welcomed to Japan's most famous torii gate – the floating Itsukushima Shrine.
Beyond just the torii gate, you can also visit some temples around the area, hang out with some of the local deer roaming the island, and head up to Mt Misen, where you can take in some vast views from above.
» Read up on the Miyajima Day Trip Guide that has a ton more information about logistics and things to do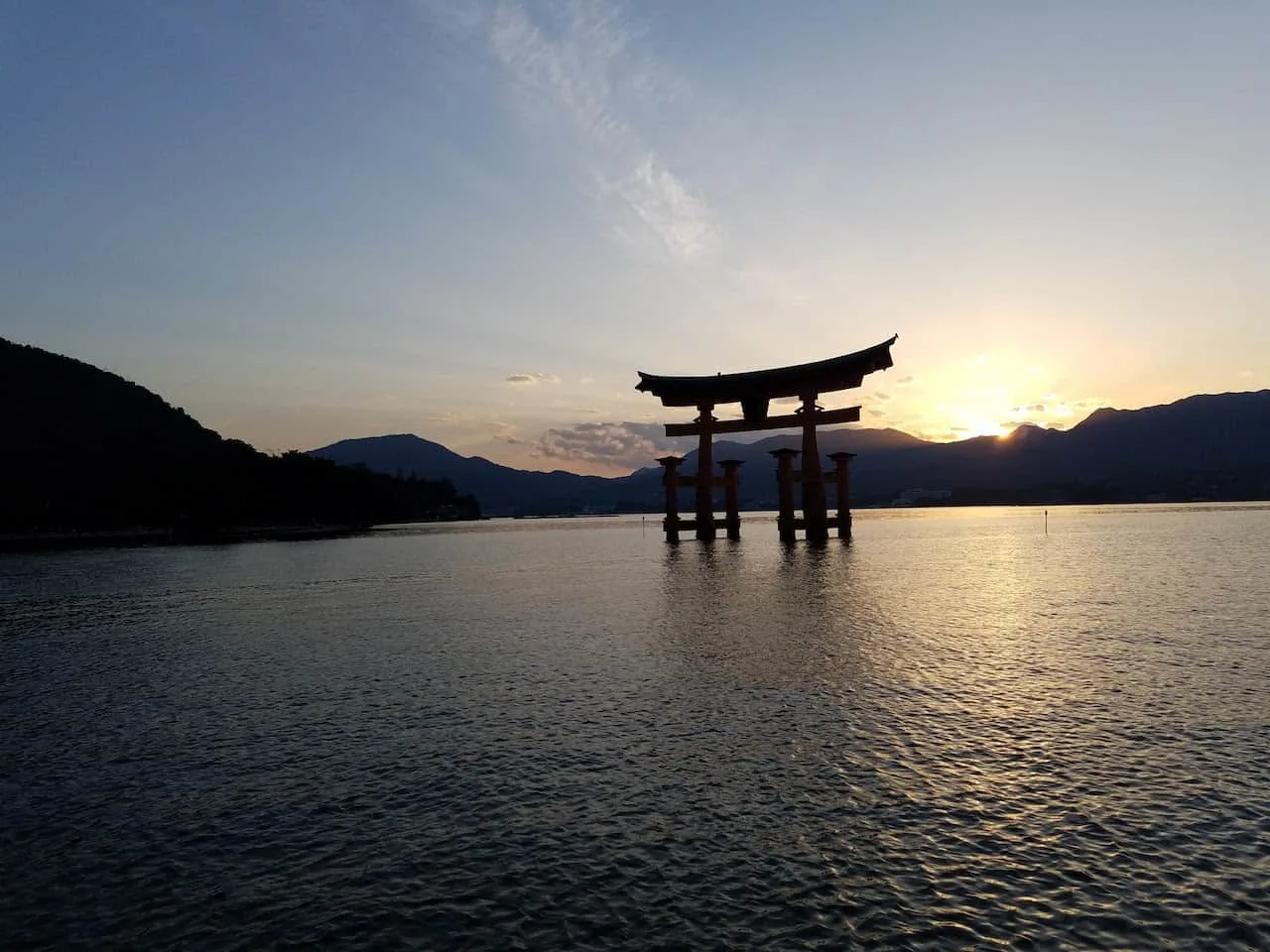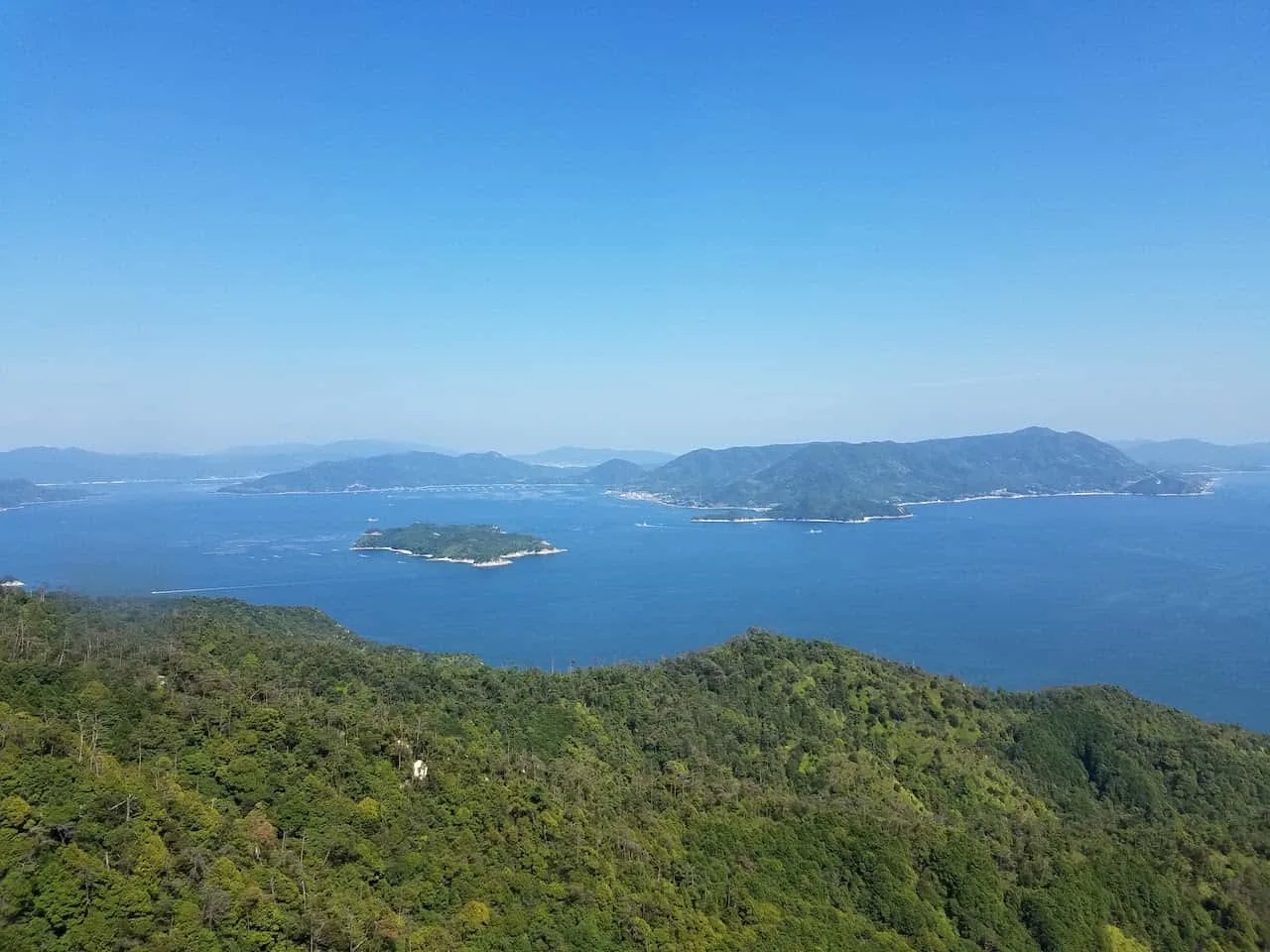 Now that you have a better idea of day trip options from Tokyo and Kyoto, I will also talk a bit about 3 other cities I had the chance to visit between the two – Takayama, Kanazawa and Shirakawa-go.
Since all three are not too far apart, adding them all into your trip between Tokyo and Kyoto could be an option for your one week in Japan.
8) Takayama
The city of Takayama will feel much different from any other city you visit in Japan. It feels more like a traditional Japanese town with smaller buildings surrounded by beautiful streets, rivers, and bridges.
Throughout Takayama you will find some morning markets, temples, sake breweries, and traditional style houses to visit.
What I love about Takayama is that it is a very walkable city if you want to explore it for the day. While there are some sites to visit a bit further out, the main town center can be explored within a day and it will definitely be an action packed one.
Below are some of the top places to visit during your time in Takayama:
1. Miyagawa Morning Market
2. Kusakabe Heritage House
3. Yoshijima Heritage House
4. Sakurayama Hachimangu Shrine
5. Sanmachi Old Town
6. Sake Breweries
7. Takayama Jinya
» I put together a guide for What To Do in Takayama Japan that will go into more detail about each place mentioned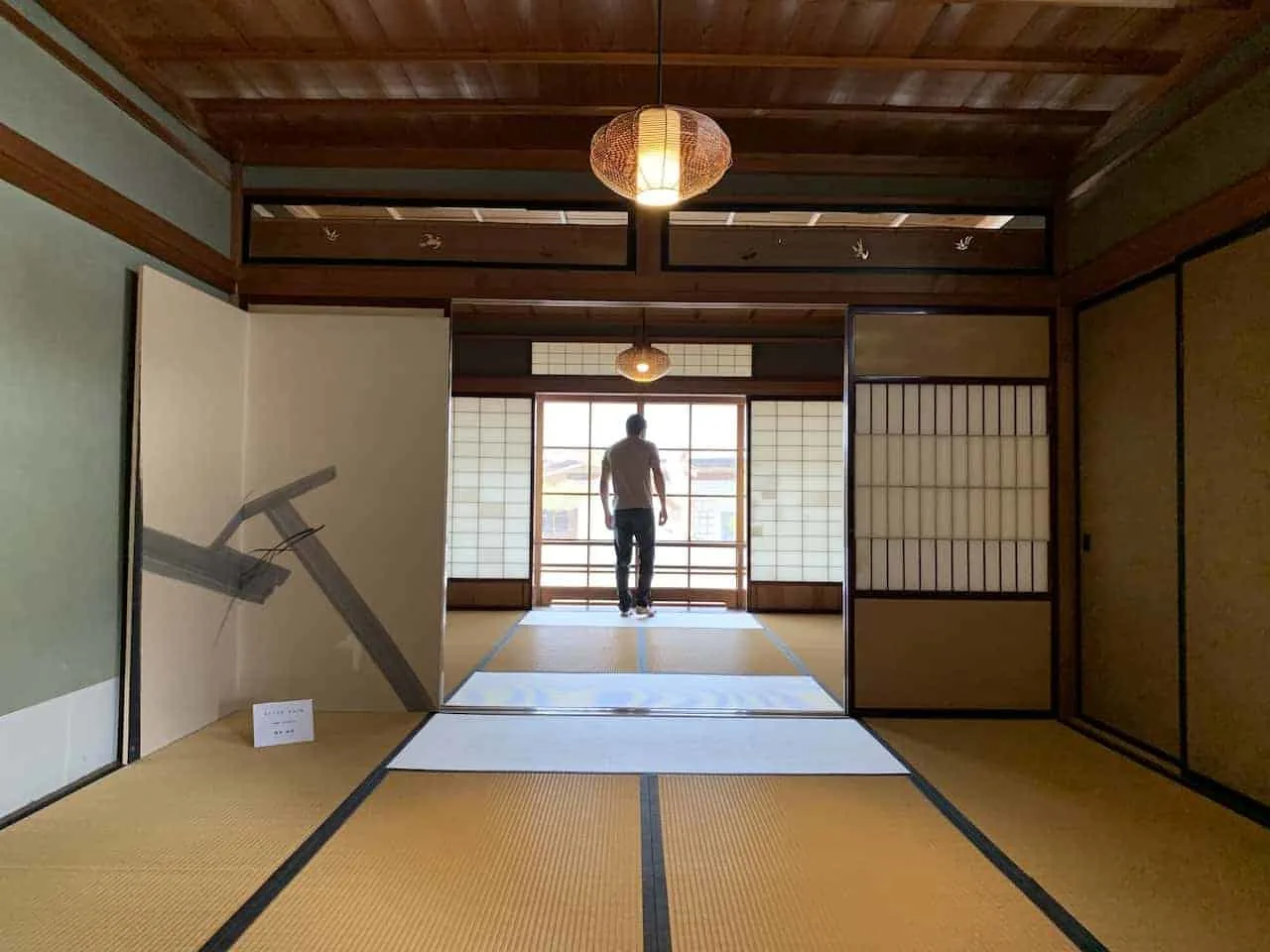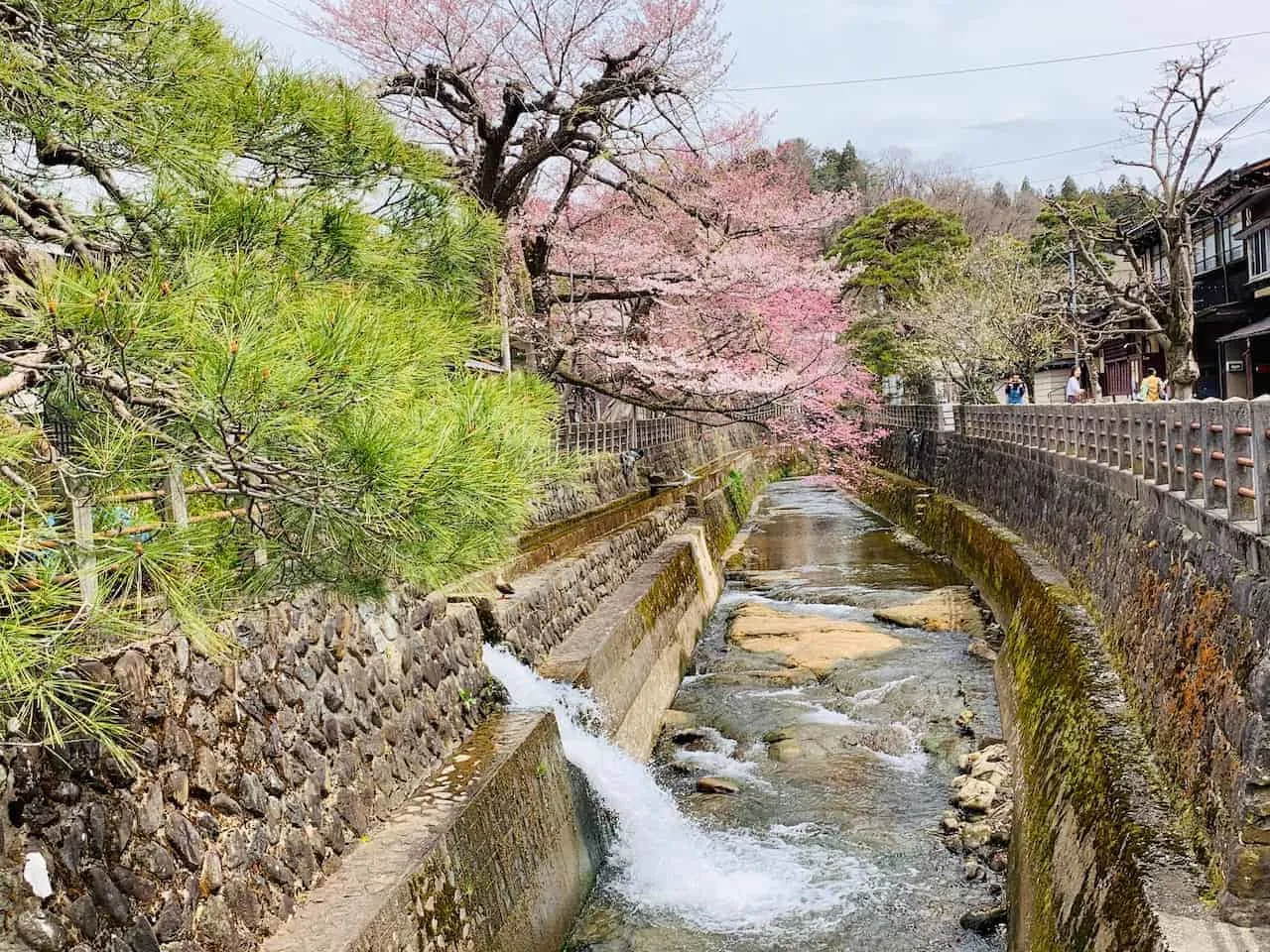 9) Shirakawa-go
Between Takayama and Kanazawa lays the small village of Shirakawa-go. All you need to do to get there from Takayama, is hop on the 45 minute bus from the train station that will bring you directly to the village. Nestled in the valley in with the Japanese Alps looming all around, Shirakawa-go is as authentic as it gets.
The village is packed with these traditional styled thatched roof houses sprawled all along the valley floor. Spending a half day exploring the ins and outs of Shirakawa-go will be a highlight of your time in the country.
On top of just walking around, you can actually visit a few of these houses including the Wada and Kanda house to get a better idea of how these structures were actually built and what life was once like in the village.
There is also a fantastic viewpoint up top to get a panoramic view of Shirakawa-go as you see the layout of the valley floor.
» The Shirakawa-go Day Trip Guide will go over everything you need to know about the logistics for the day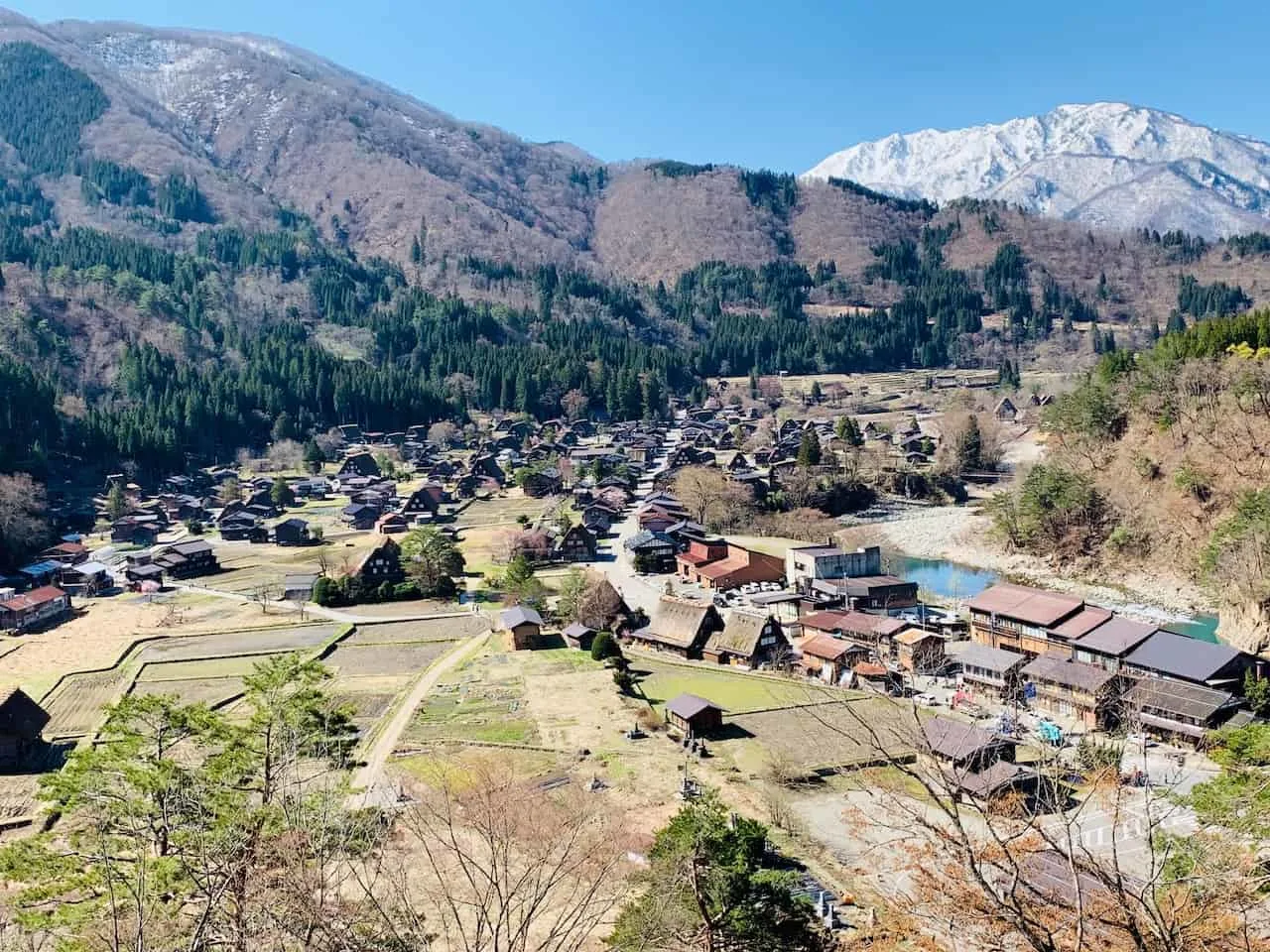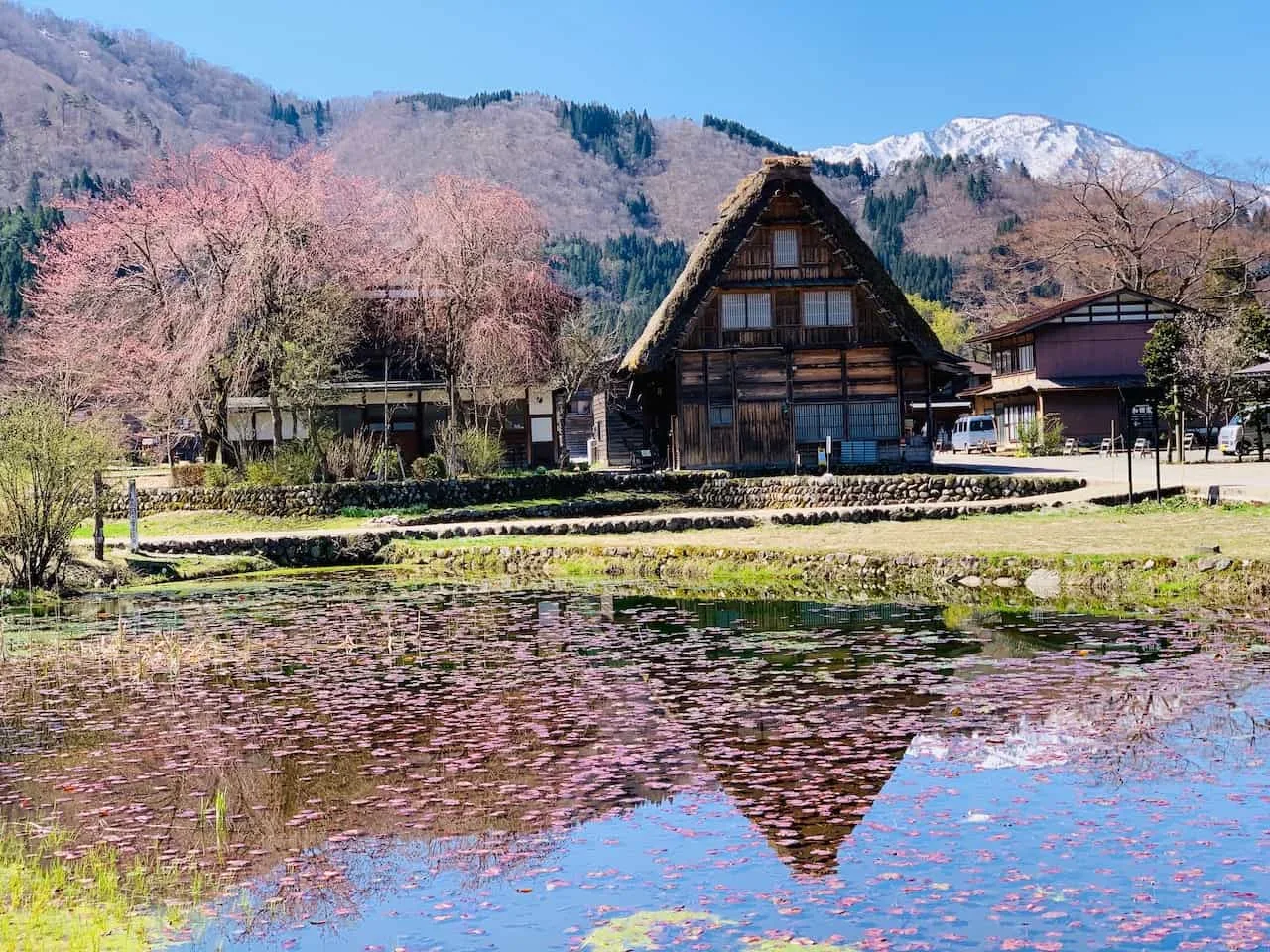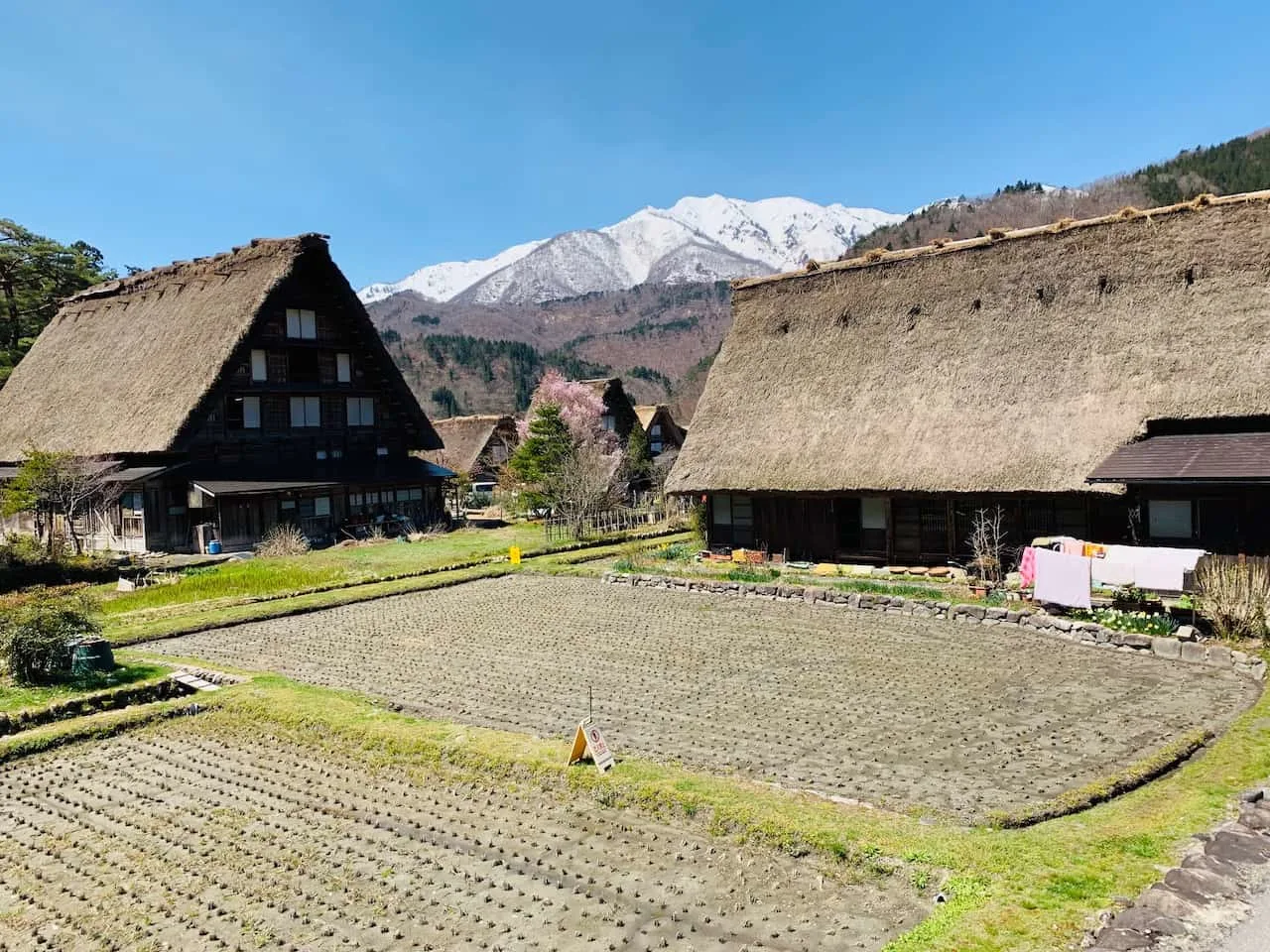 10) Kanazawa
Last up here is the city of Kanazawa. To get to Kanazawa from Shirakawa-go, all you need to do is hop back on the bus and head another hour to Kanazawa Station.
A day in Kanazawa will have you going all over the city exploring the ins and outs of what it has to offer. When I visited, I simply rented a bike for the day and was explore it all on my own – a great way to see the city.
The two main highlights of Kanazawa will be the Kanazawa Castle and the Kenrokuen Gardens.
These two places are directly across the street from one another and are just incredible to explore (Kenrokuen were the best gardens I saw during my time in Japan).
On top of the gardens and castle you can also check out the Higashi Chaya District, Omicho Market, Oyama Shrine, among several other attractions around the city.
Kanazawa Note: if you do not want to go to Takayama and Shirakawa-go but rather just Kanazawa, you can make this a day trip from Kyoto. It would simply be a 2 hour train ride there and back. So if you start early enough, you should be able to fit plenty into a day trip.
» The 9 Things To Do in Kanazawa will go more in depth about many of the city's main attractions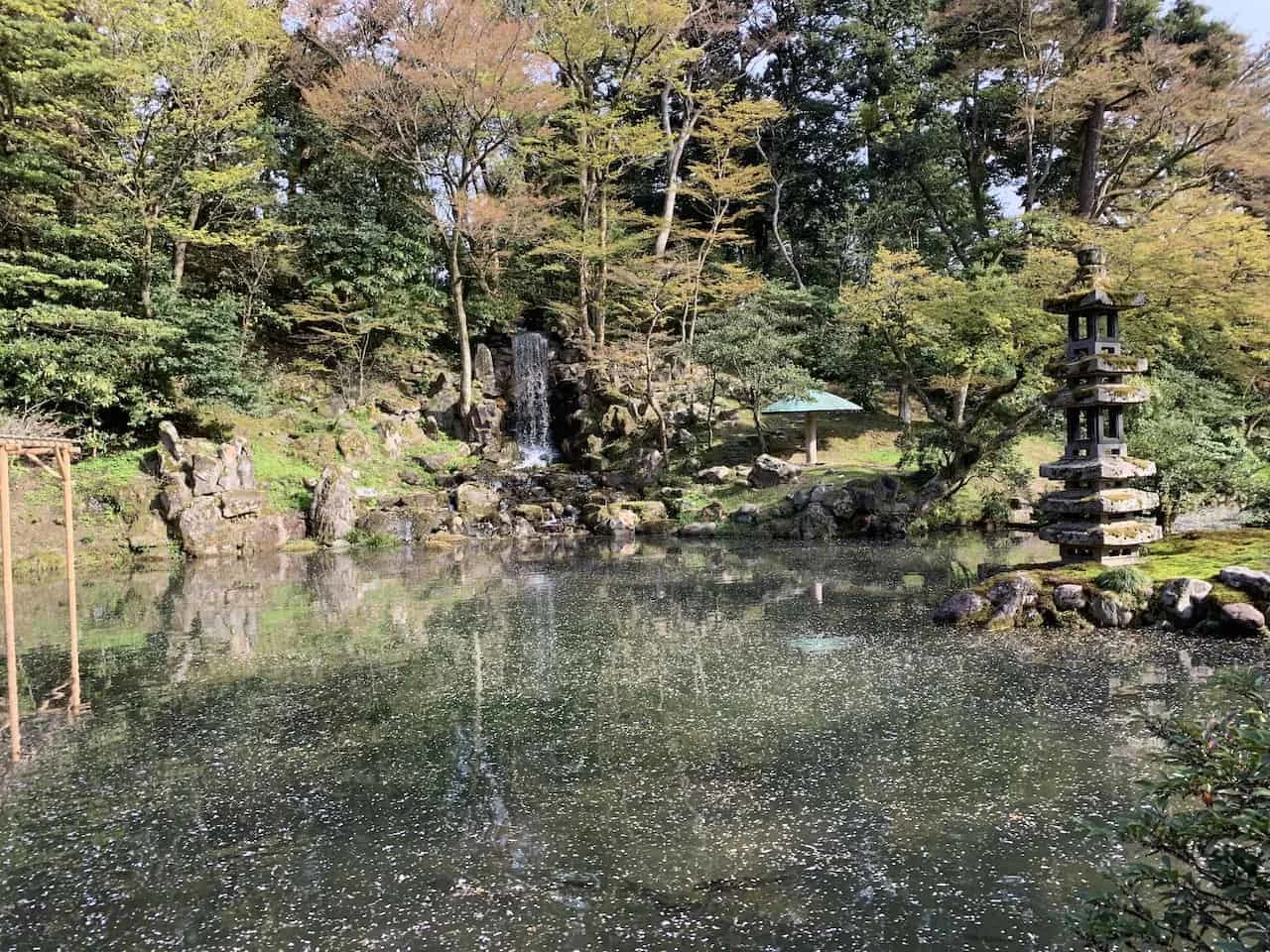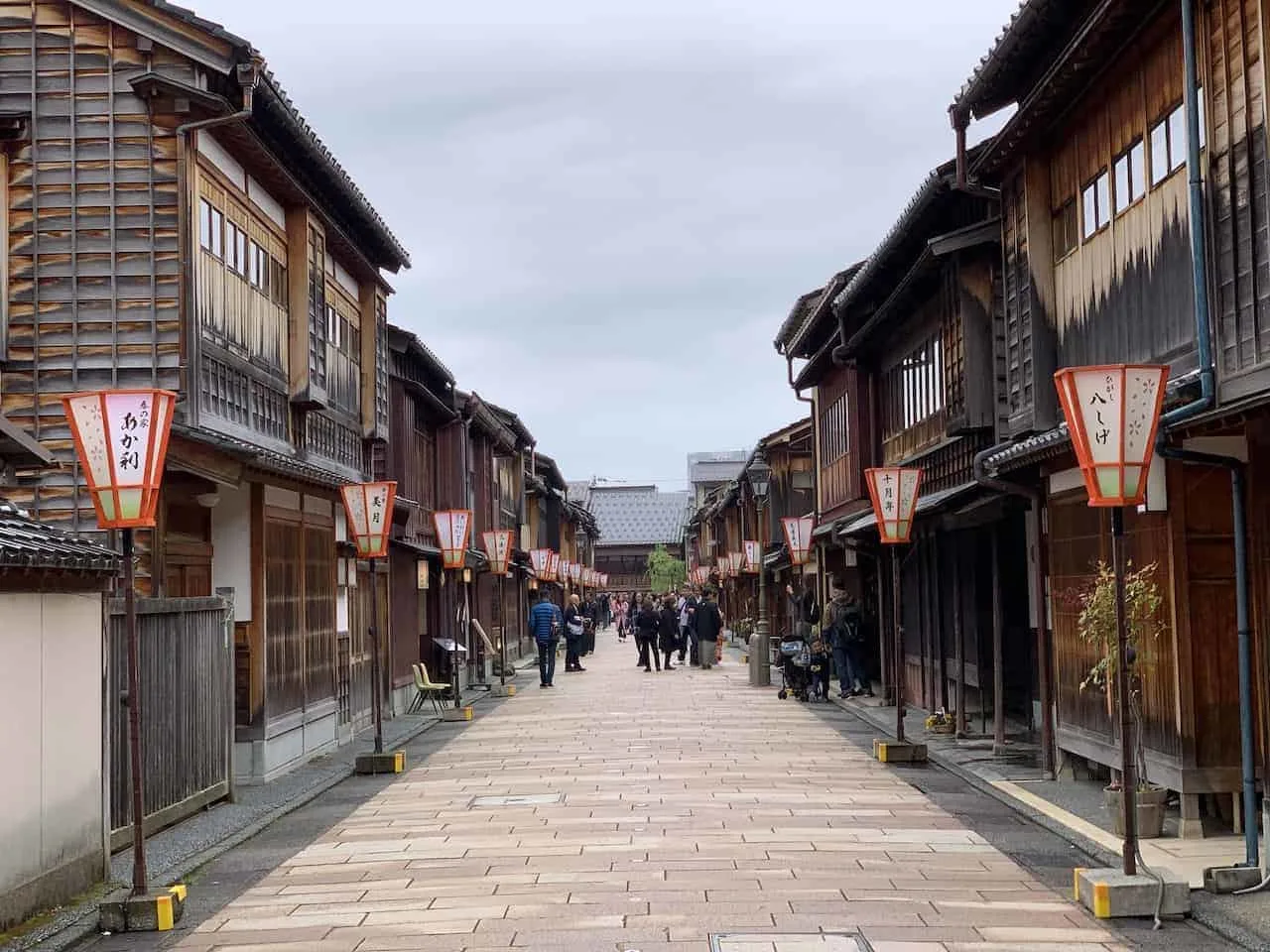 One Week in Japan Options
Now that you have a better idea of many of the different options to choose from, here are some one week in Japan itineraries that you can choose from.
Of course, not only can you mix and match as you see fit, but you can also add other cities/day trips/attractions/activities that are not mentioned here.
7 Day Itinerary: Option 1
This first one week in Japan itinerary includes 2 days in Tokyo and Kyoto. In addition to those two days, you will also find a day trip to Kamakura (from Tokyo) and day trip from Kyoto (several options).
In between the two, I have included a trip to Hakone as you make your way between Tokyo and Kyoto.
Day 1: Tokyo
Day 2: Tokyo
Day 3: Kamakura Day Trip
Day 4: Hakone Day Trip (to Kyoto)
Day 5: Kyoto
Day 6: Kyoto
Day 7: Nara Day Trip or Miyajima/Hiroshima Day Trip or Kanazawa Day Trip
7 Day Itinerary: Option 2
This second 7 day itinerary will be similar to the first. However, instead of taking a day trip to Kamakura from Tokyo, you will have two day trip options from Kyoto. This of course should only be done if you are more interested in those additional options.
Day 1: Tokyo
Day 2: Tokyo
Day 3: Hakone Day Trip (to Kyoto)
Day 4: Kyoto
Day 5: Kyoto
Day 6: Nara Day Trip
Day 7: Miyajima/Hiroshima Day Trip or Kanazawa Day Trip
7 Day Itinerary: Option 3
The final one week in Japan itinerary I will mention heads to Takayama, Shirakawa-go, and Kanazawa. Instead of day trips from Tokyo and Kyoto, you can simply add these three places within the middle three days of the itinerary.
Day 1: Tokyo
Day 2: Tokyo
Day 3: Takayama
Day 4: Shirakawa-go (morning or afternoon) / to Kanazawa
Day 5: Kanazawa
Day 6: Kyoto
Day 7: Kyoto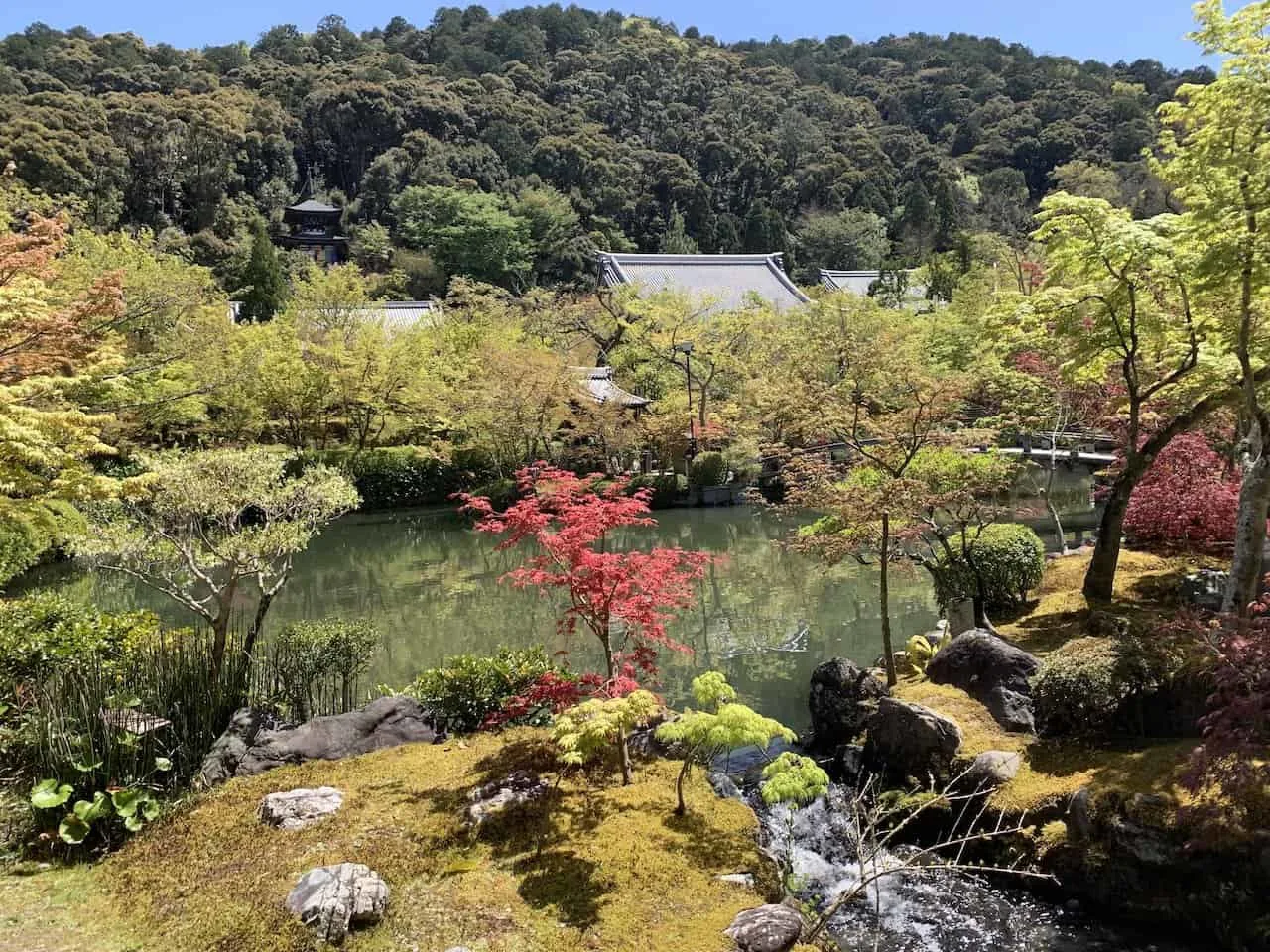 Where to Stay in Japan
Since this itinerary may be very fluid, I just wanted to list out accommodation options for each of the cities that you may be staying in during your one week in Japan.
I have included recommendations for Tokyo, Kyoto, Takayama, and Kanazawa.
Where to Stay in Tokyo
Since Tokyo is such a large city with so many distinct neighborhoods, it can get confusing to understand where the best places to stay are. In my eyes there are a couple of neighborhoods that stick out to me when it comes to the most convenient (and fun!) options.
A) Shinjuku: #1 on my list is the area of Shinjuku. You will have Shinjuku station nearby when traveling to other parts of Tokyo (and day trips), a ton of nightlife and restaurant options, as well as many of the activities mentioned in this itinerary not too far away. There is always something going on in Shinjuku and it will definitely not disappoint.
B) Shibuya: not too far away from Shinjuku is the Shibuya neighborhood. Famous for the Shibuya Crossing, it is also filled with plenty of shops and restaurants all around its streets.
1) Hotel Century Southern Tower
C) Tokyo Station: moving a bit to the east of Shinjuku and Shibuya is the Tokyo Station area. It is centrally located right nearby the main transport hub making it super easy to get everywhere, and you will also be in walking distance to some of the city's main attractions.
1) Hotel Metropolitan Tokyo Marunouchi
Of course there are plenty of other neighborhoods to choose from but I think that should be a great starting point to help you out.
Where to Stay in Kyoto
While there are many different neighborhoods to choose from I would recommend staying near the downtown Kyoto area. Here you will find plenty of accommodation options at various price points alongside all the restaurant and shopping you can imagine.
It also offers easy accessibility to visit all other parts of Kyoto either by bus or by subway. Below are some mid range and luxury options all within walking distance from downtown (a few being a 20 minute or so walk).
Mid Range
1) The Royal Park Hotel Kyoto Sanjo
2) Hotel Grand Bach Kyoto Select
Luxury
Where to Stay in Takayama
The main tourist area of Takayama is not that large and you should have no trouble getting a hotel for a night or two within a 10-15 walk of it all. Being close to the train station is a good idea too as both the trains and busses leave from there.
Below are some different places to take a look at when planning a trip to Takayama.
1) Wat Hotel & Spa Hida Takayama
Where to Stay in Kanazawa
Kanazawa has plenty of accommodation options to choose from and many of them are right nearby the attractions listed below. Staying nearby the train station can also be a good idea so you won't need to worry much about getting from the station to your accommodation.
Below are some options to choose from in Kanazawa: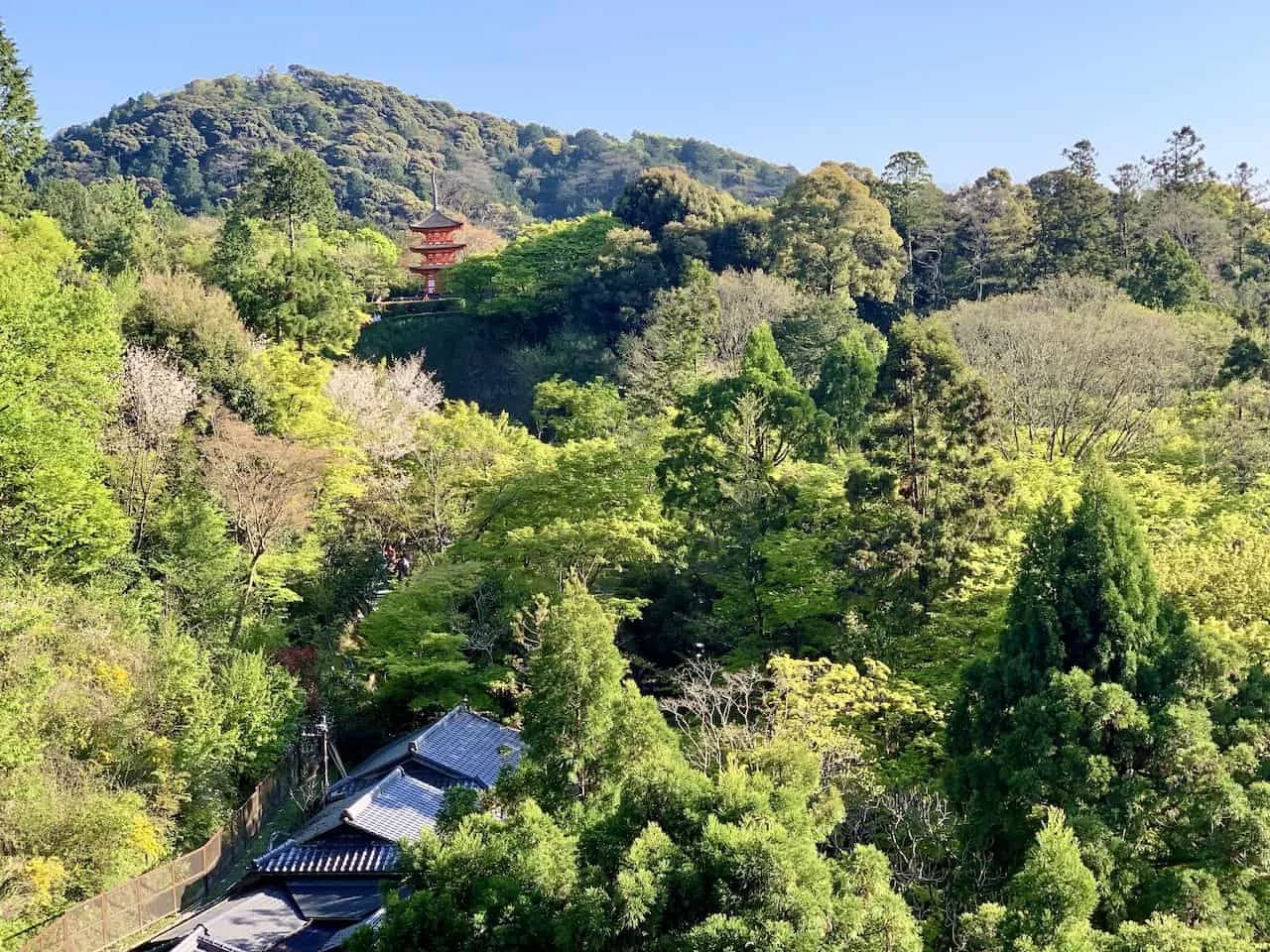 I hope this guide has given you a better idea of how to go about planning a 7 day Japan itinerary as well as some of the options you have to choose from when putting together your trip.
At the end of the day, whatever you choose, you really cannot go wrong when it comes to Japan. I am sure you will just want to come back again to explore more of it (like I did!).
If you have any questions or comments about anything related to Japan, feel free to add them in below.
Don't forget to also check out the other Japan itineraries and guides up on the site. Have fun out there and safe travels!