A trip to Japan is truly not complete without a stop in one of the country's most happening cities – KYOTO. Kyoto is absolutely packed with culture, attractions, activities, food, and plenty more. Spending three days in Kyoto is sure to be a highlight of your trip as you get to take it all in for yourself.
* Affiliate Disclosure: This post may contain affiliate links, which means I may receive a commission if you make a purchase through the links provided, at no additional cost to you. Thanks for supporting the work I put into TripTins!
Kyoto was actually also once the capital of Japan before it moved on to Tokyo. But unlike Tokyo and its now bright lights, Kyoto has more of a cultural and historical vibe to the city.
At every corner you turn you will find another temple, garden, or historical district to be explored. While three days is a good amount of time to hop around the city, you will need to pick and choose what you are most interested in. I mean you could spend weeks in Kyoto and still not hit it all!
At the end of the day though, 3 days is a perfect amount of time to really get a feeling for the city and what it is all about.
It also is a great opportunity to add these 3 days onto a longer trip to Japan that could include other cities around the country.
This guide will go over what a 3 day Kyoto itinerary entails as well as additional topics such as logistics, accommodation, transportation and plenty more!
1) How to Get to Kyoto
Before exploring Kyoto, you first must get to the city itself. You will most likely be coming in from another city (like Tokyo), or you will be arriving straight from Kansai Airport (located in Osaka).
Whatever the case here you should have no problem at all utilizing the super-efficient train system of Japan to get you to Kyoto's city center.
The Japanese train system is very well connected and extremely precise. If coming from another city, simply head over to the Hyperdia rail website to see the latest train schedules and prices. On the left hand side of the homepage you will be able to search for your particular route into Kyoto Station.
If coming from Kansai Airport, there is a direct train run by JR – the Limited Express Haruka that takes 75 minutes, costs 3,370 JPY ($32 USD), and gets you right into Kyoto Station – it doesn't get more easy than that if you ask me!
Note: if you have an activated JR Pass you will not need to pay any additional fare for the train from Kansai to Kyoto. If coming from another city, you will need to make sure to get on a JR train to avoid paying an additional fare (which should not be much of a problem).
If you do not have the JR Pass, you will need to buy the individual tickets for the specified route – the screenshots below have price examples on the top left of the image.


» Take a look at the Japan helpful tips article that goes into more detail about the JR Pass
2) How to Get Around
Now that you are in the city, it is time to get around the city. To do so there are four main transportation options – bus, subway, taxis and walking.
Bus
The bus network in Kyoto is impressive to say the least. There are over 15 lines going to every corner of the city.
Odds are you will not need to walk too far to the closest bus stop as they are everywhere. I utilized Google Maps when going around Kyoto and had very few problems with its directions. A few things to note when using Kyoto's busses:
1) You can use an IC card on the bus routes (ICOCA, Suica, Pasmo, etc.). These are essentially reloadable cards that can be used all throughout Japan – (learn more about them in the Japan helpful tips guide). The bus routes within the city will cost 230 JPY.
2) If you have a JR Pass, it DOES NOT cover transport on Kyoto's busses beside for one JR run route – the Takao Keihoku line. Because of this you will most likely need to pay for your bus routes even with the JR Pass.
3) If you do not have an IC card, you can pay for individual fares on the bus and some busses require exact change. You may also find change machines on the bus itself in order to get exact change before getting off the bus.
4) A very useful offering in Kyoto is the 1 day unlimited bus pass. For 600 JPY, you can use the bus system all day long and not worry about spending money for each and every bus route you take. That basically means if you take 3 busses in one day it will already be worth it.
These can be bought at train station windows or sometimes even on the bus itself from the driver. You can also purchase a 1 or 2 day unlimited bus pass with unlimited access to the city's two subway lines (900 JPY / 1,700 JPY). So, depending on your plan for the day, the passes may be worth it for you.
5) Lastly, a helpful tip – MOST but not all busses require you to enter from the back and exit from the front. Before you exit, you will pay your fare whether it be cash, IC card, or bus pass at the front of the bus.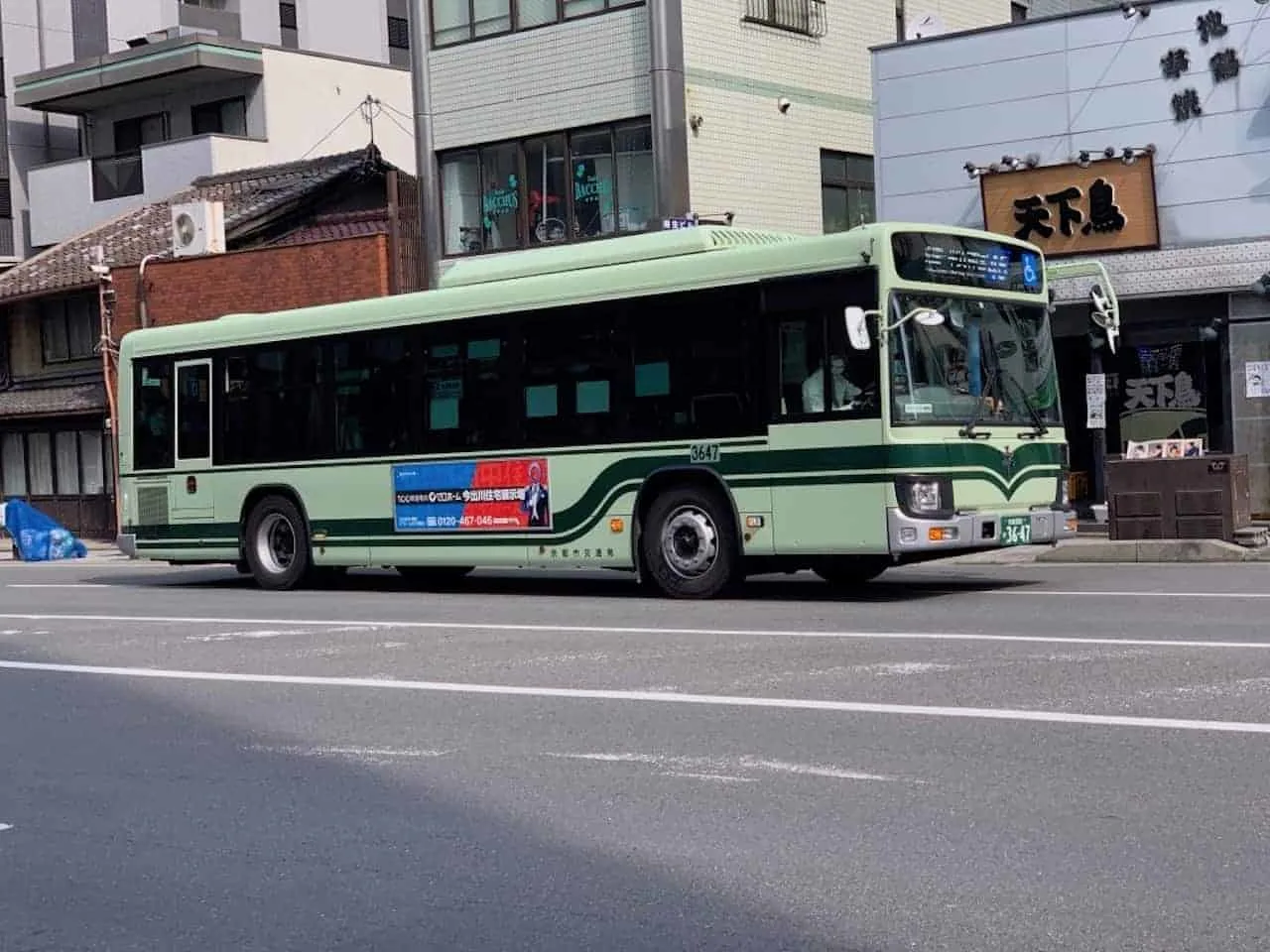 Subway
Unlike Tokyo, the subway network in Kyoto is not that vast.
There are only two subway lines that make their way around the city – the Tozai line from east to west and Karasuma line from north to south. You can use your IC card or pay individual fares on the subway lines (JR Passes are not accepted).
On top of subway lines, you can actually catch some trains as well to get to certain attractions. By trains I mean those that are headed to another city (whereas subways as just within Kyoto itself).
For example, if you are headed to Fushimi Inari, there is an option to head on the train line headed to Nara and get off at the Inari stop.
Taxis
During my time in Kyoto I did not utilize taxis just because they are a more expensive choice. But I will say if you are a group of 3-4 people it may be worth it to hop in a taxi instead of relying on public transportation.
It is also a popular option to take a subway as close as you can to the attraction you are going to and then hopping in a quick taxi ride from the subway stop.
Walking
While public transport is great and all, walking will do you wonders too. While I did take busses every day I was in Kyoto, I also walked well over 20K steps on a daily basis.
So instead of taking busses and subways everywhere you go, feel free to walk the streets too!
3) Where to Stay in Kyoto
While there are many different neighborhoods to choose from in Kyoto I would recommend staying near the downtown Kyoto area or around Kyoto Station.
Here you will find plenty of accommodation options at various price points alongside plenty of restaurant and shopping variety. It also offers easy accessibility to visit all other parts of Kyoto either by bus or by subway.
Downtown Kyoto
Below are some mid range and luxury options all within walking distance from downtown (a few being a 20 minute or so walk).
Mid Range
1. The Royal Park Hotel Kyoto Sanjo
2. Hotel Grand Bach Kyoto Select
4. Super Hotel Kyoto Shijokawaramachi
Luxury
5. Mitsui Garden Hotel Kyoto Shinmachi Bettei
Kyoto Station
Below are some mid range and luxury options all within walking distance from Kyoto Station.
Mid Range / Luxury
4) Helpful Travel Tips
Just before reading more about the different attractions as part of this 3 day Kyoto itinerary, I did want to touch on a few helpful tips when going about your time in the city.
» If you don't have phone service, look into getting a pocket WiFi. They can be pretty cheap and you can connect multiple devices on it when you are on the go. Having directions to get around Kyoto can be pretty important so being connected will be useful.
» Kyoto is packed with temples in every corner of the city. You can get templed out, so pick and choose the ones you want to go to if you think there are too many for you listed below.
» When taking a look at the temples mentioned below / researching on your own, note that some temples will have a fee, some will be free, and some will have a fee to enter certain parts of the complex but otherwise be free to roam around the grounds.
» Take a look at AirBnb for accommodation if hotels are limited or too expensive. I ended up doing so and ended up with a great apartment with plenty of space to relax at day's end. Hotels can be quite pricey so always have alternate options too.
» Finally, as mentioned earlier, take a look at the Japan helpful tips article I put together. Much of it can be very useful for your time in Kyoto
Kyoto Itinerary 3 Days
Lets now get into the activities and attractions you can take part of during your 3 days in Kyoto. You will find a list of the places to visit alongside a map, followed by a day by day detailed view of the itinerary.
5) Attractions and Map View
Here is a list of ALL of the different attractions that this 3 day Kyoto itinerary will go over. Below the attractions you will find the color-coded map view. I will then go into a bit more detail about each place in the next section.
Day 1
1. Ginkaku-ji Temple
2. Philosophers Path
3. Nanzen-ji Temple
4. Chion-in Temple
5. Marayuma Koen Park – Yasaka Jinja Shrine
6. Kodai-ji Temple
7. Ninen and Sannen zaka
8. Kiyomizu-dera Temple
Day 2
1. Kinkaku-ji Temple (Golden Pavilion)
2. Ryoan-ji Temple
3. Tenryu-ji Temple
4. Arashiyama Bamboo Grove
5. Arashiyama Monkey Park
Day 3
1. Nishiki Market
2. Nijo Castle
3. Imperial Palace
4. Fushimi Inari
And don't forget to head out to Gion! (more on that later)
Note: do not feel like you must complete these 3 days in Kyoto to the tee. Feel free to both 1) move days around and 2) move attractions around as you see fit. You may not be interested in everything, so leave yourself the flexibility to enjoy the itinerary at your own pace.
6) Kyoto Day 1
The first day in Kyoto will be focused in on the eastern end of the city. All you need to do is hop on a bus to Ginkaku-ji Temple and start your day from there.
Between the first stop of Ginkaku-ji to the last stop of Kiyomizu-dera, you will be able to walk along the route stopping at plenty of attractions along the way.
Ginkaku-ji Temple
Opening Hours: 8:30AM – 5:00PM (4:30PM December to February)
Entrance Fee: 500 JPY
One of the most well known temples in Kyoto is that of Ginkaku-ji, also known as the Silver Pavilion. Built by Ashikaga Yoshimasa in 1482, Ginkaku-ji was actually modeled after his grandfather's Golden Pavilion – probably the most famous temple in Kyoto (more on that on day 2).
Don't expect though that the Silver Pavilion will be silver in color! It is thought that Ginkaku-ji was nicknamed the Silver Pavilion to distinct itself from the Golden Pavilion.
As you enter the temple grounds and begin to walk the path, you will be welcomed to a beautiful sand garden, various temple structures, a moss garden, a nice viewpoint from above, and of course Ginkaku-ji itself, reflecting off the forefront lake.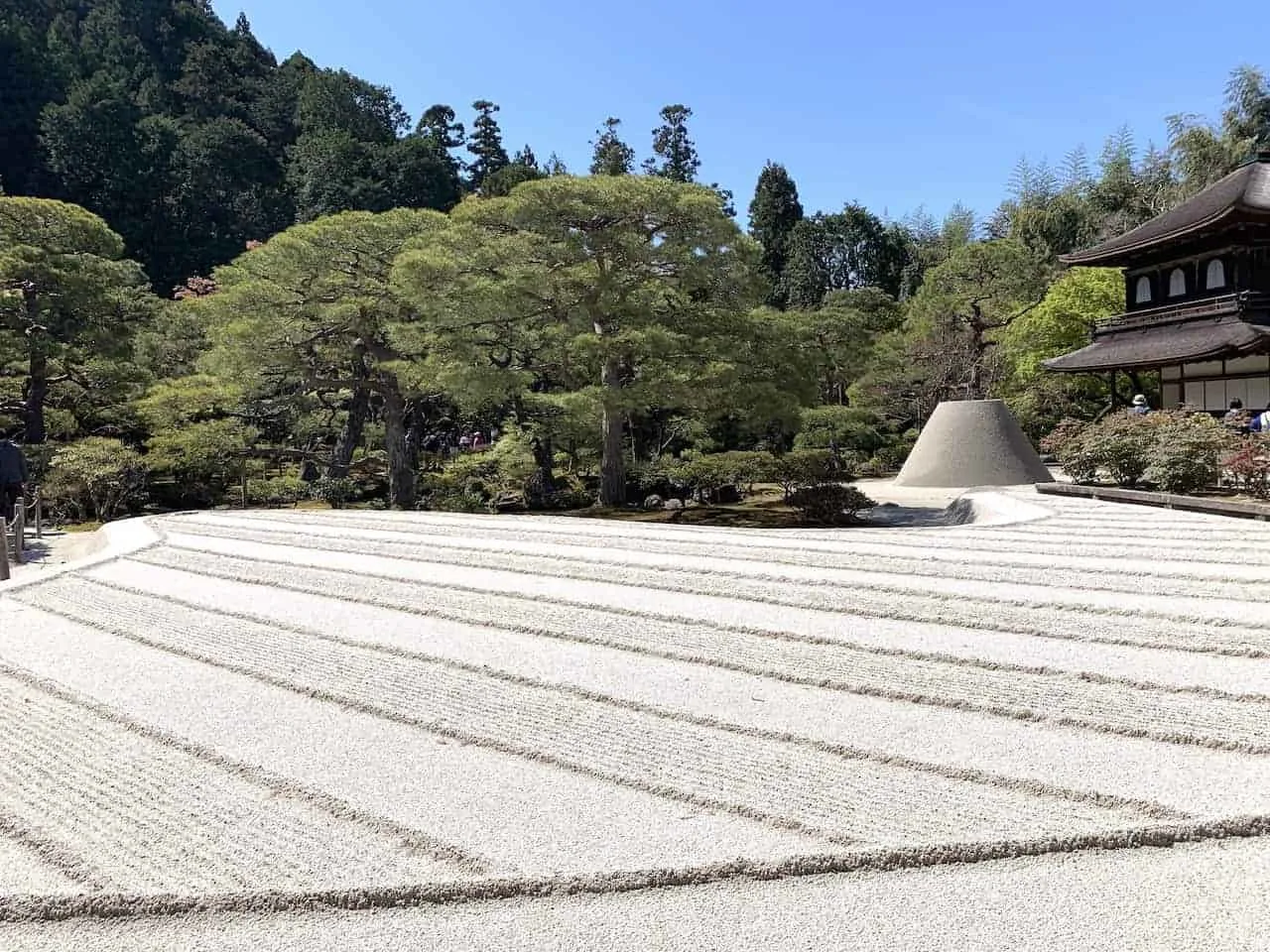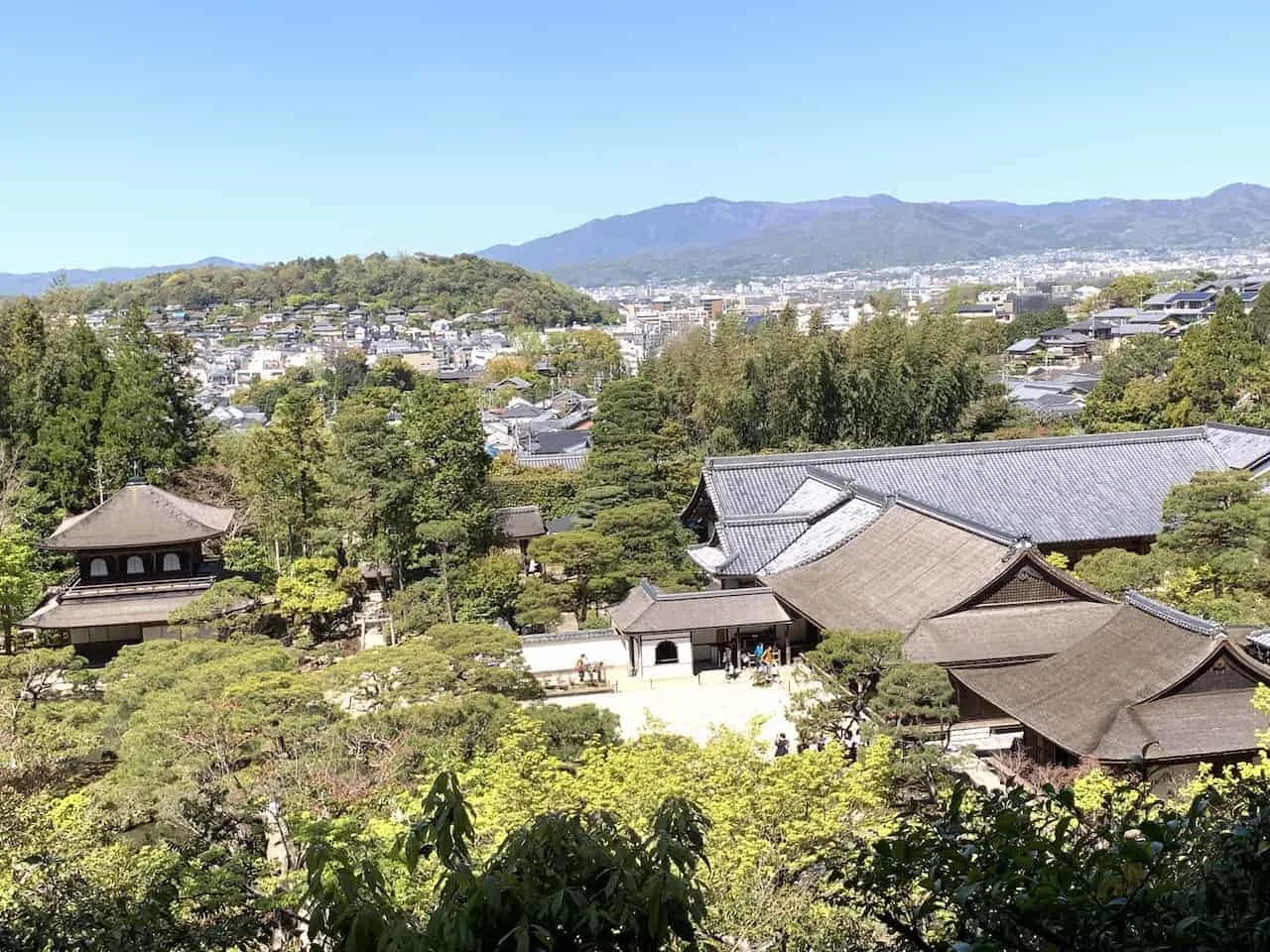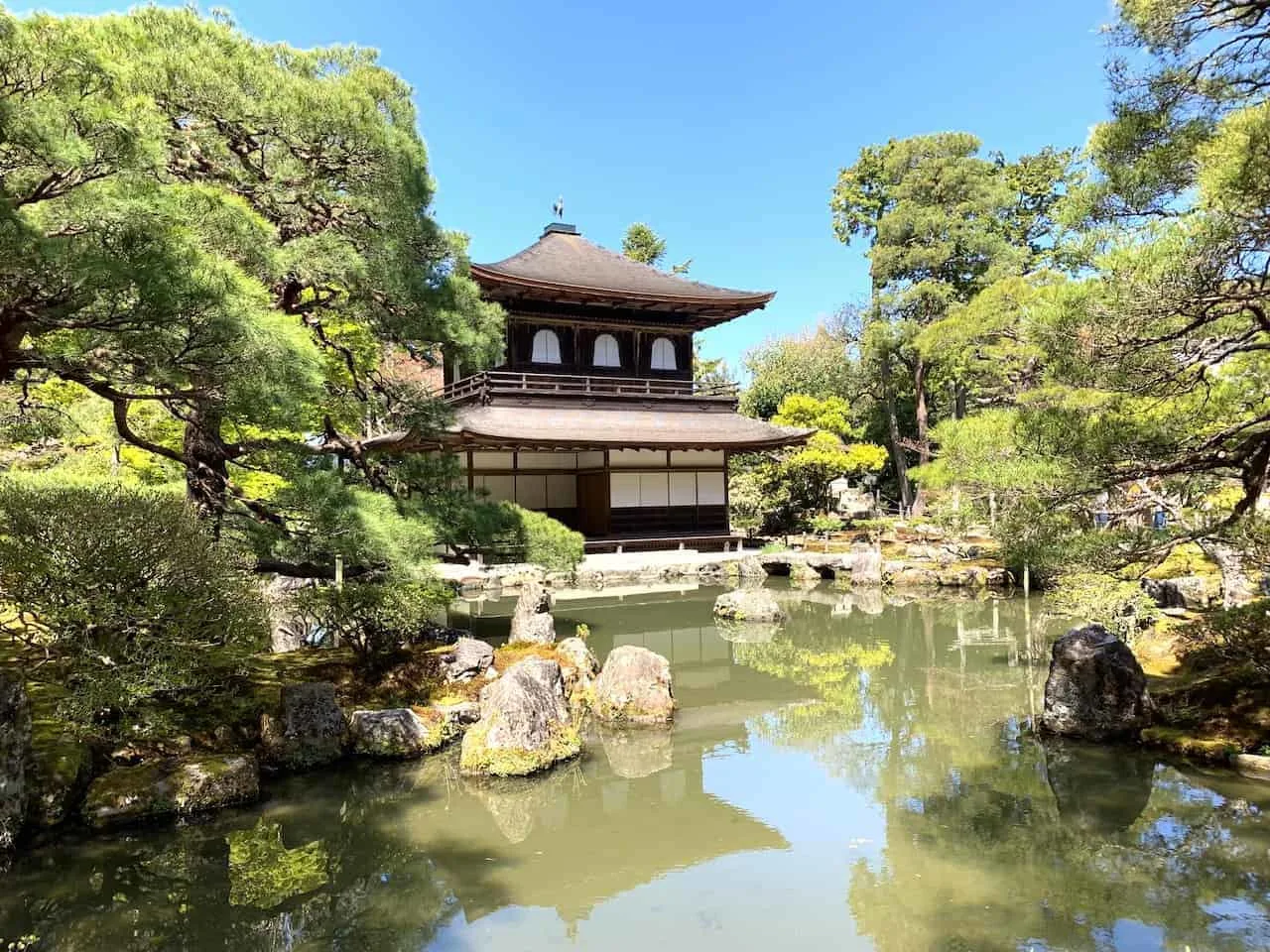 Philosophers Path
After finishing up with your first temple of the day, it is time to make your way south on the Philosopher's Path. This 2KM long path goes along a small canal with plenty of natural beauty along the way.
If you are lucky and happen to be there during cherry blossom season, you will be welcomed to one of the most colorful sites in the city with blossoms lining the path.
Even if you are not there during that time, it is still a great place to stroll through and enjoy as you make your way to your next destination – Nanzen-ji Temple.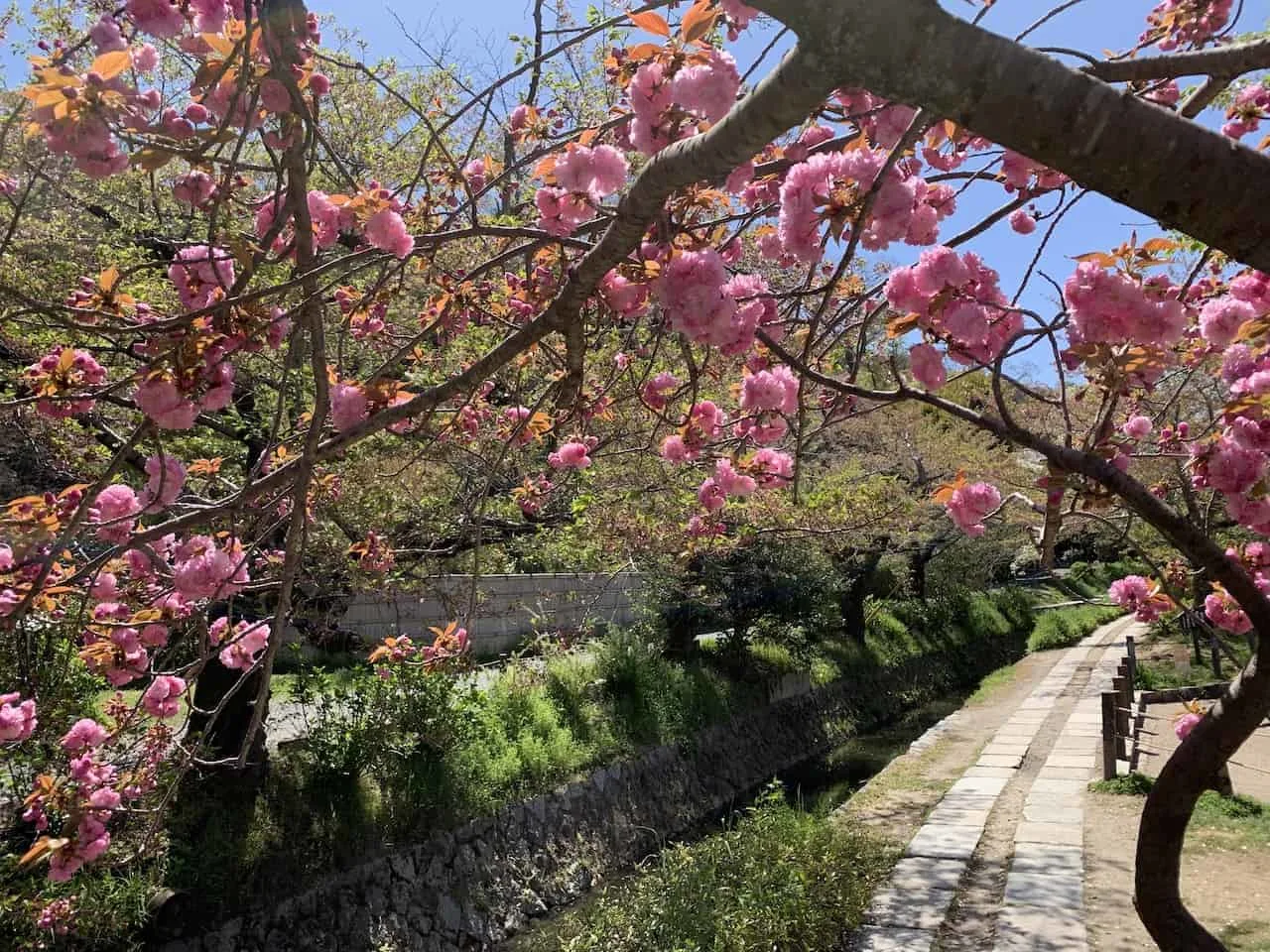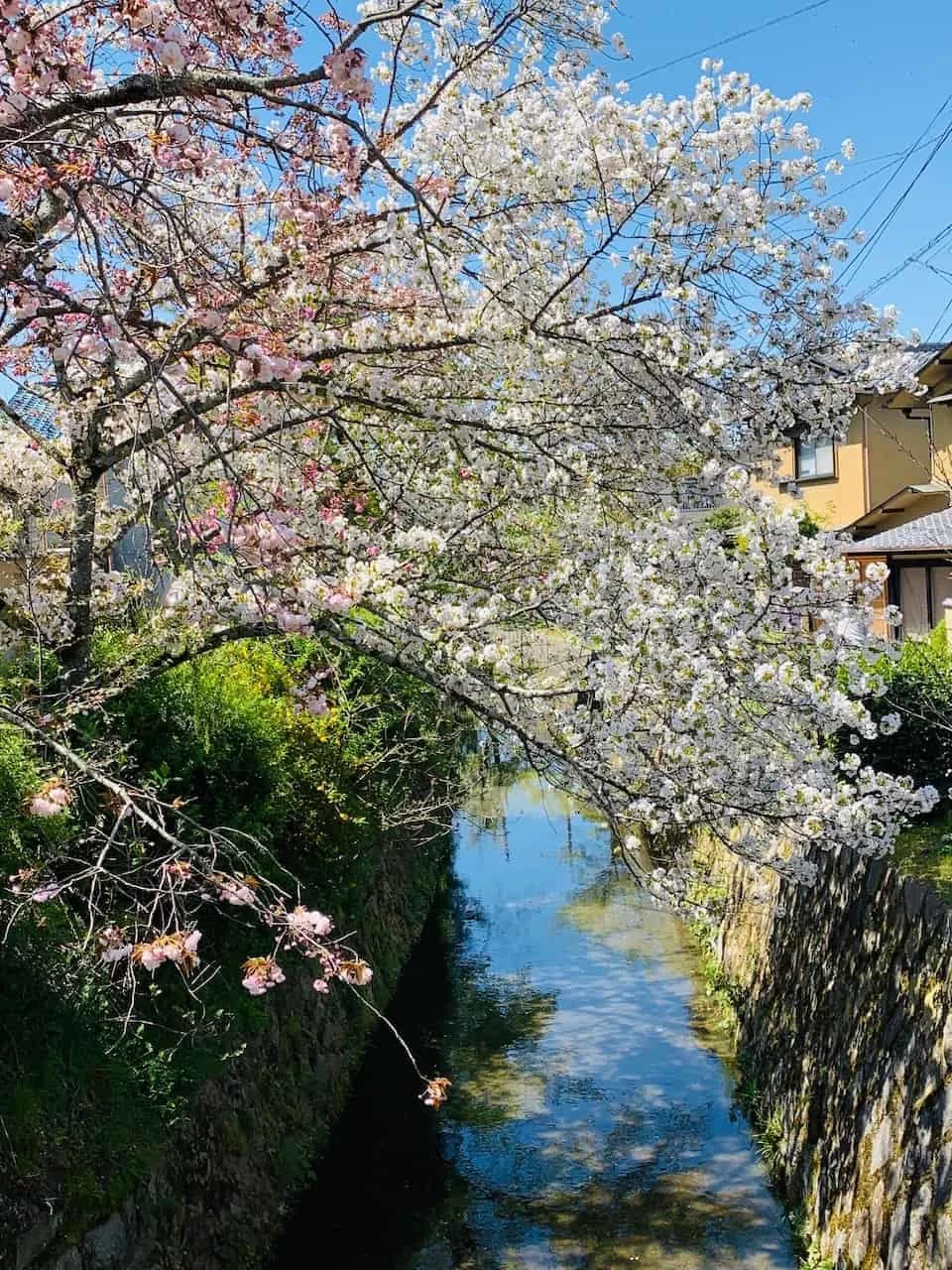 Nanzen-ji Temple
Hours/Fees: Nanzen-ji is free to enter however some buildings require entrance fees and have differing entrance times. Take a look at the latest fees / hours here.
Nanzen-ji is more than a simple temple. Its grounds make up a huge area and you can spend plenty of time taking it all in. To enter the grounds is free of charge, however if you would like to actually enter some of the structures/complexes you will need to pay a fee.
The Sanmon gate for example can be viewed from the outside, but if you would like to head up and take in the view from above, you will need to pay an entrance fee. The same goes for most other parts of the complex.
And don't forget to head to the big stone aqueduct too! It makes for a great picture opportunity and gives you a different perspective of what Kyoto has to offer.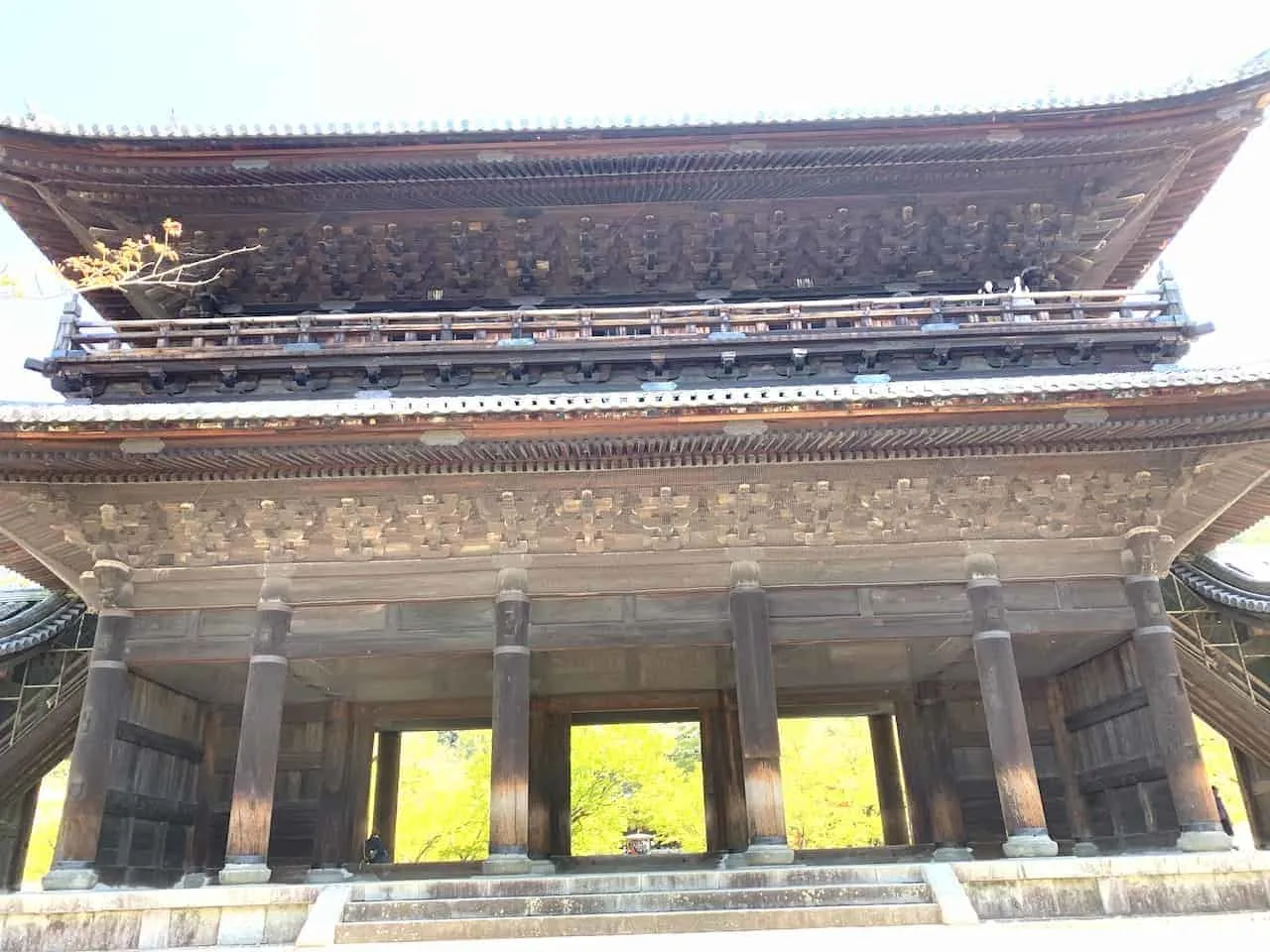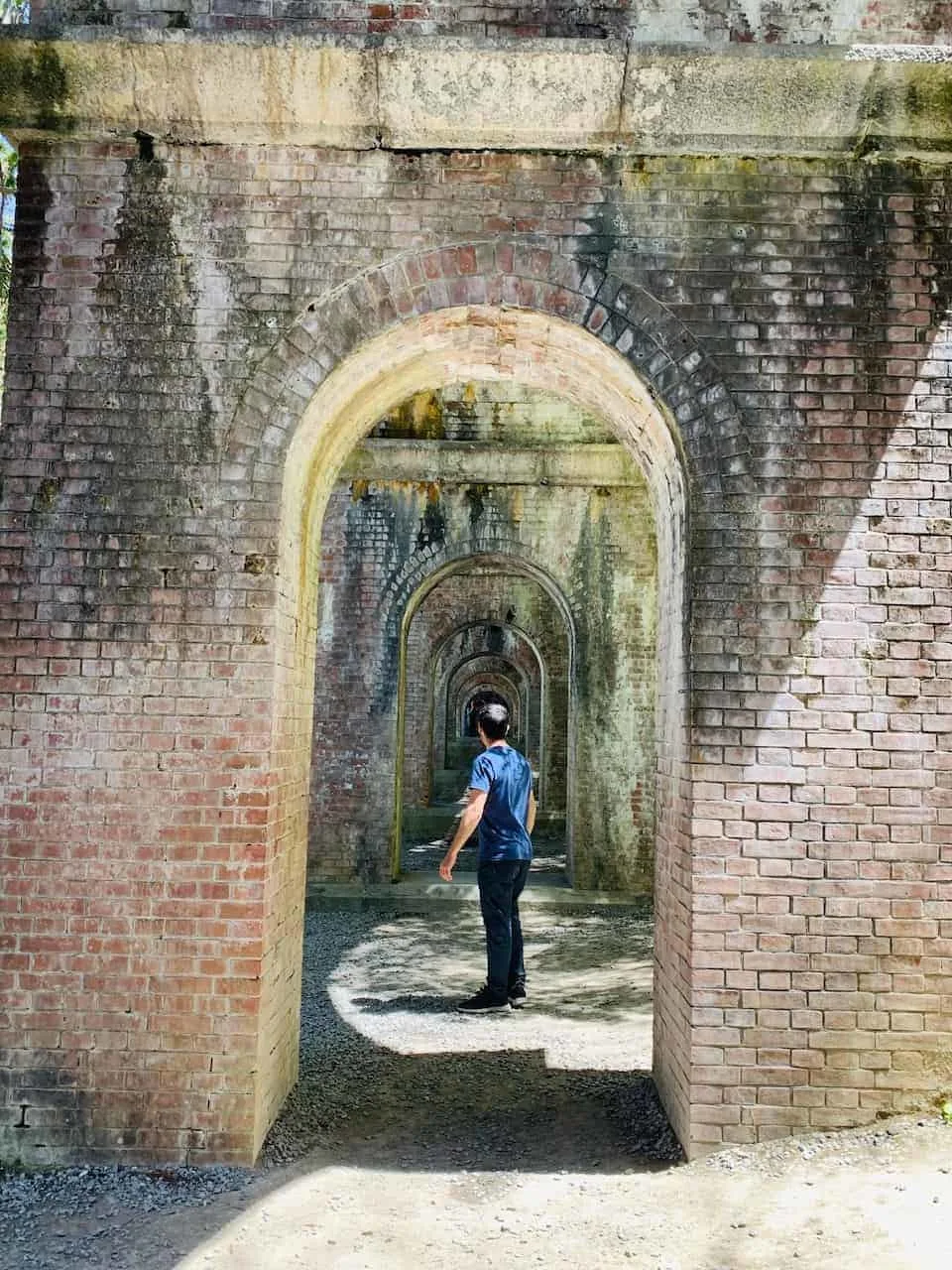 Chion-in Temple
Opening Hours: 9:00AM – 4:30PM (temple buildings; temple grounds always open)
Entrance Fee: Free
After finishing up with Nanzen-ji, continue along to Chion-in Temple. This temple is free of charge and has some incredible architecture to take in and enjoy. You will find a spread out temple grounds with some ornate buildings and beautiful gardens.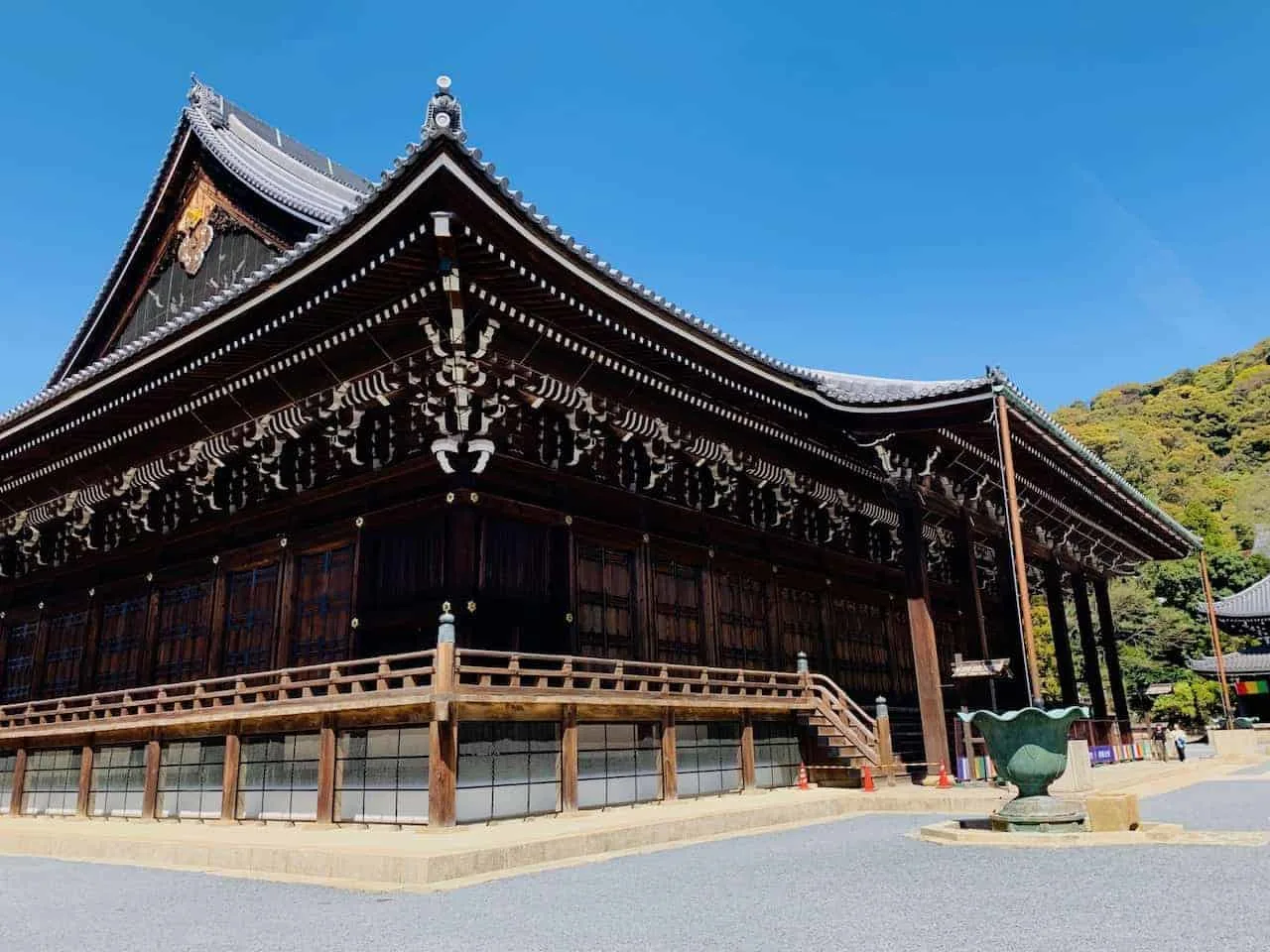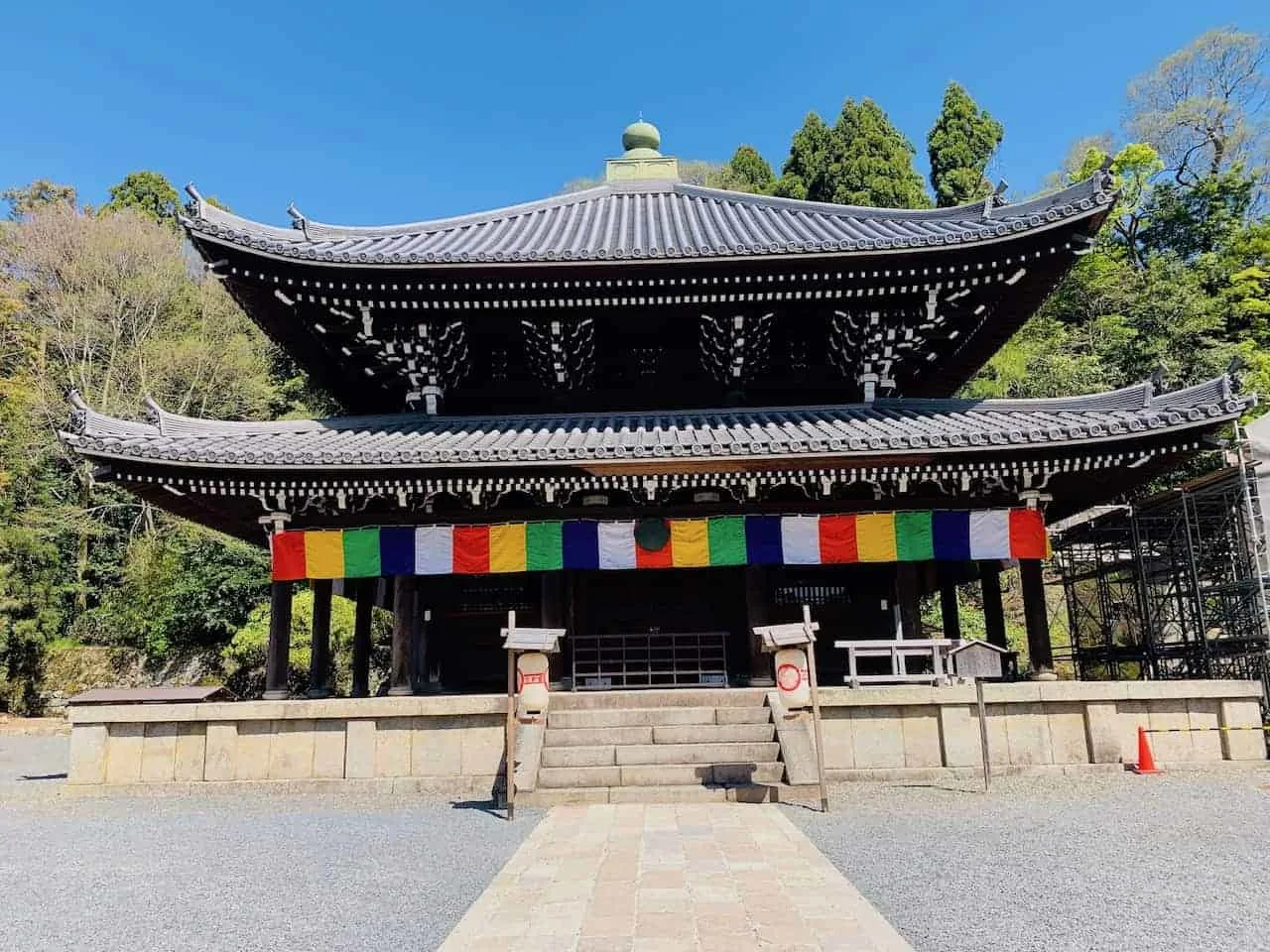 Marayuma Koen Park – Yasaka Jinja Shrine
Now that you have explored some temples, continue along to Marayuma Koen Park. Not only will you find a great spot to enjoy some nature here, but you will also find the Yasaka Jinja Shrine.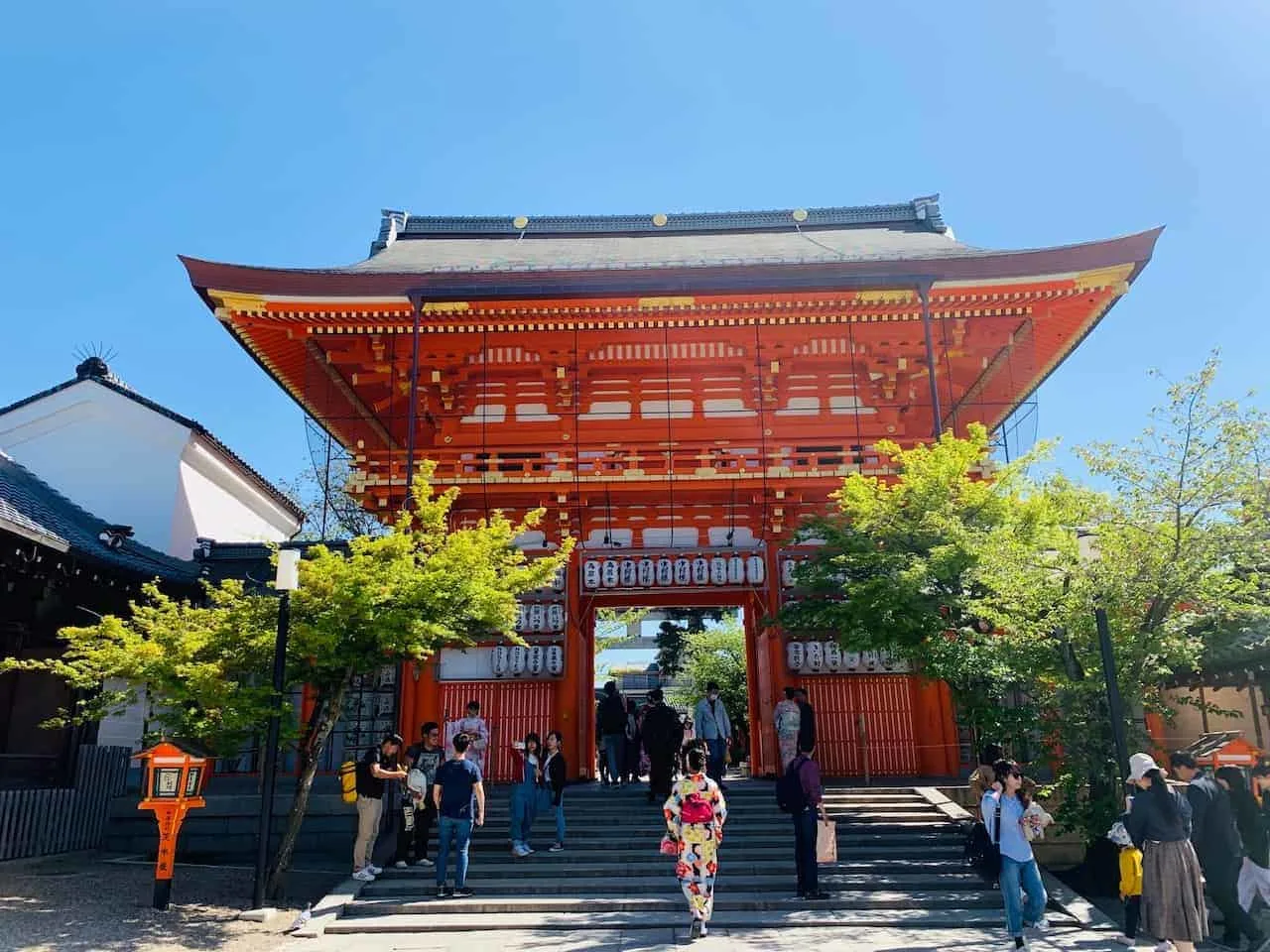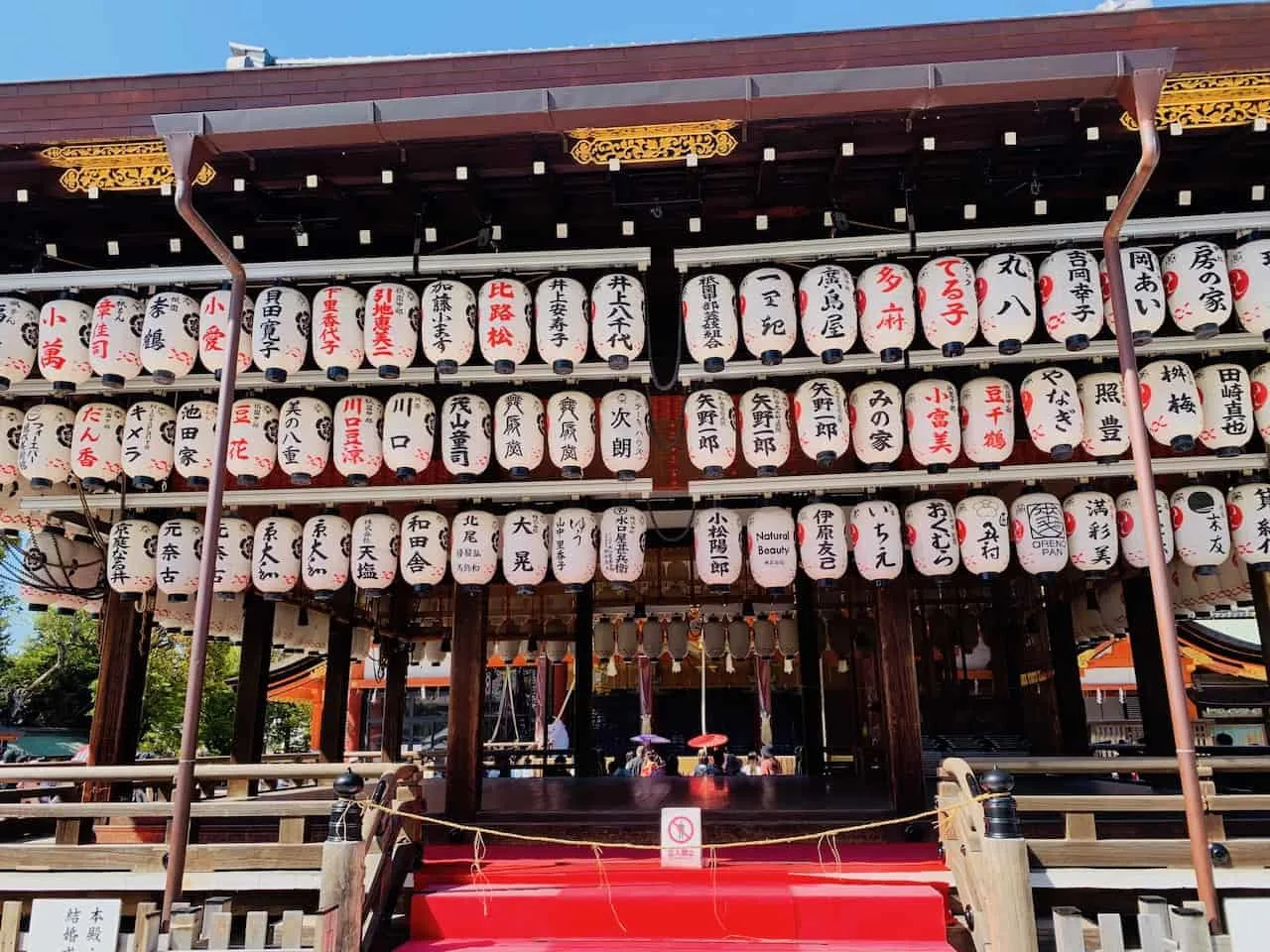 Kodai-ji Temple
Opening Hours: 9:00AM – 5:30PM
Entrance Fee: 600 JPY
Another top temple to visit along the route is that of Kodai-ji. You will find a unique and pristine sand garden here alongside ponds, temple structures, and a small bamboo grove.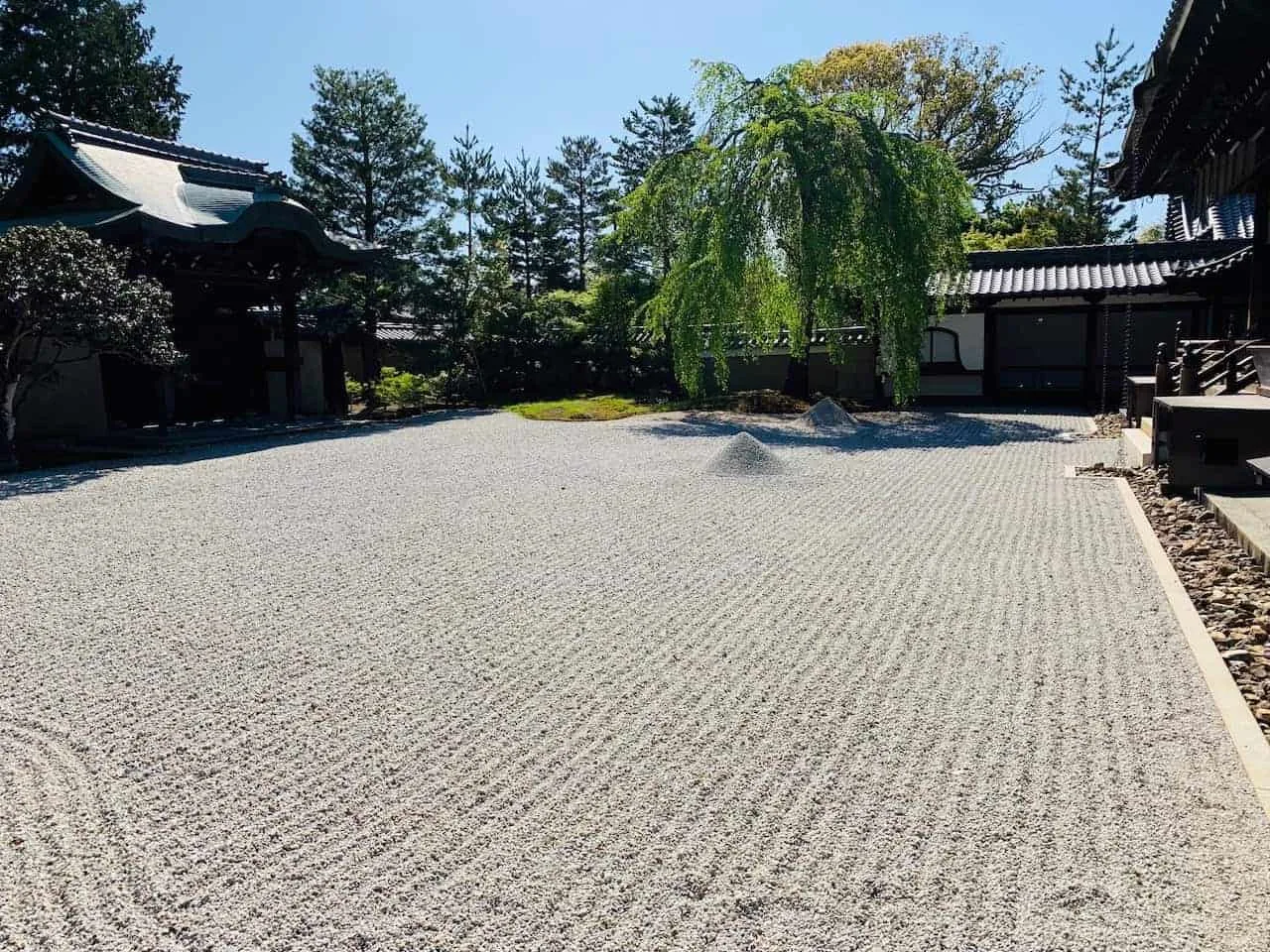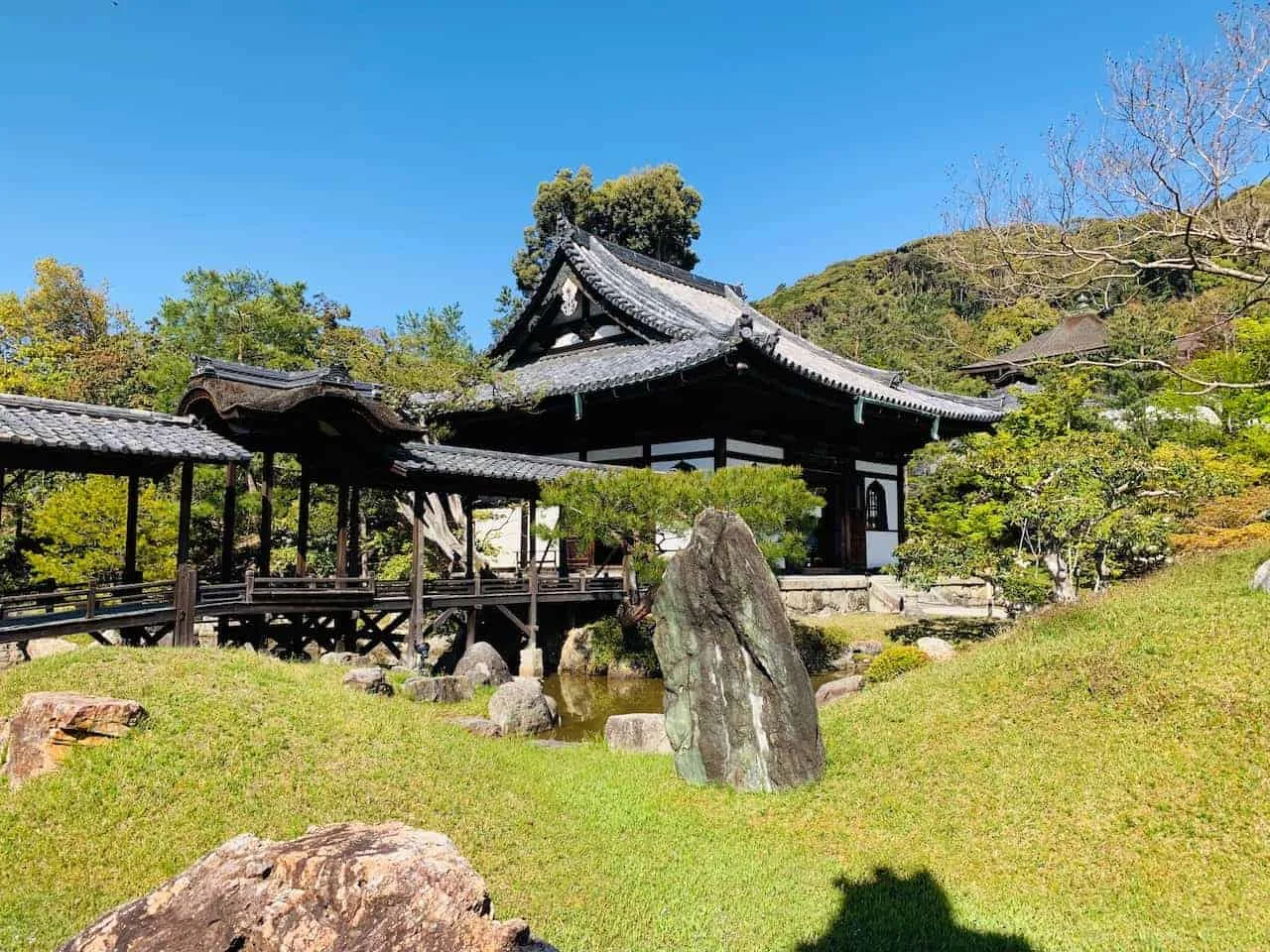 Ninen-zaka and Sannen-zaka
After enough time temple hopping, it is time to head off to two of Kyoto's main pedestrian streets – Ninen-zaka and Sannen-zaka. You will find them just a 5 minute walk from Kodai-ji as you shop and eat your way up and down the area.
The two streets are full of small food shops, local stores, and plenty more. Just people watching along the way is a highlight within itself. After spending enough time around the streets, it is time to head to your last attraction of the day – Kiyomizu-dera Temple.
Note: Kiyomizu-dera Temple closes at 6:00PM so as you go about your day just remember that so you do not miss out on this incredible temple.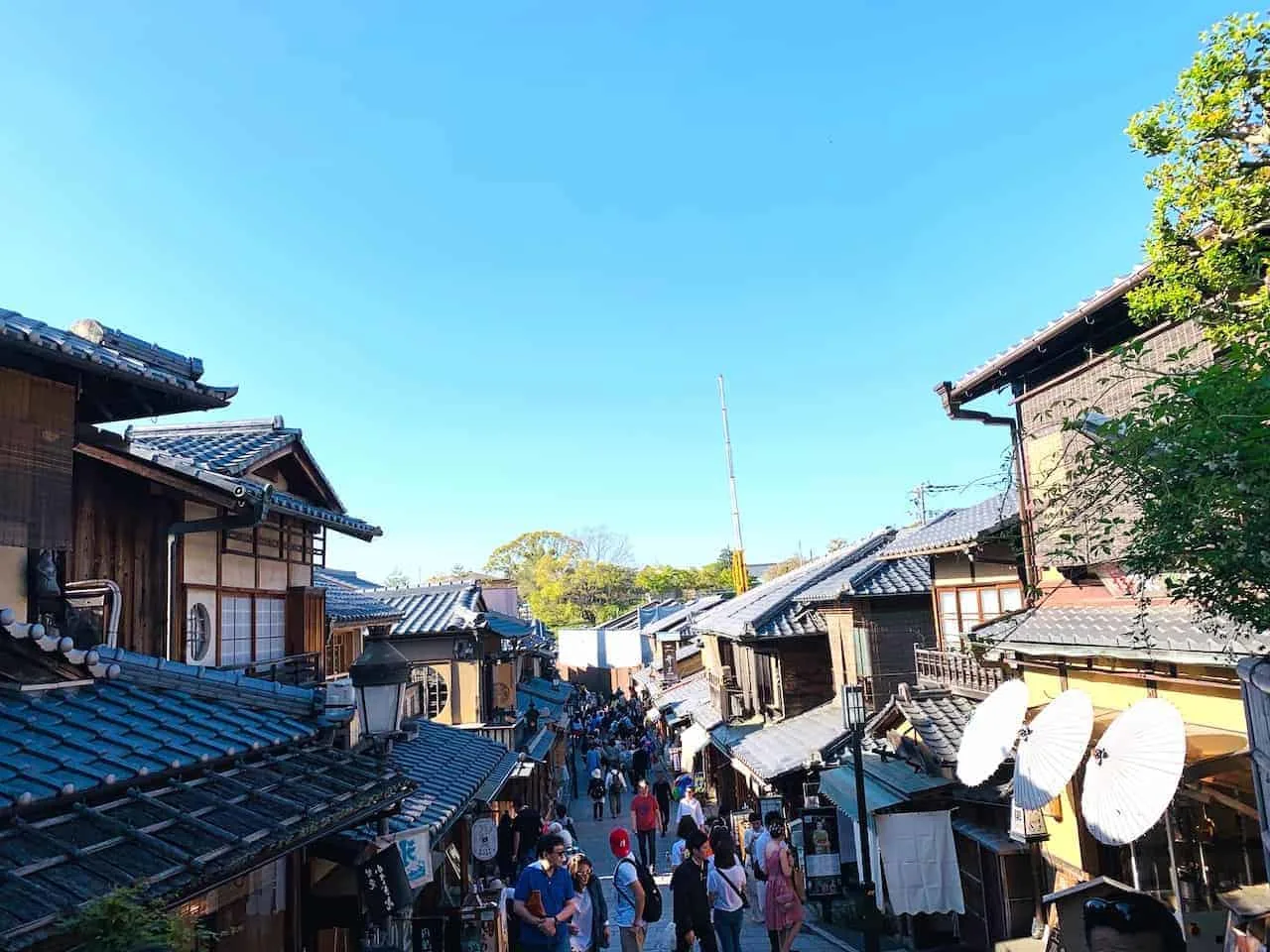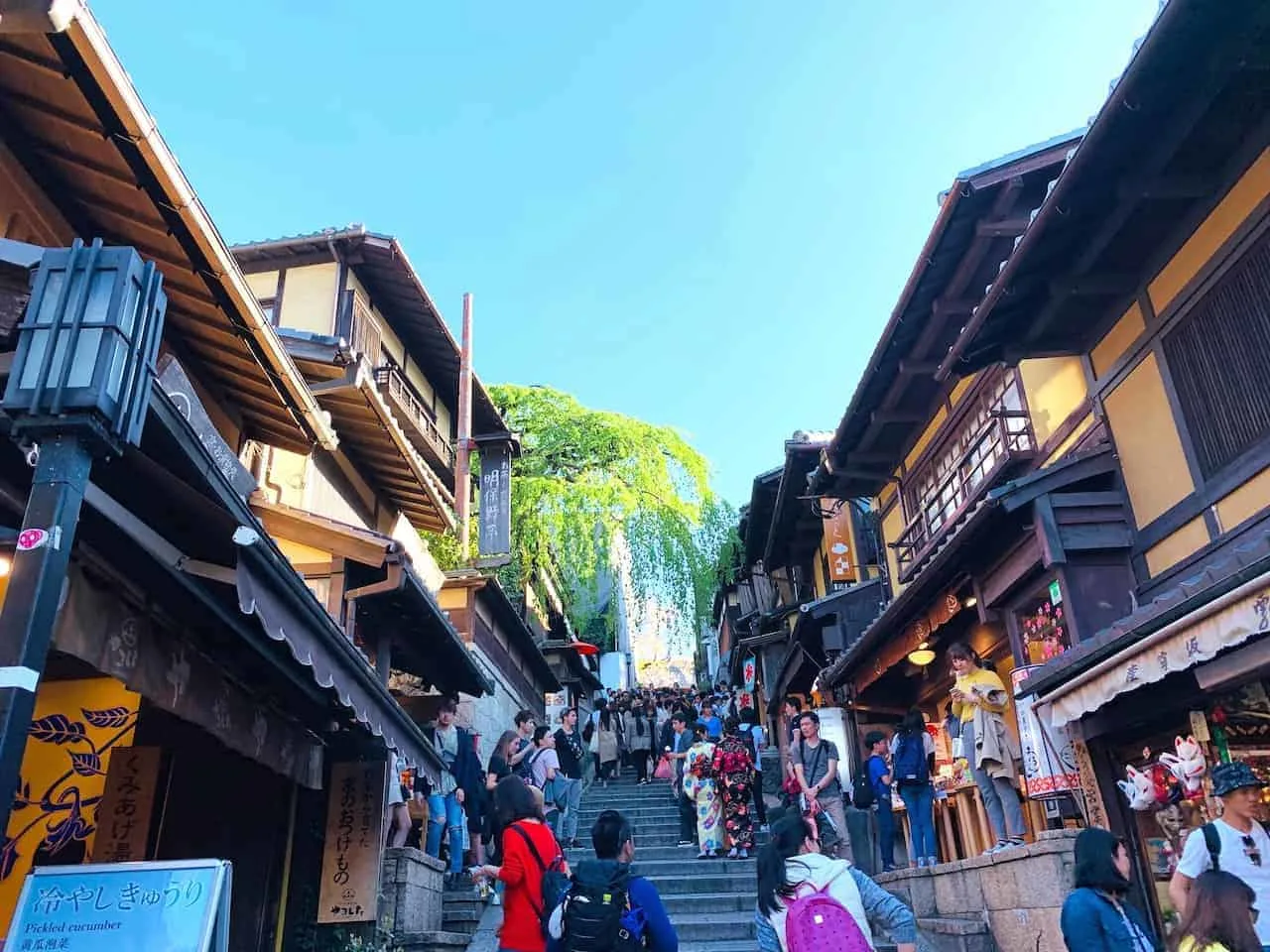 Kiyomizu-dera Temple
Opening Hours: 6:00AM – 6:00PM
Entrance Fee: 400 JPY
To end your day head to the Kiyomizu-dera Temple complex. You will find things such as a five storied pagoda, the Otowa Waterfall, and of course the main temple itself.
And lastly, don't forget to take in those views! You will have some great vantage points of the city from the main viewing platform of the temple as well as at various other spots as you make your walk around to the other structures in the complex.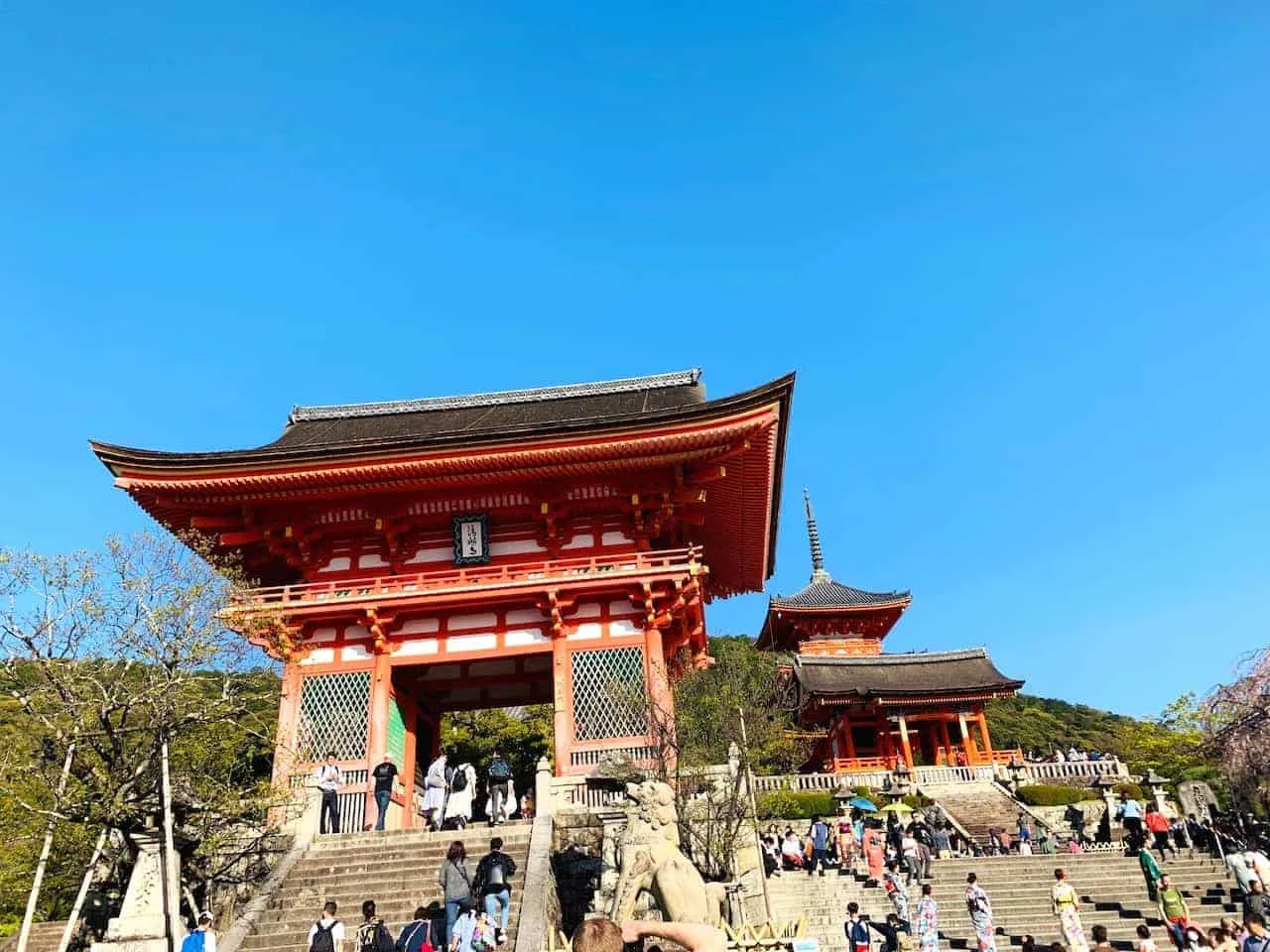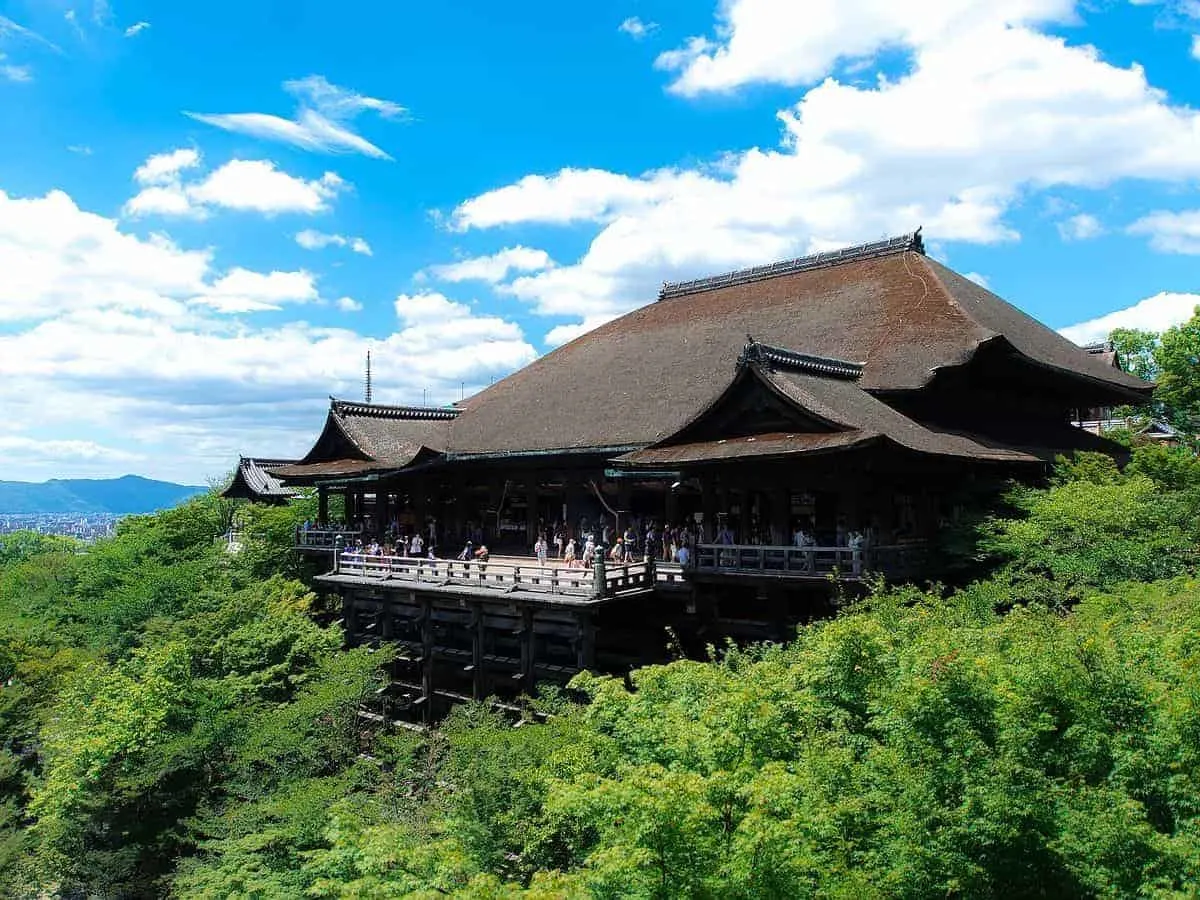 If you have the time and are interested you can also add in a couple more temples along the way – Honen-in is a free temple located right off the Philosopher's Path and Eikando Temple, which is a bit further south from there.
7) Kyoto Day 2
Your second day in Kyoto will take you to a few of the "must dos" when visiting the city including the Golden Pavilion and the Arashiyama Bamboo Forest.
Since these two places are some of the most visited in all of Kyoto you can expect to see crowds at both. You can do this day starting with either one and if you want to avoid the crowds (at one of them) I recommend getting an early start to the day.
Note: you will also be utilizing the bus/subway network today and you could save a few dollars by purchasing a one day bus pass.
Kinkaku-ji Temple
Opening Hours: 9:00AM – 5:00PM
Entrance Fee: 400 JPY
Start the day by hopping on a bus towards Kinkaku-ji also known as the Golden Pavilion. Unlike the silver pavilion which isn't silver in color, the Golden Pavilion is most definitely gold in color.
You will find Kinkaku-ji sitting on the base of a beautiful pond and you will have the opportunity to take in some vantage points from afar and right up next to it as well. All you need to do is follow the path around and enjoy!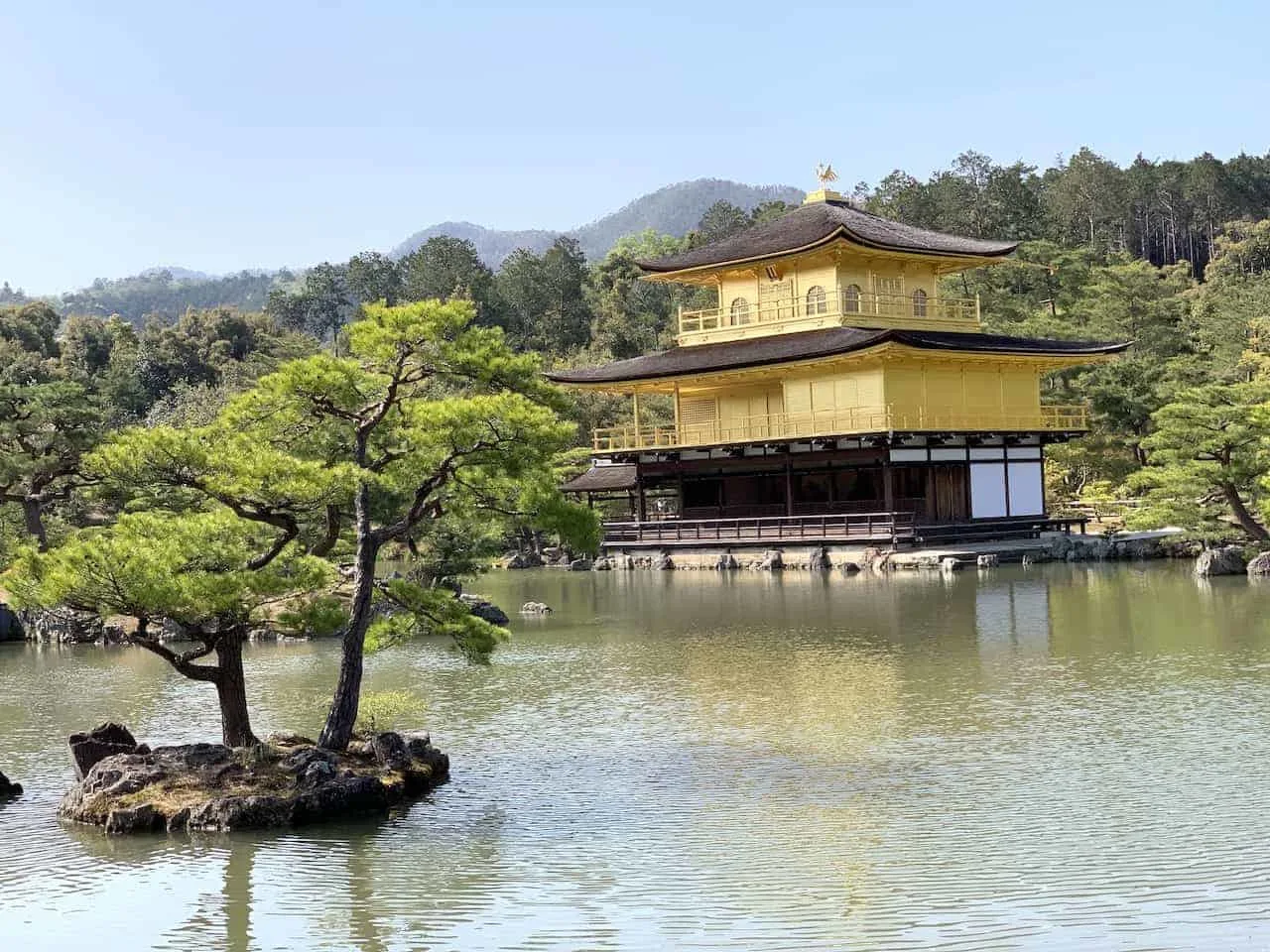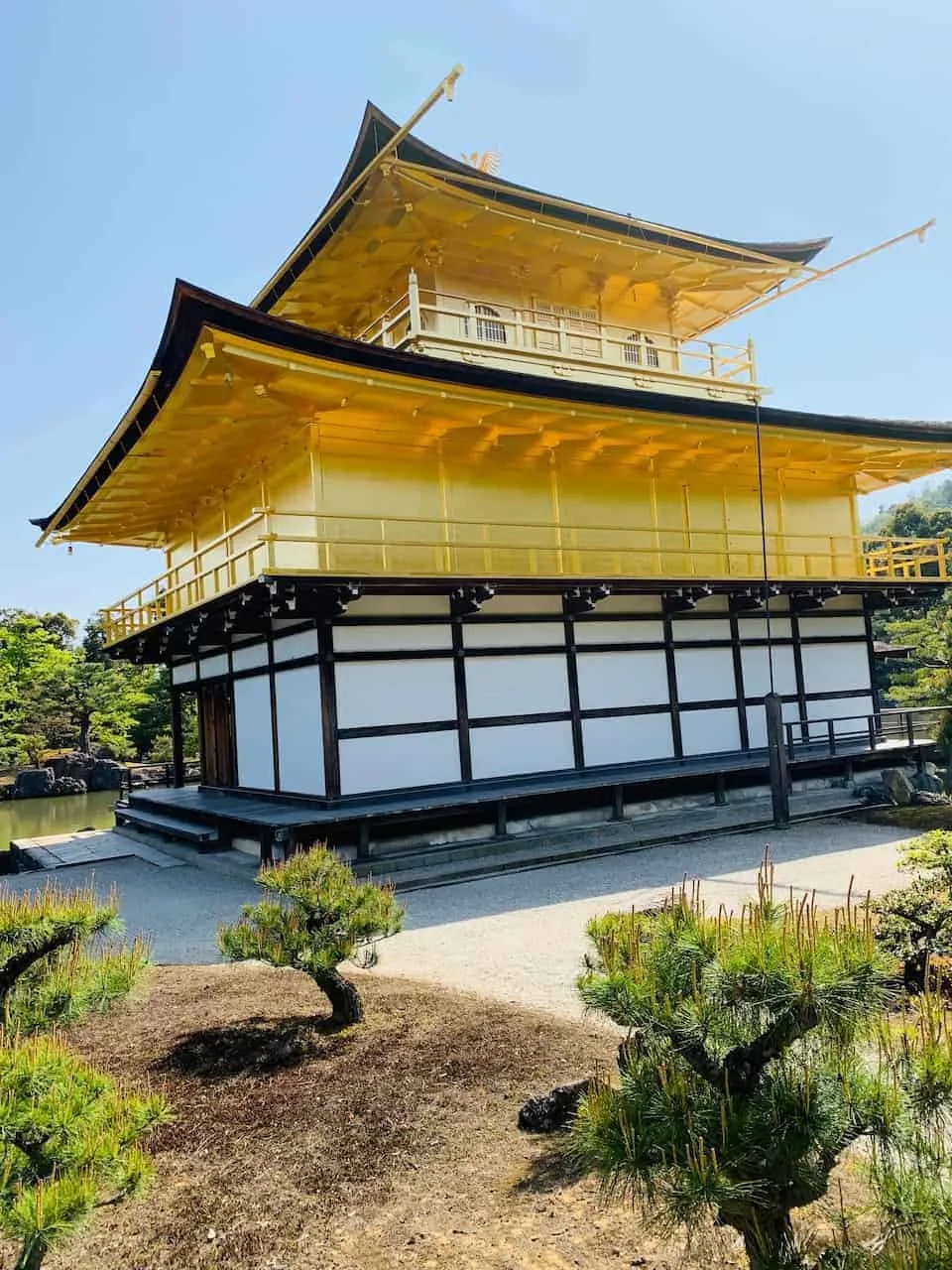 Note that I came during peak hours here and it was by far the most crowded attraction I have been to in Kyoto.
To an extent it did not feel as genuine of an experience just because of the sheer amount of people. For that reason I am putting it first up on the day if you decide to get there early at opening.
Ryoan-ji Temple
Opening Hours: 8:00AM – 5:00PM (4:30PM December to February)
Entrance Fee: 500 JPY
After taking in the Golden Pavilion you can either make the 20 minute walk or quick bus ride to Ryoan-ji. Beyond the nice garden and temple area, Ryoan-ji is well known for its famous rock garden, with 15 unique stones. Take a seat on a viewing platform and enjoy the peacefulness all around.
What is unique about the garden, is that at any vantage point you cannot actually see each and every rock.
Feel free to make your way across the viewing platform to test it out for yourself. A pretty unique place on my Kyoto bucket list.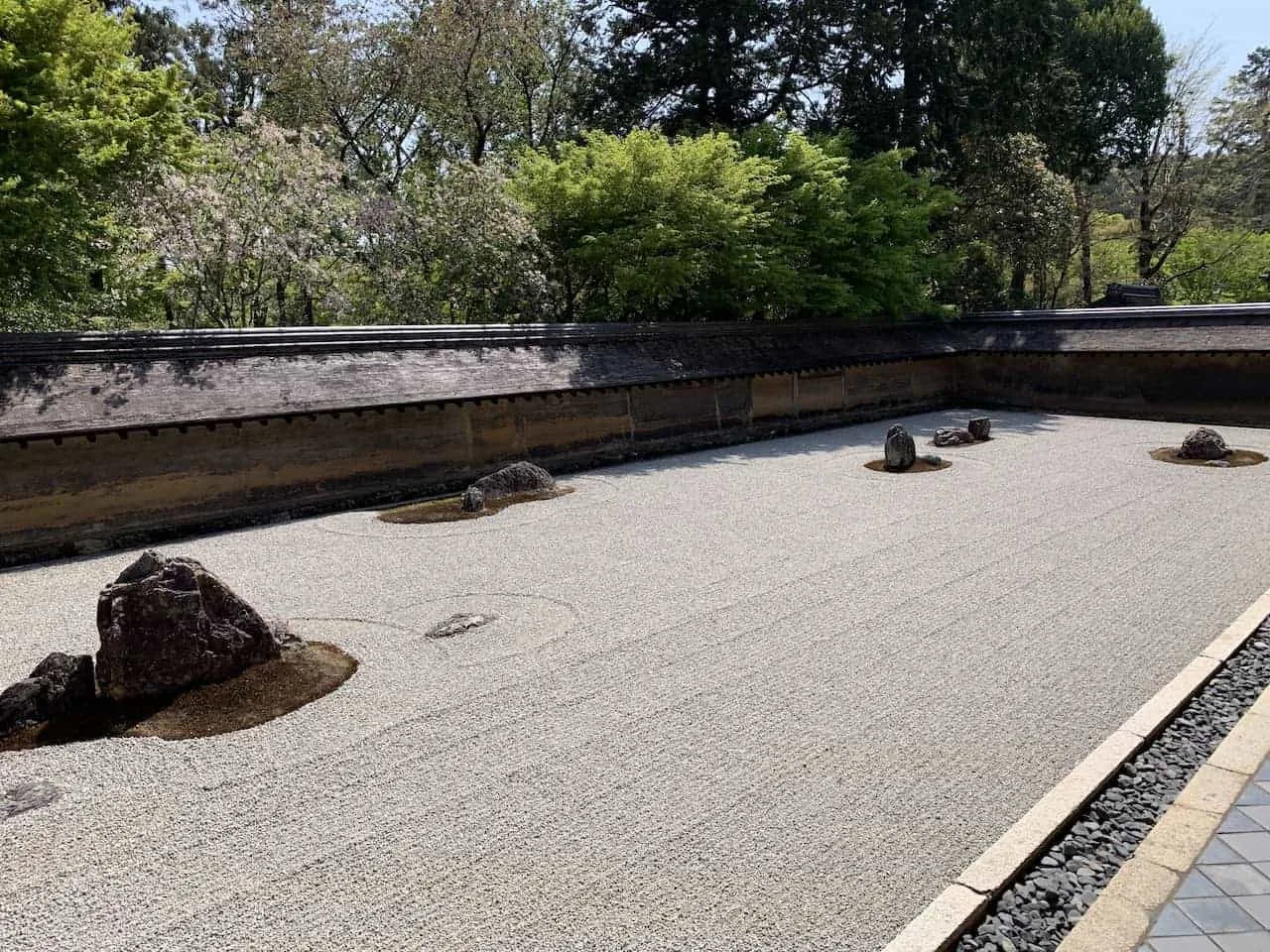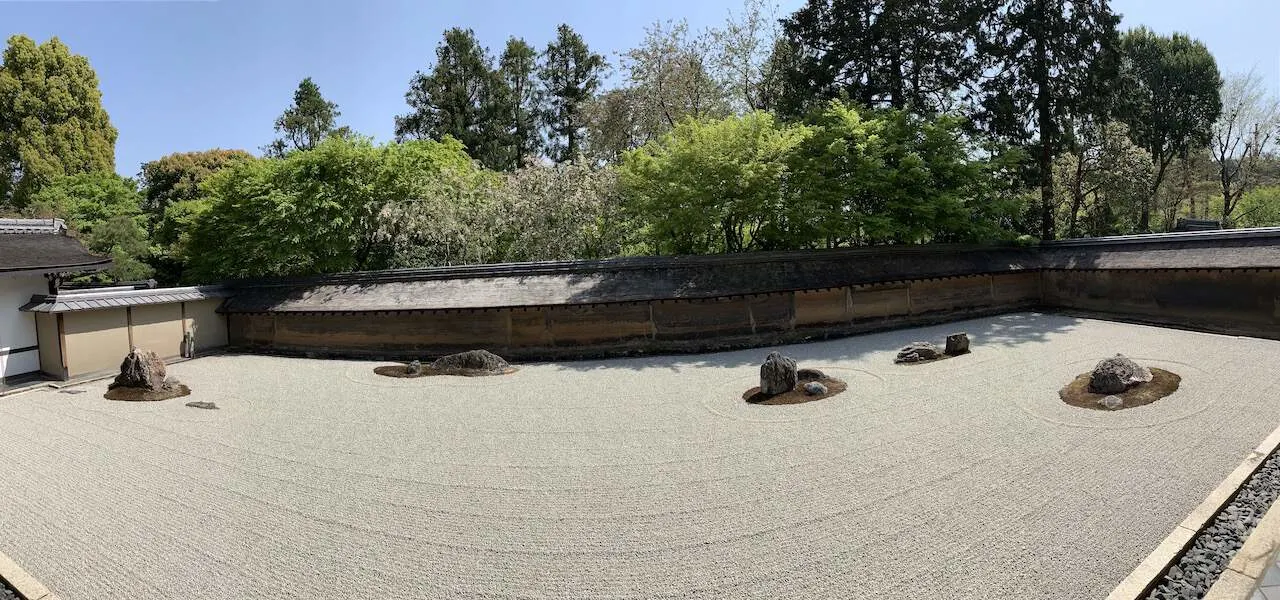 Tenryu-ji Temple
Opening Hours: 8:30AM – 5:30PM (5:00PM late October to late March)
Entrance Fee: 500 JPY
Now that you have seen two of Kyoto's highlights it is time to make your way to the Arashiyama district.
This is one place I wish I actually had more time to visit I. I didn't realize how many different temples and attractions were around the area. For this 3 days in Kyoto itinerary though I will be mentioning some of the must dos.
Start off at the Tenryu-ji Temple, which is the main one in the area. It was built all the way back in 1339 and is actually the most important Zen temple in all of Kyoto (it is even a world heritage site!). There are a few main halls here to walk through as well as a beautiful garden to enjoy.
Arashiyama Bamboo Grove
Opening Hours: Always Open
Entrance Fee: Free
After taking in the temple it is time to check out the Arashiyama Bamboo Grove. This is one of those spots in Kyoto that you may have continuously come across when researching the city.
While it is an incredible piece of nature with thousands of bamboo trees all around, it also comes with the crowds. Unless coming very early or late, expect there to be plenty of crowds walking the path.
You can actually enter the bamboo grove from the back of the temple complex instead of walking all the way around.
The main walking path of the bamboo grove is pretty short – only about 10 minutes long. Around the area though there is plenty of other bamboo and park features but the main attraction is the short walkway itself.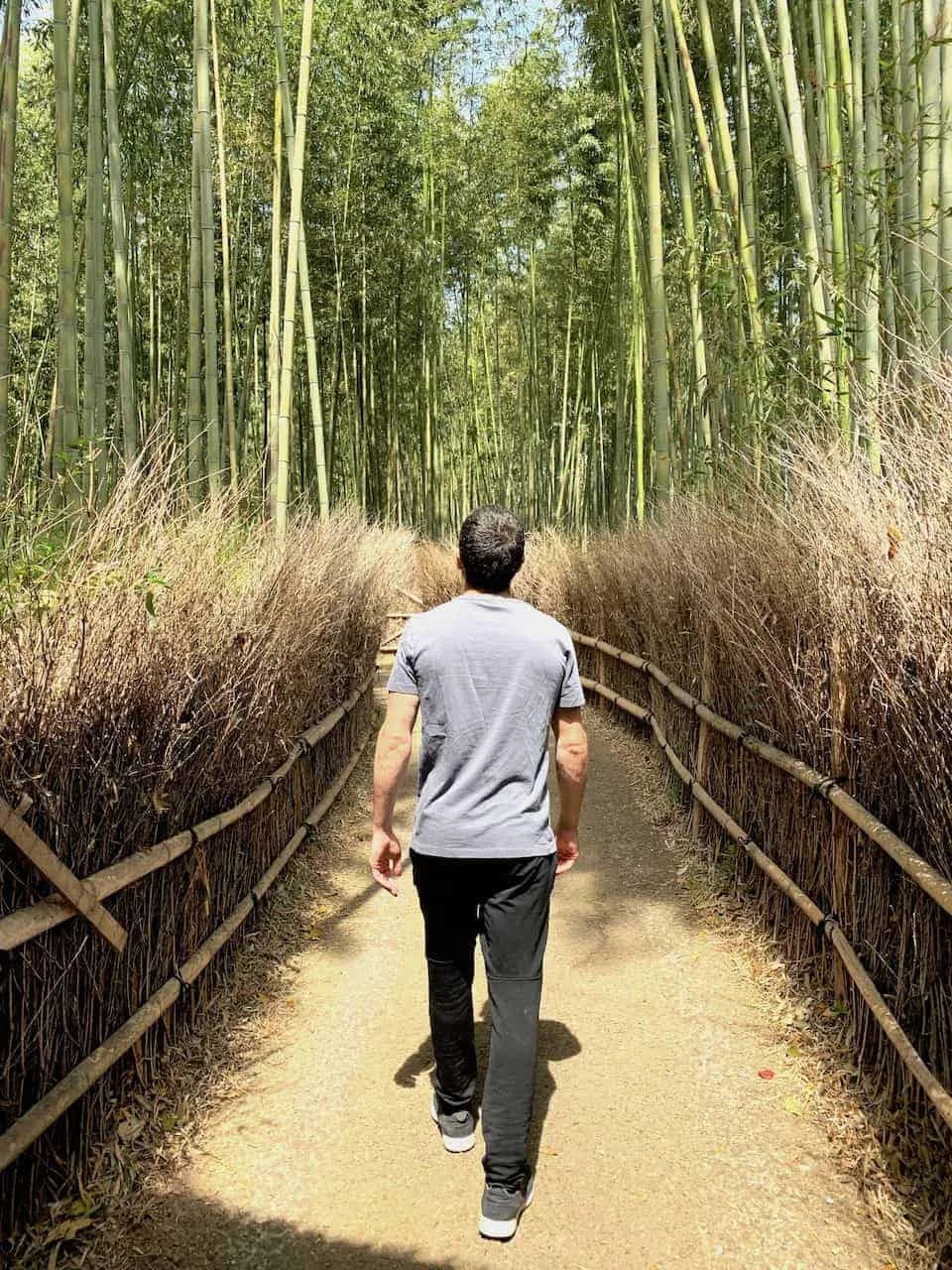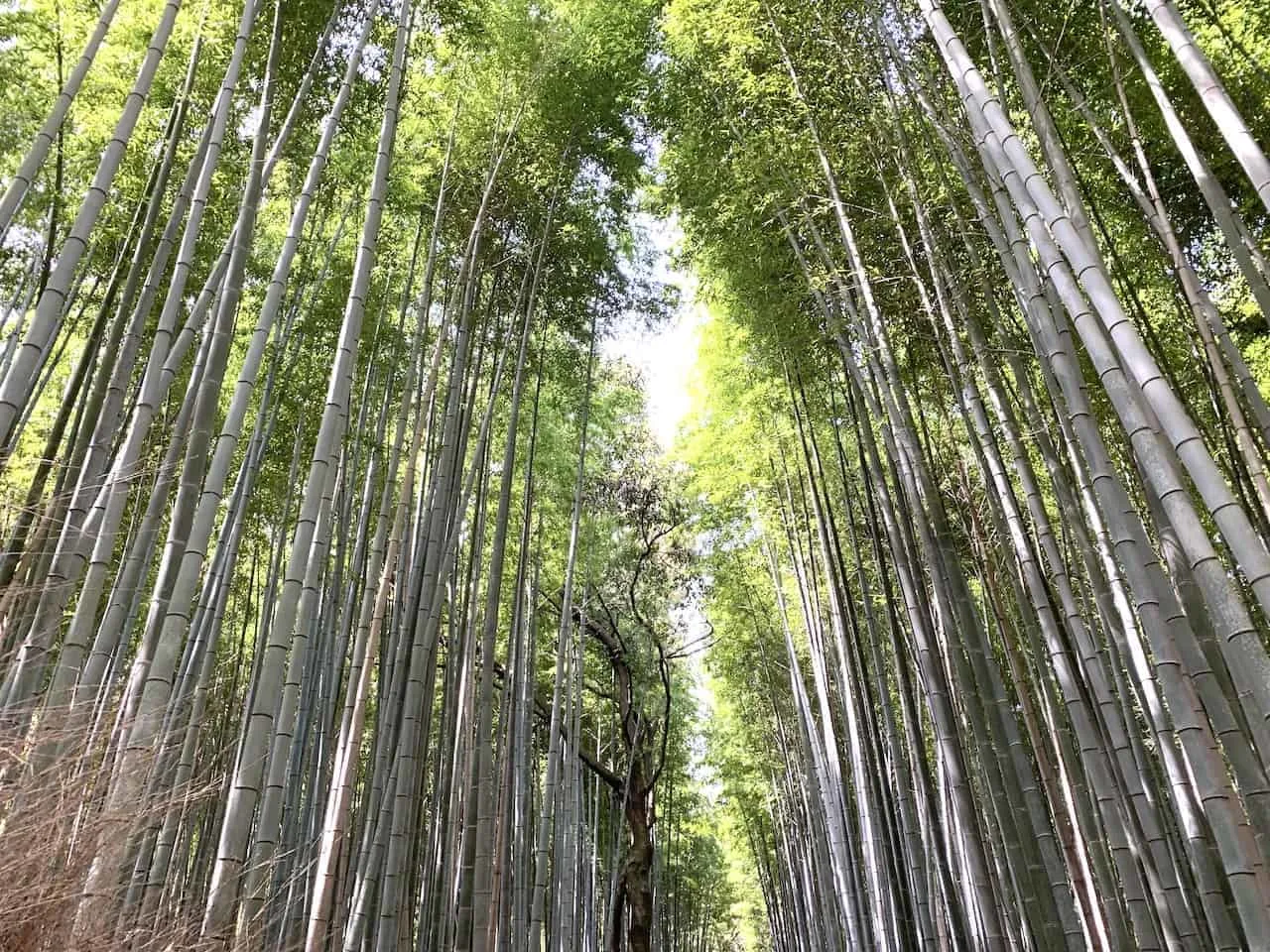 Arashiyama Monkey Park
Opening Hours: 9:00AM – 4:30PM (4:00PM from)
Entrance Fee: 550 JPY
After walking through the grove and the rest of the park, make your way to the river area, where you can enjoy a stroll alongside the riverside and over the bridge. On the other side of the bridge is the Arashiyama Monkey Park.
Now this monkey park is not a zoo. The monkeys are not caged and they are free to roam as they want. The reason they stick around the area is because they know a lot of food is given out by visitors.
The trail up to the monkey park is about 20-30 minutes uphill so you will need to work for it a bit. But once you are up there, not only do you get to see a bunch of monkeys roaming around but you also will get a fantastic viewpoint of Kyoto down below.
Spend some time enjoying the monkeys, taking some pics and enjoying the view. Don't forget to listen to all the rules too! You don't want an angry monkey attacking you!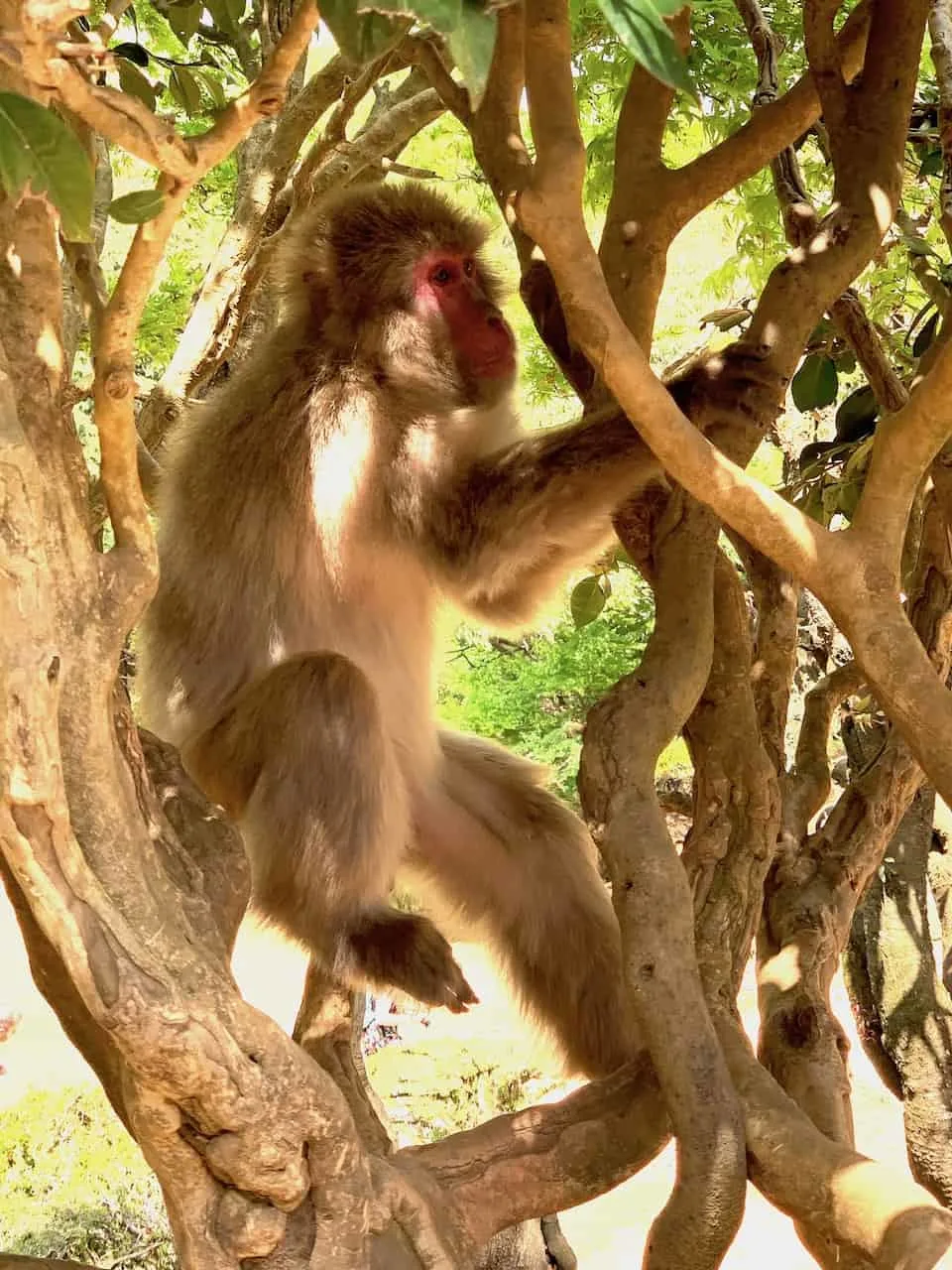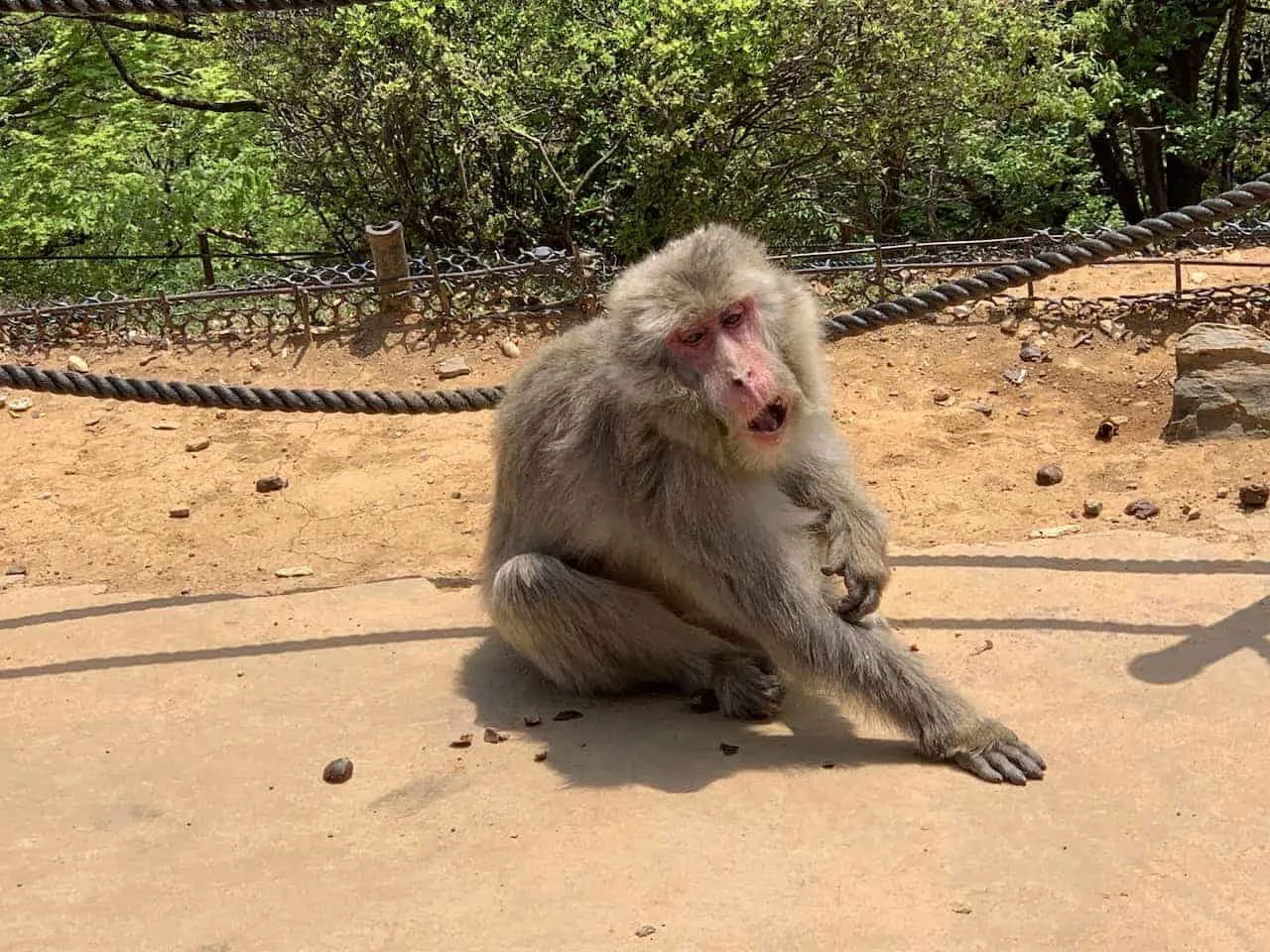 If you have additional time, some other highlights in the area include Adashino Nenbutsuji Temple, Otagi Nenbutsuji Temple, Gioji Temple, among a few others.
8) Kyoto Day 3
Nishiki Market
Opening Hours: 9:00AM – 6:00PM (some stores are closed Sundays and/or Wednesdays)
Although you will have seen and done plenty over the last couple of days there is still more out there! You can start the day at Kyoto's most well known market – Nishiki.
The market is located in the heart of downtown and is basically one long passageway between streets making up several blocks.
You will find every type of food you could imagine as you slowly make your way down the corridor. Be sure to pick and choose from a variety of places as there is a lot to take in and enjoy. You will also find side a few side streets full of more food as well as a variety of different shops.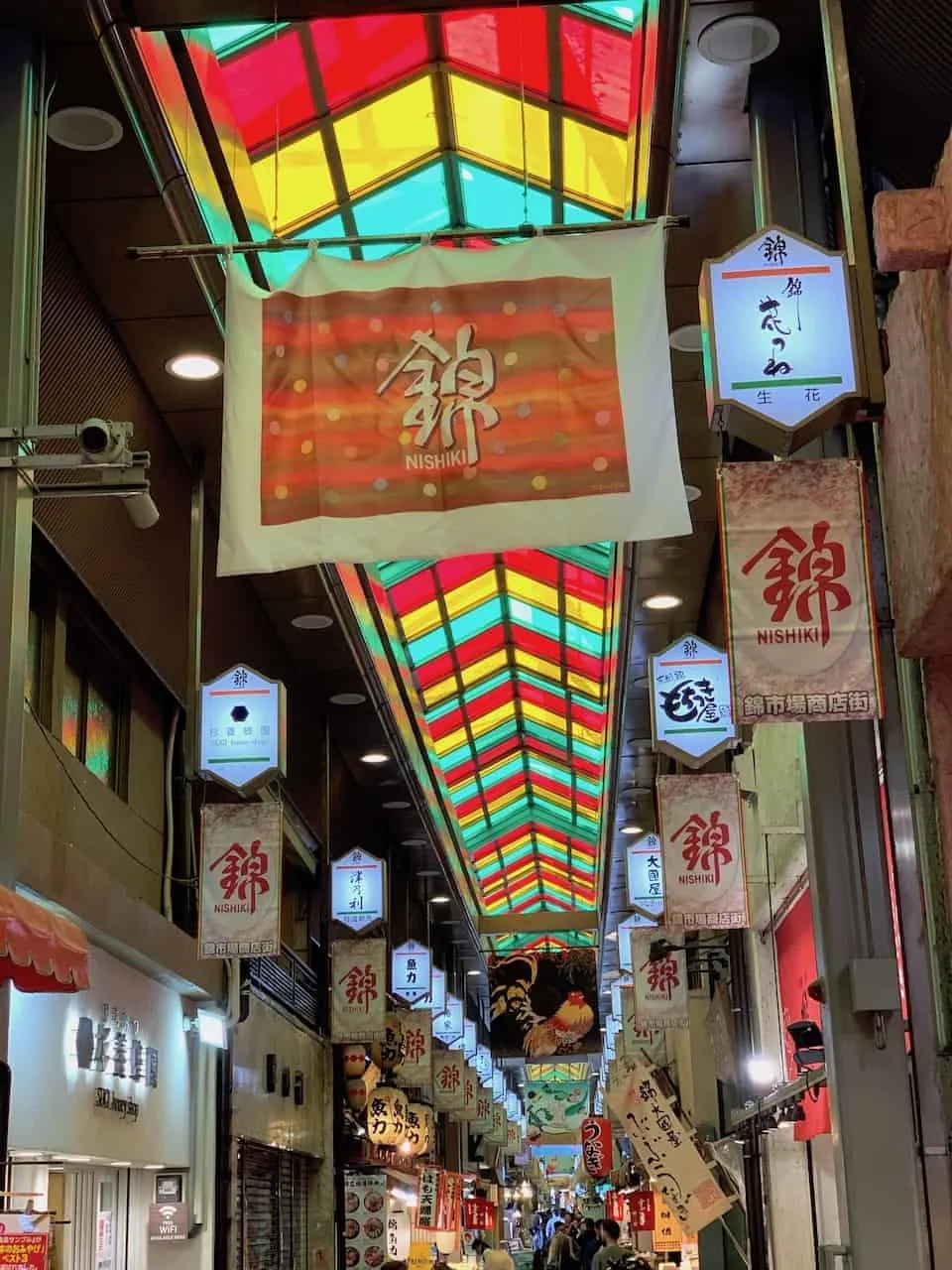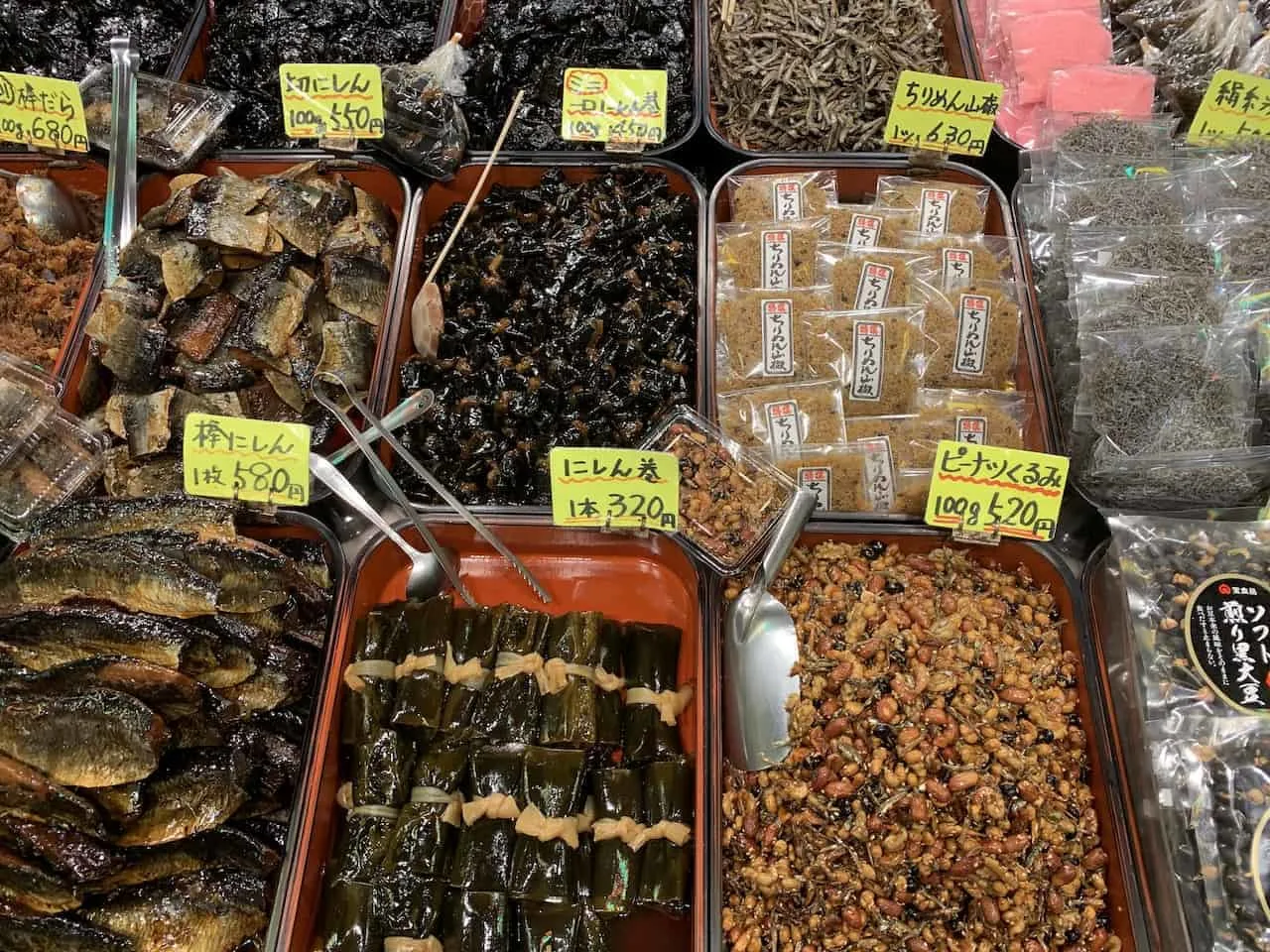 Nijo Castle
Opening Hours: 8:45AM – 5:00PM but depends on time of year – check out the latest
Entrance Fee: 600 JPY
After eating your way through Nishiki make the walk to Nijo Castle. This complex was built as the first shogun residence of the Edo period in 1603. As you approach the castle complex you will be welcomed to a massive moat that surrounds it all.
Once inside you will be able to tour around all areas of the castle including gardens, palaces, gates and plenty of other structures.
And don't forget to check out the famous nightingale floors – a squeaking floor security system that helped catch intruders who entered the building.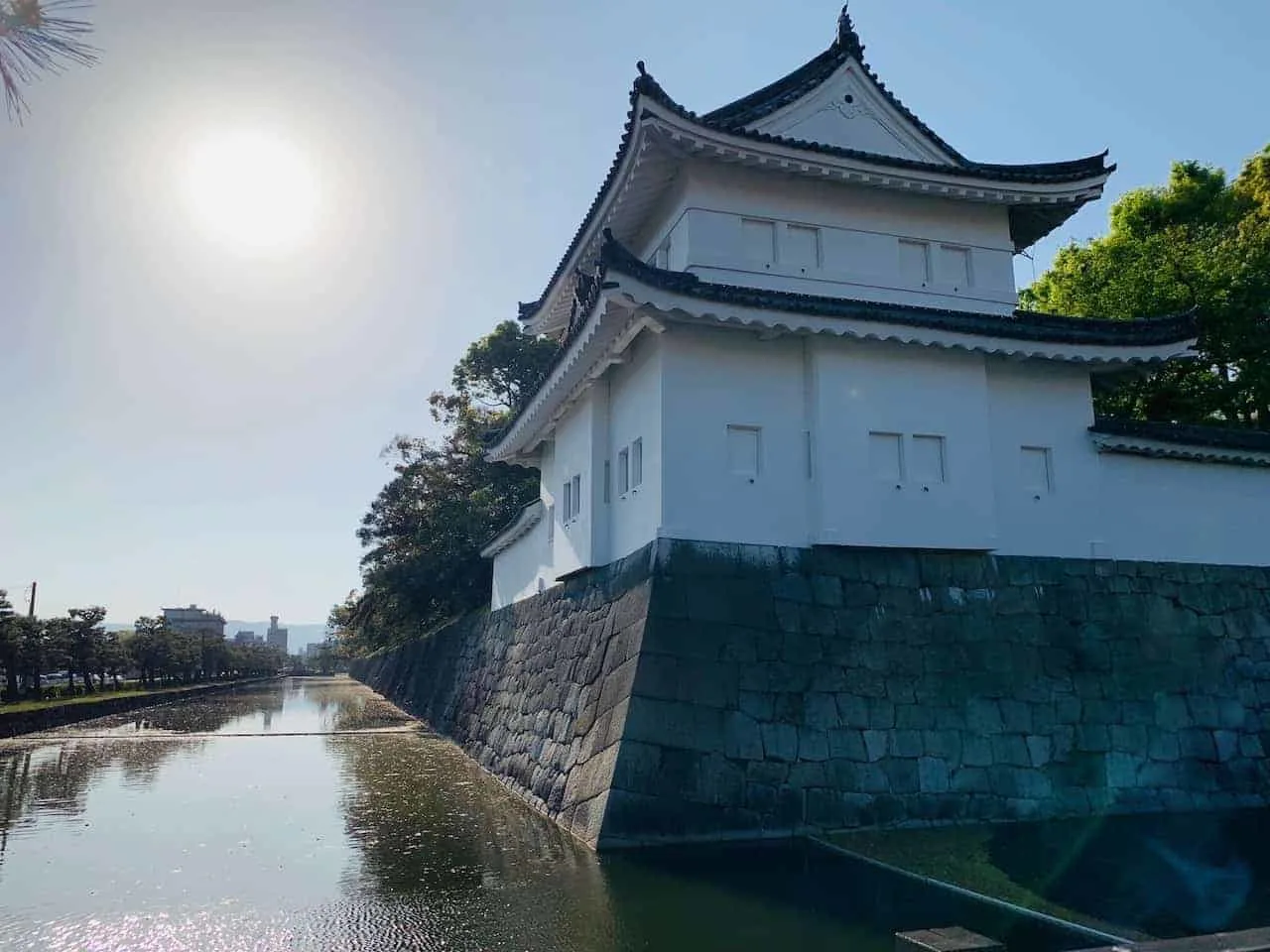 Imperial Palace
Opening Hours: 9:00AM – 5:00PM (April to August); 4:30PM (September and March); 4:00PM (October to February) – Closed on Mondays
Entrance Fee: Free
Next up is the Imperial Palace of Kyoto, which is part of a larger park area. This place is absolutely massive as it makes up a large piece of land right inside the city. You can spend time just wandering the park grounds and you can also choose to enter the Imperial Palace area too.
This palace was where the Imperial family lived until 1868, when Japan moved its capital from Kyoto to Tokyo (don't forget to visit the Imperial Palace in Tokyo too!).
After taking time to walk around the park and enter the palace area if you choose to, it is time to head to your last attraction of the day – Fushimi Inari.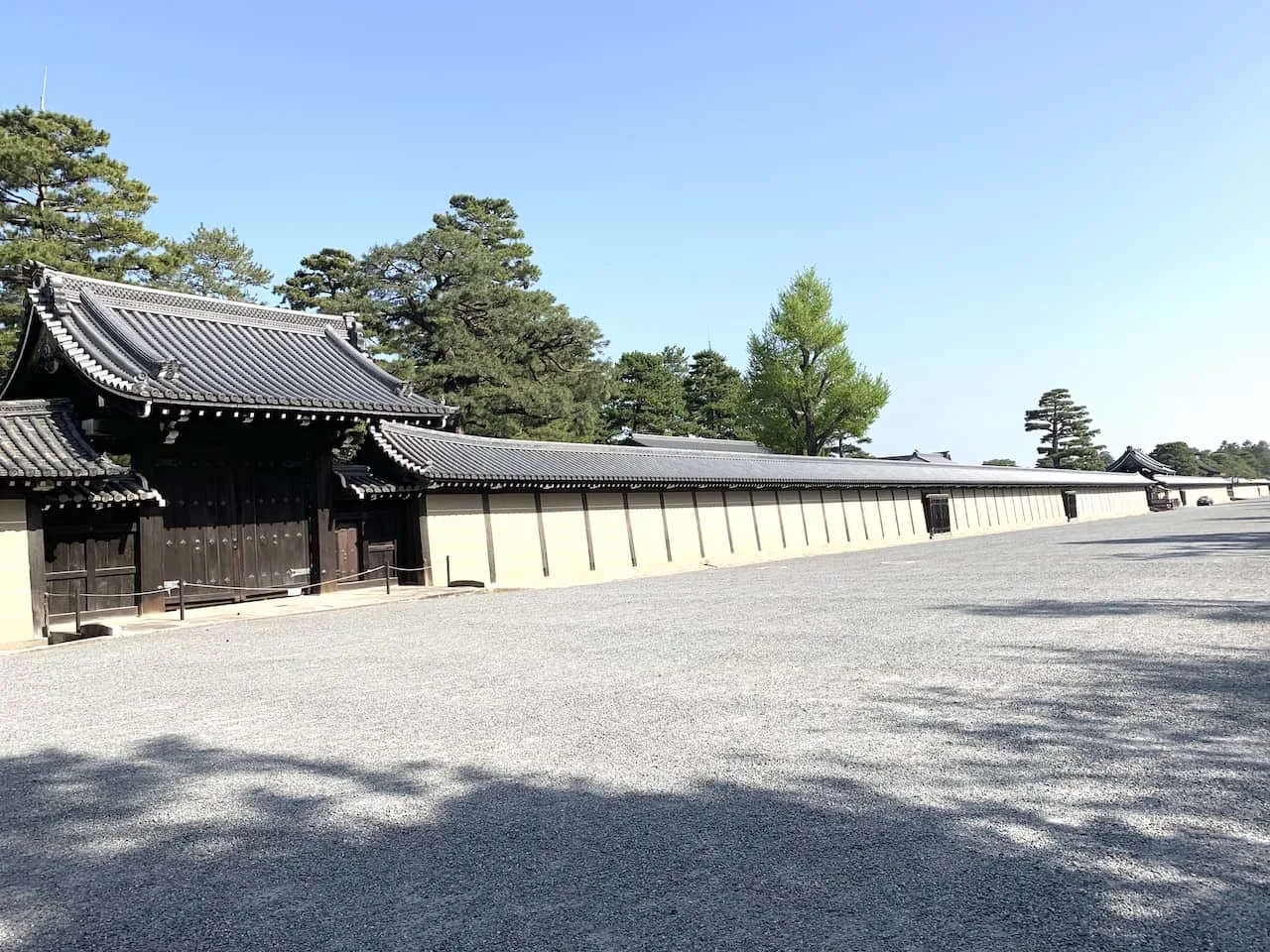 Fushimi Inari
Openings Hours: Always Open
Entrance Fee: Free
While the previous three attractions are all within walking distance from one another, you will need to either train or bus down to Fushimi Inari.
Now this is not your normal temple – there are literally thousands of red torii gates lining the paths up the mountain.
You can spend some time at the main temple before following the path up and through the torii gates.
The further up you go the fewer people you will begin to see. You can head all the way up to the top but the best viewpoint of the city down below is thought to be at Yotsutsuji Intersection.
It can take around 30-45 minutes to make the walk there but I would definitely recommend doing so if you have it in you.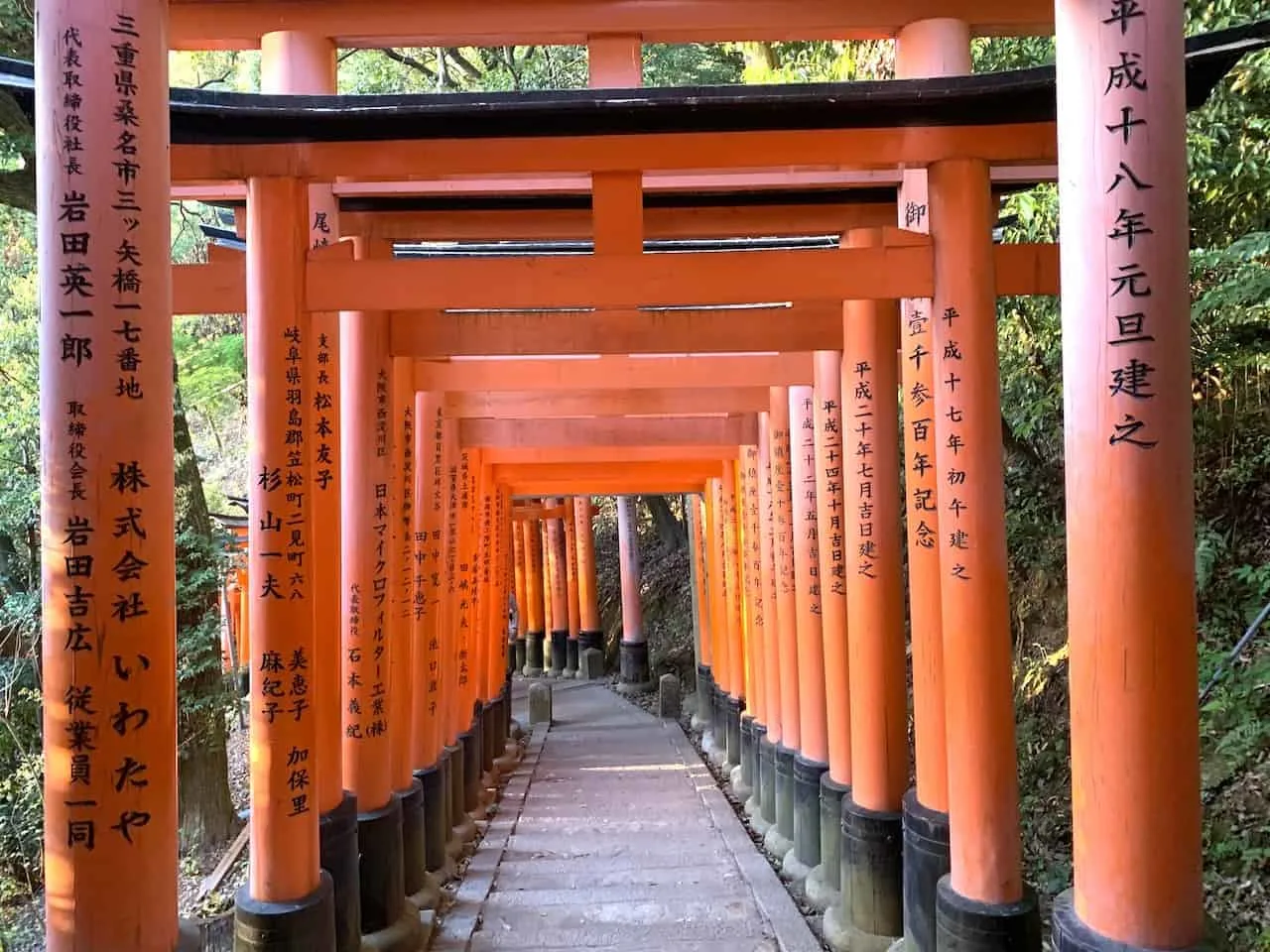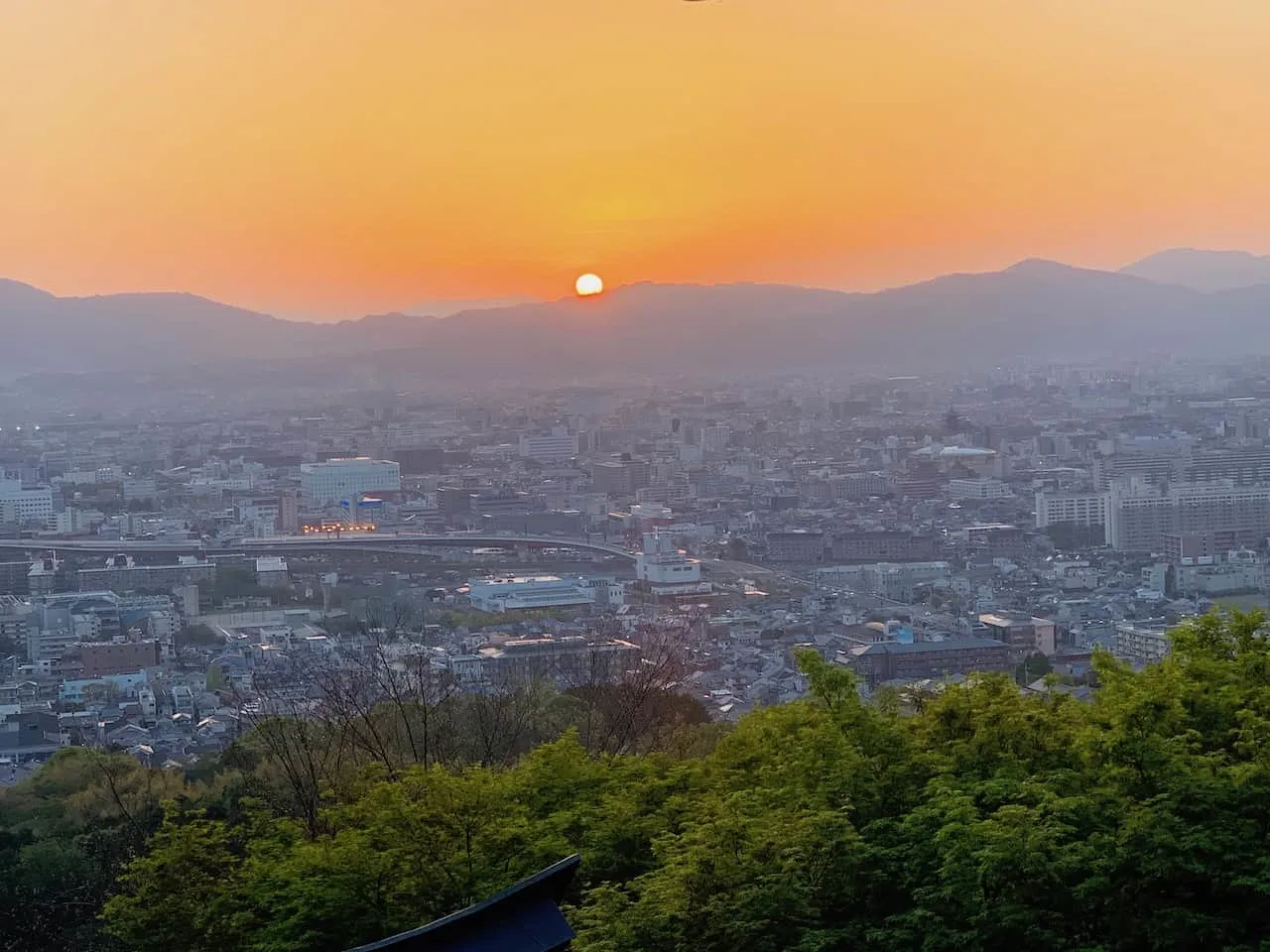 BIG TIP: depending on your timing for the day, I would try and plan to get up to the viewing point a bit before sunset time. Seeing the sun set over the city at Fushimi Inari is a site you will not soon forget!
Gion
I am not really going to add this into any particular day but you should really try and make it to Gion one of the nights that you are in Kyoto.
Gion as known as the Geisha district is full of different restaurants and tea houses around the area.
Make sure to walk along Hanami-koji street, the most popular and happening streets in the area. If you are lucky maybe you will see a geisha for yourself!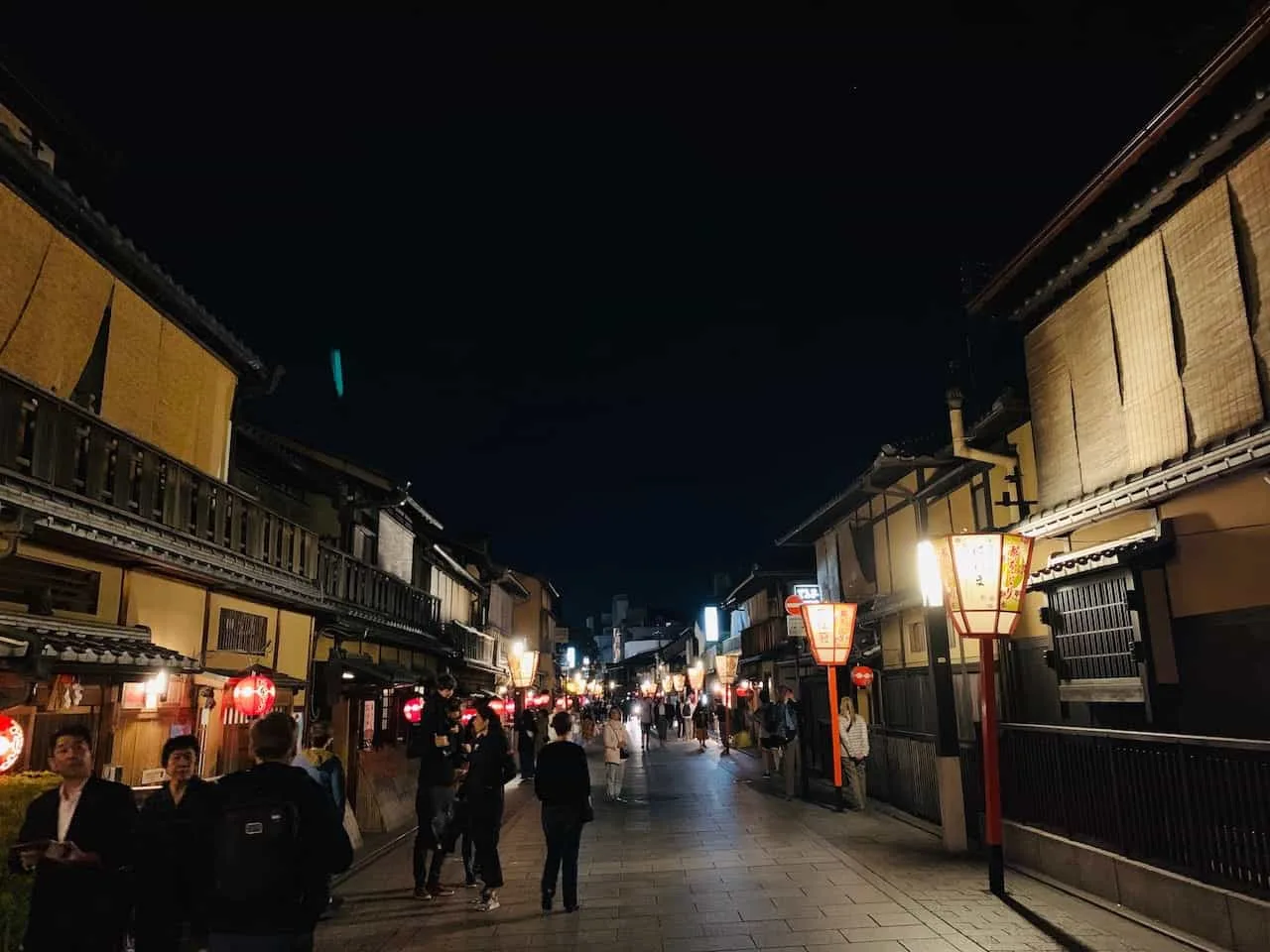 9) Day Trip Options
Another positive aspect about Kyoto is the large amount of day trip options it offers. A few of those include Nara, Hiroshima, Miyajima and Osaka. Below are some quick overviews of each.
Nara
If you have one more day to spare around the Kyoto area I will highly recommend you head out of the city and off to Nara for the day.
Just 45 minutes away by train, Nara offers so much for its visitors and it is a great way to explore another city in Japan.
During your time there you could visit temples, explore some gardens, make friends with some deer, head to a viewpoint above the city and even see some mochi being made. It was a definite highlight of my time in Japan and I am sure it will be up there for you too.
» To learn more about Nara take a look at the Kyoto to Nara day trip guide I put together for this one of a kind trip.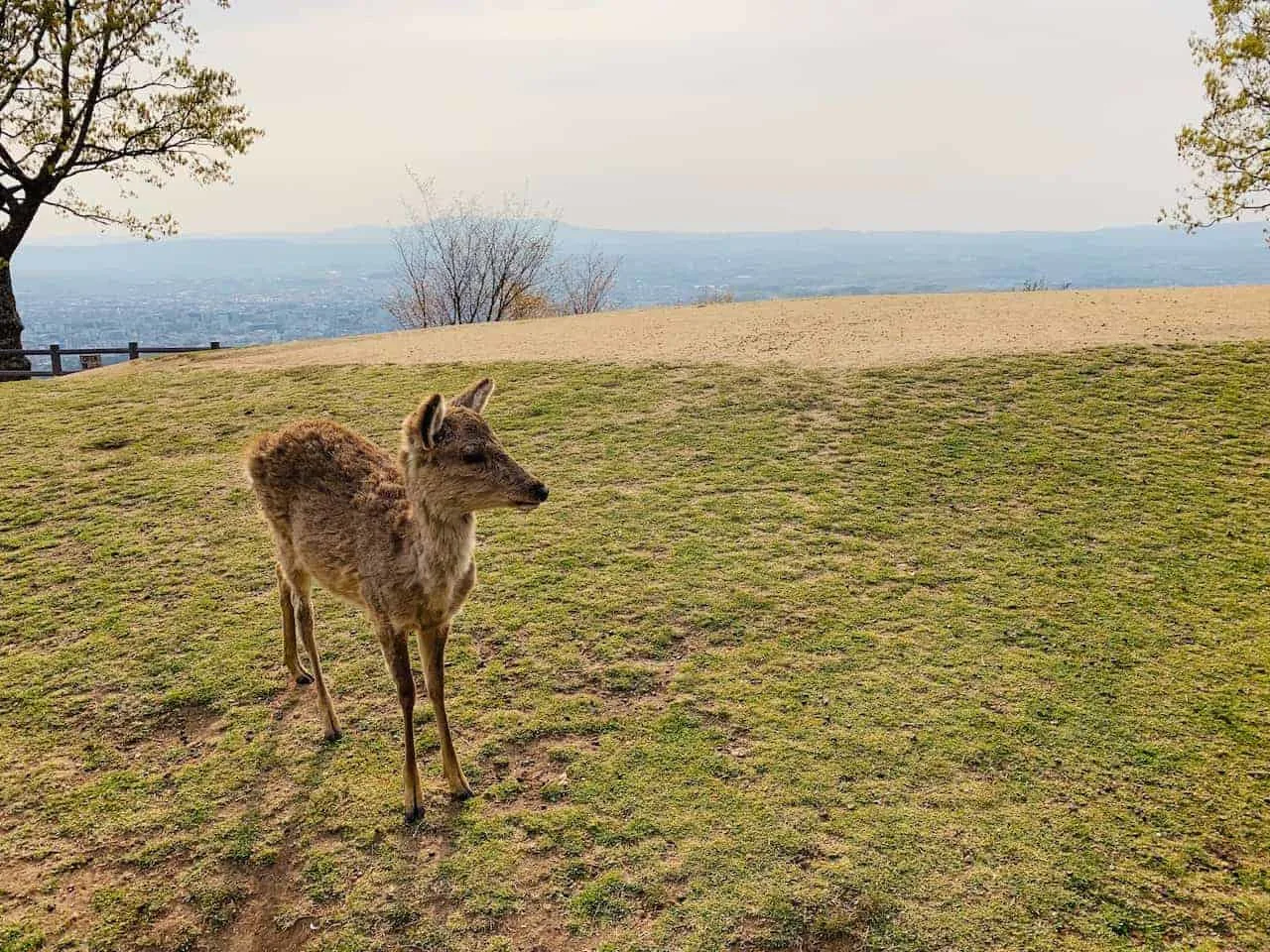 Hiroshima
A bit further out from Kyoto (about a 90 minute train), lays the city of Hiroshima. During the end of WWII Hiroshima was one of the two cities along with Nagasaki that was atomic bombed by the US. A day trip to Hiroshima gives you the chance to better get a sense of the history and see the city firsthand.
Many of the places to visit are close by to one another, making it a very easy place to take in. You will visit things such as the Atomic Bomb Dome, the focal point of the bomb, as well as the newly revamped museum, which has a vast amount of first hand accounts of the bombing and its aftermath.
» To learn more about Hiroshima take a look at the 1 day Hiroshima itinerary up on the site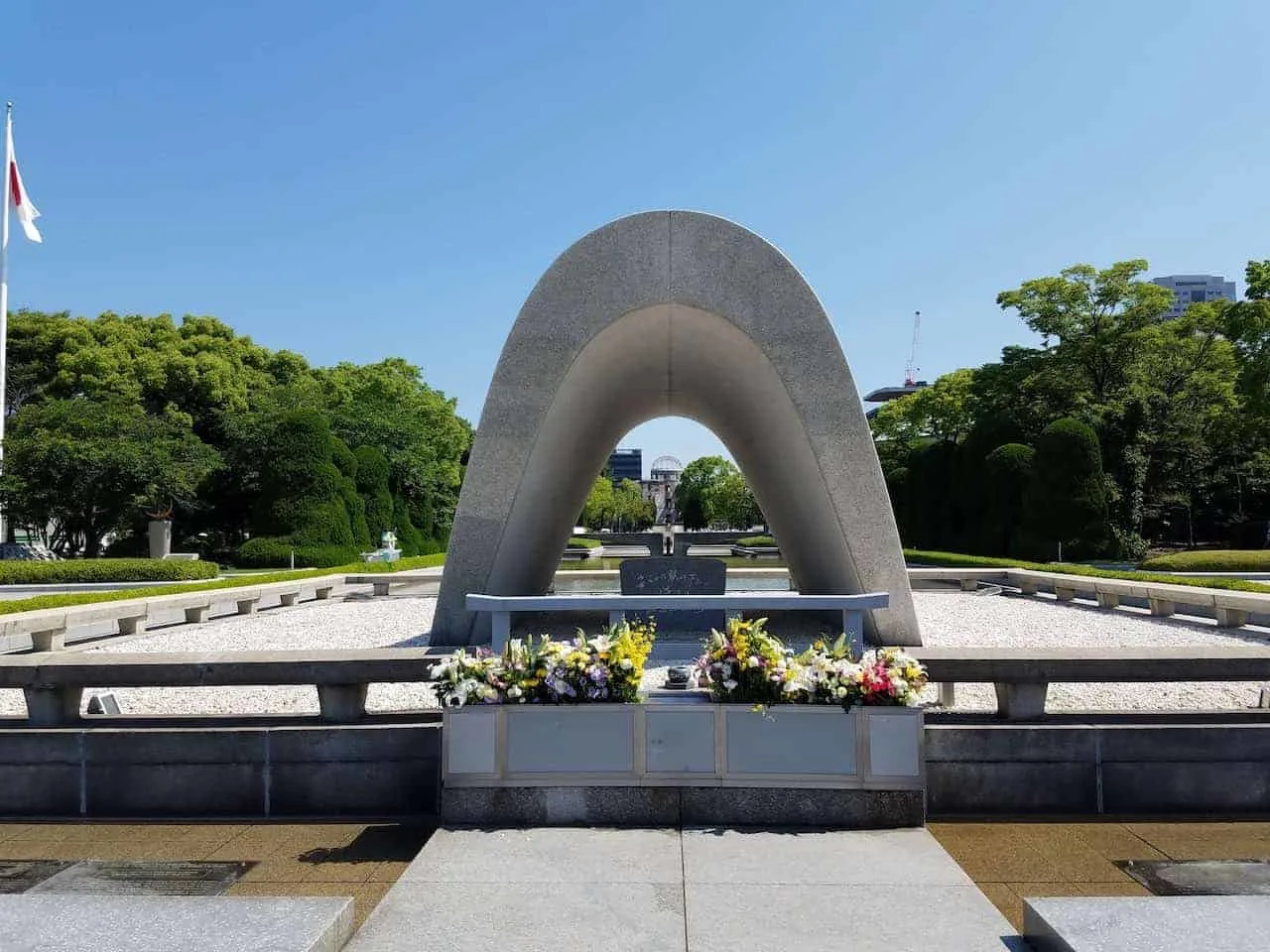 Miyajima
You can also head off to Miyajima island, which is not too far away from Hiroshima. All it would take is a short train ride and a ferry across to the island.
Miyajima is known for its massive red torii gate, and depending on tide levels you may see it "floating" out in the water.
You will also be able to enjoy the vast amount of deer roaming the island (similar to Nara), and be able to head up by cable car or hike to the highest point of Miyajima – Mt. Misen.
» To learn more about Miyajima head over to the Miyajima day trip article I put together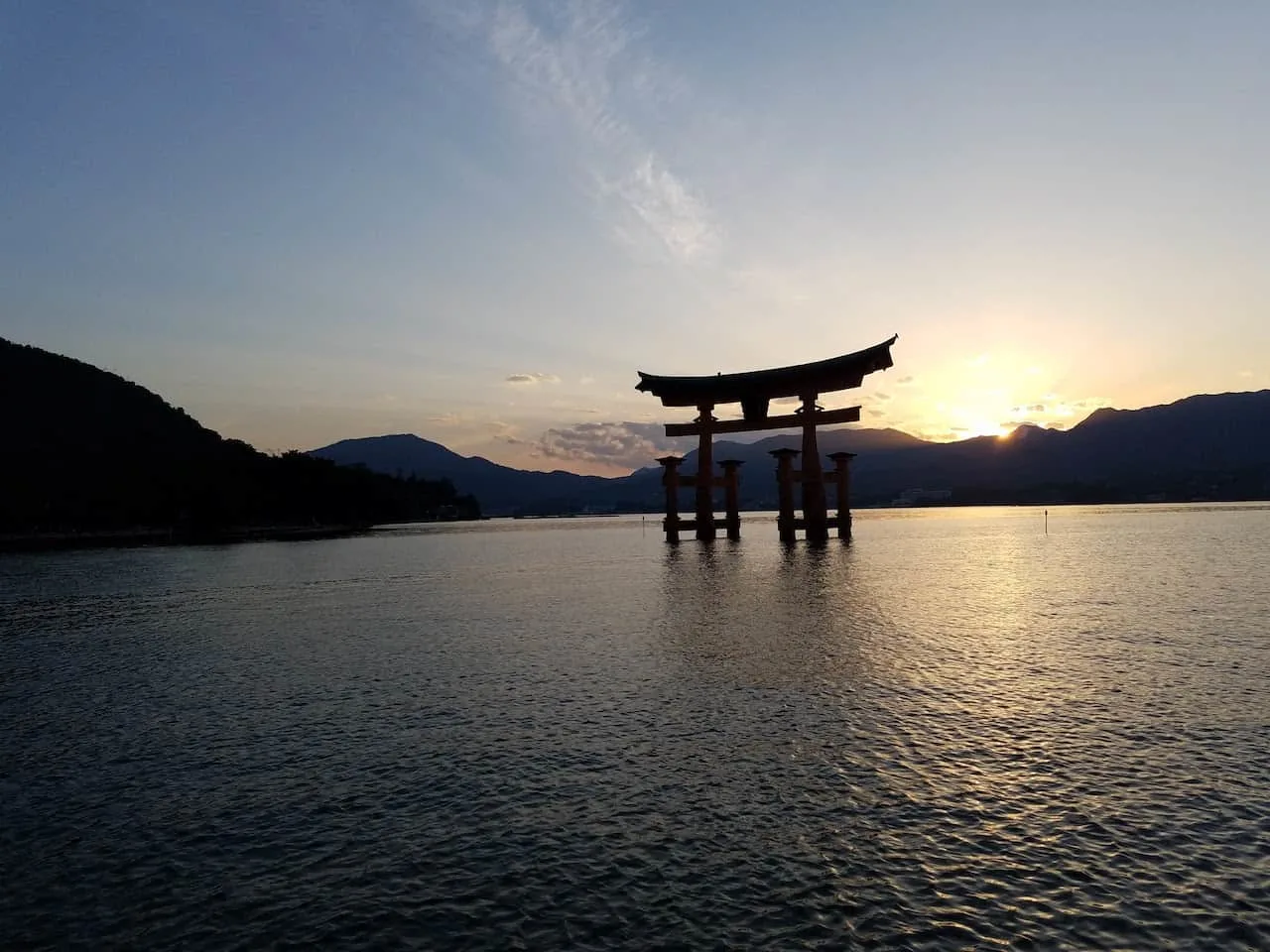 NOTE: you can combine a Hirsohima and Miyajima day trip into one. This would require an EARLY start from Kyoto and you will need to skip some things along the way. But if you only have one day and want to head to both, that is definitely a possibility.
Osaka
Lastly you can head on over to Osaka, the second largest metropolitan city in Japan behind Tokyo and just a 30 minute train ride away.
Here you will find a bit more of a city vibe but you can take time to wander around and eat your way through this city known for its variety of food. You can also visit things such as Osaka Castle and Dontonbori Street to fill up your day there.
Well then – you have seen the sites, you have eaten the food, and you have experienced the culture.
This 3 day Kyoto itinerary has it all for you and you are sure to fully enjoy a wide variety of what this city has to offer. Be sure to take a look at some other guides such as Tokyo, Hakone, and Shirakawa-go.
You also can add Kyoto onto any of the 3 itineraries up on the site – Japan 7 Day, Japan 10 Day, and Japan 14 Day Itinerary.
If you have any questions or comments feel free to add them in below! Also be sure to check out the rest of the Japan itineraries and guides up on the site to help out with any other trip planning. Have fun out there and safe travels!