A trip to Austria is not complete without a stop in the beautiful city of Salzburg. From its hill perched castle to its winding river, there is so much to see and do during your time in the city.
This Vienna to Salzburg day trip guide will go over how to go about your day there – from logistics to attractions, this one day in Salzburg itinerary has you covered.
Read on to learn everything you need to know!
* Affiliate Disclosure: This post may contain affiliate links, which means I may receive a commission if you make a purchase through the links provided, at no additional cost to you. Thanks for supporting the work I put into TripTins!
1) How to Get from Vienna to Salzburg
For most people who are thinking about doing a Vienna to Salzburg day trip, odds are they are just basing themselves in Vienna for a few days to explore the city.
Getting outside Vienna for a day trip to Salzburg can be a great option to add onto an itinerary.
When taking a day trip to Salzburg from Vienna, you can go about it in a couple main ways depending on preference – do it on your own by train or join a tour from Vienna.
I will also touch upon the option to rent a car if the prior two options don't work for you.
Take the Train
If you are someone who wants to go at your own pace and be on your own schedule then the train from Vienna to Salzburg will be your best bet here.
You will find that there are plenty of direct trains each day going back and forth in each direction (usually 1-2 per hour).
Most trains will leave from the main Wien Hauptbahnhof Station and arrive at the Salzburg Hauptbahnhof Station with travel times just under 2.5 hours.
Since this is a day trip from Vienna to Salzburg you will want to try to get an earlier start to the day as altogether you will be on 5 hours' worth of trains round trip.
One way cost for the train ride is not the cheapest, around 40 – 50 Euro (80 – 100 Euro round trip). Be sure to take that into consideration when deciding what transportation option is best for you.
The OBB Austria train website will have the latest schedules and prices so you can plan accordingly.
Vienna to Salzburg Tour
On the other hand, if you are someone who rather have all logistics and travel plans taken care of for you, then a one day guided tour from Vienna to Salzburg can be a great option.
By doing a tour, you will not need to worry about catching trains or deciding what attractions to go to as everything will be handled on your behalf.
With a tour, you will most likely be hopping on a bus instead of train with your fellow travelers. Driving times can be closer to 3 hours one way, so expect an early departure time from Vienna.
I have listed out below some top options here for guided tours from Vienna to Salzburg – everything from group options to a private tour.
Alternate Option: Car Rental
Odds are if you are looking to just do a day trip from Vienna to Salzburg, you will just be staying in Vienna and therefore a car rental would not be necessary for your trip.
However, renting a car just for one day can be a great option for you too.
You can either pick up the car the day prior or the morning of, and then return it once your day is over or the following morning.
Car rentals costs can vary but you should easily be able to get a car for anywhere between $30 and $50 per day. Renting a car can save you quite a bit of money vs taking a train although you will need to also consider parking and gas.
If you are not just looking into a day trip from Vienna to Salzburg, but rather looking to do a full Austria itinerary, then a car rental is a great option for the entirety of your trip.
→ If you are renting a car in Austria, be sure to check out Rentalcars.com to browse through options. Once on the site, you will be able to filter by price, car type, rental company, and more, to find the perfect car for your trip to Austria.
2) Salzburg Map and Attractions
Below is a list of many of the main attractions that you can visit during your one day in Salzburg.
Depending on if you are doing it on your own vs. going on a guided tour may dictate what you will actually be able to see and do.
Either way though, I am sure that tour options will still cover many of the attractions listed out below:
A) Hohensalzburg Fortress
B) St. Peter's Abbey
C) Kapitelplatz
D) Franciscan Church
E) Residenzplatz
F) Salzburg Cathedral
G) Mozartplatz
H) Mozart's Birthplace and Museum
I) Getreidegasse
J) Mirabell Palace and Gardens
The attractions above are listed in an order that can be easily be followed logistically by foot. Below you can find each one of them on a map of the city;
3) One Day in Salzburg
Below I will talk a bit more about each one of the attractions mentioned as well as add in some images so you know what to expect.
As you make your way from one place to the next, feel free to roam around the streets and squares to enjoy the rest that Salzburg has to offer.
A) Hohensalzburg Fortress
The Hohensalzburg Fortress will be the first stop of the day as you get to explore the castle that sits above the city and take in some beautiful views in all directions. There are actually two ways to get up to the castle entrance – by foot or by funicular.
Since the castle is located up on a hill, it may be difficult for some to make the incline climb up to the top. You can expect this walk up to take around 15 minutes or so. Your other option here is to take the quick funicular right to the entrance.
Also note the the different ticket options – round trip/one way funicular and a basic vs. all inclusive ticket. Essentially the all inclusive ticket offers the chance to head inside two additional parts of the castle – the Princely Chambers and Magic Theatre.
All Inclusive with Funicular (round trip): 17.40 Euro
All Inclusive with Funicular (down only): 13.20 Euro
Basic with Funicular (round trip): 14.00 Euro
Basic without Funicular (down only): 10.80 Euro
Once inside the castle grounds you can walk all around the outside and inside areas as you explore different rooms, exhibitions, and viewpoints spread all around the area. There is a ton to see here and you can easily spend a couple hours enjoying it all.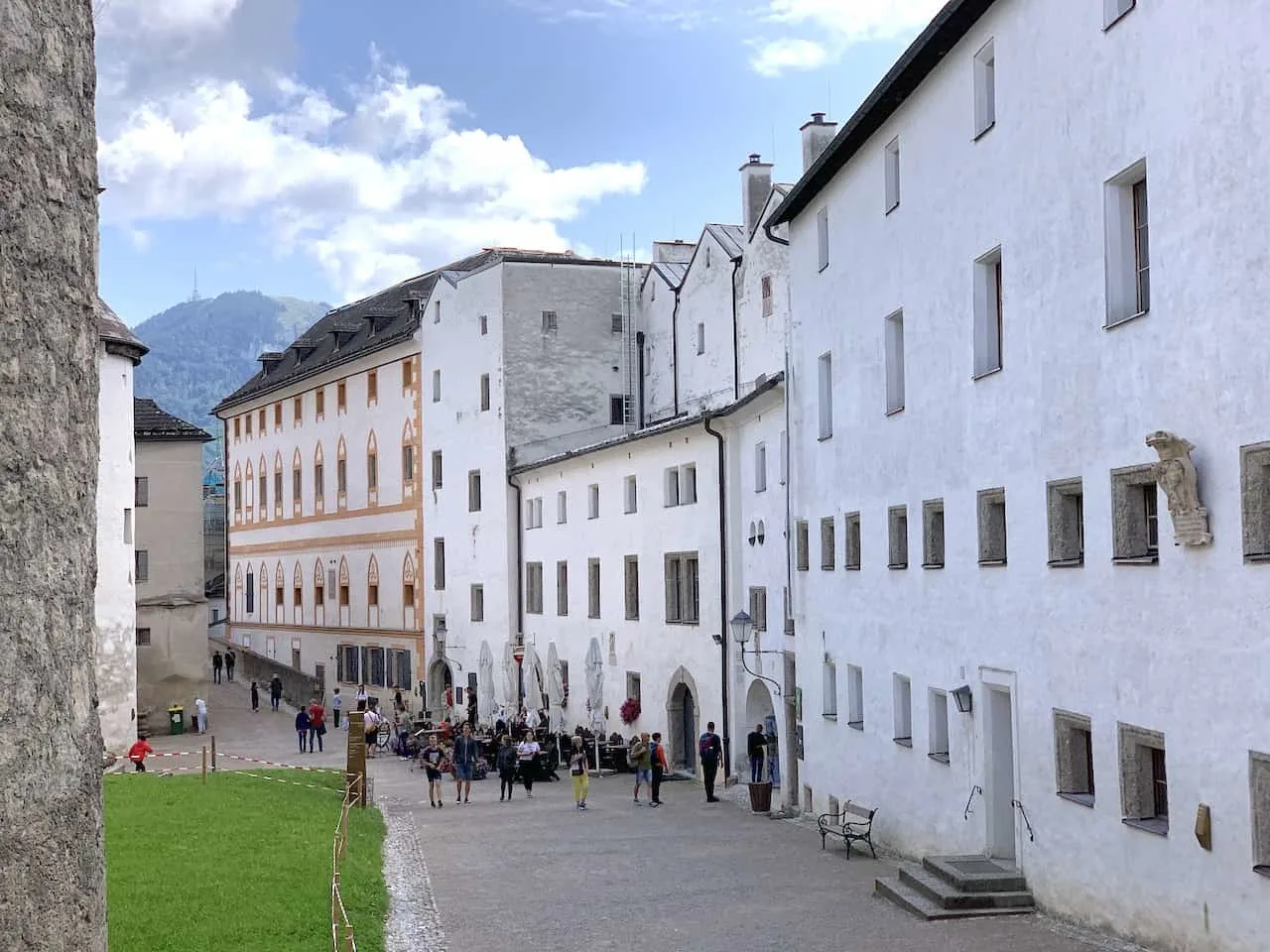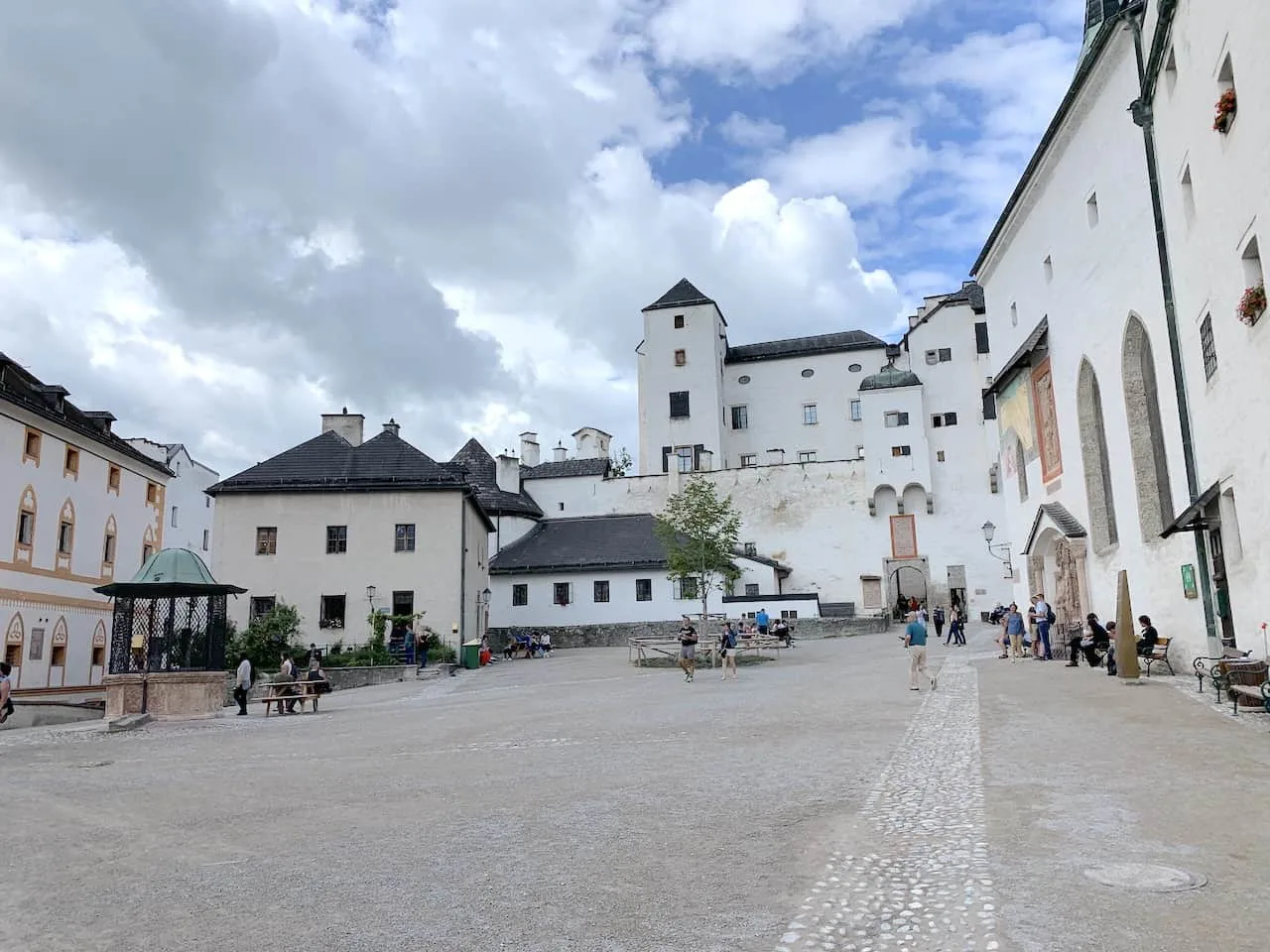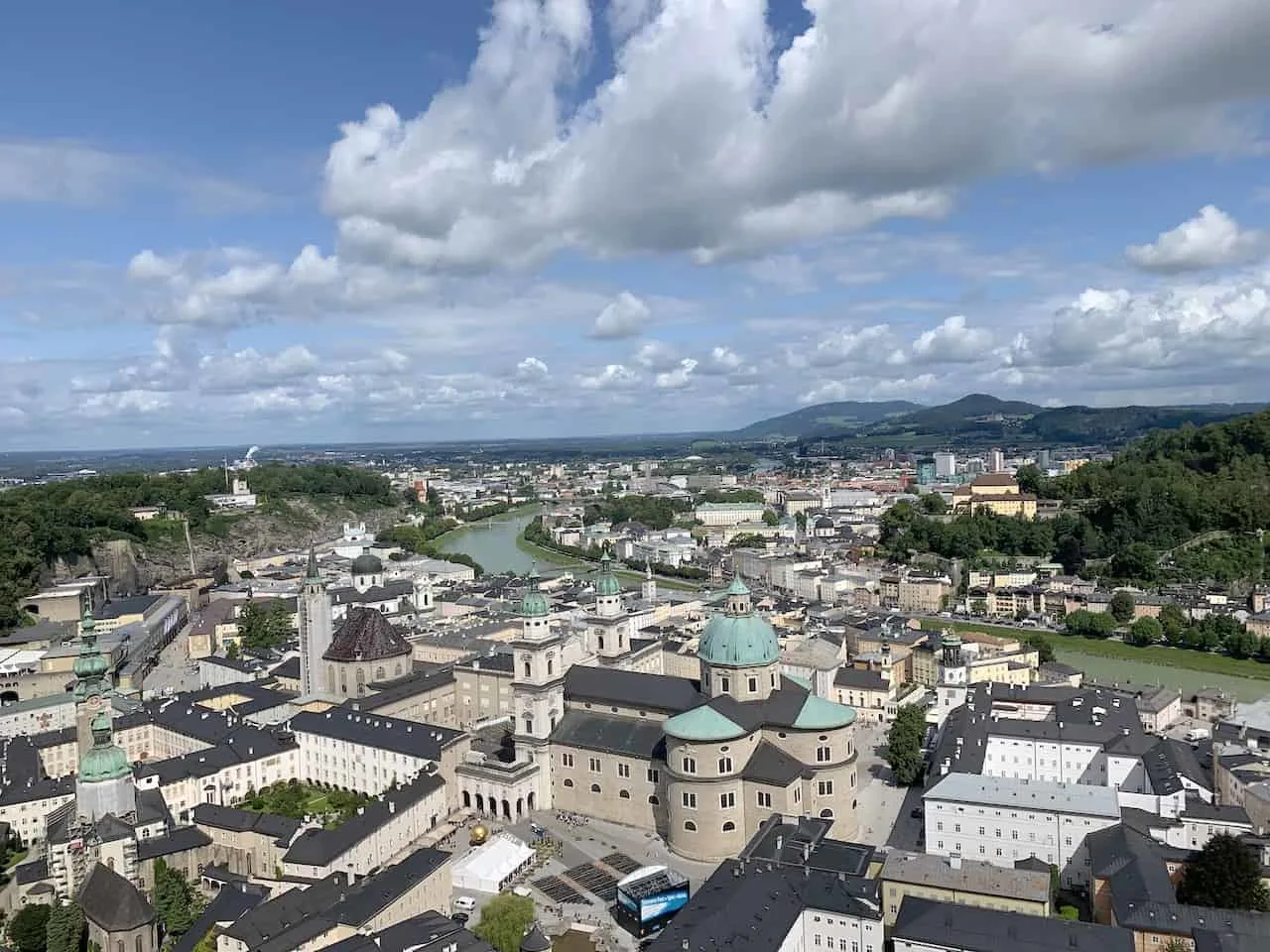 B) St. Peter's Abbey
As you make your way down from the fortress either by foot or by tram, your next stop can be the nearby St. Peter's Abbey.
Here is where you will find one of the oldest monasteries in the region surrounded by a garden and cemetery.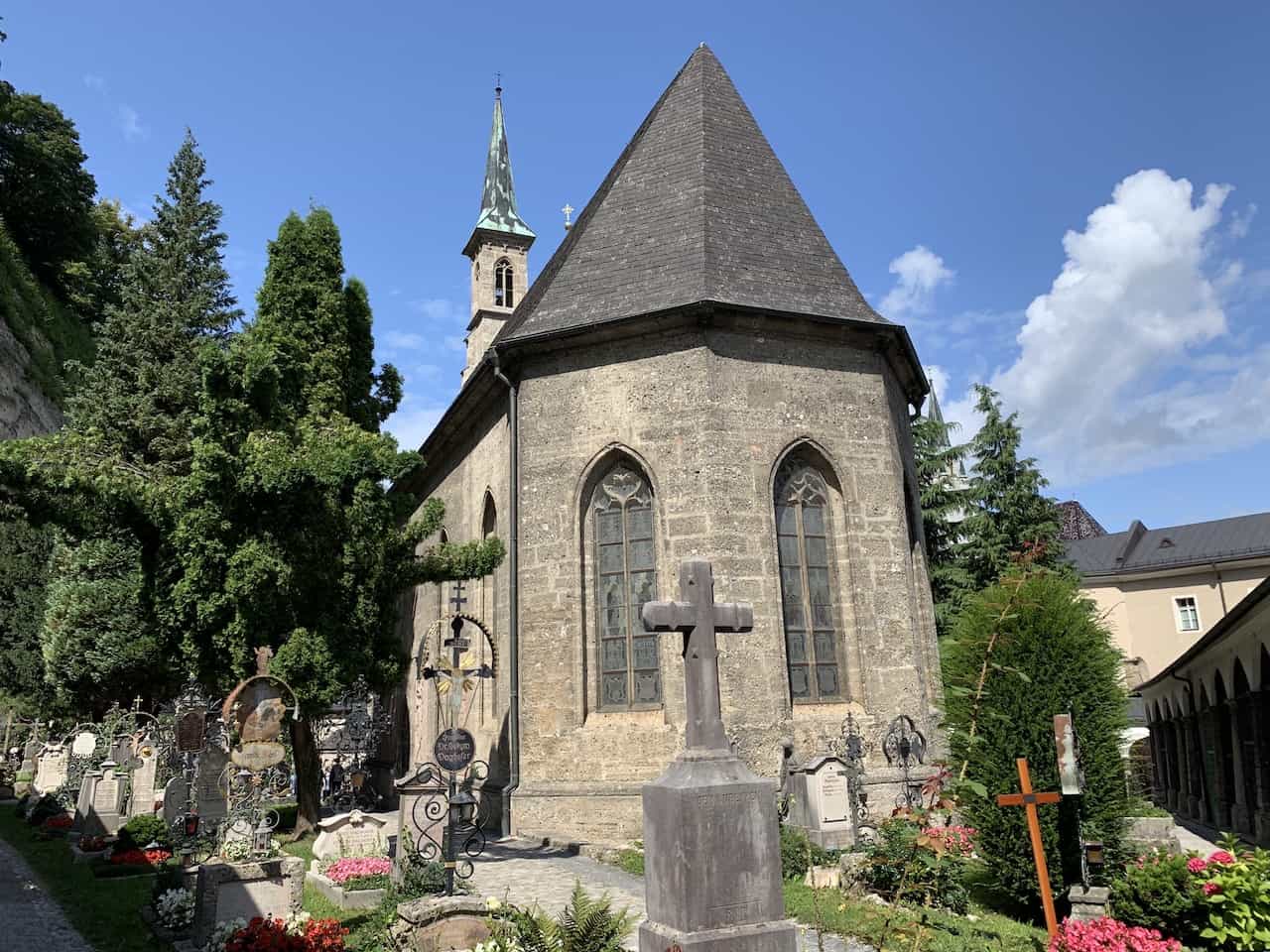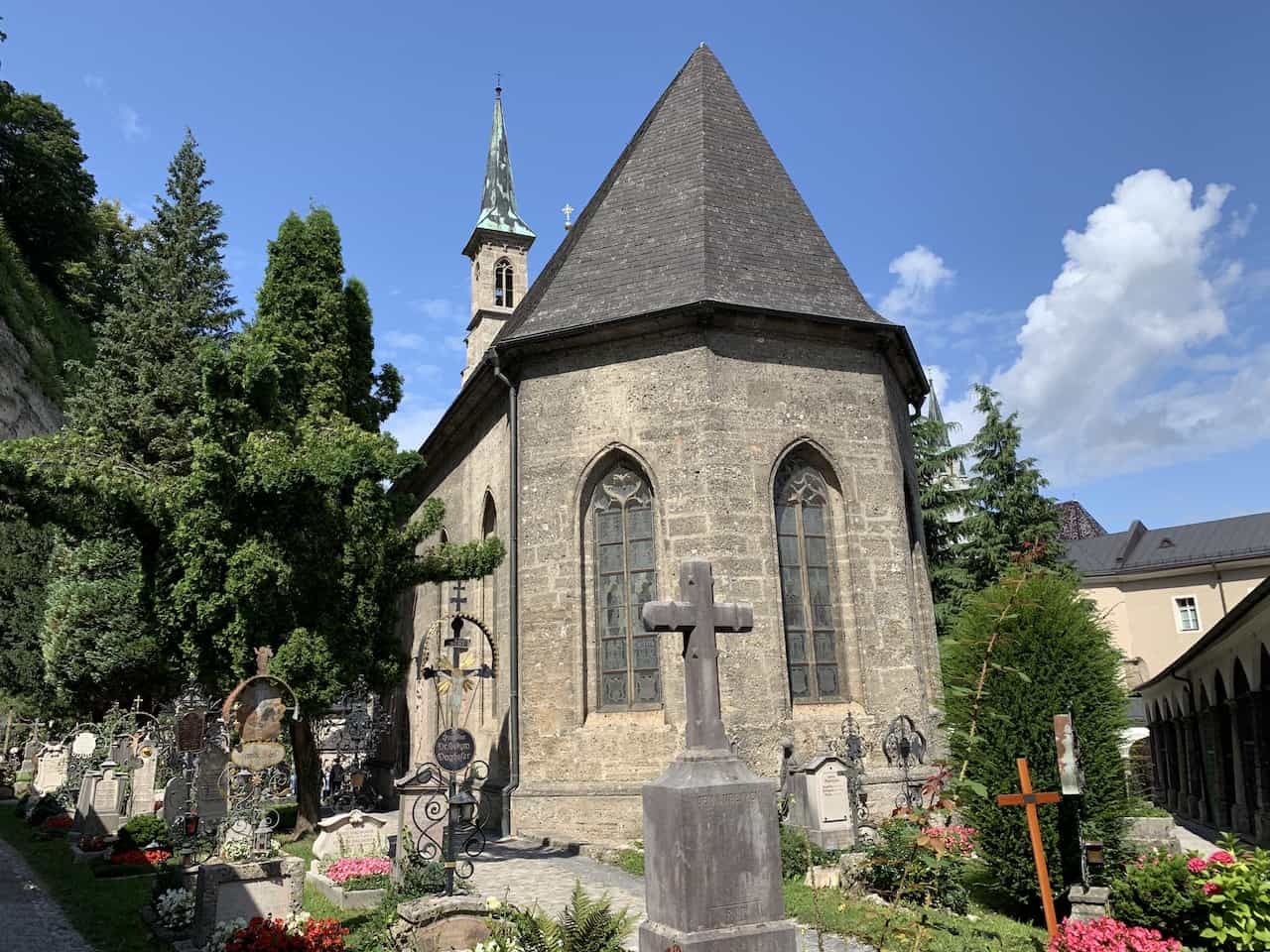 C) Kapitelplatz
As you continue the walk through the Old Town (Alstadt), you will come by the first of many squares that Salzburg has to offer – Kapitelplatz.
From the square you will get some great views of the Hohensalzburg Fortress in one direction and the Salzburg Cathedral in the other.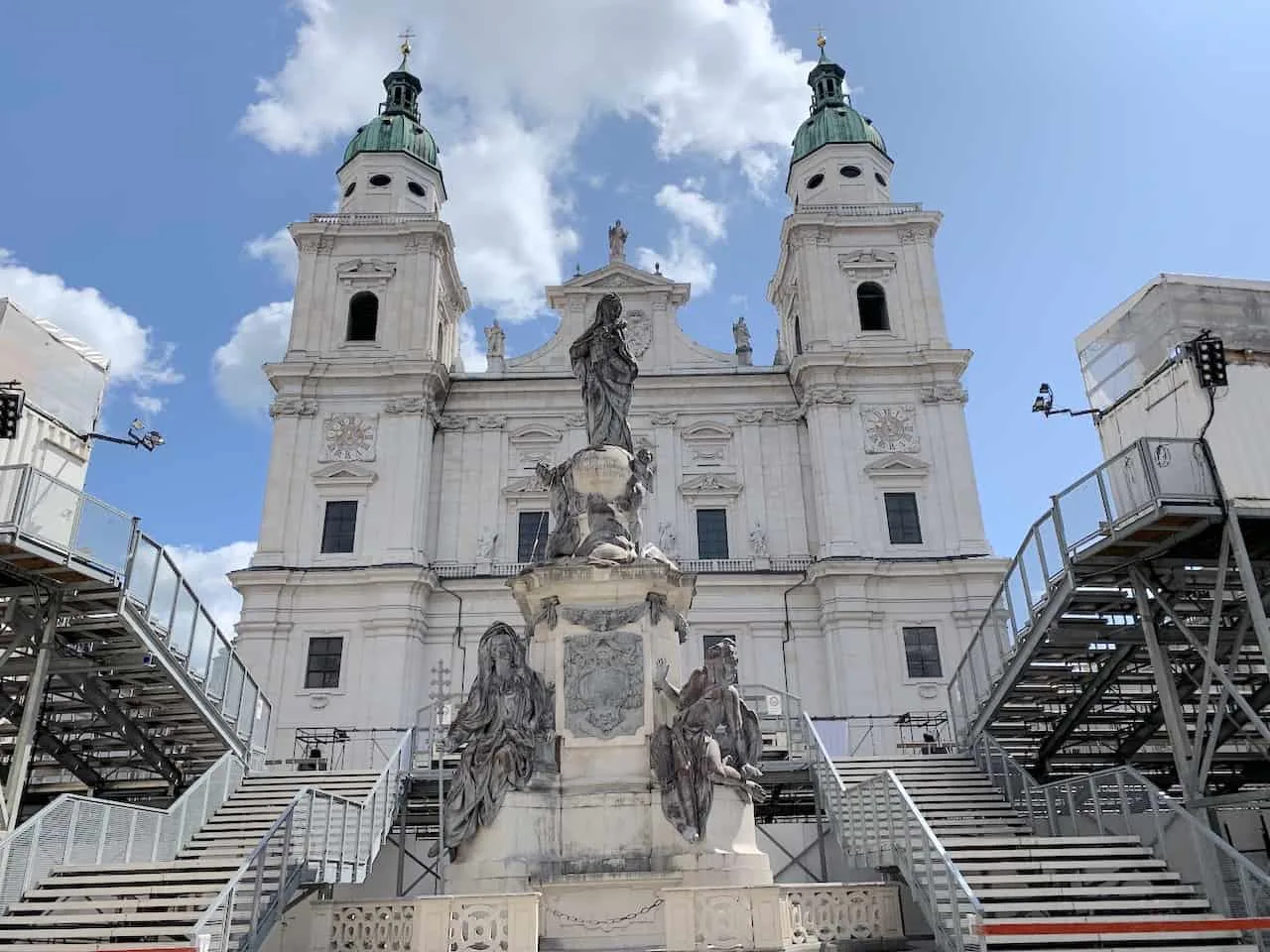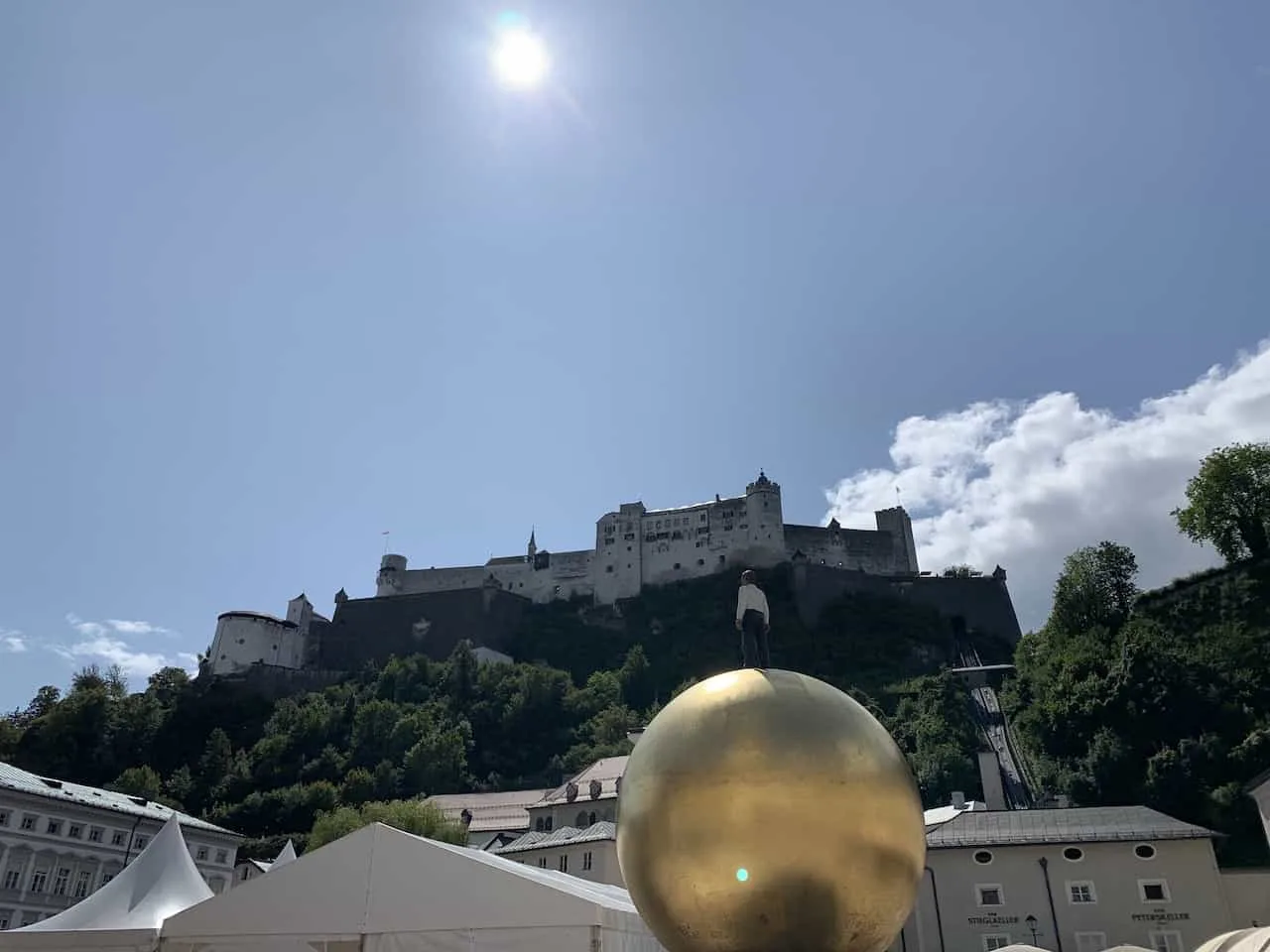 D) Franciscan Church
A bit off to the side you will find the Franciscan Church.
It is just a beautiful piece of architecture that completes the Salzburg skyline, and you will have the opportunity to head into the church to see the inside as well.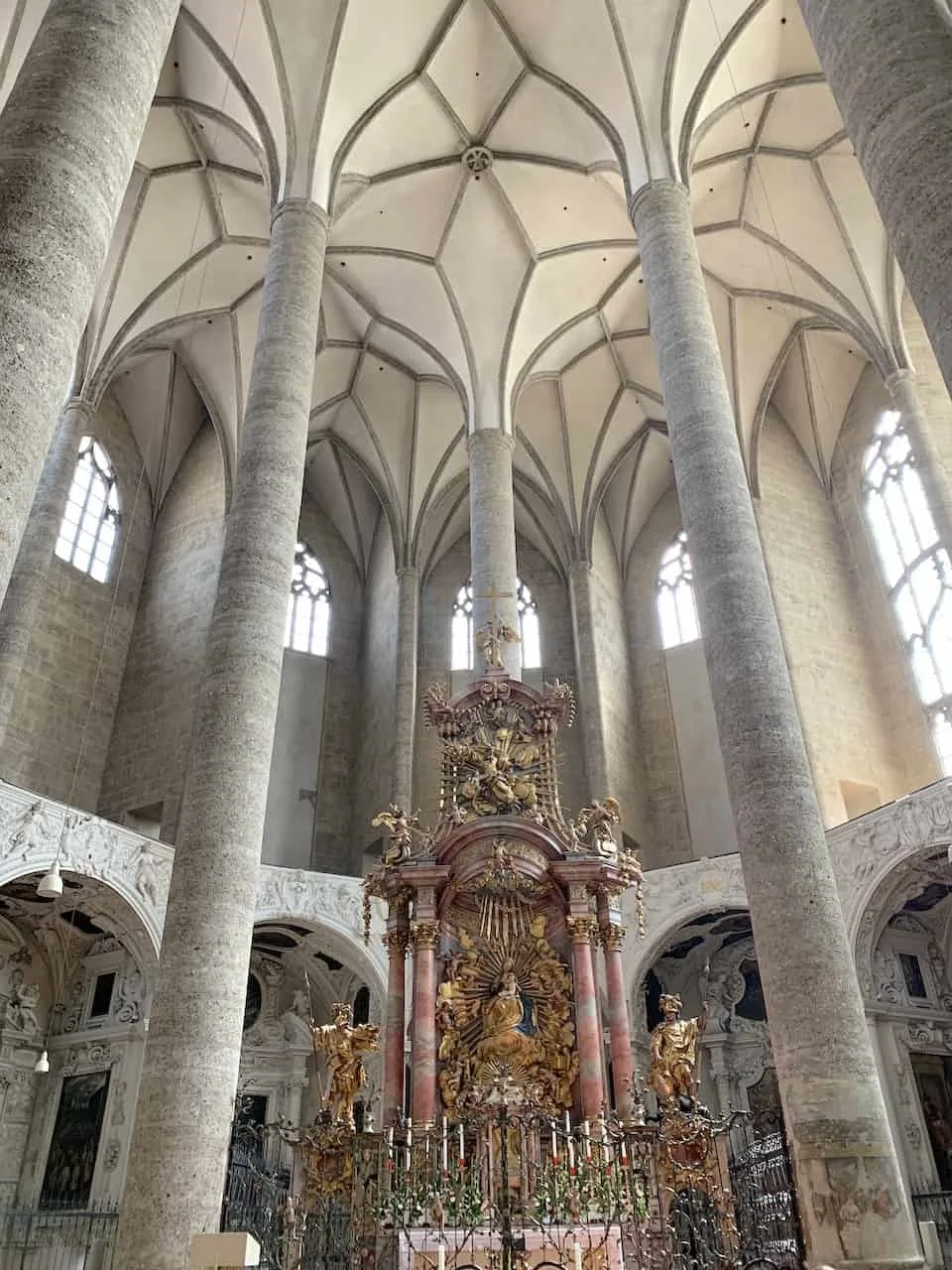 E) Residenzplatz
One of the main squares of Salzburg is the Residenzplatz. Located right outside the cathedral and in the center of the city, lays this large open square with a fountain right in the middle of it.
You can spend some time wandering the square and enjoying the various buildings surrounding it and it is also a great spot to sit down and enjoy some lunch or drinks.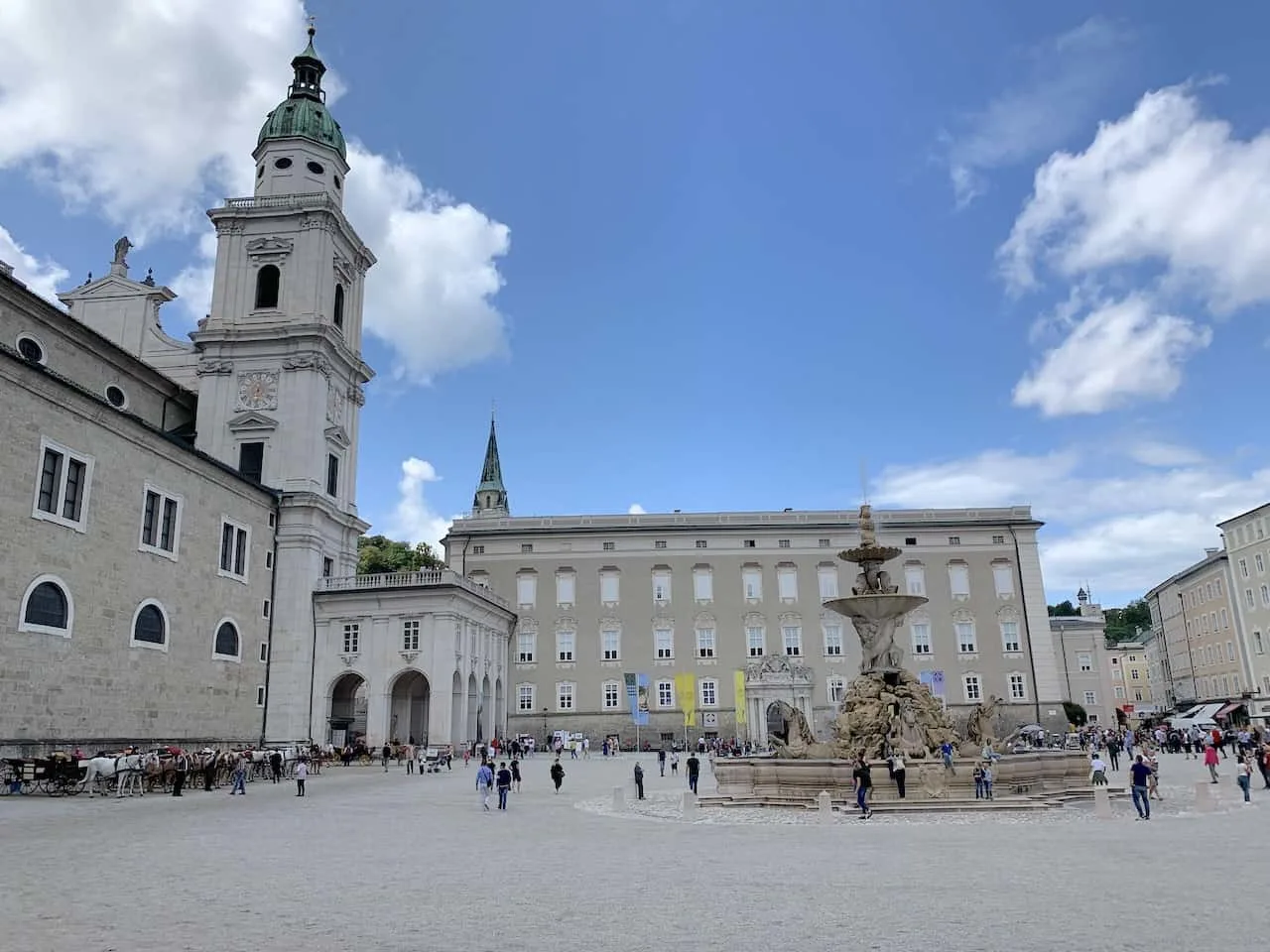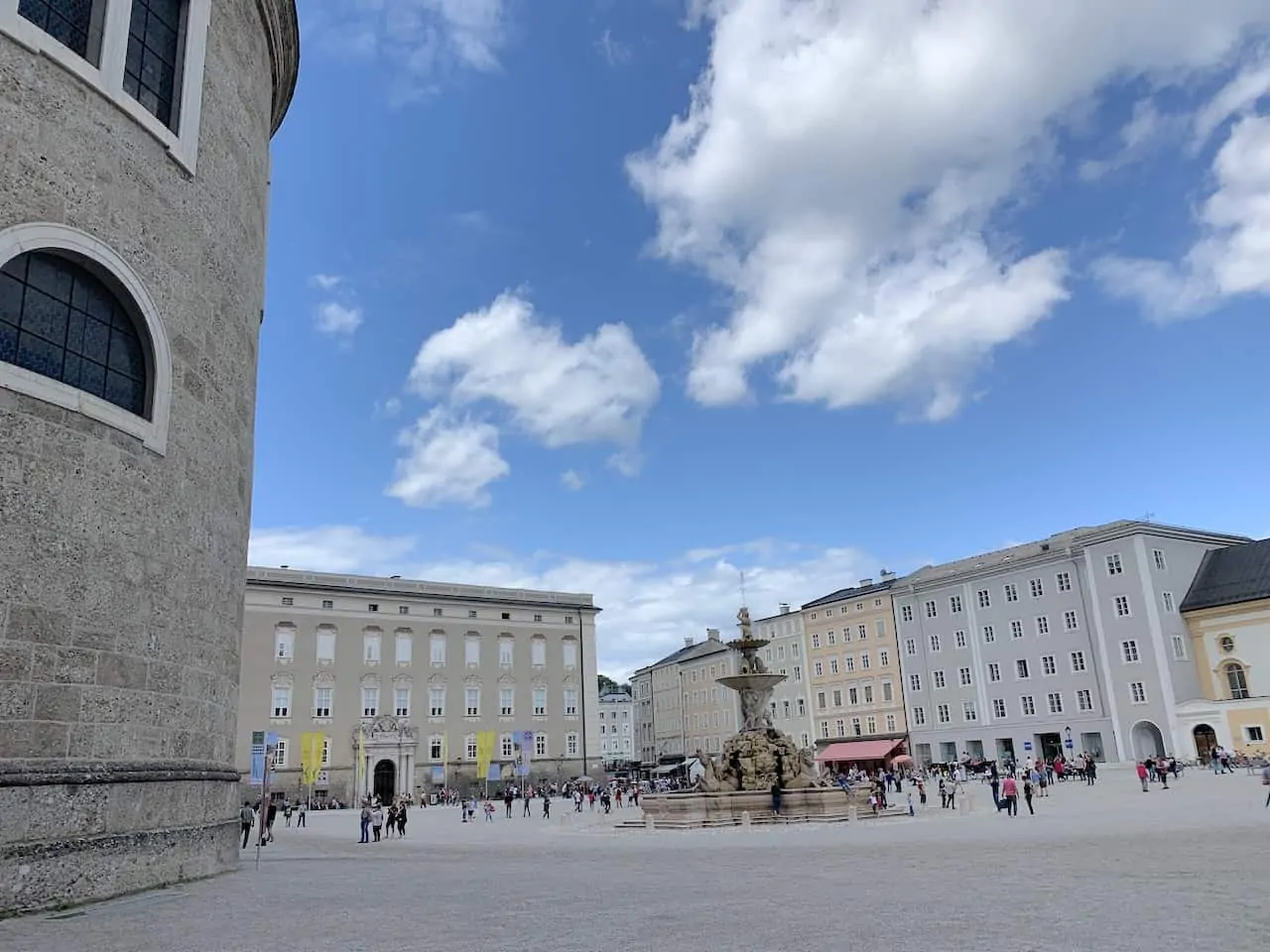 F) Salzburg Cathedral
Once you have had enough time on the outside, you can head on into the Salzburg Cathedral. It is the centerpiece of the city and you can take some time walking through the cathedral itself.
Depending on time of year, the cathedral has different times of when it is open to the public. You can take a look at the opening hours of the cathedral so you are better prepared for a visit.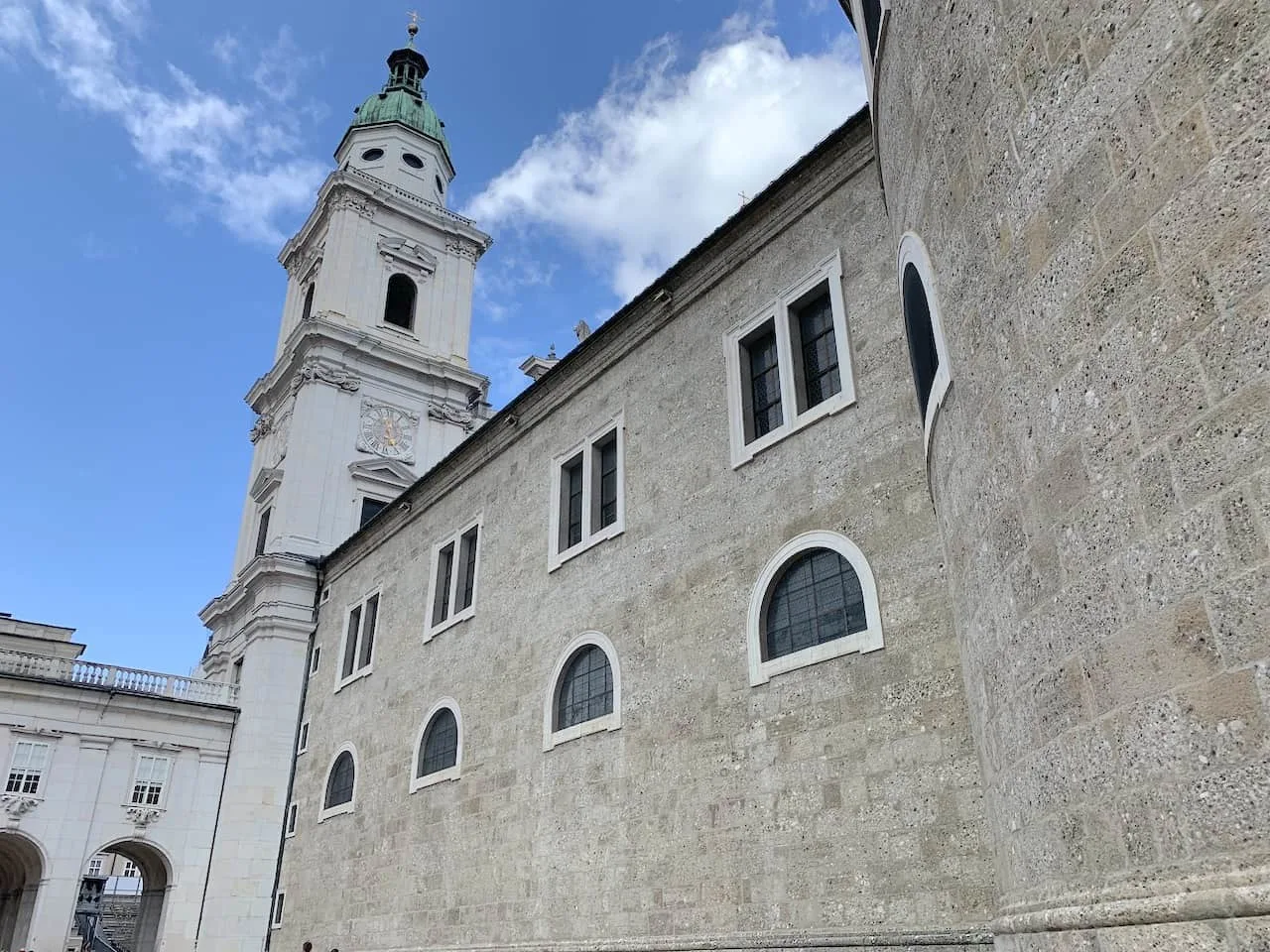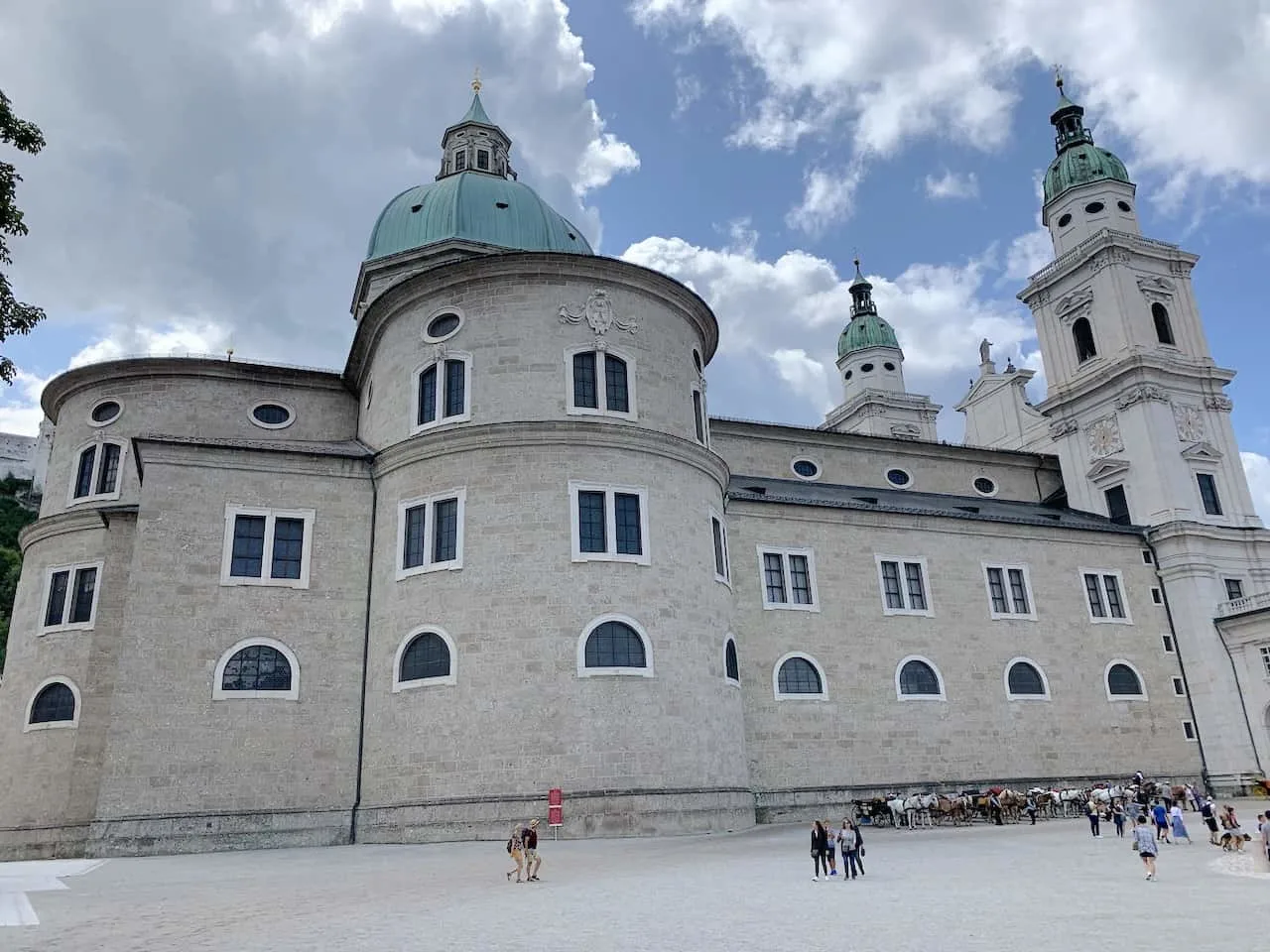 G) Mozartplatz
Right nearby the cathedral and Residenzplatz is another square – this one dedicated to Salzburg's most famous resident – Mozart.
With a statue of Mozart right in the middle, the square is surrounded by some small cafes and the cathedral out in the background.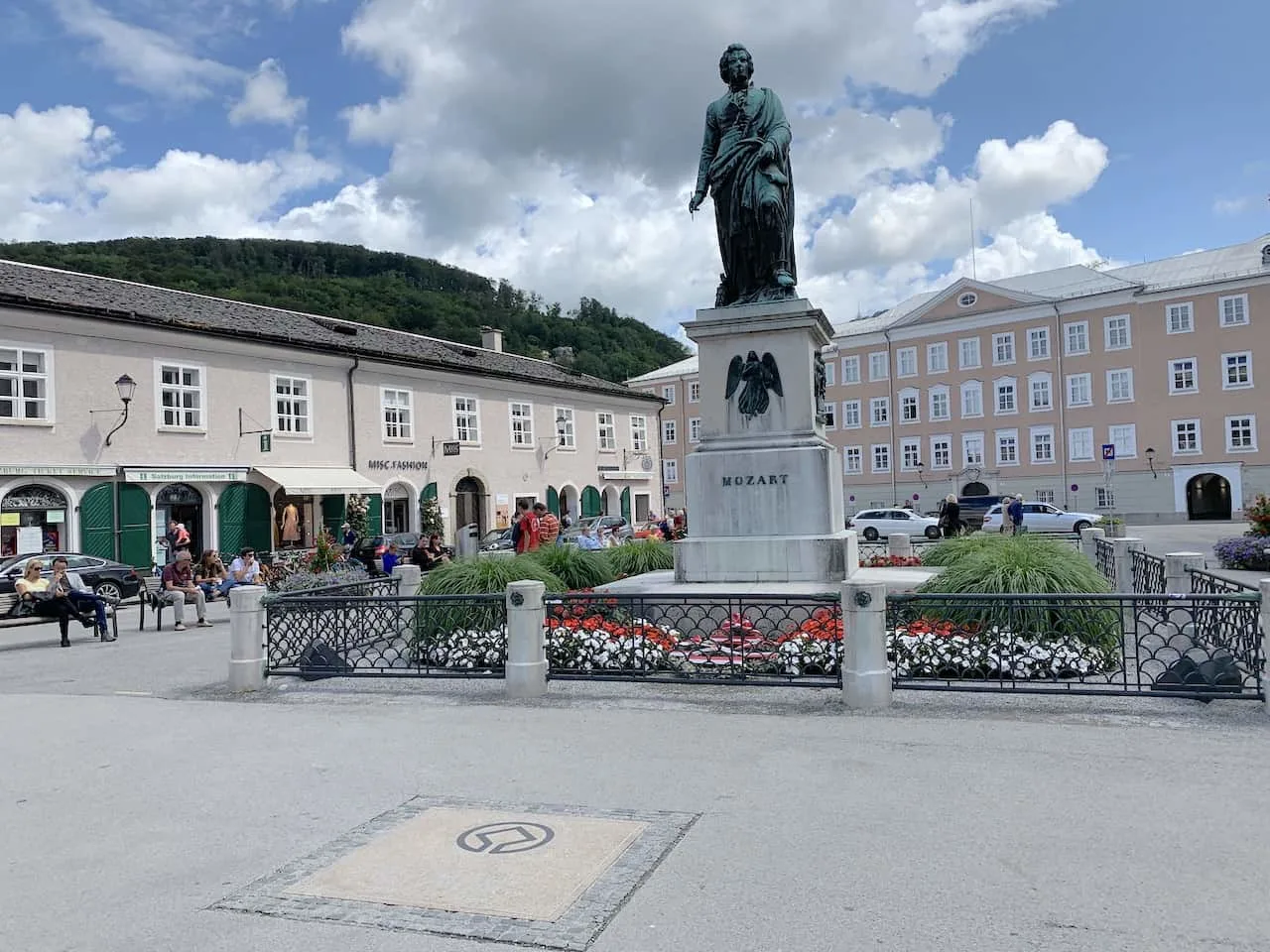 H) Mozart's Birthplace and Museum
Now that you have seen the square dedicated to Mozart, it is time to check out Mozart's birthplace, which has now been turned into a museum.
The museum is located on the famous Getreidegasse shopping street and you can enter the museum to stroll through the various exhibitions about Mozart's life in Salzburg.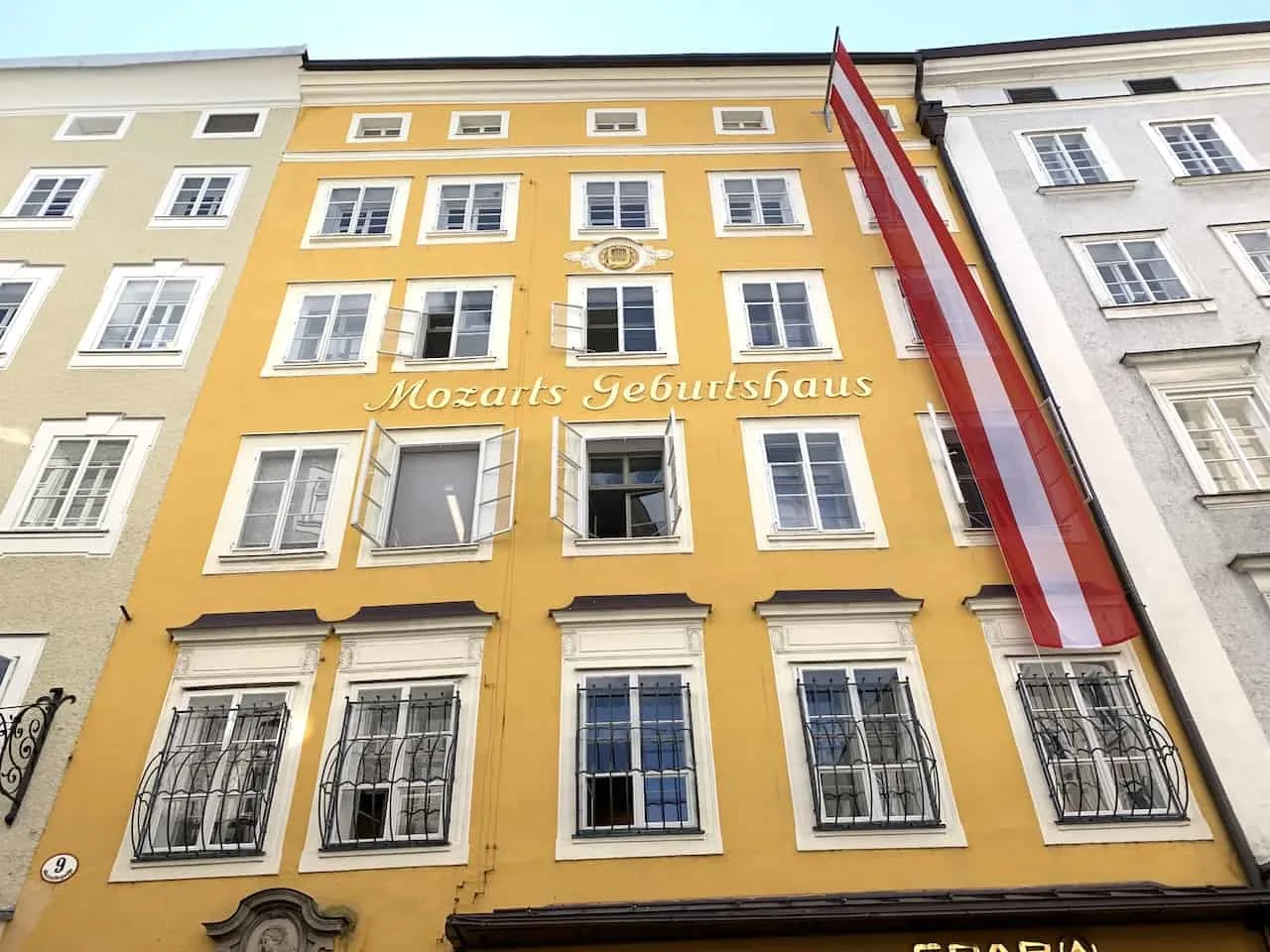 I) Getreidegasse
If you decide to go to Mozart's Birthplace or not, you should still take the time to head down Getreidegasse.
It is sure to be packed and busy with people but it is one of the more iconic streets that Salzburg has to offer.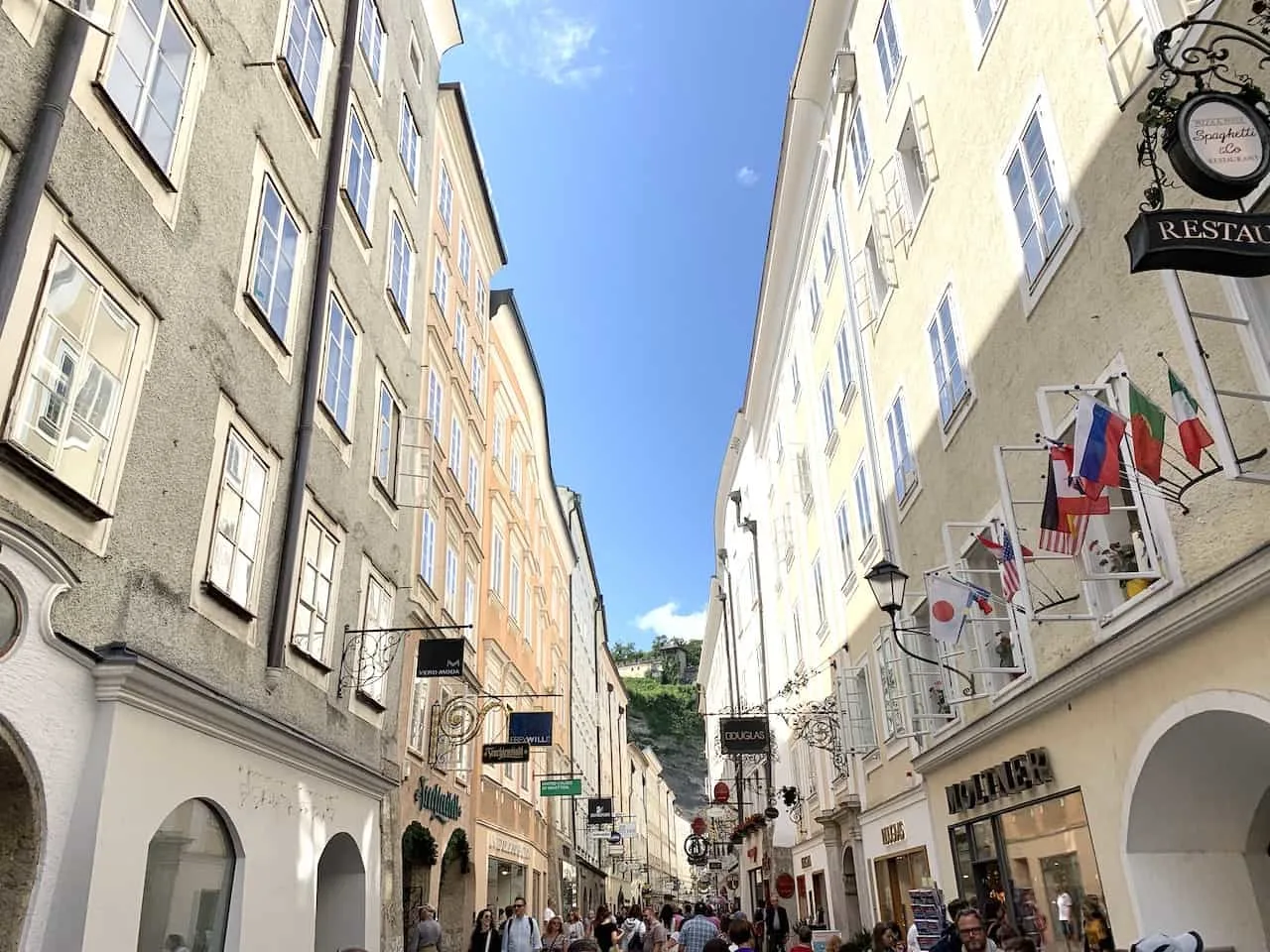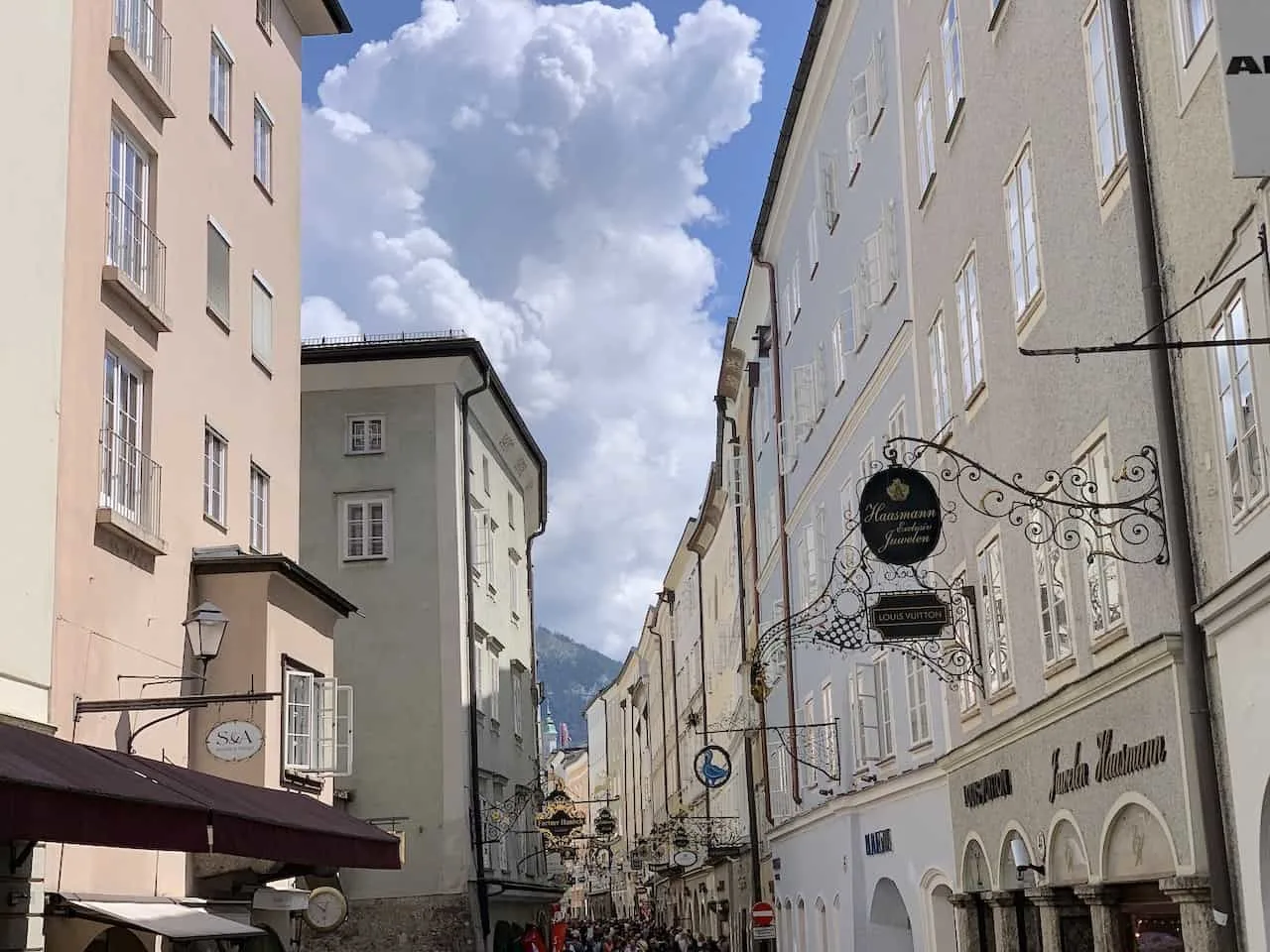 J) Mirabell Palace and Gardens
The final attraction of the day is located on the other side of the river – the Mirabell Palace and Gardens. Here you will find a vast gorgeous garden just on the outskirts of the main city center.
Not only will you be able to enjoy this beautiful garden but you also will be able to take in a great view of the Hohensalzburg Fortress out in the distance.
It is good to note that there is no charge to visit the public spaces of the palace and the gardens.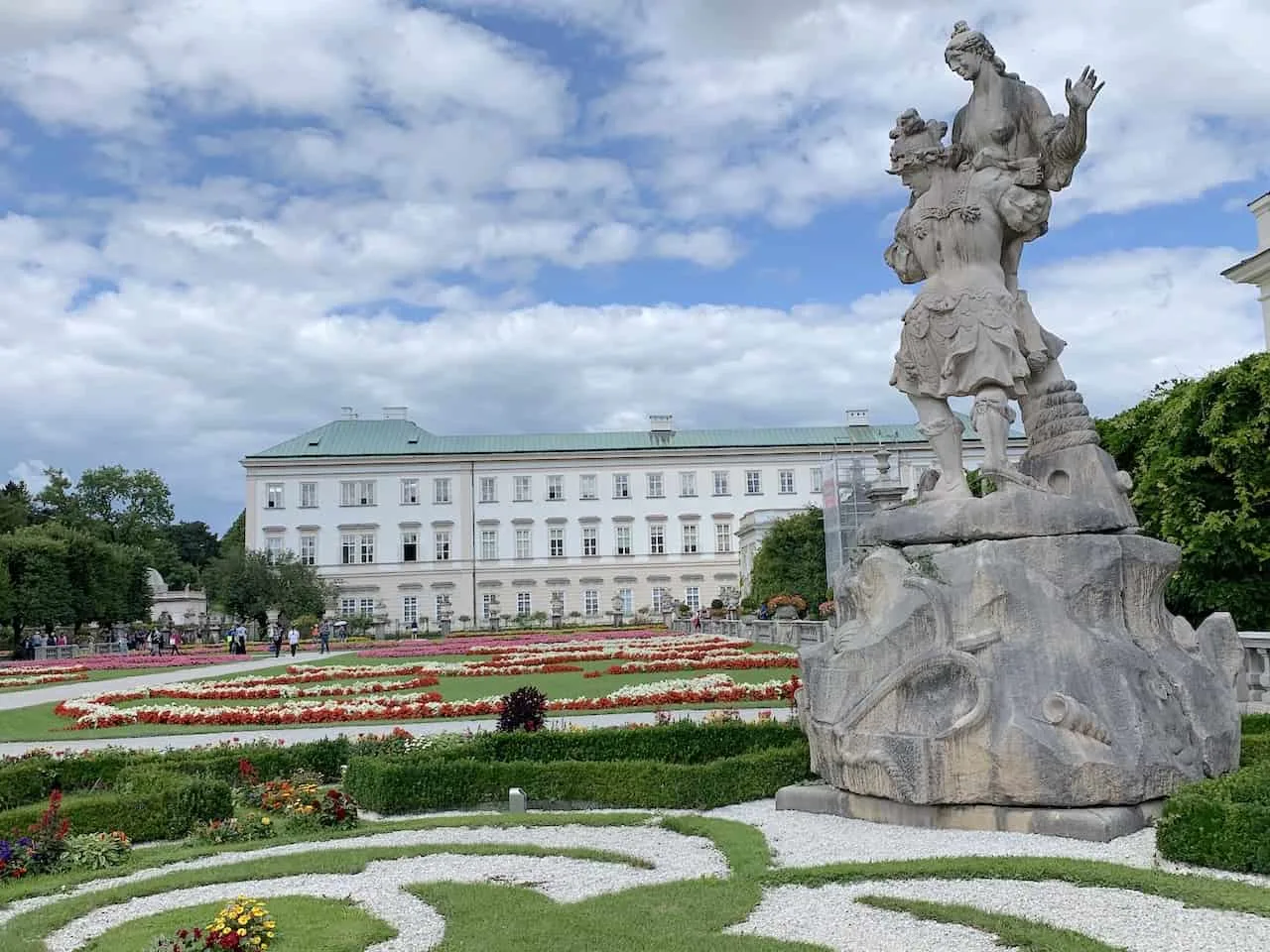 Once you have completed your time at Mirabell Palace and Gardens, you can head back to the train station (or back to your car), to end a successful Vienna to Salzburg day trip.
As mentioned, if joining a tour I am sure you will get to visit many of the places listed above especially if you go with a private option.
4) Where to Stay in Vienna
When visiting Vienna I would recommend staying close to the Innere Stadt district, where many of the main attractions are located.
From there you will also be super connected by all sorts of public transport to get you to different parts of the city when the time comes to travel a little.
Below are several options to choose from based on budget that are all situated in prime location:
Note: Salzburg Overnight Option
If a day trip isn't enough for you, then why not opt for an overnight in Salzburg? One thing you will realize during a day trip there, is that it can get very crowded with all the day visitors.
Being able to enjoy those early morning and later evening hours makes all the difference. If you do opt for an overnight below are a few accommodation options to choose from: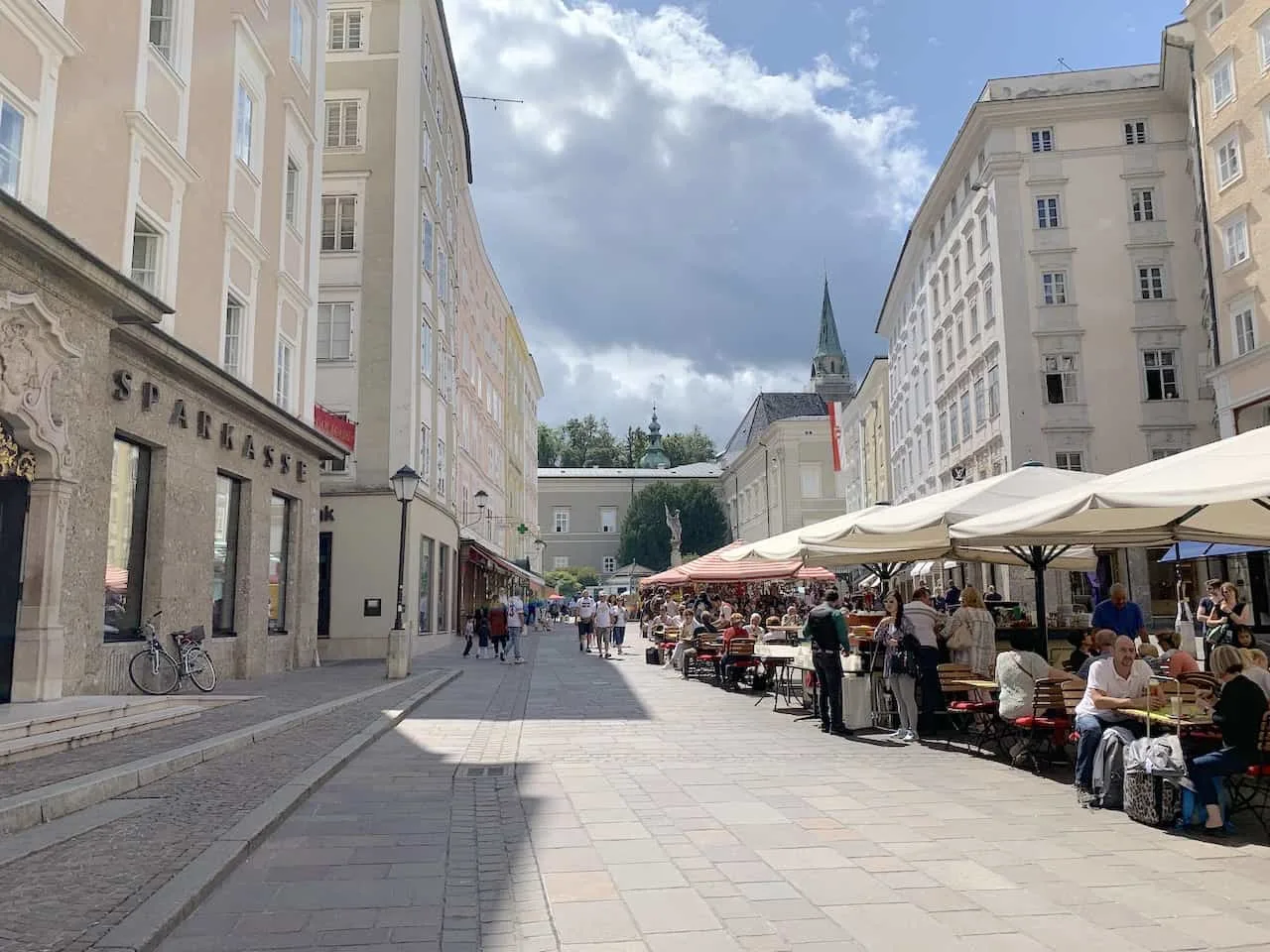 Be sure to also check out some of the other Austria itineraries and guides up on the site including a 3 Day Vienna Itinerary and a Complete Guide to Hallstatt.
If you have any questions or comments write them in below.
» Head to Salzburg as part of your 7 Day Austria Itinerary visiting places all over the country
Have fun out there and safe travels!