Are you planning a trip to Austria and thinking about spending a few days in the capital city of Vienna?
Well, this 3 days in Vienna itinerary will cover all you need to know with what to do during your time there.
Not only will it go over the attractions & activities, but it will also talk about logistics, accommodation, and much more. So, read on for what this Vienna 3 day itinerary entails.
* Affiliate Disclosure: This post may contain affiliate links, which means I may receive a commission if you make a purchase through the links provided, at no additional cost to you. Thanks for supporting the work I put into TripTins!
1) Getting into Vienna City Center
Before jumping into the 3 day Vienna itinerary, I thought it may be helpful to talk a bit about logistics of the city along with some accommodation options as well.
There are a few main ways that you may be arriving into Vienna – by plane, train or bus. Below I go into a bit more detail on each one and how to get yourself into the city center.
Plane
The main airport in Vienna is the Vienna International Airport (VIE) or Flughafen Wien. There are flights from all over the world that will get you into the airport, which is located not too far from the city center.
The main three ways to get to your hotel will be by train, bus or taxi.
With regards to the trains and busses, there are many different options to choose from.
My go to has always been to just input the destination in Google Maps or another navigation app to see which route would be best for my journey.
You can also take into account cost and length of journey as each person may have a different route to get to their hotel.
› Train
Getting from the airport to the city center by train is a super easy process.
Located right within the airport are multiple train lines that can take you to the city center, different suburbs and further out cities. With that said, there are a few different train options that you can choose from:
• City Airport Train: One of the fastest and most convenient trains to get you to the city center is the City Airport Train. The journey is just 16 minutes long and gets you right to "Wien Mitte", a centrally located train stop.
From Wien Mitte, you will need to figure out how far you may be from your hotel. Depending on distance and logistics, you may be able to just walk right on over or if your hotel is further out, you may need to jump on another train, tram or bus.
Tickets for the City Airport Train are 14.90 Euro One Way or 24.90 Euro Round Trip, and runs from 6:08AM to 11:38PM.
• OBB Railjet: The second option here is to take an OBB train. Trains run by OBB (Austrian Federal Railways) go directly from the airport to two main stations within the city center – Vienna Main Station (15 minutes) and Wien Meidling Station (30 minutes).
Tickets for the Railjet are just 4.20 Euro One Way, and the trains run from 6:33AM to 11:03PM.
• Express Train S7: Your last train option here is the S7, which stops at Wien Mitte (25 minutes) and Wien Praterstern (30 minutes).
Tickets for the S7 also cost just 4.20 Euro, and it runs from 5:18AM to 12:18AM.
› Bus
There are a few bus lines that will get you from the airport to different parts of the city center – VAL 1, VAL 2, and VAL 3.
Depending on where exactly you are headed in Vienaa, expect the busses to take anywhere from 20-40 minutes.
Bus tickets will cost 8 Euro and the busses run from the airport as follows.. VAL 1: 6:00AM – 12:30AM, VAL 2: 24/7 (less frequent at night), VAL 3: 6:00AM – 9:00PM.
There is also the Air-Liner Bus that runs from 5:20AM to 10:20PM and costs 5 Euro.
› Taxi
Your other main option here is to simply take a taxi from the airport directly to your hotel. Depending on taxi operator, expect to pay around 25 Euro – 35 Euro for the one way trip.
You shouldn't have a problem heading right outside of the arrivals area and getting on your way.
Train & Bus
If you are not flying into the country, odds are you are either taking the train or bus from a nearby city in Europe. Most, if not all trains will get you to Vienna's Main Station (Vienna Hauptbahnhof).
From the Main Station you will need to hop on the local subway, tram or bus to get you closer to your hotel. Similarly, most busses will get you to the Vienna International Bus Terminal. From the bus terminal you can also leverage the local transportation options to get you your hotel.
2) Getting Around Vienna
If you were worried about how to get around Vienna, worry no more.
Vienna is one of the most well connected cities I have visited and no matter where you are or where you are going, there will be some sort of public transport to get you from A to B. In total there are 5 underground subway lines, 29 tram lines and over 100 bus lines.
No matter where you are going and how many different modes of transportation you may need for a single journey, it will only cost you 2.40 Euro.
You will want to purchase tickets before you hop on board at ticket machines or ticket counters. Once you have your ticket, you will need to validate it for your journey. There are no turnstiles or places to swipe your card to get onto the public transport.
Before you get on the train or once on the bus/tram, simply insert your ticket into the validation machine, which will stamp your ticket with the date/time.
If you are going to be in the city for multiple days and/or plan on using public transport often, it may be worth getting one of the unlimited passes – 24 hours for 8 Euro, 48 Hours for 14 Euro, and 72 Hours for 17 Euro.
Similarly to what I mentioned in the airport transport section, the most convenient way for me to figure out how to get from place to place is simply to use a navigation app on my phone.
It should give you the step by step instructions to what mode/s of transportation will be fastest for your route.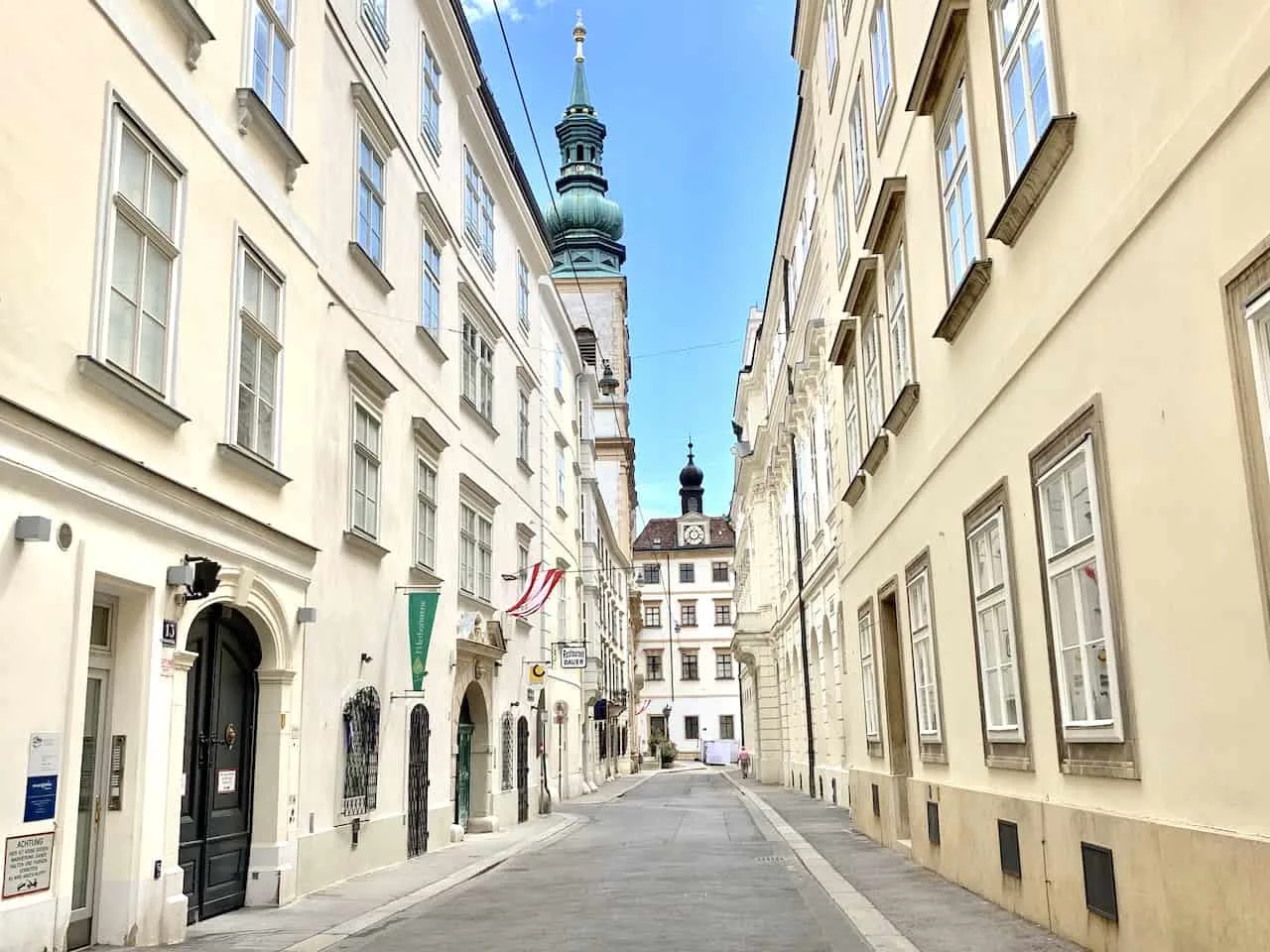 » The Vienna Pass
A popular choice for those visiting Vienna is to purchase the Vienna Pass. The pass gives you both unlimited transport within the city and discounts to many of the main attractions around Vienna.
You can learn more about the exact details of the Vienna Pass and all its different offerings through the Vienna Pass website.
» Are you looking for some more Austria content? Check out this 7 Day Austria Itinerary which takes you to several cities around the country like Hallstatt and Mayrhofen. A trip to the Grossglockner High Alpine Road is also sure to be a highlight.
3) Where to Stay in Vienna
When visiting Vienna I would recommend staying close to the Innere Stadt district, where many of the main attractions are located.
From there you will also be super connected by all sorts of public transport to get you to different parts of the city when the time comes to travel a little.
Below are several options to choose from based on budget that are all situated in prime location:
Budget: Pension Dr. Geissler | Hotel Bajazzo | Motel One Wien Staatsoper
Mid Tier: Hotel Post Wien | Austria Trend Hotel Astoria Wien | Boutique Hotel Das Tigra
Luxury: The Ring – Vienna's Casual Luxury Hotel | Hotel Topazz & Lamee | Vienna Marriott Hotel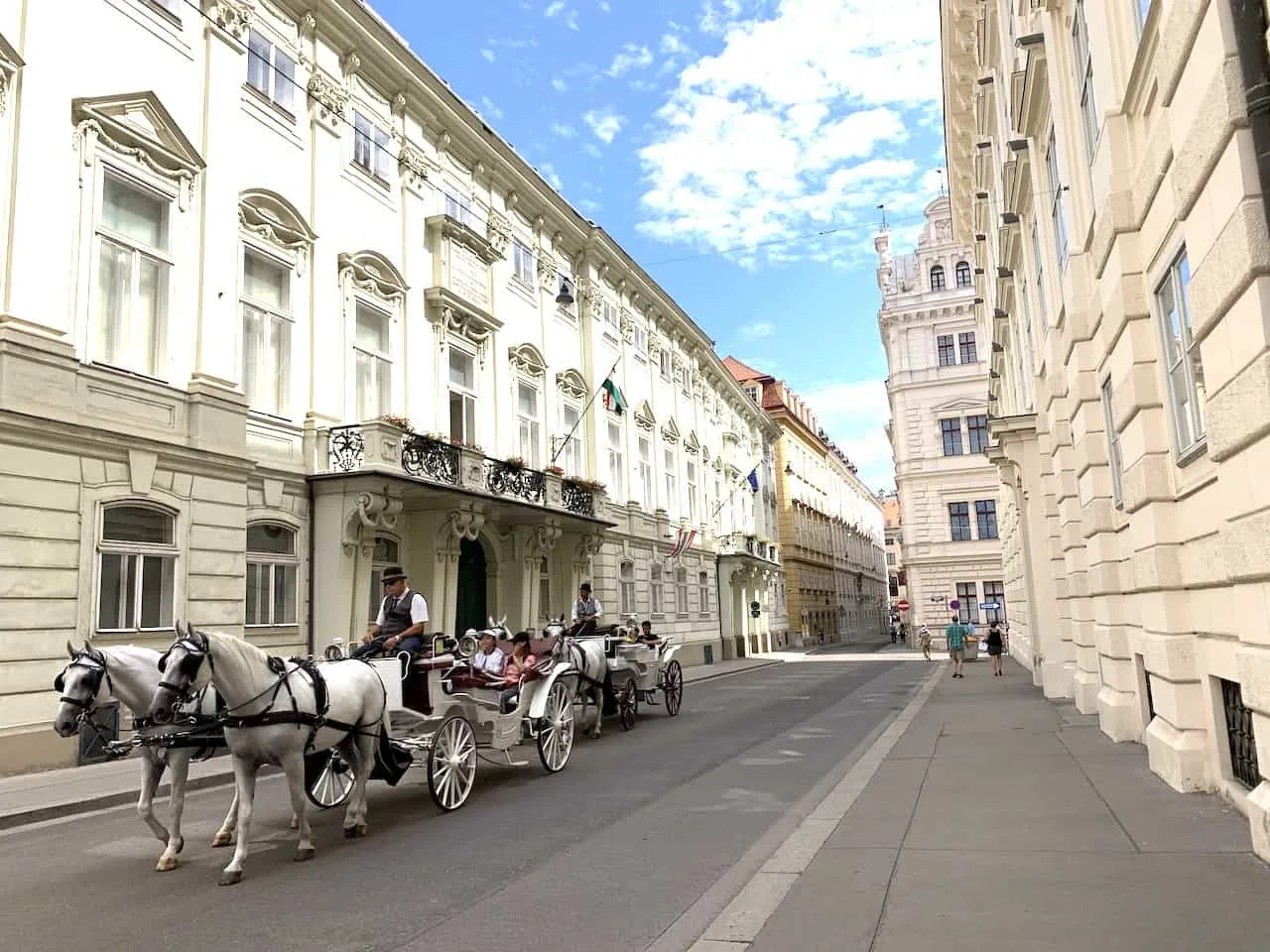 3 Days in Vienna Itinerary Map
Now that you have a bit better background about Vienna, lets talk about the attractions and activities that you can take part of during your 3 days in the city.
I wanted to break up the attractions in a way to give each day some good diversity as well as not fit too much into each day to give you the chance to really enjoy each place.
Vienna is also one of those cities that you can spend hours just wandering the streets and taking in the beautiful architecture.
I spent plenty of time walking around with no set goal in mind but rather just enjoying the surroundings and all the twists and turns that Vienna has to offer.
Note: feel free to mix up the order of the daily activities based on preference and what works out best logistically for you (depending where you are staying).
Vienna Guided Tour Options
If you are looking for some guided tours around Vienna that will include many of the activities and attractions mentioned in the itinerary, below are some highly rated options that you can browse through.
Spending a day or two with an expert/s who can give you more background and history about the city is a great way to better enjoy your trip.
» Vienna City Classic Walk with a Small Group
» Big Bus Vienna Hop-On Hop-Off Tour
» Small-Group Food, Coffee, and Market Walking Tour in Vienna
» Skip-the-Line Schonbrunn Palace Guided Tour and Vienna Historical City Tour
» Private Tour: One Perfect Day in Vienna
4) Vienna Day 1
The first day in Vienna will focus in on some of the main attraction around the Innere Stadt district. This is the downtown area of Vienna with plenty to see, do, and eat.
A) Vienna State Opera
The most famous of attractions in Vienna very well may be the Vienna State Opera House. The Opera House was originally built in 1869 and is one beautiful building to enjoy both inside and out.
There is also a great viewpoint, where you can see the Opera House from a bit higher of an angle. Simply climb the stairs at the nearby Albertina Museum and head towards the viewing platform.
You can start the day by walking around the Vienna State Opera as you take in the architecture from all different angles. Once you are all set from the outside, you can opt for a guided tour of the inside of the Opera House.
Tickets for the tours cost 13 Euro and run from a few times a day. Take a look at the Vienna Opera House tour schedule to learn more.
Note: if you decide to head to the Opera itself (check the Vienna State Opera schedule) then you may not need to actually go on a tour.
That decision can be up to you if you would like to do one or another, or both. Note: not every event is located in the main opera house so be sure to check when you purchase tickets.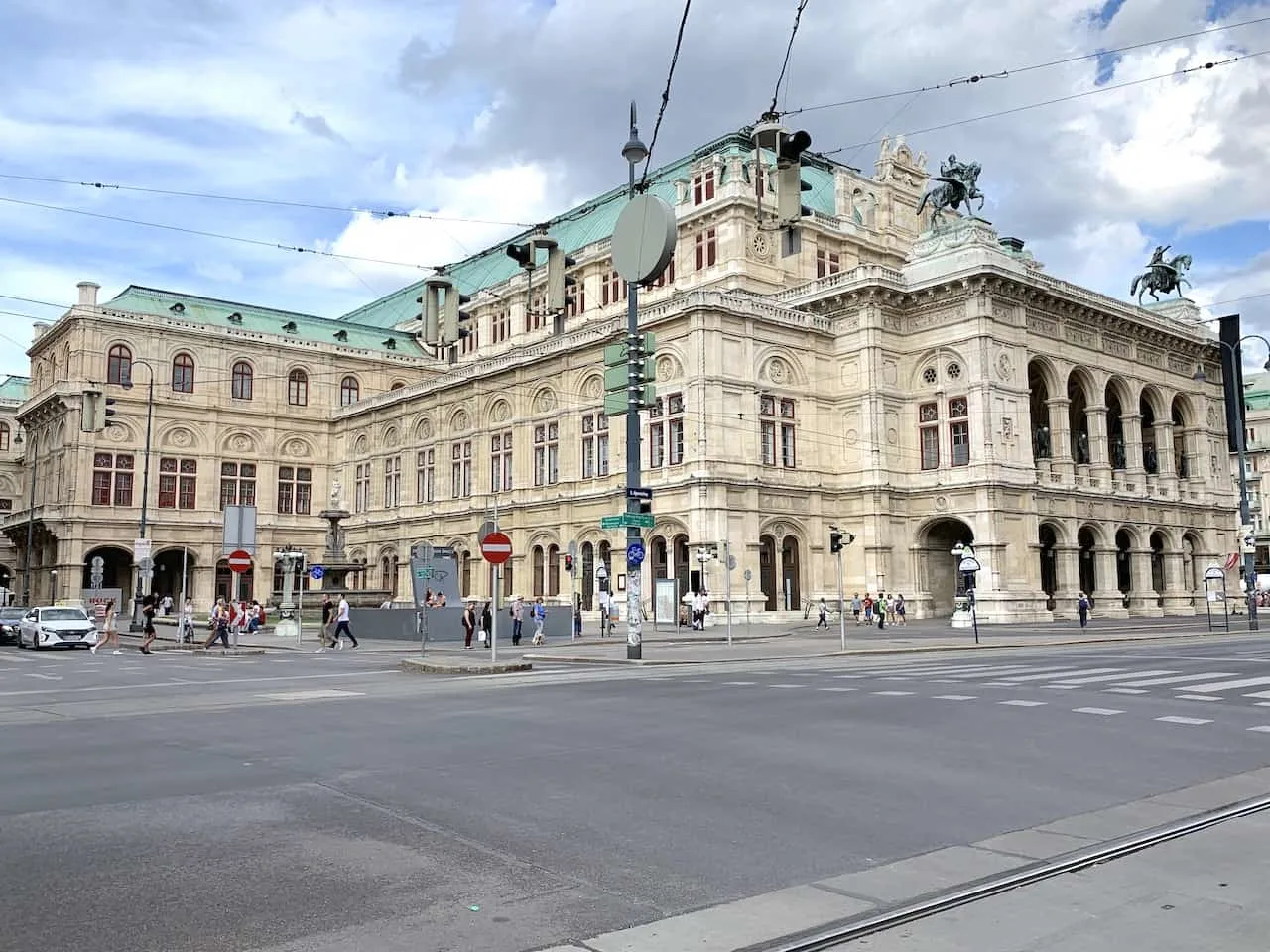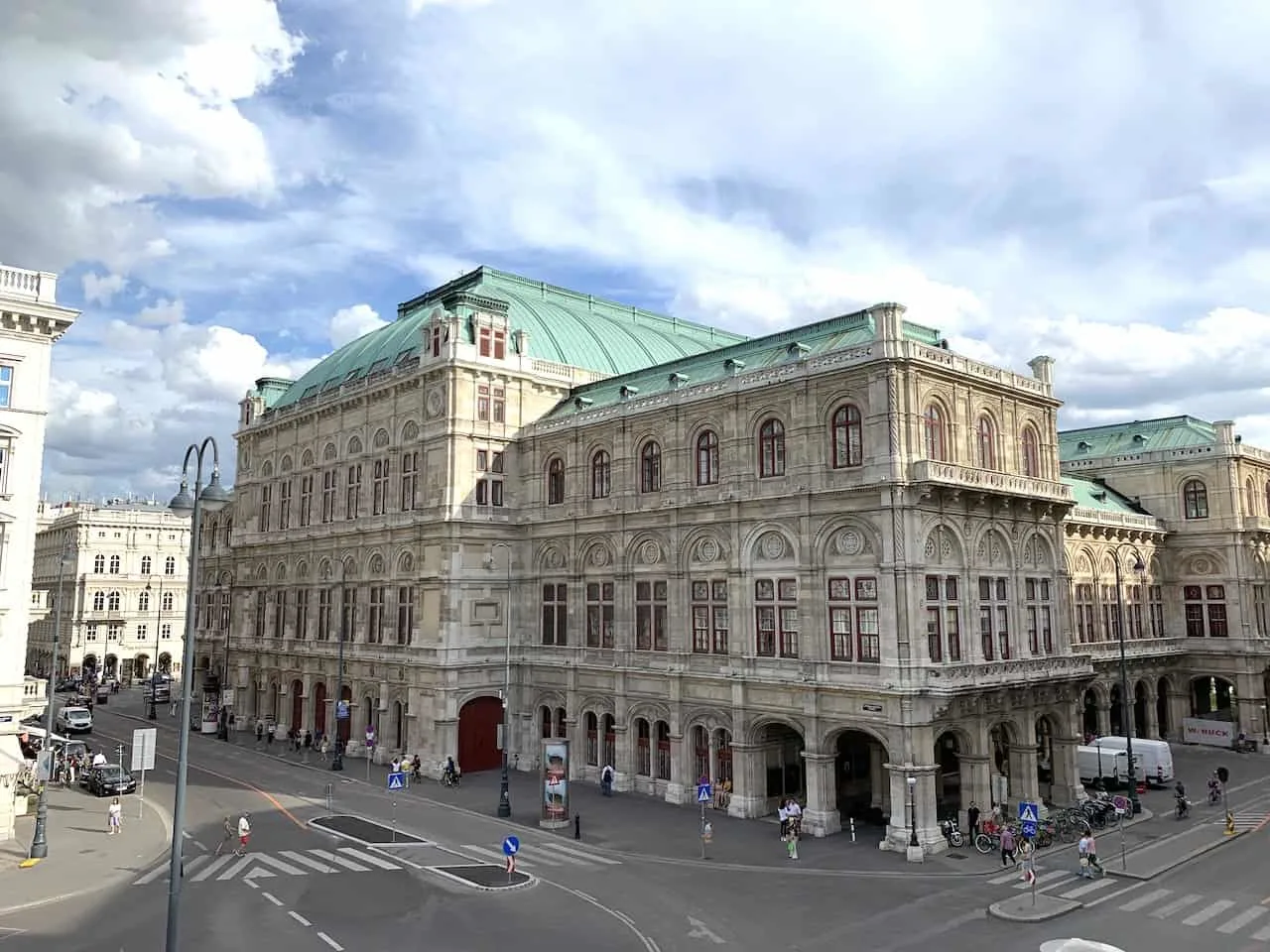 B) St Stephens Cathedral
Up next for the day is St Stephens Cathedral, which is located straight down one of the main streets of downtown.
Not only is the Cathedral a gorgeous building to walk through, but it also gives visitors the chance to take in the views from the top.
If you walk on the outside of the Cathedral towards the right hand side, you will see signs pointing you to the staircase. A small fee gives you access to the climb, which offers some of the best views of downtown Vienna.
Note: inside of the Cathedral you can take the lift to the opposite side of the building if you are not up for the climb. I should note though that the views are known to be better though on the side that you do climb.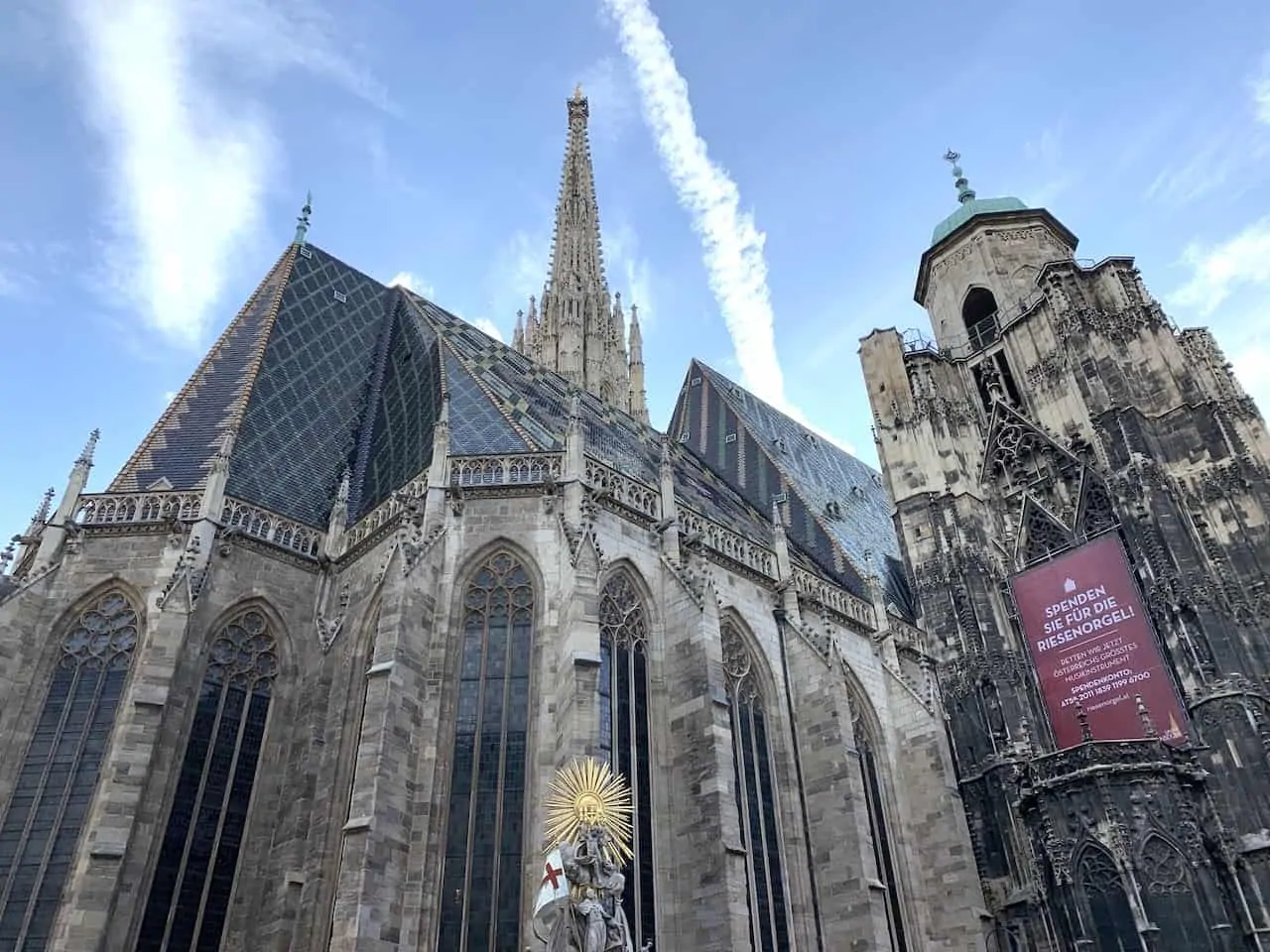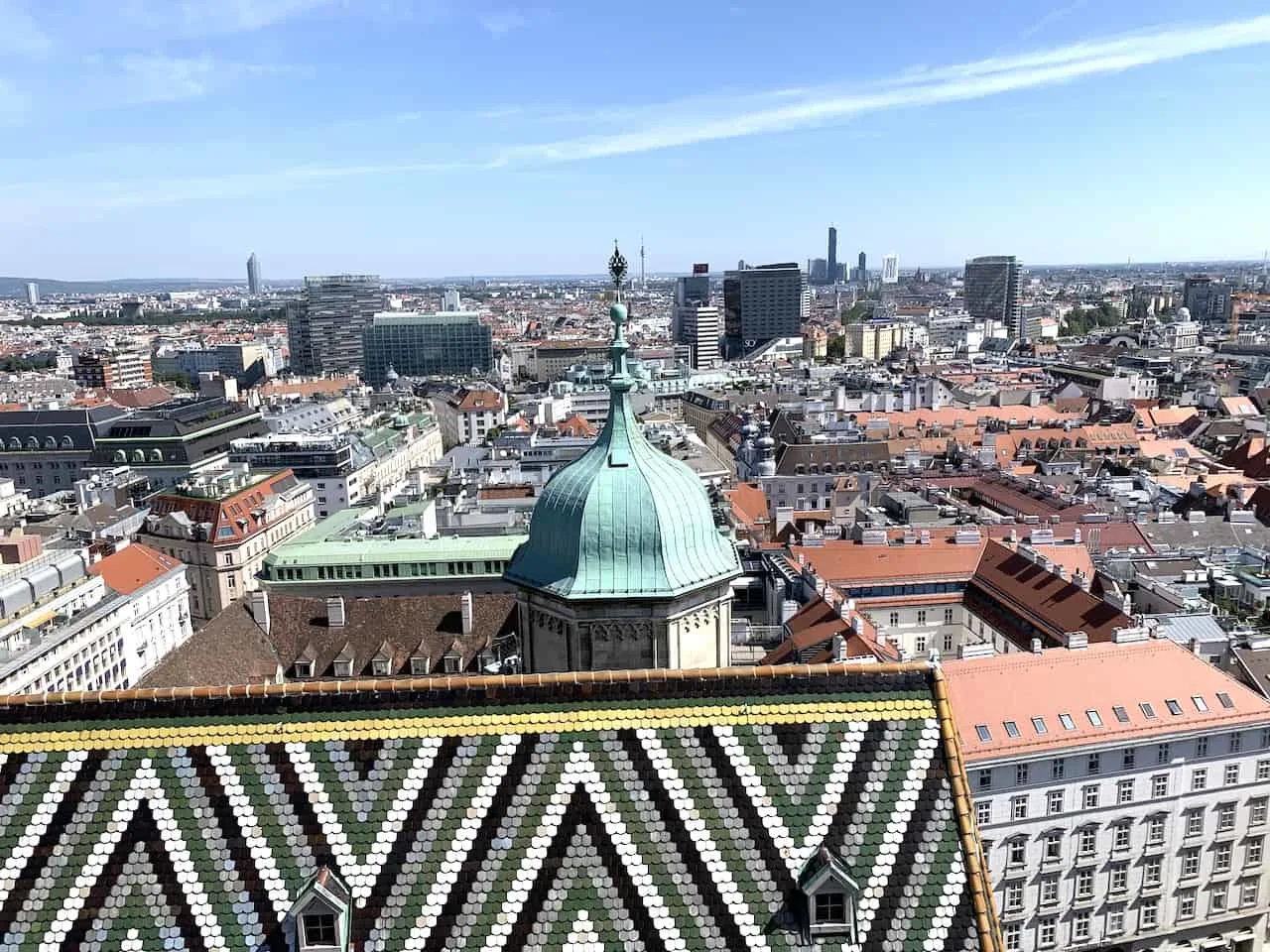 C) Judenplatz Holocaust Memorial
One of the most important sites in Vienna is the Judenplatz Holocaust Memorial located about 10 minutes away from the St Stephens Cathedral.
This memorial located in the middle of a square, commemorates the lives of the 65,000+ number of Jews that were killed during the Holocaust.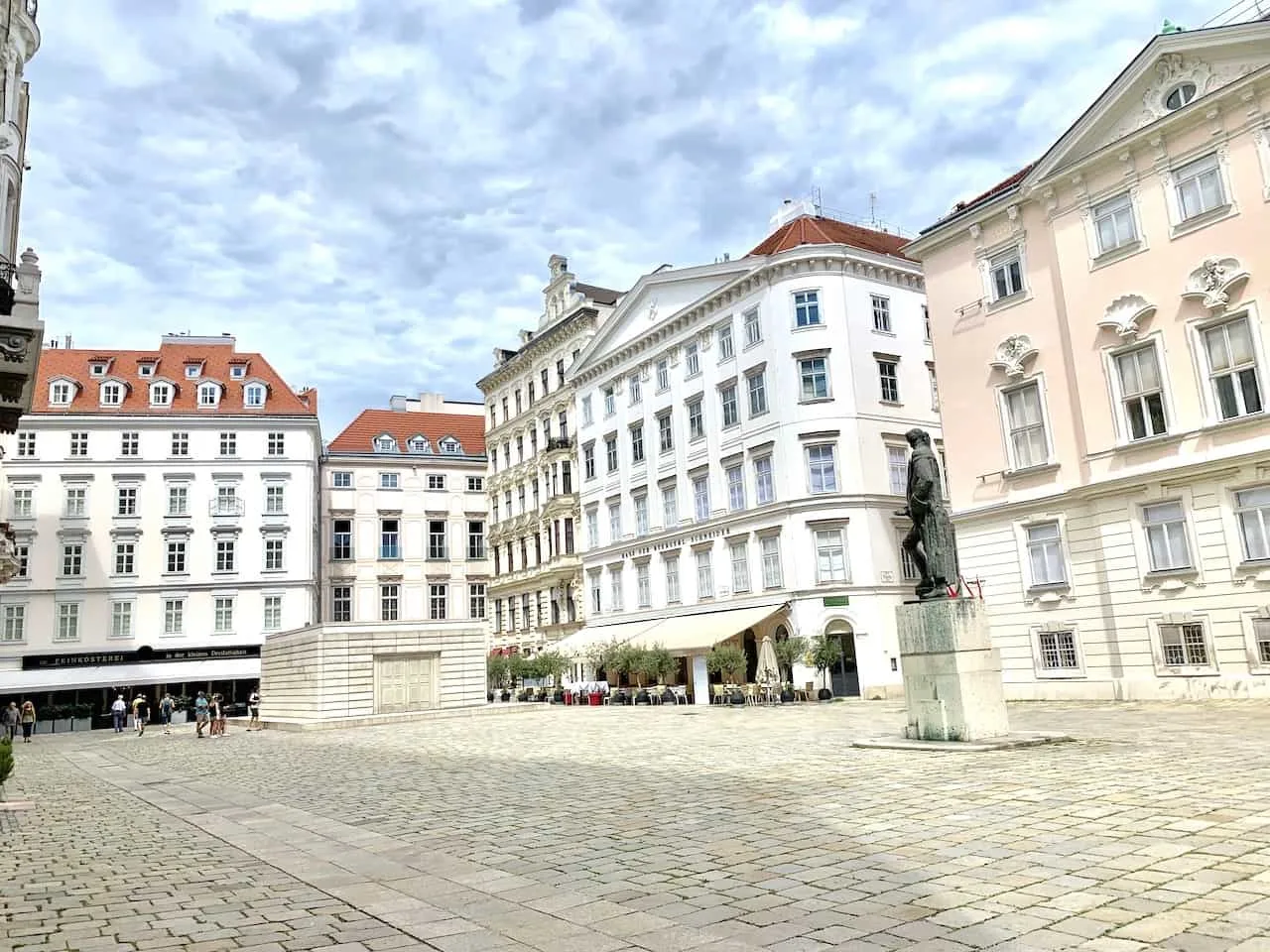 D) Danube Canal Promenade
After spending some time at the Holocaust Memorial, continue the walk towards the Danube Canal, where you will find a beautiful promenade. I enjoyed my time walking along the river, crossing some of the bridges, and stopping by at a few of the riverside bars/restaurants to sit back and relax at.
There is nothing like ending a day hanging by the river and finishing up your first of 3 days in Austria.
Note that this is not the main Danube River, which located a bit further away. The canal is just on the far side of the Innere Stadt.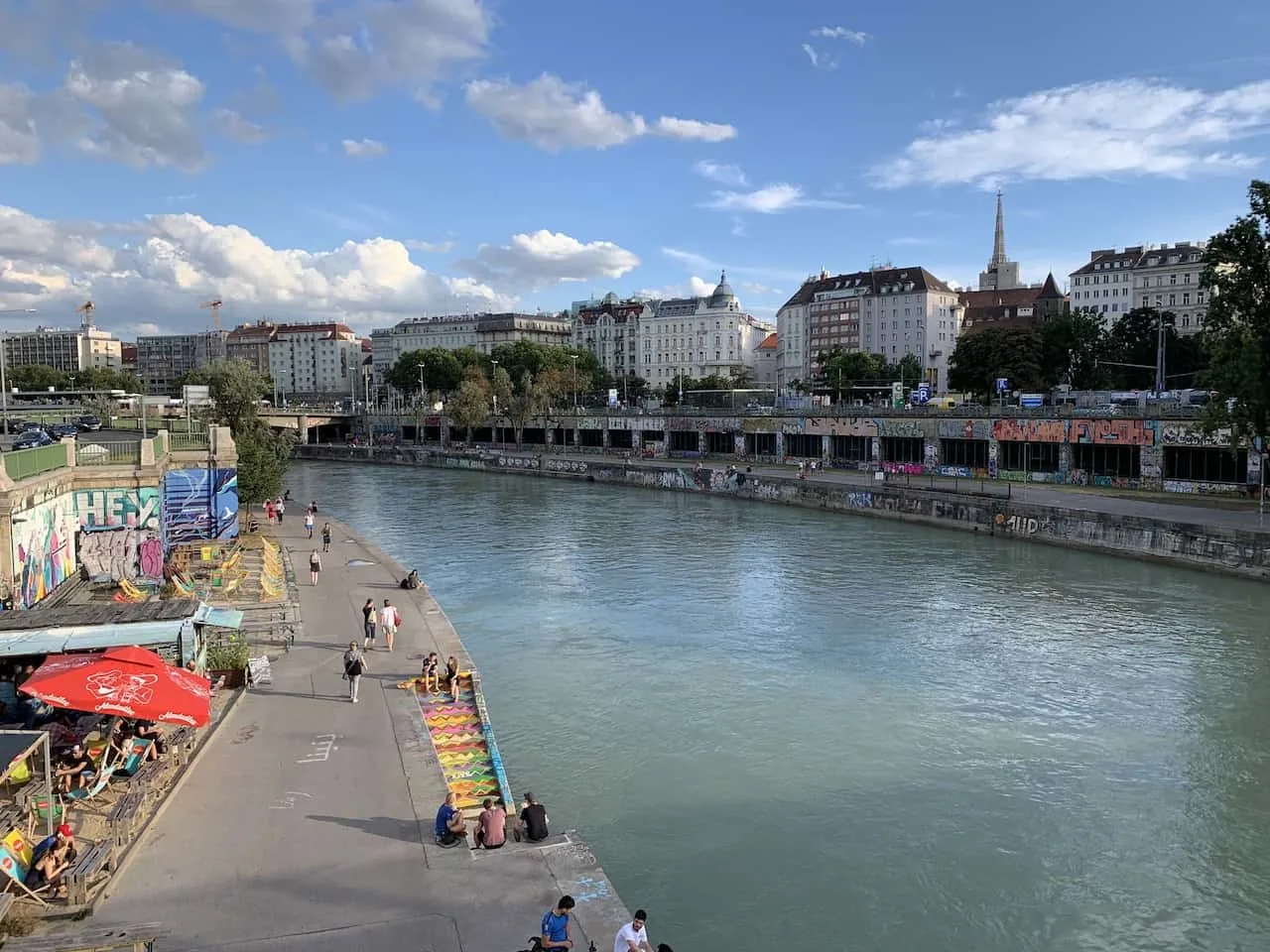 5) Vienna Day 2
Start day 2 of your 3 day Austria itinerary by heading to the Hofburg Palace area. There are a few main places to visit here which I will lay out for you.
A) Michaelerplatz
The Michaelplatz is the name of the square right in front of the Hofburg Palace. Here is where you can enjoy the best views of the Hofburg as you see the entirety of the grand architecture that makes up the complex.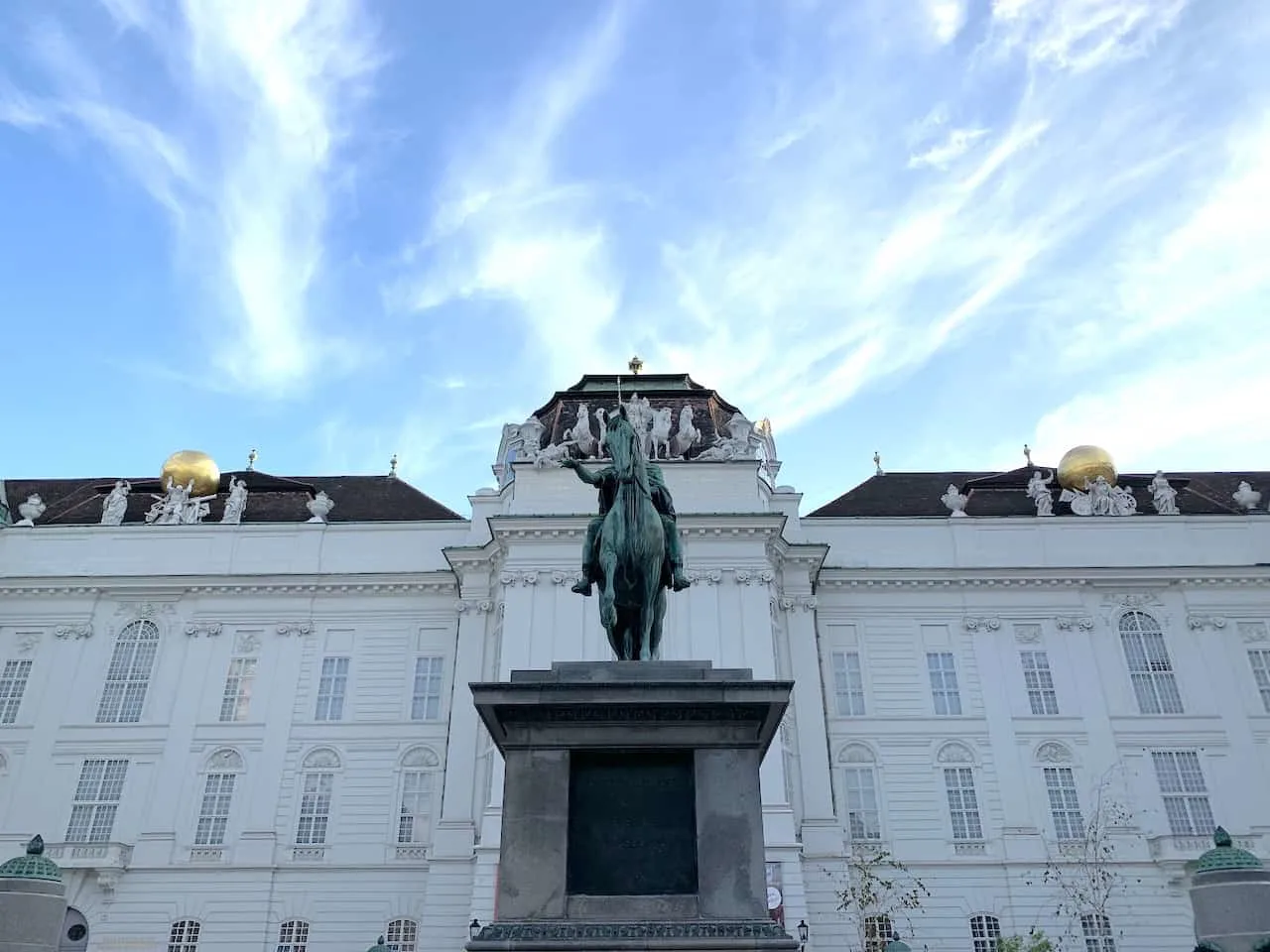 B) Hofburg Palace
While the outside of the palace is a great view to take in, you can actually spend some time within the Hofburg Palace itself exploring the ins and outs of several exhibitions there.
Some of the main highlights include the Imperial Apartments, Sisi Museum, and Imperial Silver Collection.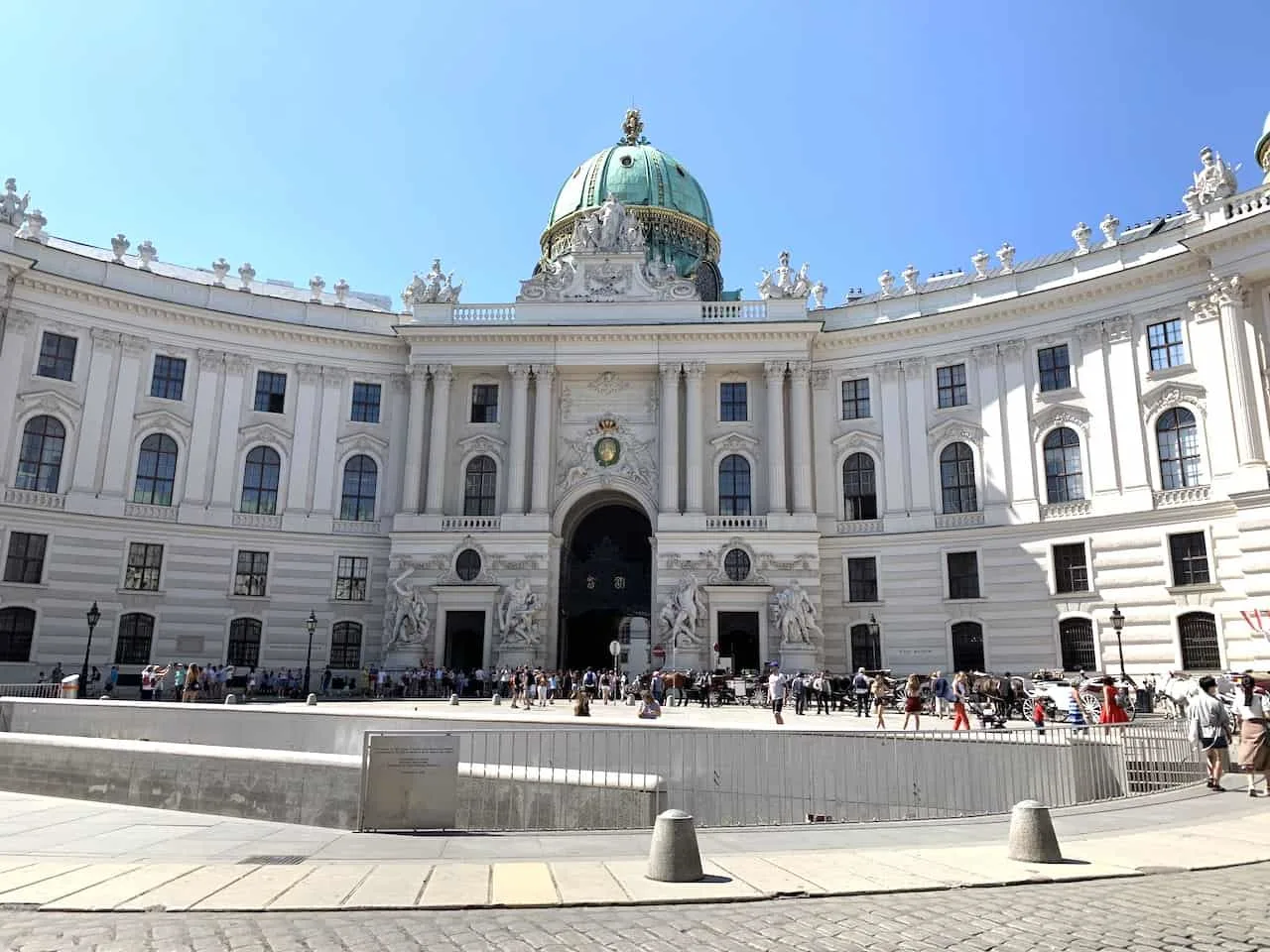 C) The Spanish Riding School
Also located within the Hofburg Palace directly across from the museums and apartments is the famous Spanish Riding School. Here you will find the training ground for the Lipizzaner horses classical dressage.
There are a few different main offerings that the Spanish Riding School has depending on what day you end up going there: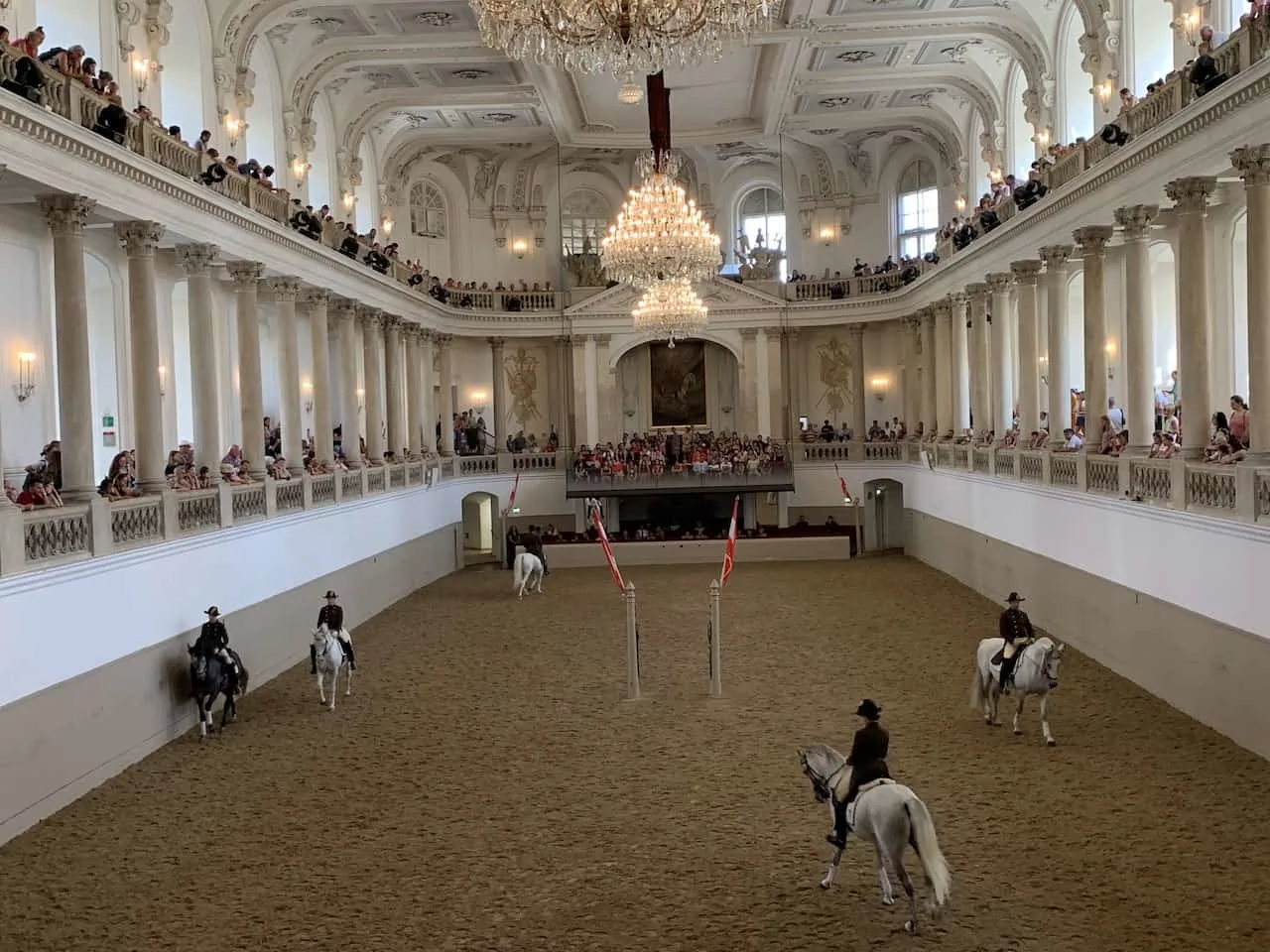 Morning Exercise
There is a two story viewing area, where you can sit back and watch the horses practice their routines for upcoming performances. You can usually catch a morning exercise half the days of a month.
Guided Tours
If there isn't a morning exercise scheduled for the date that you plan on visiting, you can also opt for a guided tour. A tour will offer a bit more insight about the history of the Spanish Riding School and give you a behind the scenes look regarding what the school is all about.
Performance
If you happen to be in Vienna during the time of an actual performance then you can go ahead and build that into your schedule if you decide to do so.
These will be more formal events that only happen a few times of month. Be sure to check the schedule ahead of time as these will sell out!
Below is an example schedule for the events by day and month: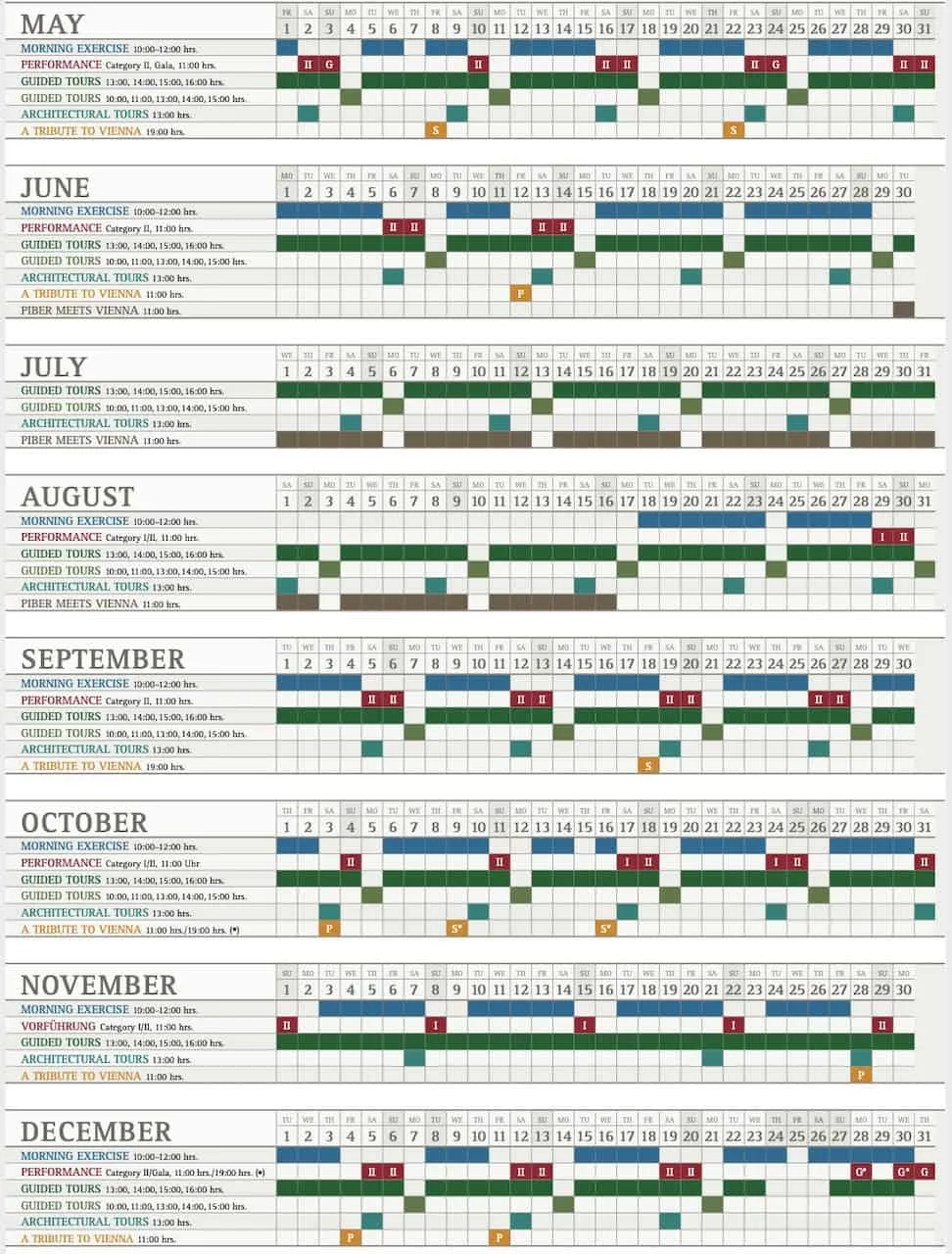 D) Parliament
Once all finished up with the Hofburg Palace area, continue the walk behind the building, through a couple of the parks, where you will then end up at the Vienna Parliament.
This whole area in general is full of beautiful ornate buildings and museums, so feel free to take your time as you make your way to the Parliament. If interested, you can even head into the Parliament for a guided tour.
Note: the Vienna Parliament has been under renovation so it is possible you wont get to enjoy the full experience from the outside during your visit. A guided tour though will give you the inside look on the interior of the building.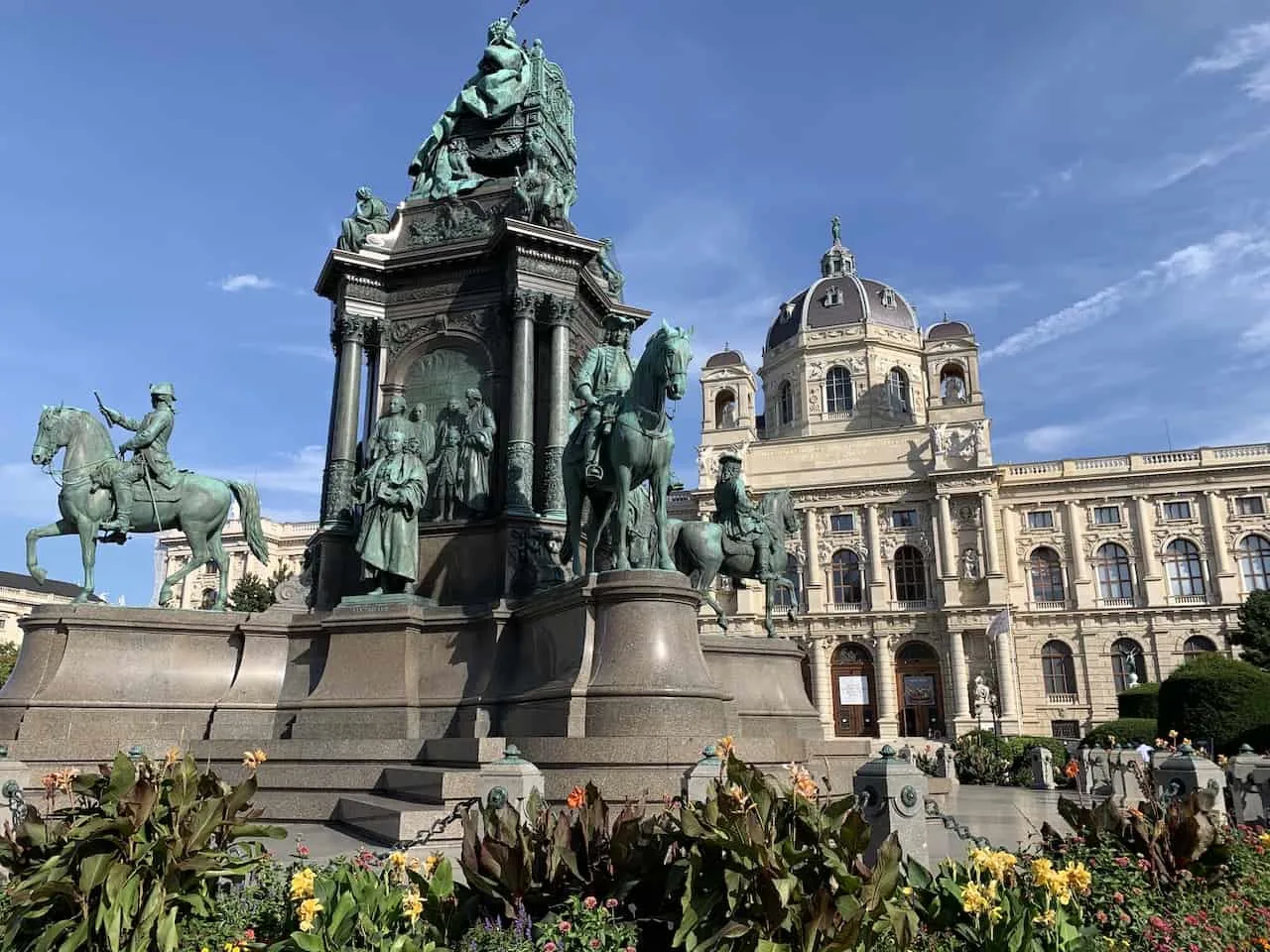 E) Rathaus
Just down the road from the parliament is the Rathaus, another beautiful piece of Vienna architecture.
The Rathaus is the City Hall of Vienna, where you can also decide to just enjoy the views from the outside or head on in for a guided tour.
Once all done with day 2 of your 3 days in Vienna, you can enjoy a nice walk back to your hotel through the charming streets.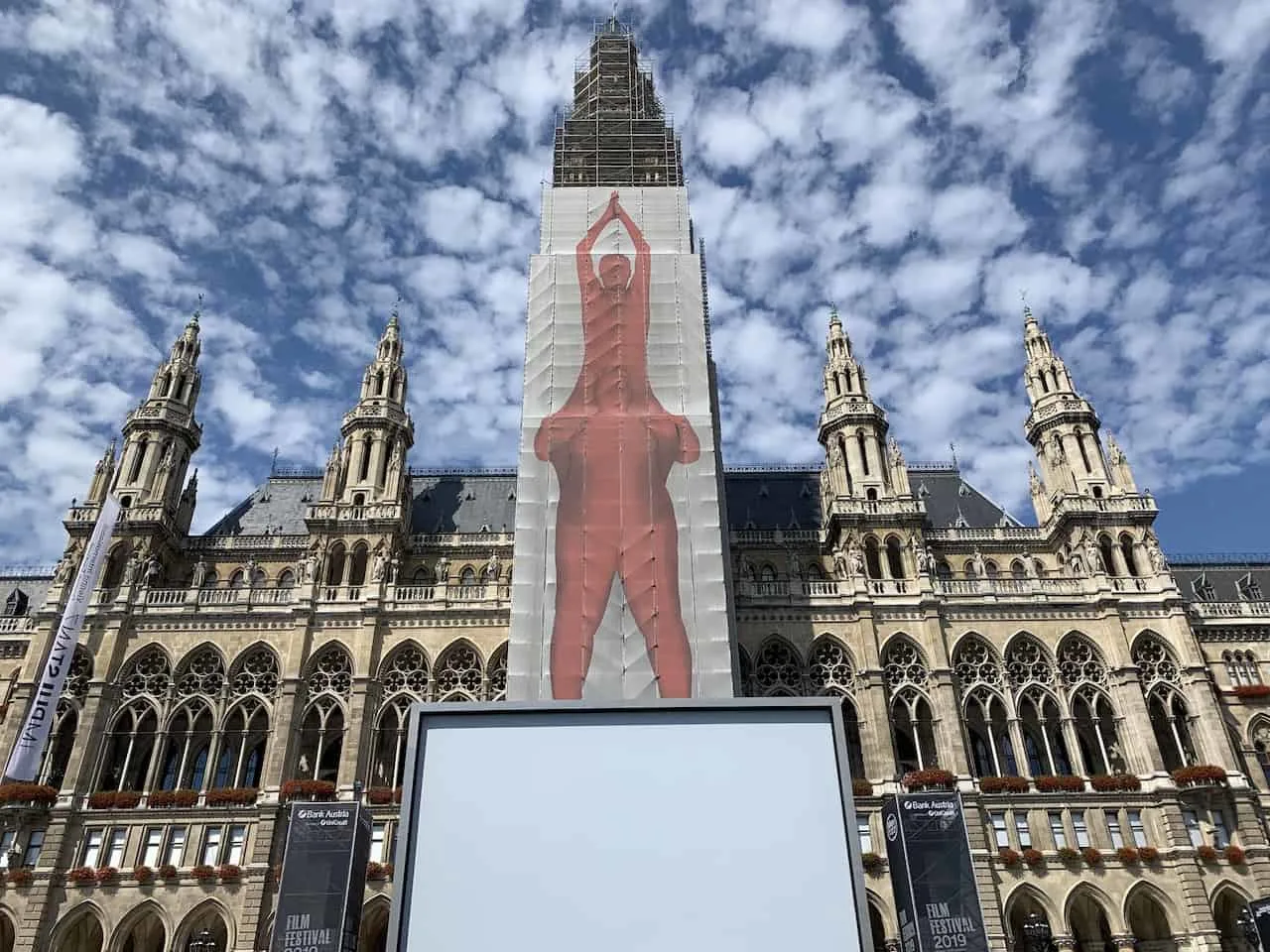 6) Vienna Day 3
Day 3 in Vienna is going to focus in on two main attractions a bit further away from the city center – Schonbrunn Palace and Schonnbrunn Gardens.
Odds are it will not take you a full day to visit the area but it does give you some additional time to enjoy Vienna.
Both Schonbrunn Palace and Gardens are located within the same larger complex area. You can decide to visit one or another, or both of these fascinating places.
A) Schonbrunn Palace
The Palace itself is an absolutely massive structure with all types of different rooms, architecture, and artwork to take in. There are two main ticket offerings for the inside of Schonbrunn – the Imperial Tour and the Grand Tour.
The Imperial Tour allows access to 22 different rooms with the Palace, which include highlights such as Great Gallery, Emperor Franz Josef's apartment, and the Chinese Cabinets.
The Grand Tour offers access to 40 different rooms, which include highlights such as Feketin Room and Gobelin Salon on top of the others offered in the Imperial Tour.
Note: There are audio guides available for both tour options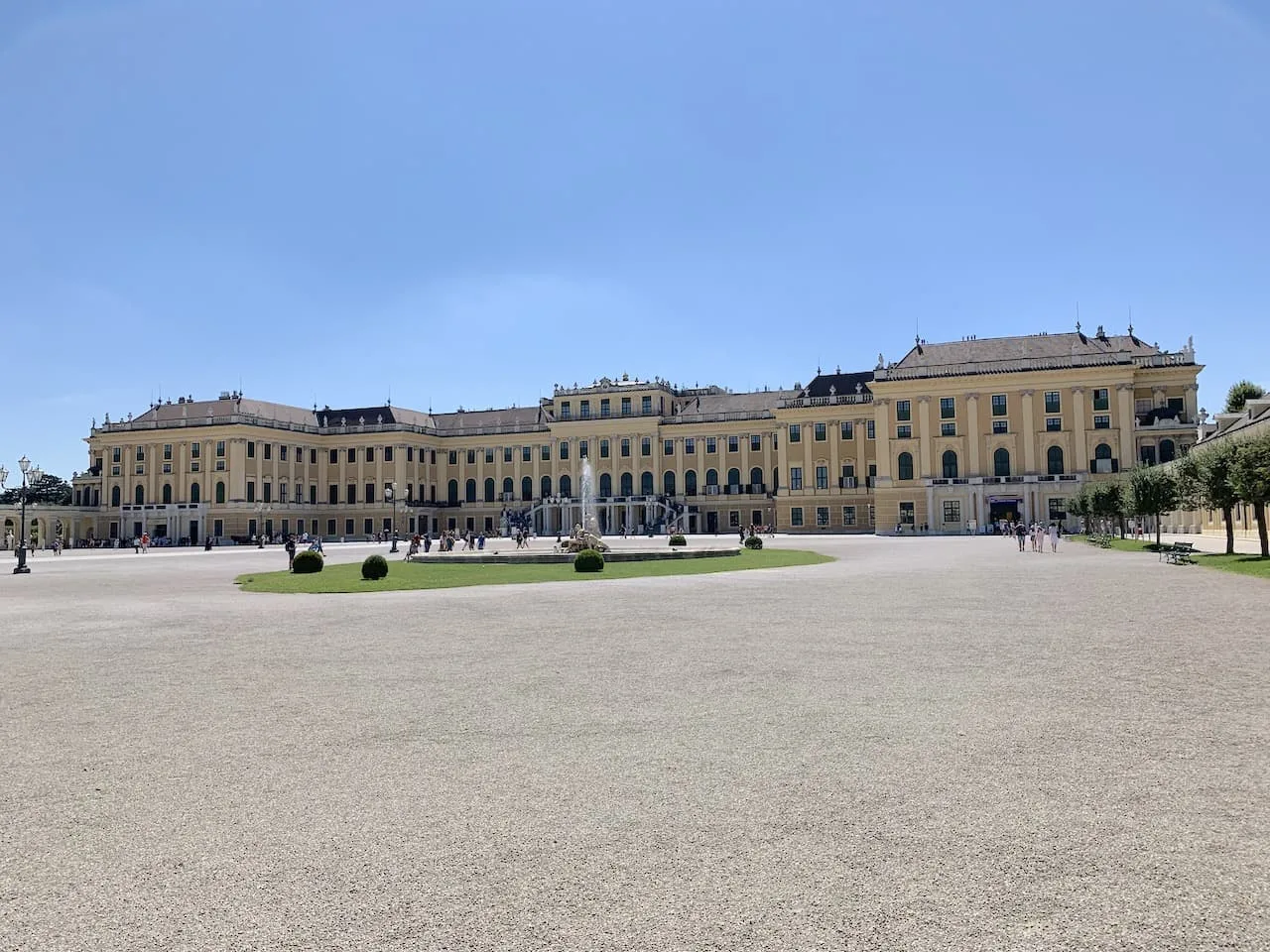 B) Schonbrunn Gardens
While you must pay an entrance fee to go into the Palace, you can actually roam the gardens free of charge. Do note however that not every section of the garden is free to enter.
There are a few places such as the Privy Garden, the Orangery Gardens, the Zoo and the Maze that do require an entrance fee. You can pay for them individually based on preference or you can buy one of the combo tickets offered.
The Gardens are absolutely massive in size, ranging 1KM+ in every direction. There are several different areas to visit as you make the walk around.
One of the highlights for me was definitely heading up the hill to the Gloriette, where for a small fee you can get a spectacular view of the Schonbrunn Gardens and Palace from above.
Beyond that I would recommend just walking all around the gardens and enjoying all the unique views and offerings that the Gardens have.
After you are all done with the Schonbrunn area, it is back to the city center, where you can wrap up your 3 days in Vienna.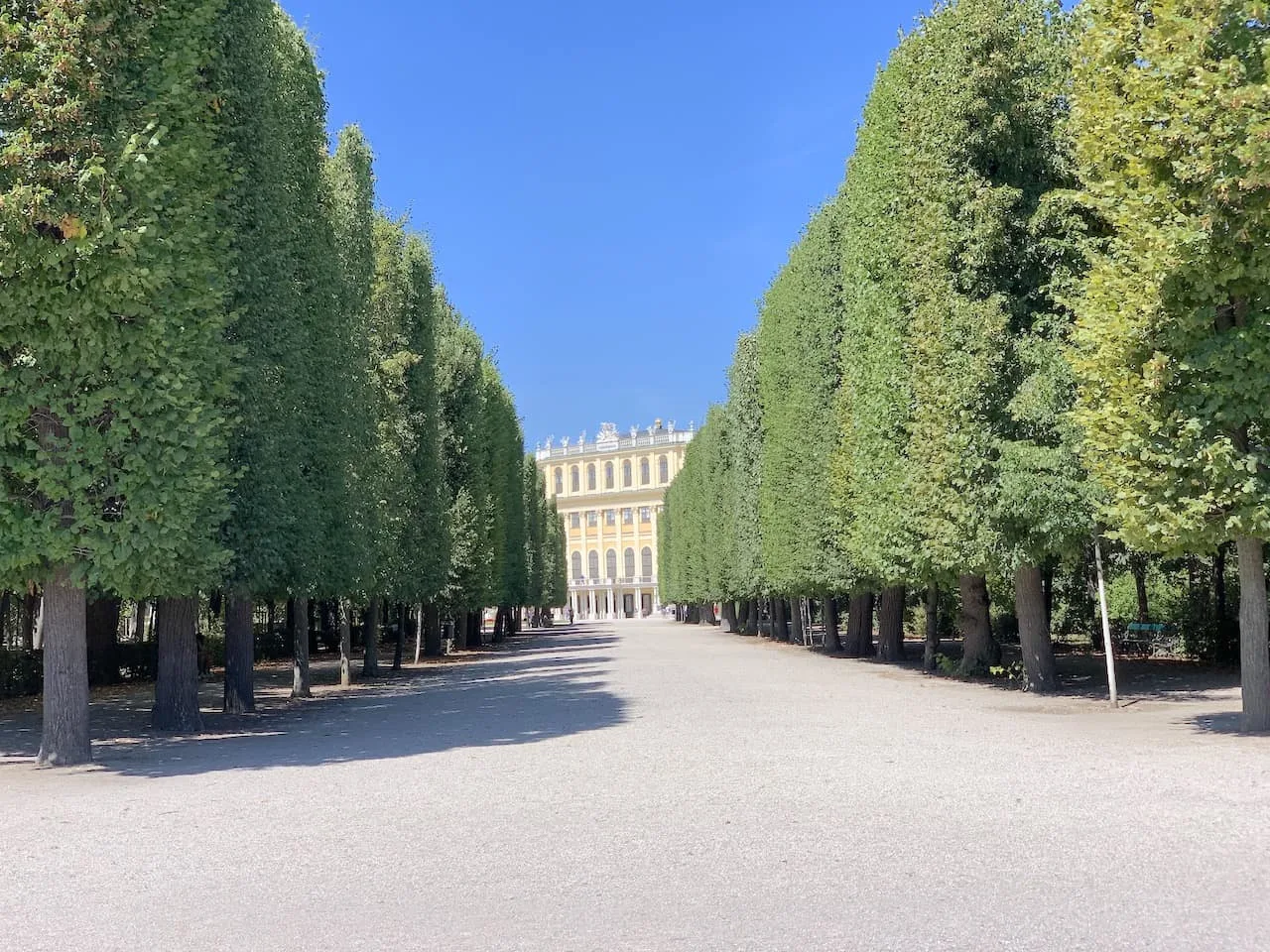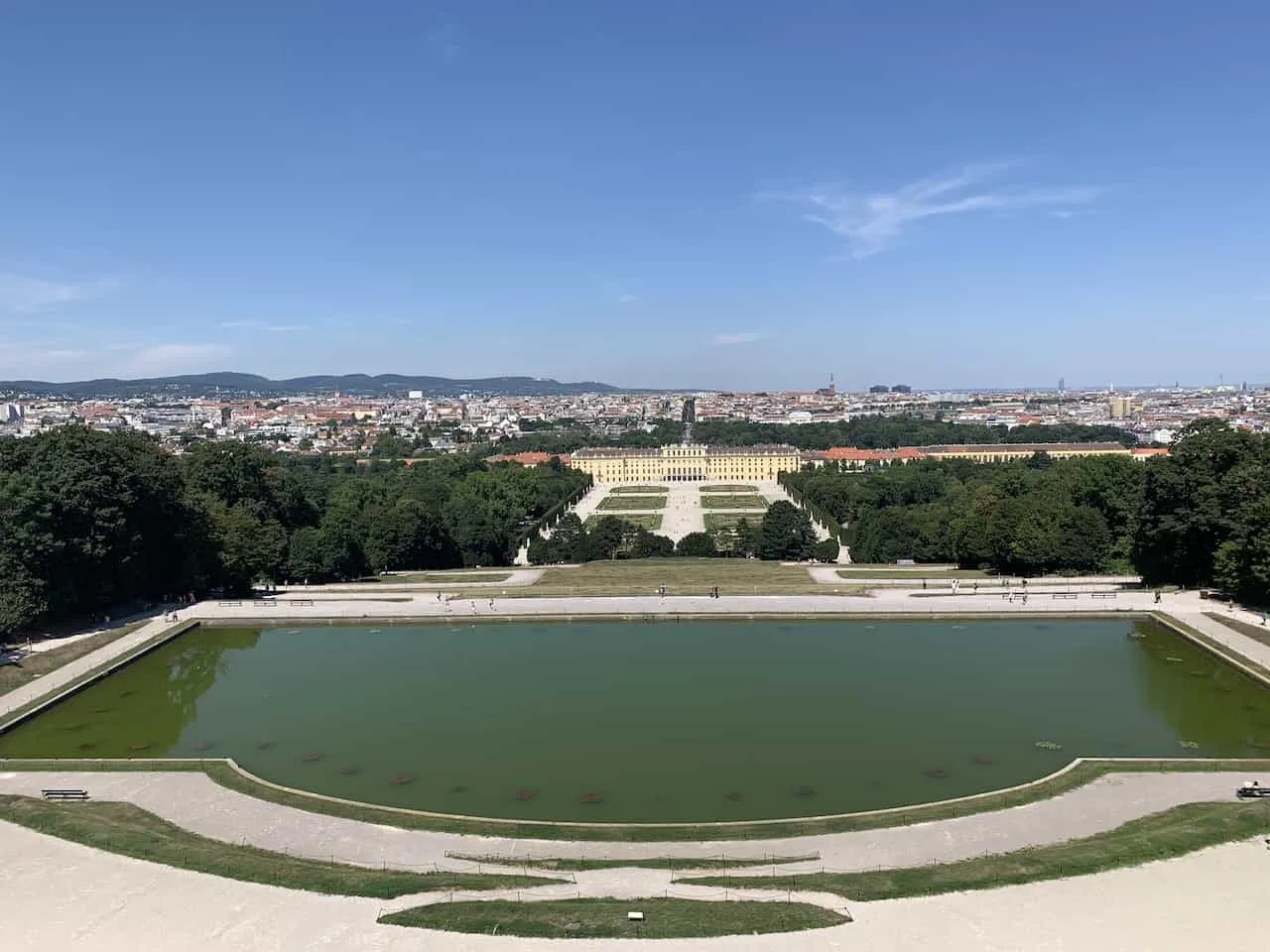 Now that you have a better idea of what a Vienna 3 day itinerary entails, it is time to head out there for yourself. I hope this itinerary has helped you out a bit with your trip planning but feel to ask any questions or comments below.
» Visiting Salzburg? Be sure to check out this One Day in Salzburg Itinerary up on the site
Have fun out there and safe travels!