From cities and villages to lakes and mountains, Austria has so much variety to offers its visitors.
This 7 day Austria itinerary will go over how to put together the perfect one week trip that will take you to 4 different places in the country.
The trip will start off in Vienna for 2 days, before heading westwards towards Hallstatt, where you can spend the next 2 days, followed by a day trip to Salzburg.
From there, the itinerary takes you further west to the valley town of Mayrhofen, where you can end with 2 days of exploring the Zillertal Alps.
* Affiliate Disclosure: This post may contain affiliate links, which means I may receive a commission if you make a purchase through the links provided, at no additional cost to you. Thanks for supporting the work I put into TripTins!
Austria Itinerary Overview
Before jumping into the itinerary, below are some helpful tips to better prepare you for your trip to Austria:
» The itinerary goes over 7 full days in Austria, meaning arriving early on day 1 (or the previous day), and leaving late on day 7 or sometime on day 8.
» The trip also begins in Vienna and ends in Mayrhofen (near Innsbruck). Depending on your travel plans, you can either 1) drive 5 hours back to Vienna on day 8, 2) fly from Innsbruck to Vienna sometime later on day 7 or day 8, or 3) fly out from Innsbruck internationally, which has flights to some other cities in Europe.
» You will want to rent a car for most of your trip. While public transport is an option, it will be much more difficult to visit everything within a week's time.
You can pick up a car from Vienna city center on the morning of day 2 before heading towards Hallstatt. You will then drop off in either Vienna or Innsbruck depending on your travel plans at the end of your trip.
→ If you are renting a car in Austria, be sure to check out Rentalcars.com to browse through options. Once on the site, you will be able to filter by price, car type, rental company, and more, to find the perfect car for your trip to Austria.
» This itinerary can really be done at any time of year, depending on your preferences. While Vienna and Salzburg are just cities, you can find some varying activities around Hallstatt and Mayrhofen depending on time of year.
For example, a summer trip will be perfect for those hikers out there, while a winter trip will be great for those wanting to ski.
» Since I did opt for a late summer trip, I will focus most of those mountain activities on the hiking portion of the country.
» Where to Stay in Austria
The breakout of the itinerary will be as follows:
Vienna | 2 Nights
Hallstatt | 2 Nights
Mayrhofen | 2 Nights
⇔ Depending on your flights you may need to add an additional night in Vienna or Mayrhofen at the beginning or end of your trip.
⇔ If you have extra time, feel free to check out the Grossglockner High Alpine Road Guide up on the site and a trip to the Pasterze Glacier
⇔ Below are my hotel recommendations for each of the three cities mentioned. Be sure to book ahead of time because they can sell out during peak season!
Vienna
When visiting Vienna I would recommend staying close to the Innere Stadt district, where many of the main attractions are located.
From there you will also be super connected by all sorts of public transport to get you to different parts of the city when the time comes to travel a little.
Below are several options to choose from based on budget that are all situated in prime location:
Budget: Pension Dr. Geissler | Hotel Bajazzo | Motel One Wien Staatsoper
Mid Tier: Hotel Post Wien | Austria Trend Hotel Astoria Wien | Boutique Hotel Das Tigra
Luxury: The Ring – Vienna's Casual Luxury Hotel | Hotel Topazz & Lamee | Vienna Marriott Hotel
Hallstatt
When it comes to Hallstatt you can decide to stay within the town itself or choose a nearby town instead.
While staying in Hallstatt is a great option, there is also a chance that either 1) all rooms are sold out or 2) the available rooms are out of your budget.
Since Hallstatt is pretty small, there are not that many options to choose from. So, if you can't get something you are looking for, then it is time to choose a nearby town instead.
With that said, here are some alternatives to staying within Hallstatt – Bad Ischl, Bad Goisern, and Obertraun.
All of these towns are within a 10-30 minute drive to Hallstatt / you can leverage the trains and busses that pass through them to get to town.
Below are some of my recommendations to choose from in Hallstatt as well as in each one of the alternative towns. Each one is highly rated and would be a great option to choose from for your trip.
Hallstatt: Heritage Hotel Hallstatt | Seehotel Gruner Baum | Gasthof Pension Gruner Anger
Obertraun (10 minute drive): Seehotel am Hallstattersee | Hotel Haus Am See | Dormio Hotel Obertraun
Bad Goisern (20 minutes): Hotel Moserwirt | Sofias Apartment | Wohlfuhlhotel Goiserer Mühle
Bad Ischl (30 minutes): Hotel Garni Sandwirt | Sonnhof | Der Hubertushof
Mayrhofen
Since Mayrhofen is a relatively small valley town, no matter where you stay in it, you will be at most a 20 minute walk to restaurants, bars, cable cars, and the train station.
Below are some great options to choose from depending on your budget:
Luxury: Hotel Neue Post | Alpin Lodge das Zillergrund | ElisabethHotel Premium Private Retreat
Mid Range: Sporthotel Manni | Alpendomizil Neuhaus | Zillertalerhof Alpine Hideaway
Budget: Birkenhof | Landhotel Rauchenwalderhof | Gasthof Edelweiss
» Austria Day by Day
Below is the day by day breakdown of what to expect when visiting each one of these four cities in Austria.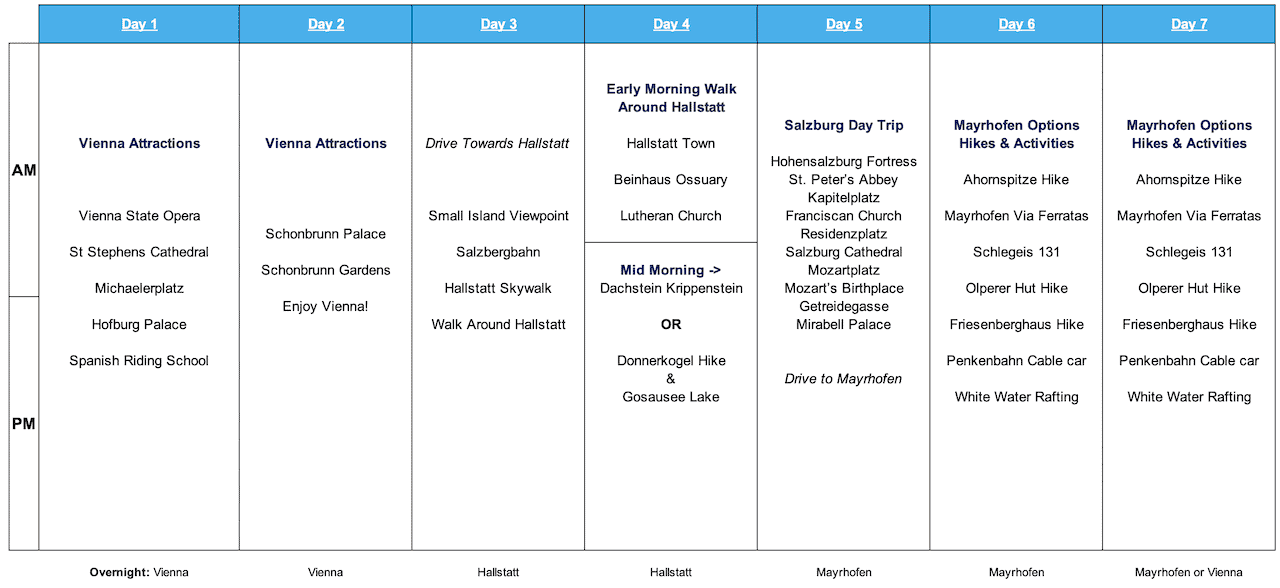 » Austria Map
I also wanted to pinpoint each attraction and activity that is mentioned throughout the rest of the itinerary. Each color represents a different day of the travel route through Austria.
If you click the icon in the top left hand corner of the map, you will be able to see the attractions by day.
A Perfect Austria Itinerary
Now let's get into a more detailed view for what to expect on a day to day basis. At some points I will link some more detailed guides that I have written up about a particular place or activity.
Feel free to check those out along the way or take a look at the Austria itineraries and guides up on the site.
Day 1 – Vienna
After arriving either the previous night or earlier on in the day, it is time to explore the capital city of Austria. Vienna has so much to offer its visitors, and over the next two days you will have the chance to explore much of it.
For more info about Vienna and the attractions listed below, feel free to check out the Vienna Itinerary I have up on the site.
On your first day in the city I recommend heading off to the following attractions in the Innere Stadt district of Vienna:
Vienna State Opera: You can start the day by walking around the Vienna State Opera as you take in the architecture from all different angles.
Once you are all set from the outside, you can opt for a guided tour of the inside of the Opera House. Tickets for the tours cost 13 Euro and run a few times a day.
Take a look at the Vienna Opera House tour schedule to learn more.
St Stephens Cathedral: Up next for the day is St Stephens Cathedral, which is located straight down one of the main streets of downtown.
Not only is the Cathedral a gorgeous building to walk through, but it also gives visitors the chance to take in the views from the top.
Michaelerplatz: The Michaelplatz is the name of the square right in front of the Hofburg Palace. Here is where you can enjoy the best views of the Hofburg as you see the entirety of the grand architecture that makes up the complex.
Hofburg Palace: While the outside of the palace is a great view to take in, you can actually spend some time within the Hofburg Palace itself exploring the ins and outs of several exhibitions there.
Some of the main highlights include the Imperial Apartments, Sisi Museum, and Imperial Silver Collection.
Spanish Riding School: Also located within the Hofburg Palace directly across from the museums and apartments is the famous Spanish Riding School. Here you will find the training ground for the Lipizzaner horses classical dressage.
There are a few different main offerings that the Spanish Riding School has depending on what day you end up going there. Check out their website for events and hours by day.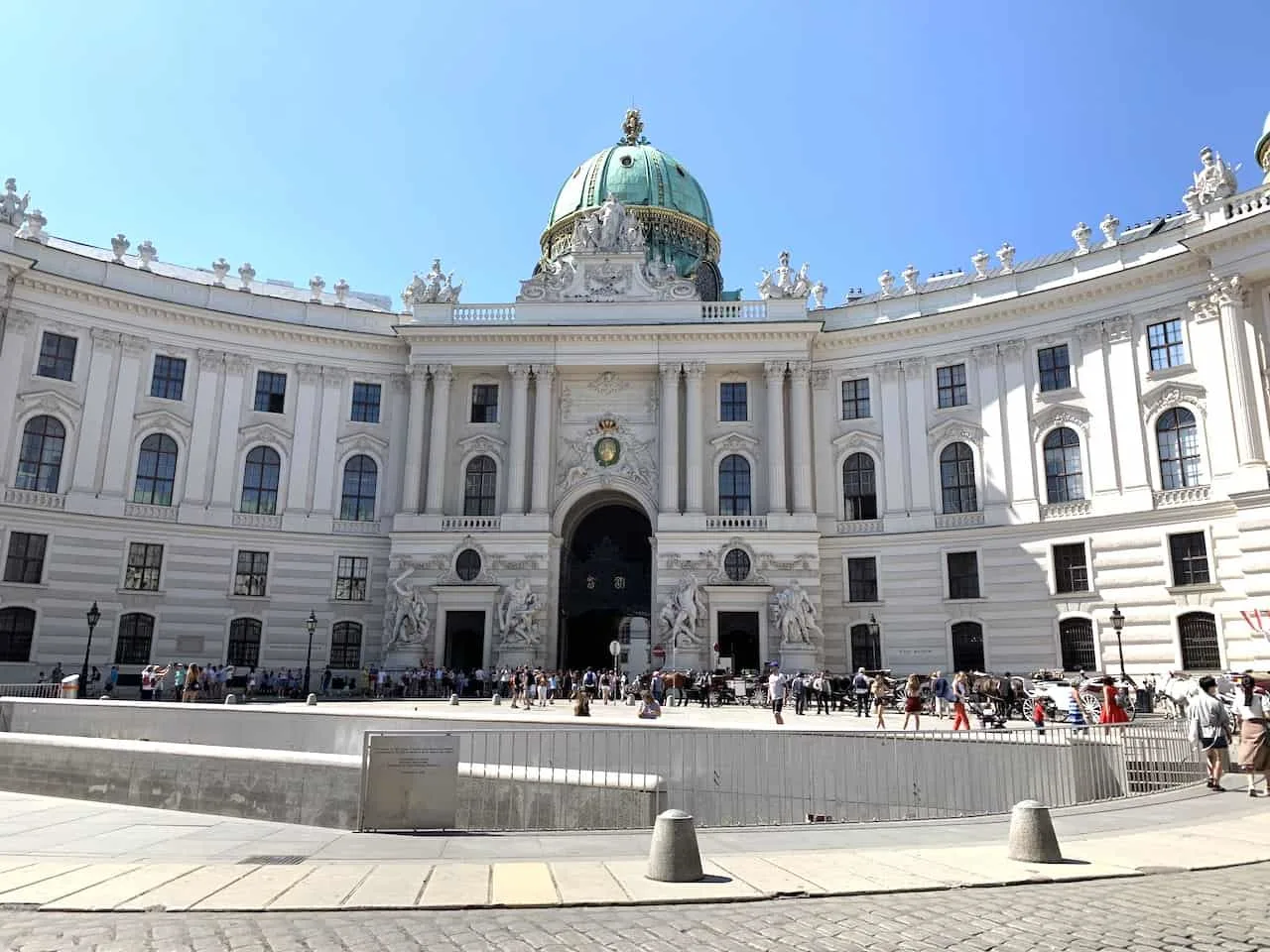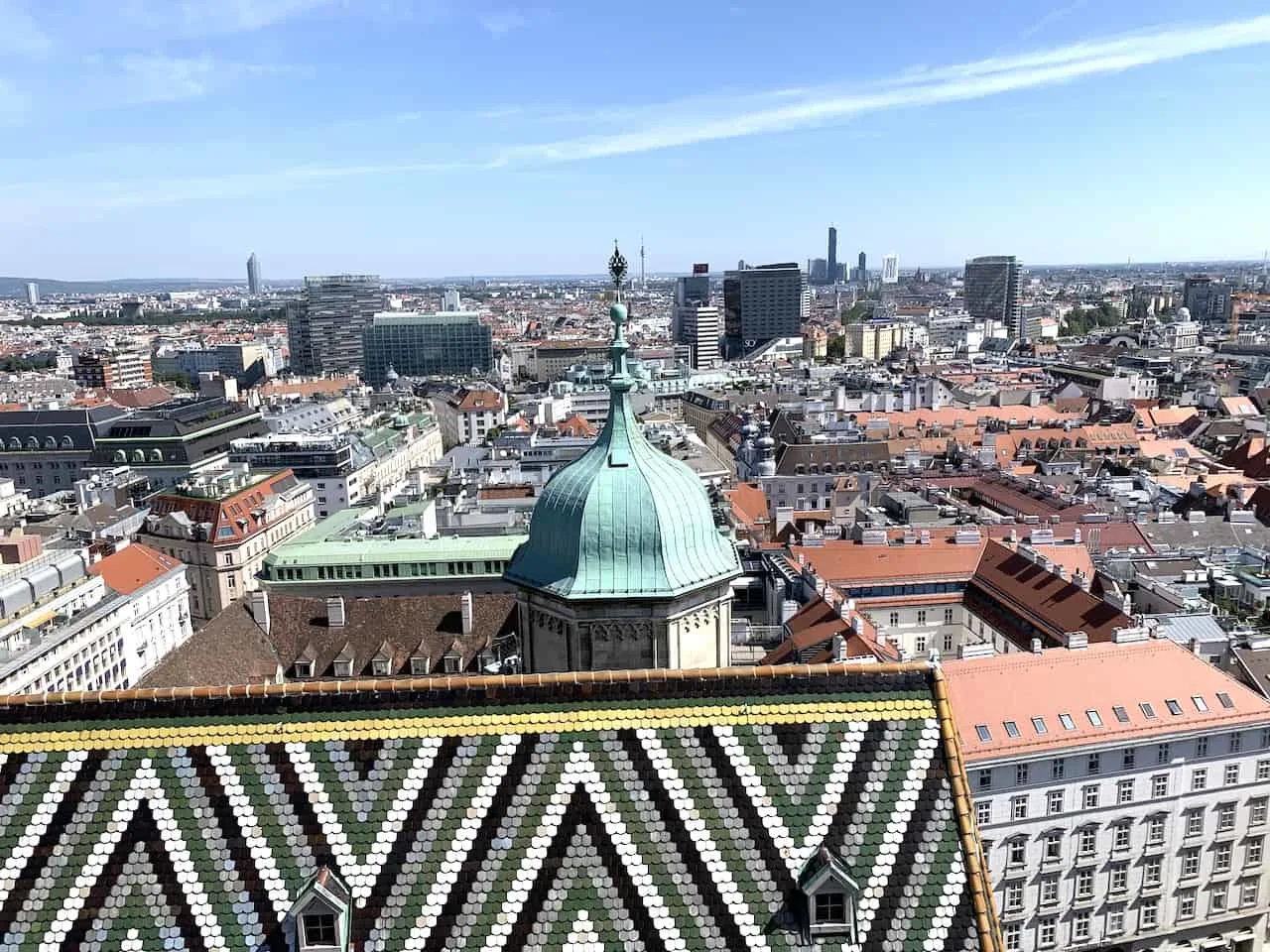 Day 2 – Vienna
After a day exploring downtown Vienna on day 1, it is time to head a bit further out of the city on day 2 of your Austria itinerary.
You can hop on the metro to the Schonbrunn Palace and Gardens, where you can spend several hours exploring both attractions.
At day's end, once back in the city center, feel free to just walk around and enjoy downtown Vienna as you roam around its streets.
Schonbrunn Palace: The Palace itself is an absolutely massive structure with all types of different rooms, architecture, and artwork to take in. There are two main ticket offerings for the inside of Schonbrunn – the Imperial Tour and the Grand Tour.
The Imperial Tour allows access to 22 different rooms with the Palace, which include highlights such as Great Gallery, Emperor Franz Josef's apartment, and the Chinese Cabinets.
The Grand Tour offers access to 40 different rooms, which include highlights such as Feketin Room and Gobelin Salon on top of the others offered in the Imperial Tour. There are audio guides available for both options as well.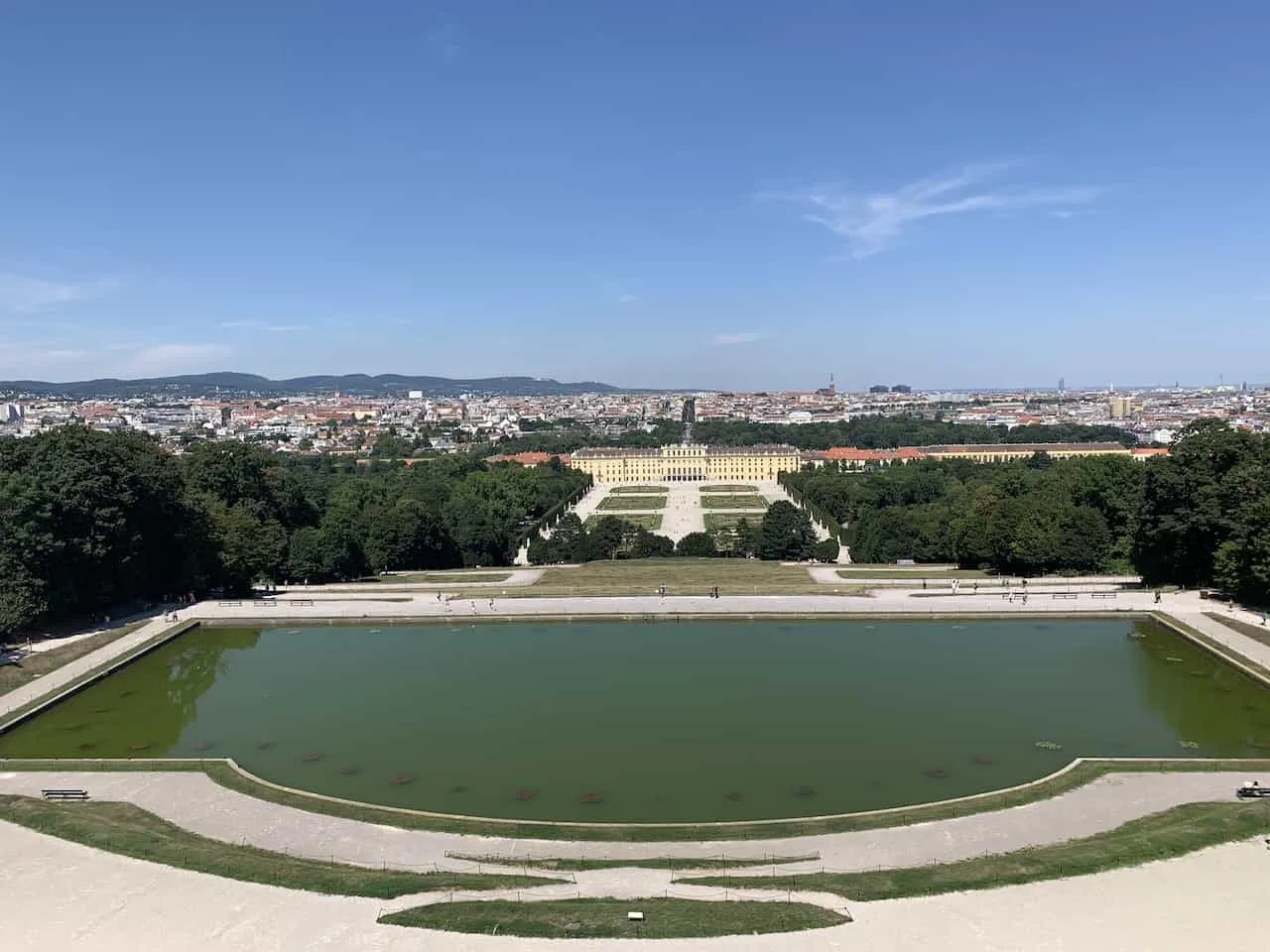 Schonbrunn Gardens: While you must pay an entrance fee to go into the Palace, you can actually roam the gardens free of charge. Do note however that not every section of the garden is free to enter.
There are a few places such as the Privy Garden, the Orangery Gardens, the Zoo and the Maze that do require an entrance fee. You can pay for them individually based on preference or you can buy one of the combo tickets offered.
The Gardens are absolutely massive in size, ranging 1KM+ in every direction. There are several different areas to visit as you make the walk around.
One of the highlights for me was definitely heading up the hill to the Gloriette, where for a small fee you can get a spectacular view of the Schonbrunn Gardens and Palace from above.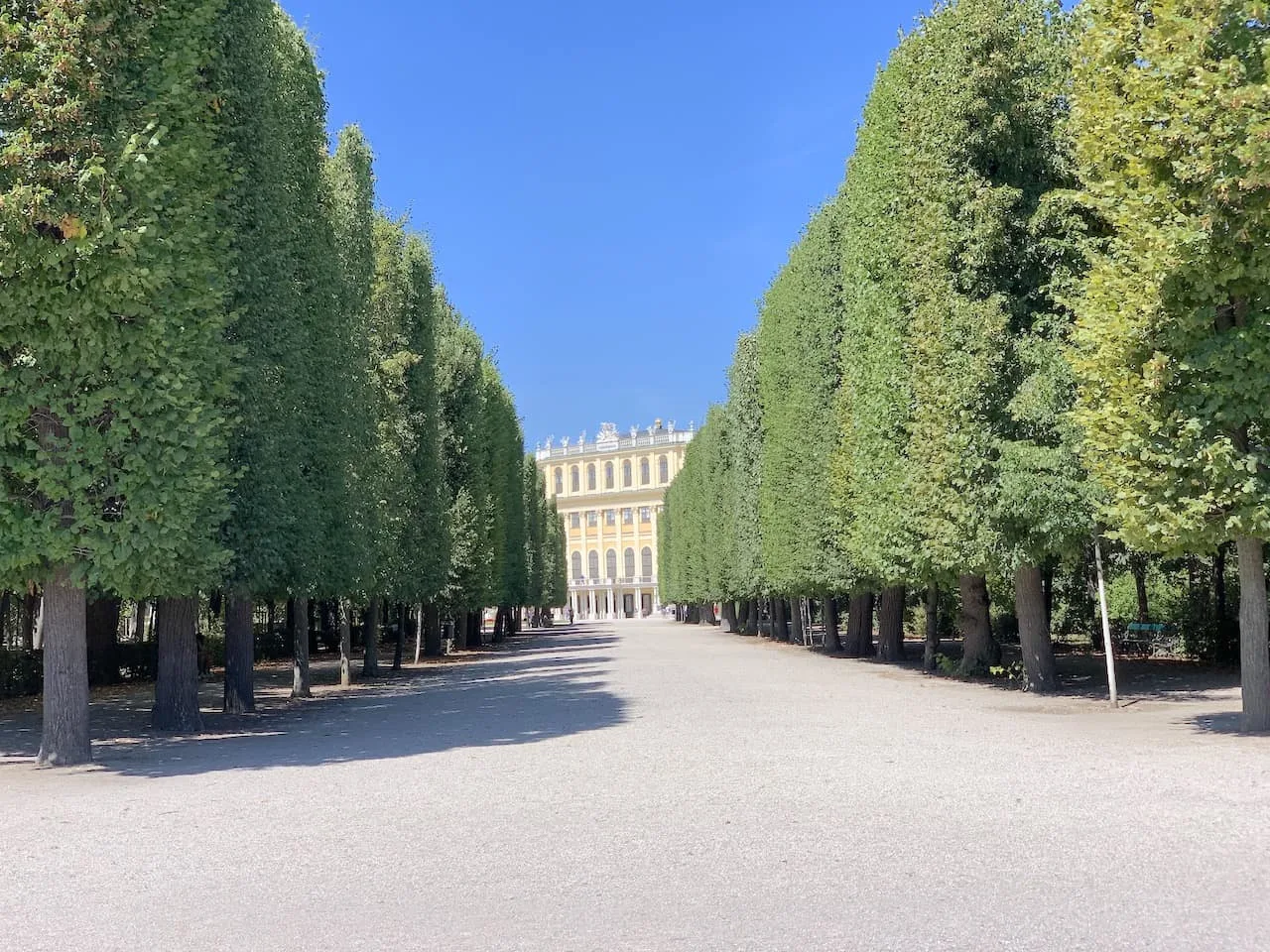 Day 3 – Drive to Hallstatt / Hallstatt Village
It is now time to grab that rental car and head west towards Hallsatt. The drive should take around 3.5 hours as you make your way across Austria and through the beautiful mountain areas of the country.
Odds are you will find some lakes, viewpoints, & villages along the way to stop at, so feel free to spend some time enjoying the countryside as you drive towards Hallstatt.
Once you arrive in Hallstatt, it should be sometime around midday or early afternoon. I will warn you now, that the village will be packed by all those day visitors.
For that reason, I recommend just enjoying the lake by the Small Island Viewpoint, heading up the Salzbergbahn to get a view from the Hallstatt Skywalk, and just taking it easy after the drive.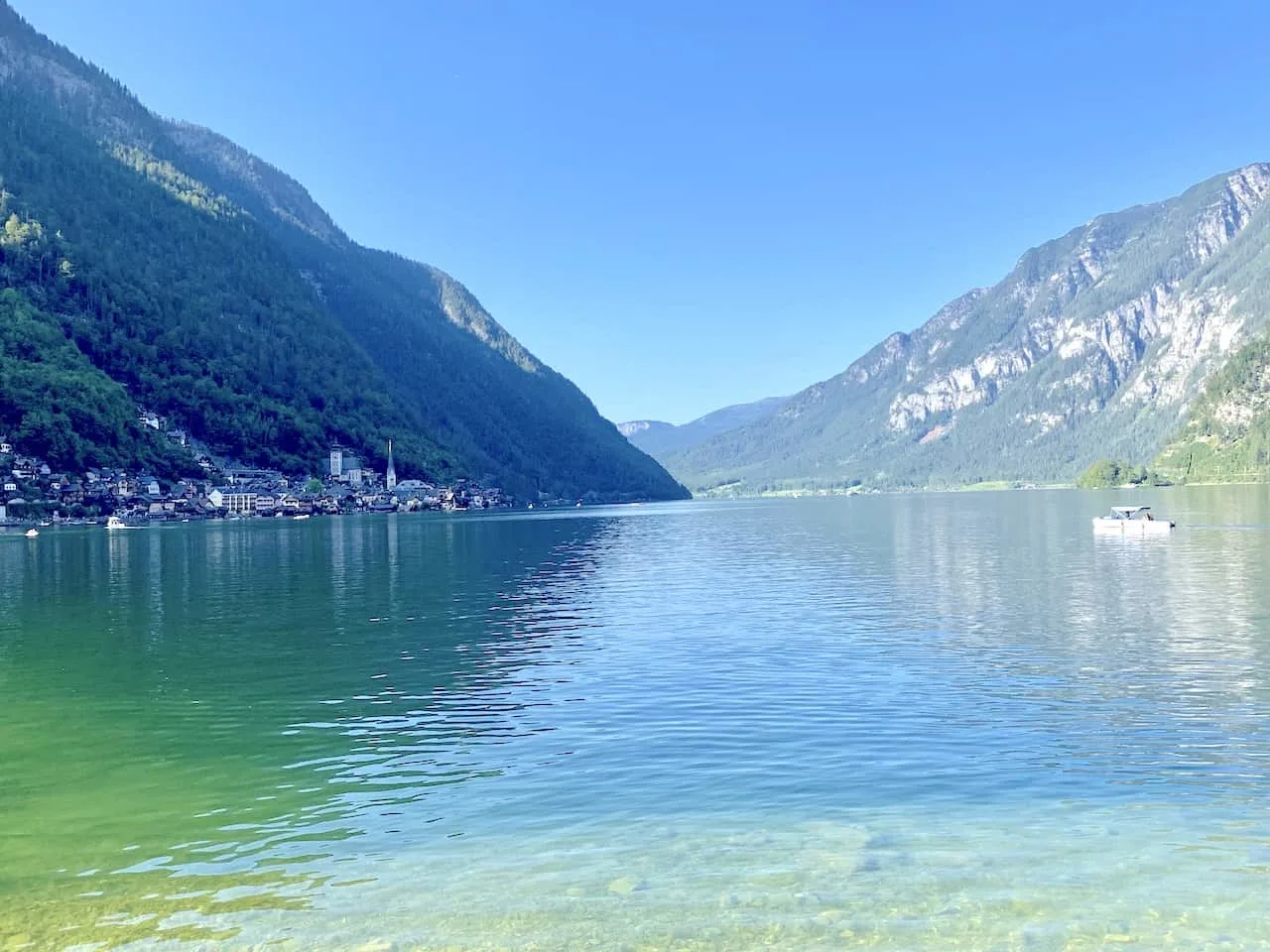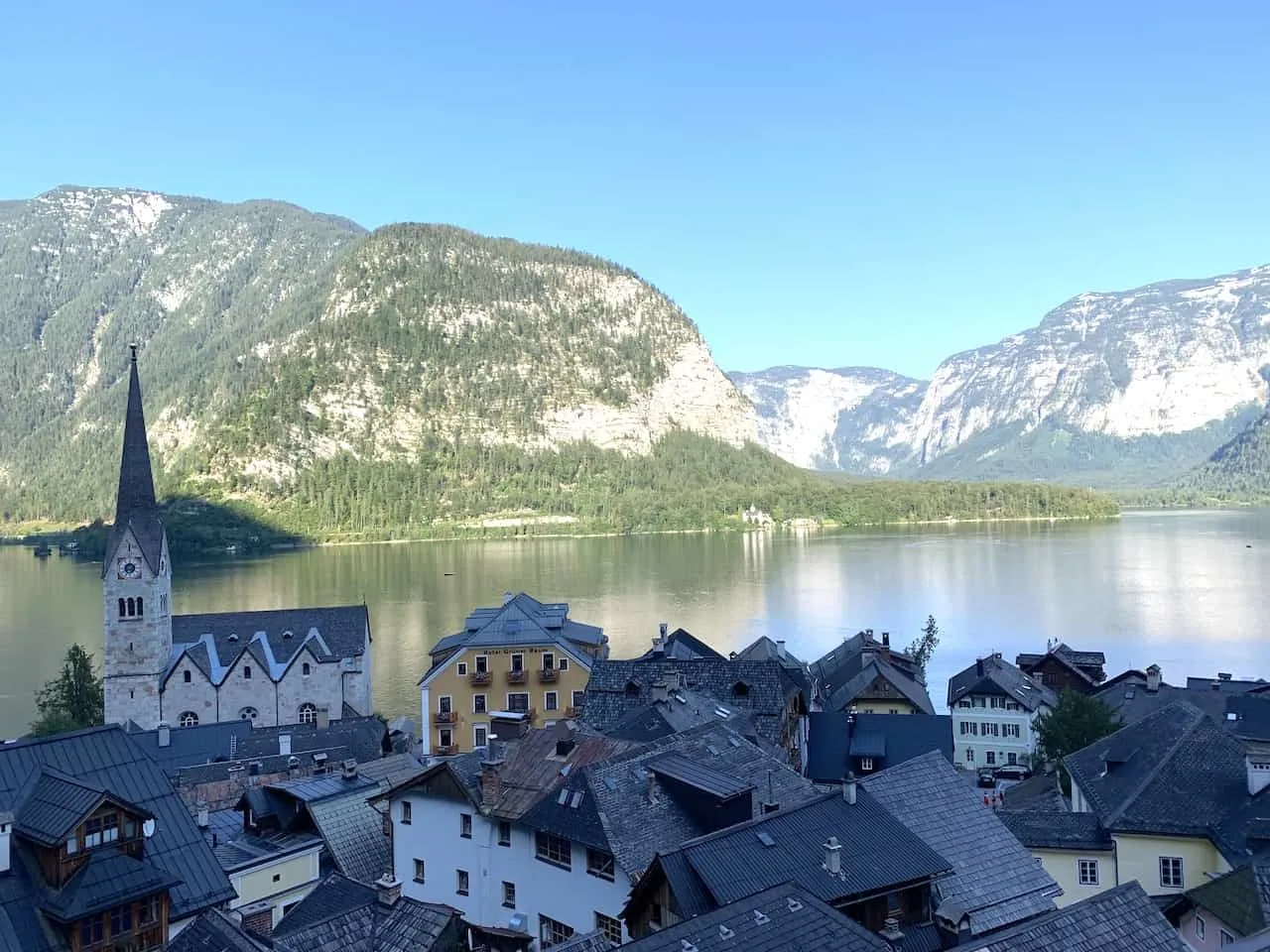 As the day goes on, you will see the town get less and less crowded as all those day trippers leave and the streets become more enjoyable. Spend the evening strolling around the village, taking in the views, and having dinner nearby.
» Note if you are not staying in Hallstatt itself, you may find it difficult to find a parking spot at midday. If that is the case you may want to take the local bus from the village you are staying into Hallstatt.
» The Hallstatt Itinerary I put together has a ton more info about the village and the things to do there including a visit to the Waldbachstrub Waterfall if you have the time.
Day 4 – Hallstatt
You can choose from a variety of activities to do on your second day in Hallstatt. In the morning I would recommend getting up early and enjoying the town for an hour without the crowds.
You may also want to visit some of the local attractions such as the Marktplatz, Beinhaus Ossuary and the Lutheran Church.
I would then recommend heading to the Dachstein Krippenstein – a 2,100 meter high mountain overlooking Hallstattsee and the village itself. Up on the Dachstein you can choose from several unique attractions such as:
⇔ The Dachstein Giant Ice Cave
⇔ Mammut Cave
⇔ 5 Fingers Viewing Platform
⇔ Welterbespirale Viewing Platform
⇔ Heilbronner Hiking Trail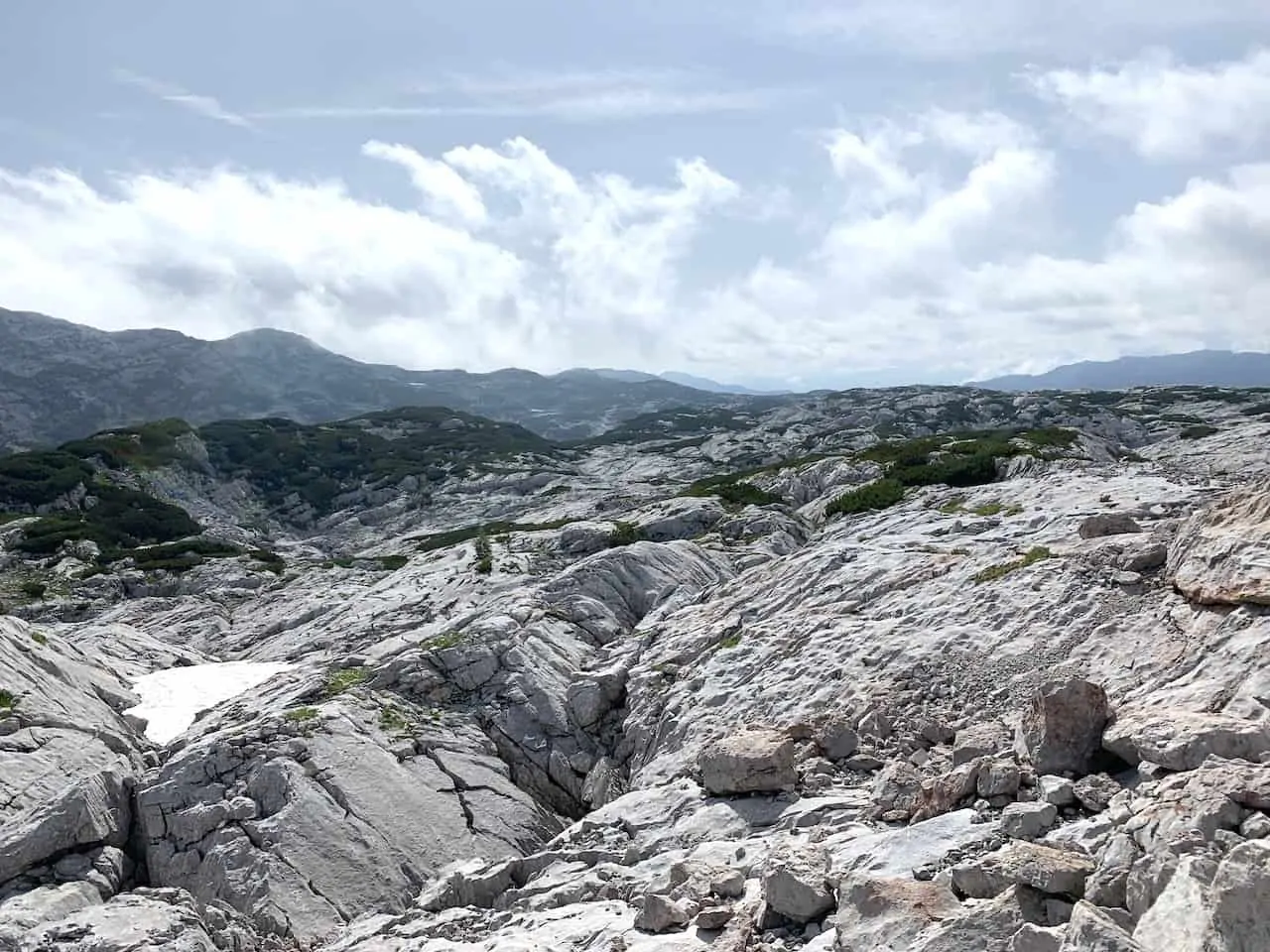 On the other hand if you are more of a hiker or thrill seeker, I would HIGHLY recommend a day out to the Donnerkogel and Gosausee.
About 30 minutes away from Hallstatt is the Donnerkogel mountain, which can be hiked normally or be climbed by a Via Ferrata.
» Learn more in the Klettersteig Donnerkogel Guide up on the site
After a day of hiking, head down to Gosausee, one of my favorite lakes in the region (the first image of this itinerary).
You can hop in for a frigid swim as you cool down after the hike. Or you can just relax by the lakeside and stroll around for a bit before returning to Hallstatt for the night.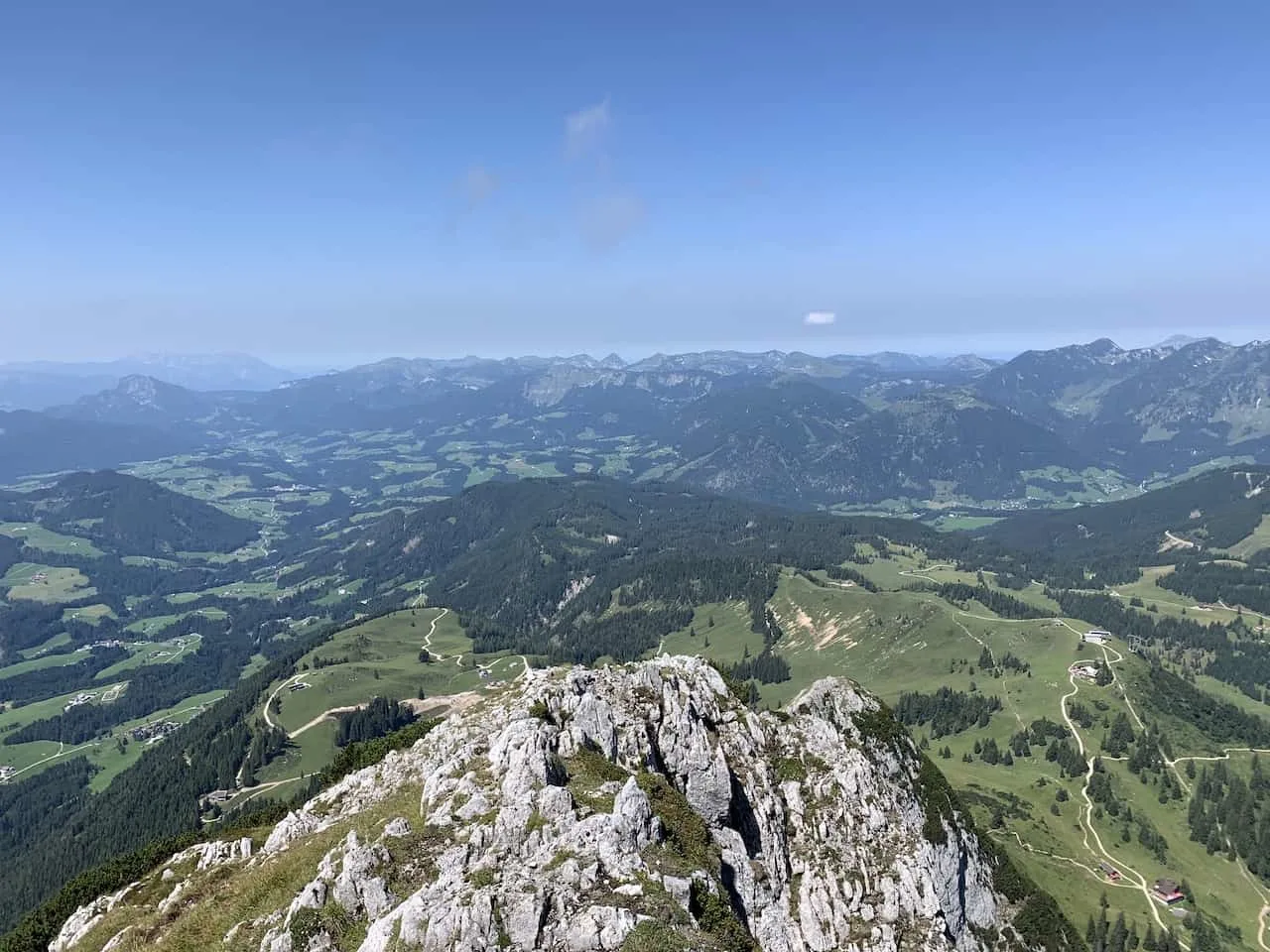 Day 5 – Salzburg Day Trip / Drive to Mayrhofen
It is now time to leave the village of Hallstatt and make the one hour drive to Salzburg on day 5 of this Austria itinerary.
Since the main area of Salzburg is car free, you will simply need to park at one of the many lots located just outside the town center.
Once you are all parked, it is time to head off for a day of exploring all that Salzburg has to offer. It is a perfect place to spend a day as you get to both enjoy some of the main sites and just spend time wandering around.
I would recommend visiting the following 10 places during your day in Salzburg:
1) Hohensalzburg Fortress
2) St. Peter's Abbey
3) Kapitelplatz
4) Franciscan Church
5) Residenzplatz
6) Salzburg Cathedral
7) Mozartplatz
8) Mozart's Birthplace and Museum
9) Getreidegasse
10) Mirabell Palace and Gardens
» Learn more about each attraction in the One Day Salzburg Itinerary up on the site
After a full day around Salzburg, head back to your car and make the 2 hour drive to the valley town of Mayrhofen. The next two days will be full of outdoor adventure!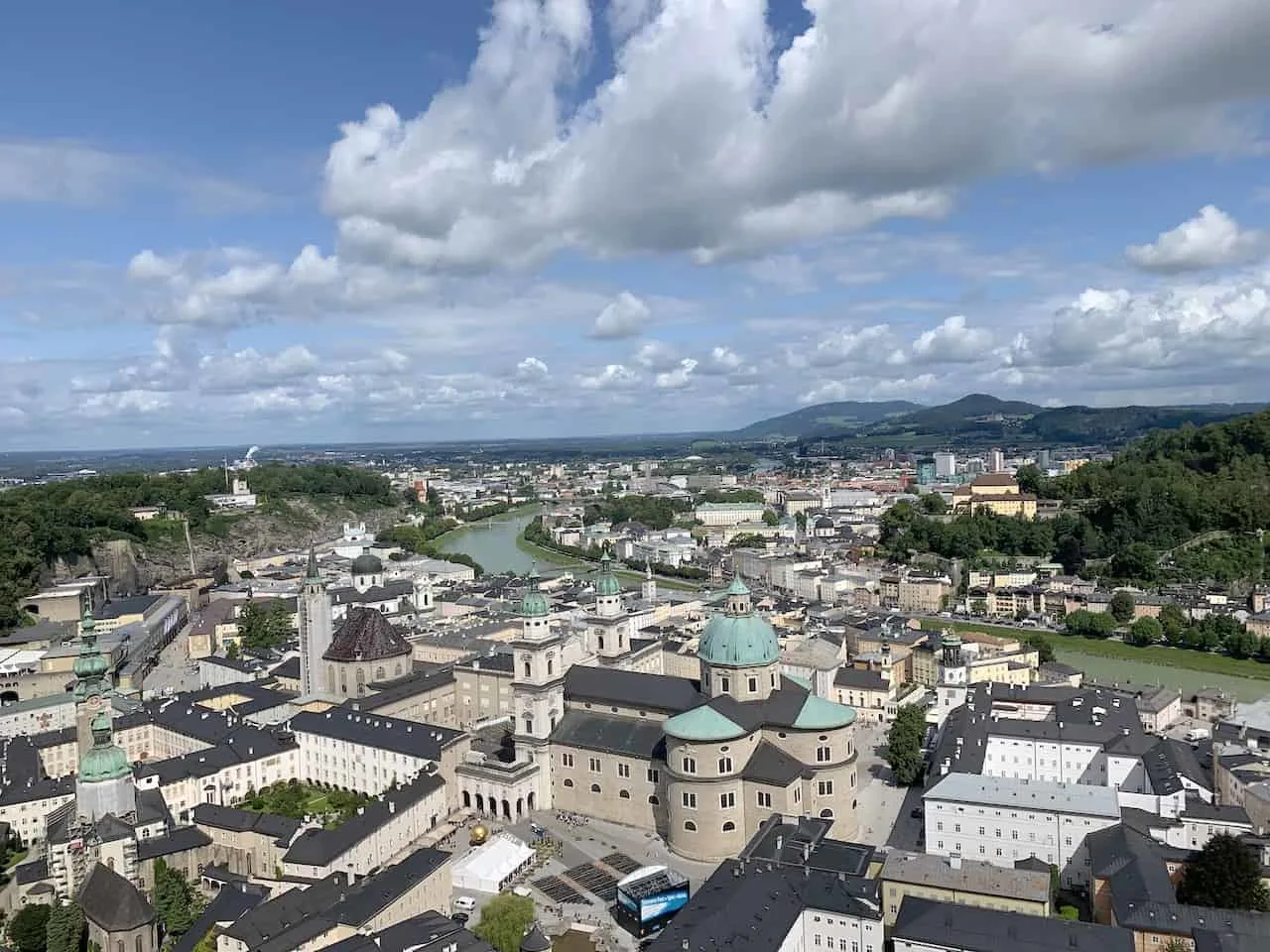 Day 6 & 7 – Mayrhofen
The town of Mayrhofen is known both for its hiking and for its skiing. As mentioned though, I was there during the late summer so I will dive into some of my favorite activities and hikes to take part of for the next two days.
Check out some of the top things to do in Mayrhofen during a visit.
Ahornspitze Hike
Directly from town you can take the Ahornbahn up into the surrounding mountainside. From there you can begin the 12 km round trip trail that brings you to the top of the Ahornspitze.
At 2,973 meters high it is one of the tallest in the area and has 360 degree views of the surrounding landscape.
» Learn more in the Ahornspitze Hiking Guide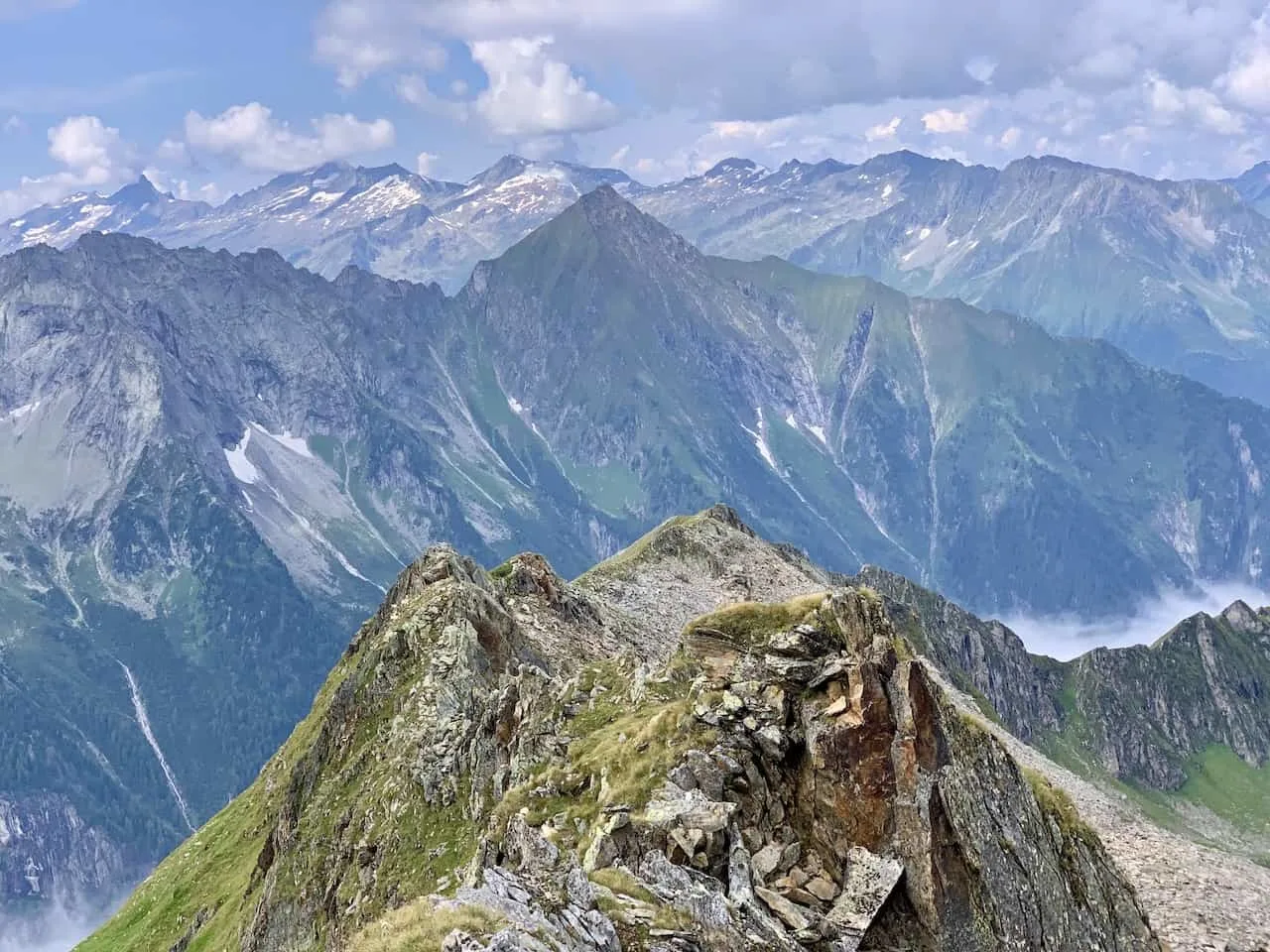 Mayrhofen Via Ferratas
Throughout Mayrhofen and the nearby villages, you will find a variety of Via Ferratas or Klettersteigs.
These fixed line routes are a mix between hiking and mountaineering, and there are plenty to choose from in the area. From nice and easy to very difficult, there will something out there for every skill level.
» Learn more in the Mayrhofen Via Ferrata Guide up on the site
Schlegeis 131
You can head further down the valley to the Schlegeis 131 area, where you can take part of a few adrenaline activities that are built above the 131 meter dam wall.
These activities include a Via Ferrata route, a zipline, a bungee jump, and an abseiling station.
Spending some time walking along the Schlegeis lake will be a great way to finish up your time around the area.
» The Schlegeis 131 Guide goes over everything you need to know about the different activities
Olperer Hut & Friesenberghaus Hike
One of my favorite hikes in Austria is the one that takes you up to the Olperer Hut and the famous suspension bridge overlooking Schlegeis lake.
The beginning of the hike begins down the road from the Schlegeis 131 area and the route will take you up above the lake into the mountains.
If looking for a longer loop option, you can also add on the Friesenberghaus to your day as well. This will add a few more hours to your day hiking in the Zillertal Alps but it is one that is sure worth the effort.
» I have guides for both the Olperer Hut Hike and Friesenberghaus Hike if you would like to learn more
Beyond those, you can also spend some time just enjoying town, heading up the Penkenbahn cable car, or even doing some whitewater rafting.
There is a ton that Mayrhofen has to offer and it would be my recommendation when choosing a base in the Austrian Alps.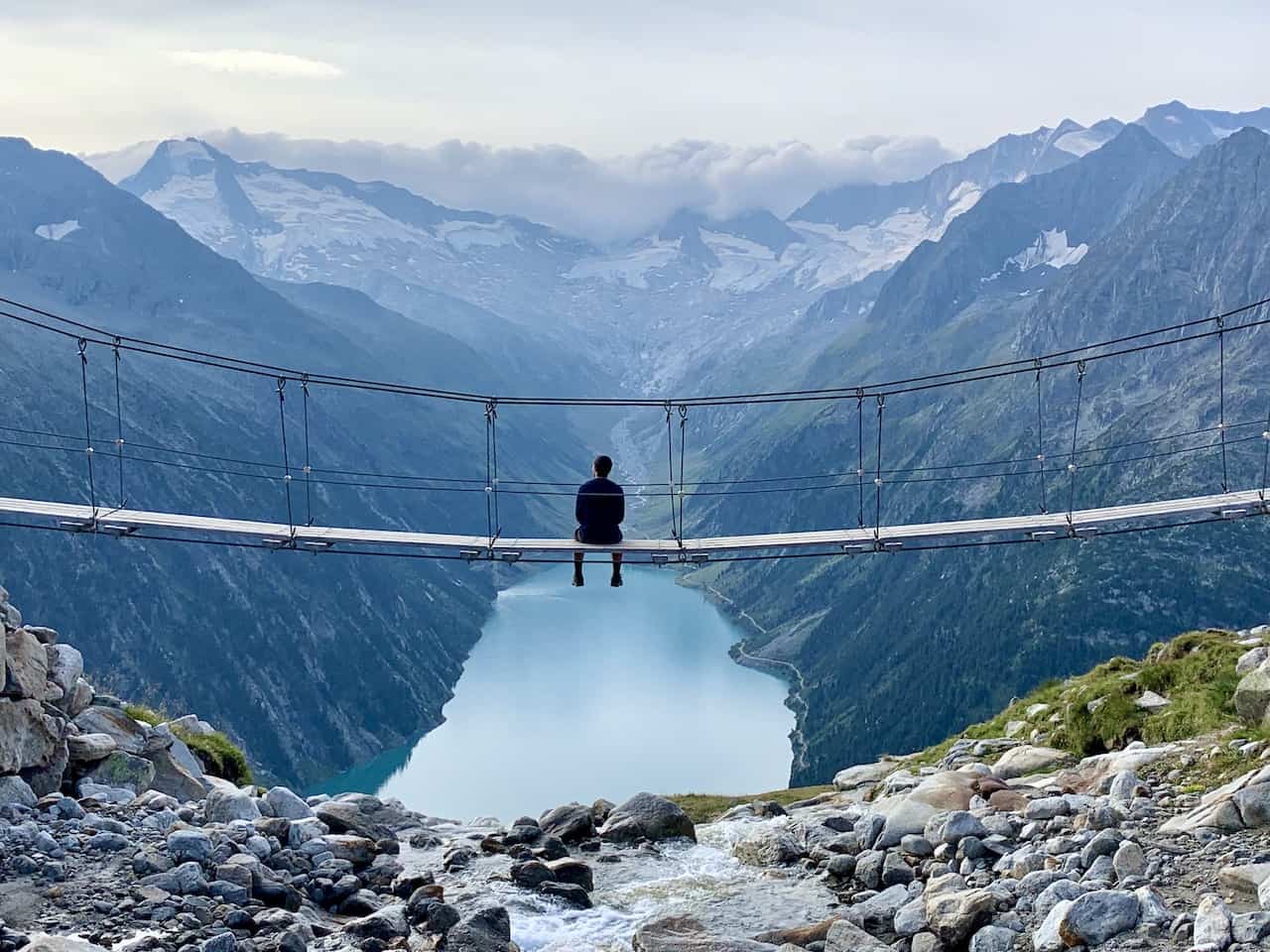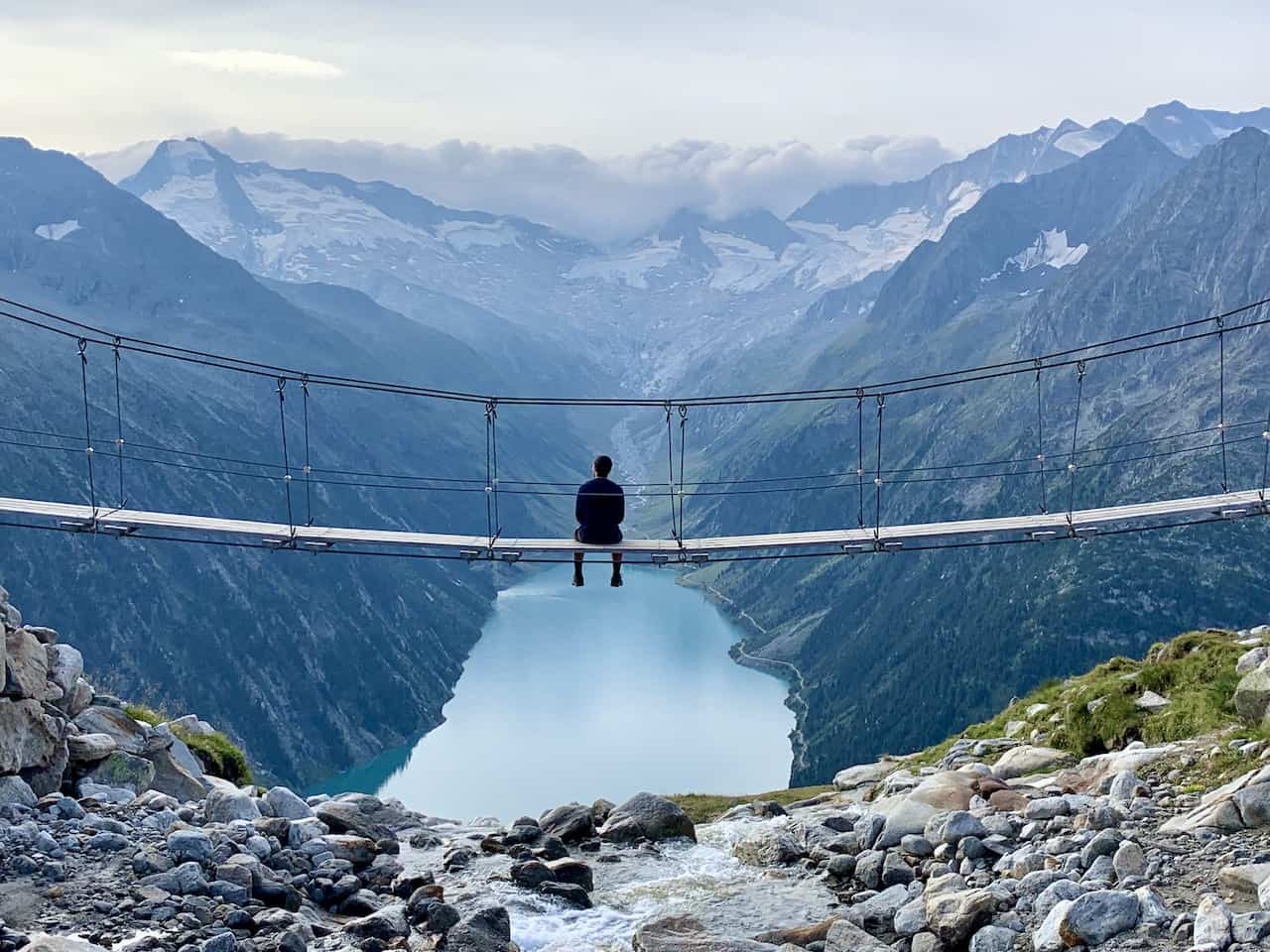 After 7 days of making your way through Austria, it is time to head back home or onto your next destination.
Like mentioned at the beginning, you can either make the 5 hour drive back to Vienna, fly from Innsbruck to Vienna, or fly from Innsbruck to another city in Europe.
I hope this Austria itinerary has given you a better idea of how to plan your trip to the country. If you have any questions or comments about the above, feel free to add them in below.
Have fun out there and safe travels!