One of, if not the most adrenaline pumping activities I have done in my travels was the Donnerkogel Klettersteig.
This class C/D Via Ferrata takes you high above the Gosau region of Upper Austria as you climb one of the most iconic mountains in the area.
Not only will you get to experience a Klettersteig adventure as you slowly maneuver your way up the mountain, but you will also take part of the iconic Stairway to Heaven.
Read on for a complete guide on how to take part of this trail for yourself and how to better prepare yourself to get to the top.
* Affiliate Disclosure: This post may contain affiliate links, which means I may receive a commission if you make a purchase through the links provided, at no additional cost to you. Thanks for supporting the work I put into TripTins!
1) Donnerkogel Klettersteig Facts
Trail Name: Intersport Klettersteig Donnerkogel
Parking Lot Location: Gosausee Parking Lot
Cable Car Station: Gosaukammbahn
Starting & Ending Point: Gablonzer Hutte
Class Level: C/D
Duration: 3 Hours Up (Via Ferrata) / 1.5 Hours Down (Hike)
Elevation Gain: 470 Meters / 1,542 Feet
Grosser Donnerkogel Elevation: 2,054 Meters / 6,739 Feet
Opening Months: May – October (based on snow conditions)
REQUIRED EQUIPMENT: HARNESS, VIA FERRATA LANYARD WITH TWO CARABINERS, HELMET
THIS IS NOT A TRAIL TO TAKE PART OF IF YOU HAVE NO EXPERIENCE WITH VIA FERRATAS. DO NOT ATTEMPT UNLESS YOU HAVE THE ABSOLUTE CONFIDENCE THAT YOU CAN COMPLETE CLASS C/D DIFFICULTY SECTIONS.
If you are a newcomer to Via Ferratas and climbing, do not just think to yourself "I can do that, no problem". Because, if you get stuck or you slip off, you will be risking someone else's safety to help you out.
» This Via Ferrata Overview Guide is a must read for those who are new to the world of Via Ferratas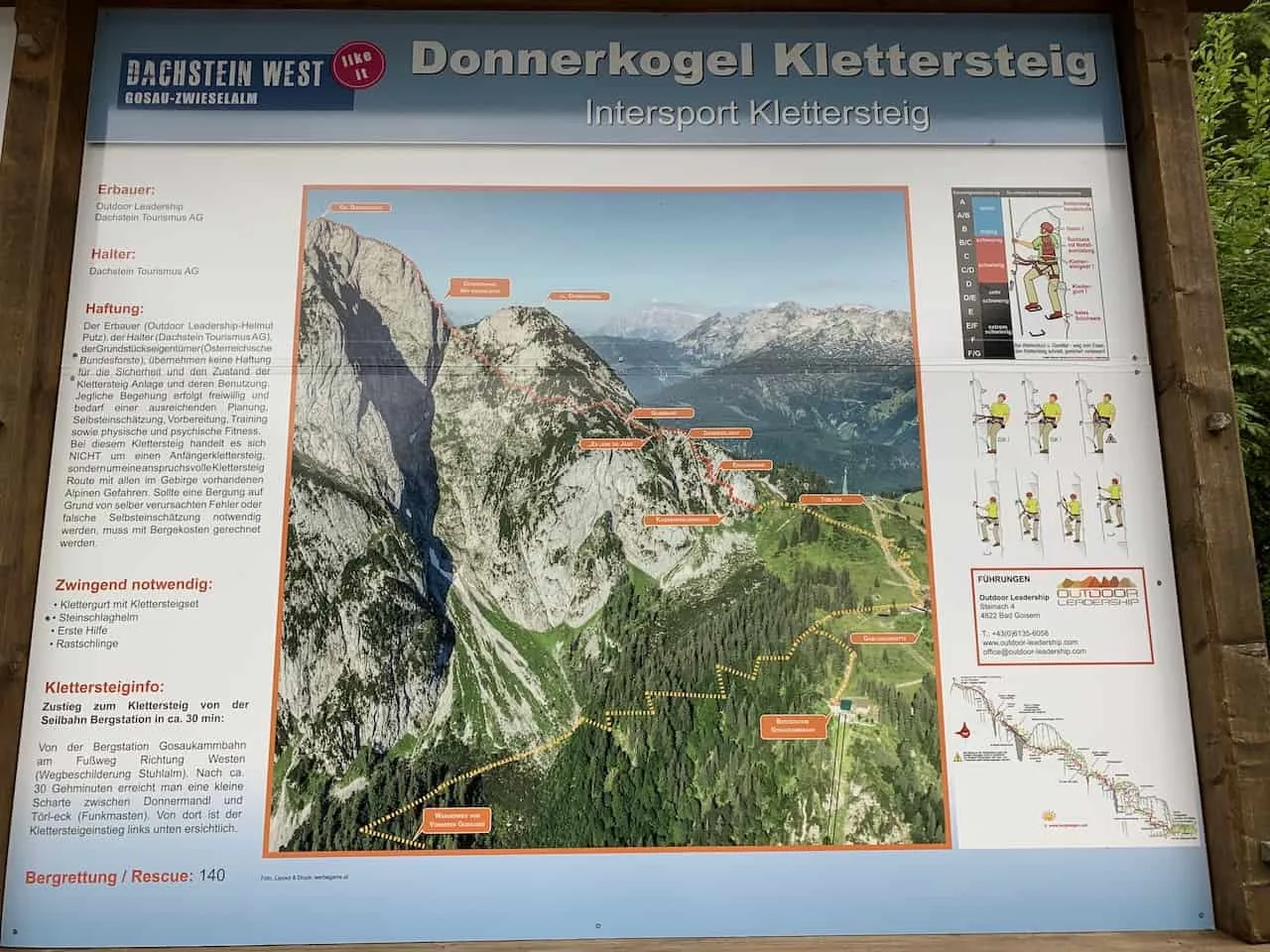 2) What is the Donnerkogel Klettersteig
The Klettersteig Donnerkogel is a 3 hour long Via Ferrata that takes you up along the mountainside as you clip in and out of fixed rope sections throughout the climb towards the Grosser Donnerkogel summit.
The trail starts at the Gablonzer Hutte, which is located right at the top of the Gosaukammbahn cable car.
From a logistics standpoint, you will need to make your way to the Gosausee parking lot, take the quick cable car ride up, and then begin the trail just nearby the hut.
From a difficulty standpoint, this is graded as a level C/D. That does not mean the entire route is at a C/D, rather there are two sections graded as such. The rest of the trail is in the A to C range.
While the entirety of the Via Ferrata is pretty scenic as you take in the views of the surrounding mountains and the Gosausee lake throughout the trail, the ultimate highlight is the 40 meter / 131 foot long Stairway to Heaven that gets you from the Kleiner Donnerkogel to the Grosser Donnerkogel.
Once finished up with the ladder section, it is just a bit more to reach the 6,739 foot peak, where you will enjoy 360 degree views of the beautiful surroundings.
And don't worry, once you reach the top it is just a 1.5 hour hike back down the other side of the mountain around back to the Gablonzer Hutte.
3) Donnerkogel Starting Point & Map
Below are the step by step instructions on how to reach the starting point of the Donnerkogel Via Ferrata.
1) Gosausee Parking Lot
The first step here is to get to the Gosausee parking lot. You can do so in two main ways – by your own car or by public bus.
By car it is pretty simple – just type in "Gosausee Parking Lot" into Google Maps and you should be on your way in no time.
→ If you are renting a car in Austria, be sure to check out Rentalcars.com to browse through options. Once on the site, you will be able to filter by price, car type, rental company, and more, to find the perfect car for your trip to Austria.
Public bus is also straightforward. The 542 bus runs throughout the neighboring towns towards the parking lot.
Just get off at Gosausee and you should be good to go. For the latest timetables please visit the local bus website.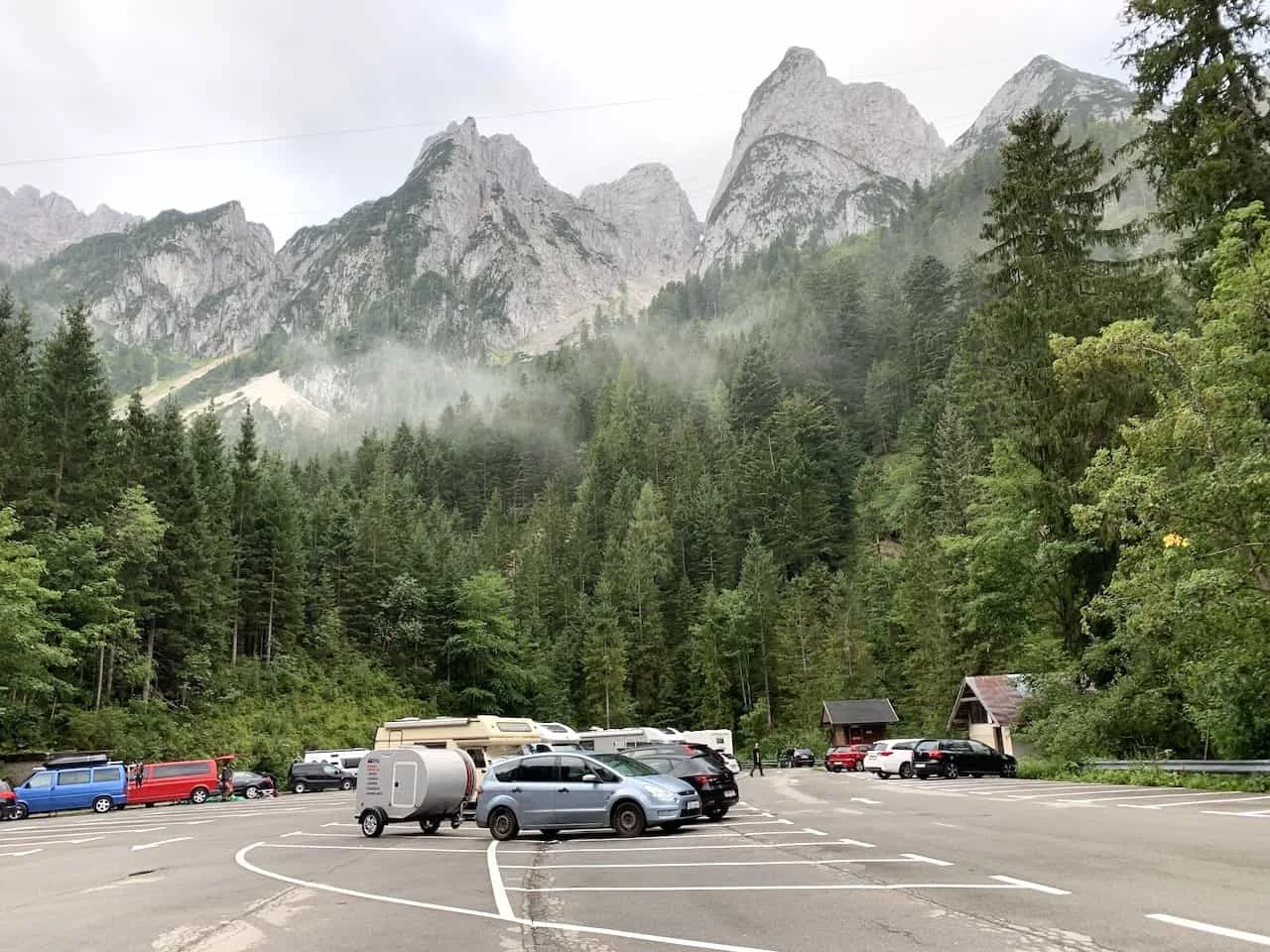 2) Gosaukammbahn Cable Car
After you reach the parking lot, it is just a short walk to the cable car nearby. The cable car is a quick 5 minute ride up to the Gablonzer Hutte.
The round trip cable car costs 18 Euro, with the first ride being at 8:15AM and running up every 15-20 minutes until 12:40PM (the last car down is at 5:50PM in the summer).
Instead of taking the cable car you can also opt for the 1-1.5 hour hike up the mountain towards the Gablonzer Hutte.
If you are looking to save some money or if you want to get an earlier start to the Via Ferrata than this could be a good option for you.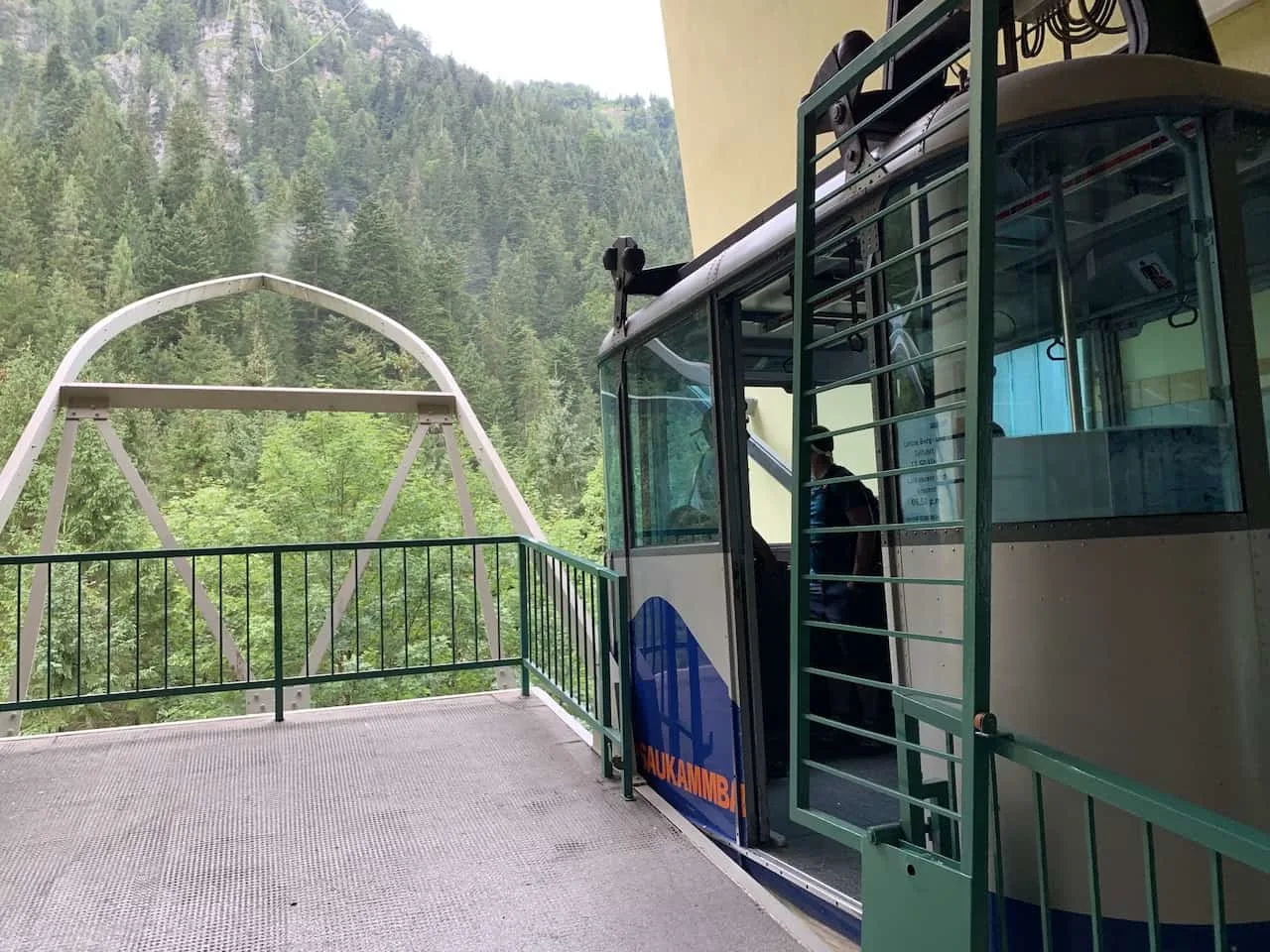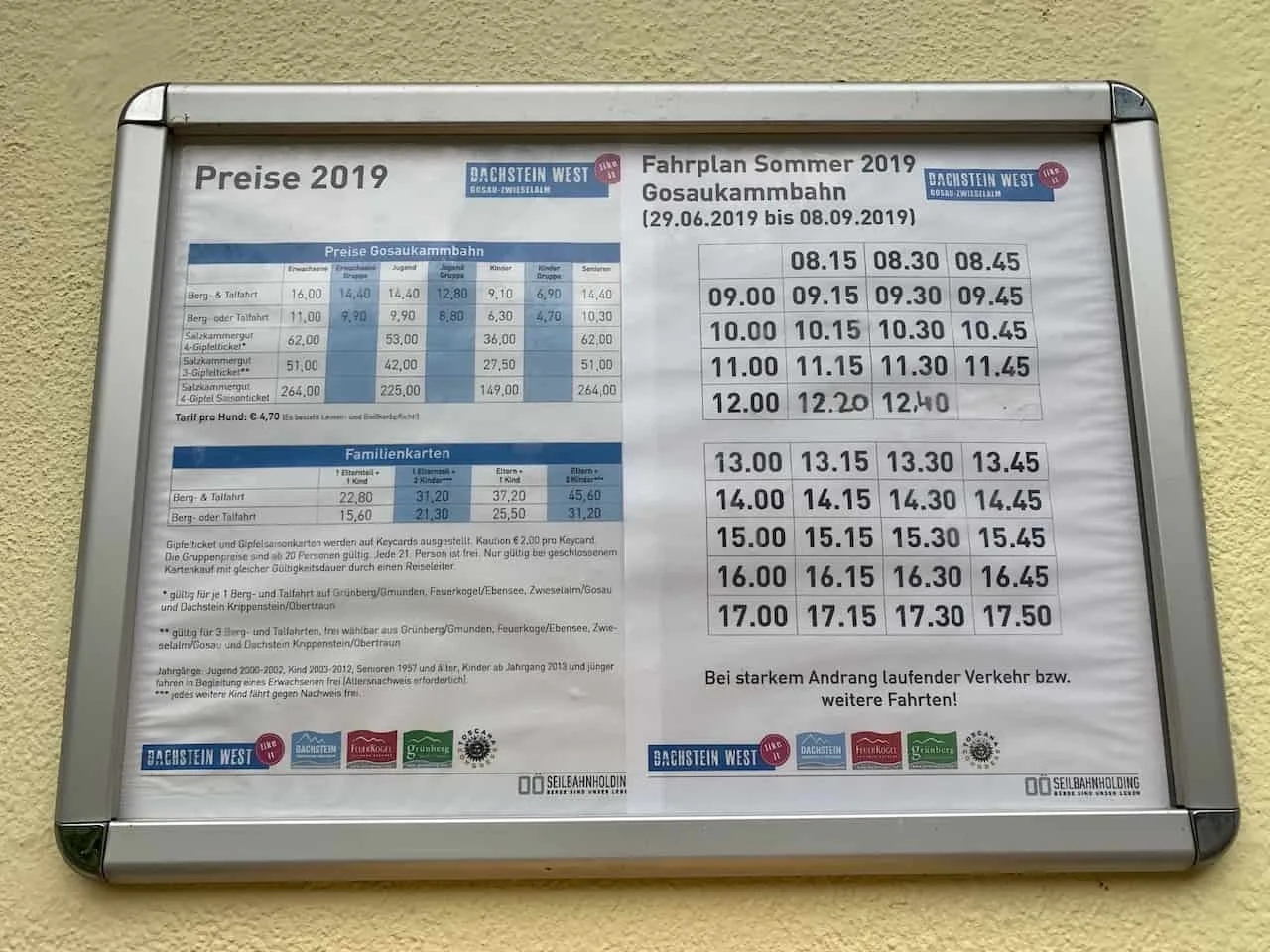 3) Gablonzer Hutte
From the Gablonzer Hutte it is just a 10 minute walk towards the official starting point of the Klettersteig Donnerkogel.
Just follow the signs and walkway until you reach the point where you will need to put on the gear and carabiner onto the fixed line.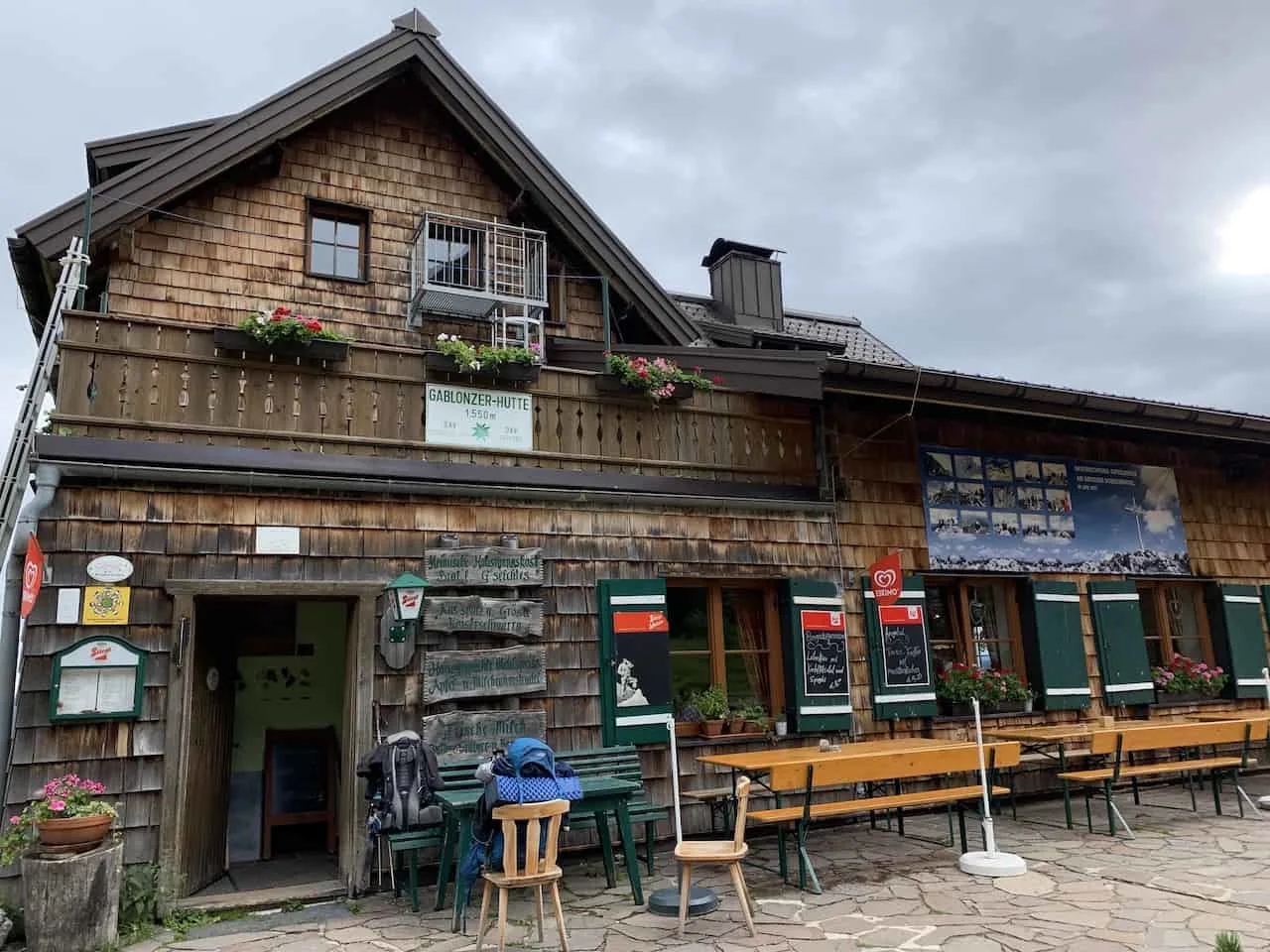 Below is a Google Maps view of the four main logistical points.- the parking lot, cable car, hut, and hiking starting point:
4) Where to Stay Near the Donnerkogel
Since we are on the topic of logistics, you may be wondering where to base yourself when taking part of the Donnerkogel Klettersteig.
The whole region around the Donnerkogel has several towns to choose from with some being bigger and others quite small. I would say a few of the main areas within a 30 minute drive would be:
Gosau (10 minute drive): COOEE alpin Hotel Dachstein | Der Gamsjager | Hotel – Restaurant Gosauerhof
Hallstatt (25 minutes): Heritage Hotel Hallstatt | Seehotel Gruner Baum | Gasthof Pension Gruner Anger
Bad Goisern (30 minutes): Hotel Moserwirt | Sofias Apartment | Wohlfuhlhotel Goiserer Mühle
Obertraun (30 minutes): Seehotel am Hallstattersee | Hotel Haus Am See | Dormio Hotel Obertraun
Any of the above hotels would be a great choice when not only taking part of the Via Ferrata but also when exploring what the rest of the region has to offer.
There are plenty more hikes, Via Ferratas, towns, lakes and more to enjoy all around so I would highly recommend spending a few days in the region.
» Head to the Donnerkogel as part of your 7 Day Austria Itinerary visiting places all over the country
5) Required Via Ferrata Equipment
Before jumping into the Klettersteig Donnerkogel, it is very important to note the required equipment each individual must have when taking part.
As mentioned earlier – I would NOT take part of this particular Via Ferrata if you have no experience with them (unless you are already a skilled rock climber or mountaineer with similar trainings).
There are a ton of Via Ferratas around the region, so I would first try some of the easier ones and work your way up from there if you are a newcomer.
Your other option would be to take part of a guided tour with the Outdoor Leadership team based in Bad Goisern. This way if something does go wrong, you will have an expert right there with you.
As for the equipment though, you will need some essential items:
1) Climbing Harness
2) Via Ferrata Lanyard with Two Carabiners
3) Helmet
4) Gloves (not required but can be useful)
Since most people don't actually own this type of equipment, here is a link to a Via Ferrata Kit that has the three required items included.
I would highly recommend you purchase your own equipment if you are looking to enjoy Via Ferratas during your travels.
If you do not want to travel with your equipment, you can also rent the gear from Outdoor Leadership (same people who run guided tours).
Last I heard, they actually have some Via Ferrata kits at the Hotel Moserwirt in Bad Goisern and costs 15 Euro per day.
Other Hiking Gear
Whenever heading off on longer day hikes, I always recommend being adequately prepared when it comes to the type of gear to bring along.
Check out the below packing list to get you ready for this hike and other hikes in Austria.
Hiking Packing List

In general when it comes to hiking, there are a few main aspects to consider. These includes clothing layers, hiking shoes, hydration & fuel, electronics, and other essentials.

Below in a breakdown of some of the top items, but be sure to check out the Hiking Packing List for a more comprehensive view.

Clothing Layers

Layering is going to be a top consideration when hiking. You will want to be prepared for all sorts of weather so you can be comfortable in different situations. Some items may include:

→ Hiking Shorts
→ Hiking Pants
→ Short Sleeve Shirt
→ Long Sleeve Shirt / Sun Hoodie
→ Mid Layer Fleece
→ Puff Jacket (not always needed)
→ Packable Rain Jacket (Columbia Watertight II)

Note that your layers should be made of moisture wicking material as they are breathable and quick drying.

Footwear

Having appropriate footwear will also be very important. You will want to have shoes with the necessary grip and support to keep you safe on the trail.

→ Hiking Shoes (Keen Targhee)
→ Hiking Socks (Darn Tough)

Other Essentials

Whether it is hiking gear, electronics, or just some miscellaneous items, here are some other essentials to bring along on hikes.

→ Hiking Backpack (Osprey Talon 22) & Rain Cover (Joy Walker Cover)
→ Hiking Poles (Black Diamond Trekking Poles)
→ Water Bottle (CamelBak Chute or Katadyn Filter Bottle)
→ Portable Charger (Anker PowerCore 5000mAh)
→ Action Camera (GoPro Hero)
→ Energy Bars & Snacks
→ Hat & Sunglasses
→ Sunscreen & Bug Spray
6) Donnerkogel Via Ferrata Weather
Weather is extremely important so please read this section!
Officially the Donnerkogel Klettersteig is open starting around May and closes around October. This will all be based on how fast the snow melts from the previous winter and when the snow begins to fall again.
It is simply not safe enough to attempt the route when the mountain has snow cover, so it will only be open in the summer and surrounding months. With that said though..
While many may choose to do regular hikes in poorer weather conditions – clouds, rain, etc, choosing the particular day to climb the Via Ferrata is essential for your safety.
Under no circumstance should you attempt to climb the Via Ferrata under rainy conditions. This also means that you should not attempt it after a rainfall since the wires can still be wet.
Having a wet wire and foot pegs will make things extra difficult and dangerous.
A second thing to consider is the wind factor. While you would not want to be on the side of the mountain under heavy winds, you certainly do not want to be on the ladder section during high winds. Having the ladder swing at all is not something you want to experience.
» Please check the local weather forecasts beforehand in order to better choose which day will be best for your climb.
7) Klettersteig Donnerkogel Map & Difficulty
I thought it may be helpful to actually show the difficulty map of the Donnerkogel Klettersteig.
As you can see on the map, there are several sections of the Via Ferrata each with a different letter indication – "A" being the easiest and "E+" being the hardest.
As mentioned earlier, there are two sections in the C/D territory. So, you must be comfortable completing those sections as there really is no turning back on this thing.
As for the Stairway to Heaven ladder section, it is actually graded a pretty moderate B. This is because the difficulty level has nothing to do with the height or adrenaline factor.
It just has to do with the complexity of the climbing section. Since it is simply just a ladder, the difficulty is not high.
8) The Donnerkogel Klettersteig
Now that you have a bit more background on the Via Ferrata, I wanted to show some photos of what to expect along the way.
You can match up some of the photos with the map to see what type of terrain can be found throughout on the climb.
The route can be broken down into four main sections (ending points of sections indicated on map; example: "Ende 1 Etappe"), although you can really break it down into nearly 50 sections by each changing difficulty level.
The first section is from the starting point until where you see it says Ende 1 Etappe Notausstieg. As much as you may want to ease yourself into the Via Ferrata, it actually starts out more on the difficult side.
This first part is full of everything from an easy A to the hardest C/D. You will also find several B/C and C sections throughout as well.
Below are some helpful photos to see what to expect here along with some images of the surrounding beauty of the area.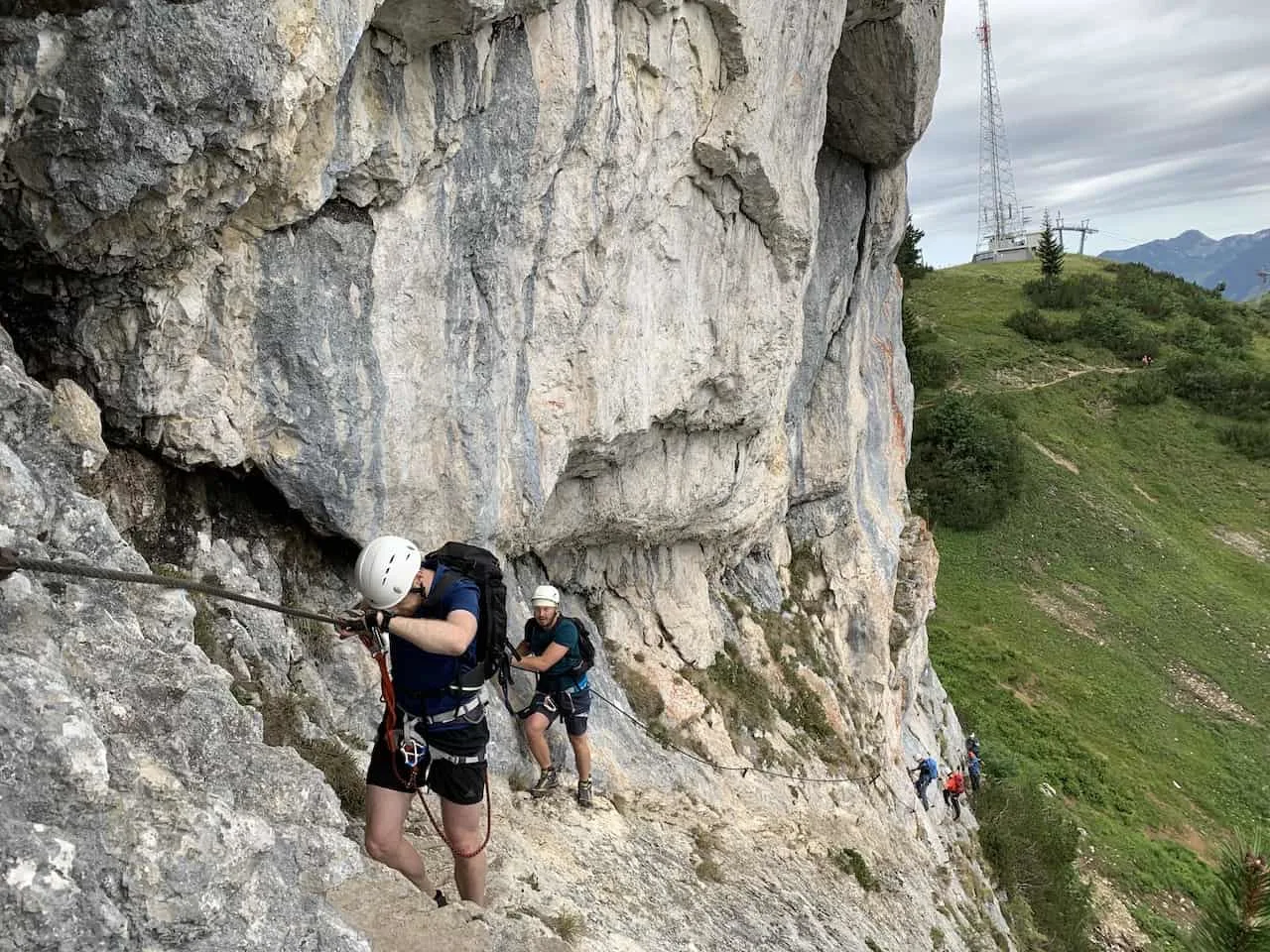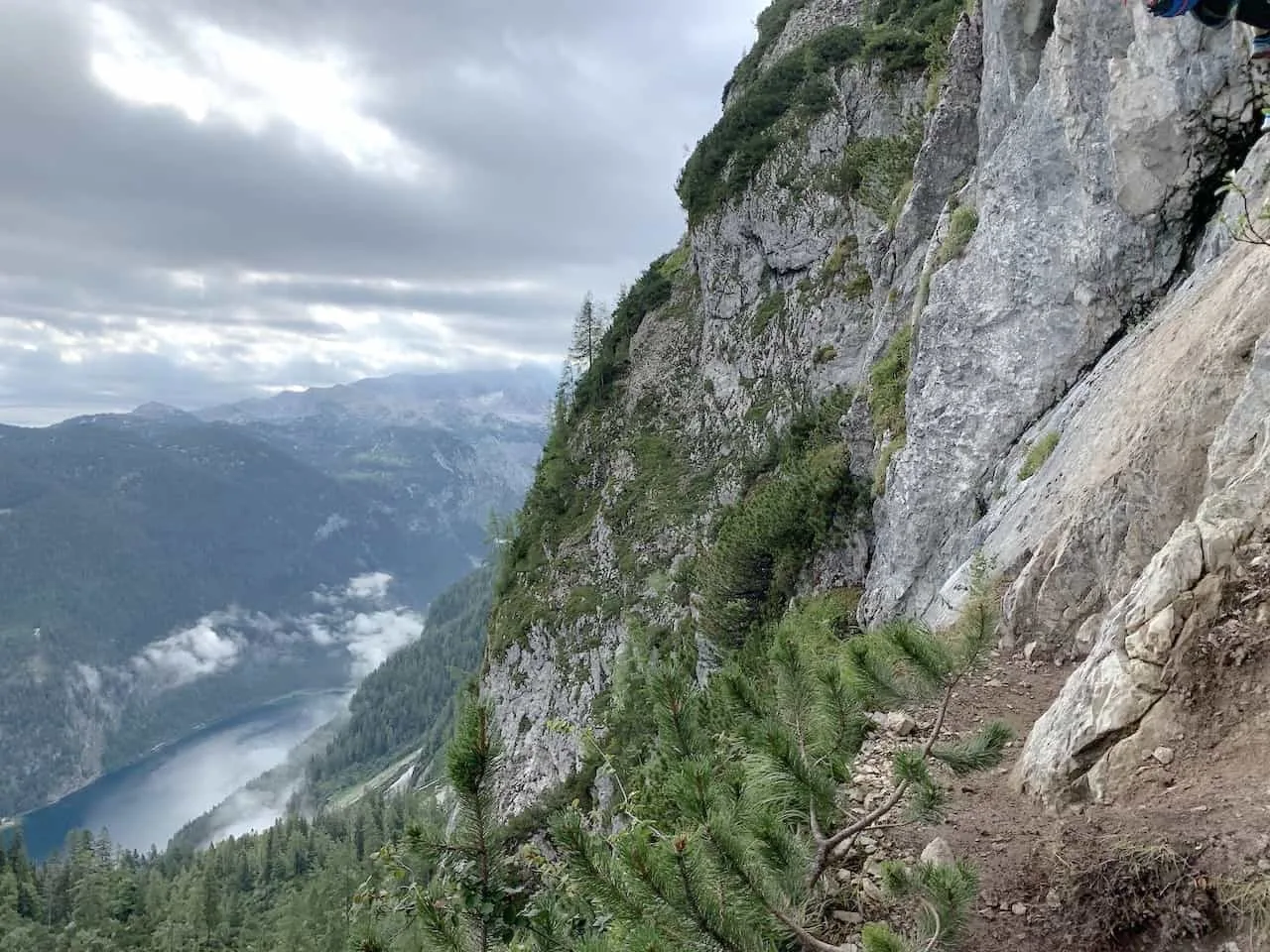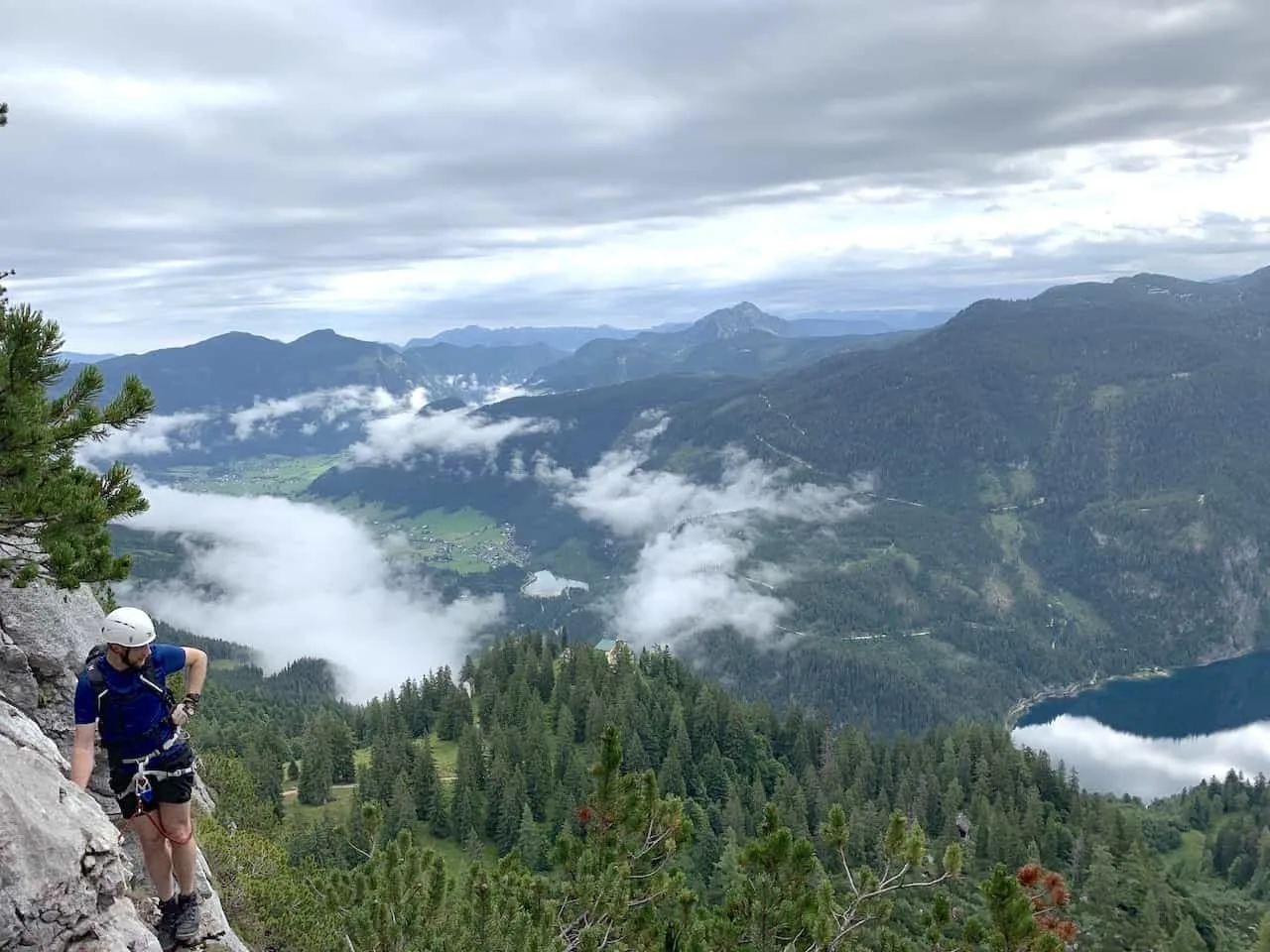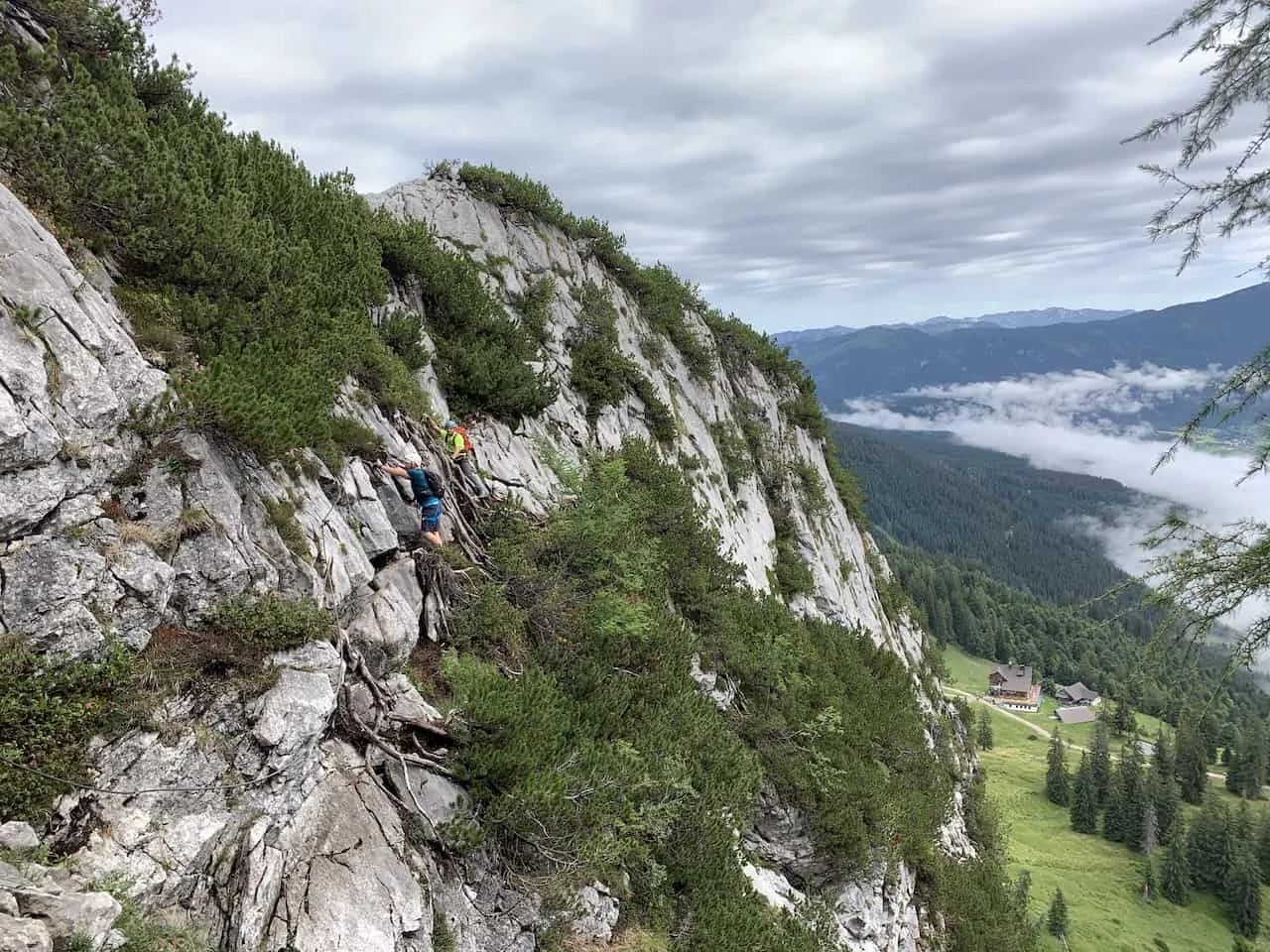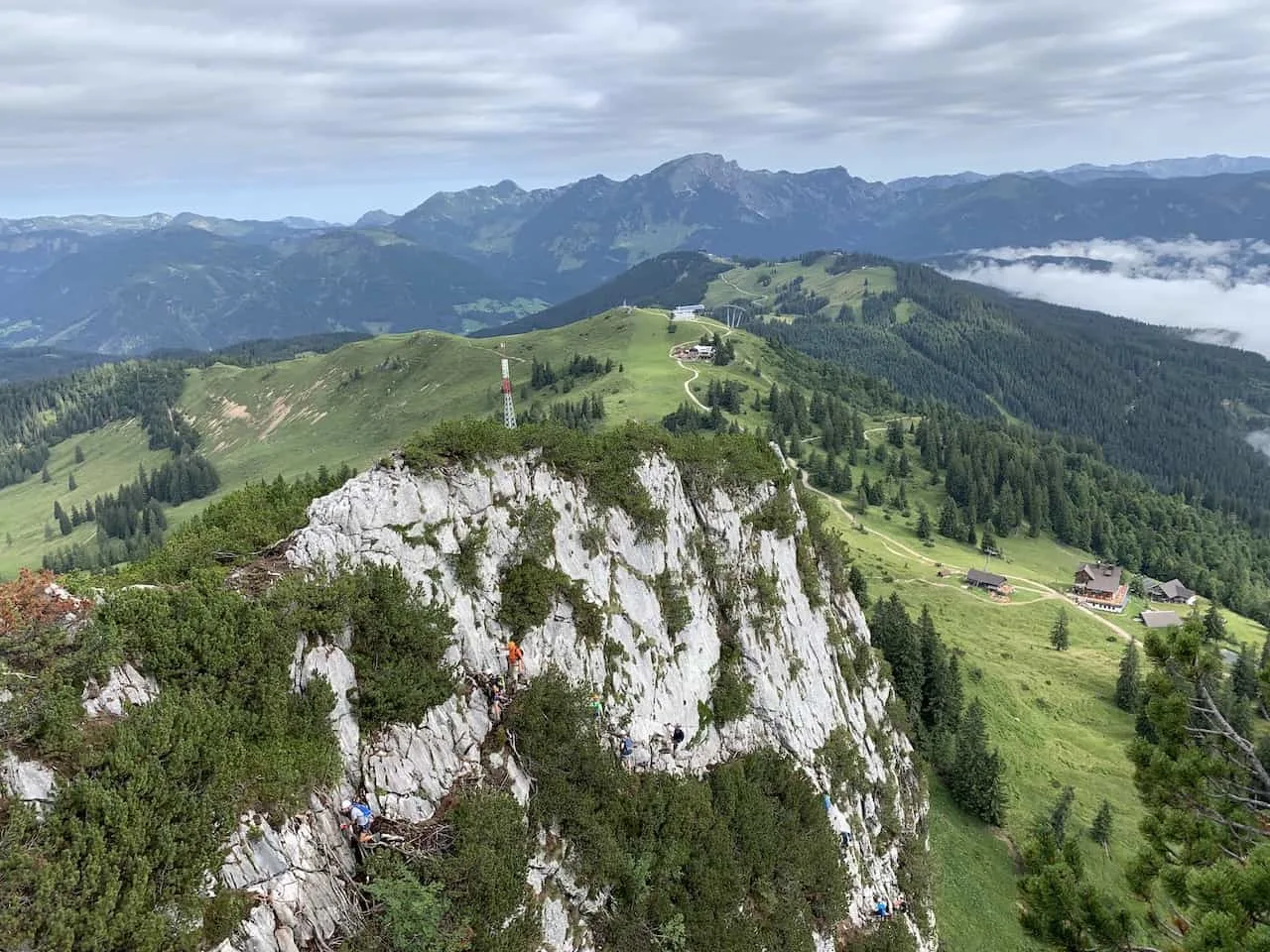 Towards the end of the first section you will come across a couple ladder sections before reaching the easiest section of the trail.
Basically from the Es Lebe Die Jagb / Gamsband area all the way until you reach the Stairway to Heaven, you will be on all A to B difficulties with just one B/C just before the ladder itself.
This section is all along the Kleiner Donnerkogel, the smaller version of what is to come next.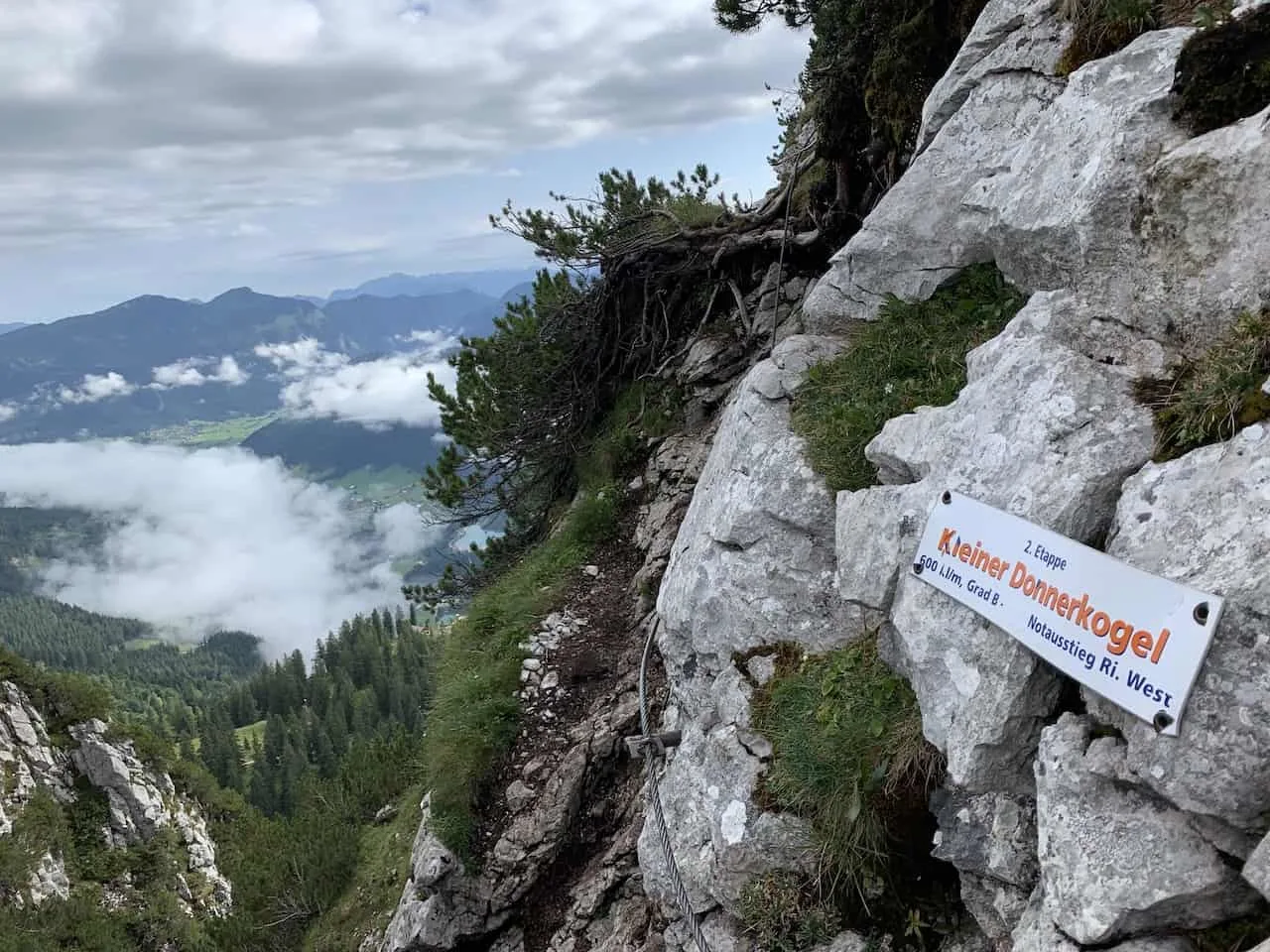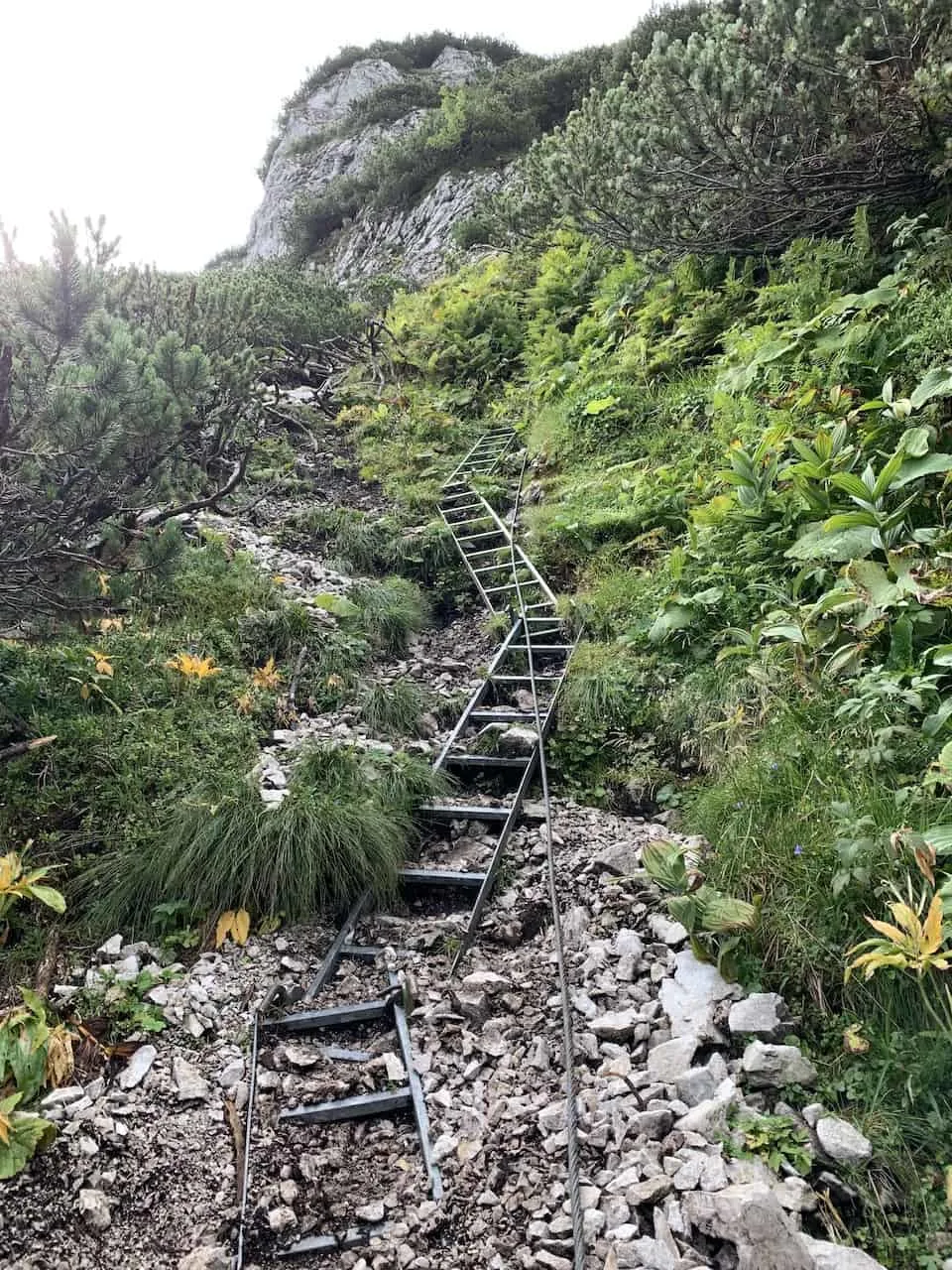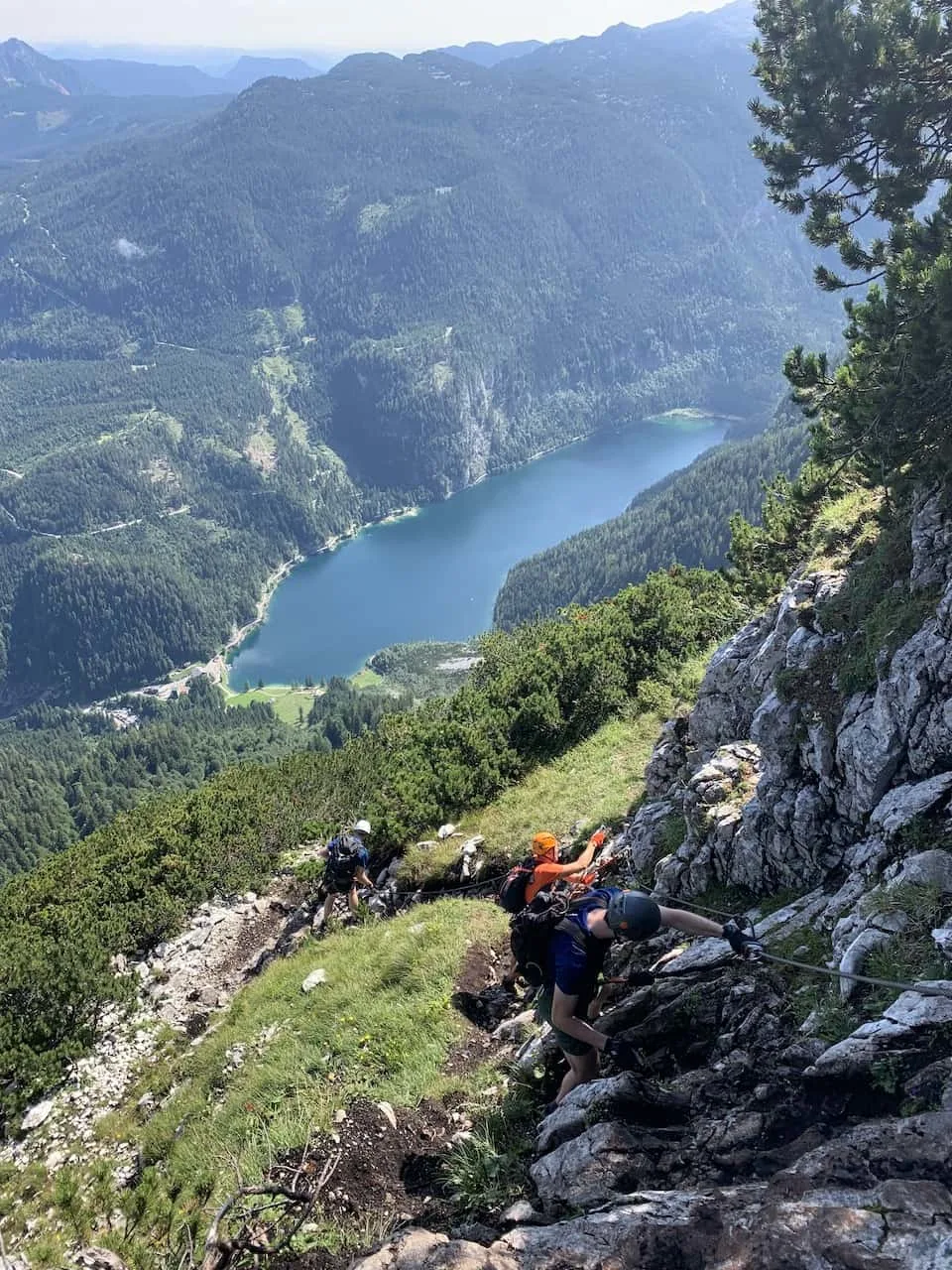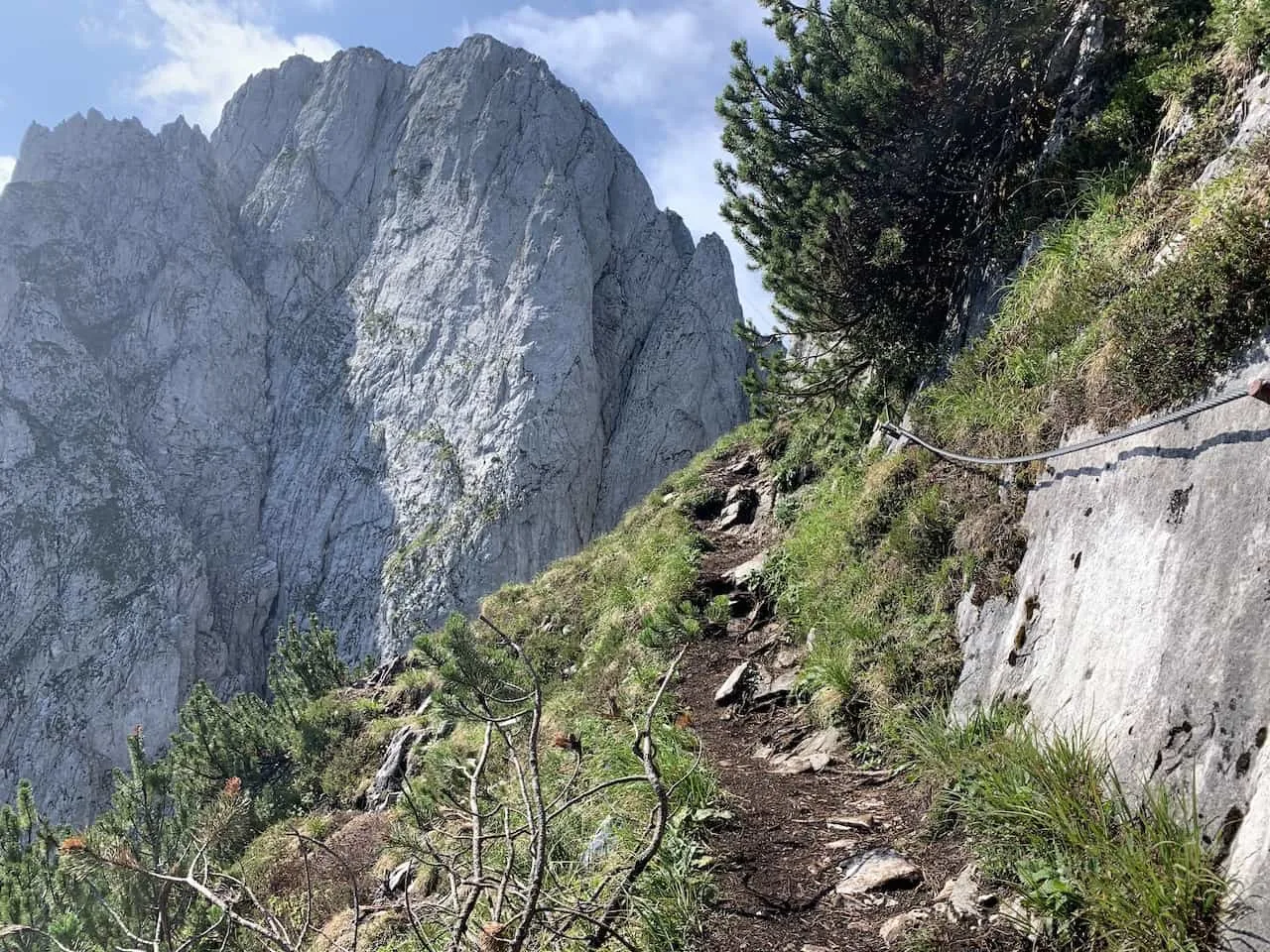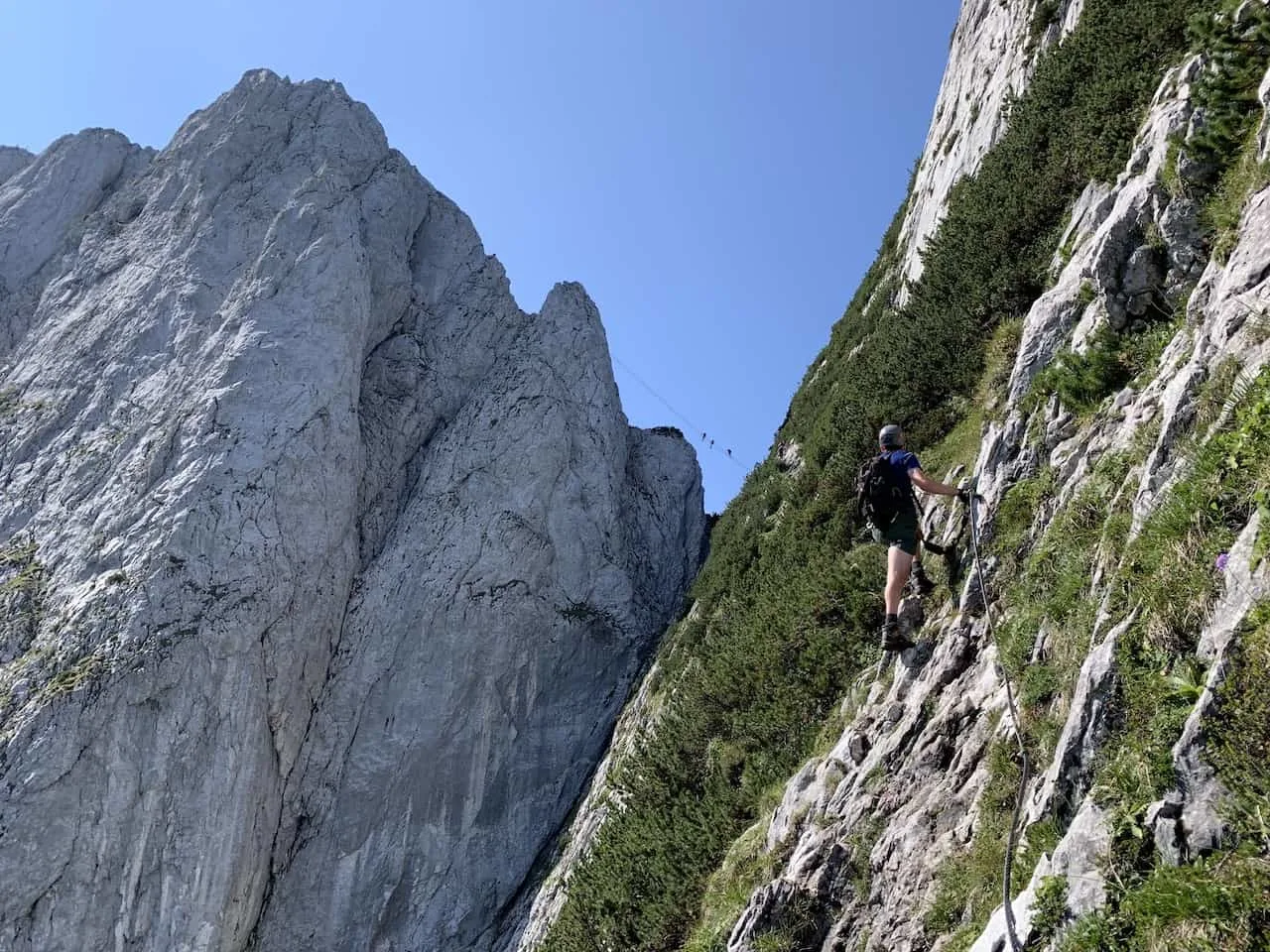 Now comes the fun part! The Stairway to Heaven, a 40 meter / 131 foot climb from the smaller Kleiner Donnerkogel to the Groser Donnerkogel.
When you arrive at the ladder, there is some room all around to relax a bit, have some food, hydrate and get ready for the last of the Via Ferrata.
You also have the chance to walk the path towards a great viewpoint area, where you can better capture those climbers heading up the ladder.
I spent some time here just enjoying the view and snapping some shots of other climbers heading on up.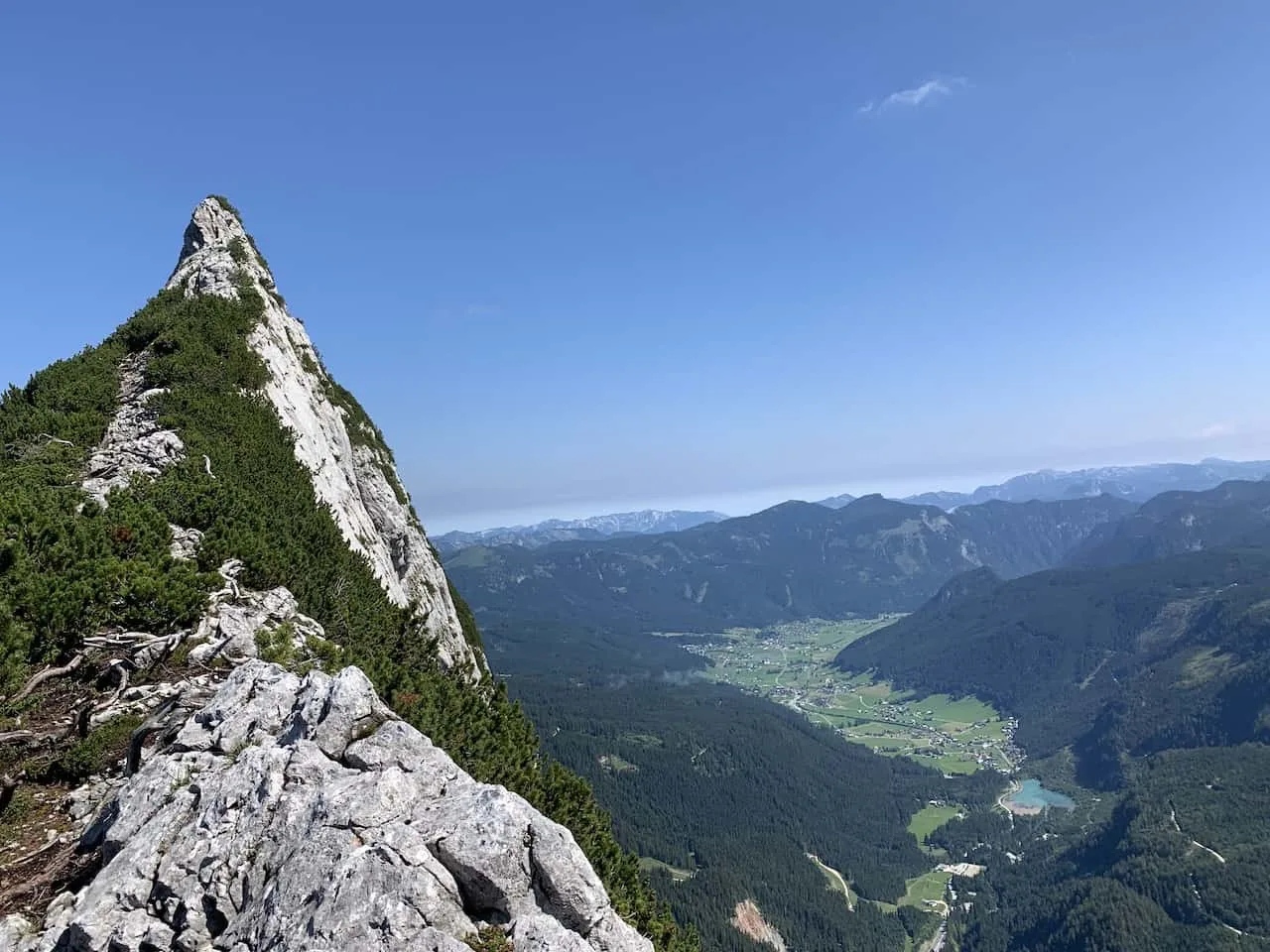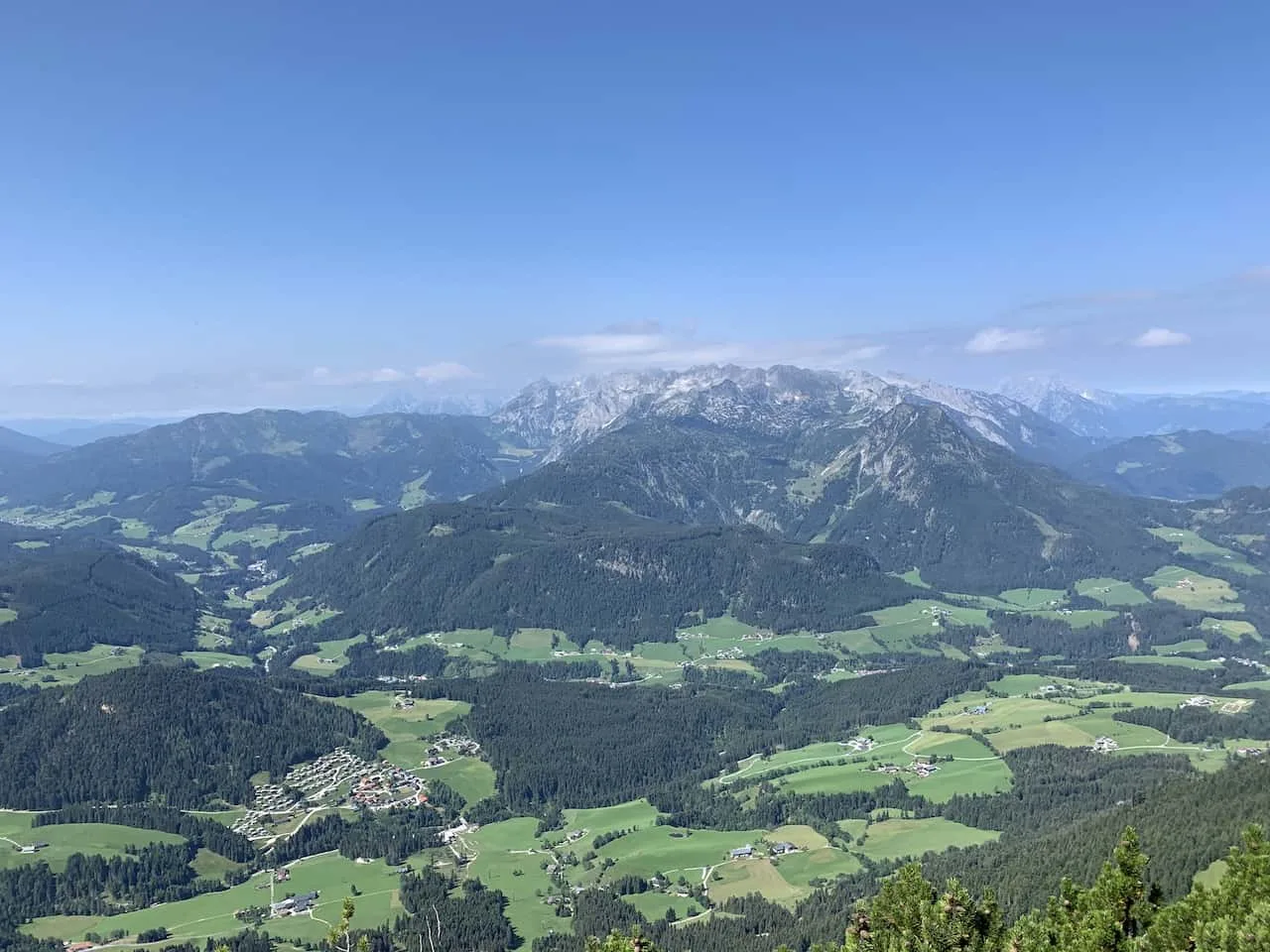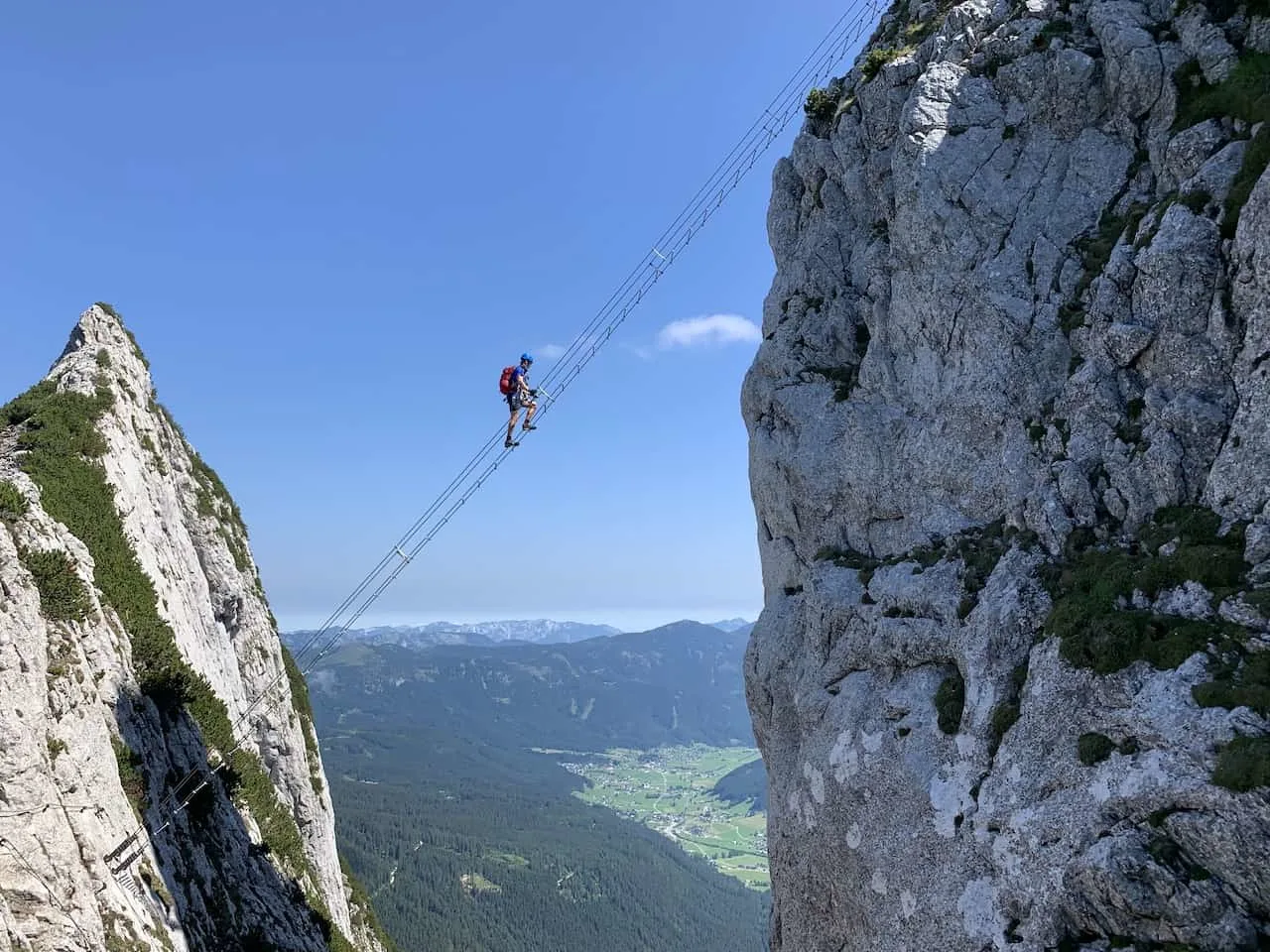 Once ready though it is time to hook yourself onto the ladder and begin the climb. Try and distance yourself from other climbers as you do not want too much weight on the ladder or want to make it swing too much.
Slowly make your way up as you clip in and out of the ladder and you reach the vertical wall on the other side.
Note: there is actually a route that avoids the stairway if you do not want to take part of this section.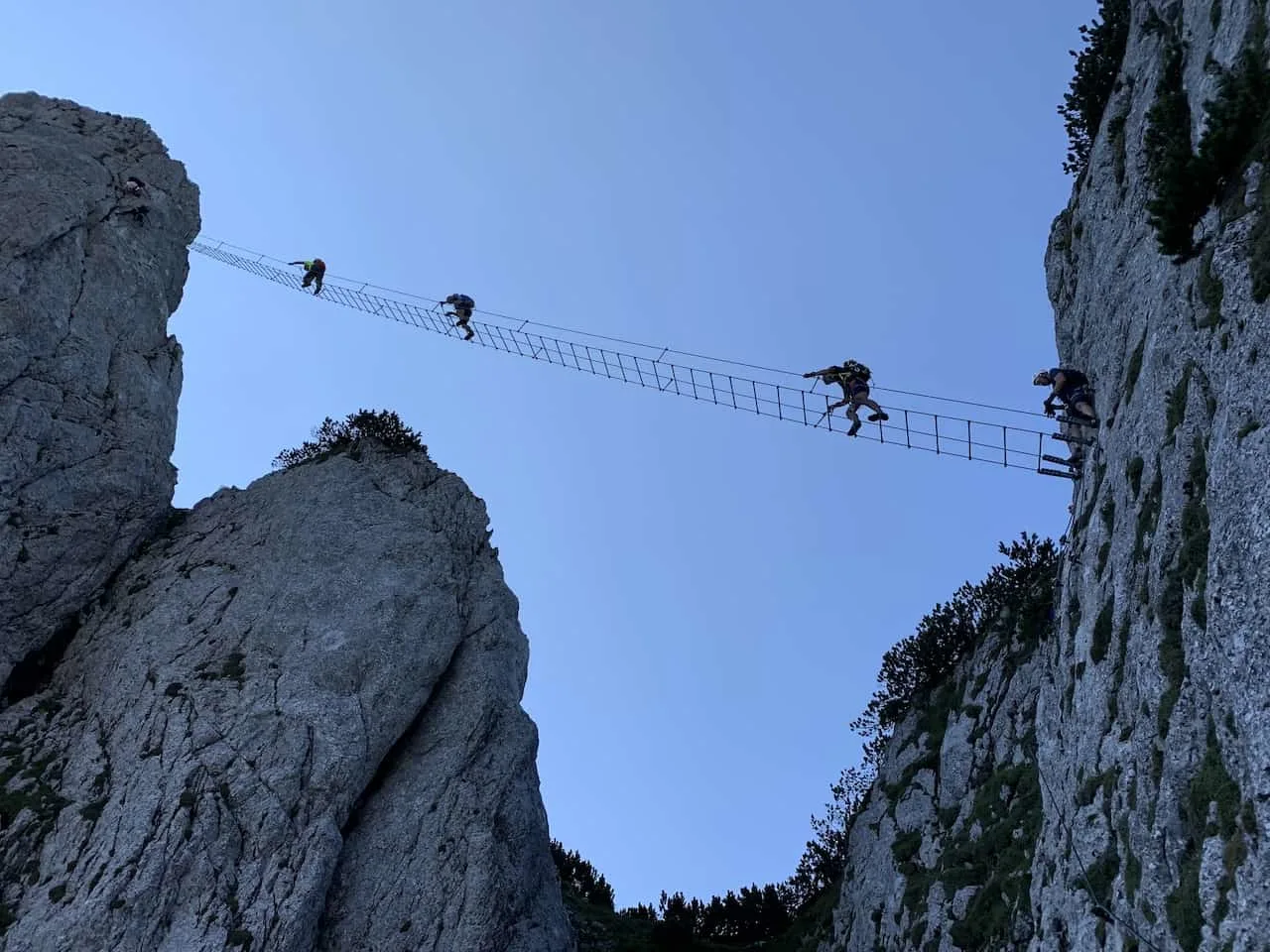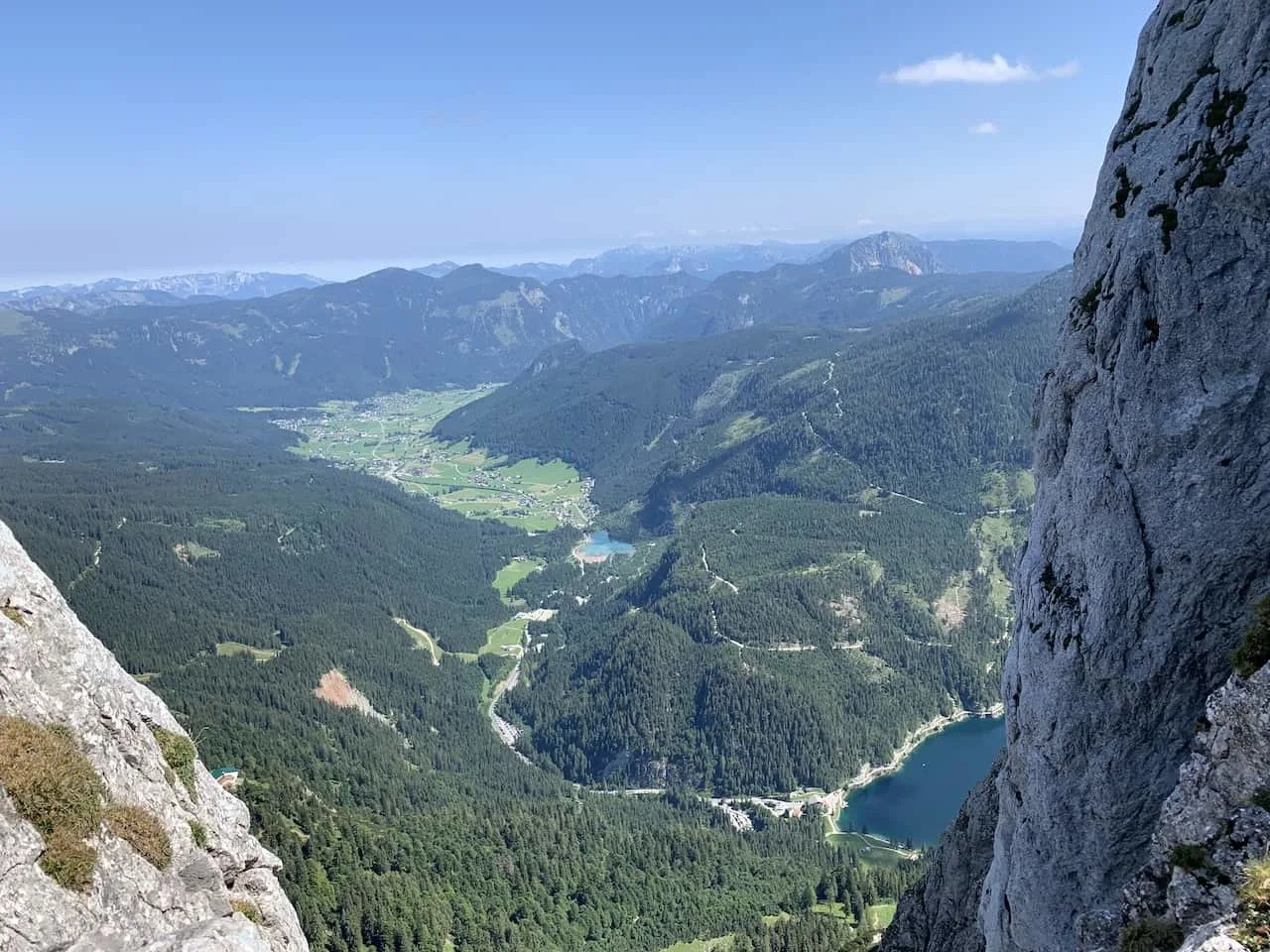 Section 4 of the trail gets a bit difficult again, as right after the ladder you will come across the second C/D section. This will be followed by some B, C, and B/C sections before flattening out to the summit.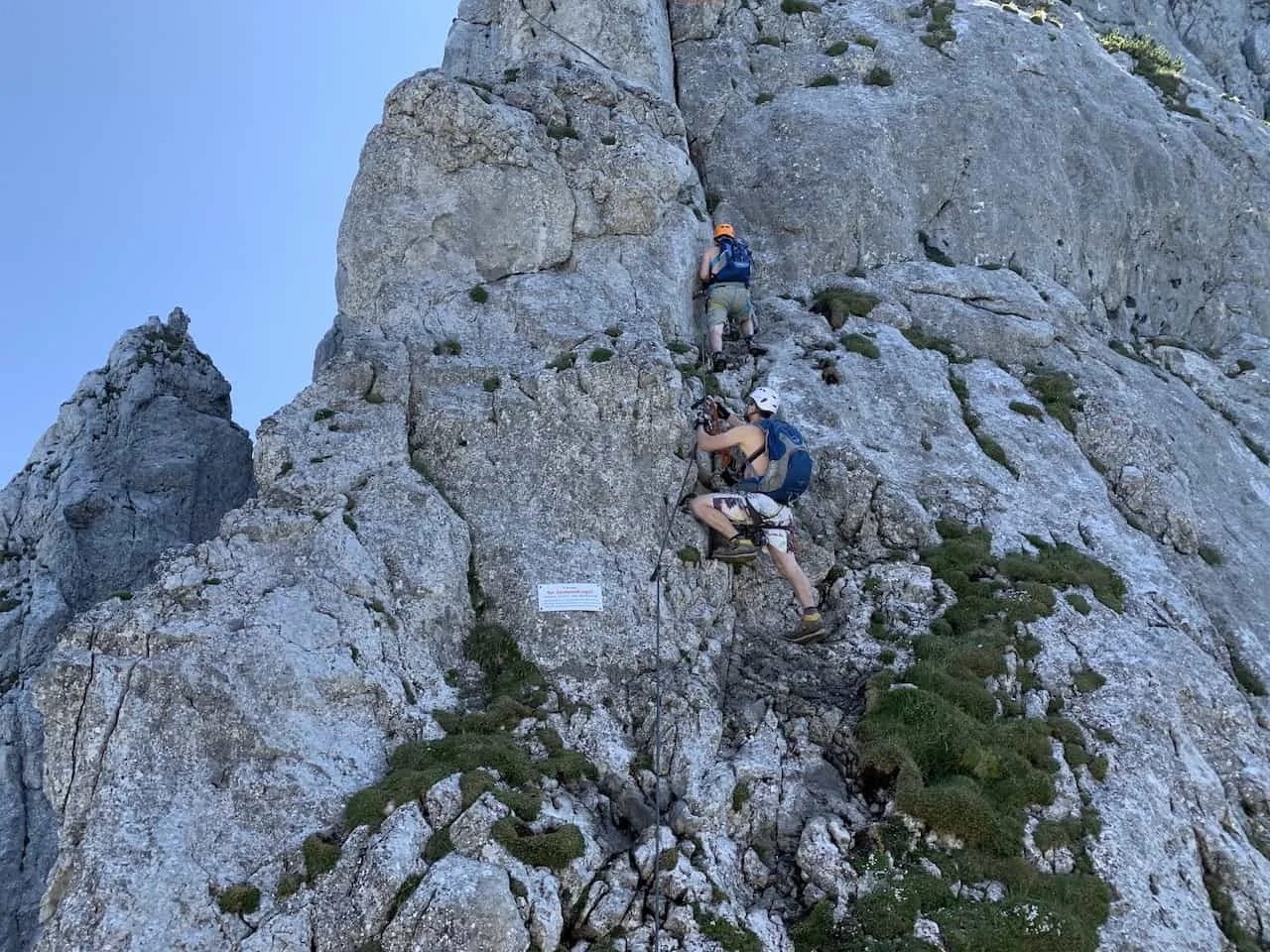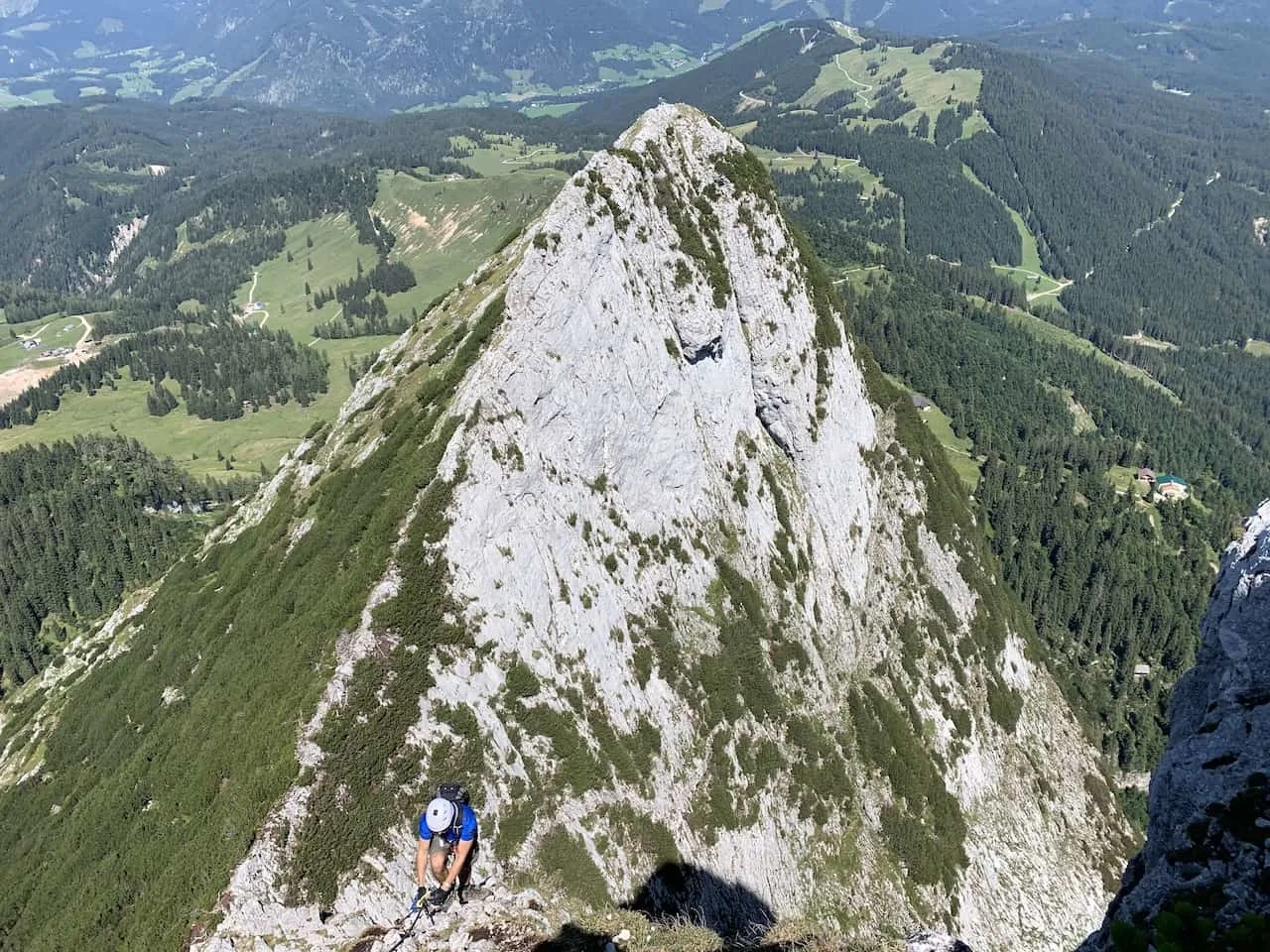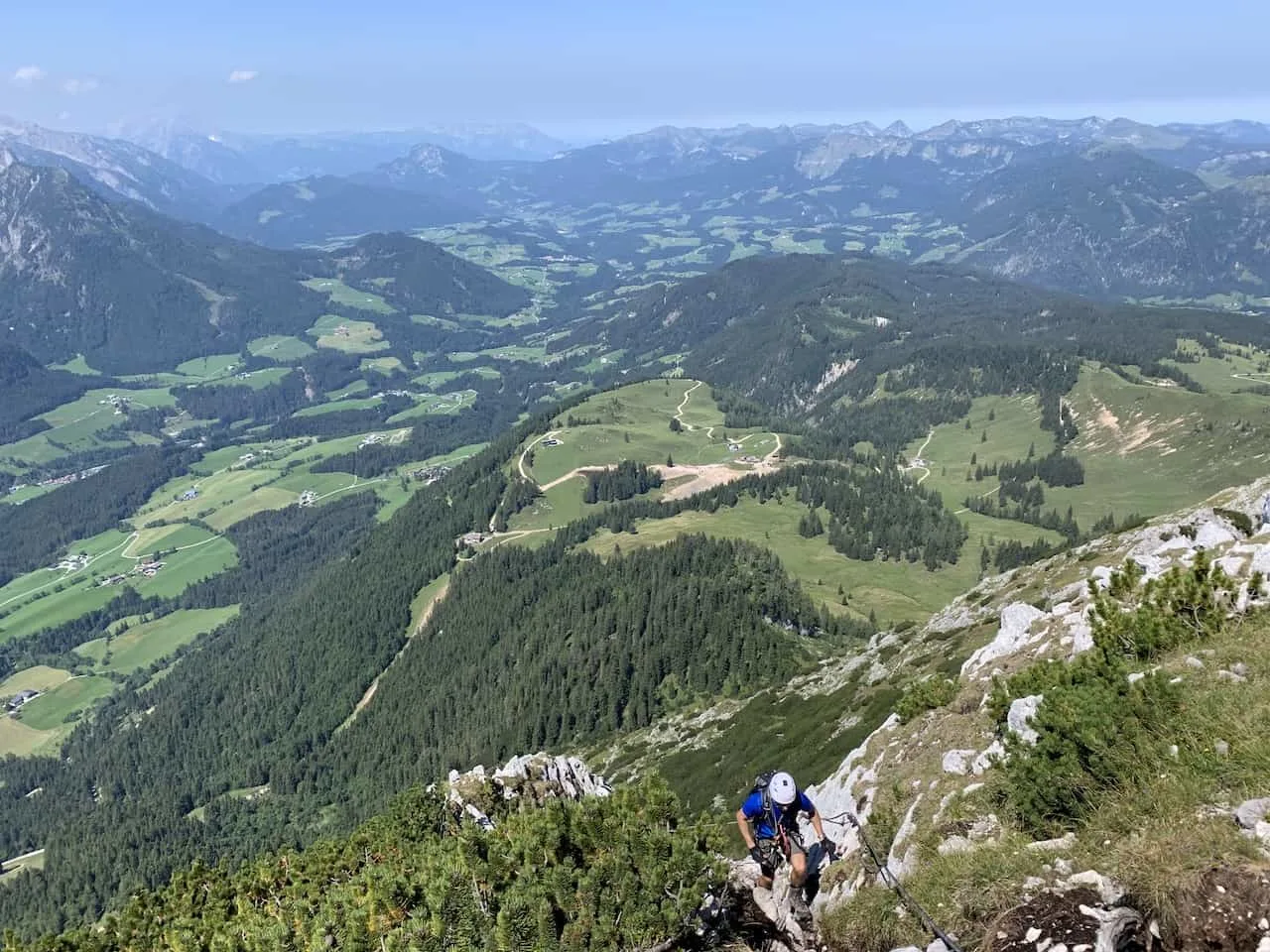 Once you reach the summit, it is time to take off your gear and enjoy that view!
You will have beautiful views in every which direction as you celebrate completing one of the more special summit routes in the region.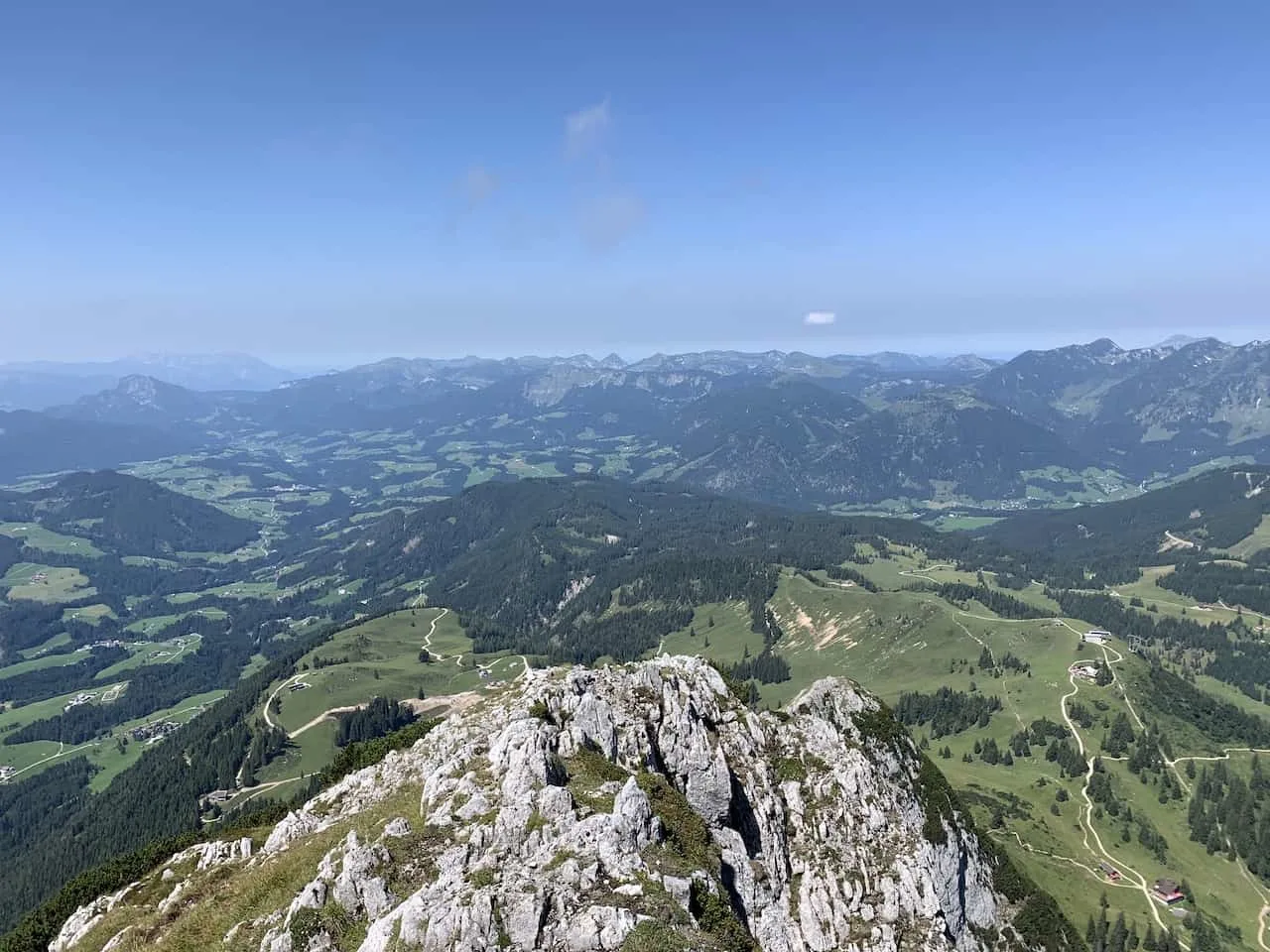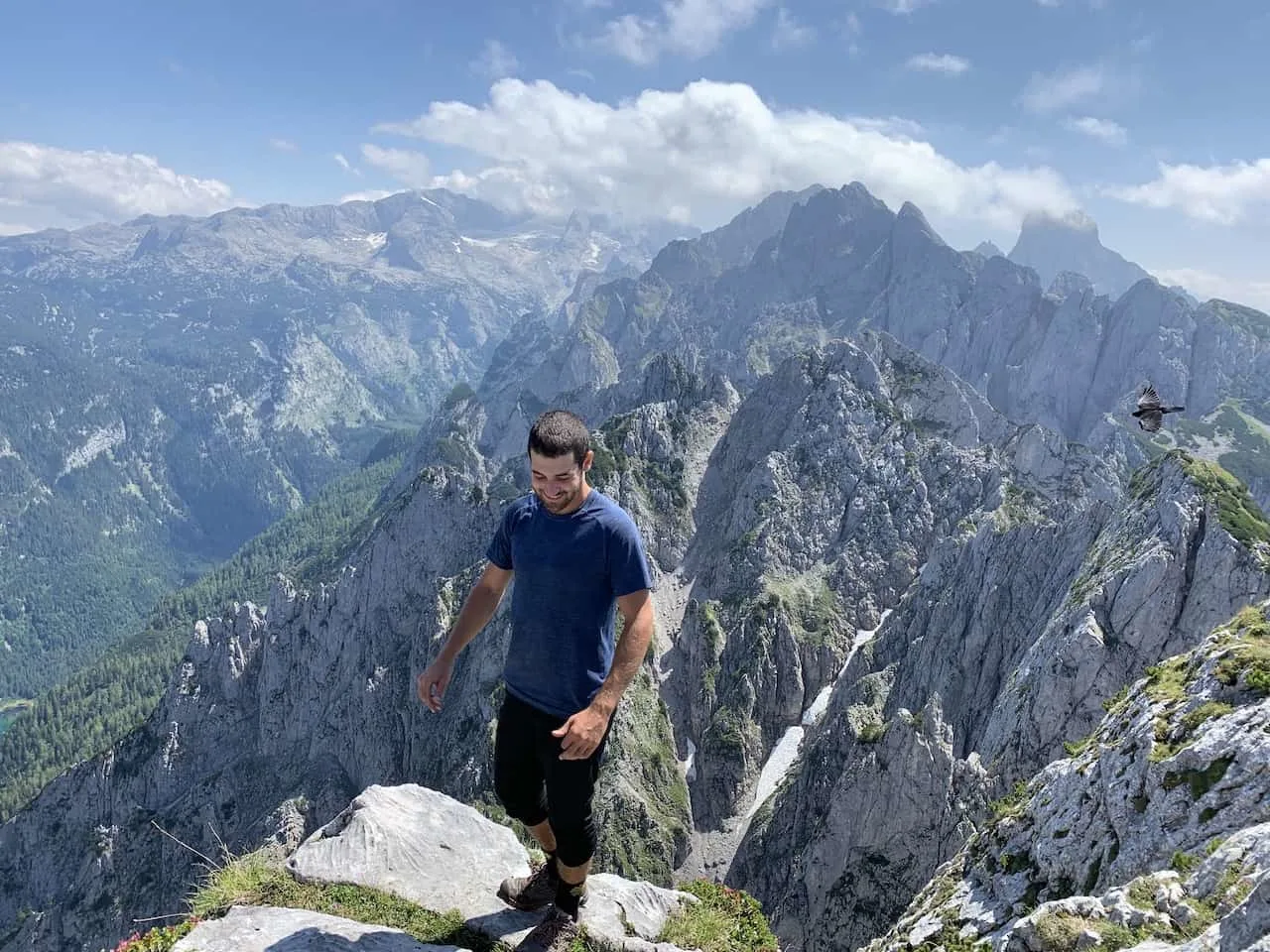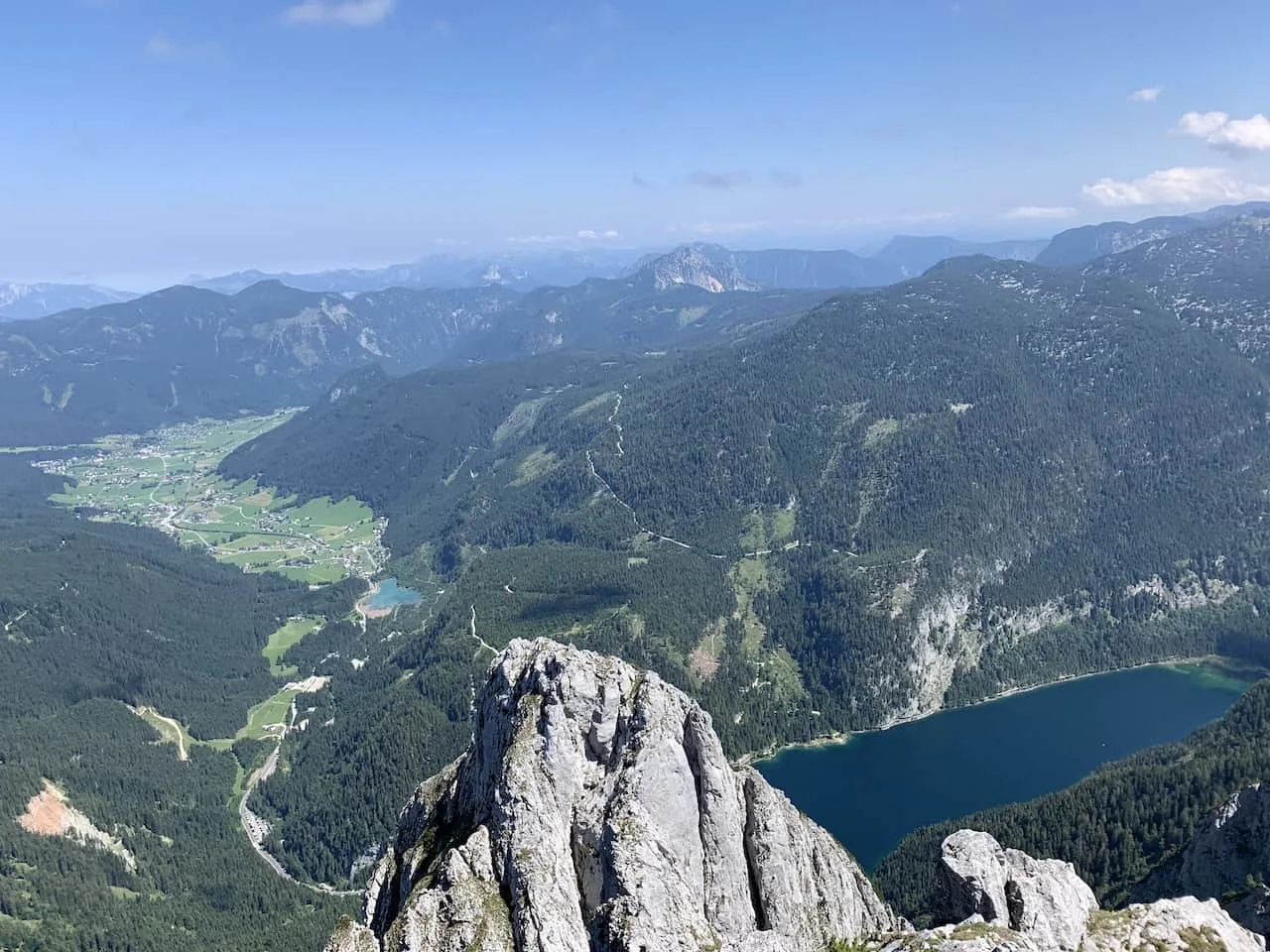 9) Hiking Down to the Gablonzer Hutte
Now that the Via Ferrata is over, all you need to do is head on the hiking trail back down to the Gablonzer Hutte.
The trail is just to the other side of where you came up from towards the right. Some sections can have a bit tricky and steep downhill so just watch your steps along the way.
Odds are you will also come across fellow hikers who will be headed up the mountain. Not everyone can take part of the Klettersteig so this trail gives them an option to reach the summit as well.
Just continue to follow the path down and then enjoy a nice beer at the Gablonzer Hutte to end your time here!
Once all done, take the Gosaukammbahn back down to the Gosausee area, where you can either just head back to the parking lot or you can opt for a cool down swim in the lake itself.
If you go for a swim or not, a visit to the lake is a must!
Fun Fact: you can actually see the Stairway to Heaven from down by the lake area. It is a pretty crazy site to see from down below how high the ladder really is.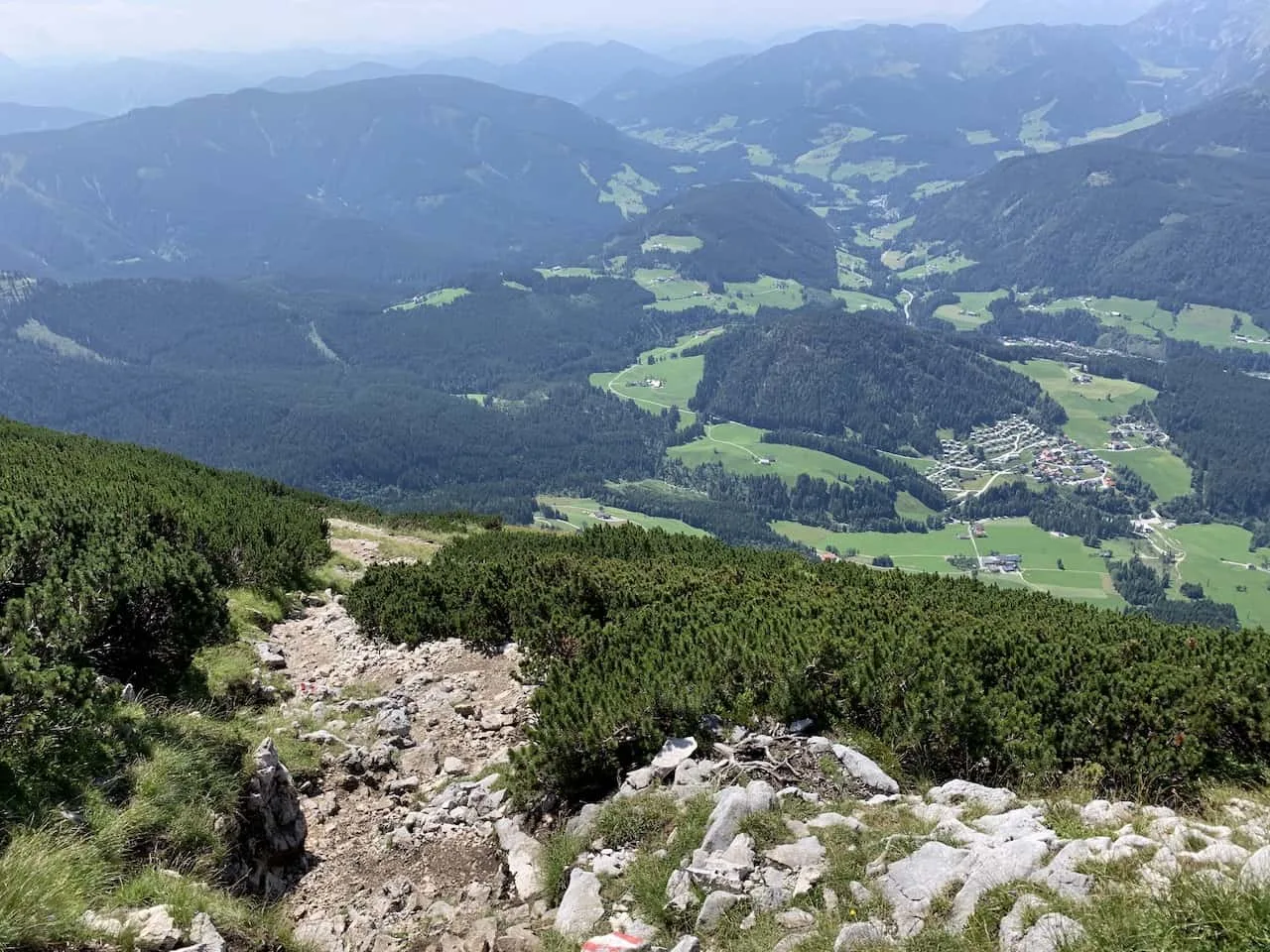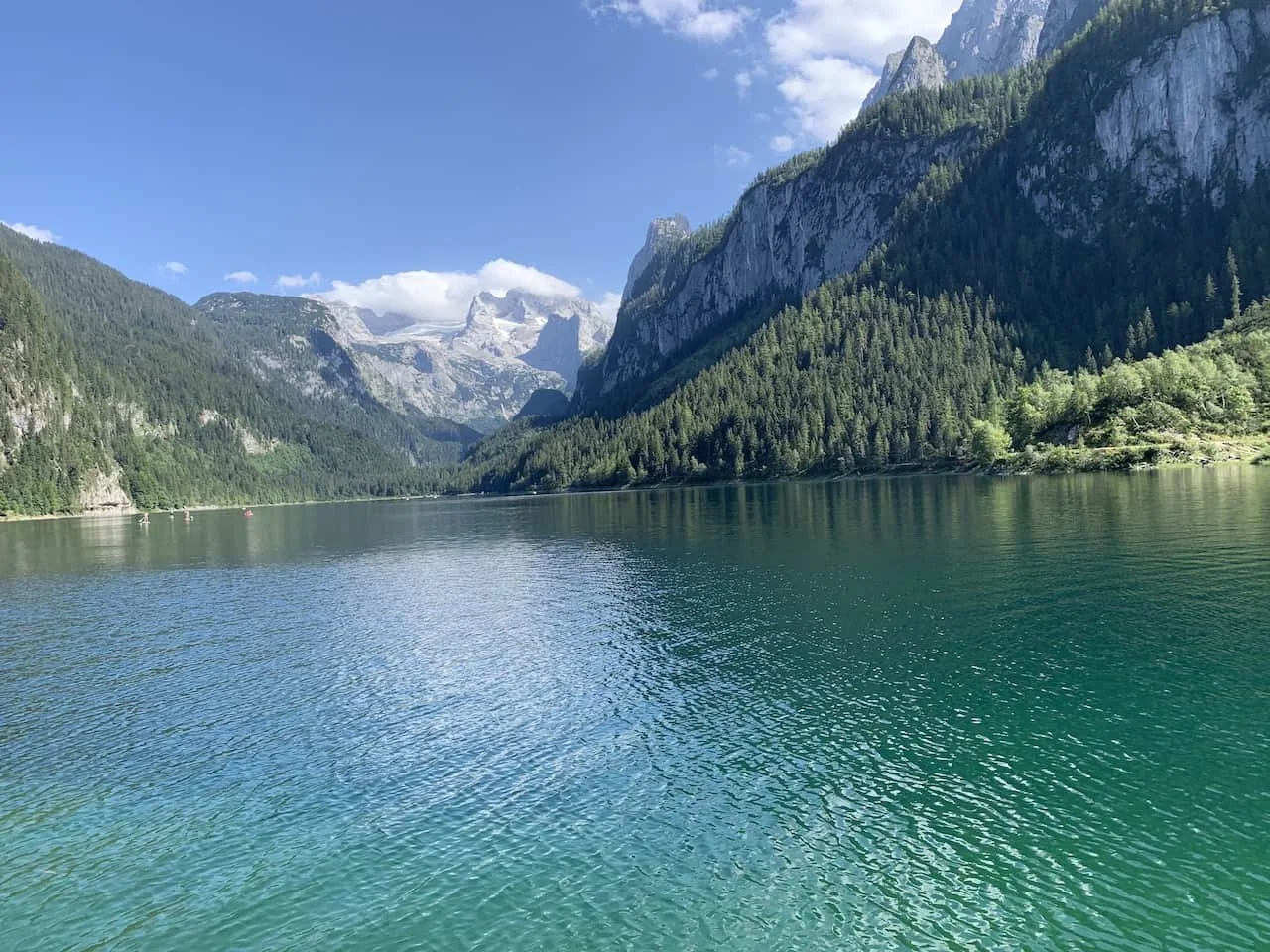 That just about wraps up your guide to the Klettersteig Donnerkogel. I really hope this gives you a better idea on how to take part of the Via Ferrata and what to expect along the way.
And remember – please do not attempt this unless you are fully confident in your abilities!
Be sure to check out the other Austria itineraries and guides up on the site too including a 3 Day Vienna Itinerary, a Complete Hallstatt Itinerary and an Overview to Hiking Ahornspitze.
Feel free to write in any questions or comments below, have fun out there and safe travels!