While Hallstatt is known for its charming town, beautiful lake, and various picturesque viewpoints, it is also home to the Waldbachstrub waterfall.
Right outside of town is a one hour trail down through the valley as you approach one of Hallstatt's hidden gems.
This guide will go into detail on how to visit the Waldbachstrub waterfall on your own and what to expect along the way.
* Affiliate Disclosure: This post may contain affiliate links, which means I may receive a commission if you make a purchase through the links provided, at no additional cost to you. Thanks for supporting the work I put into TripTins!
1) How to Get to Waldbachstrub
In order to visit Waldbachstrub, you first must make your way to the town of Hallstatt. Once there you can head to the Hallstatt Parking P2 lot, where the trail to the waterfall begins.
There are a few ways to go about a visit to this lakeside town:
Rental Car
If you have your own rental car, you should be good to go. Simply make your way to the "Hallstatt Parking P2" lot, and the trail begins just around the corner. If the P2 lot is full, continue just a bit further to the P1 lot and then start your walk from there.
Rental Car: If you are renting a car in Austria, be sure to check out Rentalcars.com to browse through options. Once on the site, you will be able to filter by price, car type, rental company, and more, to find the perfect car for your trip to Austria.
OBB Train
You can also arrive to Hallstatt by train if coming in from other parts of Austria such as Vienna.
The train station is directly across the lake from Hallstatt. Once off the train, simply take the quick ferry ride that brings you across to town.
Local Bus
Lastly, you can also arrive by bus if coming from a place like Salzburg for example. You can first take bus #150 that will get you from Salzburg to Bad Ischl.
From Bad Ischl you can hop on the 542 bus to Hallstatt Gosaumuhle, and from there to Hallstatt Lahn on bus 543.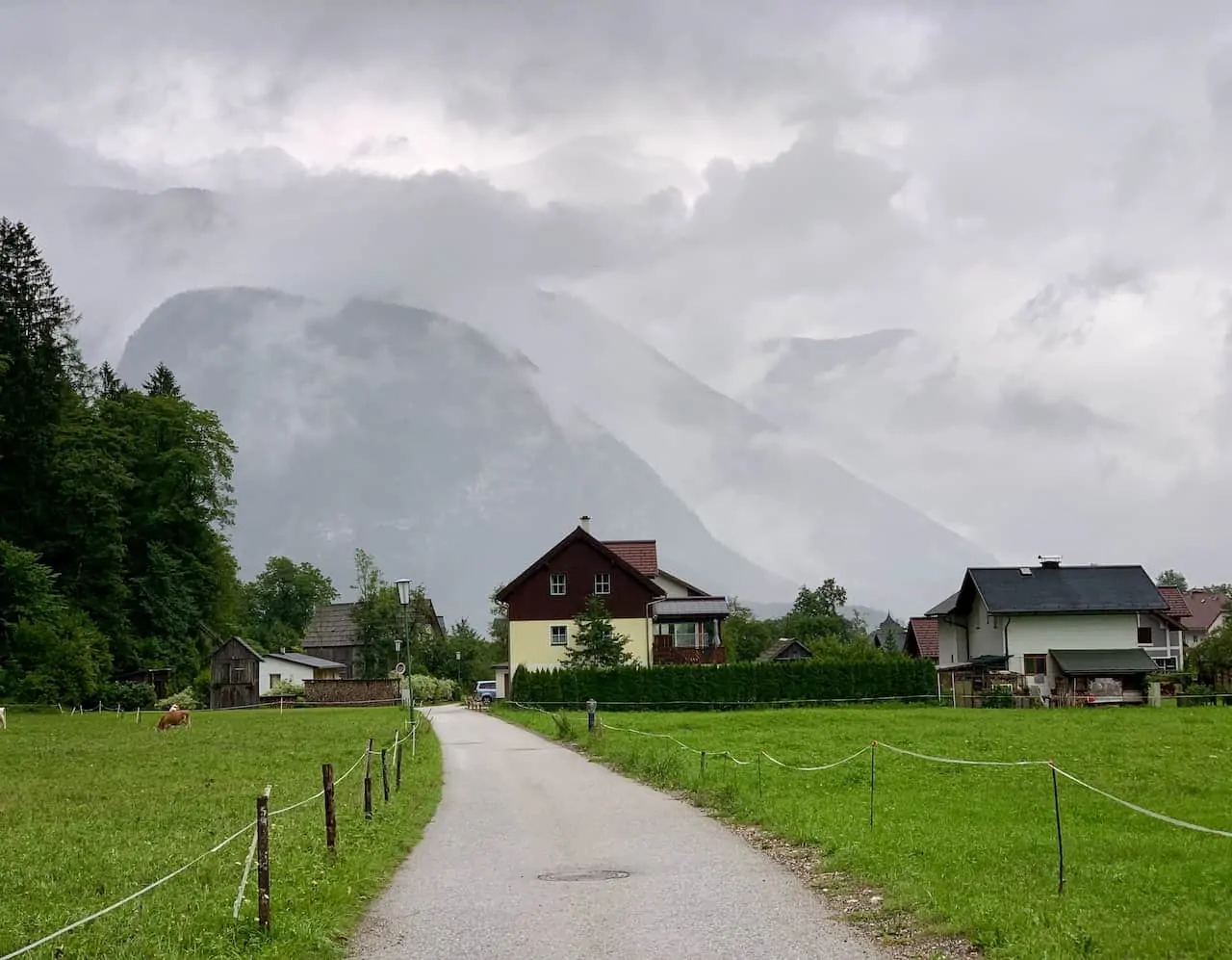 2) Waldbachstrub Waterfall Map
Below is a map showing the area around Hallstatt, and where the Waldbachstrub waterfall is located.
I have highlighted the starting point of the trail and the waterfall itself, alongside the parking lot, train, ferry, and bus stations.
3) Waldbachstrub Waterfall Trail Details
Waldbachstrub is not one of those waterfalls where you can drive your car right up to it. Instead, you will be required to head on a walking trail down the valley, which ends at the waterfall itself.
Below are a few details about the round trip walk so you are better prepared for the trip:
Hike Name: Waldbachstrub Waterfall
Starting & Ending Point: Hallstatt Parking P2 Lot
Distance: 3.7 miles / 5.9 KM round trip
Duration: 2 – 2.5 hours
Terrain: Pavement & Gravel
Difficulty: Easy
Entrance Fee: Free
Opening Hours: 24 / 7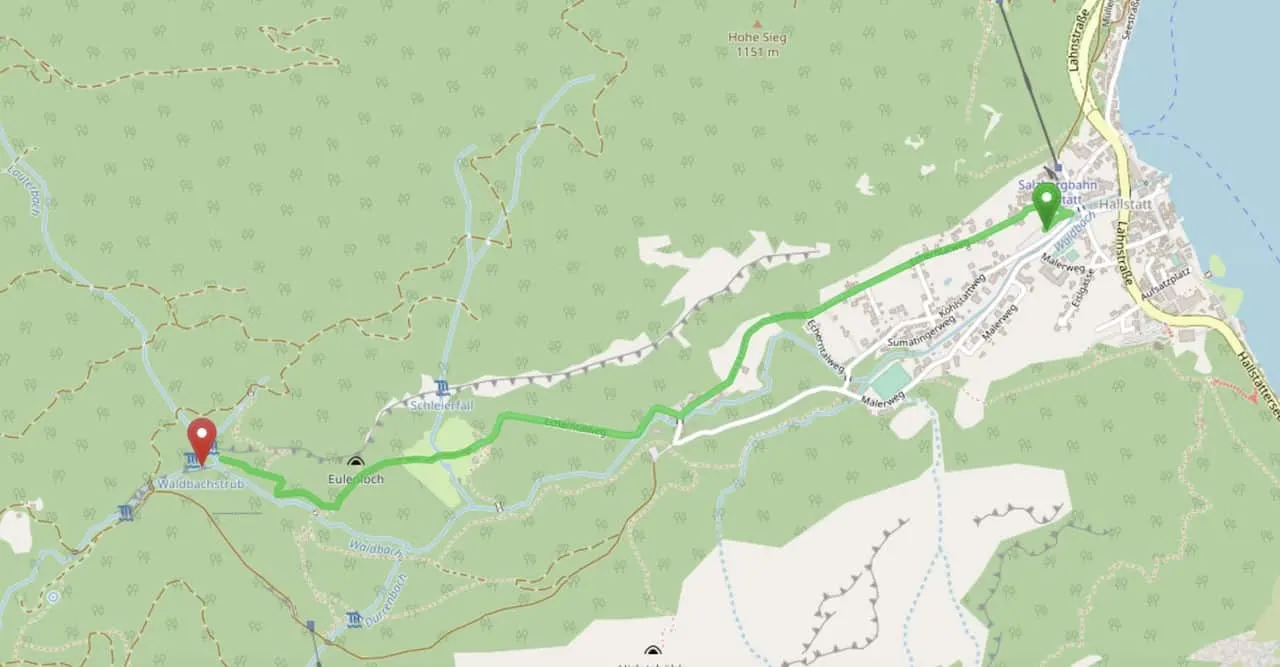 4) The Waldbachstrub Waterfall Trail
The trail to Waldbachstrub begins as you leave the parking lot and make your way down Echerntalweg road (see the first image below).
This is a narrow paved pathway that passes by several homes and structures as you begin the trail down the valley.
A little less than a kilometer into the trail, the route will split into two. Here you will want to stay on the right hand side, where you will soon pass a unique stone structure before continuing on with the trail.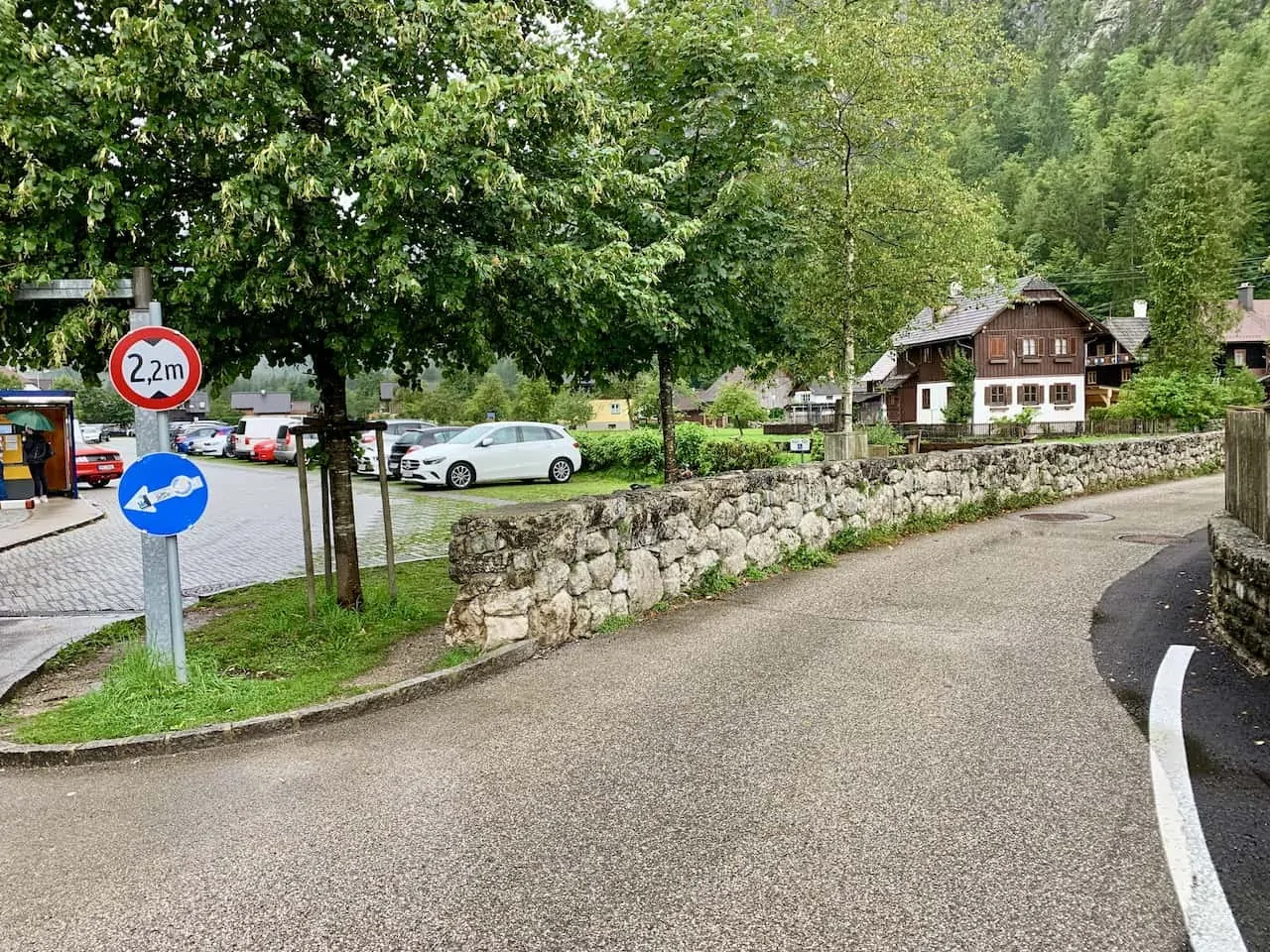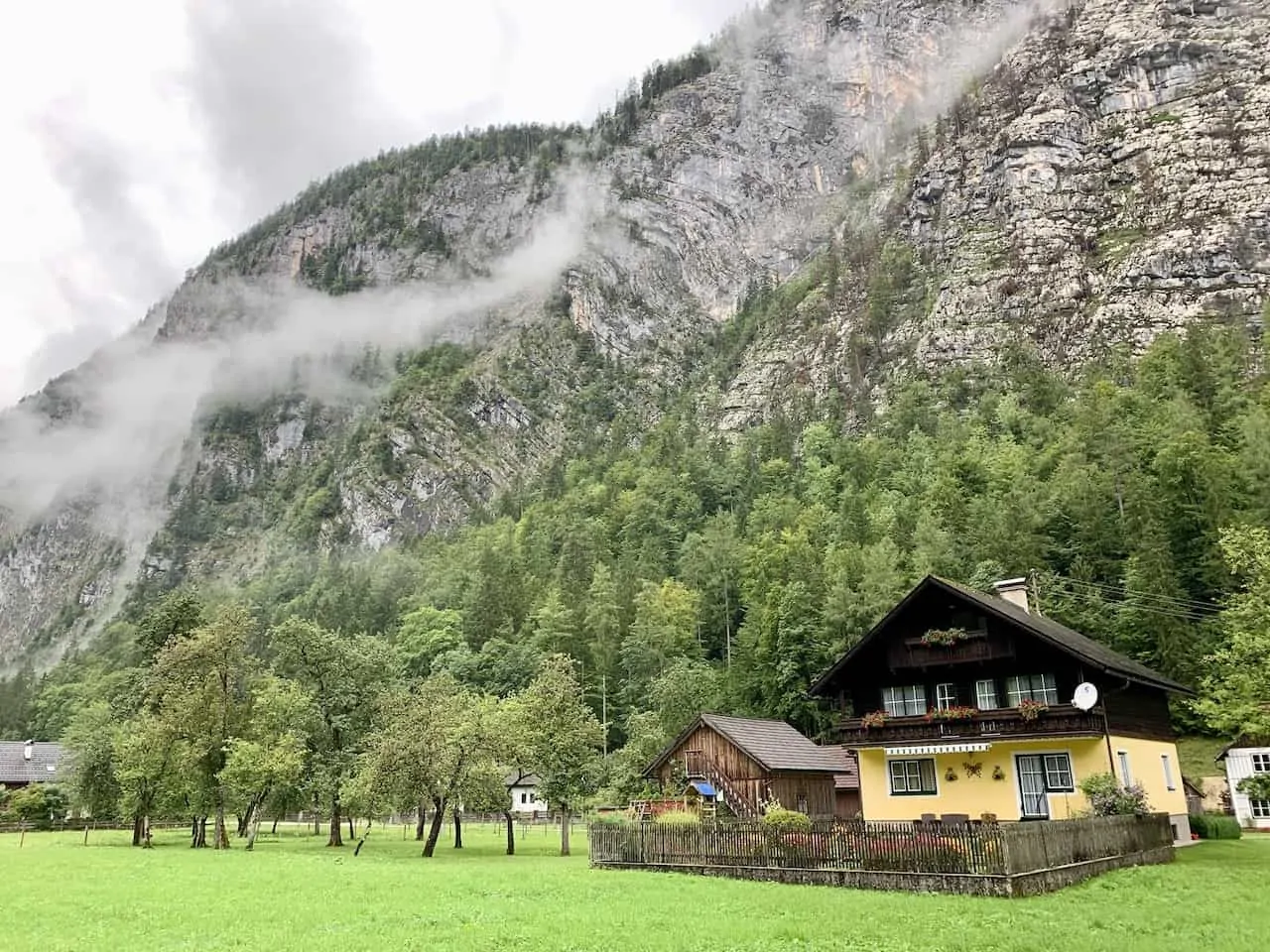 You will continue onto yet another another intersection and you will want to stay to the right here as well. There will be signs pointing you to Waldbachstrub, so you should have no trouble following along.
Once past this intersection, you will begin entering more of the forest as you will be surrounded by trees as well as the river flowing alongside you at some points.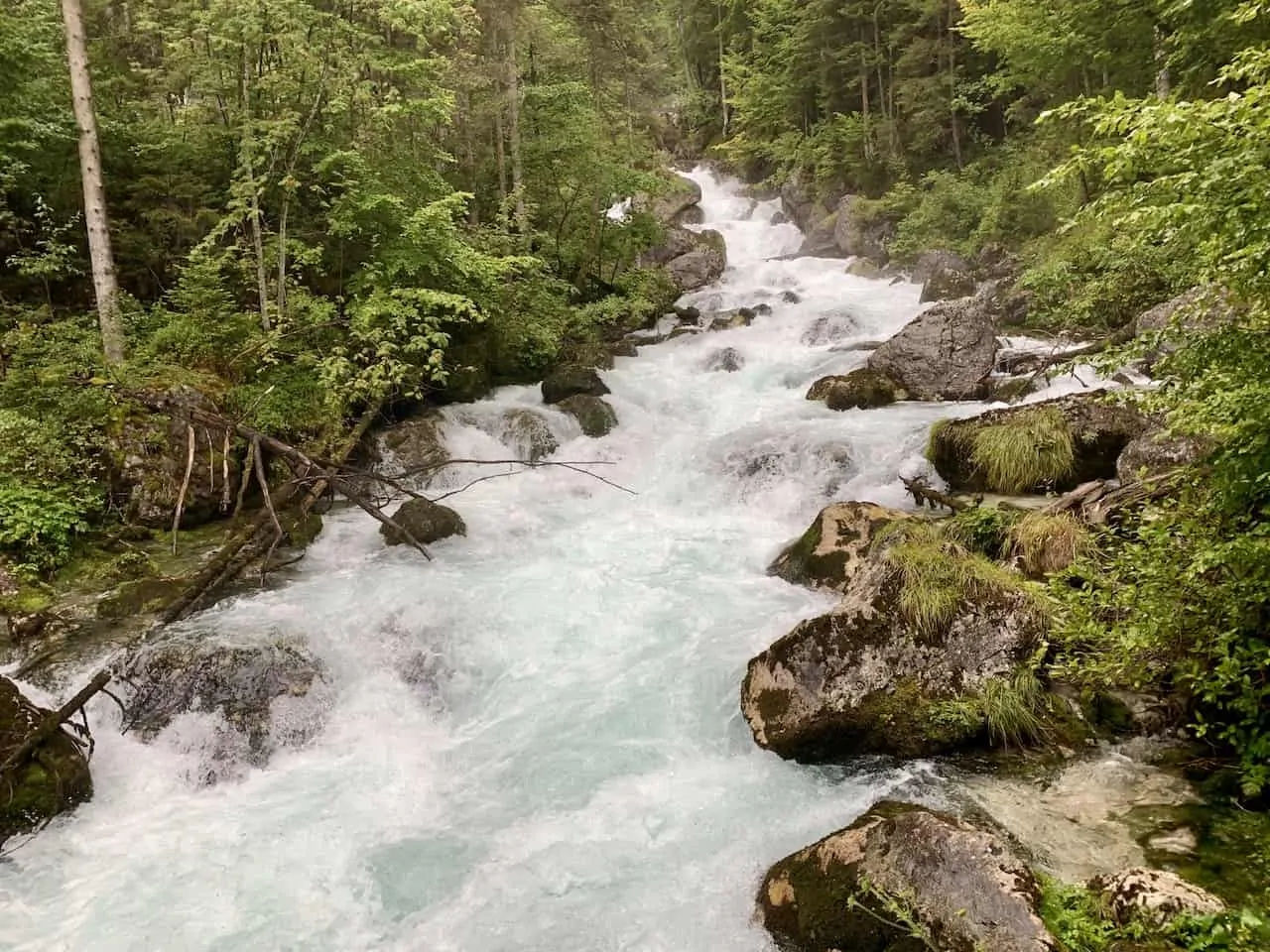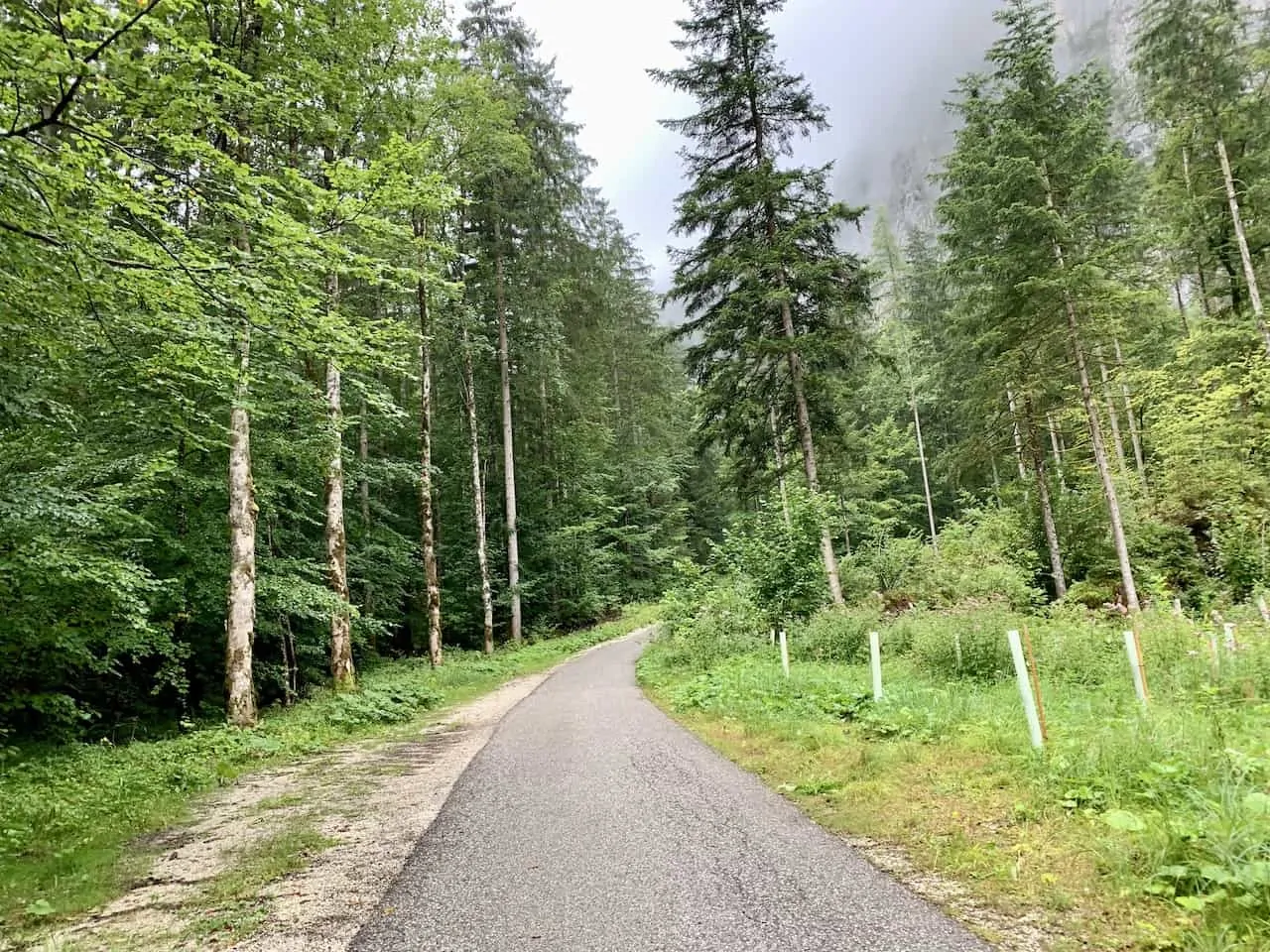 You will also come across the Schleierfall (a small waterfall) on your right and then a sign to the Eulenloch.
The Eulenloch, or "owl hole" is thought to be related to mining activity that happened in the region years ago although its origins are still not known for certain.
It is a short detour to the hole if you would like to check it out for yourself. If not, it is just onward on the trail to the waterfall.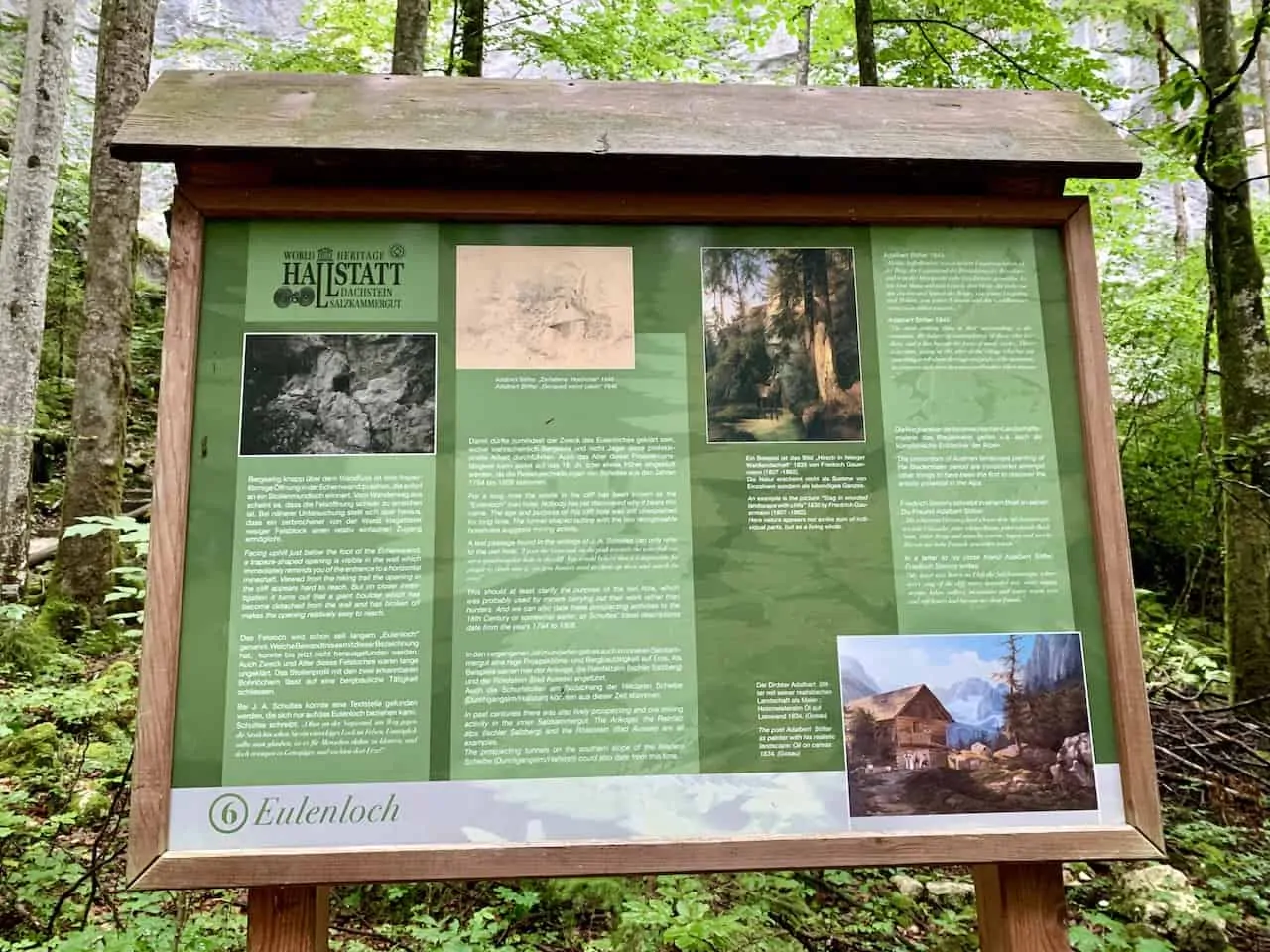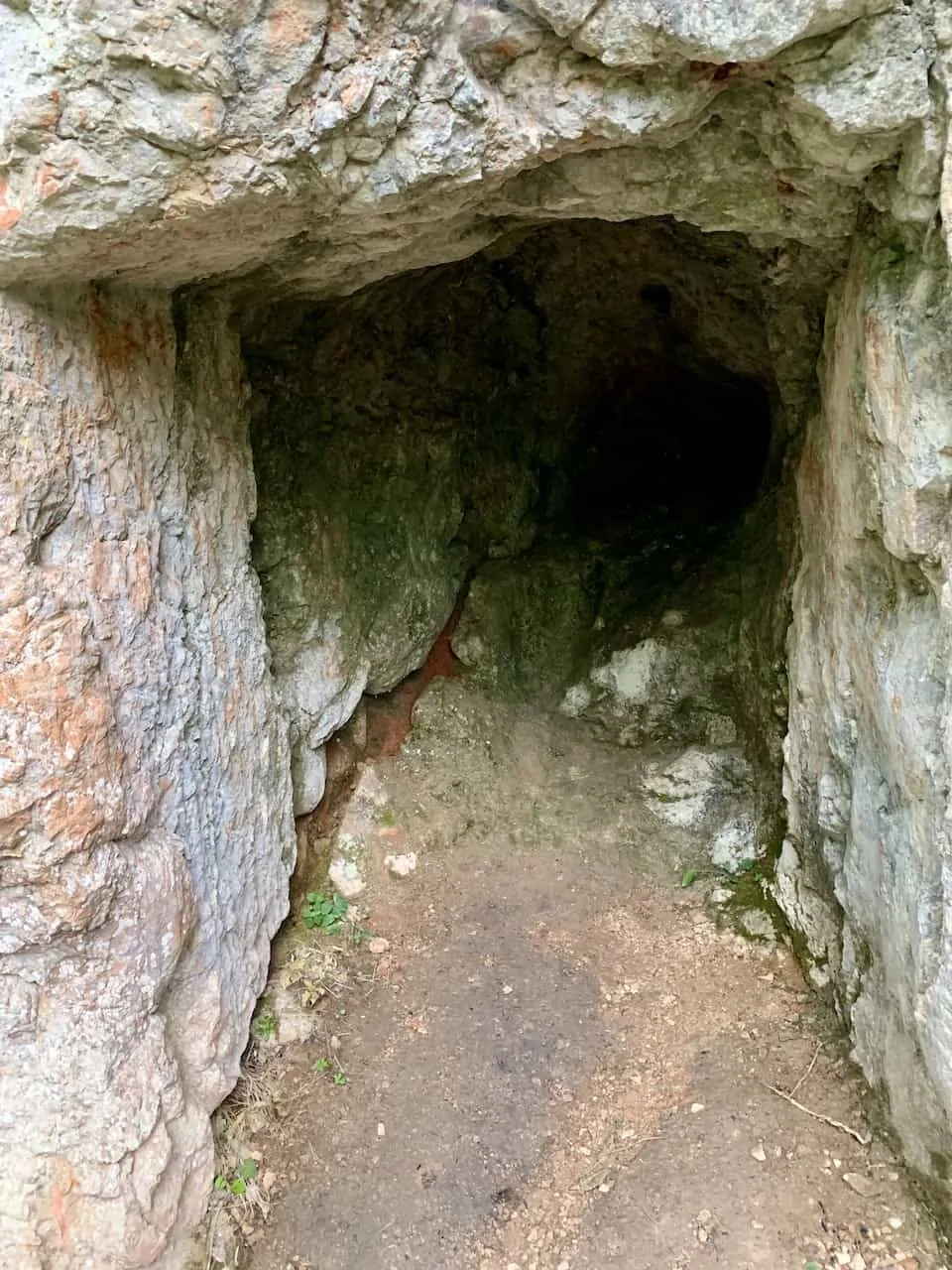 While most of the trail is pretty flat or has a slight incline, towards the end of the trail here you will have some steps that will take you up to the final viewing platforms.
You will pass by the river, head up the stairs and be welcomed to the Waldbachstrub out in front of you.
What I loved about Waldbachstrub is that not only do you have the main powerful waterfall out front, but you also have several other streams coming off of the side walls.
There are two viewpoints here to enjoy – one up top and one towards the bottom, so you can get in some great views from all angles.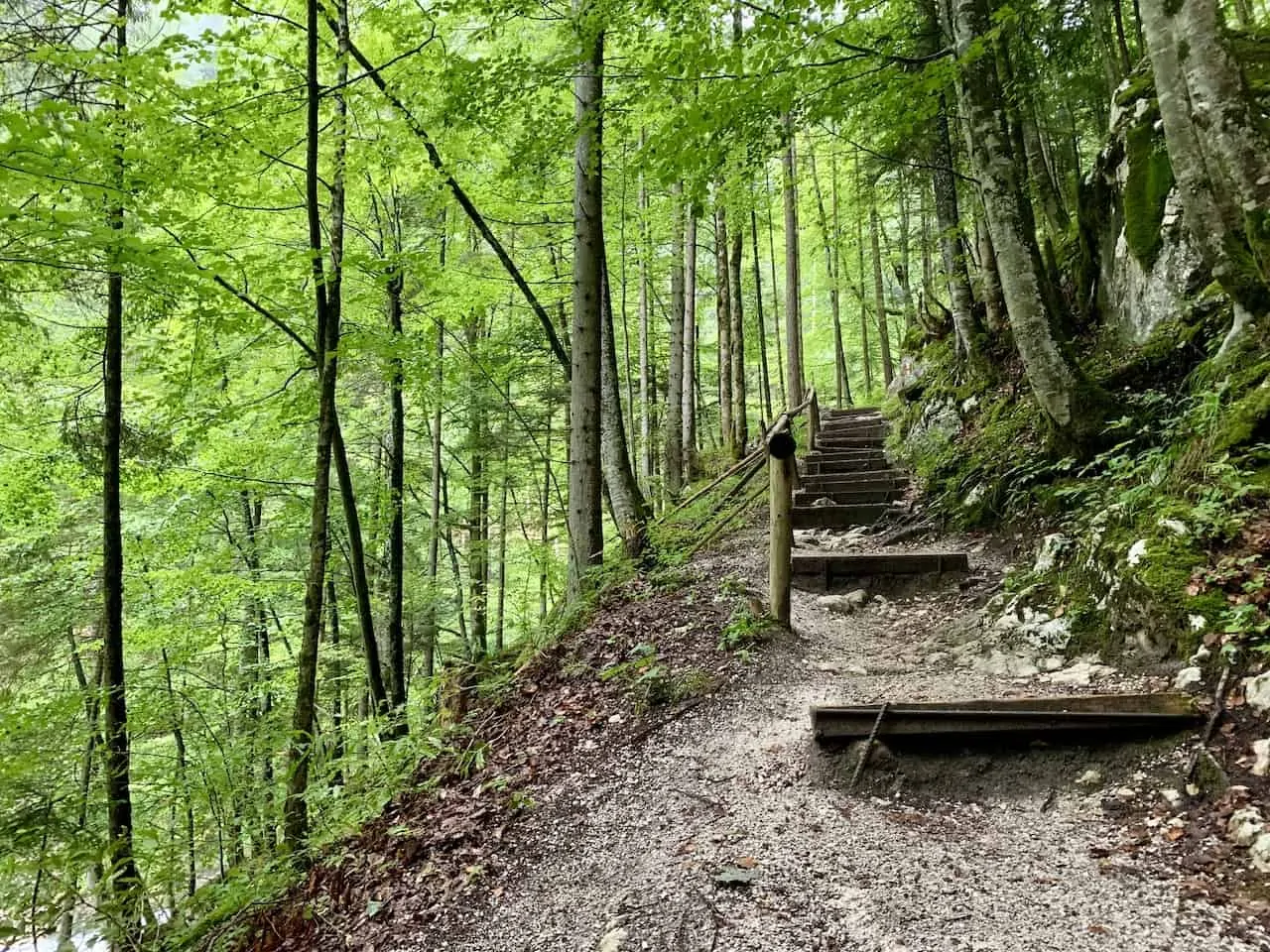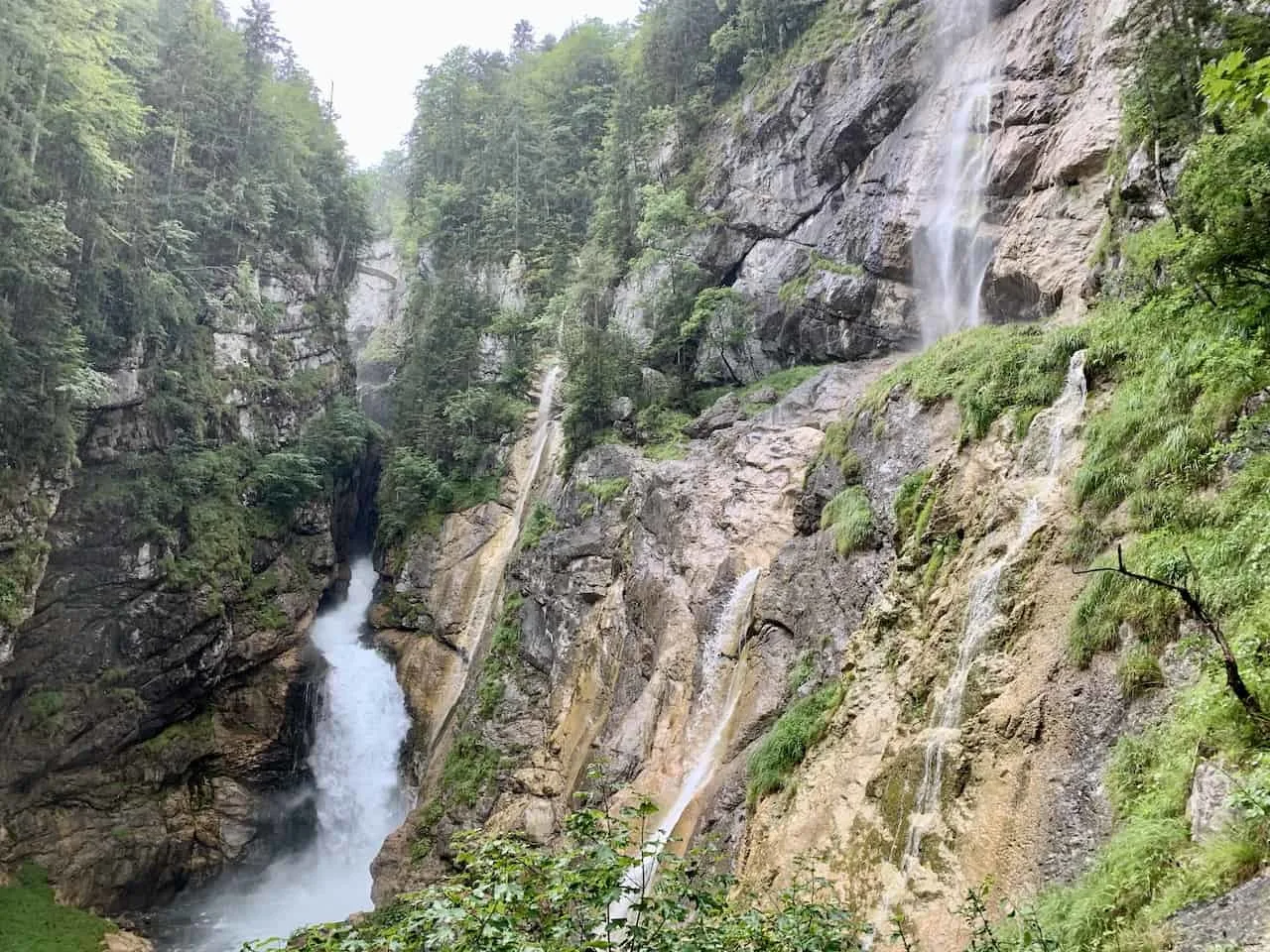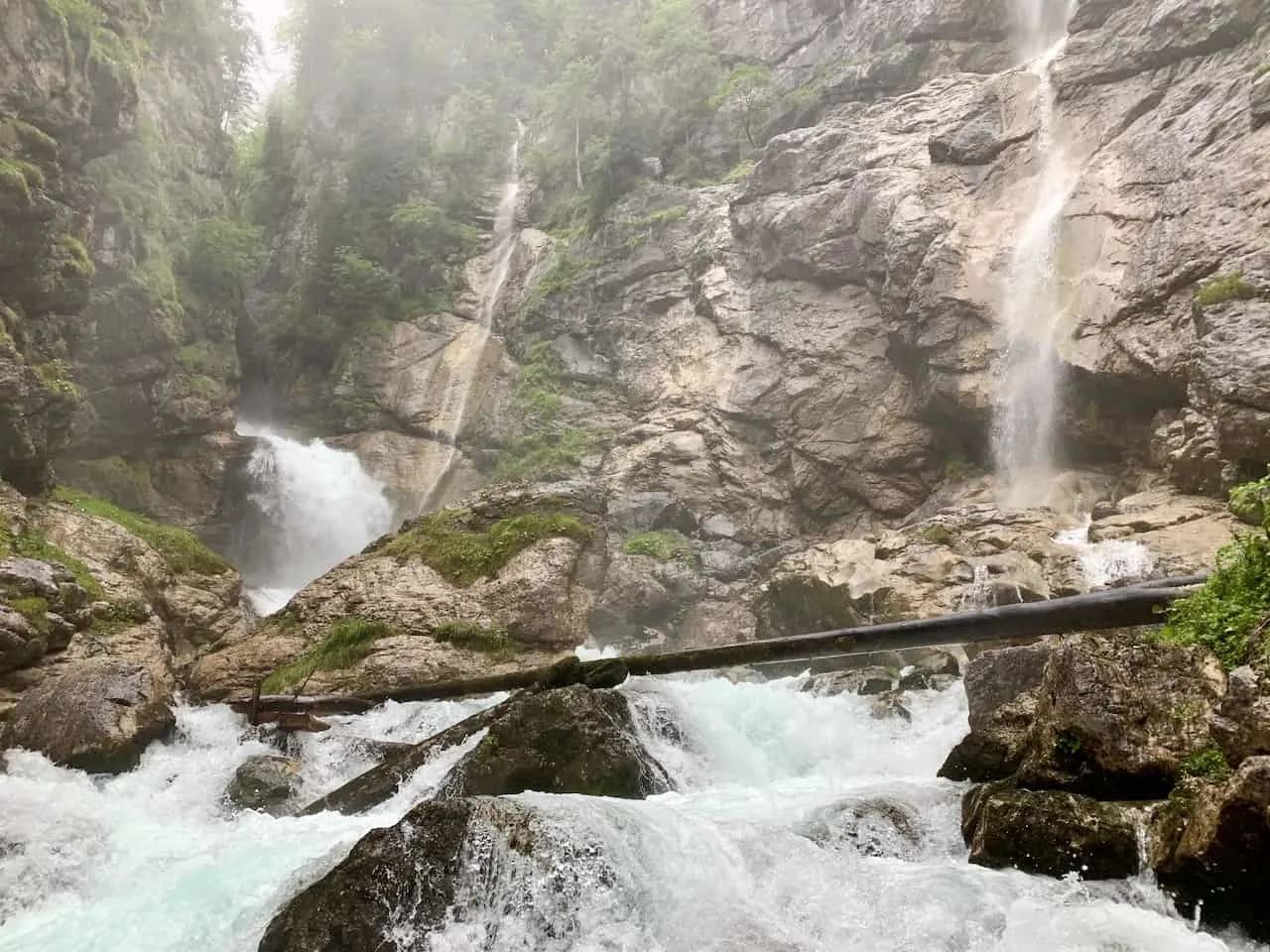 Once all done enjoying the waterfall, it is time to head on back in the same direction you came and back to the town of Hallstatt, where you can visit some of the attractions mentioned below.
5) Other Hallstatt Attractions
Although a small town, Hallstatt still offers a ton of variety to its visitors. Below are just some of the options to choose from depending on how long you have for a visit.
Dachstein Krippenstein: home to the Dachstein Ice Cave, Mammut Cave, 5 Fingers Viewing Platform and Heilbronner Hiking Trail
Hallstatt Viewpoints: Small Island Viewpoint & Classic Village Viewpoint
Hallstatt Old Town: Beinhaus Ossuary, Hallstatt Lutheran Church, Marktplatz
Salzbergbahn Funicular: Hallstatt Skywalk & Salt Mine >> Learn more about the Hallstatt Skywalk World Heritage View
Learn More: Check out this Hallstatt Itinerary that takes you along to many of the town's top attractions
Donnerkogel: If you are up for an adrenaline option you can also check out the Donnerkogel Klettersteig located just 30 minutes away. The Donnerkogel can be summited either by a hiking trail or a Via Ferrata route that takes you to the top.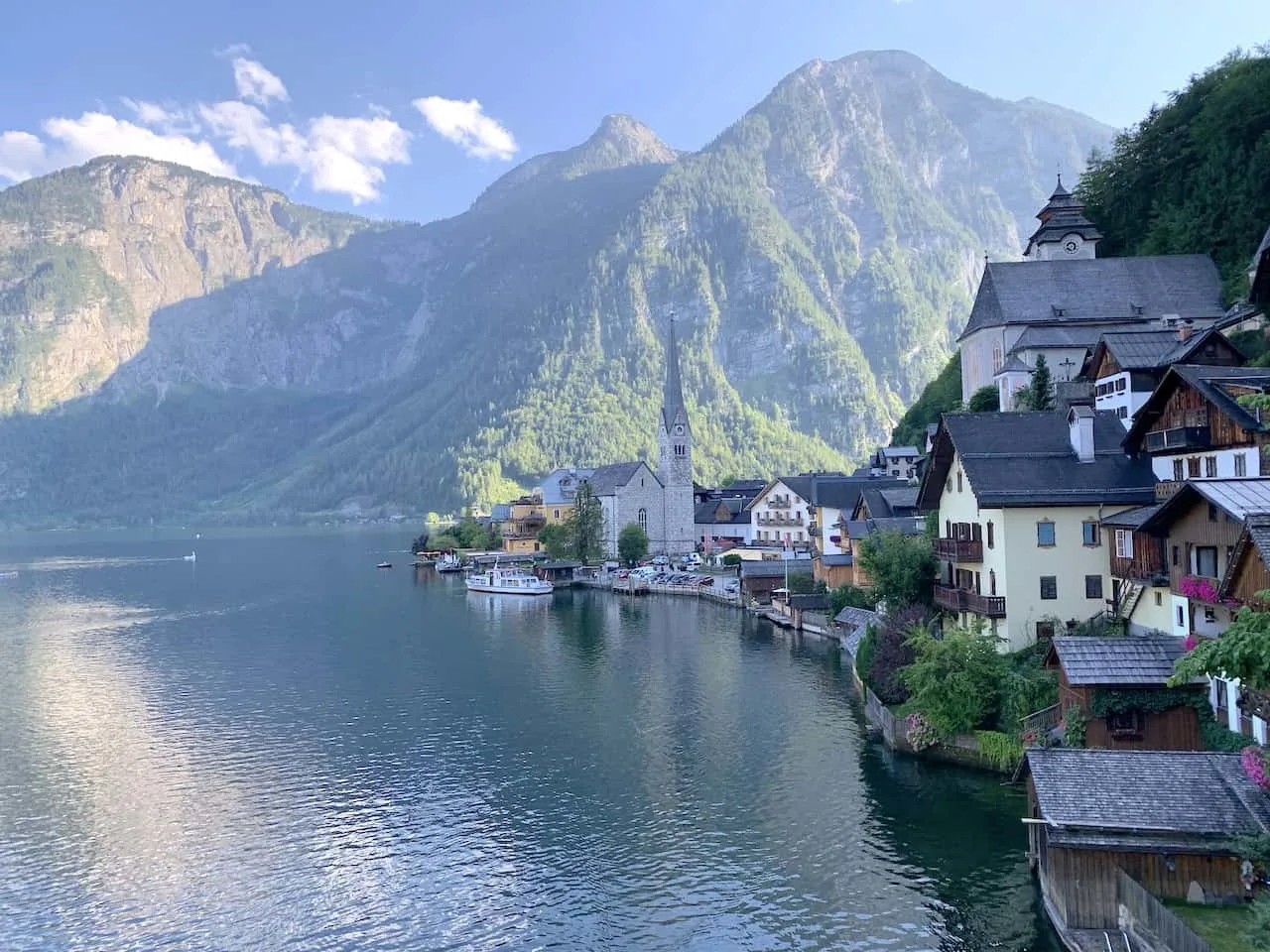 6) Where to Stay in Hallstatt
When it comes to Hallstatt you can decide to stay within the town itself or choose a nearby town instead.
While staying in Hallstatt is a great option, there is also a chance that either 1) all rooms are sold out or 2) the available rooms are out of your budget.
Since Hallstatt is pretty small, there are not that many options to choose from. So, if you can't get something you are looking for, then it is time to choose a nearby town instead.
With that said, here are some alternatives to staying within Hallstatt – Bad Ischl, Bad Goisern, Obertaun, and Gosau.
All of these towns are within a 10-30 minute drive to Hallstatt / you can leverage the trains and busses that pass through them to get to town.
Below are some of my recommendations to choose from in Hallstatt as well as in each one of the alternative towns. Each one is highly rated and would be a great option to choose from for your trip.
That about wraps up a guide to the Waldbachstrub waterfall. I hope you now have a better sense on how to go about a visit to the waterfall on your own.
If you have any additional questions or comments, feel free to add them in below.
Also don't forget to check out the other Austria itineraries and guides up on the site such as the 7 Day Austria Itinerary.
Have fun out there and safe travels!