When it comes to exploring the Austrian Alps, it doesn't get much better than the valley town of Mayrhofen.
Located in the Zillertal Alps, Mayrhofen offers some of the best hiking trails, mountain huts, and outdoor activities that you can ask for.
This guide will go through some of the best things to do in Mayrhofen in summer, and how to prepare yourself for a visit.
* Affiliate Disclosure: This post may contain affiliate links, which means I may receive a commission if you make a purchase through the links provided, at no additional cost to you. Thanks for supporting the work I put into TripTins!
1) How to Get to Mayrhofen
First things first, you must get yourself to Austria.
While you can take flights into Vienna and make your way west from there, you can also fly directly into Innsbruck. The Innsbruck airport is located less than an hour away from Mayrhofen by car.
Once in Austria, you can decide to travel to Mayrhofen either by rental car or by public transport.
Rental Car
In general, I did find renting a car to be the most convenient way to explore Austria (and nearby Bavaria) at my own pace.
By having a car, I was able to make my way to trailheads, leave on my schedule, and not need to worry about catching busses & trains around the country.
Now, if you are ONLY planning on visiting Mayrhofen, then renting a car may not be worth it, since you can easily take advantage of the public transport around the area.
But if you are planning a longer Austria road trip, then check out Rentalcars.com for potential car options that would work best for you.
Public Transport
Taking public transport to Mayrhofen should not be an issue, no matter where you are coming from in Austria.
There are essentially two main logistical aspects to consider:
1) OBB Train to Jenbach
First you will need to hop on a train that will let you off in Jenbach.
From Vienna for example, it is just 7 stops and takes 4.5 hours (from Innsbruck, just 15 minutes).
2) Zillertalbahn to Mayrhofen
The Jenbach station is located at the start of the valley. So, from there you will switch onto another form of transport to Mayrhofen.
The Zillertalbahn train is one of the main options that will take you down to Mayrhofen.
It takes around 50 minutes, as it makes stops throughout the valley before arriving at Mayrhofen Bahnhof.
In addition to the train, you can also take a bus (i.e route 8330) that heads between Innsbruck, Jenbach, and Mayrhofen with some more stops in between.
Now, if you want to head out to Mayrhofen in style, why not head on the steam train.
The steam train will run fewer times per day, but is a more unique option to consider as you complete the journey from Jenbach to Mayrhofen.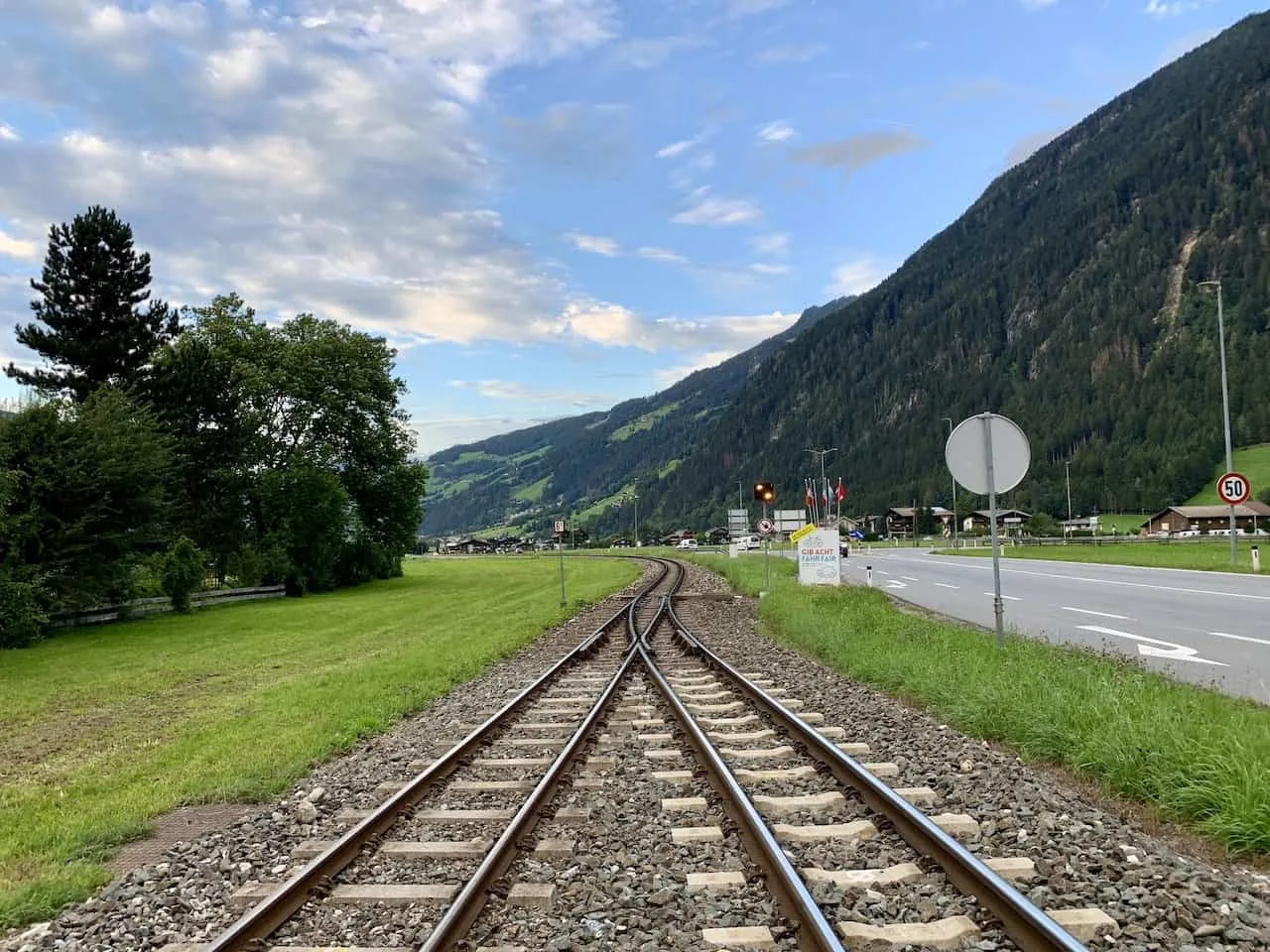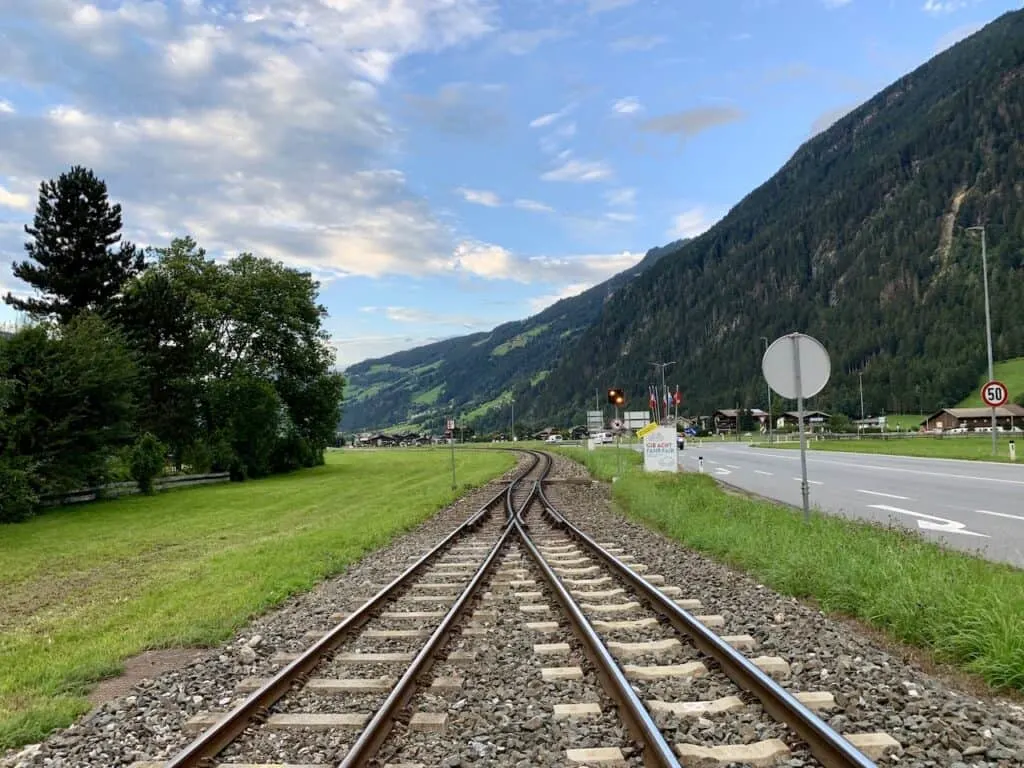 2) How to Get Around
Once you are in Mayrhofen, you will need to think about how to get around the area.
Luckily many attractions and activities are going to be within walking distance of town. So, depending on your interests, you may not need additional transportation to get around (besides for some cable cars that is).
But if you are trying to visit places further away from the town center, that is where you will need to consider your options.
If you have your own rental car, then there is not much to worry about. Like I said, you can be on your own schedule and head out to any trailhead or attraction as you see fit.
However, if you don't have your own rental car, then you will need to leverage the public transport network that Mayrhofen has to offer.
In Mayrhofen, there are many busses that can take you all around the valley to most of the tops spots you would want to visit.
Simply figure out your route for the day, head on over to the Mayrhofen website for schedules, and then make your way to the station in town.
Google Maps does a pretty decent job of helping out with routes, and you can also get some transport info from your hotel if need be.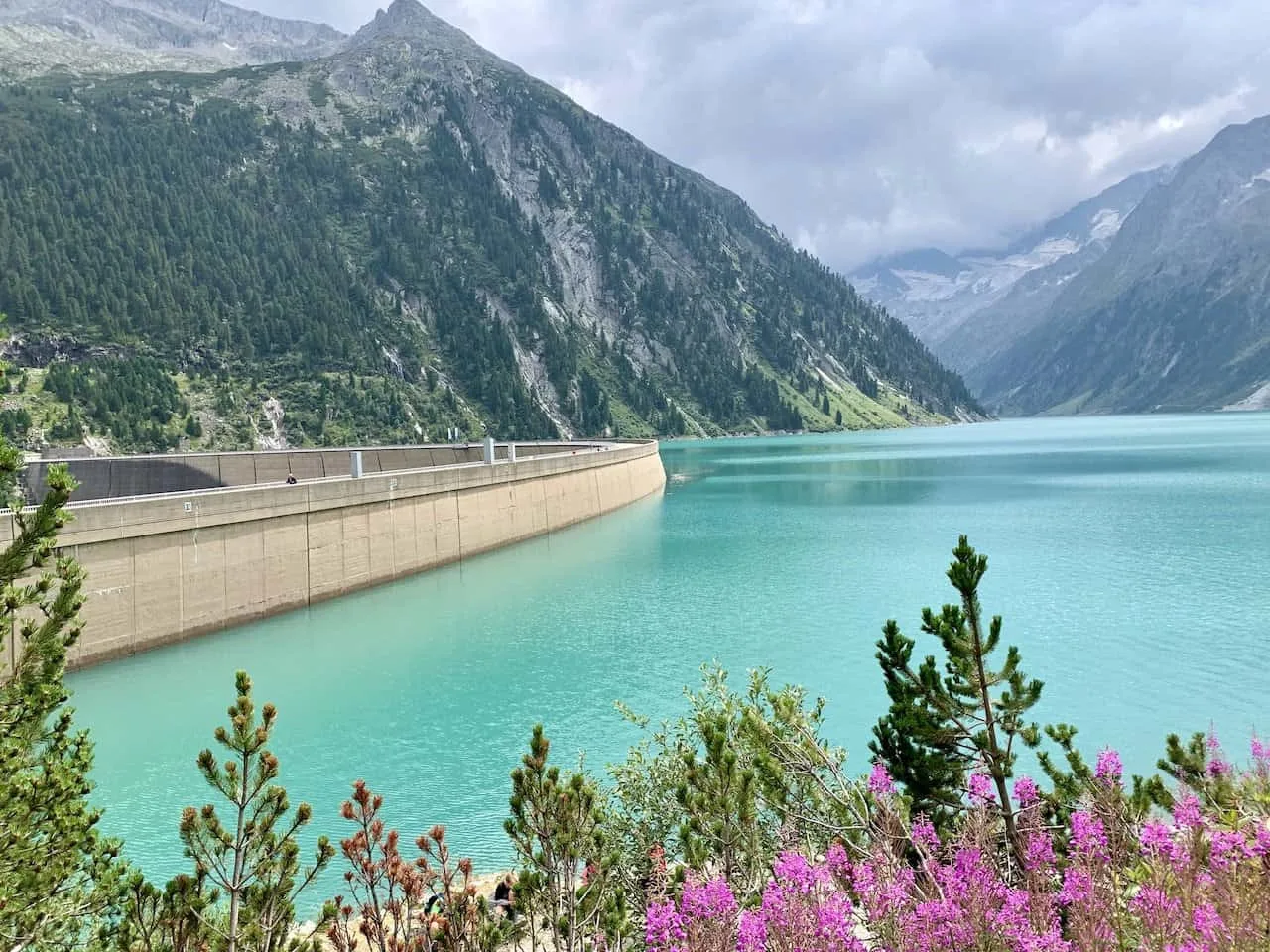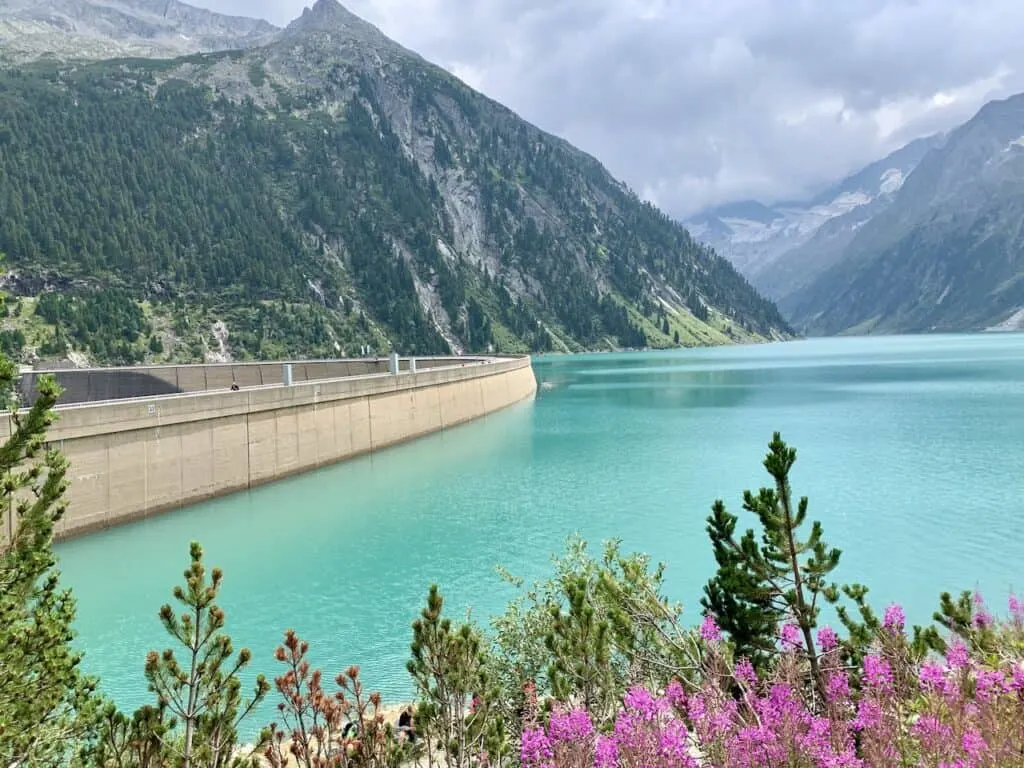 3) Mayrhofen Weather & When to Visit
When it comes to Mayrhofen, it is a year-round destination.
During the winter time, you will find ski runs in the surrounding mountains and a fun après ski environment in town.
When the snow melts, the hiking trails open up and Mayrhofen becomes a top summer destination for travelers.
Since this guide will focus more on that summer aspect of travel, that is what I will go over here.
While hiking in the valley and at lower elevations will open up earlier, some of the higher elevation hikes may still be too dangerous in the Spring/Fall periods.
In general, the main hiking season will be between late June and September.
Not only will the snow be melted away, but some seasonal bus routes only operate between those months.
This holds true for the famous Schlegeis Alpine Road, which opens sometime in May and closes at some point in October.
Now, when visiting during the summer, you can expect some beautiful days of clear skies and more overcast days as well. If hiking up in the mountains, you will want to avoid those times when clouds are blocking all those beautiful views.
I would recommend checking out Meteoblue and Bergfex for the most accurate forecasts around the region.
You can also take a look at some live webcams, such as the one on top of the Ahornbahn.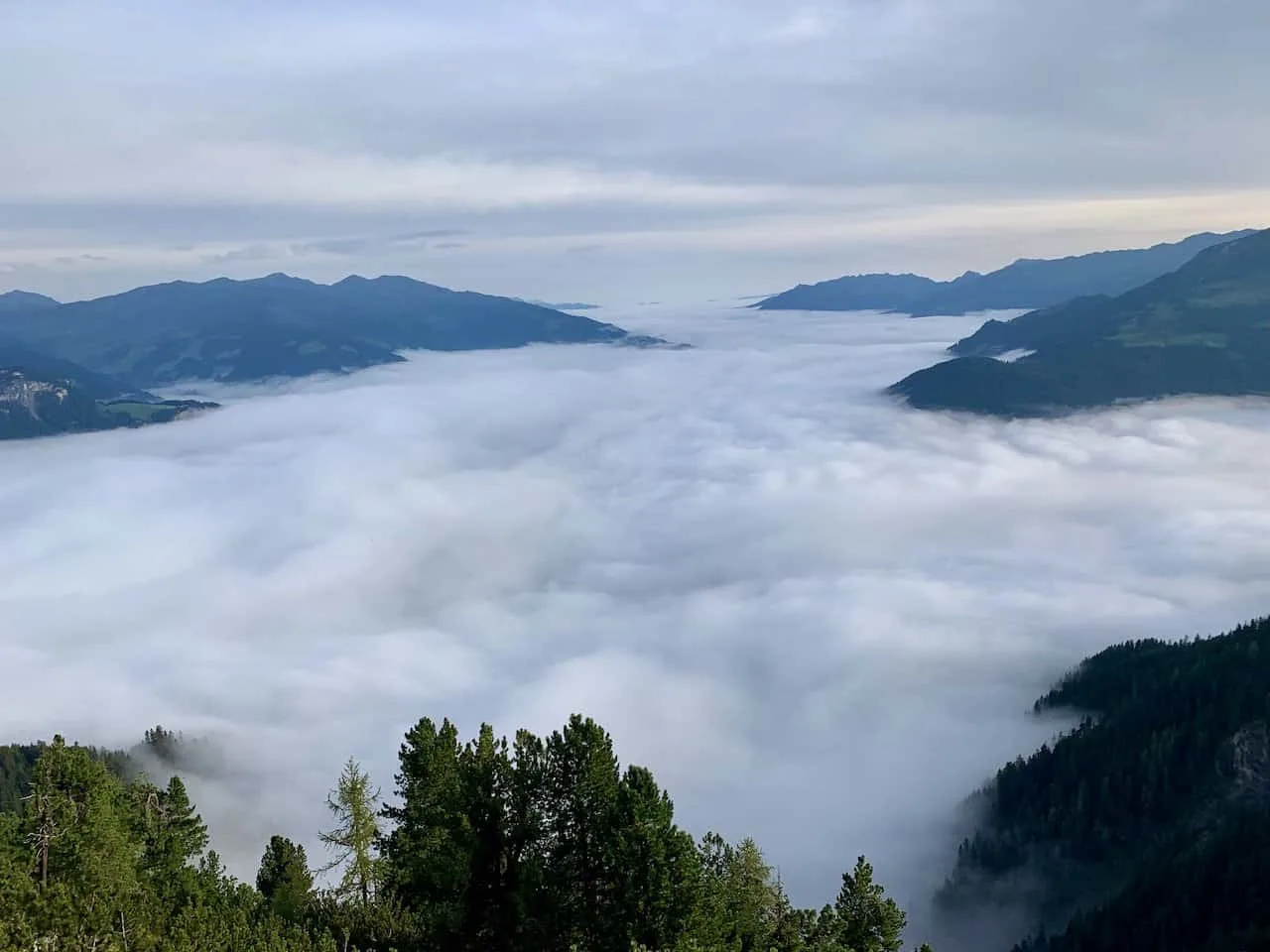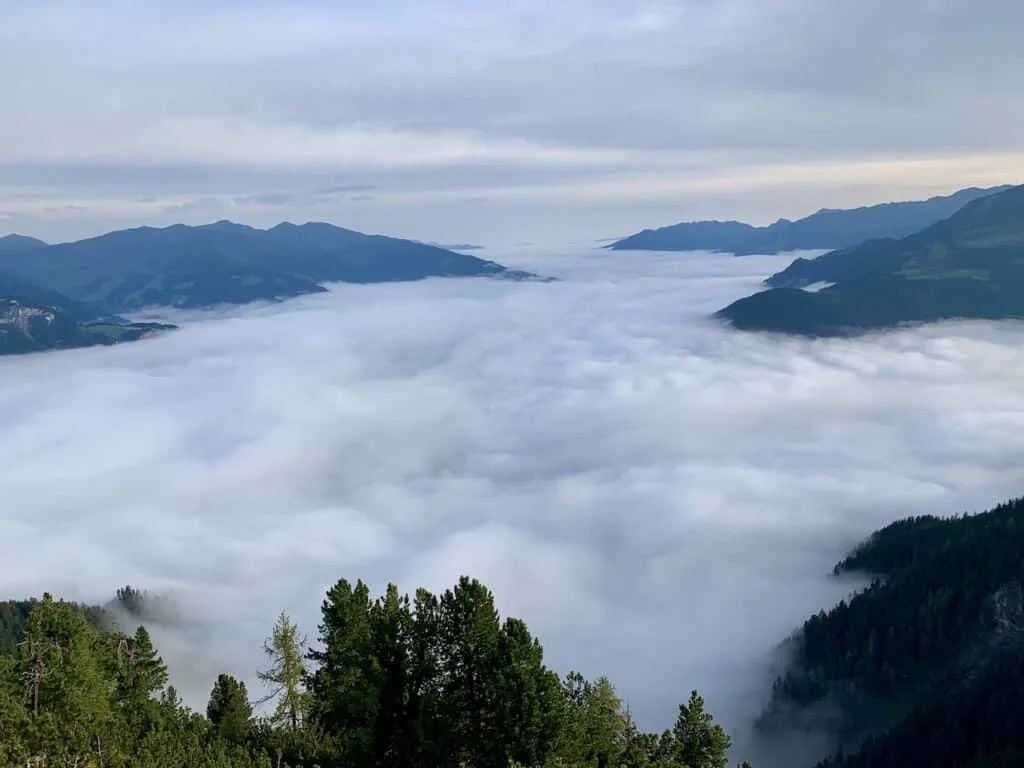 4) Where to Stay in Mayrhofen
When it comes to Mayrhofen, you will find a pleasant town to walk around and enjoy during your time there.
All around Mayrhofen, you will find hotels within walking distance from the town center.
In addition to classic hotels, there are also guesthouses and serviced apartments that can be found around the area.
There really is a great variety to choose from across all budget options.
To make things simple though, below are a few of the top accommodation options to consider for your stay:
Luxury: Hotel Neue Post | Alpin Lodge das Zillergrund | ElisabethHotel Premium Private Retreat
Mid Range: Sporthotel Manni | Alpendomizil Neuhaus | Zillertalerhof Alpine Hideaway
Budget: Birkenhof | Landhotel Rauchenwalderhof | Gasthof Edelweiss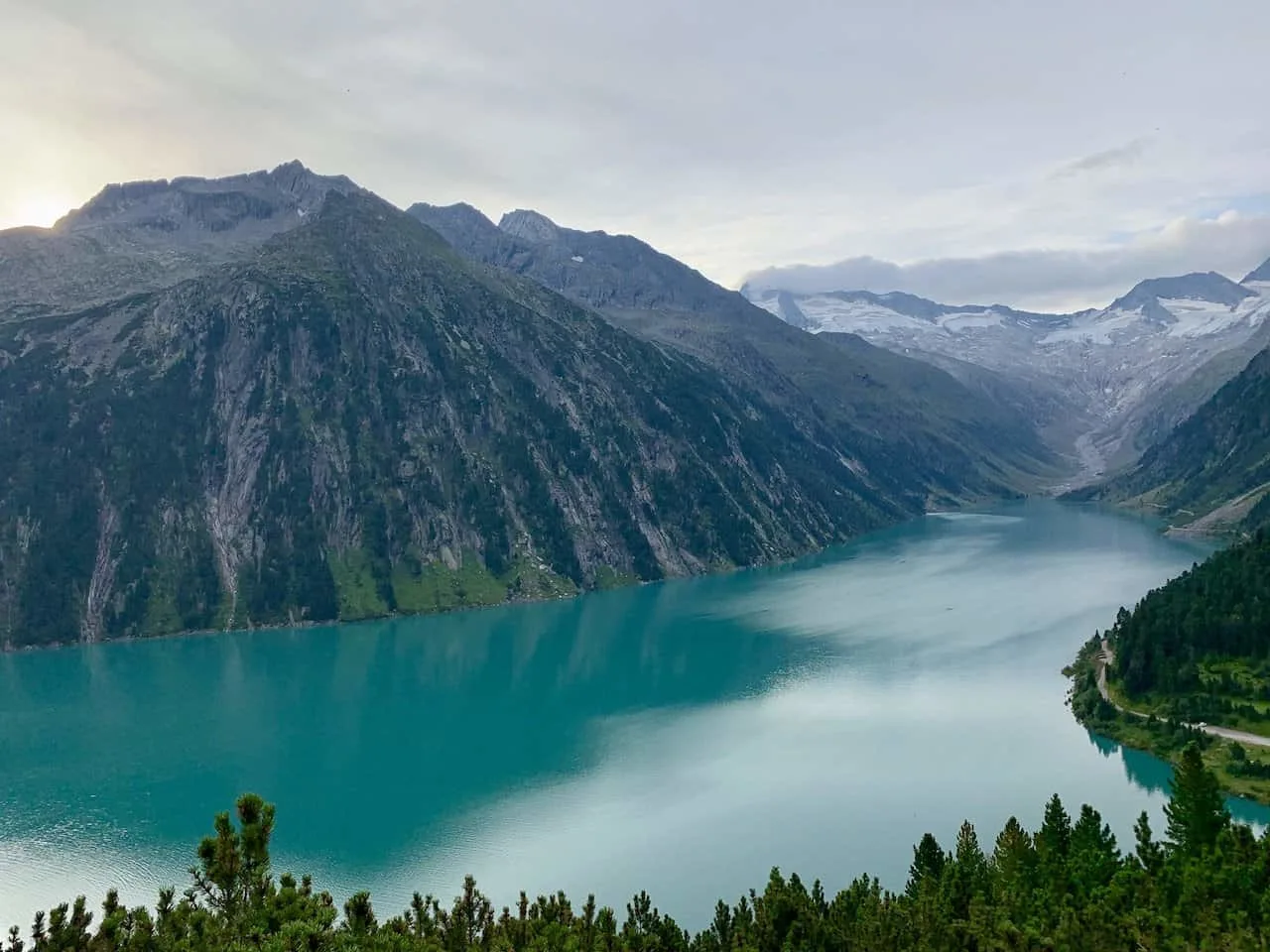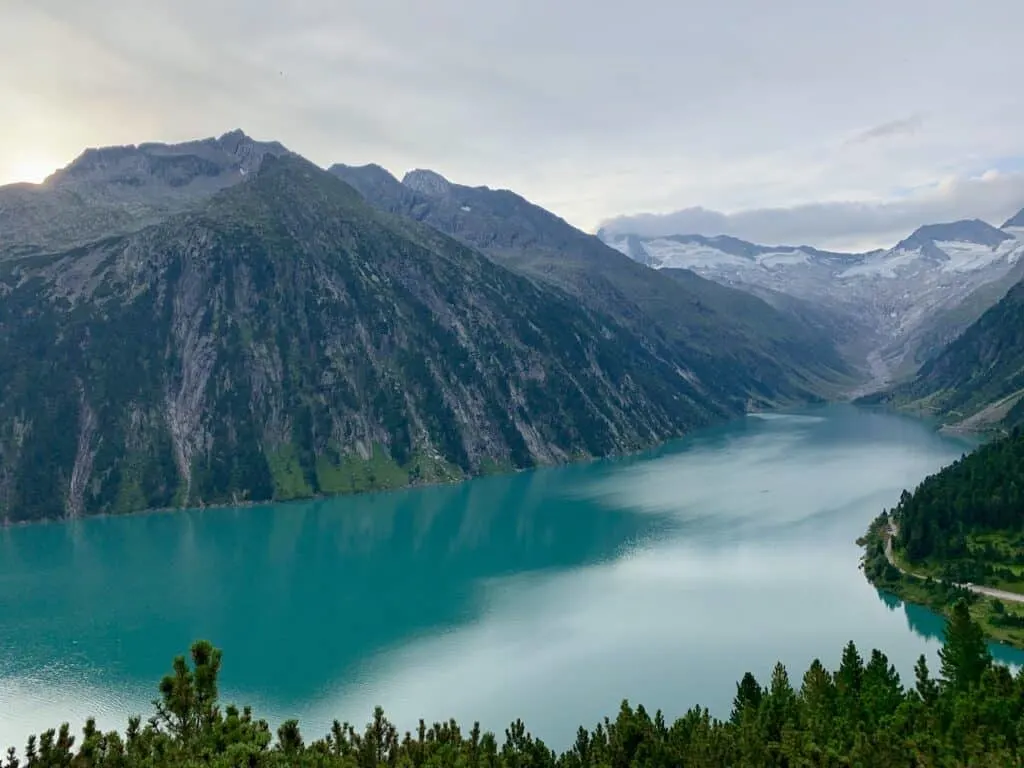 5) The Top Things To Do in Mayrhofen
Now that you have a better background about Mayrhofen, it is now time to talk through some of the top things to do in and around the town.
» Head to Mayrhofen as part of your 7 Day Austria Itinerary visiting places all over the country
Olpererhutte Hike
Located up the Schlegeis Alpine Road, you will find the starting point of the famous Olpererhutte hike.
If you have seen those photos with the small bridge floating atop a river with the lake & mountains out back, this is your spot.
The Olpererhutte is an overnight hut that is located up in the mountains above the Schlegeis reservoir (Schlegeis Stausee).
While staying in the hut overnight is one option to consider, you can also simply head out to the hut on a day hike from the parking lot down below.
During the hike you will be able to enjoy panoramic views of the surrounding Austria Alps along with Schlegeis Stausee out in the distance.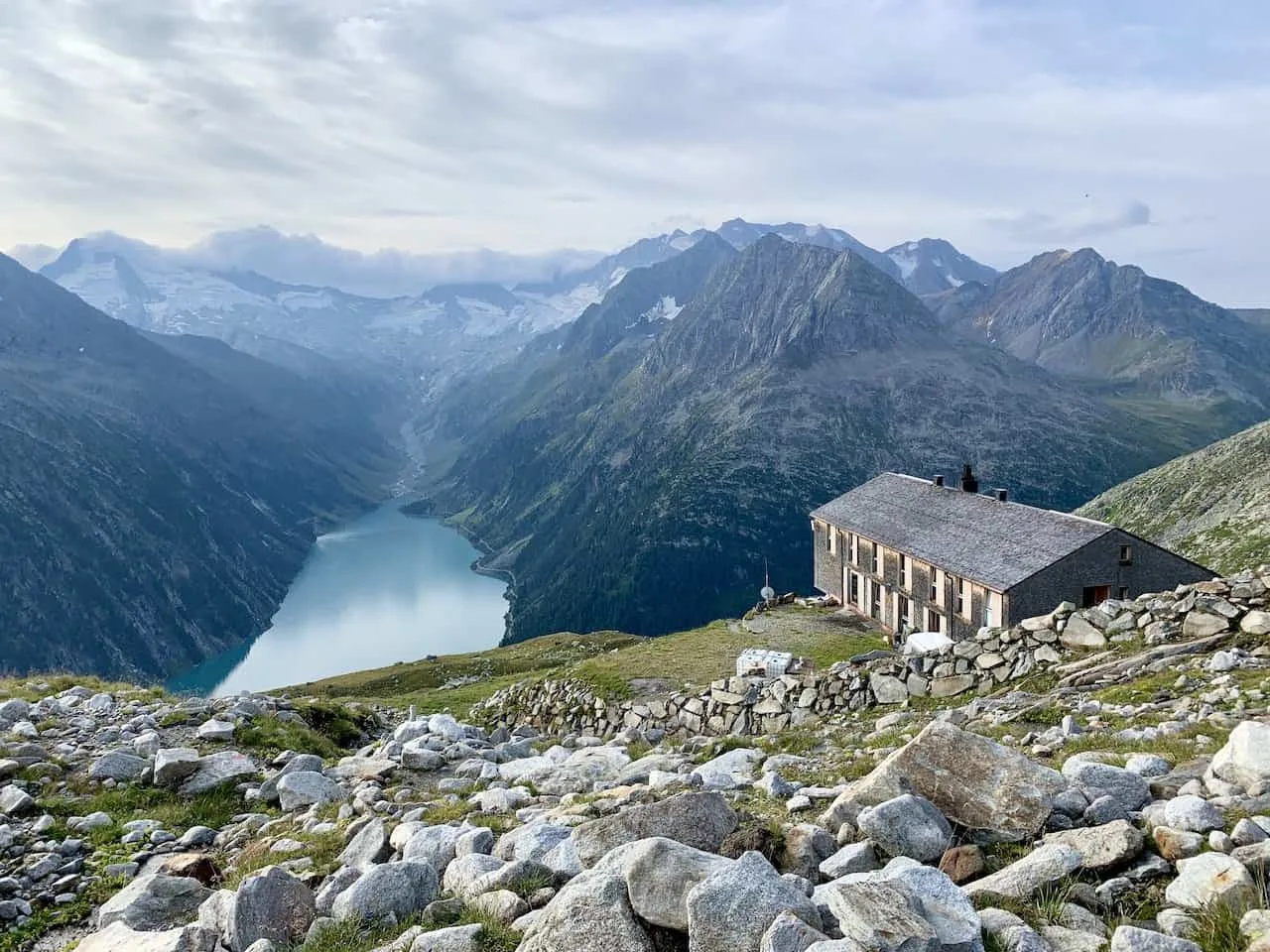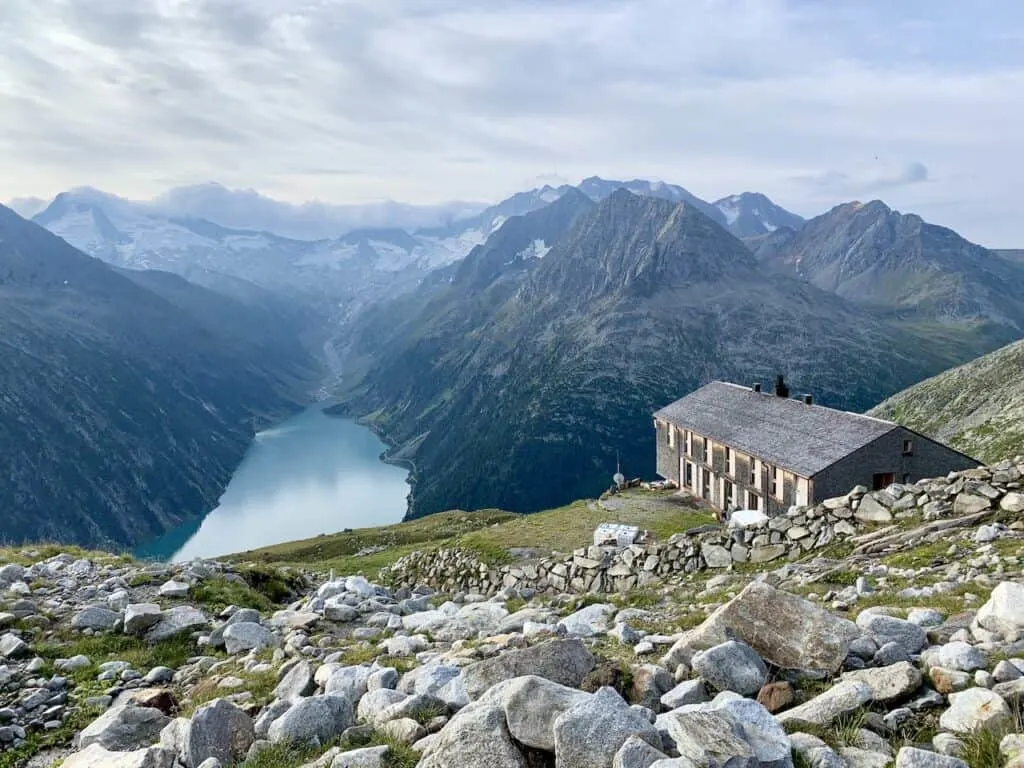 Once you reach the hut, it is then just a few more minutes of hiking towards the famous bridge.
You can take some photos and enjoy the view before heading back down the same direction you came.
The hike comes in at around 3 hours round trip along with 6 km / 3.7 miles of length and 600 meters / 1,970 feet of elevation gain.
It is the perfect hike length for those that want a shorter overall trail, but still get some of the best views out there (in addition to spending time at the hut too).
Getting to the trailhead is pretty simple altogether. You will either just drive yourself to the starting point, or hop on the seasonal bus route that will get you to the same spot.
Also be aware that the Schlegeis Alpine Road is only open in the May to October timeframe (give or take). So, you can only hike the trail and head up the road during that time.
Be sure to read the Olpererhutte hike overview that will go into more detail about it all.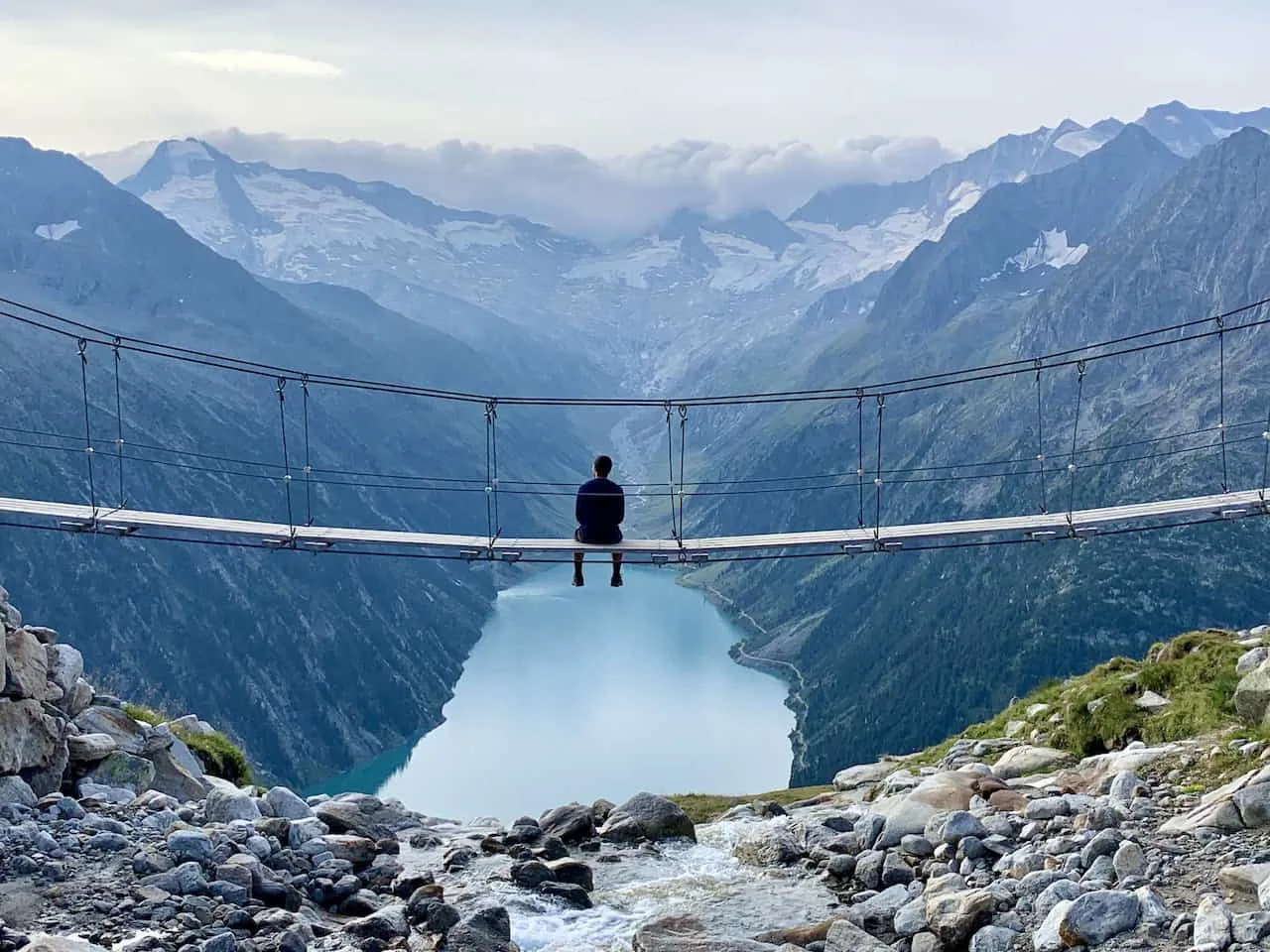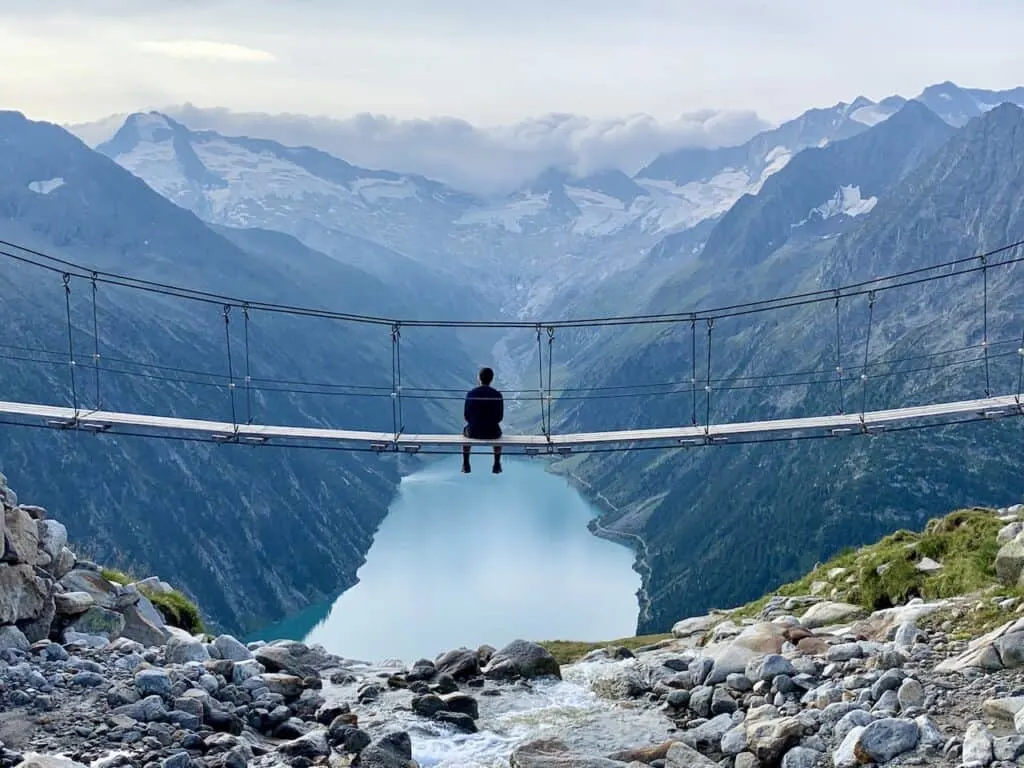 Schlegeis 131
Staying on topic with the Schlegeis Stausee area is Schlegeis 131.
When it comes to adrenaline inducing things to do in Mayrhofen, this is certainly going to be on the top of the list.
While Schlegeis may look like a natural lake at first glance, it is actually a reservoir. And at the edge of the reservoir is a large wall that drops down into the valley.
The wall comes in at 131 meters in height, hence the name Schlegeis 131.
There are a few different offerings at the wall including:
Flying Fox: a 600 meter / 1,970 foot zipline that goes from one side of the wall to the other.
Giant Swing: this is essentially a bungee jump, where you hop off of a platform located at the top of the wall.
Sports Climbing: on the wall you will find a bottom to top rock climbing course to take part of.
Via Ferrata: also on the wall are a couple via ferrata routes. This entails hooking in and out of metal wires and "walking" along the wall itself.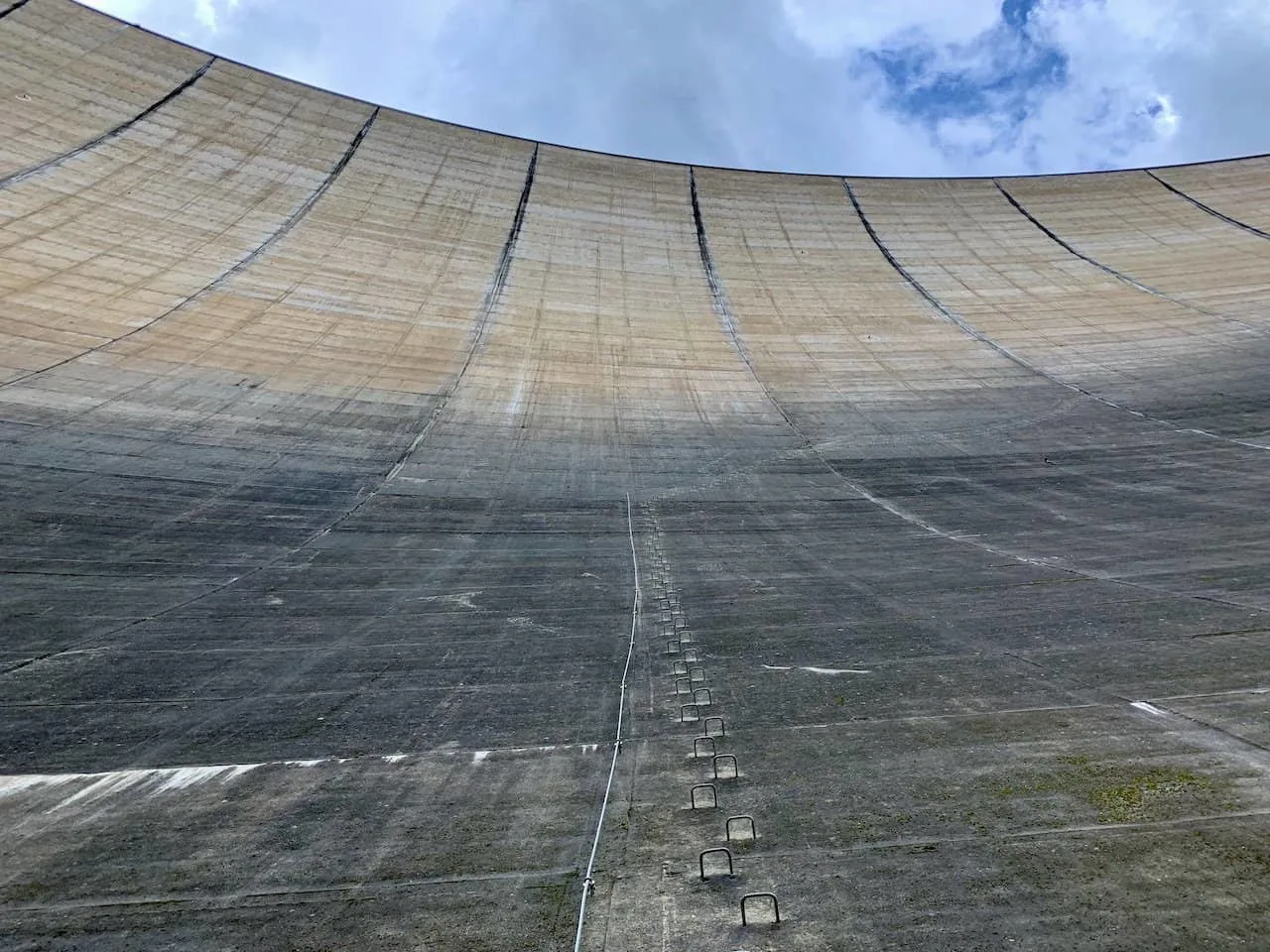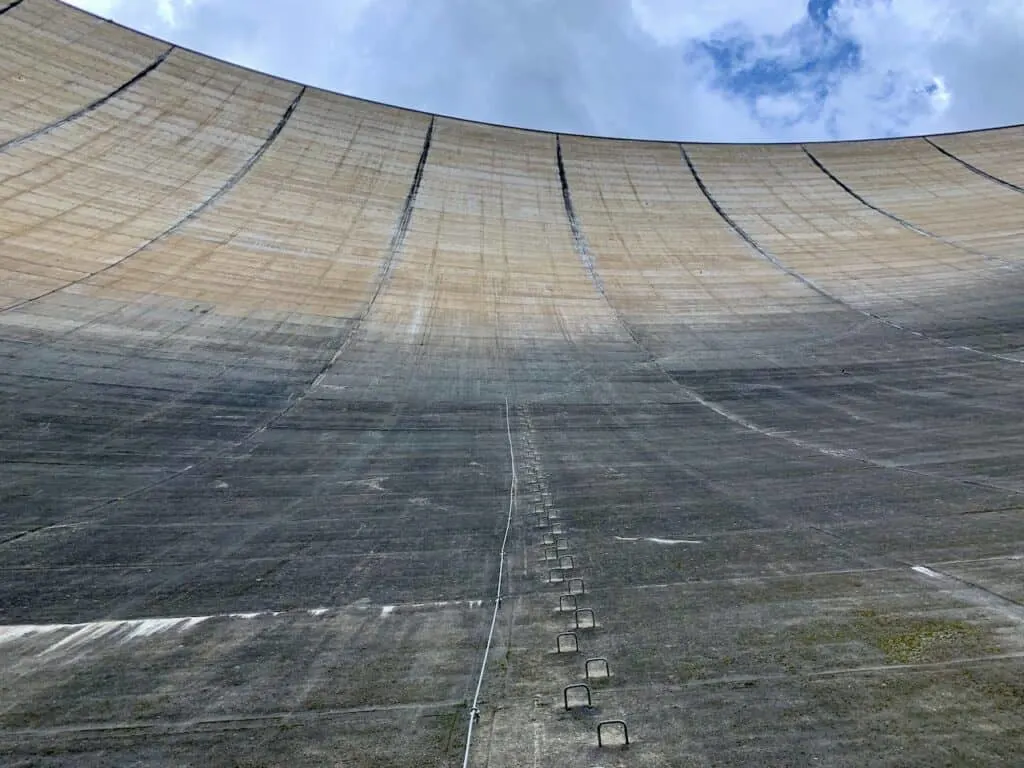 Friesenberghaus
Another mountain hut that is located in the same general area as the Olpererhutte is called the Friesenberghaus.
This is another hut that you can day hike to (or stay overnight at) and can be reached from the Schlegeis Stausee parking lot.
Depending on your fitness levels, you can actually combine the Olpererhutte and Friesenberghaus into one longer loop hike.
However, if you don't want to overdo it, then heading just out and back to the Friesenberghaus will be well worth the effort too.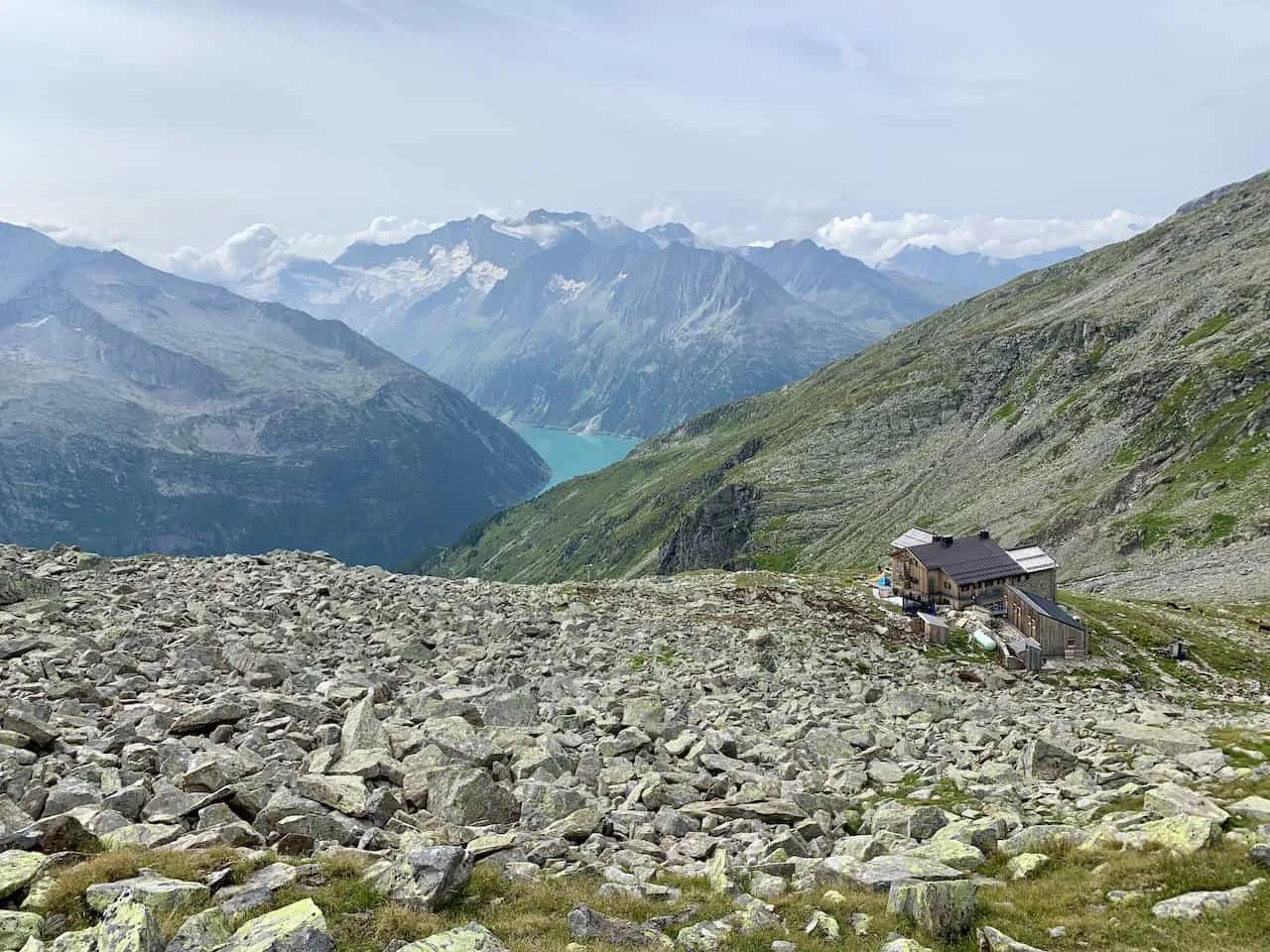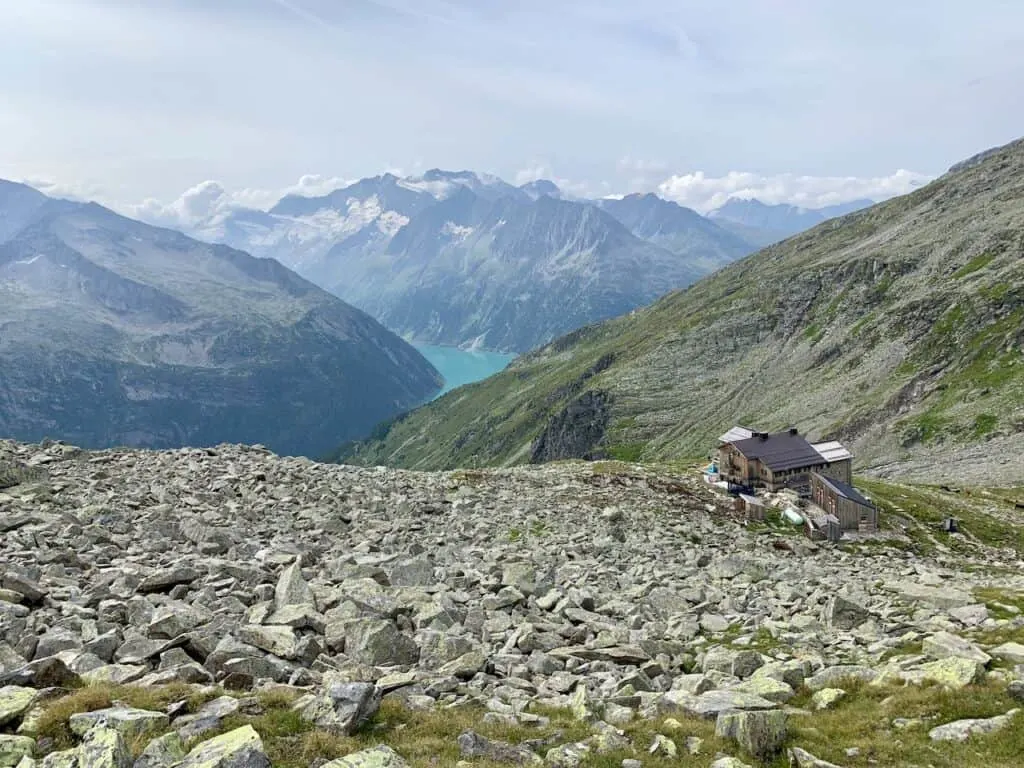 The out & back route should be around 4 hours in length (including the Olpererhutte will add an additional ~2 hours to the route).
Note: some folks prefer not to do the combo route because a portion of the trail between the Olpererhutte and Friesenberghaus can be on very rocky & unstable terrain.
The hike up and down to the Friesenberghaus is a beautiful one to take in as you get plenty of various mountain, lake, and valley views all around.
I especially enjoy the hike back down, as you have so much scenic landscape out in front of you, and the trail is quite pleasant to follow.
Hiking Tip: once you reach the Friesenberghaus, you can extend the hike to a viewpoint above the hut itself. In this area, called the Peterskopfl, you will find hundreds of rock piles sprawled throughout the area.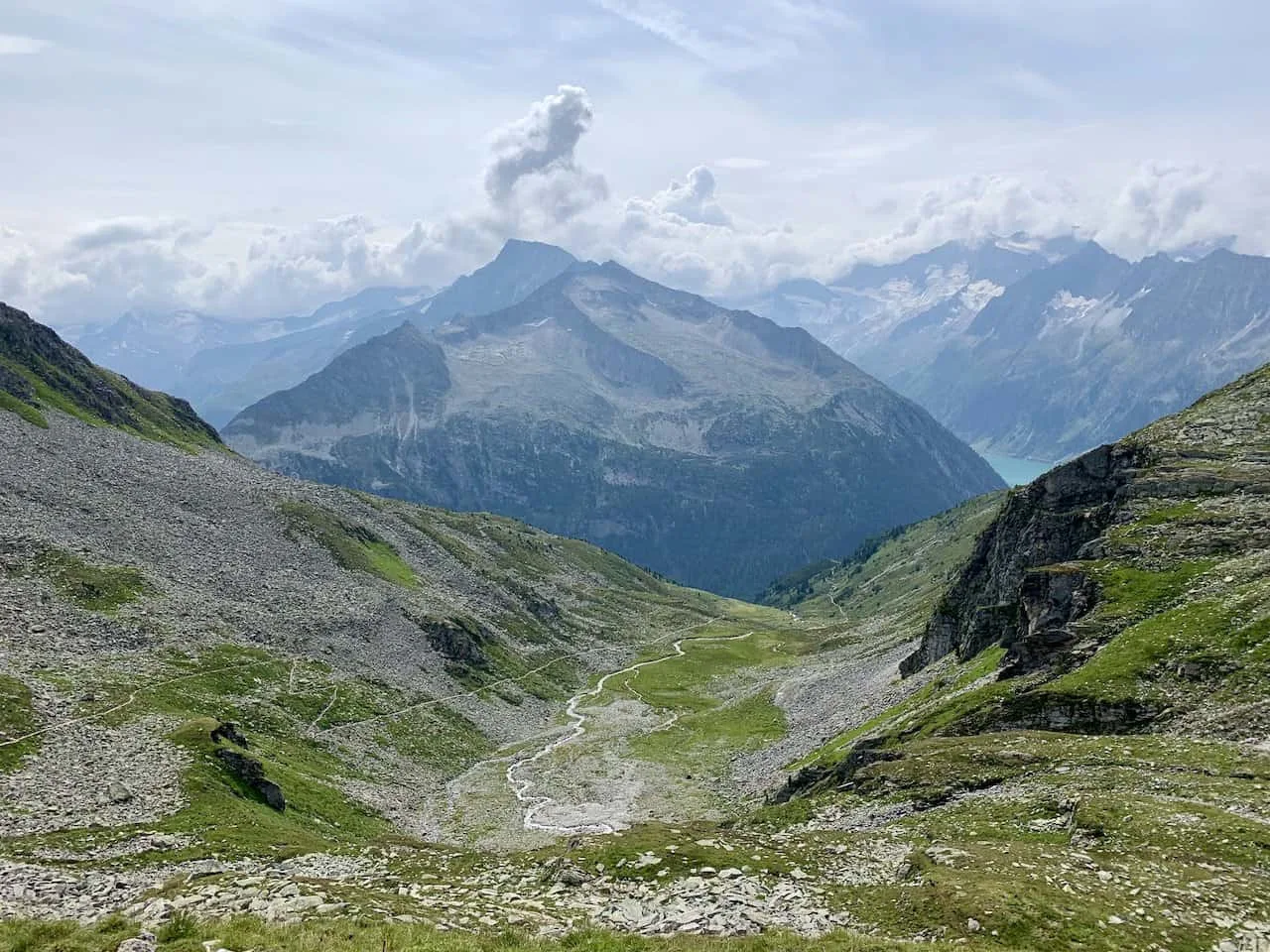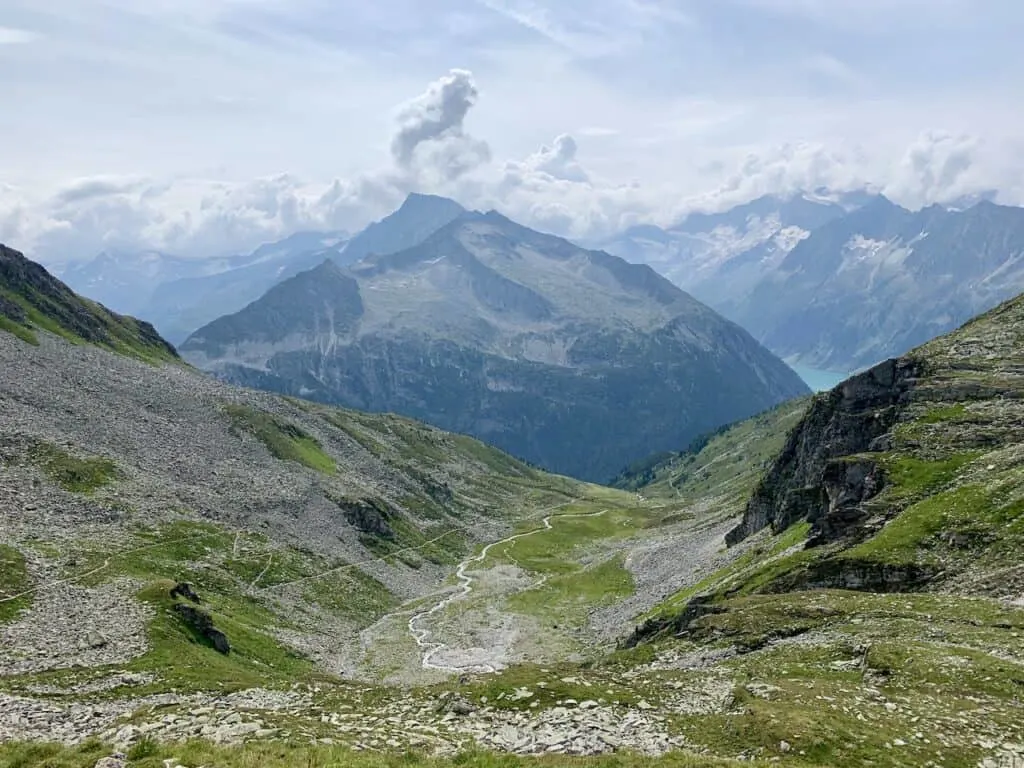 Ahorn Mountain
Standing tall high above Mayrhofen is Ahorn Mountain (also known as the Ahornspitze).
Luckily, to reach the main activity area on the mountain (the Ahorn Plateau), you can simply take the Ahornbahn that will immediately take you to 2,000 meters above sea level.
Once you reach the top of the Ahornbahn, it is up to you to decide what type of activities to take part of.
There are some very easy and enjoyable hiking trails in the immediate vicinity including the Leisure Ahorn Trail and Filzenalm Alpine Farming Trail.
In addition, you will find Lake Ahornsee, which is the perfect place to just sit back, enjoy the view, and dip your feet in the water.
For those bird lovers out there, Ahorn mountain has the Birds of Prey Station. Various birds can be seen here during the daily show that is put on.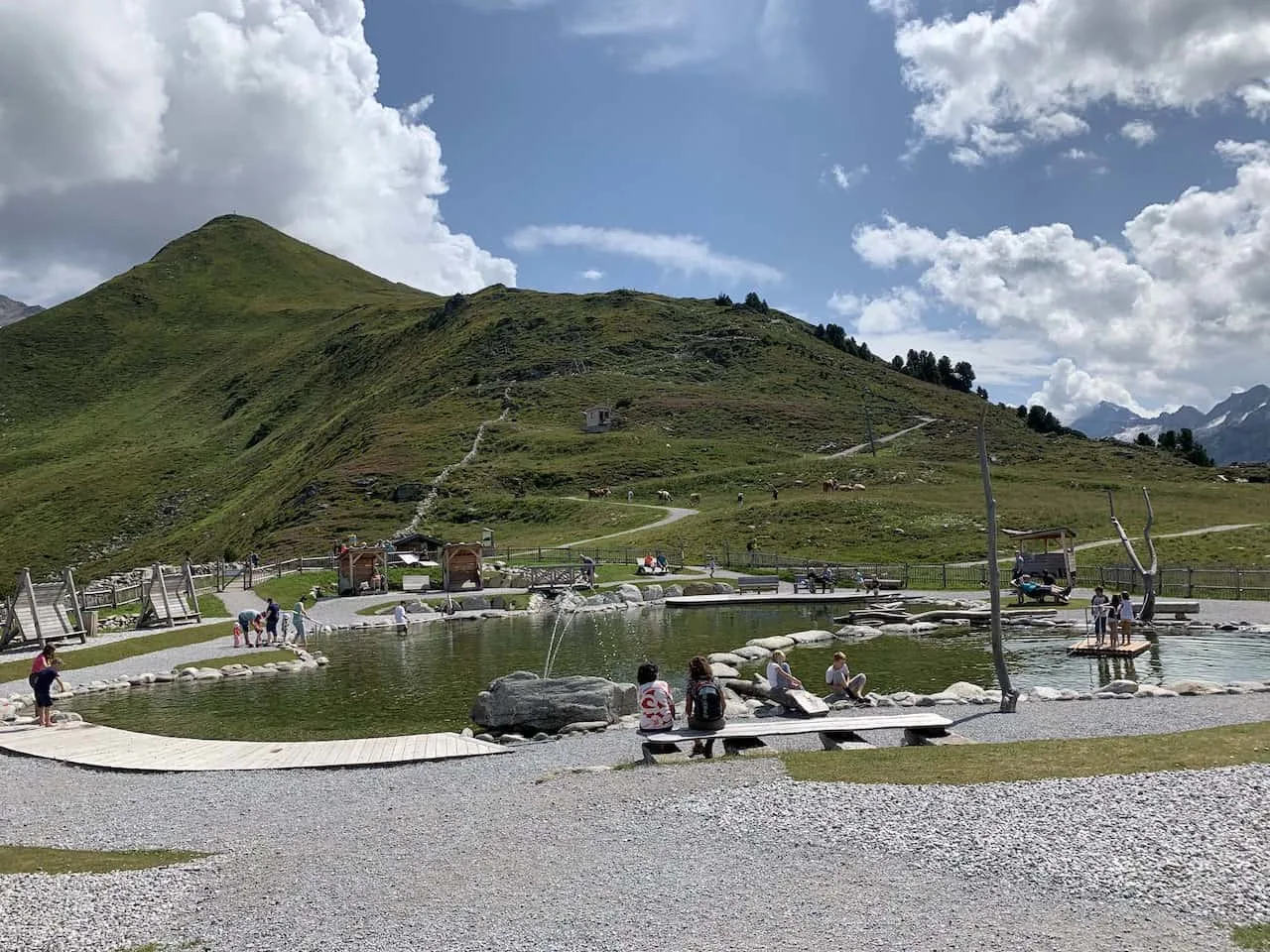 And lastly, there is of course the opportunity to hike to the very top of Ahornspitze as well.
Instead of just hanging out at the plateau, you can spend the day heading to the summit.
This is going to be a longer trail, coming in at 6-7 hours round trip. The hike covers 12 km / 7.5 miles along with nearly 1,000 meters / 3,300 feet of elevation gain.
I would recommend taking the first gondola up in the morning (the "hiker's gondola") to give yourself enough time to fully enjoy the hike.
Be sure to check out the Ahorn Mountain guide to learn more about this one of kind trail.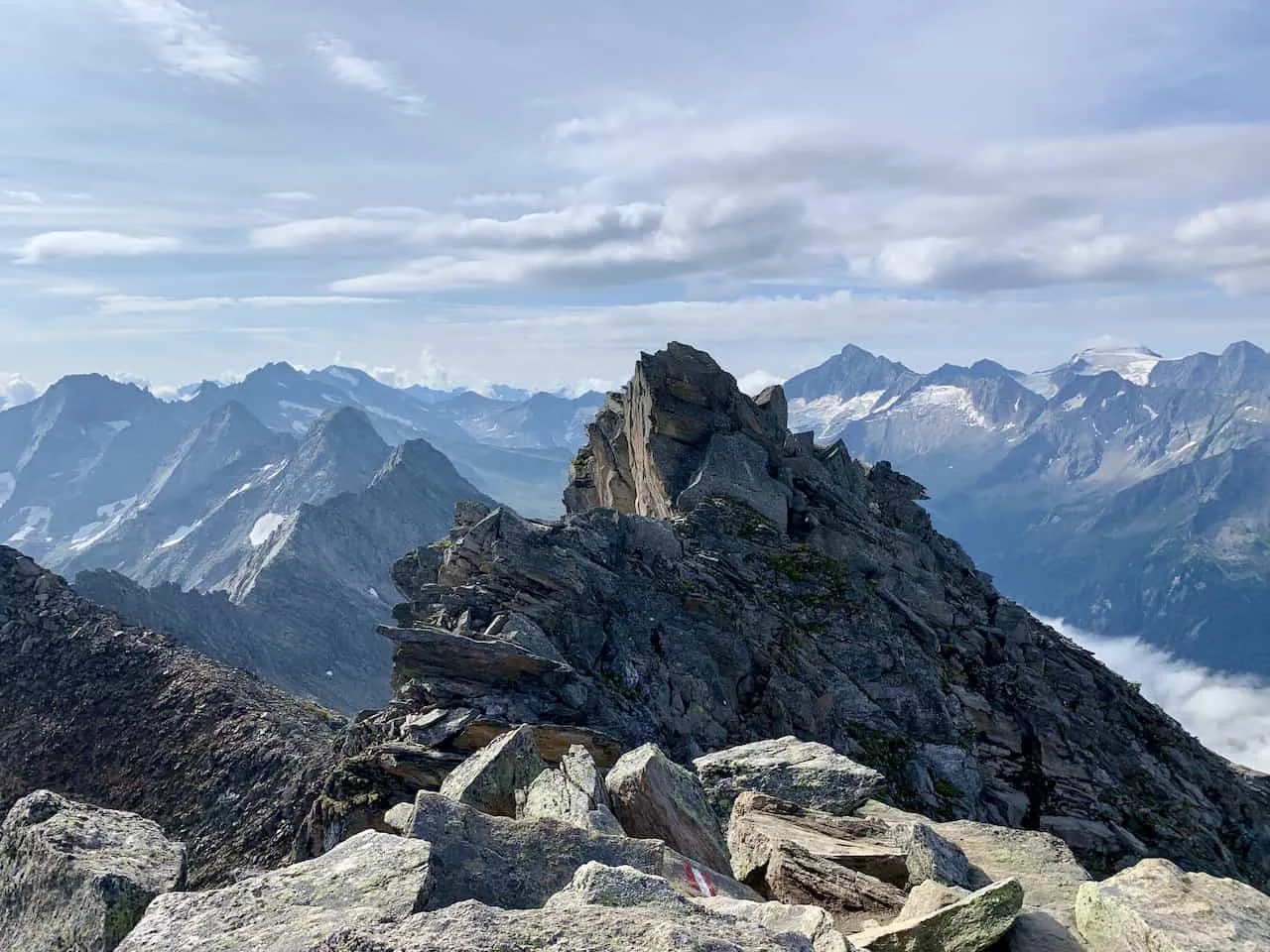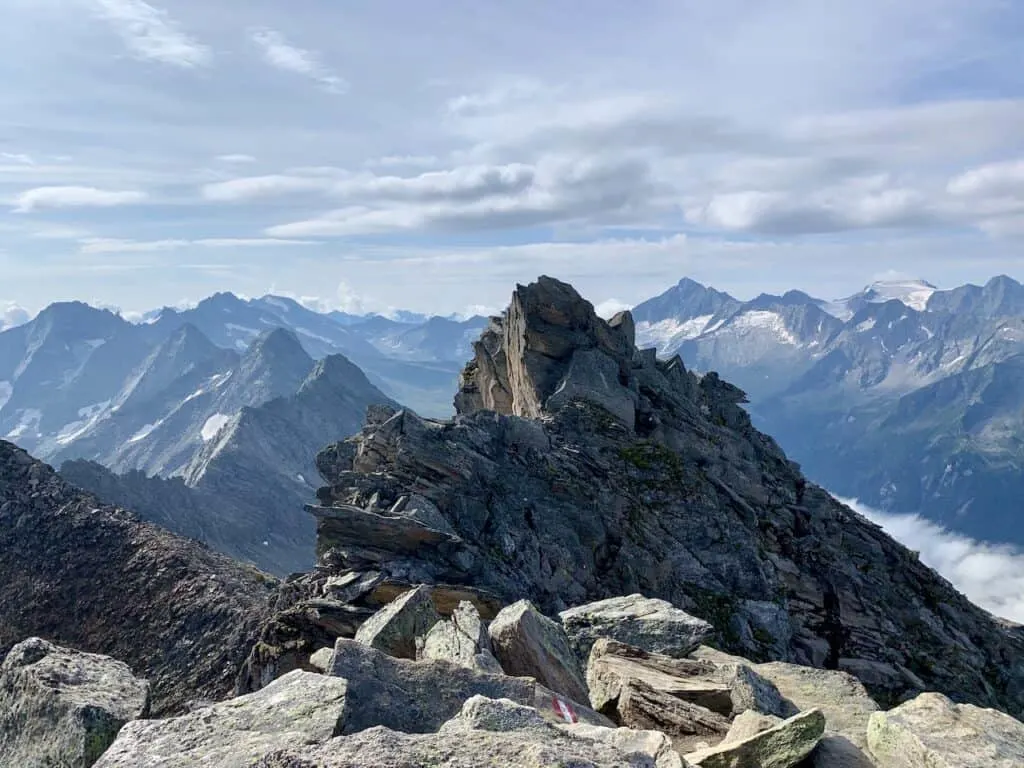 Penken Mountain
While the Ahornbahn is one of the gondolas offered in Mayrhofen, the Penkenbahn in the other.
Penken mountain offers a whole variety of things to do in Mayrhofen for the family.
Once up top the gondola you will find the "FunSportStation". There are activities such as the Mountain Scooter Tour, MotorSkills Parcours course, and the Mountain Playground.
The mountain also offers live music and entertainment at MusikInsel, if that is something that sounds fun & exciting to you.
Hiking trails, mountain bike trails, via ferratas, and paragliding are also all available from atop the Penkenbahn.
There really is something for everyone here to enjoy a day out in the mountains.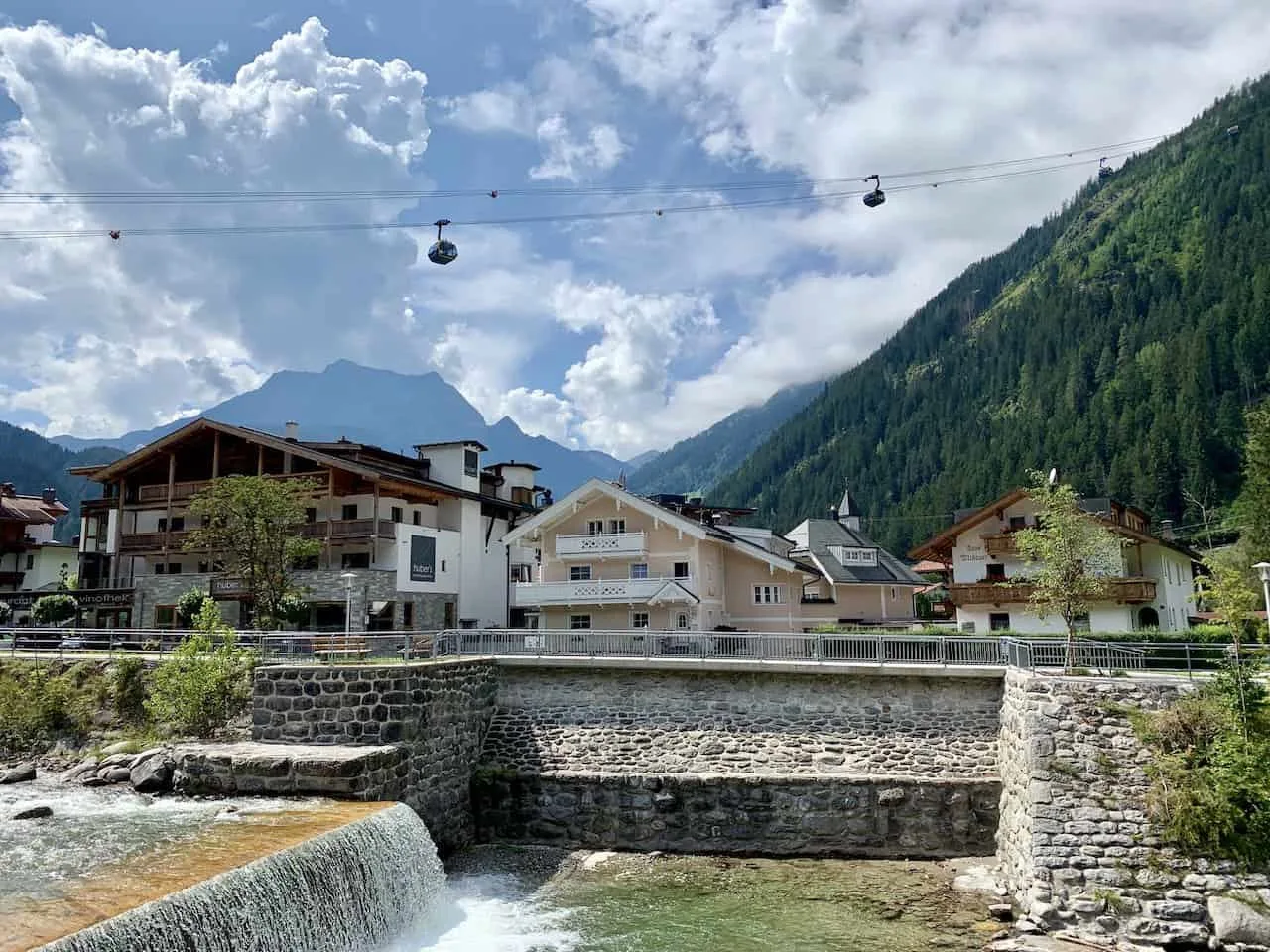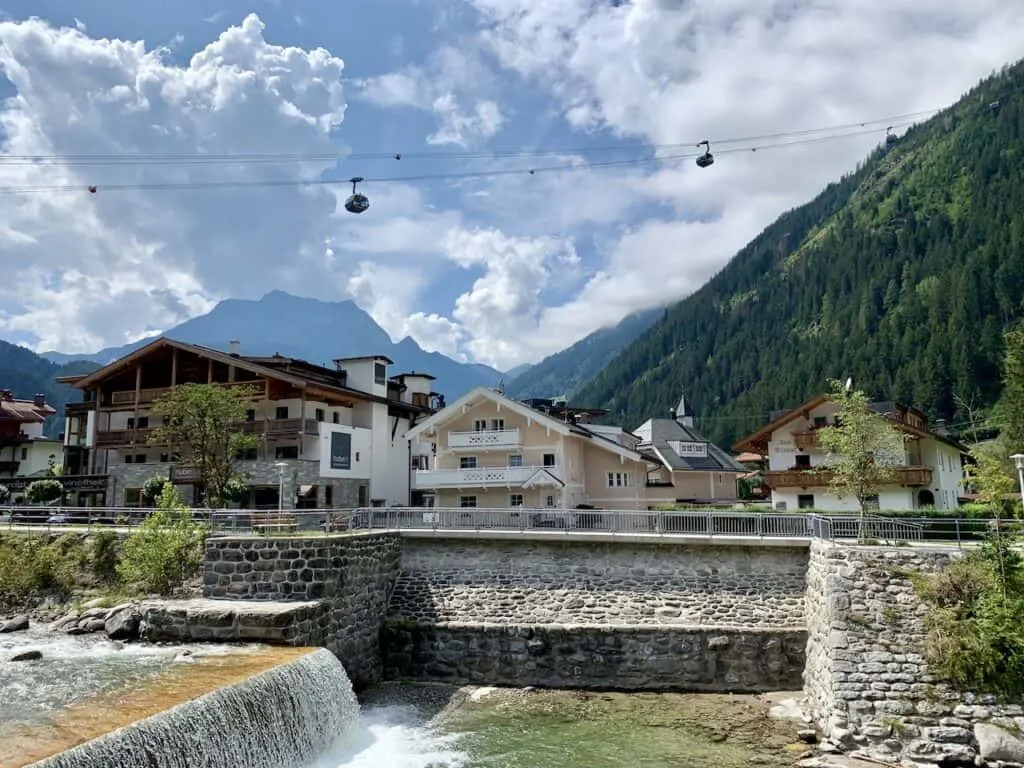 Berlin High Trail
For those multi day hikers out there, the Berlin High Trail is the top option to choose from.
Over the course of 6-8 days and 85 km / 53 miles, you will encircle the Zillertal Alps, as you stay in mountain huts along the route.
There really is no other hike in the area that will offer everything that this one does.
Mountains, lakes, valleys, and more will be a constant throughout the route.
If you are up for the challenge, then be sure to book your huts in advance to guarantee a spot.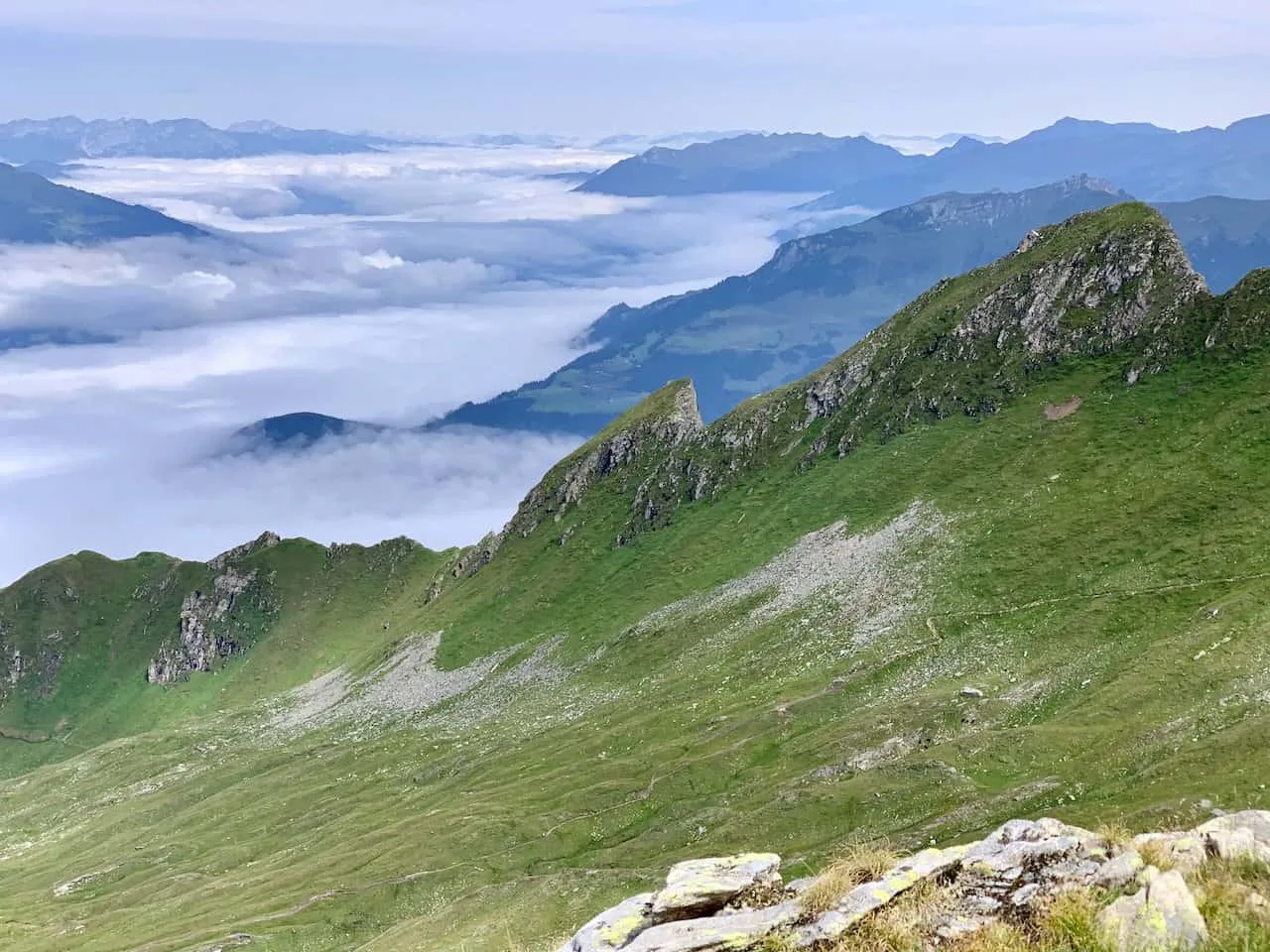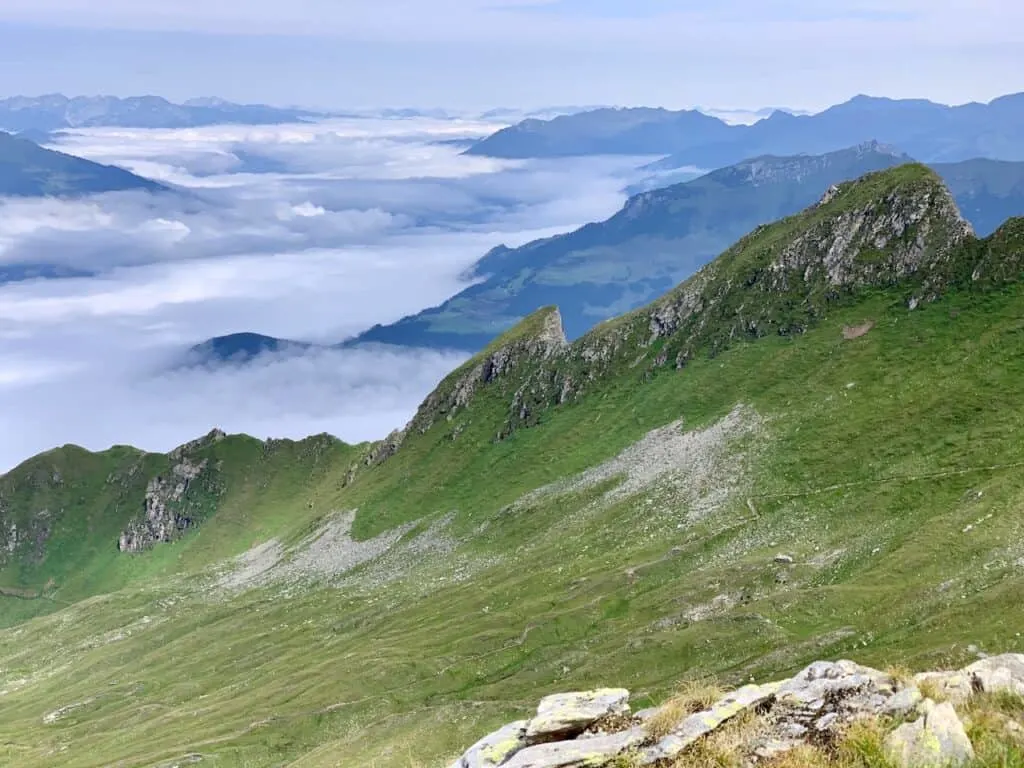 Via Ferrata / Klettersteig
I touched upon this briefly before, but all throughout the area you will find various via ferrata / Klettersteig courses.
This is going to be one of the more thrilling things to do in Mayrhofen during a stay.
A via ferrata (also called Klettersteig) is essentially a fixed route on the mountainside. You will need a harness, carabiners, and helmet to complete these routes in a safe manner (these can be rented in town).
Each route can have varying difficulties so be very aware of this when picking your course.
Throughout a via ferrata you will be clipping in and out of a fixed wire as you use the mountainside & metal pegs/rungs to continue on the route.
It really is a mixture between hiking & rock climbing, as it gives people the chance to go above and beyond compared to what they may normally do.
Check out the Mayrhofen via ferrata overview to learn more about these routes in the area.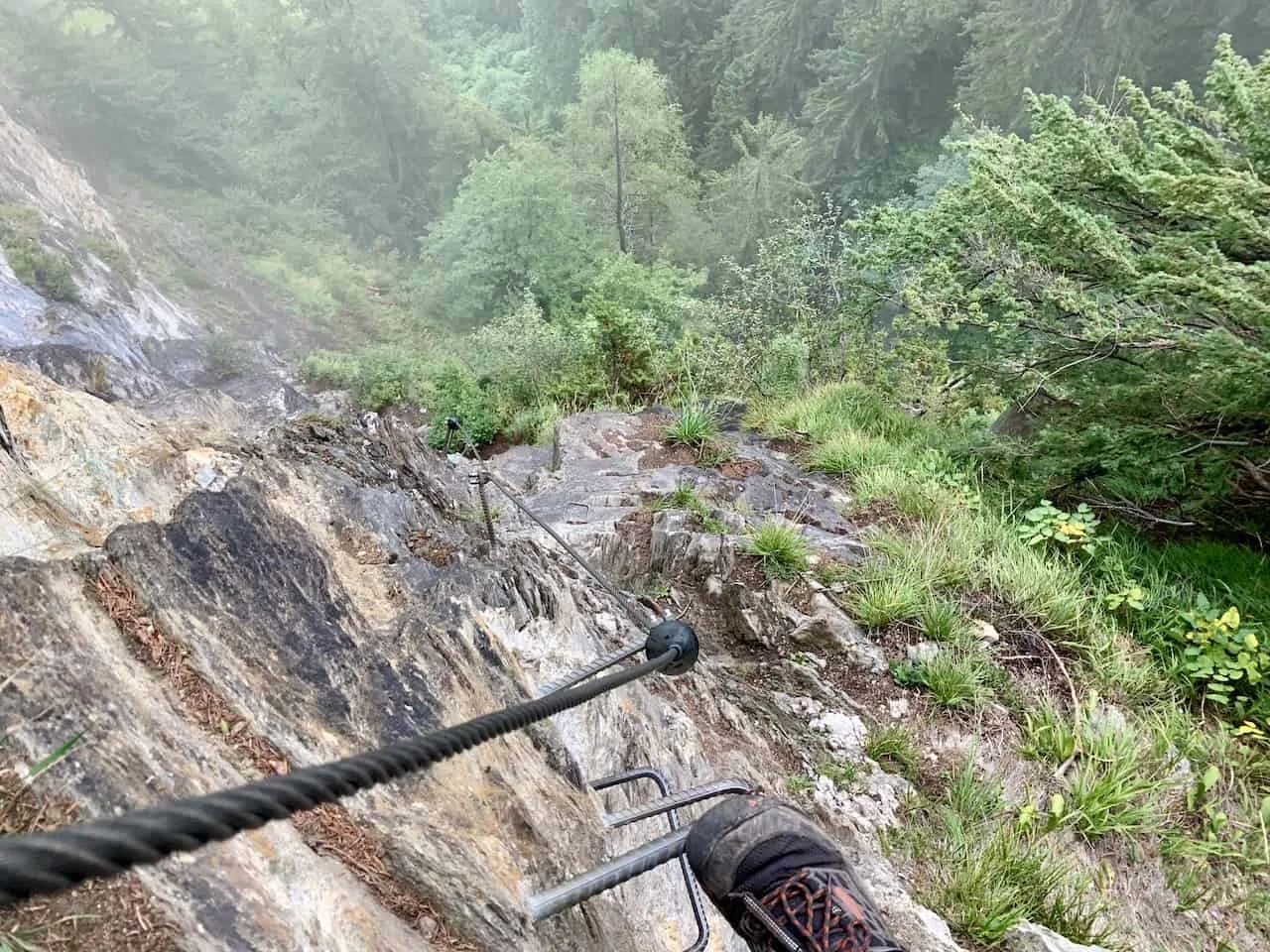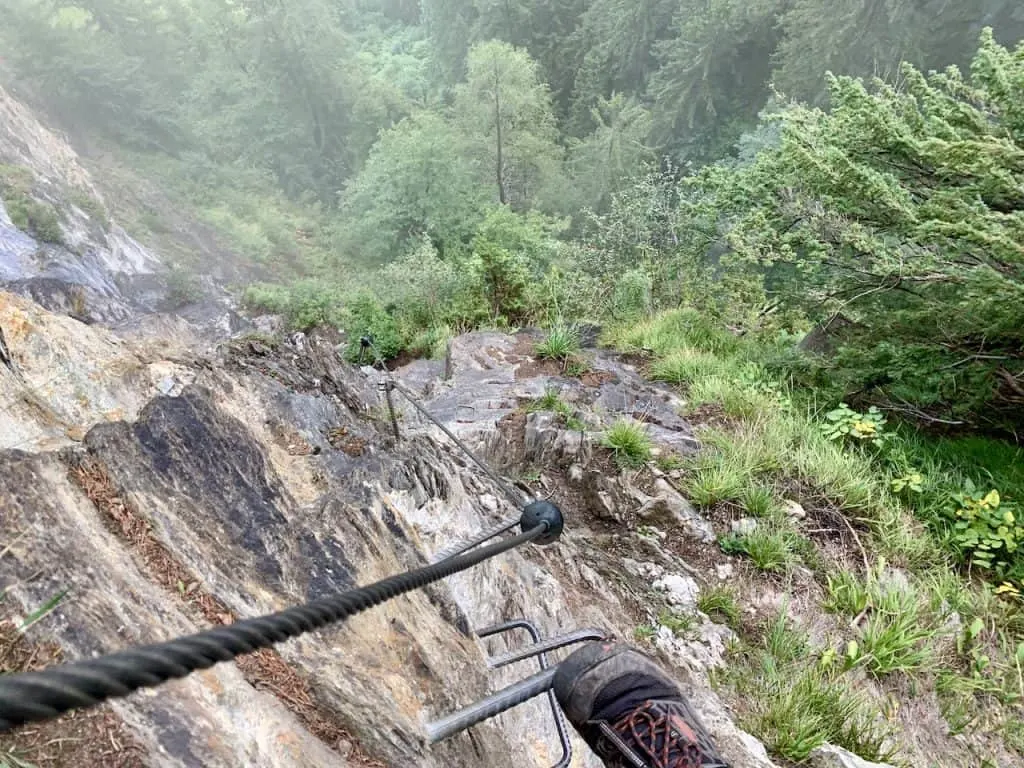 River Rafting the Ziller River
What better way to experience the beautiful Ziller River than to take a river rafting ride.
There are a few different river rafting experiences depending on the intensity you are looking for.
During a ride down the river, you will head around rapids, take in the beautiful Zillertal Valley scenery, and get some adrenaline going all at the same time.
You can check out the latest offerings, which also include other experiences like canyoning.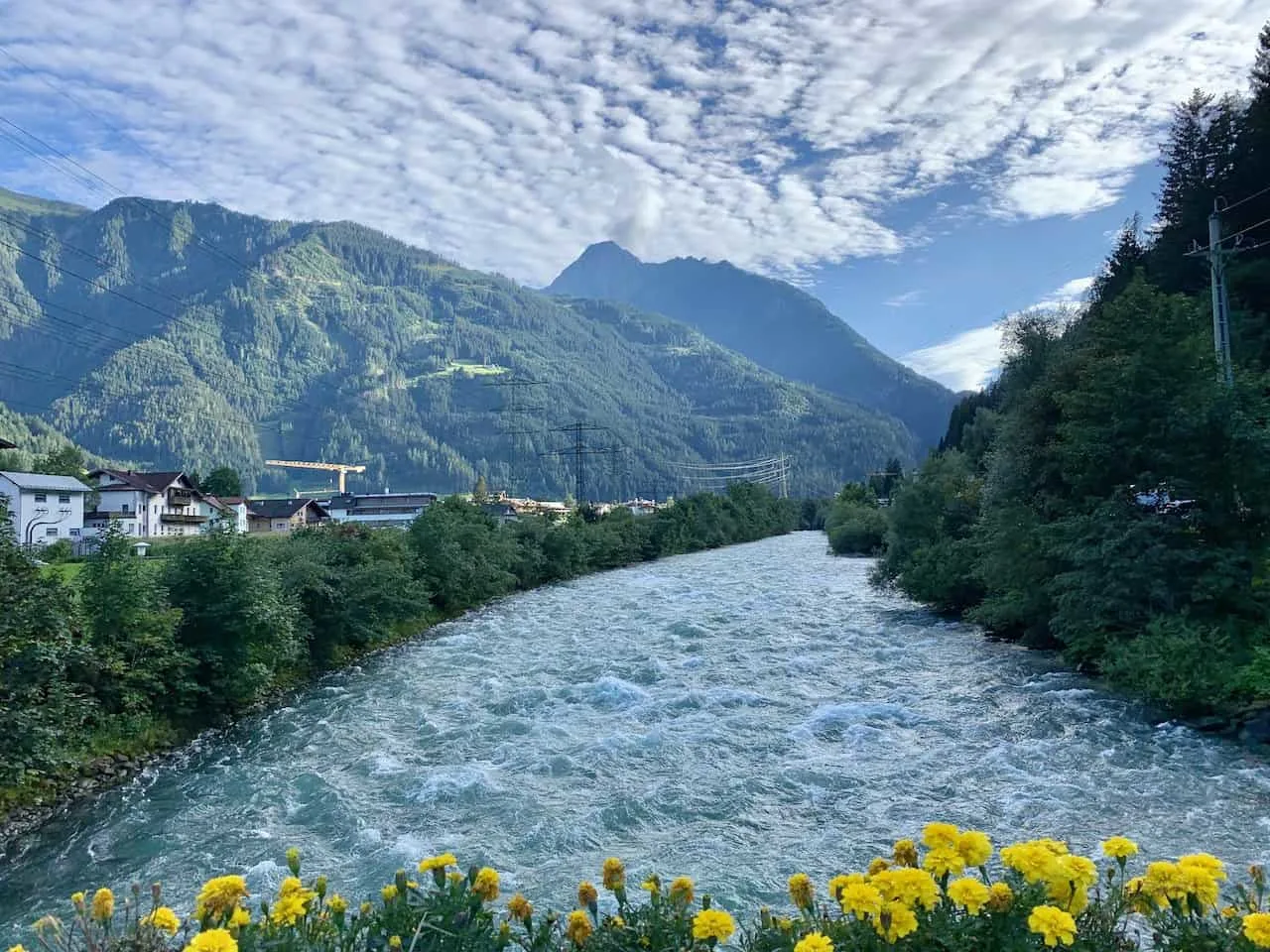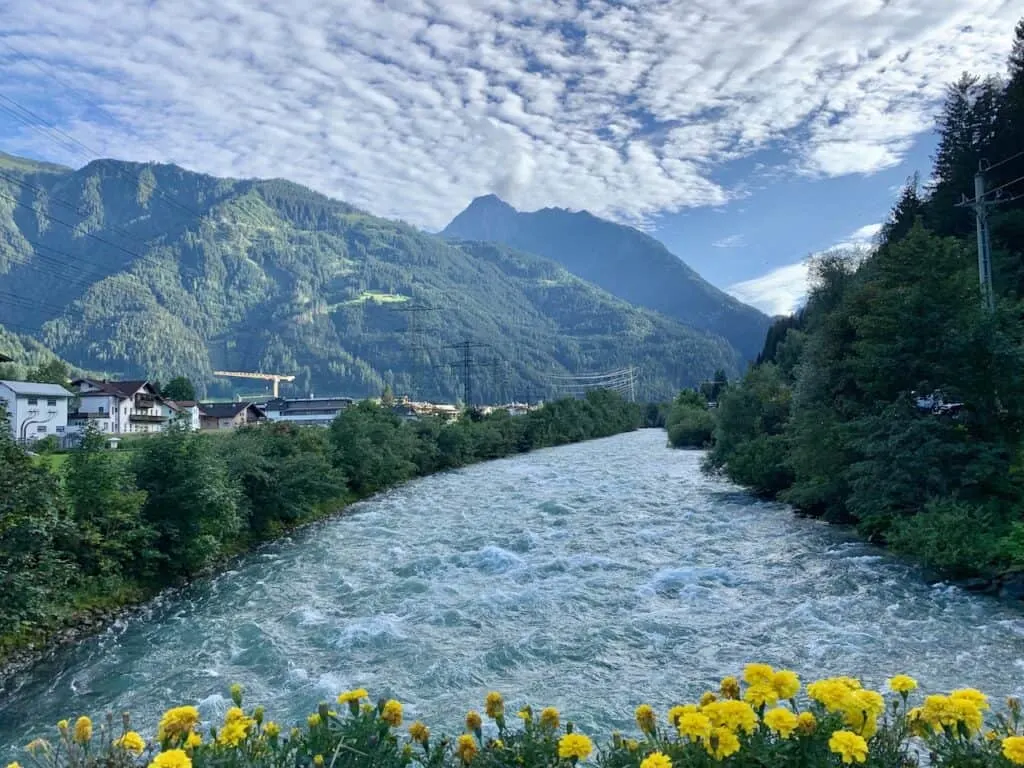 Paragliding Over Mayrhofen
If you want to get the best views in the region, then why not head on a paragliding experience.
During a tour, you will take off from Penken Mountain and soar around the Austrian Alps in all directions.
Getting that bird's eye view of the town, lakes, rivers, and mountains is going to be an experience like none other.
Expect the tour to take a couple of hours, but your time in the air to last between 20-30 minutes.
Feel free to book your Mayrhofen Paragliding tour to guarantee your spot in the air!
Walk Around Town
While heading up in the mountains and to the lakes are sure to be exciting, just walking around town will be a great thing to do in Mayrhofen as well.
The town is full of walking streets, unique architecture, and plenty of shops & restaurants throughout.
Taking some time out of your day to just head through the streets and take it all in will be the perfect addition to your itinerary.
You are bound to pass by the Ziller River as well, and it can be quite pleasant to just take a stroll along it during your time in town.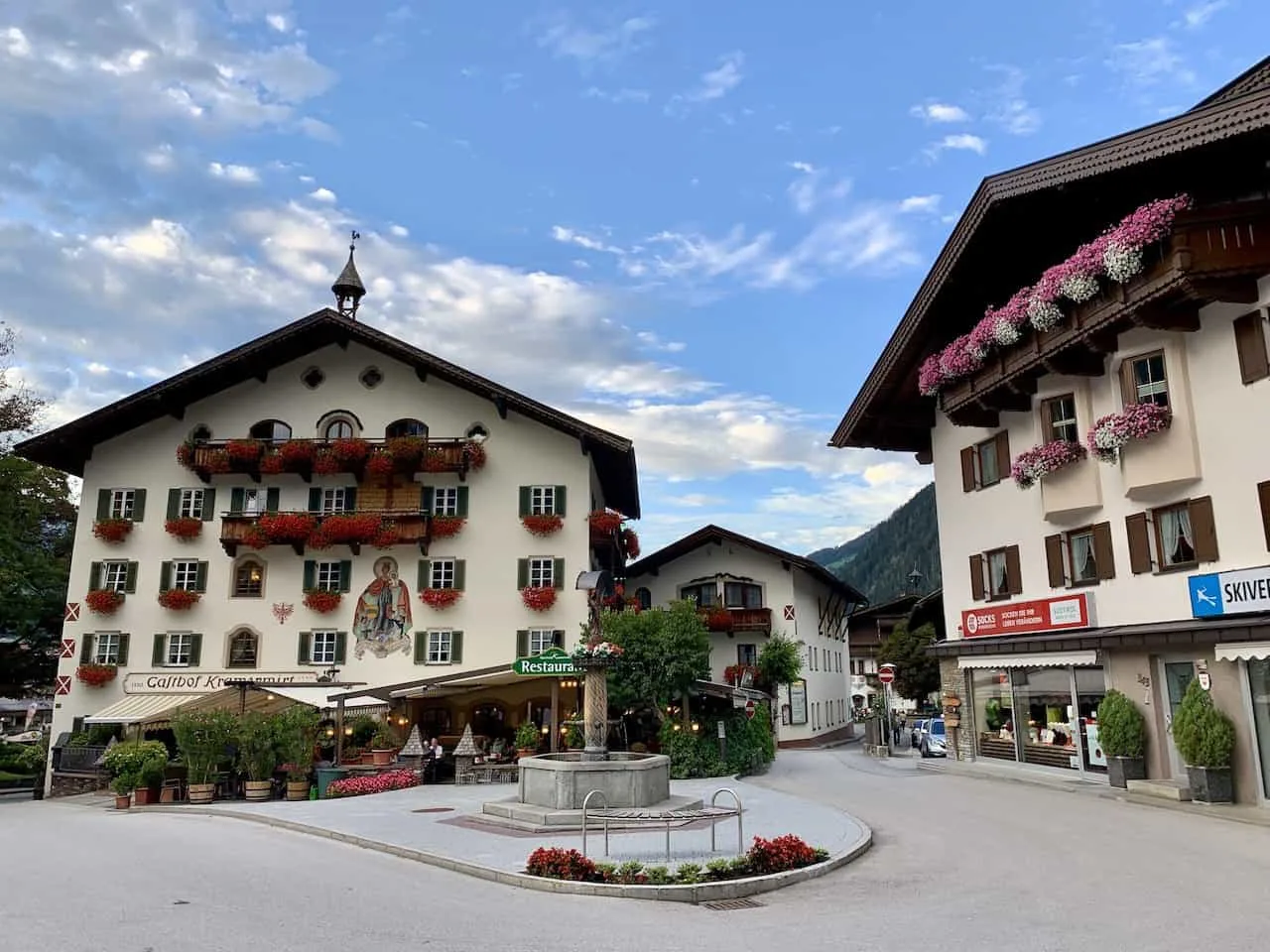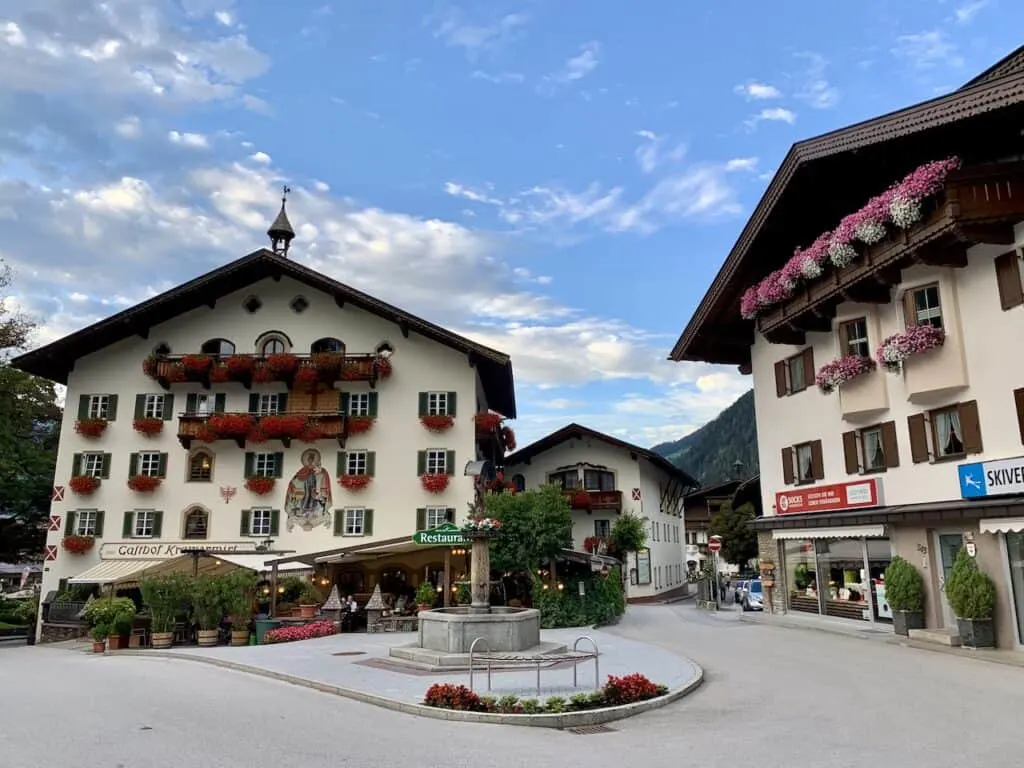 That wraps up a guide to the best things to do in Mayrhofen, Austria.
If you have any questions or comments, be sure to add them in below.
Also, don't forget to check out some of the other Austria itineraries and guides up on the site.
Have fun out there and safe travels!