Did you ever think it was possible to climb up the wall of a dam? Well, the Schlegeis 131 Via Ferrata offers that exact type of opportunity.
Up and across the dam's wall, via ferrata metal rungs have been inserted in to give climbers the chance to take part of this one of a kind experience.
Read on to learn more about what the climb up entails and more about Schlegeis 131 in general.
* Affiliate Disclosure: This post may contain affiliate links, which means I may receive a commission if you make a purchase through the links provided, at no additional cost to you. Thanks for supporting the work I put into TripTins!
1) What is Schlegeis 131
The name Schlegeis comes from the name of the lake – Schlegeis Stausee, while 131 stands for the height in meters of the dam's wall.
Instead of just having the lake and hiking options to enjoy while in the area, the idea got brought up to make Schlegeis home to some of the area's best adrenaline activities.
While the Via Ferrata (Klettersteig) is one of the adrenaline options to part of when visiting the area (and the one I will be going into more detail on in this guide), there are a few other options to join in on as well.
A) Flying Fox
The Flying Fox is essentially a zipline that goes from one side of the dam wall to the other. The length of the zipline is 600 meters (1,969 feet) while the height of it is 131 meters high (430 feet).
You will be able to fly from one side to the other enjoying the adrenaline and views around you.
Price: 38 Euro
B) Giant Swing
The second option here is the Giant Swing. The swing is essentially a bungee jump, where you jump off the top of the dam wall and free fall 30 meters (98 feet) down.
If you never tried a bungee jump before this is sure to be an experience!
Price: 80 Euro
C) Abseiling
Another option you have here is an abseiling station located on the top of the dam wall.
Essentially, you will be hooked in on the top of the dam and slowly be lowered down the entirety of the Schlegeis wall – 131 meters. You can enjoy your surroundings as you will be floating down to the bottom.
Price: 35 Euro
Note: abseiling may no longer be available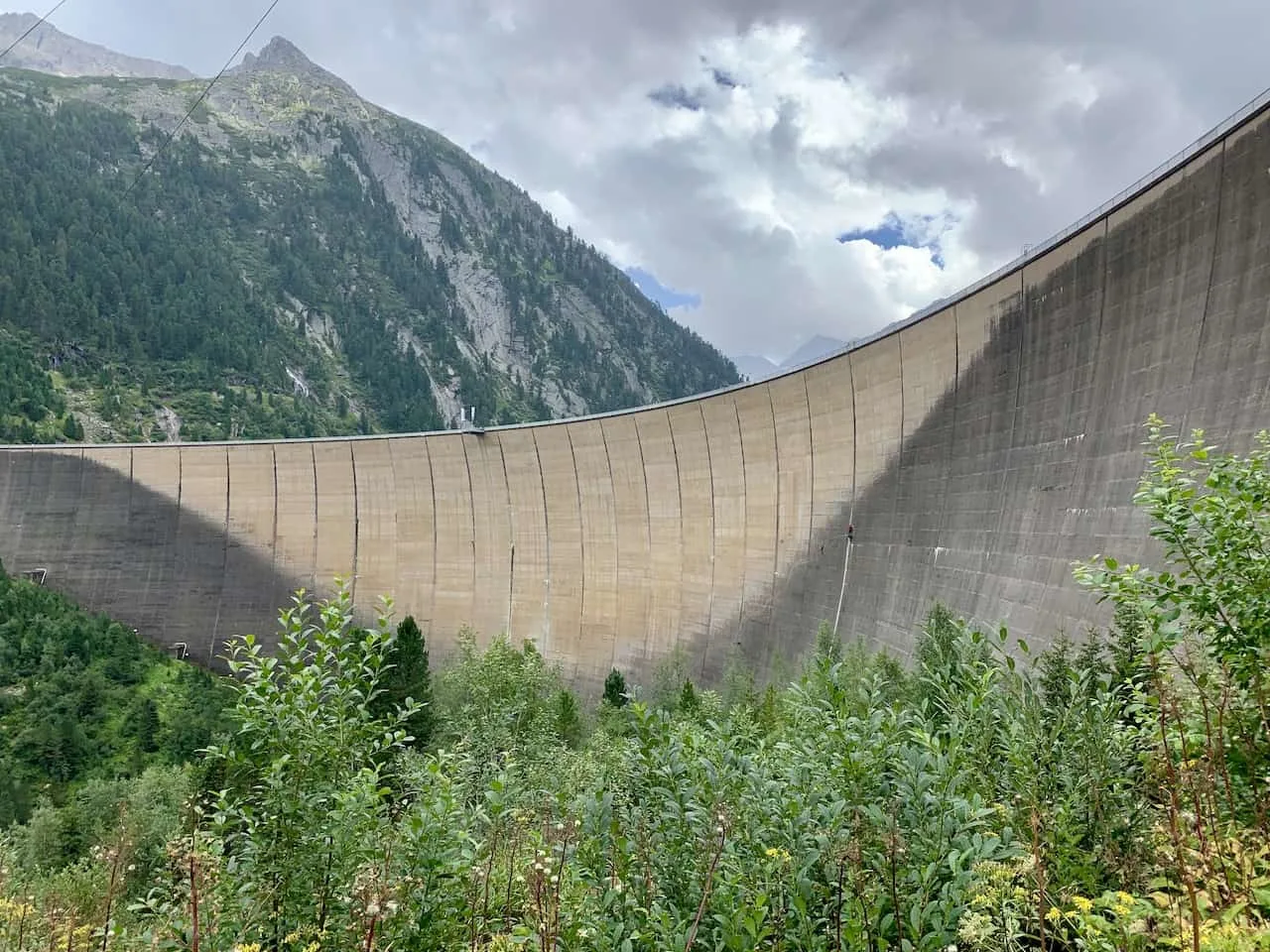 D) Sport Climbing
If you are more of a rock climber, the Schlegeis 131 also offers the chance to head up its rock climbing wall built into the side of the dam. The climbing route is not easy as you may imagine.
The climbing distance is 150 meters long with 5 pitches, starting at a level 5 and ending with a 7+.
As you get higher and higher, that wall will begin to overhang above so be prepared for one of the more unique rock climbing experiences of your life.
Price: Free
E) Children's Climbing
If you have younger kids and they want to get in on the climbing and via ferrata action, there is also a chance for them to take part of shorter climbs on the far end of the Schlegeis 131 wall.
Here you will find an easy short via ferrata section as well as 3 different sport climbing routes.
Price: Free
Guided Climb: 25 Euro per person (5+ people, includes equipment + guide)
Rental Equipment: 10 Euro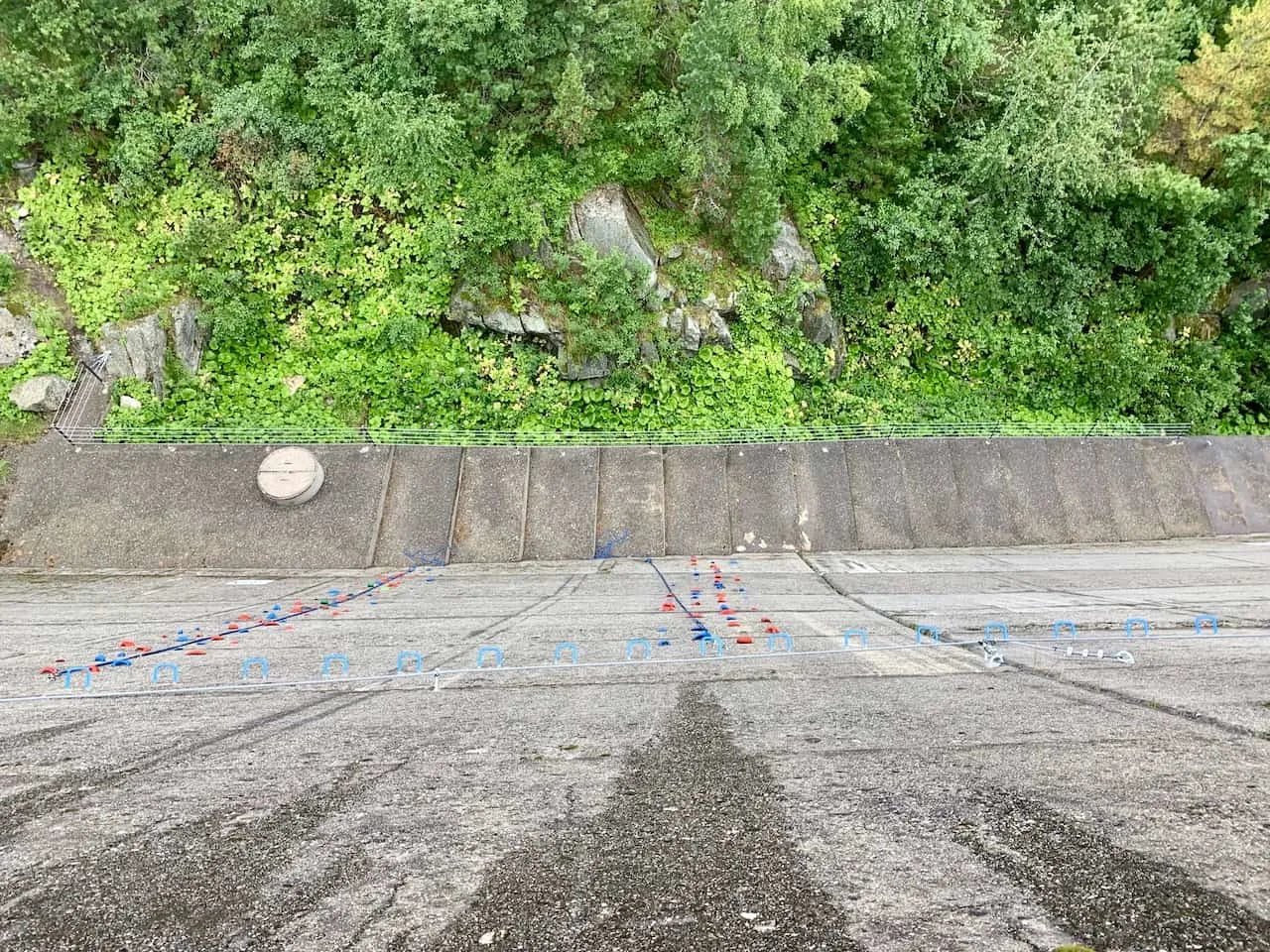 F) Combo Options
Action Day Ticket: Flying Fox, Giant Swing, Via Ferrata Rental: 130 Euro
Combo Ticket: Flying Fox & Giant Swing: 110 Euro
For group ticket options and bookings, you can look at on the official Schlegeis 131 website for more info.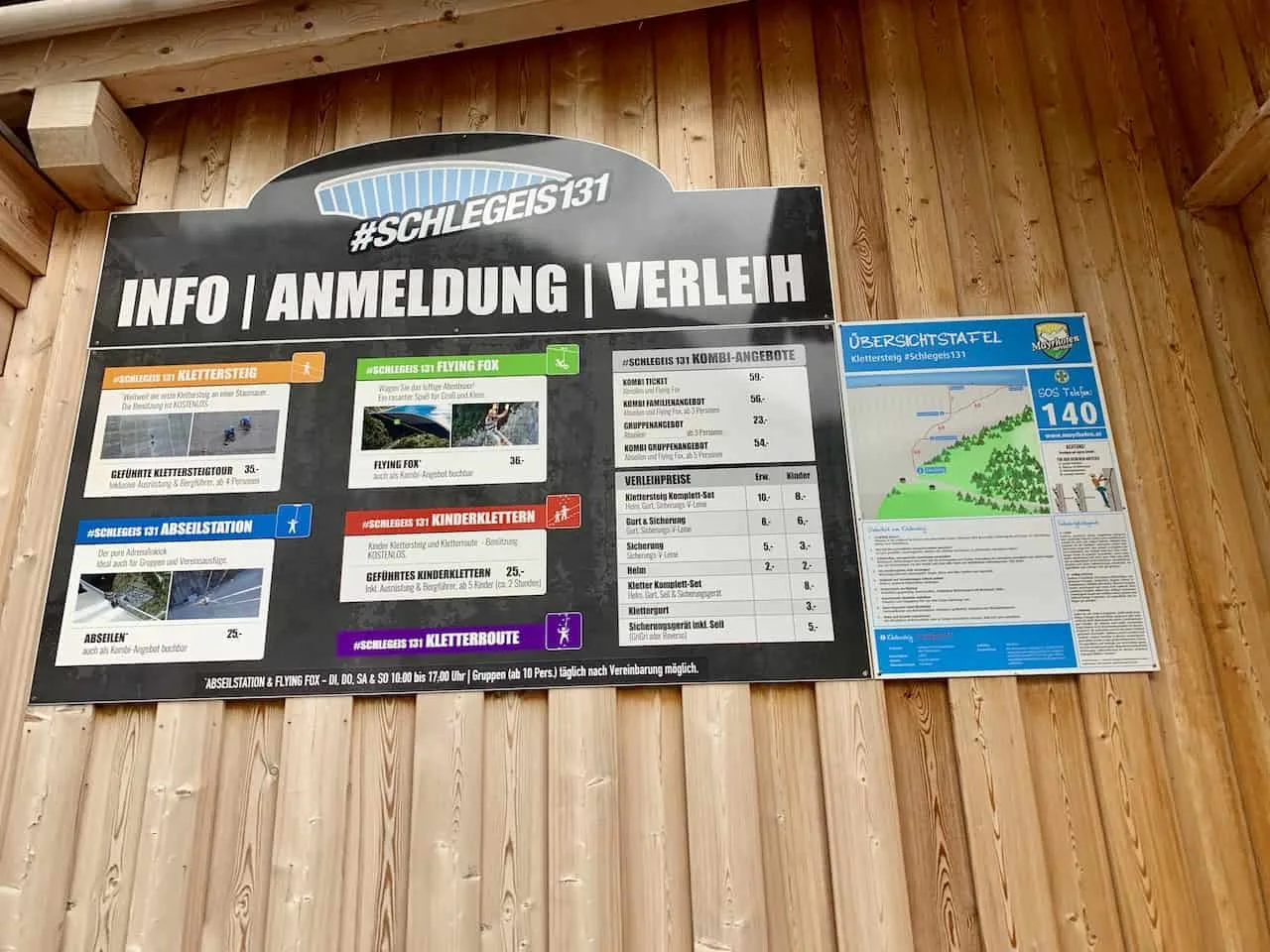 2) Where is Schlegeis 131
Schlegeis 131 is located in the Tyrol region of Austria, more specifically the Zillertal Valley.
To get to Schlegeis 131, you can do so by either car or by bus.
If coming by car, all you need to do is type in Schlegeis 131 into Google Maps and you should be taken right to the parking lot in front of Schlegeis Stausee.
A couple things to note if coming by car:
1) You will need to pay a toll of 15.50 Euro to access the Schlegeis Alpenstrasse Alpine Road that goes to the Schlegeis area. The toll booth is about 15 minutes prior to reaching Schlegeis 131.
2) Towards the end of the road, right before you reach the Schlegeis 131 parking lot, you will enter the last tunnel. Immediately after the tunnel, the parking lot will be on your left hand side. So, just be aware not to miss the turn.
On the other hand, if coming by bus you can take the seasonal 4102 route (~May to September) that runs from Mayrhofen to Schlegeis Stausee. If coming from another town/city, try to get yourself to Mayrhofen by bus or train and make your way from there.
Note that the road to get to Schlegeis is only open from around mid May to October so taking part of the activities outside of these months will not be possible.
→ If you are renting a car in Austria, be sure to check out Rentalcars.com to browse through options. Once on the site, you will be able to filter by price, car type, rental company, and more, to find the perfect car for your trip to Austria.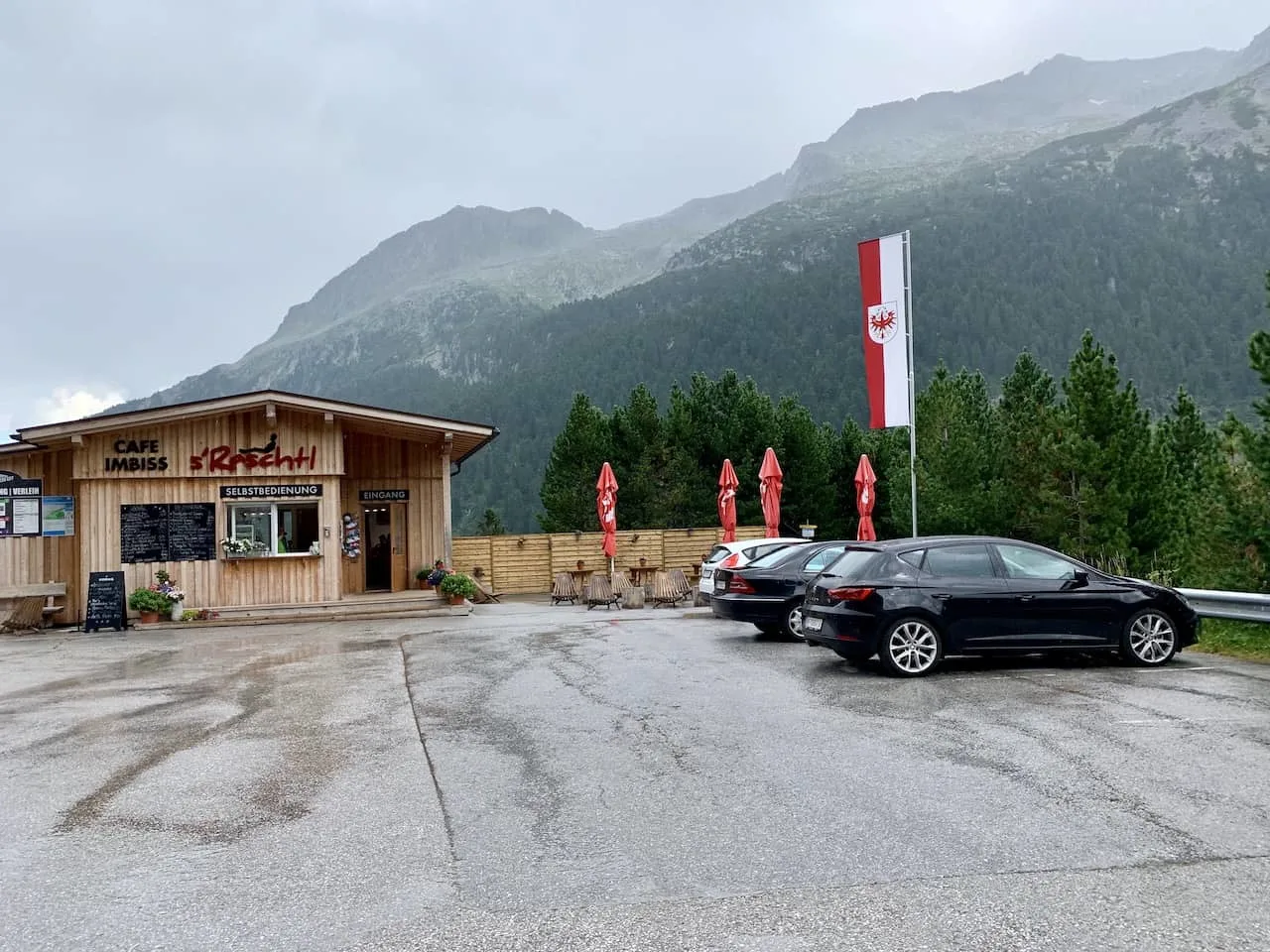 3) Where to Stay Near Schlegeis Stausee
There are many small towns to stay in when visiting the Zillertal Valley and Schlegeis Stausee in particular.
I would recommend staying in the town of Mayrhofen though as it does have a good amount of choices when it comes to accommodation and it is also very centrally located to many different activities around the area.
Since Mayrhofen is a relatively small valley town, no matter where you stay in it, you will be at most a 20 minute walk to restaurants, bars, the cable cars, and the train station.
Below are some great options to choose from depending on your budget:
Austria Itinerary: Head to Mayrhofen as part of your 7 Day Austria Itinerary visiting places all over the country
4) Klettersteig Equipment
In order to take part of the via ferrata, you must have the necessary equipment to climb. If you do not have your own equipment, no worries at all.
In the parking lot, you will find the Schlegeis 131 information hut. Here you can rent your equipment for the climb up.
There are three main pieces of equipment you will need – 1) Climbing Harness 2) Via Ferrata Lanyard with Two Carabiners 3) Helmet. Also having gloves that can be very helpful for your grip.
You can rent the complete via ferrata package for 15 Euro, which also includes a short via ferrata instruction if you are not familiar with the equipment. Without the instruction, the equipment rental costs 10 Euro.
» Since most people don't actually own this type of equipment, here is a link to a Via Ferrata Kit that has the three required items included.
I would highly recommend you purchase your own equipment if you are looking to enjoy Via Ferratas during your travels.
I honestly wouldn't recommend taking part though if you have never done a via ferrata before. While it is rated pretty easy on the difficulty scale, the height of the climb coupled with the overhang at the end makes it a much different type of via ferrata.
I would recommend taking part of some easy climbs neat Mayrhofen to get you more comfortable with the equipment.
5) Schlegeis 131 Via Ferrata Map
I thought it may be helpful to include a map of the climb that clearly shows the different difficulty levels throughout the route. You can reference the map as you continue on with the guide:
6) Schlegeis 131 Klettersteig Via Ferrata
Now that you have a better sense of what Schlegeis 131 is all about, let's dive into the via ferrata itself. Below are some helpful facts about the Schlegeis Klettersteig:
Via Ferrata Name: Schlegeis 131
Length: 257 Meters / 843 Feet
Sections: 14
Resting Points: 2
Duration: 45 Minutes
Difficulty: A/B – B (optional C – C/D section)
Hiking Time: 20 minutes from parking lot to starting point / 10 minutes from ending point to parking lot
Learn More: This Via Ferrata Overview is a must read for those who are new to the world of Via Ferratas
Once you reach the parking lot of Schlegeis 131, you can rent your equipment if you don't have your own already, and all you need to do is follow the signs down towards the bottom of Schlegeis dam wall.
It is about a 20 minute walk as you follow the easy path to the starting point.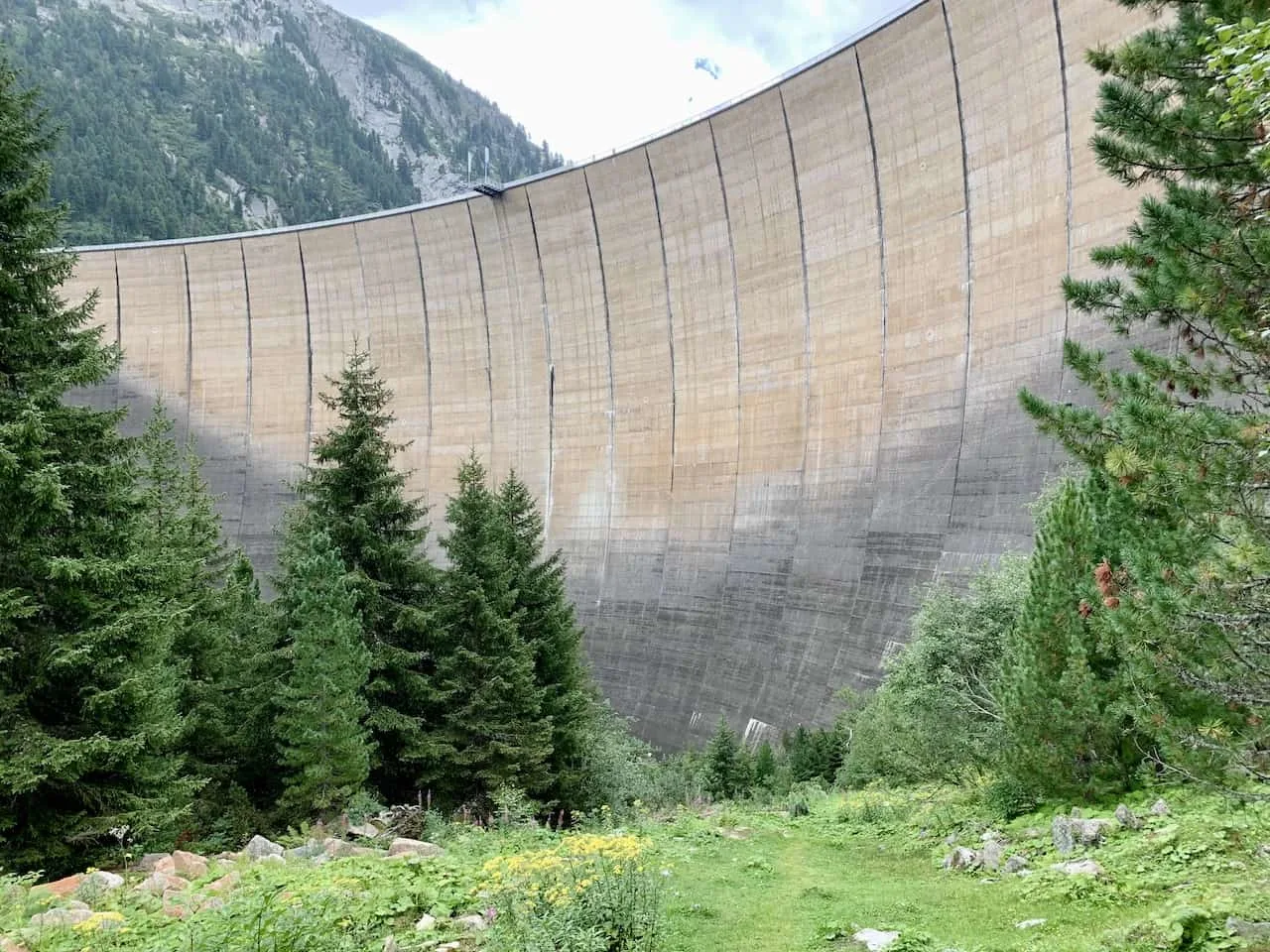 After you reach the bottom of the wall, it is time to clip those carabiners onto the fixed line and begin the climb up. The first couple sections of the via ferrata will bring you vertically up.
From there though, instead of going straight up, the via ferrata was built to go up and across consistently until you reach the top.
So, essentially the route will comprise of a more horizontal climb, and every so often a short vertical section mixed in (the map above shows the details) – all of which are rated A/B or B.
After climbing for about 20 minutes, you will be welcomed to your first resting platform. Here you will find a small metal platform, where you can get off the metal rungs and relax your legs and arms for a bit.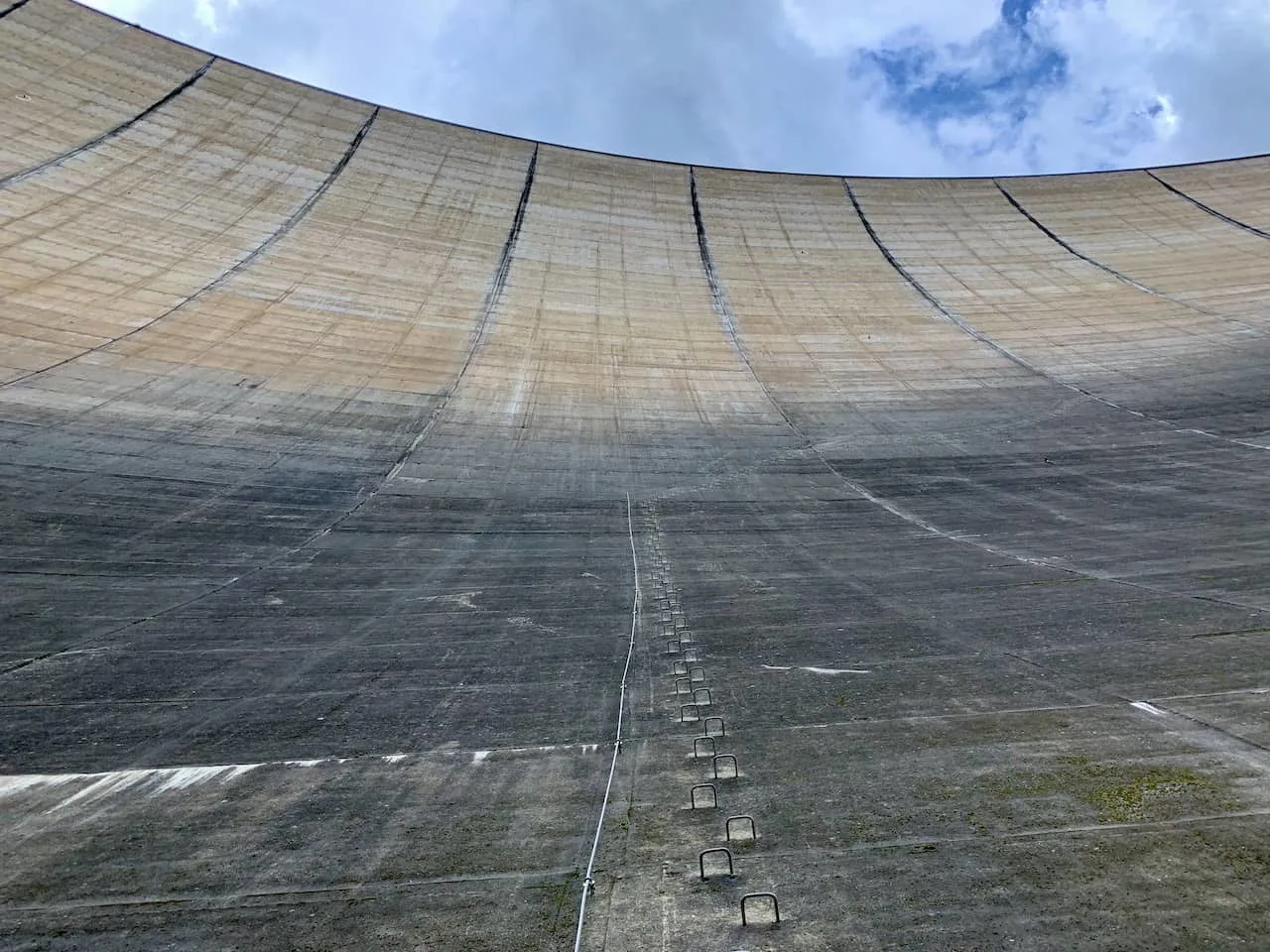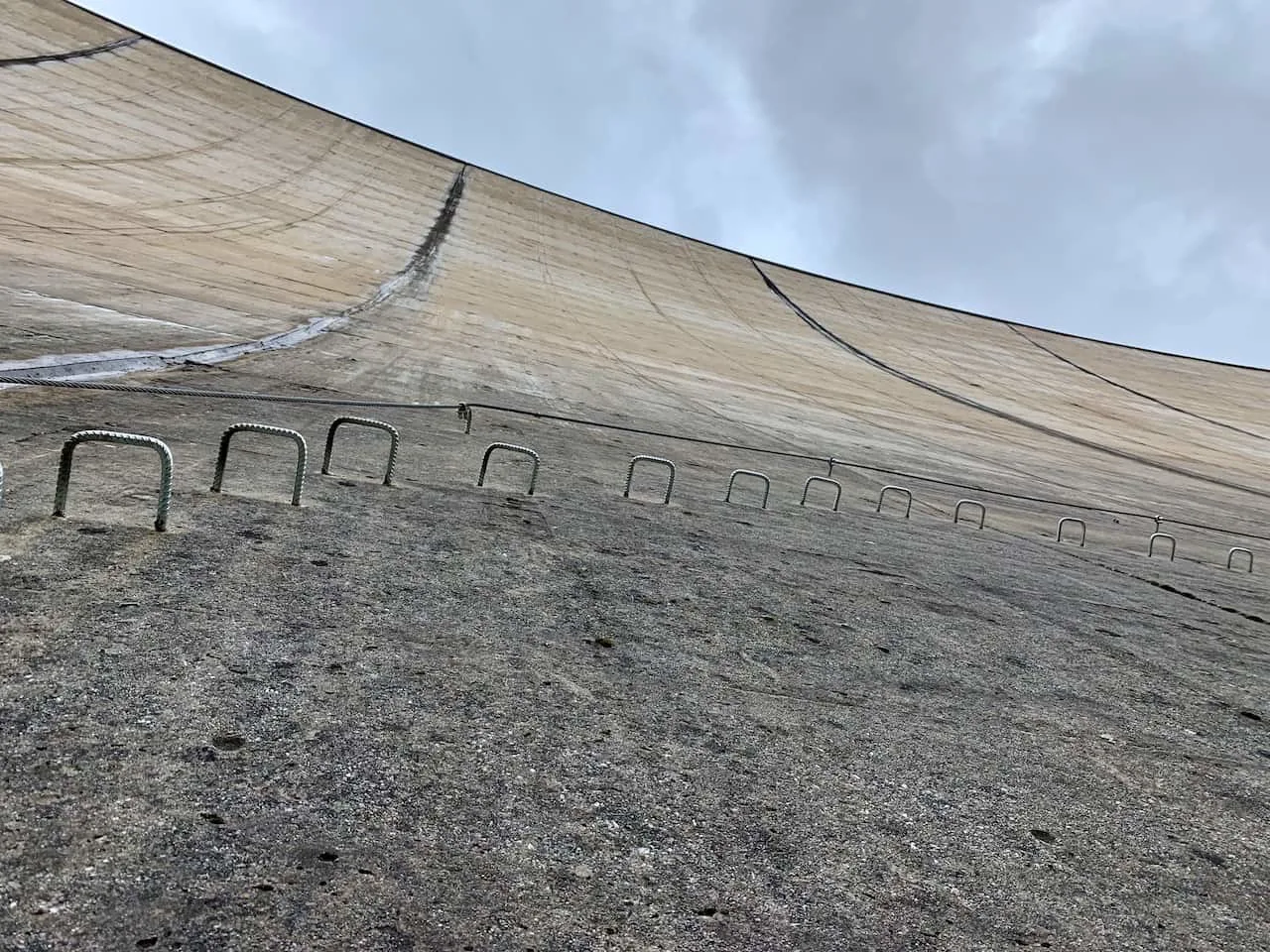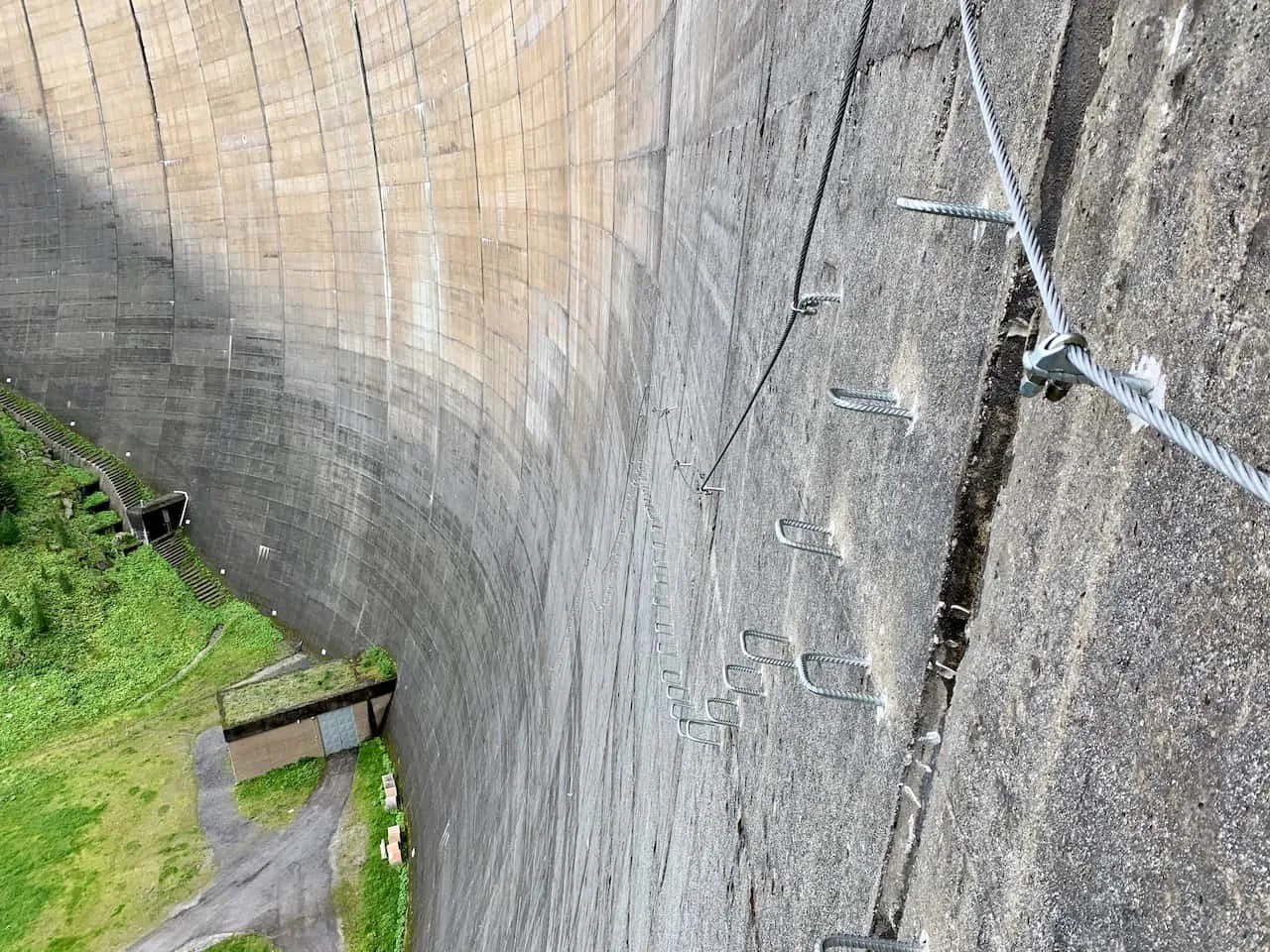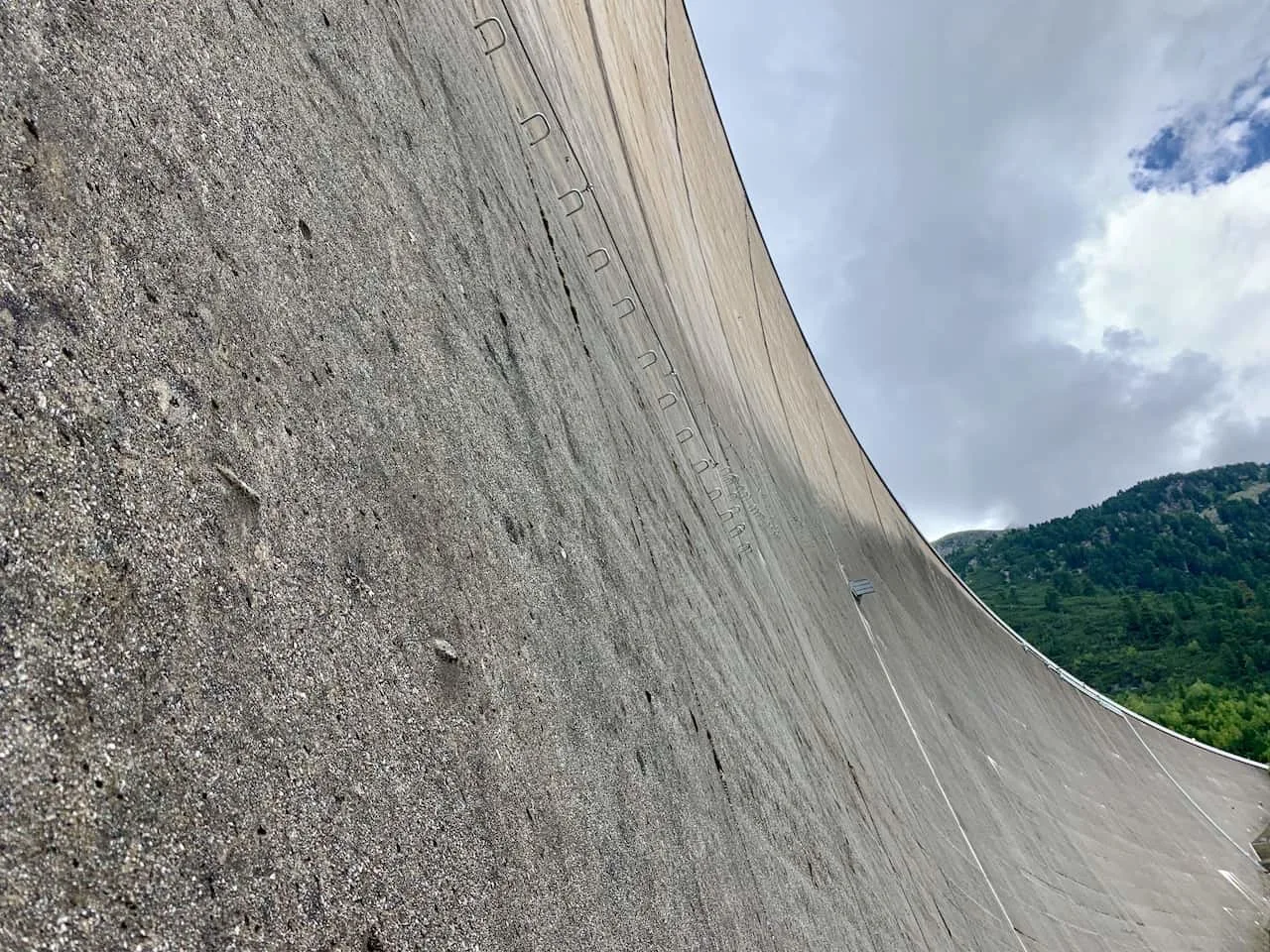 From the first platform to the second platform you will need to go across 4 sections. It is mostly a horizontal climb here as you slowly gain some elevation.
Once you reach that second resting platform, you can decide to continue on the B difficulty route that goes horizontally up or you can choose to do the C/D section that goes vertically up to the top.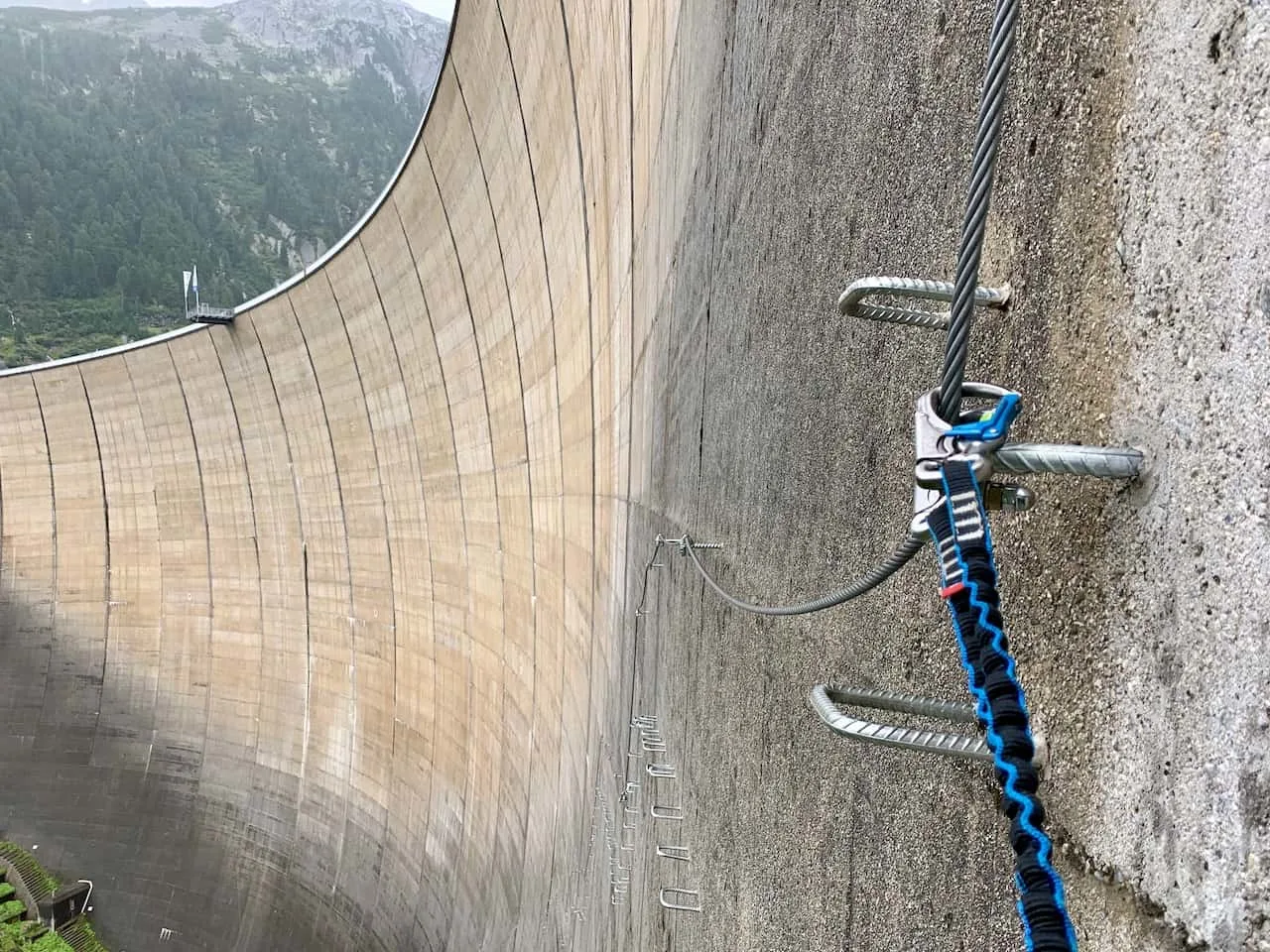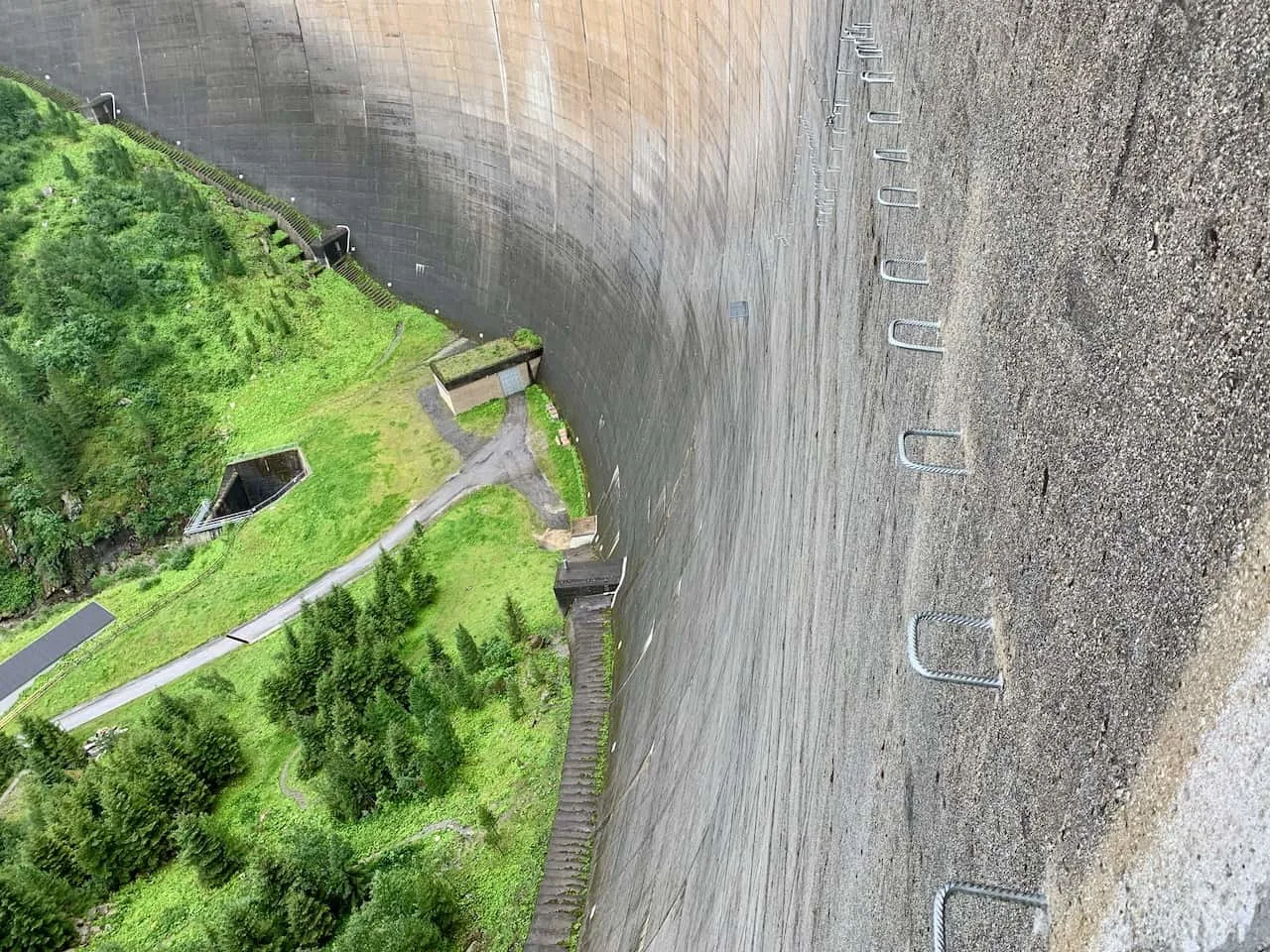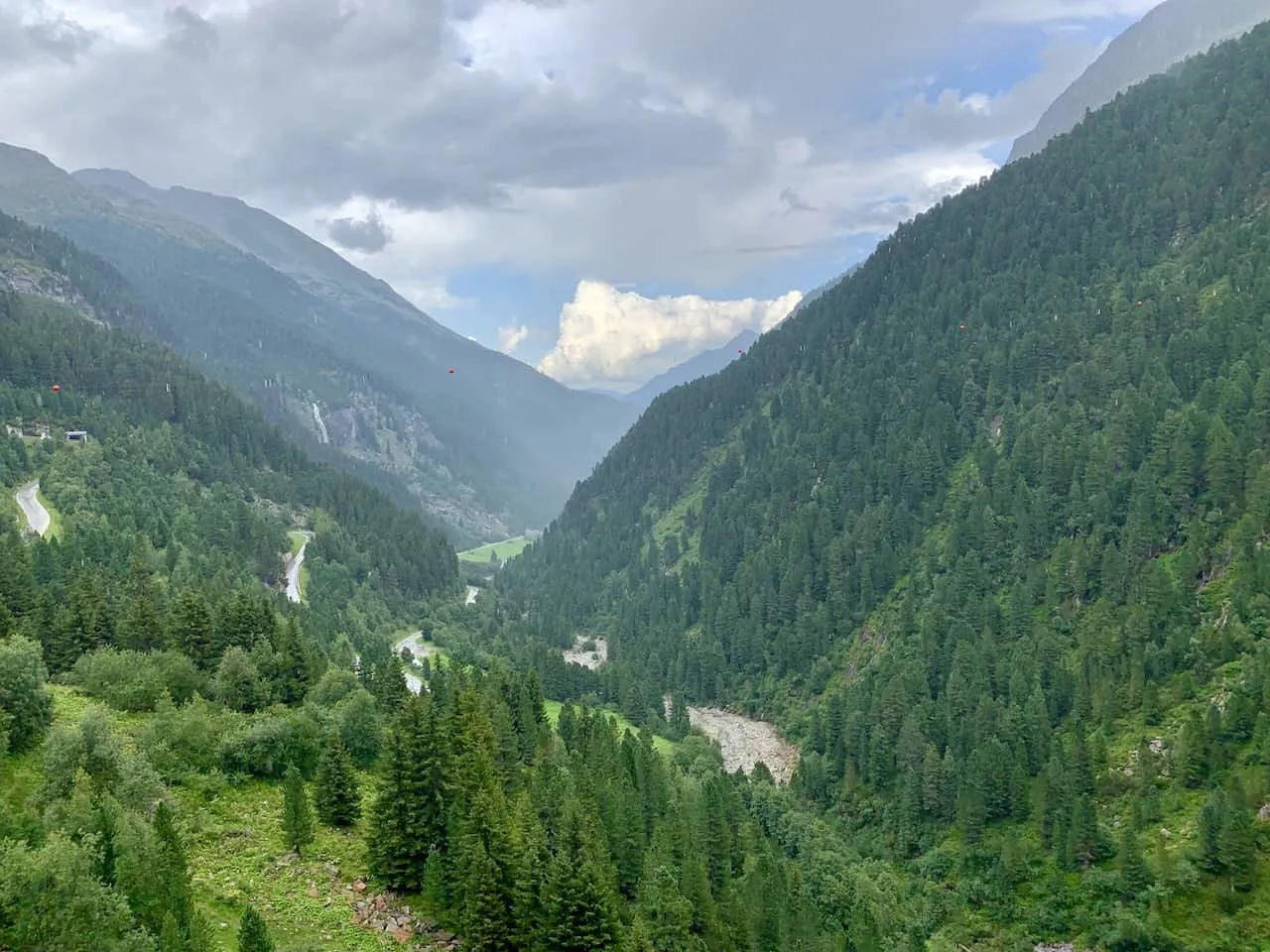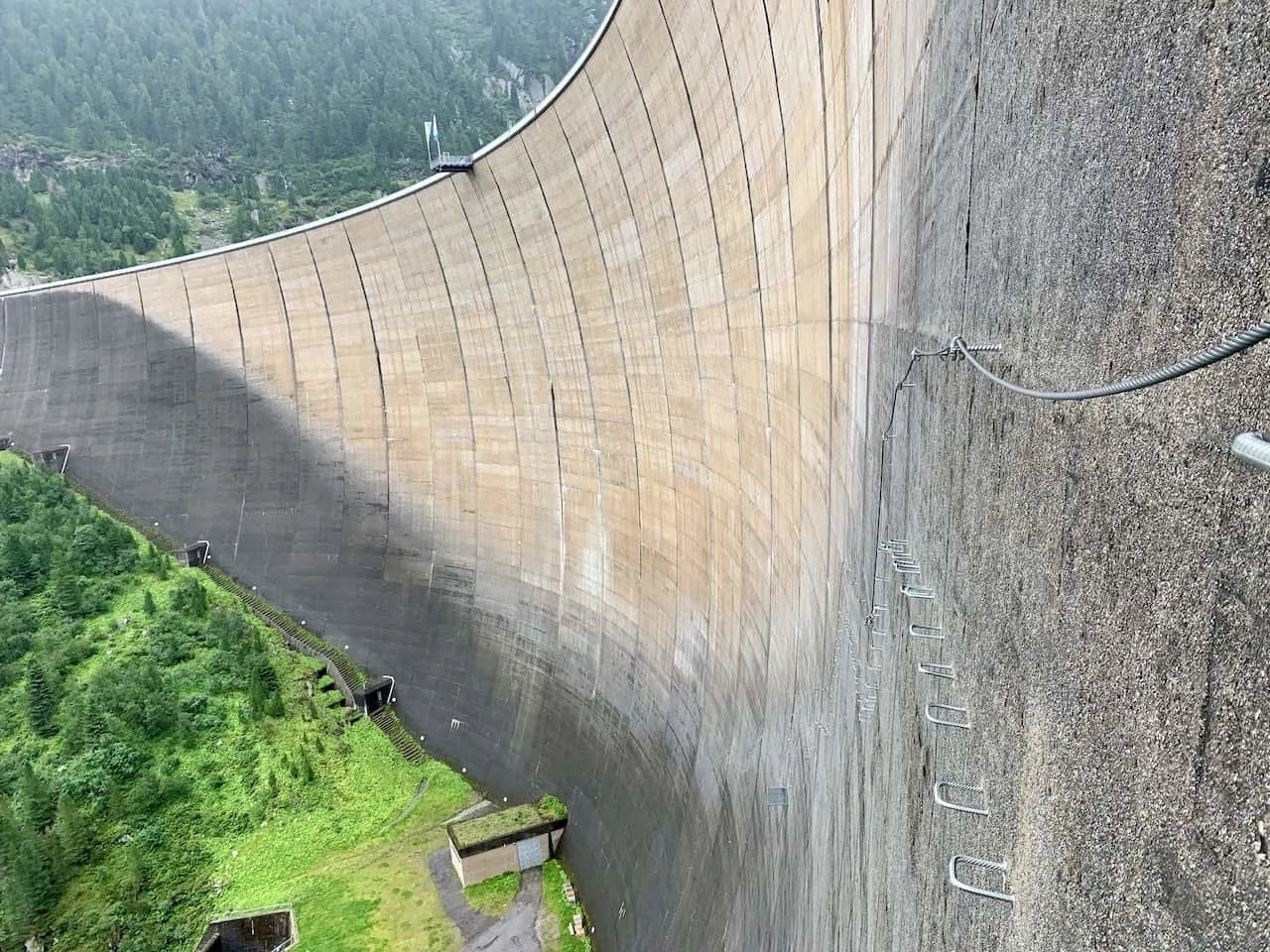 While I choose to head on the easier section up, it still was a pretty difficult few sections to complete. As you get closer and closer to the top, the dam wall begins to overhang more and more.
Essentially you are on an angle with gravity not on your side. With whatever option you go with, just be prepared for this last part.
Eventually you will reach the top of the dam wall and will be on safe ground as you look down and see the route that you just completed.
From the top of the Schlegeis 131 via ferrata, all you need to do is walk 10 minutes down the road until you reach the original parking lot.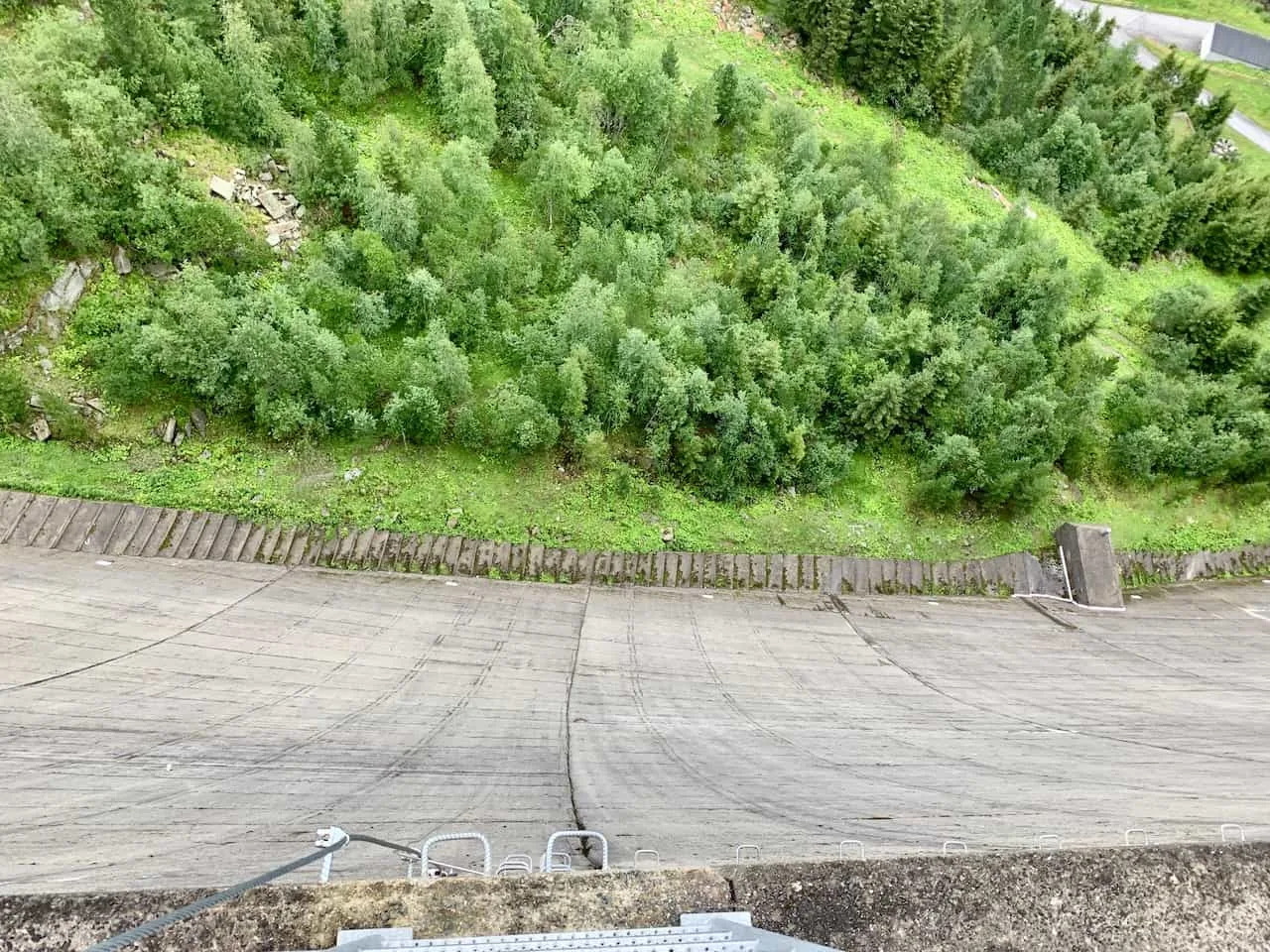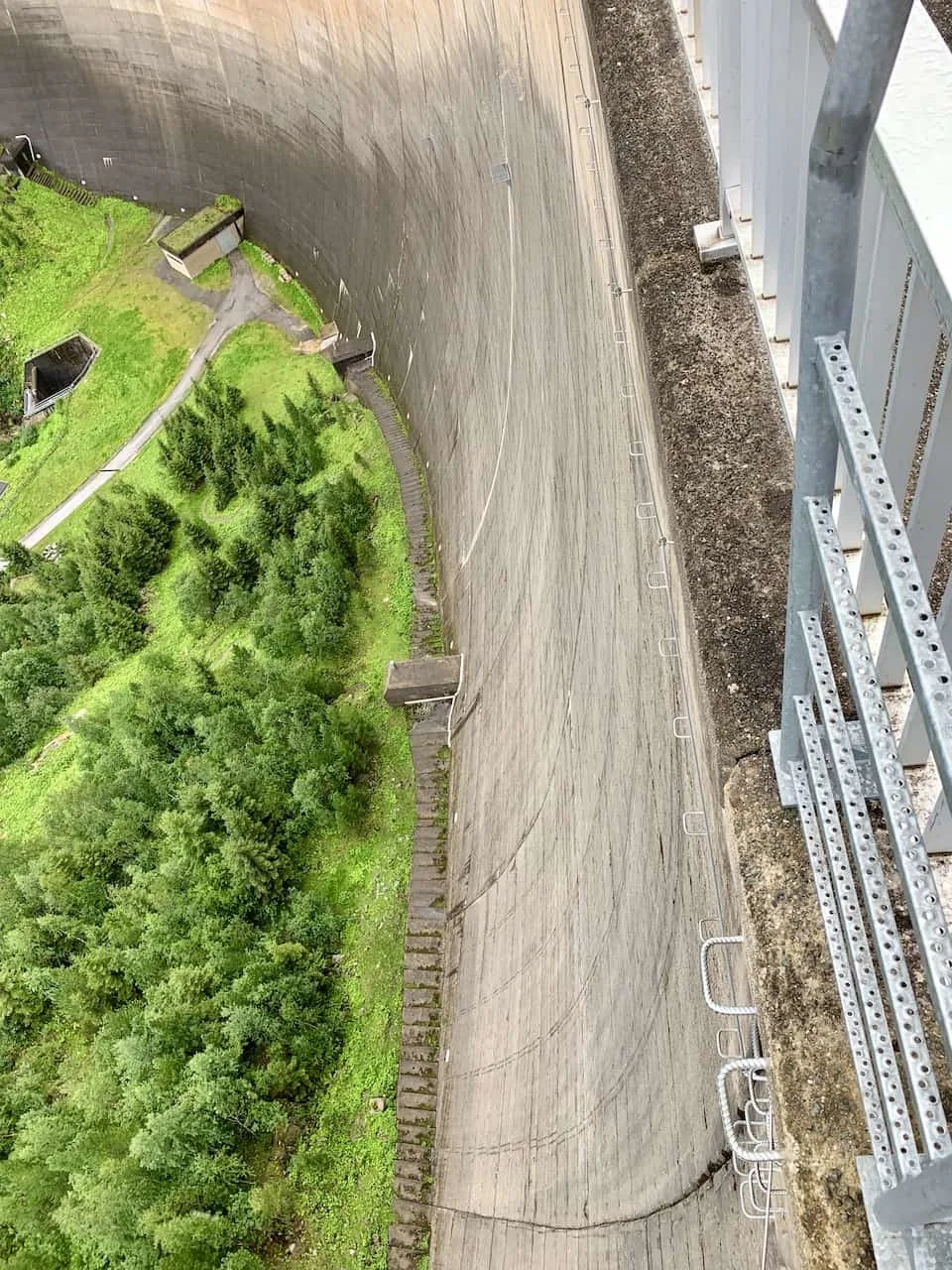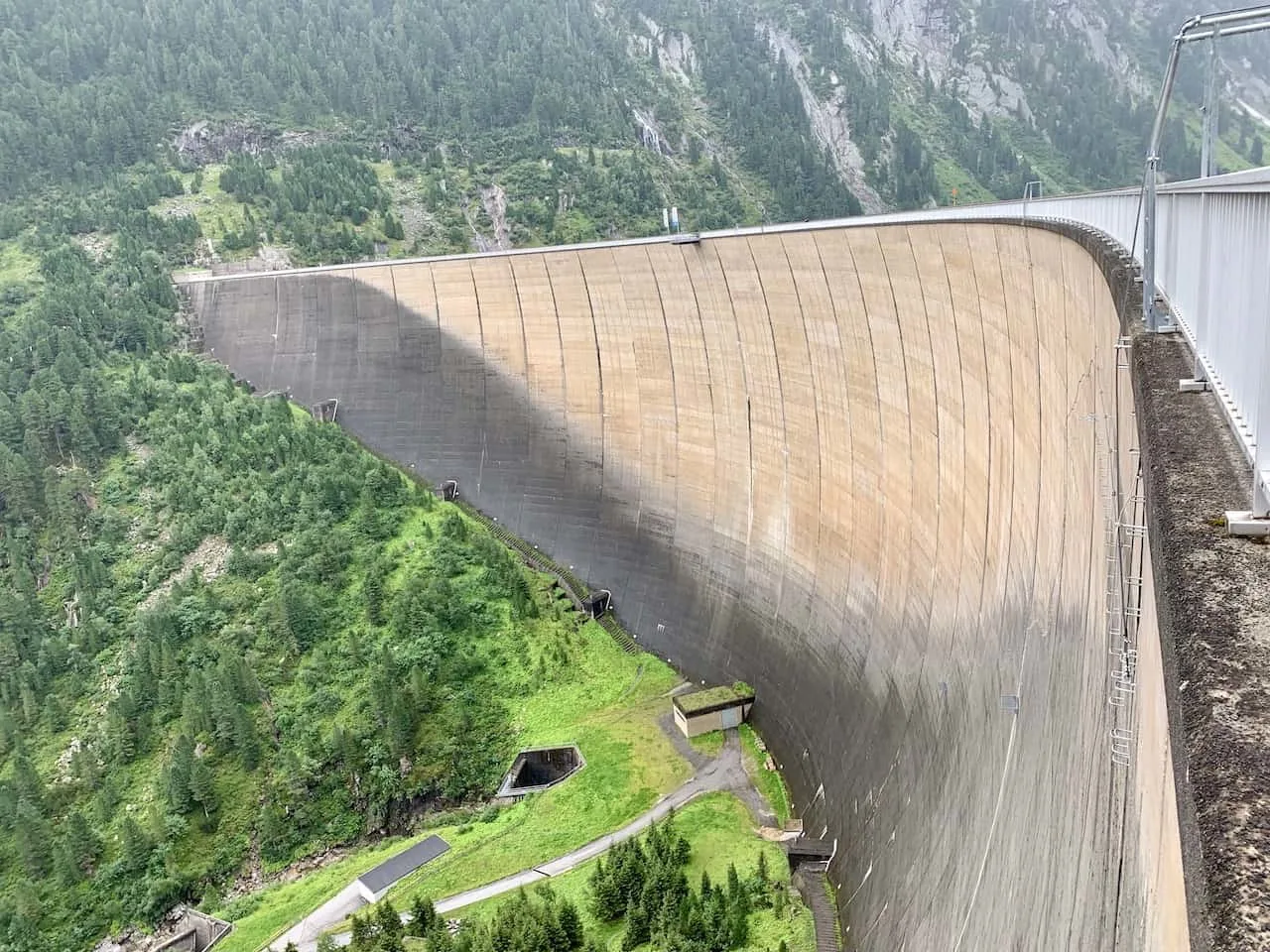 I hope this guide has helped you out better prepare for the Schlegeis 131 Klettersteig. If you have any additional questions about the climb let me know in the comment section below!
Also be sure to check out some hikes around the region like the Ahornspitze Hike above Mayrhofen and the Donnerkogel Klettersteig near Hallstatt, as well as all the other Austria itineraries and guides on the site.
Have fun out there and safe travels!