While hiking is one of the top activities to take part of when visiting Mayrhofen in the Zillertal Valley of Austria, there is another activity that can really get your adrenaline going. Nearby Mayrhofen you will find plenty of Via Ferrata routes that go up alongside the mountainsides.
A Via Ferrata, also known as a Klettersteig, is a fixed line route that requires special climbing equipment in order to complete the trail.
This guide will go over what a Via Ferrata entails and will walk you through some options that can be found in Mayrhofen.
* Affiliate Disclosure: This post may contain affiliate links, which means I may receive a commission if you make a purchase through the links provided, at no additional cost to you. Thanks for supporting the work I put into TripTins!
1) What is a Via Ferrata Klettersteig
I like to think of a Via Ferrata as a mix between hiking and rock climbing – in a way it is a type of mountain climbing.
These are routes that are too dangerous to go on without equipment but are not necessarily as technical as rock climbing routes (although the more difficult ones can be).
Throughout the duration of a Via Ferrata, you will find a fixed steel cable that is built into the mountainside.
These fixed steel cables will be broken up into different sections throughout the trail by metal posts, and you will need to use your carabiners (more on that in the next section) to clip yourself securely in and out of the cable.
You will also find metal rungs built into the rock wall to walk on or help you climb along the way. There can also be certain elements like ladders and suspension bridges that make each Via Ferrata unique.
Below is a picture I took from a Via Ferrata in Mayrhofen that shows the main three elements mentioned above – fixed steel cable, metal posts, and metal rungs.
» This Via Ferrata Overview Guide is a must read for those who are new to the world of Via Ferratas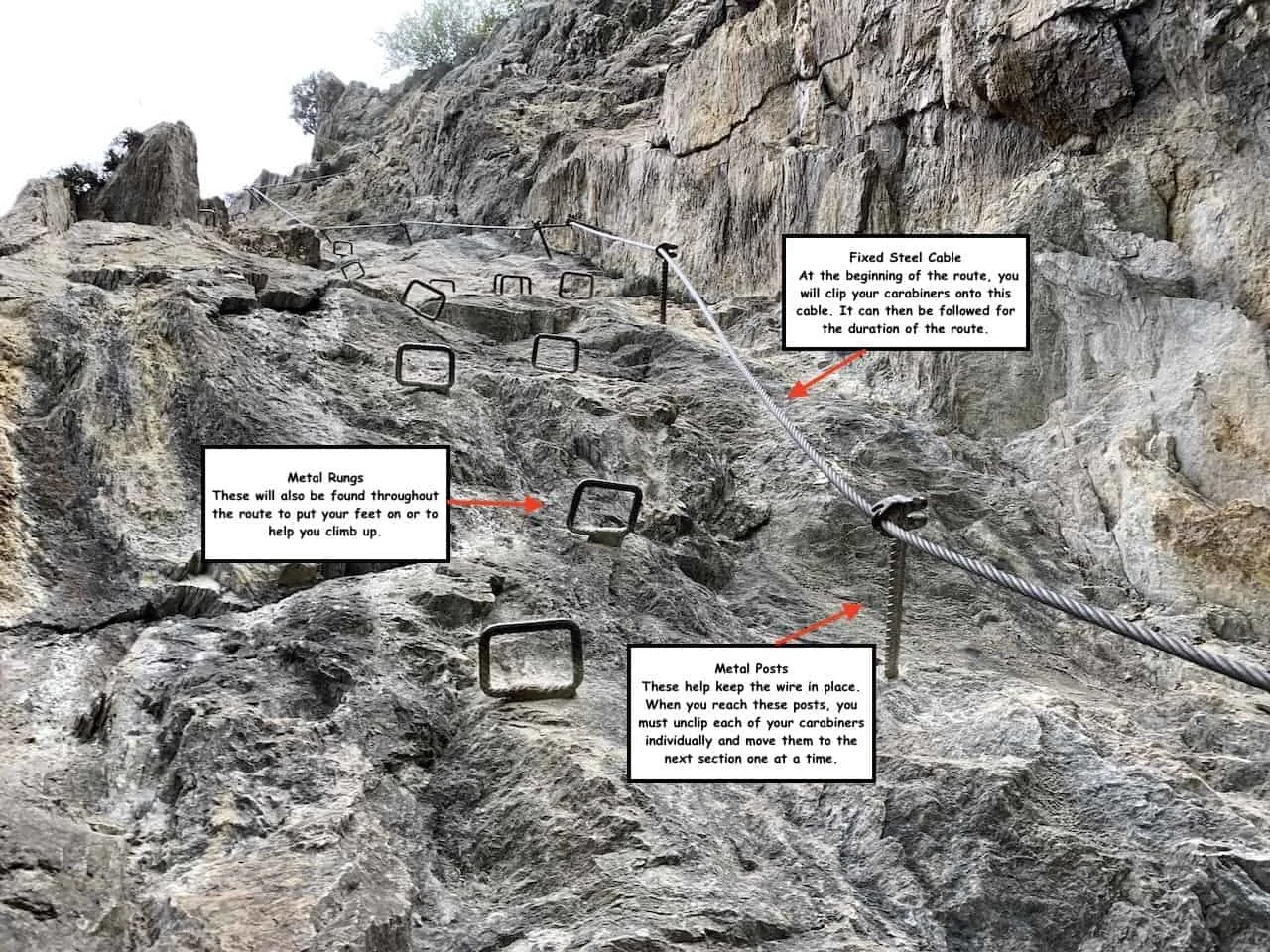 2) Klettersteig Equipment
As you might imagine, in order to actually take part of a Via Ferrata, you must have the necessary equipment. There are essentially three required items that you must have:
1) Climbing Harness
2) Y Formation Lanyard with Two Carabiners & Energy Absorber
Attach one carabiner to each end of the lanyard
Attach the lanyard to the climbing harness
3) Helmet
Optional: Gloves – to have better grip on the steel cable
» Here is a link to purchase your own Via Ferrata Kit complete with the three items.
» If staying in Mayrhofen, you can rent equipment from the Gasthof Zillertal
Below is an image of the harness and lanyard so you have a better idea how it all works together. I have also highlighted where the two would attach to each other, as well as the energy absorber that is part of the lanyard.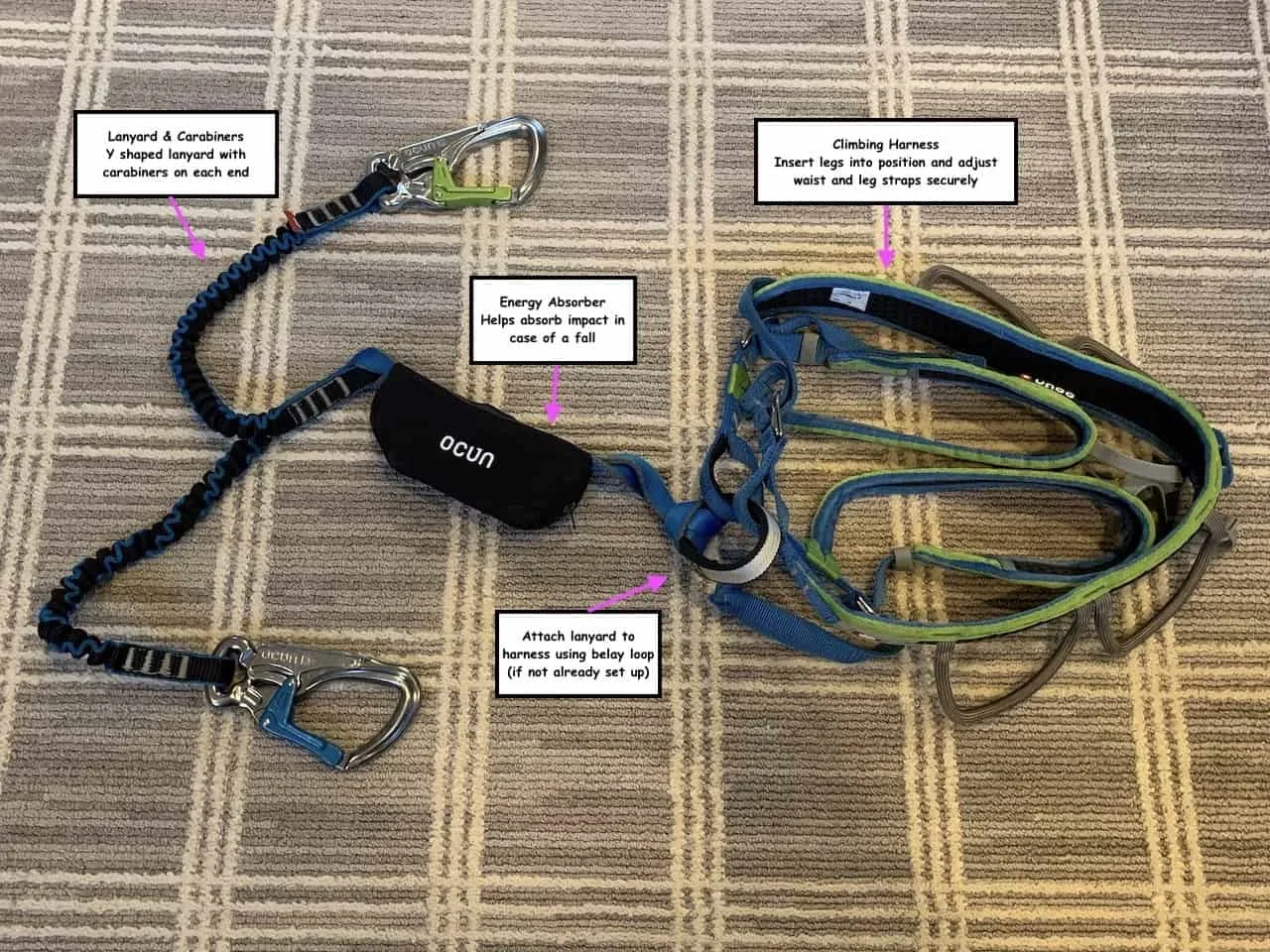 3) Via Ferrata Difficulty Levels
Not all Via Ferratas are built the same, with some barely requiring any skills beyond hiking and others requiring real climbing experience.
Below is a screenshot from bergfreunde.eu that shows the different difficulty levels on two scales – A to F and K1 to K6.
You may find routes that are labeled with +/- as well to get more granular on the difficulty level (i.e. C- is easier than C+).
Also, important to note that while the Via Ferrata as a whole may be graded as a C+ for example, does not mean the entire route is a C+.
It only means that there is at least one section rated as a C+ and if you are not experienced enough for a C+ section, you should not attempt the route.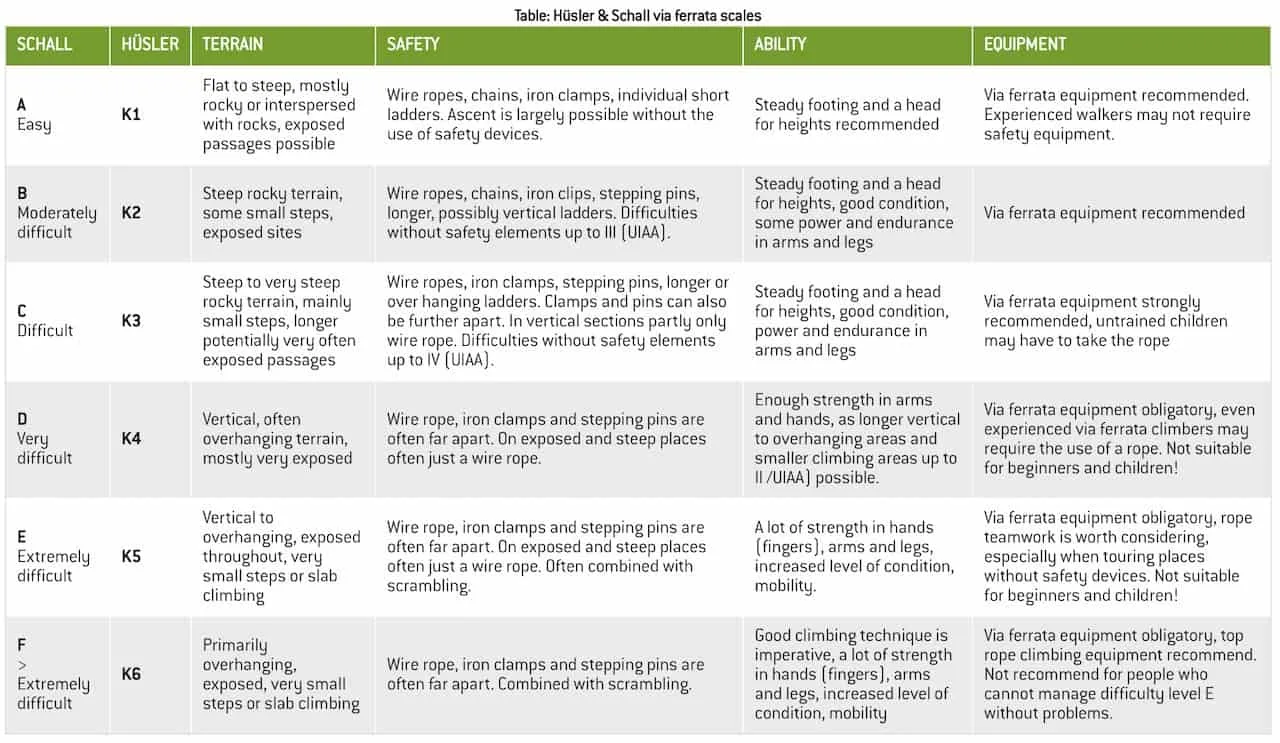 4) Mayrhofen Klettersteig Routes
Now that you have a better background of Via Ferratas (if you didn't have all that knowledge already), I wanted to list out all the routes that you can find nearby Mayrhofen.
I have also included the starting point of the route, difficulty level, duration, and length. These can all be found on the Mayrhofen website.
A) Via Ferrata Pfeilspitzwand
Starting Point: Gasthof Zillertal
Difficulty: C/D
Duration: 2 hours
Length: 480 meters / 1,575 feet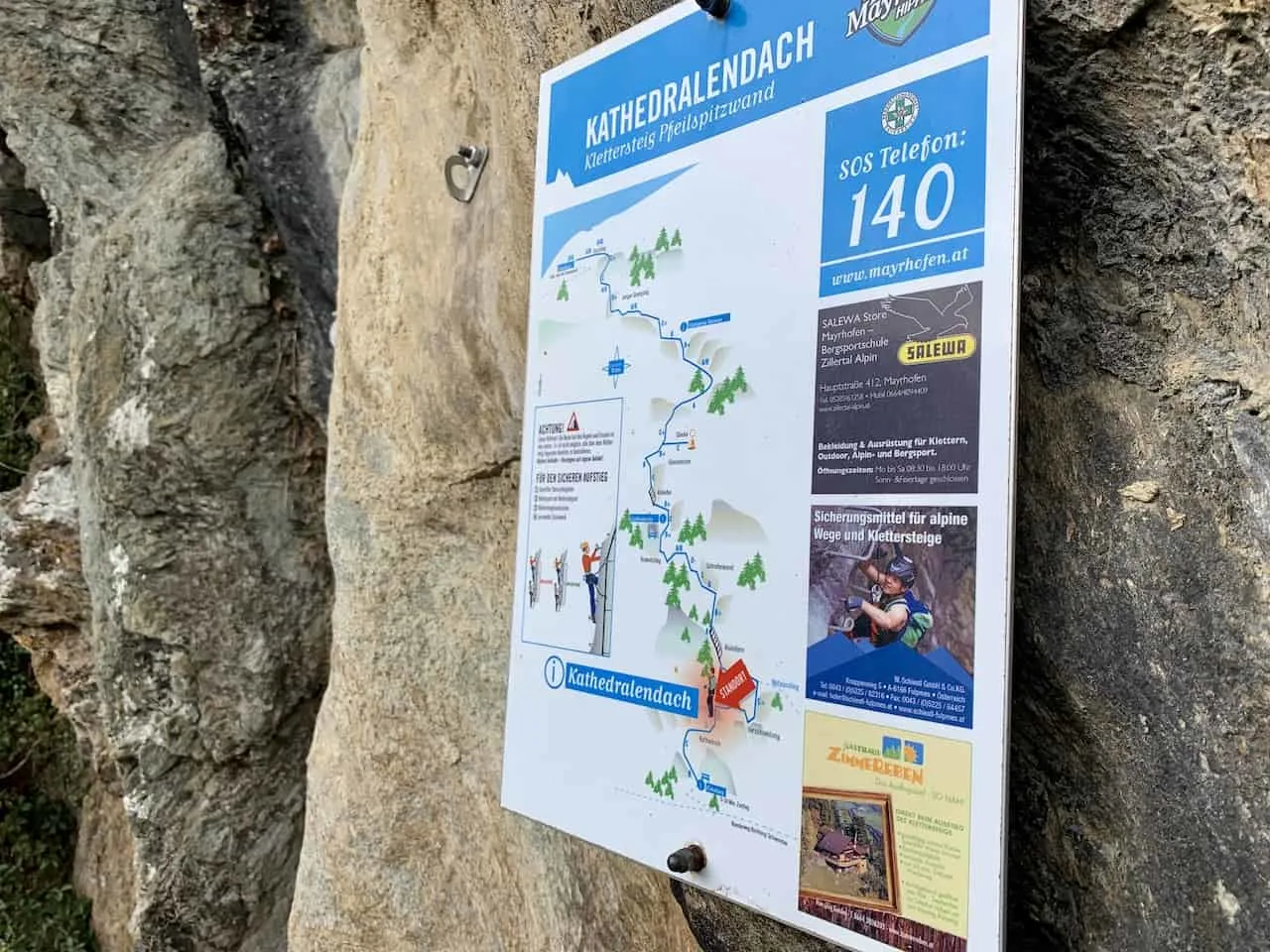 B) Via Ferrata Huterlaner
Starting Point: Gasthof Zillertal
Difficulty: C
Duration: 1.5 hours
Length: 480 meters / 1,575 feet
C) Via Ferrata Astegg
Starting Point: Gasthaus Zimmereben
Difficulty: C
Duration: 1.5 hours
Length: 450 meters / 1,475 feet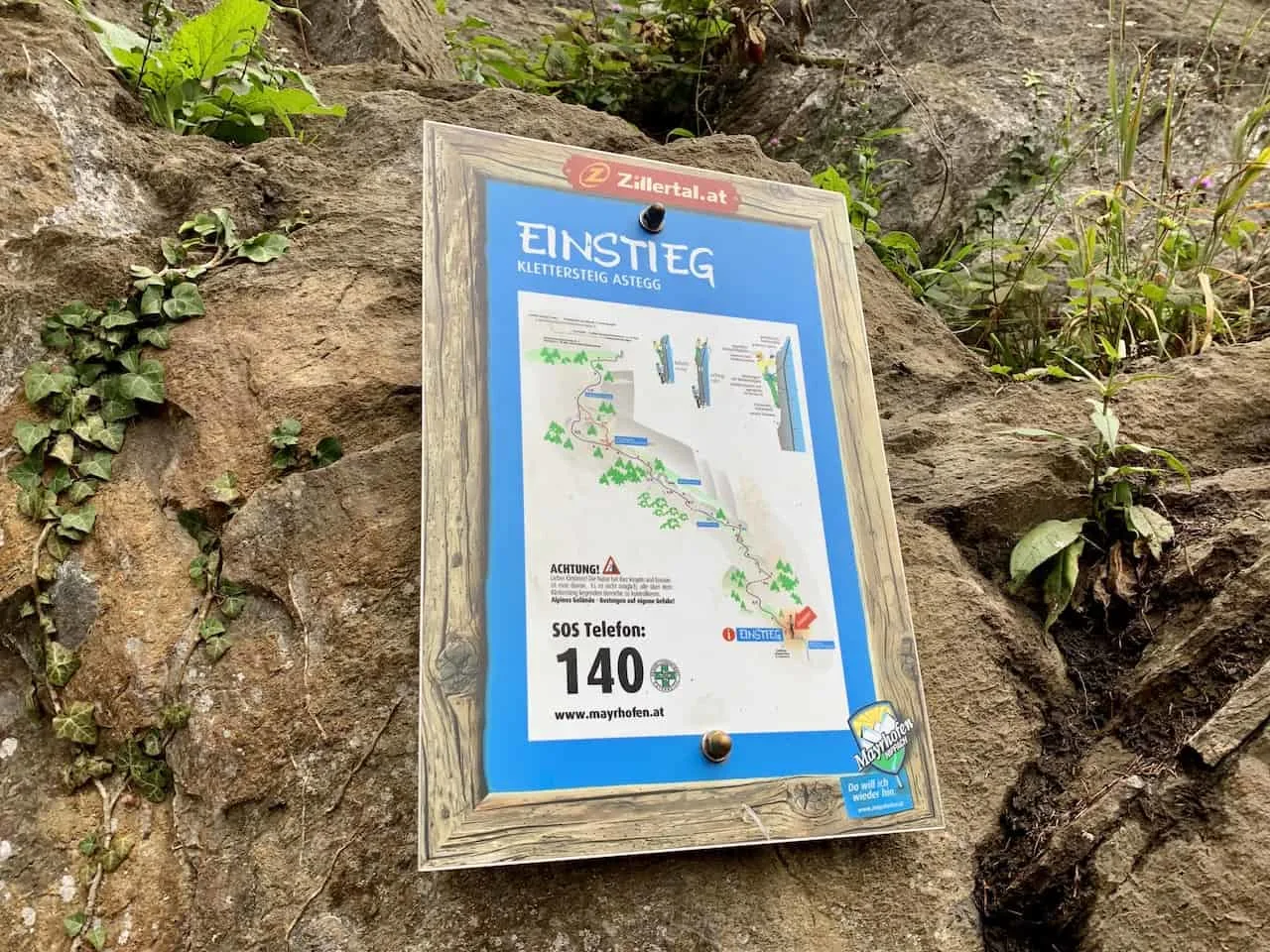 D) Via Ferrata Zimmereben
Starting Point: Gasthof Zillertal
Difficulty: D/E
Duration: 1 hour
Length: 450 meters / 1,475 feet
E) Child Friendly Via Ferrata Zimmereben
Starting Point: Gasthof Zillertal
Difficulty: A/B
Duration: 2 hours
Length: 99 meters / 325 feet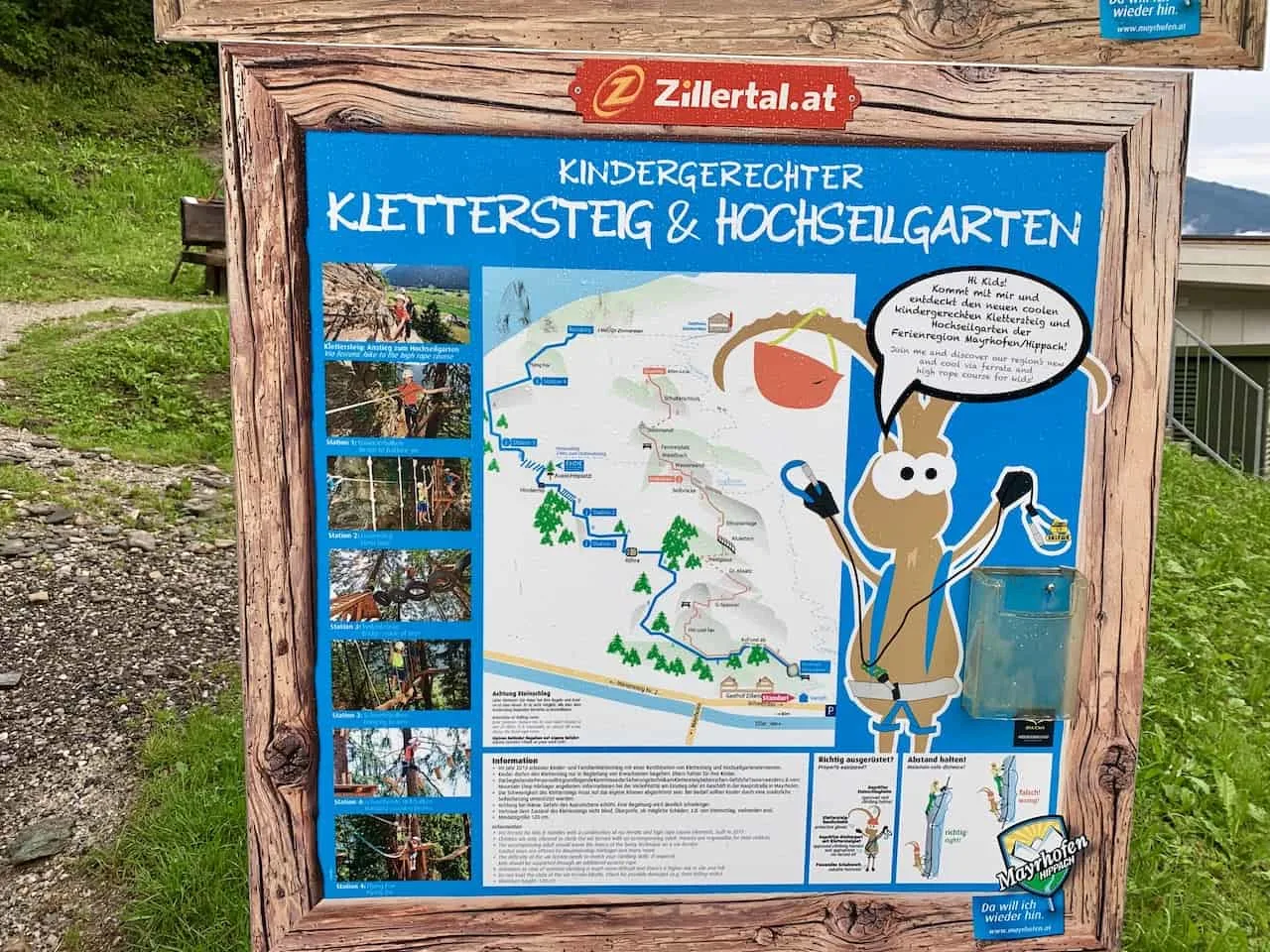 F) Via Ferrata Gerlossteinwand
Starting Point: Gerlossteinbahn (45 minute walk)
Difficulty: C/D
Duration: 1 hours
Length: 380 meters / 1,245 feet
G) Via Ferrata Knorren Nadel
Starting Point: Top of Penken Chairlift
Difficulty: A/B
Duration: 1.5 hours
Length: 180 meters / 590 feet
H) Via Ferrata Steinbock
Starting Point: Top of Penken Chairlift
Difficulty: B/C
Duration: 45 minutes
Length: 180 meters / 590 feet
I) Via Ferrata Schlegeis
Starting Point: Schlegeis 131
Difficulty: A/B
Duration: 1 hour
Length: 257 meters / 843 feet
Children's Via Ferrata also available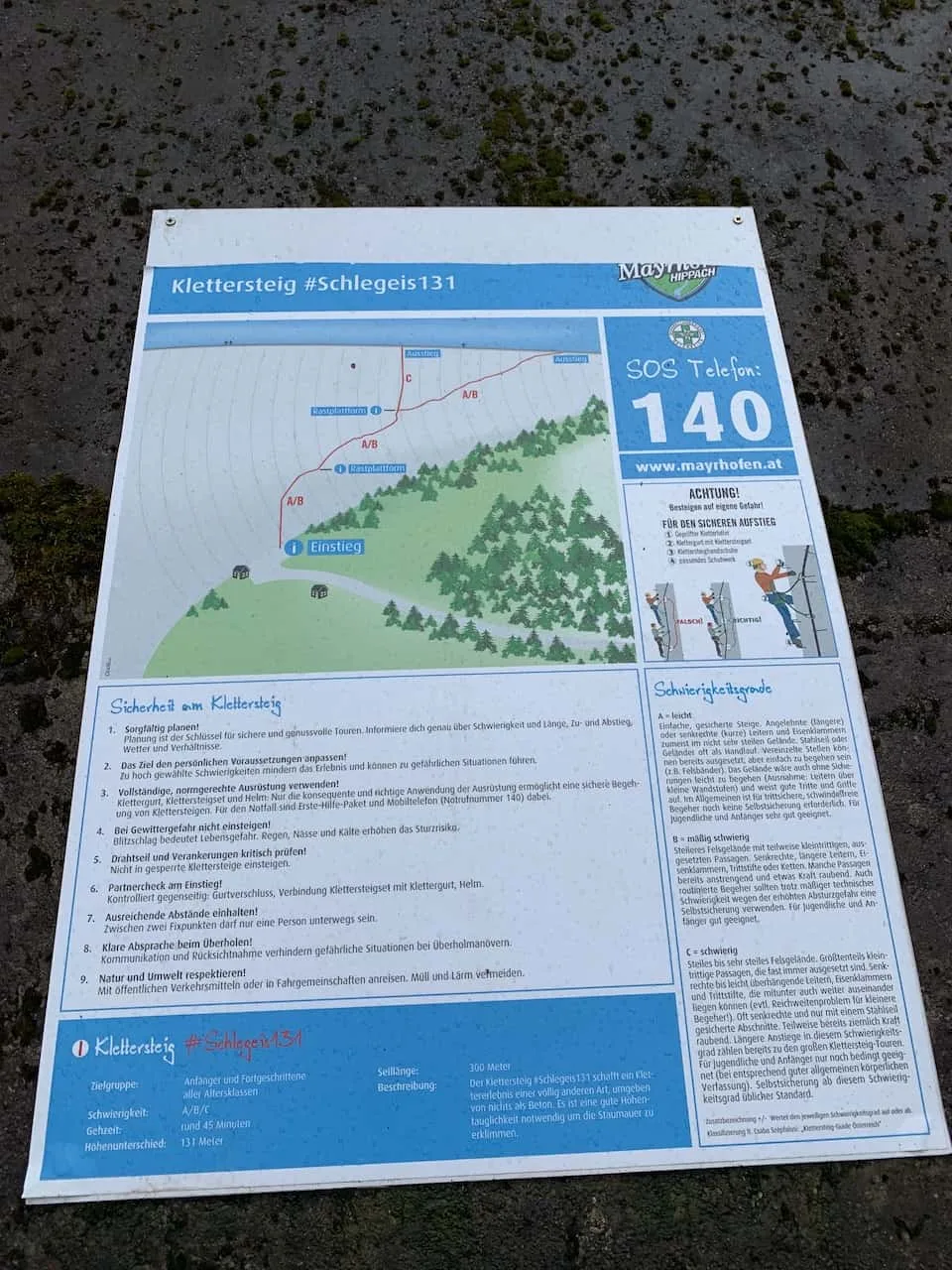 J) Via Ferrata Nasenwand Ginzling
Starting Point: Ginzling Parking Lot
Difficulty: E
Duration: 2 hours
Length: 600 meters / 1,970 feet
K) Via Ferrata Talbach
Starting Point: Talbachstüberl Parking Lot
Difficulty: D/E
Duration: 1 hour
Length: 115 meters / 377 feet
5) Mayrhofen Klettersteig Map & Starting Points
I thought it may be helpful to show you where all the starting points are for the Via Ferratas near Mayrhofen are actually located.
Below is a map that pinpoints the Via Ferratas so you can better visualize how to reach any of the ones you would like to take part of.
Note that some of the pinned points are not where the Via Ferrata starts, but rather where you will need to start the walk/hike from to reach the Via Ferrata starting point.
6) Where to Stay in Mayrhofen
If you are looking to take part of any of the Via Ferratas mentioned above, Mayrhofen is a perfect spot to base yourself in the valley. It is pretty central to many of the routes, with several starting points being right in the village itself.
Mayrhofen is a relatively small valley town, no matter where you stay in it.
You will be at most a 20 minute walk to restaurants, bars, the cable cars (where you can take part of the Ahornspitze Hike), and the train station.
Below are some great options to choose from depending on your budget:
Luxury: Hotel Neue Post | Alpin Lodge das Zillergrund | ElisabethHotel Premium Private Retreat
Mid Range: Sporthotel Manni | Alpendomizil Neuhaus | Zillertalerhof Alpine Hideaway
Budget: Birkenhof | Landhotel Rauchenwalderhof | Gasthof Edelweiss
» Head to Mayrhofen as part of your 7 Day Austria Itinerary visiting places all over the country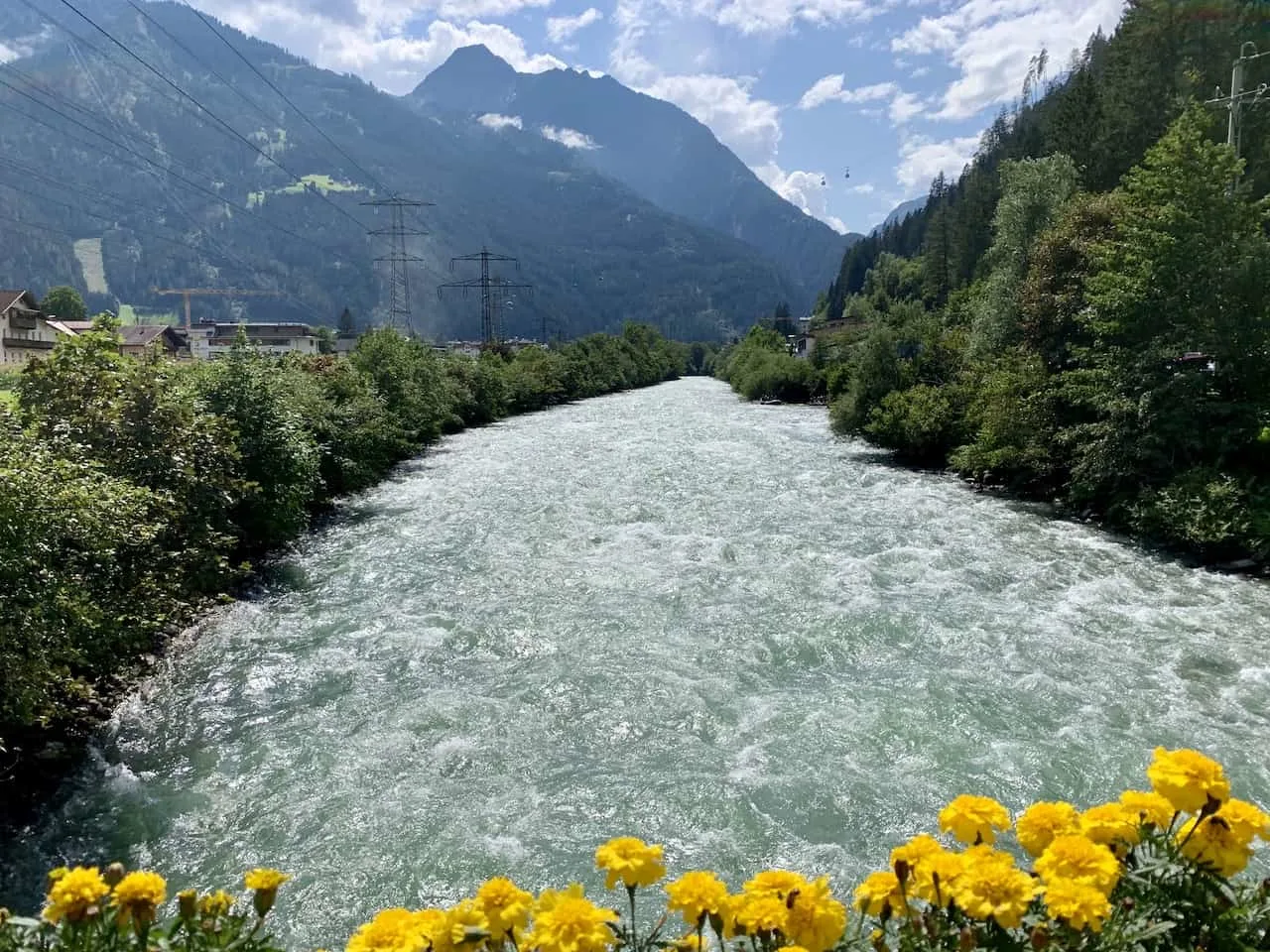 7) Mayrhofen Via Ferratas
Below I am going to dive into a bit more detail about two of the Via Ferrata routes mentioned above – the Pfeilspitzwand Klettersteig and Schlegeis 131.
Pfeilspitzwand on the one hand is a classic type of Via Ferrata route starting on the valley floor and heading up to a mountain hut overlooking the valley.
Schlegeis 131 is a different type of experience as you get to climb an actual dam wall of a lake.
Be sure to check out some of the other top things to do in Mayrhofen during a visit.
A) The Pfeilspitzwand Via Ferrata
What I loved about the Mayrhofen area is that there are just so many activities to take part within a few minutes walk from town. Of course, one of those activities is taking part of a Via Ferrata.
Right nearby the Gasthof Zillertal there are three options (Pfeilspitzwand, Huterlaner, Zimmereben), a great easy route made for kids, and another option (Astegg) that starts at the ending point of these routes at the Gasthaus Zimmereben.
The easiest option here (besides the kid's route) is Huterlaner, the medium option is Pfeilspitzwand, and the most difficult is the Zimmereben.
I opted to go with the Pfeilspitzwand Via Ferrata and thought it was a great way to experience what a Mayrhofen Klettersteig is all about.
If you are not experienced with Via Ferratas, I would recommend starting out on the easiest routes and moving up from there.
Once you reach the Gasthof Zillertal, you simply need to follow the signs to the Via Ferrata you would like to take part of.
The entrance to Pfeilspitzwand is about a 5 minute walk from the guesthouse.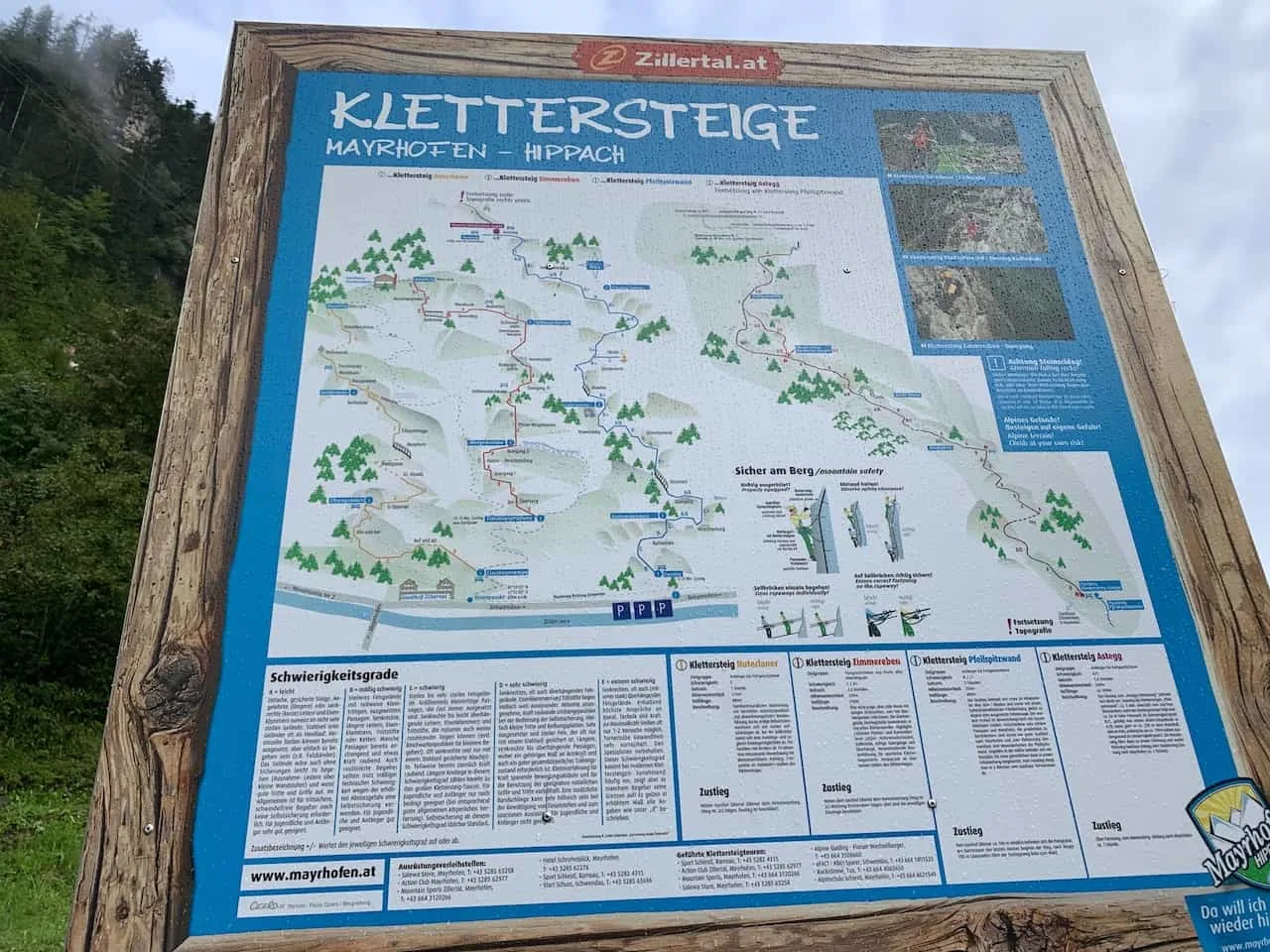 You will start off by clipping in and beginning the ascent off of the valley floor on some B-C level sections. Soon after though, you will reach one of the more difficult parts of the route, a D- section (followed by a C+).
It did require some body maneuvering and grip strength to make it through this section, so do be aware when taking part.
Once complete with the C+ section, you actually have the option to leave the Via Ferrata route and hike back down safely.
If you aren't feeling up to it and think it is something too difficult, then this will be your only chance to leave the route safely.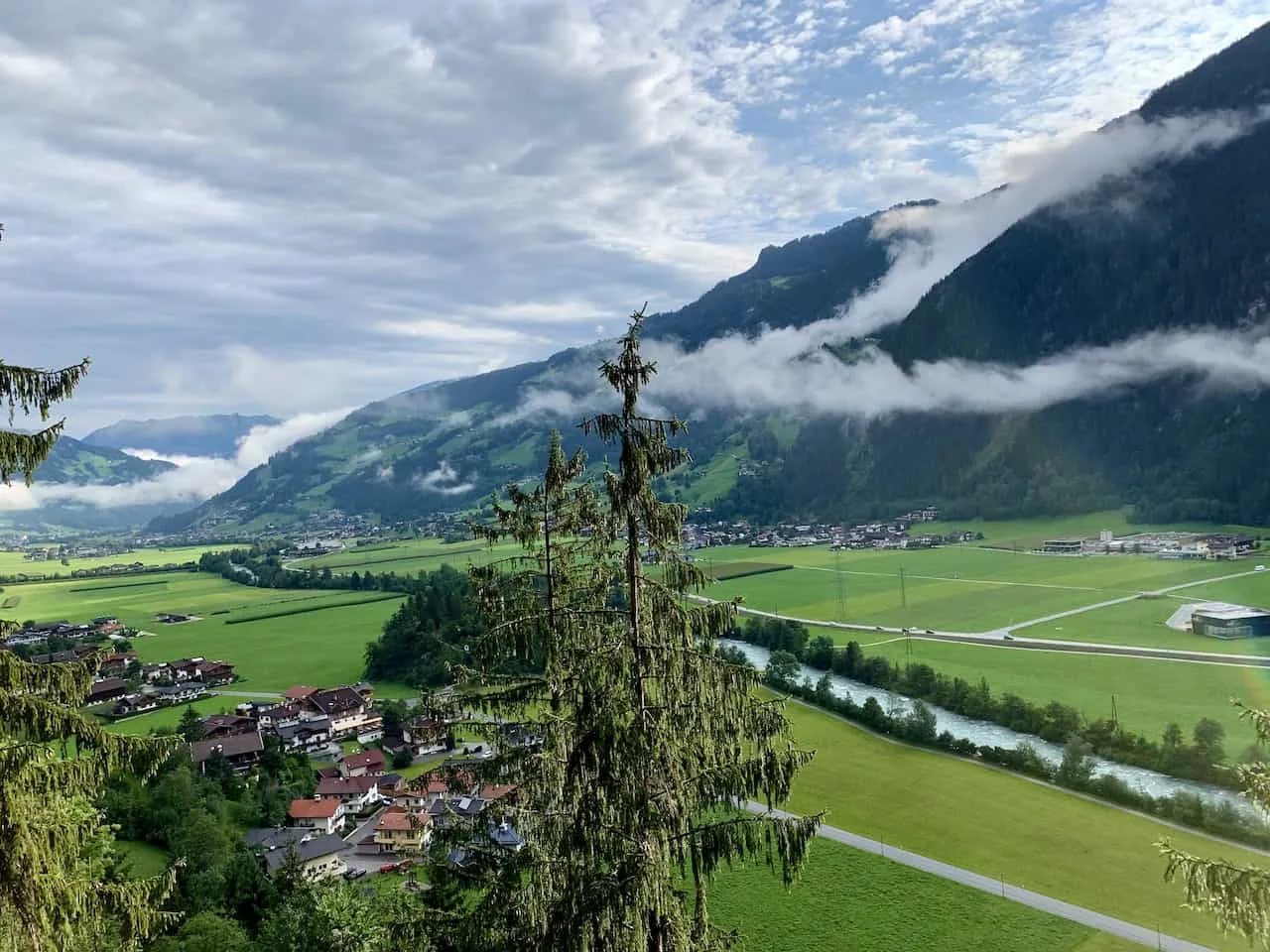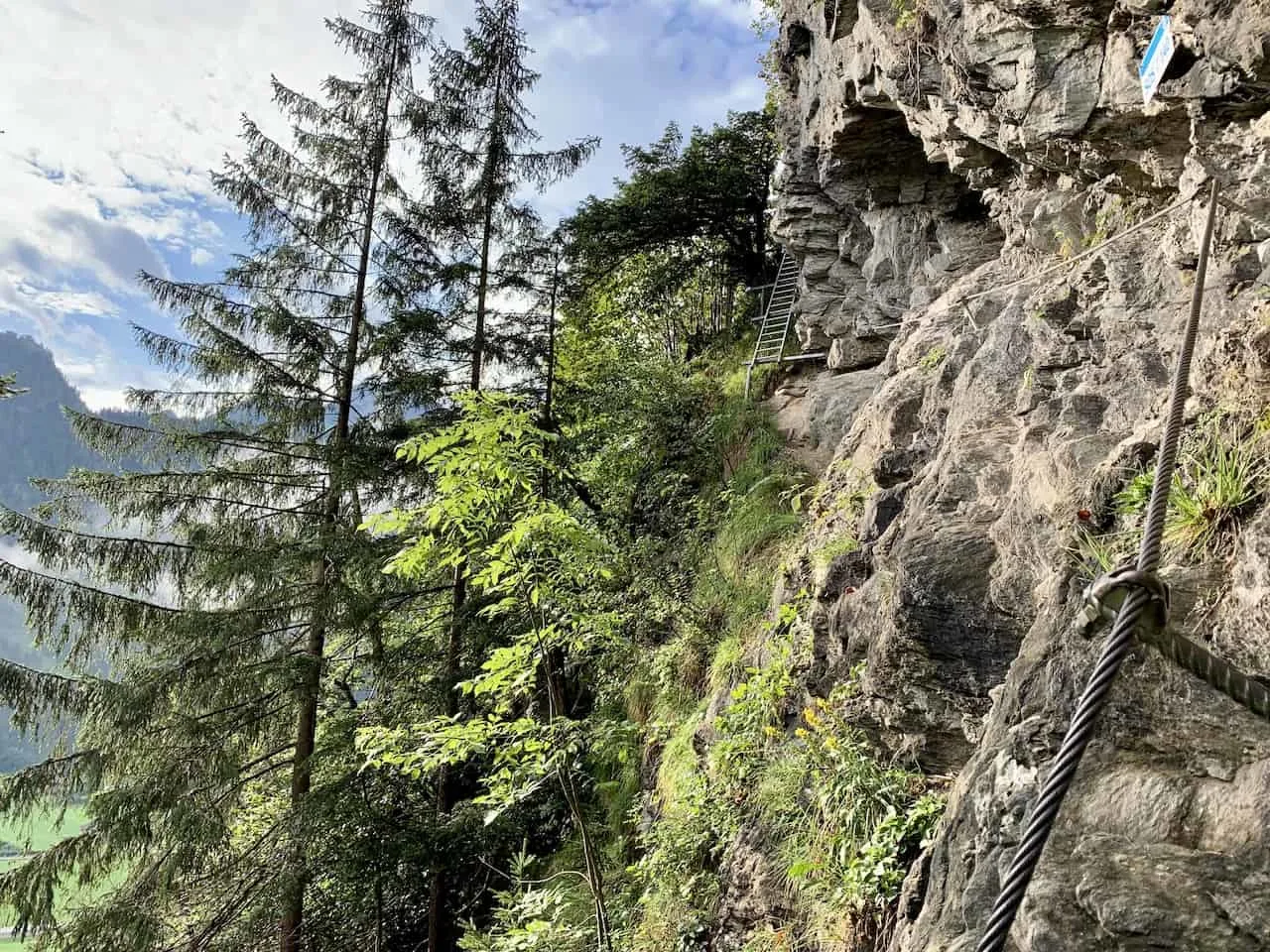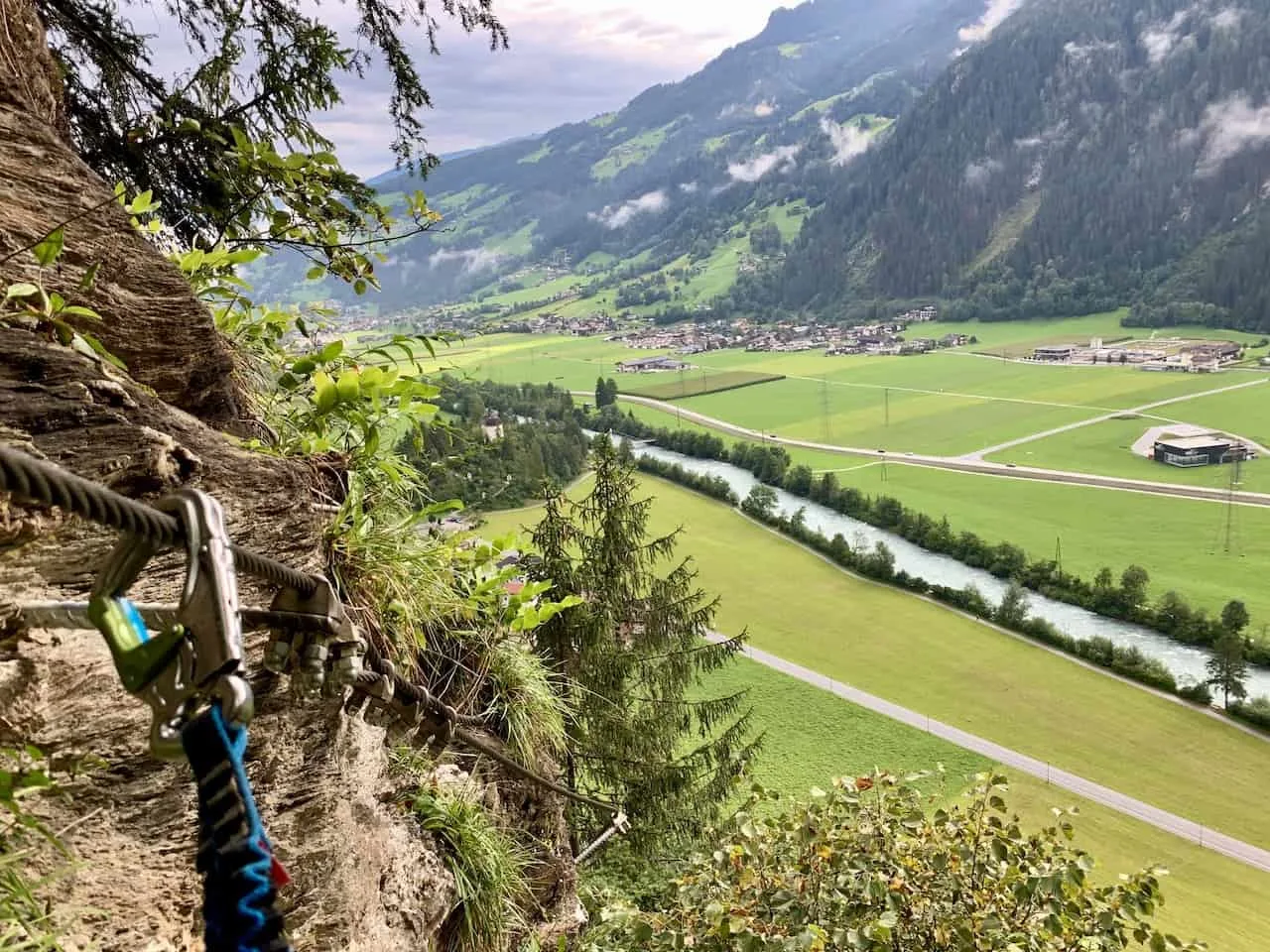 After that difficult section, things will start getting easier as you get higher up on the mountain face through A-C sections.
Be sure to take some breaks throughout to enjoy the valley greenery behind you with the sprawled out houses and flowing river.
Soon enough you will reach another difficult C+ section. This comes directly after the optional detour to the Glocke bell.
I found this C+ section to be just as or even more difficult than than the earlier section, but once through that it is an easy way for the next few sections of trail.
You are sure to come across some vertical climbs, horizontal climbs, and ladders sprawled throughout the route.
As you begin to get higher, the views will begin to get better and you will be able to see even more of the valley in both directions.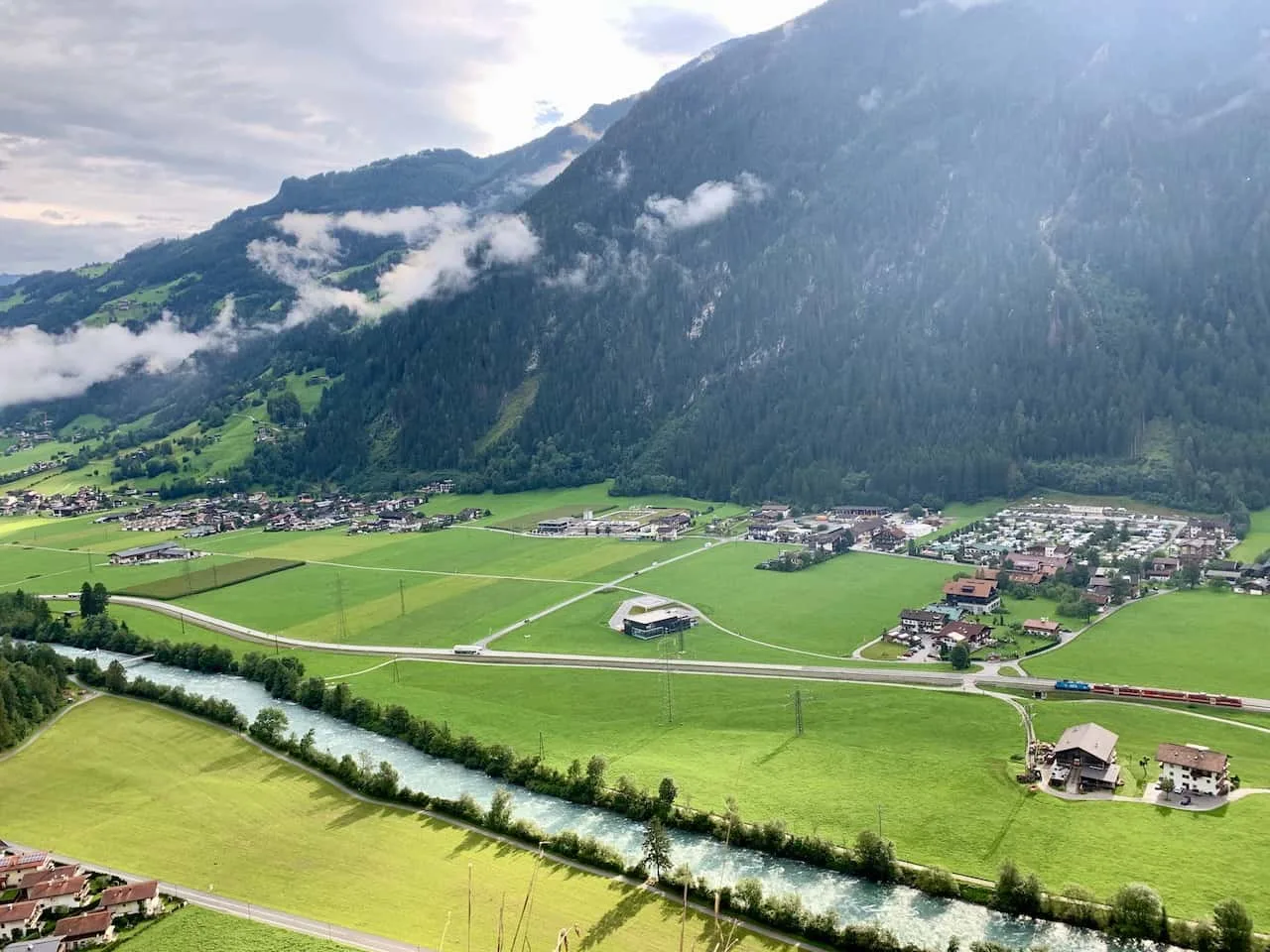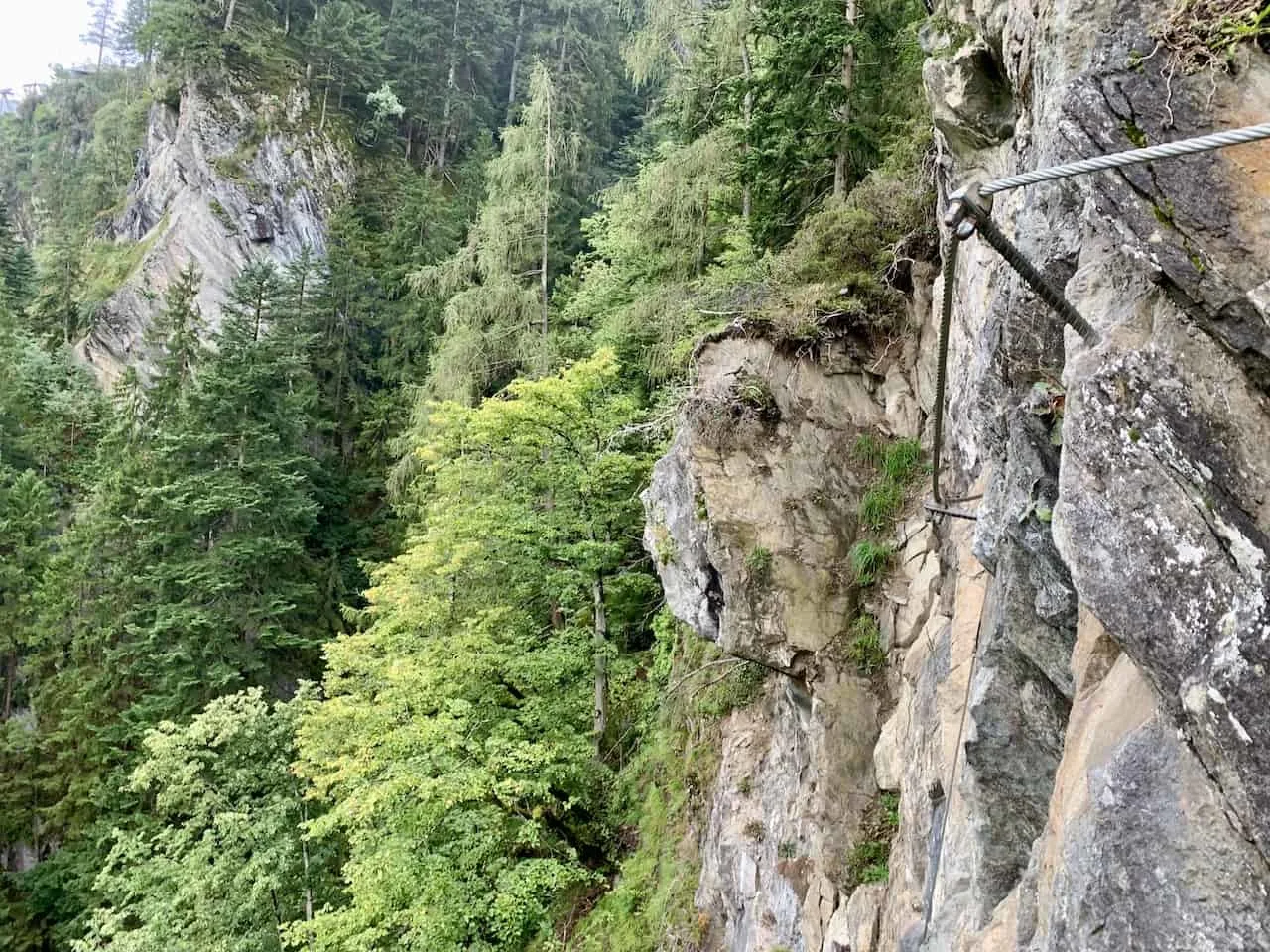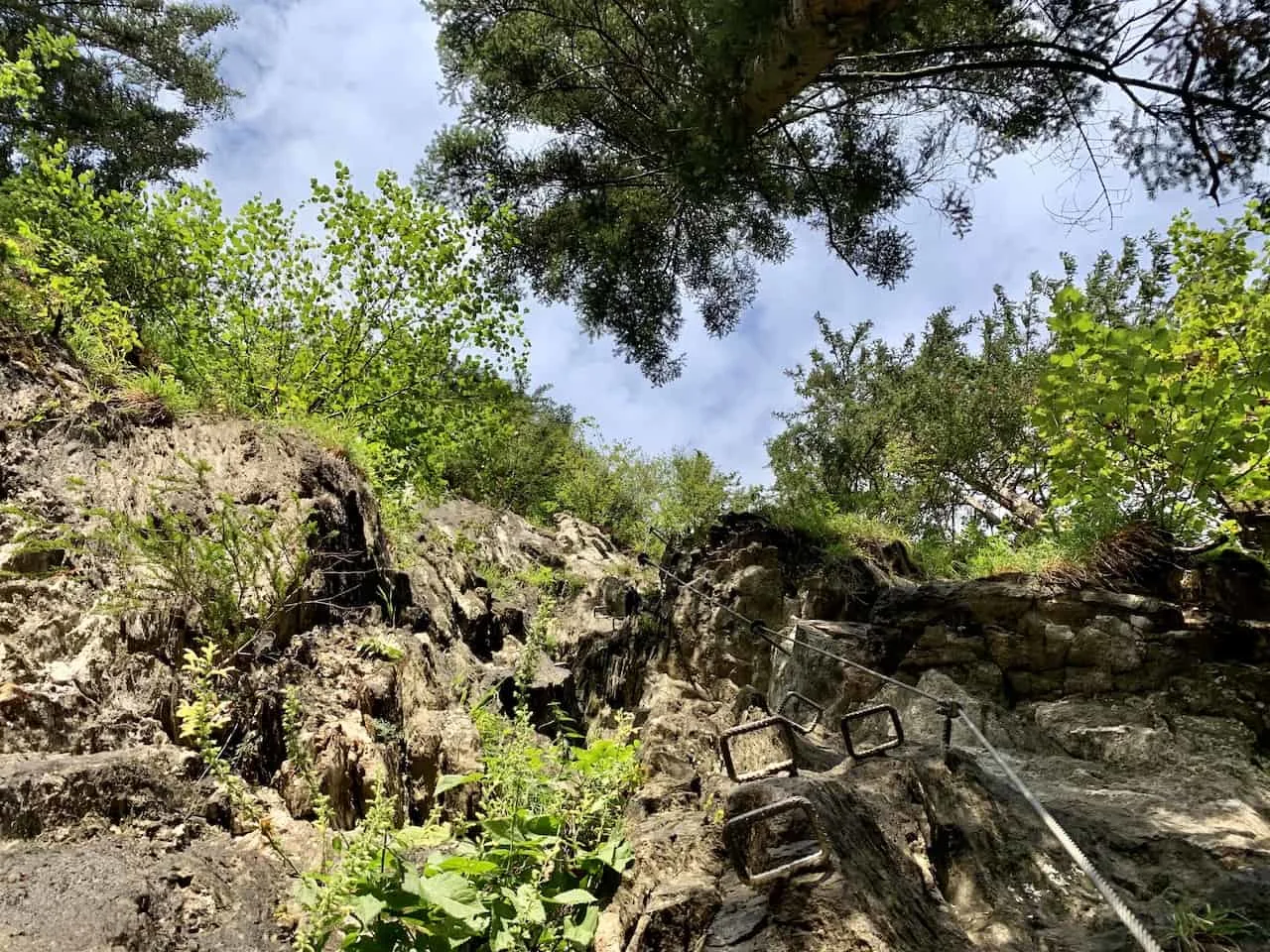 There will be a couple more C+ sections as you get closer to the top surrounded by some easier parts as well.
Once the fixed rope ends, it is just a few minute walk to the Gasthaus Zimmereben. This is also the point where you can decide to head even farther up the mountain on the Astegg Klettersteig.
If you have had enough Via Ferratas for one day, head on over the hut, grab a seat outside and have some food and drinks to end a successful climb over Mayrhofen.
Once complete, you just need to follow the 20 minute hiking route back down to the valley floor.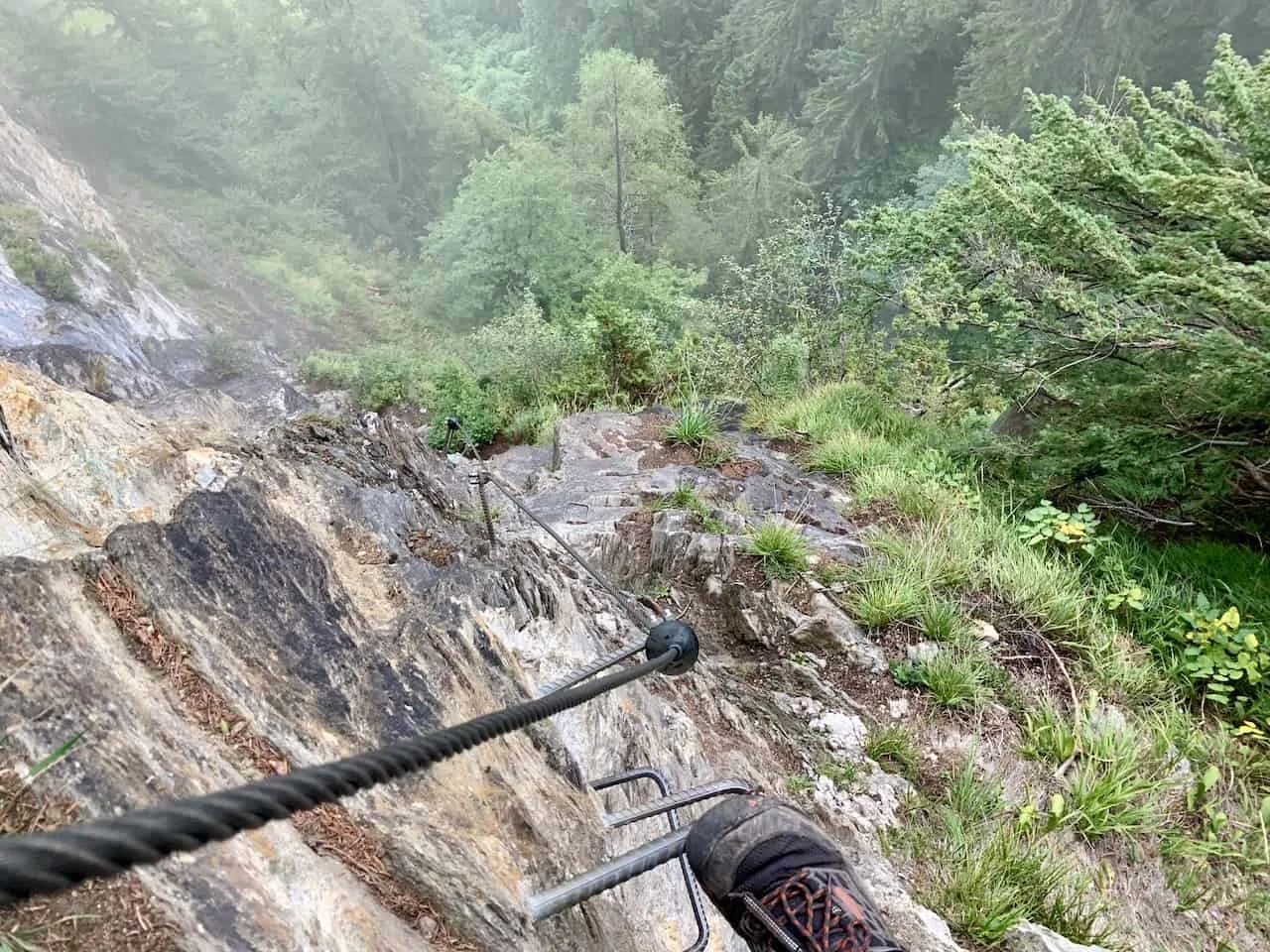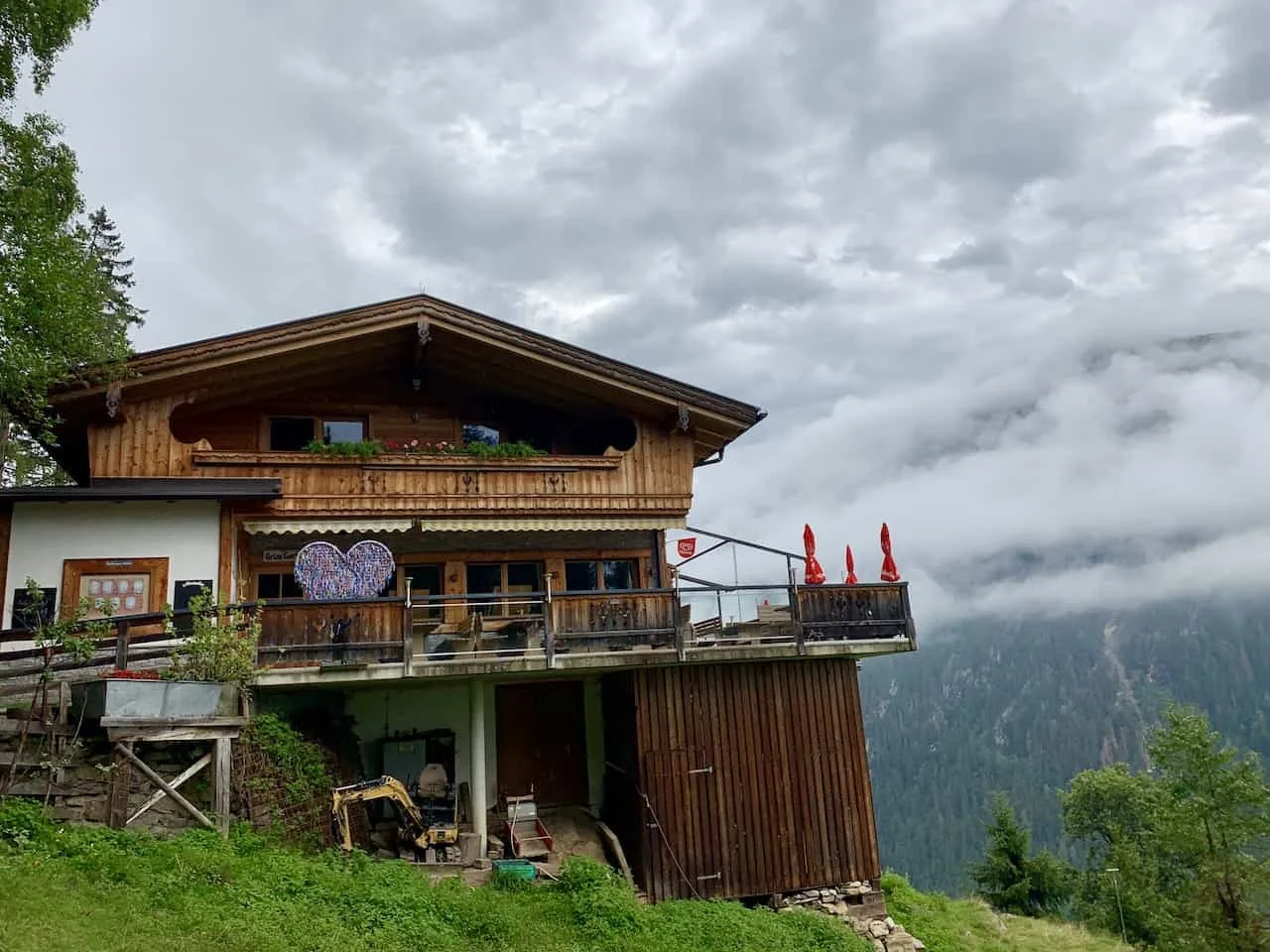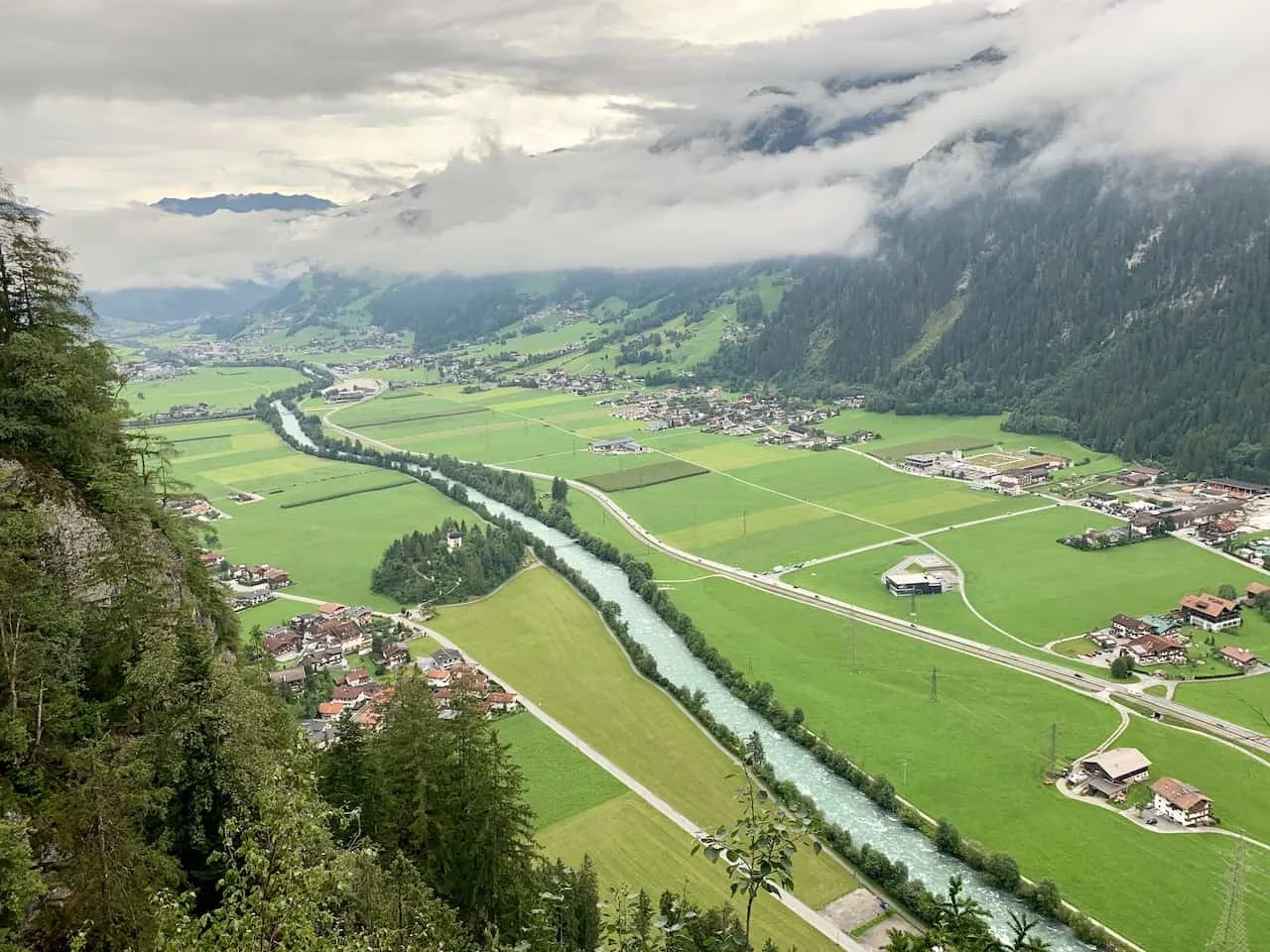 B) Schlegeis 131 Via Ferrata
One of the most unique Klettersteig experiences you could have is climbing the Schlegeis 131 dam wall.
Located 35 minutes away by car from Mayrhofen, the Via Ferrata offers the chance to climb 131 vertical meters from the bottom of the Schlegeis Stausee dam wall all the way to the top.
I won't get into too many more specifics here on what to expect and how to take part of it since I already get together a separate guide about that experience.
» Check out the Schlegeis 131 Via Ferrata Guide for everything you need to know!
» If you also have some more time to spare around the area, the hike up to the Olperer Hut is must!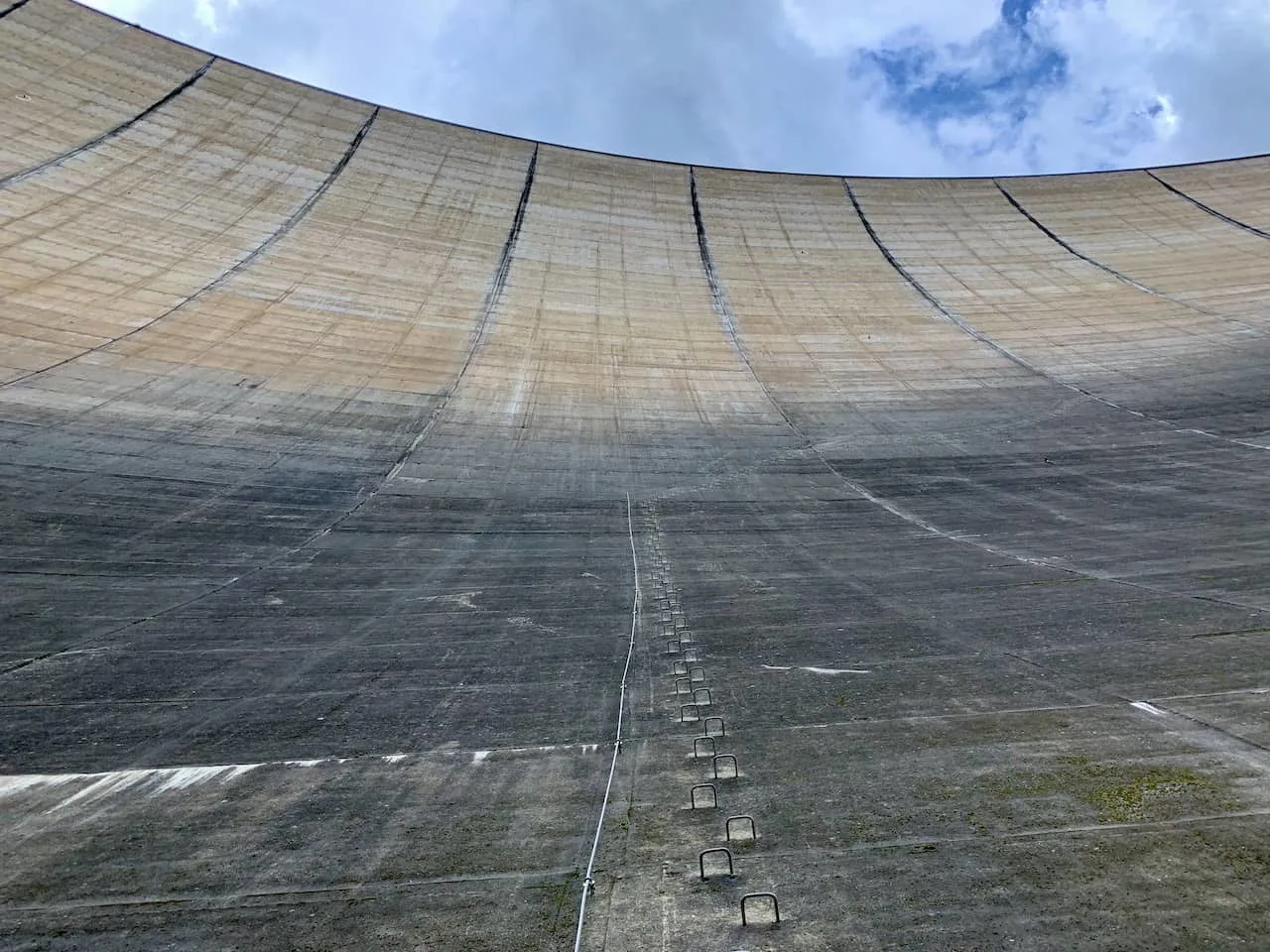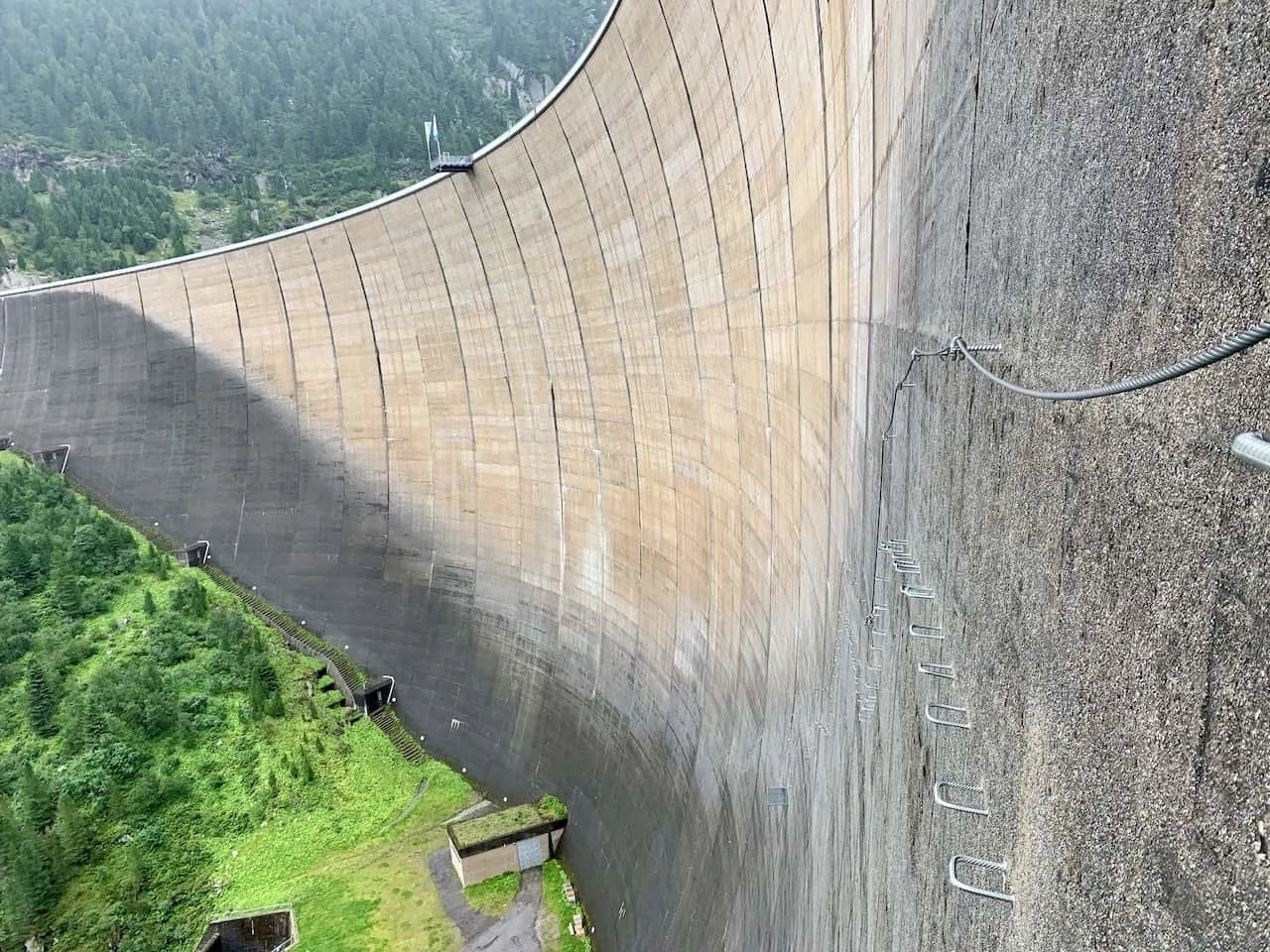 With all that said, I hope you are now better prepared to tackle some Austrian Via Ferratas on your own!
There are plenty of options to choose from for all difficulty levels so if you are a beginner I would highly recommend starting easy and building your way up as you get more comfortable.
If you have any questions or comments about these Zillertal Valley Klettersteigs, be sure to write them in below. Also be sure to check out the other Austria itineraries and guides up on the site.
Have fun out there and safe travels!