The country of Iceland has so much variety and uniqueness to offer its visitors during a trip. From the vibrant capital of Reykjavik to the stunning natural landscapes, you will have the chance to explore it all and more.
This 5 day Iceland itinerary will give you the chance to see some of the best of the country in a short time span. Waterfalls, hikes, glacial lagoons, black sand beaches, and plenty more will be packed into your 5 days in Iceland.
In general, this Iceland itinerary will take you along the southern coast as you take in some of the top highlights and activities during your time in the country. Read on to learn more about the itinerary and how to get yourself ready for your trip.
* Affiliate Disclosure: This post may contain affiliate links, which means I may receive a commission if you make a purchase through the links provided, at no additional cost to you. Thanks for supporting the work I put into TripTins!
1) Iceland Itinerary Overview & Helpful Tips
Overall, this 5 day itinerary will focus on the Southern Coast of the country & a couple days based in Reykjavik.
It will consist of three days & two nights along the coast, before staying in Reykjavik for the final two days & 2/3 nights.
Before jumping into the itinerary though, I did want to point out some important considerations for a 5 day trip to Iceland and this itinerary in particular. In addition, you can also find some helpful tips to take into account as you go about planning your overall trip.
» One of the top considerations for Iceland is the time of year to visit.
In general, the summer months are going to bring longer days and some more optimal weather conditions. As you get closer to the winter, those days will continue to shorten and you will have less daylight to take part of activities.
Due to this, I would highly recommend taking part of this itinerary in particular during the summer and surrounding months from May to September.
This will give you the best chance to enjoy all the activities listed out and actually give you the time to do so.
It is certainly possible to go to Iceland at other times of the year, but just note that you probably will not be able to take part of every activity & attraction listed out in this itinerary.
» Although summer offers the longest daylight hours, the weather in the country can be highly unpredictable at any time of year.
Sunny days can turn to rain & clouds in an instant, so you really need to be prepared for all types of conditions. I would recommend packing accordingly for all types of weather (a topic I will touch upon soon).
» When it comes to transport around Iceland, renting a car is your best bet (particularly with an itinerary like this one).
A car rental will give you the chance to see the country at your own pace and on your own schedule. While some may opt to just do group/private day trips from Reykjavik, this can be costly and less flexible altogether.
Since this itinerary starts right off the bat heading towards attractions, you can pick up a car at the airport when you land on day 1 and return it on day 5 before you depart.
I would highly recommend checking out Rentalcars.com for potential car rental options.
By going through Rentalcars.com, you will have the chance to compare car prices among a variety of rental companies, and choose the best option for you.
» The way this itinerary is built is as if you are landing early in the morning on day 1 (and beginning the trip from there).
However, if your flight is not scheduled to land first thing in the morning, you can plan to just relax in Reykjavik for an afternoon & night before beginning this itinerary the following day.
» Note that itinerary does not go around the entirety of the Ring Road. It will just take you back and forth along the southern coast in addition to a couple day trips from Reykjavik.
You can check out the Iceland Ring Road itinerary I have up on the site that will take you all around the country if you have more time.
» For more helpful info be sure to check out the Iceland Helpful Tips article up on the site to get you prepared for your trip.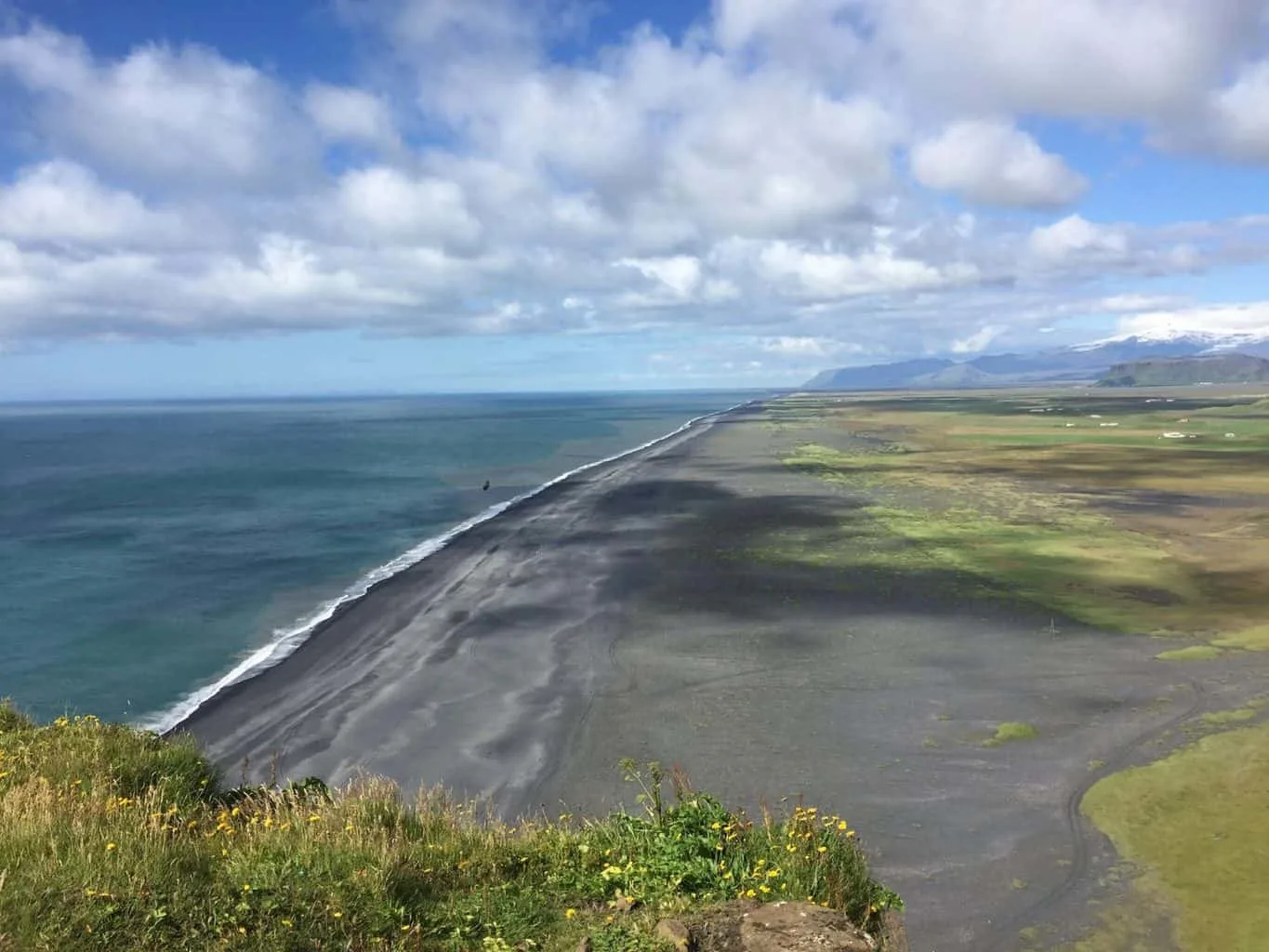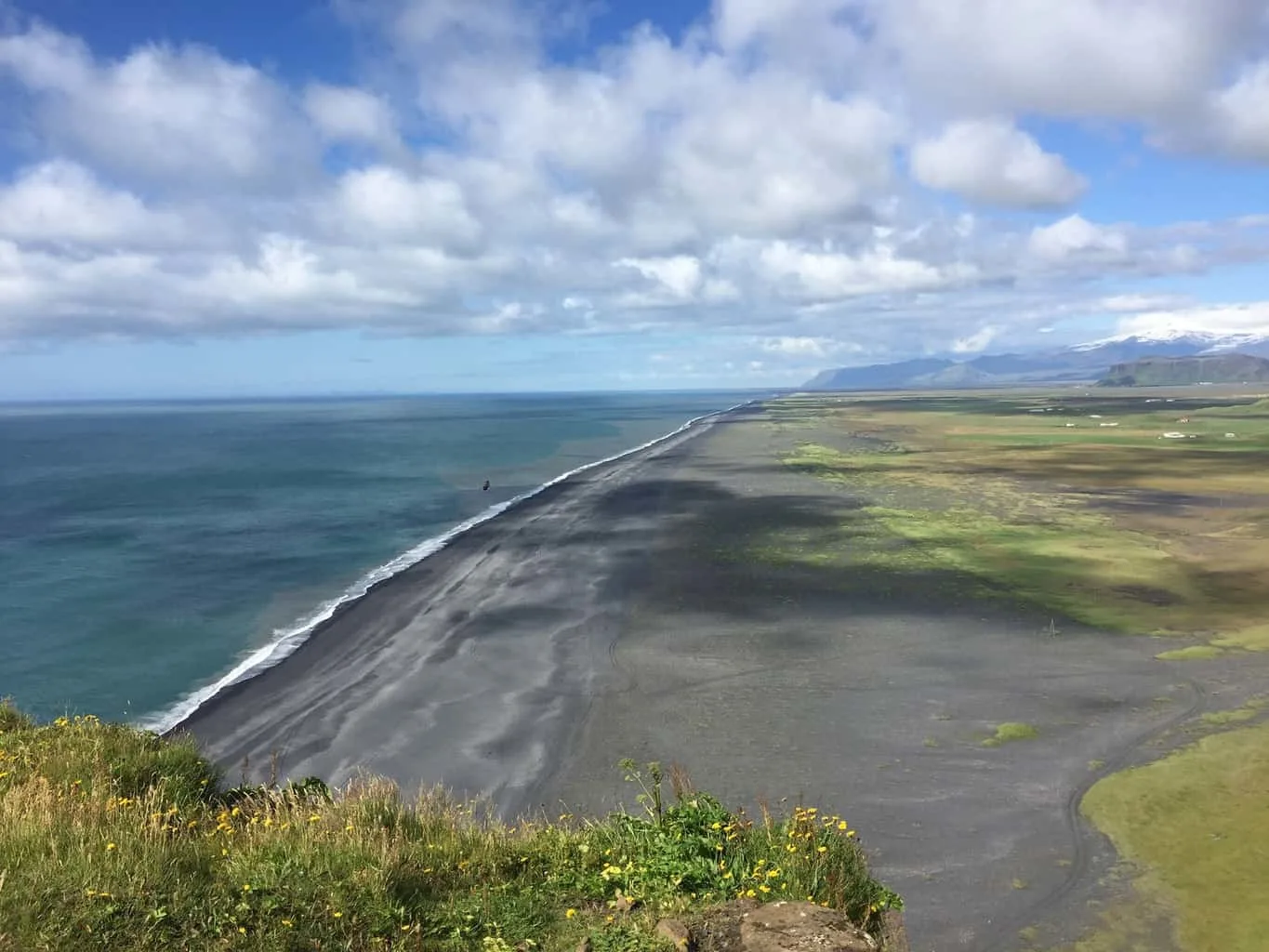 2) Iceland Weather
As mentioned, the ideal time of year to visit to get the most daylight hours is going to be those summer months. But just because there is a lot of daylight during the summer, doesn't mean the weather is always going to be ideal.
Iceland is notorious for its constantly changing weather patterns. In a day's time it very well may feel like you just went through all four seasons.
To give you a better understanding of the weather over the course of the year, I have included a couple screenshots courtesy of Meteoblue.
I would recommend using Meteoblue to get more accurate day by day Iceland weather forecasts. The forecasts give you a better idea of how many hours of sun to expect, amount of precipitation, and other helpful metrics.
The first chart below will show the average temperature along with the rainfall by month.
As you can see, the summer does bring those higher temperatures. Although they may be the highest temperatures, does not mean it is warm (average highs in the summer reach just the mid 50's F).
You can also see there is quite a bit of precipitation throughout the year, even in the summer months. Although historically, the Spring/Summer months bring the least amount of rain/snow, you should always be prepared for some rainfall.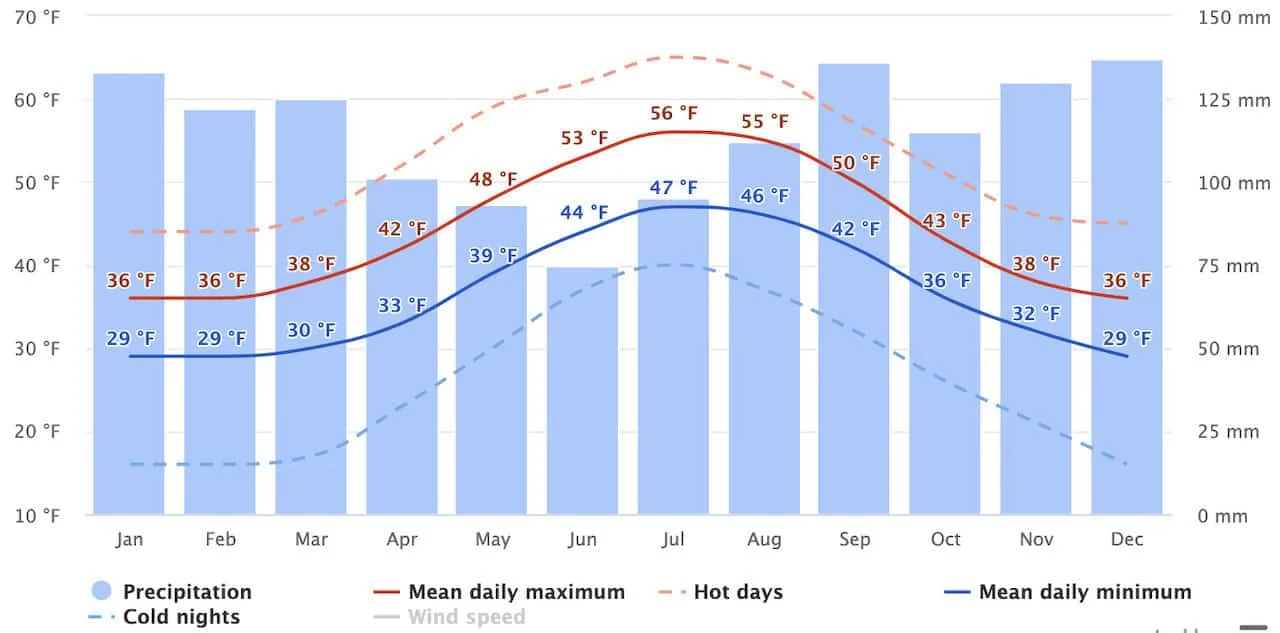 The second chart shows the amount of cloudy vs. sunny days throughout the year.
You can see that pretty consistently throughout the year over half the days of the month can have overcast weather. That is not to say the entire day will be overcast but the clouds definitely do roll in and out.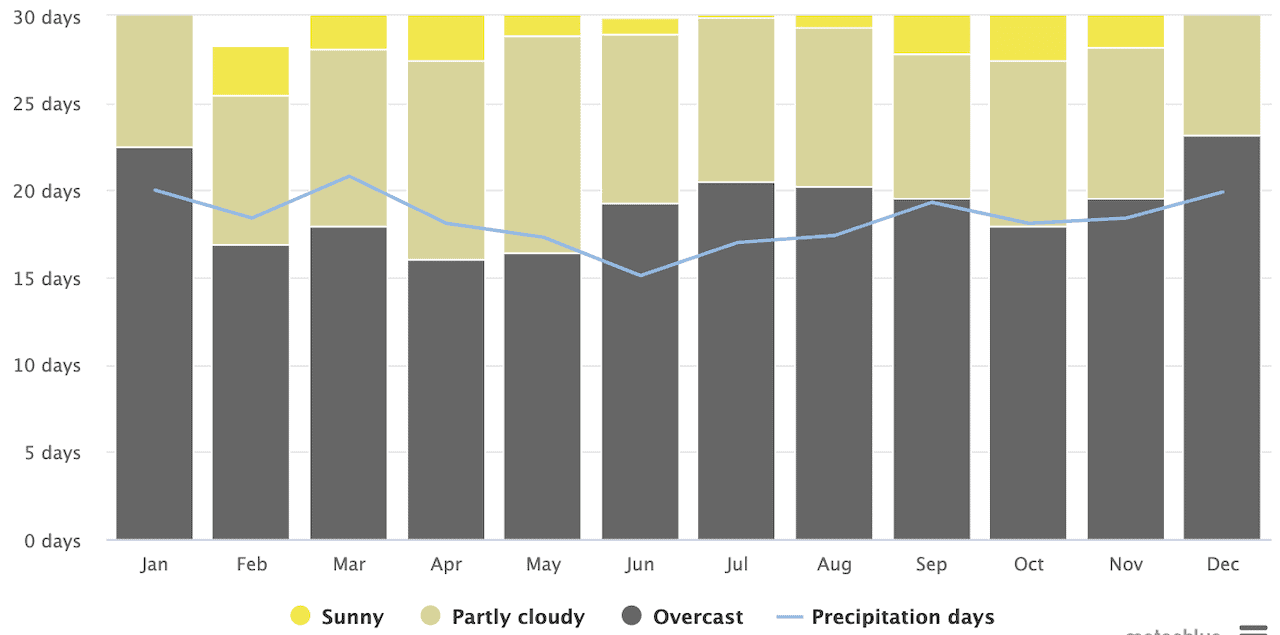 3) Packing List
Speaking of weather, it really goes hand in hand with what an Iceland packing list will look like.
As mentioned, you really need to be ready for all sorts of weather possibilities during a trip. Sun, wind, rain, and more will be frequent throughout your days in the country.
So, when you are heading off for a hike or visiting a certain attraction, don't just plan to wear whatever your base outfit may be for the day. Instead, you very likely will need to bring along additional layers and items just in case the weather turns one way or another.
If you will be outside and away from your car for long portions of the day, be sure to take a backpack with you to carry any items that you currently aren't wearing.
Overall, I would recommend taking a this hiking packing list I put together that has many of the items you will want to consider bringing.
The list talks about layers, which will be of upmost importance for a trip to Iceland. Below are the main layers you will want to bring along:
→ Hiking Shorts
→ Hiking Pants
→ Short Sleeve Shirt
→ Long Sleeve Shirt / Sun Hoodie
→ Mid Layer Fleece
→ Puff Jacket
→ Packable Rain Jacket
You want to be sure to bring appropriate waterproof hiking shoes along with solid hiking socks as well.
Additional packing list item recommendations include:
→ Hiking Backpack & Rain cover
→ Water Bottle & Nutrition
→ Portable Charger
→ Hat & Sunglasses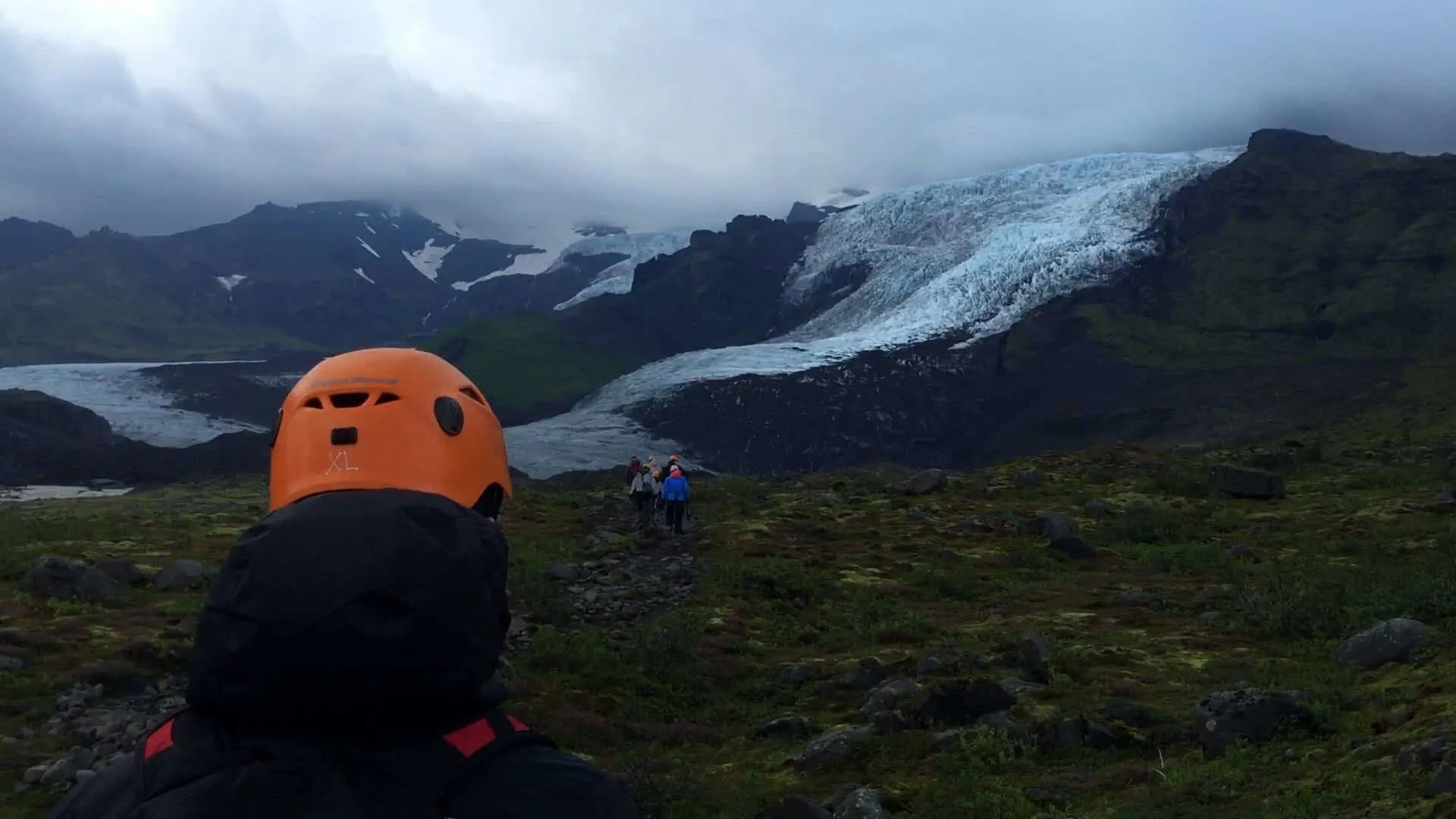 4) Renting a Car
Another main topic I wanted to cover before talking through the itinerary is renting a car. As mentioned, a car rental is going to be the easiest option when it comes to exploring Iceland in general.
You will have the ability to go at your own pace, visit the places you want to visit, and always be on your own schedule.
For renting cars in general, I would highly recommend just taking a look at Rentalcars.com. That way you can get a good understanding of the various options out there across multiple car rental companies.
Note that there are some considerations to think about when renting cars in Iceland including:
→ When choosing a car, note that there can be a mixture between Manual and Automatic options. So, be sure to choose correctly (especially if you don't know how to drive Manual).
→ While there are unpaved roads throughout the country, basically all of the main attractions and activities on an itinerary like this will be on paved roads.
So, you will not need to worry much about getting a 4 X 4 car. However, if you are looking to extend this itinerary to include some more off the beaten path options or you are thinking about visiting in the winter time, then a 4 X 4 car will be your best bet.
→ You may also see additional add ons such as gravel protection or sand/ash protection. This will just be up to you in case you want to be insured for the variety of protections offered by the rental companies.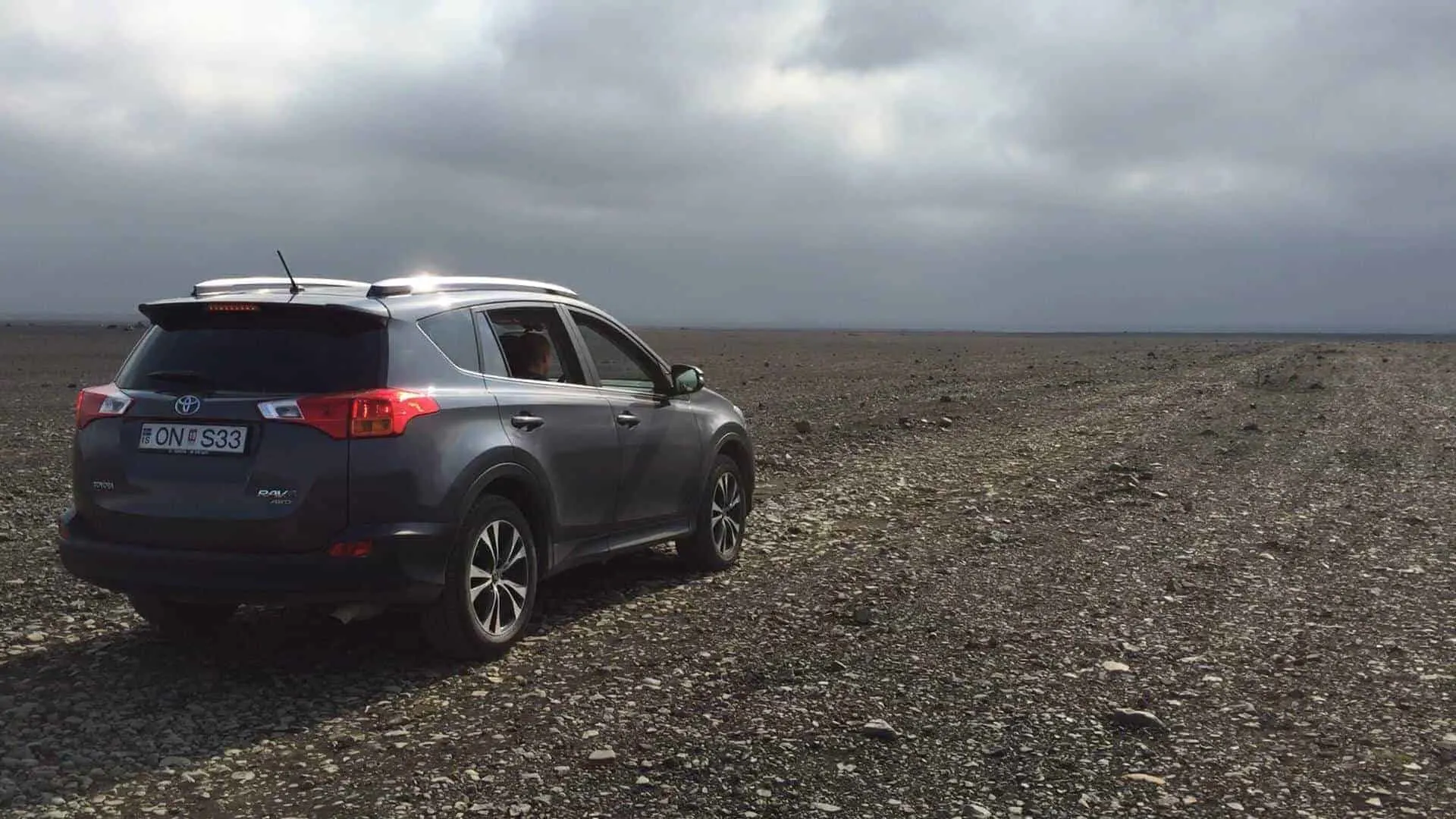 5) Where to Stay in Iceland
Since this is just a 5 day itinerary in Iceland, you will just need to figure out two accommodation options for your trip.
The first two nights of the trip will be spent along the Southern Coast (ideally somewhere in the vicinity of Kirkjubaejarklaustur). The final 2 nights (potentially 3), will be spent in the capital city of Reykjavik.
Below are some highly rated and reviewed options for each place:
Kirkjubaejarklaustur
» Feel free to take a look at the top hotels in South Iceland for more info about where to stay
Reykjavik
» Check out some Unique Iceland Hotels to choose from if you want to enjoy some more distinctive options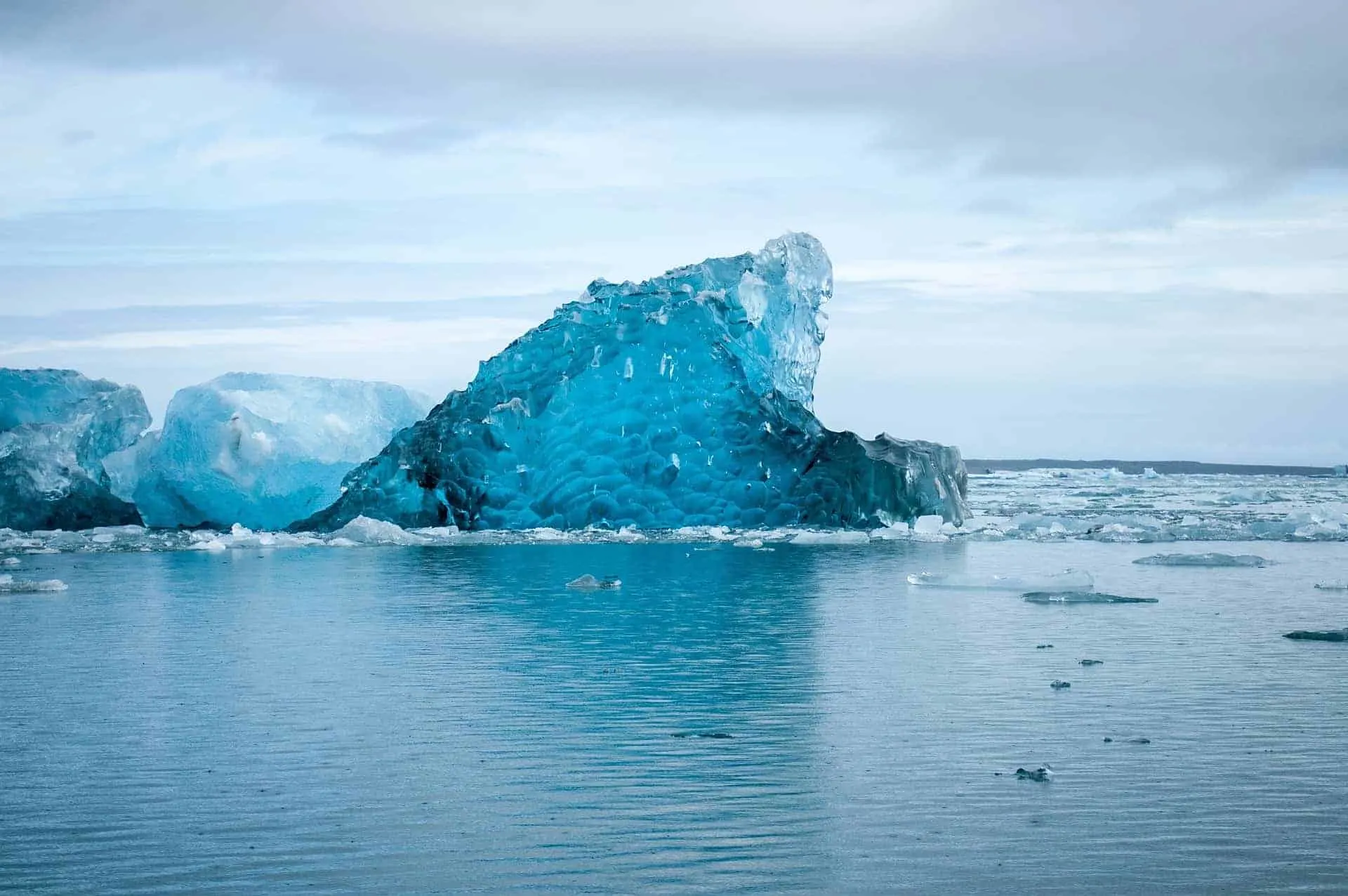 6) Iceland Itinerary 5 Days Map View
Now that you have some background info about Iceland, let's dive into the itinerary itself.
Take a look below at where each attraction on this 5 days in Iceland itinerary falls on the map.
Day 1 starts out with the blue pins and the trip then continues eastward before turning back, with each pin color indicating the attractions for a day.
Altogether you will spend 3 days / 2 nights along the southern coast and the remaining time in Reykjavik with a day trip in between.
Day 1 – Blue
Day 2 – Yellow
Day 3 – Red
Day 4 – Purple
Day 5 – Gray
7) 5 Days in Iceland Detailed Itinerary
The following is a detailed breakout of the daily attractions and activities on this Iceland itinerary 5 days route.
The remainder of this guide will go through each one of the activities and attractions.
As you are scrolling through you will find some more detailed guides linked throughout. If you would like to learn more about a particular place, feel free to check those out as well.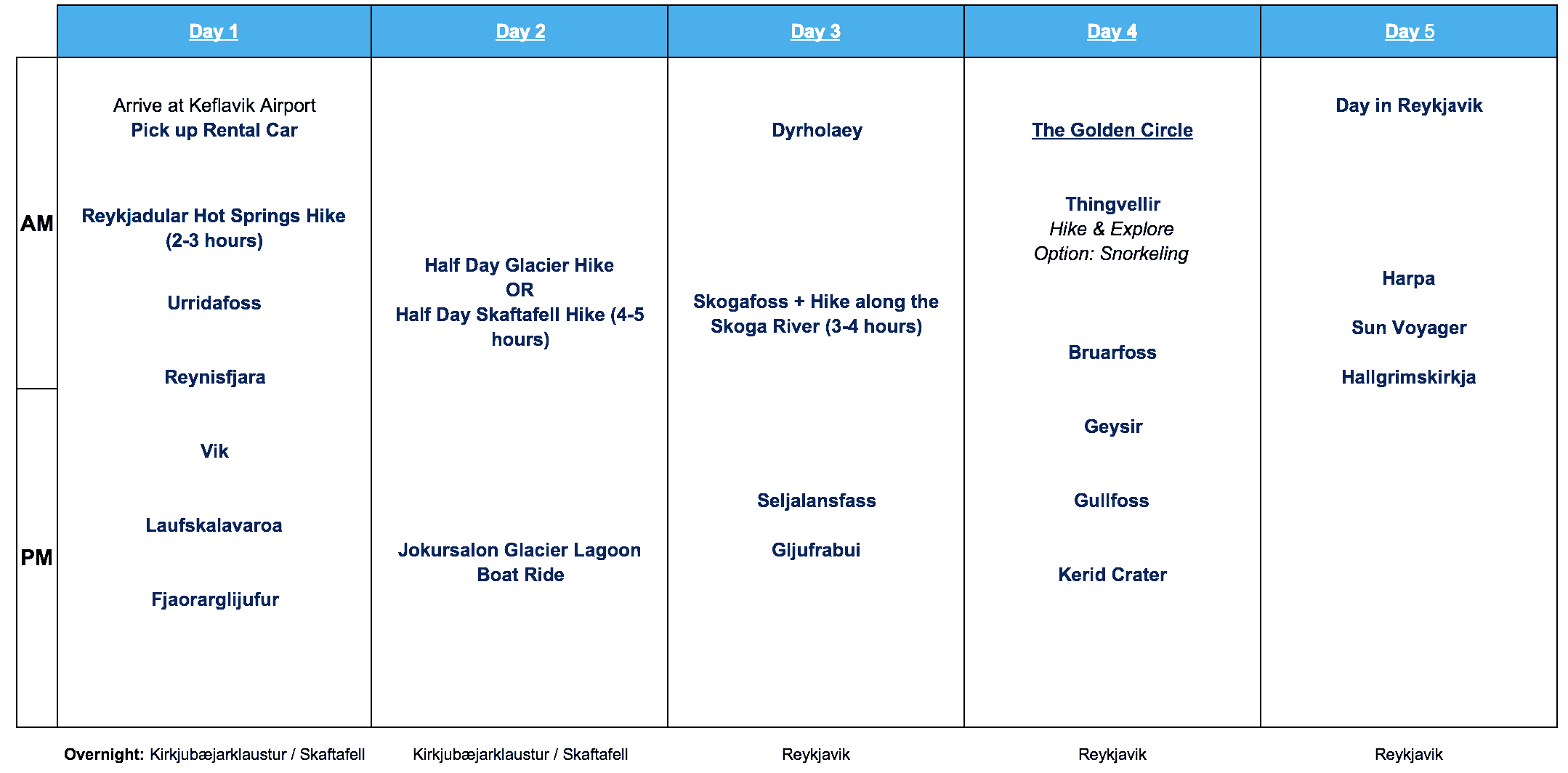 Day 1 – Southern Coast Part I
​Either coming right off the plane from Keflavik or from Reykjavik, grab your rental car and begin the drive out east. The next 3 days will be spent exploring the southern coast of Iceland. There are so many different types of natural beauty to experience and I am sure you will enjoy it all.
Reykjadalur Hot Springs
Your first stop of the day will be the Reykjadalur Hot Springs.
This hike will take you through the mountains and valleys of Iceland and will have you end up swimming in a natural hot spring river! The hike itself is about 1.5 hours round trip and is a great way to get introduced to the Icelandic landscape.
» If this sounds like your kind of day then check out the Reykjadalur Hot Springs Hike guide for a more in depth review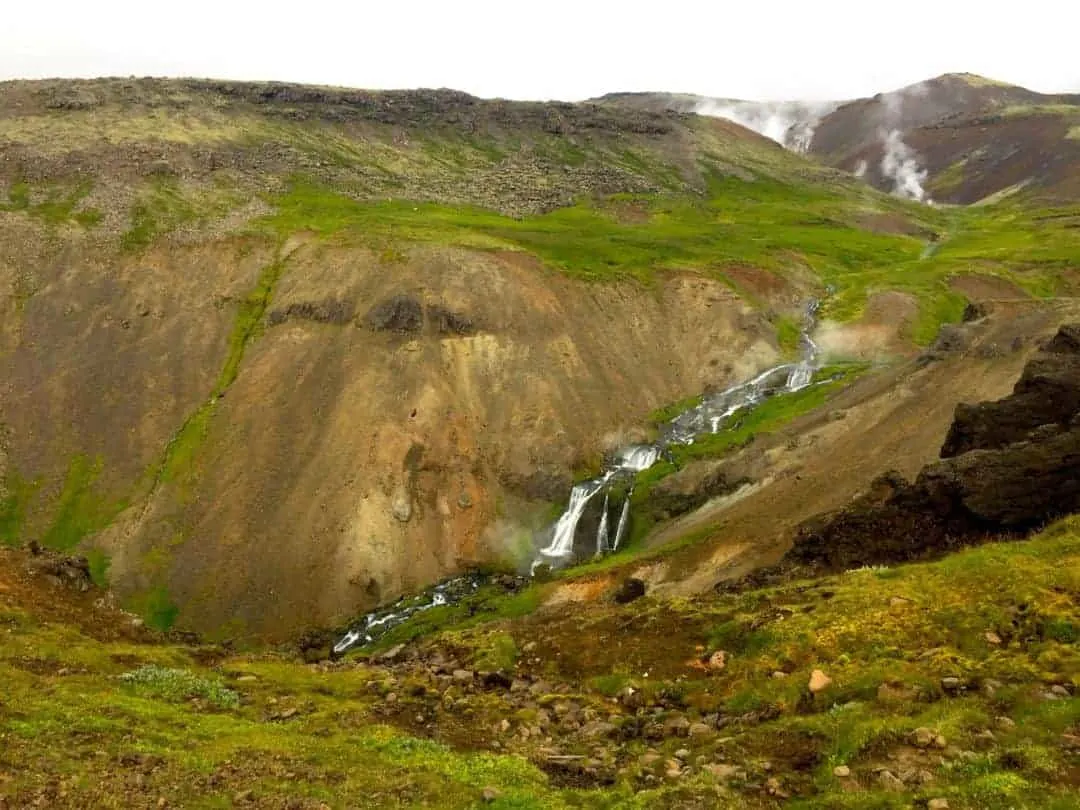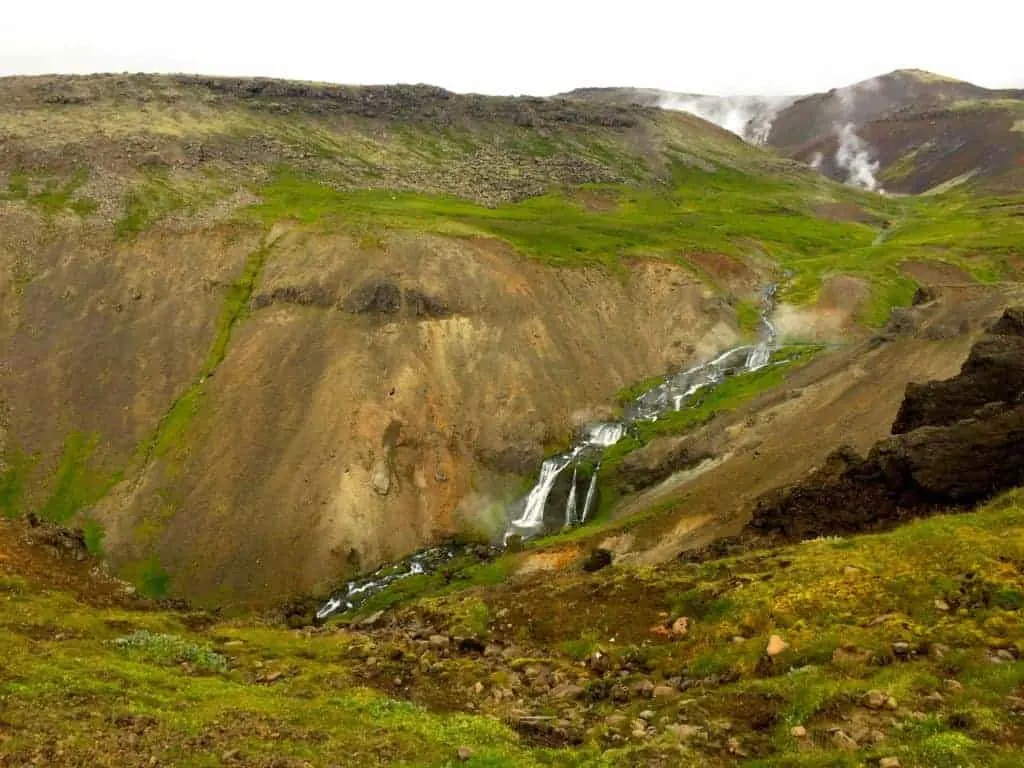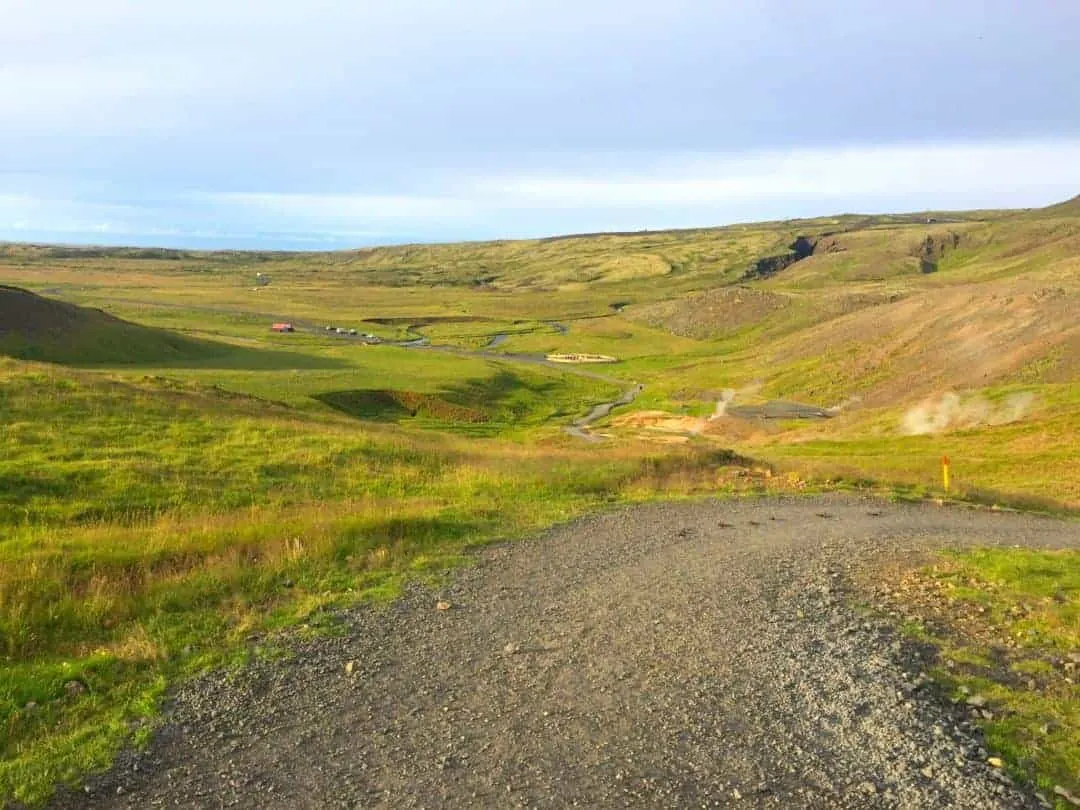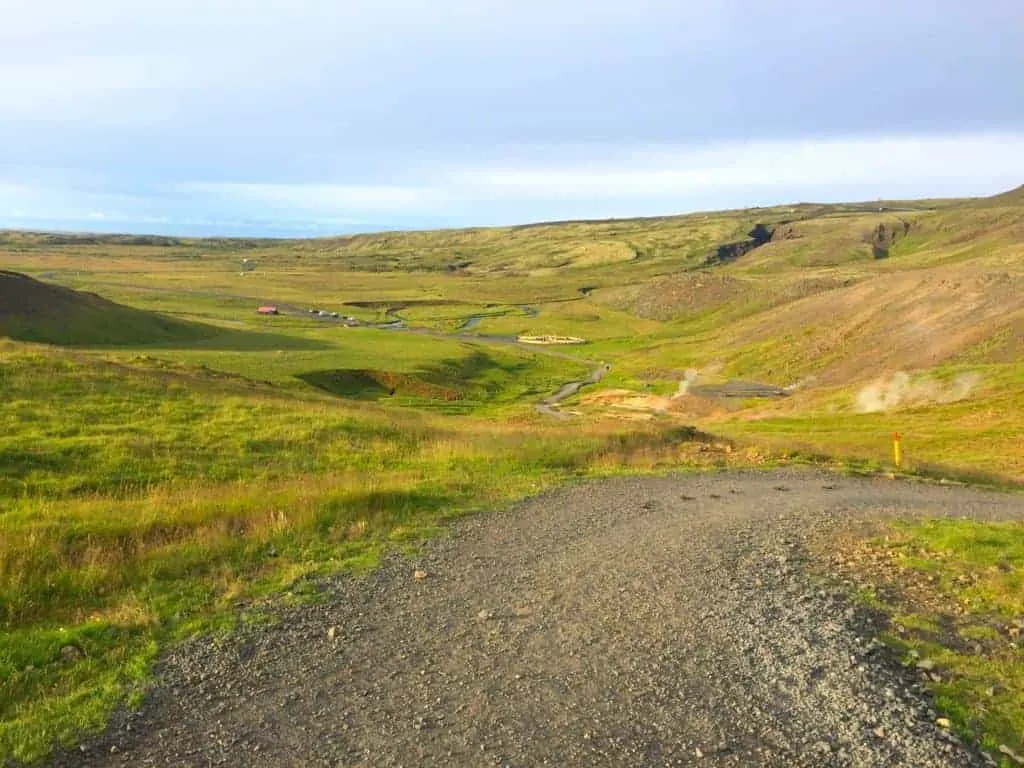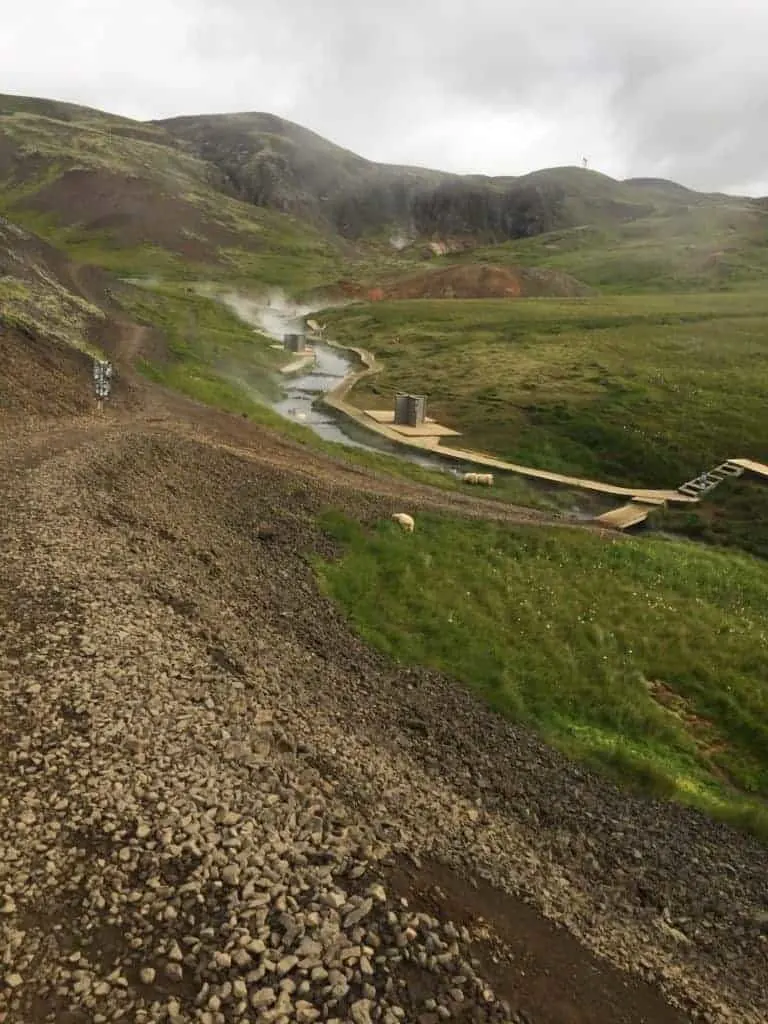 Urridafoss
After a couple hours of hiking make a stop at Urridafoss, one of the many waterfalls you will encounter along your trip.
It is known to be the most voluminous waterfall in Iceland. Pretty fascinating site and not crowded at all, as its not one of the main attractions you will find.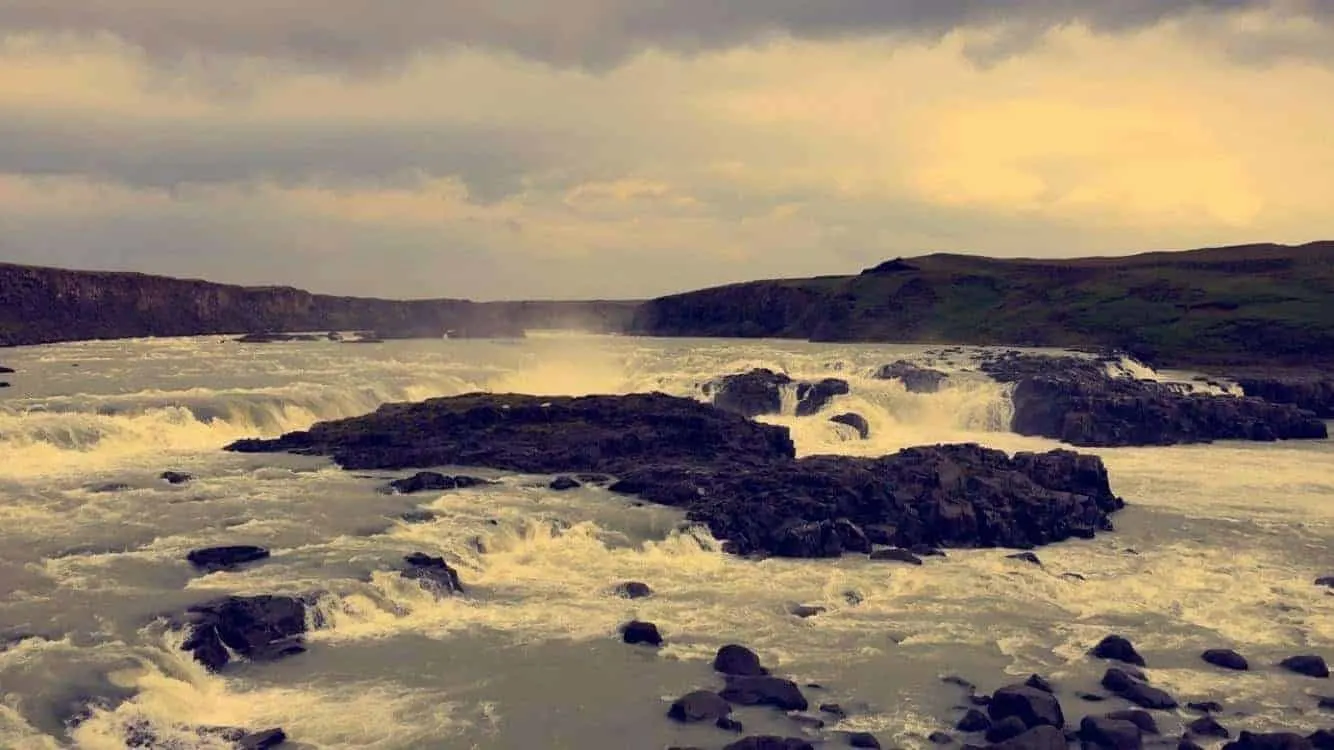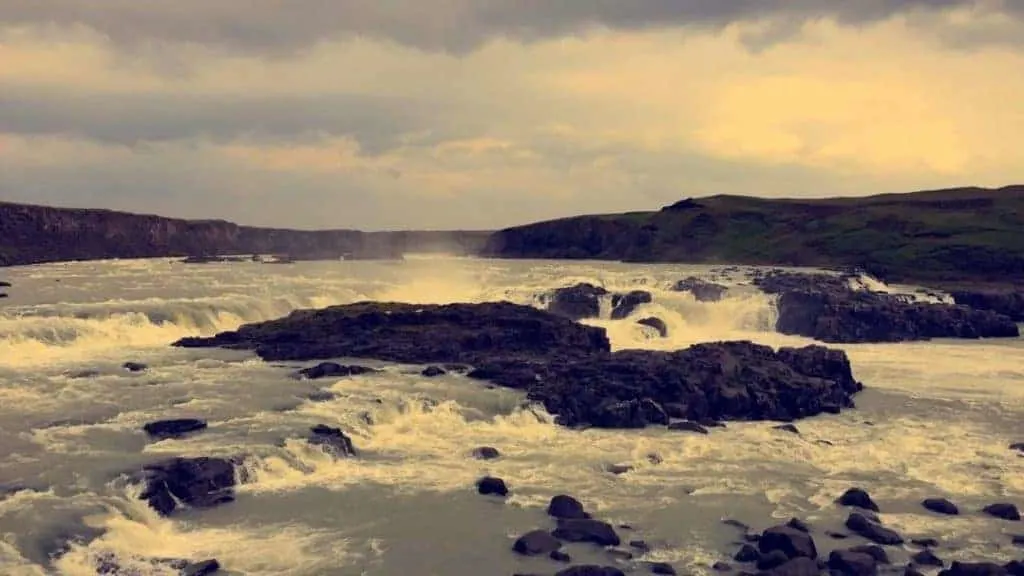 Reynisfjara
You can then head on over to the black sand beach of Reynisfjara. Here you can walk the beach, hang out on the limestone cliffs and take in some amazing views of the southern coast. Once all down exploring the beach area, stop by town of Vik for some lunch.
It is a nice small town where you can find some restaurants and also grocery store to pick up some essentials. You can also get in a nice viewpoint from the church at the top of the town.
One important thing to note is that main towns can be very far apart from one another. So if you see somewhere you would like to eat or add some gas to the tank you should do it sooner rather than later as you won't know when the next opportunity will be.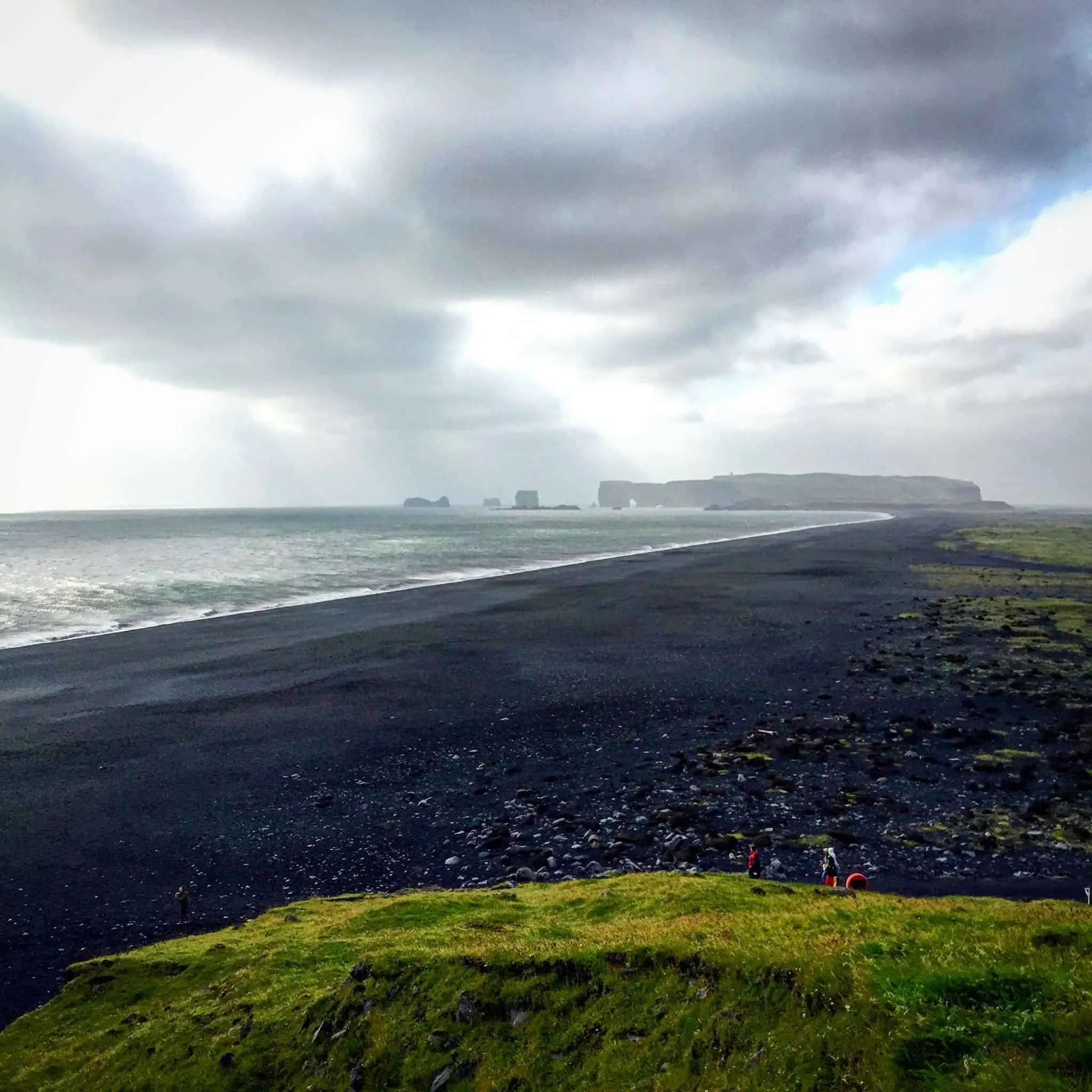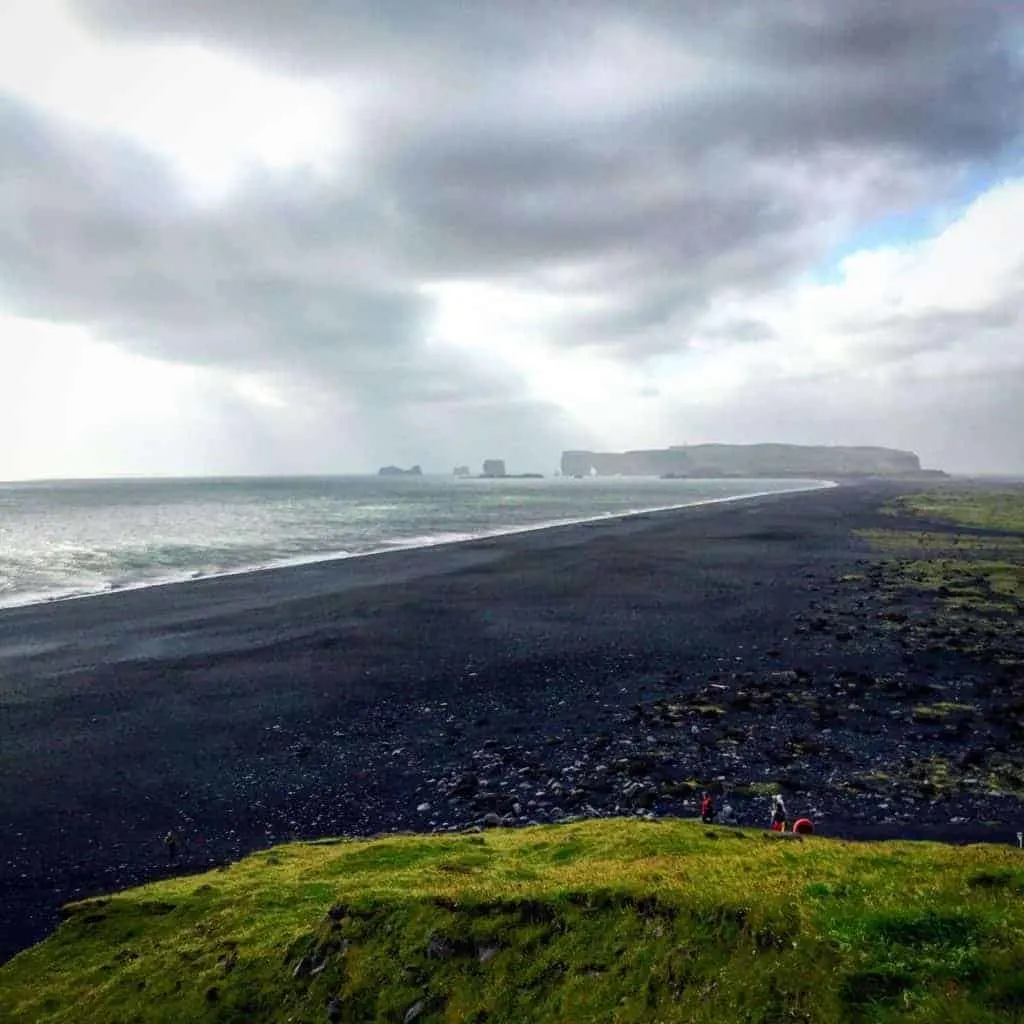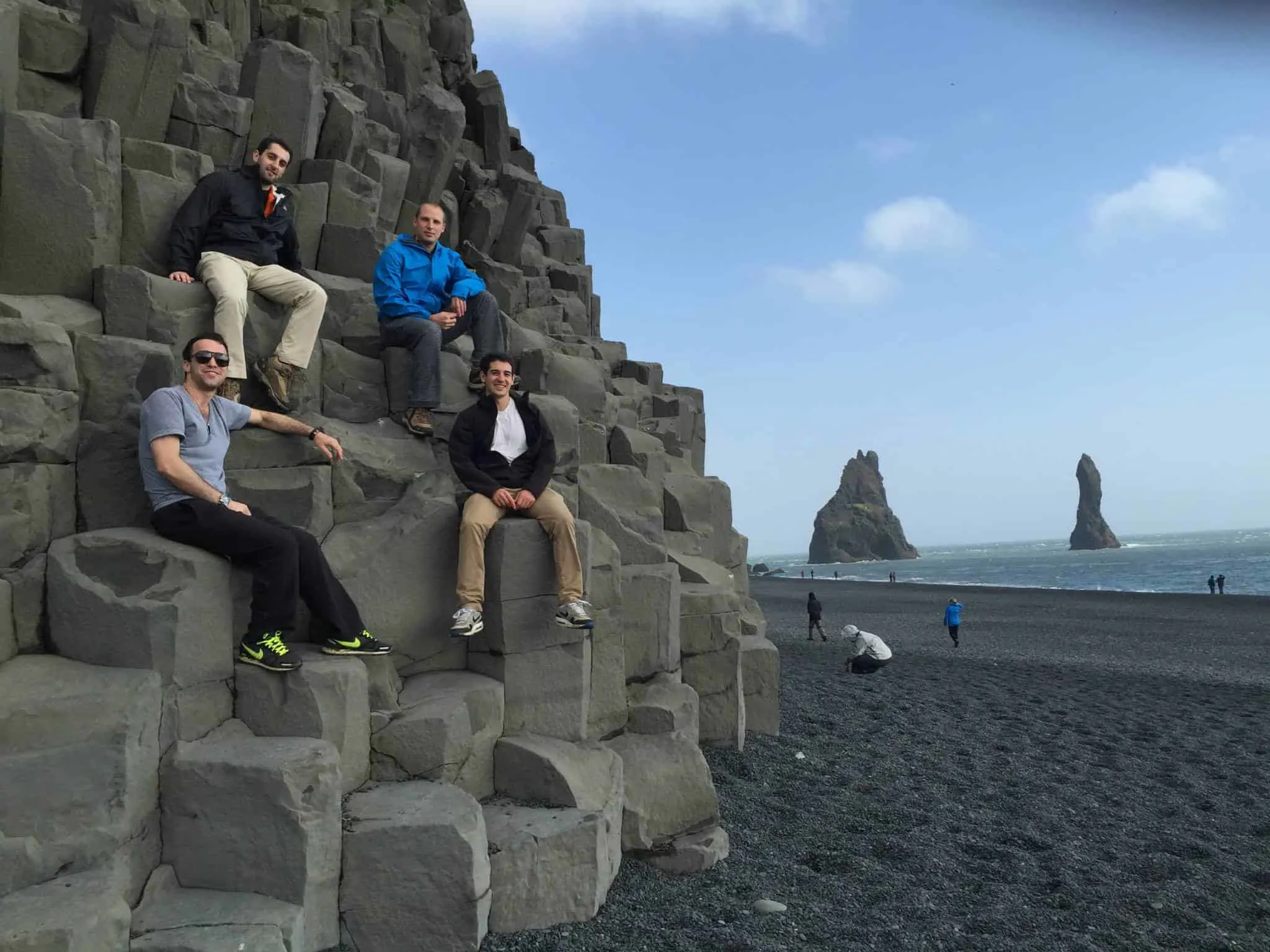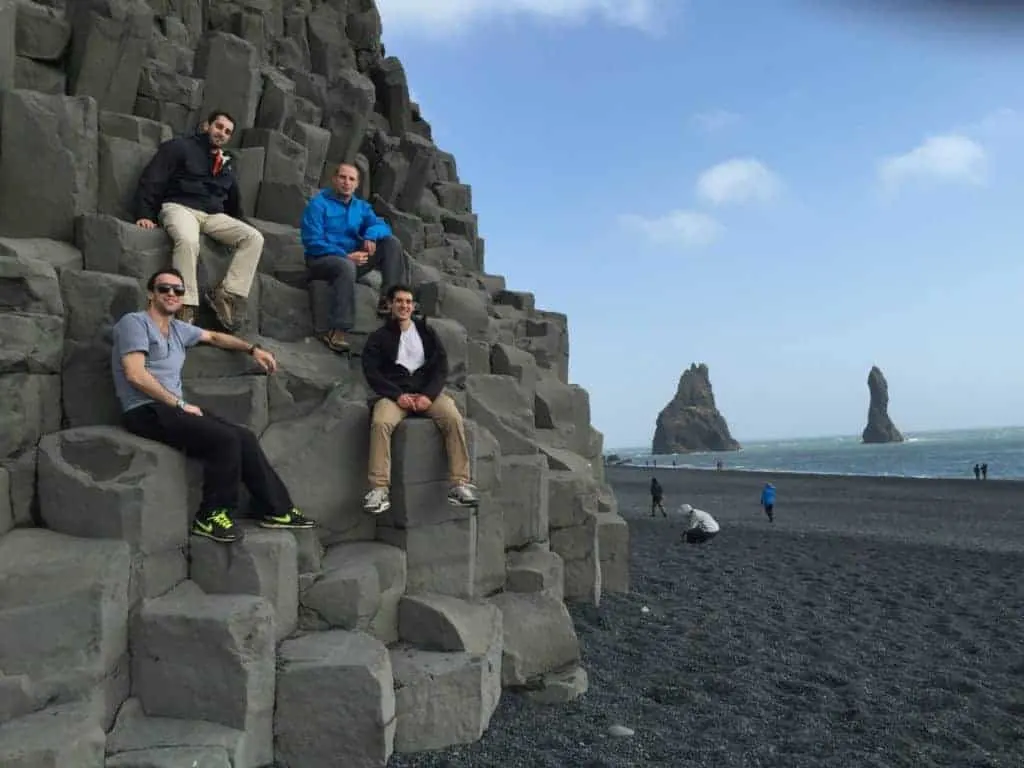 Laufskalavarda
Next up is Laufskalavarda. Here you will find thousands of small rock piles all around this small hill.
Apparently building one these rock piles gives you good luck as you continue your adventures around the country of Iceland. As it is the beginning of your journey it could be a good idea to make one of your own.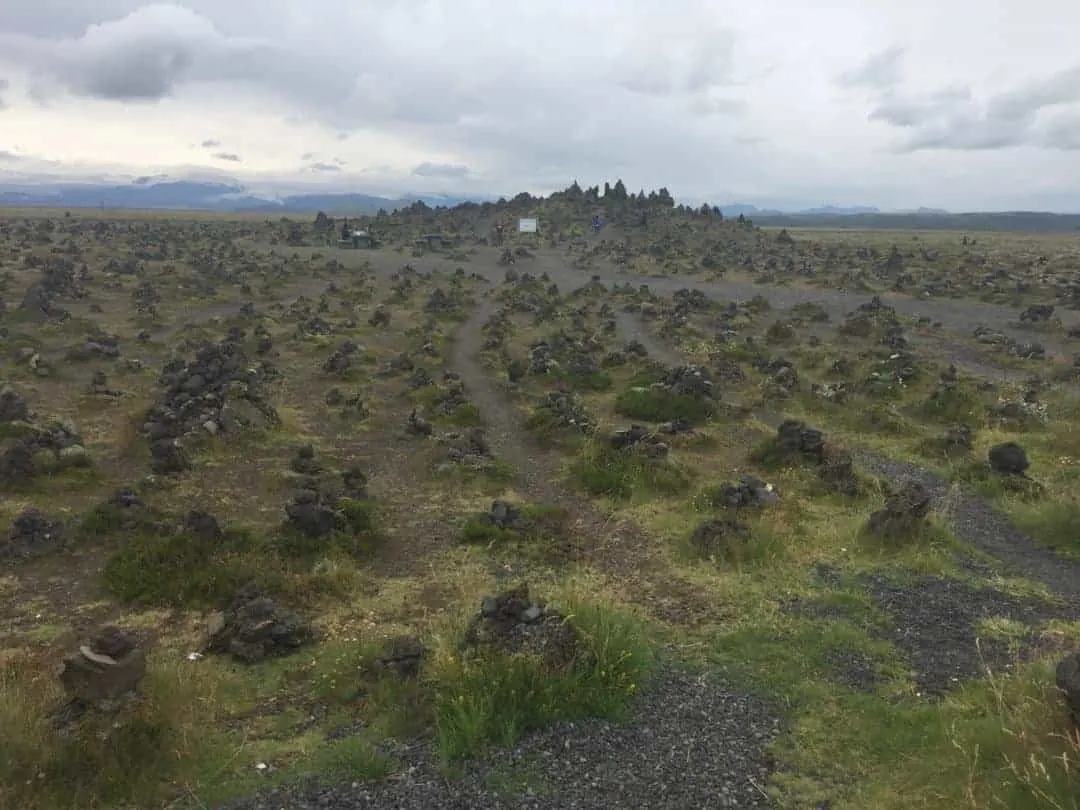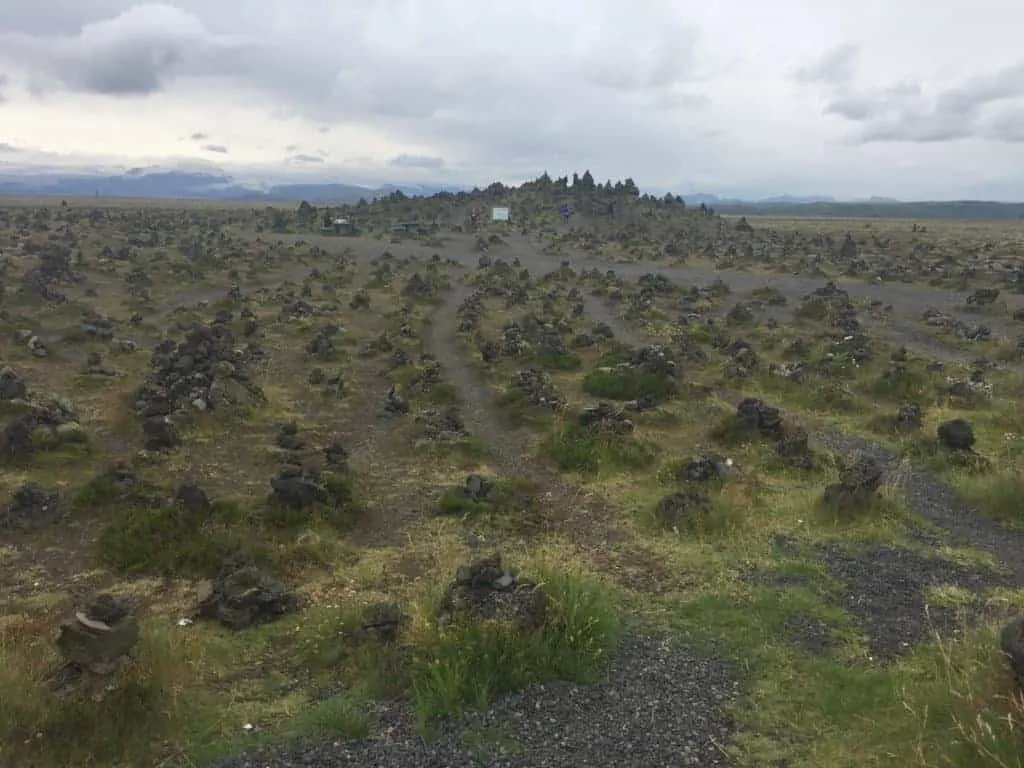 Fjadrargljufur Canyon
End the day at one of the most picturesque places of the entire trip – Fjadrargljufur Canyon. Hike up along the side of the canyon taking in the views and some great pictures.
You can get some amazing views both all the way towards the top of the trail and bottom of the trail. Enjoy the last attraction of the day before heading to your hotel or guesthouse nearby.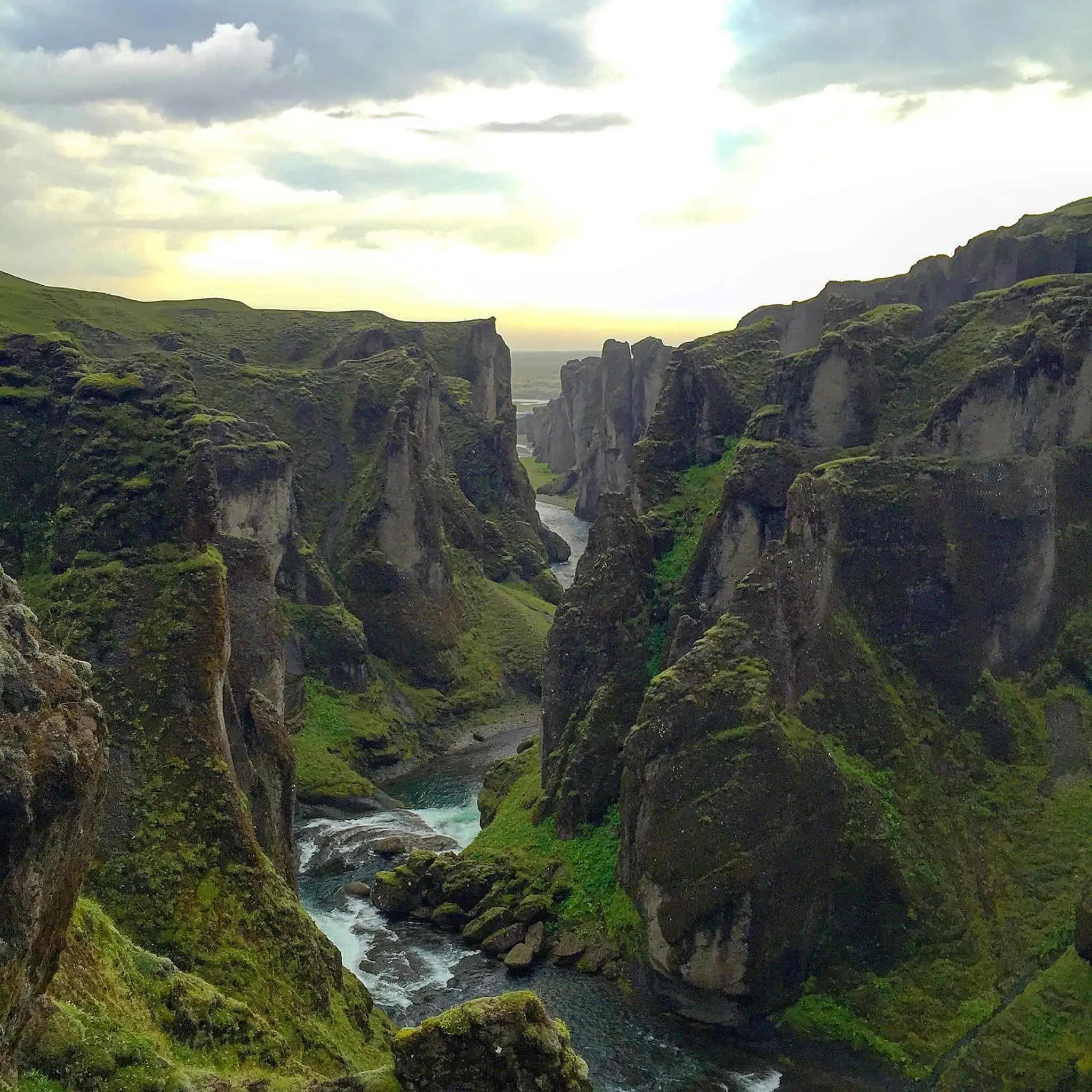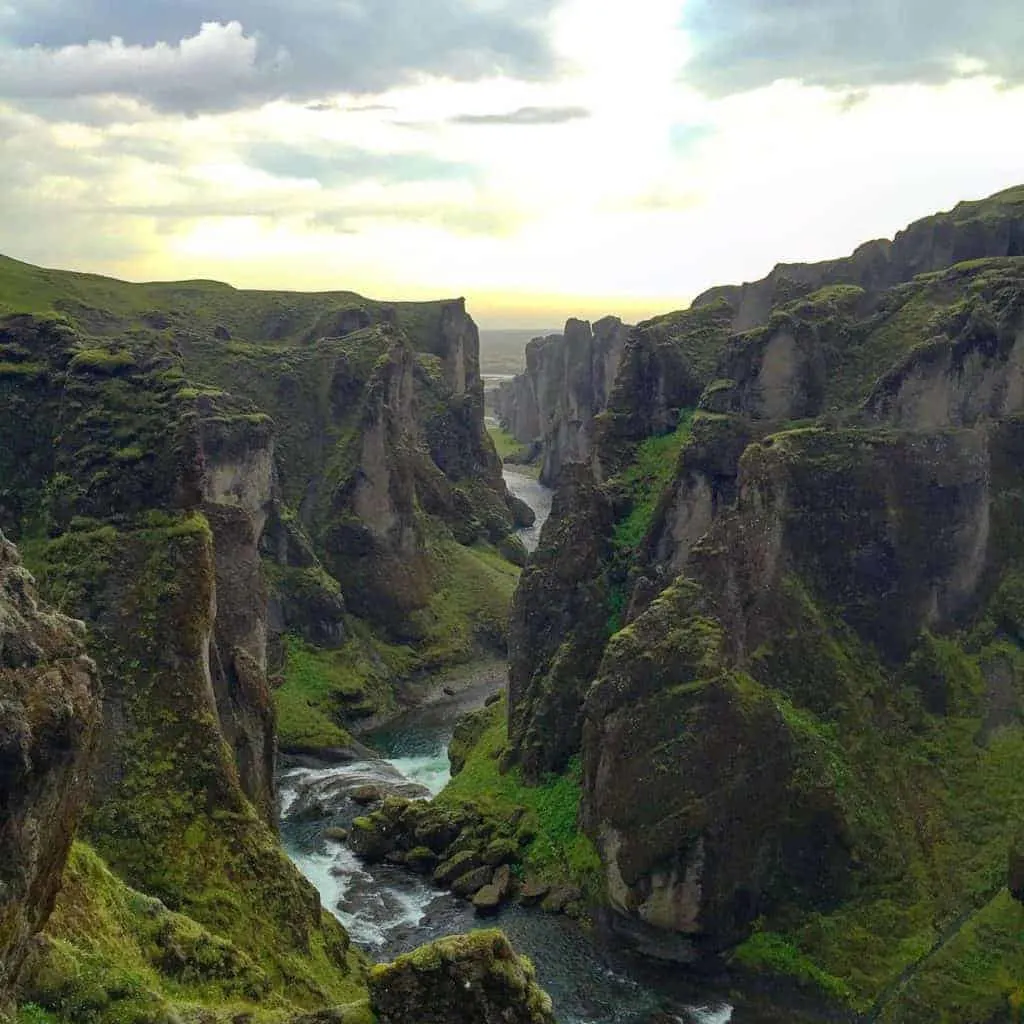 Day 2 – Skaftafell and Jokulsarlon
The second day of the trip will focus on Skaftafell National Park and the Jokulsarlon Glacier Lagoon. These are two just stunning places to visit, making this a fun filled and action packed day.
​

Skaftafell National Park
After a much needed sleep wake up bright and early to head out to Skaftafell National Park. Here you will have two main options to choose from – hiking in the national park on your own or heading on a glacier hike as part of a guided tour.
There are plenty of hiking trails to choose from in the national park ranging from just around an hour to full day hiking options.
The Guide to Hiking Skaftafell National Park will go over what you need to know to hit the trails.
Taking part of a Skaftafell Glacier Hike will have you experiencing what it is like to hike on ice. There are also several options to choose from ranging from a couple hours on the glacier to a full day activity. I put together a Skaftafell Glacier Hike Guide for you to learn more.
» If you are interested in the glacier hike you can book a Skaftafell Glacier Hike Tour in advance to reserve your spot!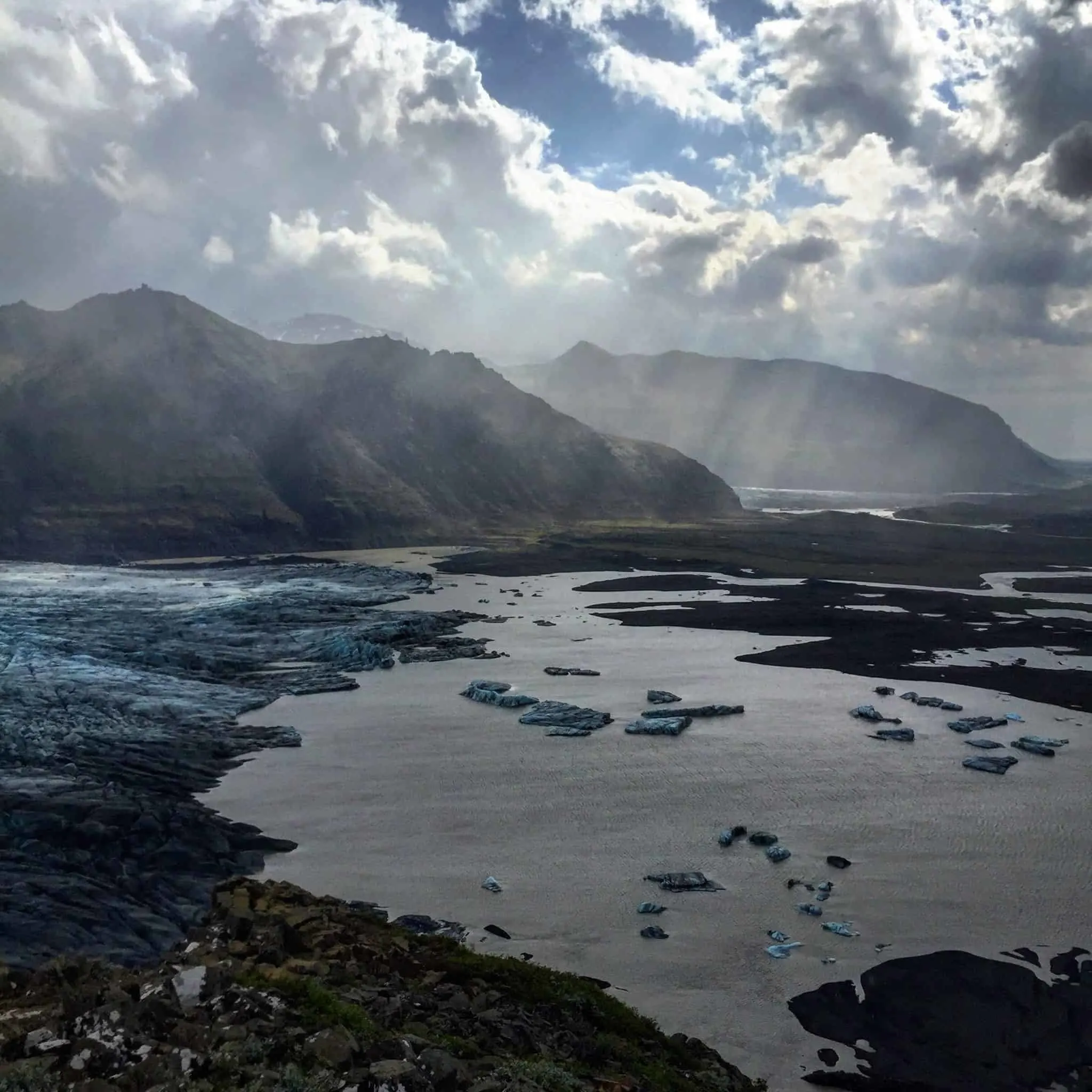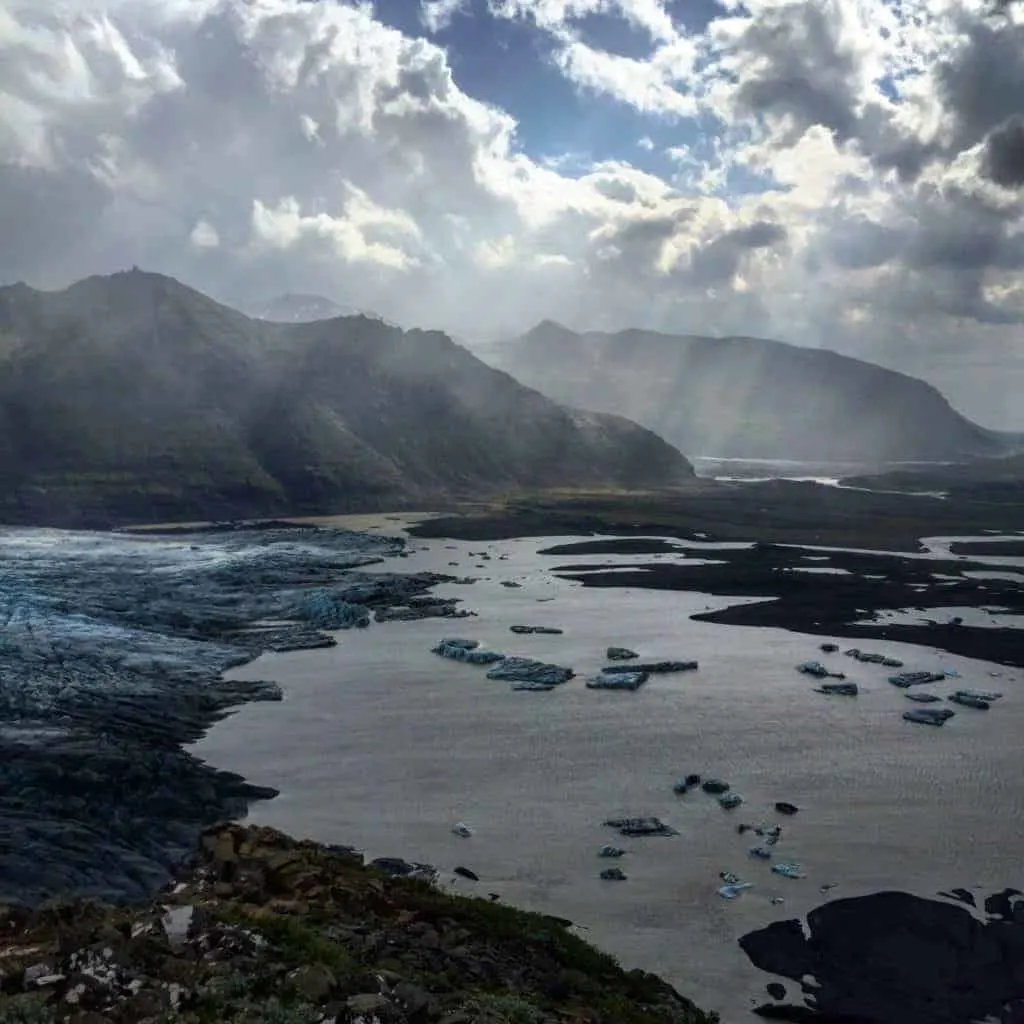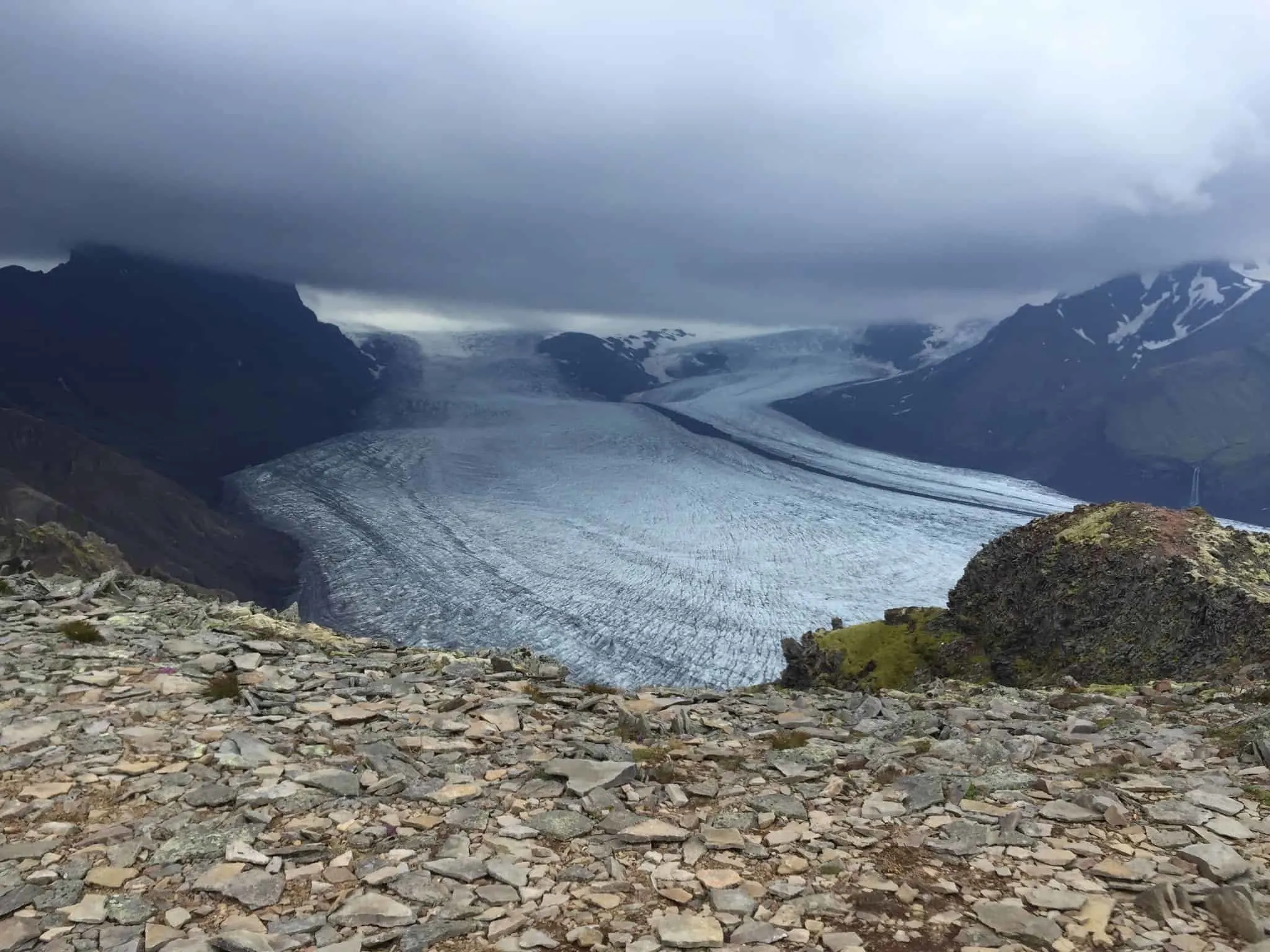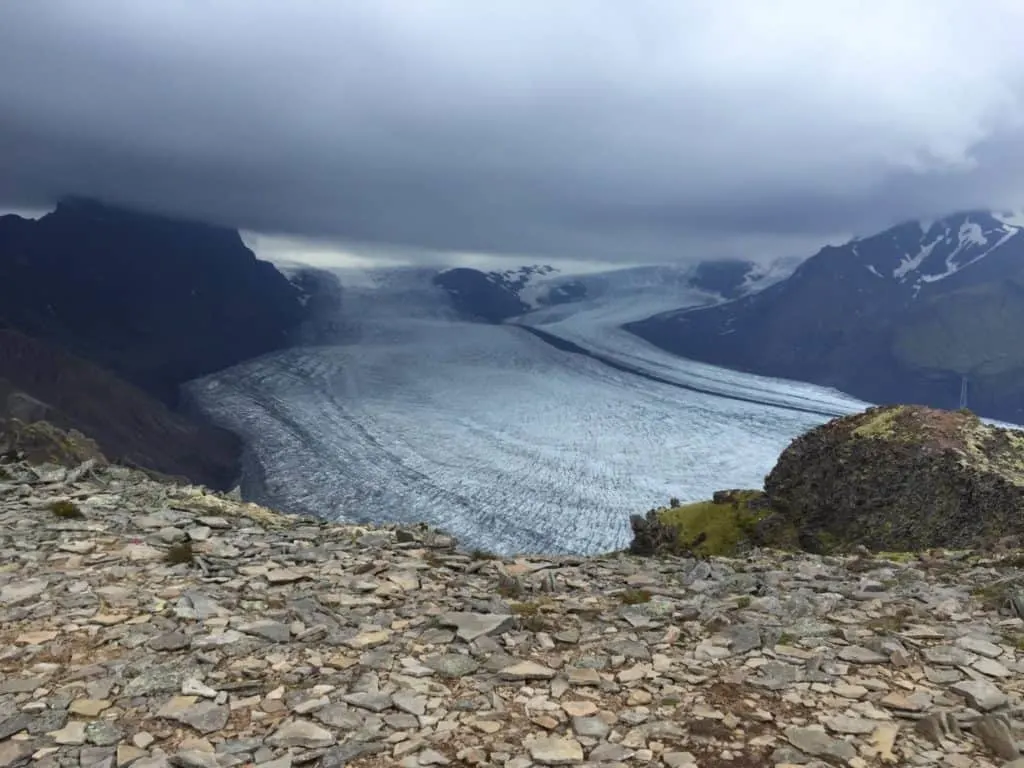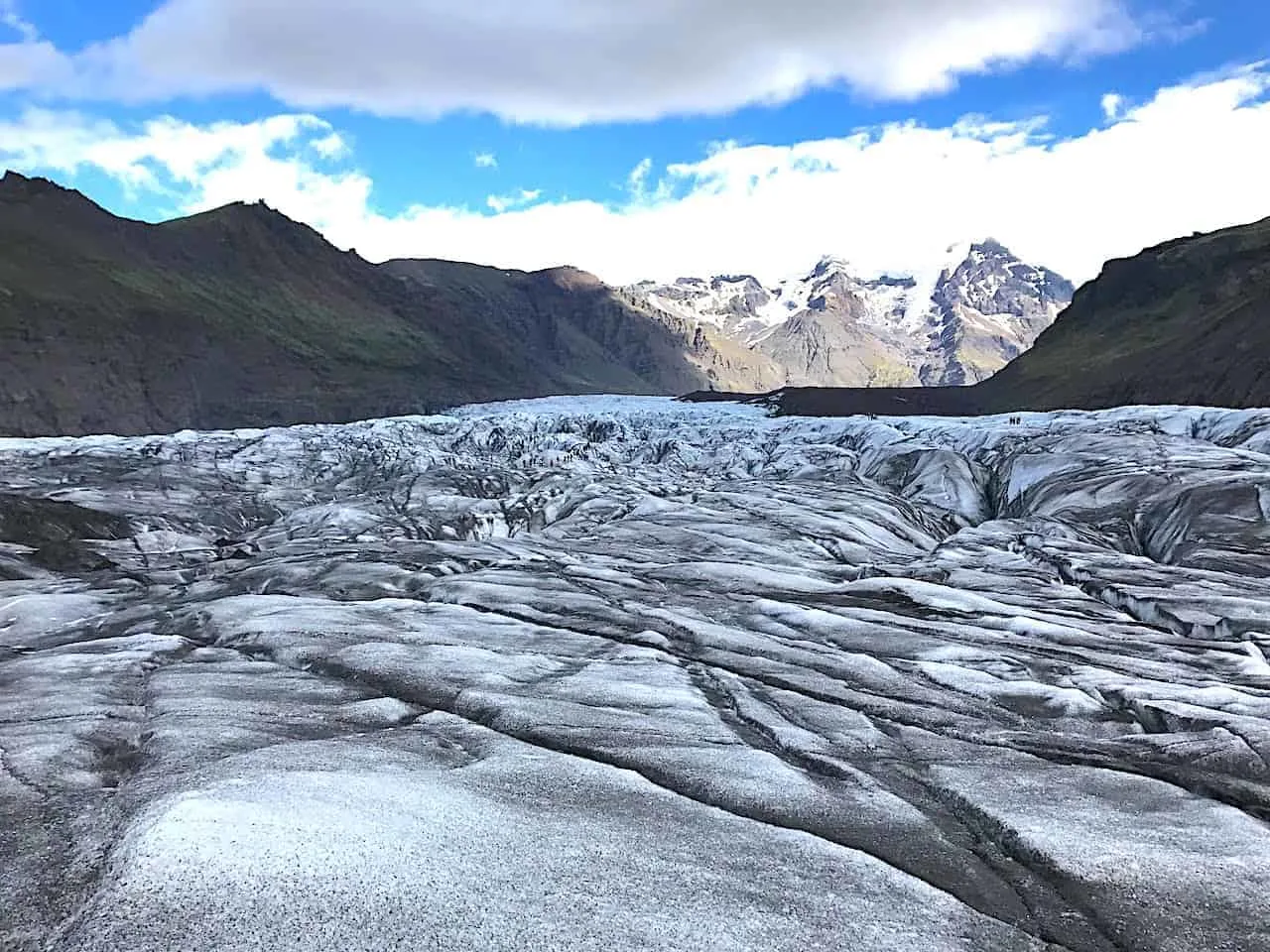 Jokulsarlon Glacier Lagoon
After a morning/afternoon of hiking grab some food back by the visitor center and relax for a bit. After the break continue your day towards some glacier lagoons. Take a quick stop at the smaller Fjallsarlon lagoon before heading to Jokulsarlon.
You have the option to tour the lagoon on a zodiac type of boat or a larger amphibian one where you are with more people and higher up from the water.
The smaller boat is a really great time with just about 8 people in the boat with your driver.
→ Make sure to book in advance especially if you are opting for the smaller boat.
Your boat driver will give you a tour of the lagoon, answer your questions and even let you take a huge piece of ice from the water. They will then drive the boat towards the back of the lagoon where ice cliffs will be breaking off every few minutes.
After about 45 minutes the boat will head back to land, where you will then depart Jokulsarlon.
Before or after your trip on the lagoon, don't miss out on the nearby Diamond Beach to check out the glacial ice washed up on shore. From there it is time to head back to your hotel for the night and prepare to drive westbound on day 3.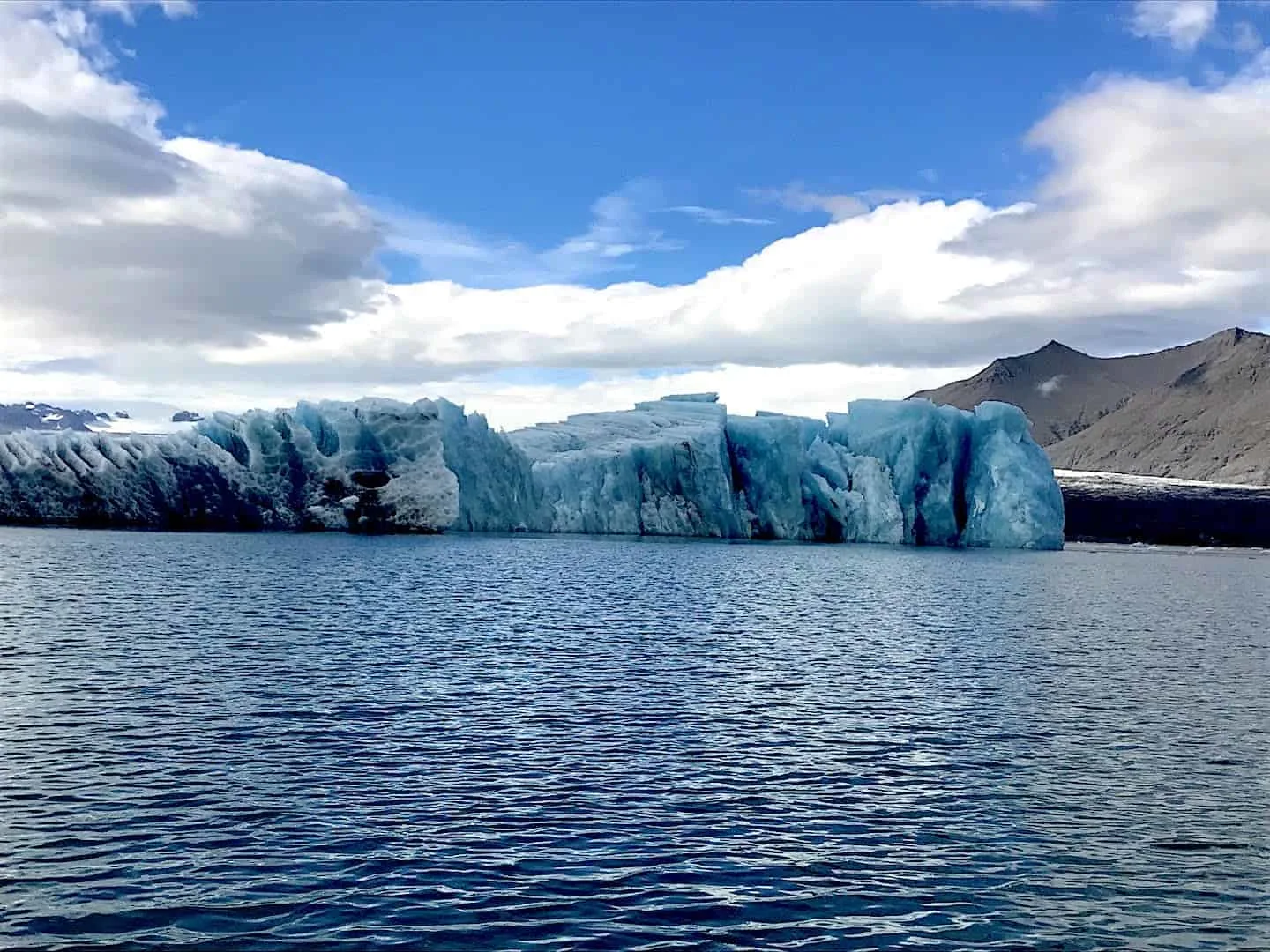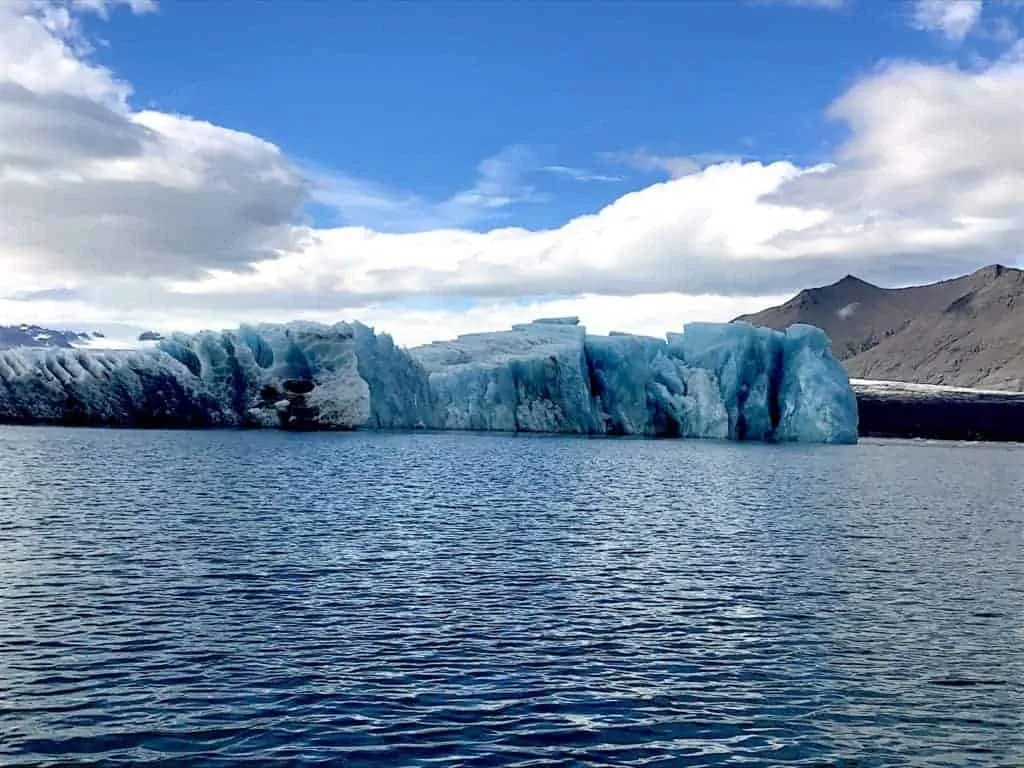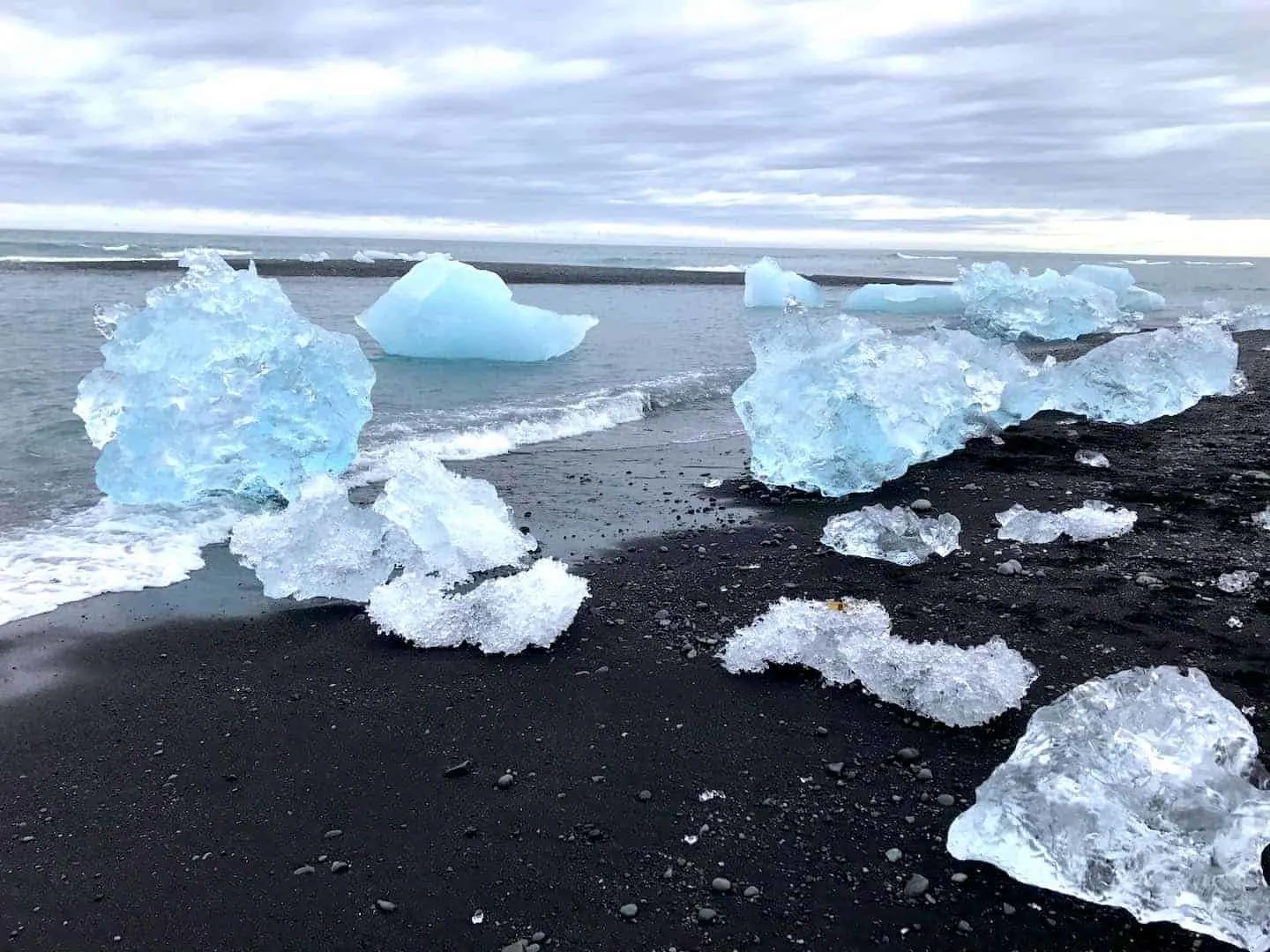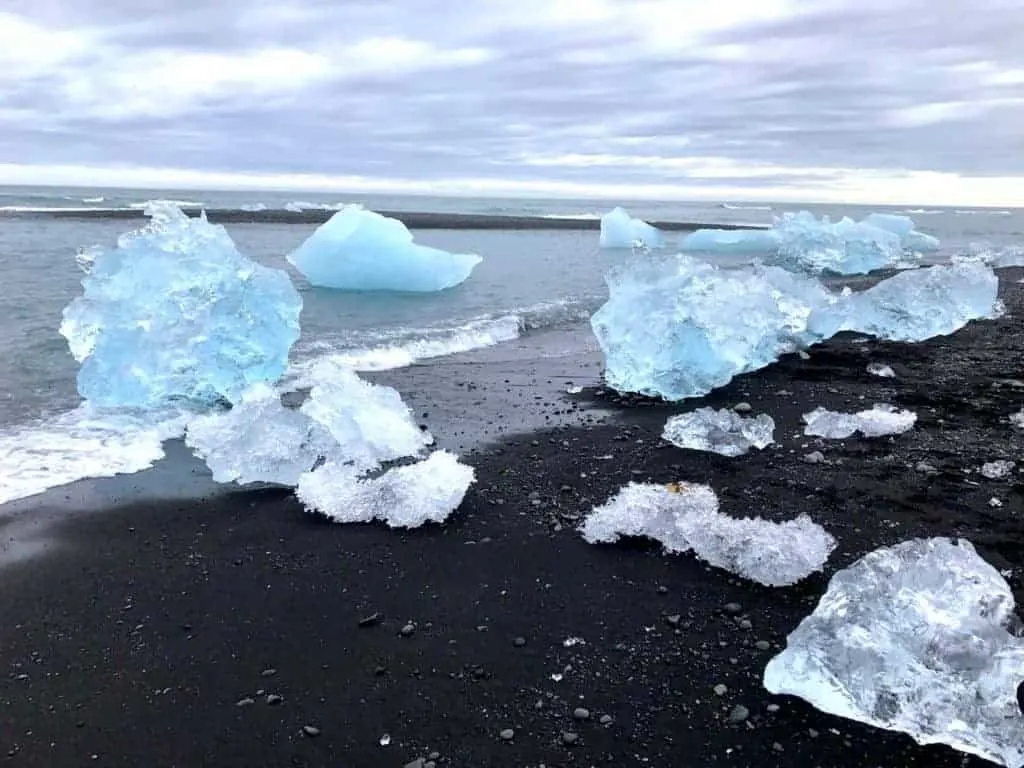 Day 3 – Southern Coast Part II
​It is now time to turn around a head back to Reykjavik but not before hitting some more southern coast attractions along the way.
While you may have passed by some of these attractions on day 1, you can now spend the time actually visiting them.
Dyrholaey
The first stop will be back closer to Vik at Dyrholaey which is the large peninsula with its well known arch. You can walk around to different view points and get a look at the waves crashing nearby.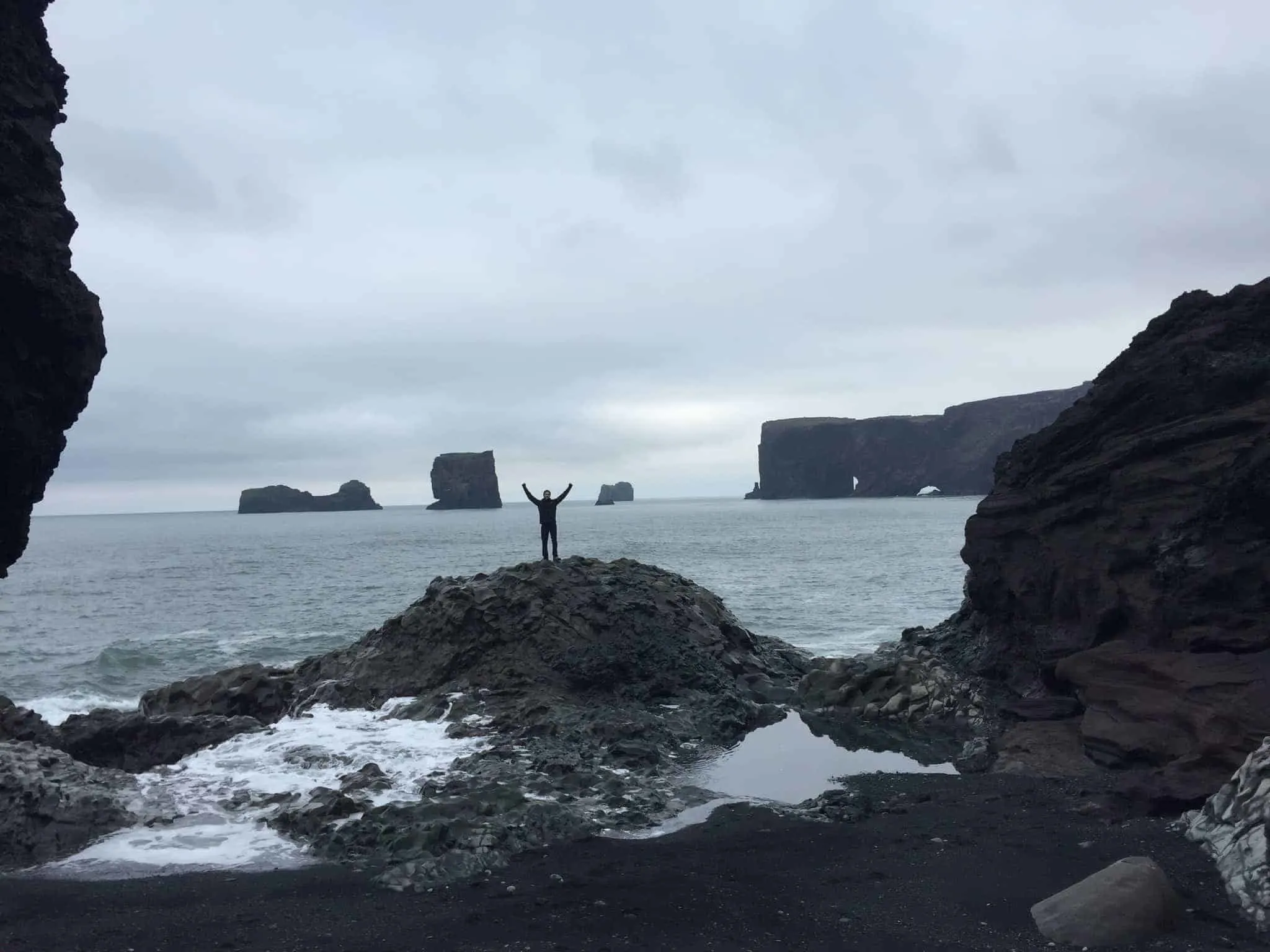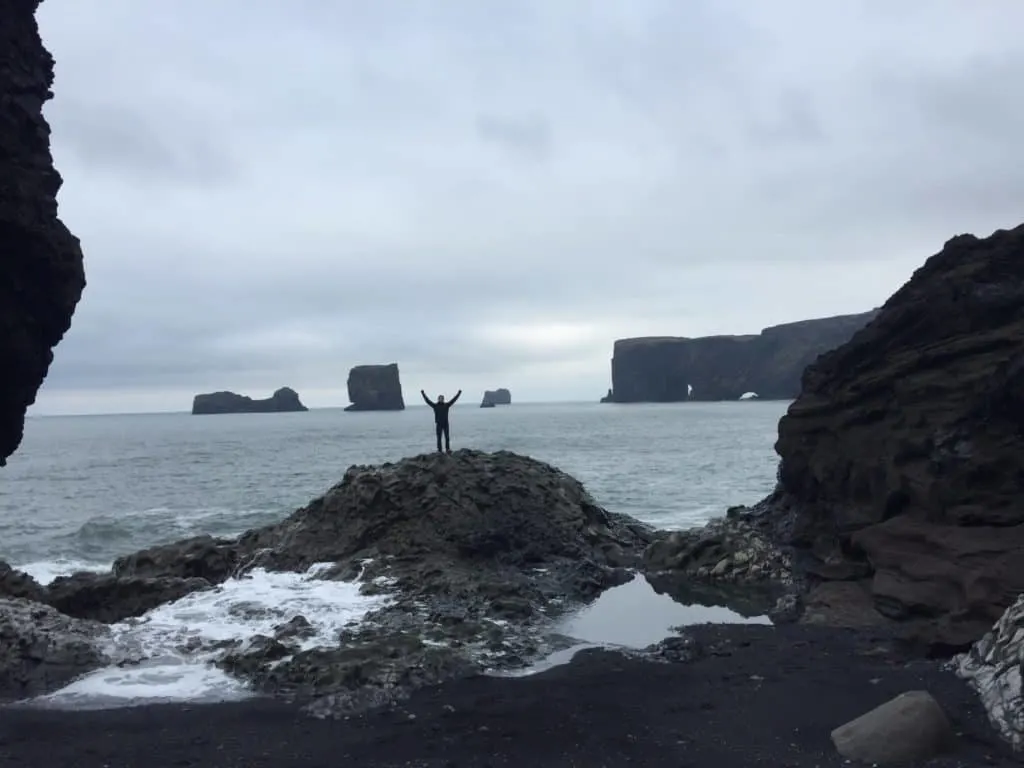 Skogafoss
Next up is the waterfall Skogafoss and is one that you cannot miss. It is a massive waterfall with a staircase off to the side, which you can walk up to the top of.
Getting too close to the bottom of the waterfall will most likely result in getting wet so be careful when trying to get the best picture.
After hanging out at the bottom, climb up the staircase to get a view from the top. For a real epic hiking opportunity you can continue you way along the Skoga River.
Depending on your interest level, you can take part of just a short section of trail or head out for a multi hour adventure. The entire route will be too long to fit into this particular itinerary, but you can still can a pretty great sense of what the hike is all about.
» For an in depth overview of this hike check out the Guide to Hiking Skogafoss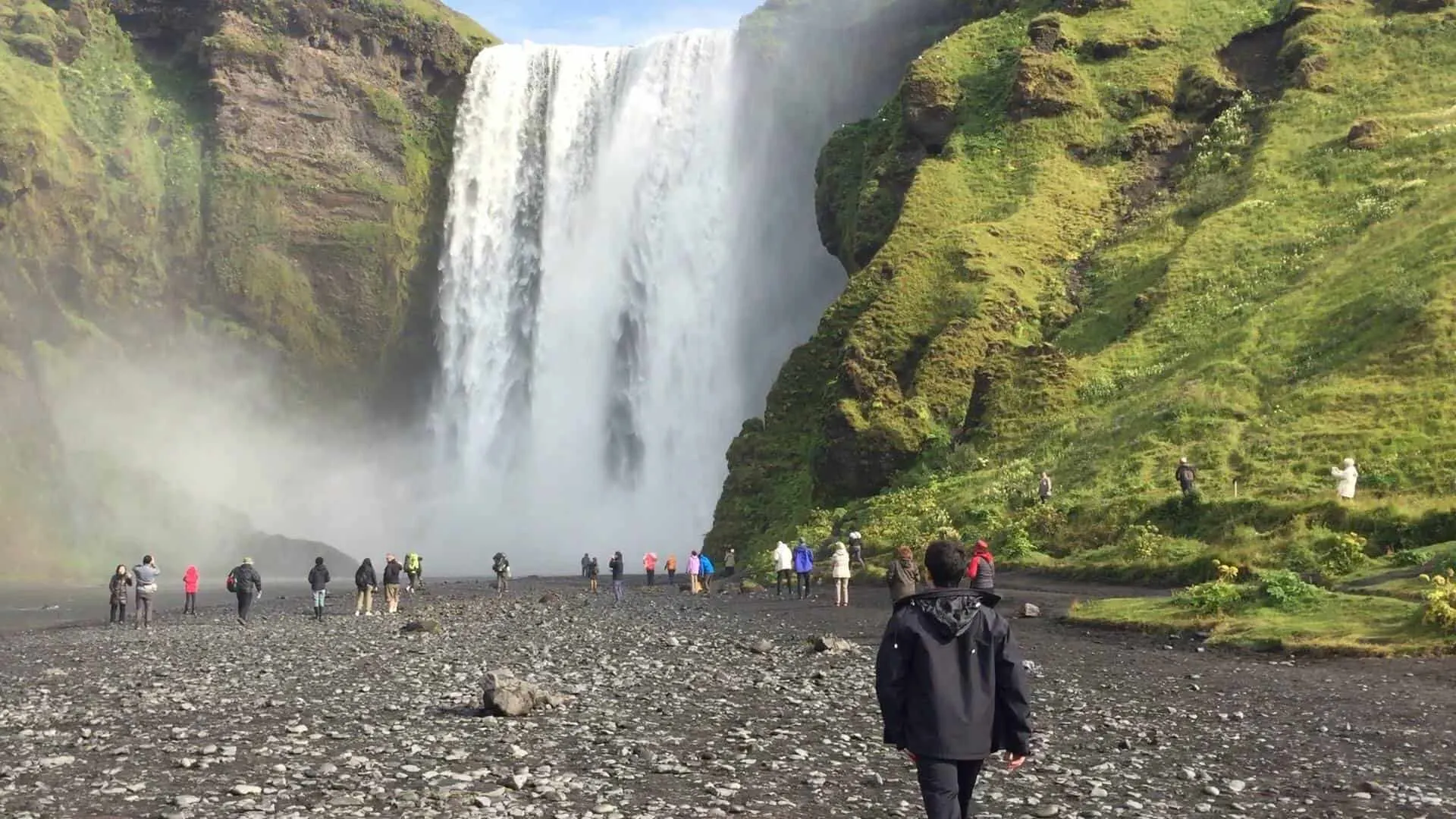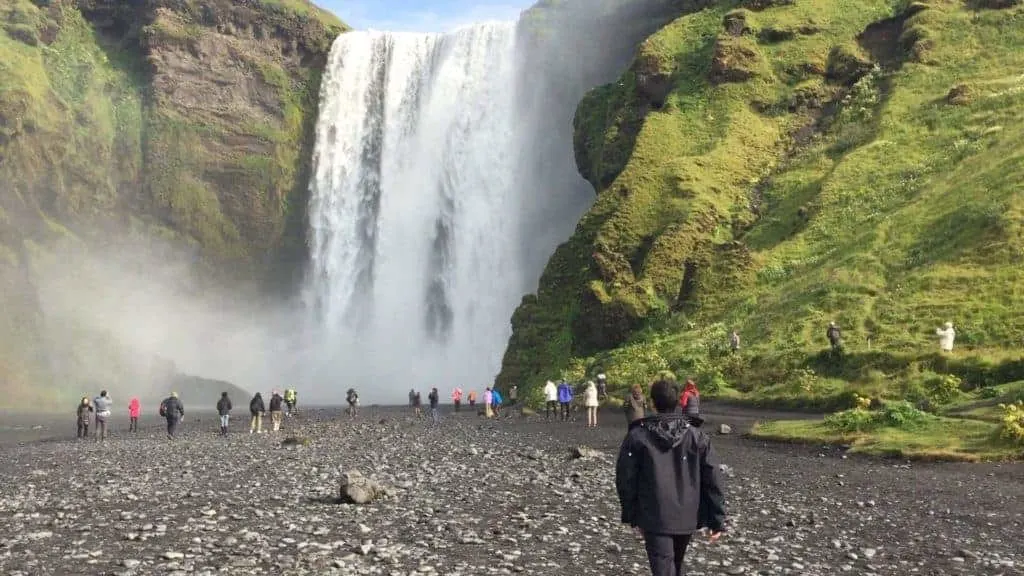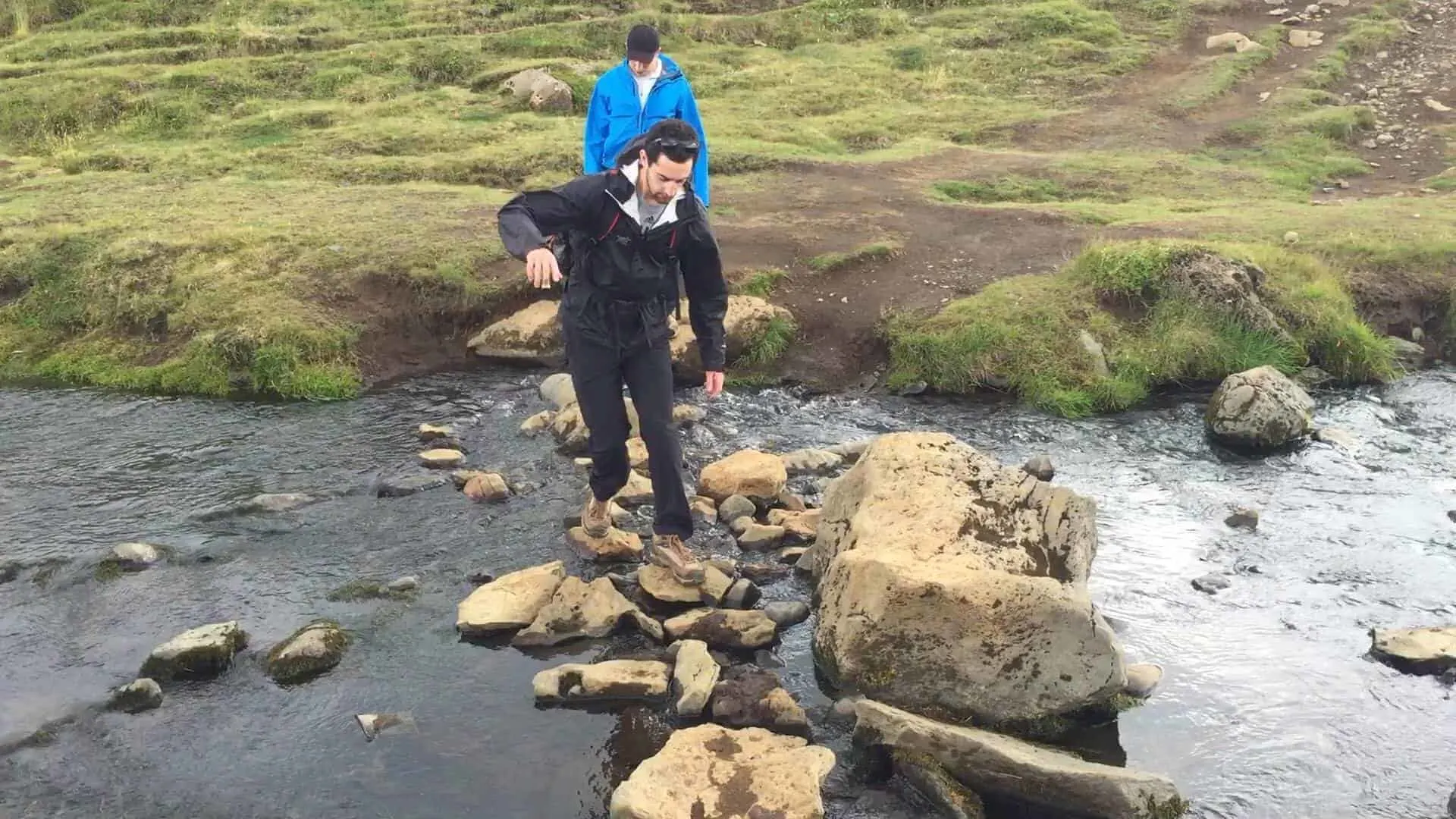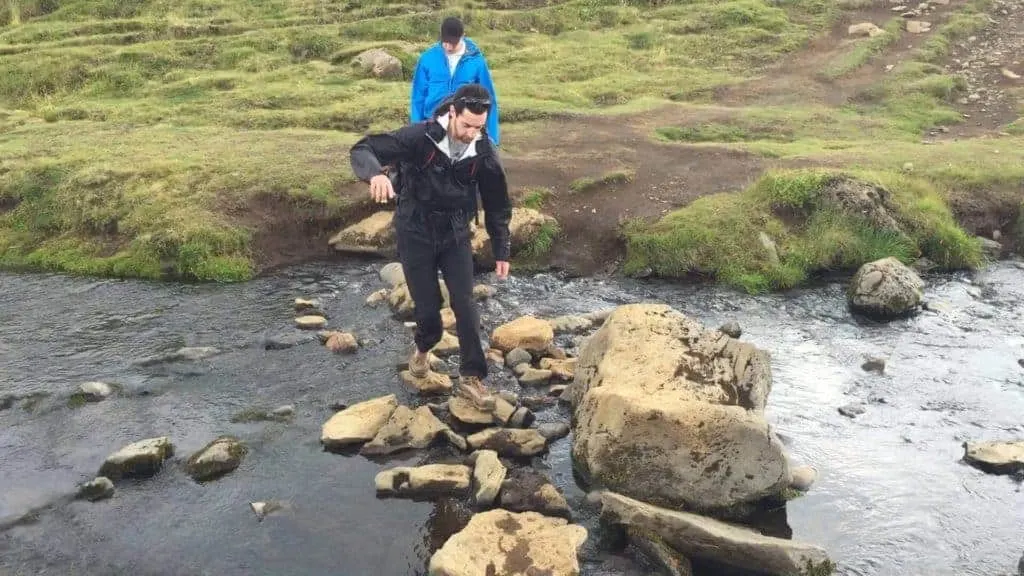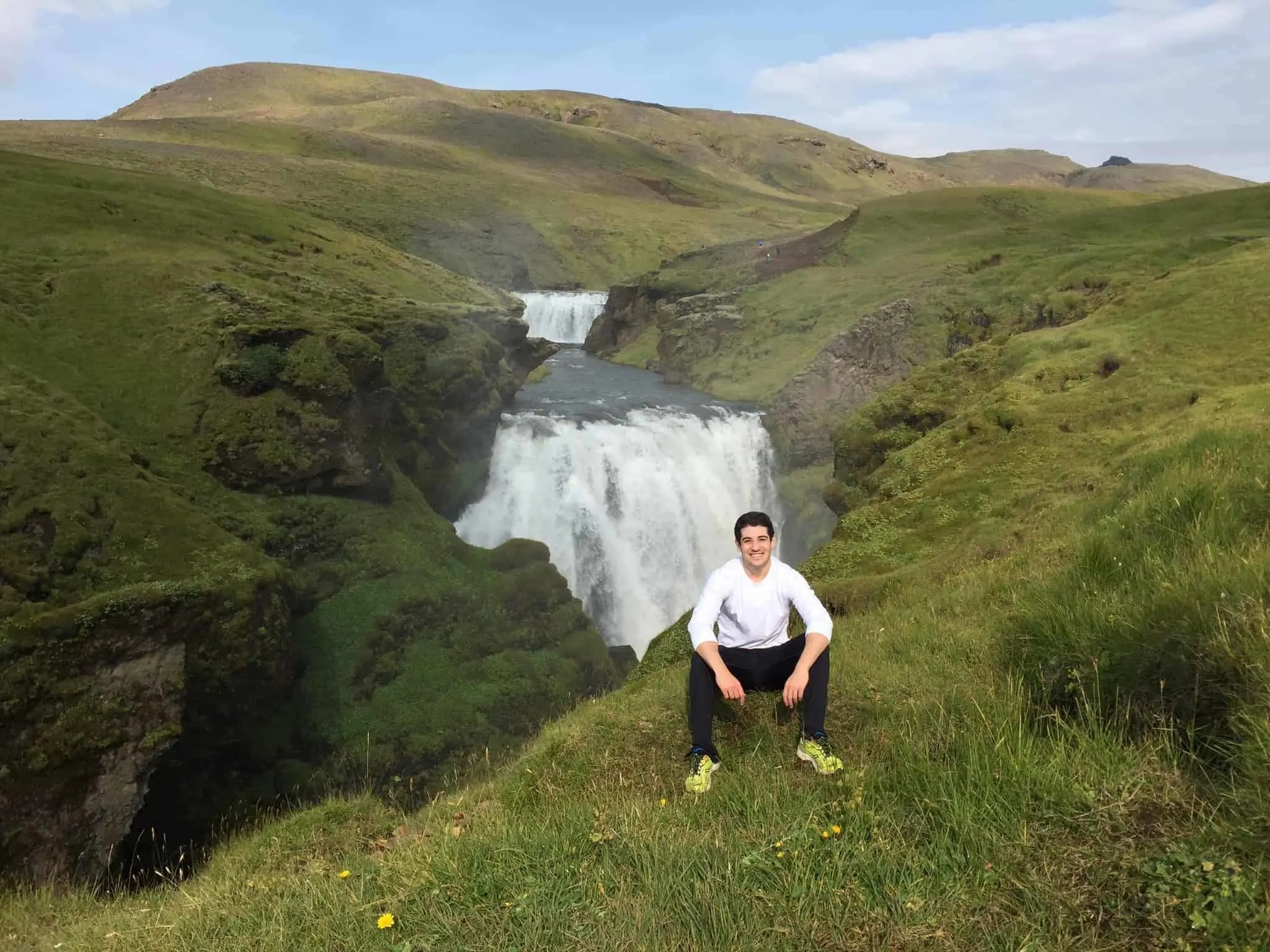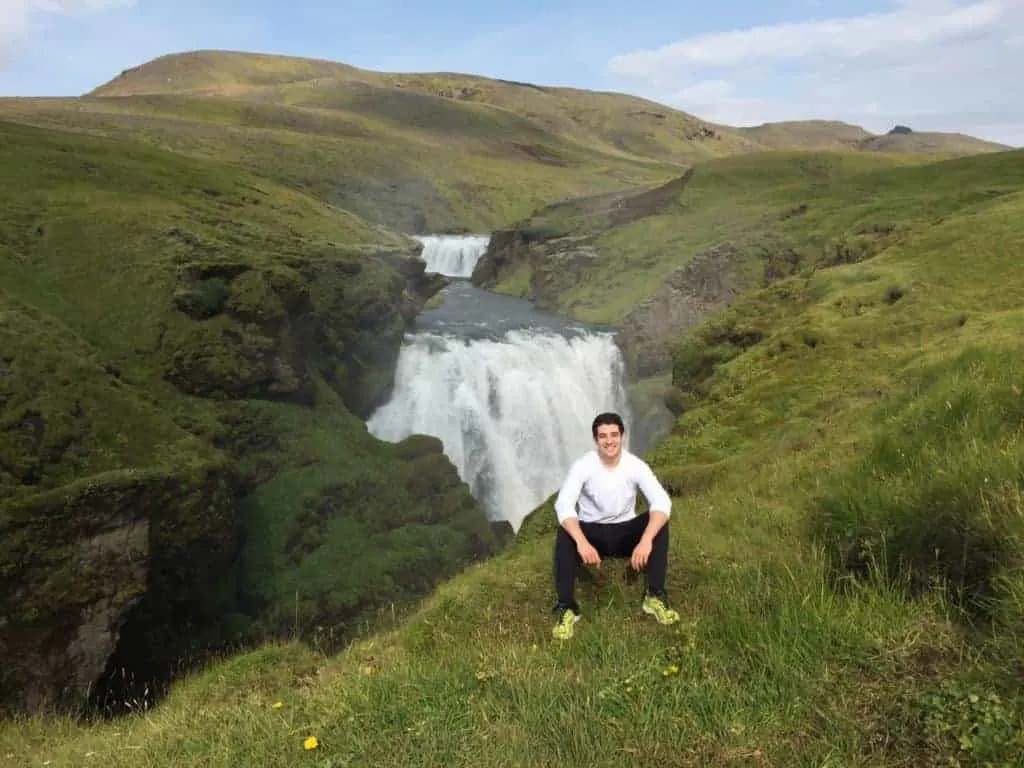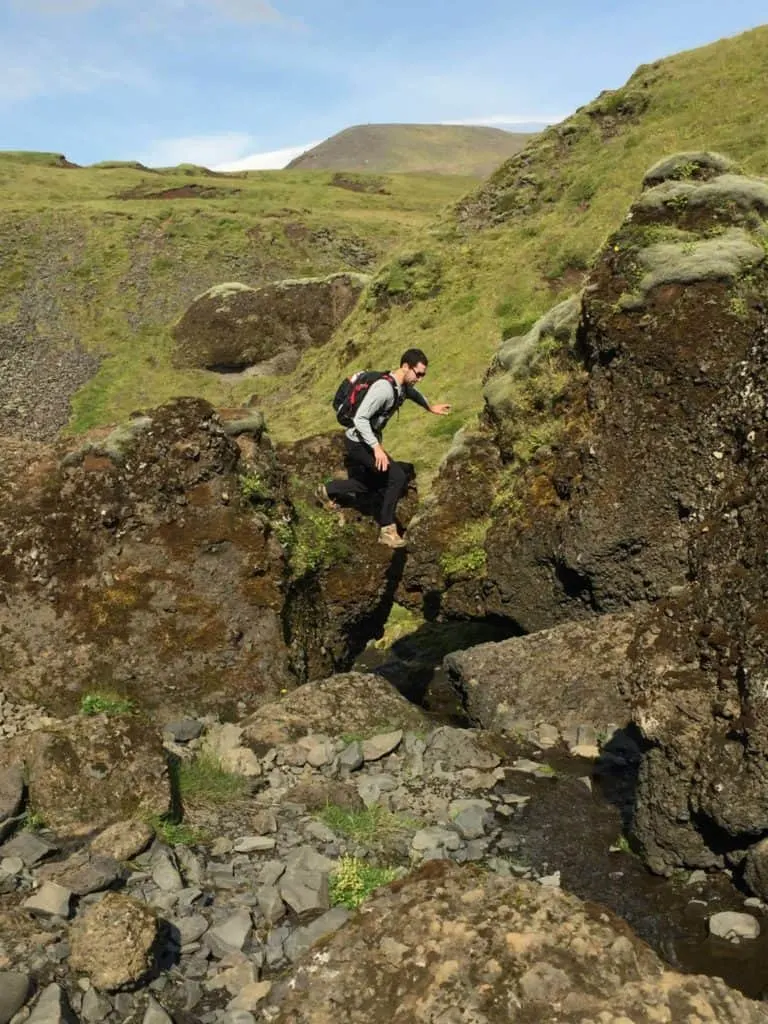 Seljalandsfoss & Gljufrabui
Once done with some hiking, head on over to Seljalandsfoss which is only about a 30 minute drive from Skogafoss.
This waterfall is unique in that you can actually walk it in a 360 degree view even getting behind the waterfall. Spend some time taking pictures at different angles and walking all the way around.
Here you will also find a lesser known waterfall called Gljufrabui. Walk about ten minutes north of Seljalandsfoss along the path following the signs.
Through a narrow rock corridor lies the waterfall, where you will most likely get a bit wet as you are literally inside of a cave.
It is quite a unique experience being inside this rock as the waterfall comes down behind you. After you spend some time down low, follow the path to the top of the waterfall, where you can climb the small ladder to get a view from above.
After visiting these couple of waterfalls it is then driving to Reykjavik, where you will be basing yourself for the remainder of the trip.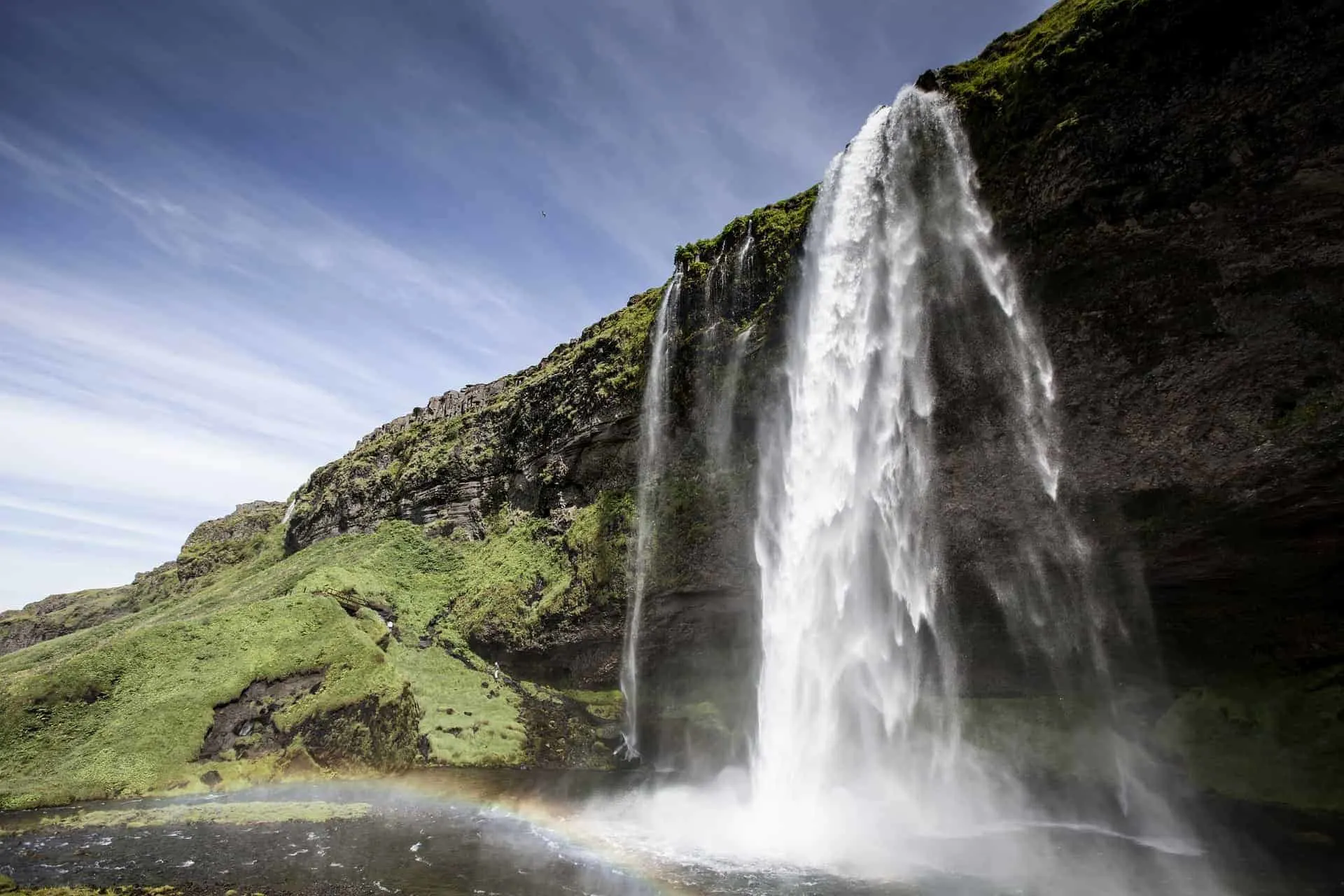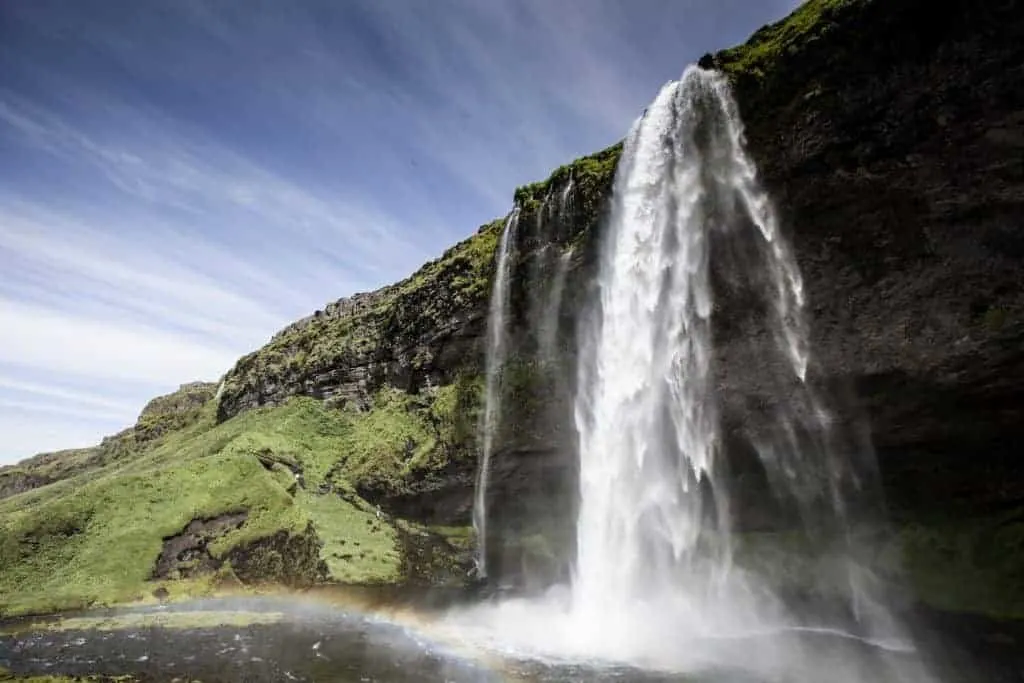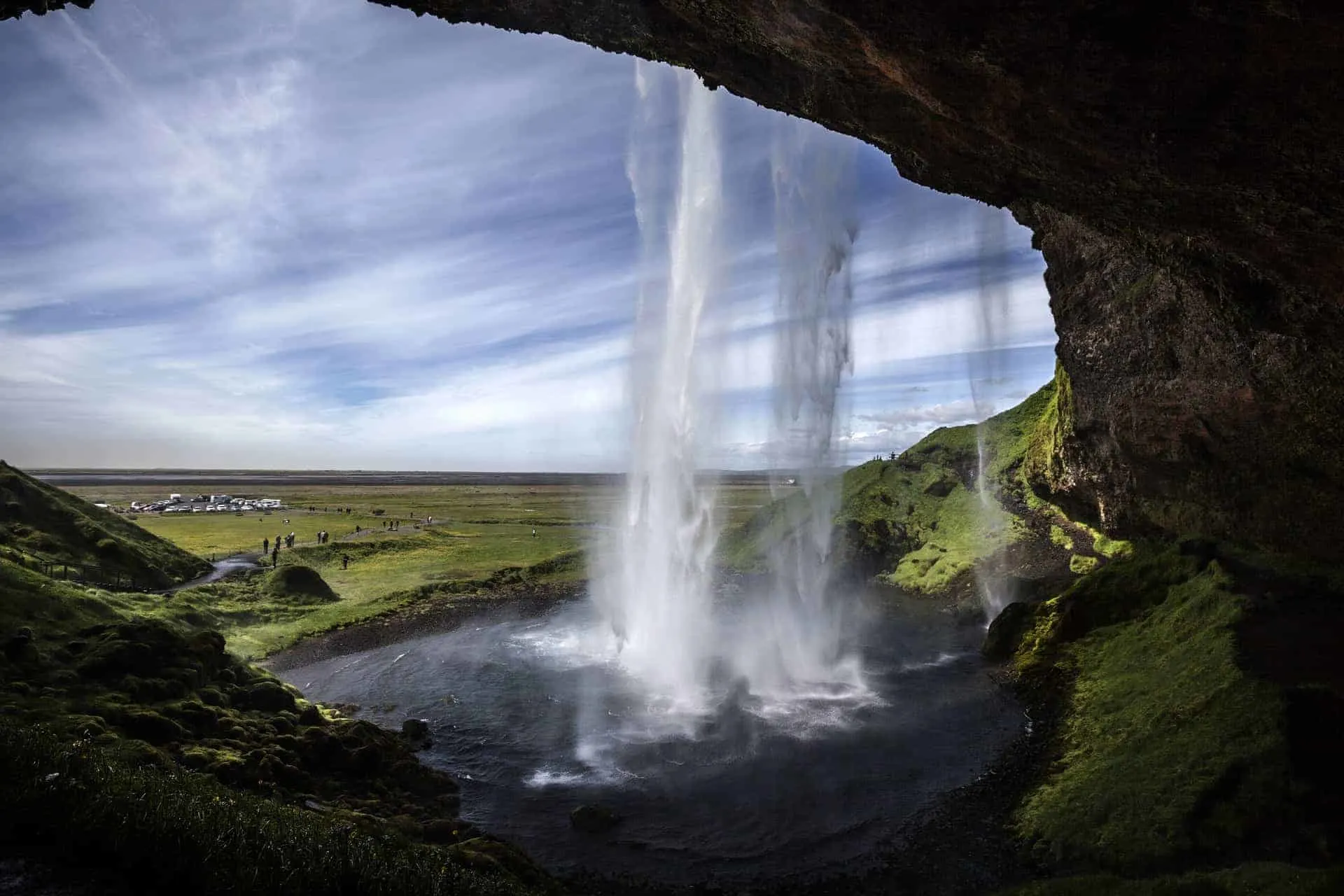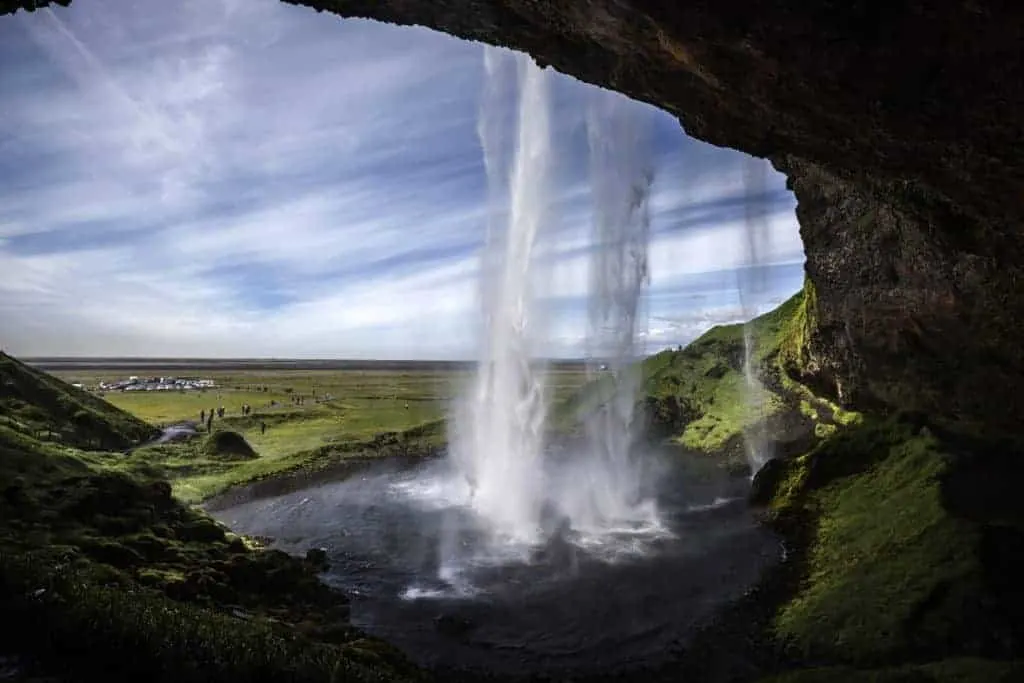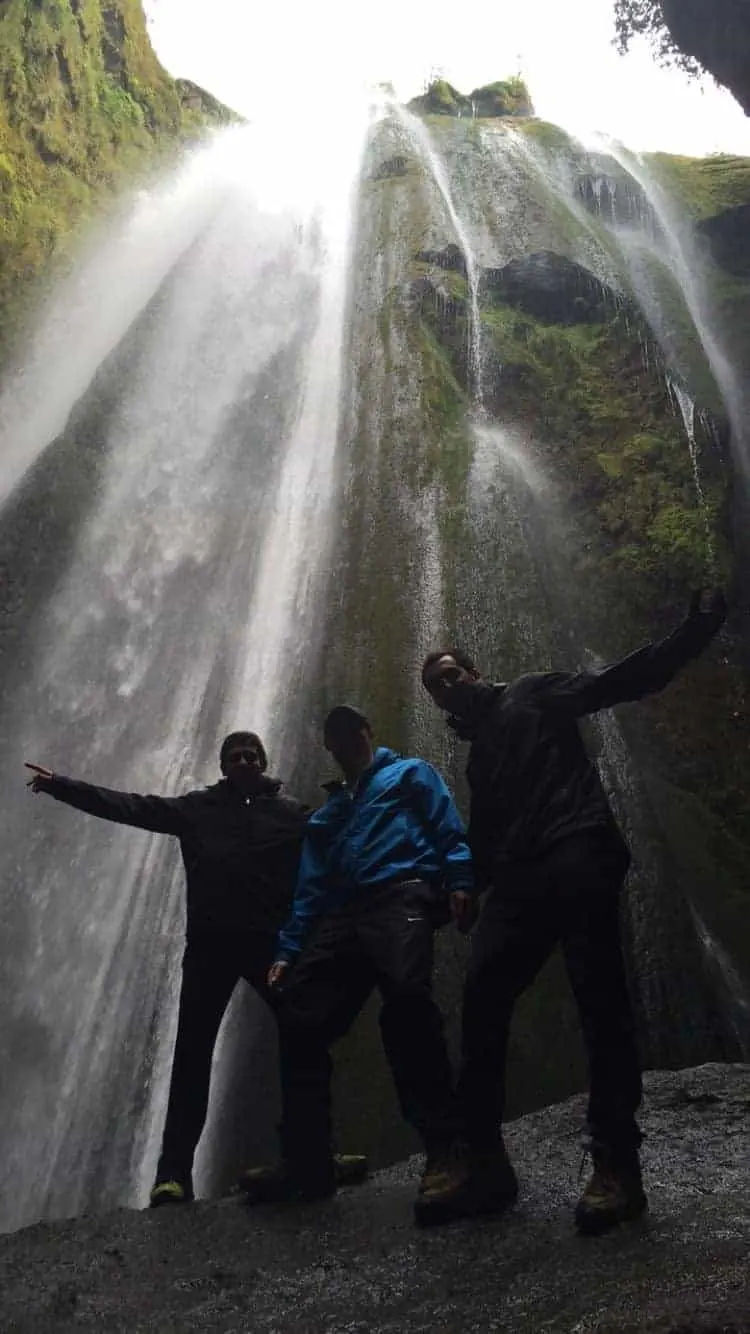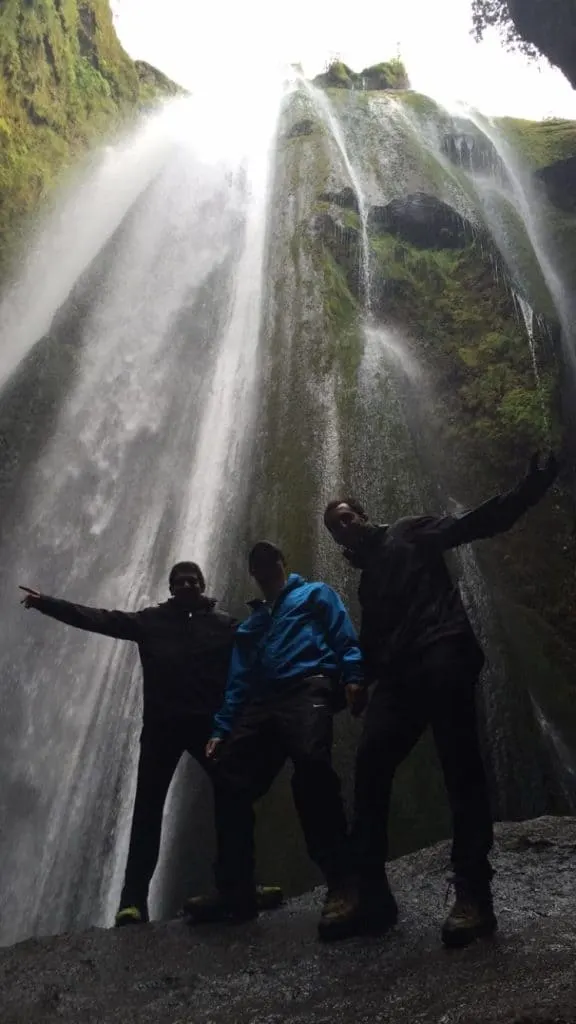 Day 4 – The Golden Circle
It is time to make your way around one of the more well known parts of Iceland – the Golden Circle. The Golden Circle includes five main stops and you can decide to visit all the attractions or focus more time on certain ones.
Since this is a more standard day trip from Reykjavik, you will find some of these places a but more crowded. Get an earlier start to the day to beat the crowds and enjoy these locations on your own.
» Check out the complete guide to Iceland's Golden Circle for an in depth review of what it all entails.
Stop #1 – Thingvellir National Park
The first stop of the day will be Thingvellir National Park. Thingvellir offers the opportunity to hike, snorkel between tectonic plates and wander around an incredible setting.
Depending on your interest level, you may just want to take a short walk around the area, opt for a longer hike, or even take part of the unique snorkeling opportunity.
Since there are so many diverse options to choose from, some people may just spend a hour here while others can spend a full day here.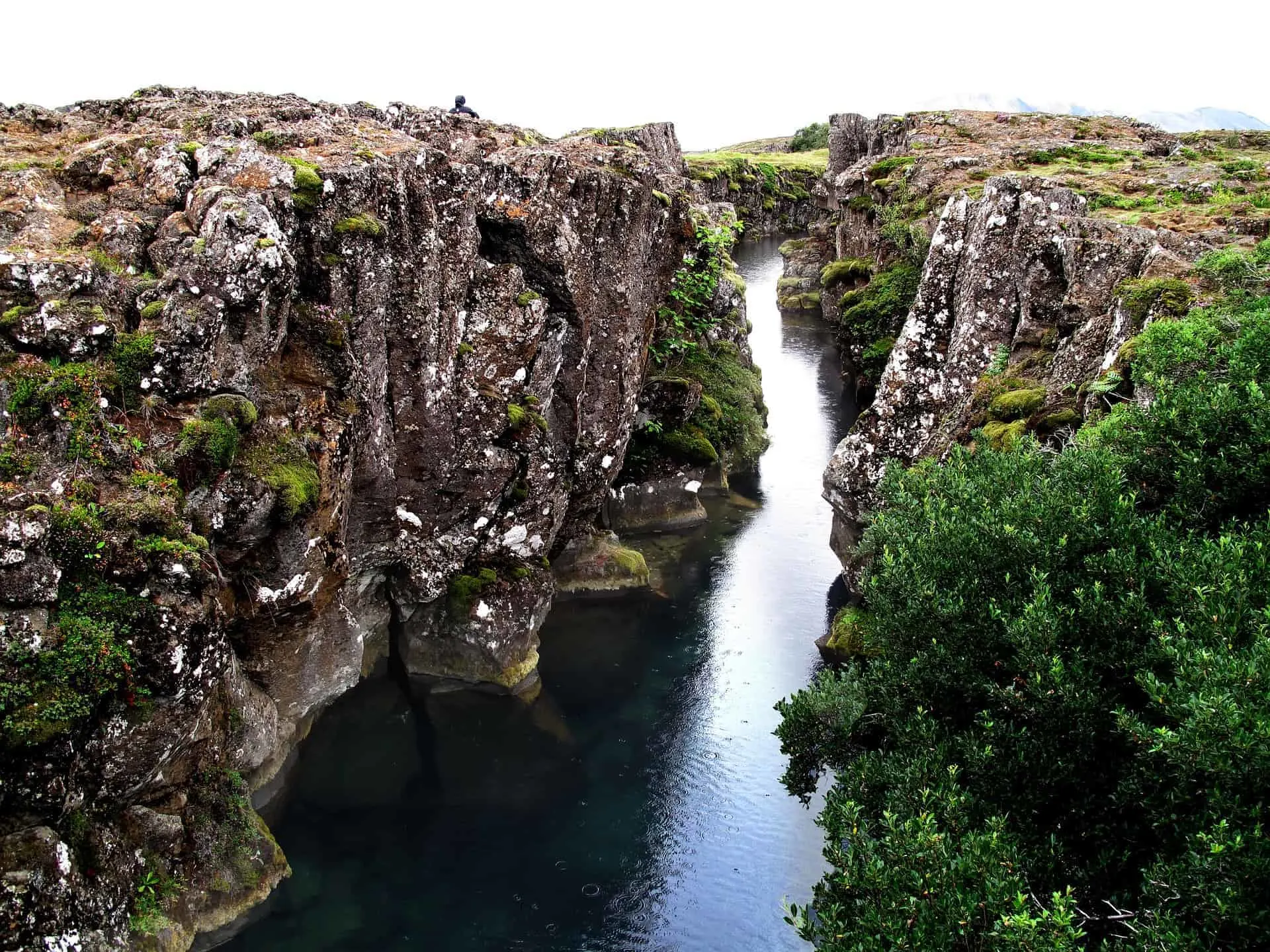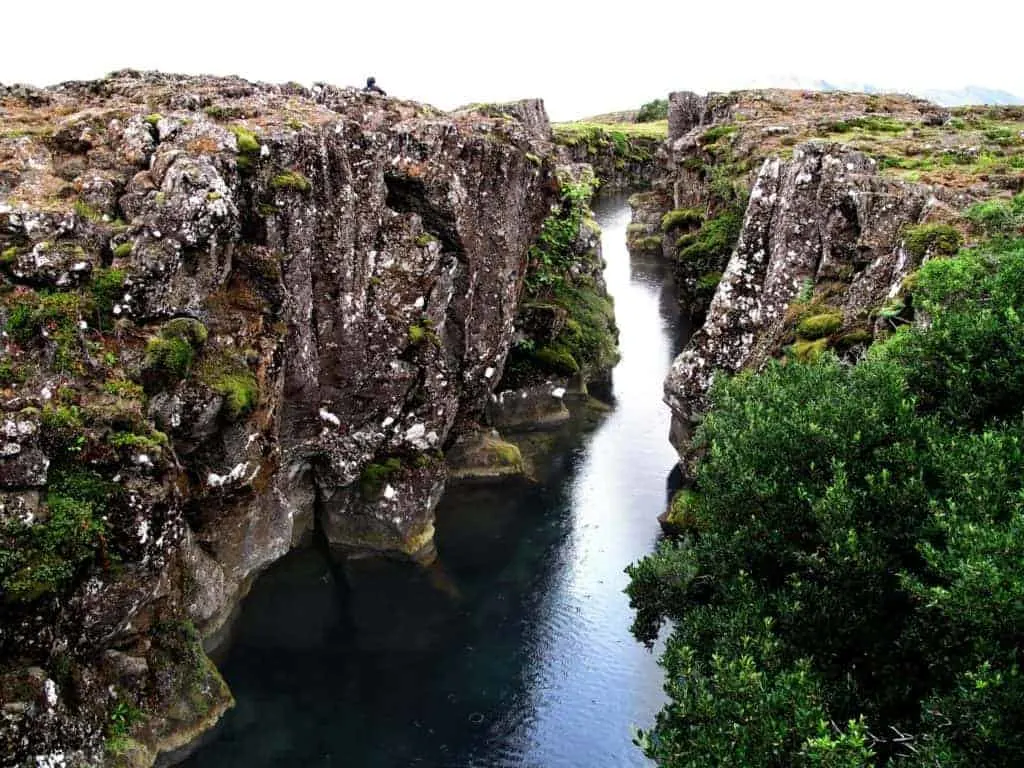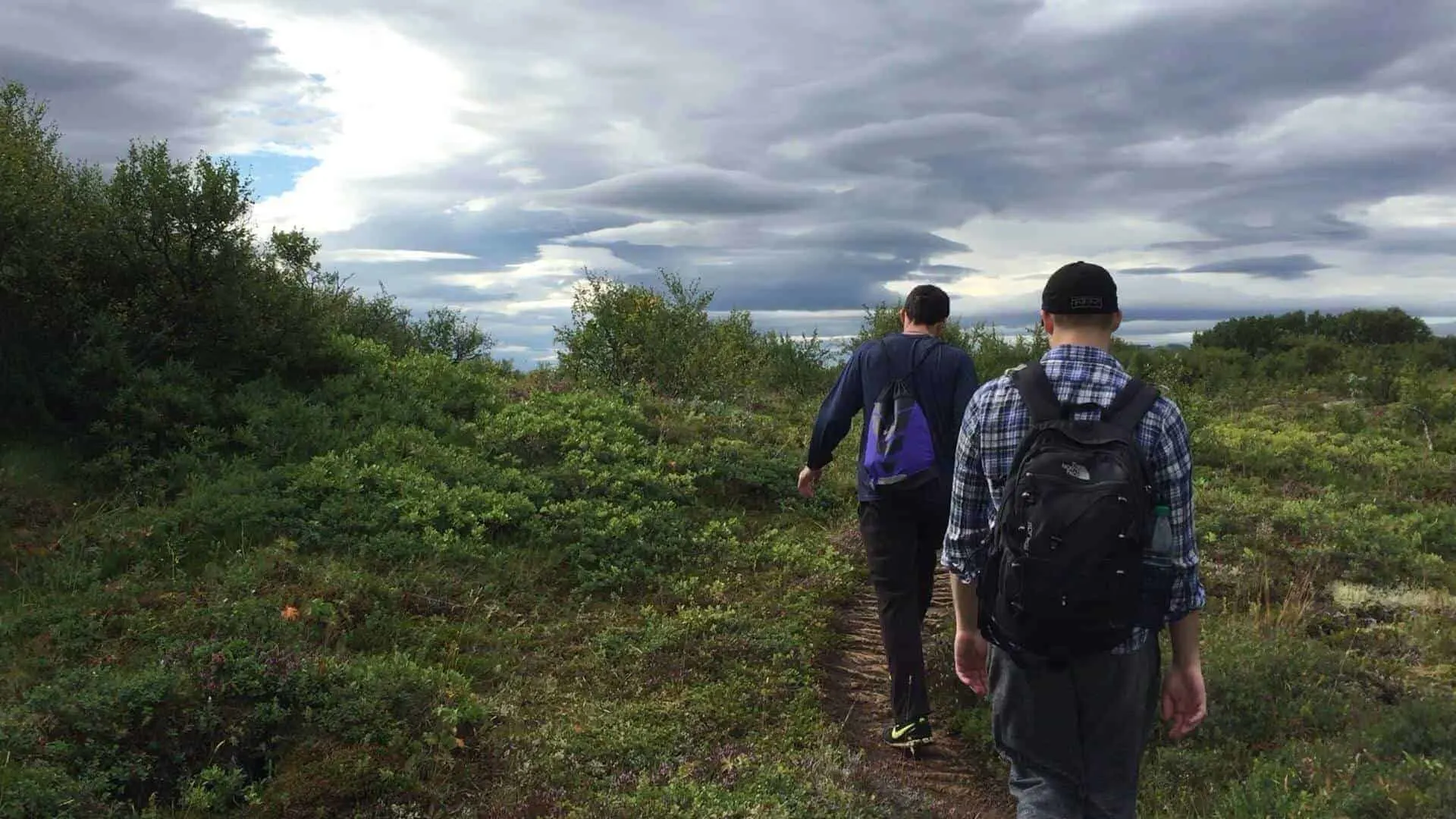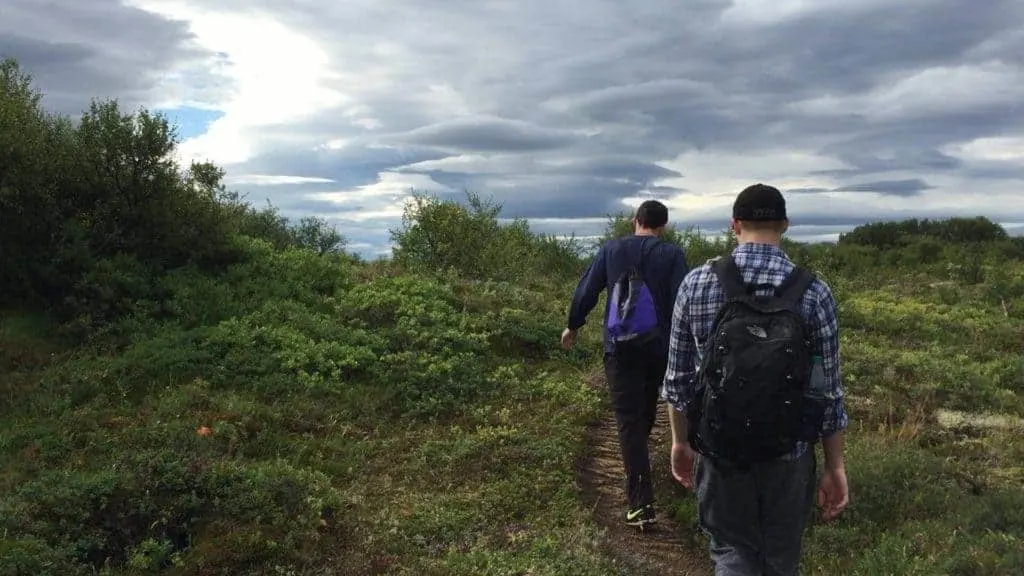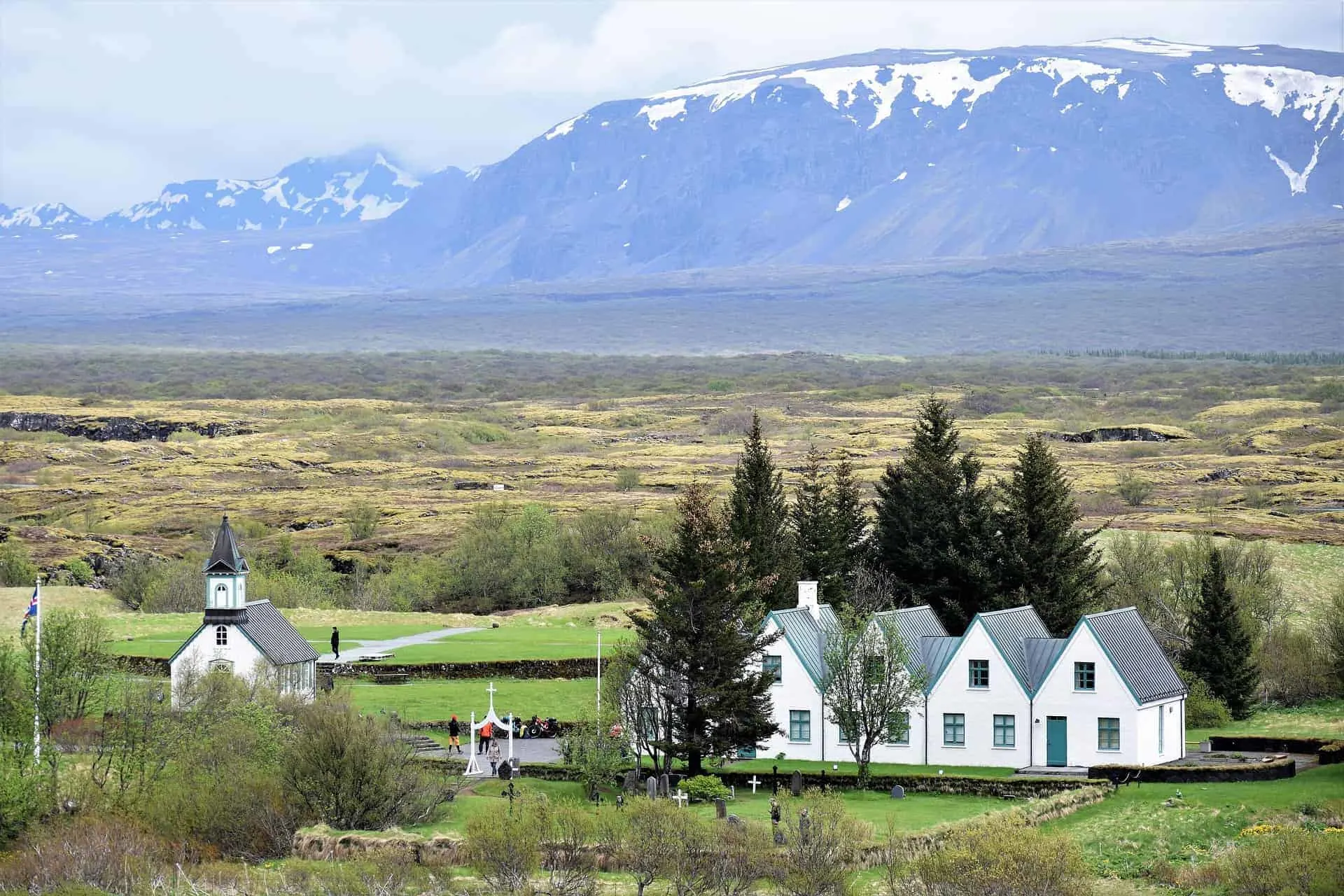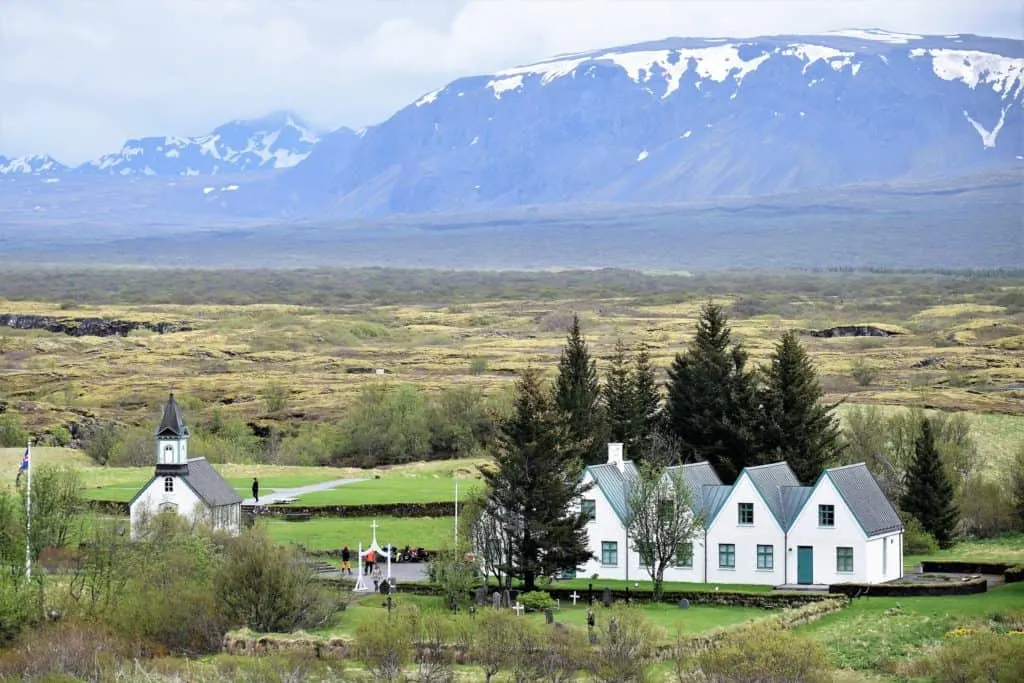 Stop #2 – Bruarfoss
If you have the time and are up for a 2 hour round trip hike you can head over to Bruarfoss. A bit more of a hidden gem, Bruarfoss is a majestic blue colored waterfall that is sure not to be missed.
In the past, it was easy enough to just drive to the waterfall. However, in order to visit this one of kind waterfall today, you must park your car and opt for the longer hike.
If this is something you want to take part of, just be sure to understand your timing for the day in order to fit in the rest of the Golden Circle attractions.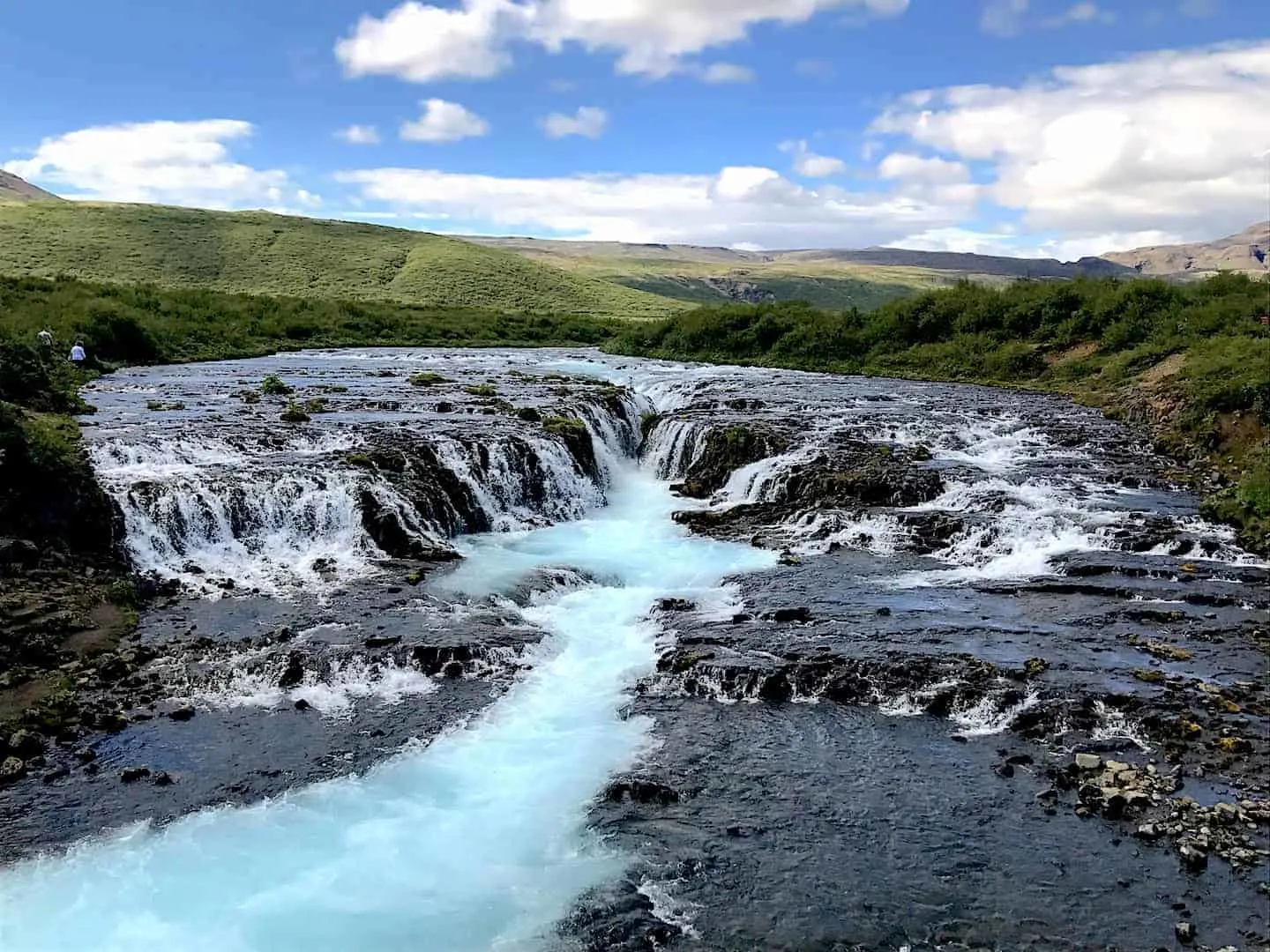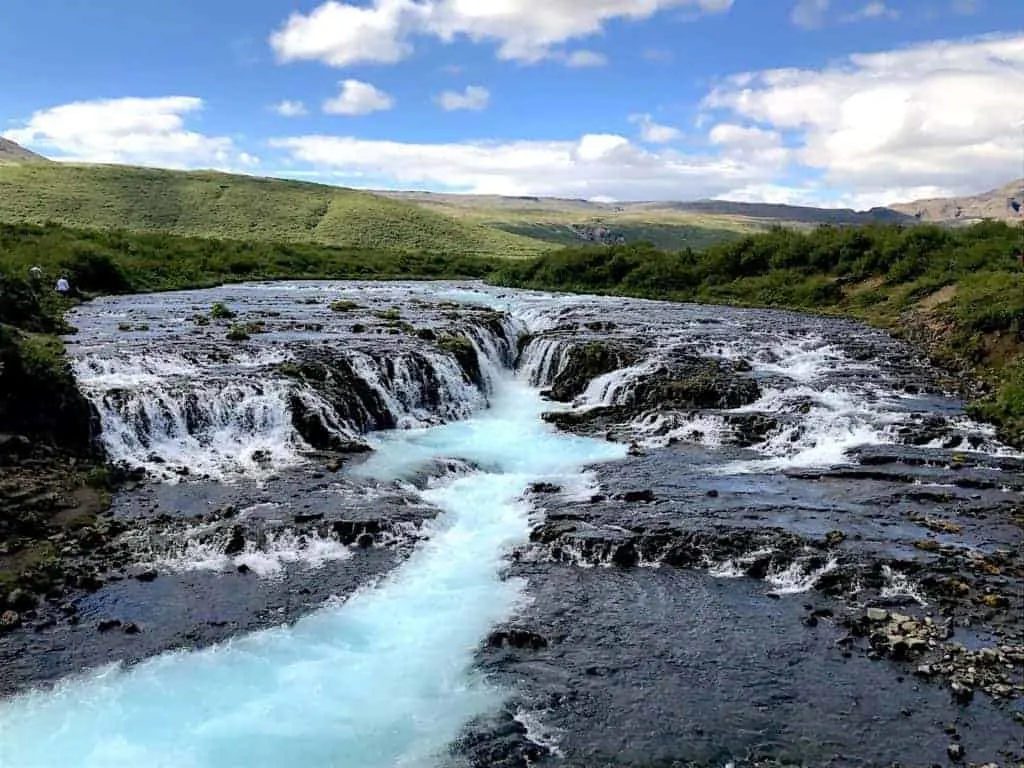 Stop #3 – Geysir
​Ever seen tons of water getting shot up a hundred feet in the air? Well now is your chance. At the Geysir geothermal area you will be able to see things like this happen: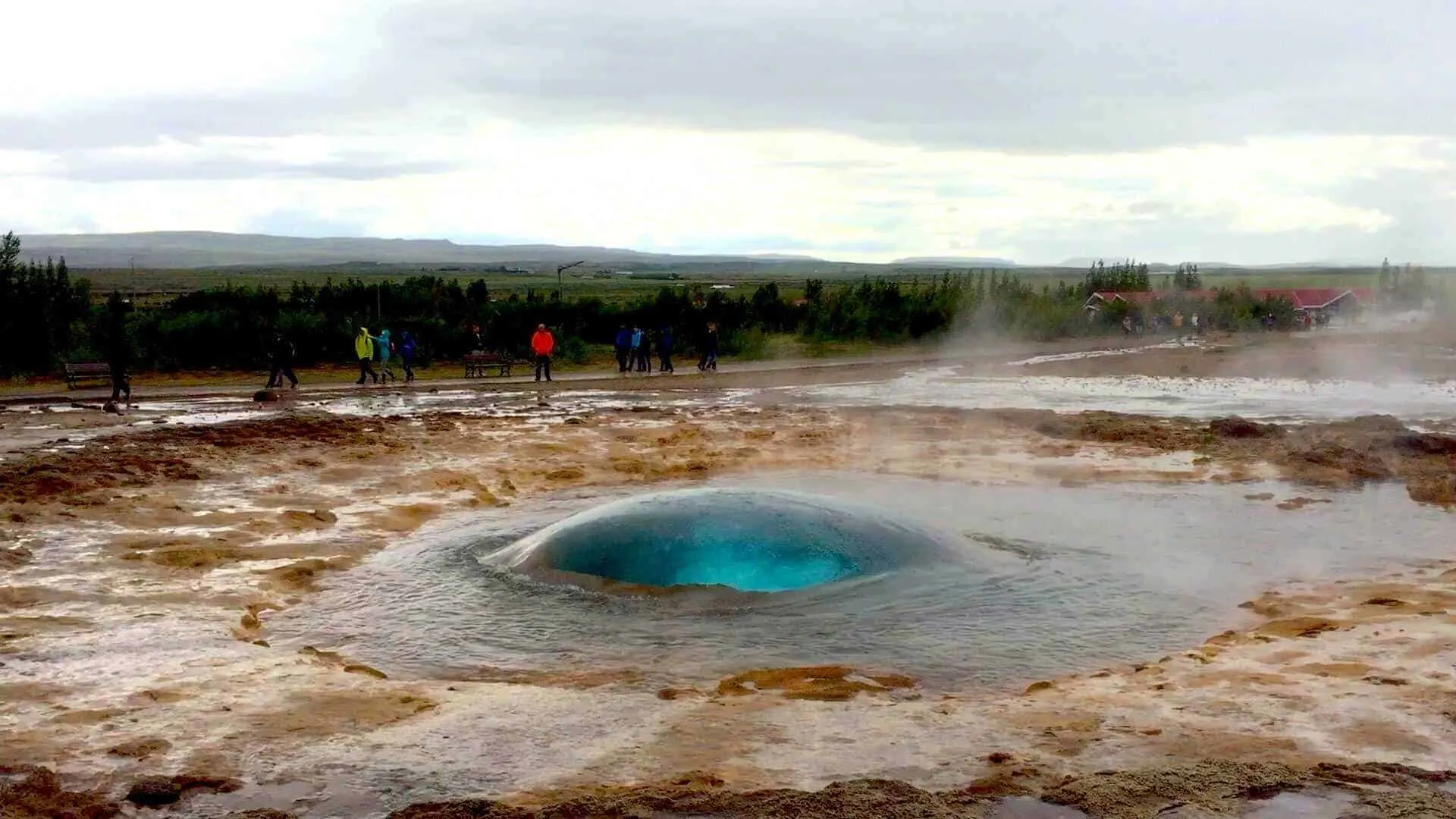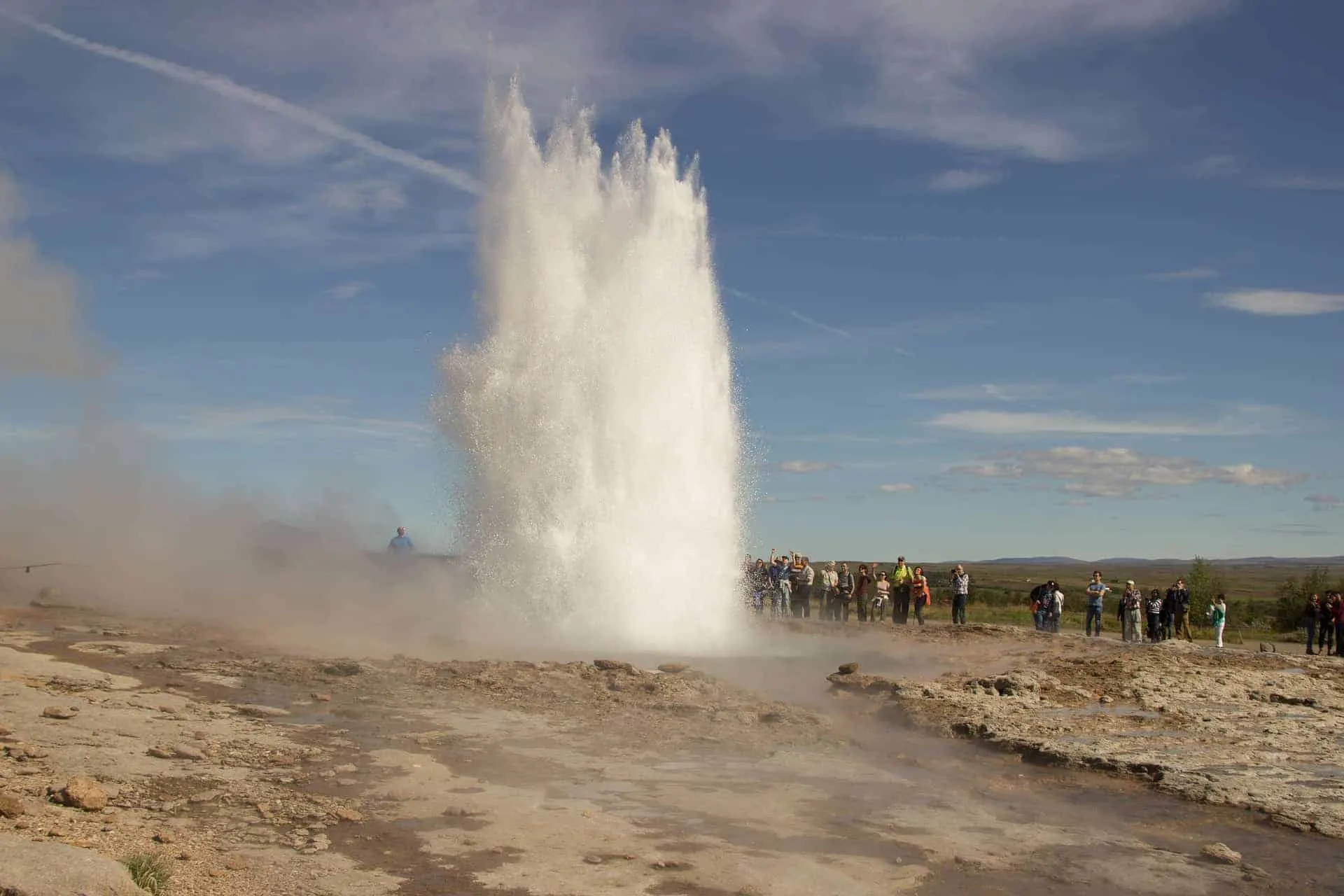 Stop #4 – Gullfoss
One of the most powerful and wide waterfalls that Iceland has to offer, Gullfoss offers amazing views from all different angles.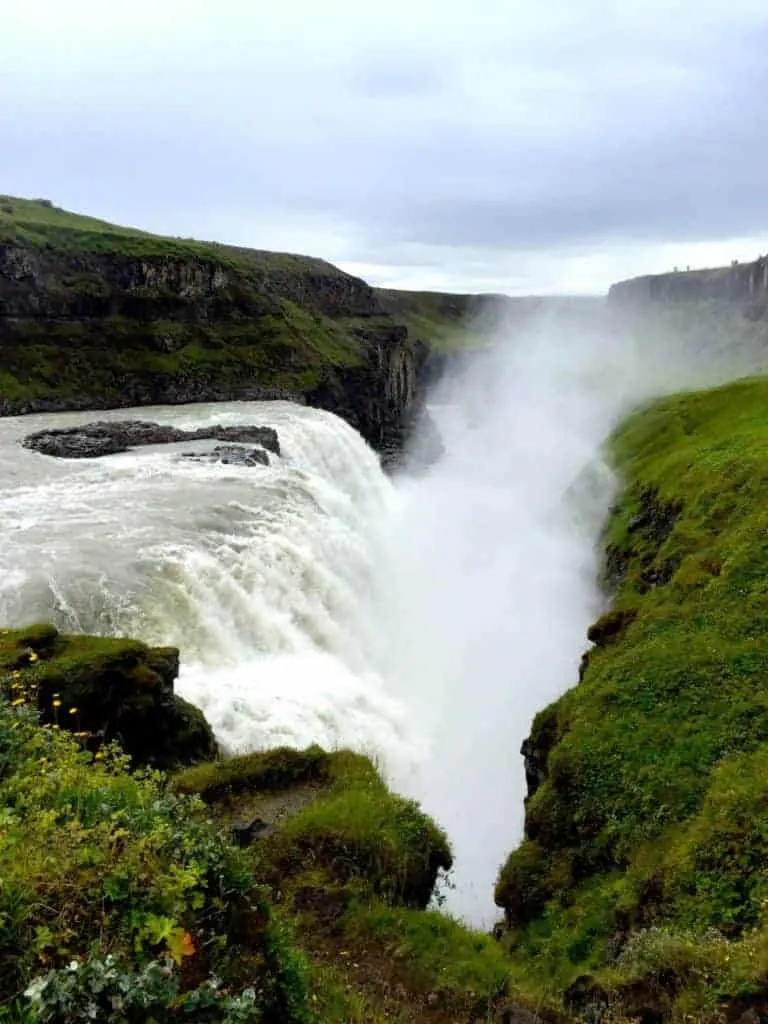 Stop #5 – Kerid Crater
​Last but not least is Kerid Crater – a massive formation with a lake down below to hike around and enjoy before ending your time around the Golden Circle.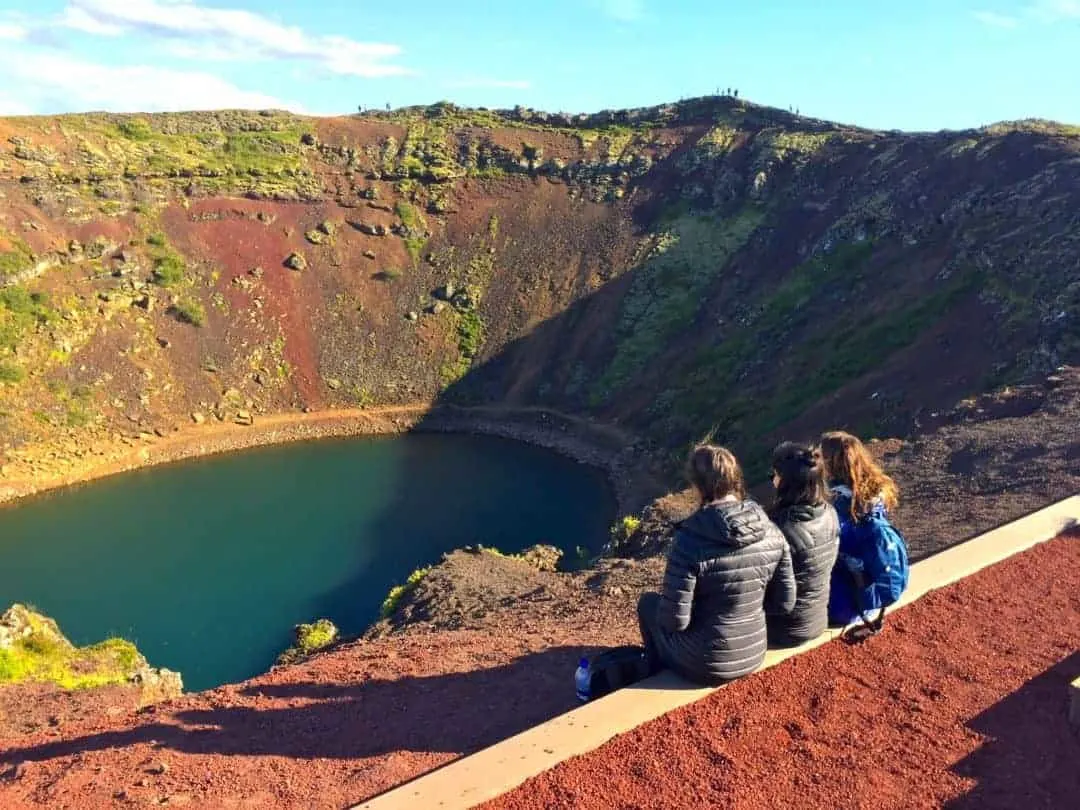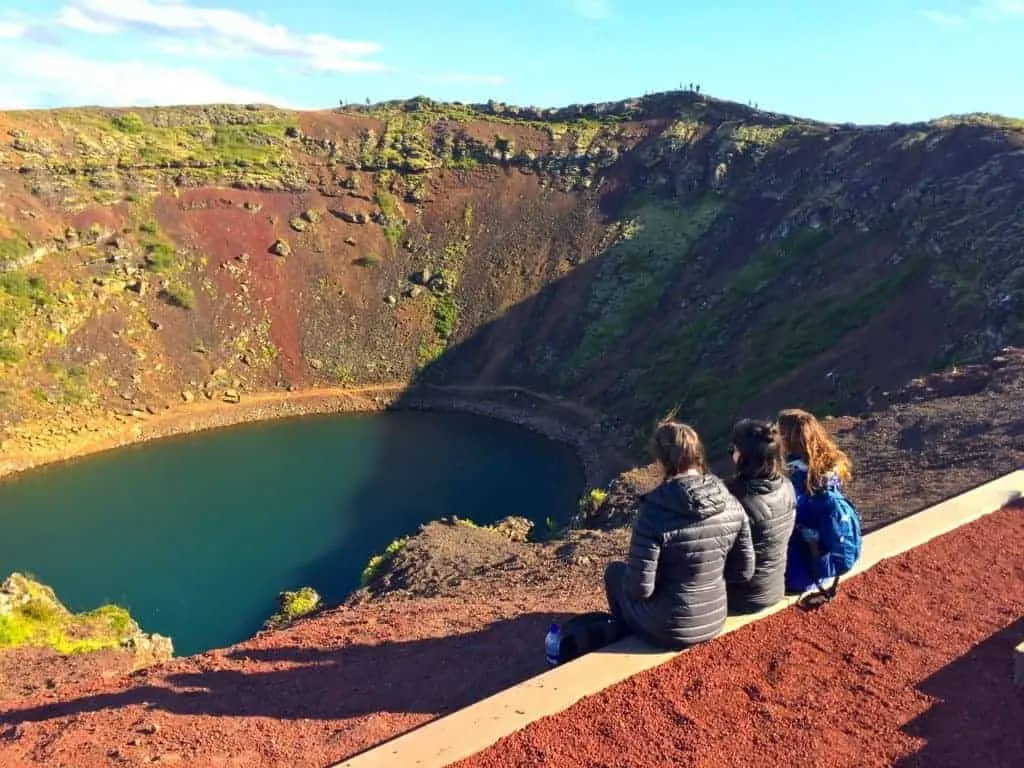 Blue Lagoon
Note that it might be easier to add the Blue Lagoon on the way from or to the airport since the Lagoon is not too far away from Keflavik.
It just depends on the timing on your fights to figure out what will work out best. You can also opt to move the lagoon to day 5 before/after you explore Reykjavik.
Next up comes the most relaxing portion of the trip and that is the Blue Lagoon. Make sure to buy tickets in advance so when you get there you can walk right in and enjoy.
Once you get there you can drop your stuff off in a locker and head outside in what is probably pretty cold weather. But don't worry because once you are inside the Blue Lagoon all is well.
The temperature of the water is very soothing and relaxing, and there are definitely spots warmer than others. You can buy yourself a few drinks and wade/walk around the lagoon.
You can probably spent 2+ hours there altogether just relaxing your bodies after all the exploring that has been done.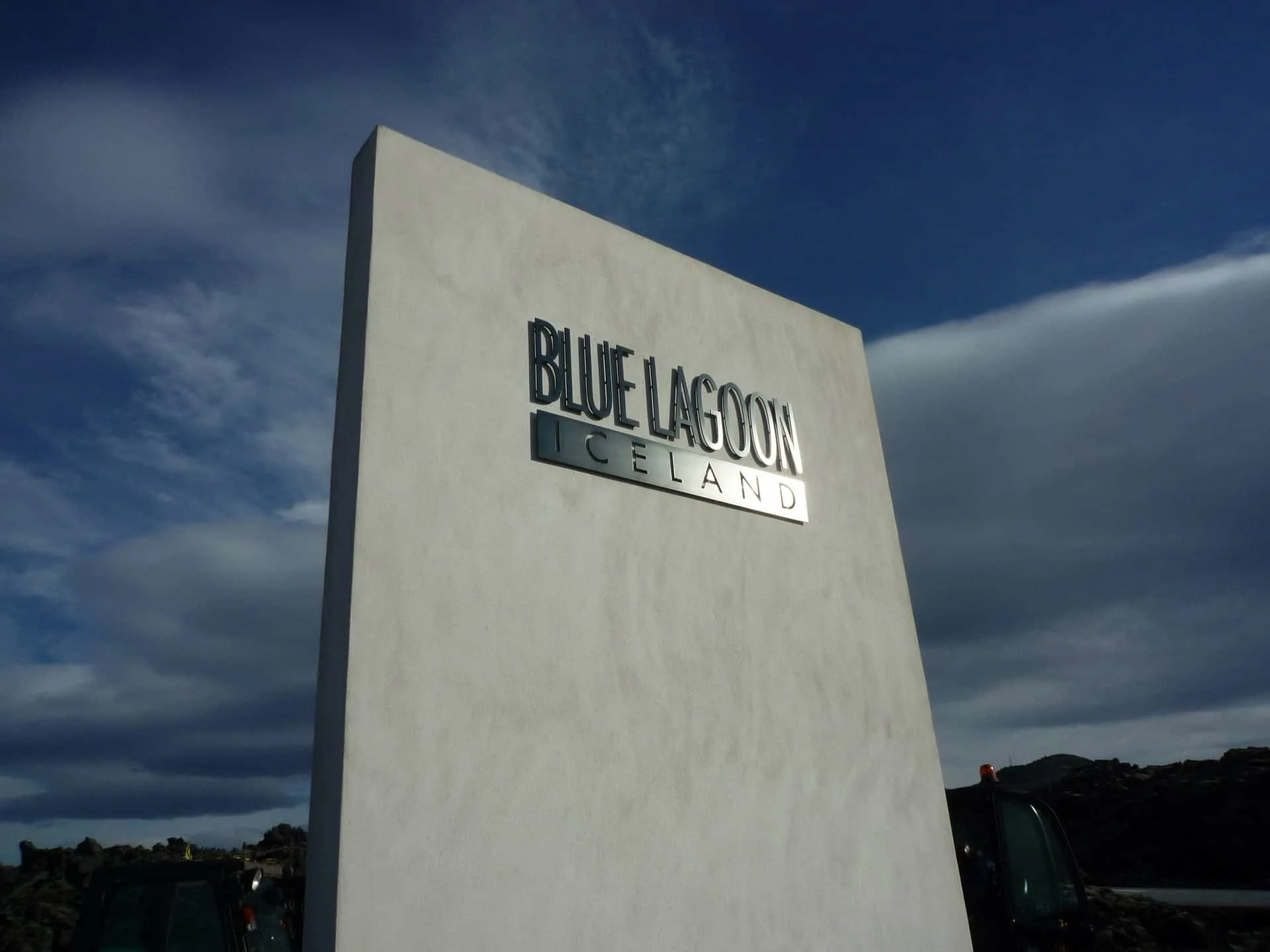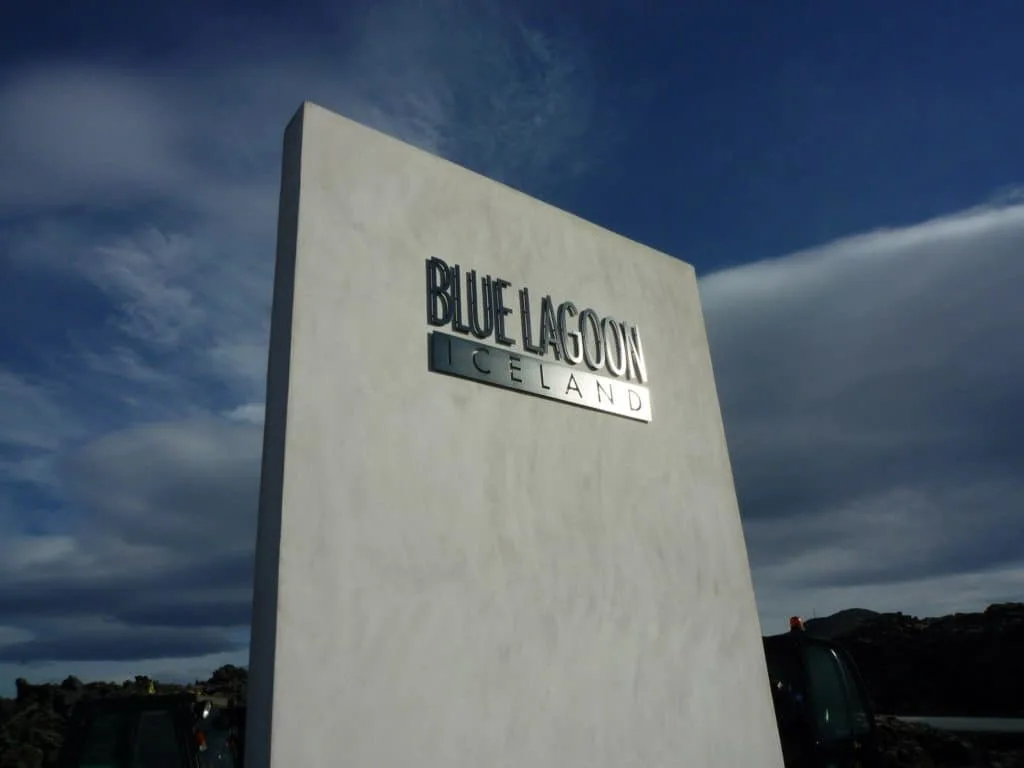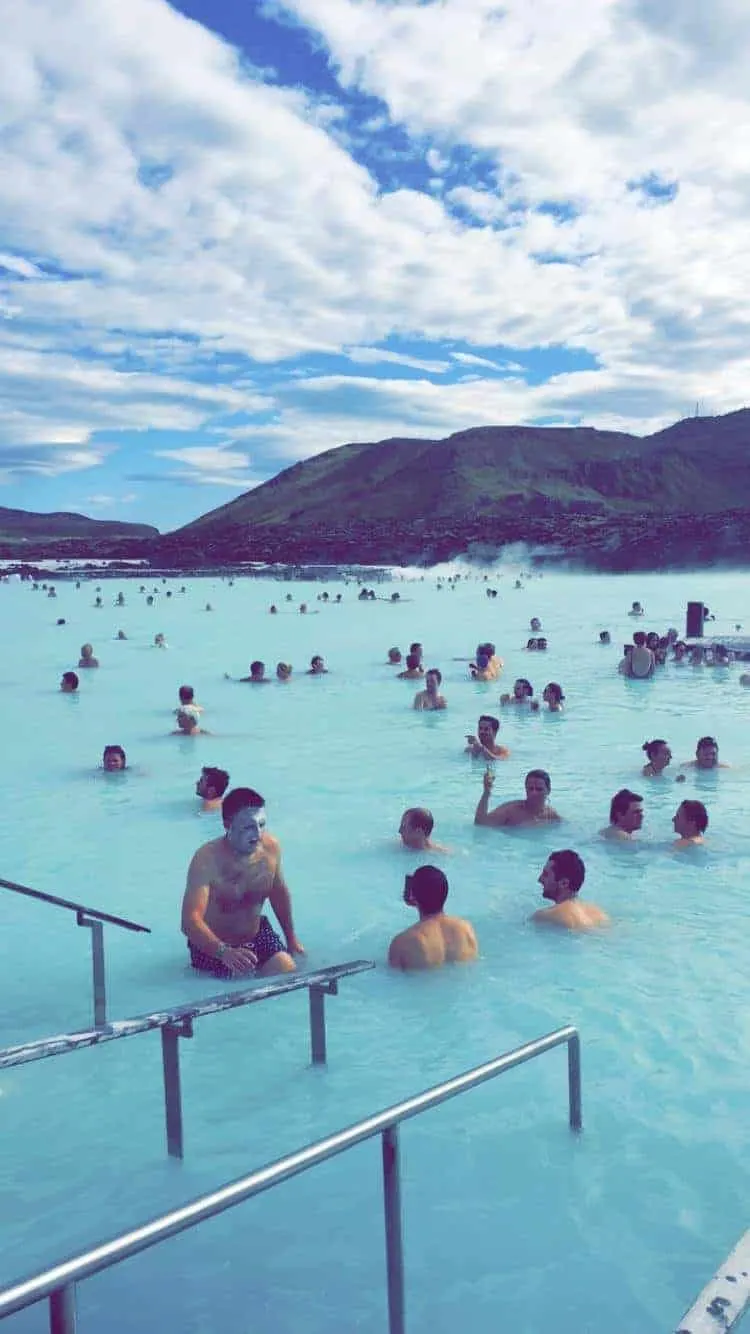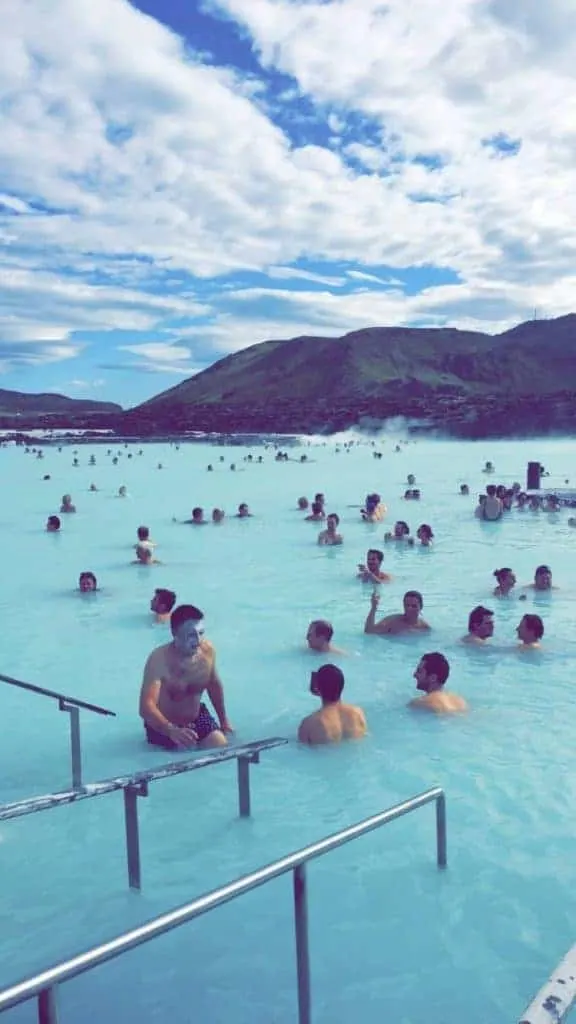 Day 5 – Reykjavik
There really aren't too many different sites to see in Reykjavik but definitely enough to keep yourself busy for a day.
Stroll through the city center as you walk down the main street Laugavegur, and then to the harbor area.
Stop by the Harpa opera house, a really modern piece of architecture with many different areas to explore and a glass like structure throughout. Then walk further along the water to the viking ship known as the Sun Voyager. It is really just a silver statue but still pretty neat spot to check out.
Then make your way to the main church – Hallgrimskirkja. Spend the few dollars to head to the top of the church and see the view of the entire city of colored houses beneath you. You can see all the way to the opera house and beyond.
→ Learn more about the capital in the One Day in Reykjavik guide up on the site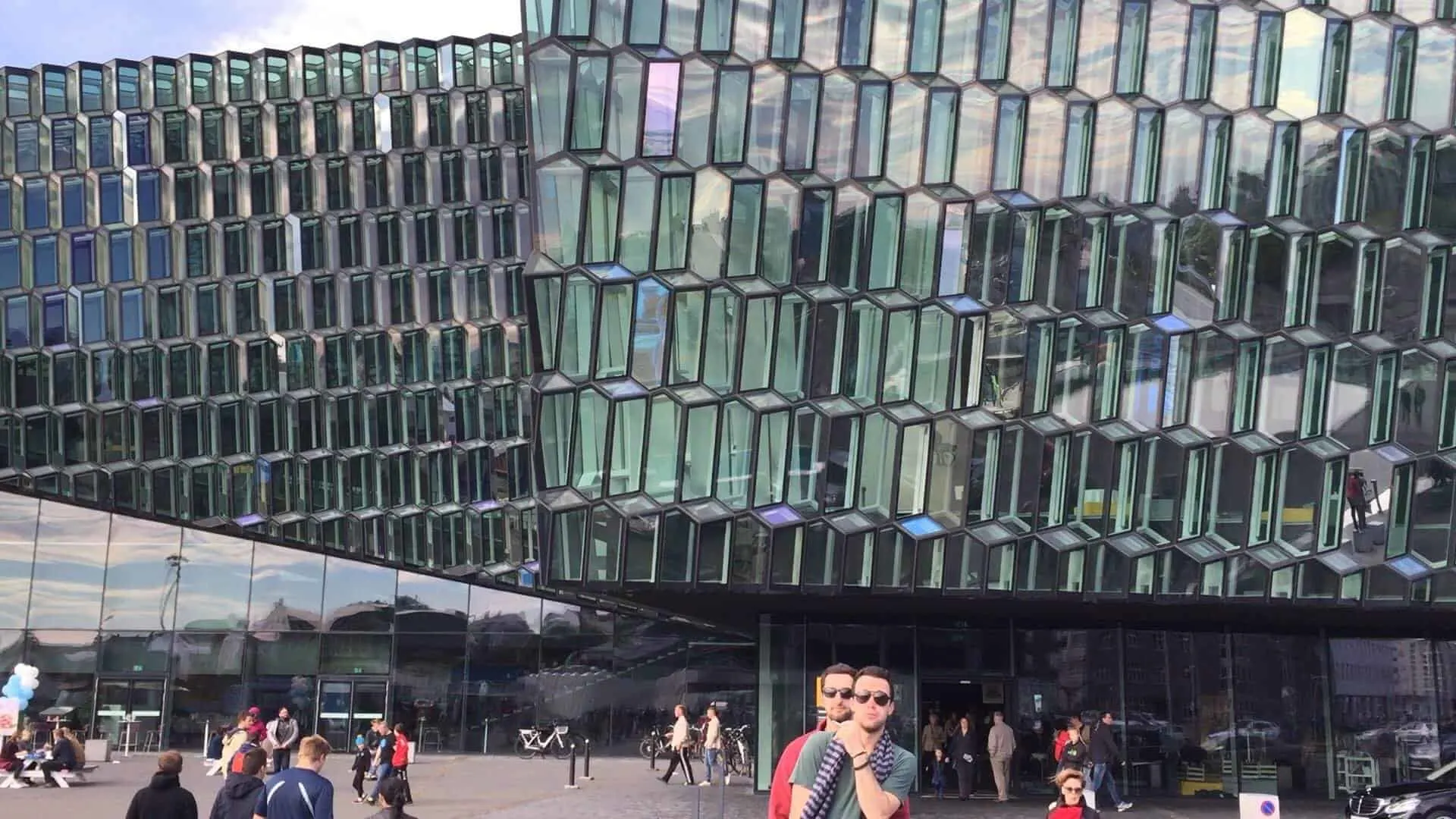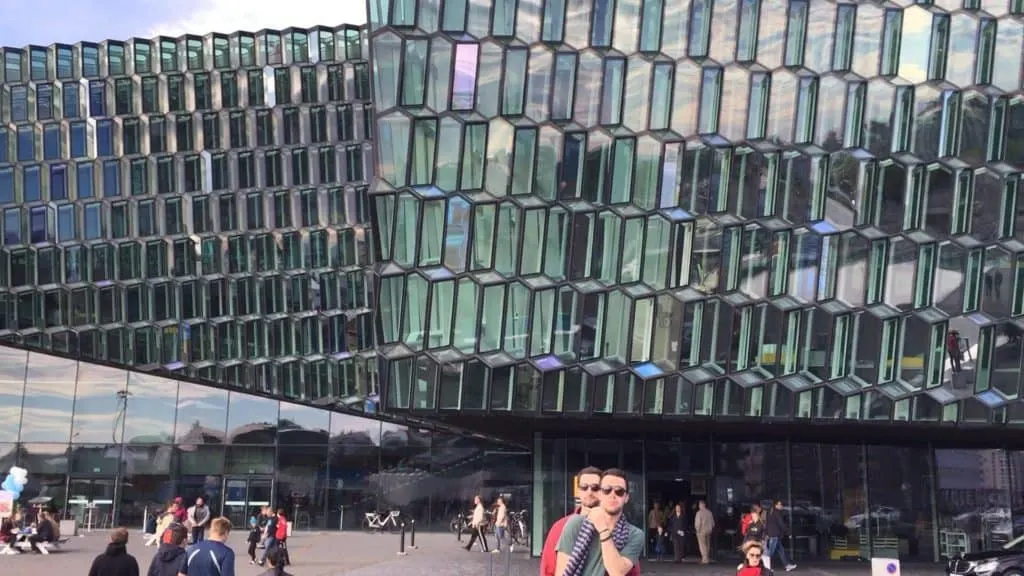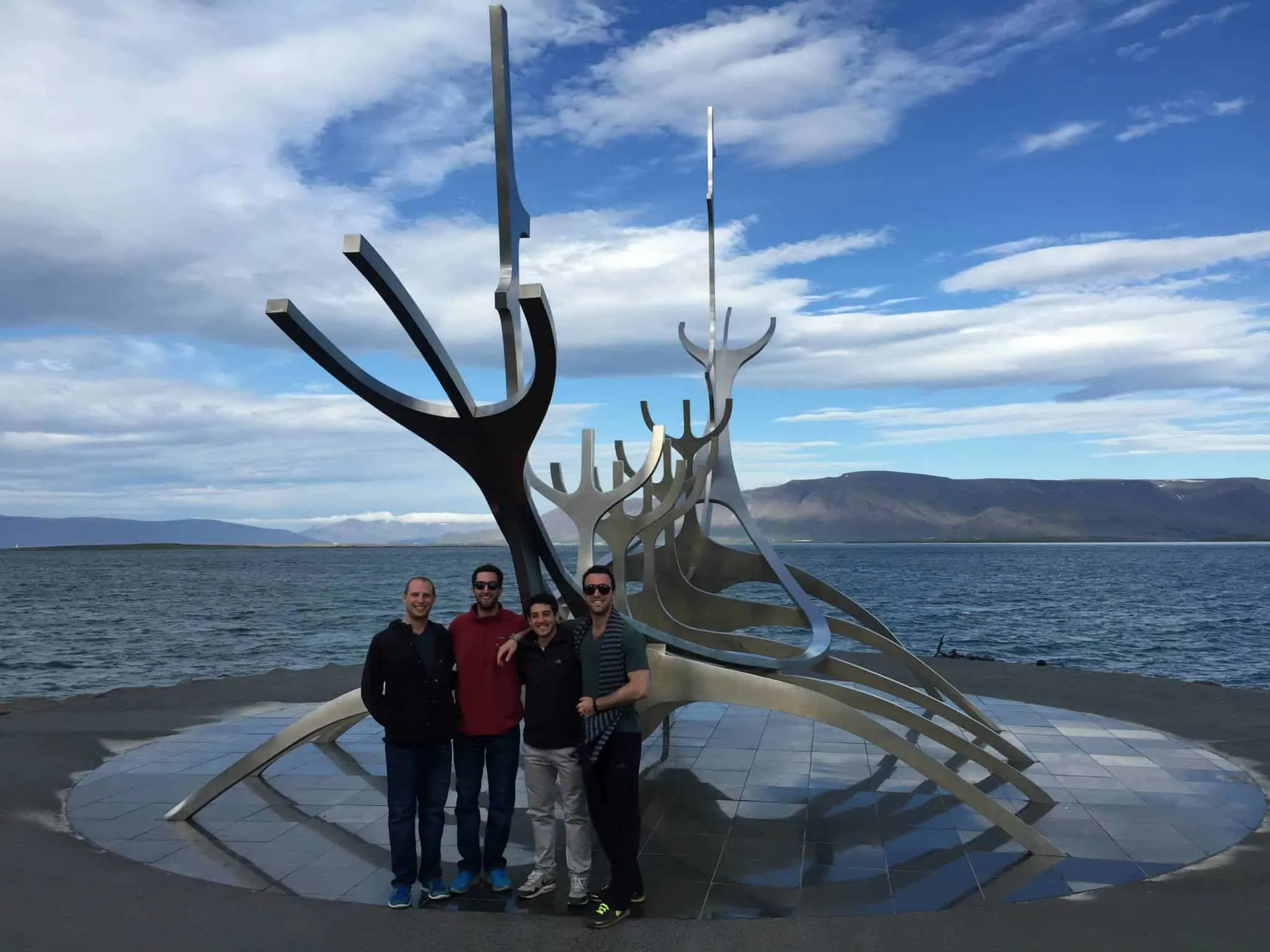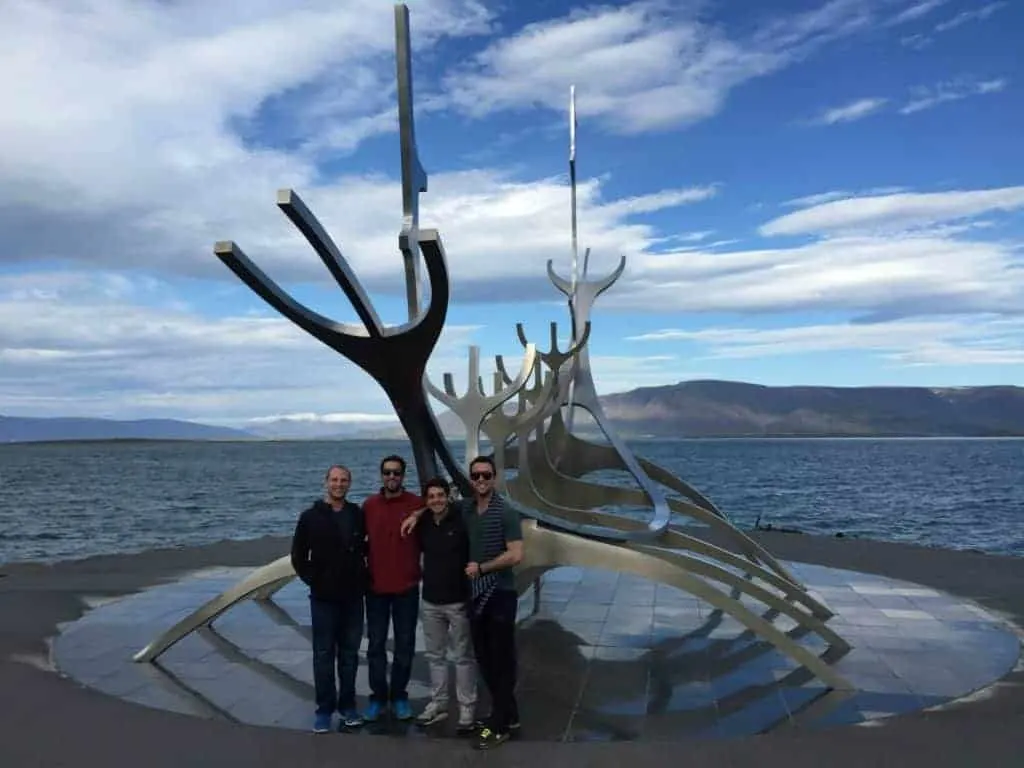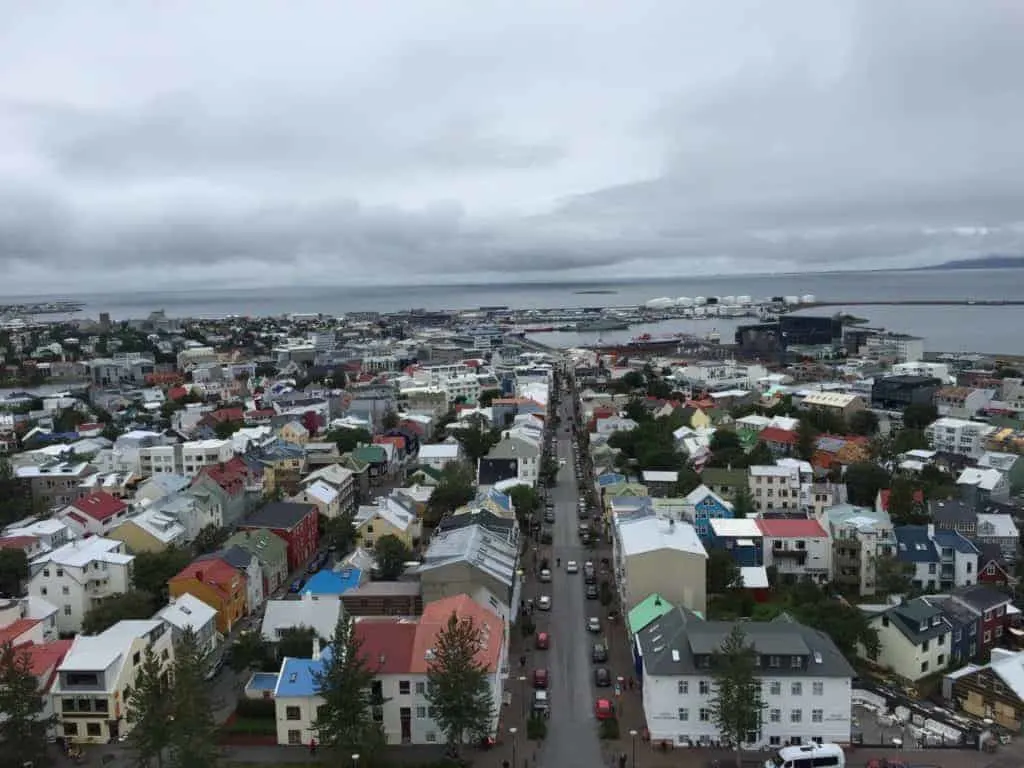 That will be your last stop on an amazing trip to Iceland before making your way to the airport later in the day or the next morning.
If you rather spend your final day hiking and exploring nature, you can also opt for the day trip to the Glymur Waterfall instead.
Hope you enjoy your 5 days in Iceland! If you have any questions or comments feel free to add them in below.
Also be sure to check out the other Iceland itineraries and guides for more helpful content about the country.
Have fun out there and safe travels!