When it comes to multi day treks around the world, the Huayhuash trek is up there as one of the best. Over the course of 8-12 days, trekkers will have the chance to take in some of the most beautiful landscape out there.
Now, before choosing to do the hike, you may be wondering about the Huayhuash trek difficulty, and how hard it may be to complete the route.
That is what this overview is here to answer. We will go through all the various considerations of what can make the Huayhuash trek so difficult.
* Affiliate Disclosure: This post may contain affiliate links, which means I may receive a commission if you make a purchase through the links provided, at no additional cost to you. Thanks for supporting the work I put into TripTins!
1) Huayhuash Trek Difficulty Overview
To start, I want to note that this guide will only focus on the Huayhuash trek difficulty side of things. If you want to learn way more about the hike, be sure to read through the comprehensive Huayhuash Circuit overview I put together.
When it comes to the difficulty levels of the trek, there are a few main considerations to think about (all of which I will be diving into throughout this guide):
Independent vs Guided: a guided trek vs an independent trek will be two completely different experiences when it comes to difficulty levels. There are several additional topics to consider if going about the trek independently.
Fitness: the trek will require 8-12 constant days of hiking. This is not meant for everyone, so you need to be sure your fitness levels are up to par.
Elevation: not only is it the number of miles hiked each day but it is also about the elevation of the hike itself. With most of the trek above 4,000 meters / 13,000 feet, oxygen levels can be an issue for some.
Terrain: remember that you will be out in the middle of nowhere. The terrain will give you a little bit of everything. Smooth dirt paths, rocky trails, and plenty of unevenness throughout.
Lifestyle: this is not one of those treks where you will be sleeping in a lodge each night. You need to be prepared to sleep in tents, go to outhouses for the bathroom, and be comfortable being uncomfortable.
Weather: it can get cold in the Huayhuash, with nighttime temperatures close to freezing. Couple that with rain or snow happening at any time of year, you never know what can happen.
Off the Grid: there is going to be no cell service or WiFi during a trek like this, so you will need to be comfortable staying off the grid during the hike.
Learn More: Be sure to check out the Huayhuash Circuit resource page that includes many helpful travel guides to get you prepared for the trek.
With that said, let's dive into each one of these Huayhuash difficulty topics to give you a better understanding of what the trek can entail.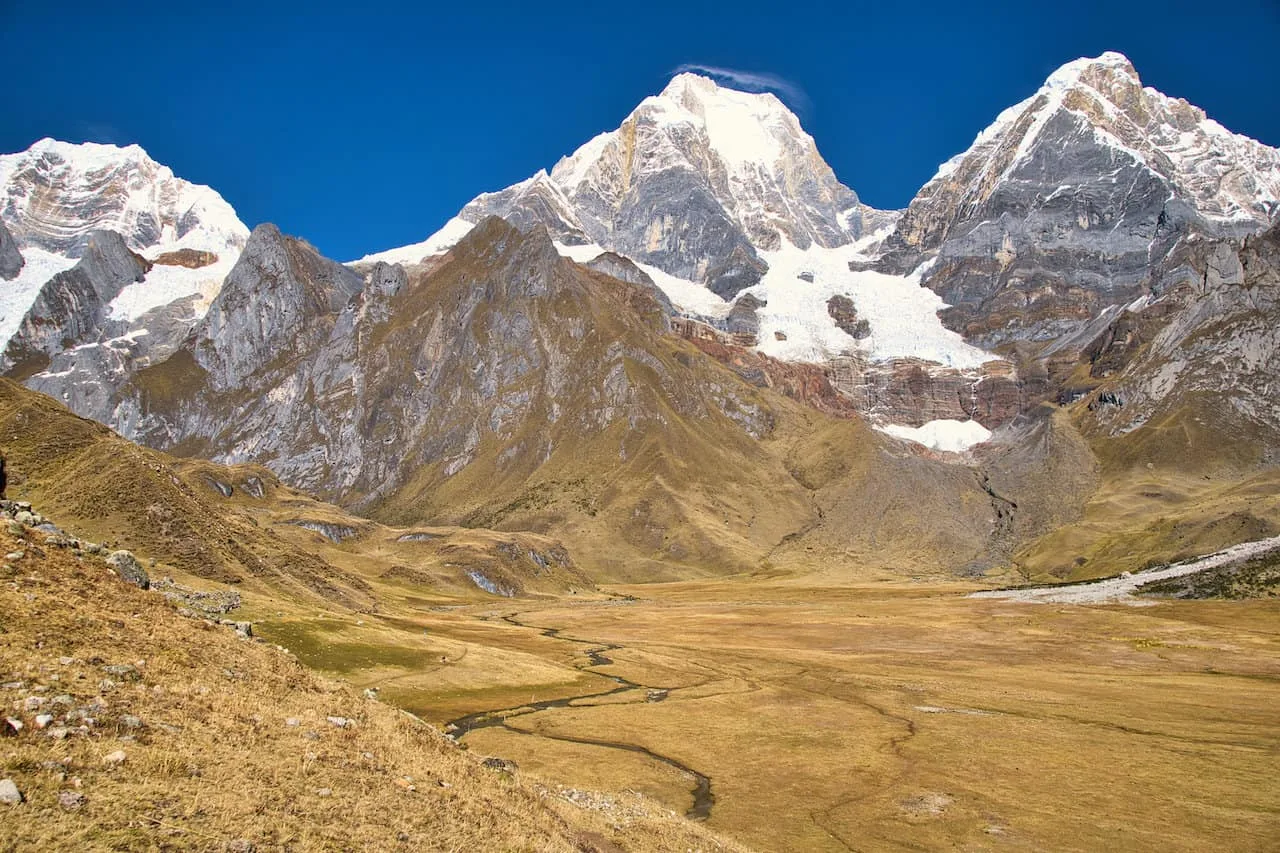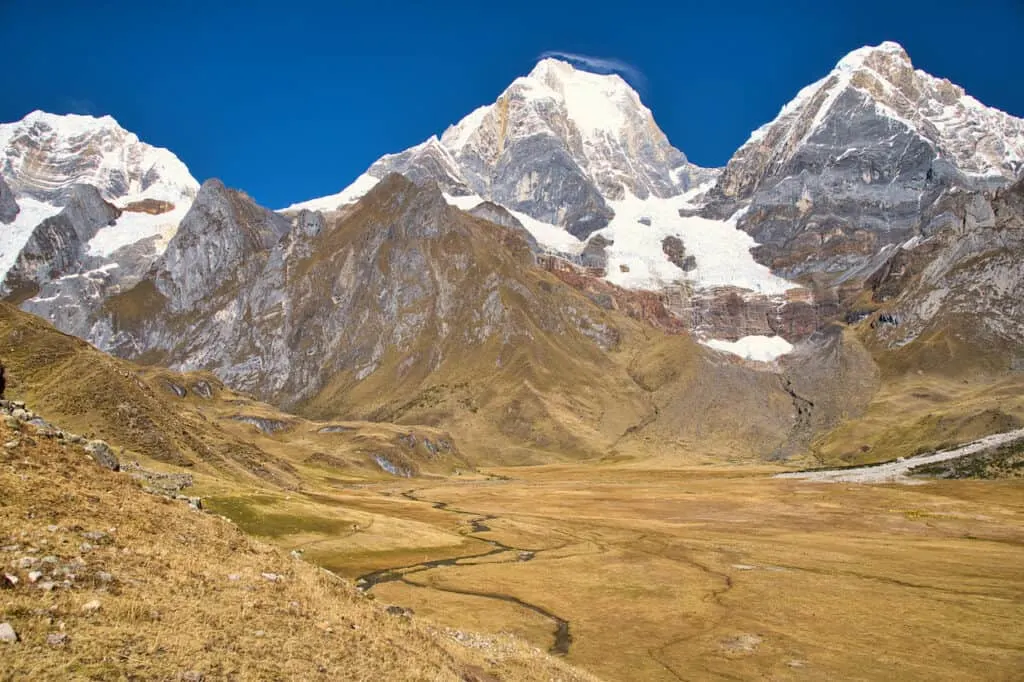 2) Independent vs Guided
The first main choice you will need to make is whether to do this hike on your own independently or with a guided tour. Depending on this choice will vastly change the difficulty of the Huayhuash trek.
Here are some of the main considerations at play that can change the dynamic of the Huayhuash trek depending on which choice you make.
Carrying Gear
With a guided trek, all of your gear will be carried for you by mules and porters. The only thing that will be on your back is a daypack with essentials. That means instead of carrying 35lbs+, you will only need to carry maybe 5-10lbs each day.
The weight difference can be a major deciding factor on if you can do the trek on your own.
While some people will have no issue completing the hike as part of a guided tour, they certainly may not be able to do so if they had to carry all of their gear with them.
During my independent trek, I started out with close to 40lbs, and ended the trek with closer to 20lbs. Every day I would eat those couple pounds of breakfast, lunch & dinner, making the end of the trek much easier than the beginning of the trek.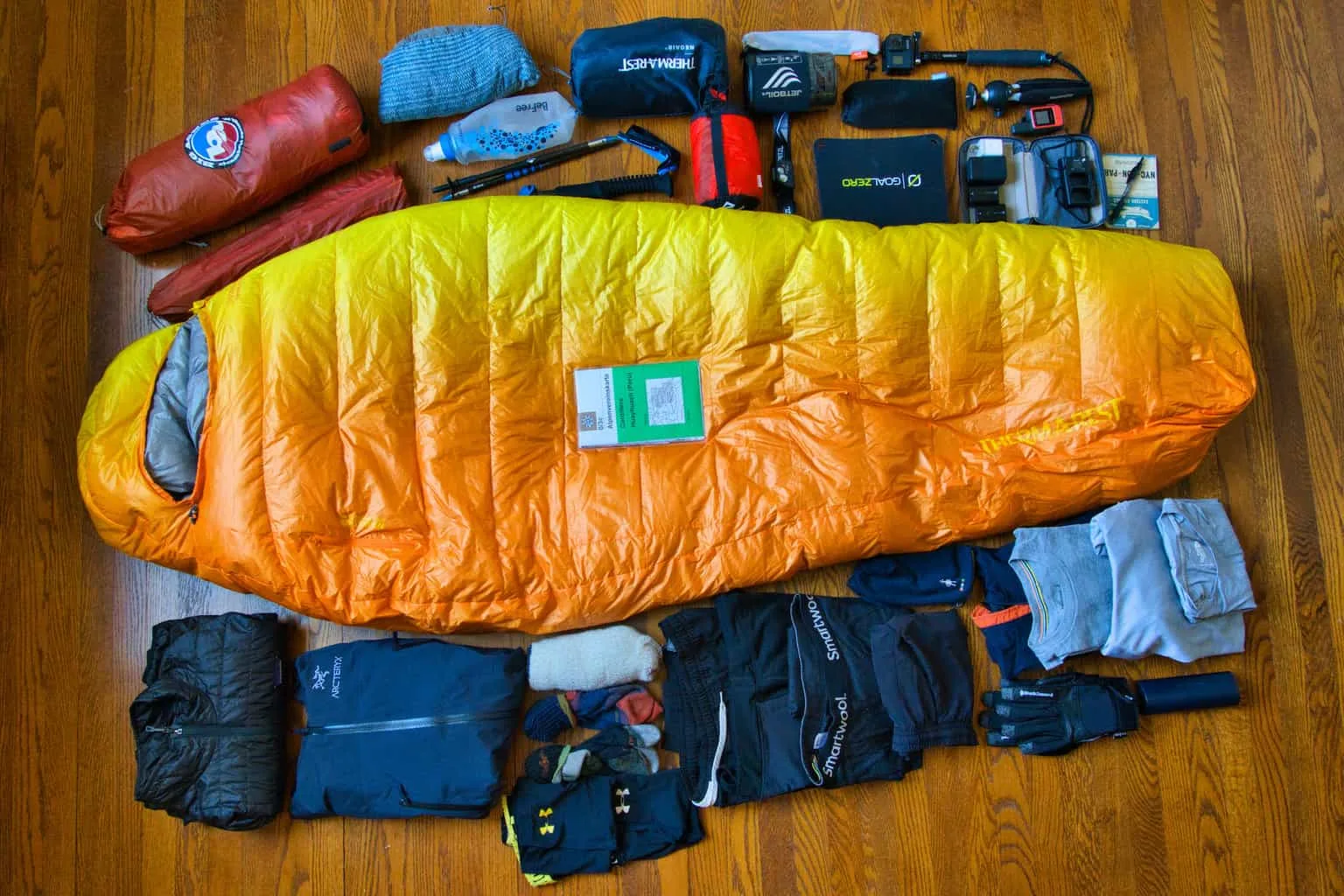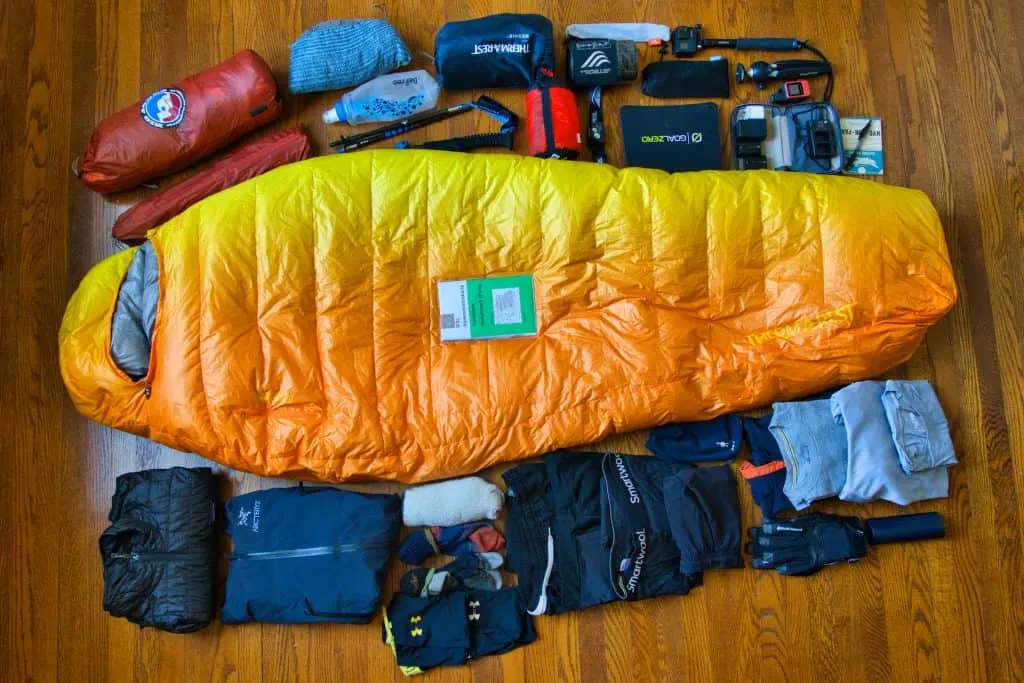 Navigation
As part of a guided trek, navigation isn't a worry whatsoever. You will have a guide with you that will show you the way.
As part of an independent trek, the navigation is up to you and that can make the trek more difficult.
While the trail is obvious for most of the hike, there certainly can be areas where the trail decisions can be more confusing. Just that added layer of always needing to think if you are on the right path can make the Huayhuash trek more difficult.
Cooking Food
Not only do you need to carry your own food during an independent trek, you will also need to cook your own food.
After a long day of hiking, it is nice to just arrive at camp and have everything set up for you. But independently, you will now need to boil water, cook your food, and eat in your small tent.
The idea that a guided tour will have more variety and more appetizing food (compared to just dehydrated meals), can make the Huayhuash circuit a more enjoyable experience.
Setting Up Camp
The same goes for sleeping arrangements. Once you get to camp, all you want to do is relax. But independently, you will first need to set up your tent, sleeping mat, and get yourself situated.
With a guided tour, once you arrive at camp it is all taken care of for you. Just that small mental aspect can make a big difference.
In the morning you will find a similar situation. Instead of just waking up, having a nice ready-made breakfast, and setting out for the day, an independent hiker must take down their tent & pack it all up.
So, as you can see here, how hard a Huayhuash trek will be very much leans on whether it is done independently or with a guided tour. Just be sure to fully understand those points before making a decision.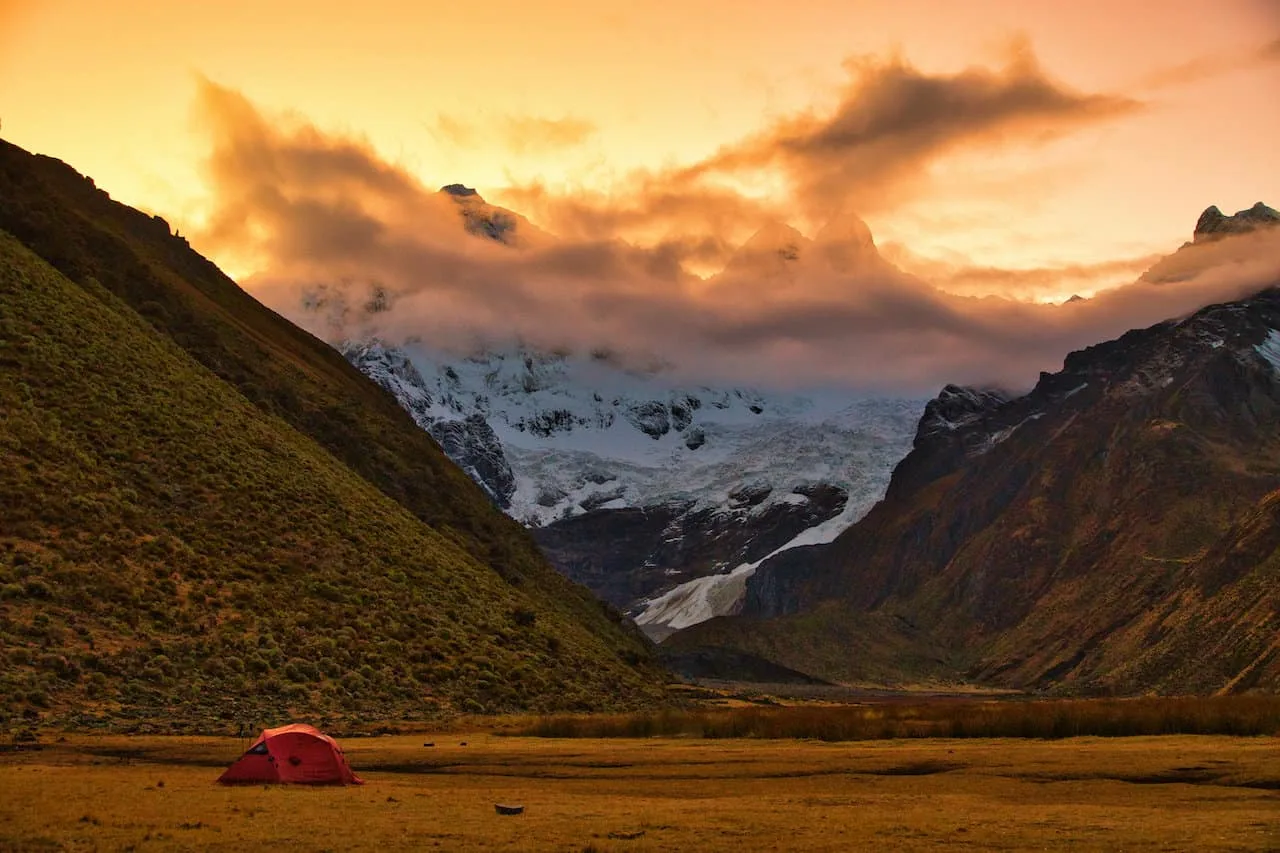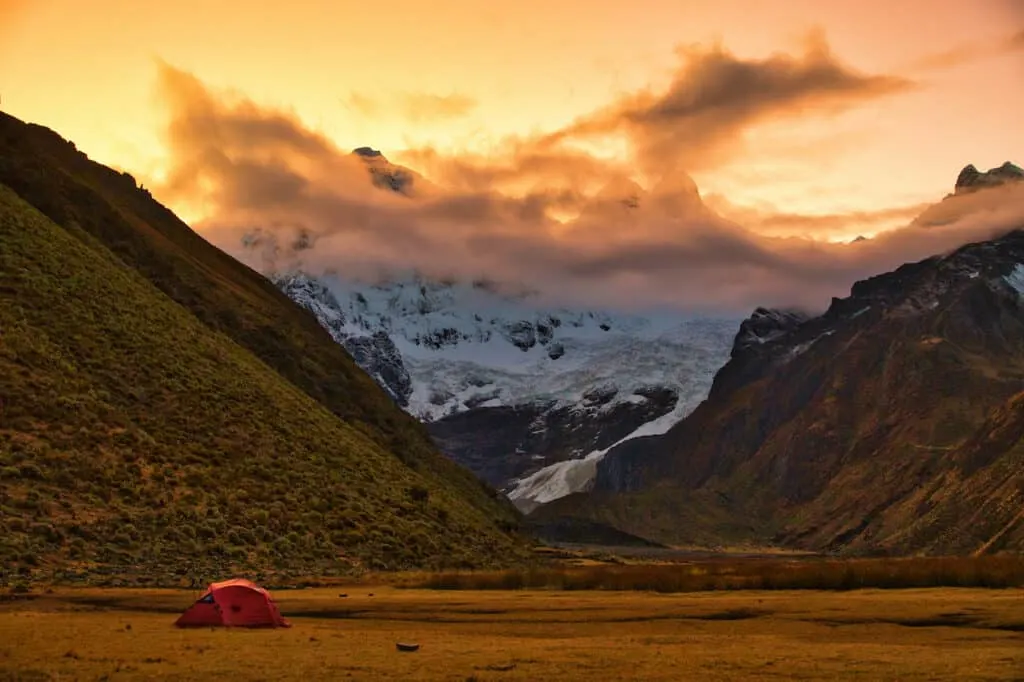 Now, the remainder of these topics will be relevant for everyone taking part of the trek – whether that is independently or guided.
3) Fitness
Depending on your exact route, a Huayhuash trek usually lasts between 8-12 days. That means 8-12 days of consistent hiking.
From a fitness standpoint, that is a tough ask. You will need to understand your body and what it can handle over a week plus time period. When it comes to trail stats, here is what you expect on a "standard" 10 day route:
How long is the Huayhuash trek: a standard 10 day Huayhuash trek comes in at 67 miles / 109 km. That means you will need to hike on average of 6.7 miles / 10.9 km per day.
When it comes to duration out on the trail, you can expect around 4-8 hours of hiking depending on the particular day. Some days are harder or easier than others.
How much elevation gain is the Huayhuash trek: it is not only the distance to cover, but it is also the elevation gain. Each day (for the most part), you will be hiking from a campsite up and over a mountain pass, and down to the next campsite.
Throughout the 10 day hike, you can expect around 17,545 feet / 5,350 meters of elevation. This comes out to 1,754 feet / 535 meters of elevation per day.
As you think about those fitness levels, be sure to consider both the distance and the elevation gain.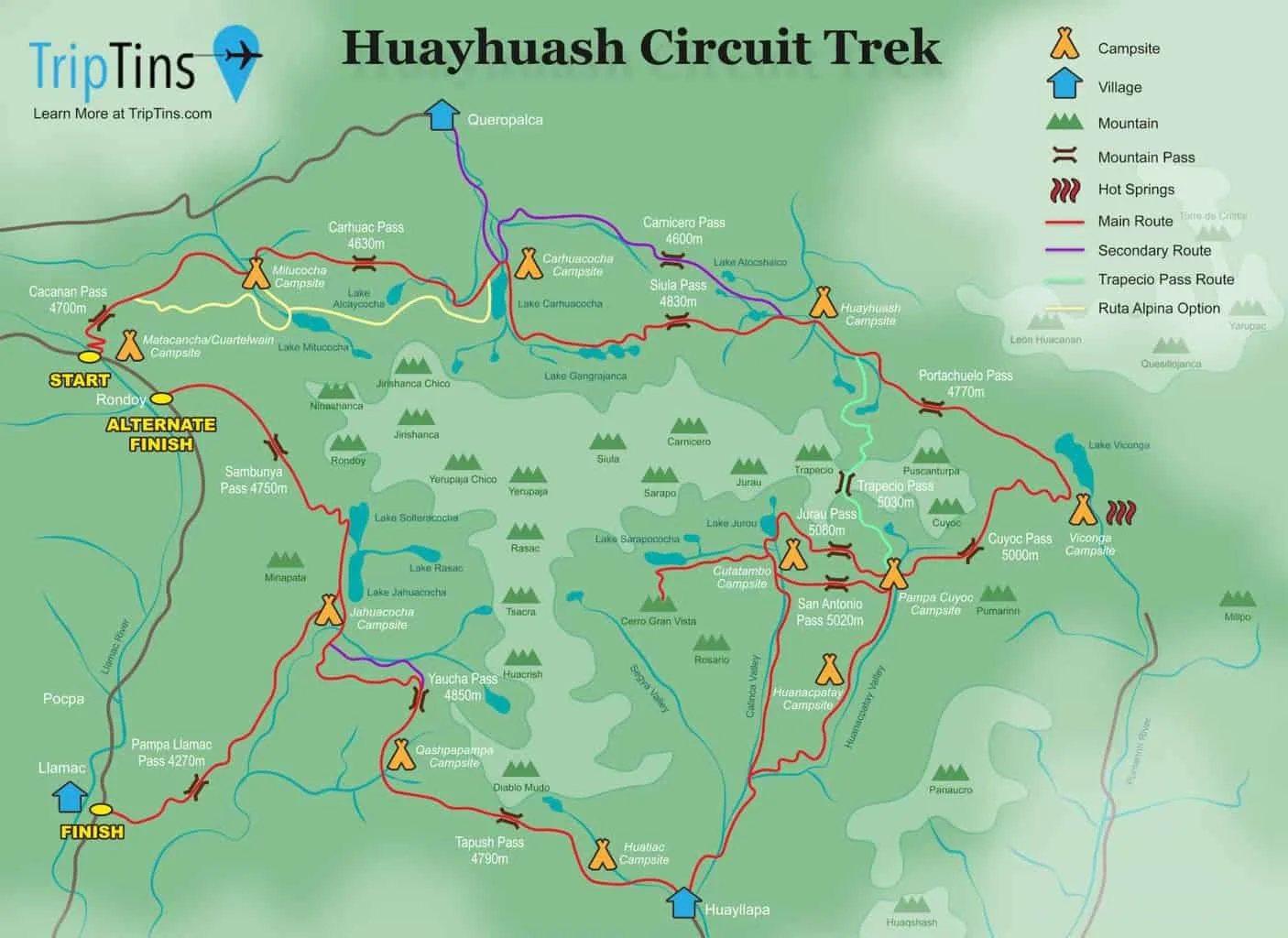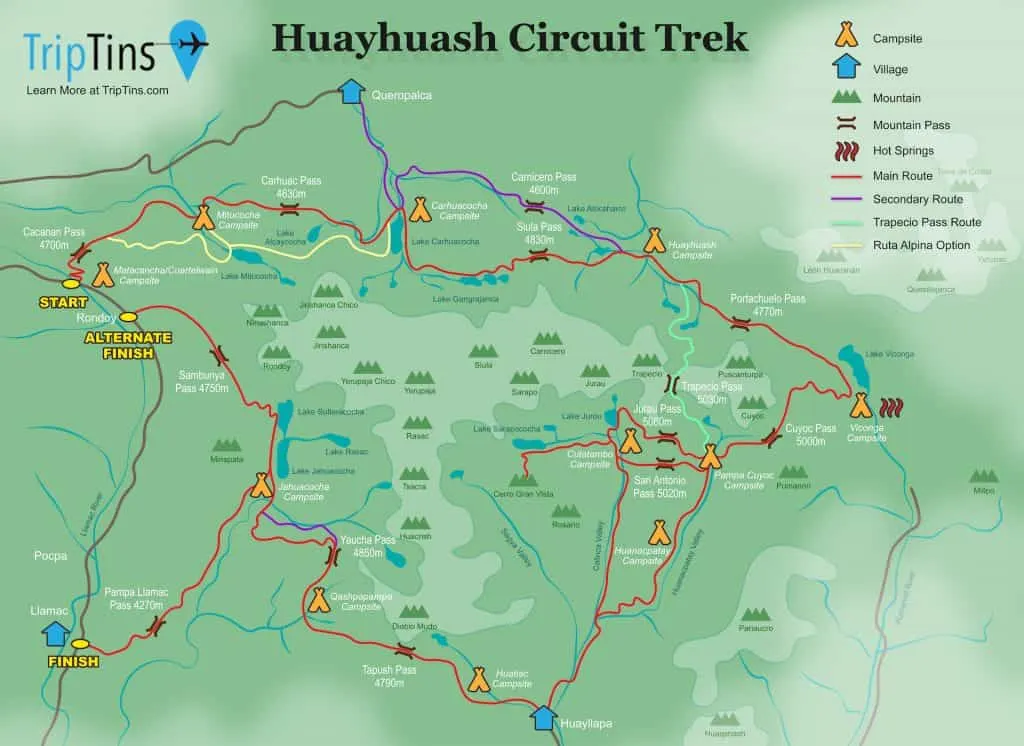 4) Elevation
Speaking of elevation, let's talk some more about that. When it comes to the difficulty of a Huayhuash trek, the elevation will be one thing that takes this trek to another level (literally).
For the most part the Huayhuash trek is above 13,000 feet / 4,000 meters all the way through. That means each day you will be starting around 13,000 feet, hiking up to 15,000+ feet / 4,500+ meters and then heading back down to sleep at 13,000.
Hiking at these high elevations is a complete game-changer. Maybe you thought 7 miles per day is no issue. But imagine that at those elevation levels, where the oxygen is lower. Each breath you take will be more difficult and you will find yourself needing much more time to break & rest.
Tip: be sure to acclimatize in Huaraz prior to the trek with day hikes (Laguna 69 and Laguna Churup). Also, keep yourself hydrated and get some good sleep on a daily/nightly basis.
What is the highest point of the Huayhuash trek: on a standard route, the highest point of the trek is on top of the San Antonio Pass at 16,470 feet / 5,020 meters in elevation.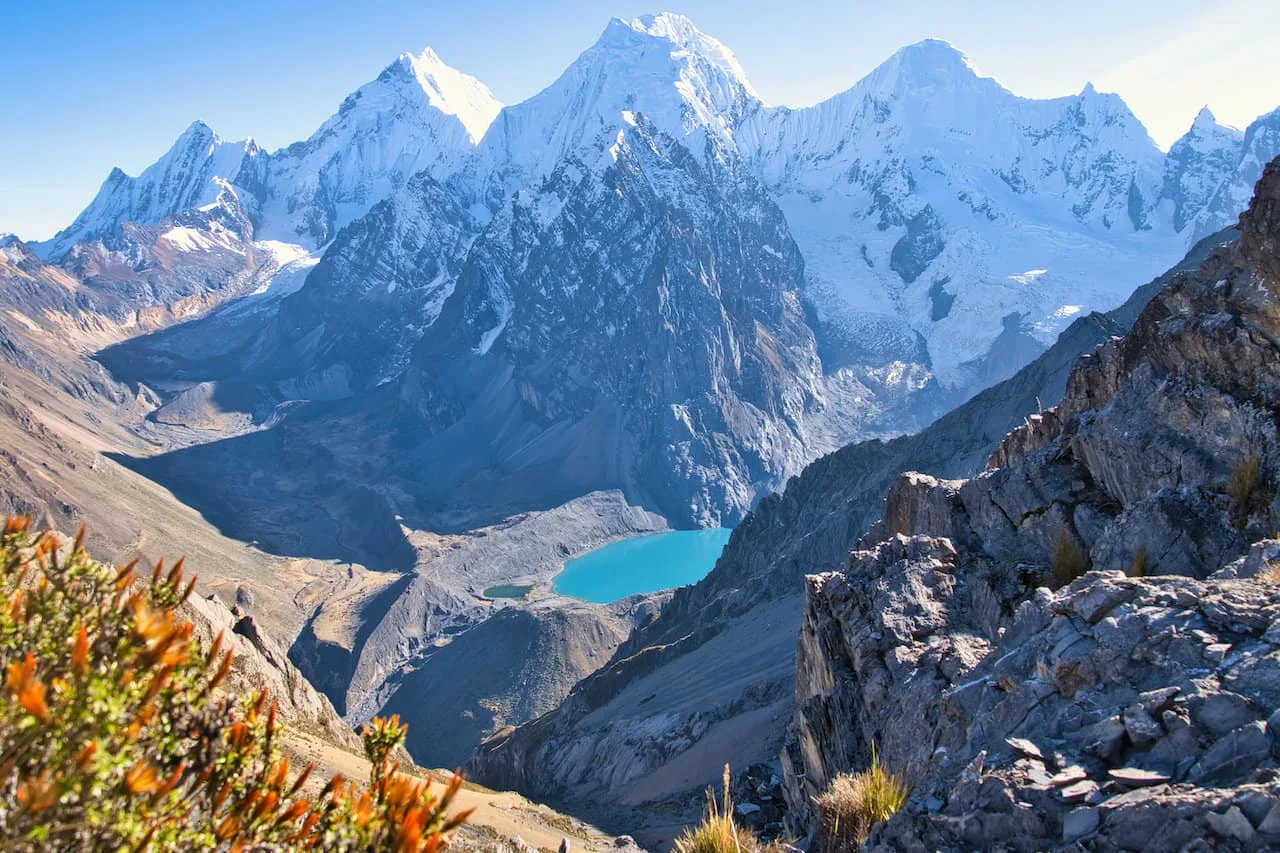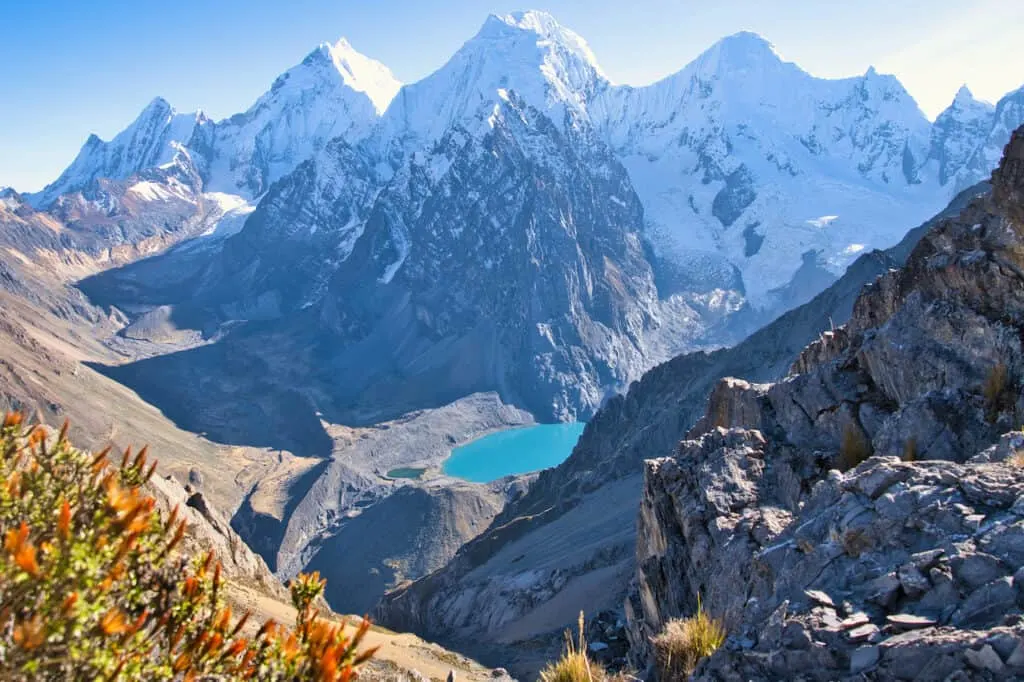 5) Terrain
I would not consider the Huayhuash Circuit a technical route. But that doesn't mean it is just a smooth pathway all the way through.
You should expect lots of rocky terrain, uneven paths, some river crossings, and plenty more to navigate around. This is certainly a trail where you will want to watch your step and be very cautious as you hike.
The last thing that you want to experience on a hike like this is a leg injury like a rolled ankle.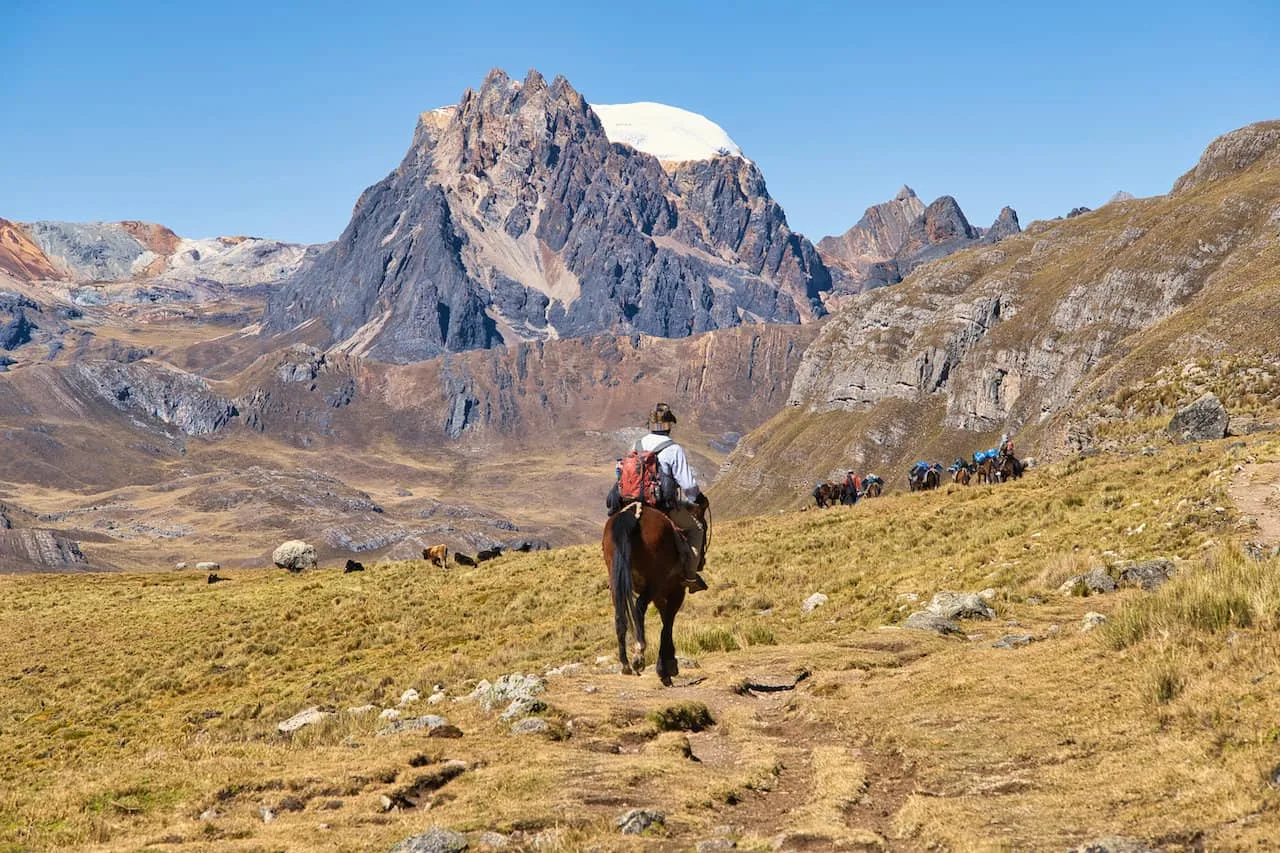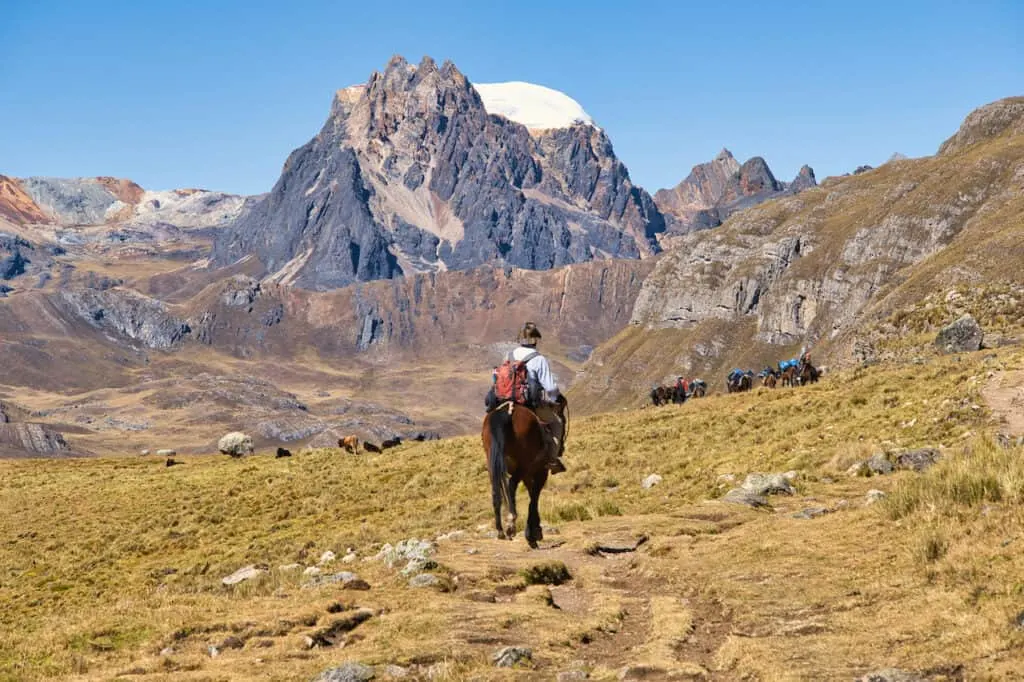 6) Lifestyle
It is not just about the hiking though when it comes to the Huayhuash trek difficulty. You also need to think about the non hiking details of the trip too.
As mentioned, this is not one of those hikes where you will be able to stay in a warm lodge at night or have any sort of glamping experience. Instead you will be dealing with very basic necessities.
Each night you will be sleeping in a tent along with a sleeping pad and sleeping bag. If you haven't gone camping before in a tent, you may want to test that out before committing to a trek like this.
In addition, there are very basic bathrooms available at the campsites. Mostly this will involve a simple hole in the ground inside of an outhouse. Recently, a few of the campsites have added flushable toilets as well.
When it comes to flowing water, a few camps have some faucets to fill up your water bottle or wash your face with. But that really is it when it comes to the campsites. It is a pretty basic lifestyle out in the alpine for the trek.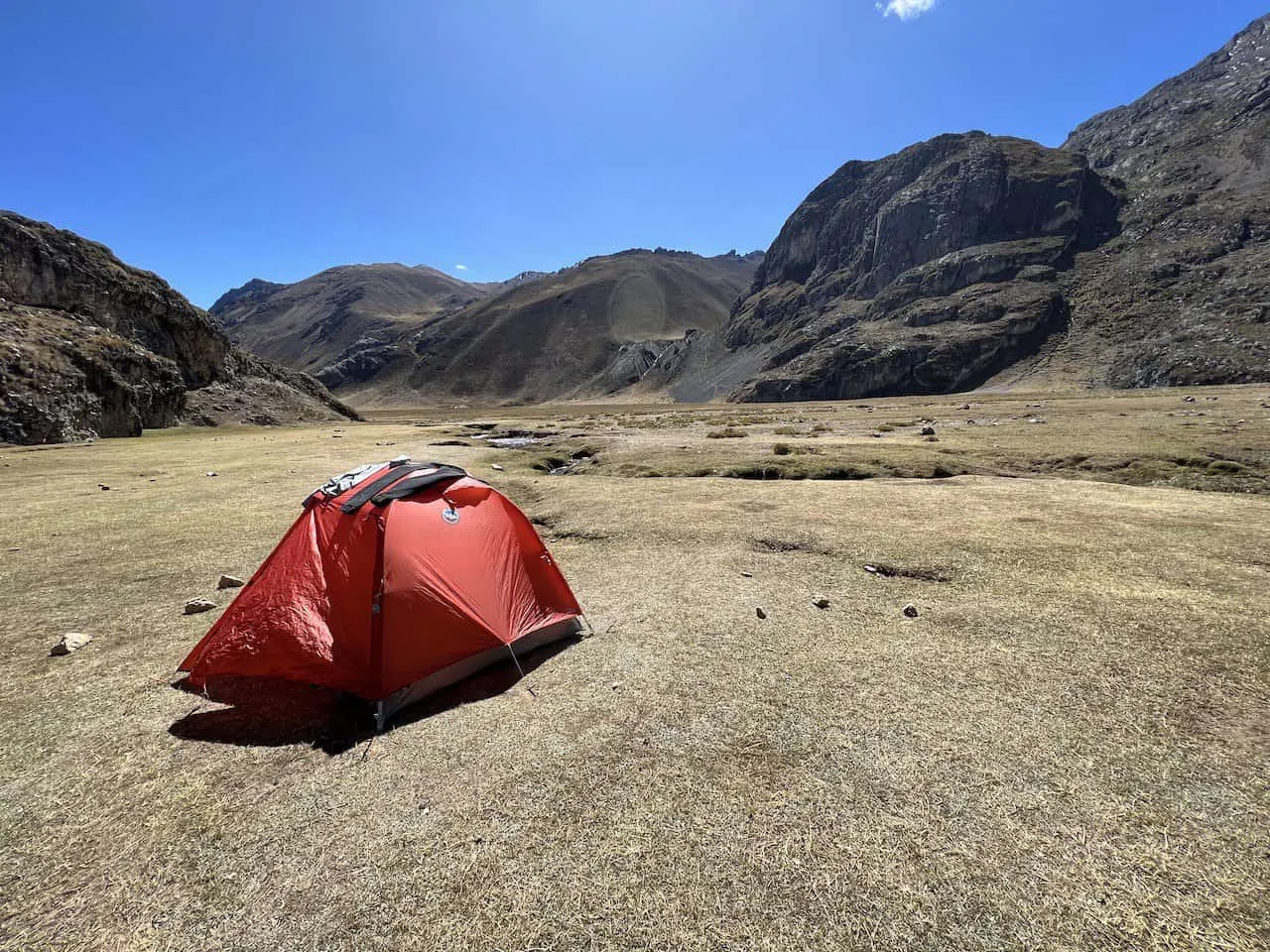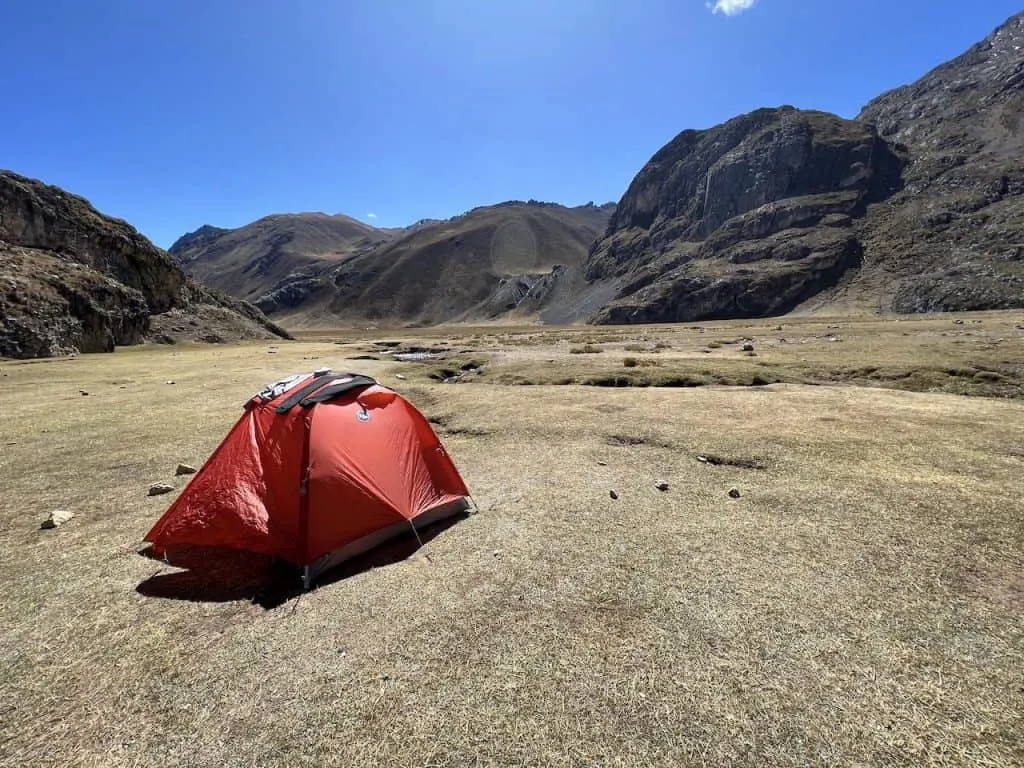 7) Weather
When thinking about living in a tent for 8-12 days, you also need to consider that the Huayhuash weather can be very unpredictable. Even in those summer "dry season" months, the weather can bring the rain and even snow.
Don't be surprised if you need to hike a couple days in rainy, windy, & overcast conditions. While other days may be filled with perfect sunshine throughout.
At night, the temperatures can drop to below freezing. Once that sun goes down, you will really need to bundle up and stay warm in your tent. Getting up to go to the bathroom in the middle of the night isn't usually something you would look forward to.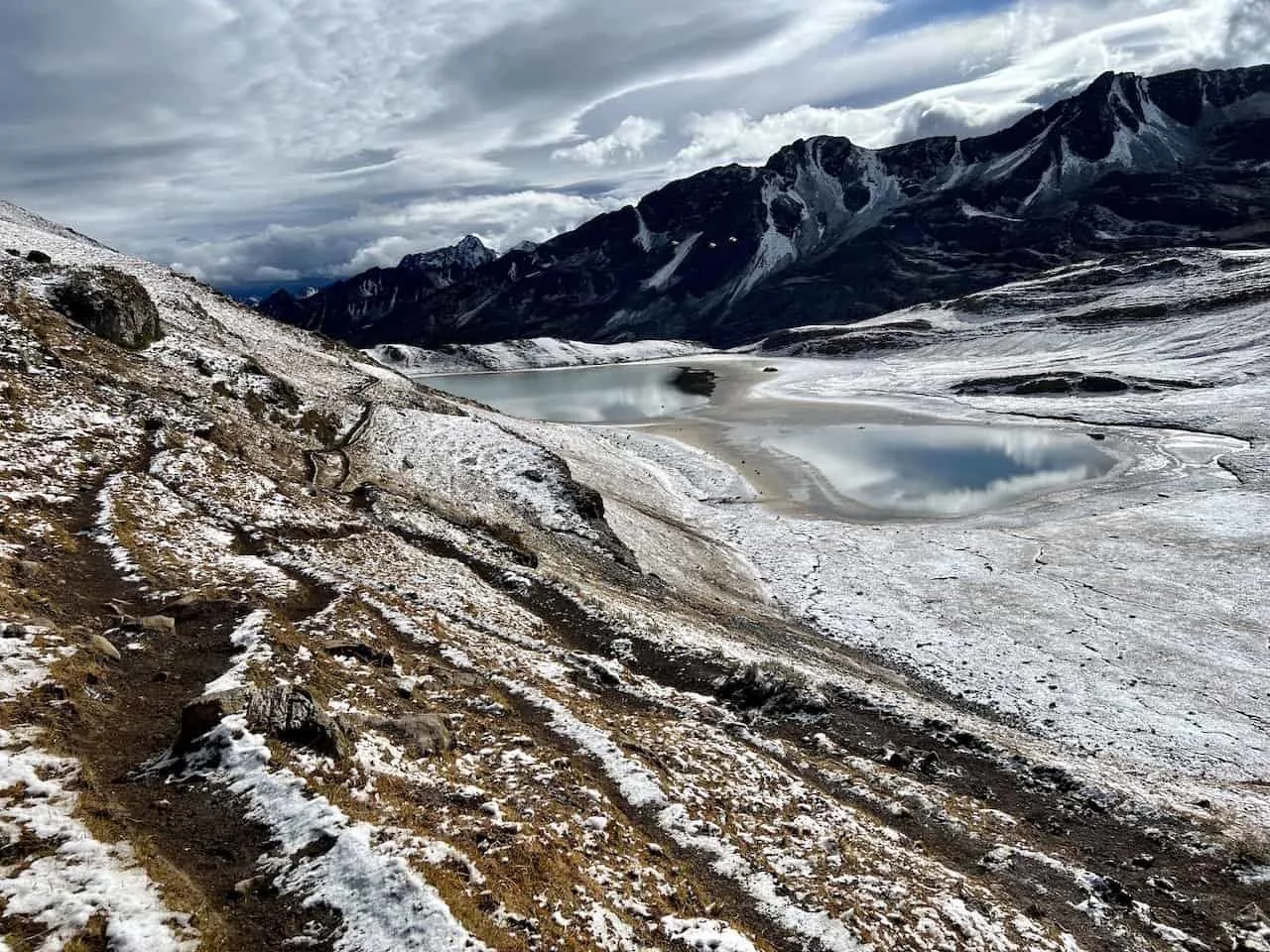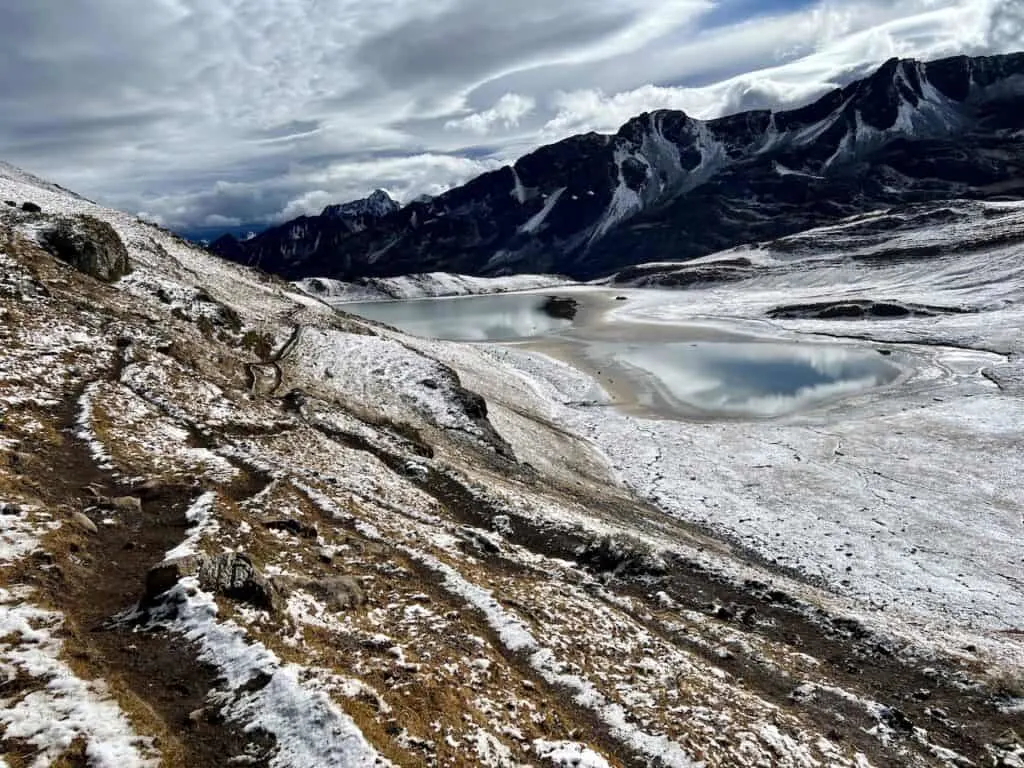 8) Off the Grid
The last main aspect I will cover is the fact that you will be completely off the grid during the trek. Besides one night in Huayllapa village, there isn't any electricity or cell service to connect with the outside world.
You will simply be on your own all the way through as you really get to connect with nature and the other people you may be traveling with.
If you are hiking alone, I would highly recommend purchasing a Garmin inReach. This small device does offer GPS capabilities so your loved ones can follow you and get in contact through satellite messages.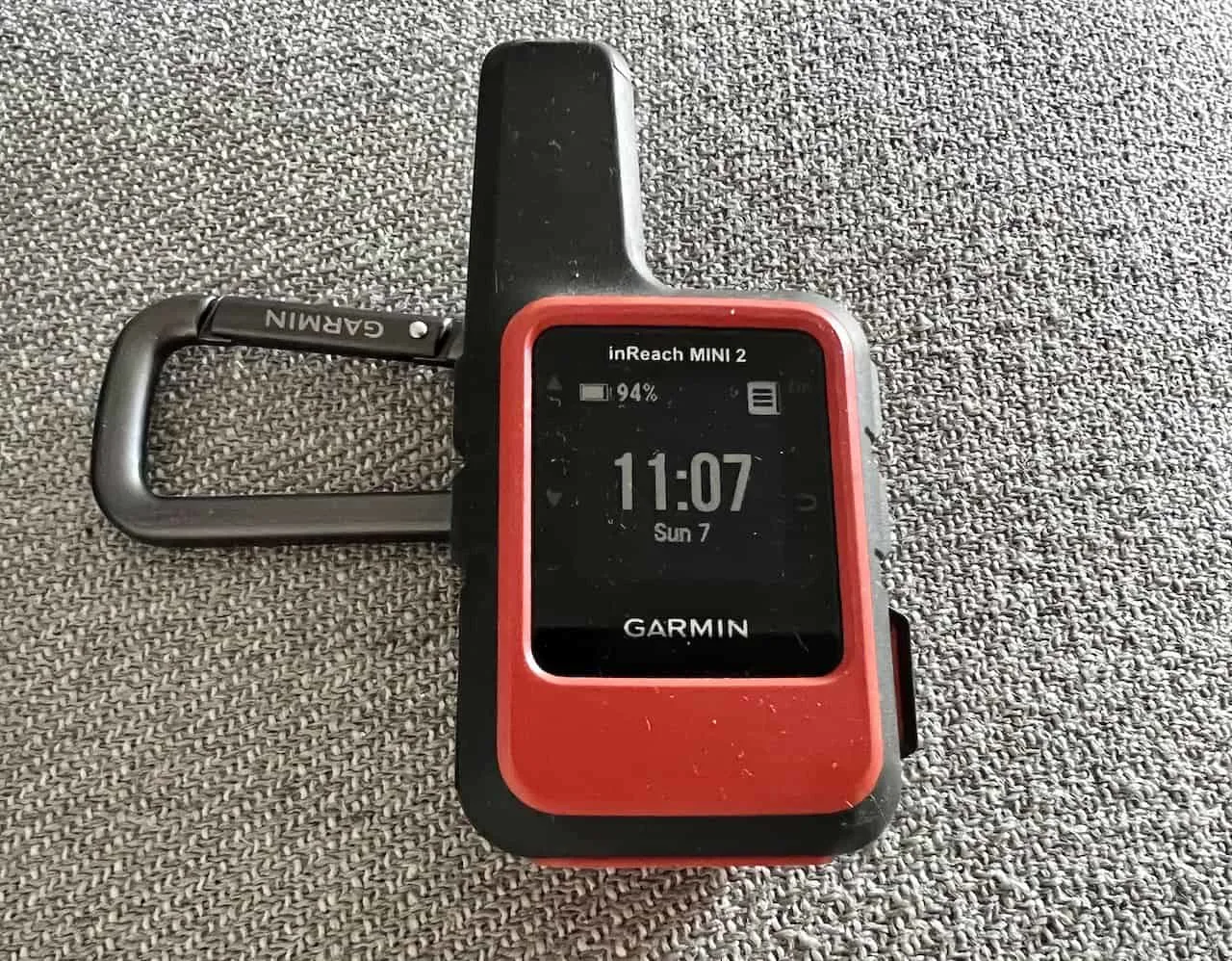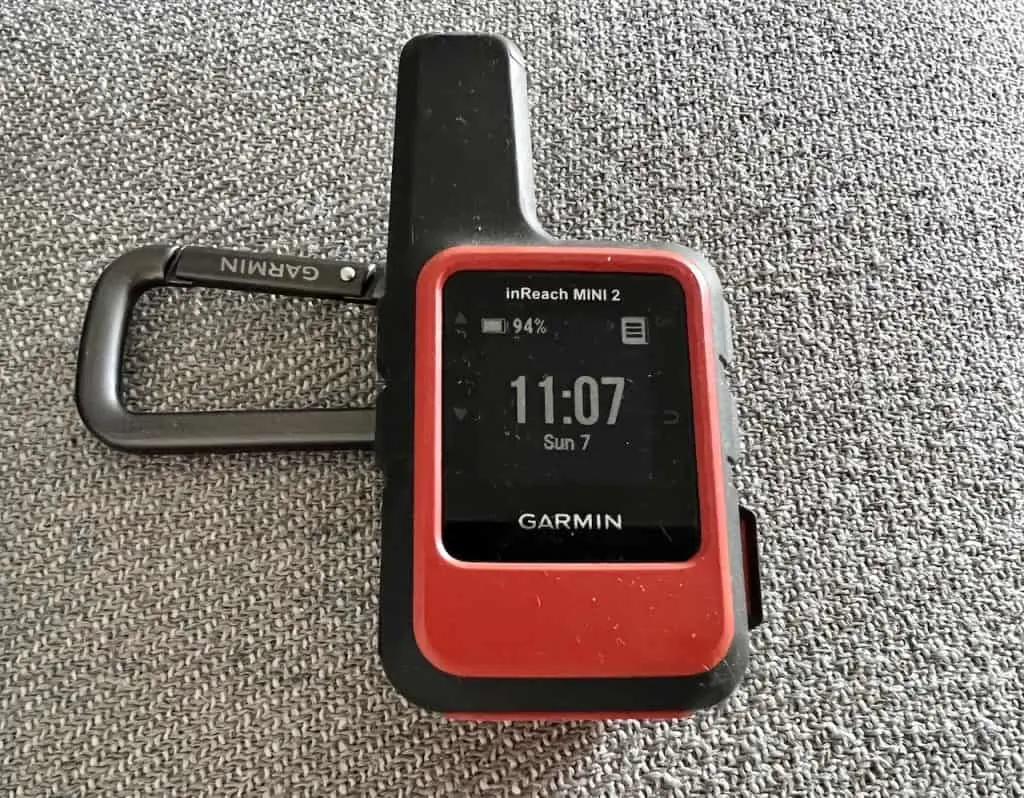 9) Ruta Alpina
I wont dive too much into the Ruta Alpine (you can read through the Huayhuash trek overview for more detail there). But essentially, the Ruta Alpina (alpine route) is a very technical route that traverses the interior of the Huayhuash mountain range.
So, while the normal Huayhuash trek goes around the Cordillera Huayhash, the ruta alpine goes through it.
Now, I don't have the expertise to hike (or even talk about) the full ruta alpine. However, there is the potential that you can take part of two sections on days 1 & 2 of the circuit.
By taking part of these two sections, you will get to experience some views that few others get to experience. These two sections are more technical and difficult altogether. Route finding is essentially nonexistent and you will really need to understand your navigation and where you are going.
I would only recommend taking part of these sections if you are with a guide or if you are confident enough in your hiking & navigational abilities.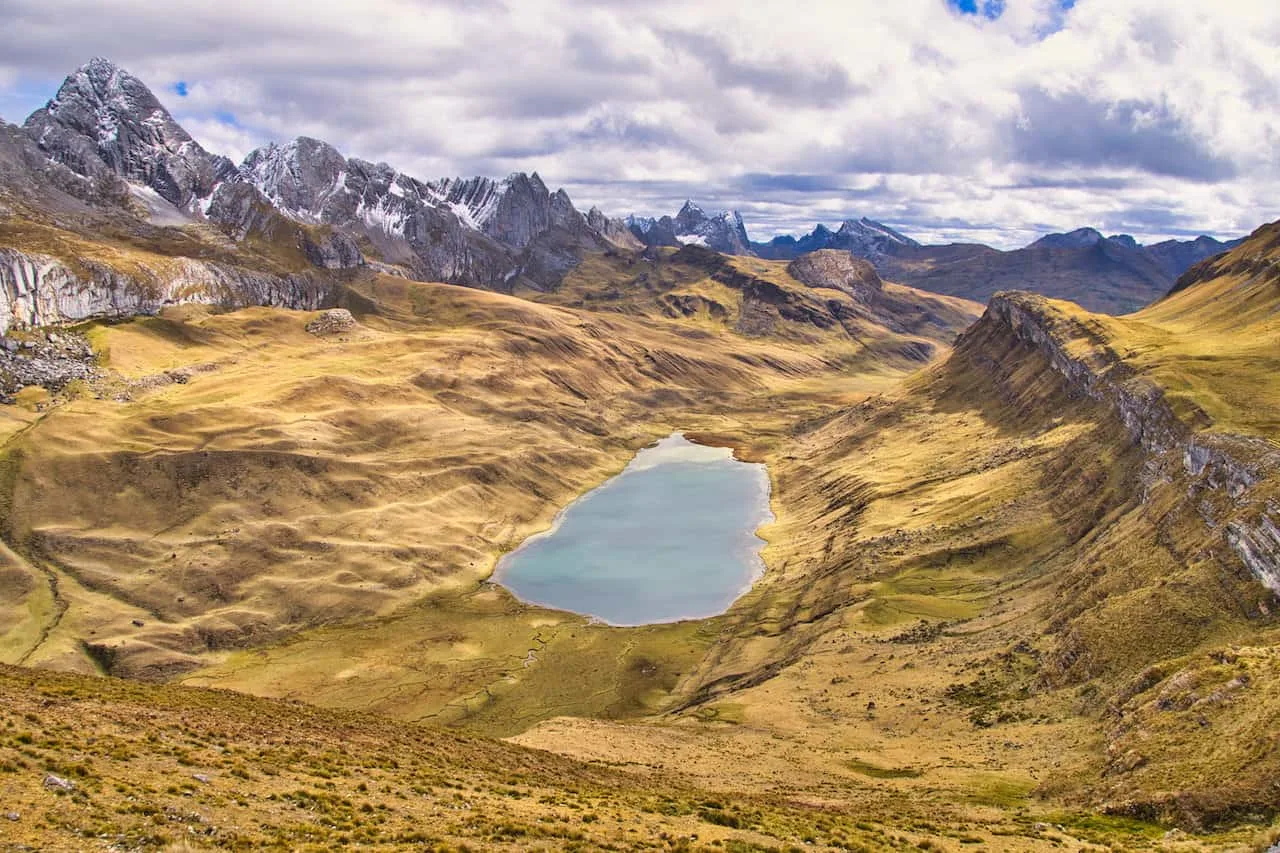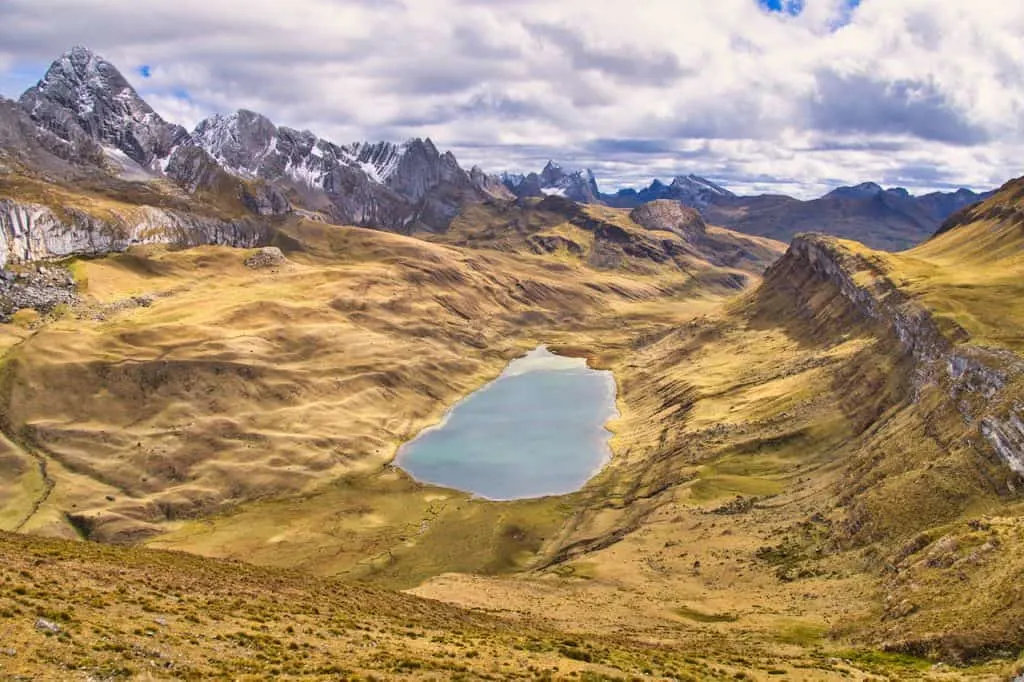 10) How Hard is the Huayhuash Trek?
I hope by reading this all through you can better understand how hard the Huayhuash trek is and whether or not something like this is for you.
The Huayhuash trek is certainly not easy and I would only recommend it to those that have had trekking and camping experience at altitude in the past.
In addition, the choice between an independent and guided trek are two totally different difficulty levels. Be sure to really understand what it takes to complete this trek on your own if you opt for that independent option.
At the end of the day, the Huayhuash trek is difficult, no matter how you spin it. This will be 8-12 days out in the mountains, with long hiking days in and out. Not to mention it will all be done at a very high elevation too.
To top it off, you will need to sleep in tents each night, prepare for all weather conditions, and be mentally strong along the way.
If you have it in you, then you wont regret it. But if you are still asking yourself whether the Huayhuash is too difficult, you may want to take on some shorter but similar type of hikes first.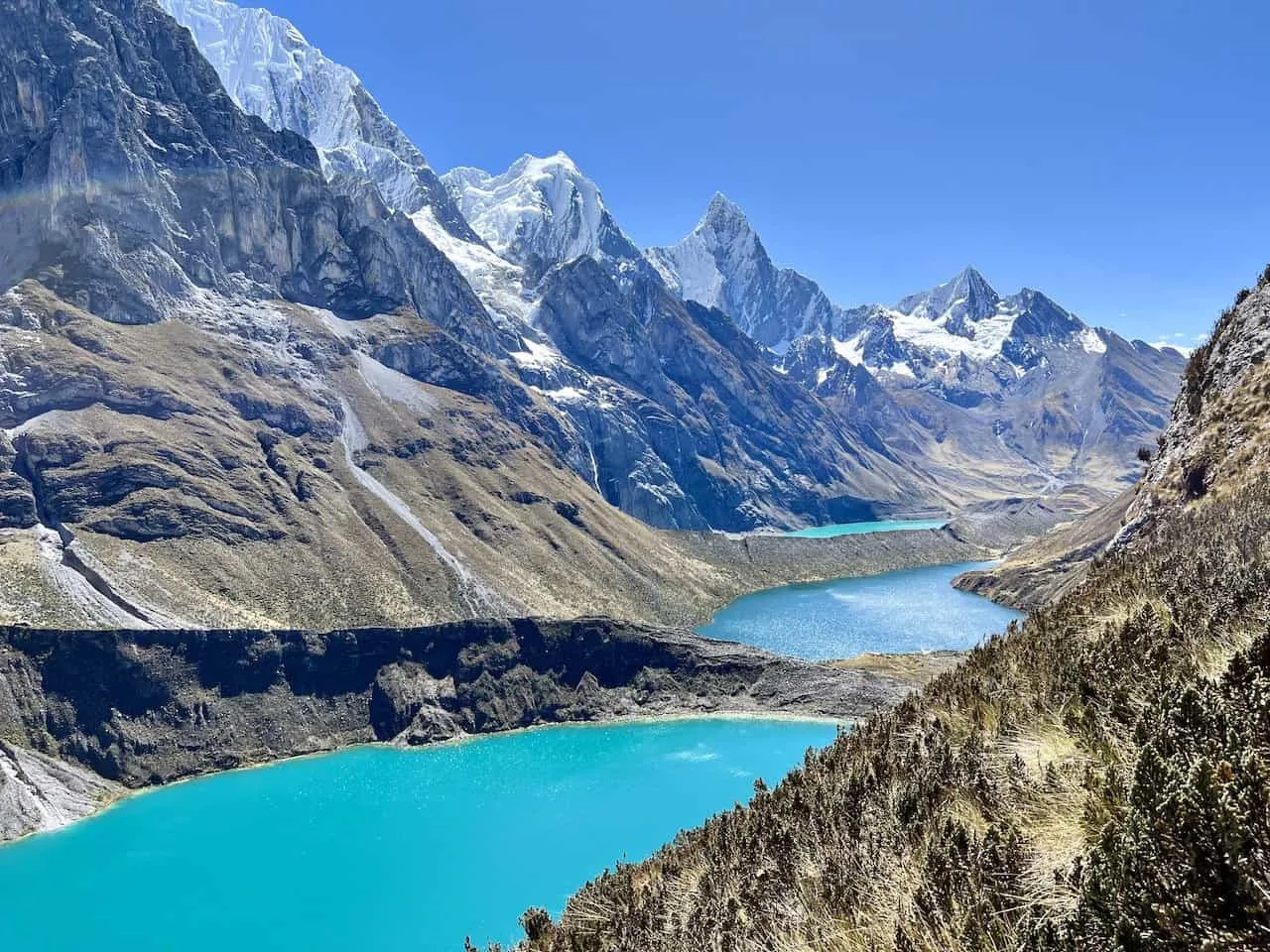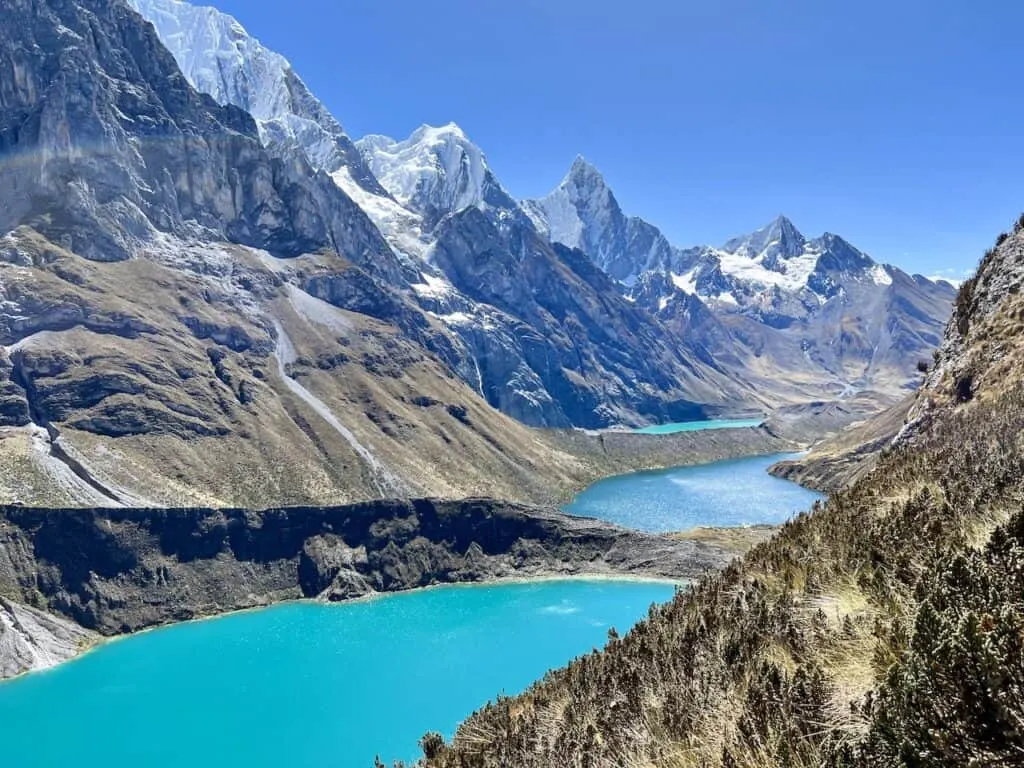 I hope you have a better idea about what the Huayhuash trek difficulty is all about. Feel free to write any questions down below, and be sure to check out the other Huayhuash itineraries and guides up on the site.
Have fun out there and safe travels!