When it comes to historical volcanic activity on Jeju Island, the Manjanggul Cave is towards the top of the list.
Manjanggul is a lava tube cave that was created hundreds of thousands of years ago due to volcanic eruption.
Today, visitors have the chance to explore a portion of the lava tube cave, and see firsthand some unique lava formations (including the highest lava column in the world!).
Read on to learn more about the Manjanggul Cave and how to go about a visit during your time on Jeju Island.
* Affiliate Disclosure: This post may contain affiliate links, which means I may receive a commission if you make a purchase through the links provided, at no additional cost to you. Thanks for supporting the work I put into TripTins!
1) Manjanggul Cave Facts & History
Before we get started, I thought it would be helpful to lay out some historical facts about Manjanggul and how it came to be.
Around 200,000 – 300,000 years ago, the Manjanggul lava tube cave was formed due to volcanic activity on the island. It is part of the larger Geomunoreum Lava Tube System.
The formation of lava tubes is quite interesting and takes part in a few steps:

First you have river of lava flowing above ground from the eruption. Then the crust/outer edges of the lava flow begin to cool down, leaving just the interior lava flow.
From there, the interior lava flow begins a process of thermal erosion, and goes underground. This in turn creates underground lava flow, which then stops once the eruption has run its course.
The underground lava drains from the lava tube, leaving behind an empty lava tube cave.

Manjanggul Cave is the 14th largest lava tube in the world and the 2nd largest in Jeju. It measures up to 18 meters / 60 feet in width and 23 meters / 100 meters in height. It comes in at around 7.4 km / 4.6 miles in length (but just a portion of the tube is open to the public).
While there are three entrances to the Manjanggul Cave, only entrance #2 is open to the public. Here you will find a large safe passageway that heads about 0.6 miles / 1 km into the cave.
During a visit to the cave you will find all sorts of lava formations such as stalactites, stalagmites, flowlines, lava benches, and lava rafts to take in along the way.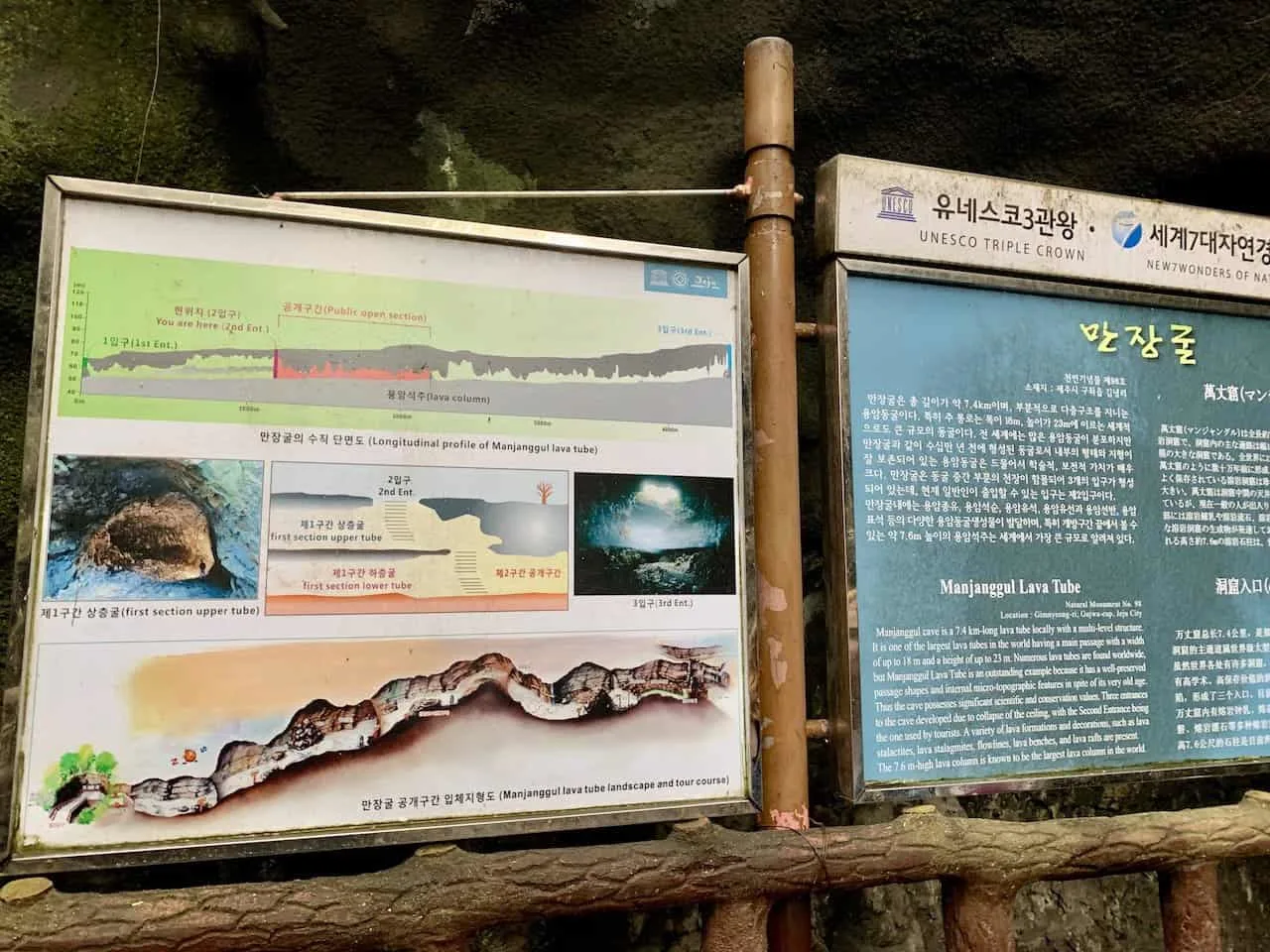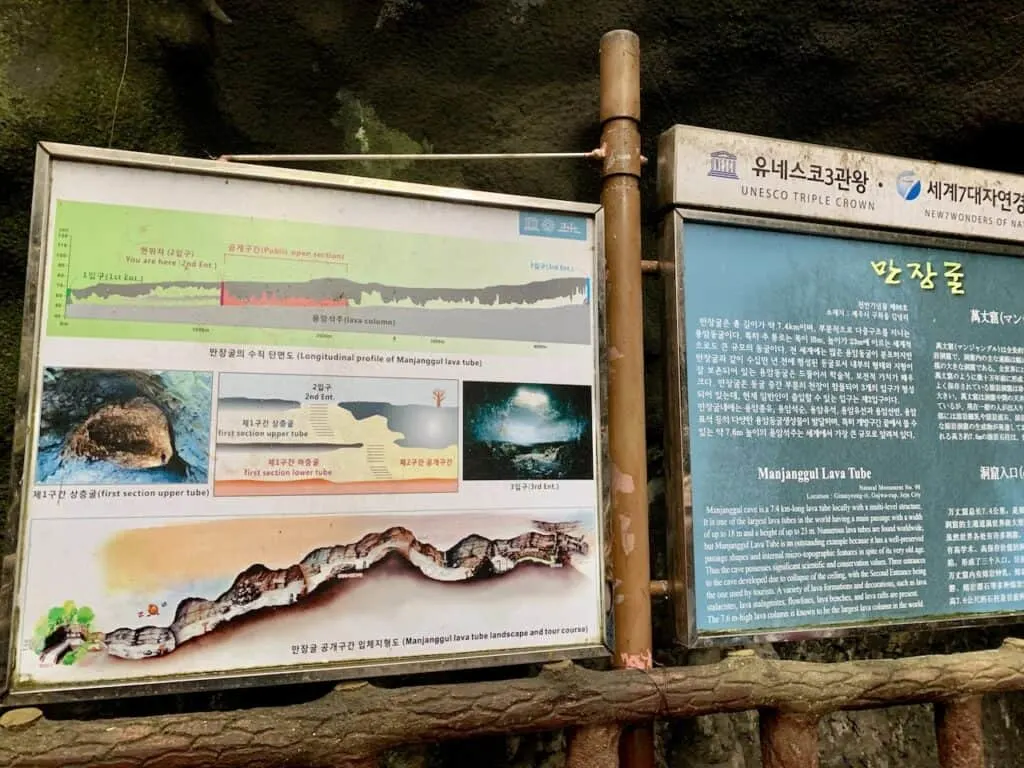 2) How to Get to Manjanggul Cave
In general, there are three main ways to go about a visit to Manjanggul Cave (and other places around Jeju Island) – rental car, bus, or tour.
Rental Car
When exploring Jeju, I would recommend renting a car in order to explore at your own pace. You will be able to be on your own schedule and not need to worry about public transport.
This will not only help when visiting Manjanggul Cave, but also when visiting any other top spots you have on your Jeju Island to do list (like Seongsan Ilchubong and Hamdeok Beach).
Feel free to check out Rentalcars.com for potential options. You will be able to see a variety of cars by price, size, and type, so you can choose the one best for you.
Bus
There is an extensive public transport network on Jeju Island, so you should be able to leverage that during your time there.
Below are the steps to reach the cave by bus from Jeju City:
From Jeju City, take Bus No. 101 to Haenyeo Museum Bus Stop.
From Haenyeo Museum Bus Stop, transfer to Bus No. 711-1 and get off at Manjanggul Cave Bus Stop.
Tour
Instead of worrying about renting a car or figuring out public transport, you can also make your way to the cave and other highlights by joining a group or private tour.
Also note that you could just hire a taxi to take you back & forth if you don't want to go for a tour option.
Tour Booking Option: Check out this customizable Private Jeju Tour that can take you all around the island during your trip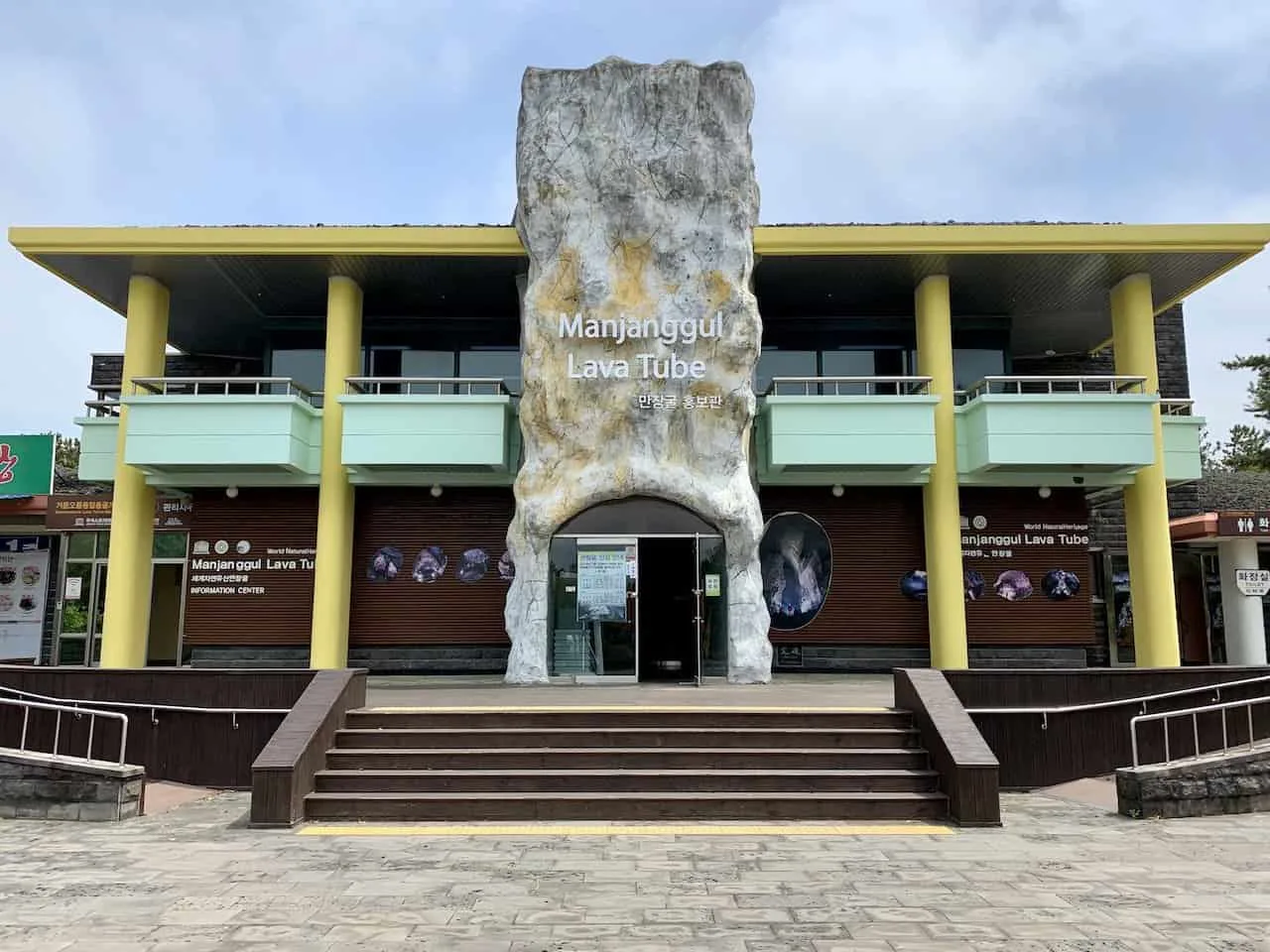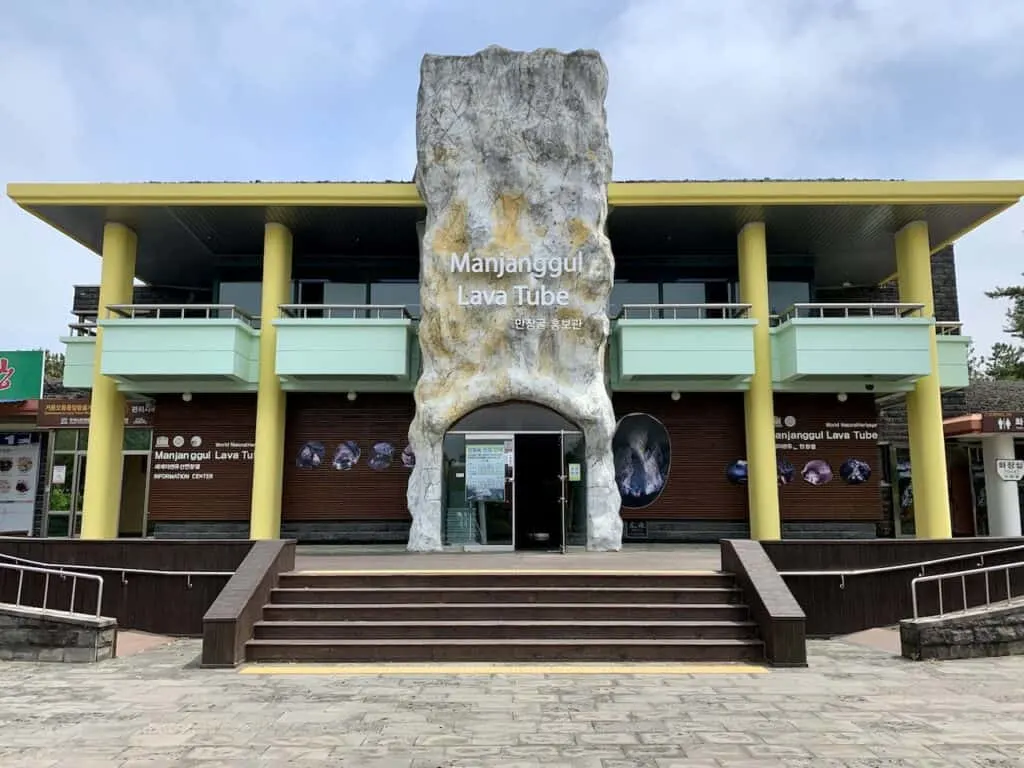 Learn More About Jeju: Check out this guide that goes over the best things to do in Jeju Island
3) Manjanggul Cave Location
Below you can see the Manjanggul Cave location and where it is situated on Jeju Island.
Expect the drive from Jeju City to be about 30 minutes, while the drive from Seogwipo to be about 50 minutes.
Note: Google Maps does not work in South Korea when searching for directions. Be sure to download a navigation app like Naver to help get you around the island.
4) Manjanggul Cave Entrance Fee
While there is an entrance fee for Manjanggul Cave, it is a pretty affordable place to visit.
Below are the fees for individuals and groups:
Adults (25+): 4,000 won
Teenagers / Children (under 25): 2,000 won
Adults Group: 3,000 won
Children Group: 1,500 won
Groups are defined as 10 or more people
5) Manjanggul Cave Opening Hours
Manjanggul Cave is a year round destination, and is open for a good portion of the day. Below are the opening hours for the cave:
9:00AM – 6:00PM (last admission at 5:10PM)
During the wintertime, the cave closes at 5:00PM
It is also important to note that the cave is closed on the first Wednesday of each month.
Be aware that the cave can close when it rains too much. There may be a sign near the road entrance stating "It is temporarily closed to the internal safety diagnosis of Manjanggul Cave".
Before heading out for the day, it may be worth just asking your hotel to confirm it is open.
6) How Much Time to Spend at Manjanggul Cave
In total, you should expect to spend between 45 – 60 minutes at Manjanggul Cave.
The round trip walk within the cave will be 1.2 miles / 2 km. So, overall, it is not that much walking.
However, you are sure to stop and enjoy the various highlights along the way & read some of the helpful information boards.
7) What to Bring
No matter when you visit the cave, you should expect some cooler conditions underground.
The temperature in the cave is around 10 – 15 C (50 – 60 F).
Due to this, I would recommend bringing along a comfortable pair of pants in addition to a sweatshirt or light jacket.
Don't be surprised if you feel some moisture dropping down from the cave too. Bringing along a light rain jacket and hat can keep you warm and dry.
In addition, you will be walking along the a potentially slick cave pathway so footwear is important.
I would not recommend heading down there in flip flops. Rather, you should have comfortable walking shoes during a visit.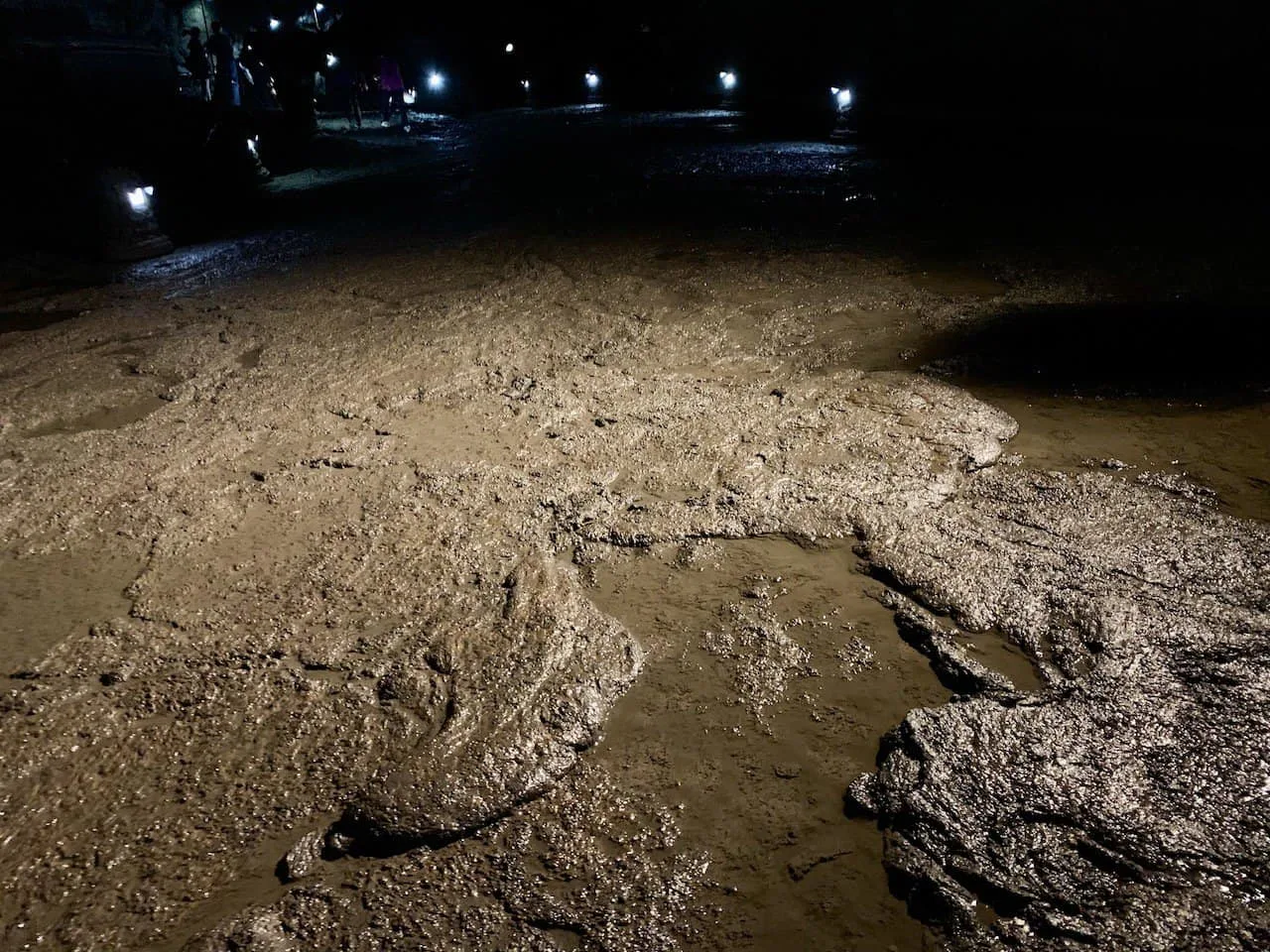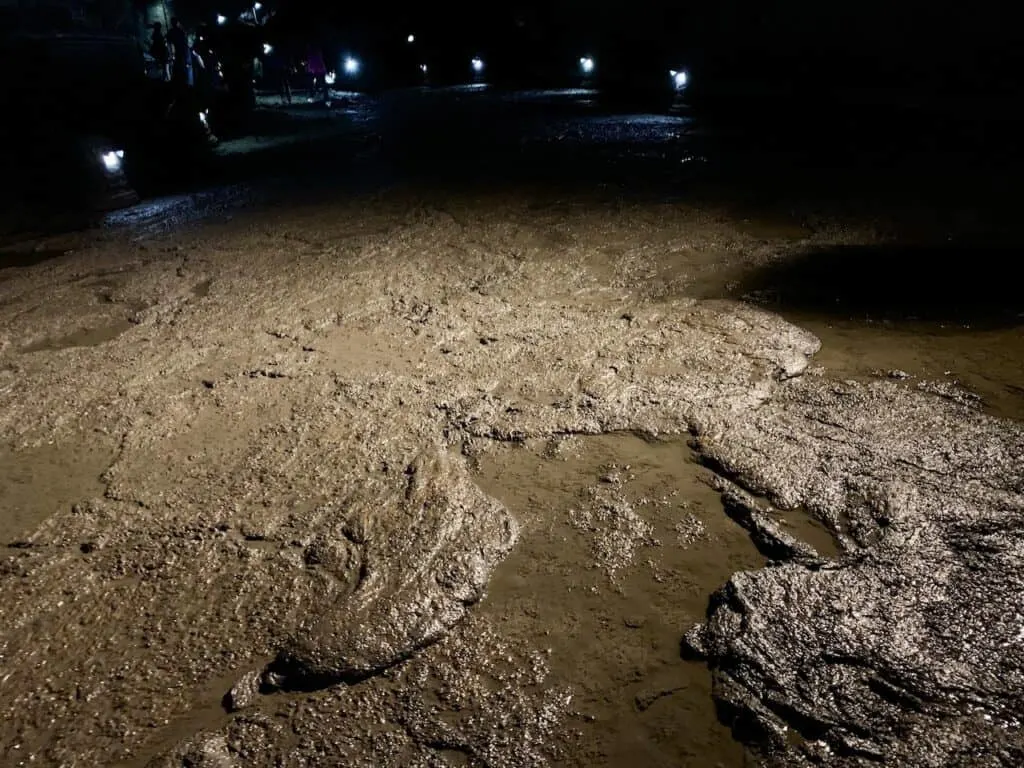 8) A Visit to Manjanggul Cave Lave Tube
After getting yourself to the entrance and paying for your ticket, it is time to head underground and explore the Manjanggul lava tube for yourself.
Simply follow the signs to the left, where you will be directed to a staircase. The staircase takes you down some steps and into the cave opening.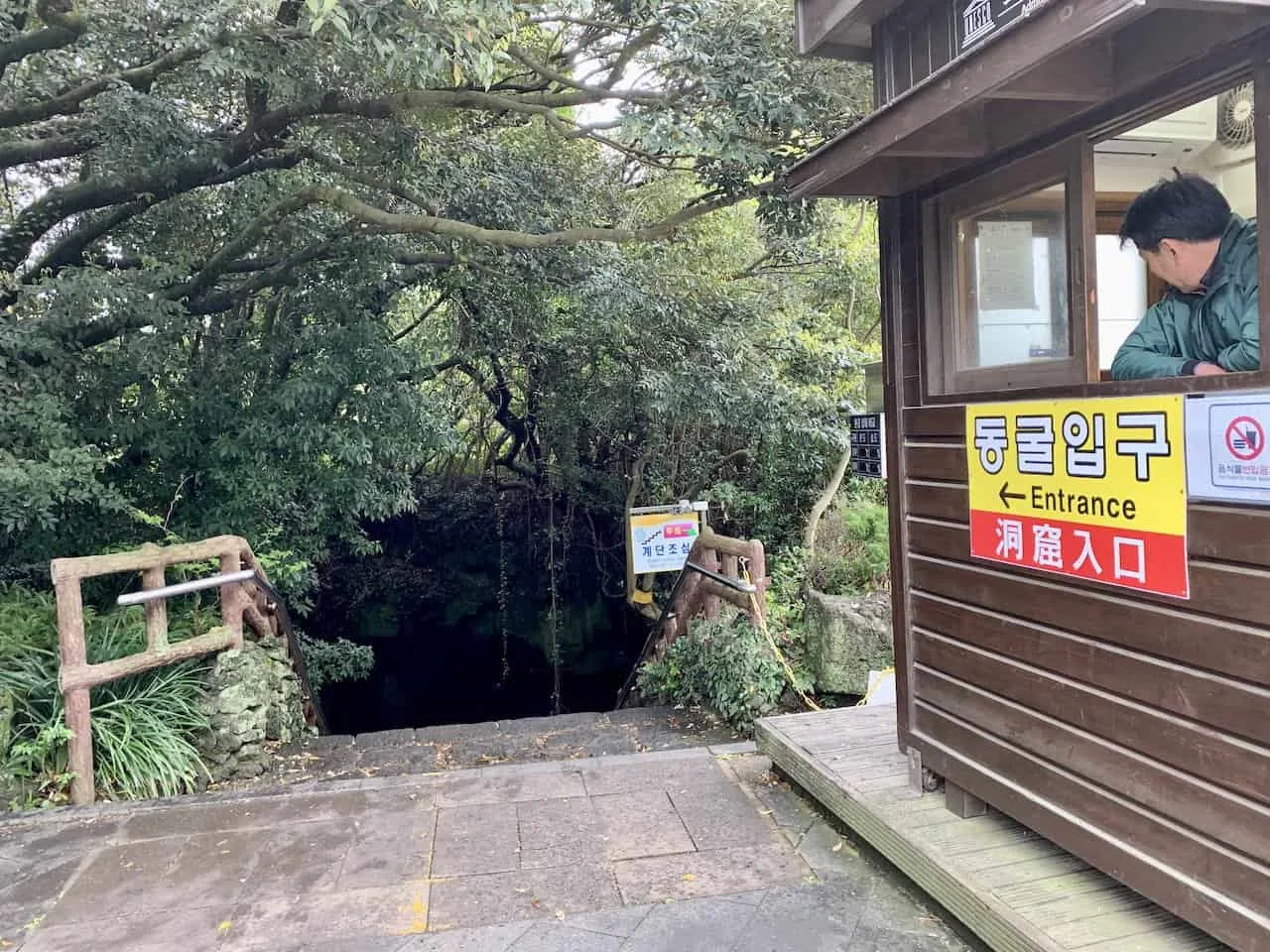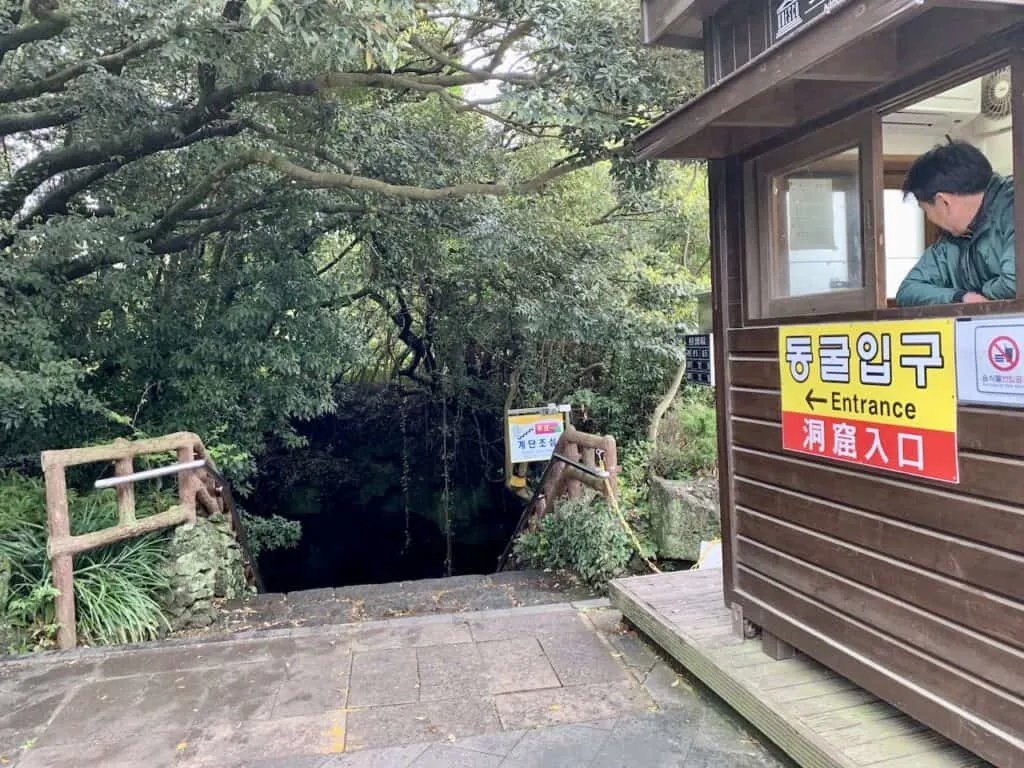 The pathways will be a mix between the cave itself and some metal walkways. However, most of it is on the lava tube's floor.
Be sure to stop along the way to read through some of the informational boards that will give you some more insight about the cave and what you are seeing. There are English translations that are sure to be helpful.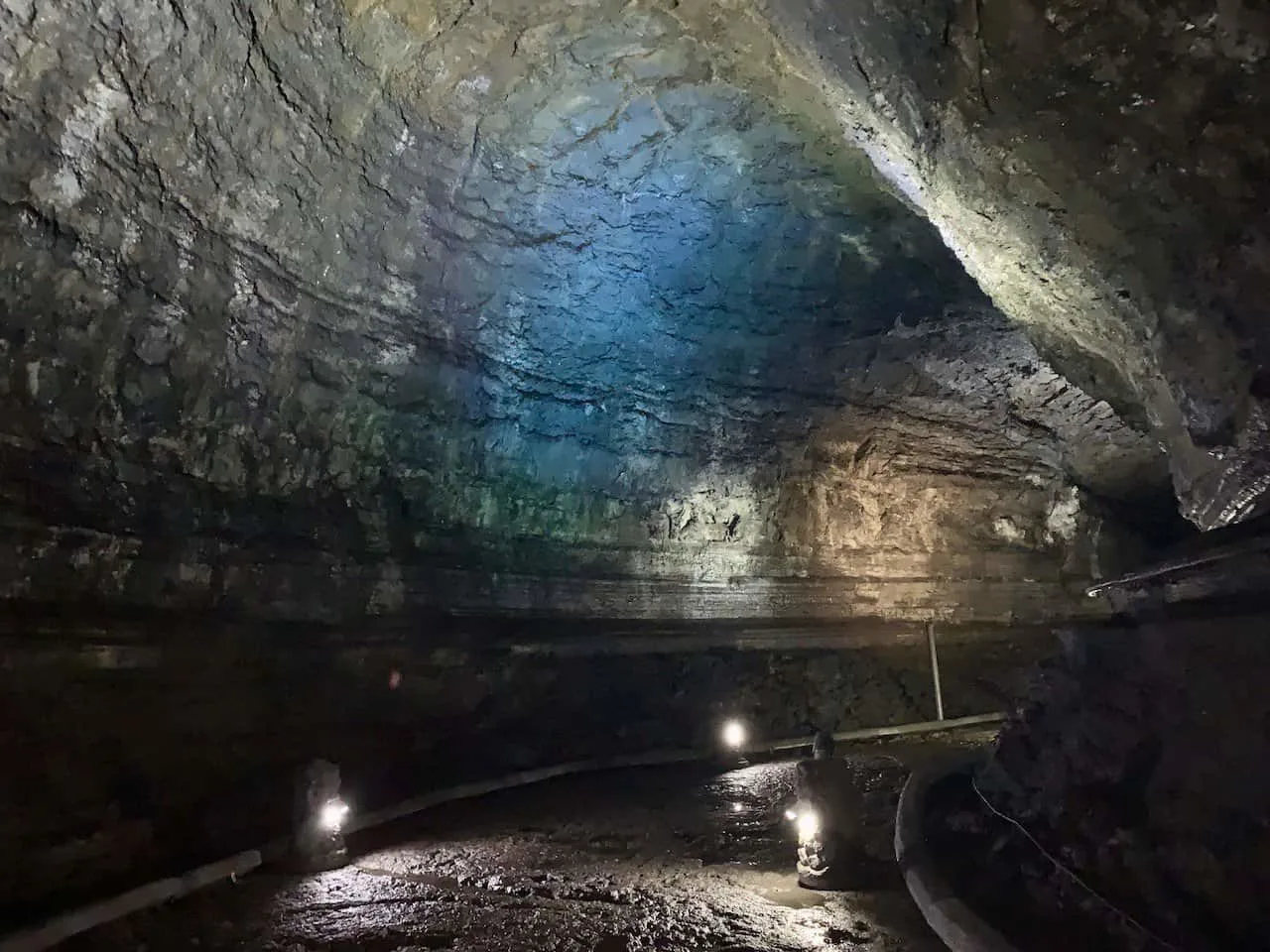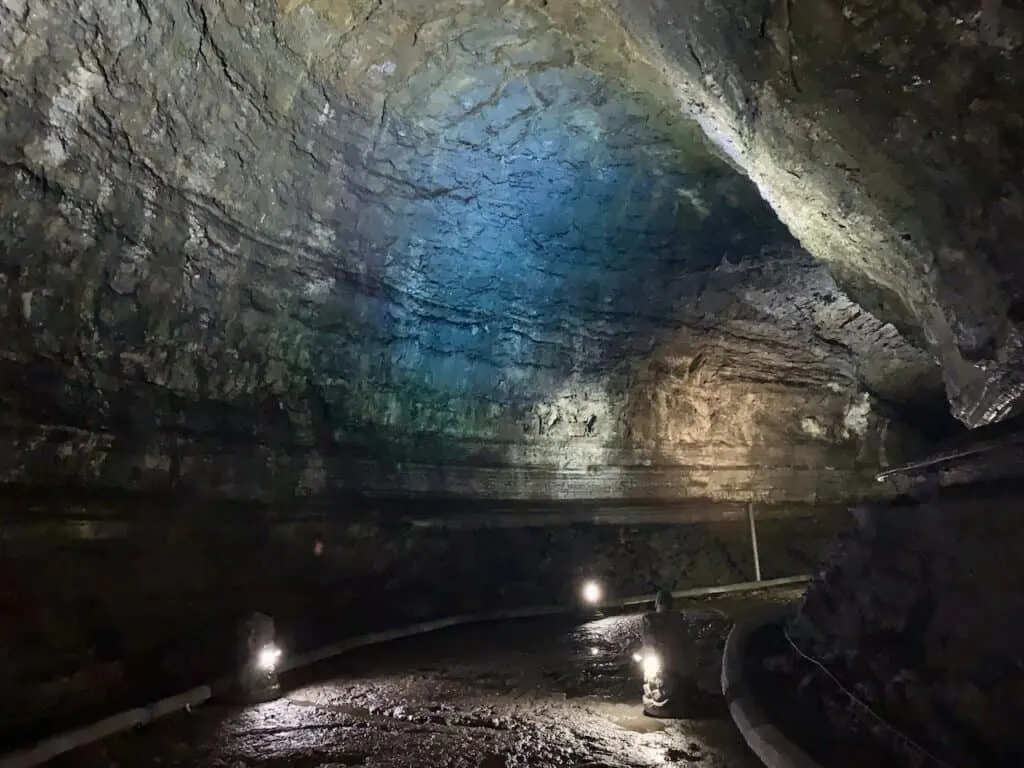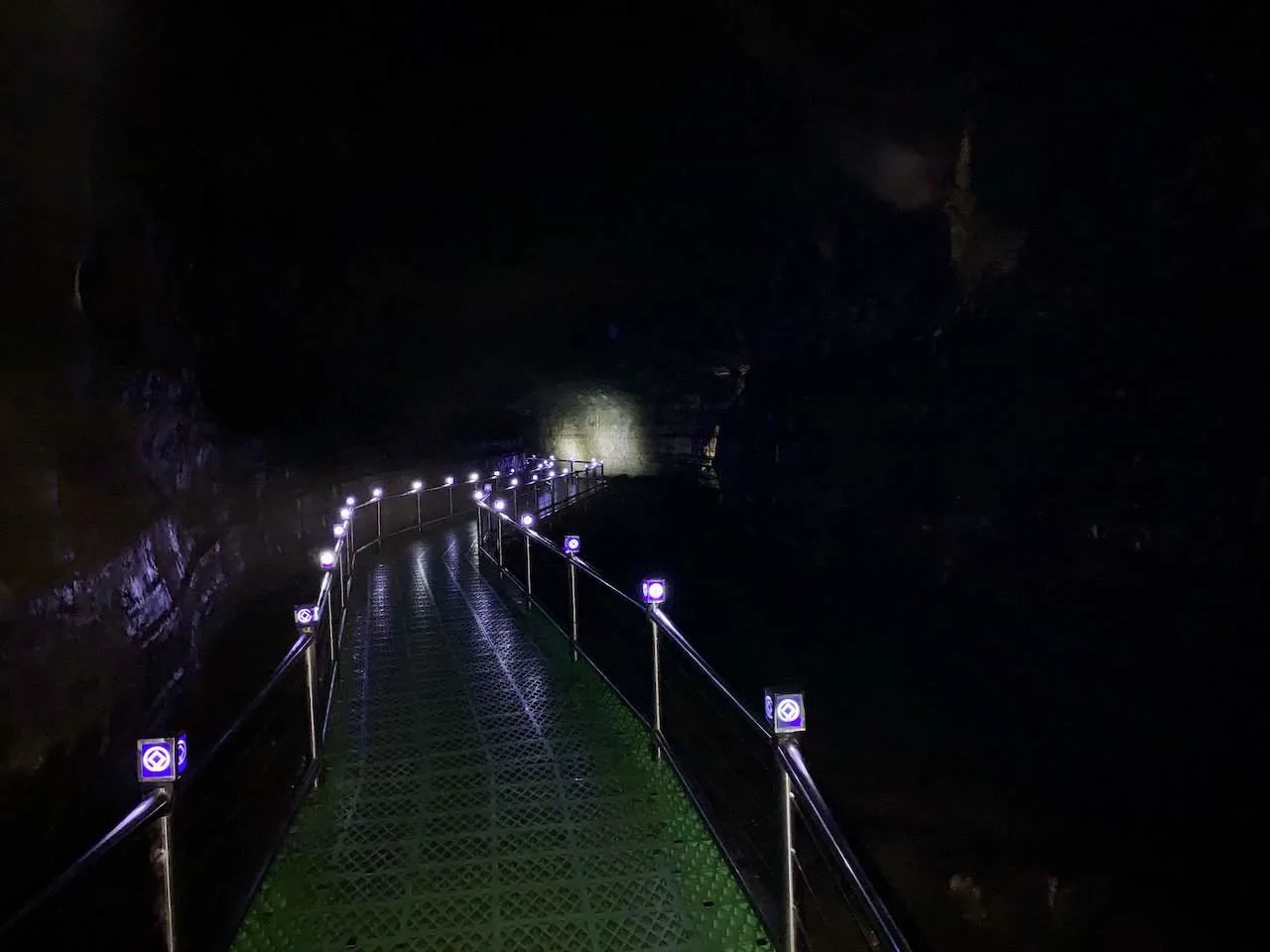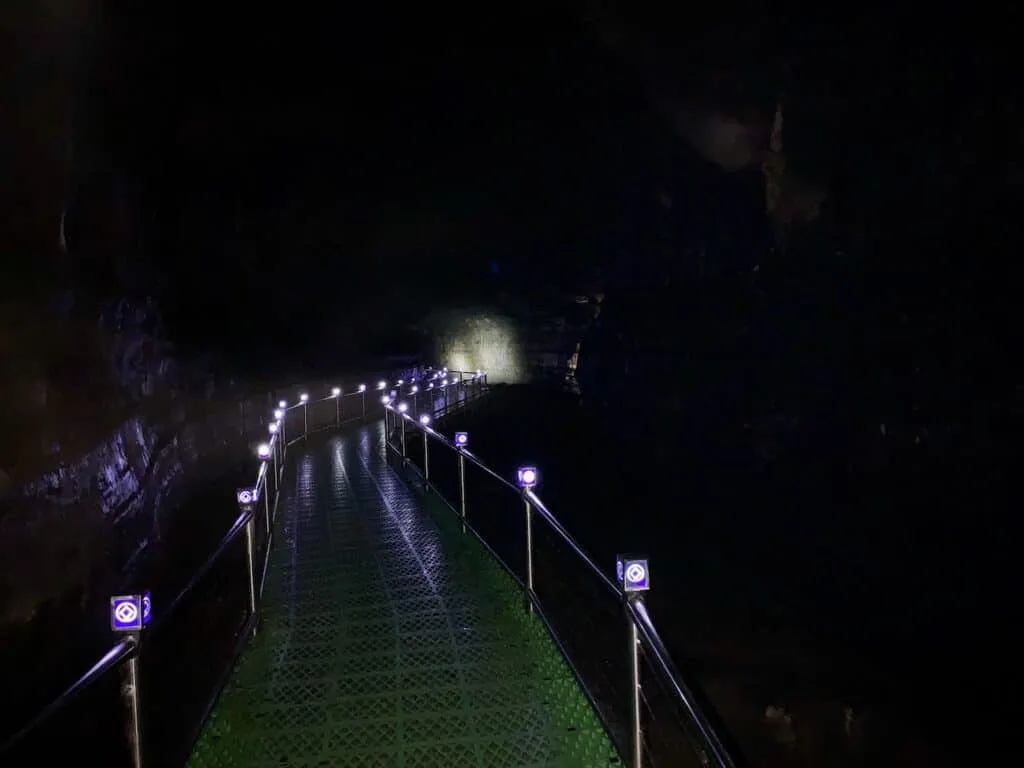 Thankfully, the cave is lit up all along the pathway. You will find small lights on the ground to help you see your next step as well as more colorful lights that brighten up the ceilings & walls at certain points.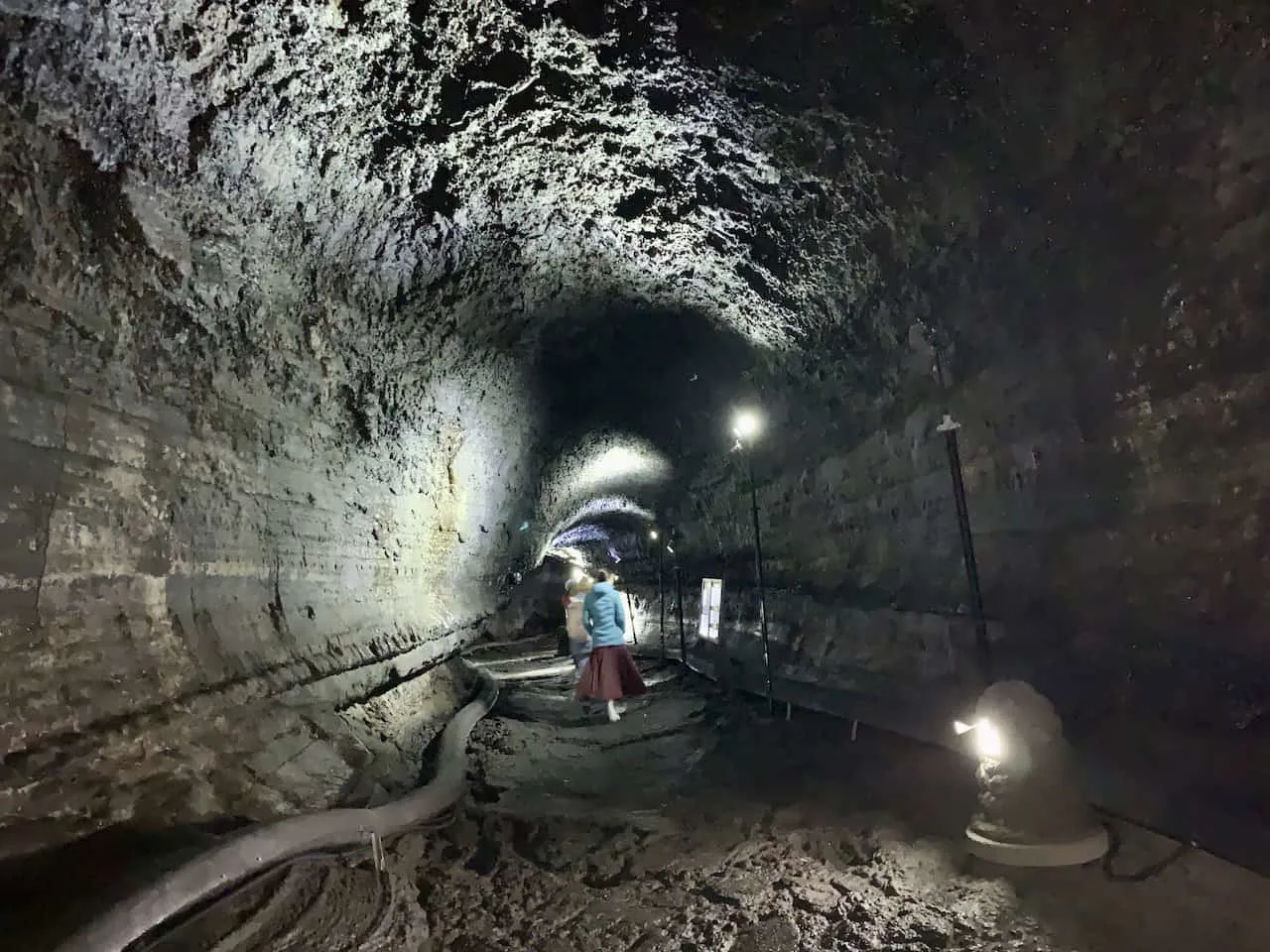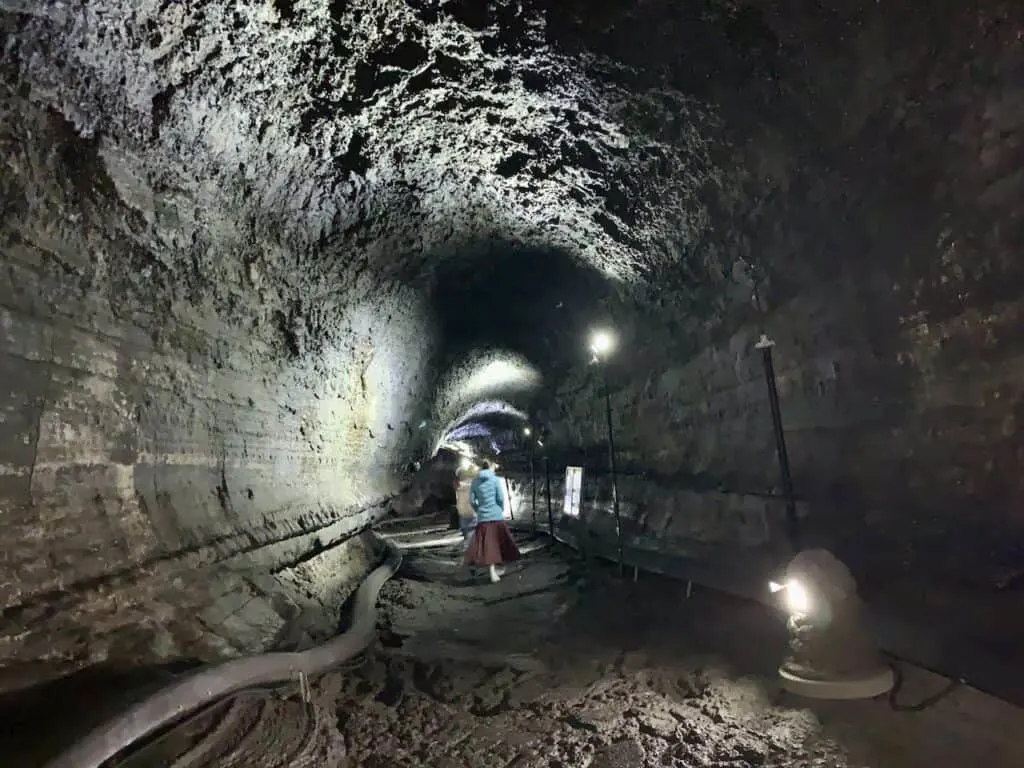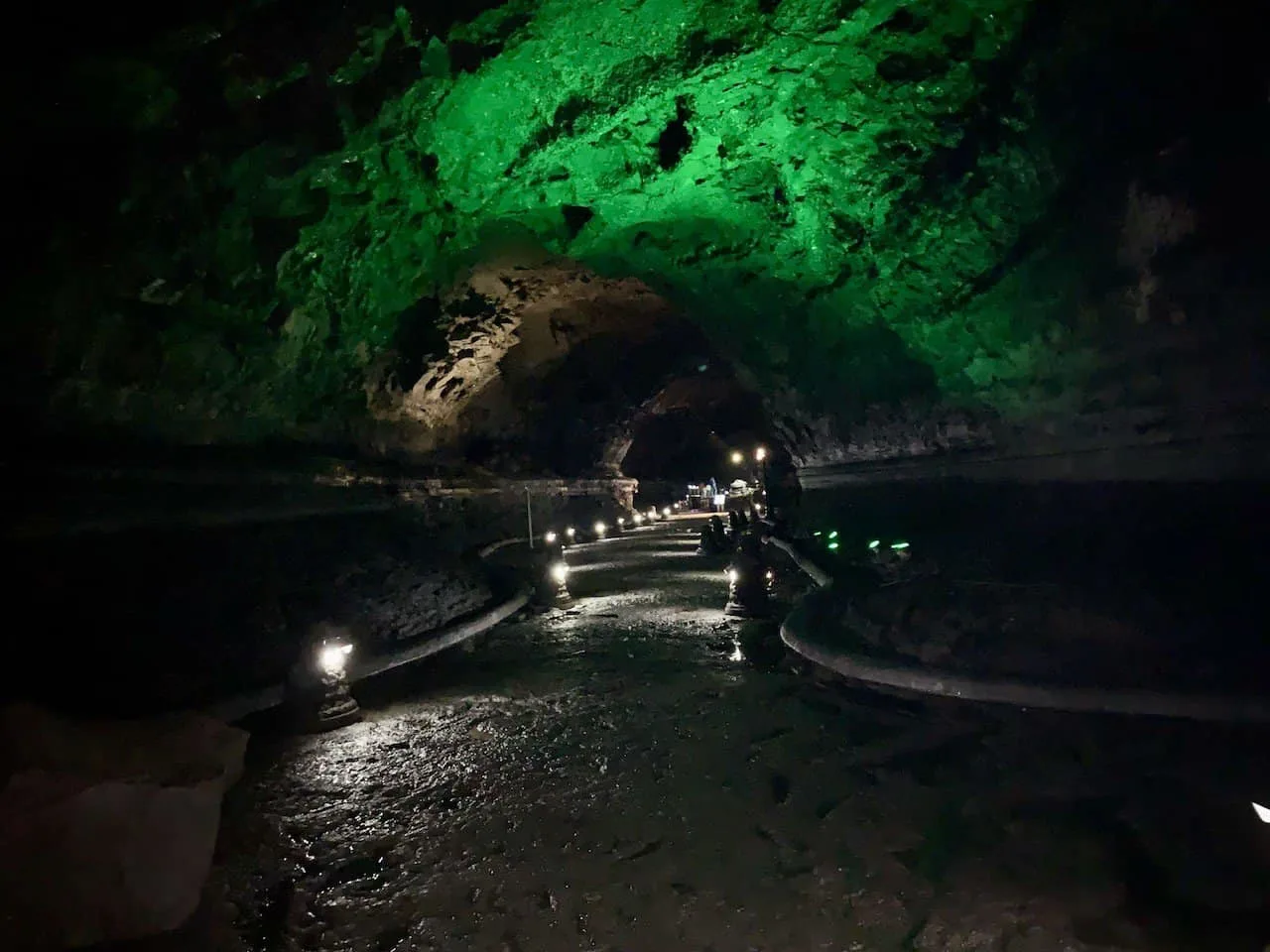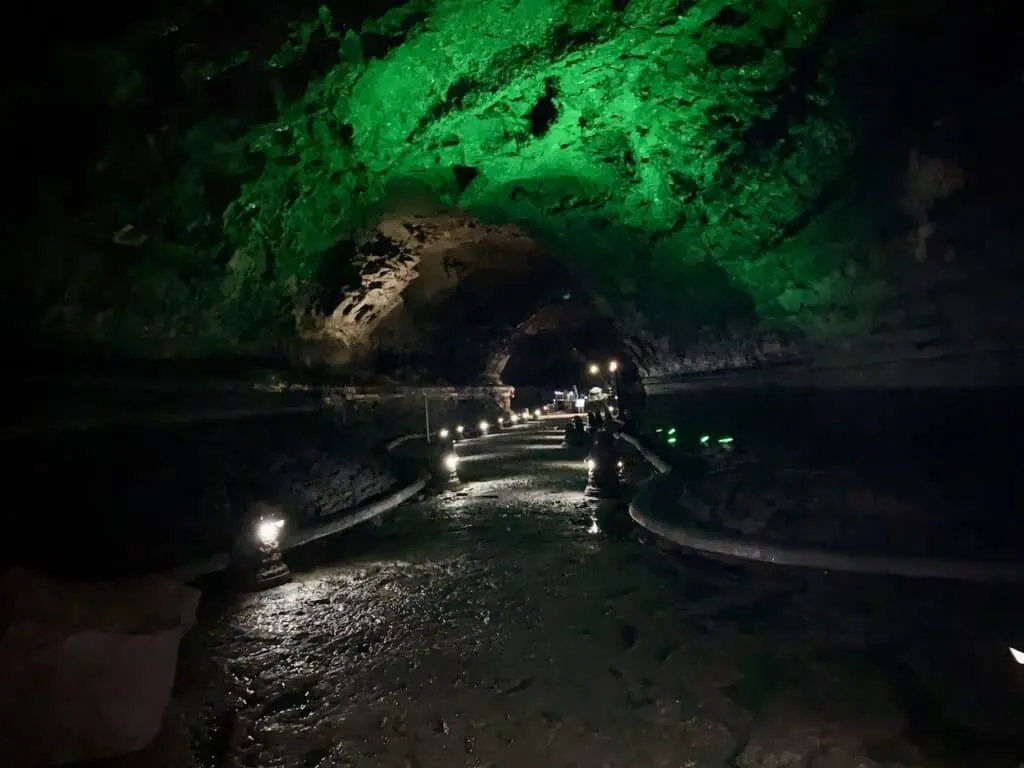 Throughout the walk, you will find some portions of the cave to open up as you see the grand size of what Manjanggul offers.
Be on the lookout for plenty of stalactites and stalagmites that can be found around the cave. In addition, the walls and ceilings are full of lava flow patterns.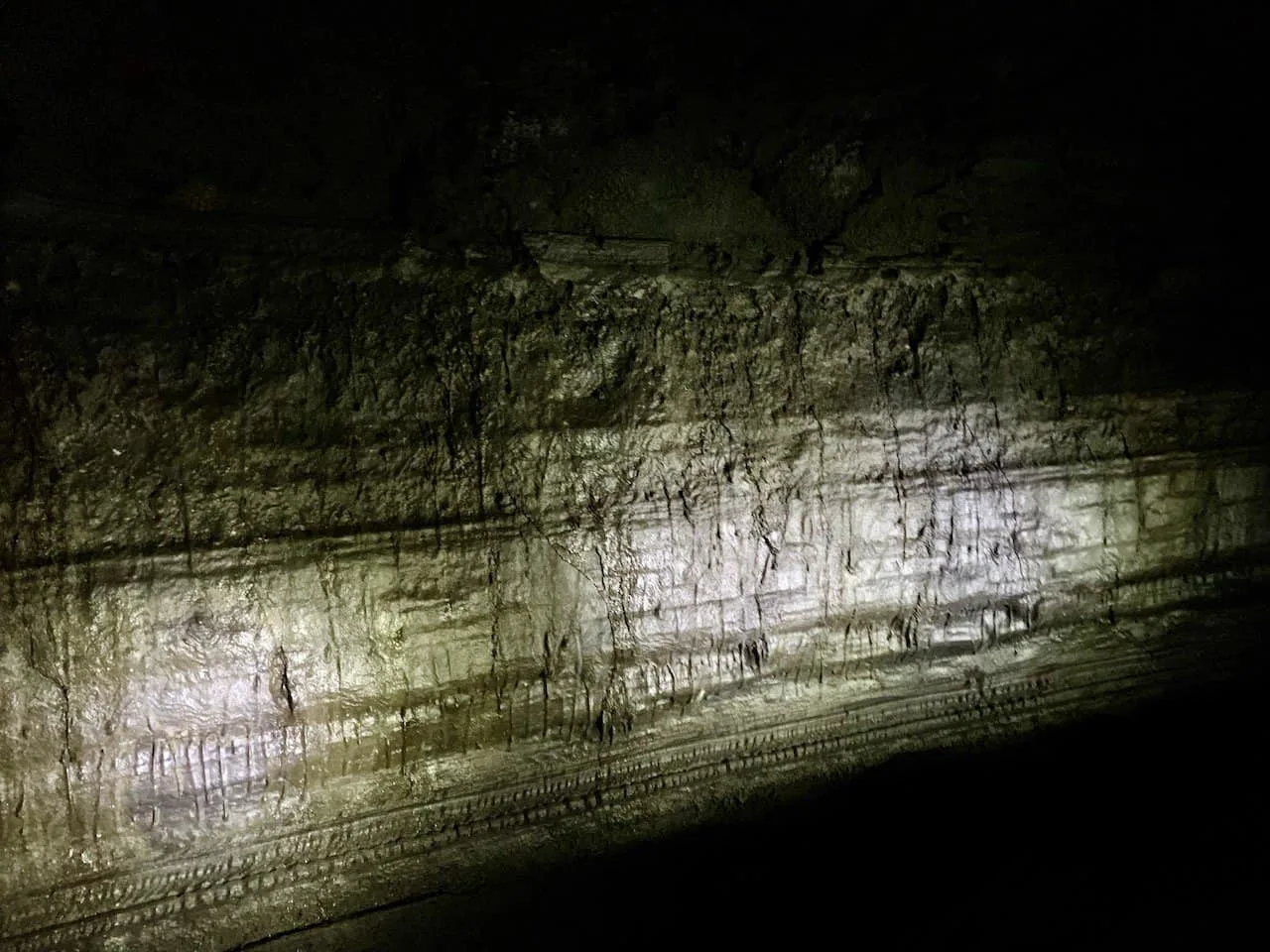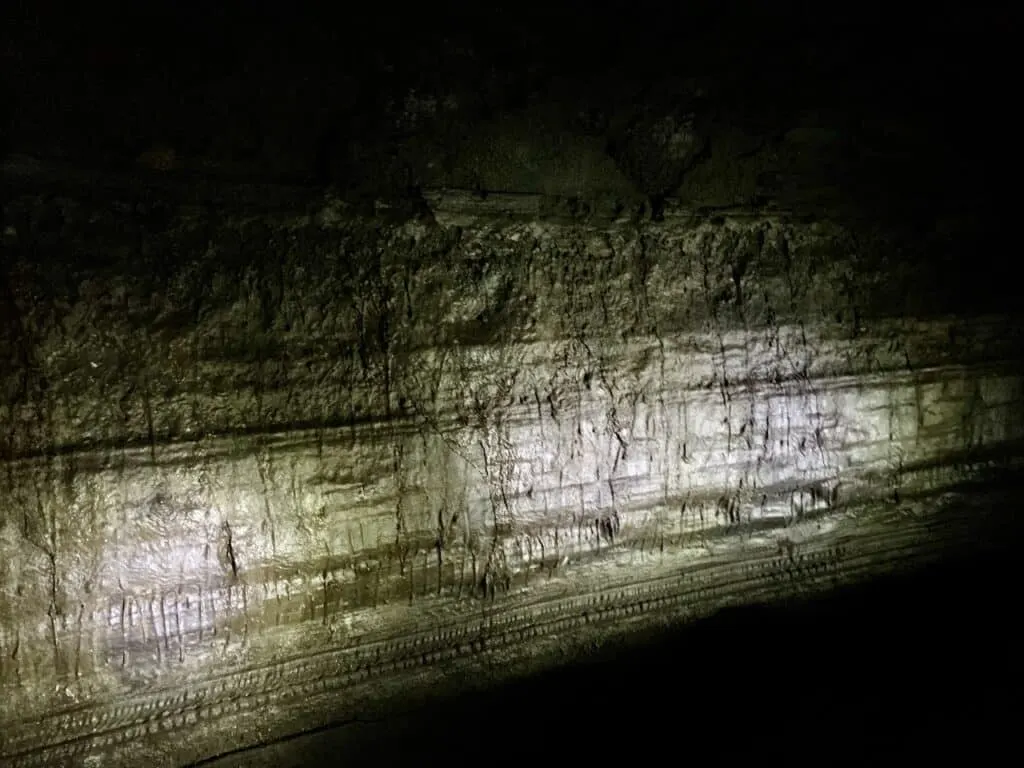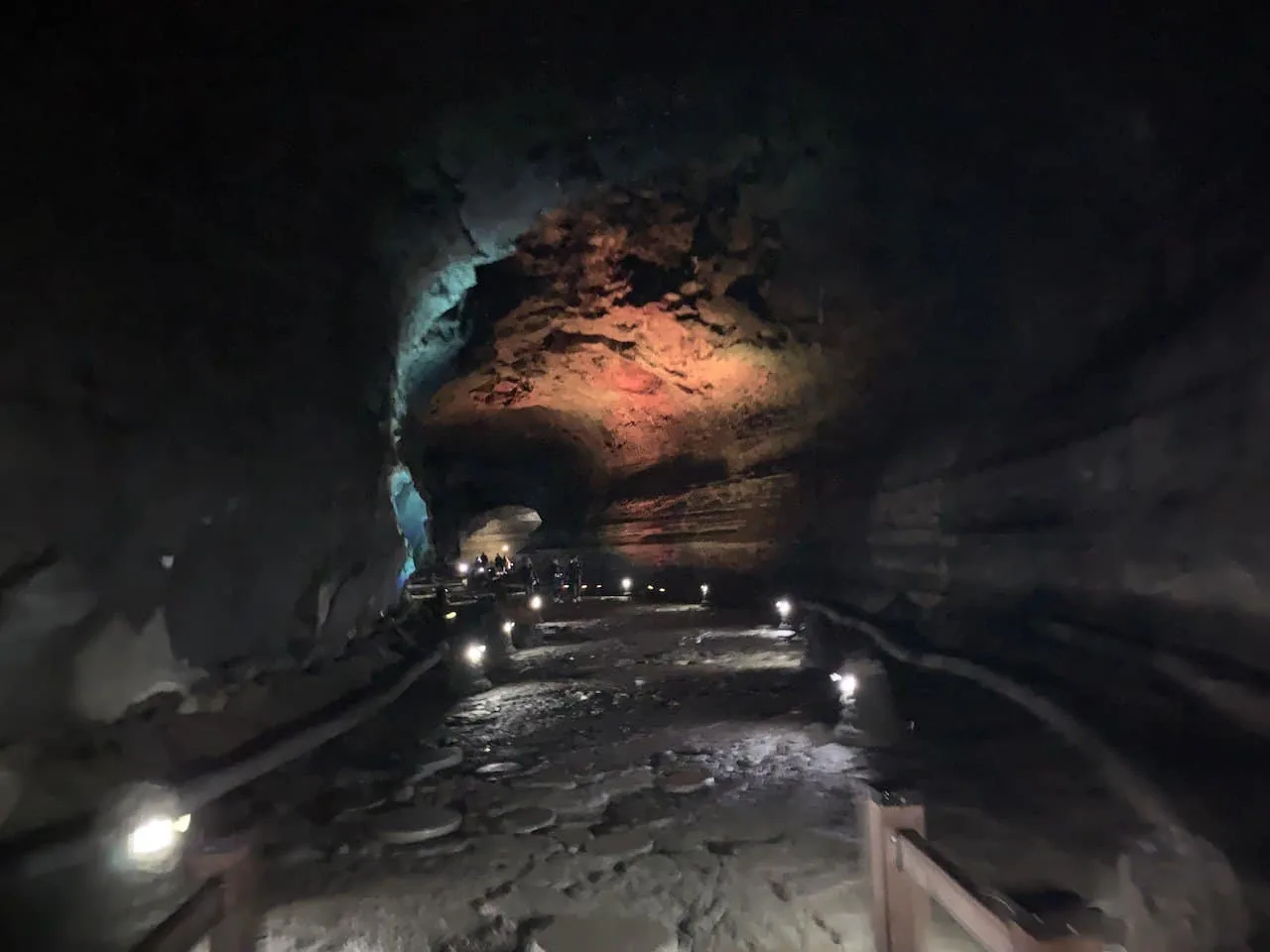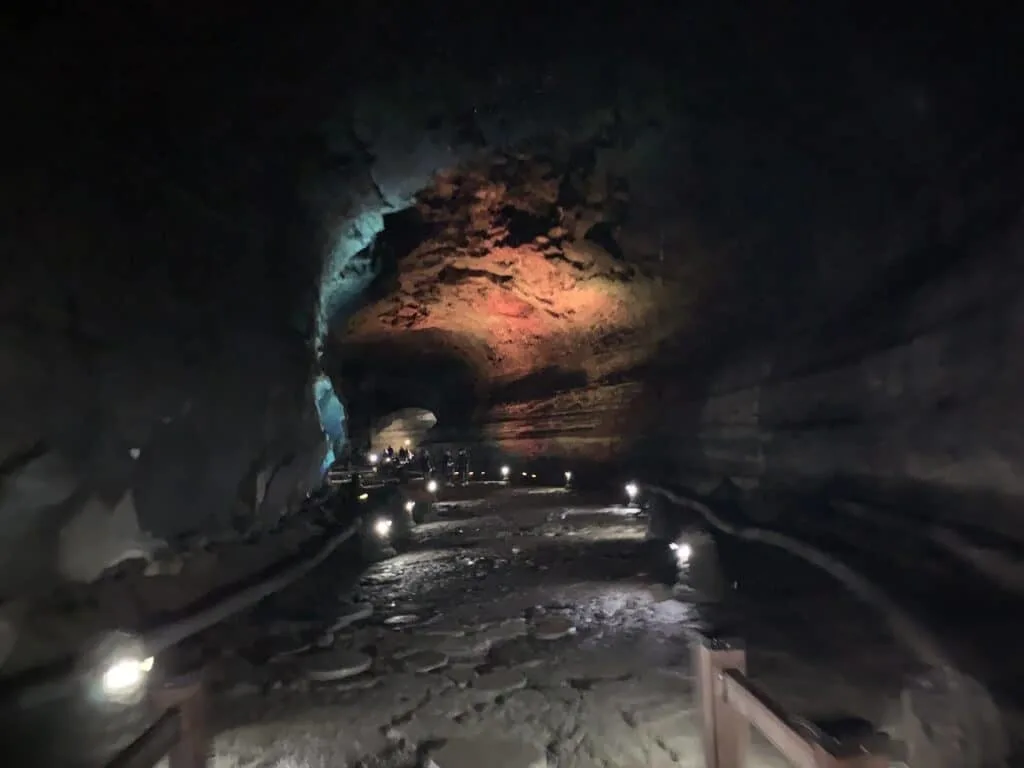 One of the most famous of these lava flow patterns is Turtle Rock / Stone Turtle. It is called this as it resembles the shape of a turtle in addition to Jeju Island itself.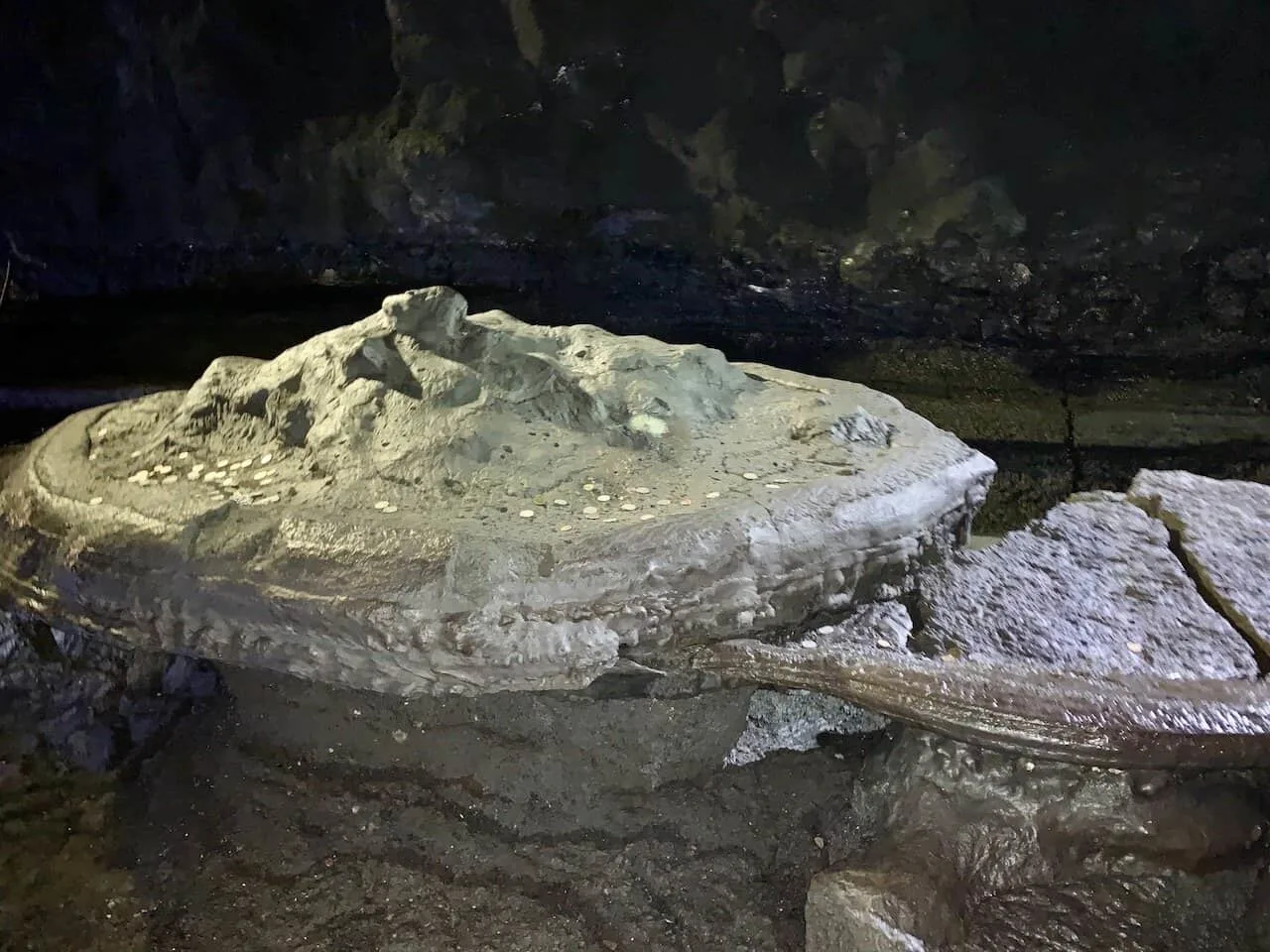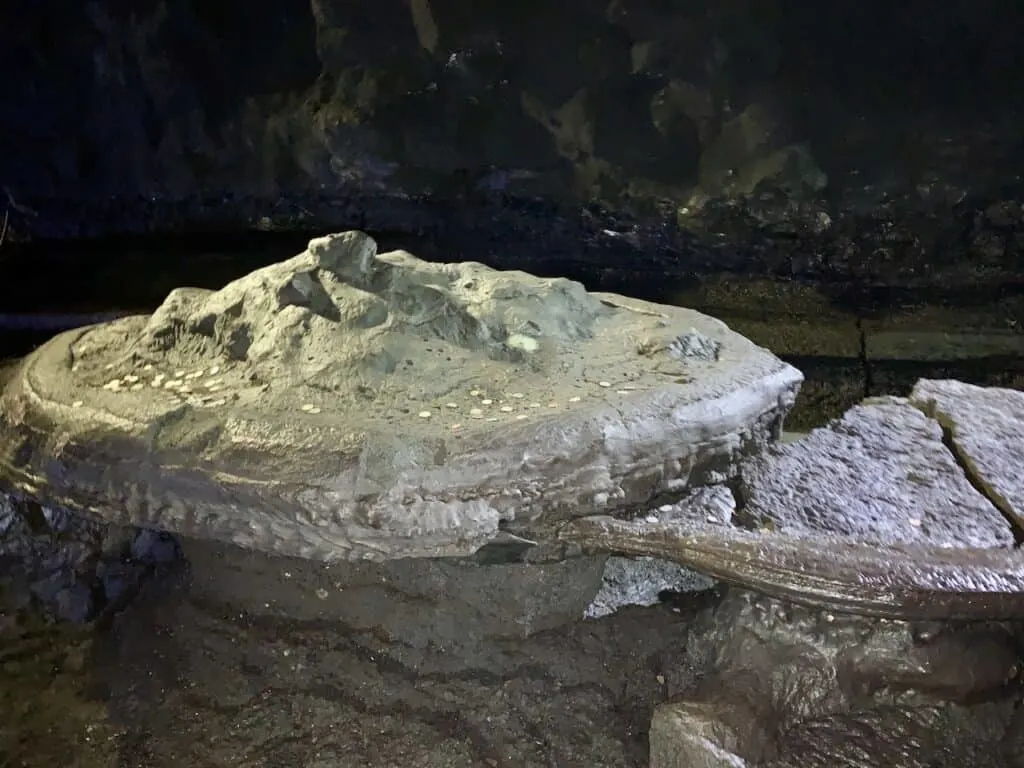 After walking towards the end of the cave, you will reach the grand highlight – the 7.6 meter (25 foot) high lava column.
This column was formed as lava flowed down from the ceiling and started to pile up on the floor. The pile on the floor then combined with the ceiling to create a column.
This one is known to the be the largest lava column in the world!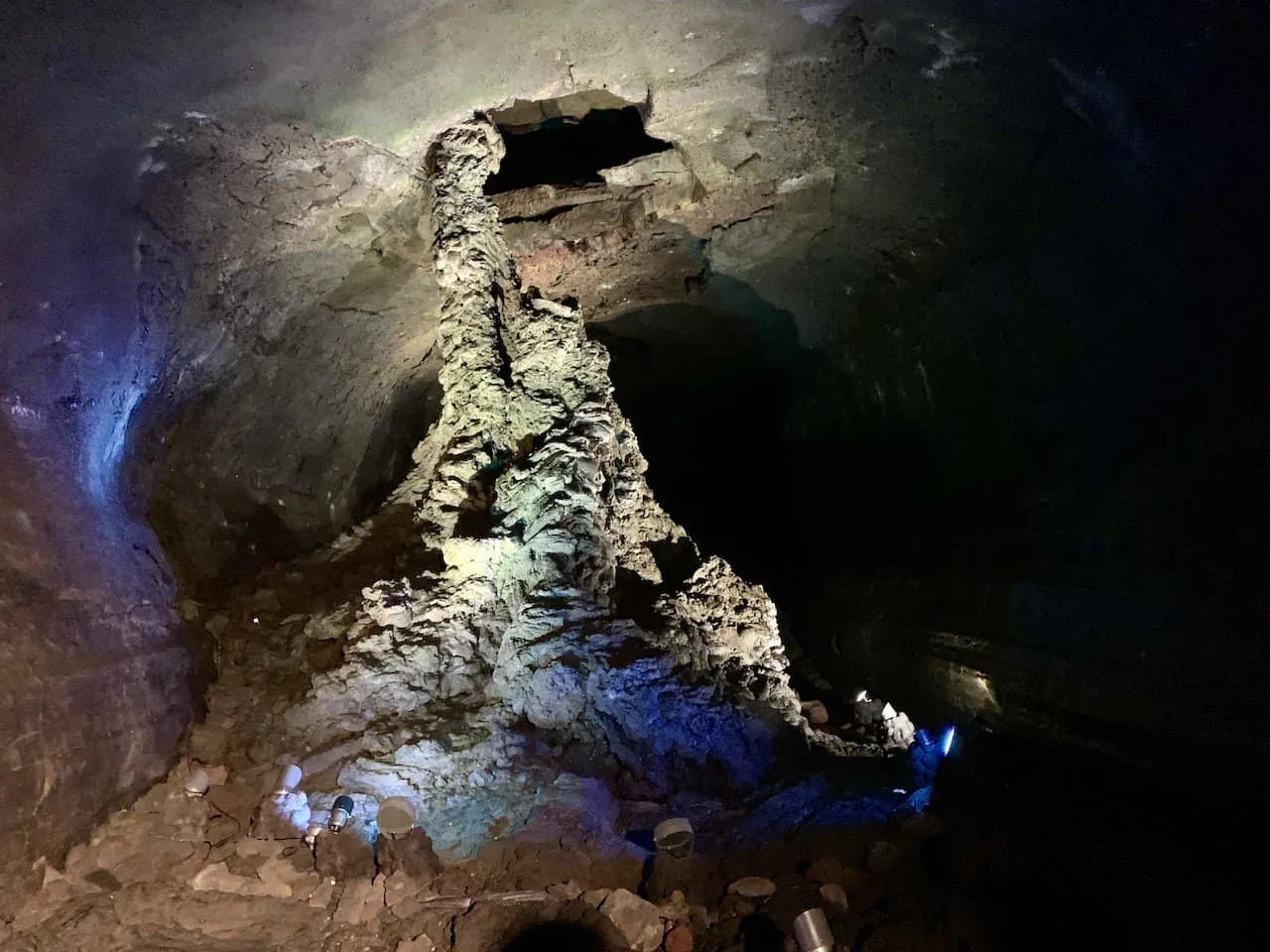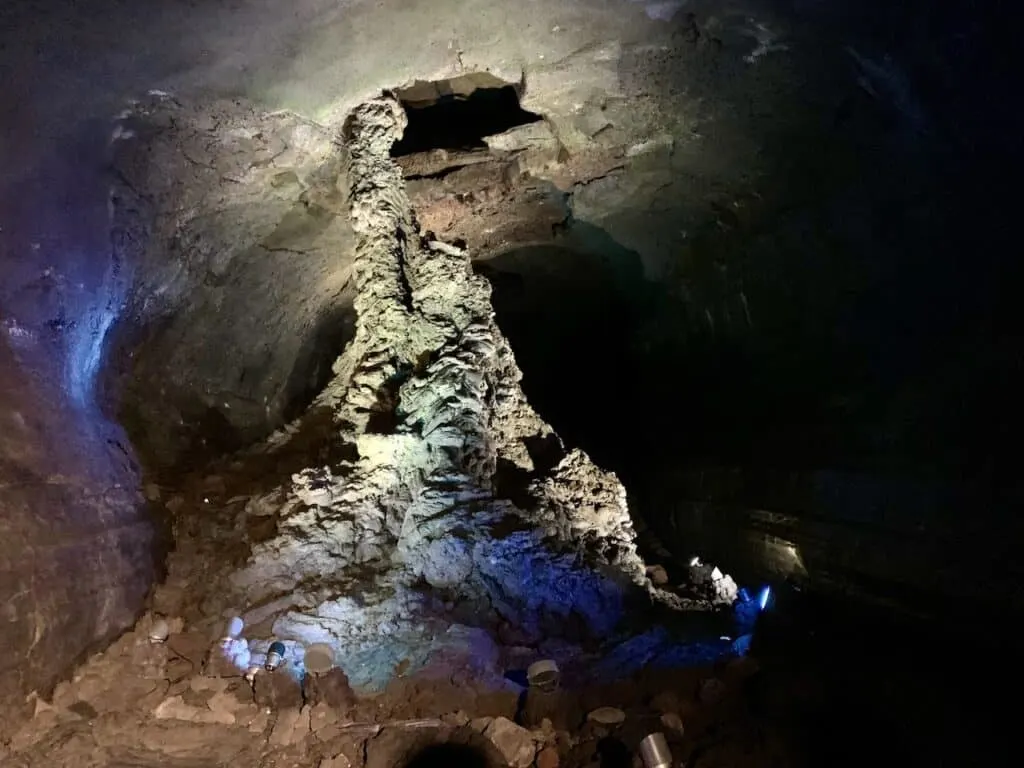 Once you are all done at the lava column, it is then retracing your steps back out to the entrance.
You will get to experience everything once more from the opposite direction before heading up the staircase and out of the cave.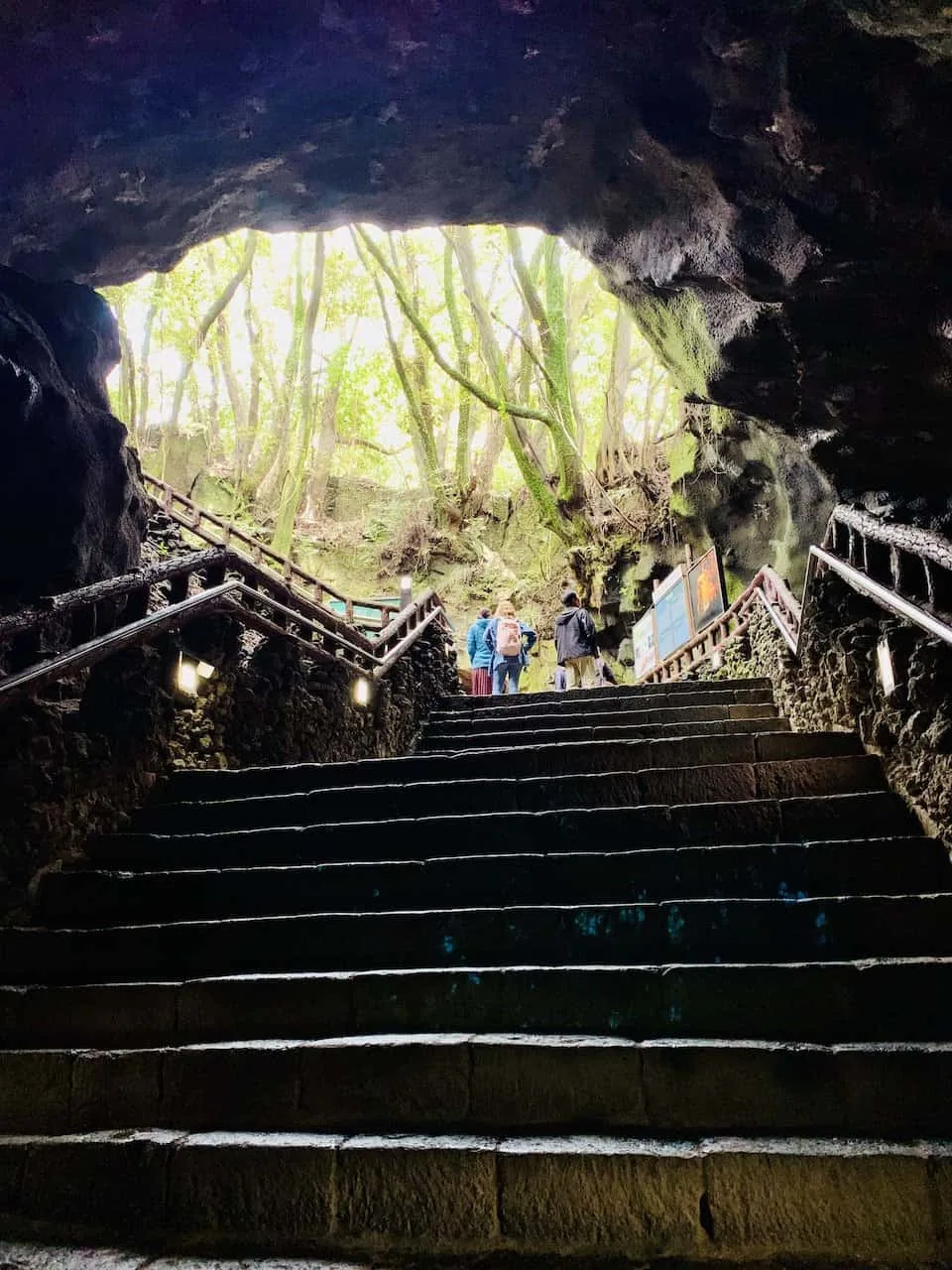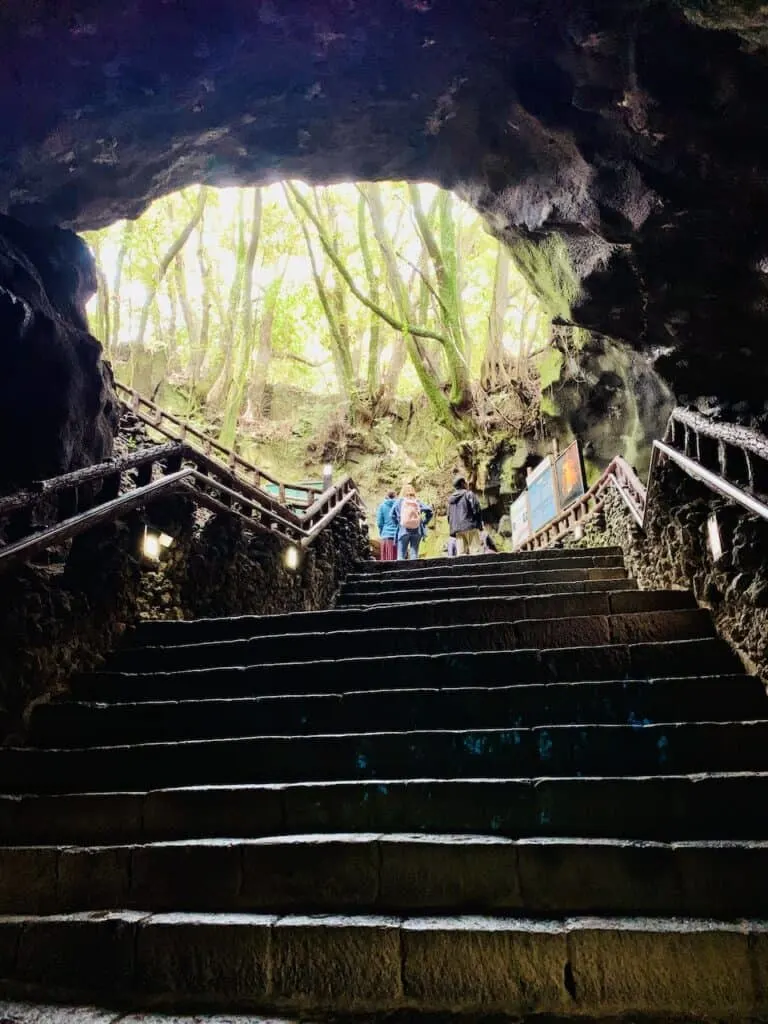 9) Where to Stay in Jeju
When planning a trip to Jeju, you can opt to base yourself in one spot (like Jeju City or Seogwipo), or spend a couple nights in various places around the island.
At the end of the day, this will all depend on your own itinerary.
Below are a few hotel recommendations for these two main places:
Jeju City
Seogwipo
During a stay be sure to check out some spots like Jeongbang Waterfall and the Seopjikoji coastline.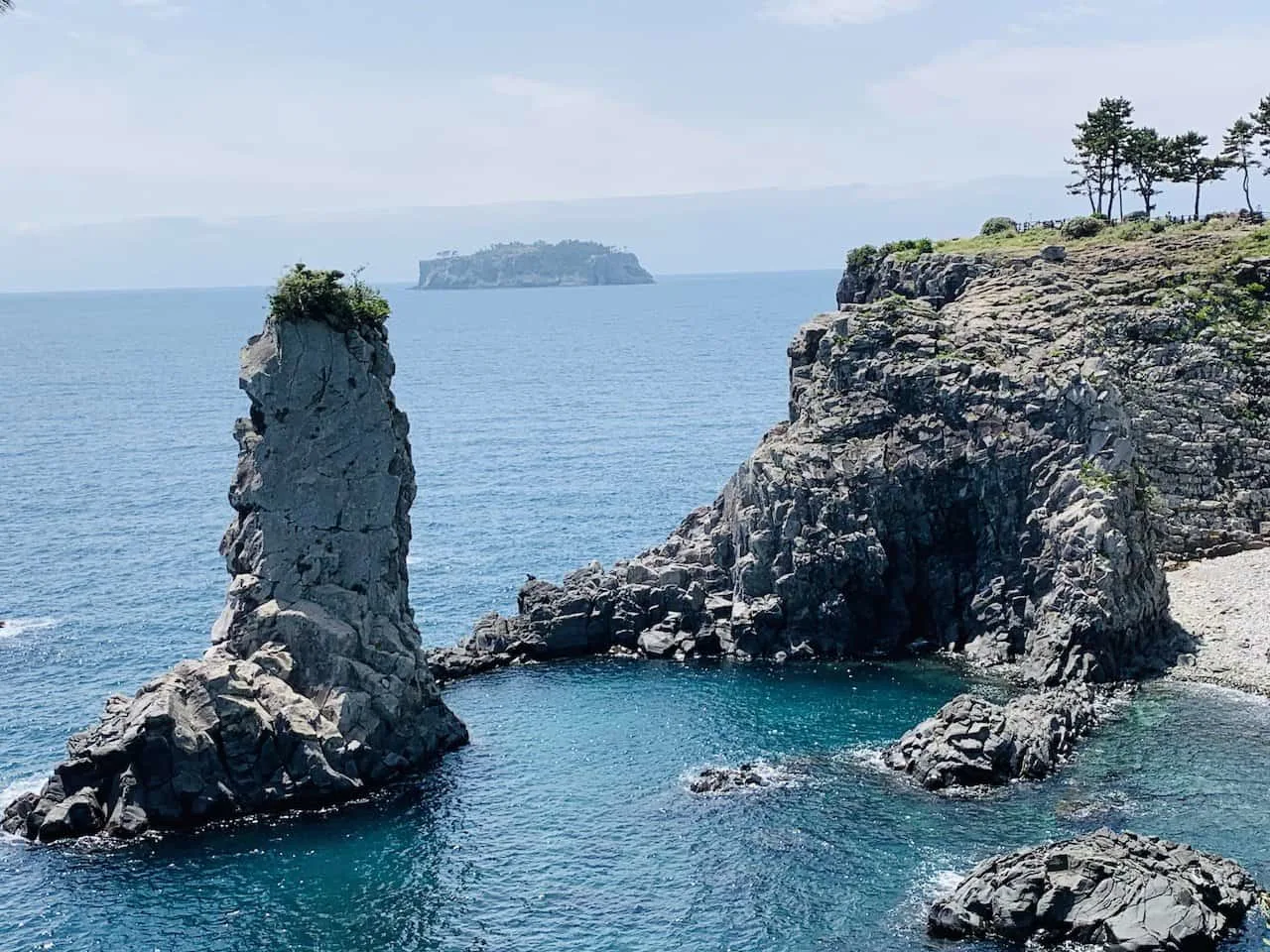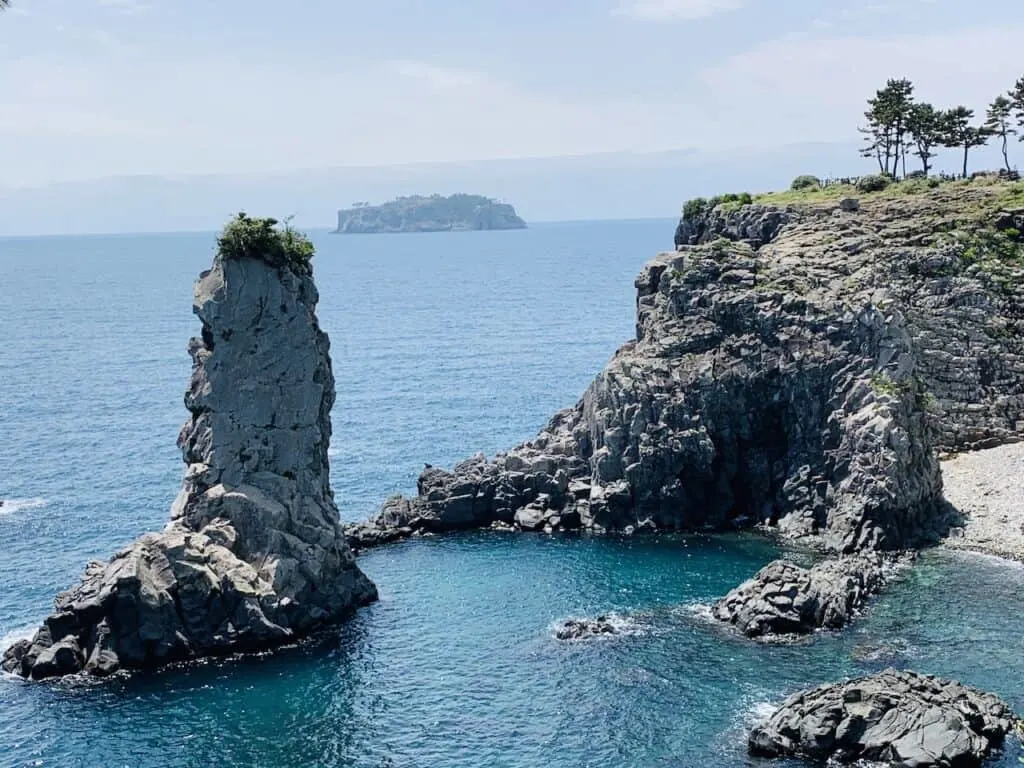 That about does it for the Manjanggul lava tube cave of Jeju Island. If you have any questions, be sure to add them in below.
Also, don't forget to check out the other South Korea itineraries and guides up on the site (like the Mount Hallasan hike!).
Have fun out there and safe travels.