Throughout Jeju Island you will find various attractions highlighting the volcanic nature of the area.
One of these sites is Seongsan Ilchulbong, also known as Sunrise Peak.
Seongsan Ilchulbong is a tuff cone that was formed thousands of years ago. Today, it stands as one of the most well-known spots to visit during a trip.
Read on to learn more about a visit to Seongsan Ilchulbong and what to expect along the way.
* Affiliate Disclosure: This post may contain affiliate links, which means I may receive a commission if you make a purchase through the links provided, at no additional cost to you. Thanks for supporting the work I put into TripTins!
1) History & Facts
To start, below are some helpful historical facts about Seongsan Ilchulbong and how it came to be:
Around 5,000 years ago, there was an hydrovolcanic eruption that formed a small new tuff cone island off of the coast of Jeju Island.
Over the years, this new island became connected to the mainland, and was named Seongsan Ilchulbong.
The name Seongsan Ilchulbong means "a hill shaped like a castle" and "an elevated point with views of sunrise". Hence the nickname, "sunrise peak".
The tuff cone measures 180 meters above sea level, with the crater being 600 meters in diameter and 90 meters in depth. While there are some other similar tuff cones around, none are as more pronounced than this one.
The area within the crater was previously was used for agricultural purposes. Now, however, there are over 200 species of flora that call the crater home.
Around the crater are 99 sharp rocks that jut out on its edge. This in turn makes in look like a big crown.
Seongsan Ilchulbong is also one of the only places that is designated with UNESCO's triple crown. It has been named a Biosphere Reserve, World Natural Heritage Site, and Global Geopark.
From up top, visitors will get views of the crater, the coastline, and much of Jeju Island (on a clear day at least).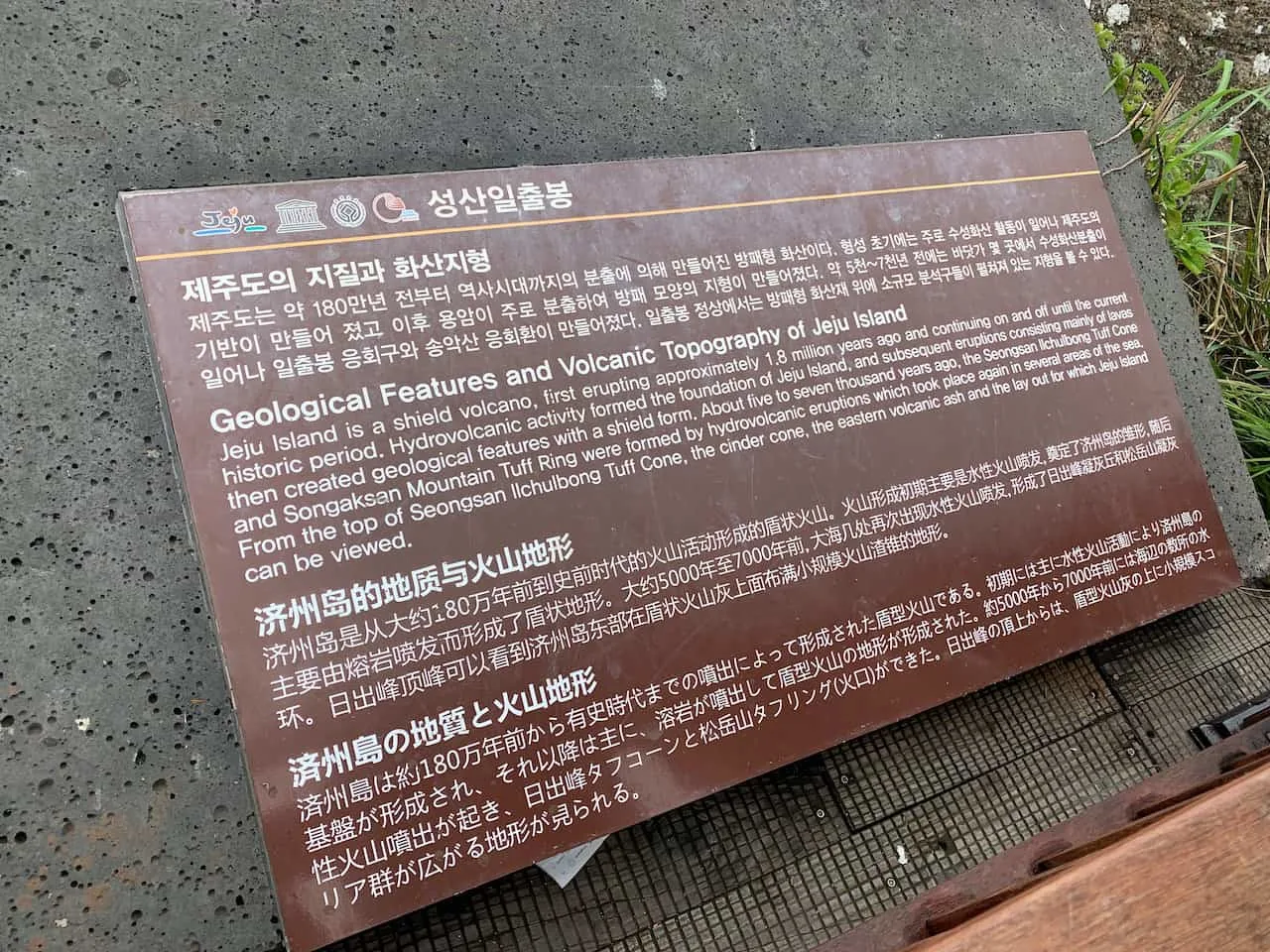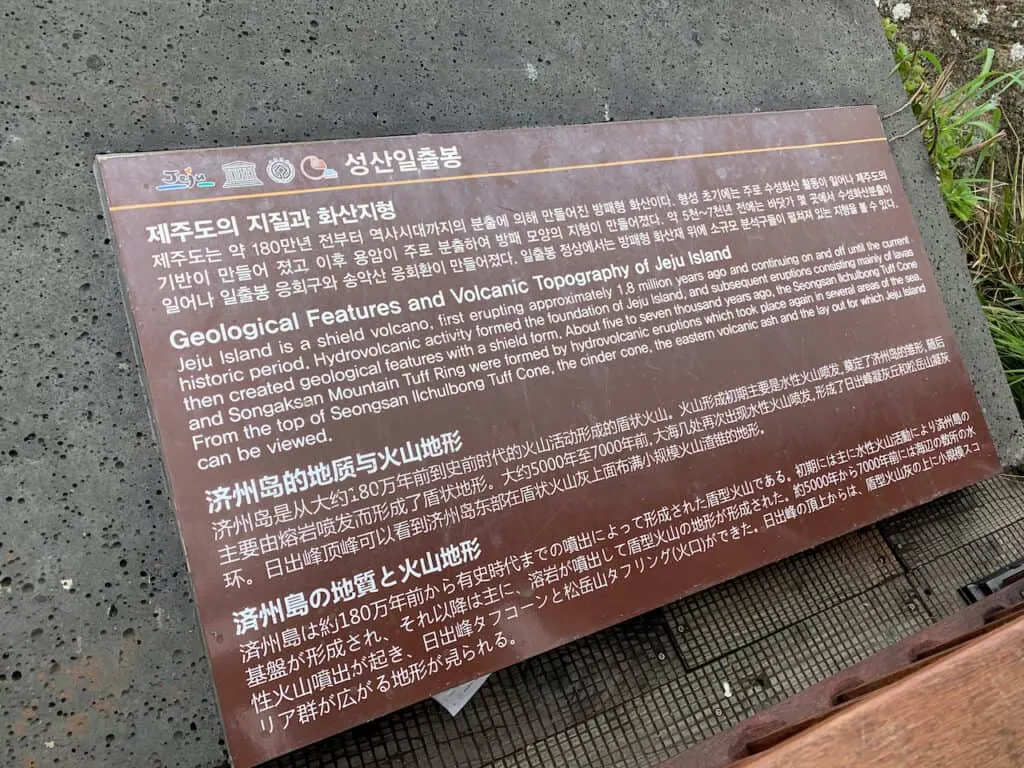 2) Seongsan Ilchulbong Location & Map
Seongsan Ilchulbong is located on the eastern side of Jeju Island. It is about 45 minutes from both Jeju City and Seogwipo.
Nearby you will also find Seopjikoji to the south and Udo island to the north.
See below for a map of Jeju to get a better idea of where the crater is located.
3) How to Get There
In general, there are three main ways to go about a visit to Seongsan Ilchulbong (and other places around Jeju Island) – rental car, bus, or tour.
Rental Car
When exploring Jeju, I would recommend renting a car in order to explore at your own pace. You will be able to be on your own schedule and not need to worry about public transport.
This will not only help when visiting Seongsan Ilchulbong, but also when visiting any other top spots you have on your Jeju Island to do list (such as Hamdeok Beach and Oedolgae Rock).
If driving a car, you will be welcome to a large parking area just by the main entrance.
Feel free to check out Rentalcars.com for potential options. You will be able to see a variety of cars by price, size, and type, so you can choose the one best for you.
Bus
There is an extensive public transport network on Jeju Island, so you should be able to leverage it during your time there.
Below are the steps to reach sunrise peak from Jeju City and Seogwipo:
From Jeju Intercity Bus Terminal: take a bus heading east and get off at Seongsan bus stop (bus lines 111, 112, 201 as potential options).
From Seogwipo Intercity Bus Terminal: take a bus along the coast and get off at Seongsan bus stop (bus line 201 is one option).
Tour
Instead of worrying about renting a car or figuring out public transport, you can also make your way to Seongsan Ilchulbong and other highlights by joining a group or private tour.
Also note that you could just hire a taxi to take you back & forth if you don't want to go for a tour option.
Tour Booking Option: Check out this customizable Private Jeju Tour that can take you all around the island during your trip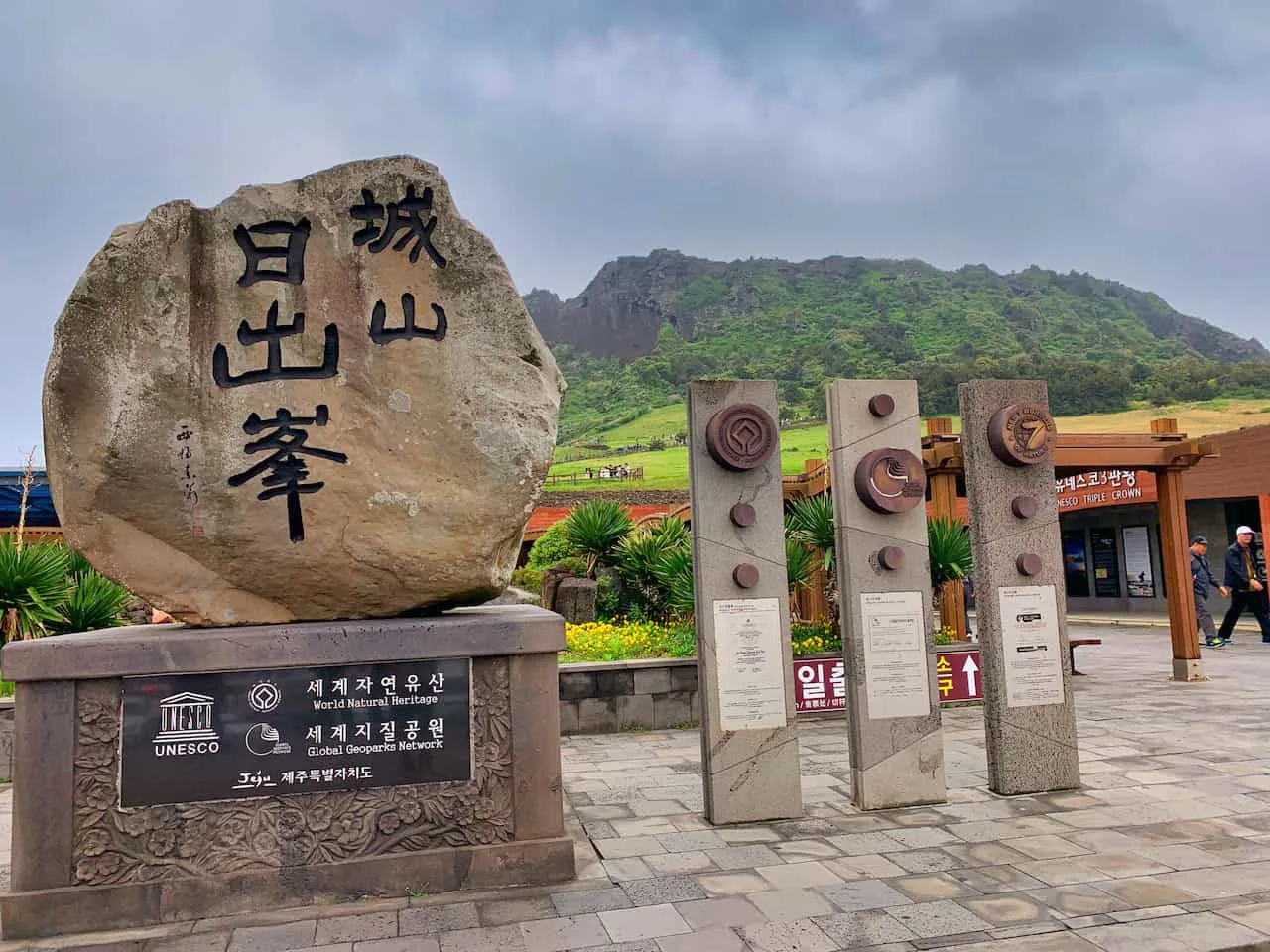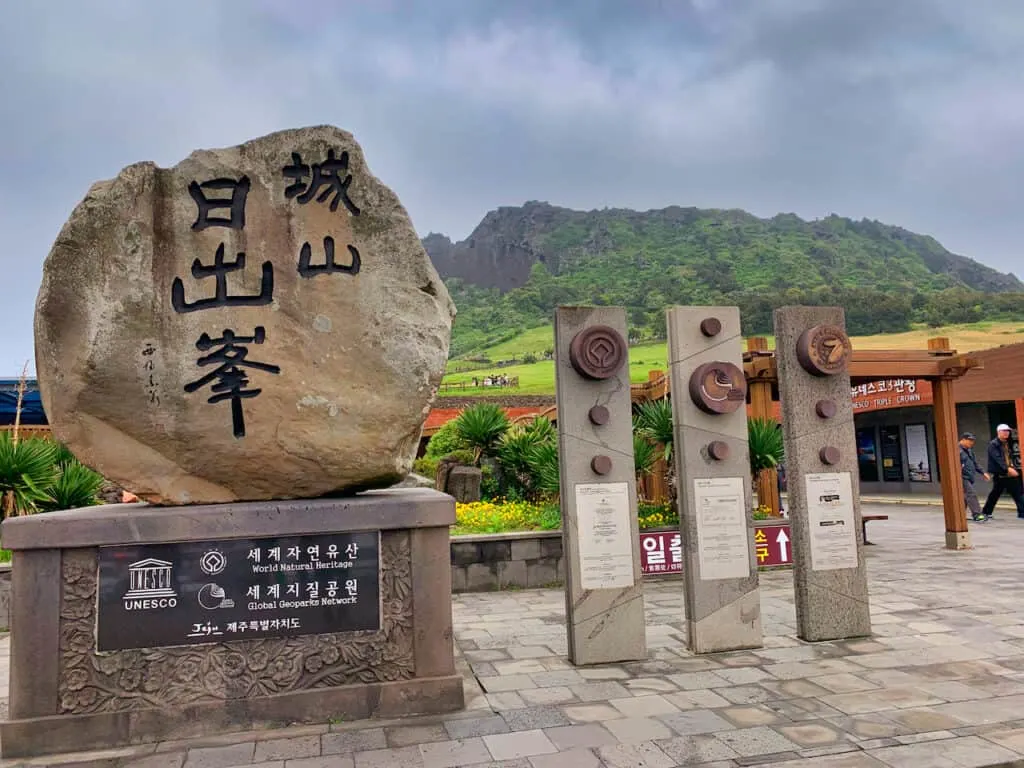 Learn More About Jeju: Check out this guide that goes over the best things to do in Jeju Island
4) Seongsan Ilchulbong Tickets
To enter the Seongsan Ilchulbong and hike up to the crater rim, you must purchase a ticket.
Overall though, tickets are pretty well reasonably priced.
How Much is the Entry Fee for Seongsan Ilchulbong?
Adults (25+): 5,000 won
Teenagers / Children (under 25): 2,500 won
Visitors who are 65+ and under 6 are able to visit free of charge.
5) Seongsan Ilchulbong Opening Hours
Opening hours for Seongsan Ilchulbong are listed as follows:
7:10AM – 7:00PM (summer)
7:30AM – 6:00PM (winter)
I should note that people do head up for sunrise and I have come across some places stating that it opens 1 hour prior to sunrise. It is called "sunrise peak" for a reason!
Note: Seongsan Ilchulbong is closed on the first Monday each month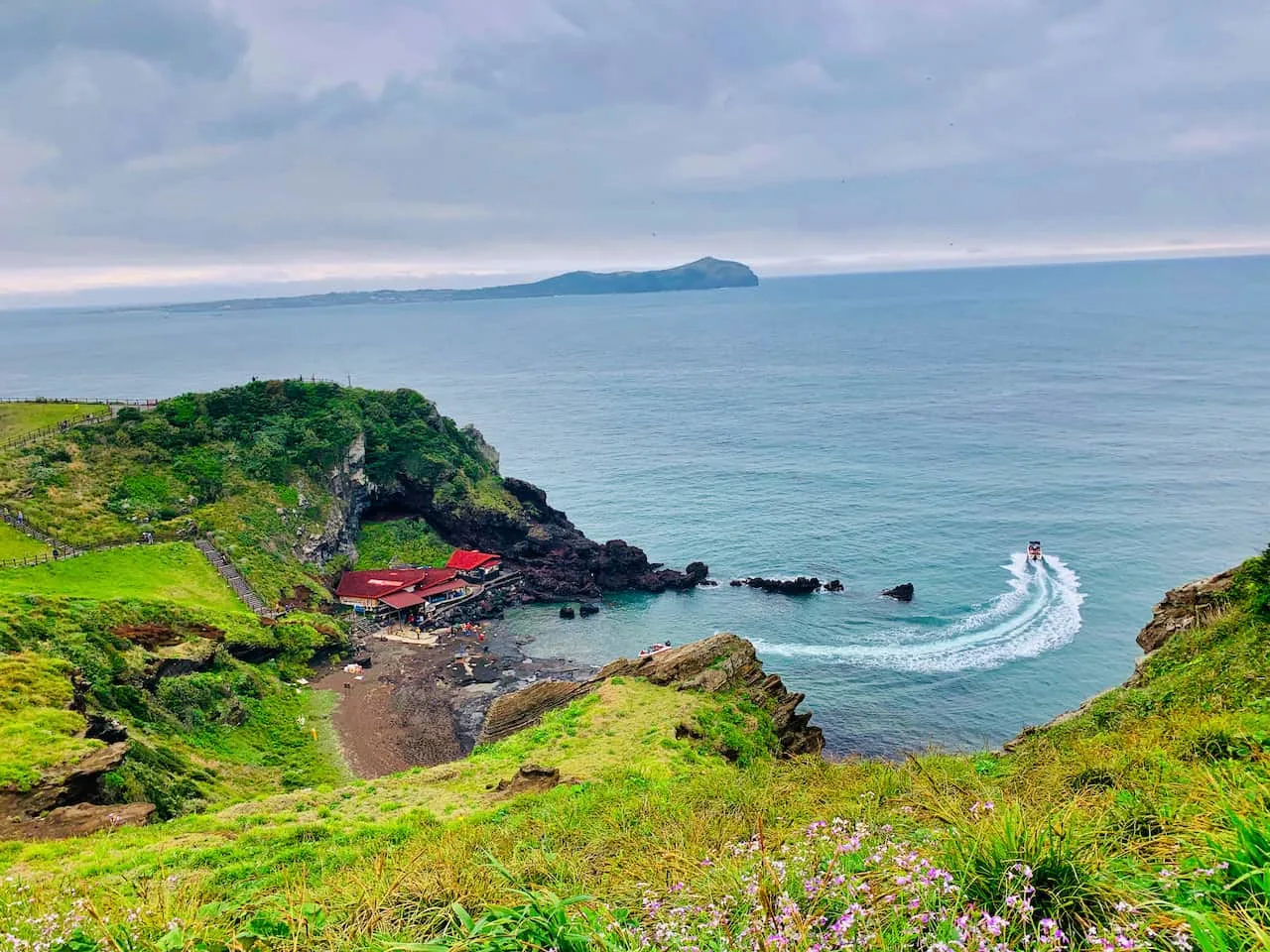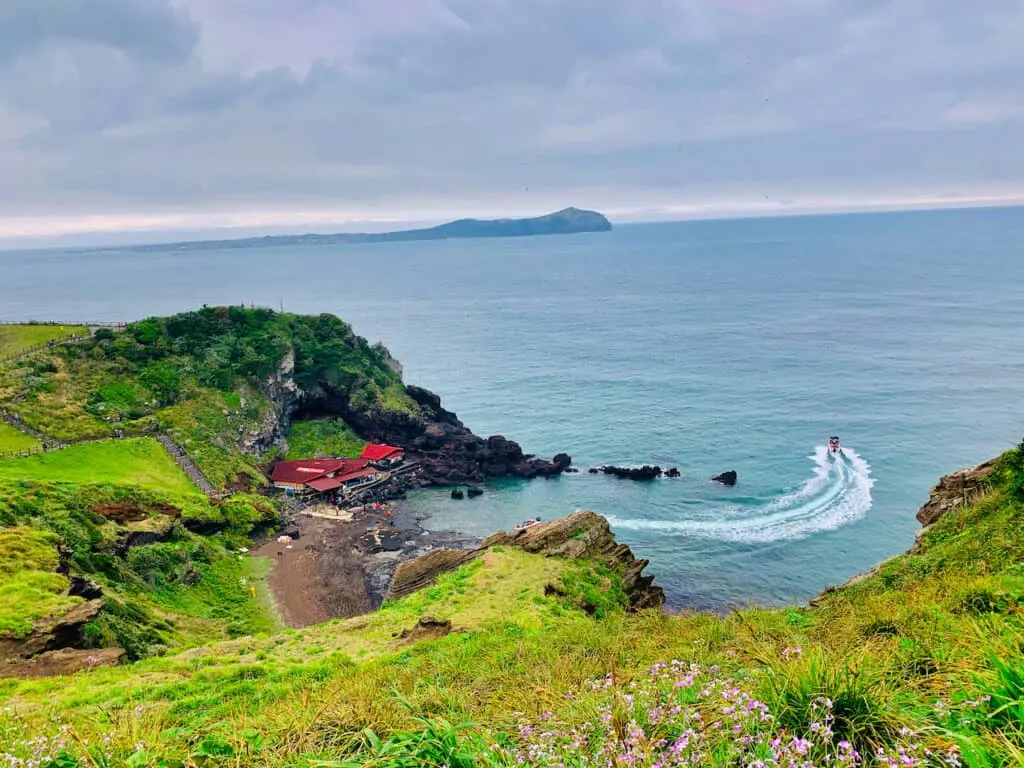 6) Seongsan Ilchulbong Hike
Once you have made it to the parking lot and paid your entrance fee, it is time to head on up to the crater rim of Seongsan Ilchulbong.
The hike up from the entrance is just about 0.8 km (0.5 miles) and it should take between 20-30 minutes to reach the top.
Just note that this is not a flat pathway, as you will have a few hundred feet of elevation gain along the way.
As you head on up, you will be walking along a paved stone pathway as well as a whole series of staircases.
During the hike, you will find food/drinks stalls, benches, informational boards and plenty of views.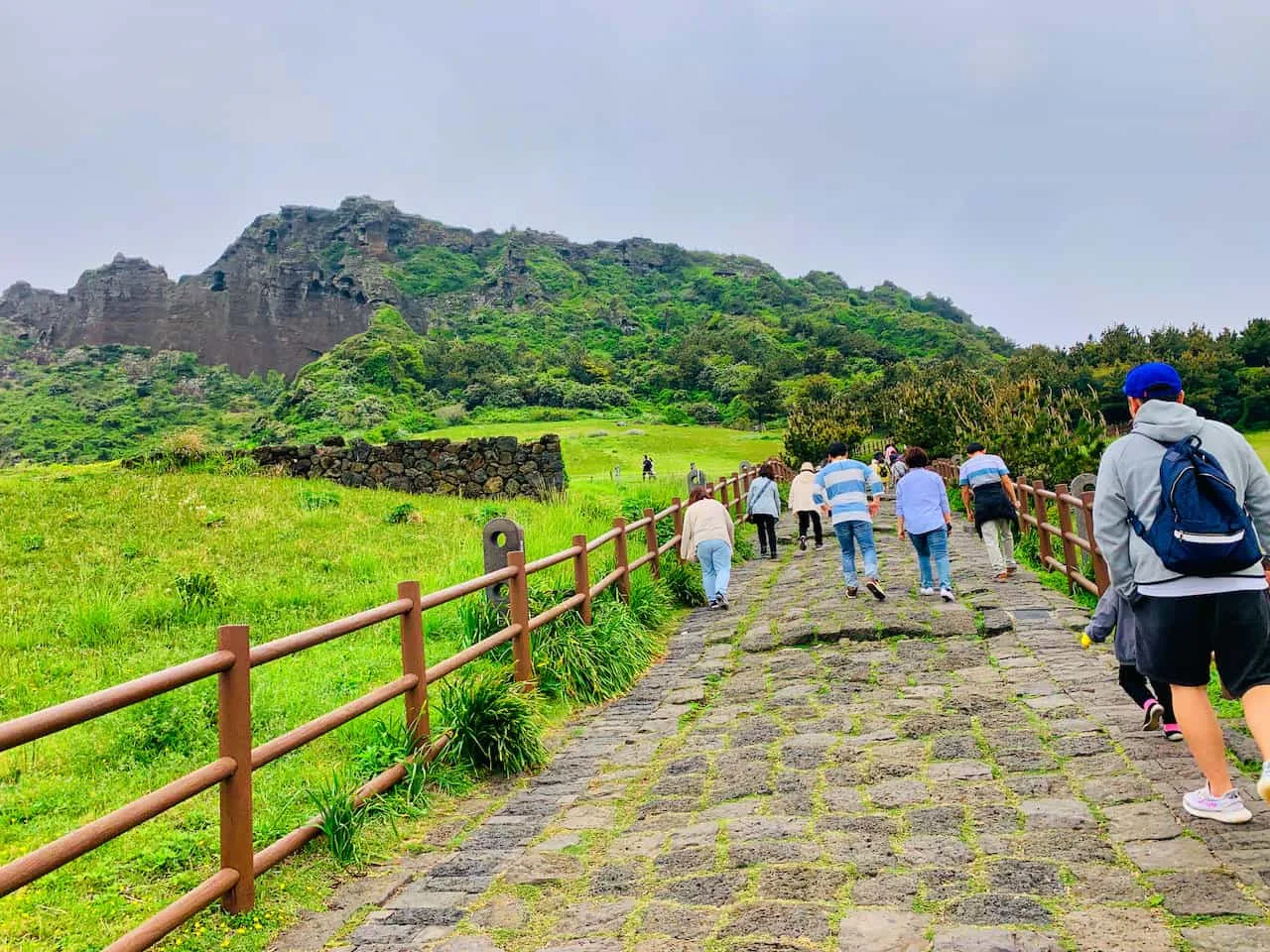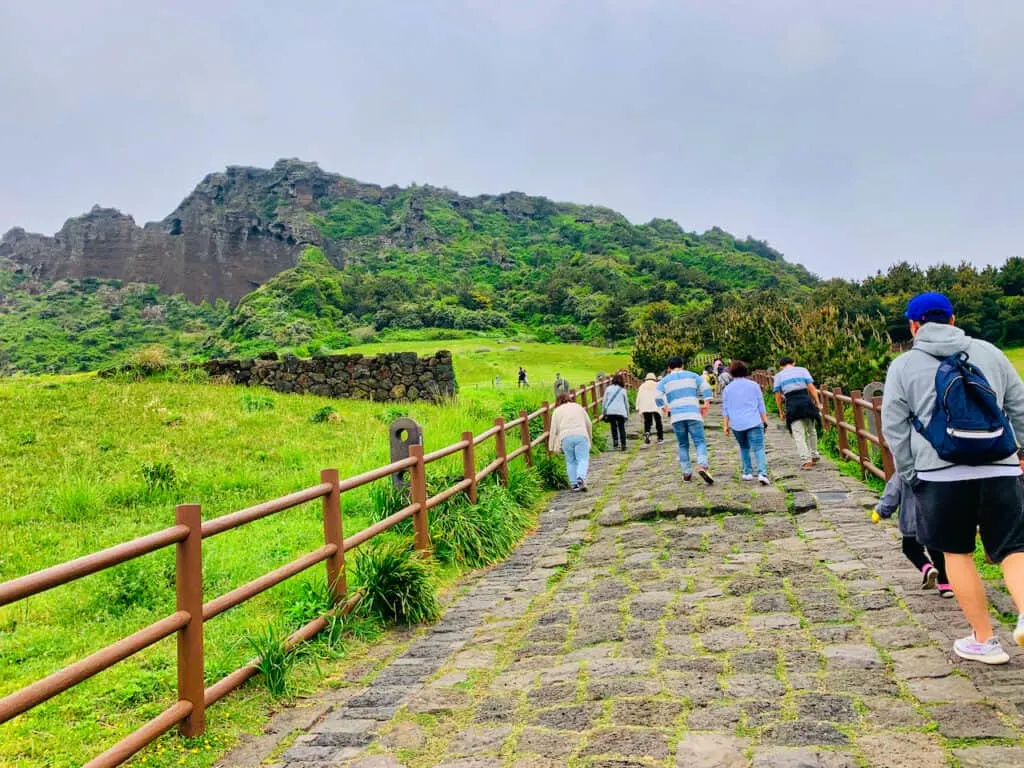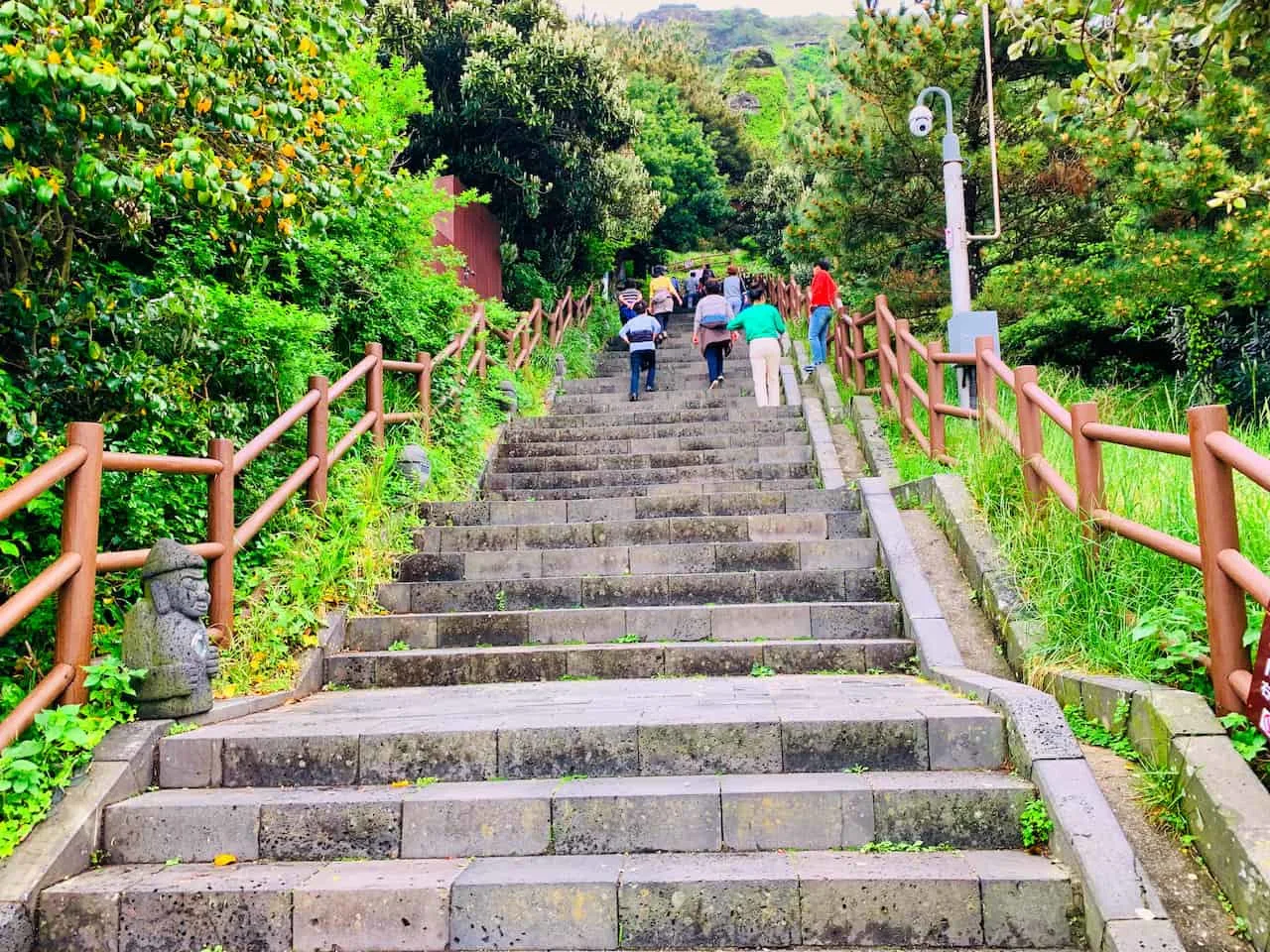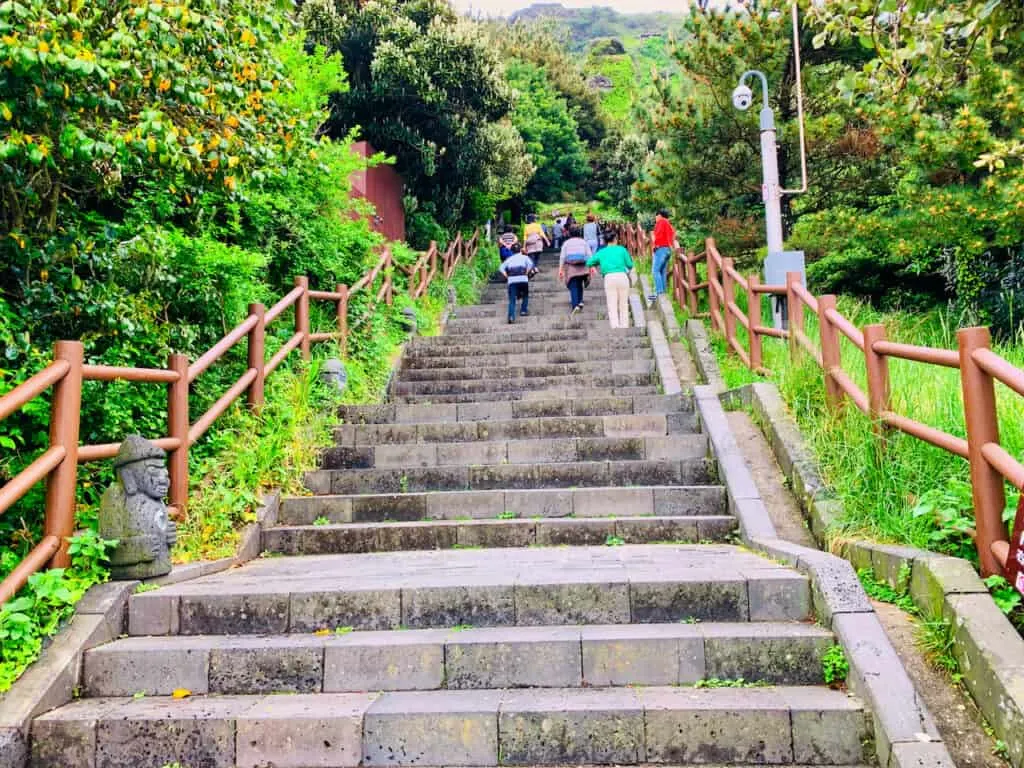 The higher that you head up, the better the views will be out behind you. Be sure to take your time to enjoy the coastline and (hopefully) Mt Hallasan out back.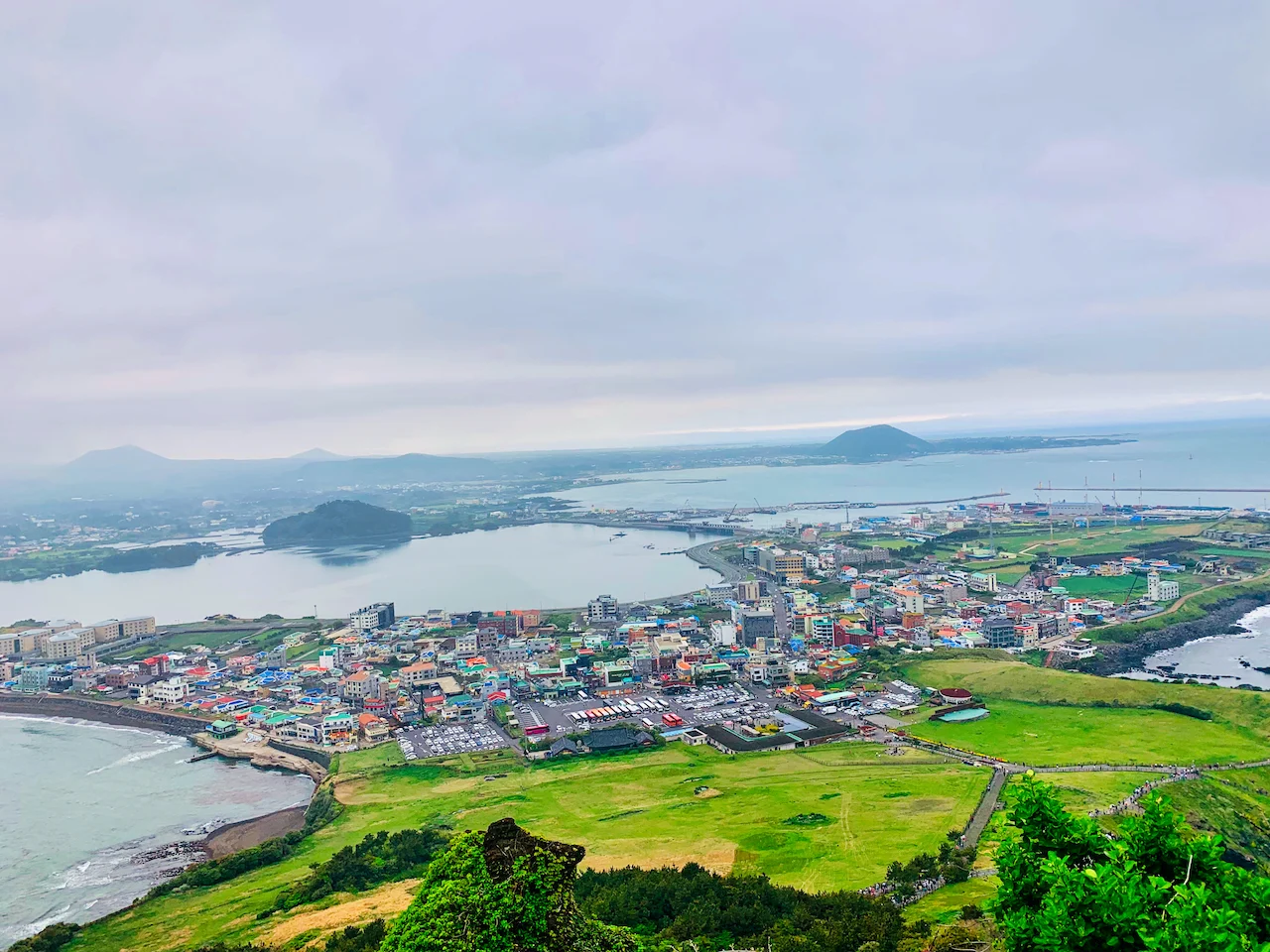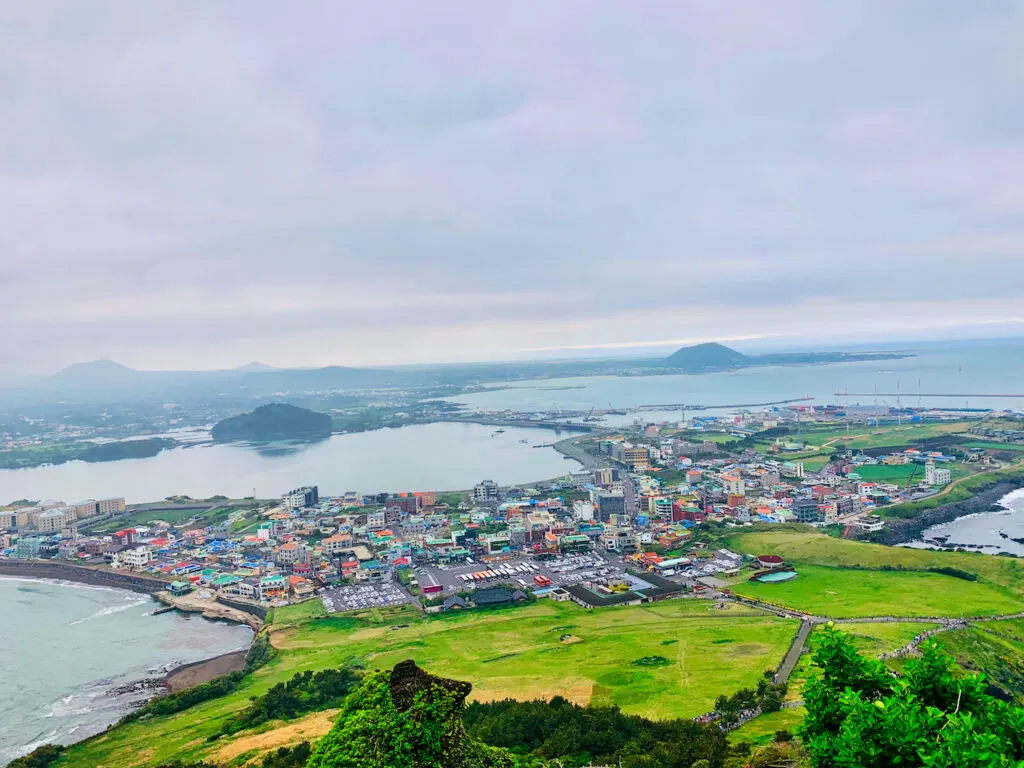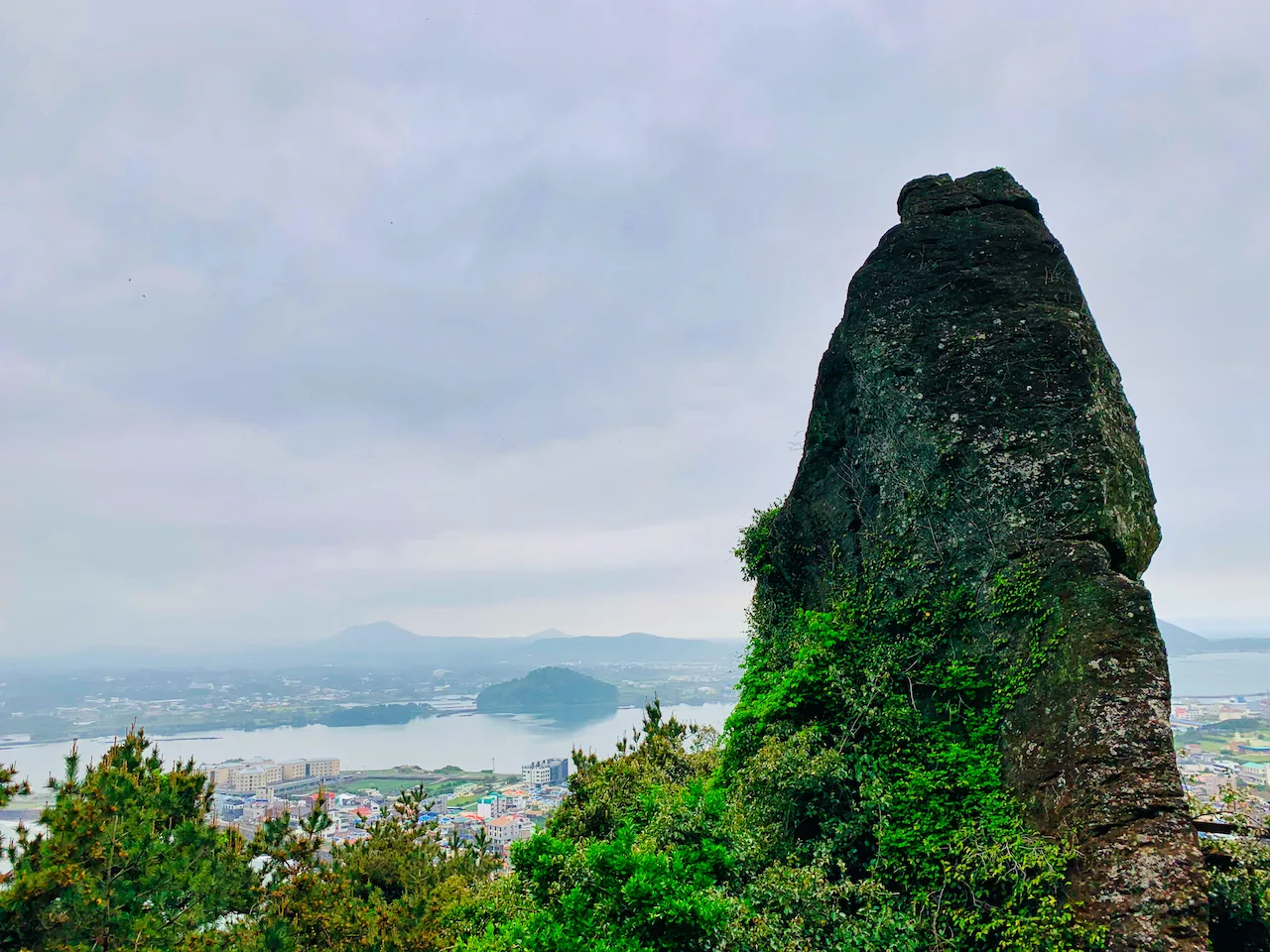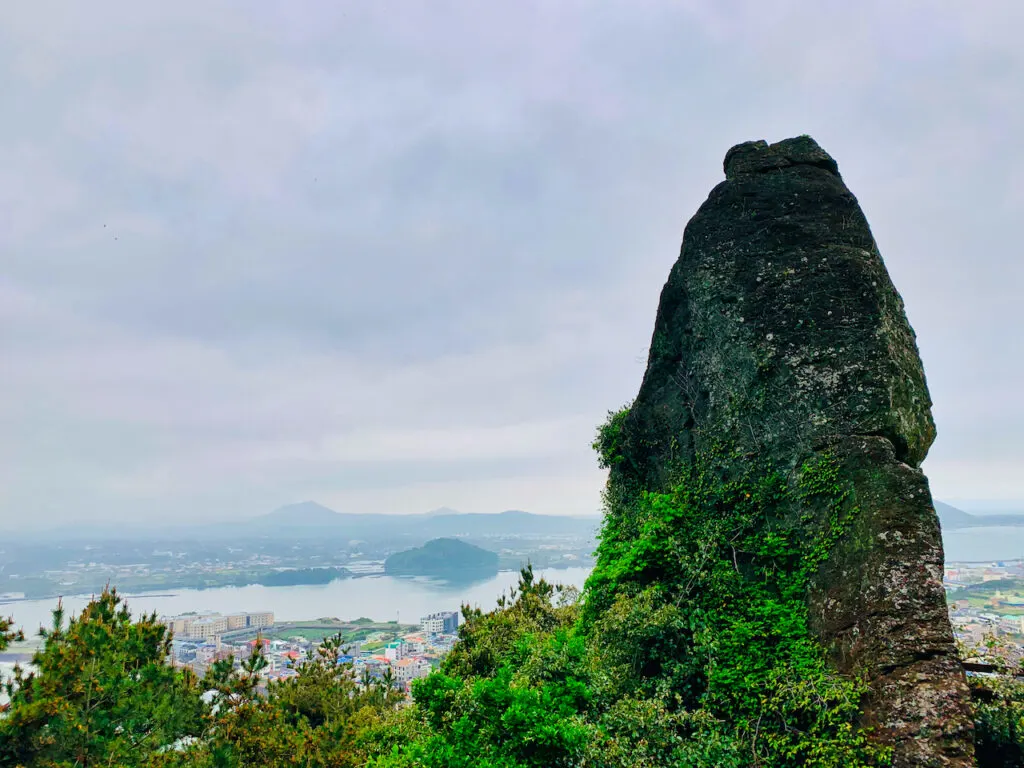 After finishing up with the staircases, you will reach the main lookout area on the crater rim of Seongsan Ilchulbong.
From here you will get to see the greenery filled landscape out in front of you with the sea out back.
If you happen to visit for sunrise, you will slowly see the horizon come to life and the sun making its appearance out in the distance.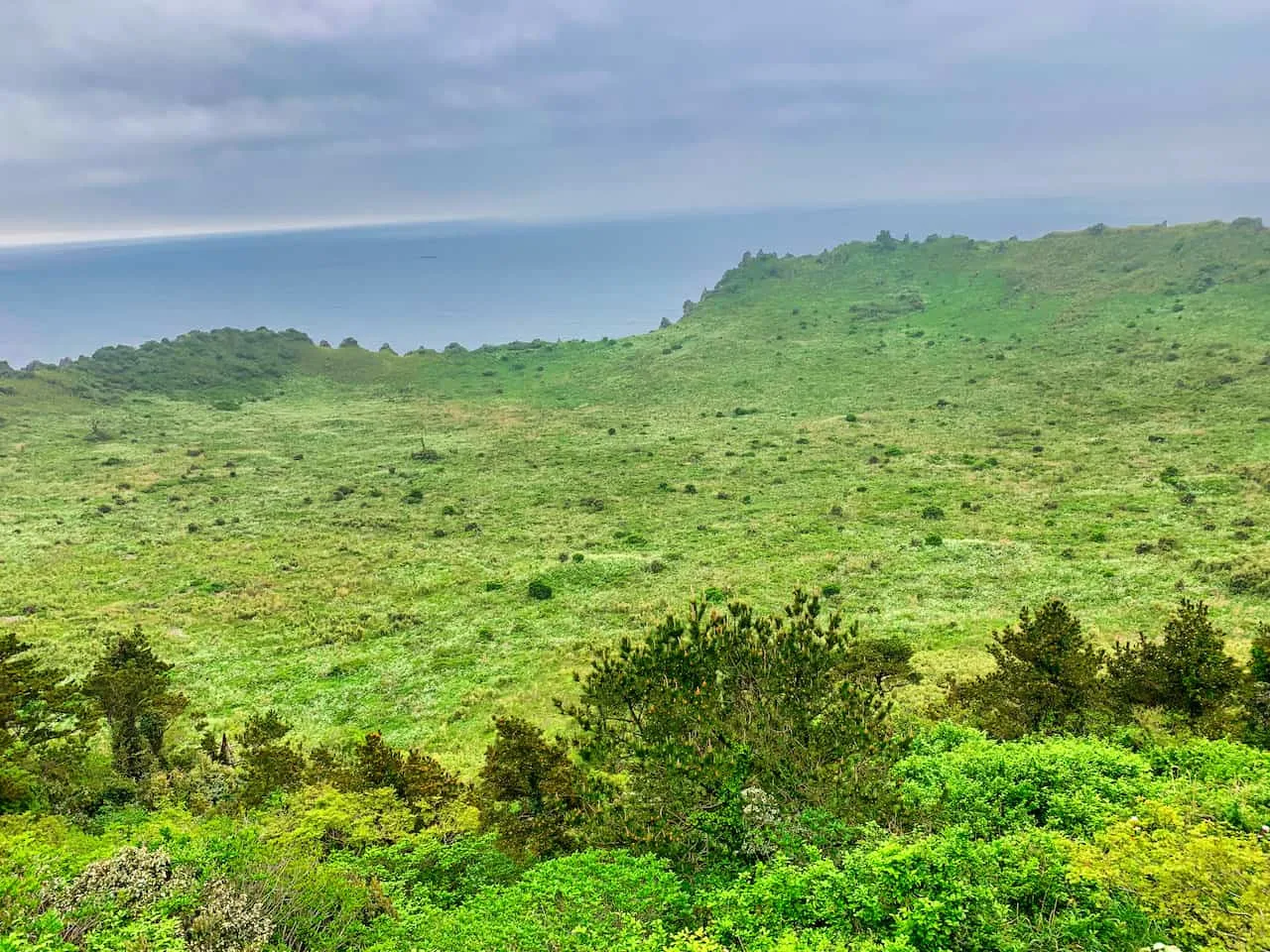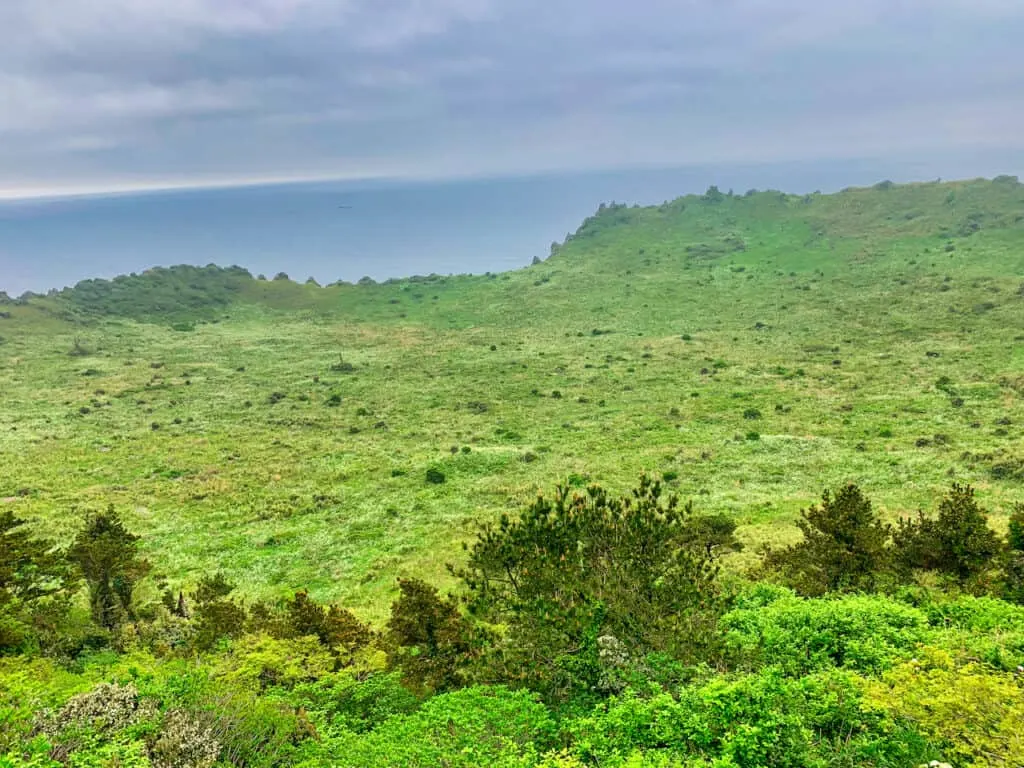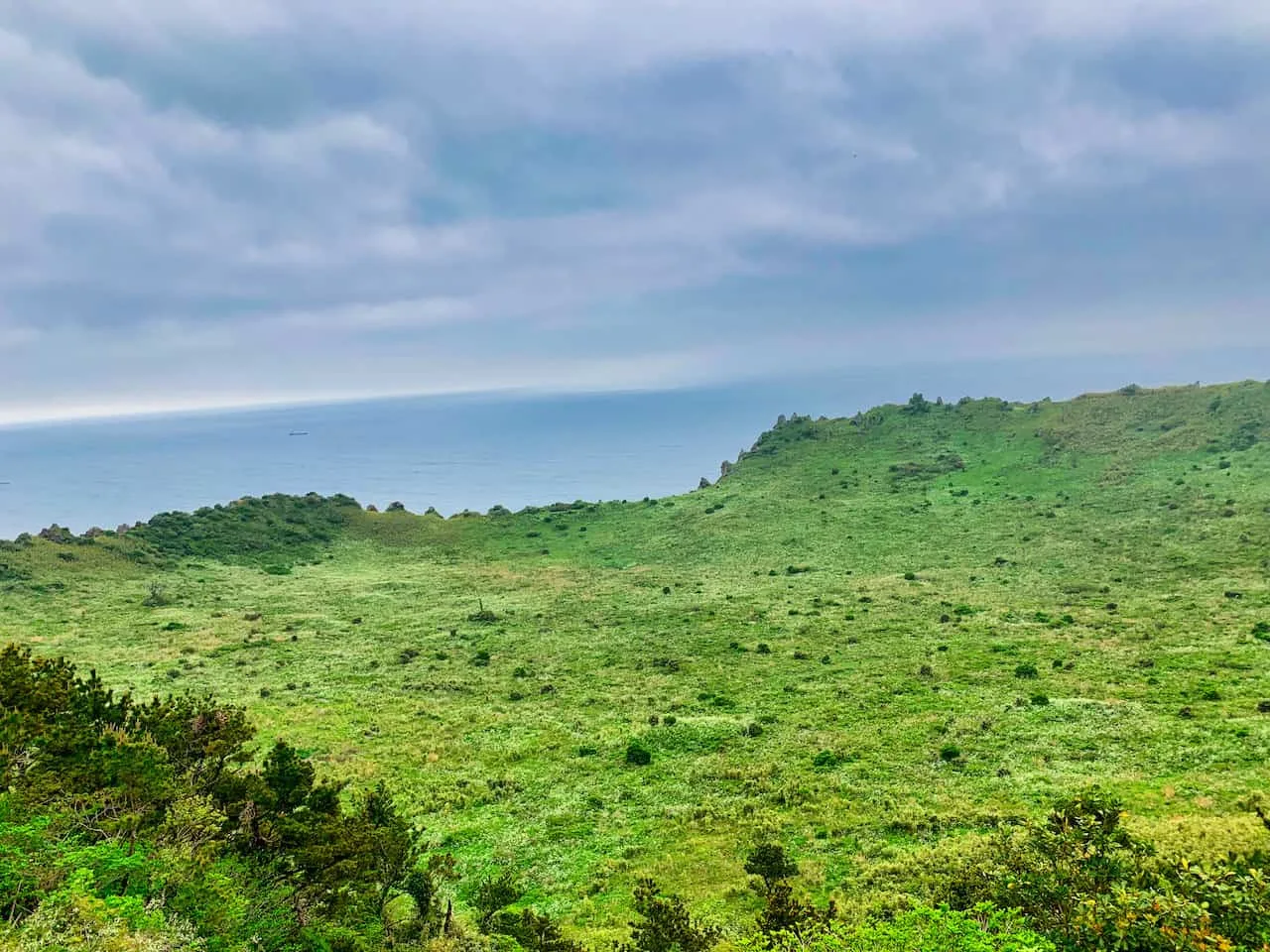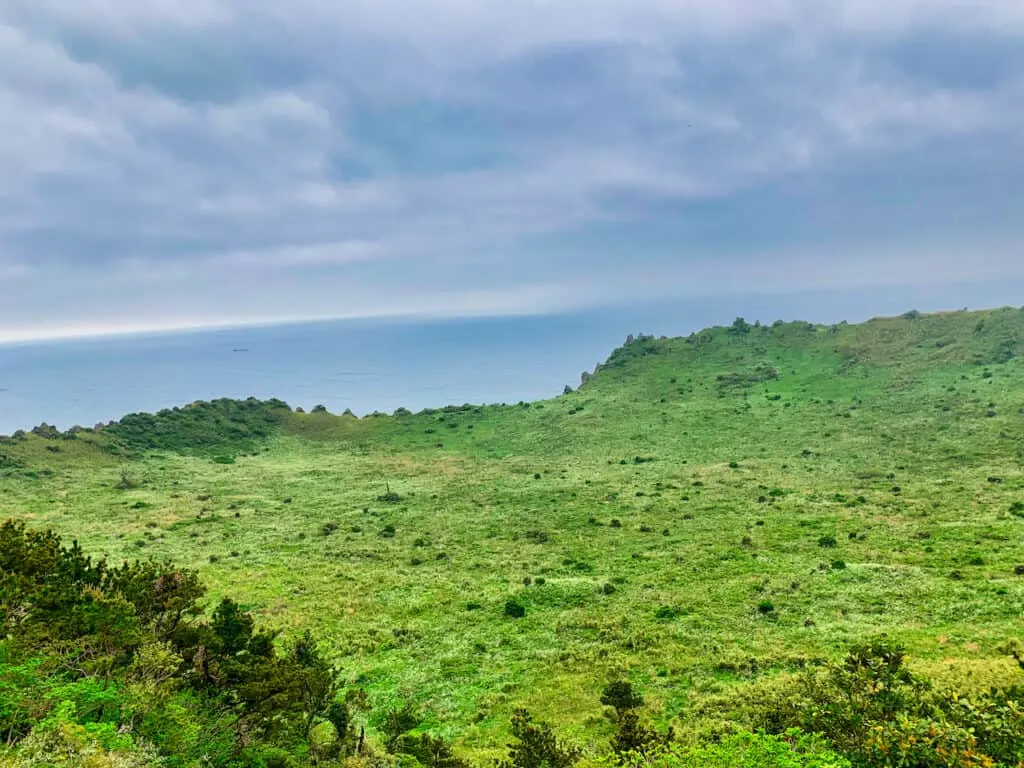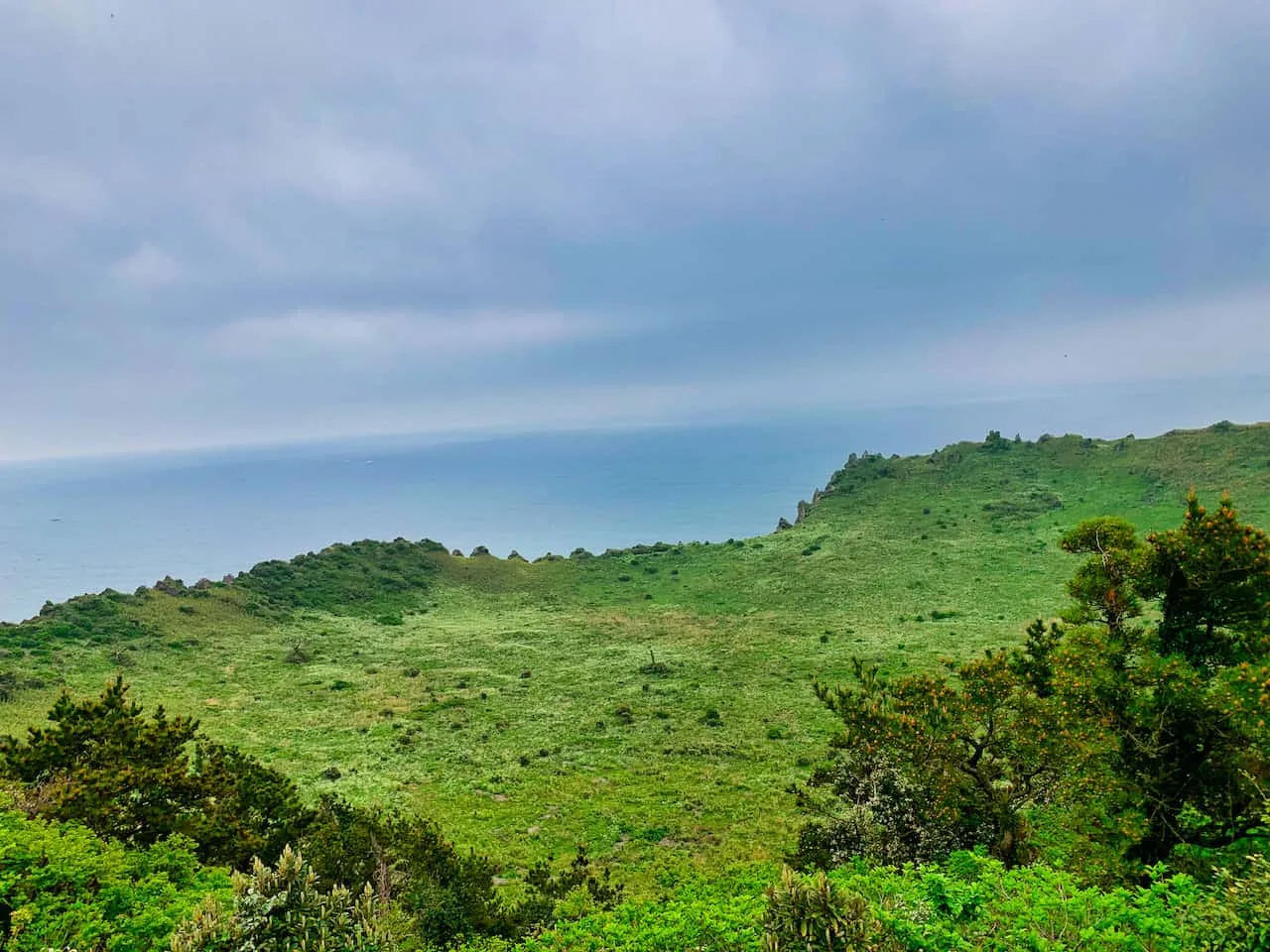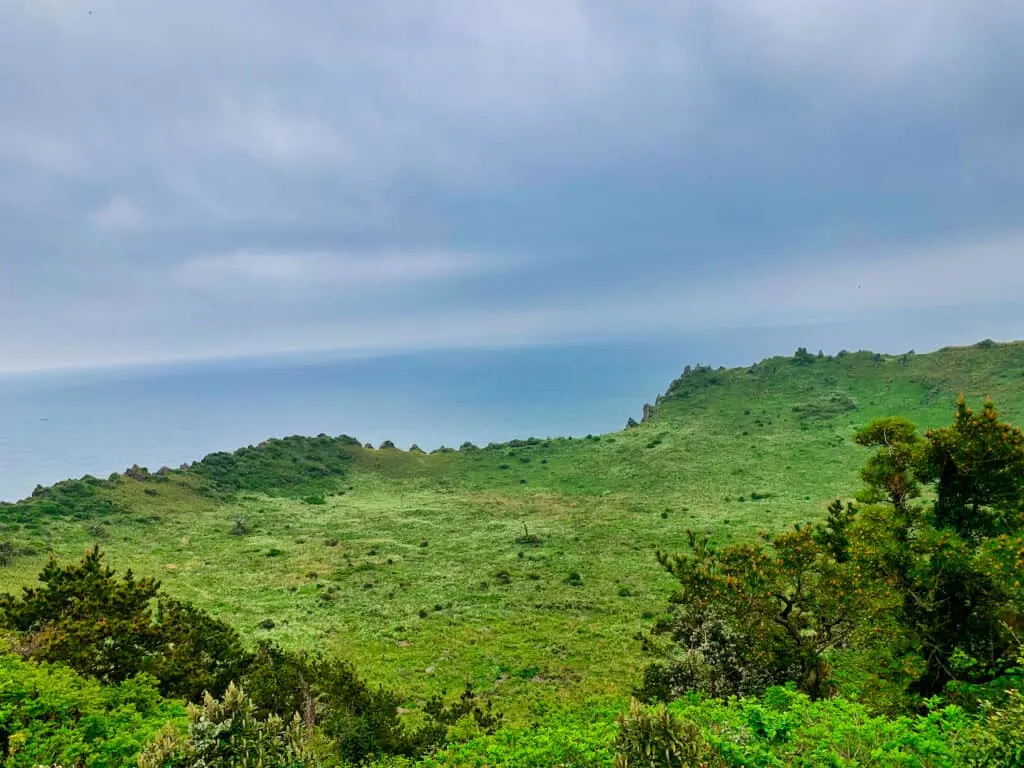 Once all finished up top, you can then begin the descent back down to the entrance. This can be done as an out & back route, or you can continue on a loop trail to the bottom.
Expect the round trip route to be just around 45- 60 minutes, with additional time spent taking in the views.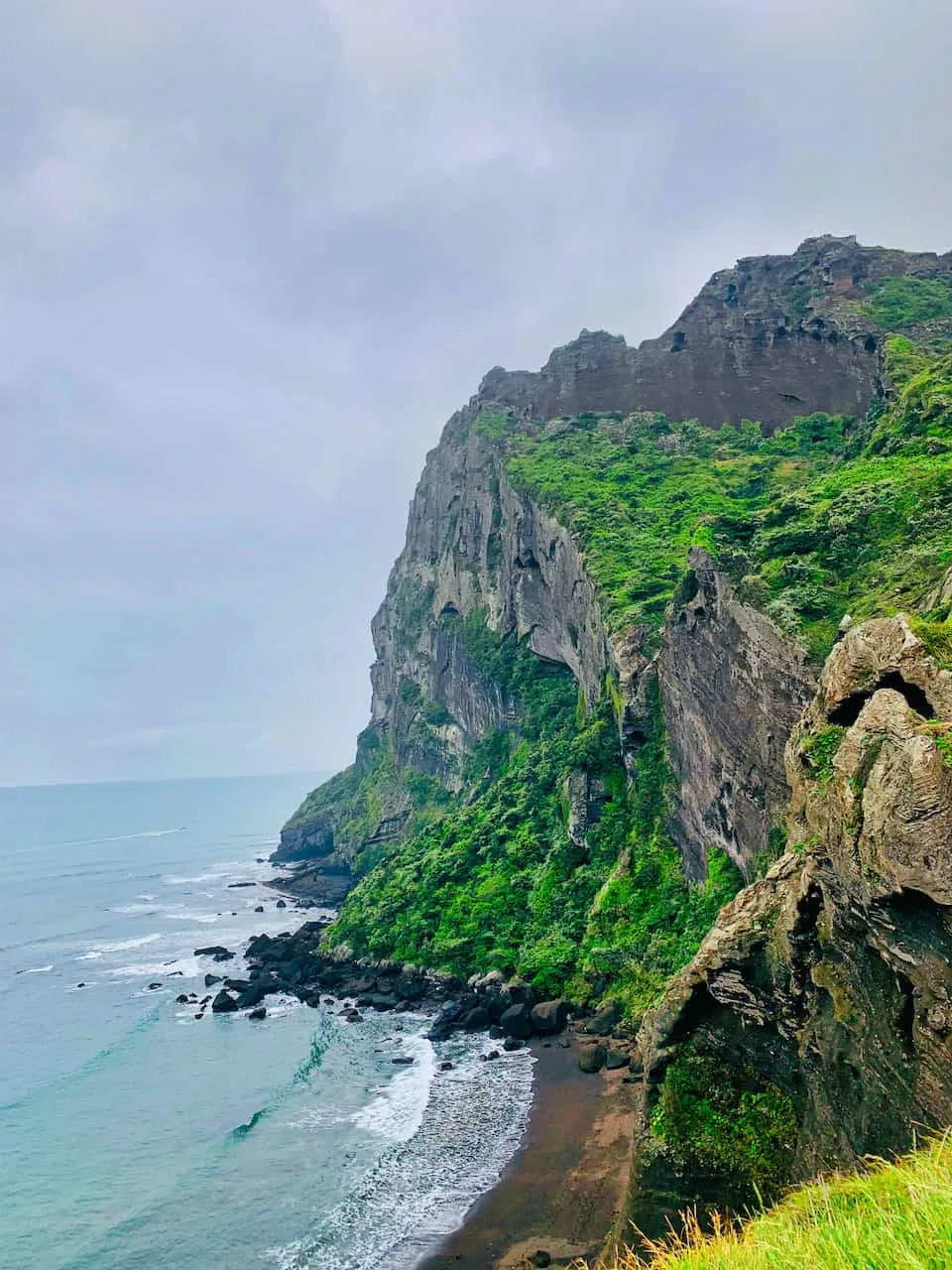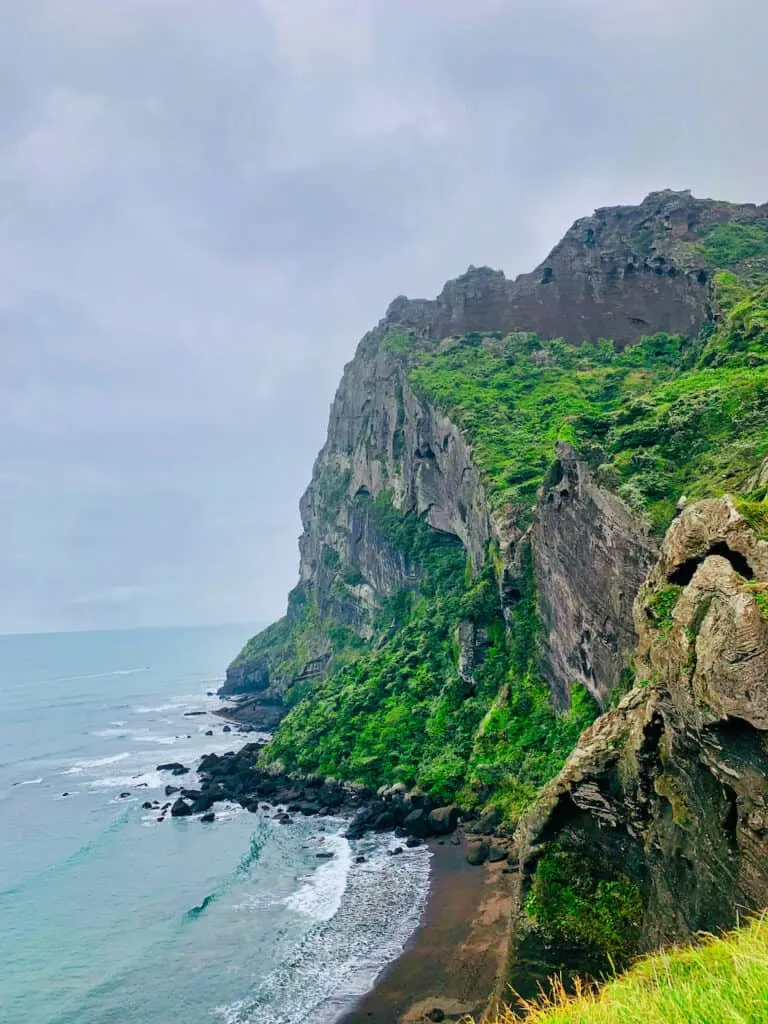 7) Women Diver Performance (Haenyeo)
During your Jeju Island research, you may also come across something known as the Haenyeo Women Diver Performance.
This is located right in the same complex of Seongsan Ilchulbong (signboards will point you in the right direction). So, either before or after heading up to the crater, you can time up your visit with the performance.
Essentially these performances are made up of a group of women (some of which can be quite old), who gear up and free dive out in the water. They collect a variety of shellfish and seafood that can be bought on the shores.
Prior to the diving part, the women put on a singing performance as well and then come and go from the water.
You can catch these performances twice a day at 1:30PM and 3:00PM.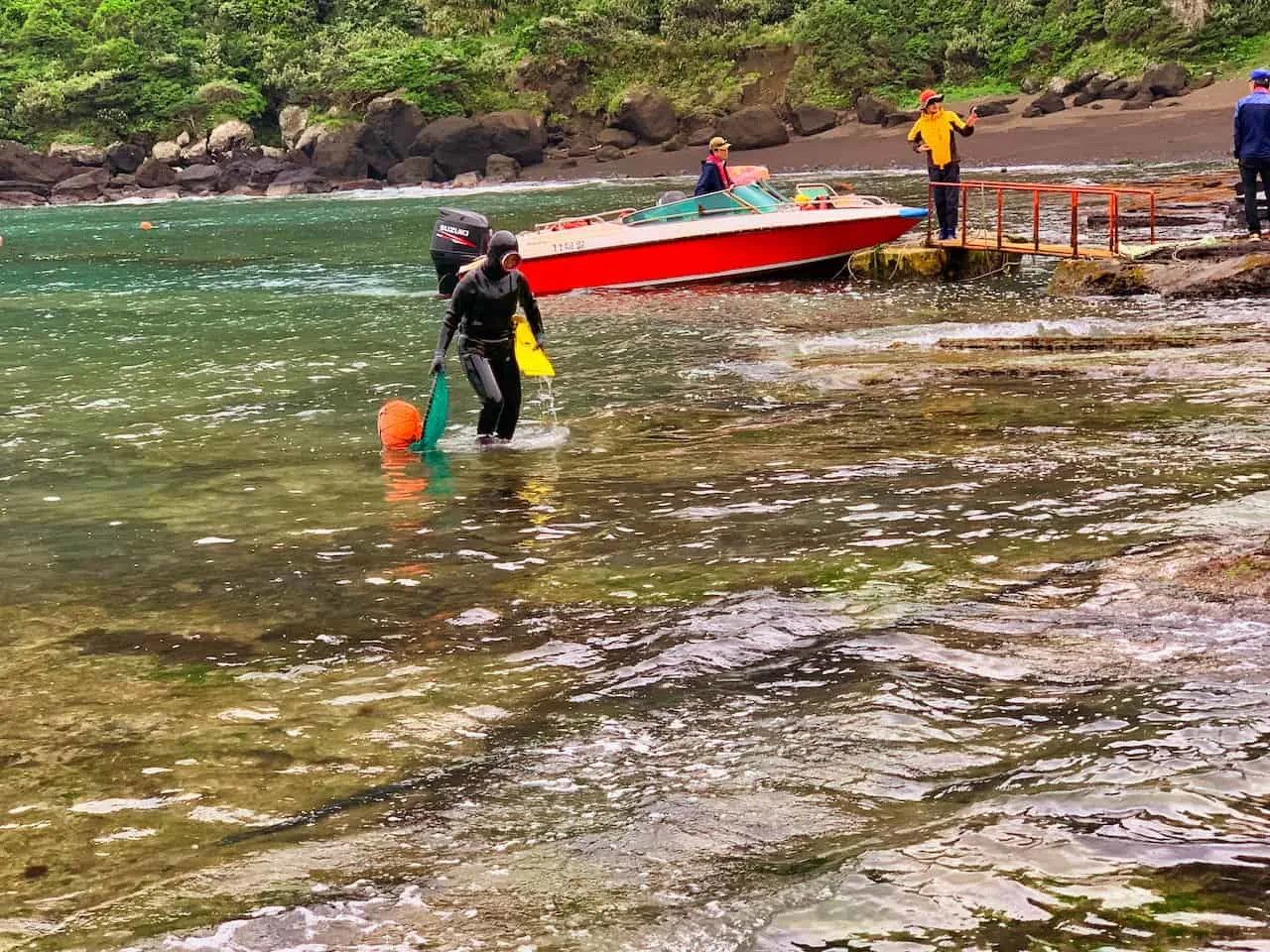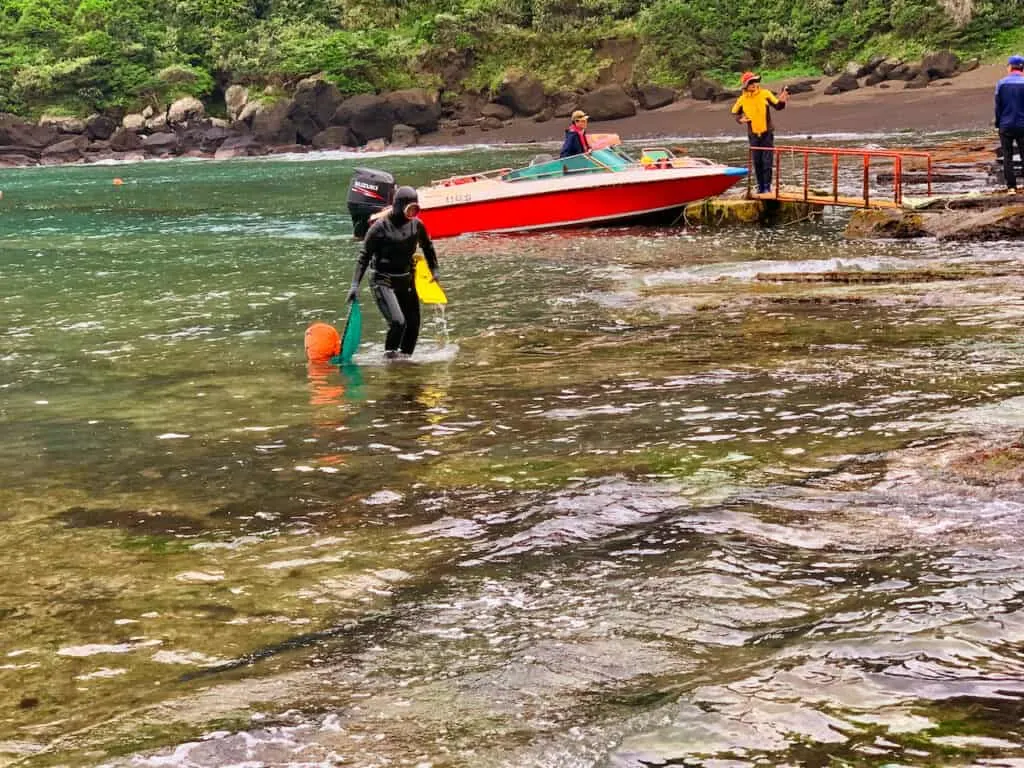 8) Seongsan Ilchulbong Frequently Asked Questions
To wrap up, I did want to lay out some answers to the most frequently asked questions when it comes to Seongsan Ilchulbong.
How Long Does it Take to Hike Seongsan Ilchulbong?
You should expect the round trip Seongsan Ilchulbong hike to take around 45 – 60 minutes. You may also spend additional time at the viewpoint, as well as at the Women Diver Performance.
What Time to Visit Seongsan Ilchulbong?
If you have it in you (and the weather cooperates), visiting Seongsan Ilchulbong at sunrise will give you the best overall experience. & views.
However, if you aren't able to make it up for sunrise, I would recommend heading up earlier on in the day.
This is one spot on the island that can get crowded. To best avoid the crowds, be sure to hike on up before they arrive.
How Many Steps are on Seongsan Ilchulbong?
While I have not counted them myself, I have read there are between 300 – 500 steps up to the crater rim of Seongsan Ilchulbong.
My guess is that it is closer to the lower side of that range based on the elevation gain.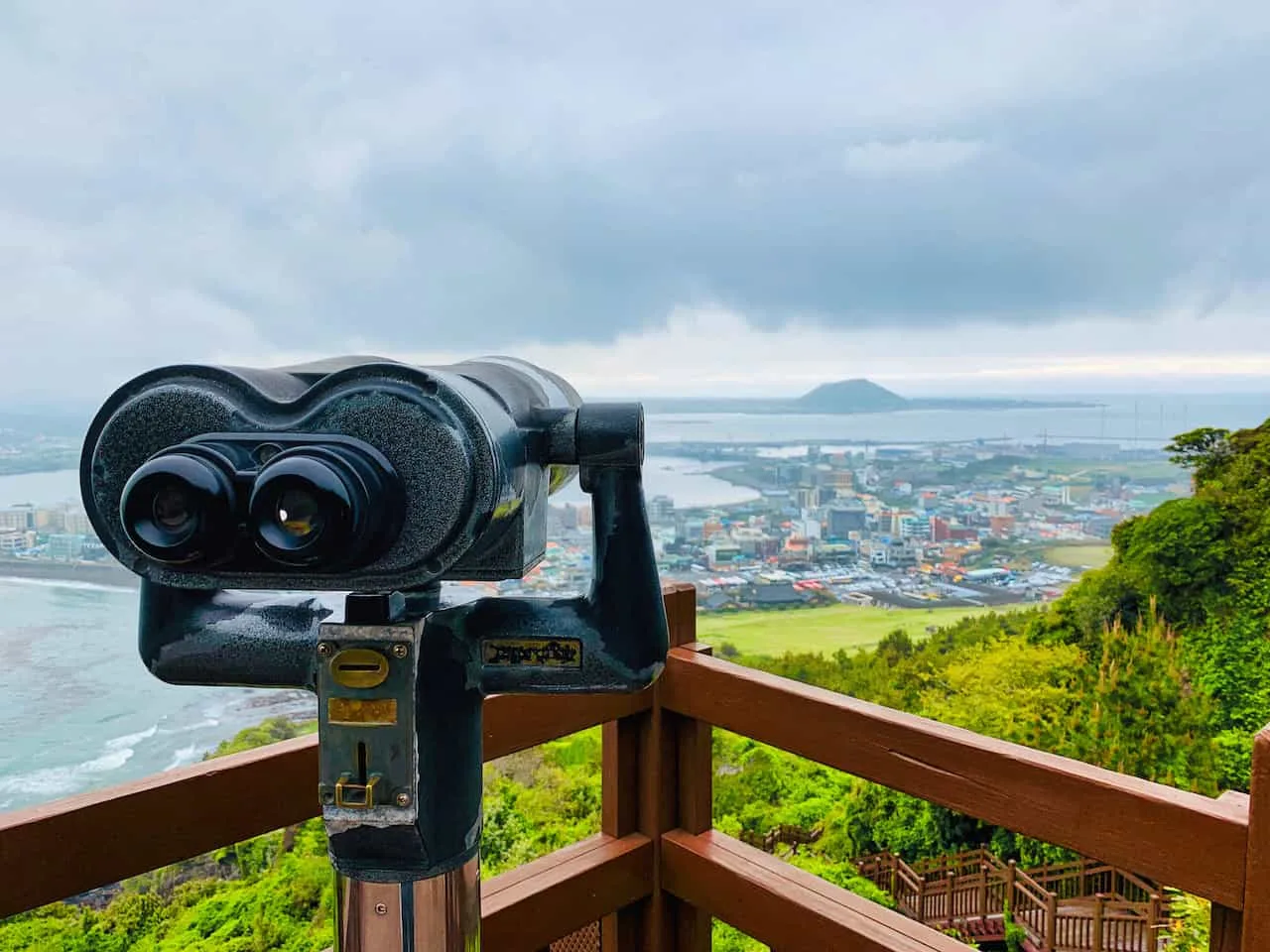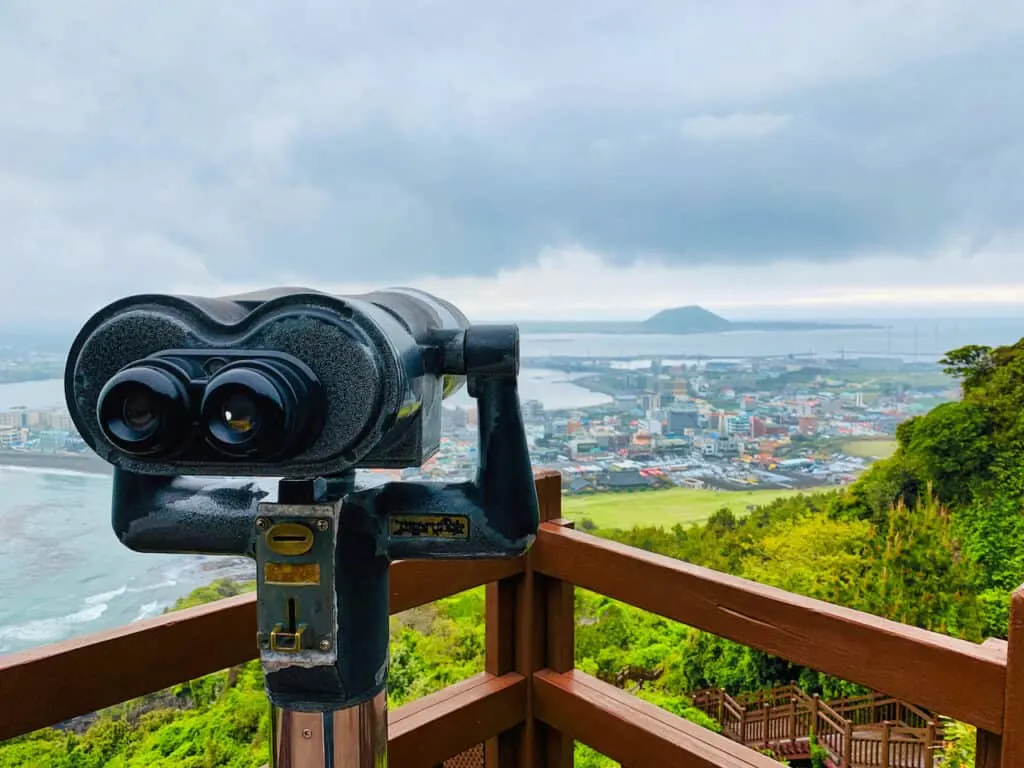 9) Where to Stay in Jeju
When planning a trip to Jeju, you can opt to base yourself in one spot (like Jeju City or Seogwipo), or spend a couple nights in various places around the island.
At the end of the day, this will all depend on your own itinerary.
Below are a few hotel recommendations for these two main places:
Jeju City
Seogwipo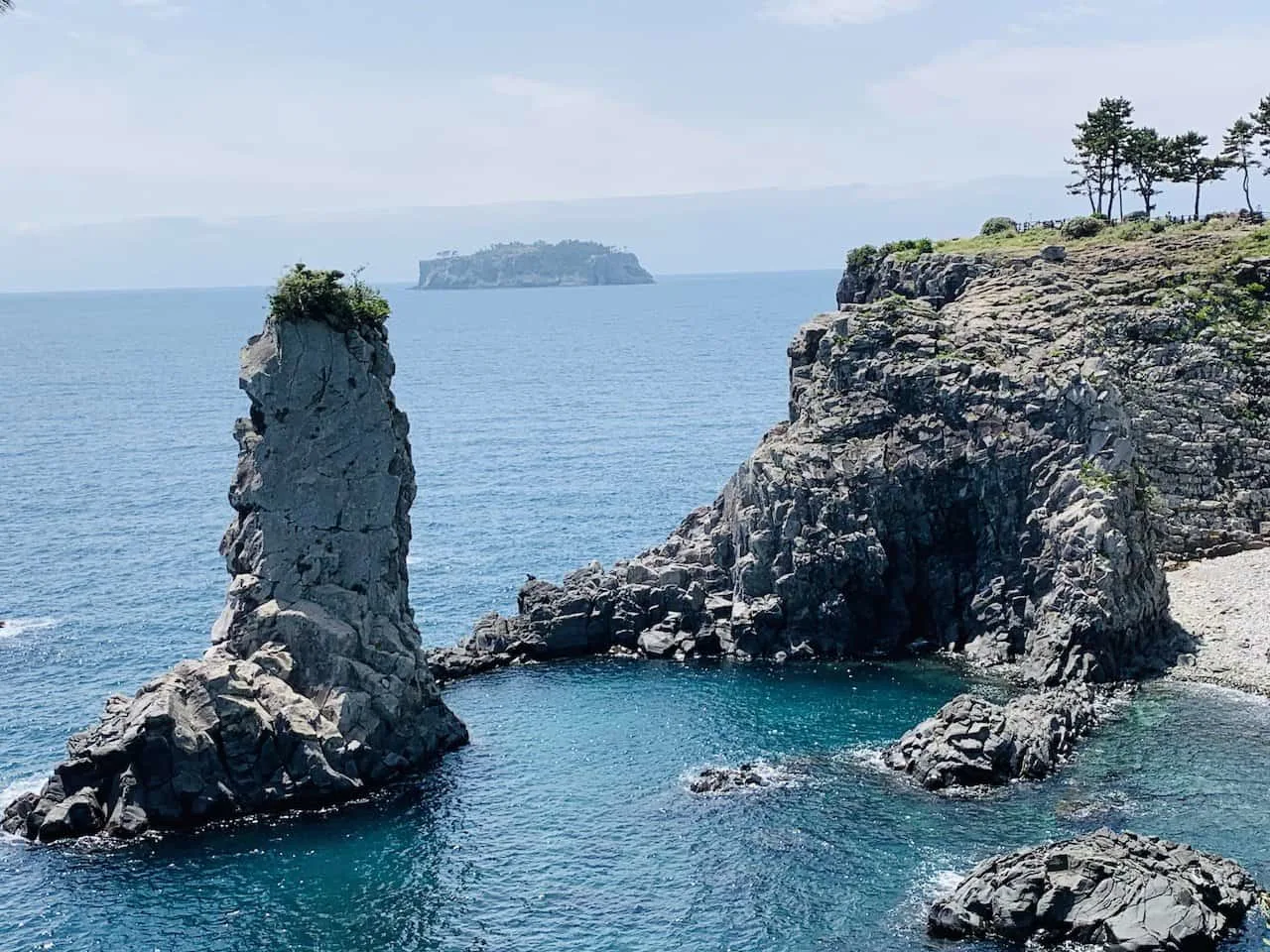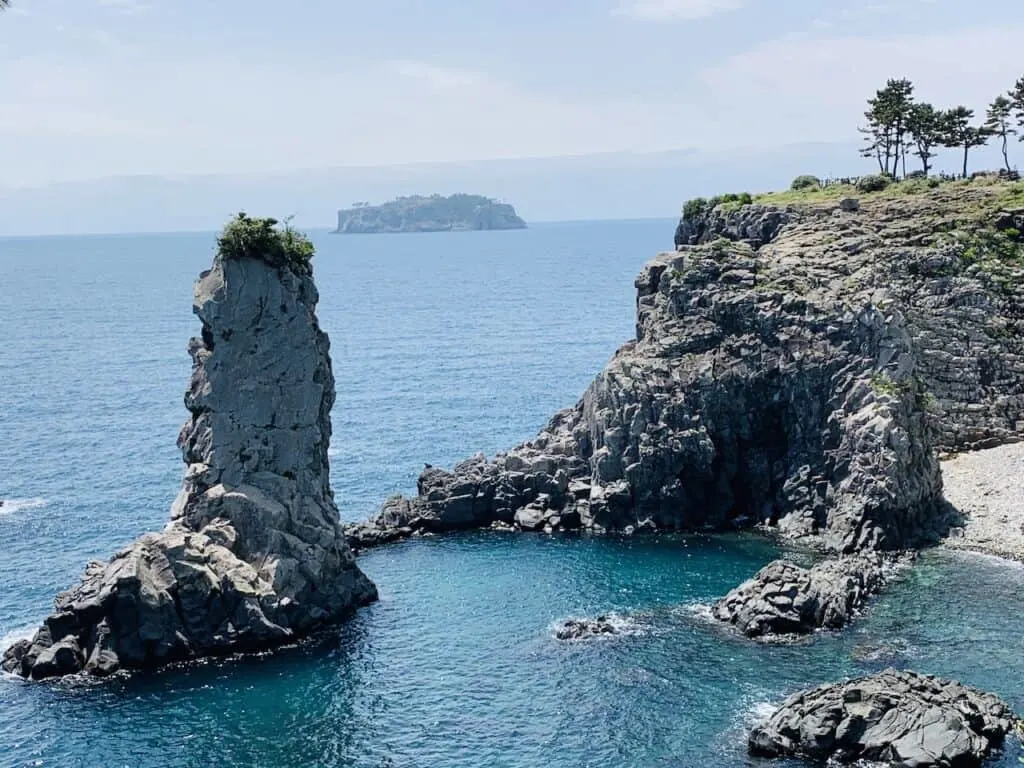 That wraps up a guide to Seongsan Ilchulbong of Jeju Island, South Korea.
If you have any other questions or comments, be sure to add them in below. You can also check out other South Korea guides up on the site like the Mount Hallasan hike and the Manjanggul Lava Tube Cave.
Have fun out there and safe travels!