Located off the southern shore of Jeju Island is the famous 20 meter / 65 foot high Oedolgae Rock.
During a visit to Oedolgae, you will have the chance to take part of a hiking trail that brings you to views of the rock, the coastline, and even some natural swimming pools.
Read on to learn everything there is to know about the Oedolgae Rock and how to go about a visit for yourself.
* Affiliate Disclosure: This post may contain affiliate links, which means I may receive a commission if you make a purchase through the links provided, at no additional cost to you. Thanks for supporting the work I put into TripTins!
1) History & Things to Know
Before we talk about a visit, below are some fun & historical facts about the rock and how it came to be:
The word Oedolgae translates to "Lonely Rock". It is pretty obvious during a visit to why that name was chosen. Just off of the coastline is a massive rock formation jutting out of the water.
The rock (also called a sea stack) is thought to have formed 1.5 million years ago as a result of volcanic activity on the island. Over the years, wave erosion has shaped the rock to what you see today.
In result of the eruption & erosion, a 20 meter high (65 feet) & 10 meter circumference (33 feet), rock was formed that later was known as Oedolgae.
Similar to many spots on Jeju Island, there are historical tales about these types of famous locations. As it states on the signboard nearby the entrance:
"Oedolgae has a story dates back to the time of late Goryeo dynasty when a general, Choe young was battling against Moak-ho from Yuan. He disguised Oedolgae as a giant general to scare off the enemies. That is why Oedolgae is also called 'General Rock'."
Over the years, the rock has become more popular. It was even one of the filming locations for the 2003 television show Dae Jang Guem.
Today, visitors have the chance to view the rock from the shore, and take in the beautiful coastline along the way.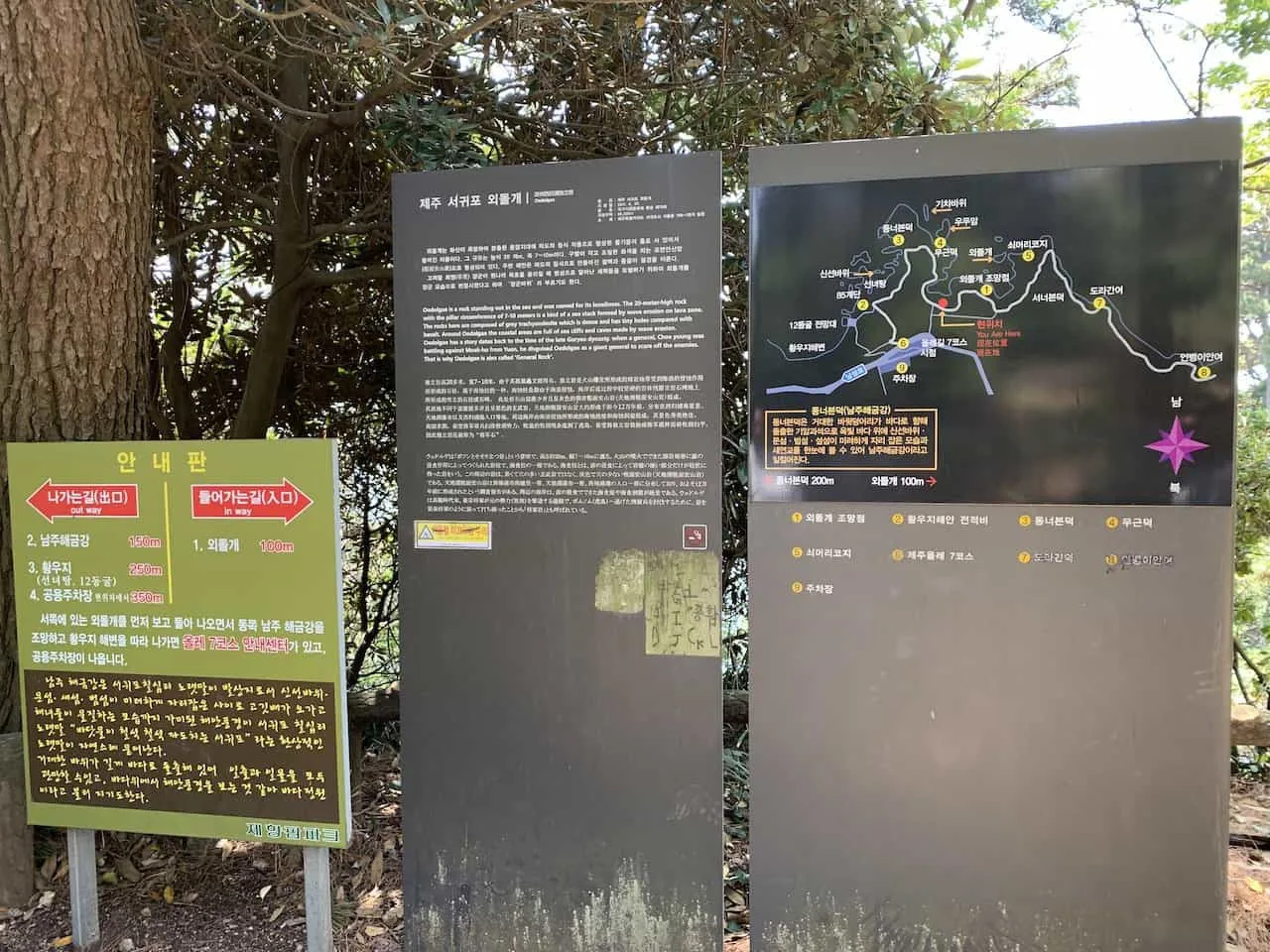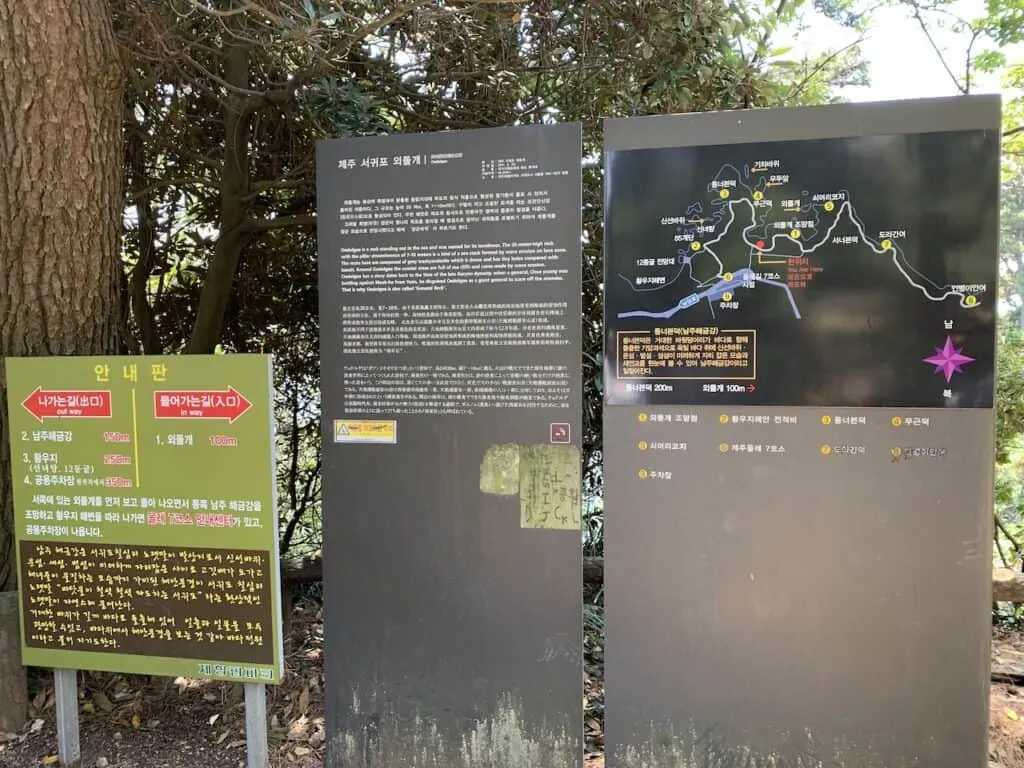 2) How to Get to Oedolgae
In general, there are three main ways to go about a visit to Oedolgae (and other places around Jeju Island) – rental car, bus, or tour.
Rental Car
When exploring Jeju, I would recommend renting a car in order to explore at your own pace. You will be able to be on your own schedule and not need to worry about public transport.
This will not only help when visiting Oedolgae, but also when visiting any other top spots you have on your Jeju Island to do list (like Jusangjeolli Cliffs, Manjanggul Cave and Seongsan Ilchulbong).
If driving a car, you will be welcome to a large parking area just by the main entrance.
Feel free to check out Rentalcars.com for potential options. You will be able to see a variety of cars by price, size, and type, so you can choose the one best for you.
Bus
There is an extensive public transport network on Jeju Island, so you should be able to leverage it during your time there.
Below are the steps to reach the rock from Jeju City and Seogwipo:
From Jeju City: you can take a bus (such as #232) from Jeju City to the Dongmun Rotary in Seogwipo. It is a longer ride (approximately 2.5 hours). Once there, you can get onto the 627 or 615-2 bus to Oedolgae.
From Seogwipo: from the city center there are several busses that can make the quick 15 minute ride to Oedolgae. These include the 627 and 615-2, among a few others.
Tour
Instead of worrying about renting a car or figuring out public transport, you can also make your way to Oedolgae and other highlights (such as the nearby Jeongbang Waterfall and Cheonjeyeon Waterfalls) by joining a group or private tour.
Also note that you could just hire a taxi to take you back & forth if you don't want to go for a tour option.
Tour Booking Option: Check out this customizable Private Jeju Tour that can take you all around the island during your trip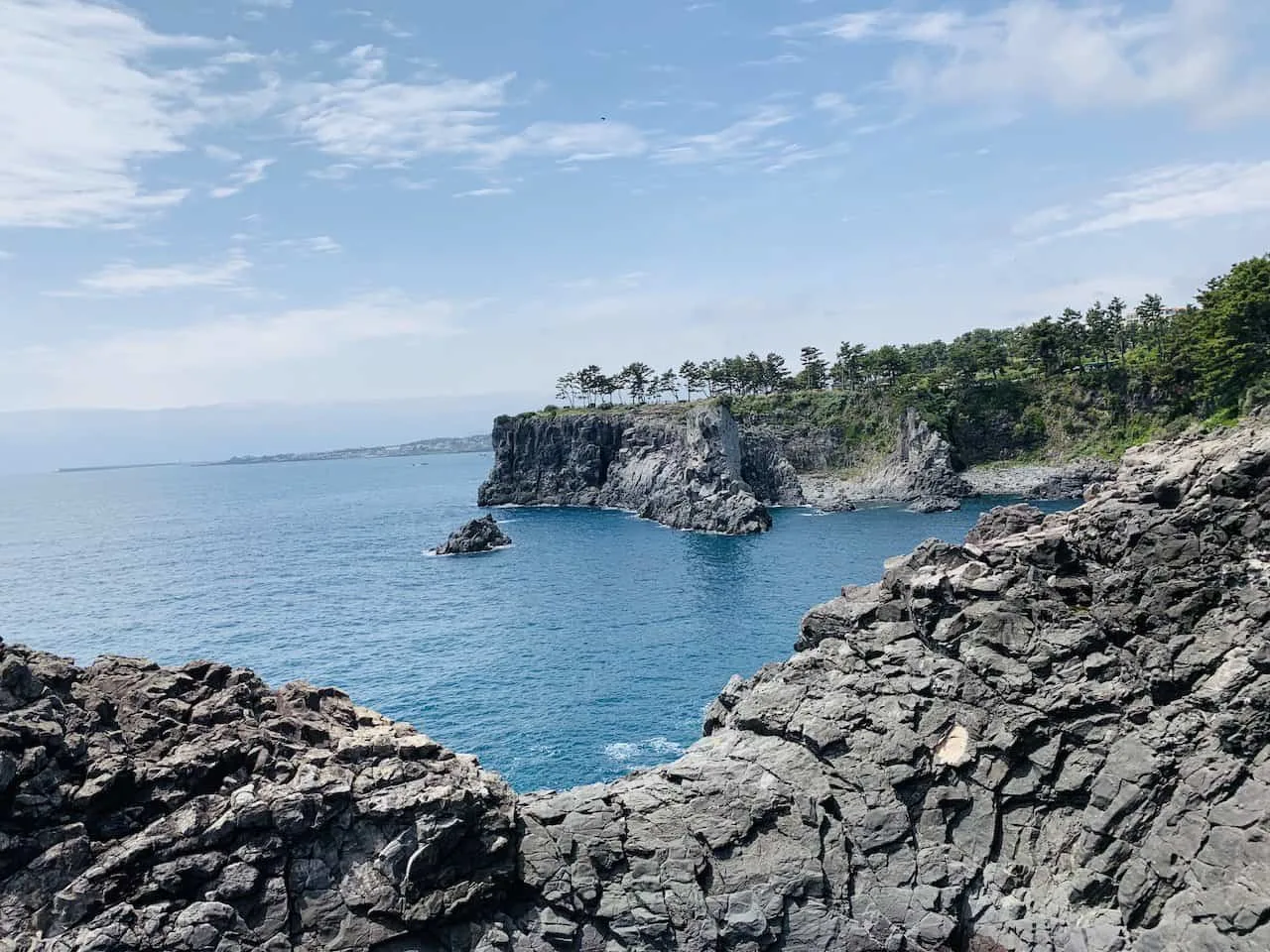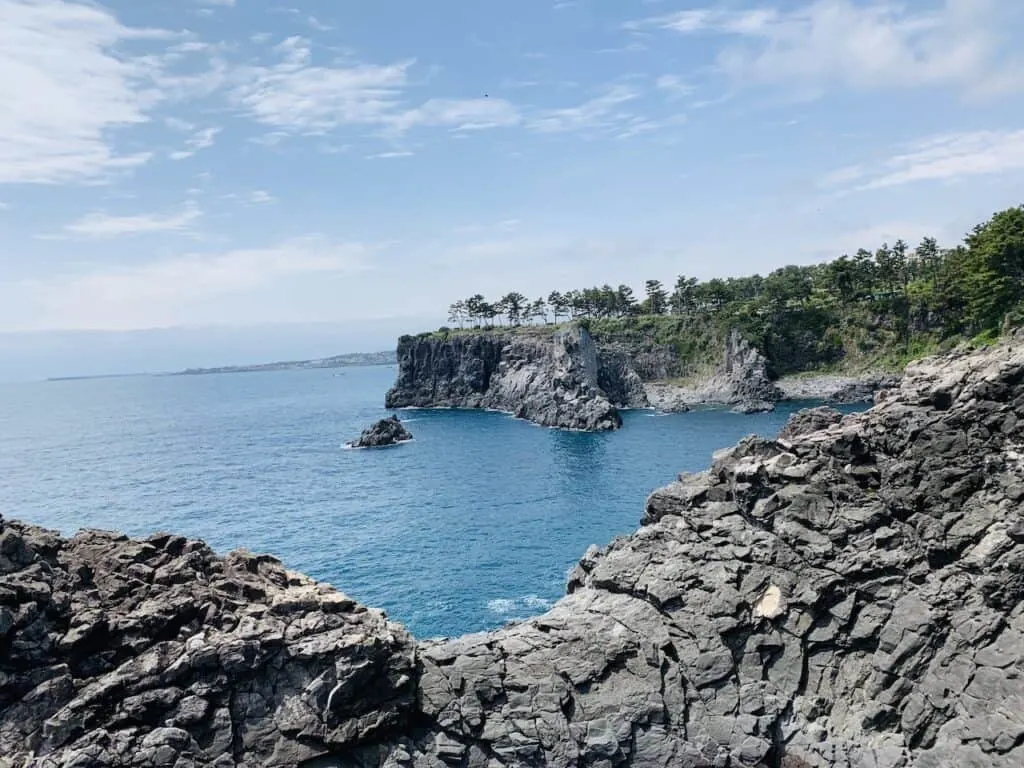 Learn More About Jeju: Check out this guide that goes over the best things to do in Jeju Island
Oedolgae Parking
If you are driving to Oedolgae, you will come across both a free and a paid parking lot. These are right next to each other, so if there is space in the free lot, go for it.
In the chance that the free lot is full, you can park in the larger paid lot for just 2,000 won (~$2).
The parking lot has a few food stalls if you are looking for a bite to eat or a quick refreshment.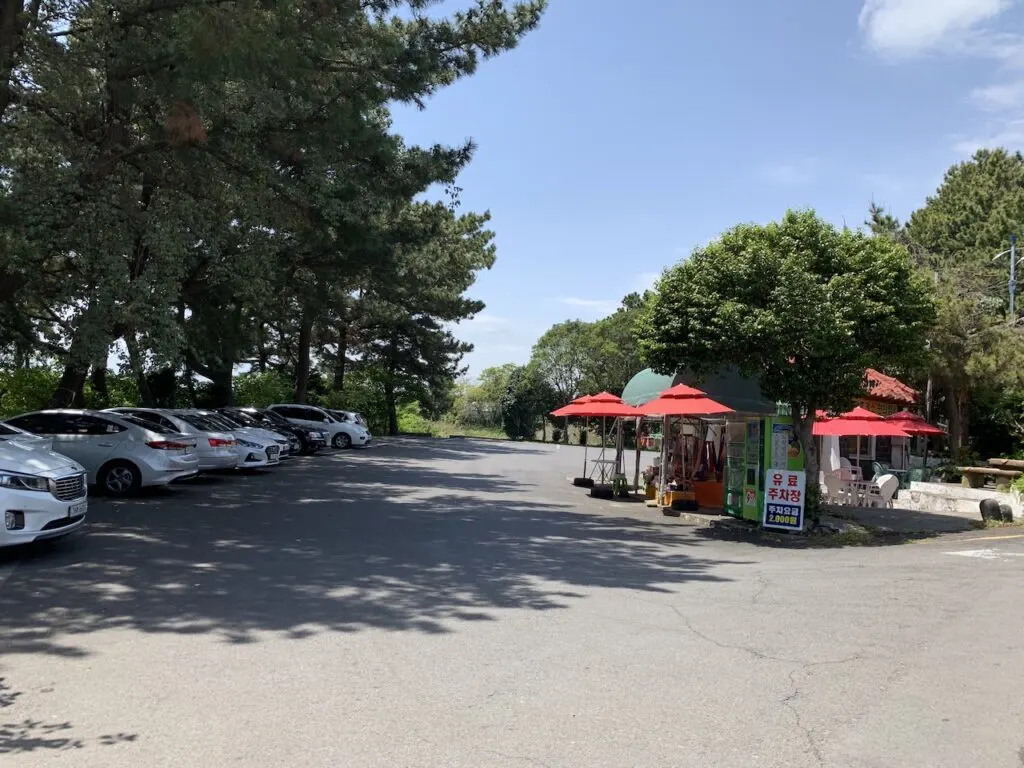 3) Oedolgae Map
Once you arrive at the parking lot, you have the option to just head to the closest Oedolgae viewpoint or take part of a longer loop walk along the Hwangwooji Coast.
Below is a screenshot from the Maps.me app that shows the route that I took during a visit (the small triangle is the rock itself).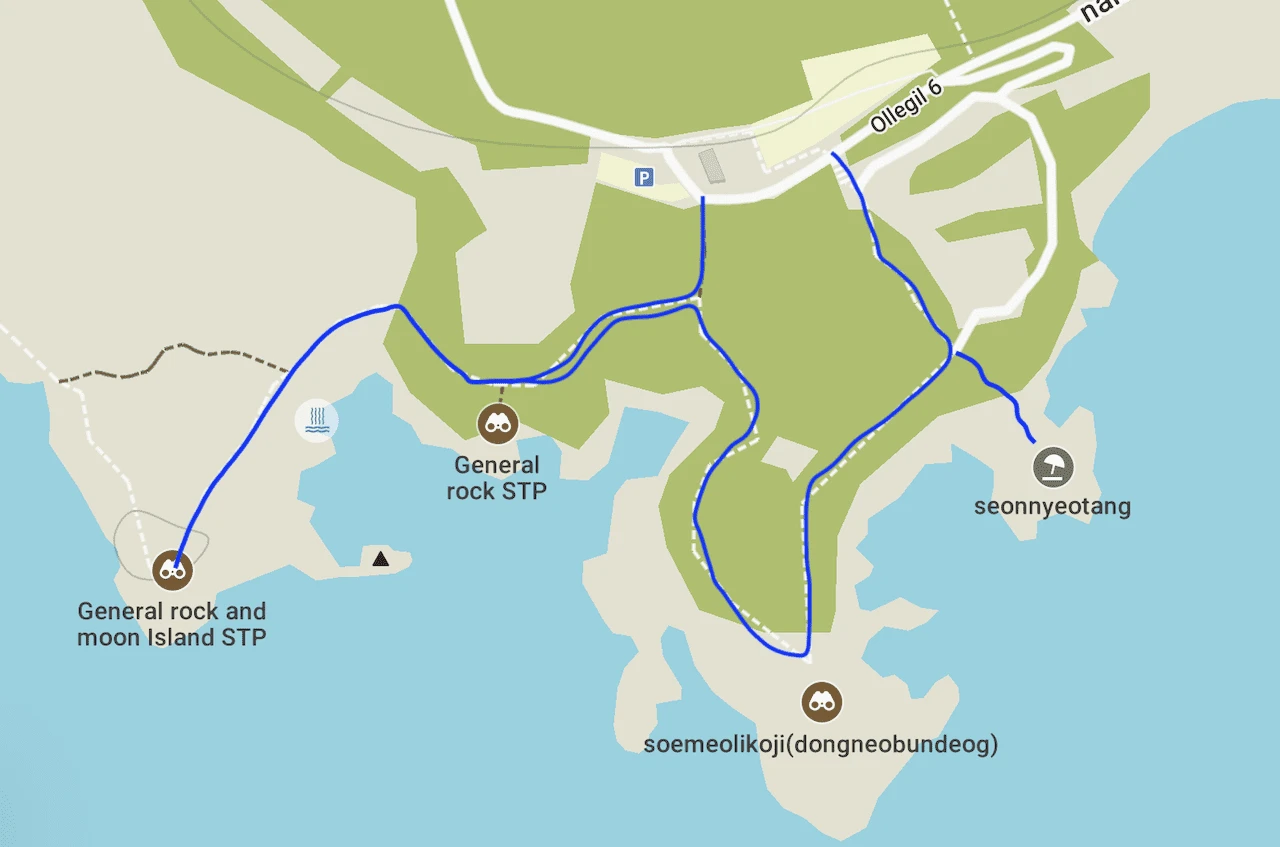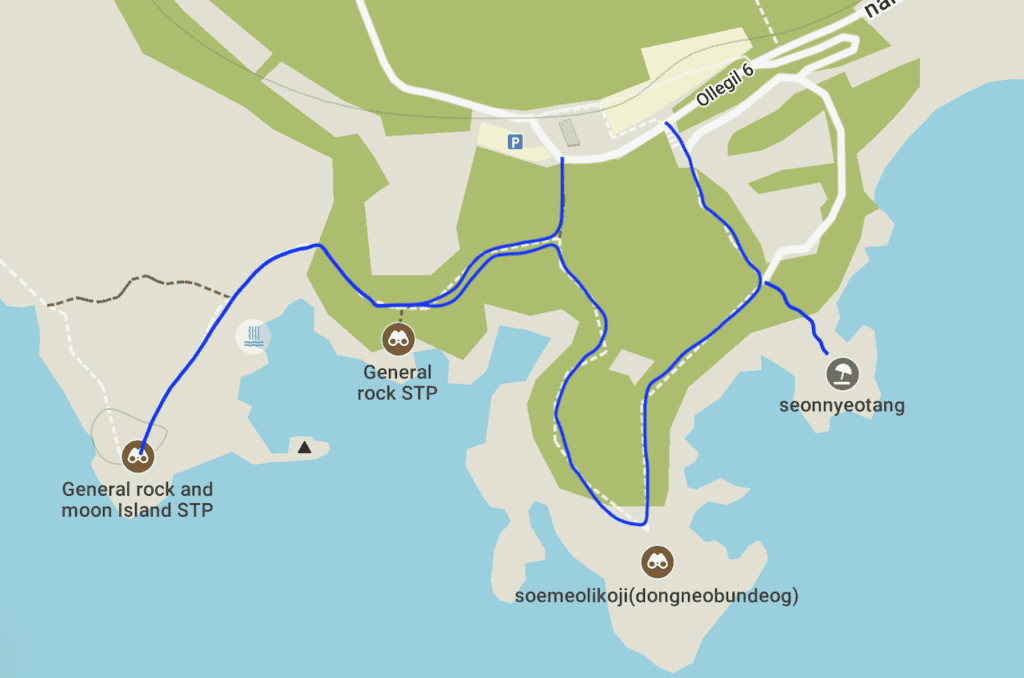 4) Oedolgae Rock Opening Hours & Tickets
When it comes to the Oedolgae Rock, you will not need to worry about opening hours or tickets.
The pathway leading up to the rock viewpoint is completely free of charge and can be completed at any time of the day & year.
Simply show up and be on your way!
5) The Oedolgae Walk
After arriving at the parking lot, it is time to hit the trail and get those views of Oedolgae.
The path from the parking lot to the first Oedolgae viewpoint is short and easy to follow. It should take about 5 minutes along a paved pathway until you reach this initial viewpoint area (marked as General Rock STP on the map above).
Out in front of you will be the rock itself along with the rest of the scenic coastline, and even Beomseom Island out in the distance.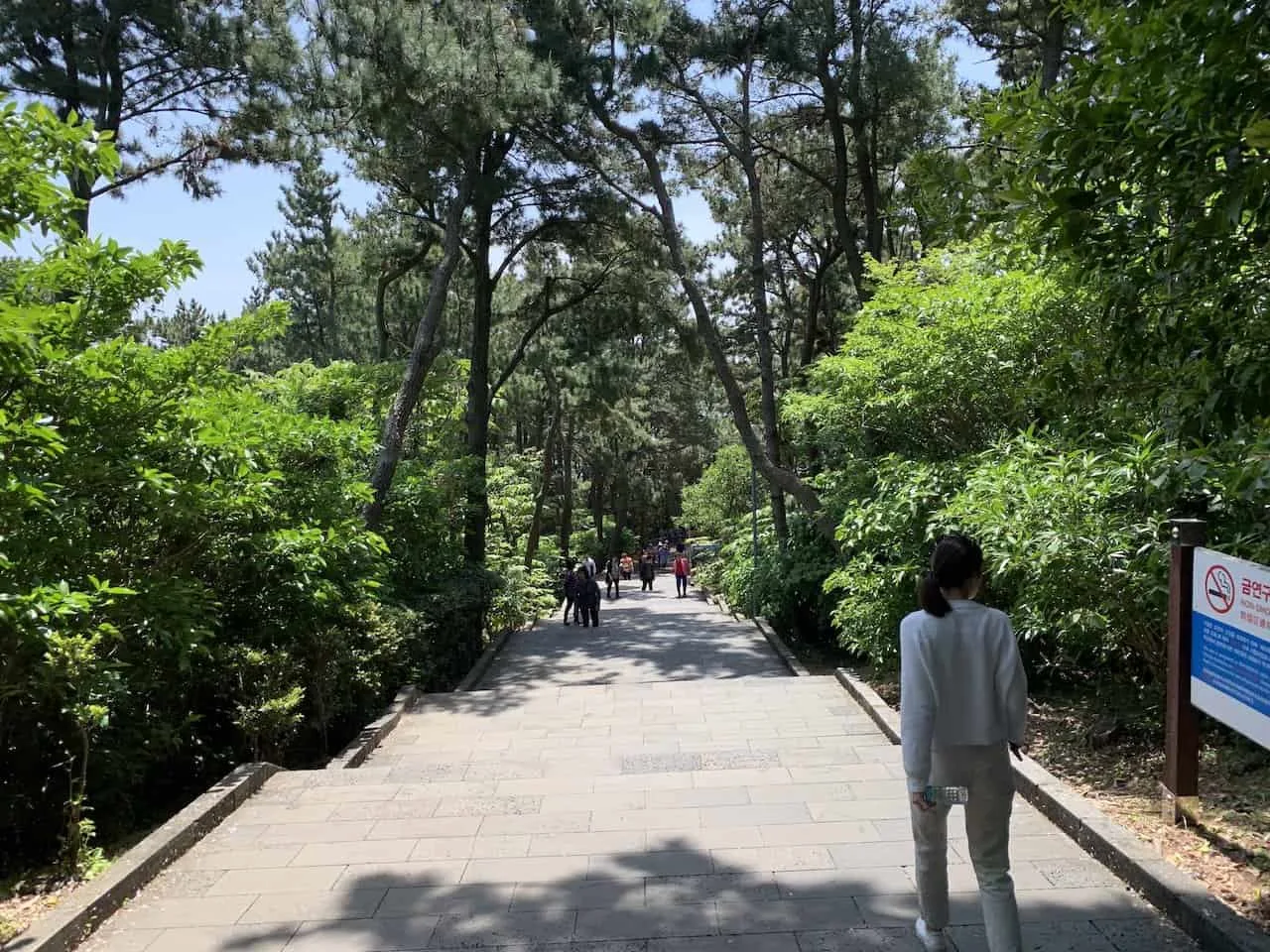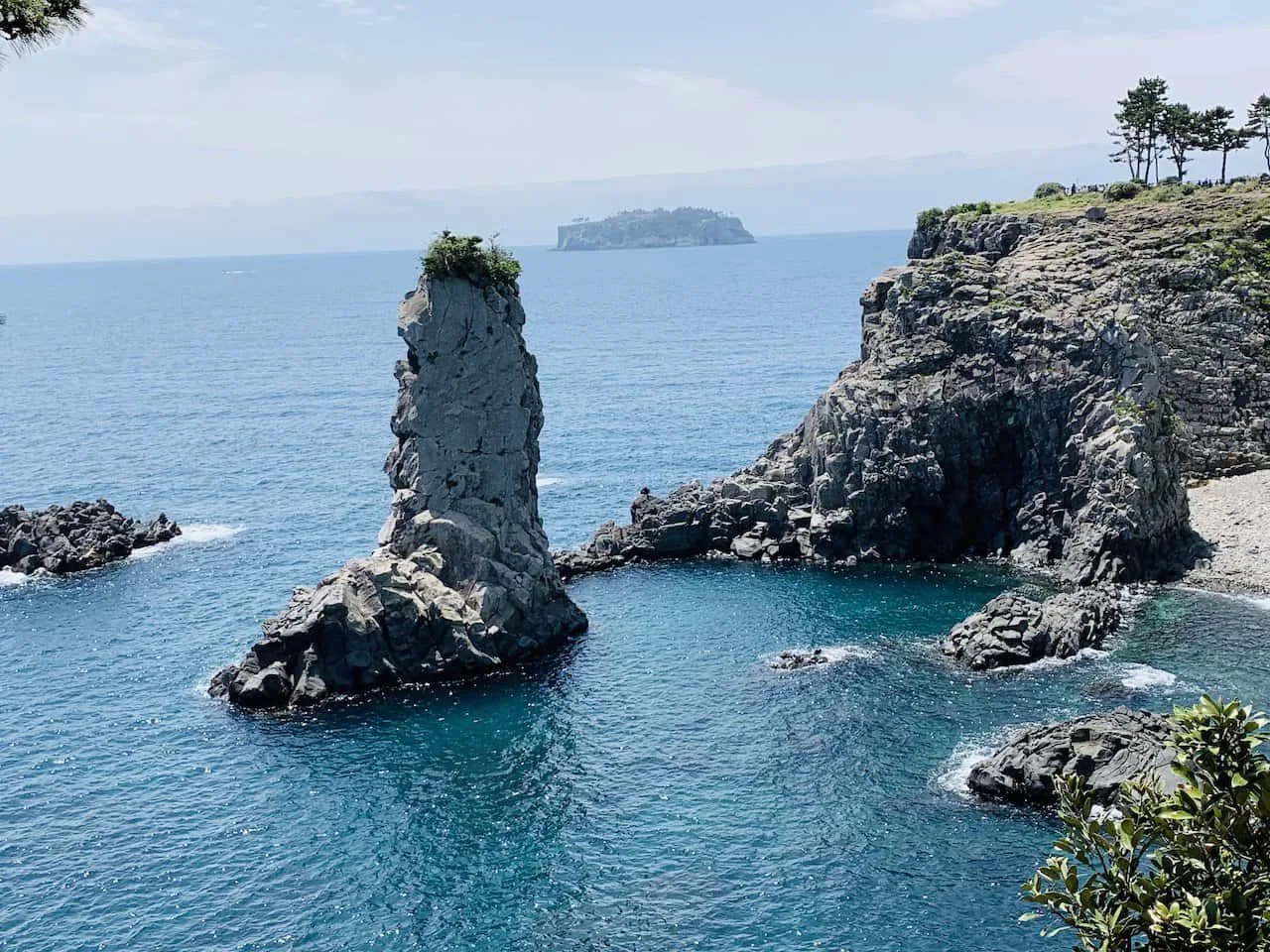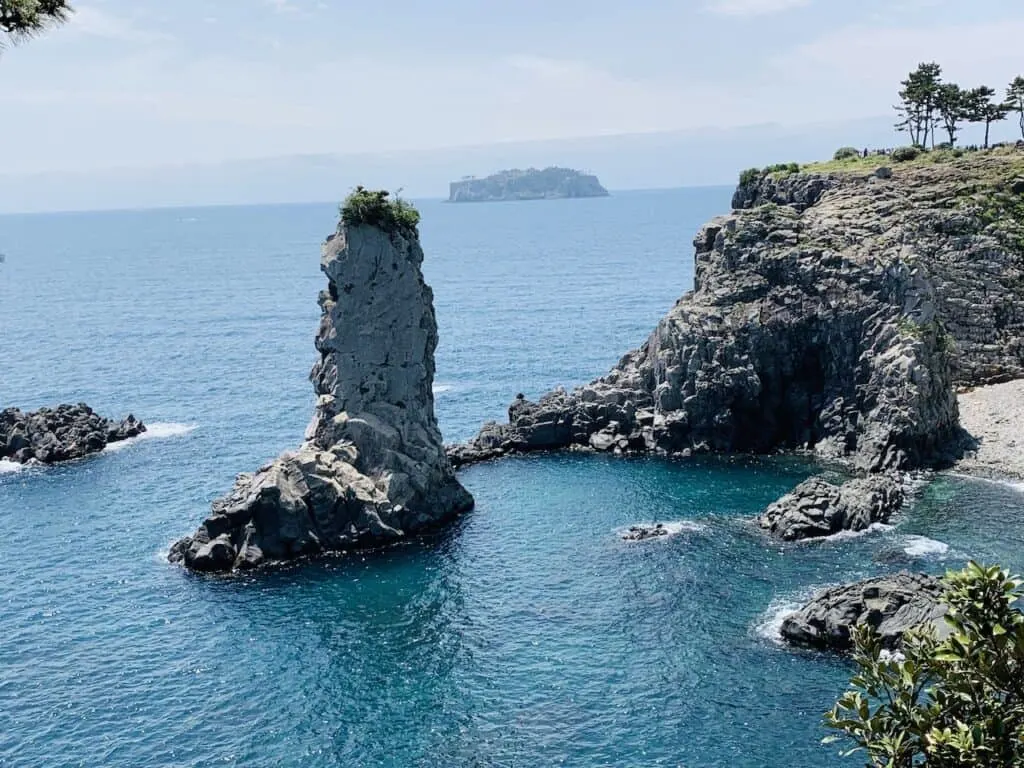 If you are short on time and just wanted a glimpse of Oedolgae, then this whole visit shouldn't take longer than 15-20 minutes.
However, if you want to get some more angles of the rock, you will want to continue to your right-hand side. The path hugs the coastline as it gets closer to Oedolgae itself (to the General Rock and Moon Island STP viewpoint on the map).
In this area you will a nice park area full of benches and walking paths. From the edge of the park will be more views of Oedolgae (this time with Munseom Island in the distance).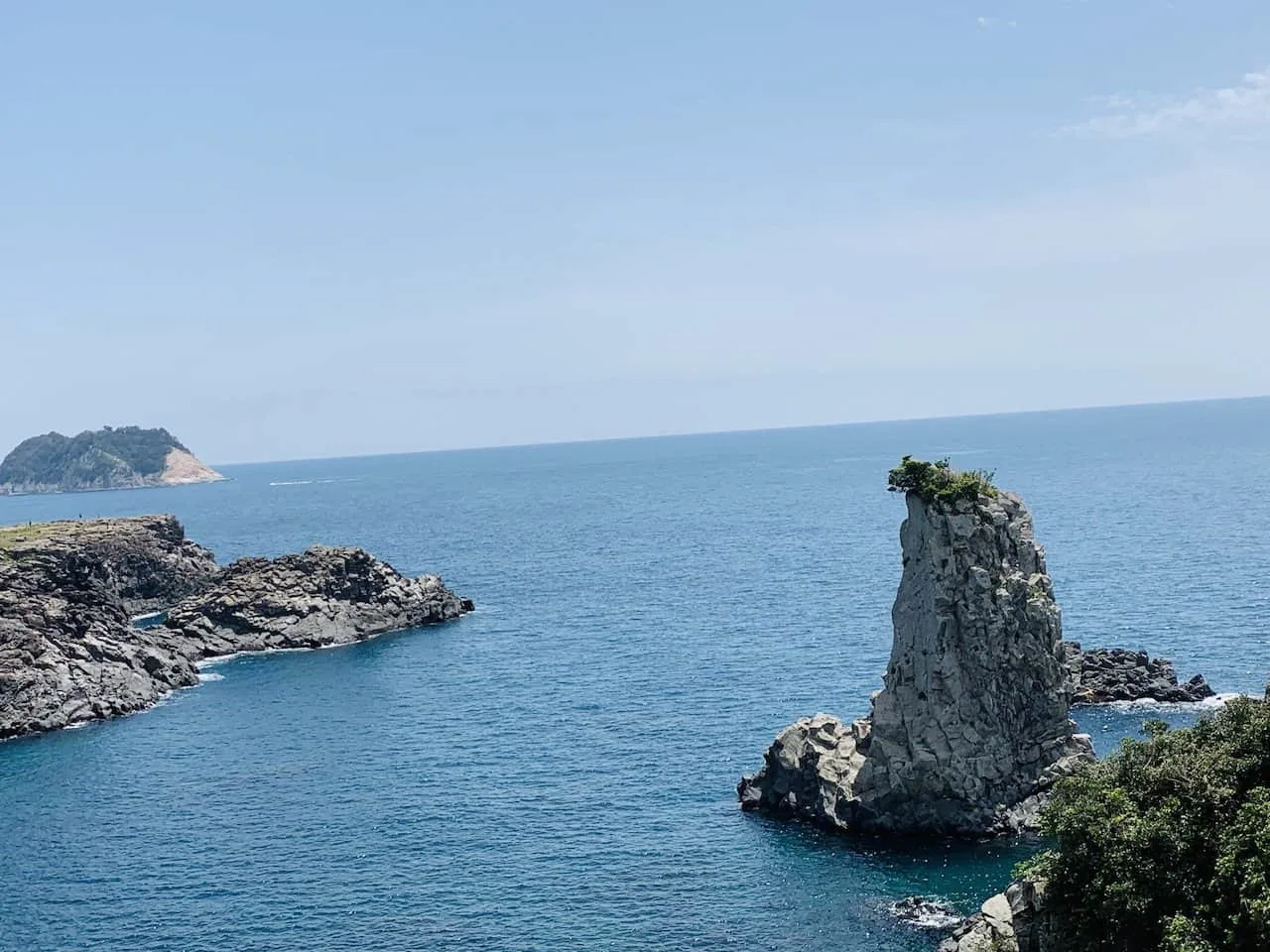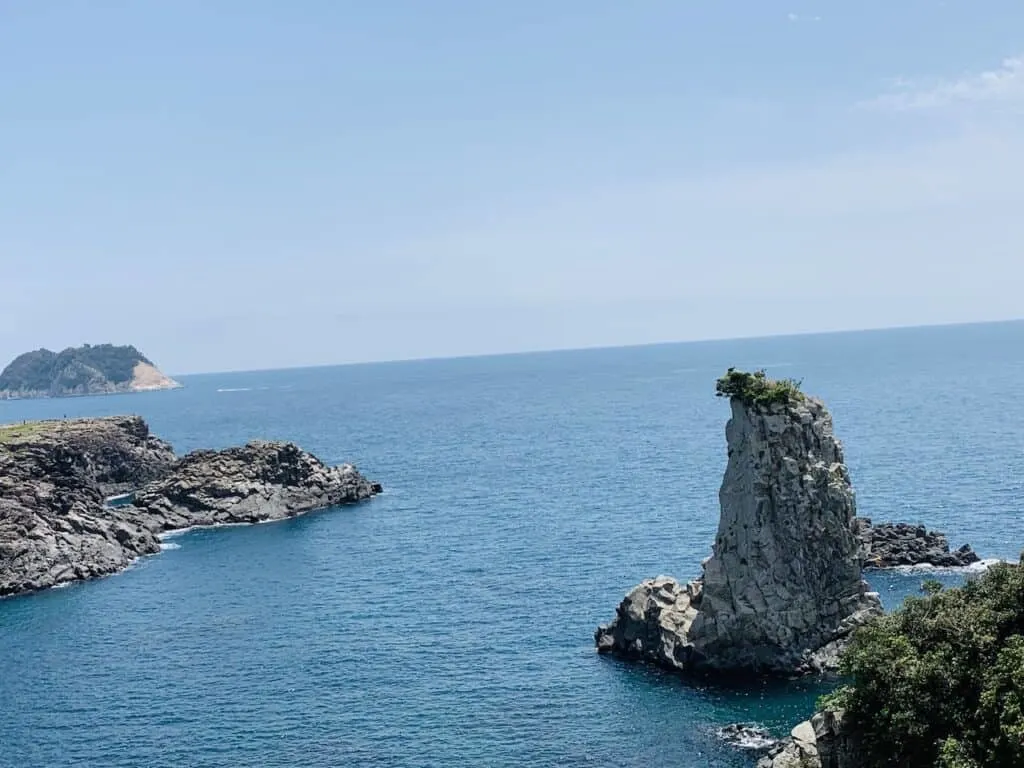 After seeing the rock from up close, you will double back, continue past the initial viewpoint, and walk along the coastline.
As you circle the coastline you will get new views of Oedolgae near the "Soemeolikoji" viewpoint.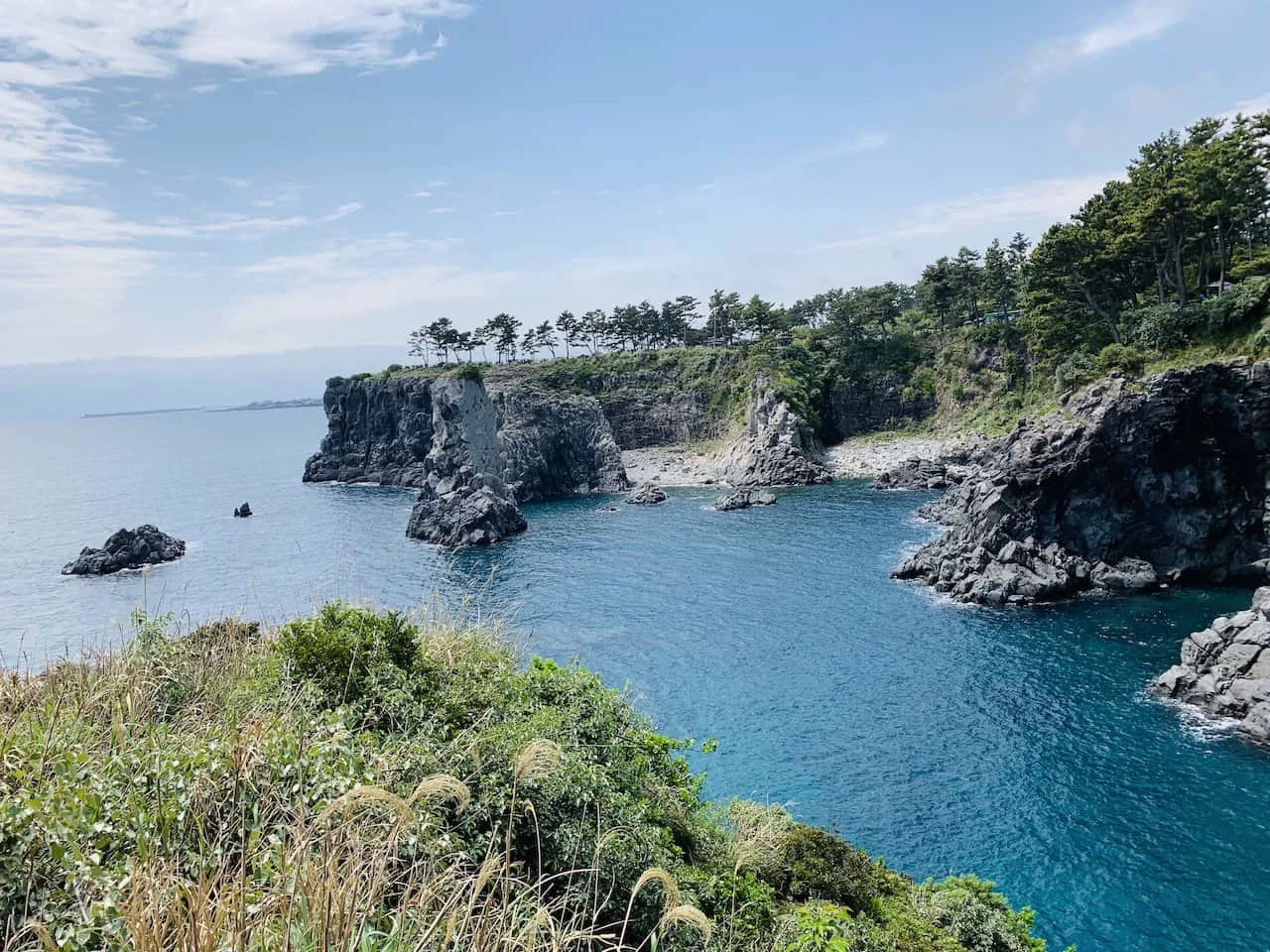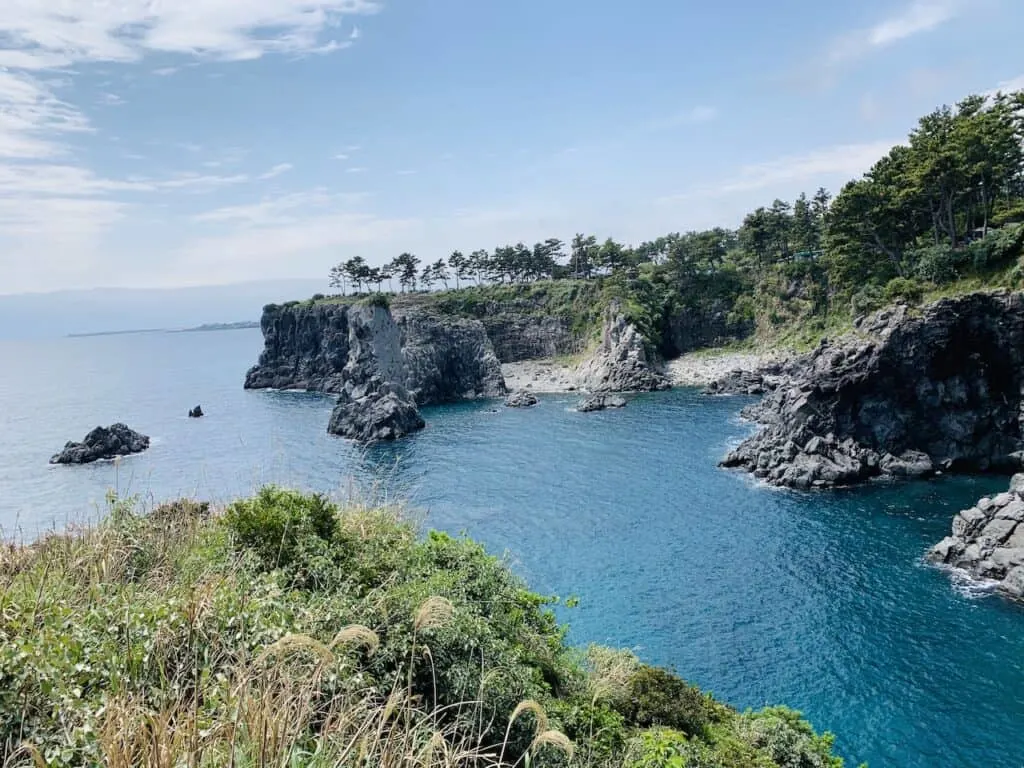 Once you make it past that last main viewpoint area, you will be welcomed to the Seonnyeotang Natural Pool.
If it is summer season during your visit, then be sure to bring a bathing suit. Swimming in this natural rock pool will be a beautiful experience to take part of.
On the other hand, if it is not swimming season or you don't want to head in, then just take in the view from above. When the weather is clear, you will find the stunning turquoise color lighting up the pools down below.
Learn More | Check out Hamdeok Beach for some more swimming opportunities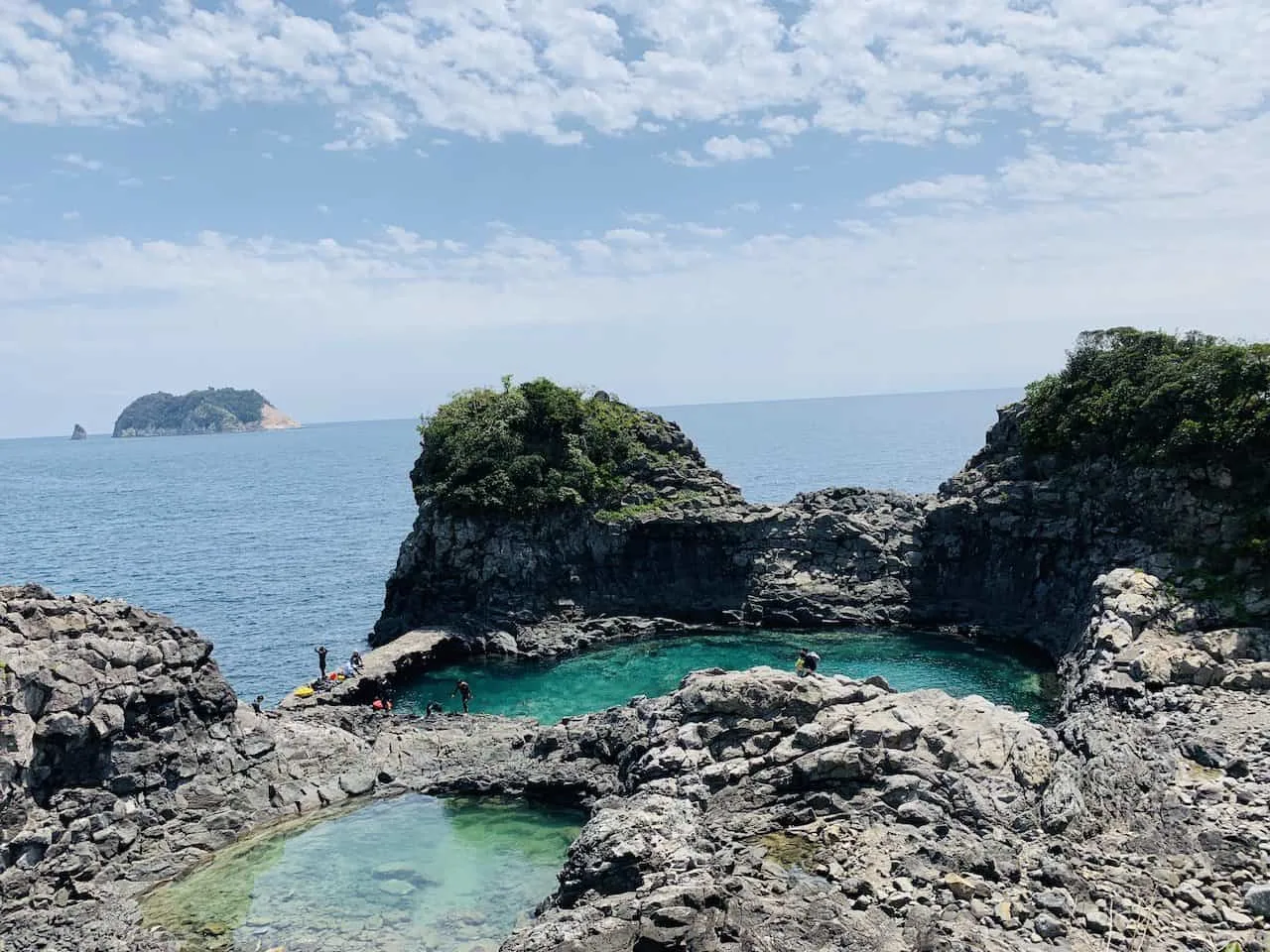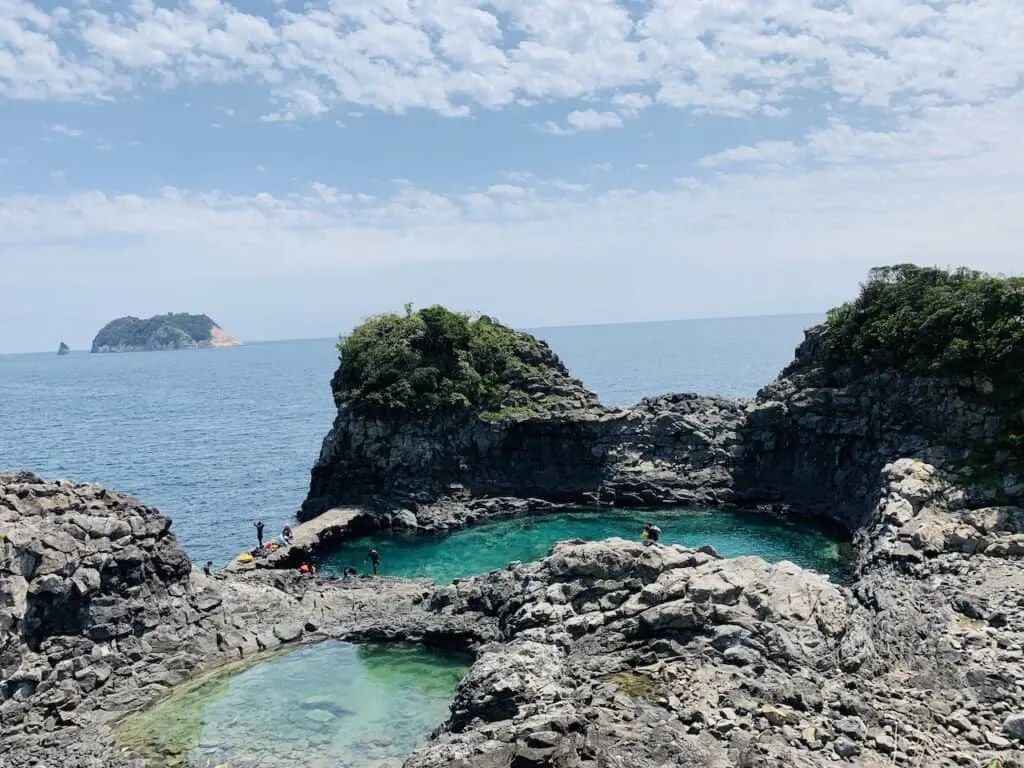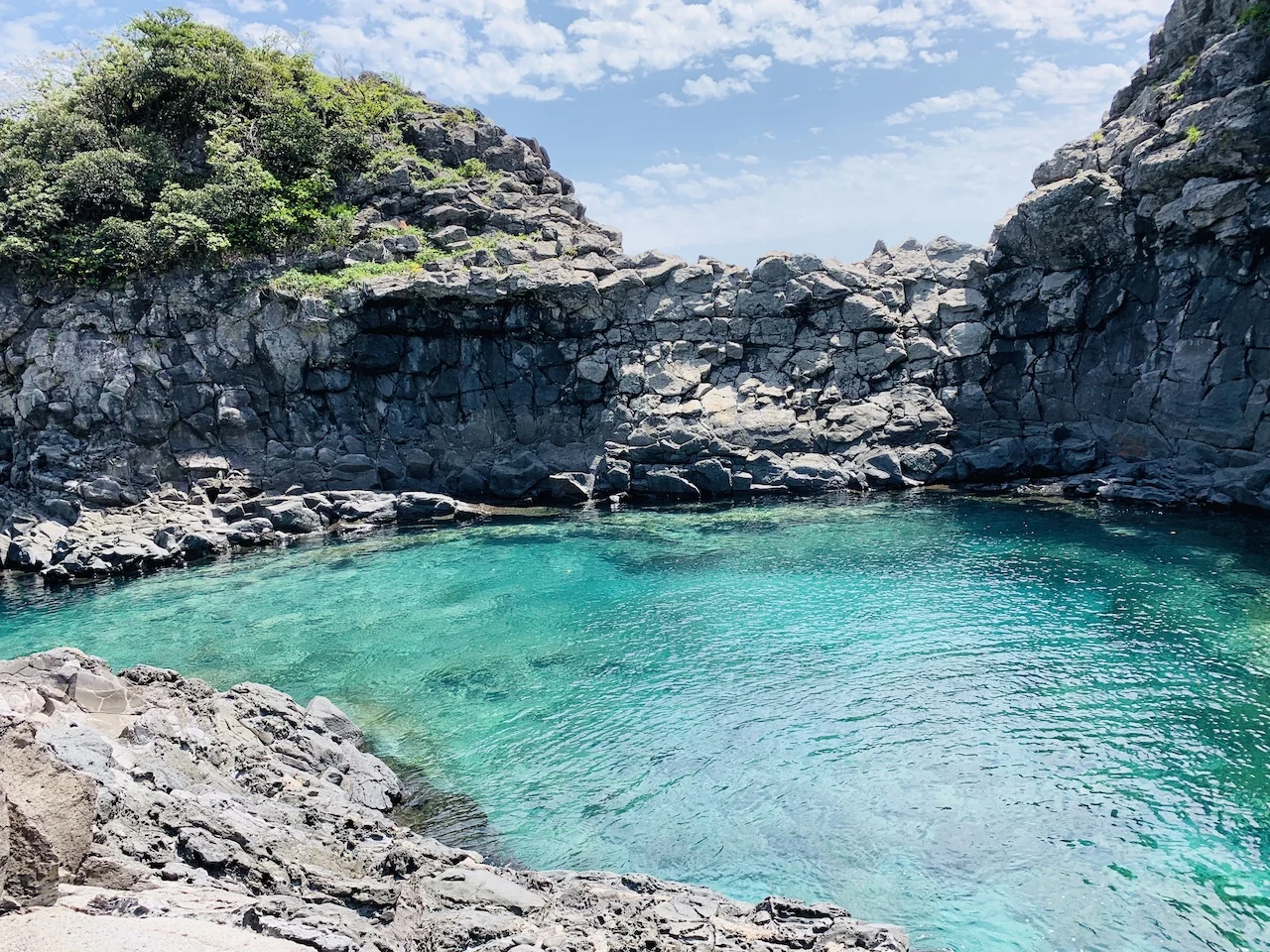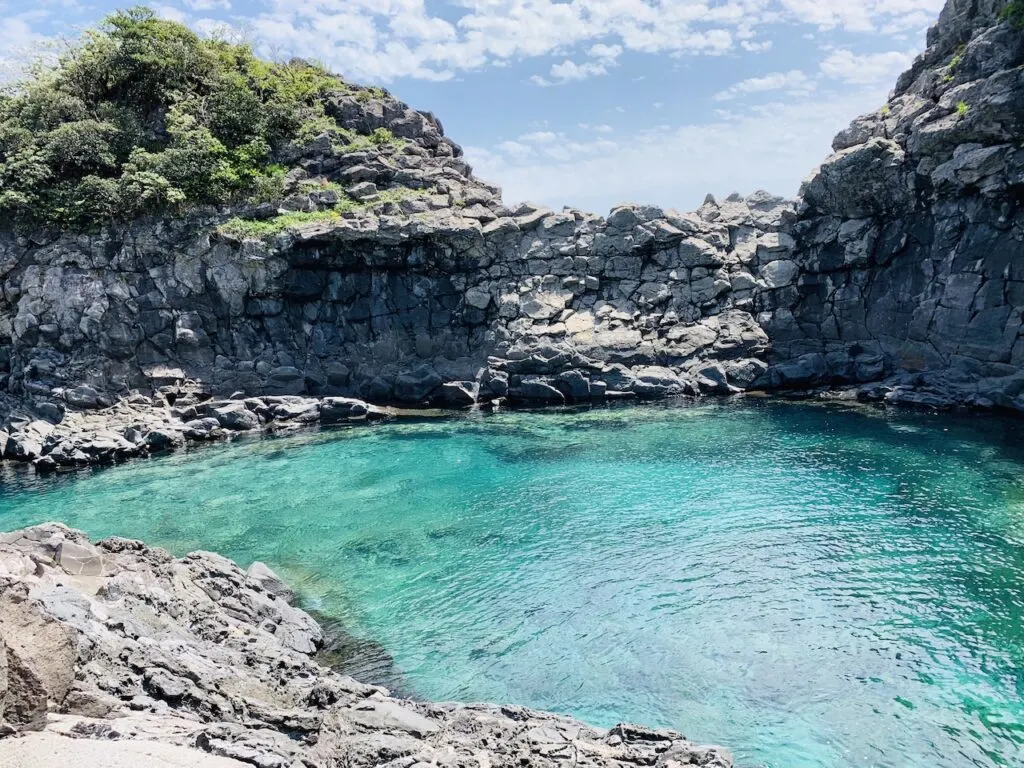 It is then back along the loop to the parking lot, ending a fun time out on the coastline trail.
Altogether, if you follow the route I laid out, expect to spend around 45 – 60 minutes here. Depending on photography, swimming, etc. that can always add additional time for a visit.
6) Where to Stay on Jeju
When planning a trip to Jeju, you can opt to base yourself in one spot (like Jeju City or Seogwipo), or spend a couple nights in various places around the island.
At the end of the day, this will all depend on your own itinerary.
Below are a few hotel recommendations for these two main places:
Jeju City
Seogwipo
That wraps up a guide to Oedolgae Sea Stack Rock. If you have any questions or comments, be sure to add them in below.
Also feel free to check out the other South Korea itineraries and guides up on the site (like a hike up Mount Hallasan or a visit to Yakcheonsa Temple).
Have fun out there and safe travels!