When it comes to the most beautiful waterfalls on Jeju Island, the Jeongbang Waterfall is on top of the list.
Jeongbang is a stunning waterfall located on the southern coast of Jeju Island, where the water falls off a cliffside and into the sea down below.
During a visit to Jeongbang Waterfall, visitors have the chance to take in the view from up above and down below.
Learn more about visiting Jeongbang Falls and what to expect along the way.
* Affiliate Disclosure: This post may contain affiliate links, which means I may receive a commission if you make a purchase through the links provided, at no additional cost to you. Thanks for supporting the work I put into TripTins!
1) Jeongbang Waterfall Overview
To start, below is a quick overview of Jeongbang Waterfall on Jeju Island in South Korea:
Jeongbang Waterfall is known as one of the top 3 waterfalls on Jeju Island. Cheonjiyeon Falls and Cheonjeyeon Falls are the others that round out the list.
The waterfall comes down from the Donghong-chun stream and heads over the Jeju cliffside. It is the only waterfall in South Korea (and some say all of Asia) that cascades directly into the sea.
Jeongbang measures 23 meters in height (75 feet), and can reach up to 10 meters in width (33 feet).
Depending on recent rainfall and other factors will dictate how powerful the waterfall is at any given time. Sometimes you will see 2 or 3 streams of water combining into one waterfall.
A visit to Jeongbang includes a descent down 130 stairs and a walk along some rocky terrain. This means that you must be comfortable with such aspects to take part. Be sure to also wear the appropriate footwear!
During a hike down, you first will be able to see the waterfall from above, before walking directly to the bottom of the falls. This gives you the chance to enjoy the view from all angles.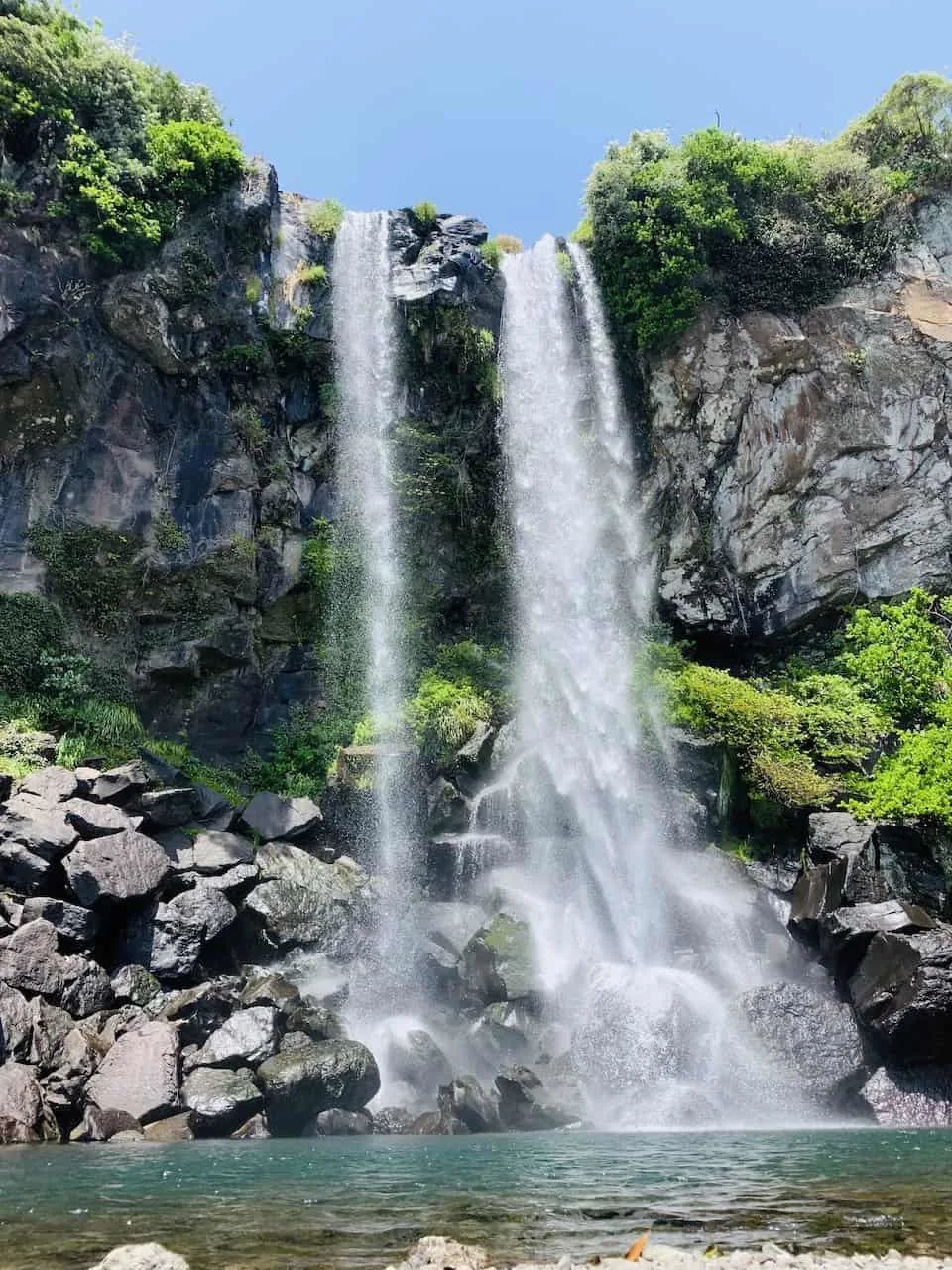 2) History & Legends
When it comes to the Jeongbang Waterfall, there are a few historical legends that go along with it.
At the waterfall's entrance, you will find a helpful signboard that talks through a couple of these. Below are the excerpts that are mentioned on the sign:
"It is called Jeongbang-hapoak due to its picturesque scene when viewed from a boat and is one of the 10 scenic wonders of Jeju Island. The waterfall starts from Jeongmosi and it is said that if people play a drum and jang-gu at the point of the waterfall drops, turtles comes up to the surface and dance on the water."
"Jeongbang Waterfall is famous for a legend of Seobul who is a legman of Shi Huangdi during the Qin dynasty and came to Mt Halla in Jeju Island in search for an elixir of an eternal life. After he failed to find the elixir, he carved Seobulgwagi on the cliff of the waterfall and returned to the west."
Learn More | Hiking Mount Hallasan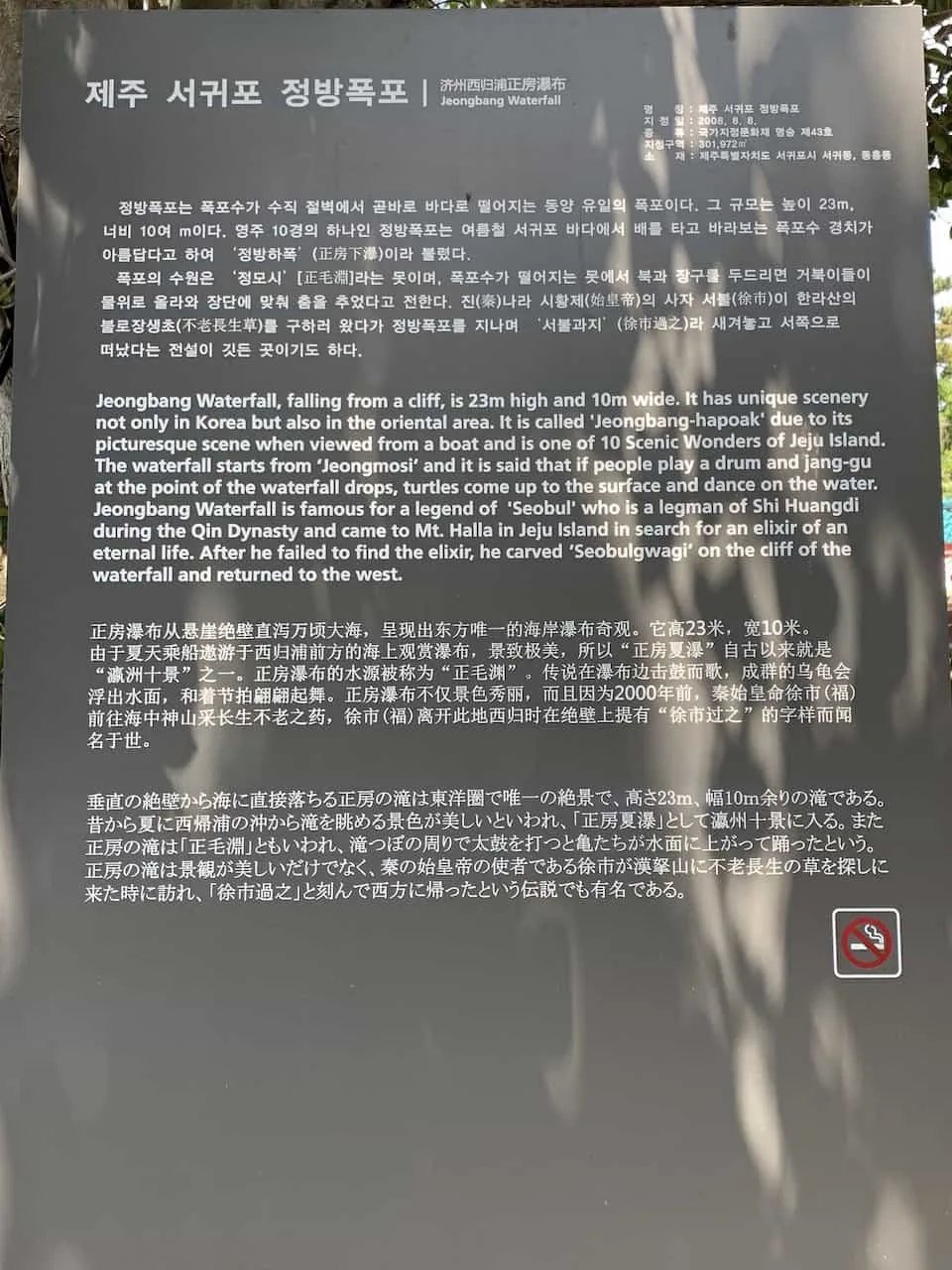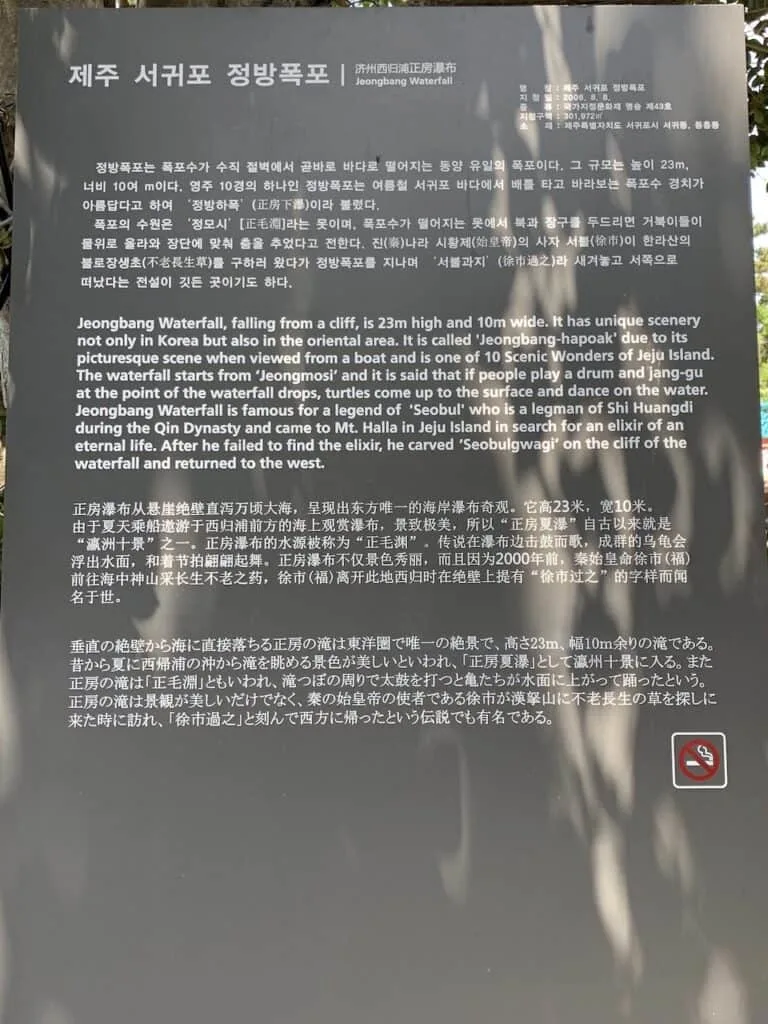 3) Jeongbang Waterfall Address & Location
The Jeongbang Waterfall is located just 15 minutes away from the city center of Seogwipo.
When inputting an address you can simply type in Jeongbang Waterfall or use the following address: 278 Donghong-dong, Seogwipo-si, Jeju-do, South Korea.
The address will take you to the parking lot area for the waterfall.
Navigation Note: Google Maps does not work in South Korea. Be sure to download Naver Map for navigation.
Below you can find a map of Jeju Island and where Jeongbang is located:
4) How to Get There
In general, there are three main ways to go about a visit to Jeongbang Waterfall (and other places around Jeju Island) – rental car, bus, or tour.
Rental Car
When exploring Jeju, I would recommend renting a car in order to explore at your own pace. You will be able to be on your own schedule and not need to worry about public transport.
This will not only help when visiting Jeongbang, but also when visiting any other top spots you have on your Jeju Island to do list (like Jusangjeolli Cliffs, Manjanggul Cave and Seongsan Ilchulbong).
If driving a car, you will be welcome to a large parking area just by the main entrance.
Feel free to check out Rentalcars.com for potential options. You will be able to see a variety of cars by price, size, and type, so you can choose the one best for you.
Bus
There is an extensive public transport network on Jeju Island, so you should be able to leverage it during your time there.
Below are the steps to reach the waterfall from Jeju City and Seogwipo:
From Jeju City: you can take a bus (such as #232) from Jeju City to the Dongmun Rotary in Seogwipo. It is a longer ride (approximately 2.5 hours). Another option is the 600 limousine bus from the Jeju Airport.
From Seogwipo: there are busses such as the 530-2 and 692 that can bring you to the Dongmun Rotary. But you may very well be better off just walking the 20 minutes from the city center if you don't have a car.
Tour
Instead of worrying about renting a car or figuring out public transport, you can also make your way to Jeongbang Waterfall and other highlights (such as nearby Oedolgae Rock) by joining a group or private tour.
Also note that you could just hire a taxi to take you back & forth if you don't want to go for a tour option.
Tour Booking Option: Check out this customizable Private Jeju Tour that can take you all around the island during your trip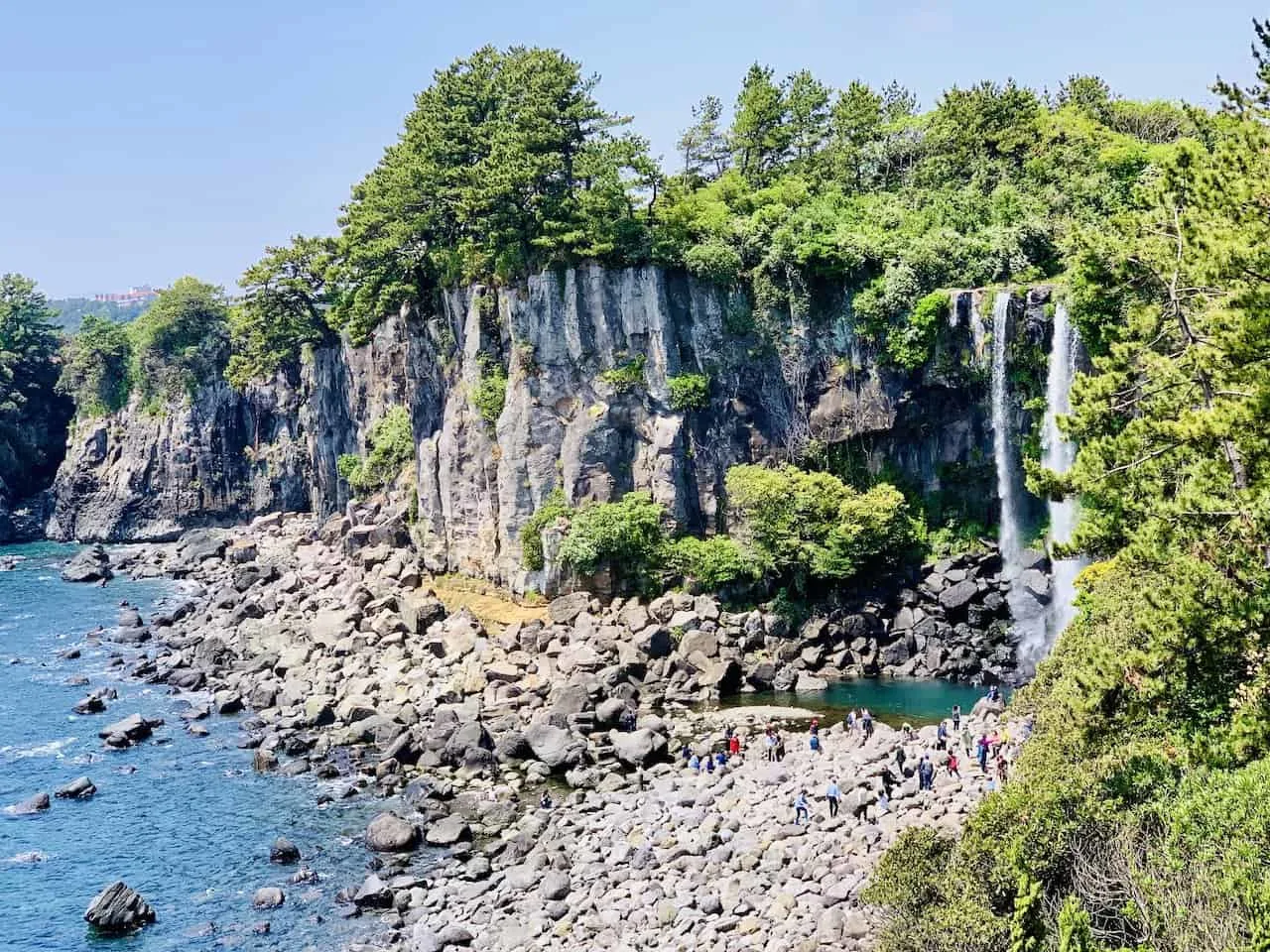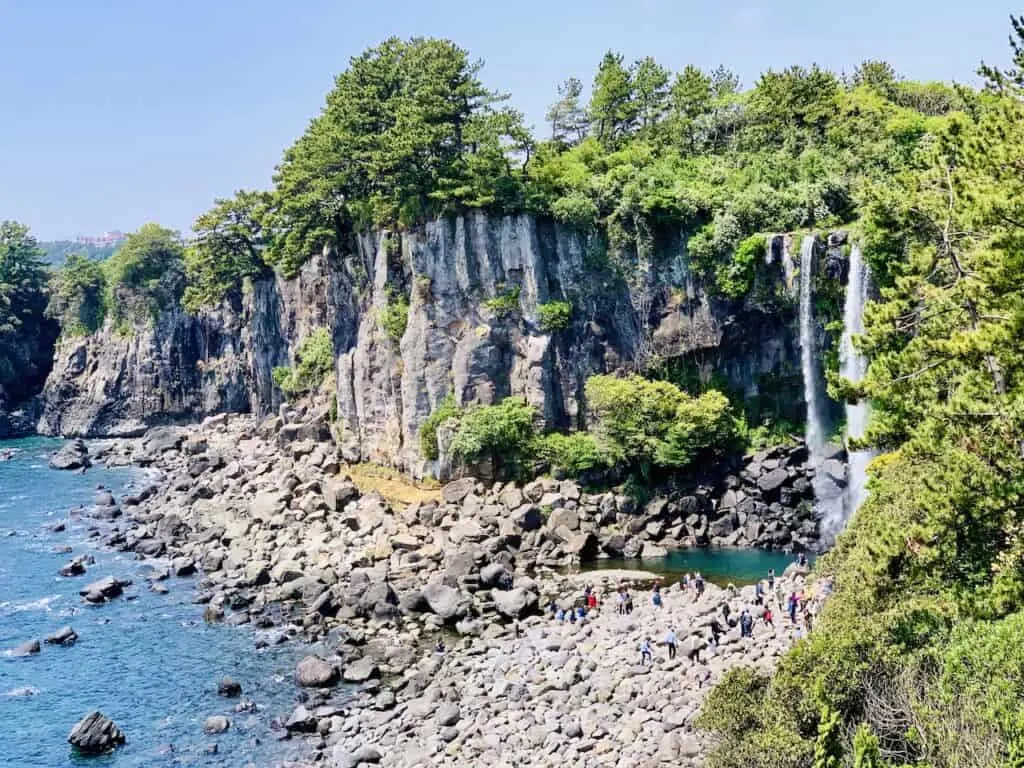 Learn More About Jeju: Check out this guide that goes over the best things to do in Jeju Island
5) Jeongbang Waterfall Opening Hours
The Jeongbang Waterfall is open daily from 9:00AM – 7:00PM. Note that the last entry is at 6:00PM.
If you want to avoid any crowds, I would recommend heading to Jeongbang right at opening time (or right before closing). This will give you a chance to have the area all to yourself.
Closure Note: after heavy rainfall, the waterfall may be closed due to safety concerns
How Much Time Do You Need at Jeongbang Waterfall?
You can expect a visit to last anywhere from 30 – 60 minutes depending on how long you want to spend just enjoying your surroundings.
The hike down and up the waterfall takes just around 15 – 20 minutes. You can then spend your remaining time at the waterfall itself.
6) Jeongbang Waterfall Ticket
The entrance ticket to Jeongbang is quite affordable. Adult tickets are 2,000 won ($1.50 USD) and children tickets are 1,000 won ($0.75 USD).
Be sure to keep your ticket after purchase as it does get checked.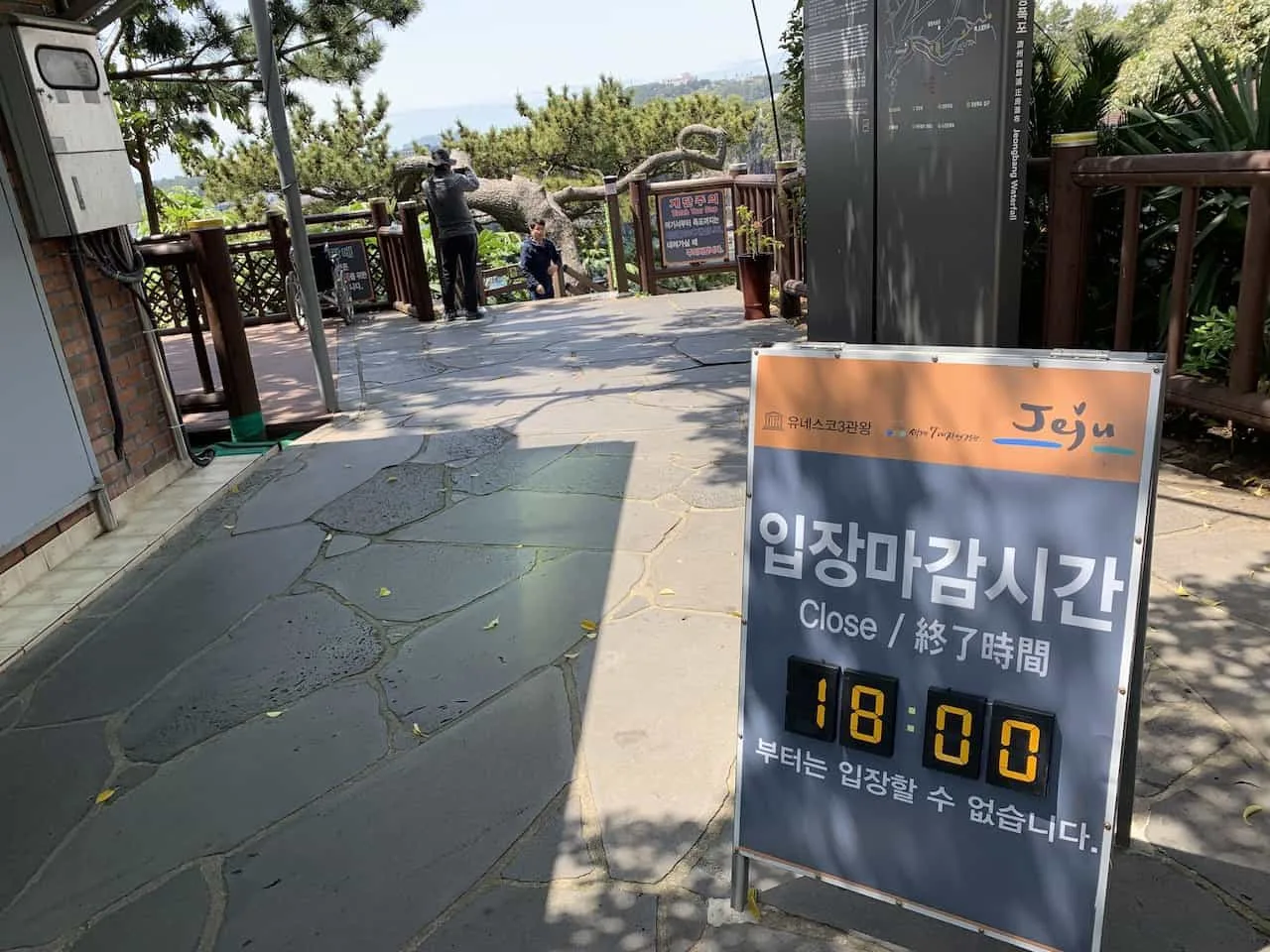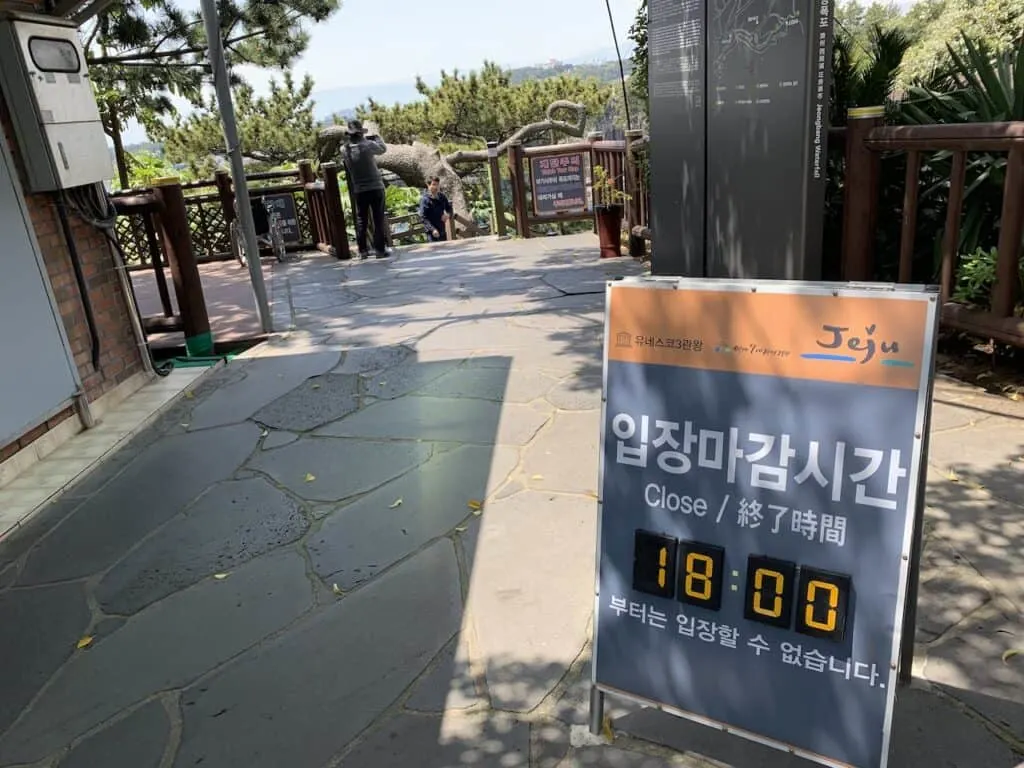 7) Can You Swim at Jeongbang Waterfall?
While I did not see any signs that prohibit it, swimming is not recommended at Jeongbang Waterfall.
The area underneath the waterfall can be very rocky and slippery, making it a rather unsafe spot to try and go for a swim.
I would recommend just enjoying the views from the seaside and opt to swim elsewhere (like at Hamdeok Beach).
8) A Visit to Jeongbang Falls
After getting to the entrance and purchasing a ticket, it is time to descend down to the waterfall itself.
You will come across some food & souvenir stalls, head past some informational boards, and then begin the descent down the 130 steps.
Before heading down those steps though, you must first take in those beautiful views of Jeongbang from above.
You will get the perfect angle of the waterfall surrounded by the cliffside rock and greenery in all directions.
The Donghong-chun stream will be in view as it then tumbles off the side of the island and into the emerald pool down below.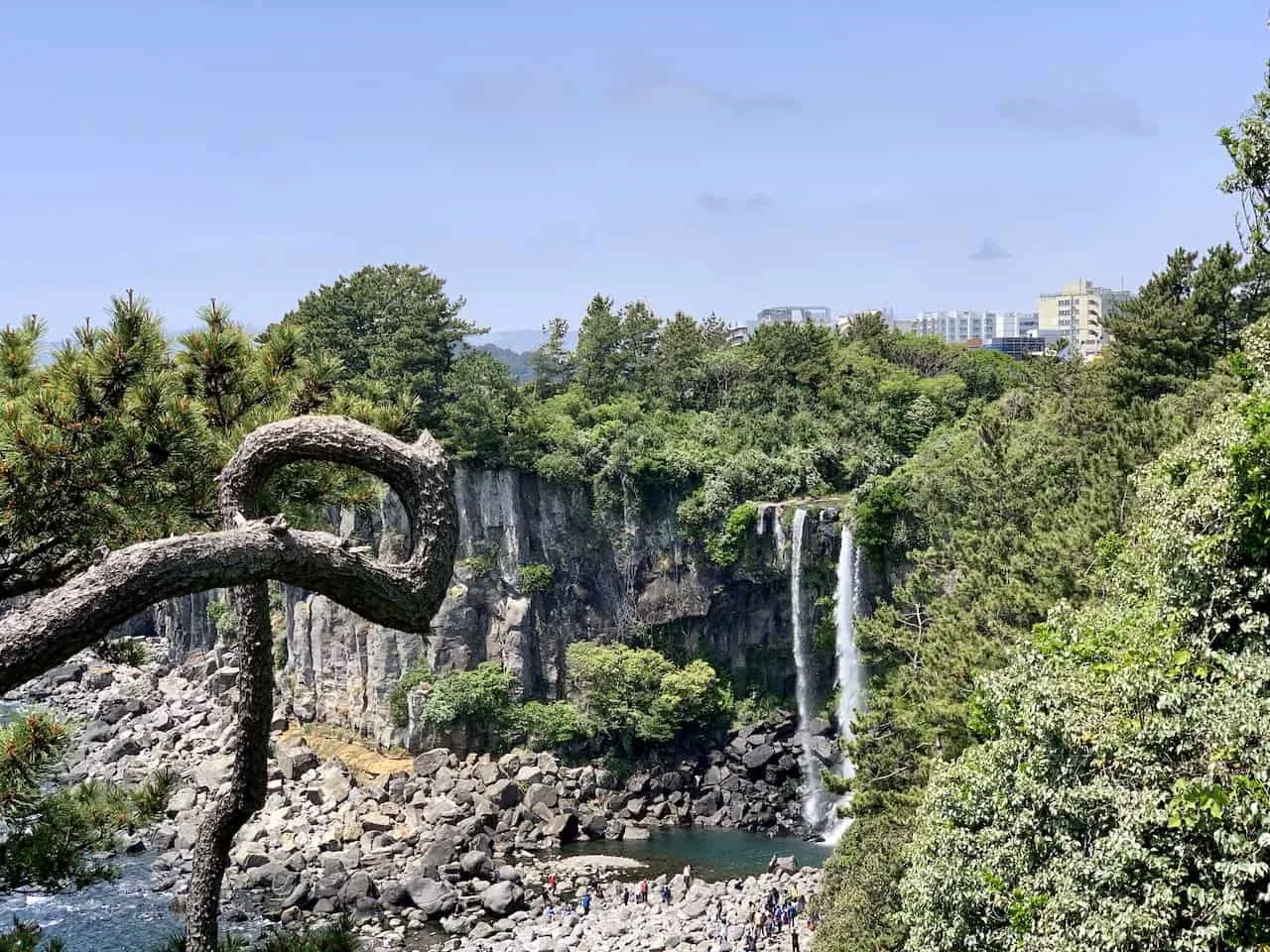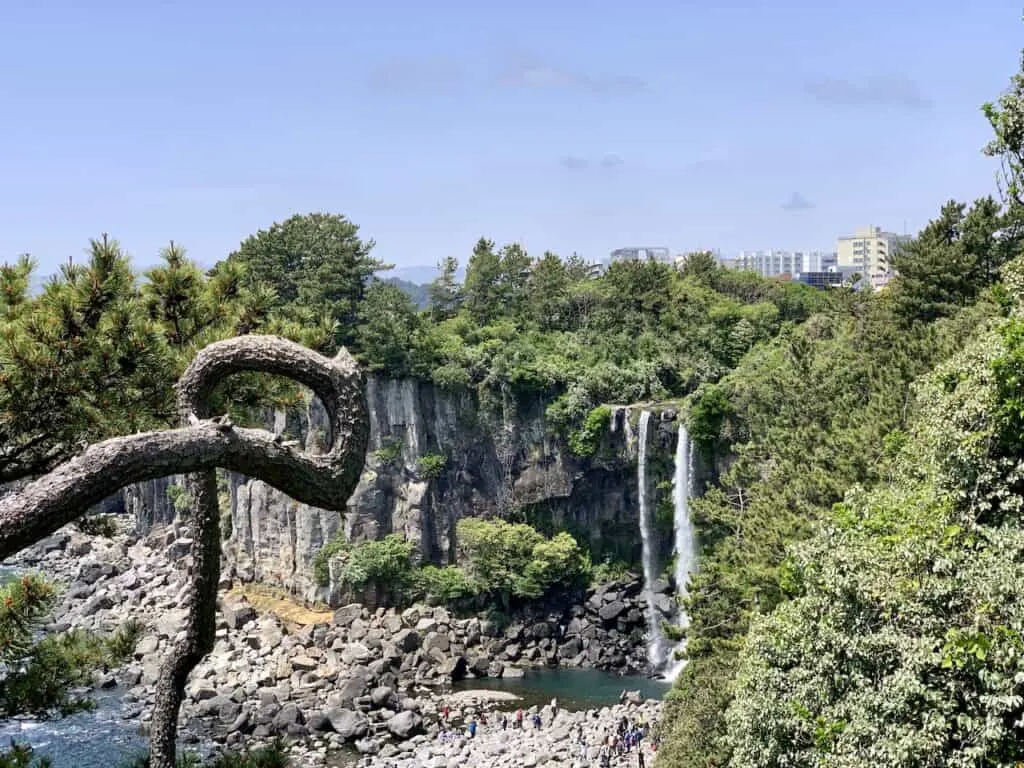 As you continue down the stairs, a few more views of the waterfall will be out in front of you, alongside the sea and Jeju Island.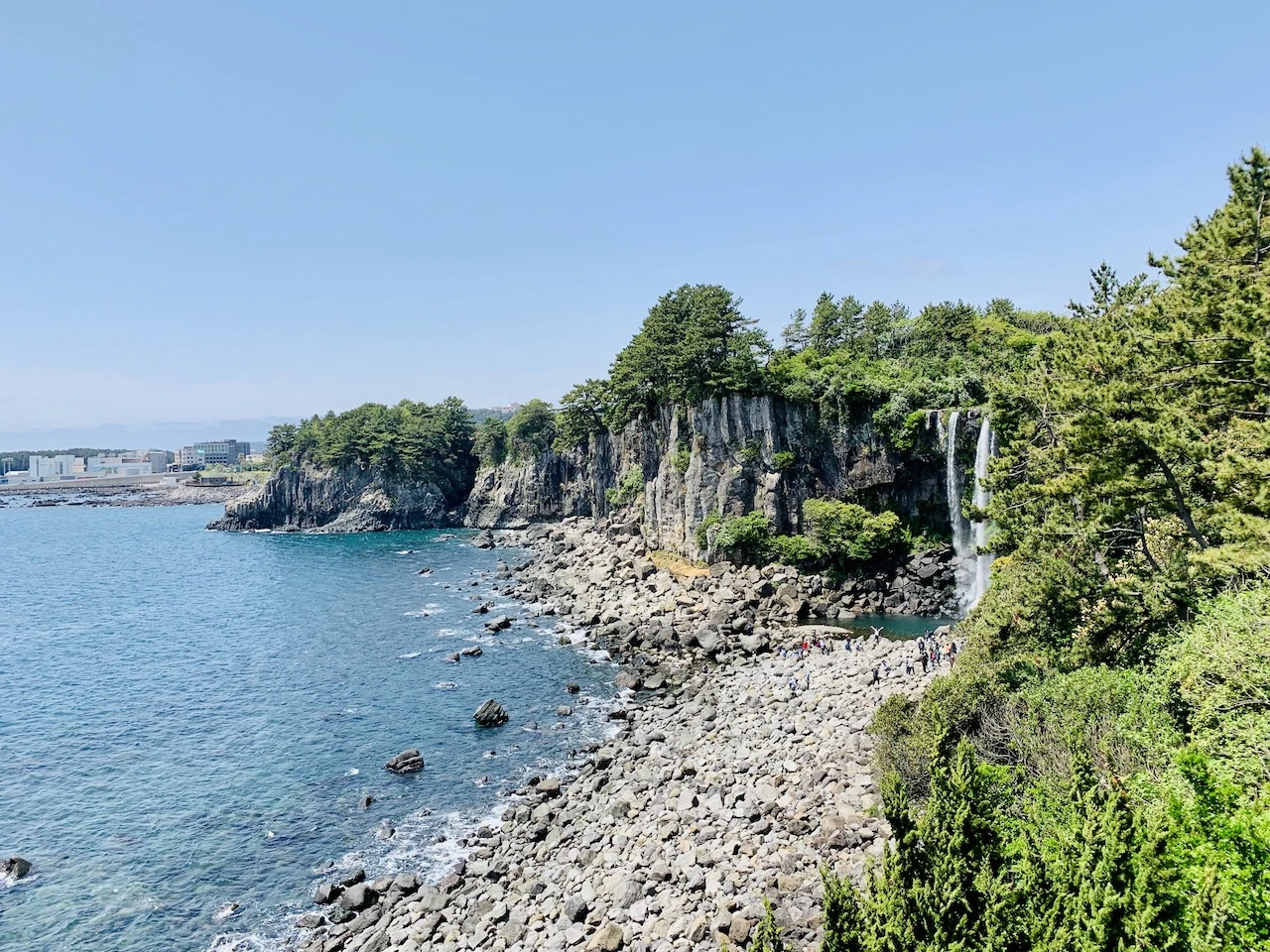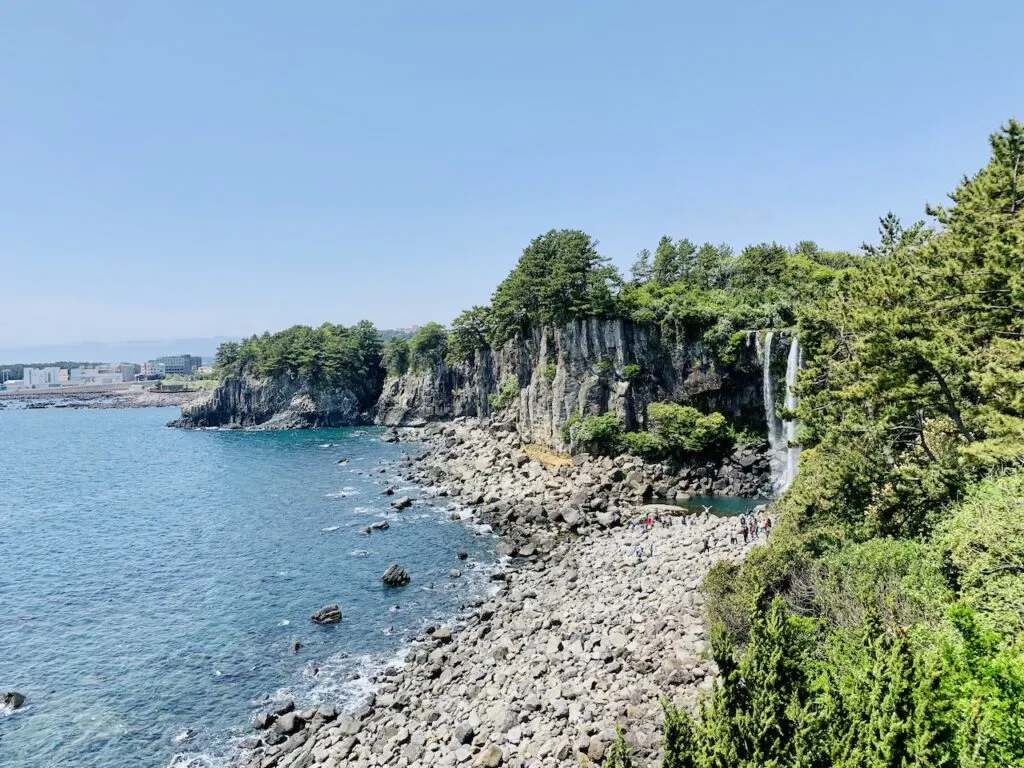 Once you reach the bottom of the stairs, you must walk along the rocky terrain to reach the base of the waterfall. During my time there I passed by a couple of vendors selling fresh seafood and drinks.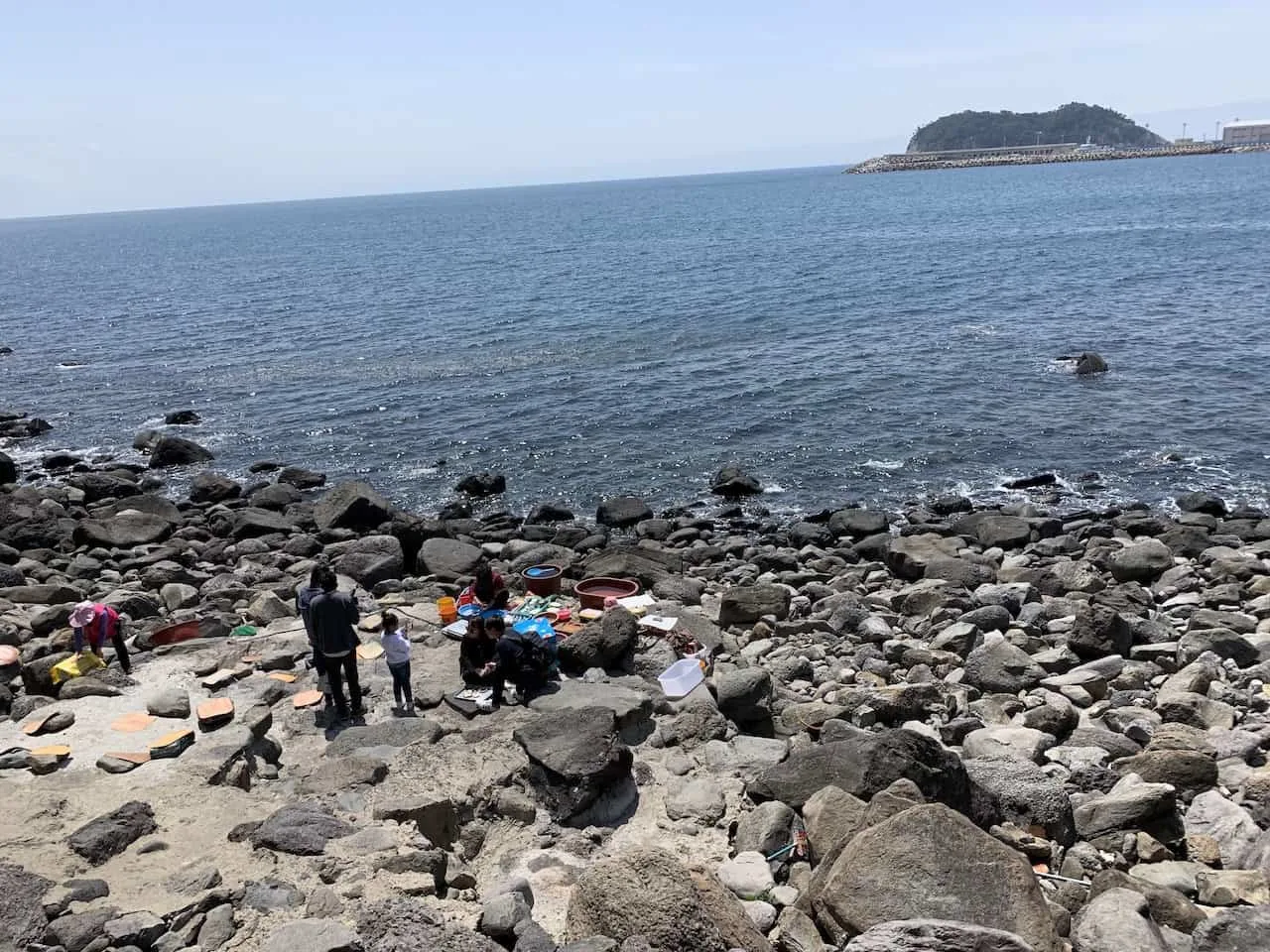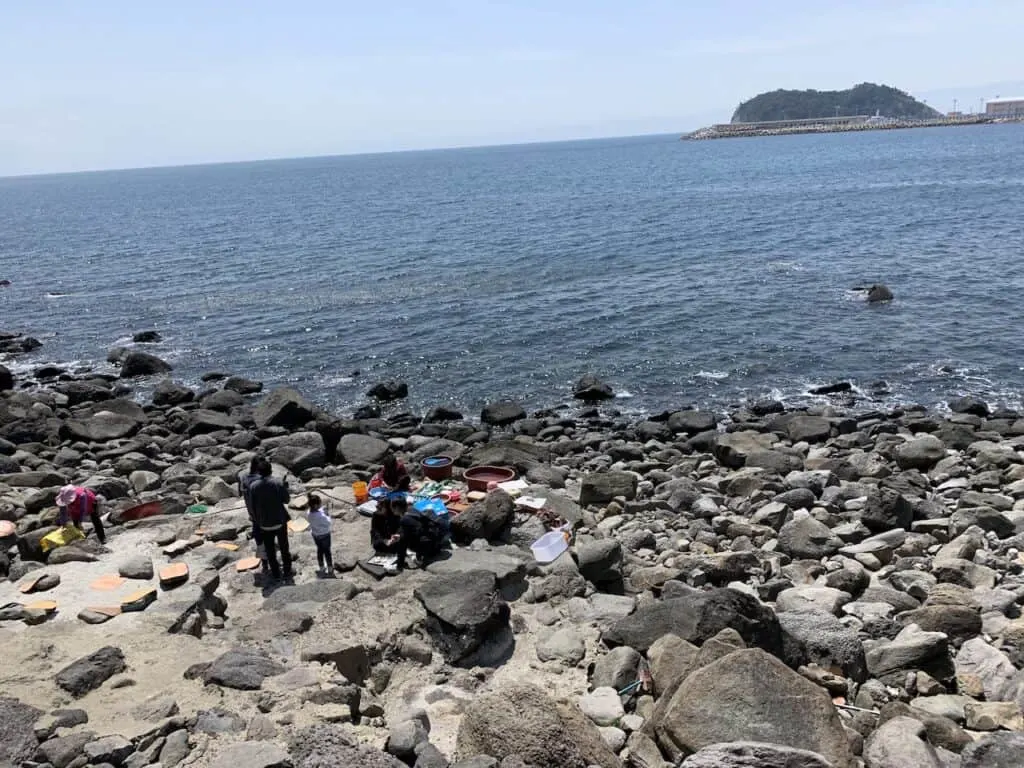 Soon enough you will get to see the Jeongbang Waterfall right in front of you as it falls majestically off of the cliffside.
Feel free to just find a couple spots around the waterfall, where you can simply enjoy the view and relax by the poolside.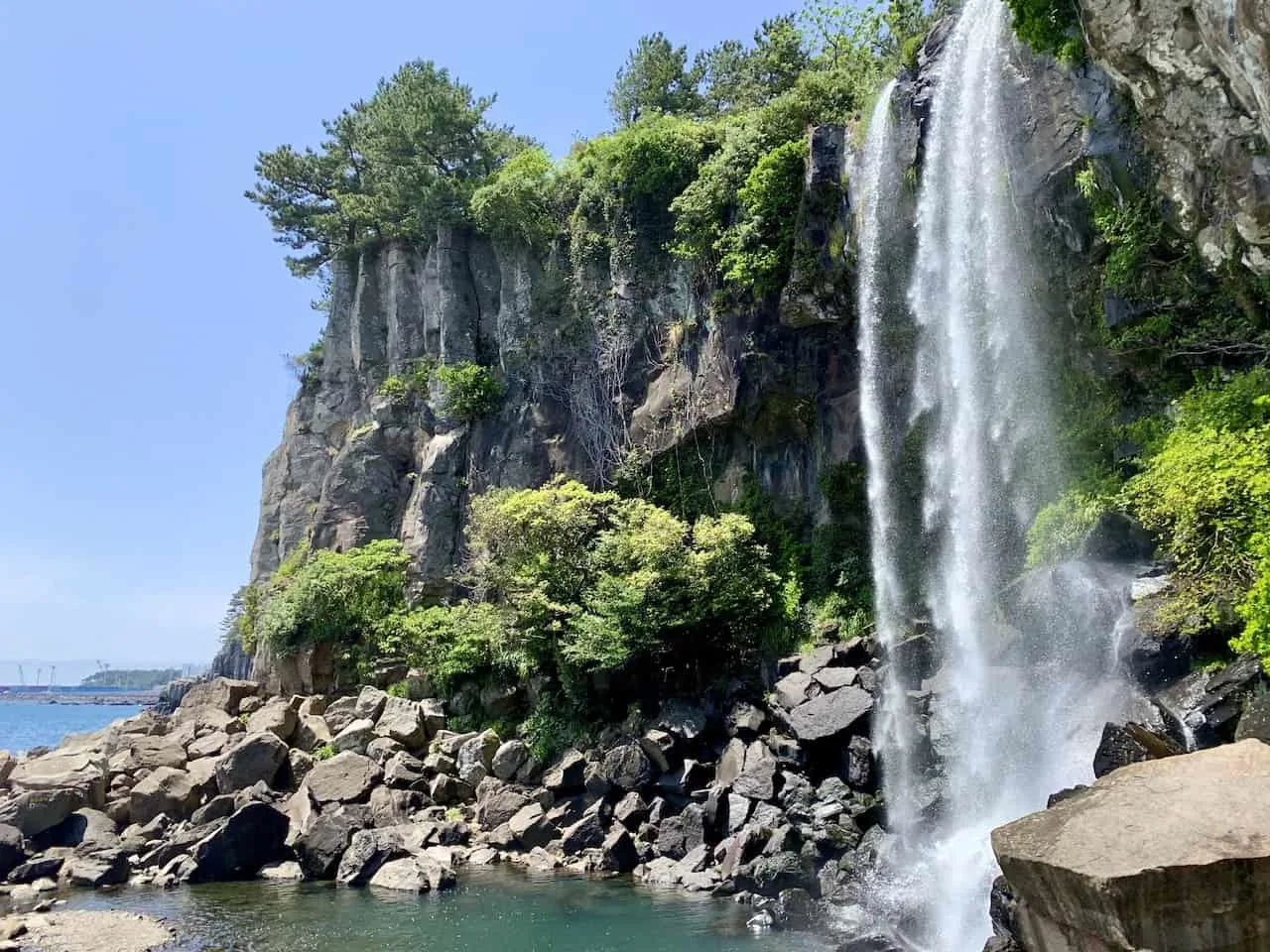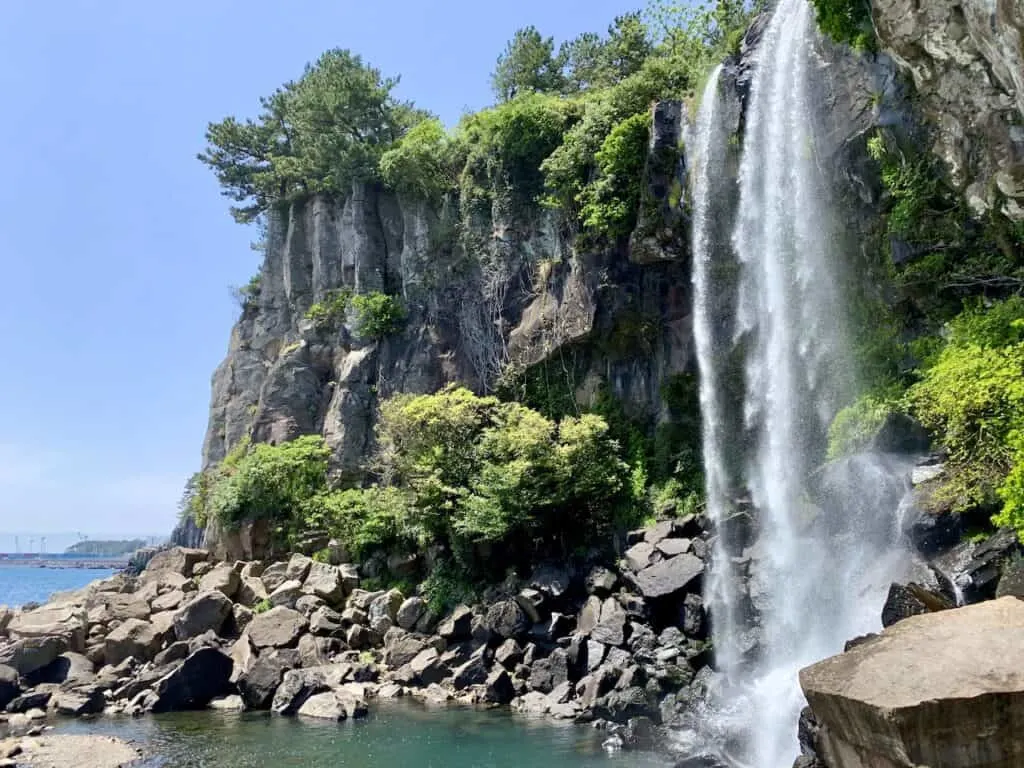 Note: be very cautious around the rocky terrain. There are many loose rocks and they can get slippery closer to the waterfall itself (and after rainfall).
Once you are all finished up at the waterfall, it is then heading back up the stairs and following the signs to the parking lot.
From there, you can continue on with your time exploring Jeju Island.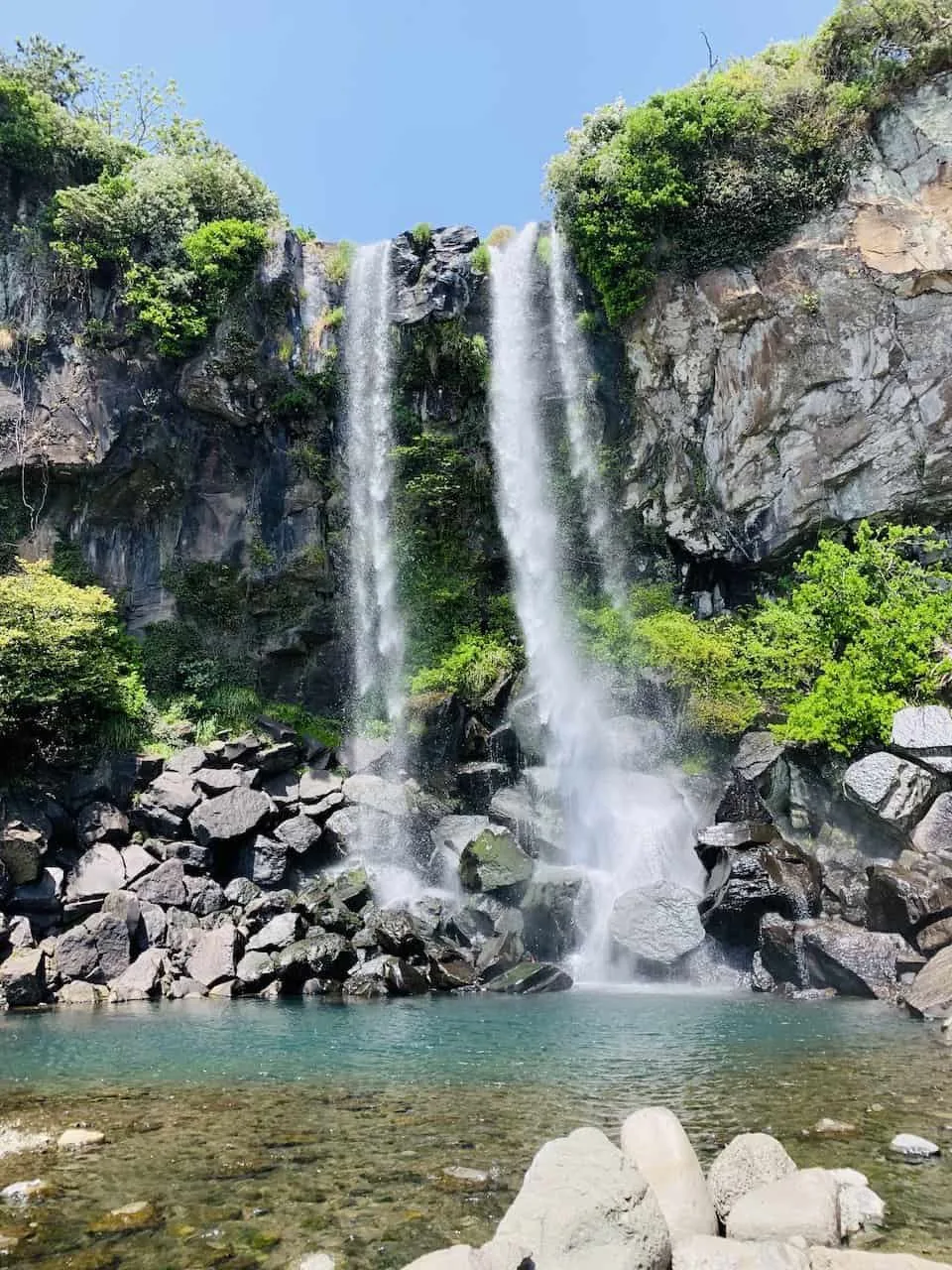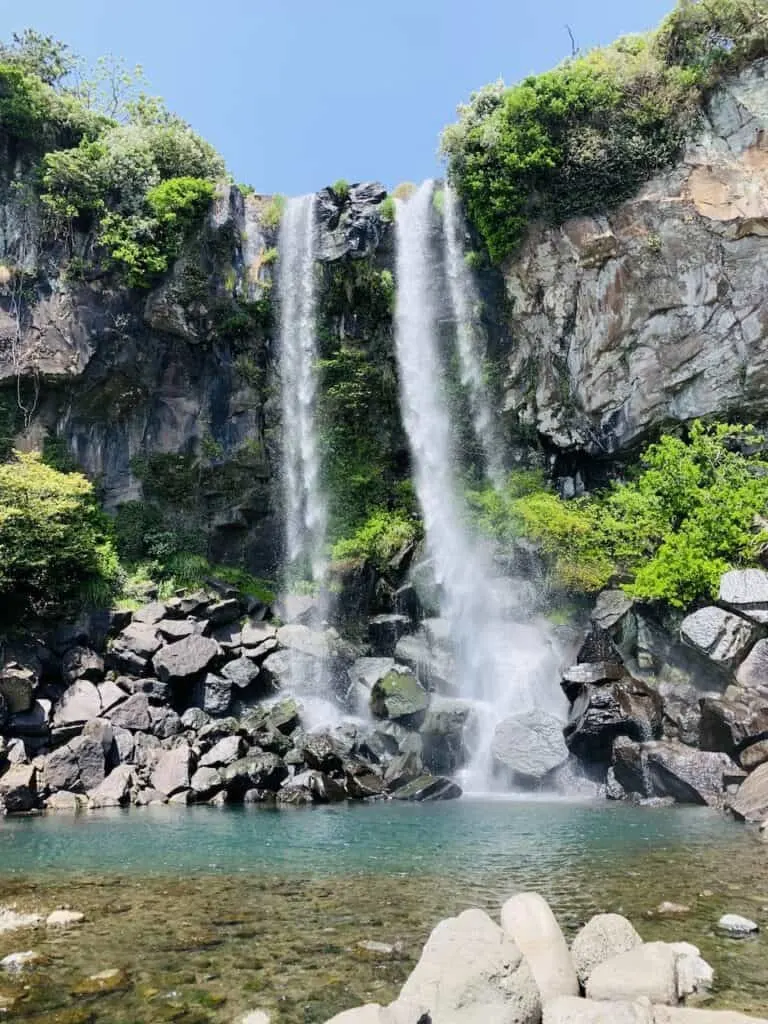 9) Where to Stay on Jeju
When planning a trip to Jeju, you can opt to base yourself in one spot (like Jeju City or Seogwipo), or spend a couple nights in various places around the island.
At the end of the day, this will all depend on your own itinerary.
Below are a few hotel recommendations for these two main places:
Jeju City
Seogwipo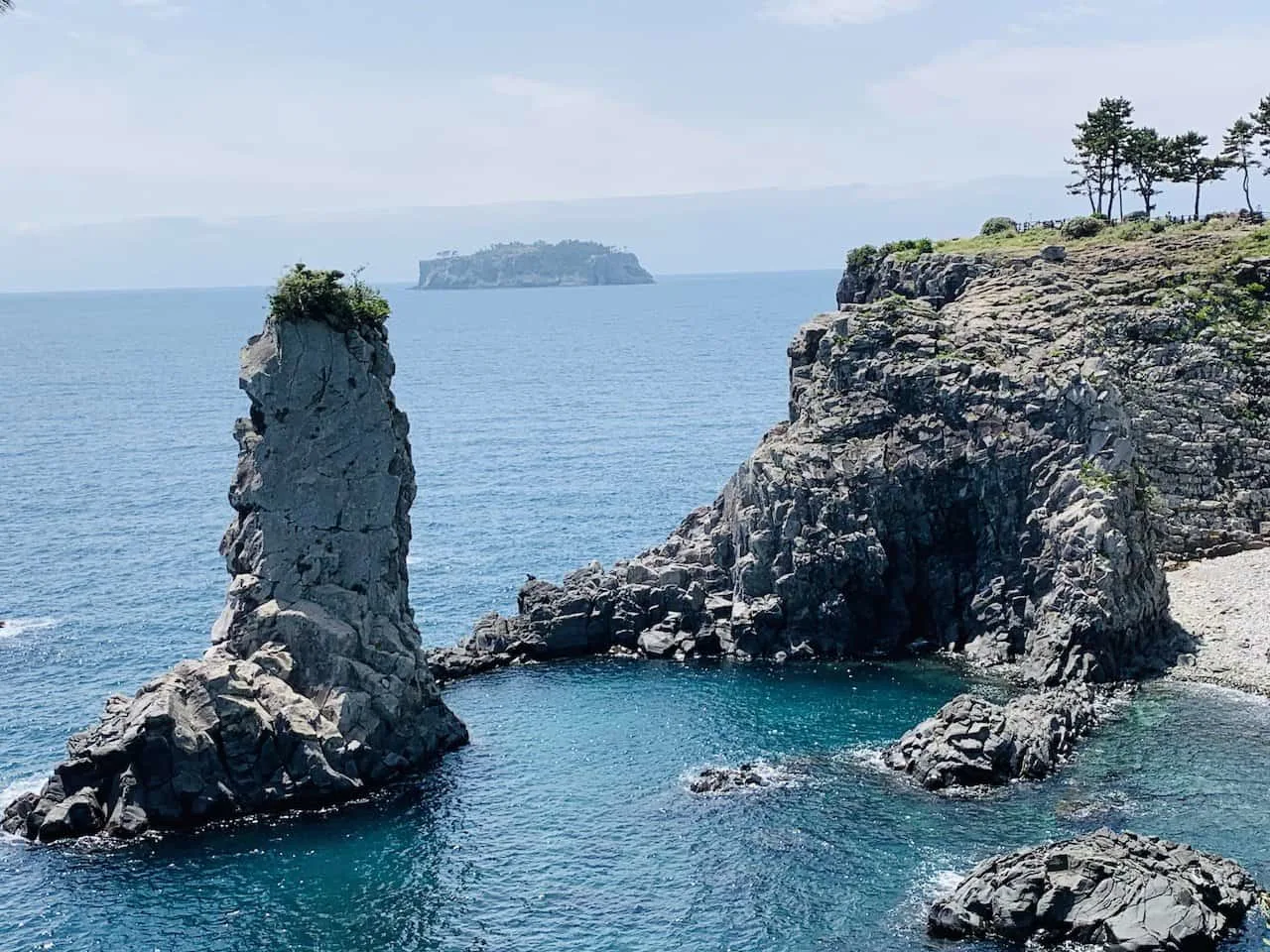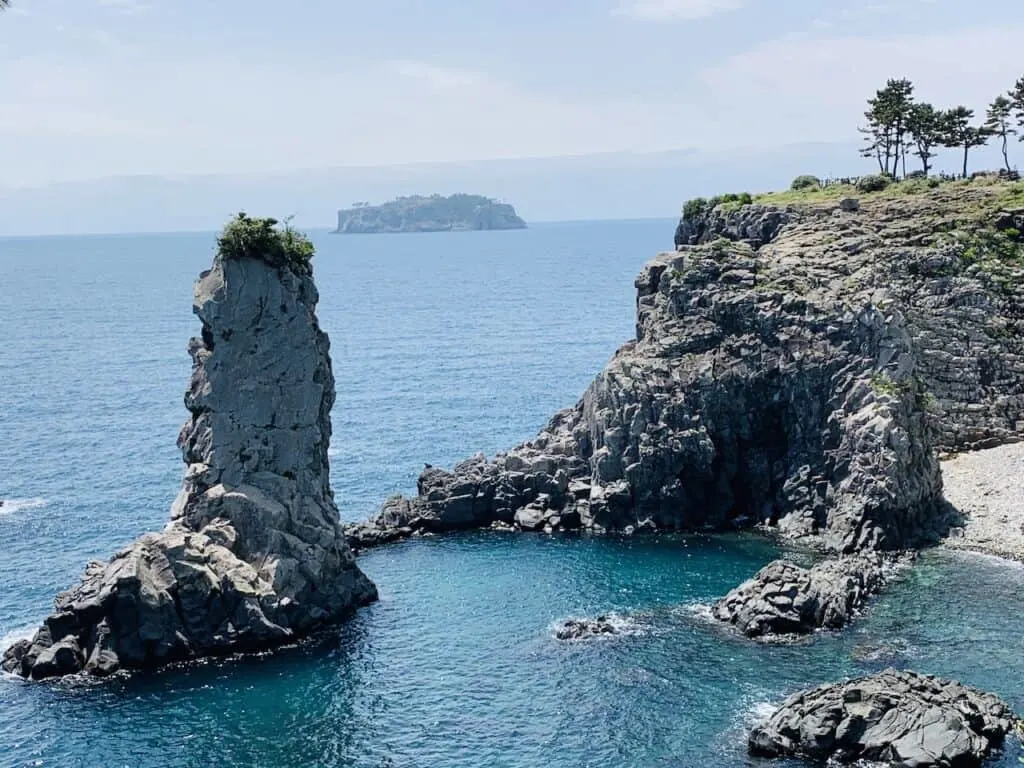 If you have any questions or comments, feel free to add them in below. Also, don't forget to check out the other South Korea itineraries and guides up on the site (like Seopjikoji and Cheonjeyeon Waterfall).
Have fun out there and safe travels!