There are so many incredible things to do in Jeju Island. From relaxing beaches to exhilarating hikes, you will find a wide variety of activities & attractions all throughout the island.
This overview will go over some of the best things to do while exploring Jeju Island. By the end of reading through, you should be well on your way to taking on Jeju for yourself.
* Affiliate Disclosure: This post may contain affiliate links, which means I may receive a commission if you make a purchase through the links provided, at no additional cost to you. Thanks for supporting the work I put into TripTins!
1) Best Things To Do in Jeju Island
Let's start right off the bat with the best things to do in Jeju Island. For many of these highlights, you will find some more in depth overviews linked all throughout the article. If you would like to learn more about a particular attraction, be sure to check them out for some additional detail.
After reading through some of the best things to do, you will also find some more sections about when to visit, hotels, renting a car, and more!
Mount Hallasan
When it comes to hiking on Jeju Island, it doesn't get much better than climbing up Mount Hallasan. This mountain is not only the highest point on Jeju Island, but it is also the highest point in all of South Korea.
This mountain is actually a dormant volcano and help create Jeju Island thousands of years ago. Many of the volcanic landscapes & attractions that can be found on Jeju are a result of Hallasan eruptions.
You can find Hallasan sitting in the middle of the island, making it the epicenter of Jeju. While you will be able to enjoy the views of the mountain on a clear day, you also have the opportunity to climb the mountain itself.
On Hallasan, you will find 7 hiking trails. Some of these trails are shorter trails that just take you up to some lookout points. However, two of the trails (Seongpanak and Gwaneumsa), take you all the way up to the summit.
Seongpanak
Gwaneumsa
Yeongsil
Eorimok
Eoseungsaengak
Seokgulam
Donnaeko
If you are thinking about climbing the mountain for yourself, you will need to sign up and reserve a spot in advance through the official website. This is to ensure the overall mountain safety and to avoid overcrowding.
My recommendation is to start up the Seongpanak route and then head down the Gwaneumsa route (Length: 11.1 miles / 17.9 km, Elevation Gain: 3,860 feet / 1,180 meters). This way you will be able to enjoy the full experience and take in different landscapes all the way through the hike.
Just be aware that you will need to get back to the starting point (if you rented a car). This can be done by public transport or by grabbing a taxi.
Learn More | Mount Hallasan Hike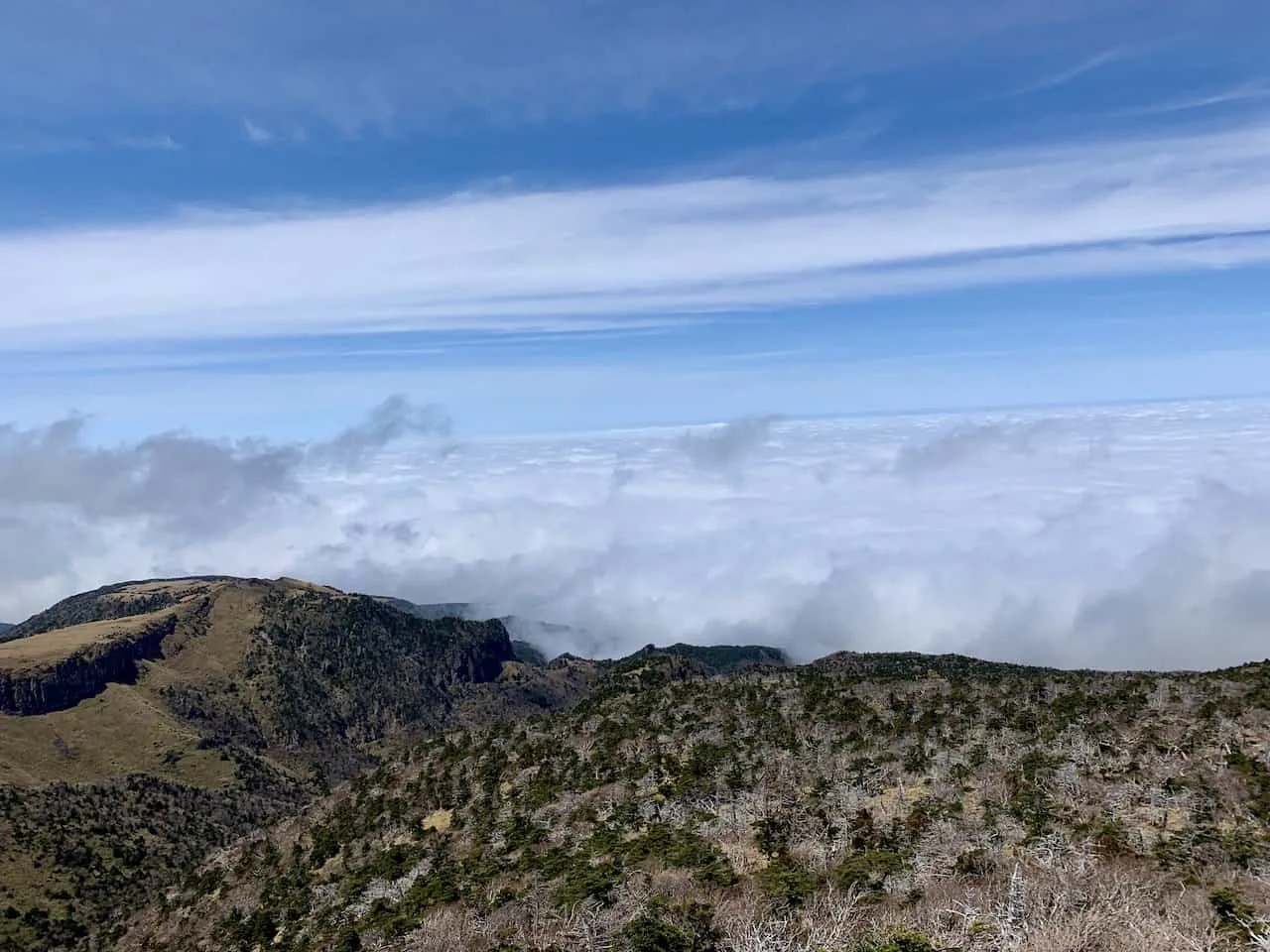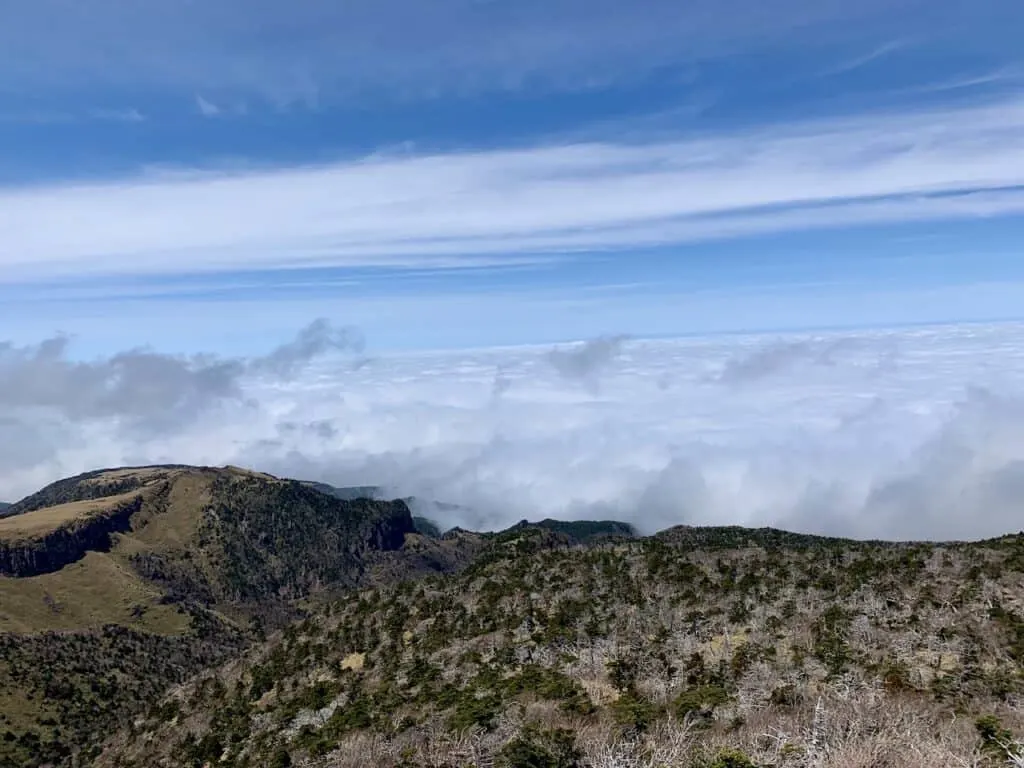 Jeongbang Waterfall
Throughout Jeju Island there are several beautiful waterfalls to add to your to do list. But I do not think any of these compare to what the Jeongbang Waterfall has to offer.
This is not just your normal waterfall that falls off the cliffside and into a pool. Instead, you will get to witness Asia's only waterfall that drops down off of the island and into the sea.
During a visit to Jeongbang, you will follow a short trail from the parking lot, where you will be able to take in some views from above. The trail then heads down to the seaside, where you will walk along some rocky terrain and towards the waterfall itself.
From the bottom you can then get that up close & personal view of what this waterfall is all about and how beautiful it really is.
Learn More | Jeongbang Waterfall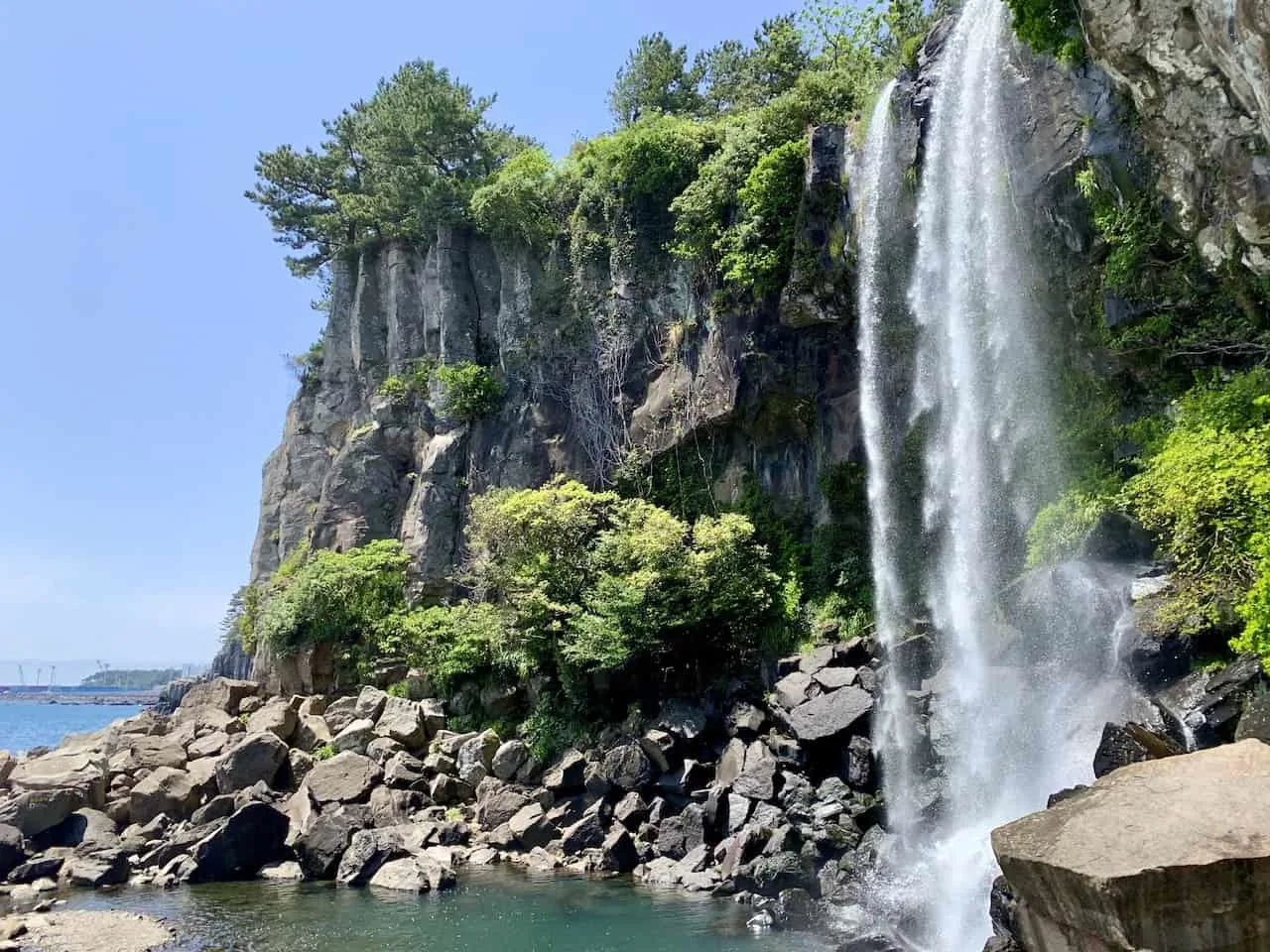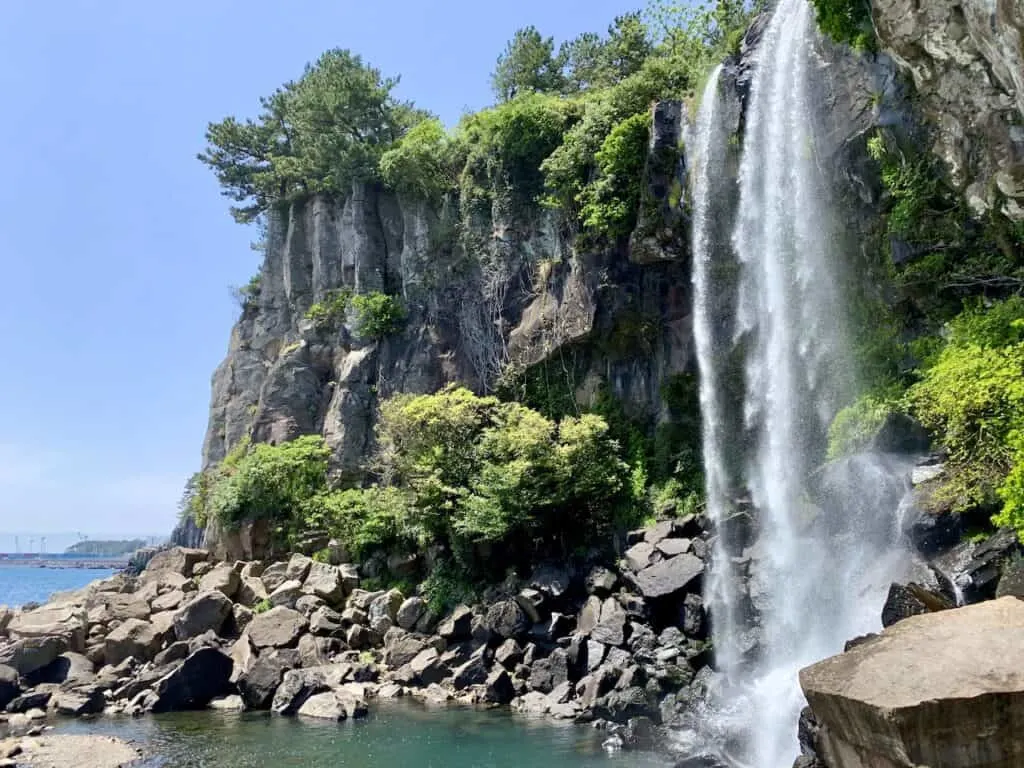 Udo Island
While Jeju Island does have plenty to offer on its own, the nearby Udo Island is worth a visit as well. You can reach Udo via a short ferry ride, and then spend a full day exploring it all.
Once you arrive on the island, one of the best ways to see it all is by renting bicycles or scooters. This will give you the chance to see many of Udo's top highlights in a fun & active way.
Some of these highlights include its several beaches, the Udo lighthouse, Udobong viewpoint, among plenty of others.
You will need to just be aware of your timing to be certain you have enough time to explore at a leisurely pace and get back to Jeju at day's end.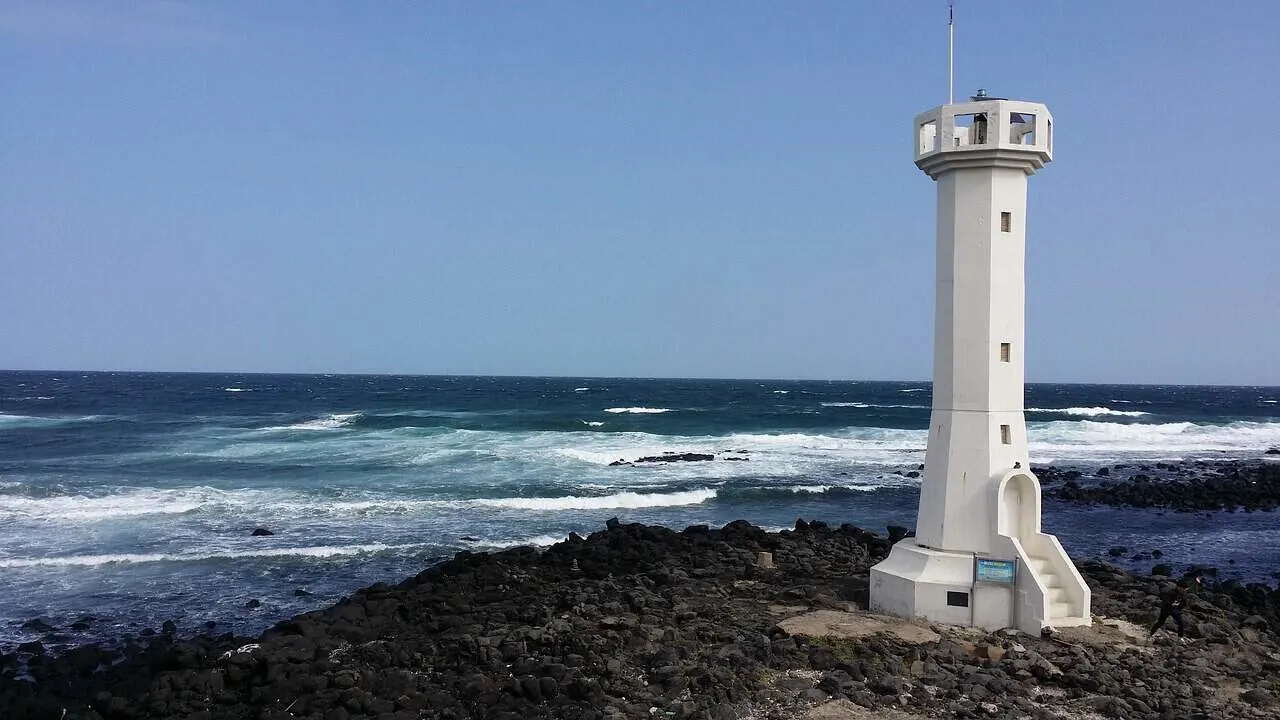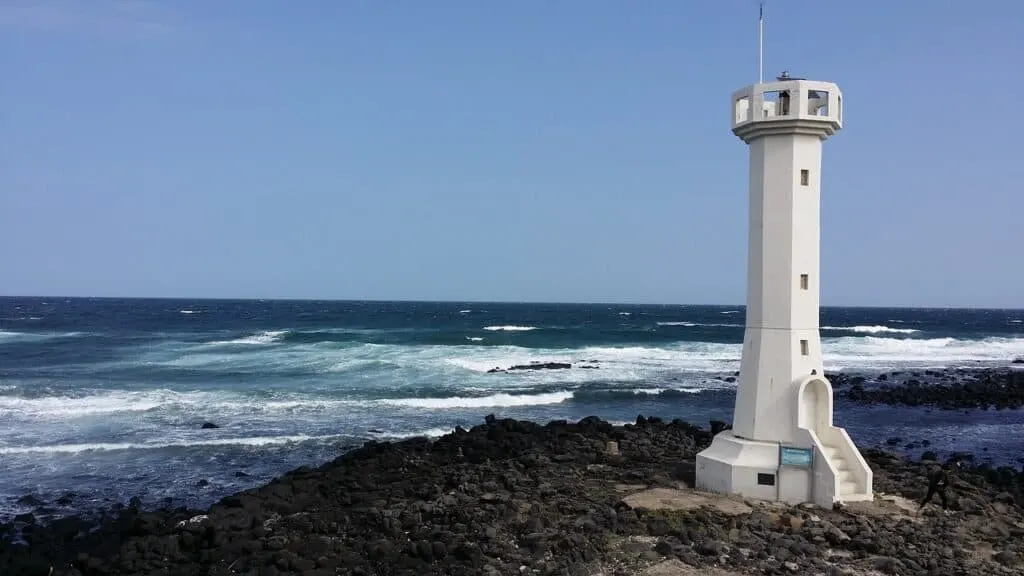 Cheonjeyeon Waterfalls
If you are looking to visit several different waterfalls all in the same vicinity, be sure to head to the Cheonjeyeon Waterfalls, which are made up of three different falls all along a hiking trail.
The trail itself is easy to follow and well maintained with a total distance of 1.6 km / 1 mile. In addition to the distance, you should expect many stairs along the way as well.
From the parking lot you first will head off to the initial waterfall. This waterfall only is active during the rainier time periods. But even if it is not active, you still will be able to see a scenic calm reflective pool surroundws by unique rock formations all around.
After visiting the first waterfall, you can follow the path to the second waterfall. This time you will be able to get down to the waterfall pool with a 30 meter / 98 feet high falls out in front of you. Many people say this is the top waterfall of the three.
During the hike, be on the lookout for the Seonimgyo Bridge. It is a very unique and intricate piece of architecture that you will get to pass by along the way.
Finally, you will reach the final waterfall area. This time the trail ends up above the waterfall near a lookout point. You can spend some time enjoying the view before heading back to the entrance.
Learn More | Cheonjeyeon Waterfalls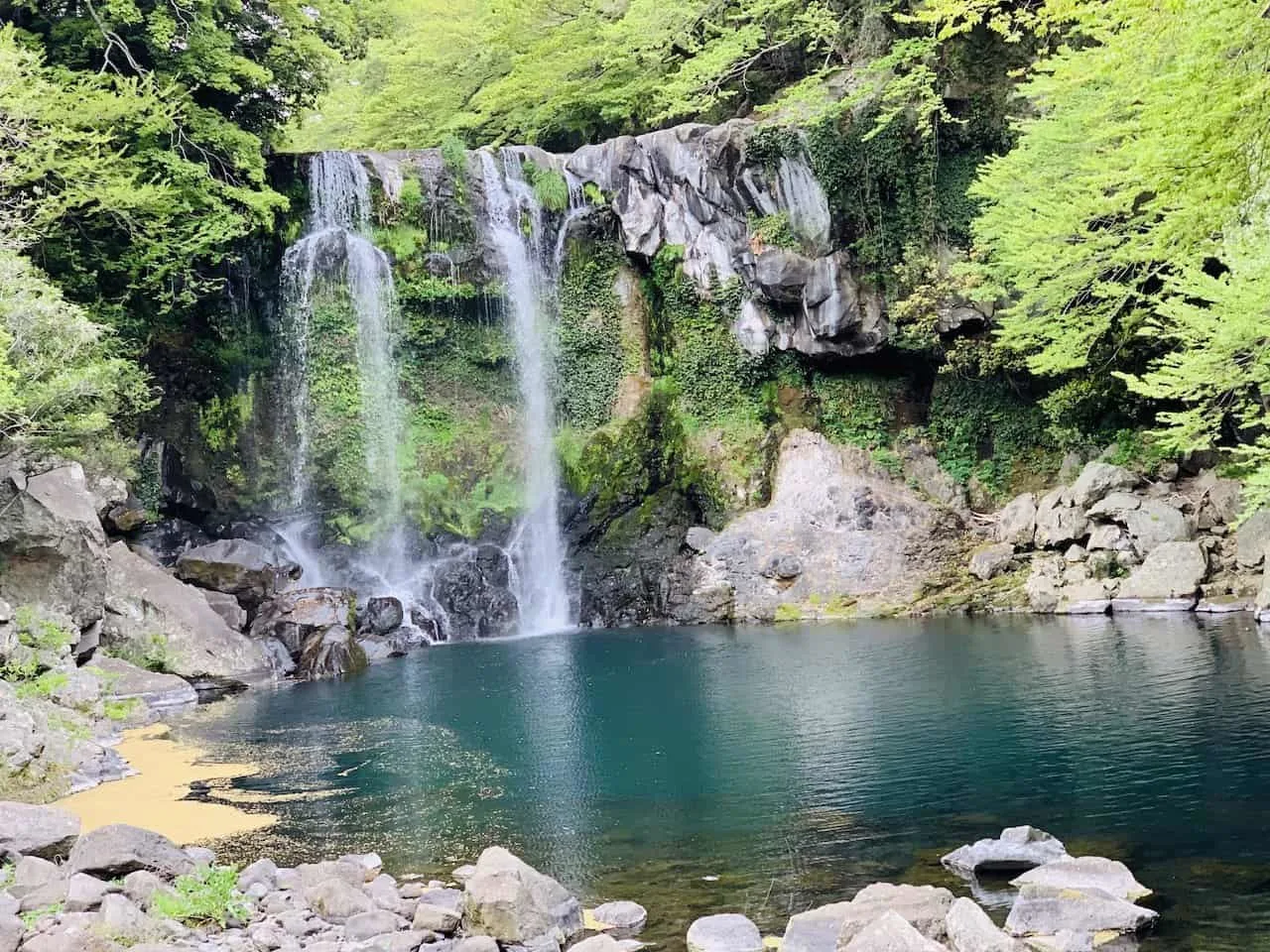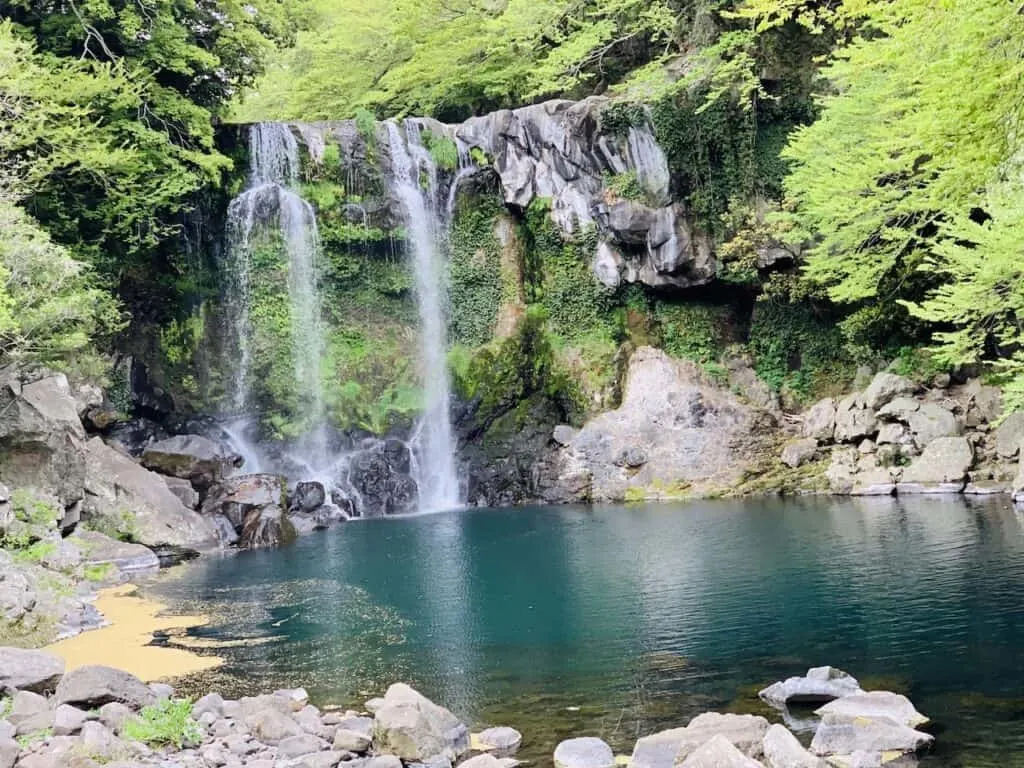 Oedolgae Rock
All around Jeju you can find various volcanic rock formations. Due to lava flow from thousands of years ago, coupled with the natural erosion, there are a lot of unique features all around.
One of these is the Oedolgae Rock, located on the southern shore of Jeju. Visiting the rock and getting those views is quite simple. You can head from the parking lot along a short trail, where you will be able to take in the view of the rock from some viewpoint areas.
If you are up for a longer experience around Oedolgae, there is another viewpoint and park area, right behind the rock itself. Getting to take in those seaside views along the majestic shores of Jeju is sure to be a fun experience.
Lastly, be sure to also follow the trail to the Seonnyeotang Natural Pool. From here, you can visit some natural pools in the sea. If the weather allows, this is one of the best swimming opportunities to take part of in all of Jeju.
Learn More | Oedolgae Rock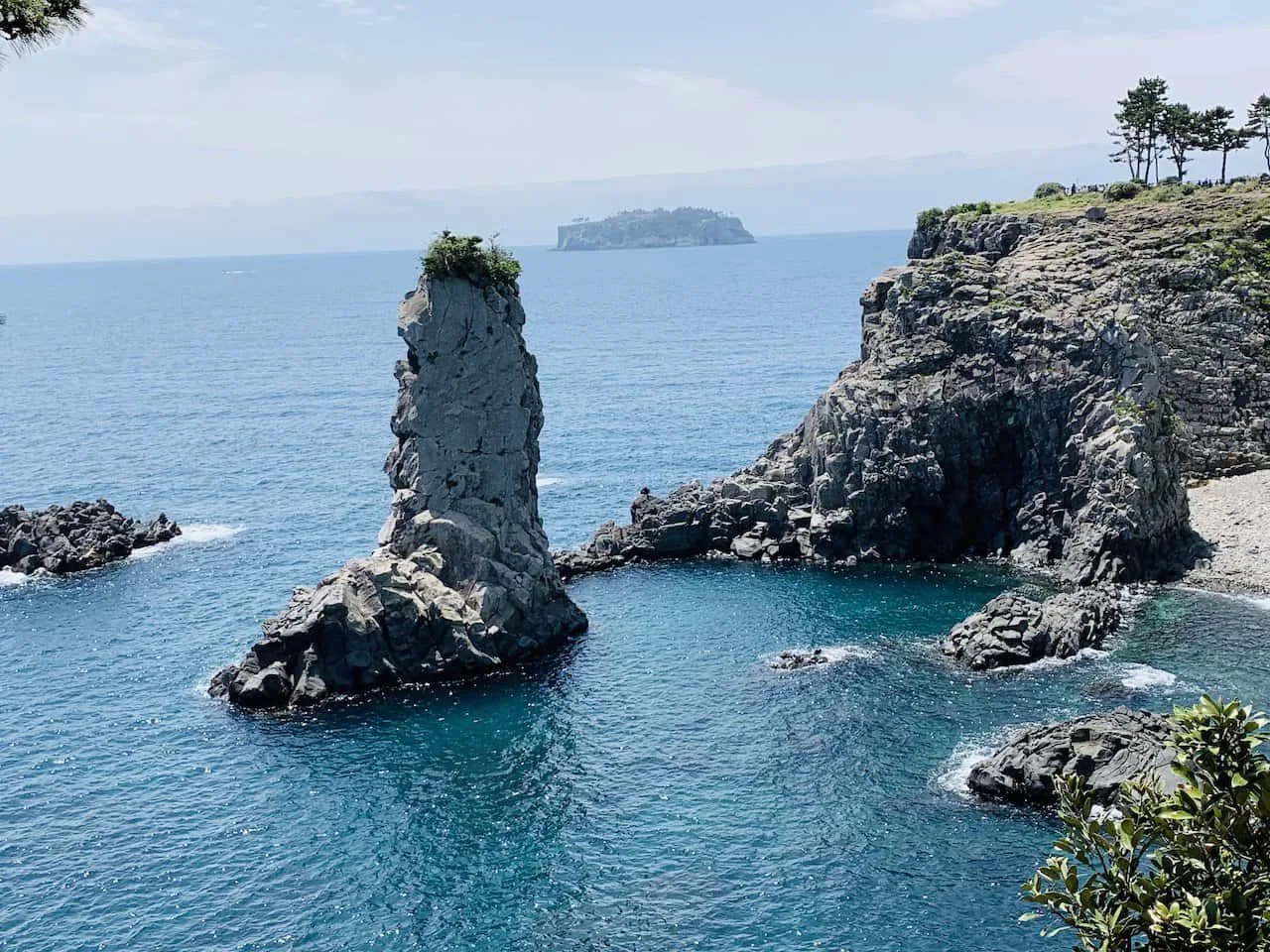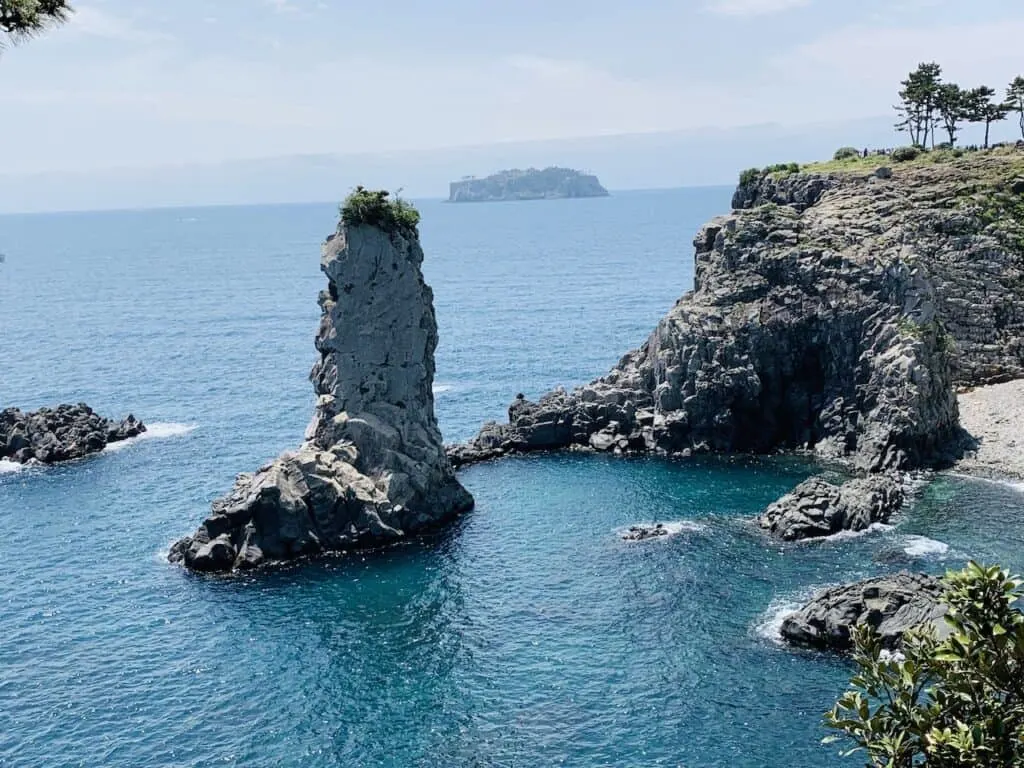 Dongmun Market
If you are looking for one of Jeju's best markets, look no further than Dongmun Market in Jeju City. This bustling market is full of all sorts of goods to purchase, whether that is food or souvenirs.
The seafood is going to be a top highlight as it is full of fresh fish, shellfish, and other locally caught fare. It is a great place to have a meal during a day of exploring the island.
In addition to the seafood, there are plenty of fresh fruits & vegetables that can be found throughout. And if you are craving some sweets, you can also find stalls with local Korean snacks & street food.
While the food is one major part of the market, so is its souvenir section. There you can find a whole array of pottery, clothing, crafts and plenty more.
Jusangjeolli Cliffs
Another famous volcanic rock formation on the southern coast of Jeju are the Jusangjeolli Cliffs. These hexagonal shaped cliffs were formed many years ago, and now make up a distinctive seaside.
Reaching the cliffs is straightforward and requires just a short loop trail from the entrance to the viewpoint area. In addition to the main cliff area, you can also spend more time along the other pathways within the park complex.
Learn More | Jusangjeolli Cliffs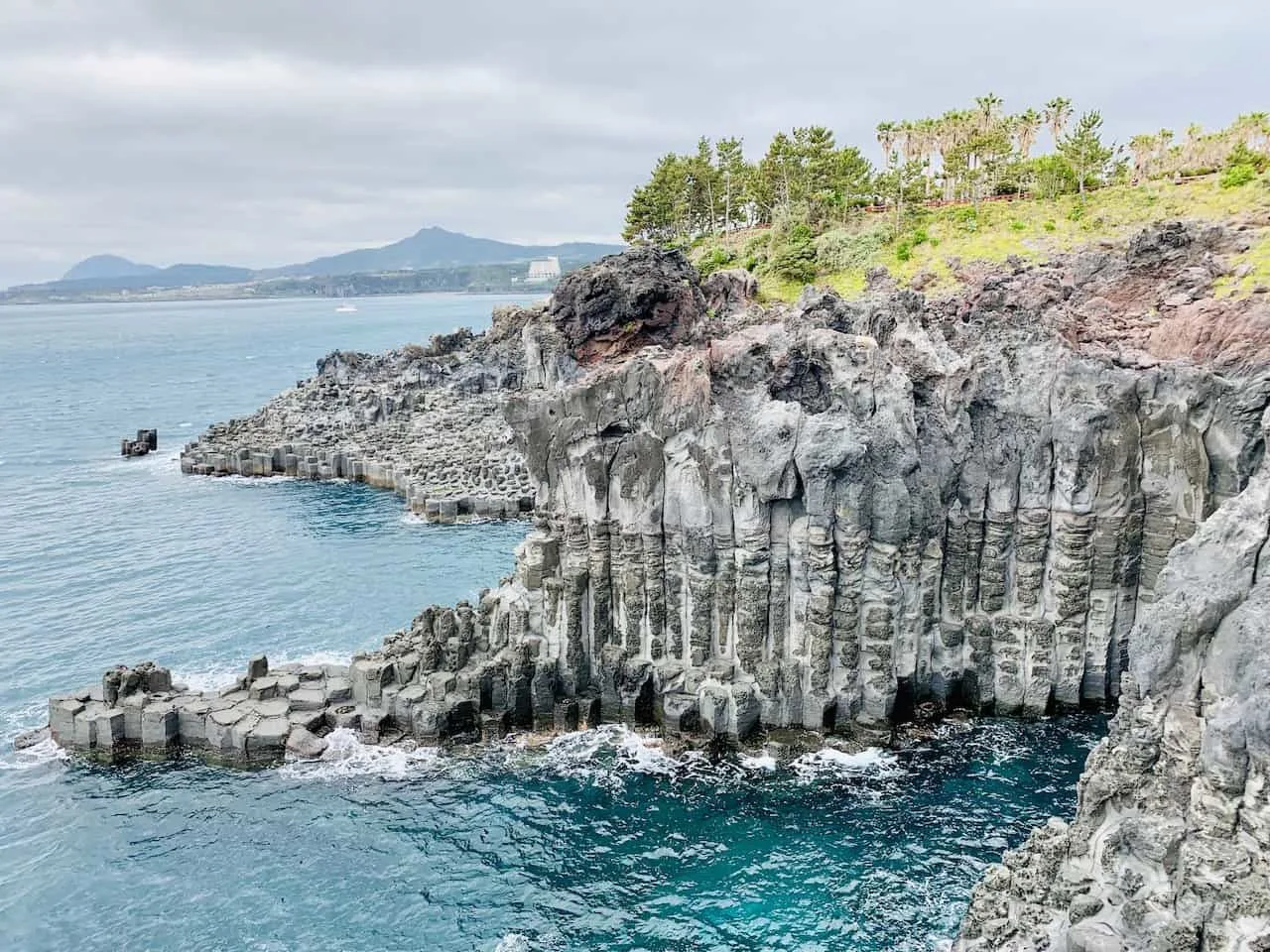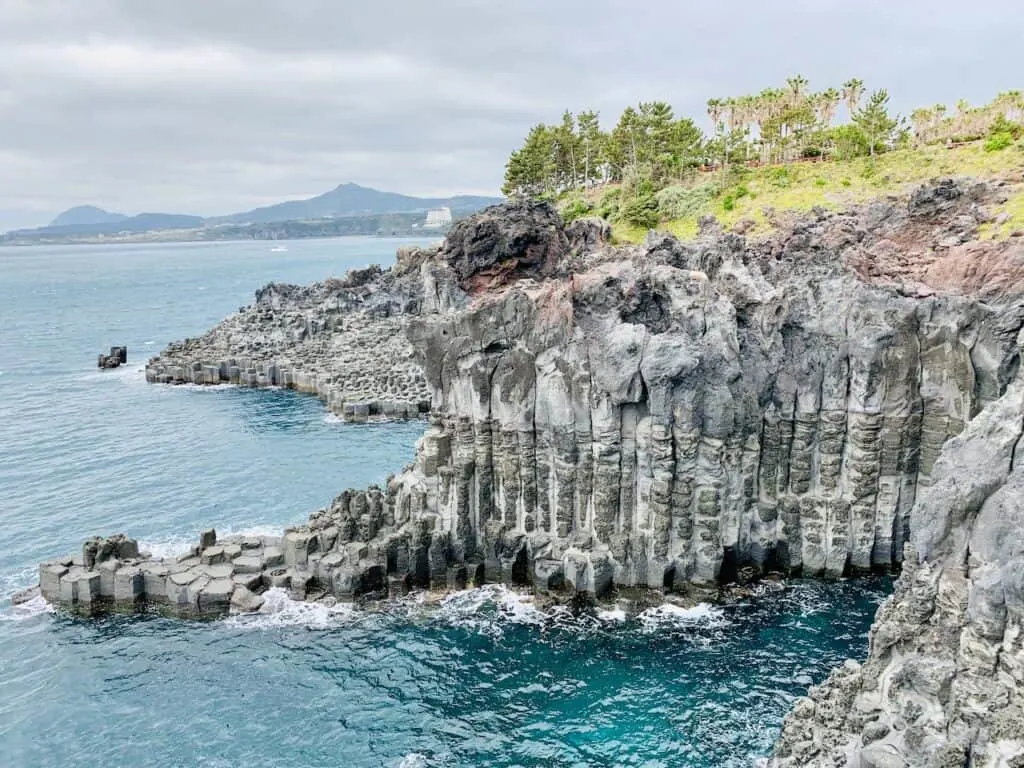 Seongsan Ilchulbong
There is no more famous location on Jeju Island than Seongsan Ilchulbong, also known as sunrise peak. This piece of land was formed thousands of years ago and eventually attached itself to the mainland of Jeju.
Seongsan Ilchulbong is known as a tuff cone volcano, and during a visit you can hike all the way up to the top of it. Many people like to do this for sunrise as it is located on the eastern shore of Jeju.
The hike up is well maintained but does include a few hundred of steps along the way. Once you reach the top, views of the greenery filled tuff cone will be out in front of you, with the seaside out back.
During the trail, you should also be able to get some great views of Jeju itself and Mount Hallasan on a clear day.
After visiting Seongsan Ilchulbong, be sure to follow the signs to the Womens Diver Performance (more on that next!).
Learn More | Seongsan Ilchulbong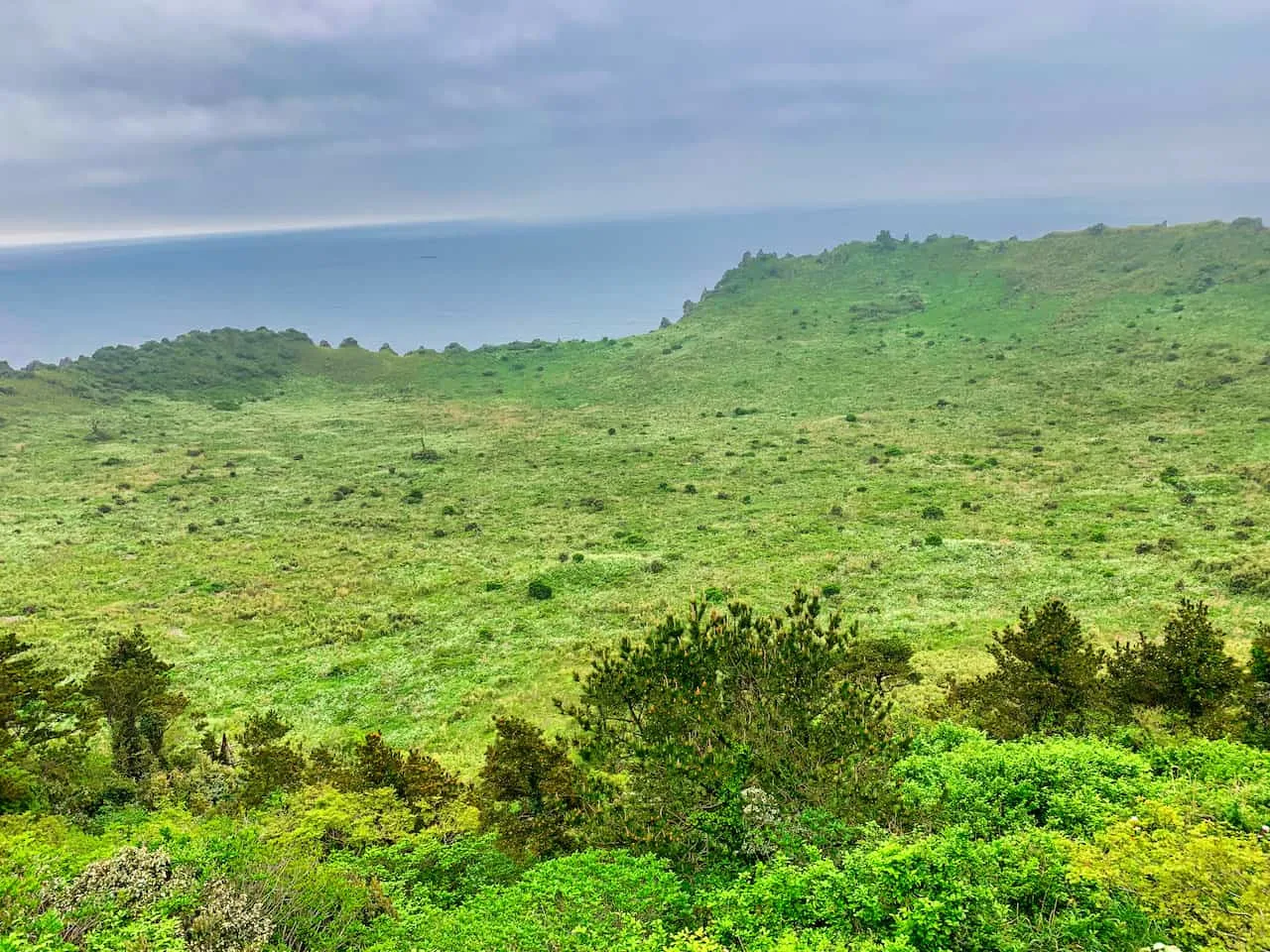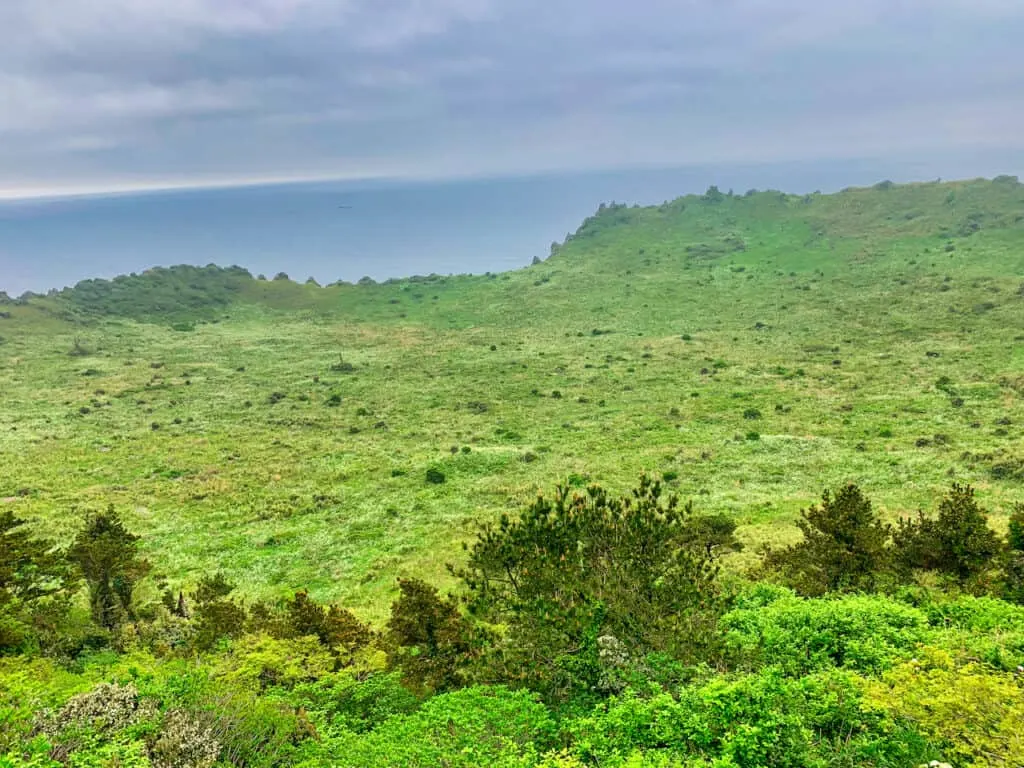 Womens Divers Performance
Within the same complex of Seongsan Ilchulbong, you can also find the Womens Diver Performance (Haenyeo). This is by far one of the more unique things to do in Jeju during a visit.
Twice a day, you will find a handful of local women (some as old as 80+ years), freedive into the water to catch various seafood. Prior to heading into the water, these women also put on a singing performance.
After catching the seafood, the food is then prepared right on the beachside, where people can actually go ahead and purchase it.
Haenyeo has been happening on Jeju Island for the better part of the last few hundred years. It gives you the chance to see an authentic side of the Jeju culture.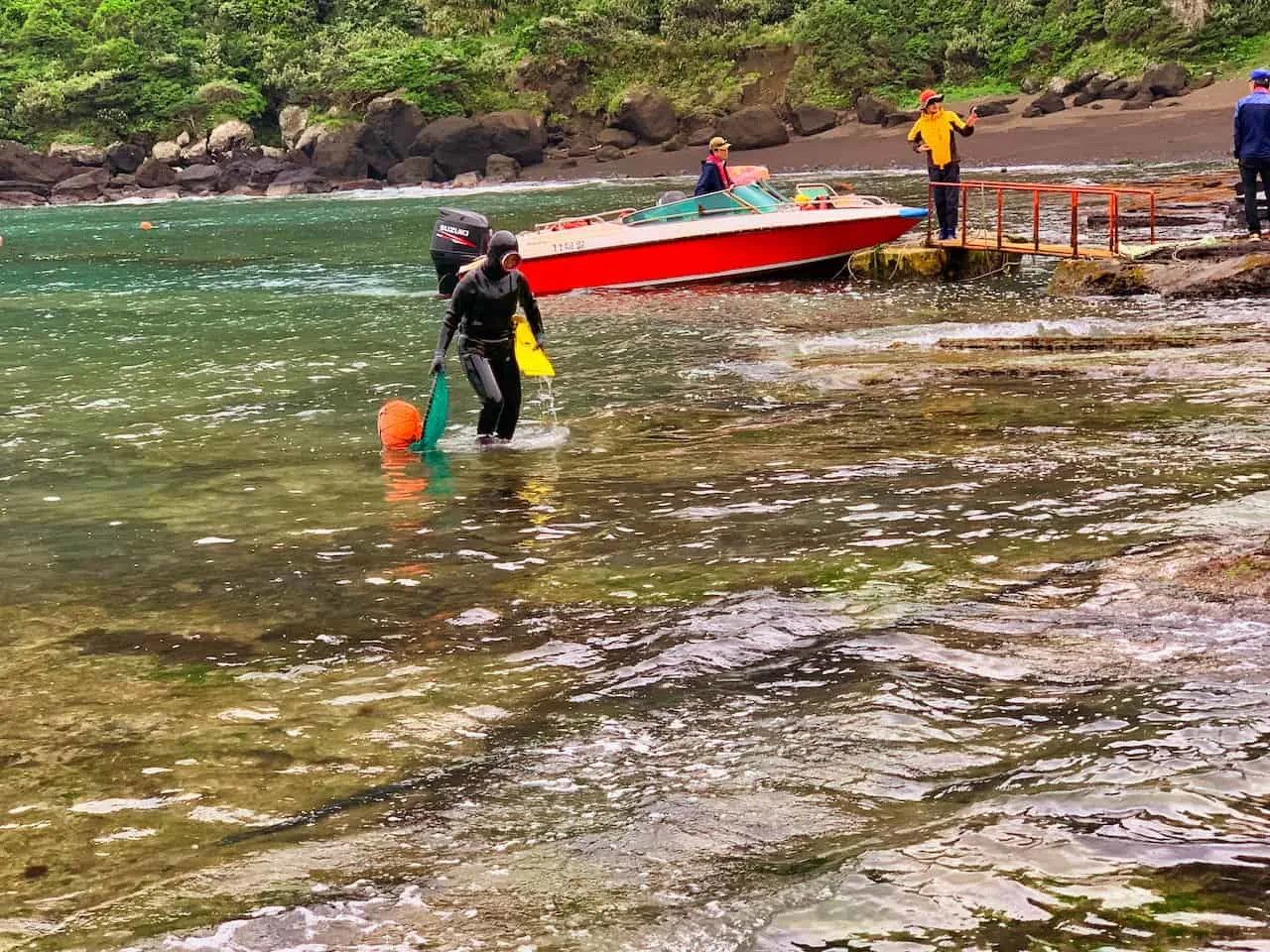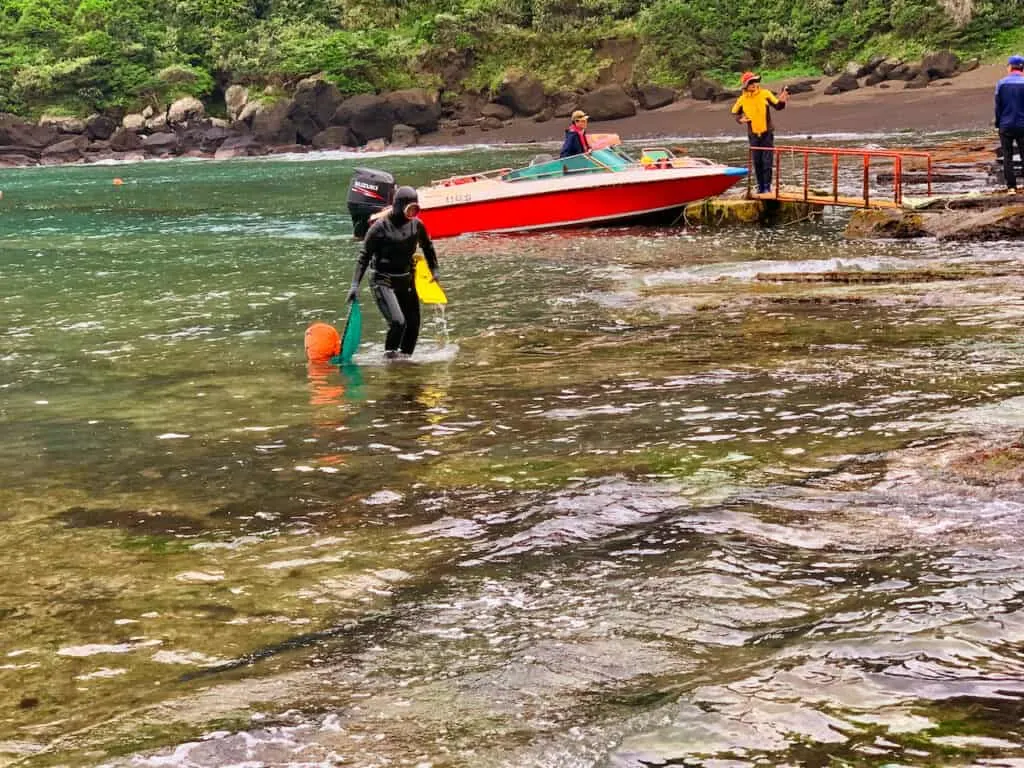 Seopjikoji
A picturesque seaside walk that can easily be added to your Jeju trip is the Seopjikoji Coastal Walk. The starting point of the walk is located just south of Seaongsan Ilchulbong on the Seopjikoji peninsula.
The walk hugs the coastline as you can view the black lava rock formations all along the seaside. There are several viewpoint areas along the way, where you can get panoramas of the coast as the sea hits the cliffside.
Continue to walk towards the lighthouse, for some even better elevated views. You can then decide to head just a bit further towards the Glass House, where you can have a meal or some drinks at the restaurant.
Altogether, the out & back walk comes in at just around 1.6 km / 1 mile. It is a great activity for people of all ages to take part of.
Learn More | Seopjikoji Coastal Walkway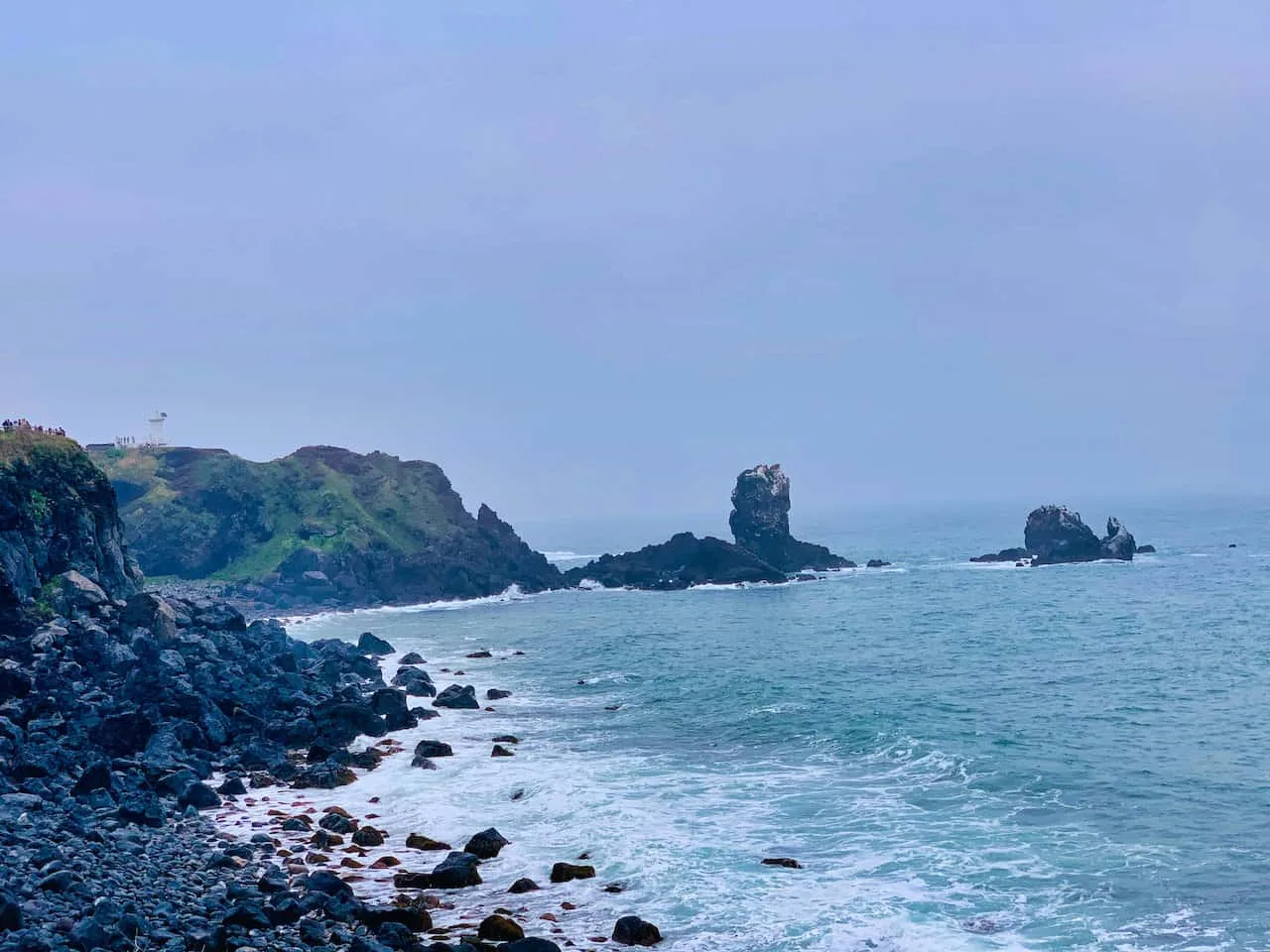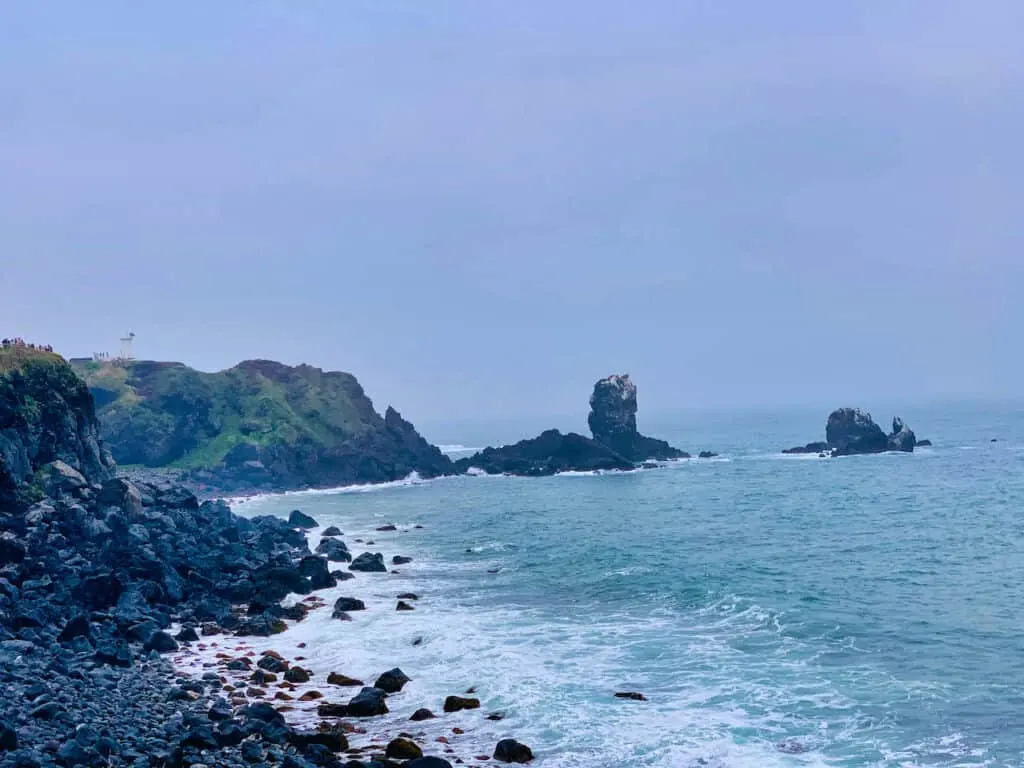 OSulloc Green Tea Field
While seafood is what Jeju is known for, don't forget about the OSulloc Green Tea Field either. This is a perfect place to visit for those tea lovers out there or for those that just want to take in some tea field views.
During a visit you can spend some time visiting the tea museum as you learn a bit about the history of the fields on Jeju Island. Once all wrapped up in the museum, feel free to walk around the tea fields themselves. Walking among the rows of tea leaves is certainly going to be a picturequese landscape to take in.
You can end your time there trying some tea and picking up any tea souvenirs to bring back home.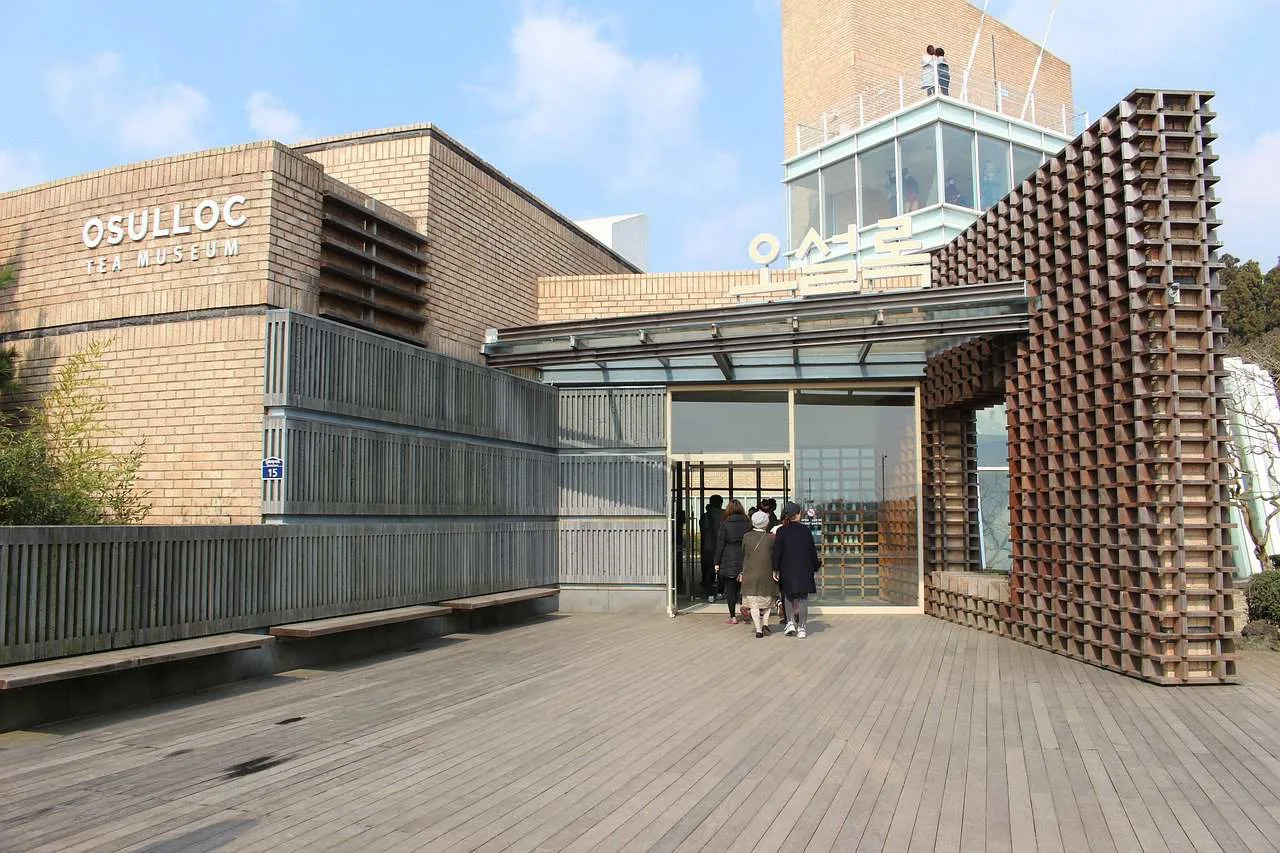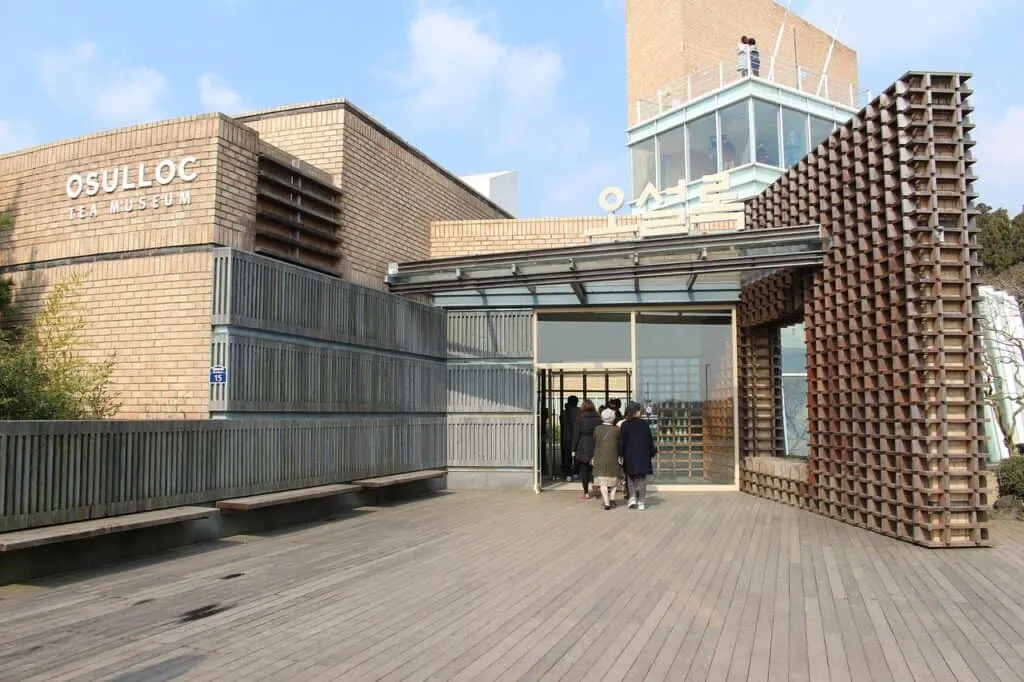 Manjanggul Cave
The most famous of caves on Jeju Island is the Manjanggul Cave, home to the 14th largest lava tube in the world. The lava tube was formed 200,000+ years ago during the time that volcanic activity was frequent on the island.
Today, visitors have the chance to head down into the lava tube and walk along a particular section of it. Walkways and lights have been installed in place to make the walk through the cave a safe experience altogether.
Throughout the lava tube there are several information boards that will help give some insight into the history of the cave and some highlights you will see along the way.
At the end of the walkway, you will come across the top highlight. Here is the world's largest known lava column coming in at 7.6 meters / 25 feet in height. You can spend some time at the lava column before retracing your steps back to the entrance.
Learn More | Manjanggul Cave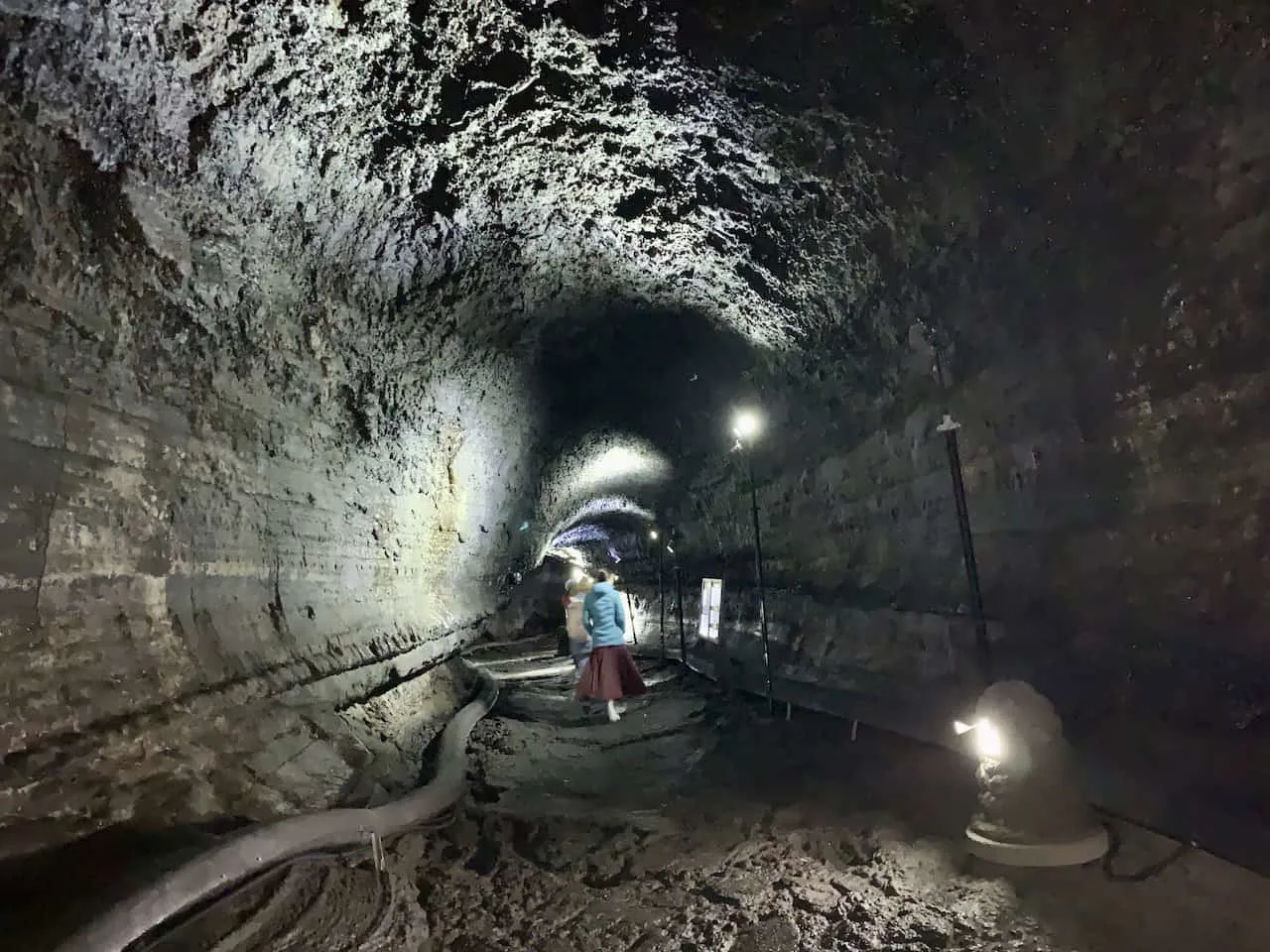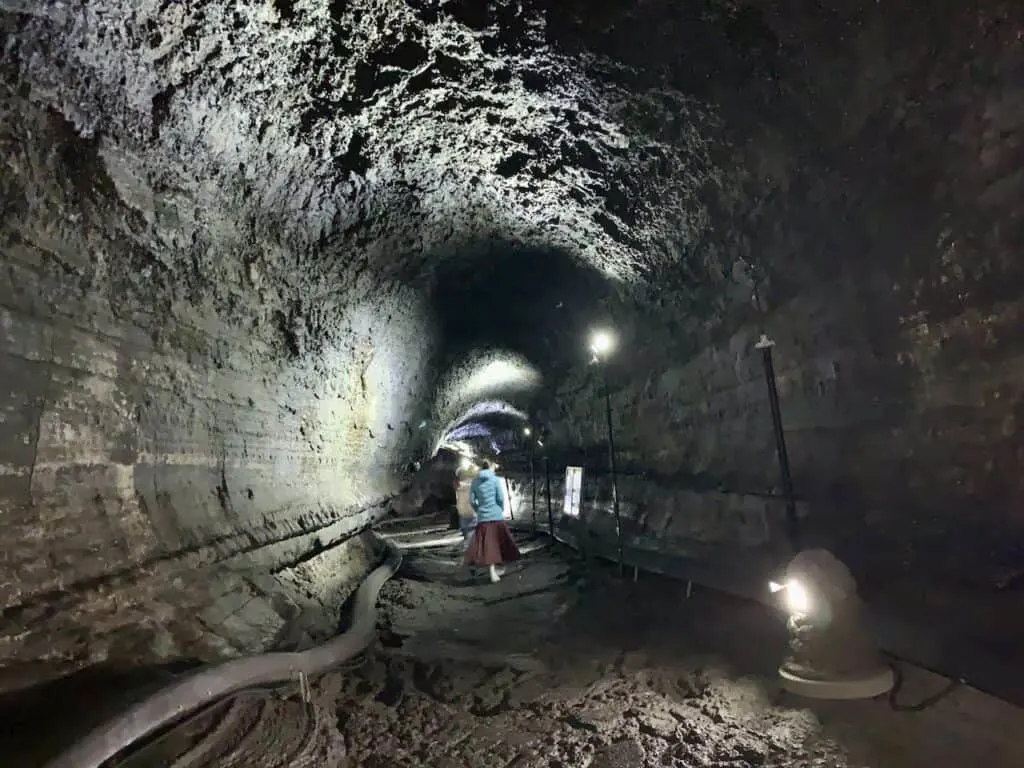 Hallim Park
Another fan favorite of Jeju Island is Hallim Park. This is no ordinary park though. There are many different aspects of the park to see.
Here you will come across beautiful gardens such as the Stone Garden, Bonsai Garden, and Botanic Garden. You can also visit the Hyeopjaegul and Ssangyonggul Caves, which are home to stalactites, stalagmites, underground lakes & waterfalls.
Also within the park complex are highlights such as a folk village and children's amusement park.
At the end of the day, Hallim Park is certainly one spot that can keep you busy with a little bit of everything.
Jeju Mysterious Road
While most of the places on this list are natural attractions, there is one spot that you can visit that offers a bit difference of a experience.
Near the northern end of the island, you can find the Jeju Mysterious Road. The reason it is considered mysterious is due to the optical illusion of the road looking like it is going uphill, but in reality, it is going downhill.
The reason this happens is due to the fact that the surroundings are elevated off of the road. You can test out the road for yourself by putting your car in neutral and letting your car just slow roll down on its own. It will seem confusing at first since it really does look like the car will be rolling uphill.
Learn More | Jeju Mysterious Road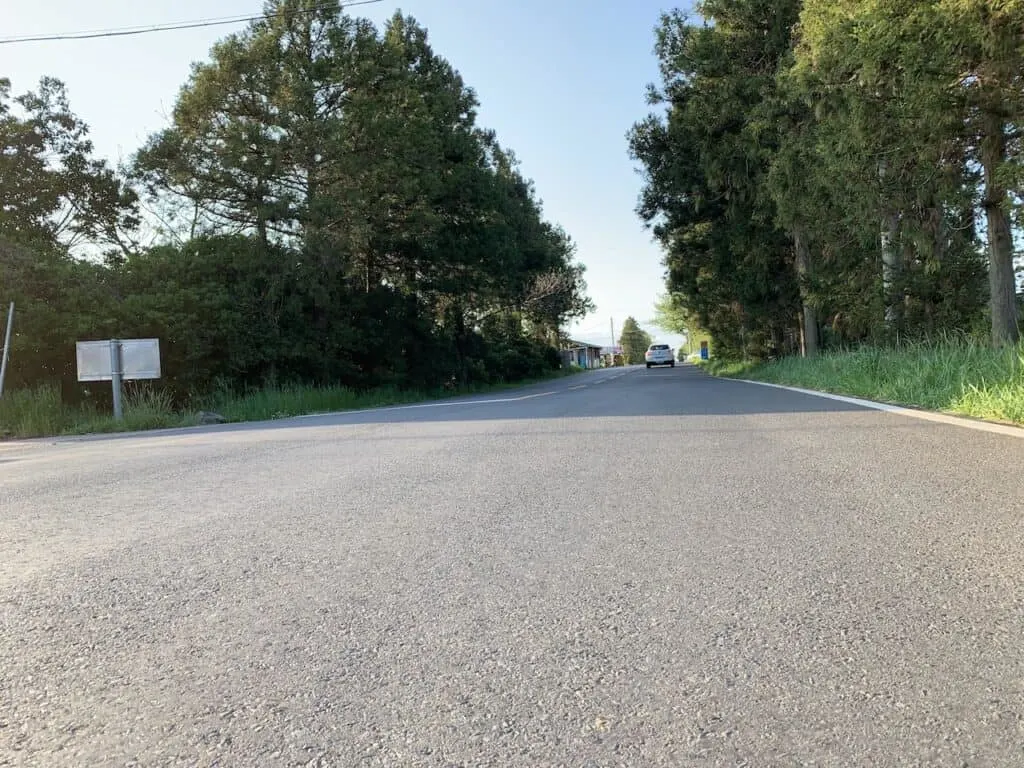 Jeju Olle Trail
One of the most physically demanding hikes you can take part of is the trail that heads around the entirety of the island – the Jeju Olle Trail.
The trail comes in at 437 km / 272 miles over the course of 27 different sections, and visits many of the island's top highlights along the way. Some of these sections are just quick one hour routes while others can be close to 10 hours in length.
While some people do opt to do the full route over the course of 3+ weeks, most people simply do certain sections of the route. This way you can still get in some scenic hiking but not need to sign up for the whole thing.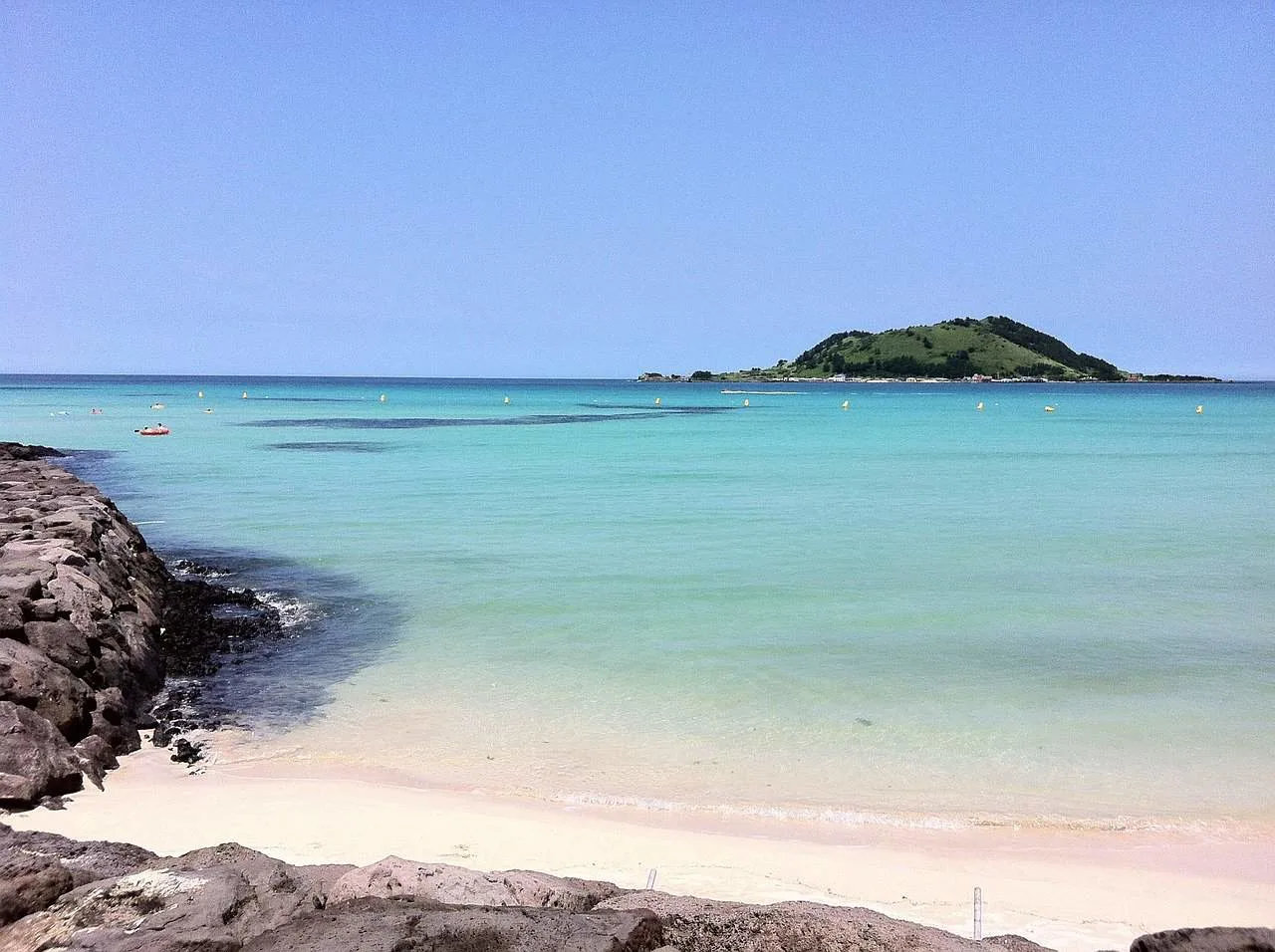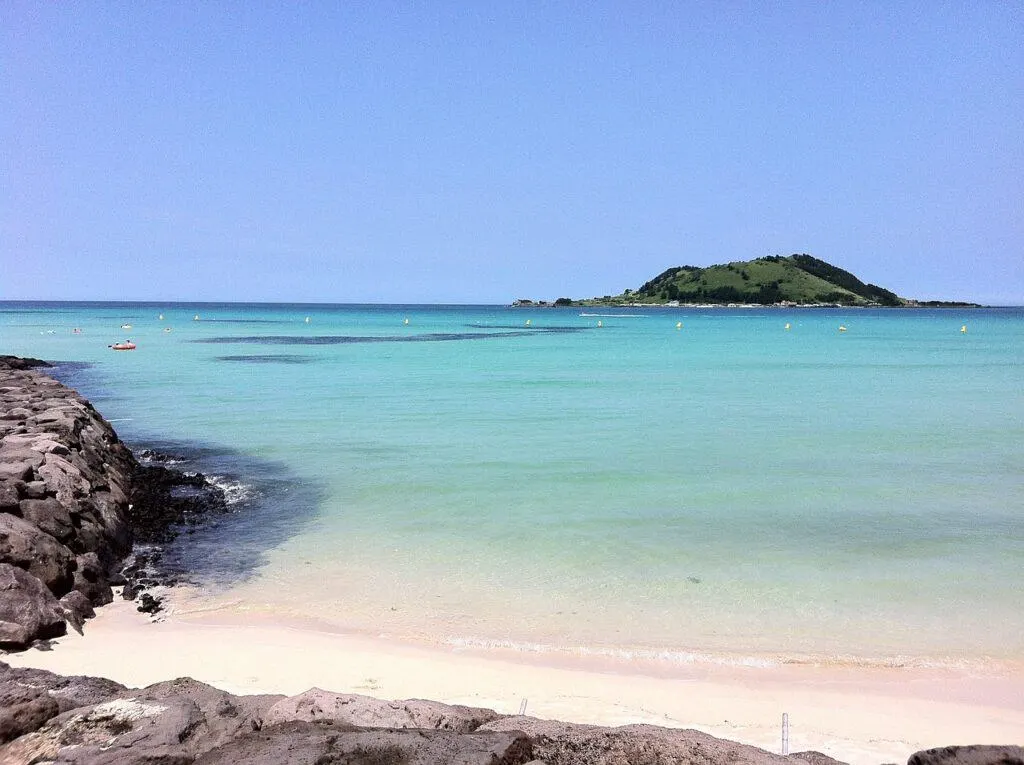 Yakcheonsa Temple
One of the top temples to visit on Jeju Island is Yakcheonsa Temple. The temple is by far one of the most ornate and decorated temples you will come across on the island (and the country).
Within the temple complex you can visit a whole array of different structures. Each one will be different than the next and altogether they hold thousands of Buddha statues throughout.
Some of the highlights include the Great Hall of Virochana Buddha, Cave Bharma Hall, Hall of Three Sages, Hall of 500 Arahan, Tea Ceremony Hall, among several others.
The main temple comes in at 30 meters in height and over 3,000 square meters, making it one of the largest temples in Asia. There is so much to see, and it is a great addition to a Jeju itinerary for a cultural aspect to the trip.
Learn More | Yakcheonsa Temple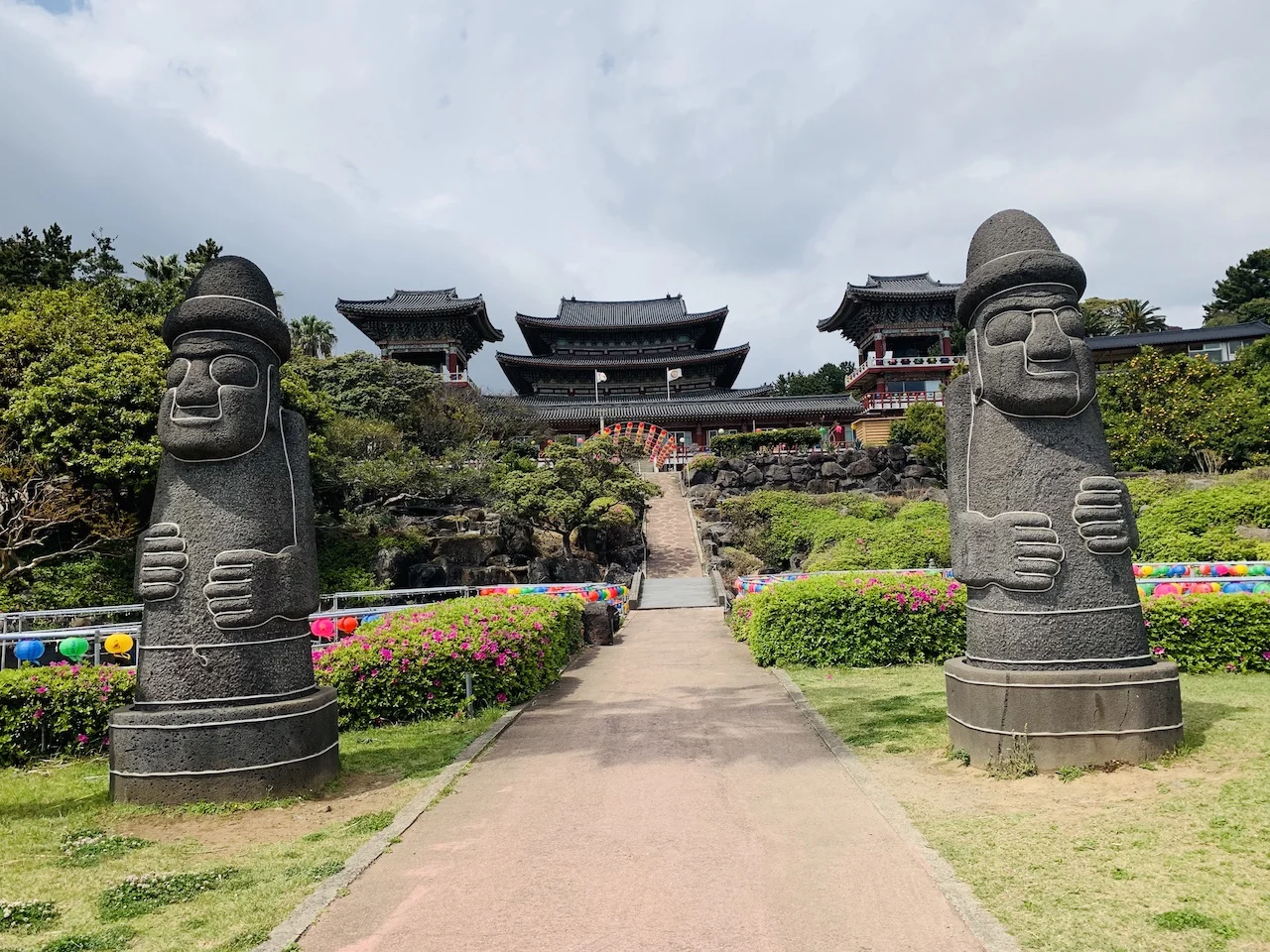 Hamdeok Beach
There is no shortage of beaches on Jeju Island. If you are looking for some time in the sand and water (or just want to enjoy the view), you can choose from a countless selection.
The summer months will be your best bet to fully take advantage of that Jeju beach weather, but you really can visit at any time of the year.
One of the top beaches to choose from is Hamdeok Beach on the northeastern part of the island. Here you will find three distinct beach areas that come to life during low tide.
Volcanic rock formations, walkways, and small bridges connect the area together and creates the perfect place to explore further.
Be sure to also spend some time at the Café Delmoondo for some food and/or drinks overlooking the beachside.
If you are up for a little bit of hiking, Hamdeok offers that as well. On the eastern side of the beach is Seoubong Peak. Here you will find several hiking trails that follow the coastline and give you some great elevated views of the surrounding beach, city, sea, and more.
Learn More | Hamdeok Beach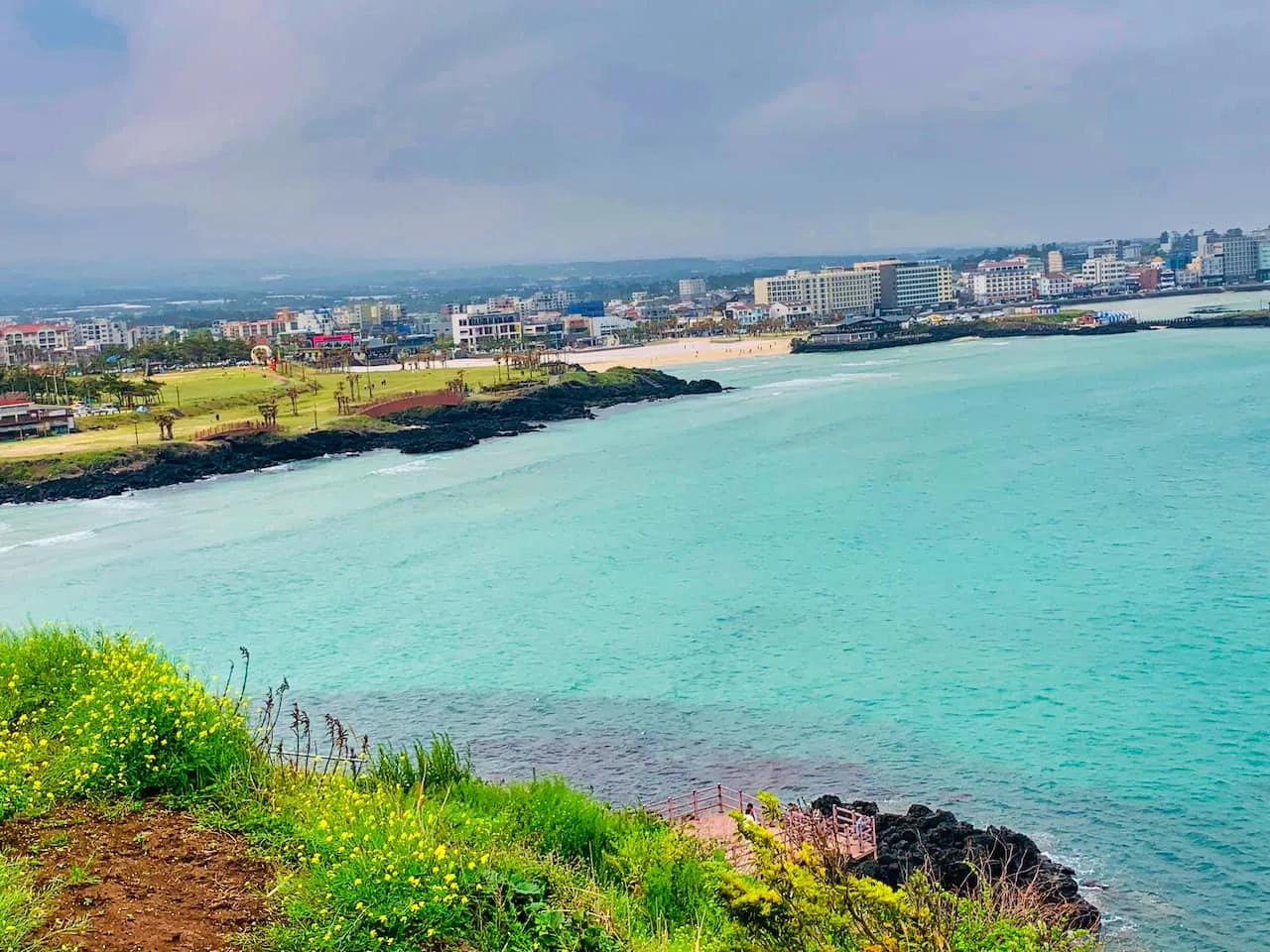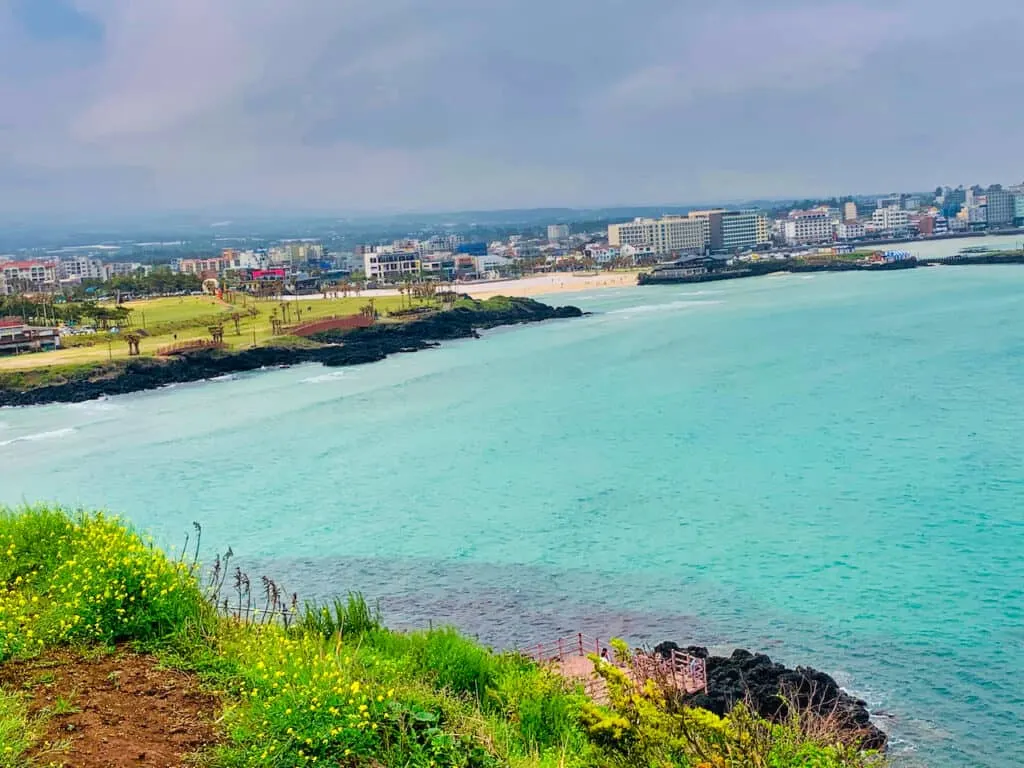 Other Jeju Beaches
Hamdeok is not the only beach worthy of a visit though. All along the coastline you can find several other beaches to enjoy. Just some of these beaches include:
Hyeopjae Beach
Woljeongri Beach
Geumneung Beach
Jungmun Beach
Gwakji Beach
Beaches give you a great opportunity to split up your time on Jeju between taking part of activities & just having some relaxation time.
Black Pork BBQ
One of the local delicacies of Jeju Island is the Black Pork BBQ. This is a special type of pork that is unique to Jeju. The pork that is raised on the island is given a special diet. This in turn creates a unique taste and texture for the Black Pork BBQ.
For some people, a visit to Jeju Island is worth it just for the pork itself! So, if you have the appetite and interest, be sure to give it a try during your time there.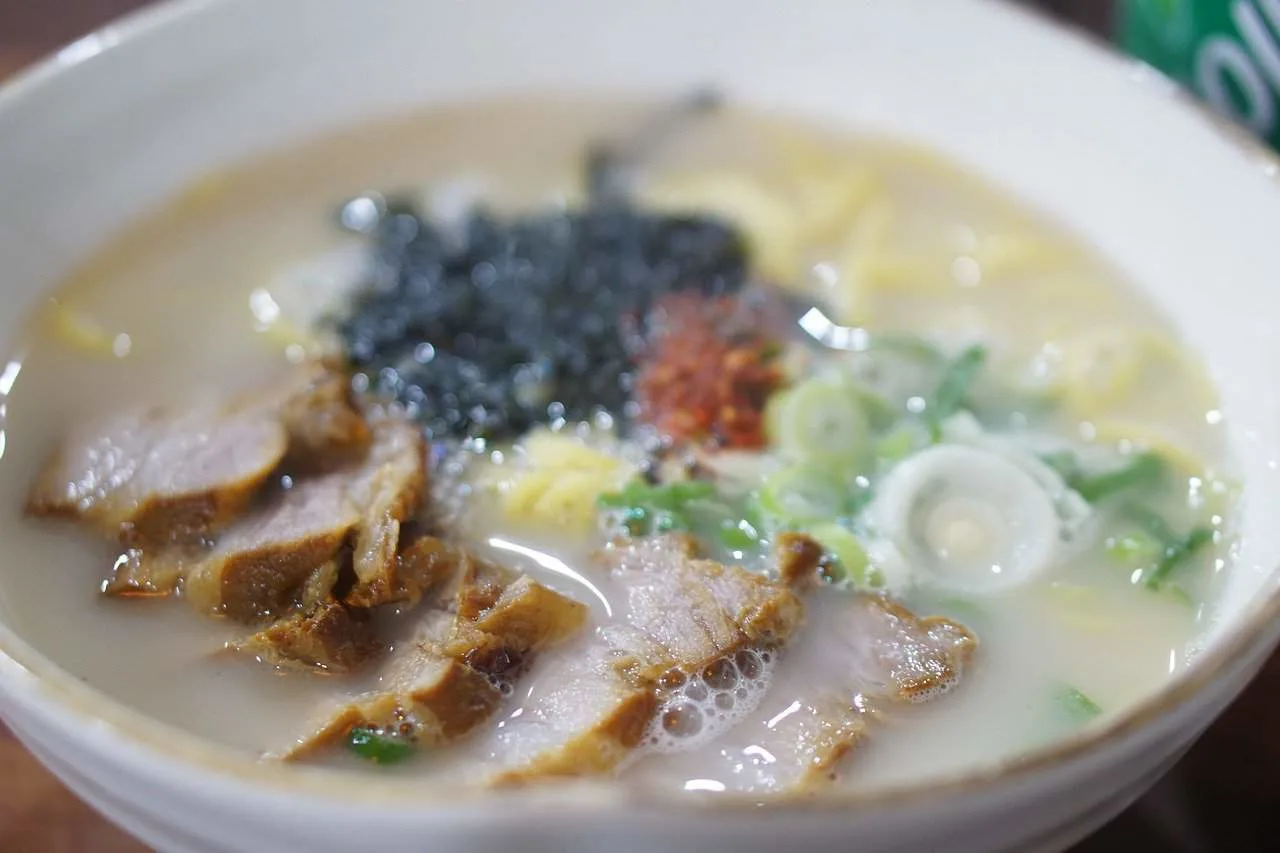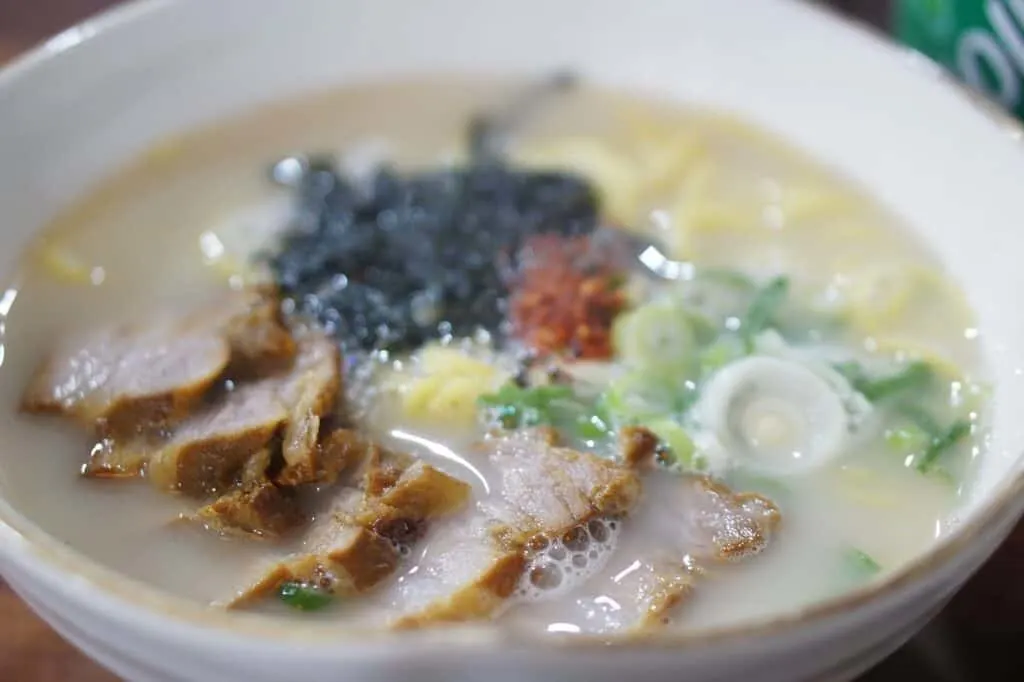 Jeju Stone Museum Park
The Jeju Stone Museum isn't your normal ordinary museum. Instead this is an indoor/outdoor museum filled with many unique stone sculptures and volcanic stone formations.
The stone park is based on Seolmundae Halmang, who is the mythological grandmother who created Jeju Island, and Obaek Janggun General stones.
These statues are intricately laid out all throughout its grounds, and during a visit, you can spend time slowly walking around and taking in these unique rock formations.
There are a few different sections to explore within the park. These include the rock statue section, how rocks were used for everyday purposes, and the Jeju styling housing made up of volcanic rock.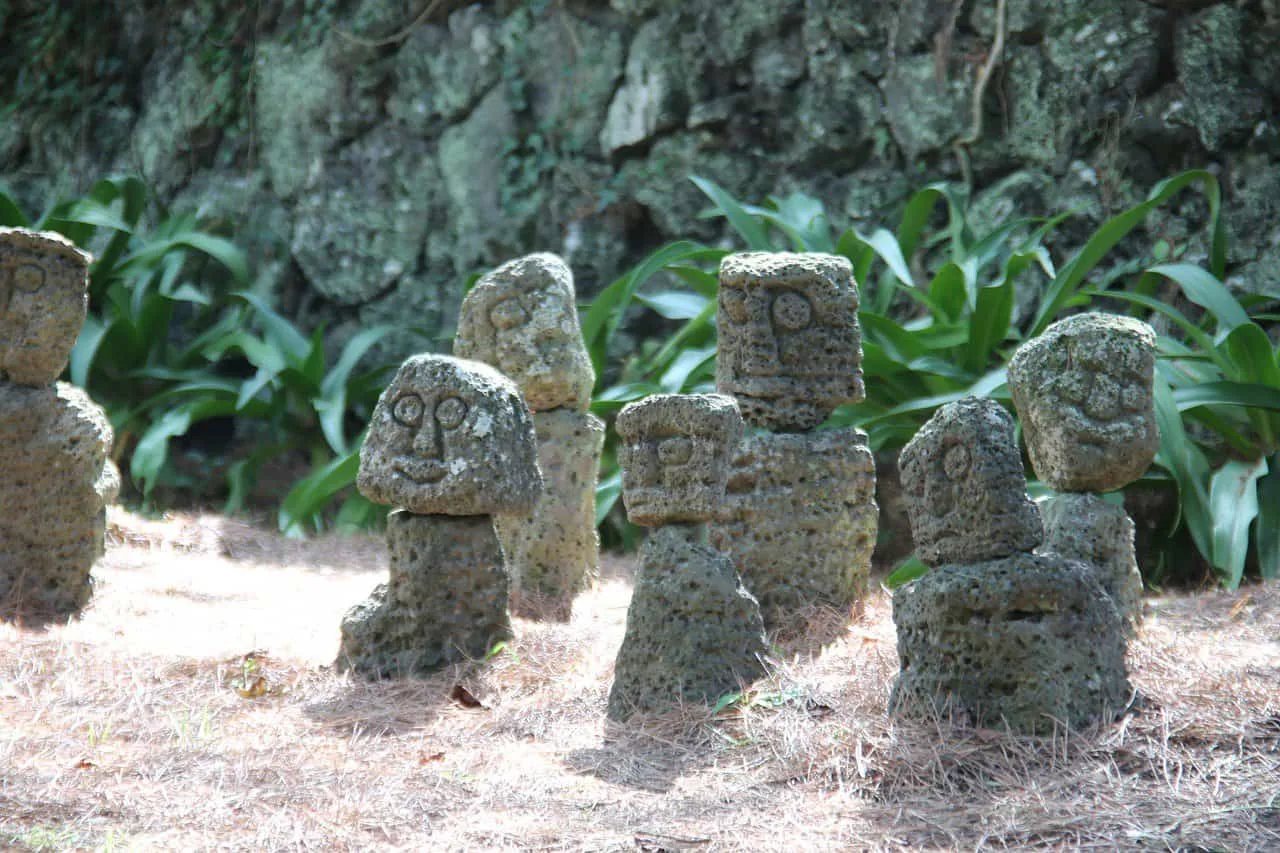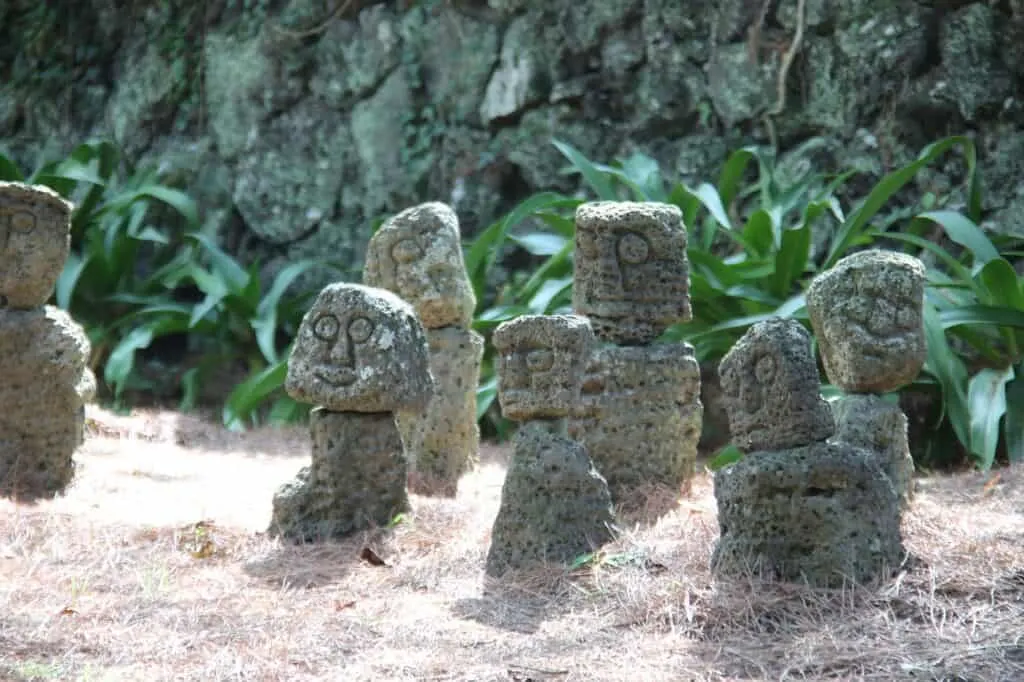 Other Fun Things To Do
A few additional things to do in Jeju Island that are a bit more activity based include:
Gimnyeong Maze: a maze park to walk around and try to get yourself out of
Yeomiji Botanical Gardens: indoor garden with over 2,000 plants
Aqua Planet: aquarium with over 45,000 different underwater marine life animals
2) Jeju Things To Do in Winter
While the summer offers the chance to fully take advantage of Jeju Island & its beaches, that doesn't mean a winter visit isn't worth the effort.
If you happen to be planning your visit to South Korea in the wintertime, there are still plenty things to do in Jeju during those colder months of the year.
As you may have been able to tell after reading through the list above, basically all of these attractions are not season specific. Viewpoints, scenic walks, lava tubes, and more are all possible at any time of the year.
The main aspect that you will not be able to take part of in the winter would be fully enjoying the beach life. While you can visit the beaches and take in the views from the shore, you won't be jumping in the water or laying out in the sand.
If spending time relaxing on the beach and swimming in the water is important to you, then I would not advise a winter visit. However, if you more so just want to fully enjoy the beautiful natural landscapes that the island has to offer, you can certainly take advantage of those in the winter.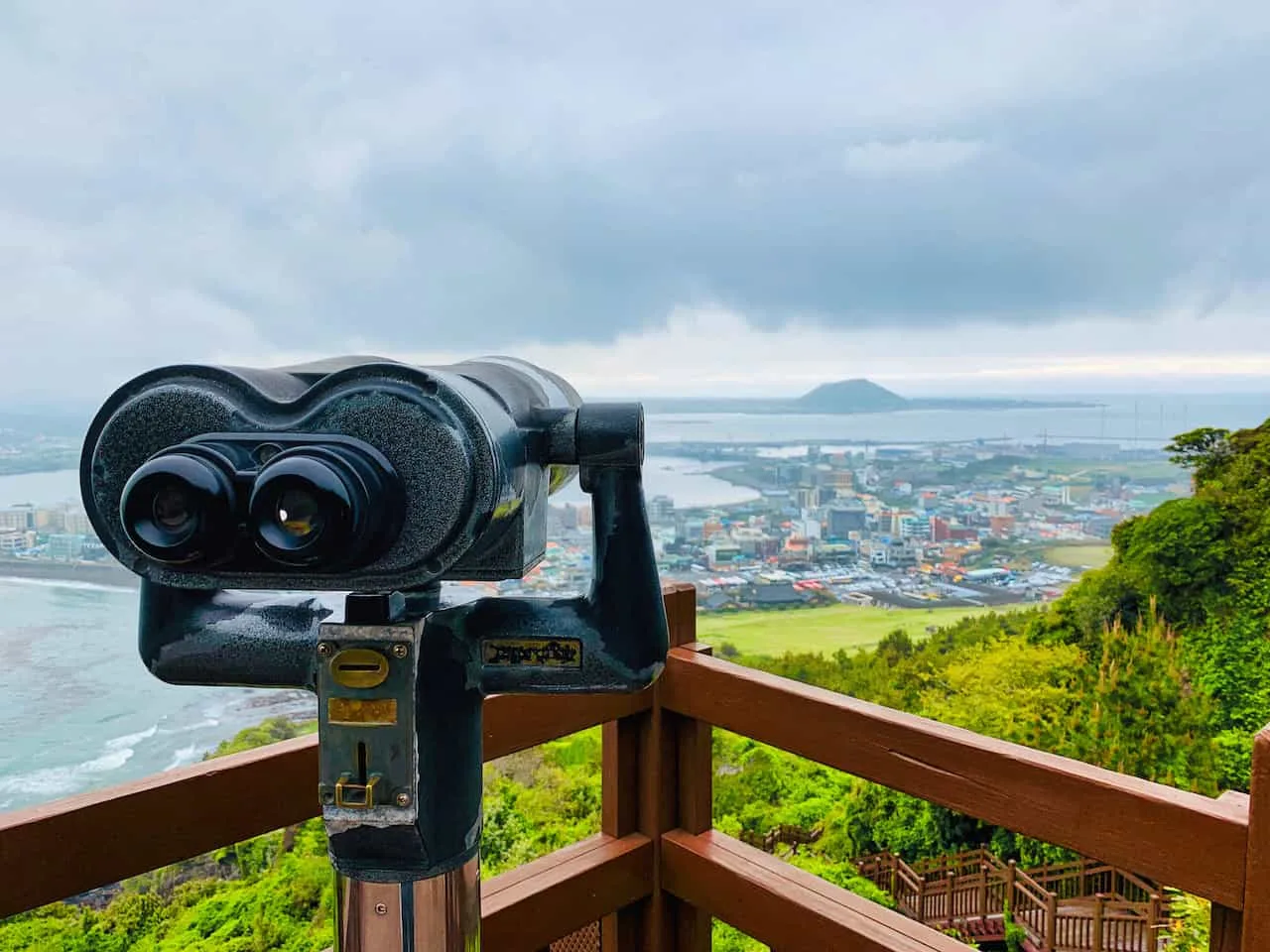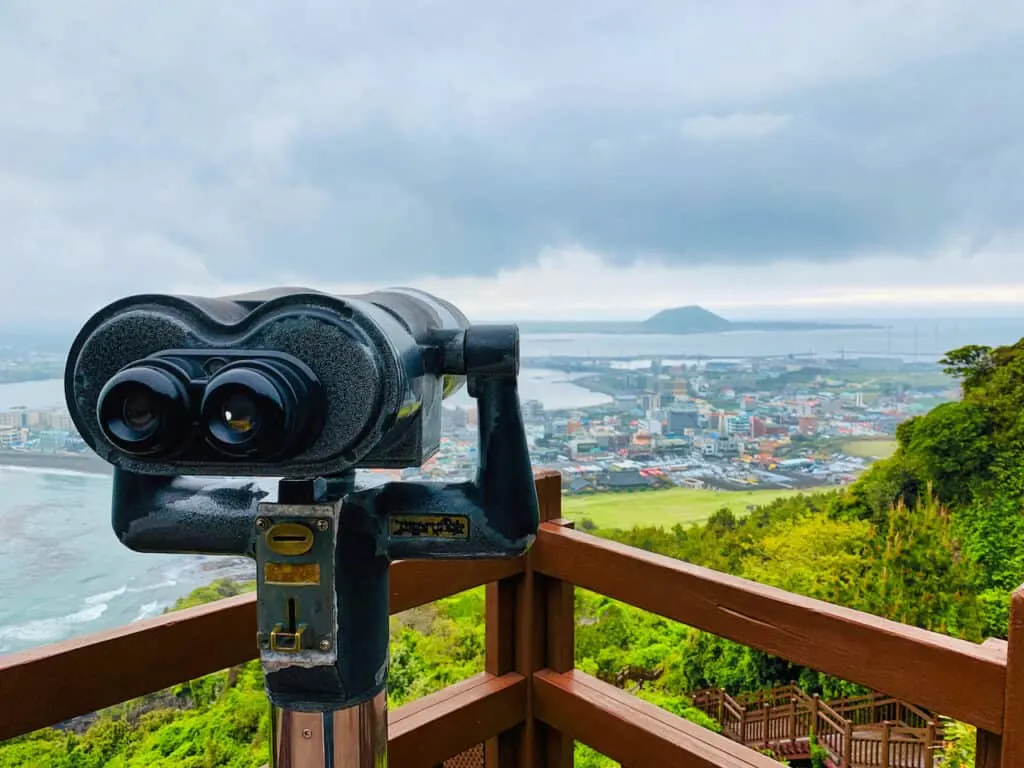 3) Jeju Things To Do at Night
When it comes to Jeju, you will find that most of the attractions are those that can be visited during the daylight hours. Since Jeju is very much landscape based, the nighttime just won't have those types of offerings.
However, if you are looking for some evening activities, there are some options out there for you. Some of these include:
Cheonjiyeon Waterfall: beautiful waterfall lit up at night (not to be confused with Cheonjeyeon)
Dongmun Night Market: visit the market at night for an evening stroll
Saeyeon Bridge: scenic bridge lit up at night
Jeju City Night Tour Bus: 2+ hour route highlighting some top evening attractions
Be sure to rest up though, because there is much more to do during your days in Jeju!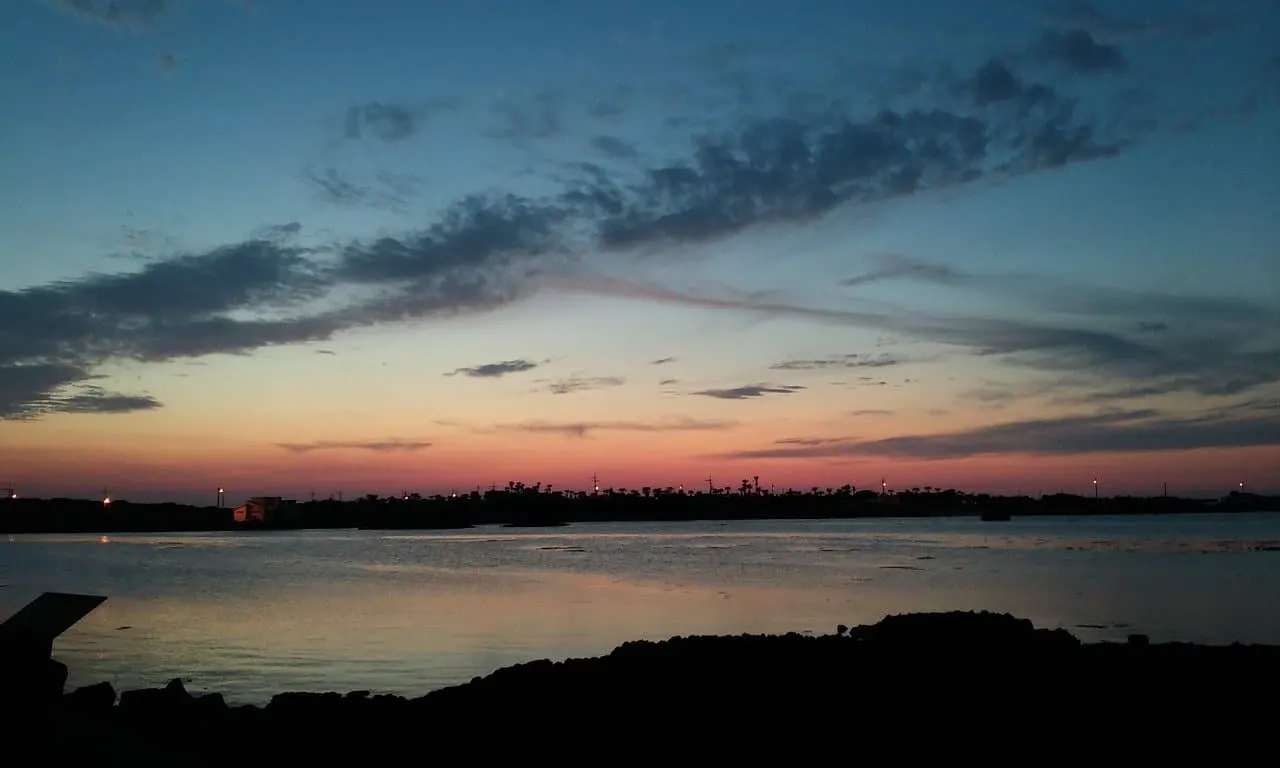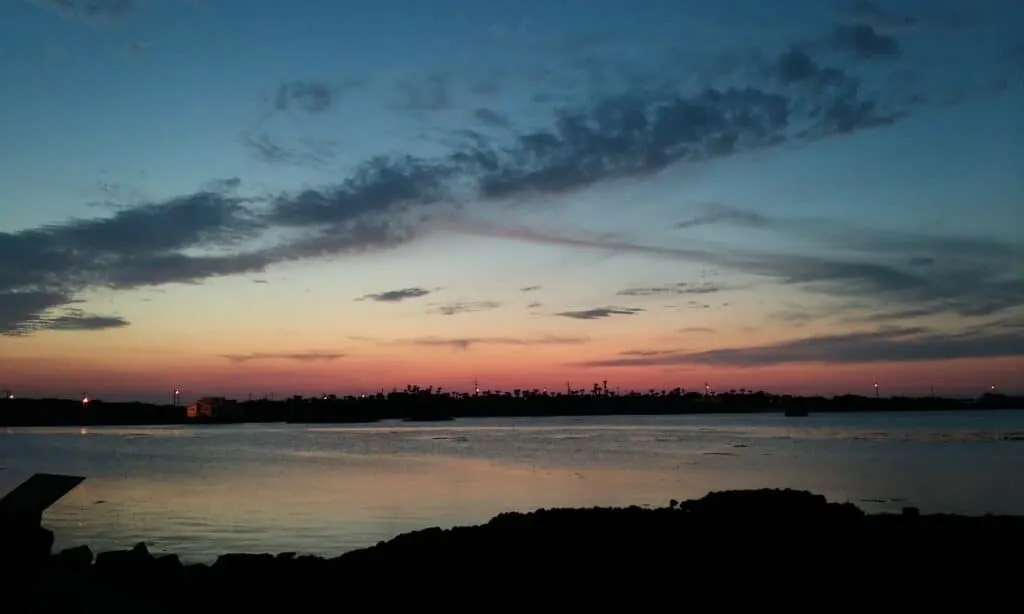 4) Jeju Island Map
To give you a better idea on where everything is located on Jeju Island, below is a map of the island with the various things to do pinpointed down.
Depending on your overall itinerary, you can mix & match what interests you most on a daily basis.
5) Best Time to Visit Jeju Island
As mentioned earlier, Jeju Island is a year round destination. Whether you visit in the winter or the summer, there are plenty of natural attractions that you can take part of no matter the time of year.
However, one of the top highlights of Jeju is of course its many beaches (it is an island!). On all of its coasts you can find beautiful sandy beaches along volcanic rock formations. The water itself can be crystal clear and just a very relaxing place to spend an afternoon.
With that said though, you can really only fully enjoy the beach life during those warmer summer months. While you can visit in the non-beach months, the overall experience just wont be the same.
So, when it comes to the best time to visit Jeju Island to fully appreciate and take part of all of the island's activities, a June to September visit will be your best bet.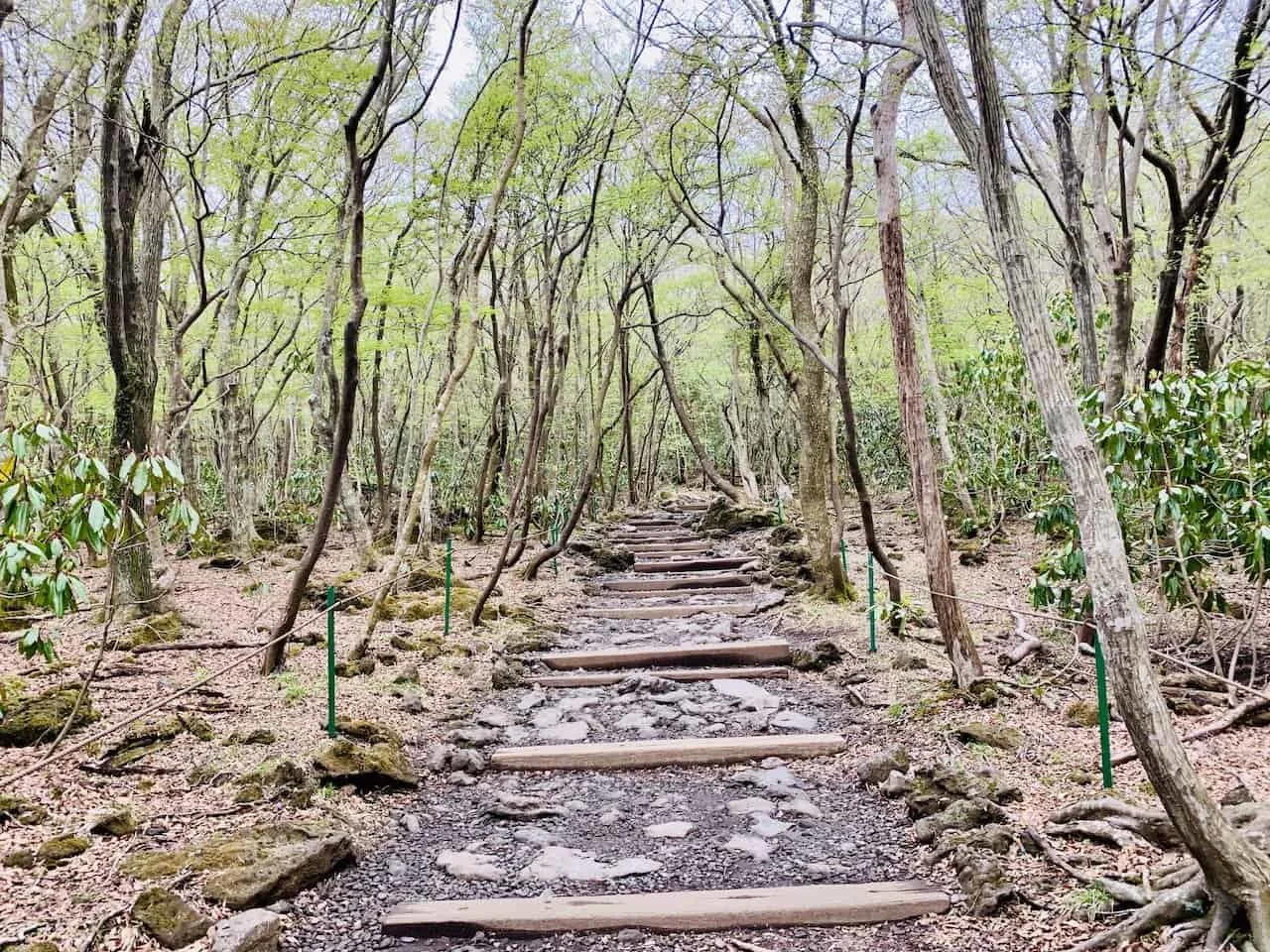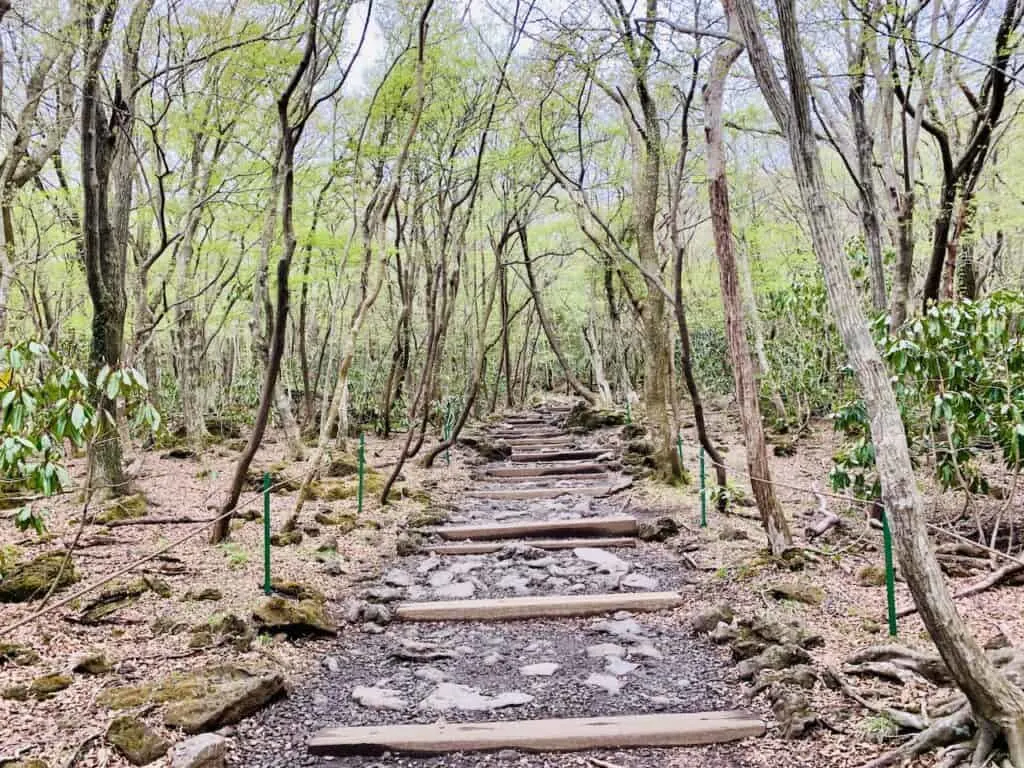 6) Jeju Island Hotels
All around Jeju Island you can find various cities & towns to base yourself in. If you are only visiting for a few days, you may want to just situate yourself in one spot and take day trips. On the other hand, if visiting for a longer period of time, it is possible to spend nights in multiple places around the island.
Two of the main places to stay in are Jeju City and Seogwipo, located on the northern and southern coasts. Below are a few hotels for each of those.
Jeju City
Seogwipo
If you want to switch things up a bit, then here are some additional highly rated hotels in other places around Jeju.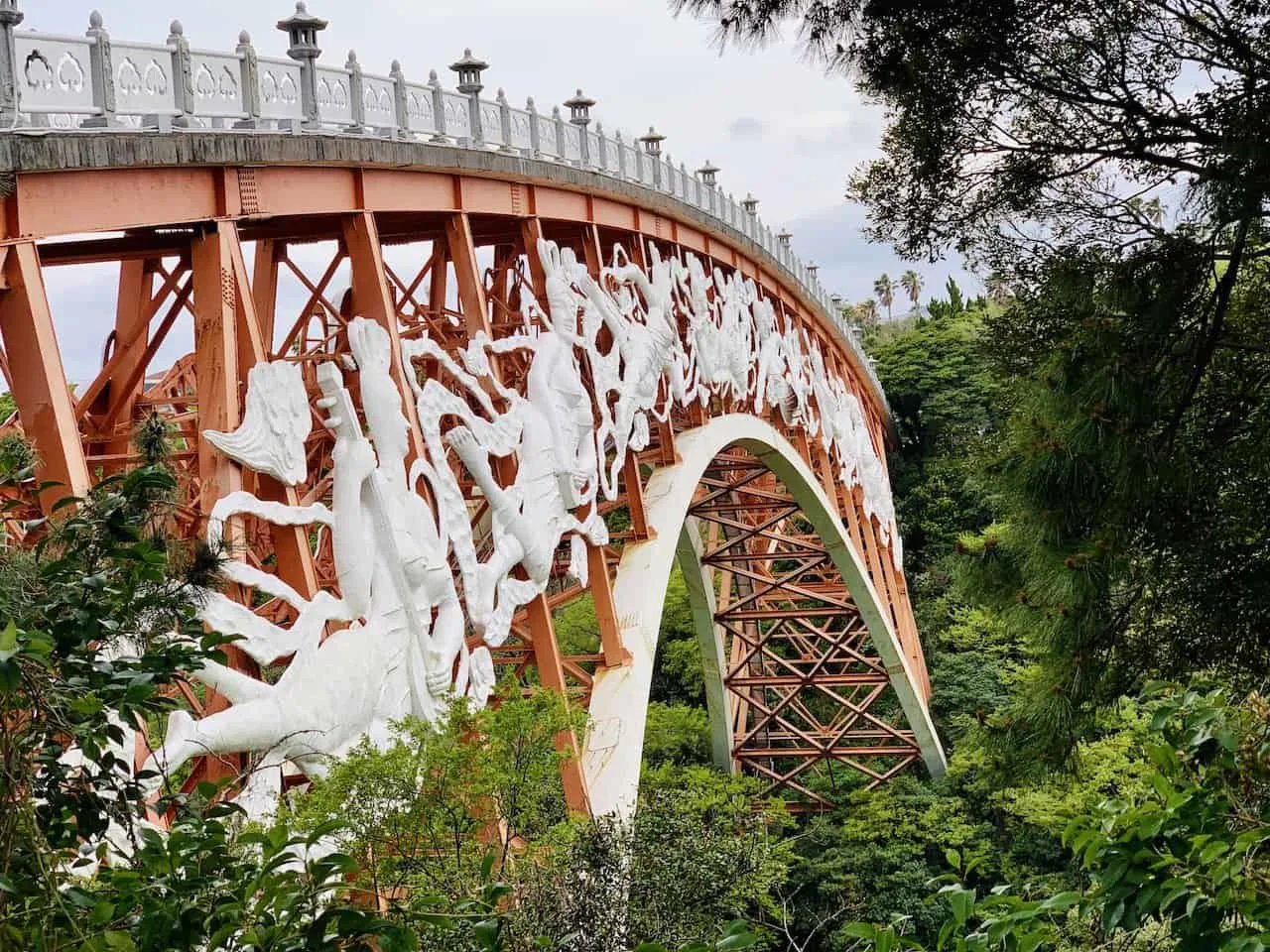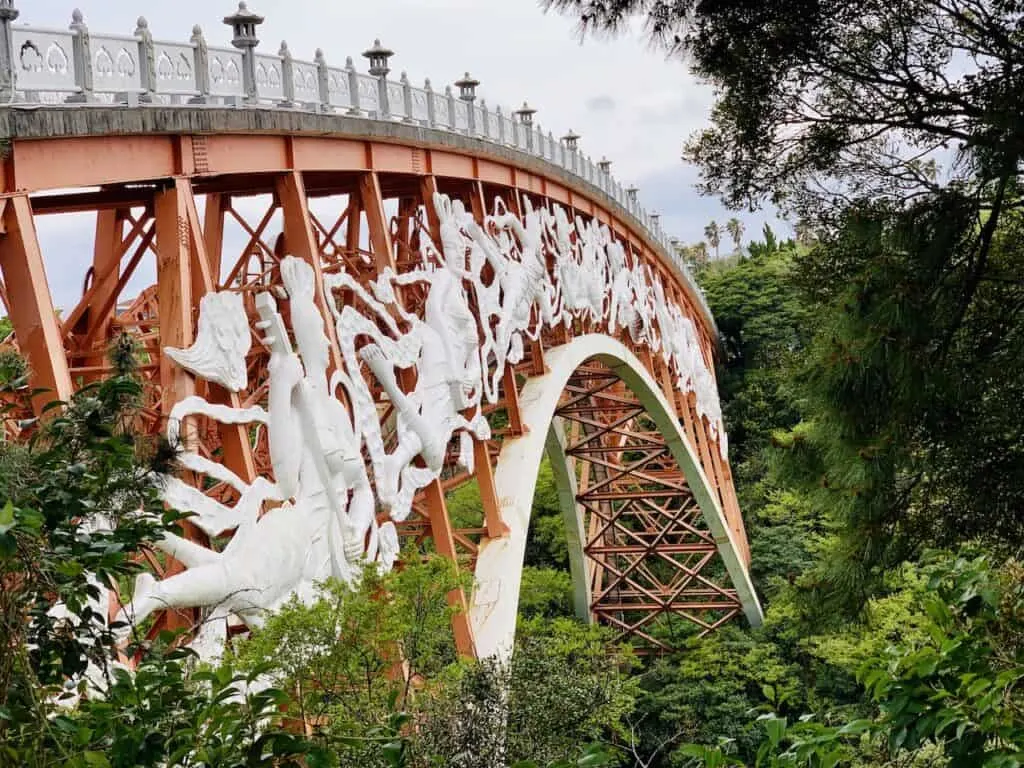 7) Renting a Car on Jeju
While there are a few ways to get around Jeju Island (bus, taxi, tour), I would highly recommend renting a car for your time on the island. The ability to always be on your own schedule and not need to worry about public transport schedules is going to go a long way on Jeju.
By renting your own car you will be able to do what you want, when you want and do so without wasting valuable vacation time waiting for a bus. You can simply pick & choose your schedule as you see fit and be flexible all along the way.
When renting a car I would recommend going with Rentalcars.com. By doing so, you will be able to pick a car that is perfect for you and your travel group.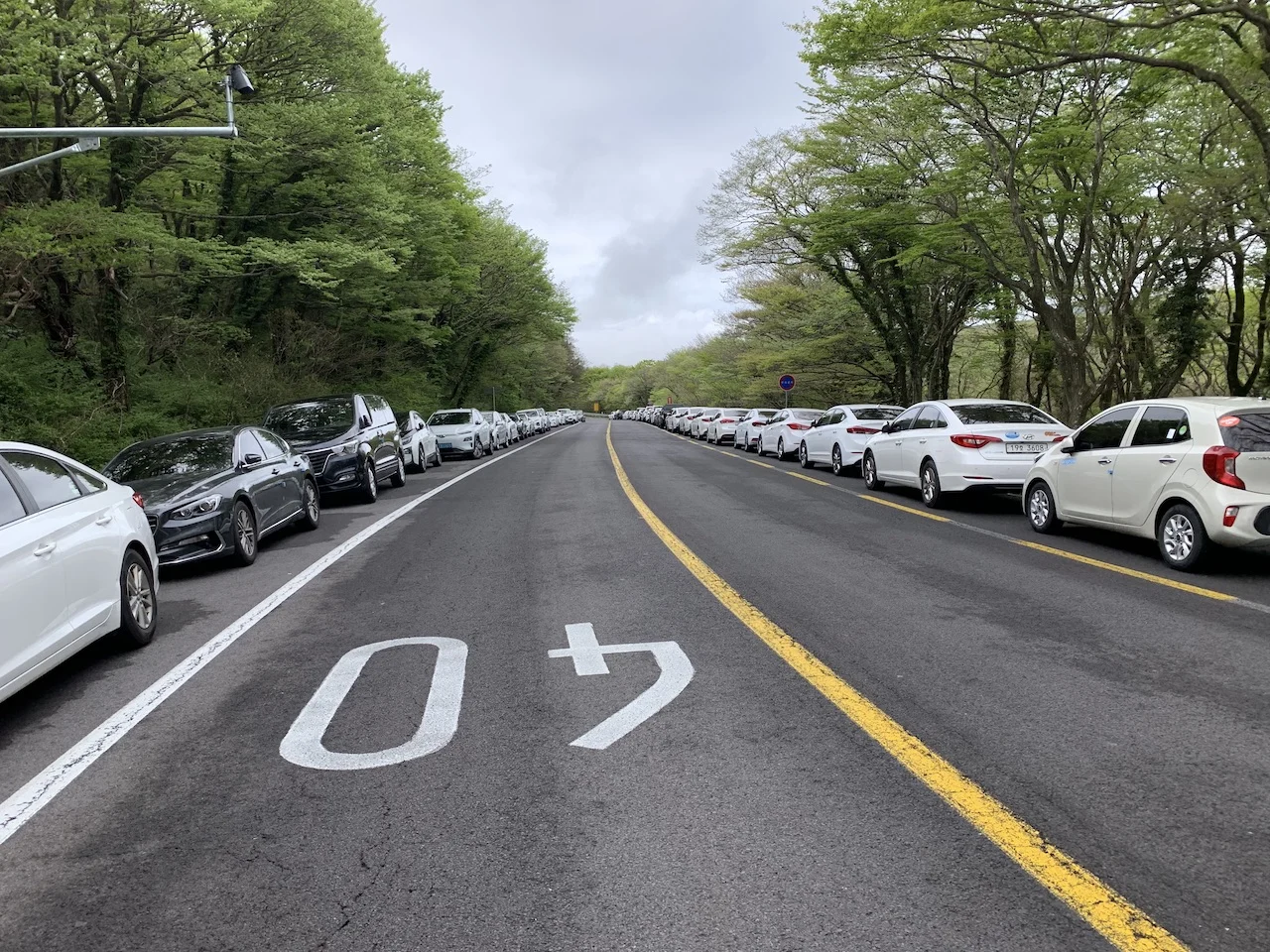 8) Is Jeju Island Worth Visiting
To finish up, you may be asking yourself is Jeju Island worth visiting. Without a doubt, if you are planning a visit to South Korea, I would highly recommend adding Jeju to your itinerary.
This especially holds true for those people that really enjoy the beautiful and unique natural landscapes that the island has to offer. If you are a beach person too, then even better. Jeju has some of the best beaches & water in the country, and it is perfect for a holiday getaway.
Top it all off with the ability to climb to the highest point in all of South Korea, Mount Hallasan, and you can see why Jeju Island is certainly worth visiting.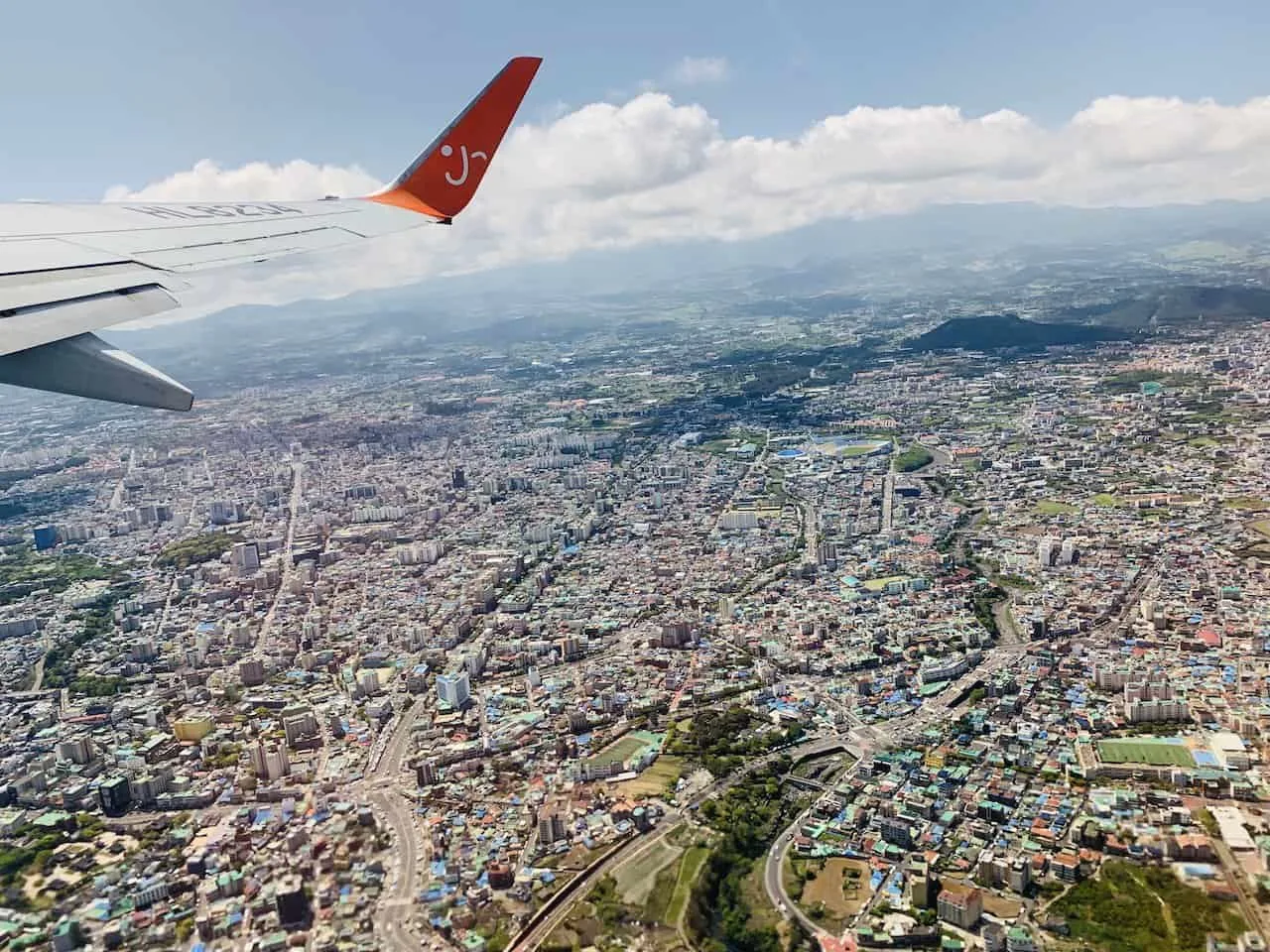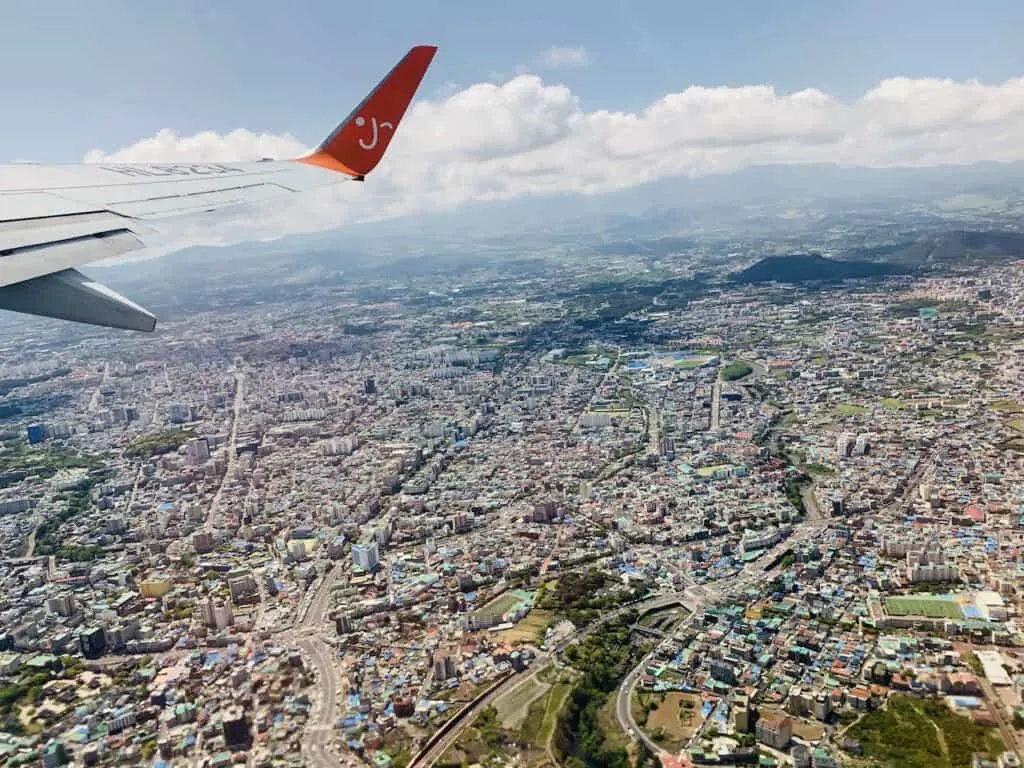 I hope you have a better idea of the top things to do in Jeju Island. If you have any questions or comments, be sure to add them in below. Also, don't forget to check out the other South Korea itineraries and guides up on the site.
Have fun out there and safe travels!