Located on the northern shores of Jeju Island, is Hamdeok Beach – one of the most beautiful beaches in South Korea.
During a visit to Hamdeok Beach, you will have the chance to visit one or more of the three beaches that make up the area, walk along some sandbars, and even go for a hike.
This guide will go over everything there is to know about Hamdeok Beach and what to expect during your time out on Jeju.
* Affiliate Disclosure: This post may contain affiliate links, which means I may receive a commission if you make a purchase through the links provided, at no additional cost to you. Thanks for supporting the work I put into TripTins!
1) Where is Hamdeok Beach
You will find Hamdeok Beach on the northern side of Jeju Island, closer to the eastern end of it.
While the whole area is called Hamdeok Beach, there are actually three different beaches that make up the area. The beaches are separated by volcanic rock, and walkway bridges.
Just next to Hamdeok Beach, you will find Seoubong Peak, home to several hiking trails that offer great views of the beach, island, and water.
Below is a screenshot that shows the bird's eye view of the beach and the hiking area.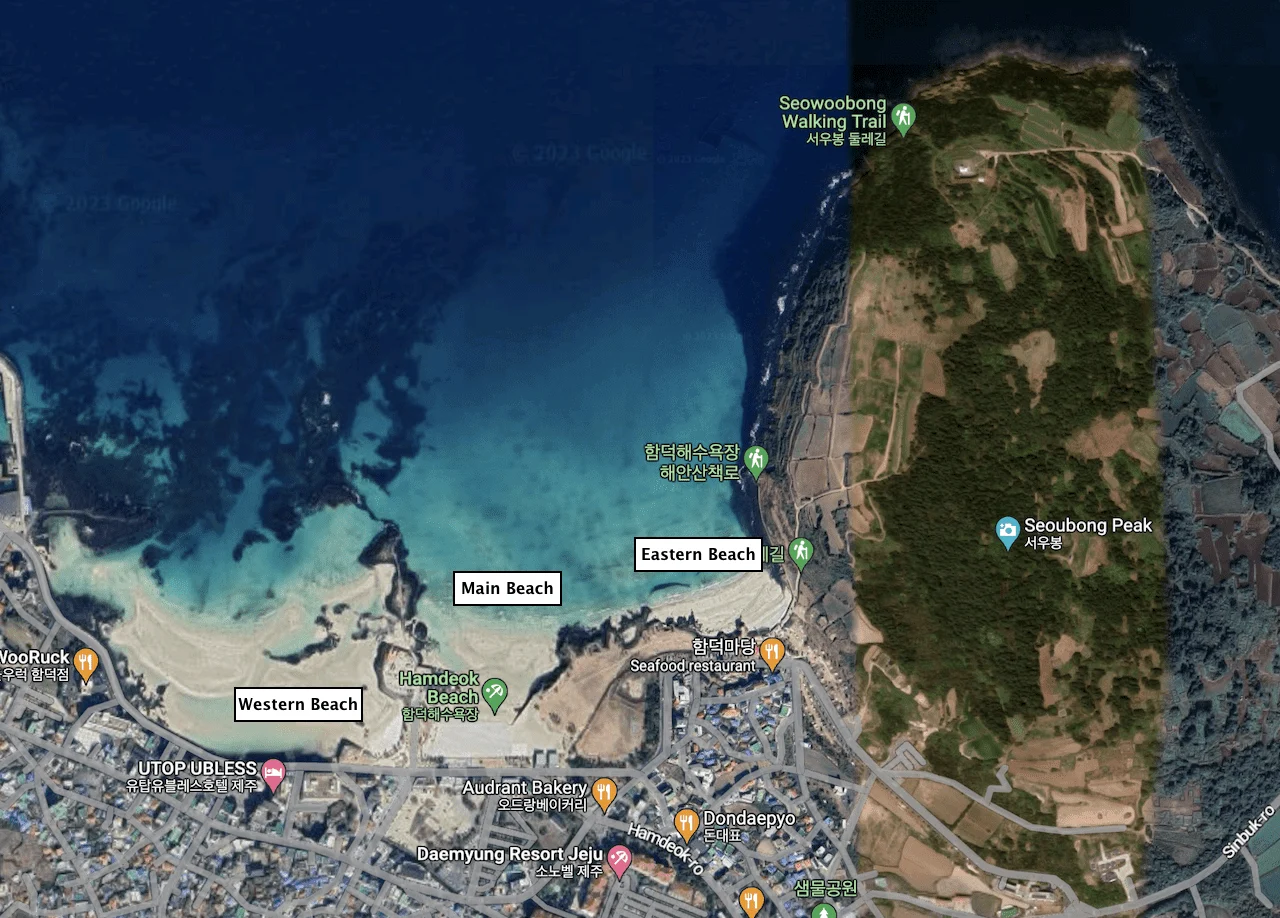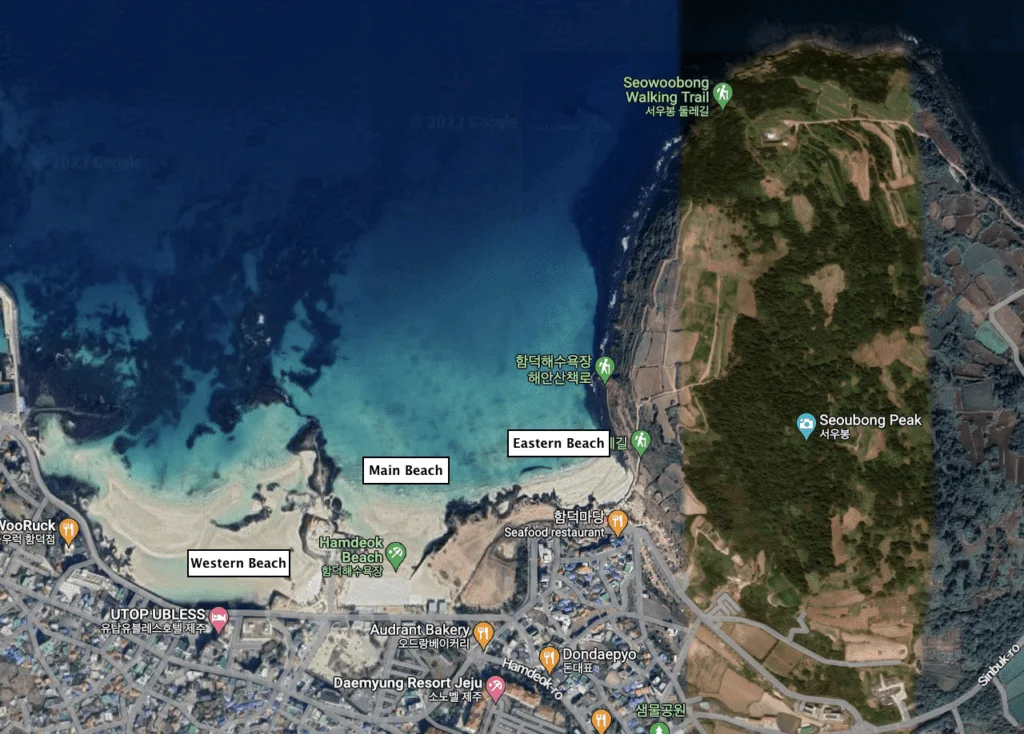 2) How Do I Get To Hamdeok Beach
In general, there are three main ways to go about a visit to Hamdeok Beach (and other places around Jeju Island) – rental car, bus, or tour.
Rental Car
When exploring Jeju, I would recommend renting a car in order to explore at your own pace. You will be able to be on your own schedule and not need to worry about public transport.
This will not only help when visiting Hamdeok Beach, but also when visiting any other top spots you have on your Jeju Island to do list (such as the Mysterious Road, Oedolgae Rock and Jeongbang Waterfall).
If driving a car, you will be welcome to a large parking area just by the main entrance.
Feel free to check out Rentalcars.com for potential options. You will be able to see a variety of cars by price, size, and type, so you can choose the one best for you.
Bus
There is an extensive public transport network on Jeju Island, so you should be able to leverage it during your time there.
Below are the steps to reach the beach from Jeju City and Seogwipo:
From Jeju Intercity Bus Terminal: take a bus heading east and get off at the beach bus stop (bus line 101 is a main option here).
From Seogwipo Intercity Bus Terminal: you can either take bus 101 along the coast (longer option), or head on a bus to Jeju City across the island, before switching onto the 101 (or similar) bus.
Tour
Instead of worrying about renting a car or figuring out public transport, you can also make your way to Hamdeok Beach and other highlights by joining a group or private tour.
Also note that you could just hire a taxi to take you back & forth if you don't want to go for a tour option.
Tour Booking Option: Check out this customizable Private Jeju Tour that can take you all around the island during your trip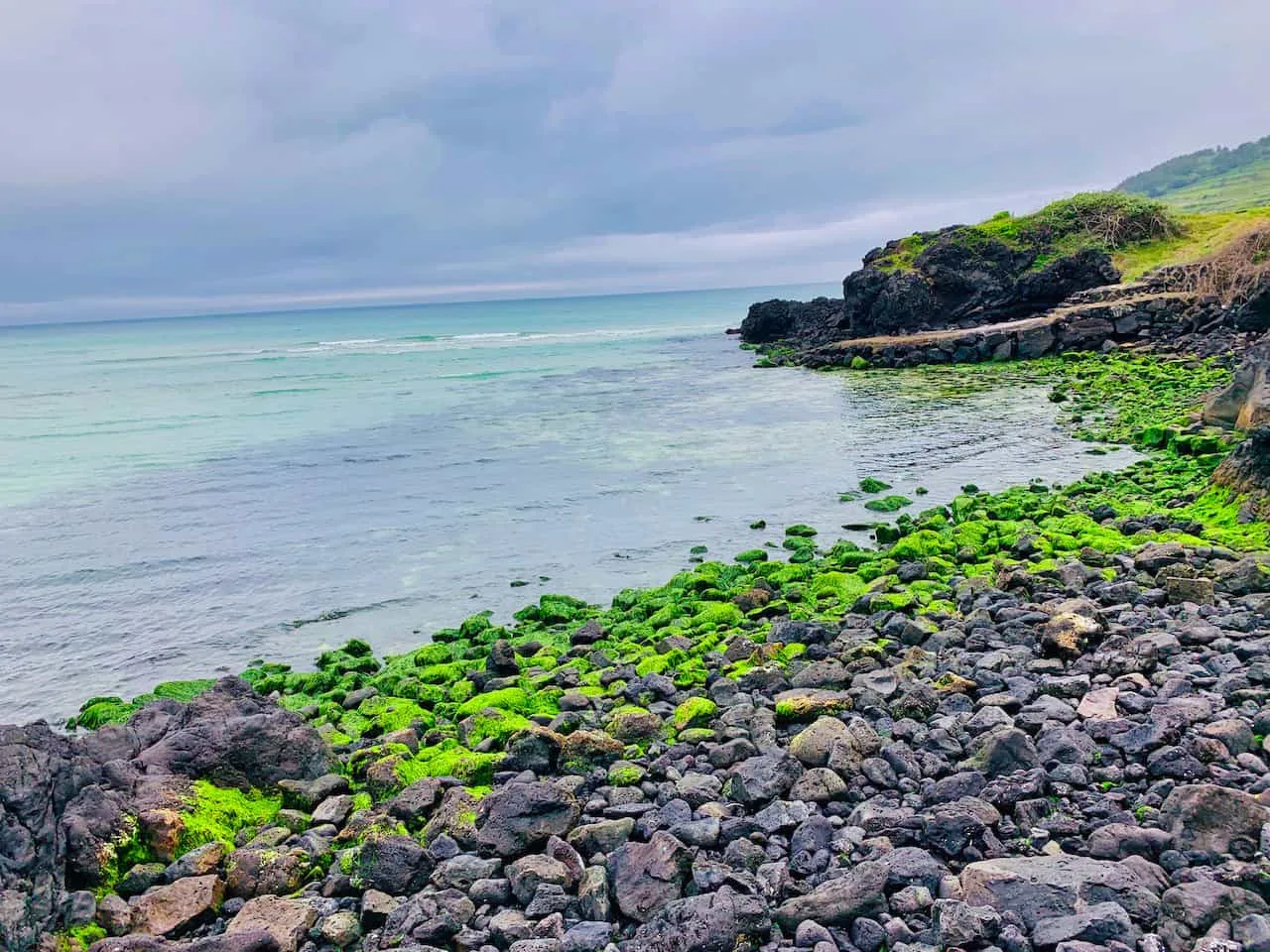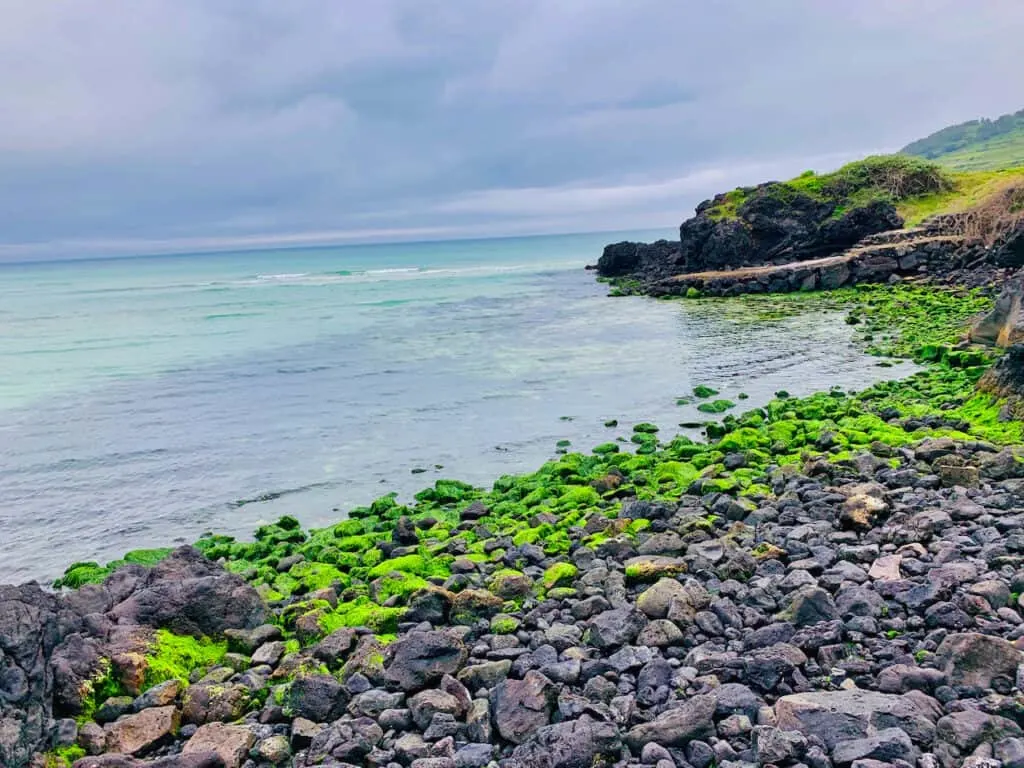 Learn More About Jeju: Check out this guide that goes over the best things to do in Jeju Island
3) Beach Tides
Before continuing on, there is a very important topic to cover – the tides.
While Hamdeok Beach is one of the most beautiful beaches to visit, there are going to be times when the area doesn't look like a beach at all.
During high tides, the water rises and comes more inland, which can then cover most of the sand by the shores.
However, during low tides, the water retreats and by doing so, this creates a much more pleasurable beach & swimming experience.
As the water approaches low tide, this also creates beautiful sand bars further out in the water. So, you will be able to enjoy both a seat in the sand by the shore, and even find some sand in the middle of the water.
The first screenshot above more clearly shows what the beach can really look like during those low tides.
Be sure to check out the Jeju Island tide table and try to plan your visit within a couple hours on either side of low tide.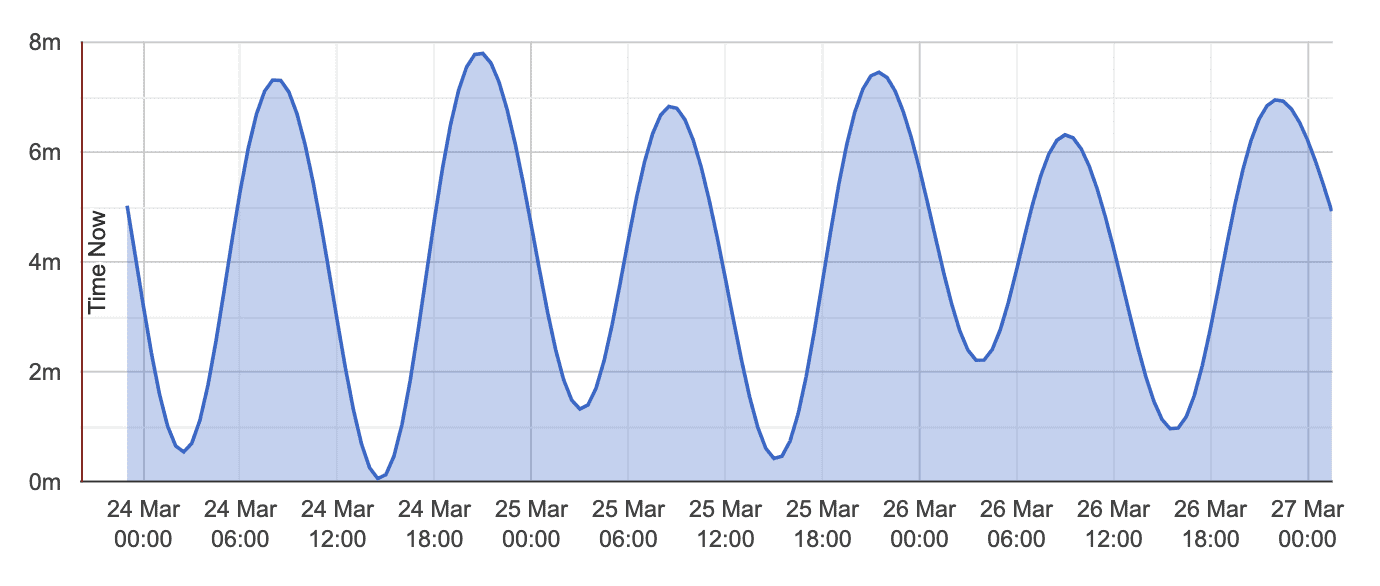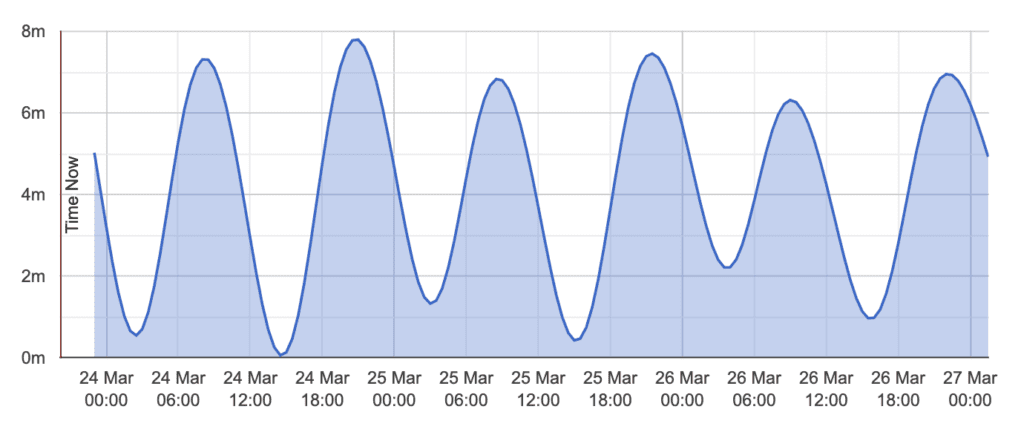 4) When to Visit
While Jeju Island can be a year round destination, beach weather will only be around during those summer months.
Usually June to September will be your best bet give or take.
While it is possible to visit outside of those months, you may not be inclined to jump out in the water or lay in the sand.
You certainly can still enjoy the beach and walk along its shores (and head up the hiking trail). But just don't expect to fully enjoy Hamdeok outside of the summer.
I visited at the end of April on an overcast day and still had a great time exploring all around the area.
And don't worry if you are visiting outside of the summer months. There are many activities that you can take part of year round. These include places like Seongsan Ilchulbong and the Manjanggul Lava Tube.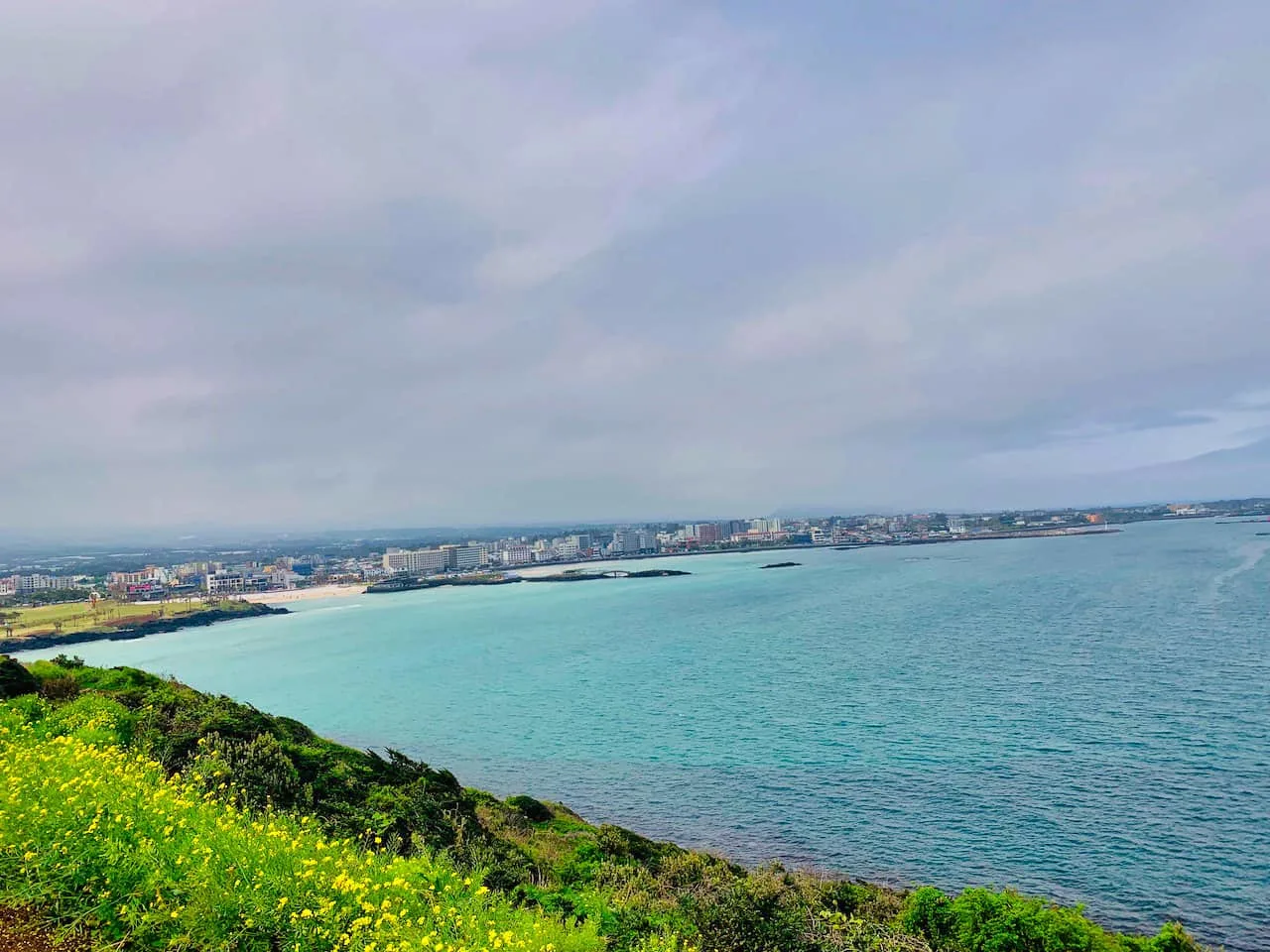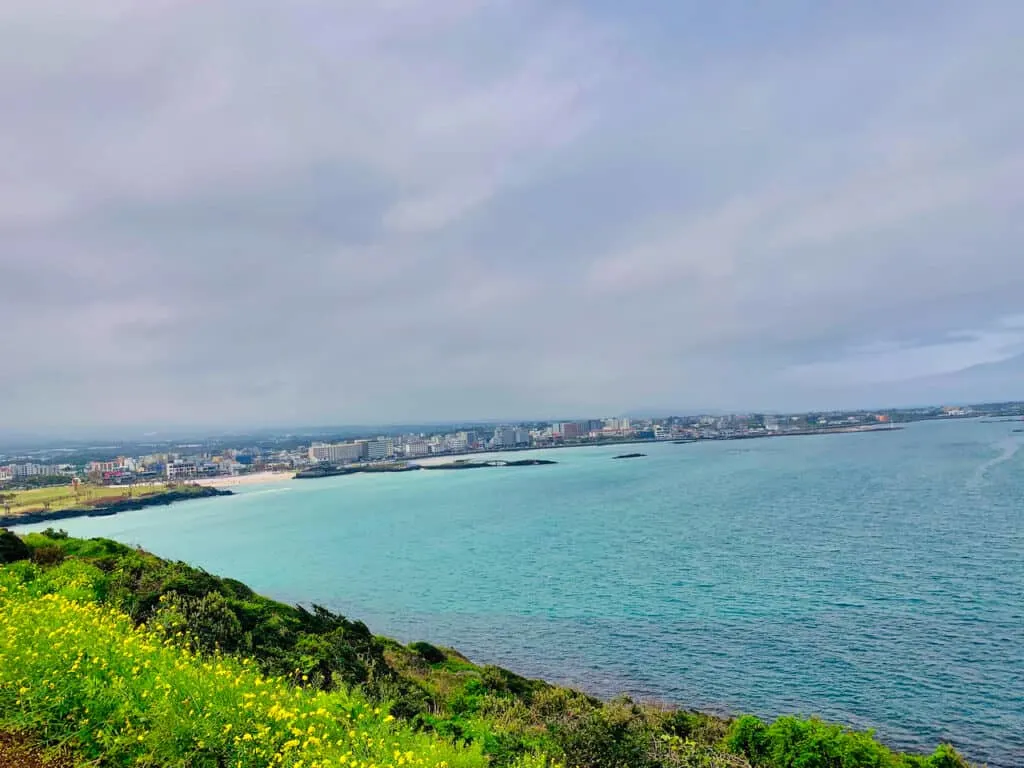 5) Hamdeok Beach Things To Do
Hamdeok Beach is a fan favorite for good reason. It offers one of the most scenic areas on the island for a swim, in addition to some hiking trails, and a great restaurant.
Check out some of the best things to do at Hamdeok Beach during a visit.
Visit the Three Hamdeok Beaches
As mentioned, the area is made up of three distinct beach areas.
The main beach area is the middle of three. Here you will find a 500 meter / 1,600 foot wide section of sand, where there will be plenty of space to find a spot to lay out and relax.
This will also be the area most protected if visiting during high tide as a good portion of the beach is set back further.
To the right of the main beach (if looking at the water) is a smaller beach area at the base of the Seoubong Peak hiking area.
You can easily walk from the main beach to this beach by strolling along the walkways and over a couple pedestrian bridges.
The third beach area is to the left of the main beach (on the other side of the Delmoondo Cafe – more on that soon).
While from a bird's eye view this may seem like a large beach, most of the sand is actually only created during those low tides.
Whichever beach you choose from, you are bound to enjoy the beauty and relaxation of what Hamdeok has to offer.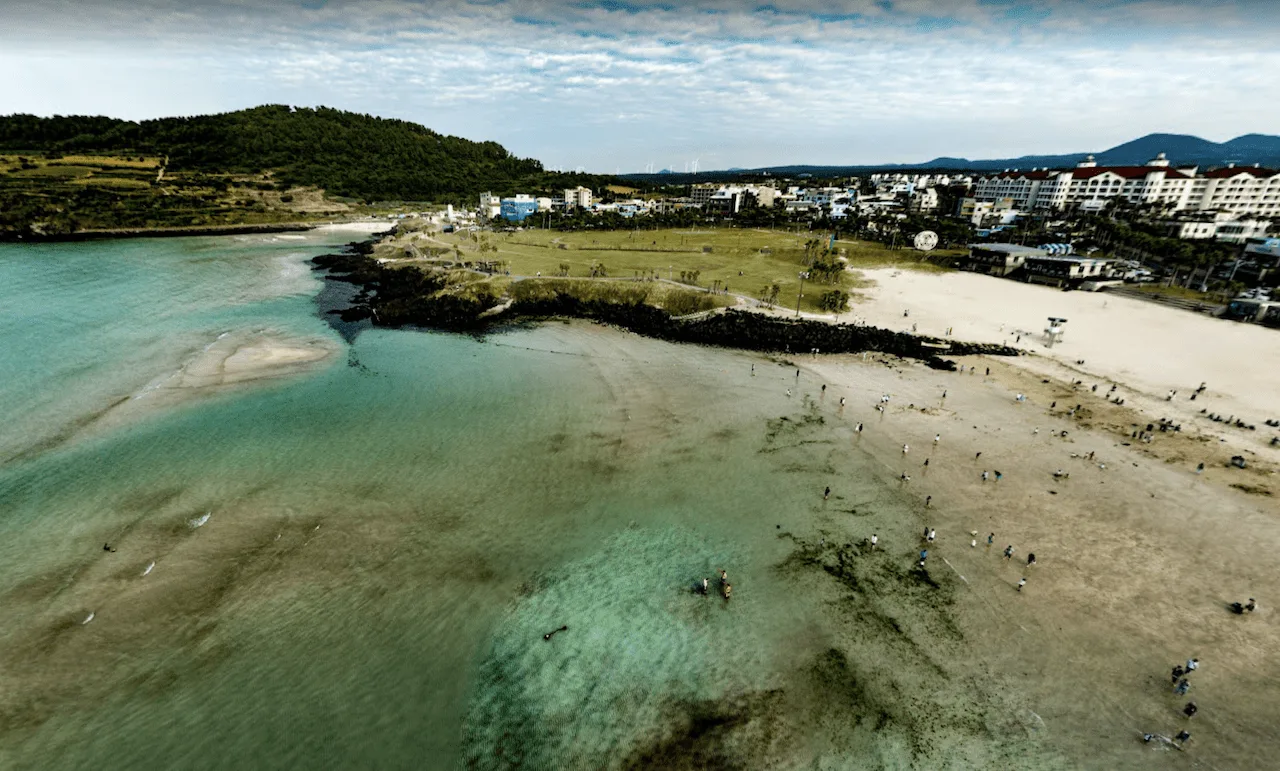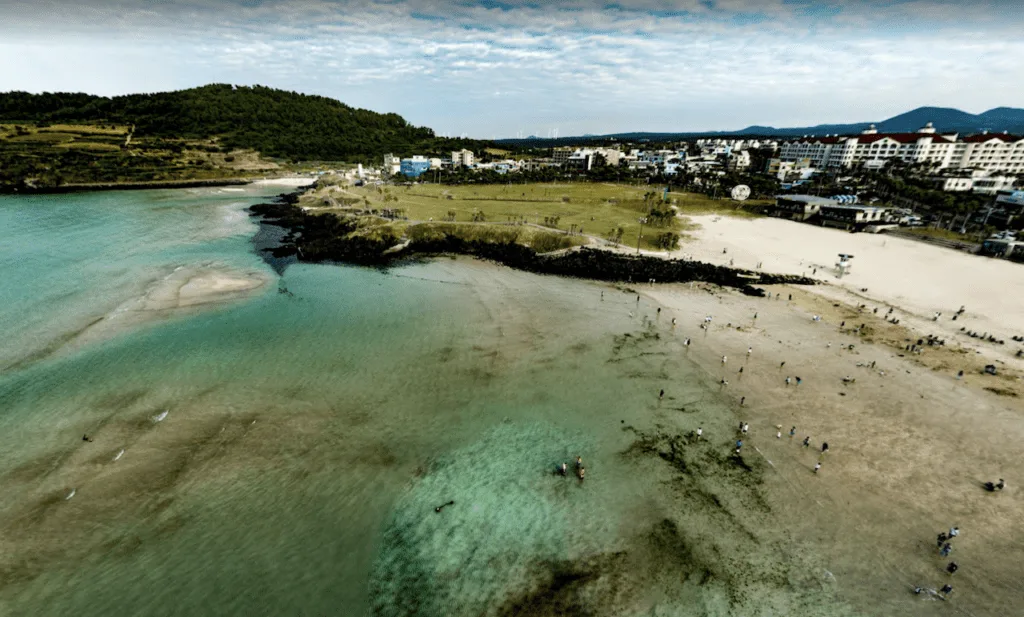 Walk Along a Sandbar
While relaxing on the sand of the main beaches is a great way to go about a visit, why not check out some of those sandbars that are created during low tide.
It is a unique experience to be able to head out into the water and then walk your way onto a mini sand island of sorts.
You can spend some time out in the water, before the tide begins to pick up again.
Swimming at Hamdeok Beach
If you are wondering if you can swim at Hamdeok Beach, that is certainly a possibility too. The beach is actually well protected by the surrounding natural landscape.
This means less wind and calmer water compared to other spots on the island.
So, feel free to head on into the water too if that is something you are interested in.
Check out Some Lava Formations
Since Jeju Island is full of volcanic history, expect to find a bunch of black volcanic rock spread all throughout Hamdeok.
In the middle of the beach, right along the restaurant is an observation deck lookout path. On some maps you will see this called Jeonmangdae.
You can walk along the pathway, over a couple of bridges and onto some lookout areas surrounded by unique lava formations.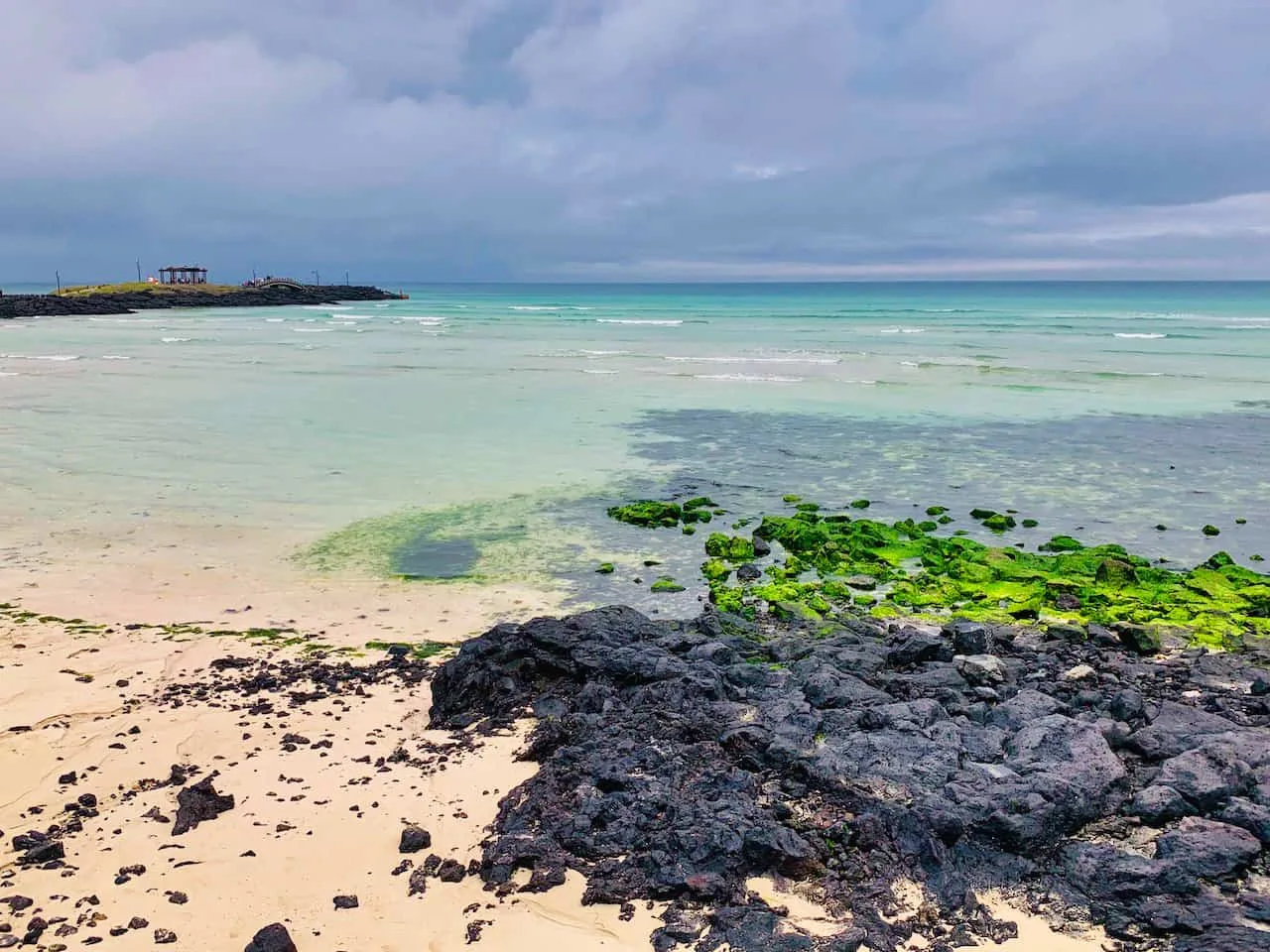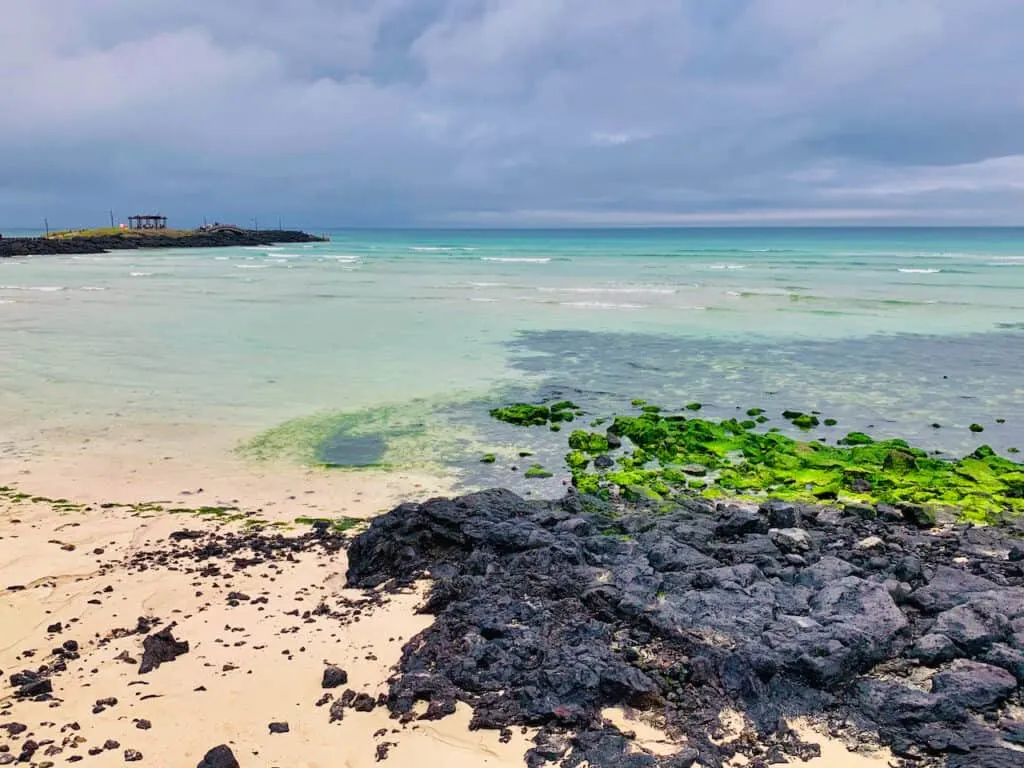 6) Café Delmoondo – Hamdeok Beach Restaurants
There are few beach restaurants that can compete with the location & the experience of Café Delmoondo.
The café is located directly next to the main beach on a platform over the water.
Due to its location and proximity to the sea, Café Delmoondo offers some of the best views you can ask for.
Before or after hitting the beach, be sure to make a stop at the café. Whether you just want to enjoy a drink with a view or have some pastries & baked goods, Café Delmoondo offers it all.
Try and grab a seat outside, so you can fully appreciate Hamdeok and it surroundings.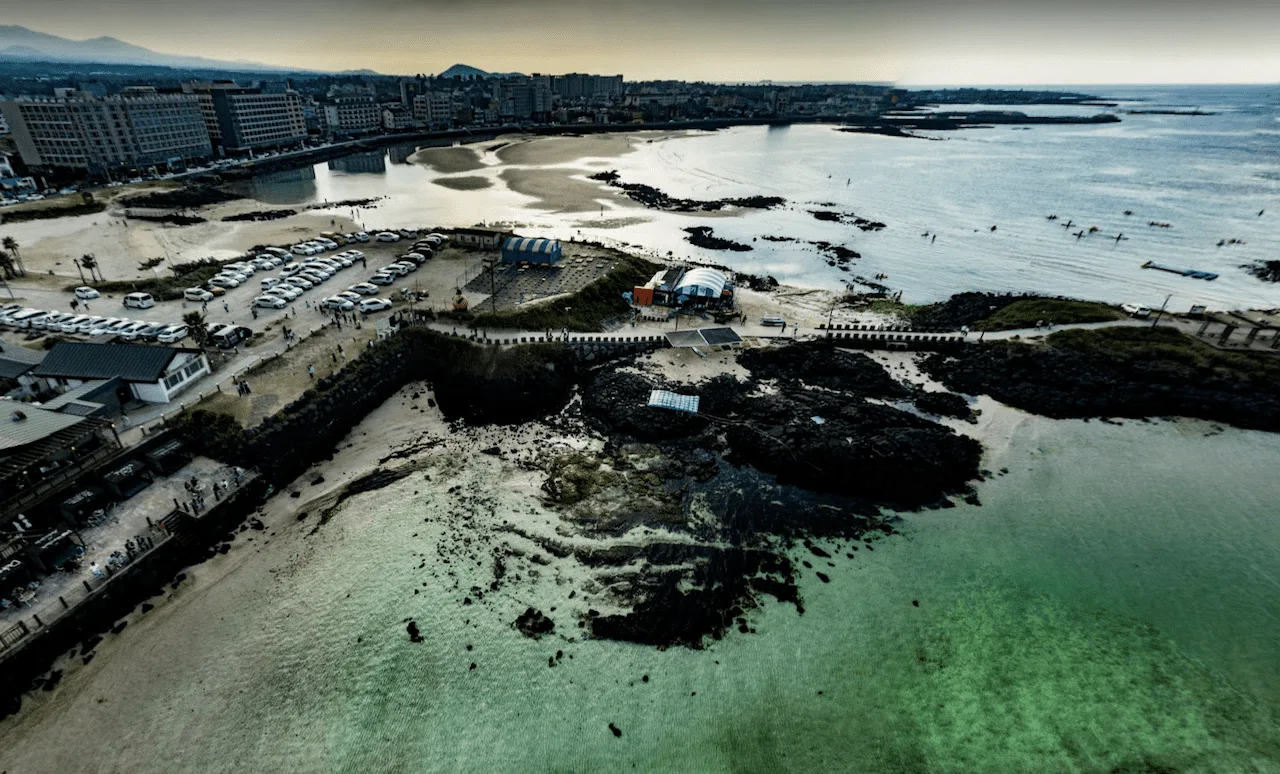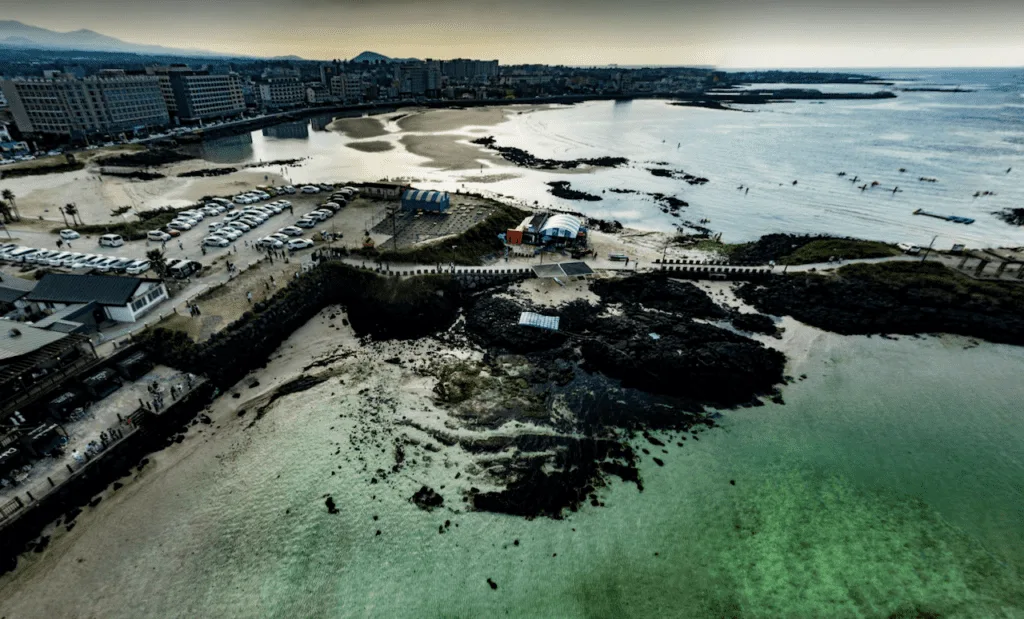 7) Hamdeok Beach Hiking
While relaxing on the beach, spending time out on the water and enjoying a drink at the café are all great options, why not add some hiking onto the day.
Just on the eastern side of the Hamdeok Beach area you will come across Seoubong Peak.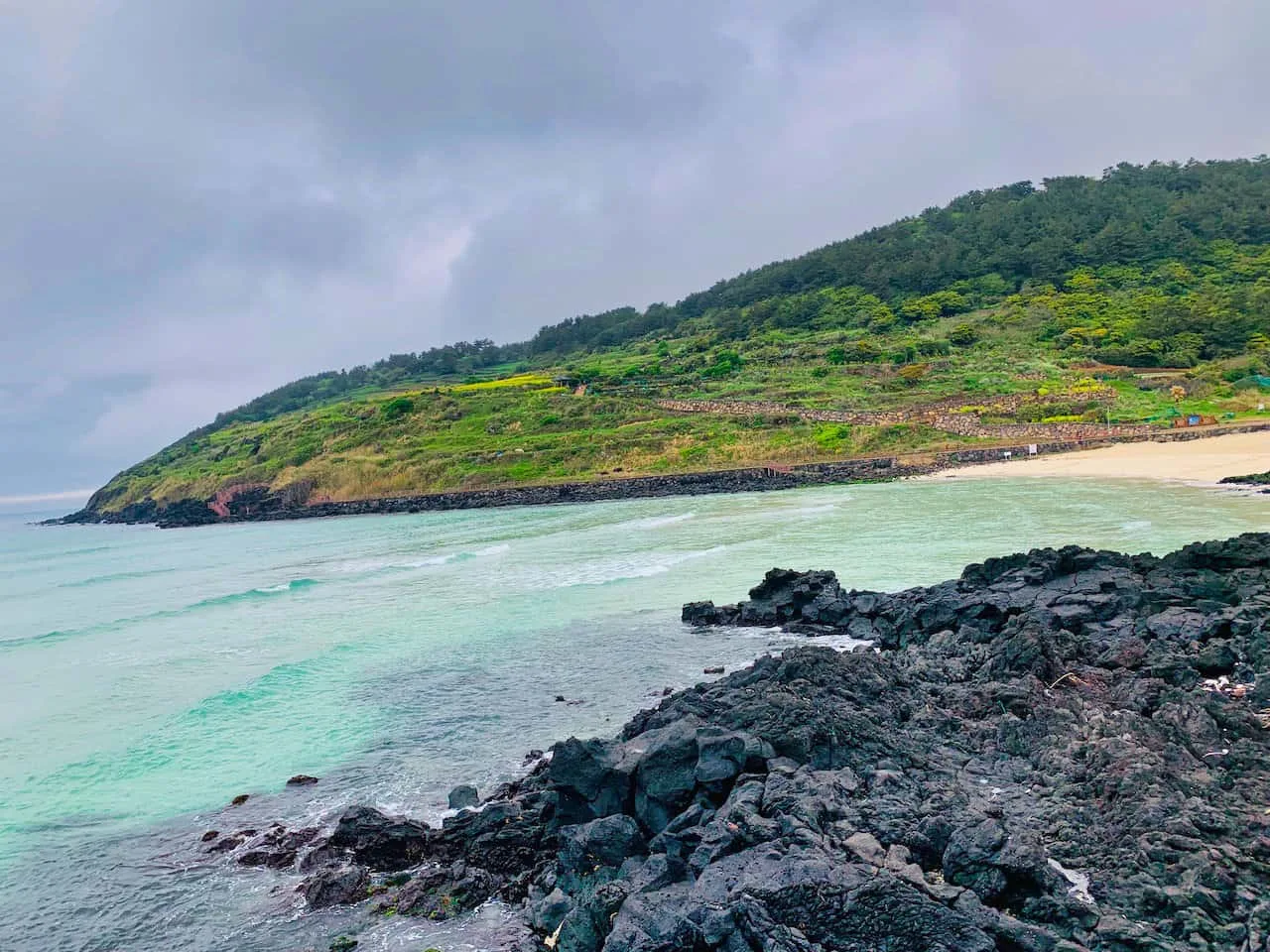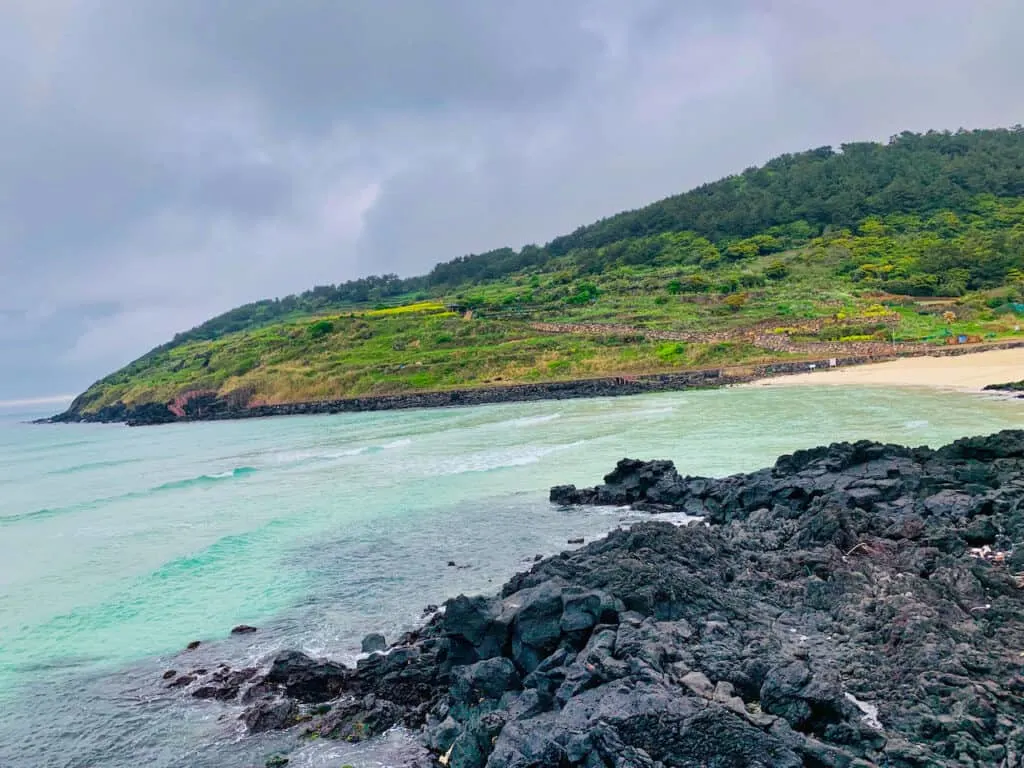 You will find a trail that heads from the beach up onto the hillside, where you can then choose from hiking trails of varying lengths.
Below is a photo of the trails that circle around the area. The main trail is the yellow Seoubong Trail, which takes around an hour. The pink trail is another great option for those that want a shorter hike along the cliffside.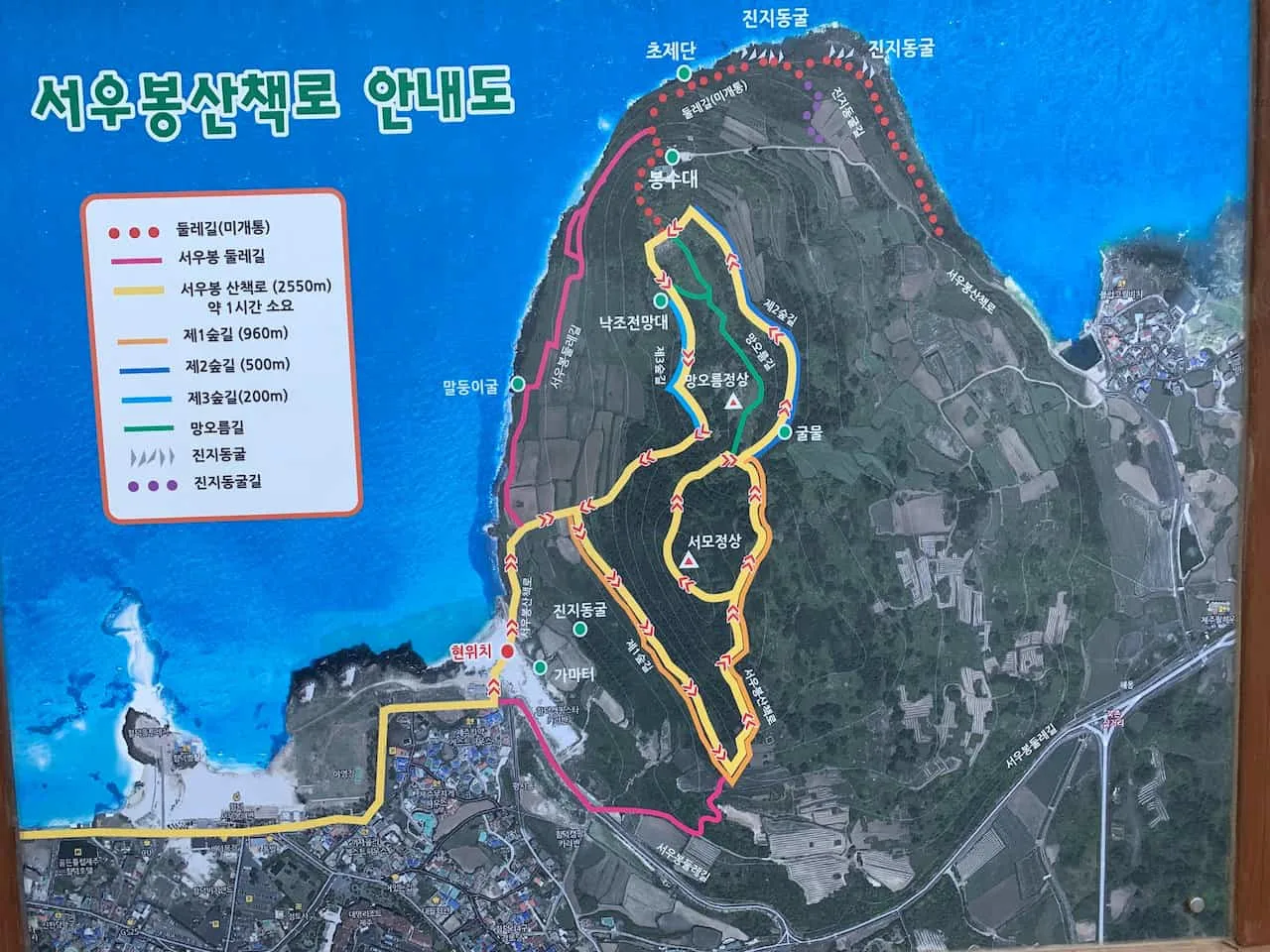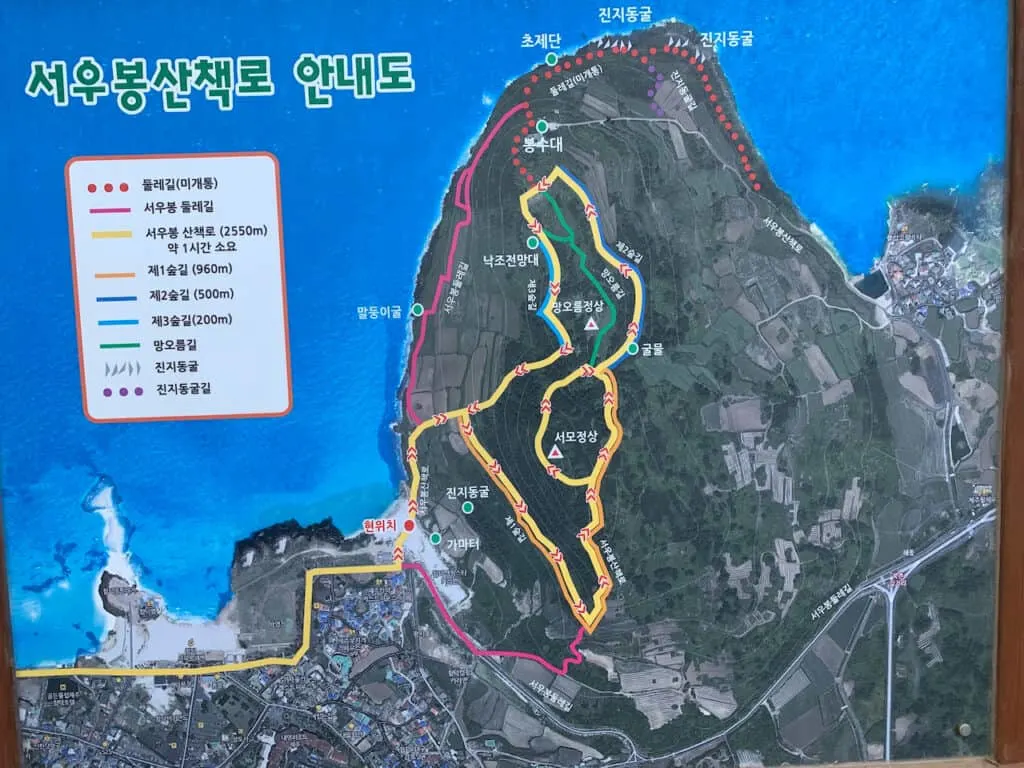 Expect to find some beautiful views of the beach down below along with flowers, plants, and maybe even some horses!
If you enjoy this hike, be sure to also check out the Seopjikoji coastline walk.
Hiking Note: Hamdeok Beach is along the Jeju Olle trail, which is a month long / 400+ km trek that encircles the island. Since part of the trek passes Hamdeok Beach, you can also decide to take part of a small section of it.
Also don't forget about Mount Hallasan – the highest peak in South Korea. It is a perfect day hike for those looking for a mountain to climb.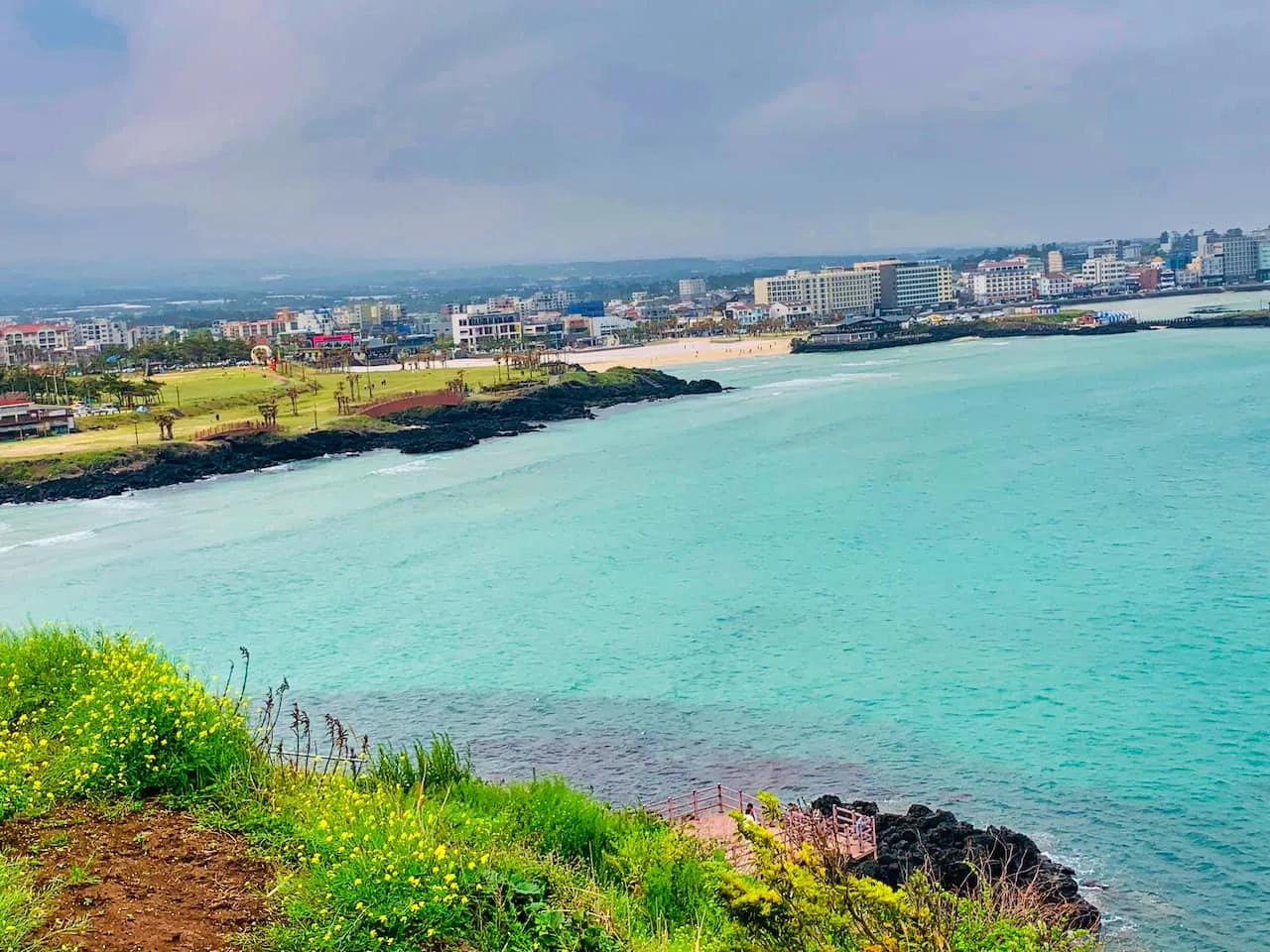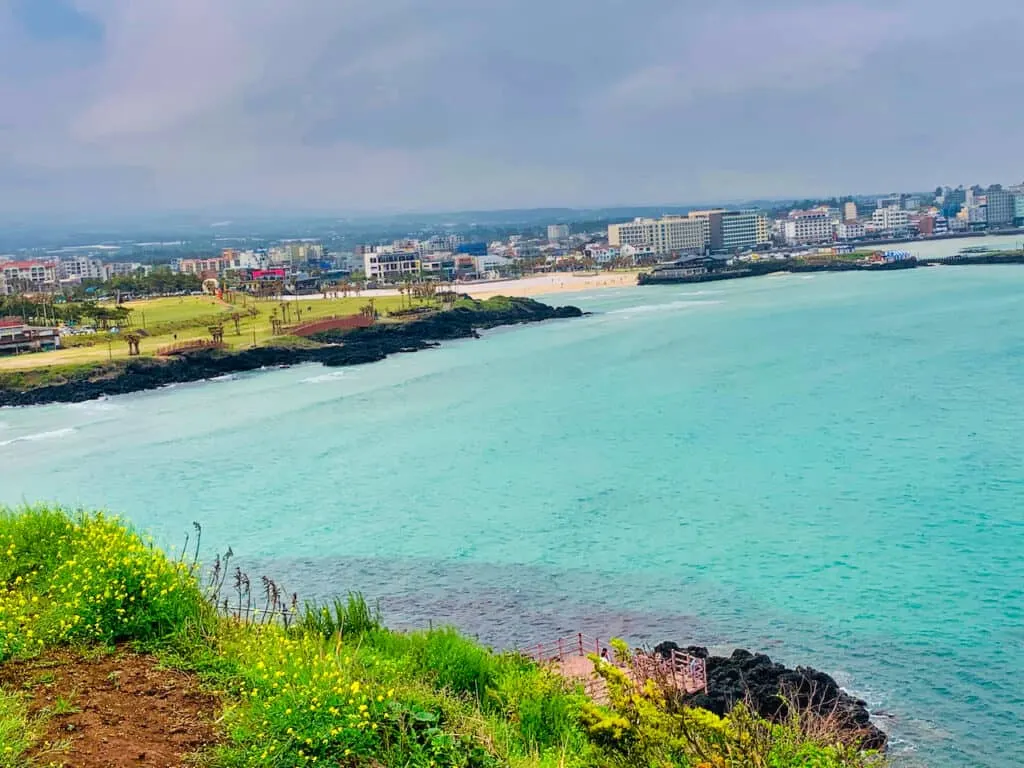 8) Hamdeok Beach Hotels
While Jeju City and Seogwipo are two great options to consider, you can also stay directly near Hamdeok Beach too.
This is a perfect option for those that want to have more beach time around Jeju during a visit.
While there are a few hotels directly near the beach, the top option to consider is Utop Ubless Hotel Jeju.
It is located just minutes away by foot from the beach, and it offers some gorgeous views overlooking the water.
Below are a few hotel recommendations for Jeju City and Seogwipo if you opt for one of those:
Jeju City
Seogwipo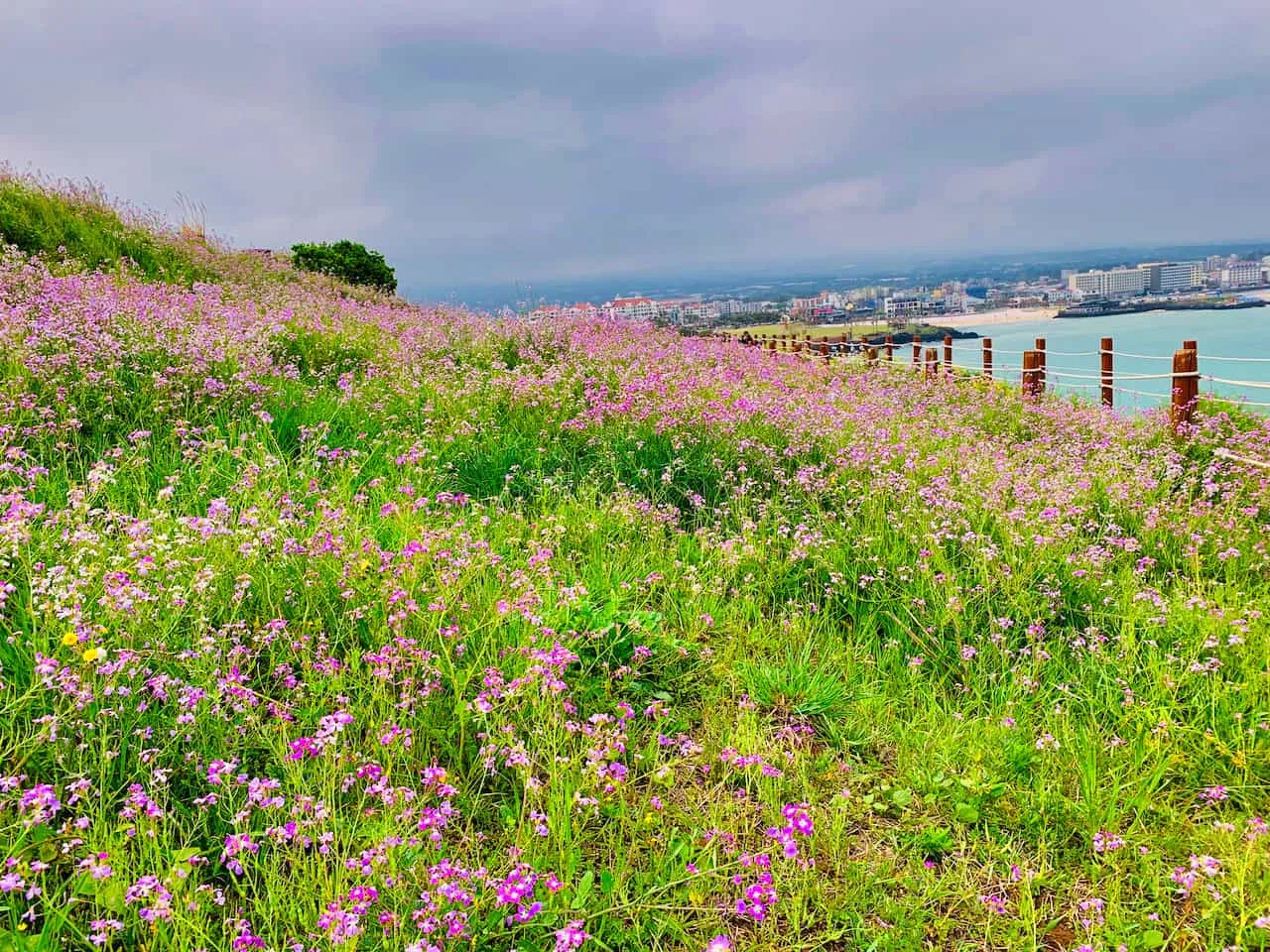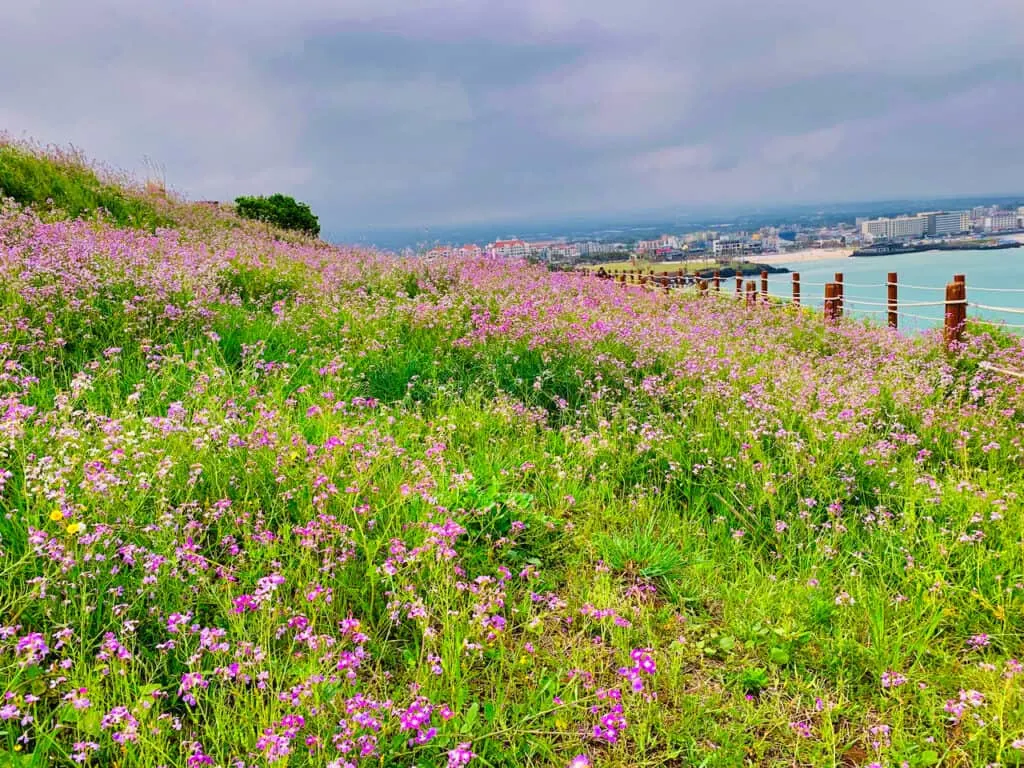 That wraps up a guide to Hamdeok Beach of Jeju Island. If you have any questions or comments, be sure to add them in below.
Also, don't forget to check out some of the other South Korea itineraries and guides up on the site.
Have fun out there and safe travels!