Throughout Jeju Island there are several waterfalls worth the visit. The Cheonjeyeon Waterfall though, offers the chance to view three different waterfalls all in one place.
During this short trail, you will have the opportunity to walk along the pathways, take in the waterfalls & pools, visit a famous bridge, and get some beautiful views of Jeju.
This guide will talk through everything there is to know about a visit and how to prepare yourself for Cheonjeyeon Falls.
* Affiliate Disclosure: This post may contain affiliate links, which means I may receive a commission if you make a purchase through the links provided, at no additional cost to you. Thanks for supporting the work I put into TripTins!
1) Cheonjeyeon Waterfall Facts & Things to Know
To start, I wanted to give a quick overview of Cheonjeyeon Waterfall and what it is all about.
Cheonjeyeon, also known as "Pond of the Gods" or "Pond of the Emperor Heaven", is made up of three waterfall sections. Connecting the three waterfalls is a pathway and several staircases.
What is the Meaning of Cheonjeyeon Waterfall: As legend goes, the name derives from the fact that there were seven nymphs that came down from the heavens to bathe in the pools of the waterfall.
Expect the round-trip trail to the three waterfalls to be right around 1 mile / 1.6 km in length. In addition, expect a couple hundred feet of elevation gain going up and down the staircases.
How Long Does it Take to Visit Cheonjeyeon Waterfall: if you would like to visit all three waterfalls, expect to spend around 45-60 minutes around the area. This considers walking time & some stops to take photos along the way.
You are not allowed to go swimming within the waterfall pools. If swimming is on your list, be sure to check out Hamdeok Beach for one of the most beautiful beaches on the island.
It is also interesting to note that the forest surrounding the waterfalls is considered a Natural Monument (#378) due to its rare plants & vast fauna.
Cheonjeyeon should not be confused with the nearby Cheonjiyeon waterfall. The names are very similar, with the only difference being an E instead of an I in the middle of the word.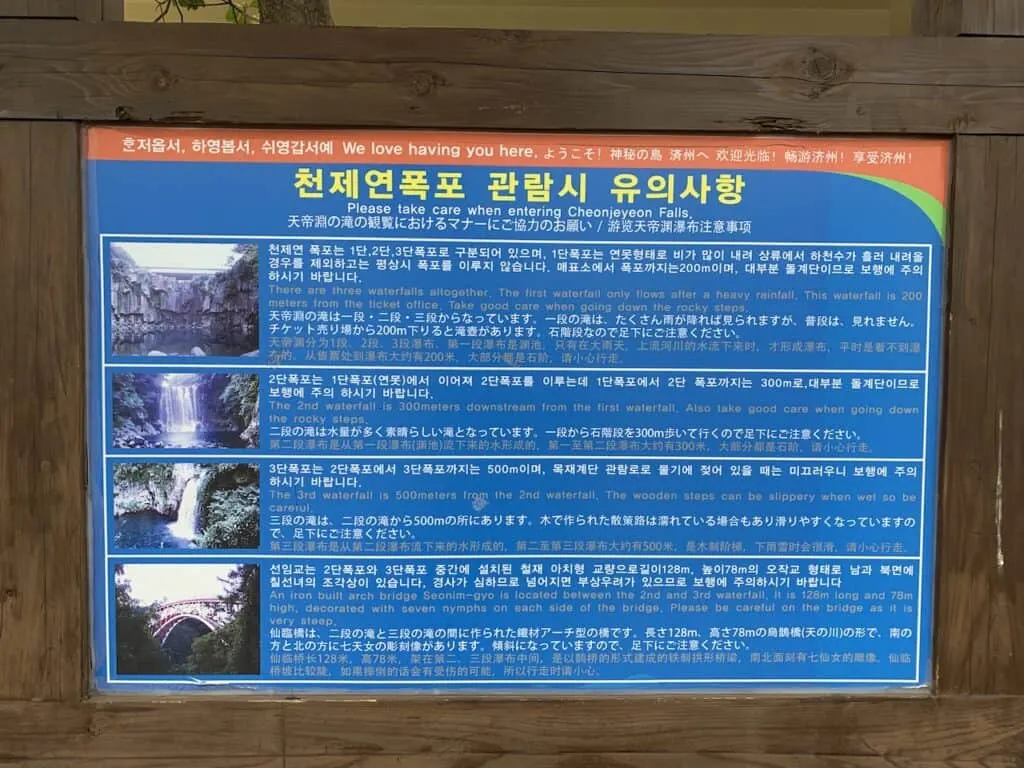 2) Where is Cheonjeyeon Waterfall
You can find Cheonjeyeon Waterfall not too far away from the southern coastal town of Seogwipo. It is also nearby other attractions such as Jeongbang Waterfall and the Oedolgae Rock.
Below you can see the location of the waterfall, in addition to a helpful route that takes you to the three waterfall lookouts.
3) How to Get to There
In general, there are three main ways to go about a visit to Cheonjeyeon Waterfall (and other places around Jeju Island) – rental car, bus, or tour.
Rental Car
When exploring Jeju, I would recommend renting a car in order to explore at your own pace. You will be able to be on your own schedule and not need to worry about public transport.
This will not only help when visiting Cheonjeyeon, but also when visiting any other top spots you have on your Jeju Island to do list (like the Mysterious Road, Manjanggul Cave and Seongsan Ilchulbong).
If driving a car, you will be welcome to a parking area just by the main entrance.
Feel free to check out Rentalcars.com for potential options. You will be able to see a variety of cars by price, size, and type, so you can choose the one best for you.
Bus
There is an extensive public transport network on Jeju Island, so you should be able to leverage it during your time there.
Below are the steps to reach the waterfall from Jeju City and Seogwipo:
From Jeju City: the easiest way from Jeju City is to hop on the hour long #600 Airport Limousine Bus that takes you right to the Yeomiji Botanical Garden. Once there it is a quick 5-10 minute walk to the waterfall entrance.
From Seogwipo: there are busses such as the #181 that can bring you the 30 minutes to the Jungmun Post Office. Once there you can walk to the entrance as well.
Tour
Instead of worrying about renting a car or figuring out public transport, you can also make your way to Cheonjeyeon Waterfall and other highlights (such as Seopjikoji) by joining a group or private tour.
Also note that you could just hire a taxi to take you back & forth if you don't want to go for a tour option.
Tour Booking Option: Check out this customizable Private Jeju Tour that can take you all around the island during your trip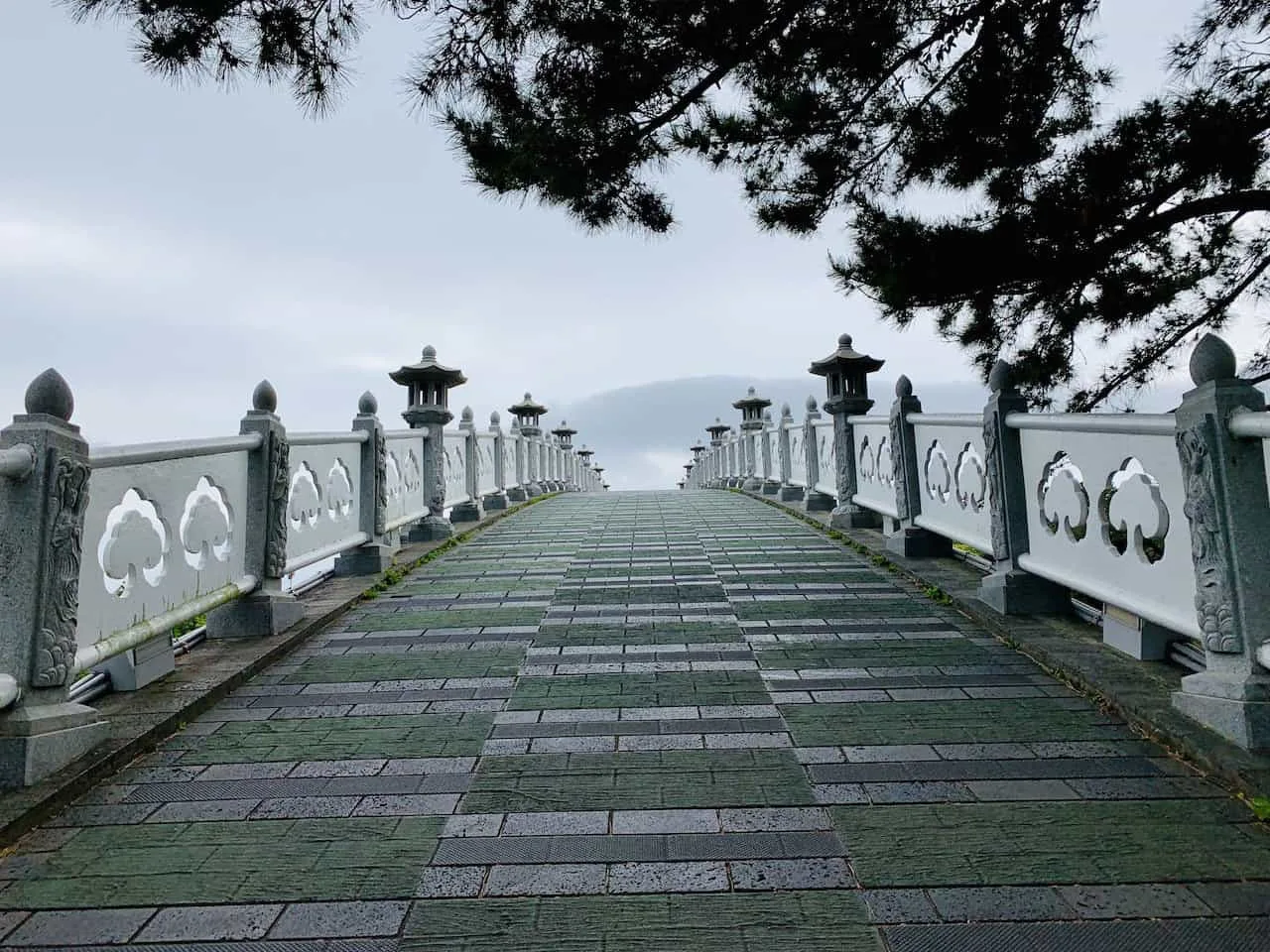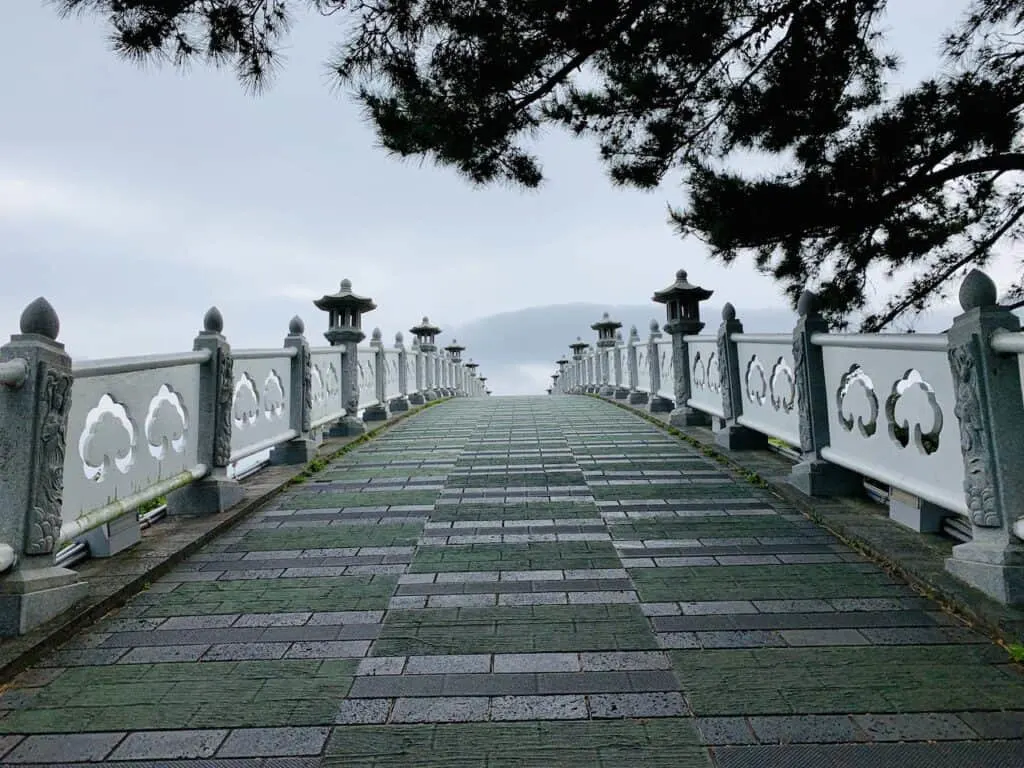 Learn More About Jeju: Check out this guide that goes over the best things to do in Jeju Island
4) Cheonjeyeon Waterfall Opening Hours
The waterfall is open during the peak months between 9:00AM and 7:00PM with the last tickets sold 1 hour prior to closing.
You can expect that during the winter months, closing time is more aligned with sunset.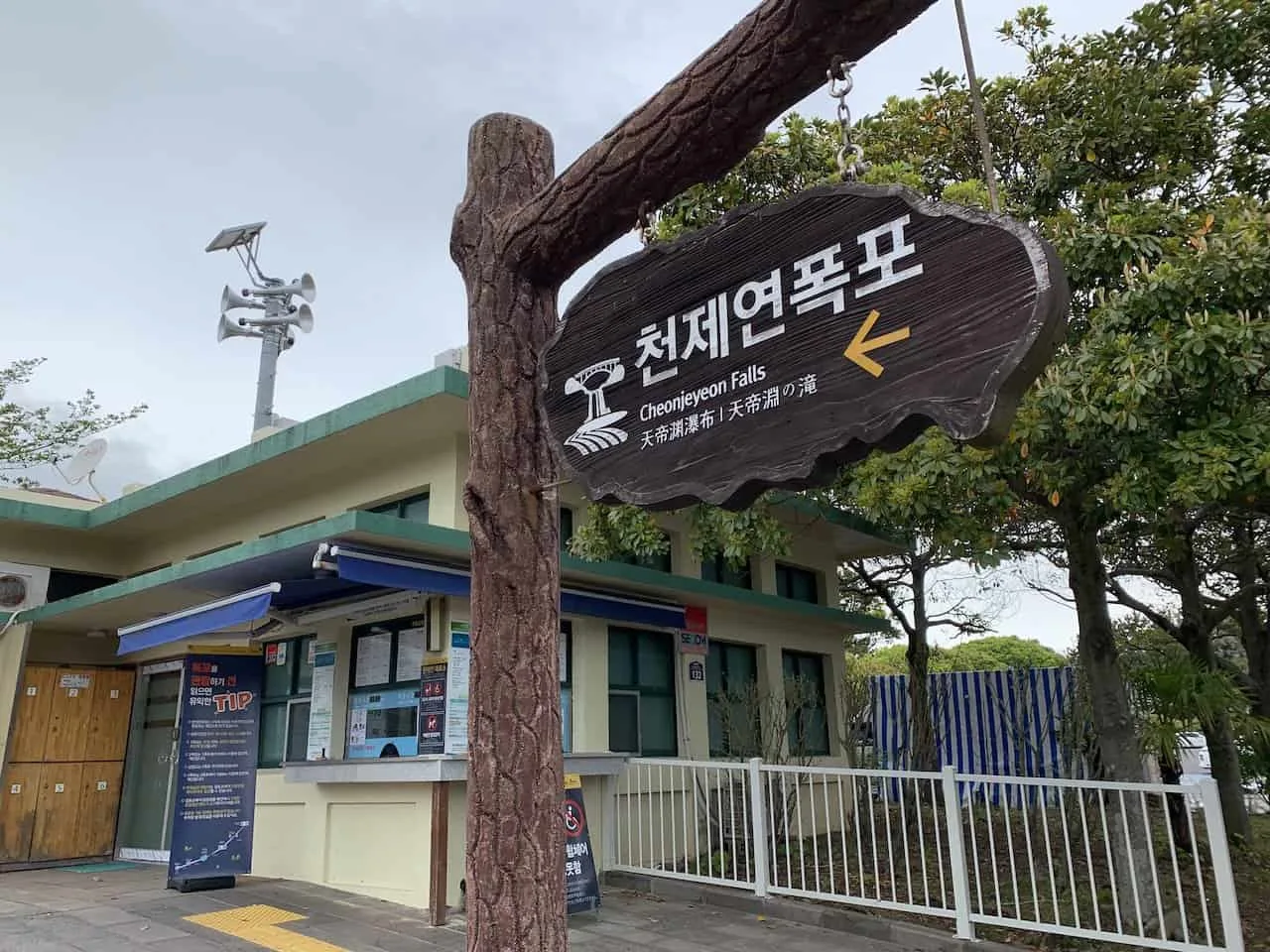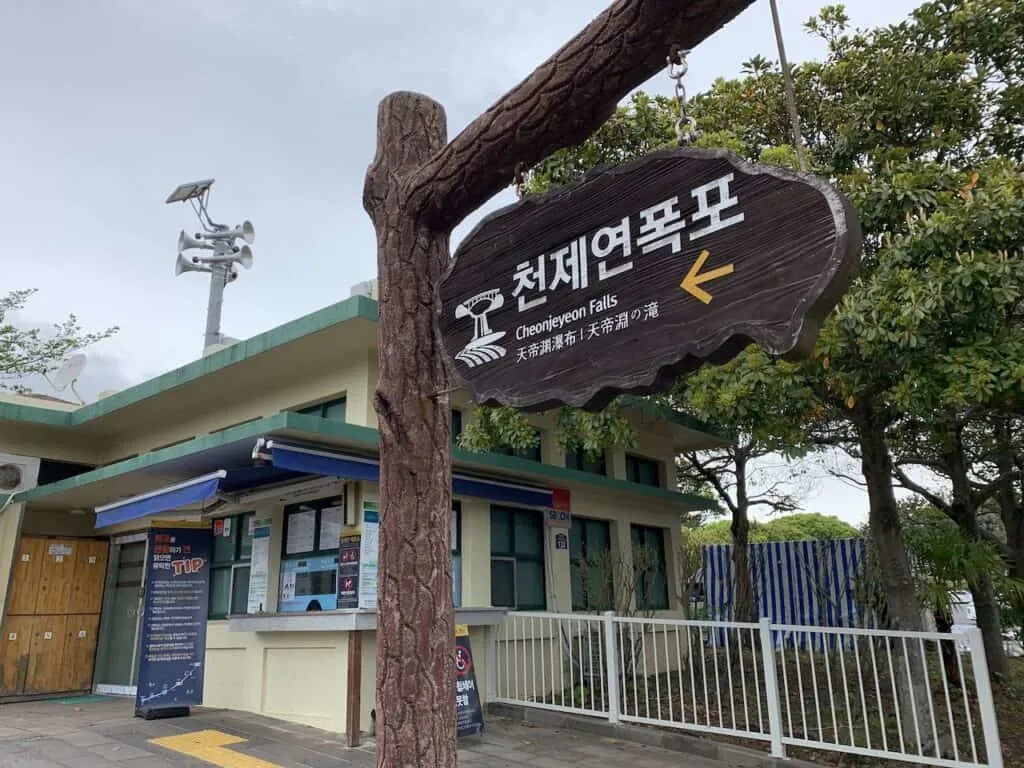 5) Waterfall Cost & Tickets
Visiting Cheonjeyeon Waterfall is quite affordable (right along the same lines with most Jeju attractions). Below are the costs for adults and child tickets:
Adult: 2,500 won (~$2 USD)
Child: 1,350 won (~$1 USD)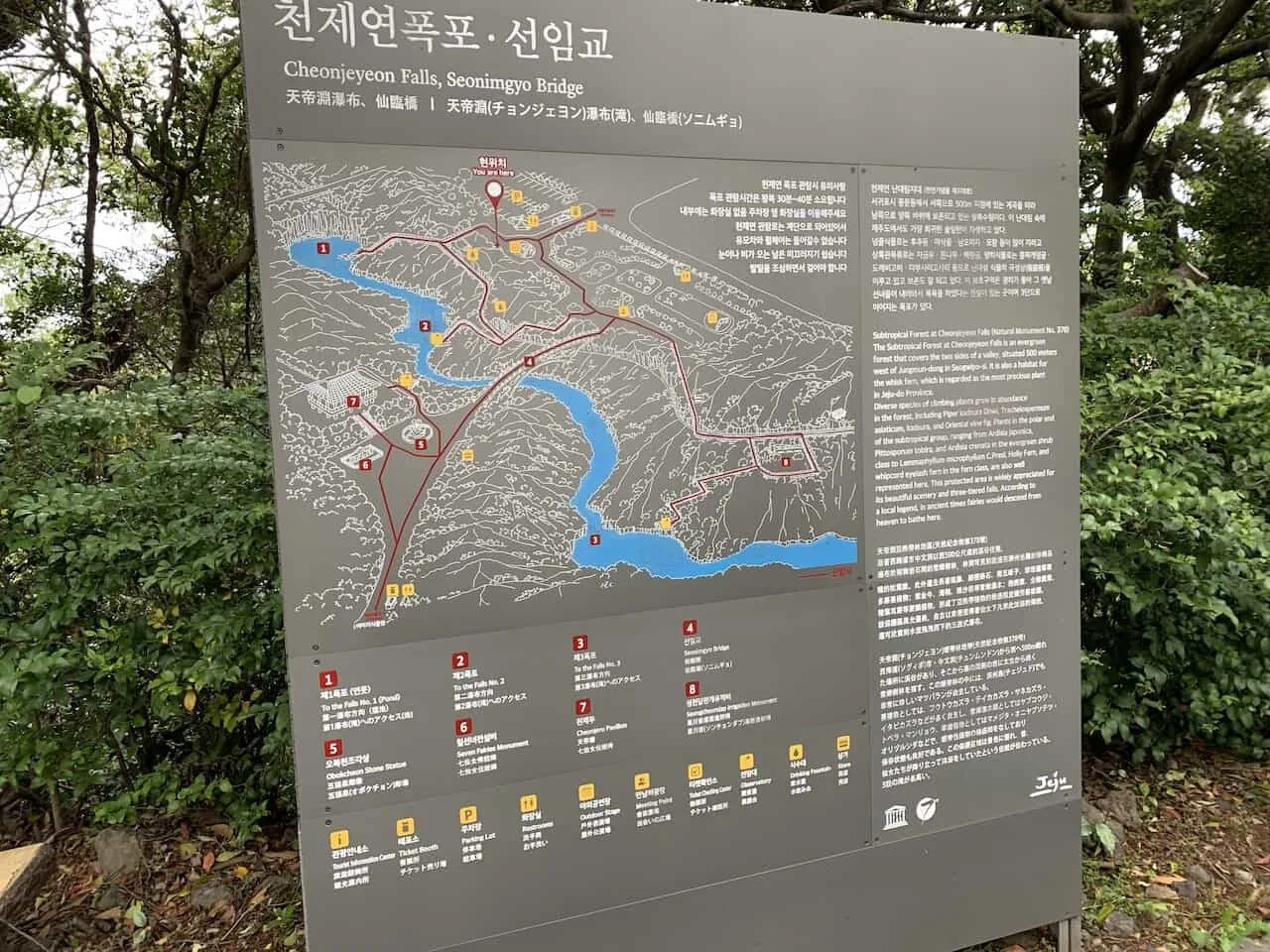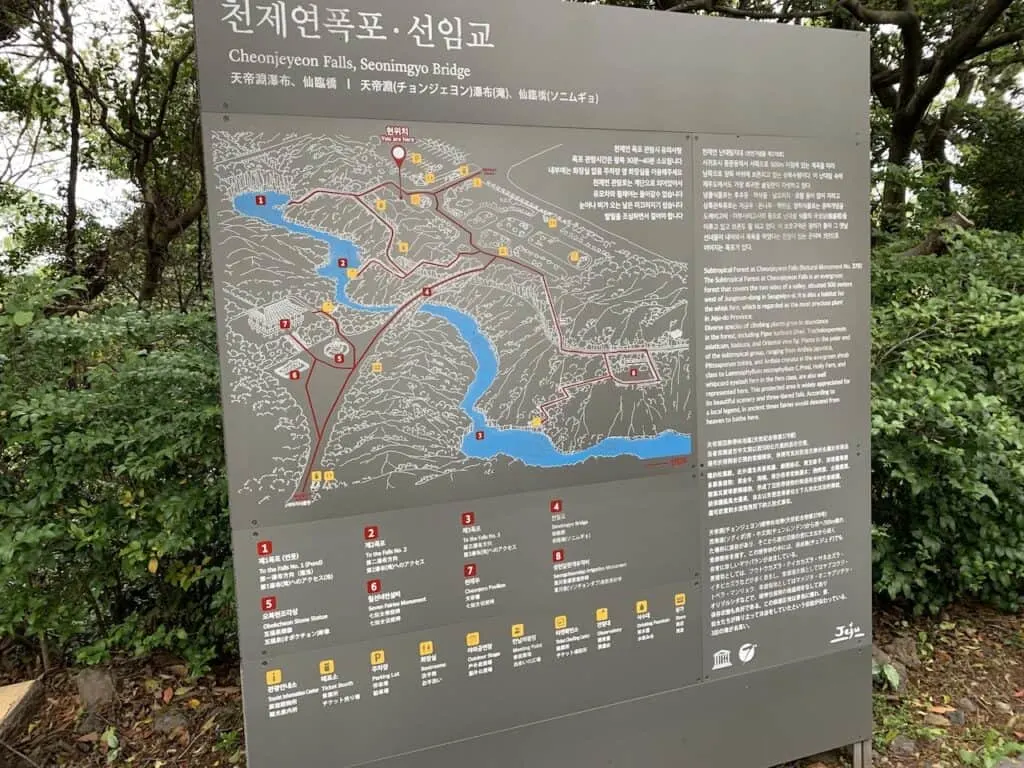 6) Cheonjeyeon Waterfalls Hike
After arriving at the waterfall entrance and purchasing your ticket, it is time to make your way towards the first of the three waterfalls. The first portion is just 0.2 km / 0.1 miles from the start.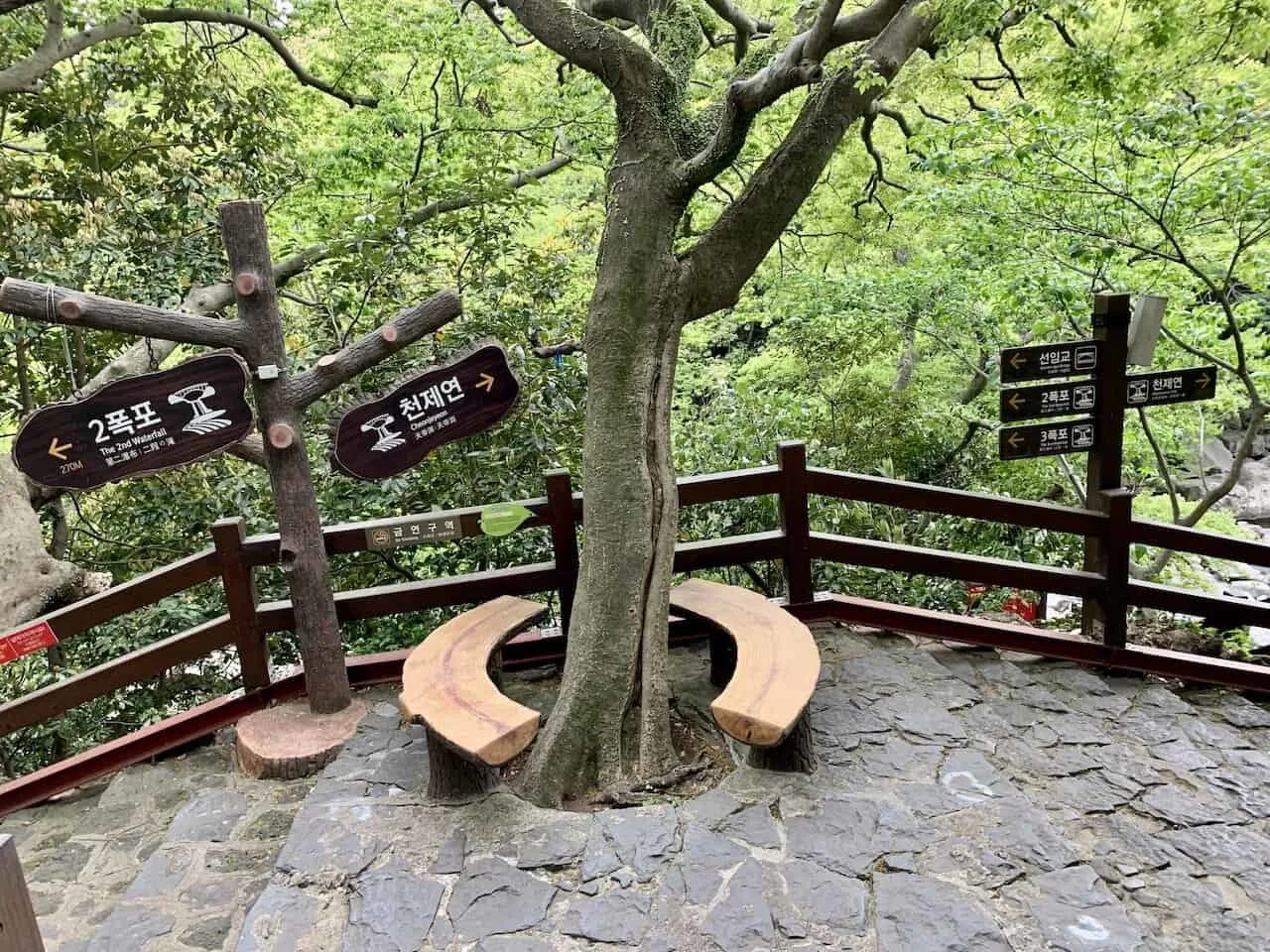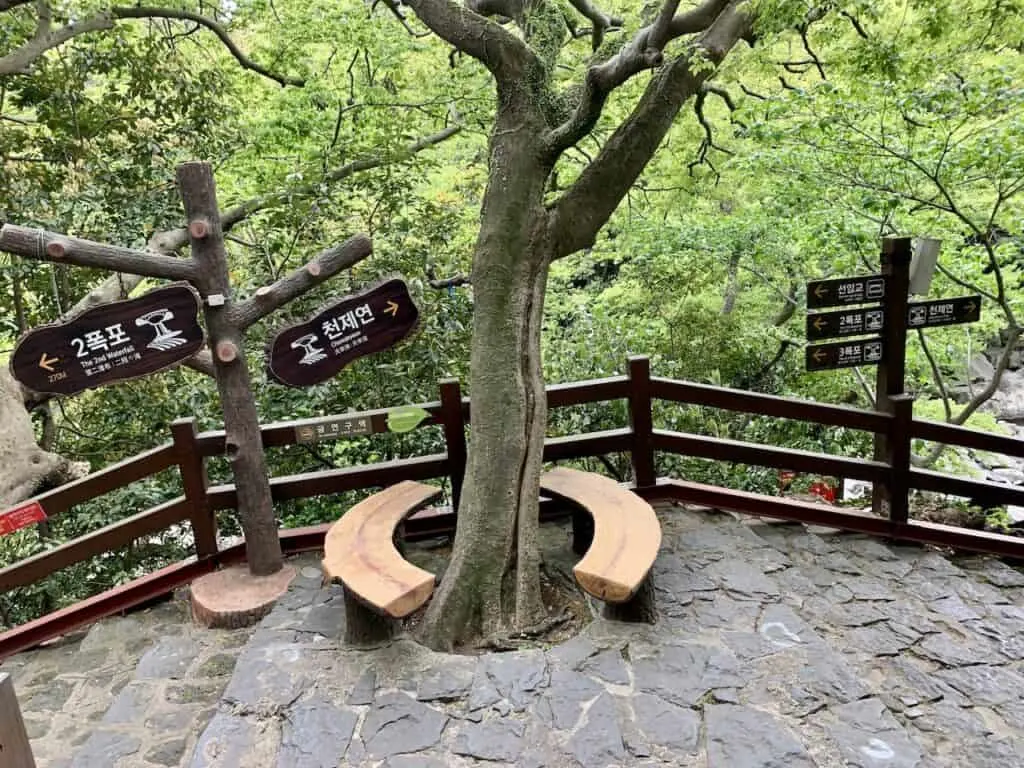 Cheonjeyeon Waterfall
Soon after starting the trail, you will pass by a map and then arrive at your first intersection. You will want to make a right hand turn here towards 22 meter / 72 feet high "Cheonjeyeon" waterfall.
Just a minute later you will arrive at the base of the waterfall pool. From here you will get to see the surrounding jagged rocks reflecting right off of the beautiful blue water.
Unfortunately, this waterfall is usually not active unless there is heavier rainfall. Instead you will just be able to enjoy the view of the pool and unique rock formations.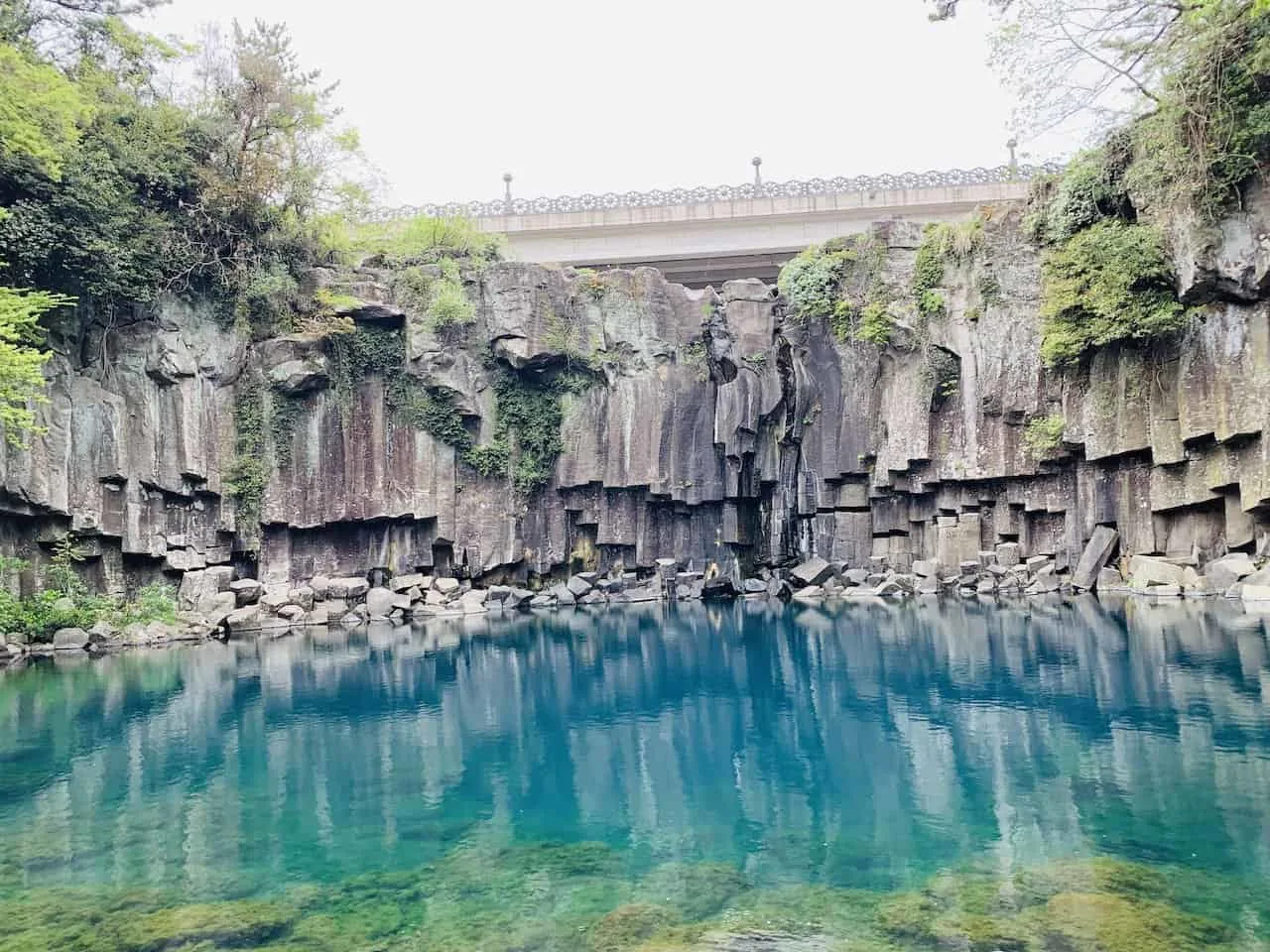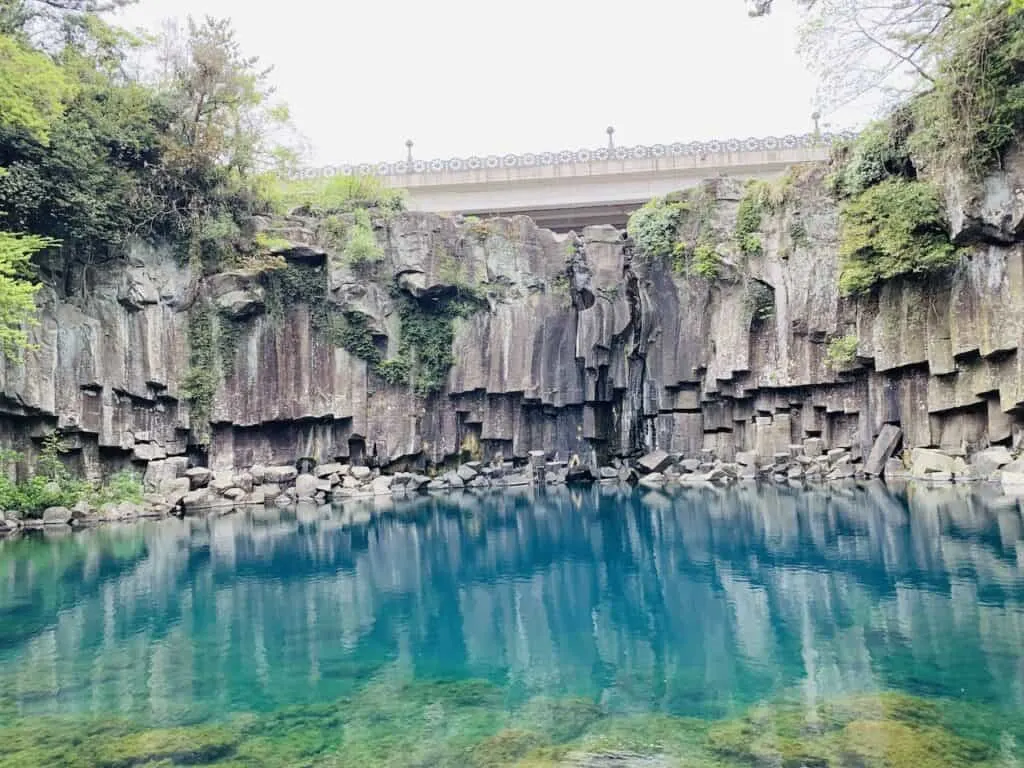 The 2nd Waterfall
After snapping some photos at the first waterfall, you will then retrace your steps and head past the intersection to the 2nd Waterfall. It is another 0.3 km / 0.2 miles away.
The pathway is obvious and easy to follow as you enjoy some greenery filled natural surroundings.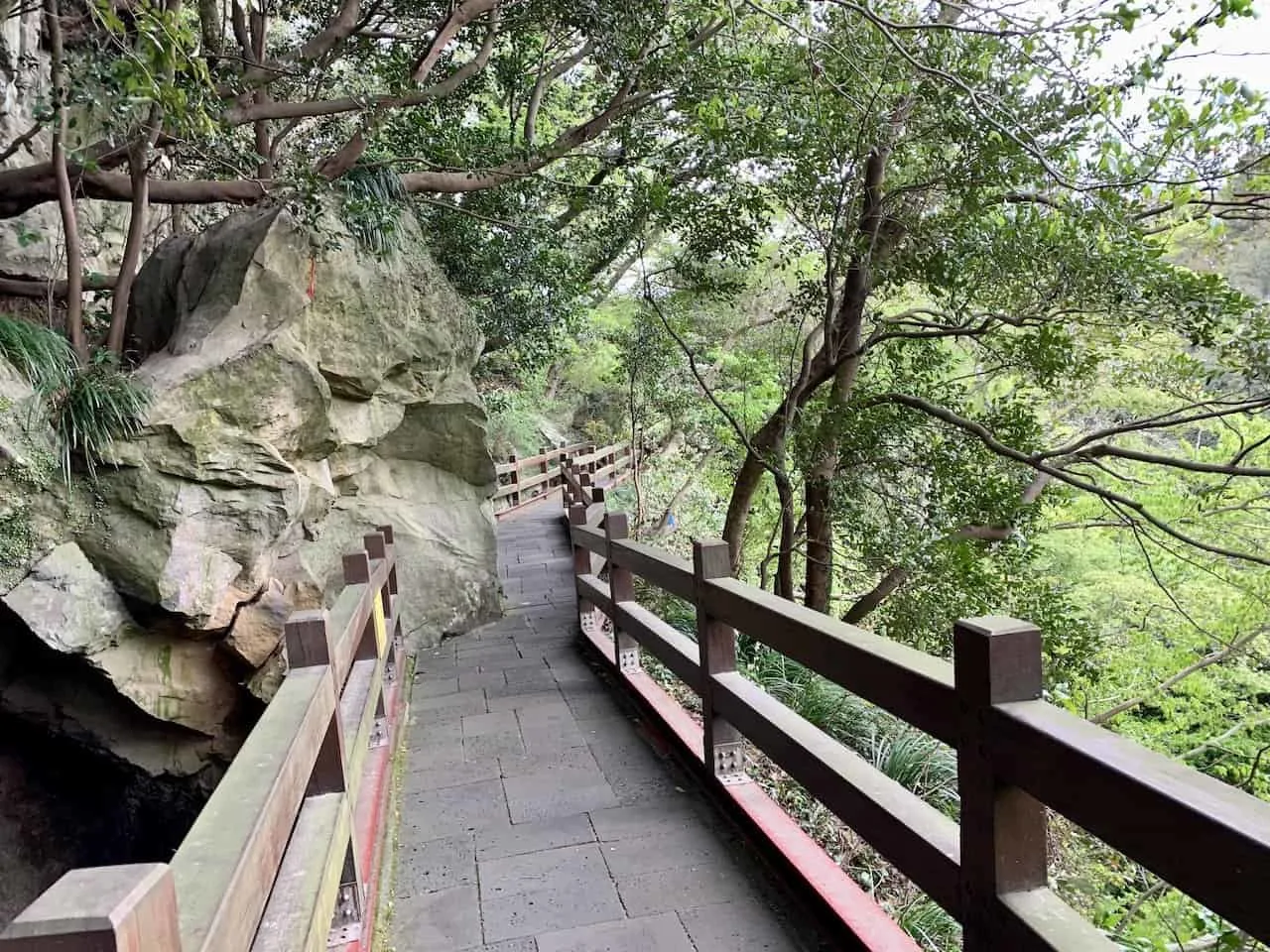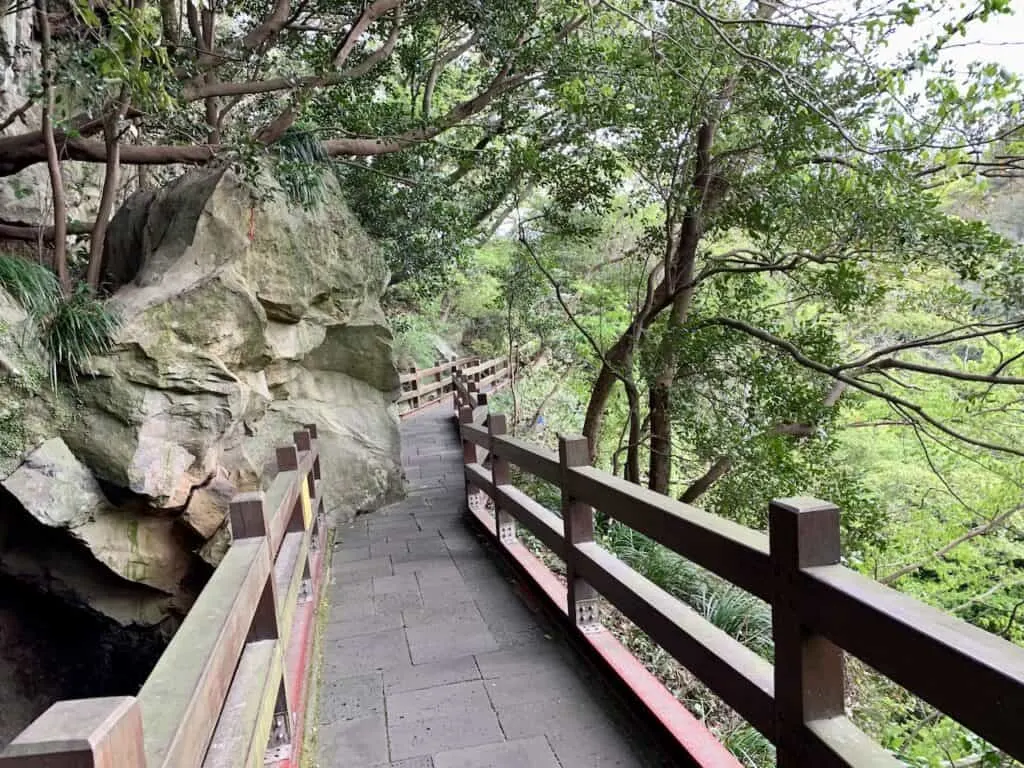 Just 5 or so minutes after leaving the first waterfall, you will arrive at the second one.
Now, this waterfall should be flowing nicely as you get a perfect view of it across the waterfall pool. These falls measure in at nearly 30 meters / 98 feet in height.
Surrounding the waterfall will be plenty of greenery, and you can find a spot on a nearby rock to just enjoy the view.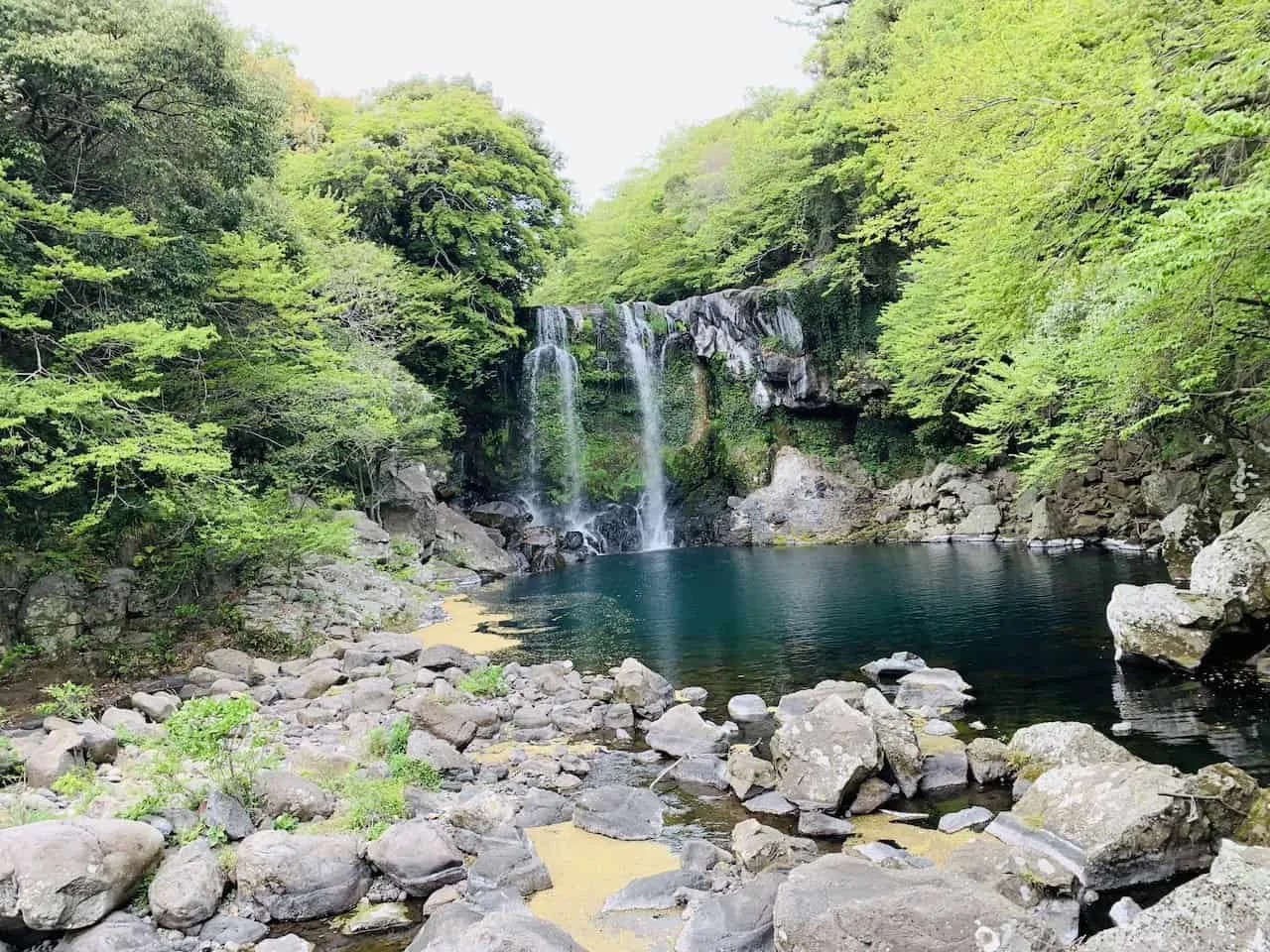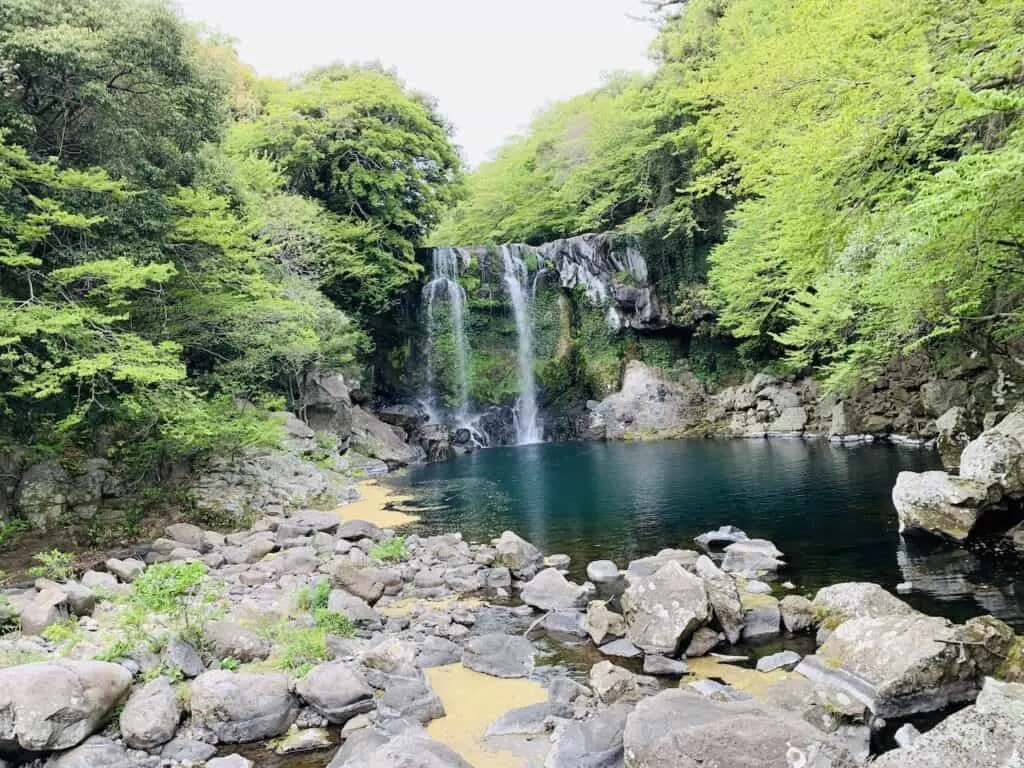 Seonimgyo Bridge
Continue along the path towards the 3rd Waterfall, where you will soon come across the Seonimgyo Bridge.
As it says on the trail sign:
Seonimgyo Bridge is an arch bridge over Cheonjeyeon Falls that has seven nymphs carved onto both sides according to the tale of Cheonjeyeon (128m / 420 ft in length, 4m / 13 ft in width, 78m / 256 ft in height).
Feel free to just take in the view from the path or you can also make your way up to the middle of it. Be careful though as the bridge is steep!
To get to the third waterfall, you won't actually need to cross the bridge. So, after enjoying it for a while, get back to the original side and continue to the final waterfall.
Note: if you do cross the bridge, you can visit the Obokcheon Stone Statue, Seven Fairies Monument, and Cheonjeru Pavilion.
Be on the lookout too for views of Mount Hallasan during a visit!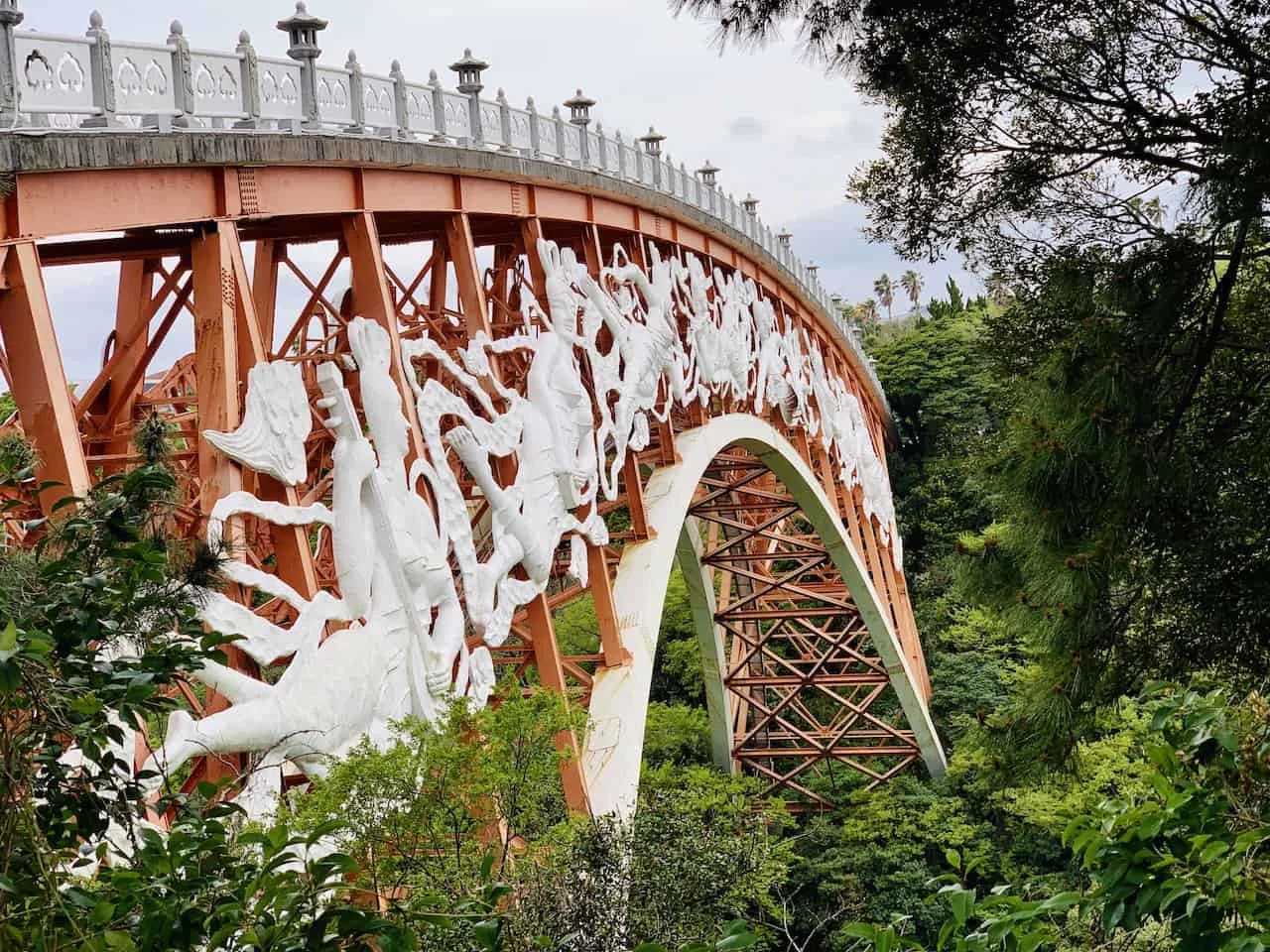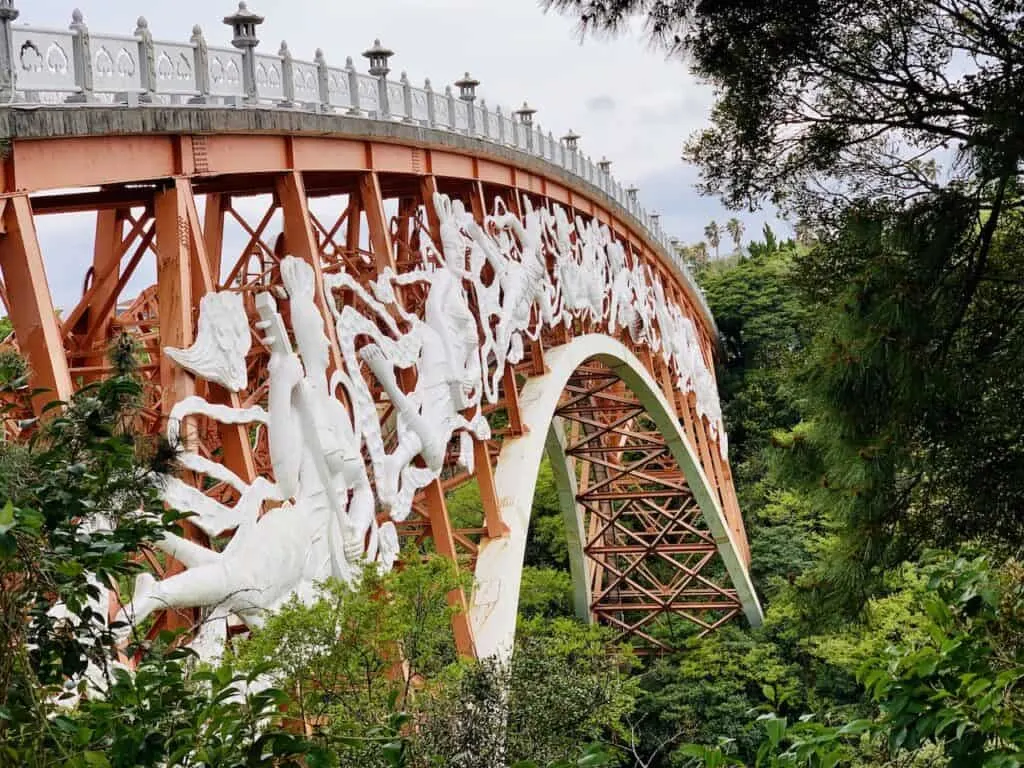 The 3rd Waterfall
From the bridge, you will make your way back on the path and then begin to descend a series of staircases to reach the 3rd waterfall.
Just be aware that there are a lot of steps here, and you will need to climb back up them.
The length from the second waterfall to third waterfall is just about 0.5 km / 0.3 miles.
Once you reach the waterfall though, there is a perfect lookout spot from above. This is different than the previous two, as you actually get to go down to the base of those waterfalls.
Here there is just a lookout platform of the waterfall and the surrounding Jeju nature.
After you are all wrapped up, it is then a 1 km / 0.6 mile walk back up the staircases and towards the parking lot.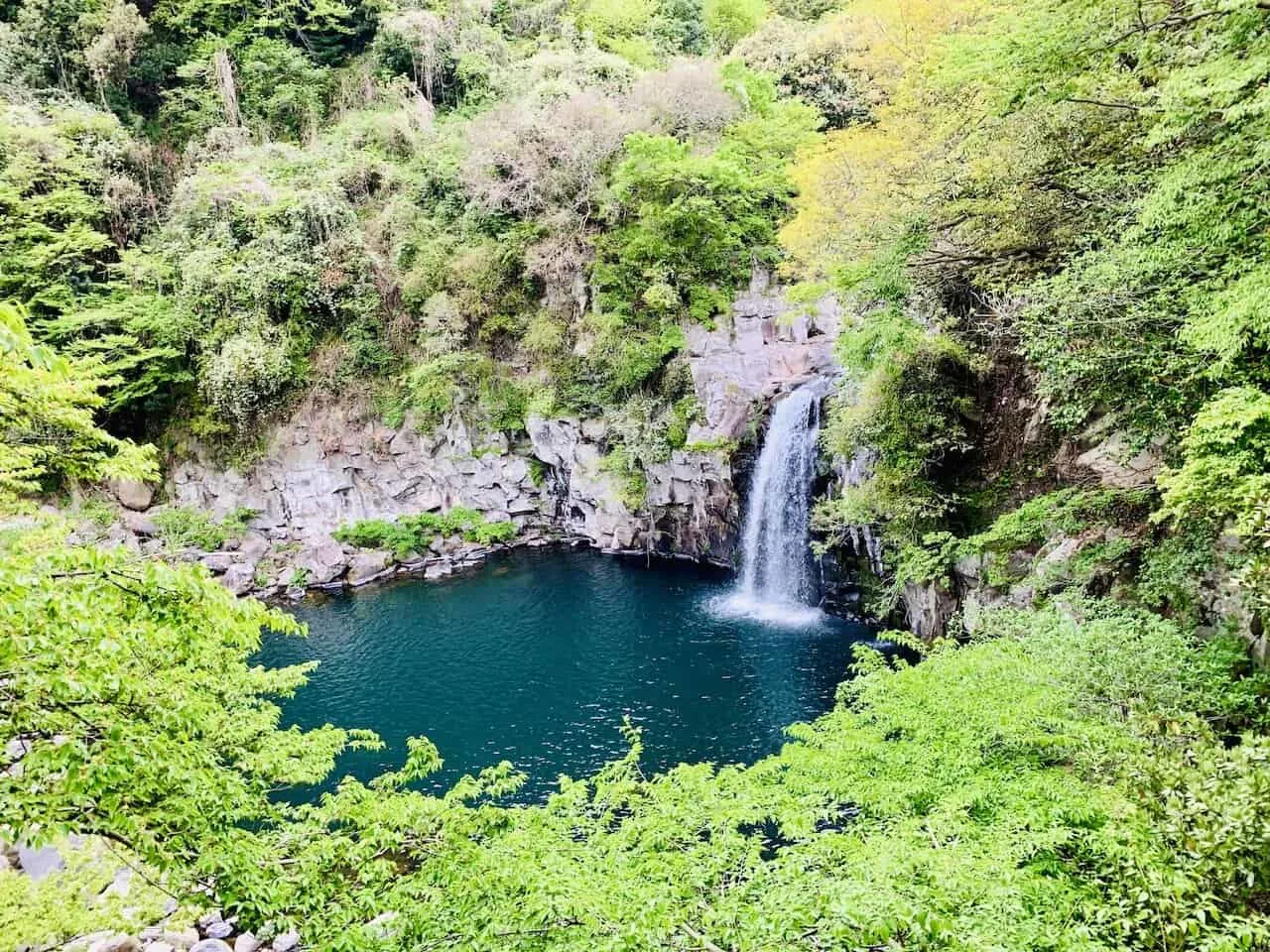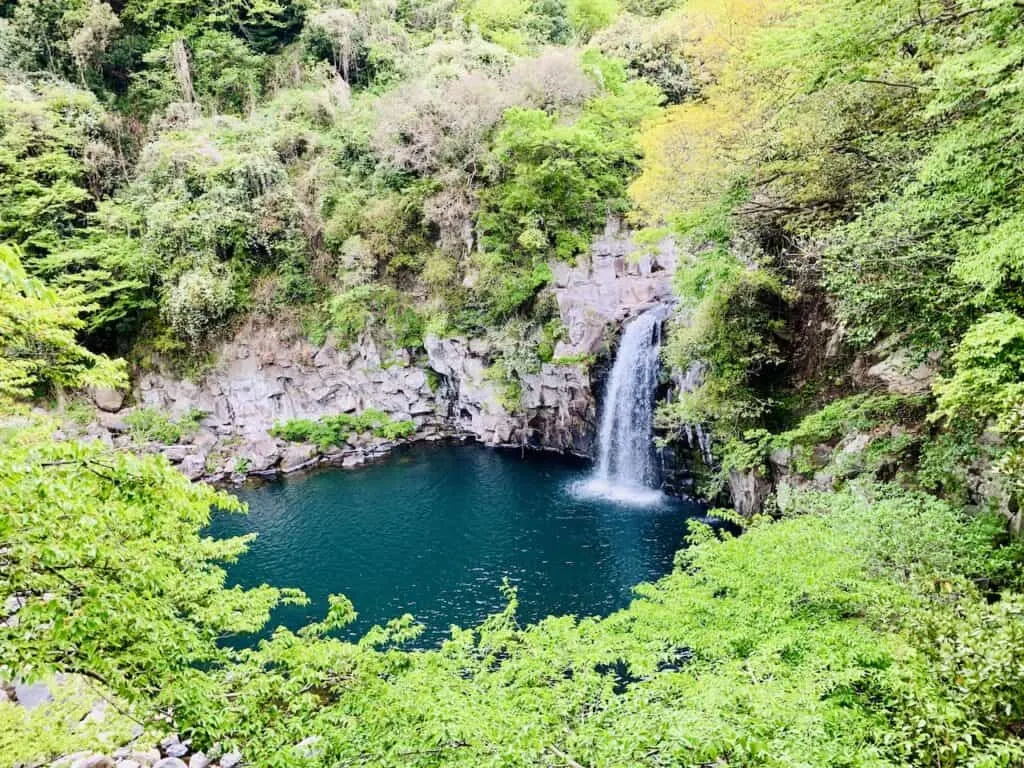 7) Where to Stay on Jeju
When planning a trip to Jeju, you can opt to base yourself in one spot (like Jeju City or Seogwipo), or spend a couple nights in various places around the island.
At the end of the day, this will all depend on your own itinerary.
Below are a few hotel recommendations for these two main places:
Jeju City
Seogwipo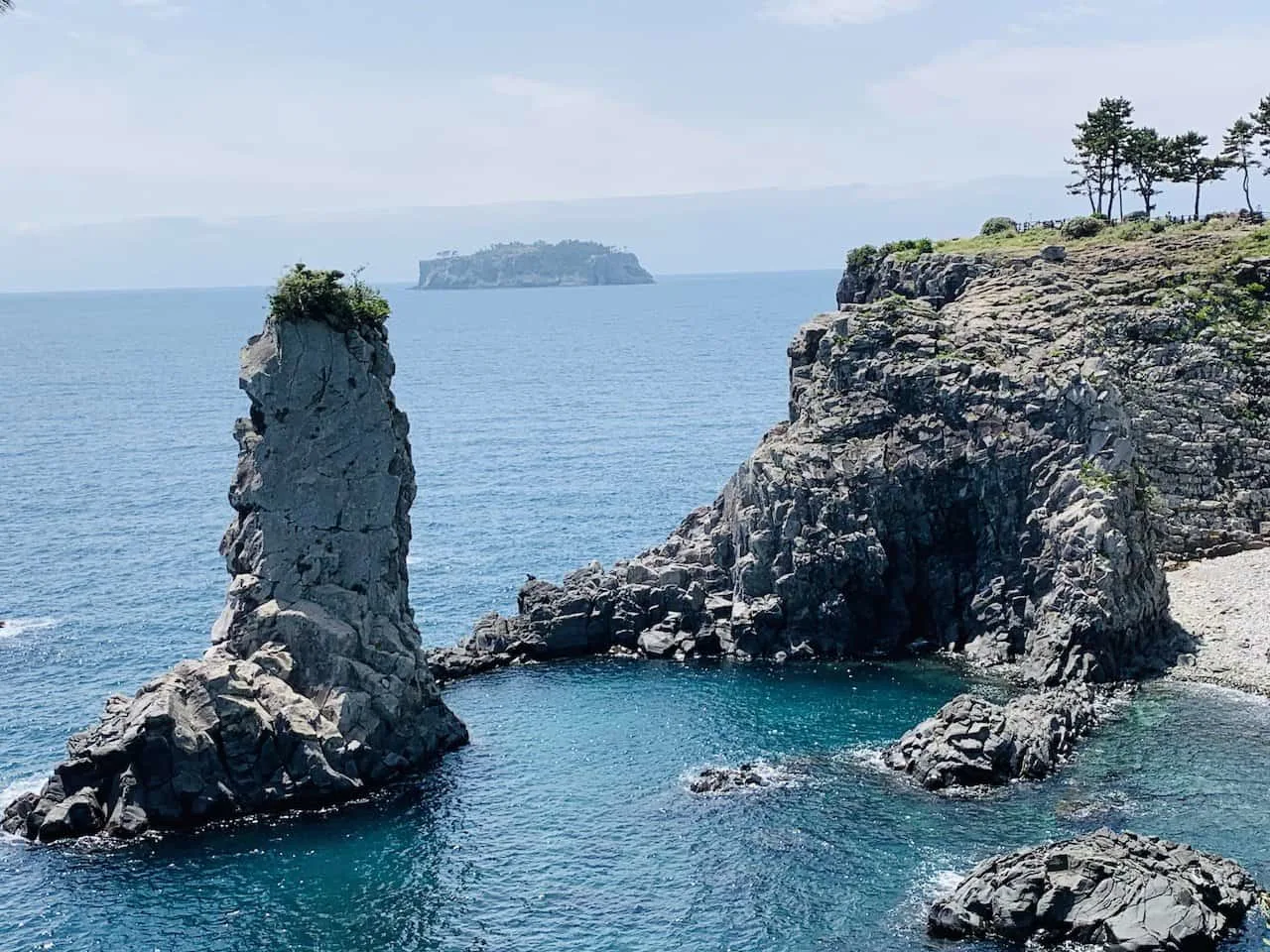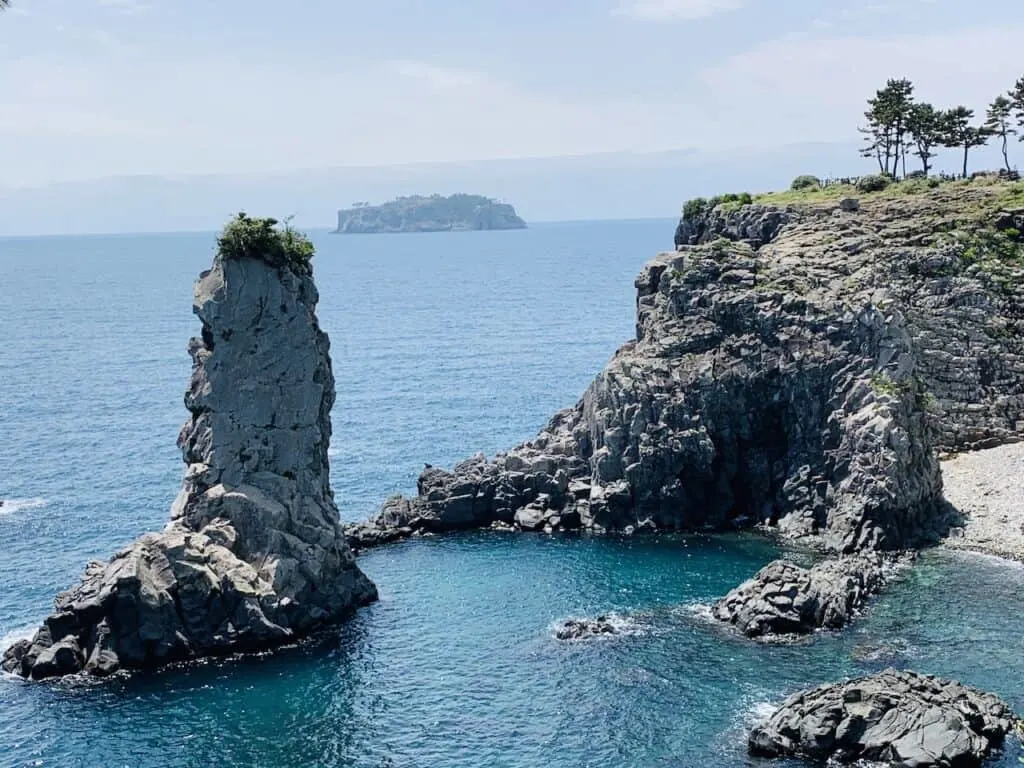 That about does it for a guide to Cheonjeyeon Waterfall. If you have any questions or comments, feel free to add them in below.
Also, don't forget to check out the other South Korea itineraries and guides up on the site.
Have fun out there and safe travels!