While most people who visit Jeju Island do so to see the immense natural beauty that the island has to offer, there are some cultural & religious aspects to the island too.
Perhaps the most significant of places that can be found on Jeju is the Yakcheonsa Temple.
Located along the southern coast of Jeju, Yakcheonsa is known to be the largest temple is East Asia. It includes South Korea's largest wooden Vairocana Buddha, along with 18,000+ smaller golden Buddhas sprawled throughout the temple complex.
Read on to learn how to visit Yakcheonsa Temple for yourself during your time on Jeju Island.
* Affiliate Disclosure: This post may contain affiliate links, which means I may receive a commission if you make a purchase through the links provided, at no additional cost to you. Thanks for supporting the work I put into TripTins!
1) History & Things to Know
Without a doubt Yakcheonsa is Jeju Island's largest and most famous of temples. It was built in 1982 with architecture in the style of the Joseon Dynasty.
Strangely enough, there aren't too many records regarding the history and founding of the temple. There are however a few tales on how it came to be.
It is said to have been built at a site where healing spring water flows from underground. In the past a small refuge called Yaksuam was in its place before the temple was built.
The refuge was built by a scholar who prayed for 100 days in a cave. During that time he would drink this mineral water, which would lead him back to health. To show his appreciation, he built Yaksuam to pray to the Buddha for the remainder of his life.
The temple complex makes up over 120,000 square meters (30 acres) and has several different structures throughout the area.
The highlight is certainly the main temple, which is known to be the largest Buddhist prayer hall in all of East Asia. The prayer hall includes Korea's largest Vairocana Buddha along with thousands more around the temple's grounds.
During a visit, you will have the chance to take in the architecture from the inside and outside, as you explore all that the temple has to offer.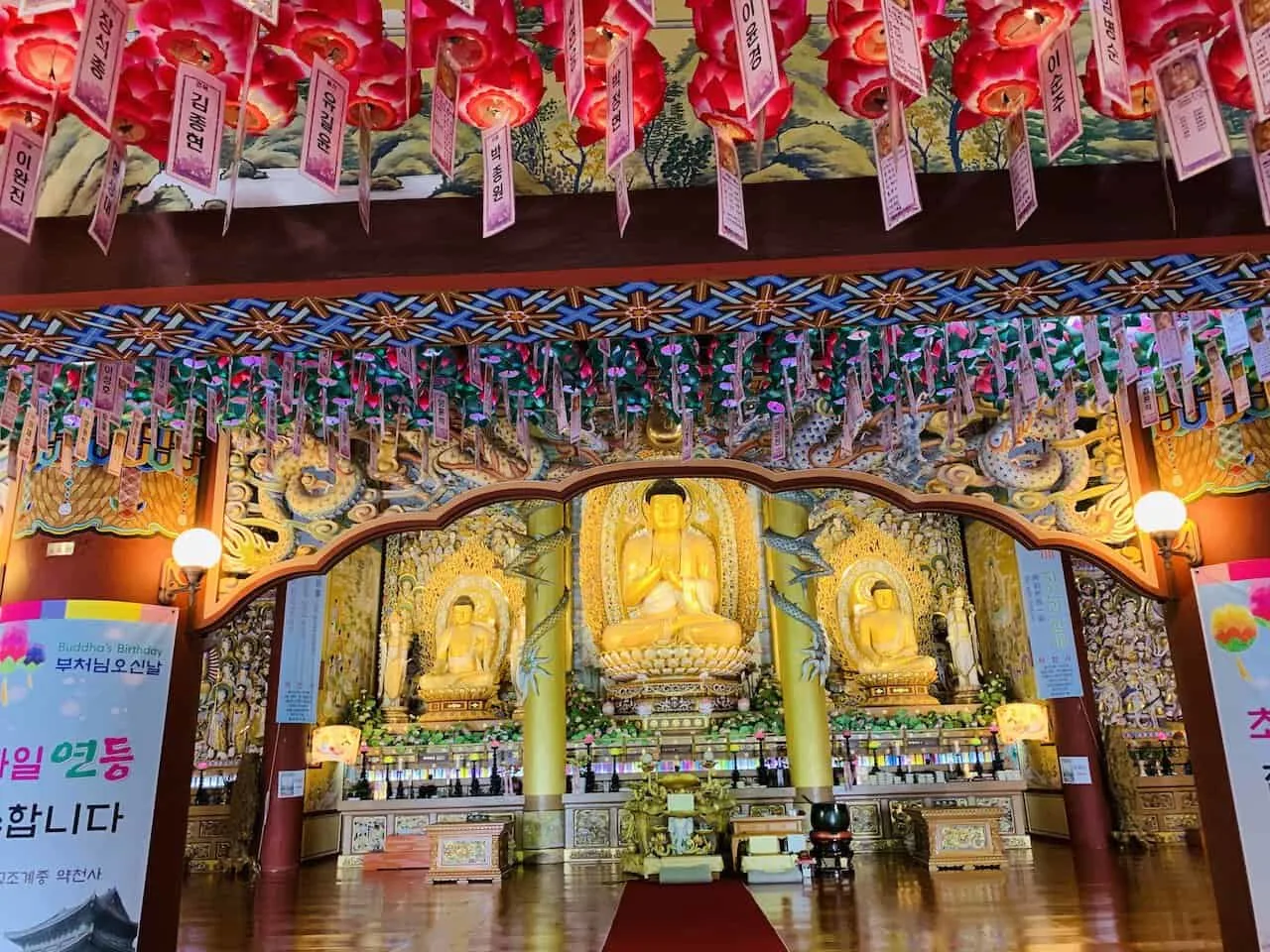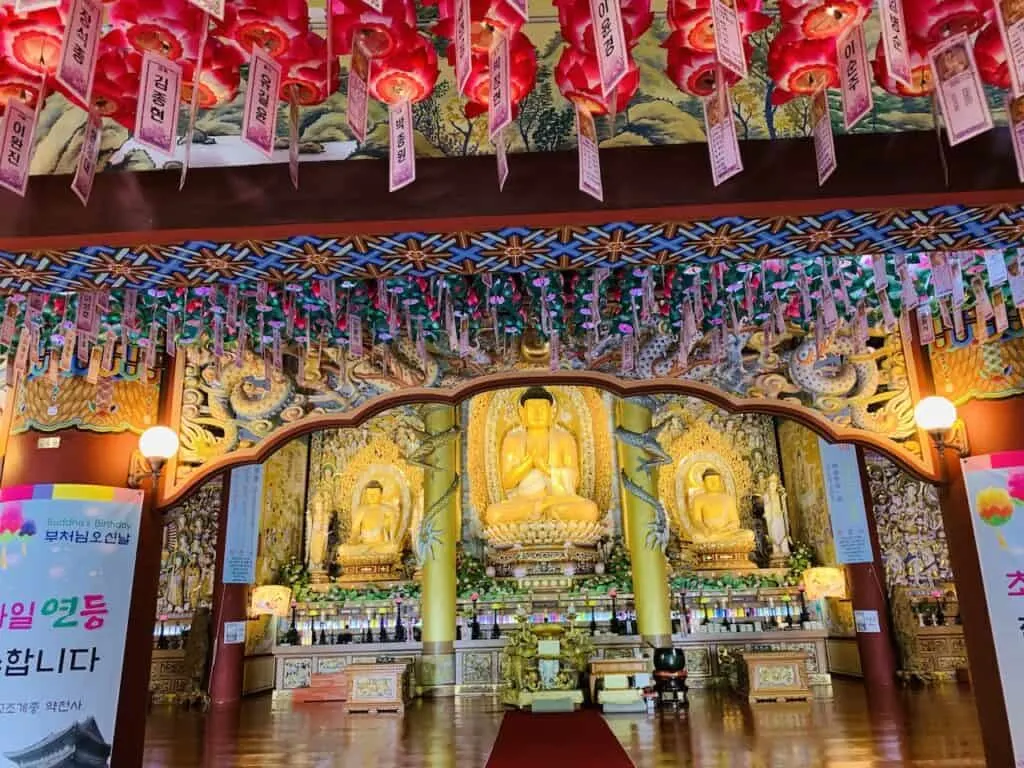 2) How to Get There
In general, there are three main ways to go about a visit to Yakcheonsa Temple (and other places around Jeju Island) – rental car, bus, or tour.
Rental Car
When exploring Jeju, I would recommend renting a car in order to explore at your own pace. You will be able to be on your own schedule and not need to worry about public transport.
This will not only help when visiting the temple, but also when visiting any other top spots you have on your Jeju Island to do list (like the Mysterious Road, Manjanggul Cave and Seongsan Ilchulbong).
If driving a car, you will be welcome to a parking area just by the main entrance.
Feel free to check out Rentalcars.com for potential options. You will be able to see a variety of cars by price, size, and type, so you can choose the one best for you.
Bus
There is also an extensive public transport network on Jeju Island, so you should be able to leverage it during your time there.
Below are the steps to reach the temple from Jeju City and Seogwipo:
From Jeju City: the easiest way from Jeju City is to hop on the 70-90 minute bus (#600 Airport Limousine Bus or #182) that takes you to the Yakcheonsa bus stop. Once there it is a few minutes walk to the entrance.
From Seogwipo: you can also grab the #600 from Seogwipo (among other busses such as #181 or #282) that can bring you the 20-30 minutes to the temple. Once there you can walk to the entrance as well.
Tour
Instead of worrying about renting a car or figuring out public transport, you can also make your way to Yakcheonsa and other highlights by joining a group or private tour.
Also note that you could just hire a taxi to take you back & forth if you don't want to go for a tour option.
Tour Booking: Check out this customizable Private Jeju Tour that can take you all around the island during your trip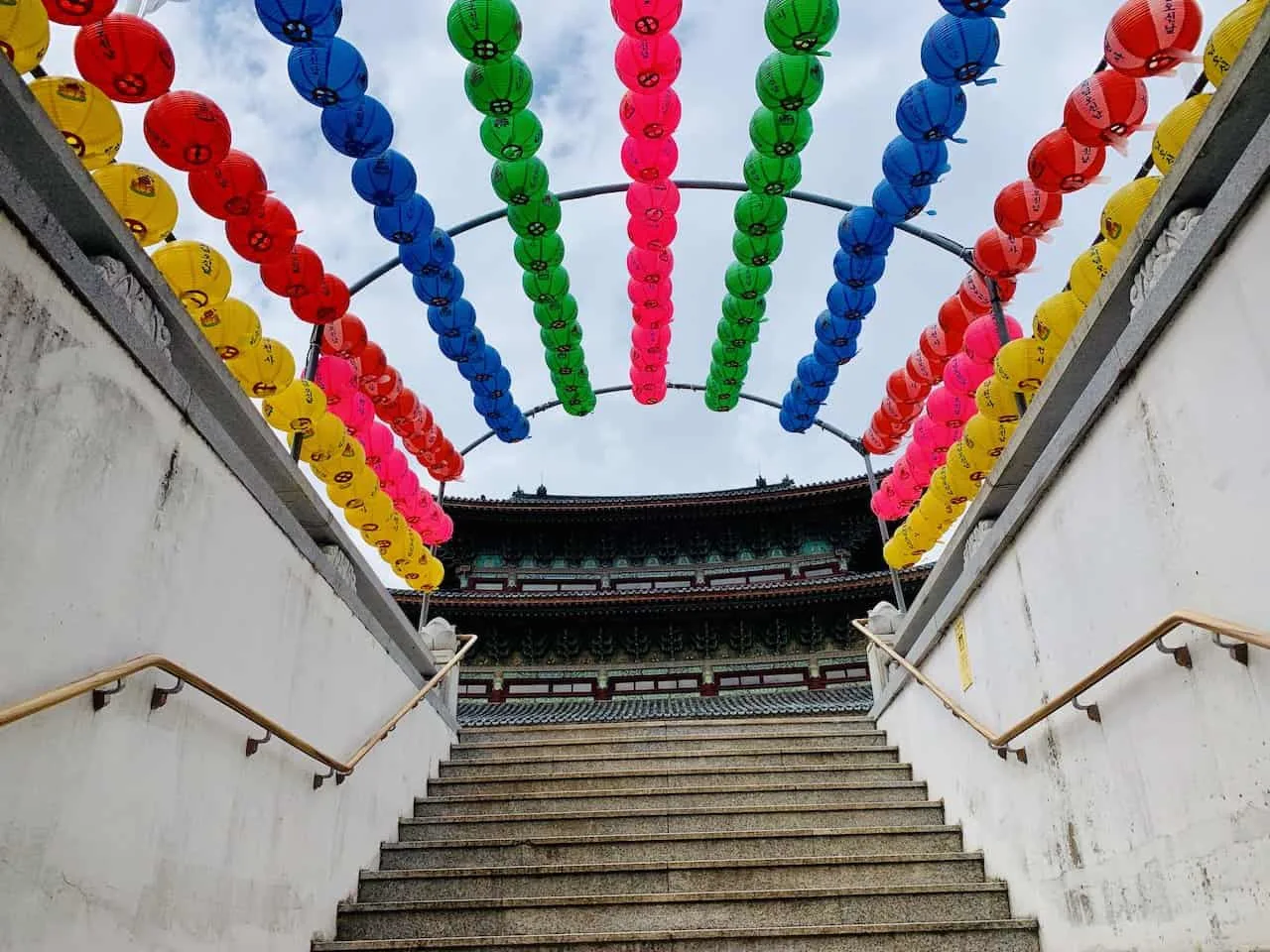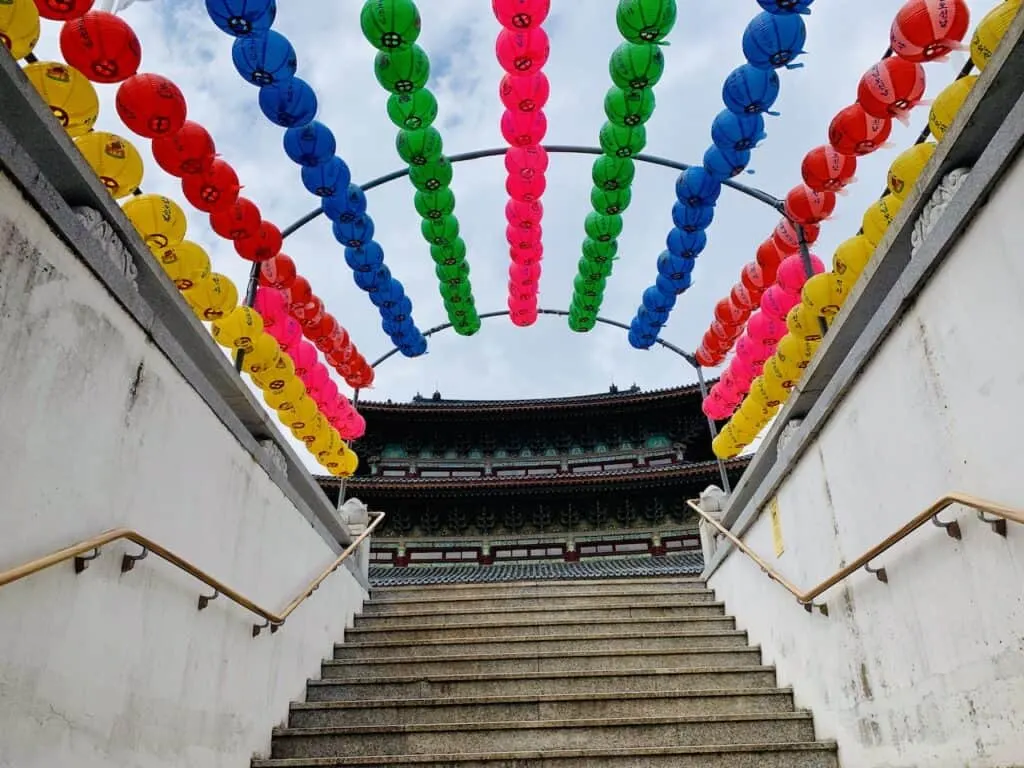 3) Yakcheonsa Temple Map
While the main prayer hall of Yakcheonsa is the highlight, the whole temple complex offers plenty more to see.
Below is a map that shows the layout of the temple and some of the other structures that can be found throughout.
These main highlights include:
The Great Hall of Vairocana Buddha
The Cave Bharma Hall
The Hall of Three Sages
The Hall of 500 Arahan
Buddhism Store
Dharma Drum
Buddhist Bell
Tea Ceremony Hall
Buddha's Sarira Tower
All around are walking paths, greenery, and even a pond that makes up the rest of the temple complex area.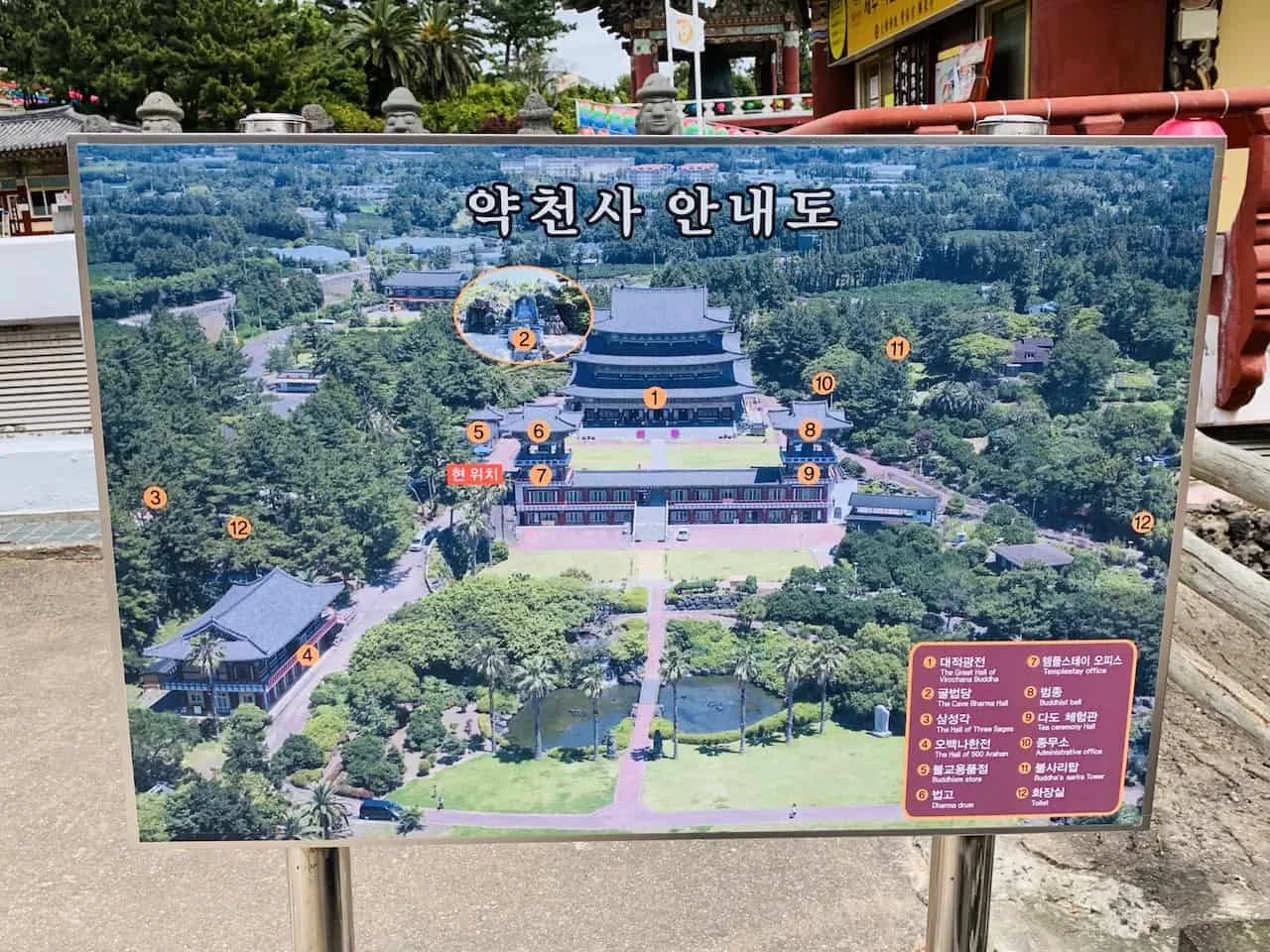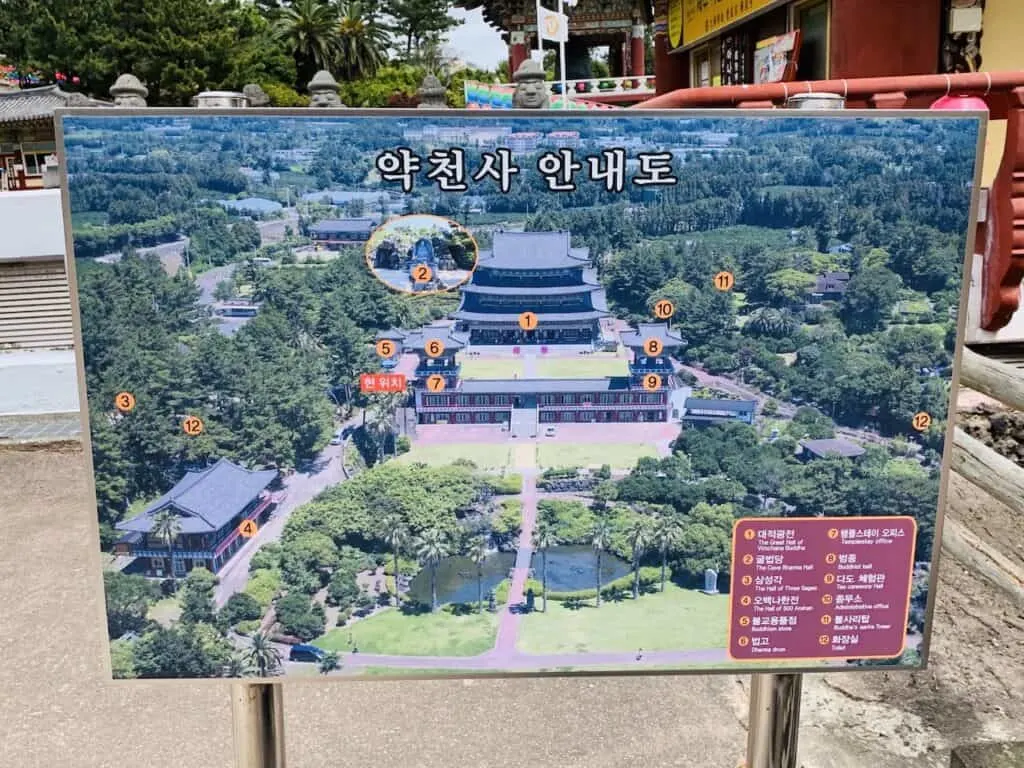 4) Opening Hours & Tickets
See below for the latest opening hours and ticket information for the temple:
While I did not see any explicit opening hours, I have come across online that 7:00AM – 6:00PM are the official hours. Feel free to let me know if you see differently when you are there!
As for tickets & cost, it is absolutely free to enter the temple grounds and explore it all on your own.
Temple Stay: while a short visit will be more than enough for most people, the temple also offers a prolonged temple stay program. You can visit the temple stay offices for more information, but these are usually offered a few times per month on weekends.
Learn More: Check out the other Best Things To Do in Jeju Island during a visit
5) A Visit to Yakcheonsa Temple
After arriving at the parking lot, simply follow the pathway that leads into the Yakcheonsa Temple complex. During a visit, you can decide to just head to the main temple or you can also decide to walk around the grounds for some more.
Hall of 500 Arahan
During my visit, I first walked towards The Hall of 500 Arahan. Here lays 500 statues of Buddhist disciples, each of which resembles a different personality.
It is quite remarkable seeing the detailed and ornate artwork of these disciples, along with the architecture of the building itself.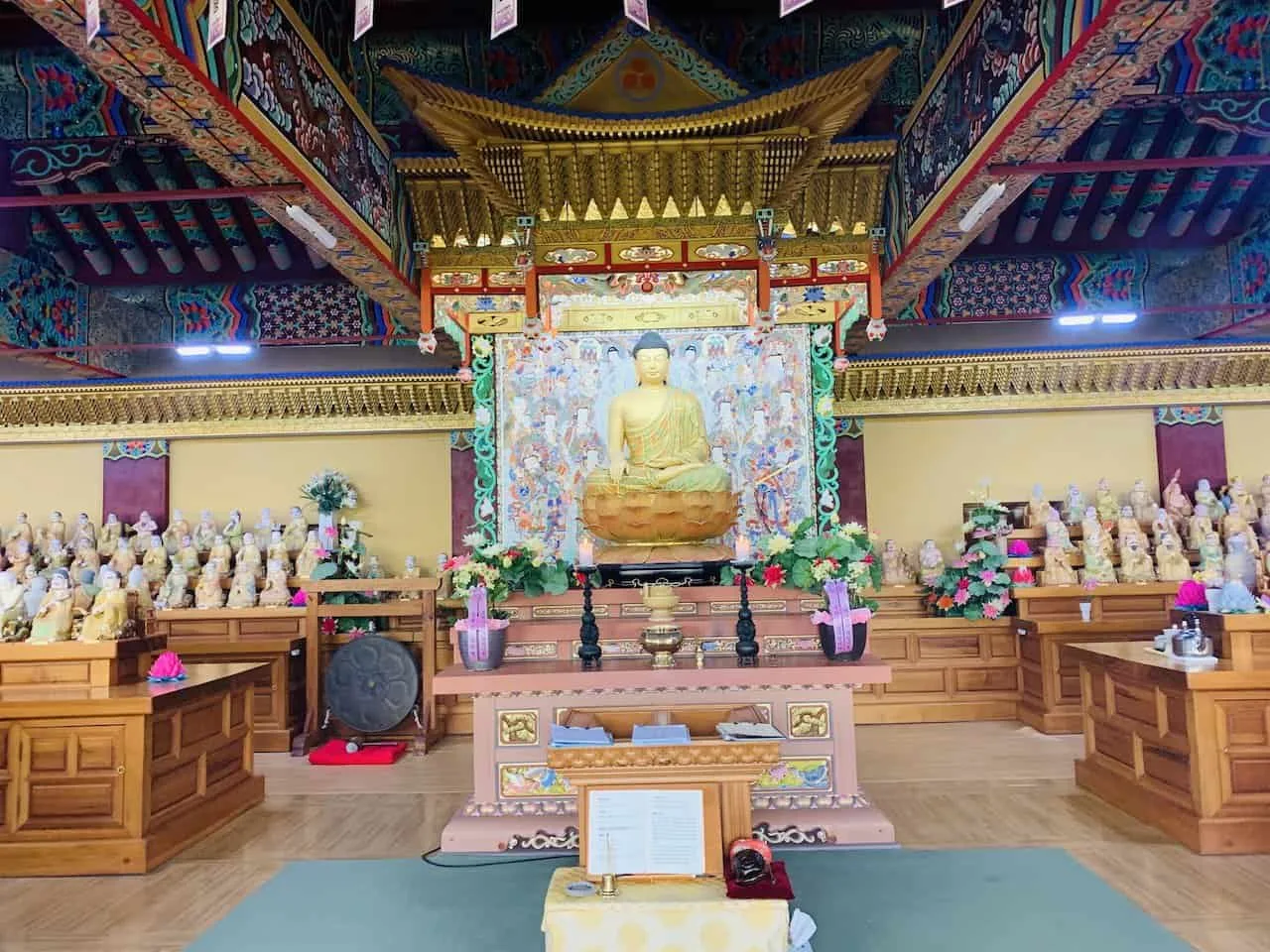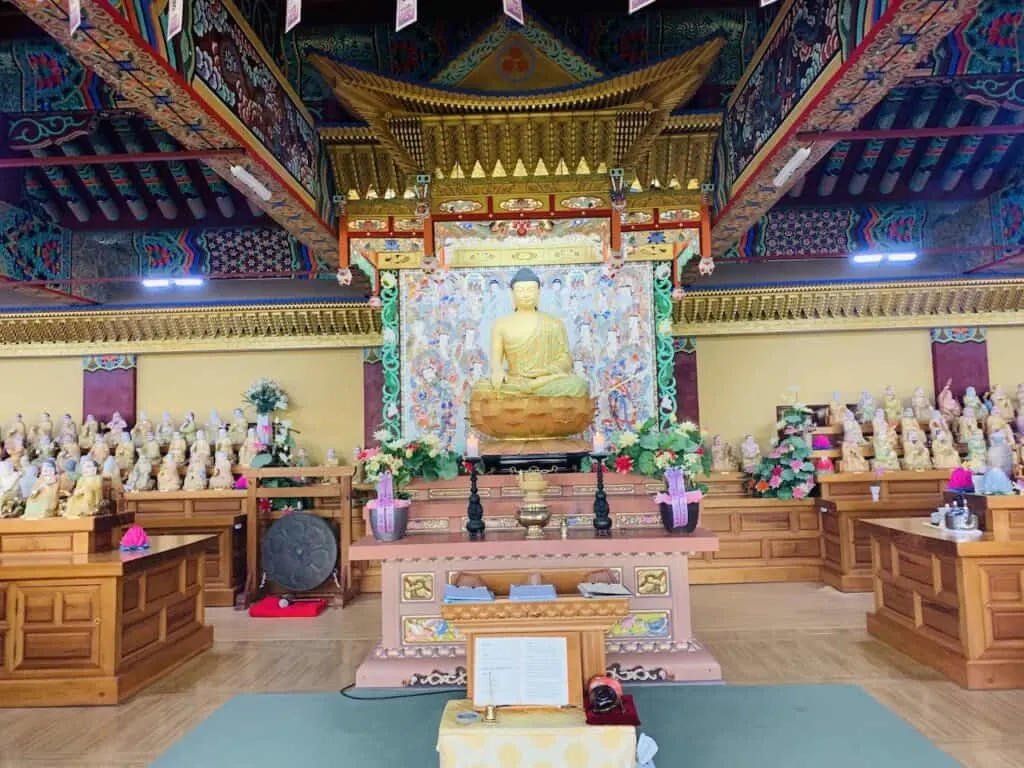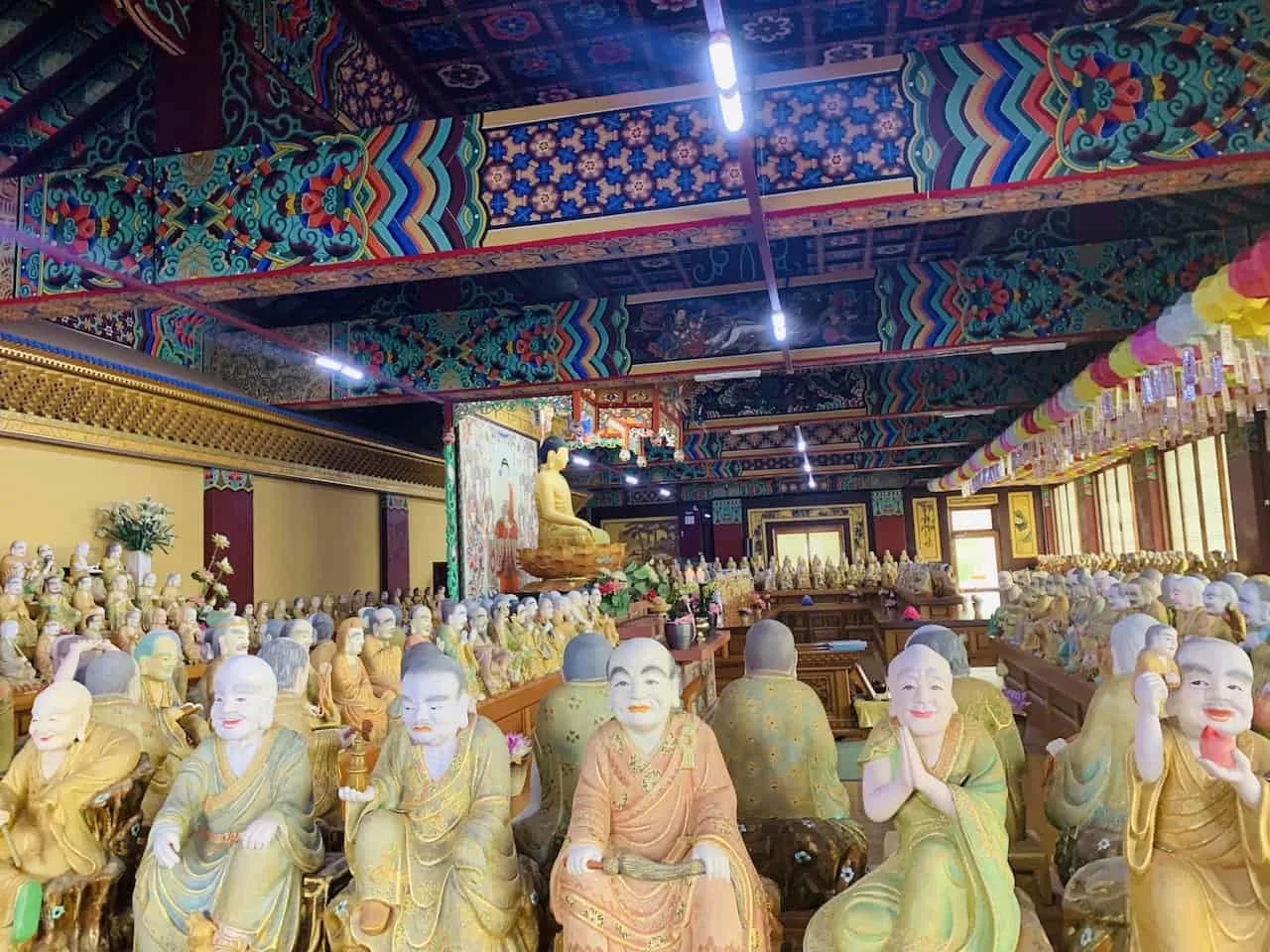 Complex Walk
From the Hall, I then walked around the small pond area. Here is a great shot of the main temple centered out back with the pathway leading up the stairs out in front.
After taking in the views from down below, I walked my way up the pathway and staircase until I was right in front of the main temple area.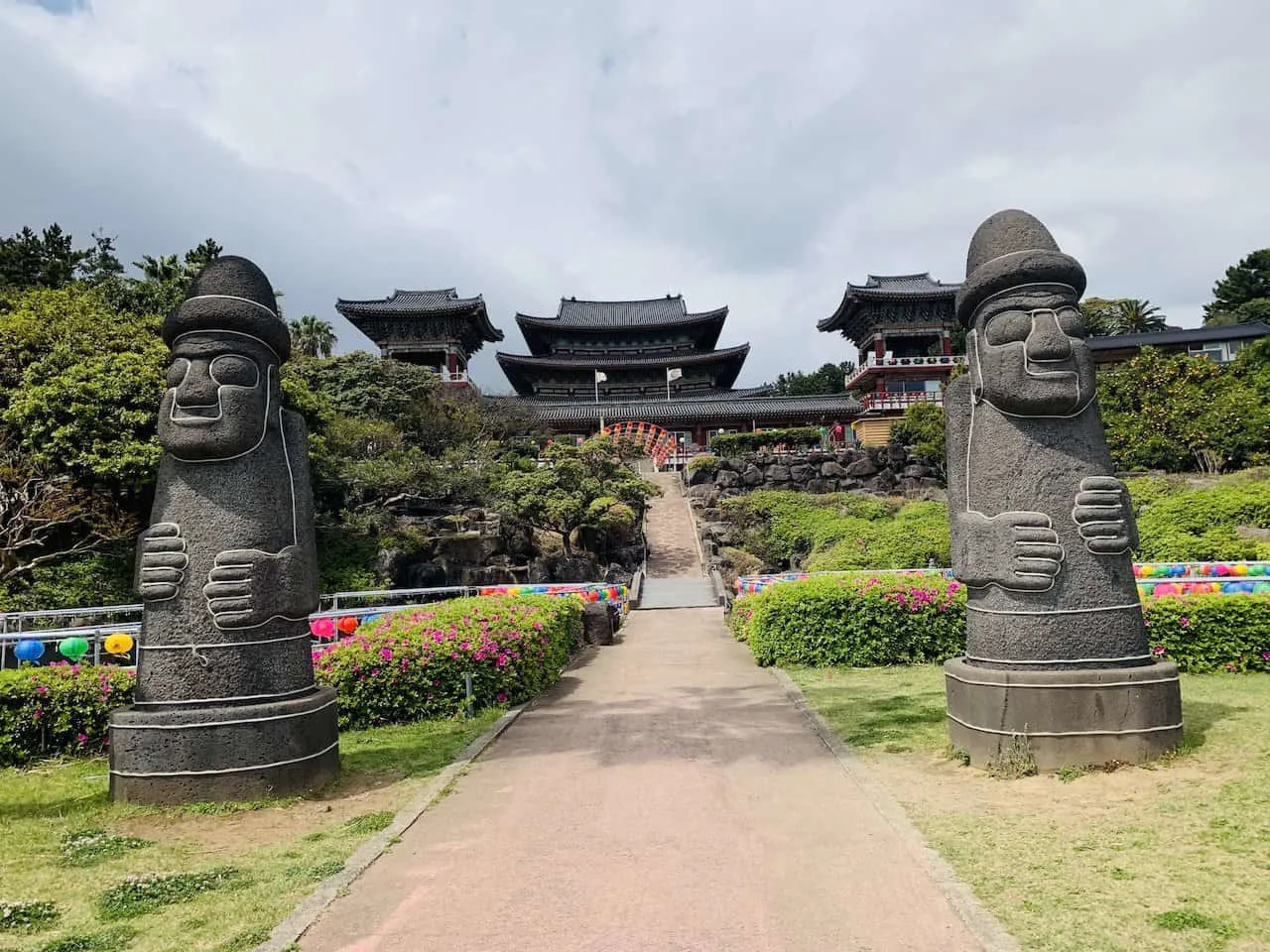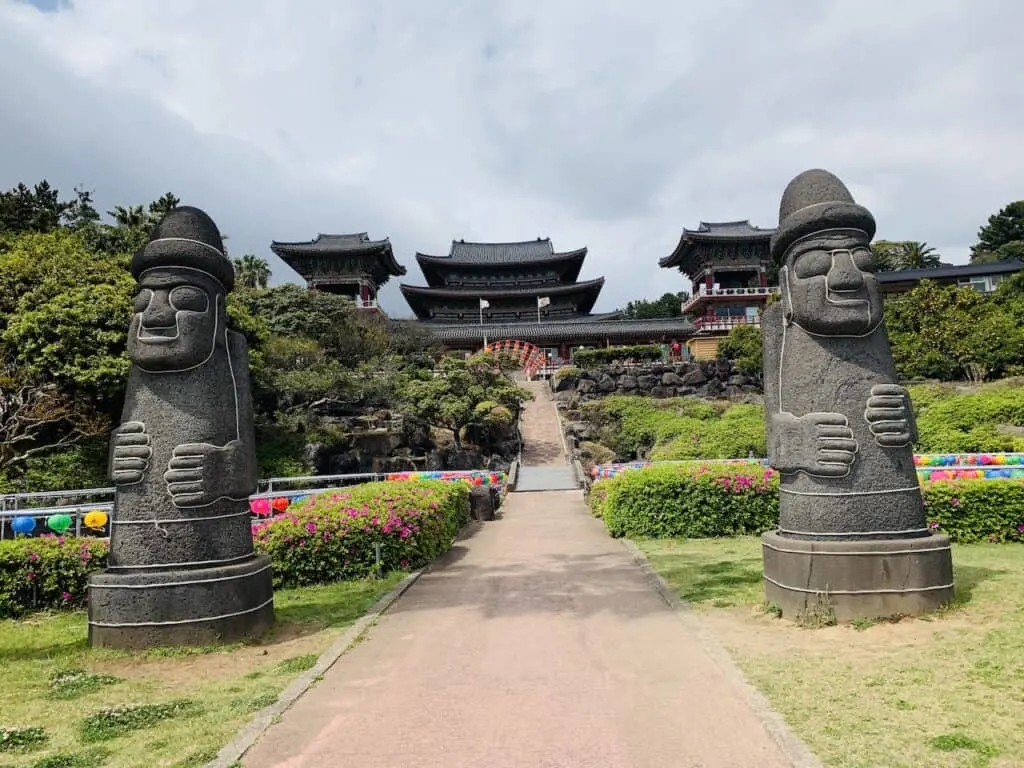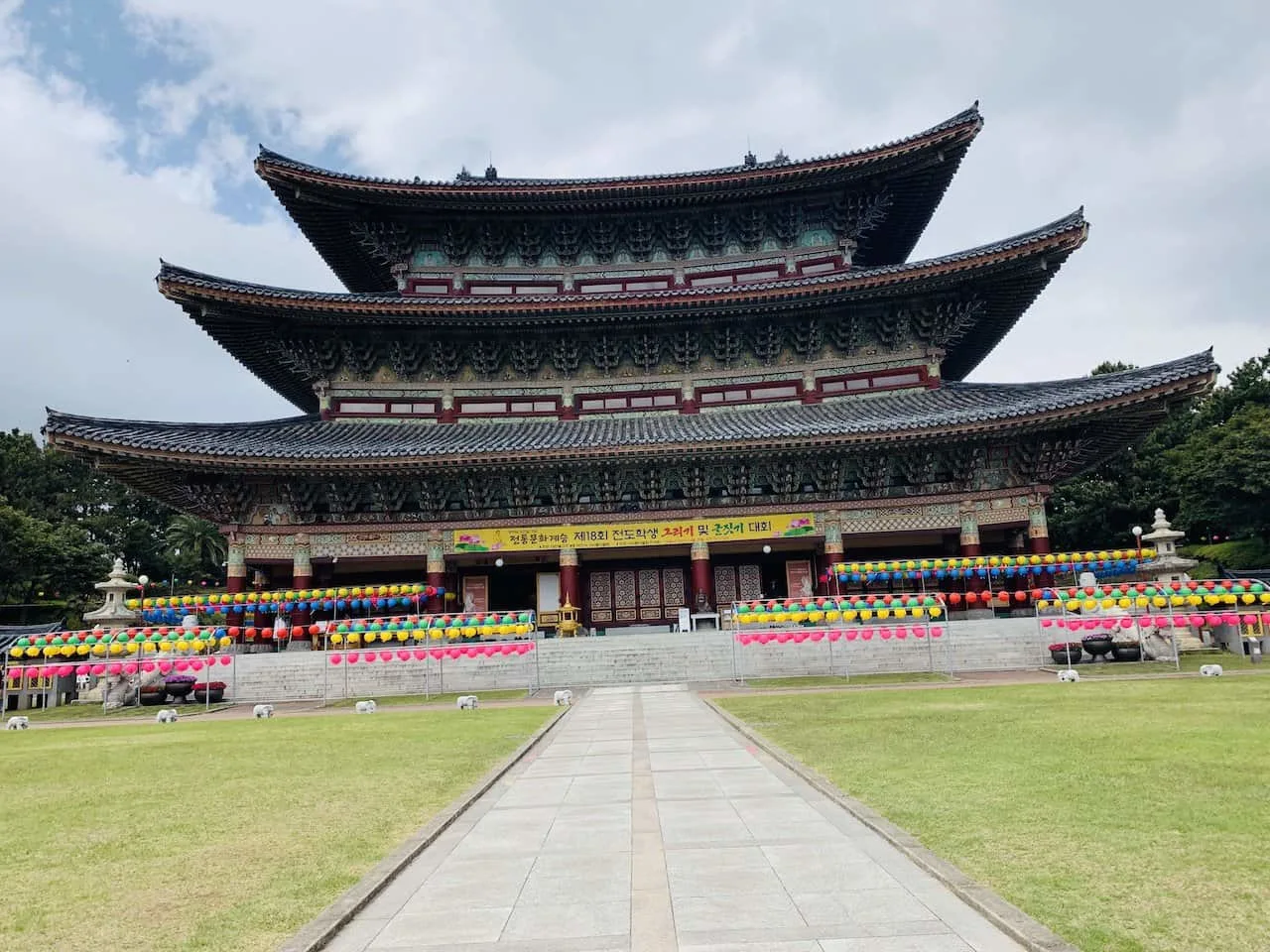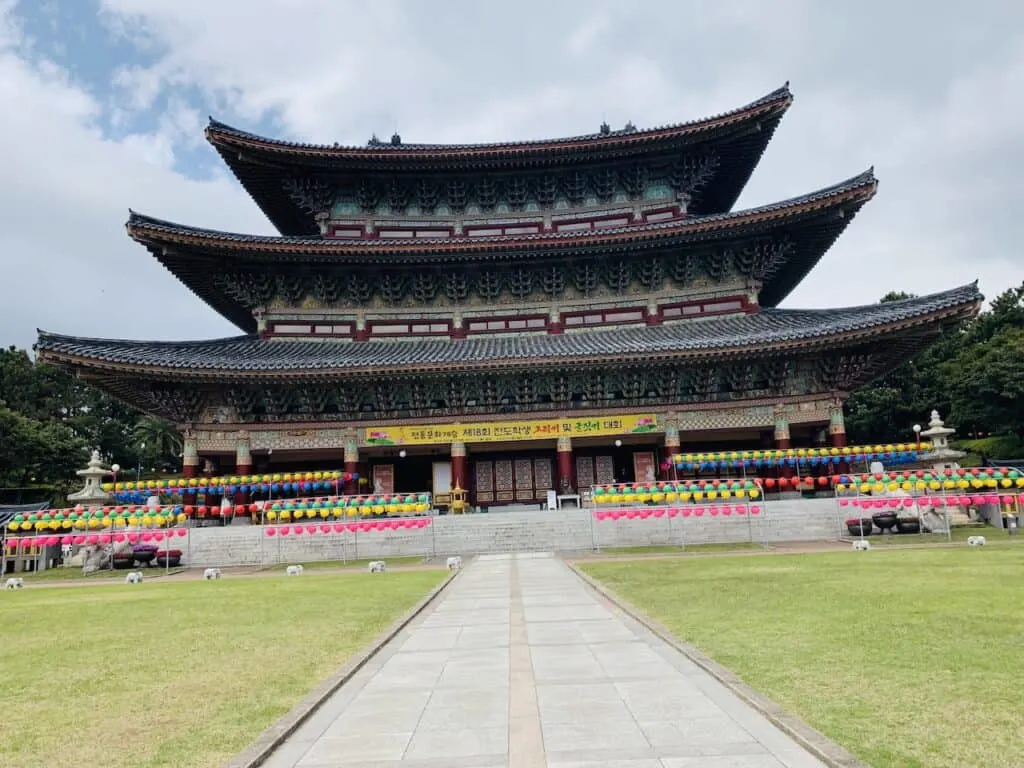 Dharma Drum and Buddhist Bell
From the outside of the main temple, you will be able to see two large pagoda like structures. One of these houses the Dharma Drum and the other has the Buddhist Bell.
It is said that the temple bell weights 18,000 kilograms (nearly 40,000 lbs!).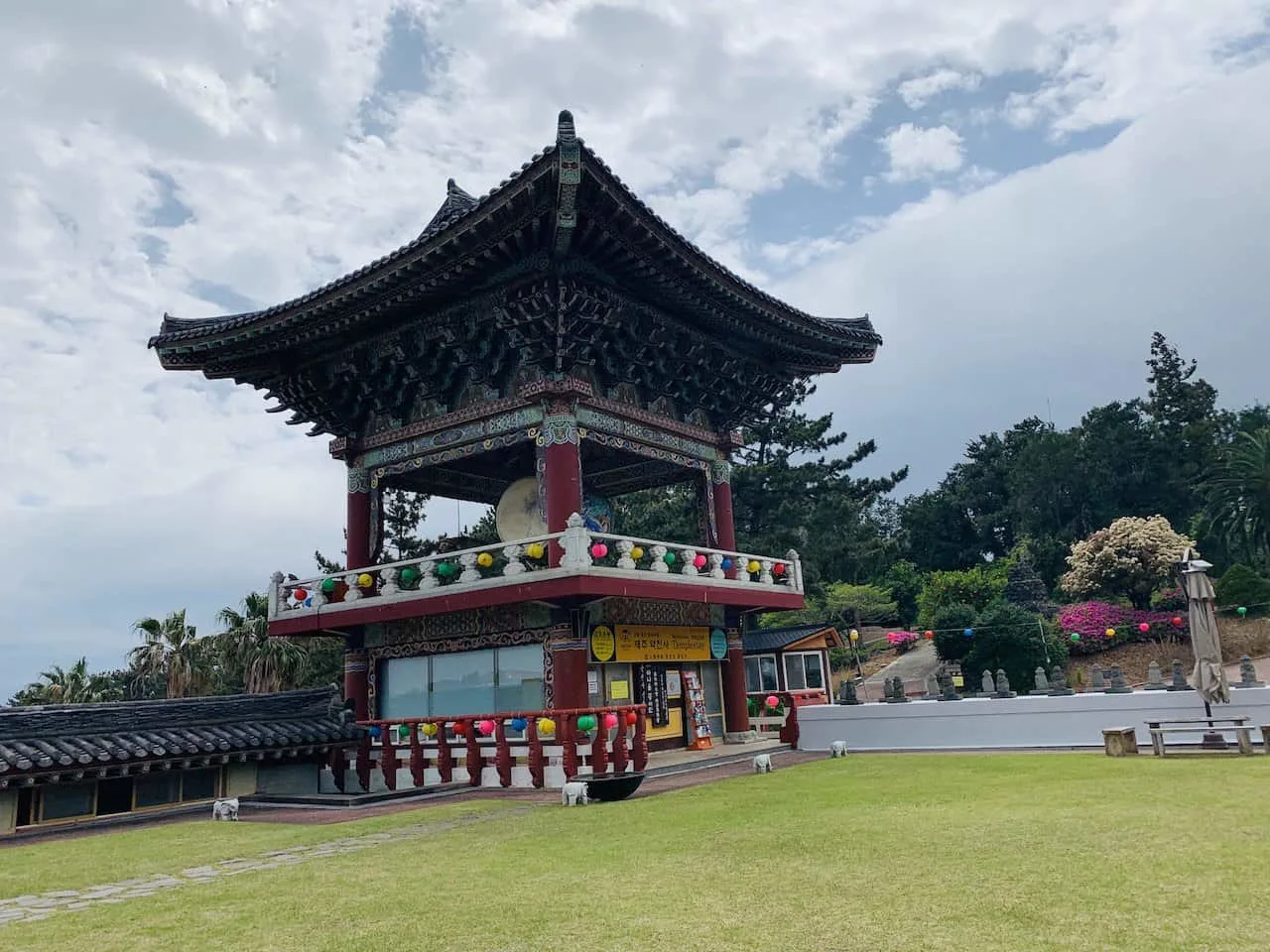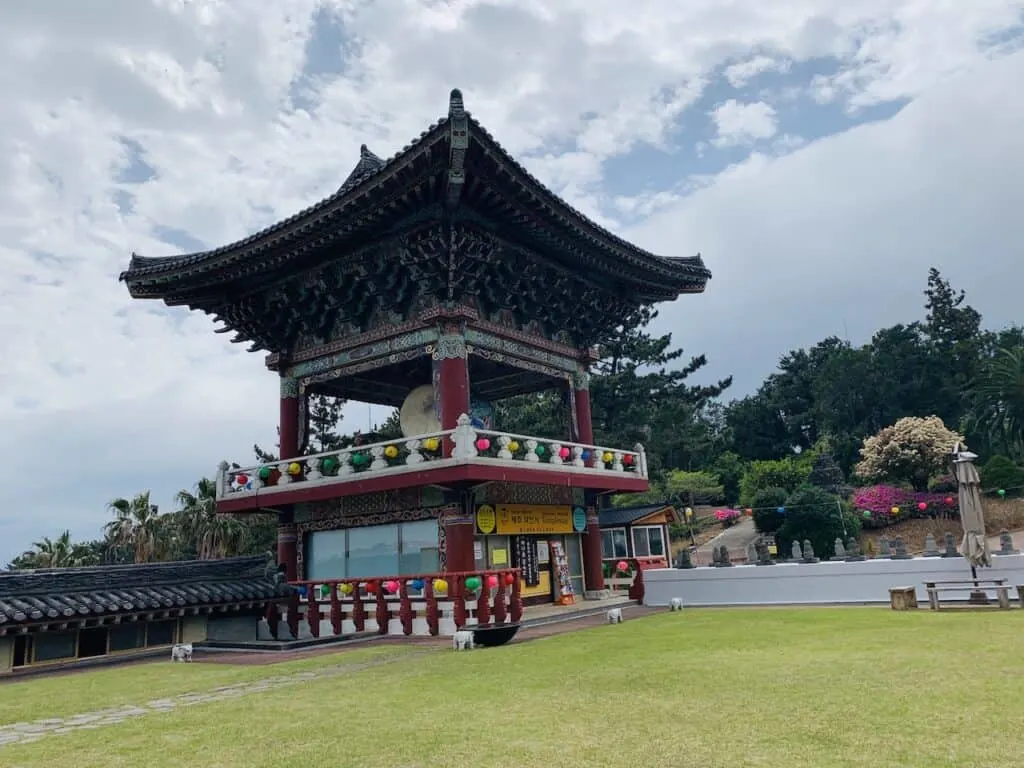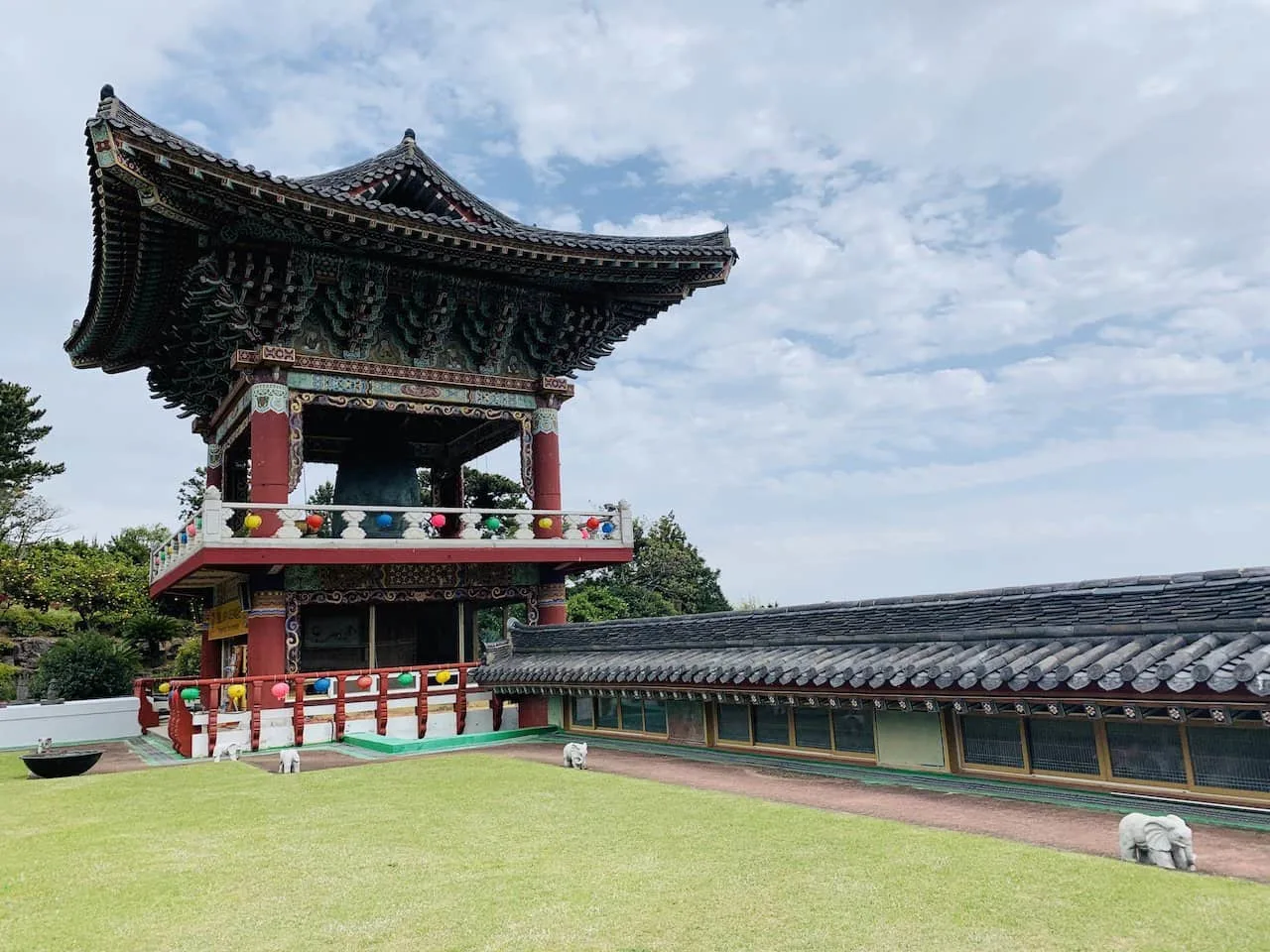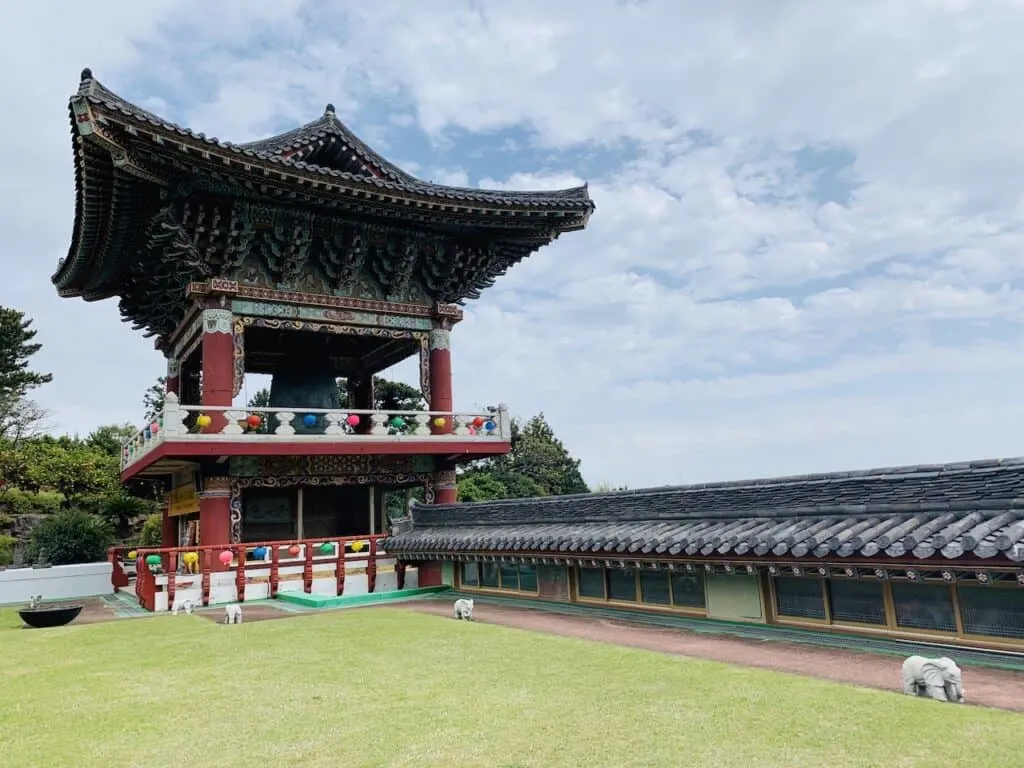 The Great Hall of Virochana Buddha
After taking in the views from the exterior, it is time to head into the main hall of the Yakcheonsa Temple. When it comes to temples I have visited around the world, this one is up there with one of the best.
The temple comes in at 30 meters (100 feet) in height and 3,300 square meters (35,000 square feet) in area. They say this makes it the largest temple in East Asia!
Once you walk into the temple you will be welcomed to a 5 meter / 16 foot tall Vairocana Buddha (the largest wooden Buddha in South Korea). And since it is on a high pedestal, the Buddha will seem even that much larger.
On either side of the main Buddha are two smaller golden ones. These are surrounded by an immense amount of artwork, sculptures, and ornate architecture throughout the main hall.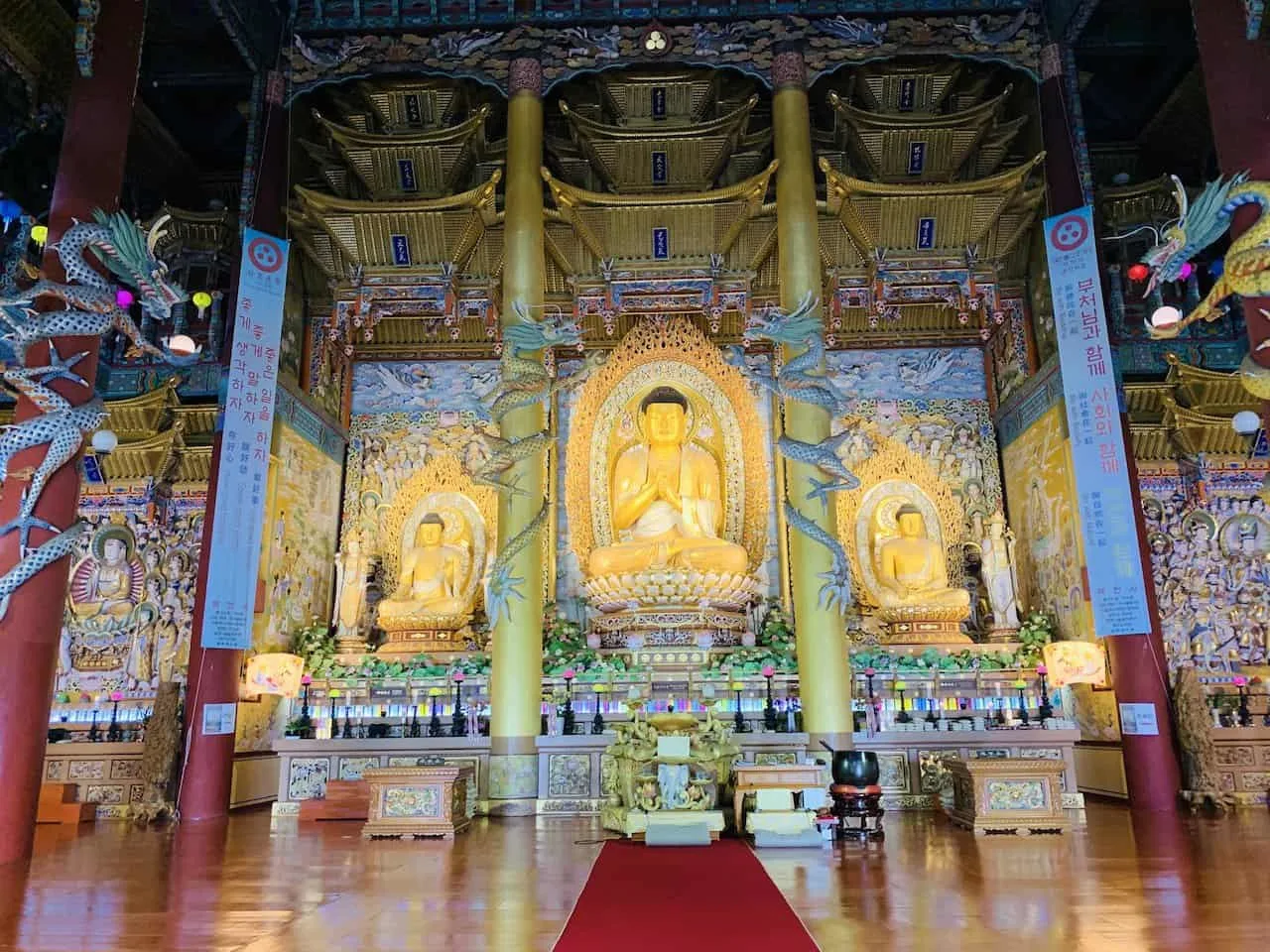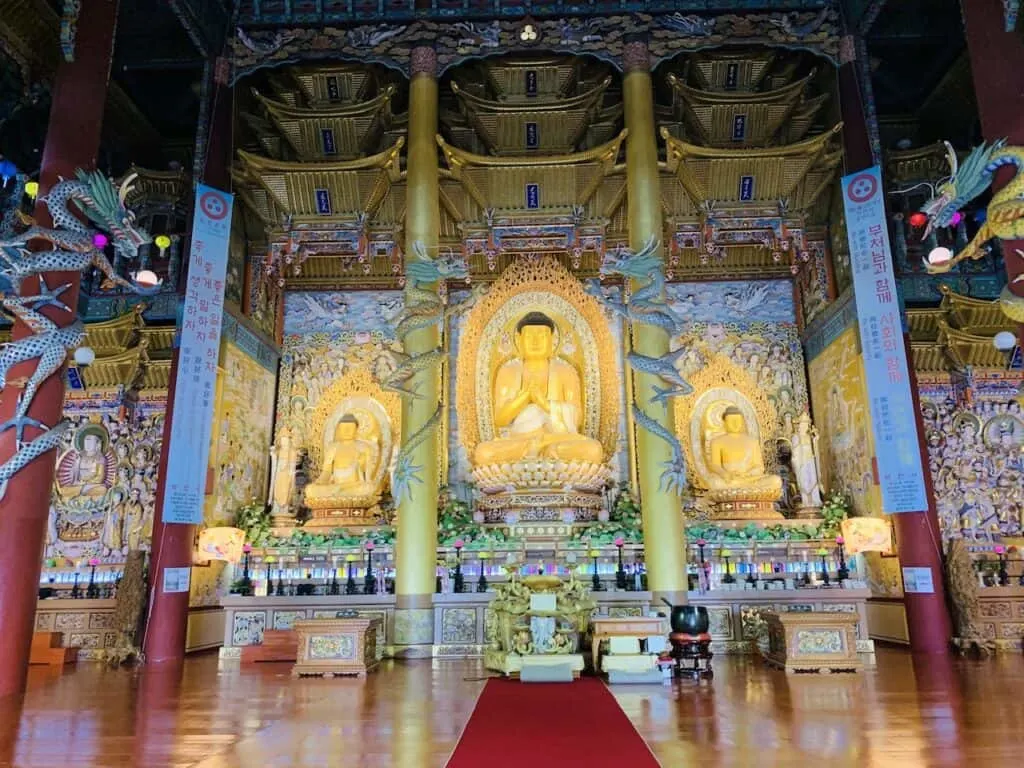 To truly appreciate the Buddha though, head up the staircase to the higher floors. From there, you can get a better view of the Buddha and the temple in general.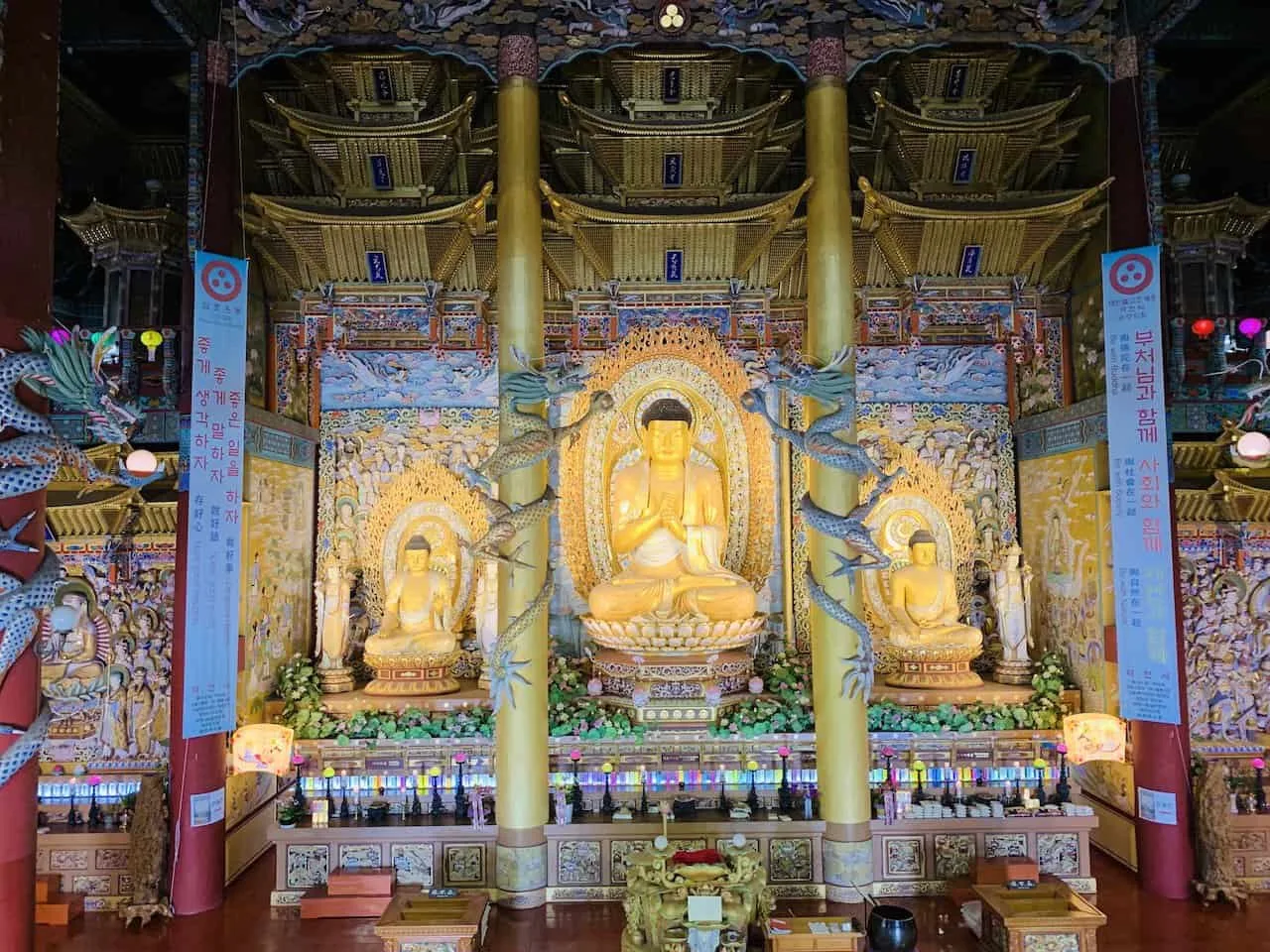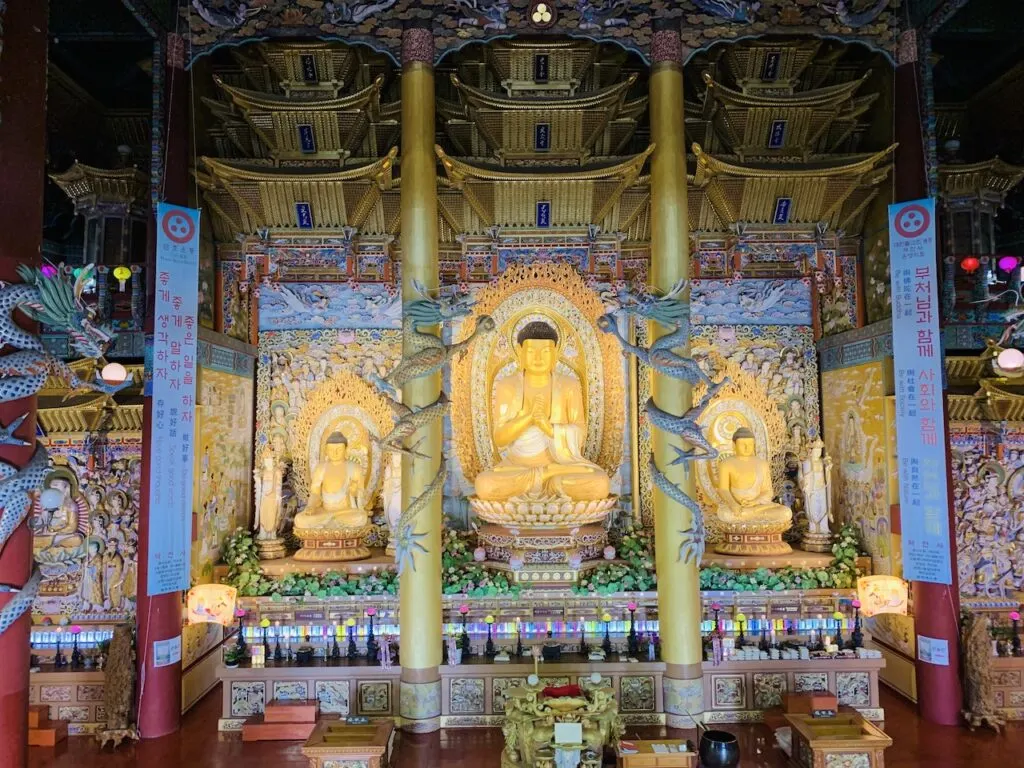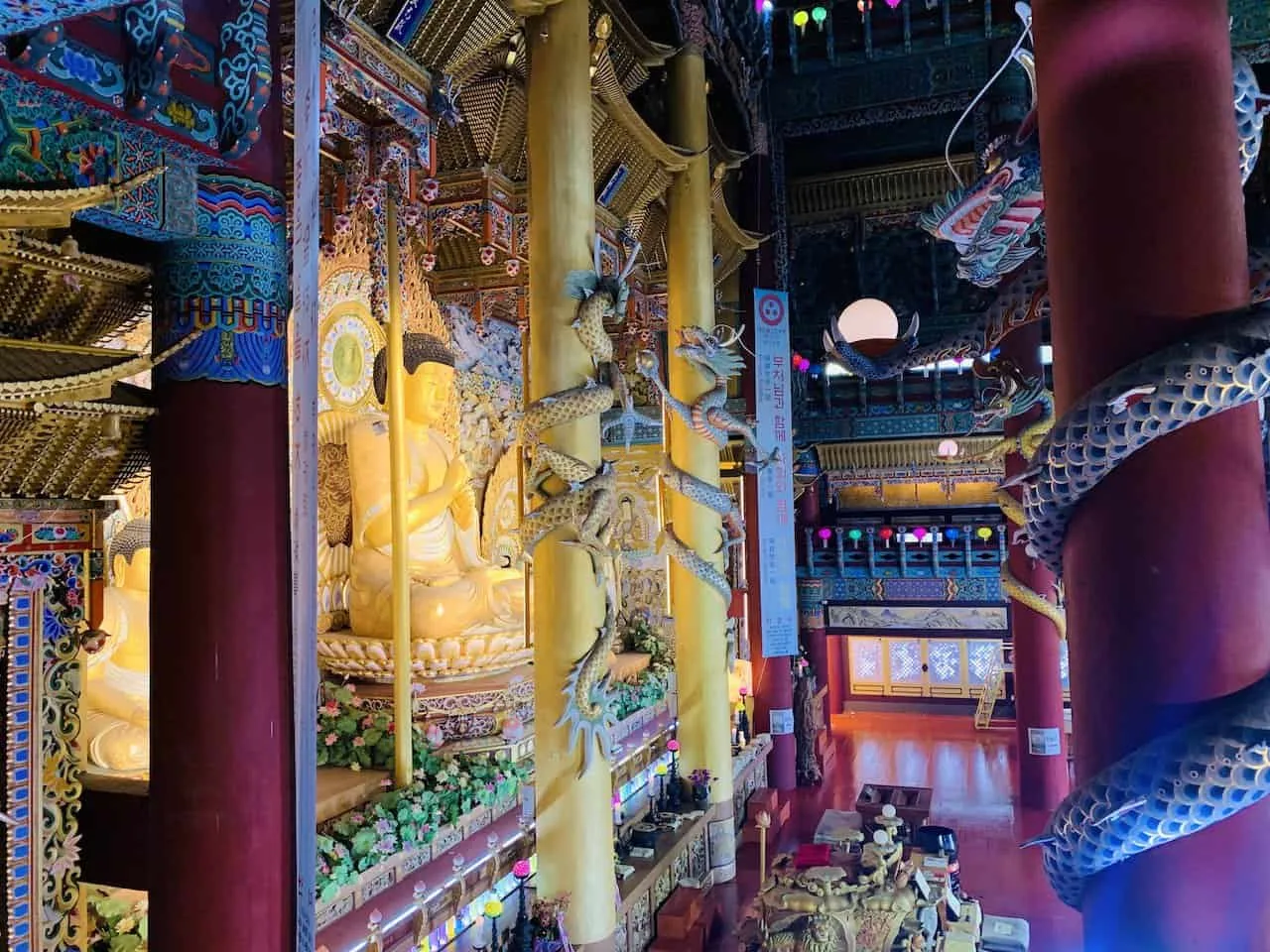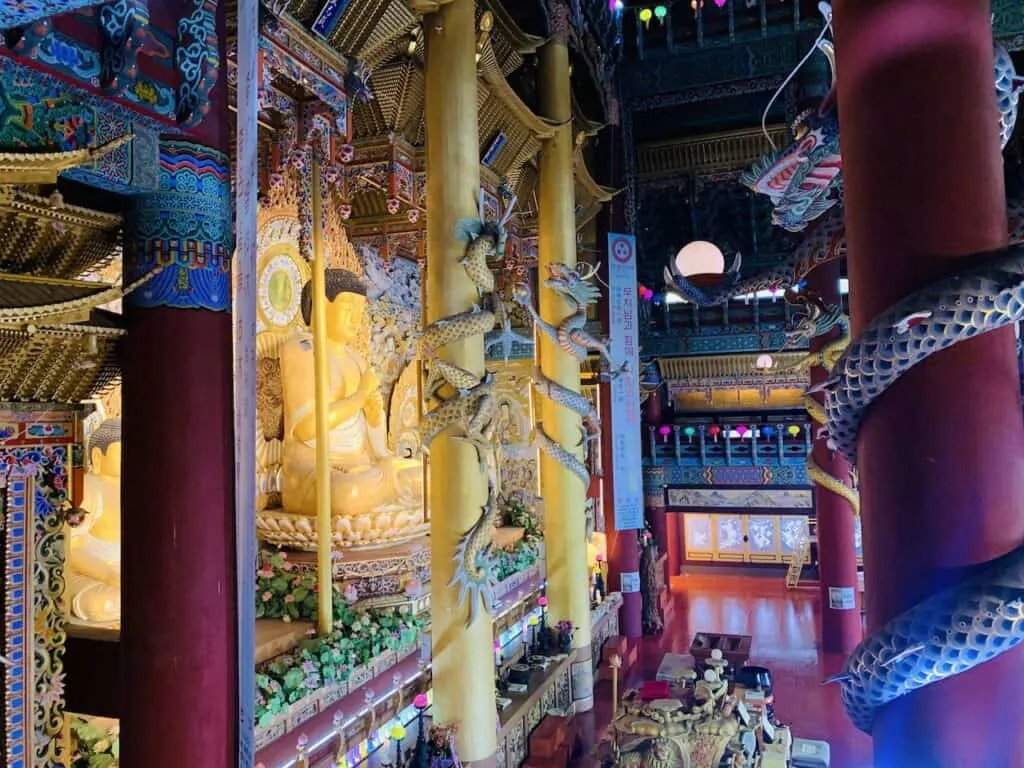 The side hallways that you will be walking through include plenty more golden Buddhas, colorful ornaments, and artwork. It is said that there are 18,000 golden Buddha statues lined up within the temple!
Take some time to check it all out before heading back outside.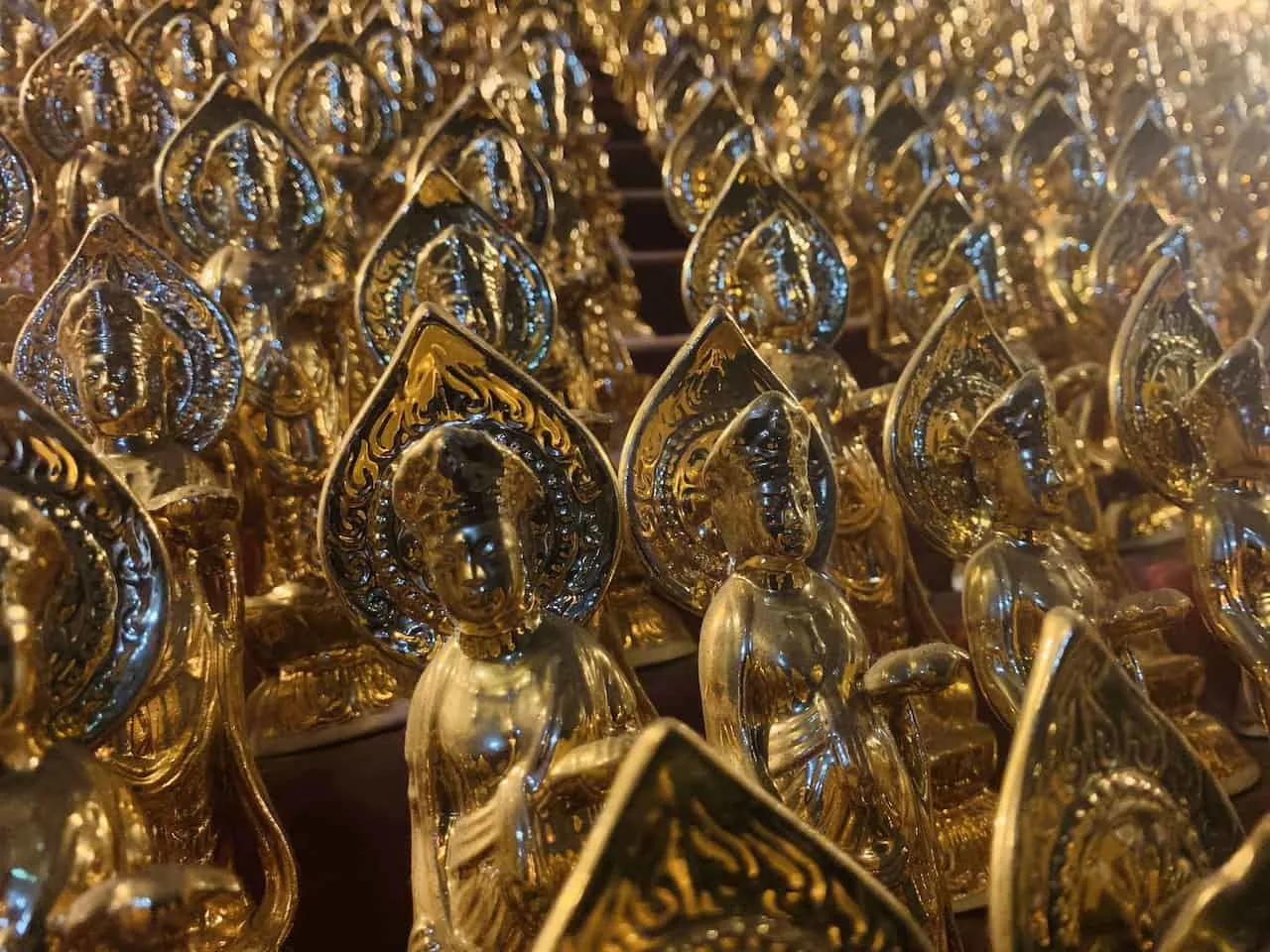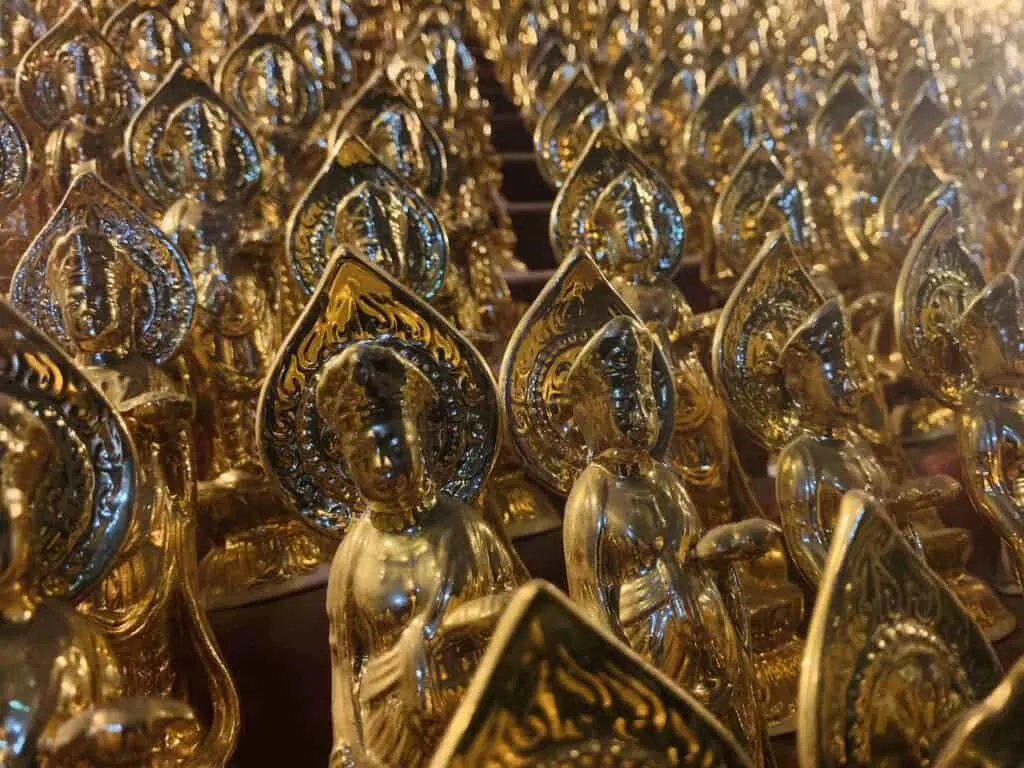 Once all finished up with the main temple, make your way back to the parking lot as you pass by a few other highlights & structures along the way.
It is then off to your next destination on Jeju Island! You can visit some nearby attractions such as: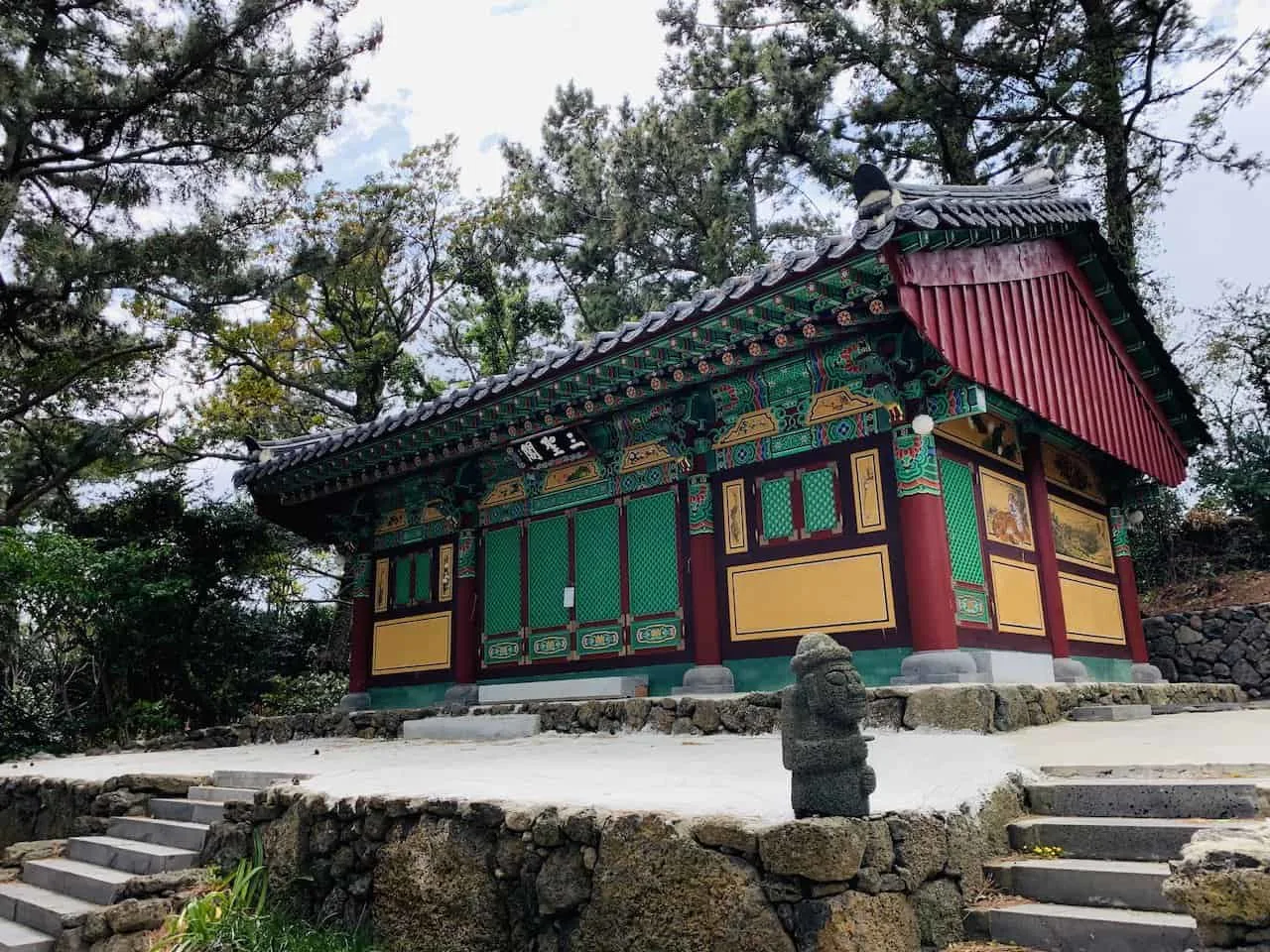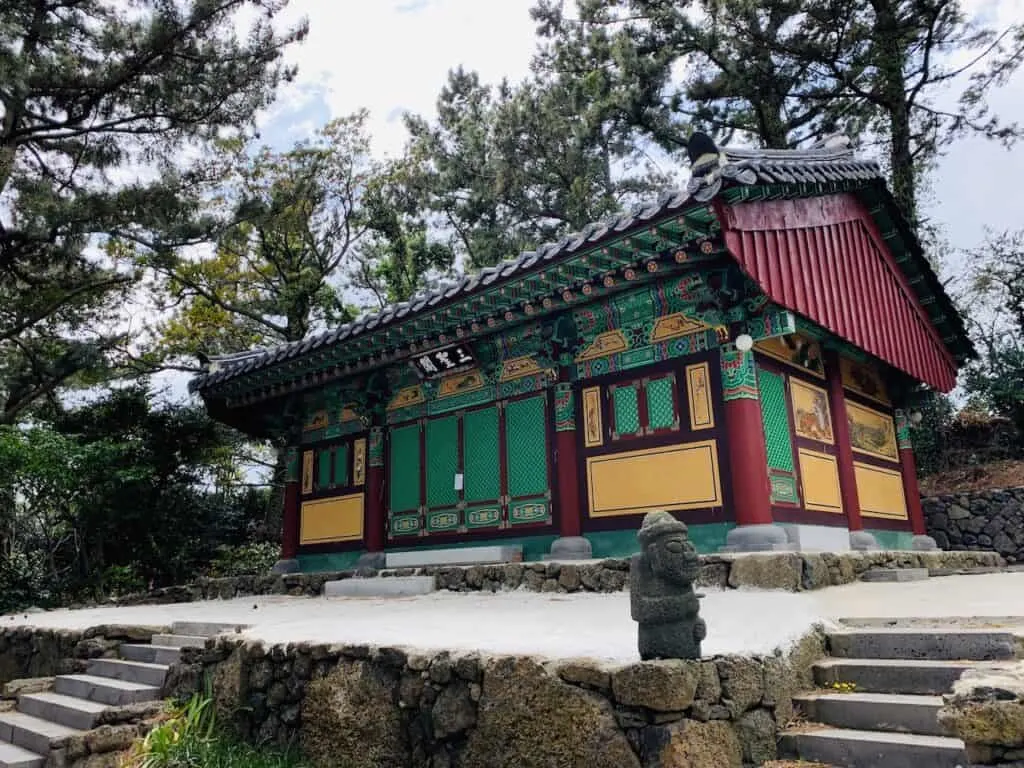 6) Where to Stay in Jeju
When planning a trip to Jeju, you can opt to base yourself in one spot (like Jeju City or Seogwipo), or spend a couple nights in various places around the island.
At the end of the day, this will all depend on your own itinerary.
Below are a few hotel recommendations for these two main places:
Jeju City
Seogwipo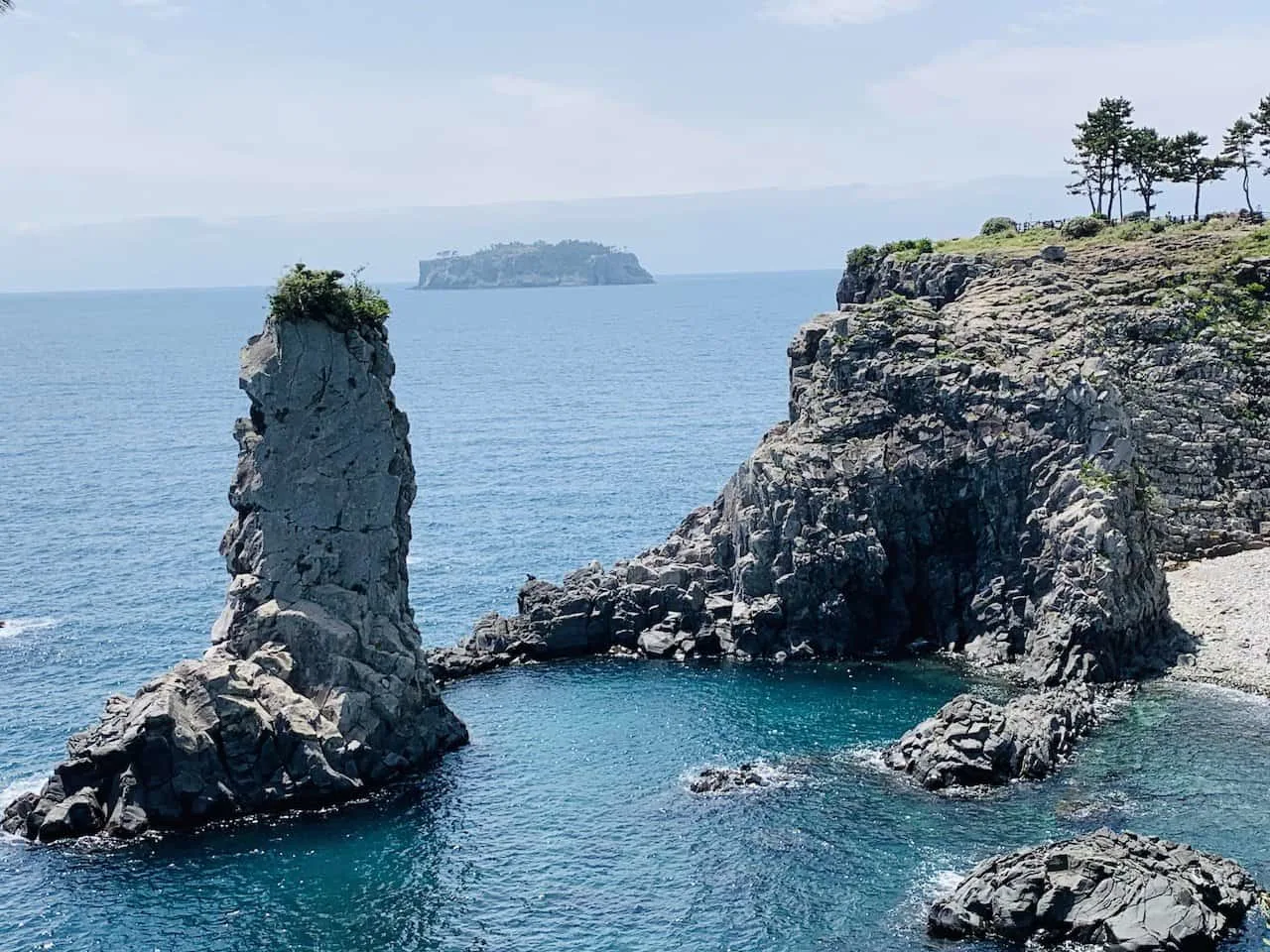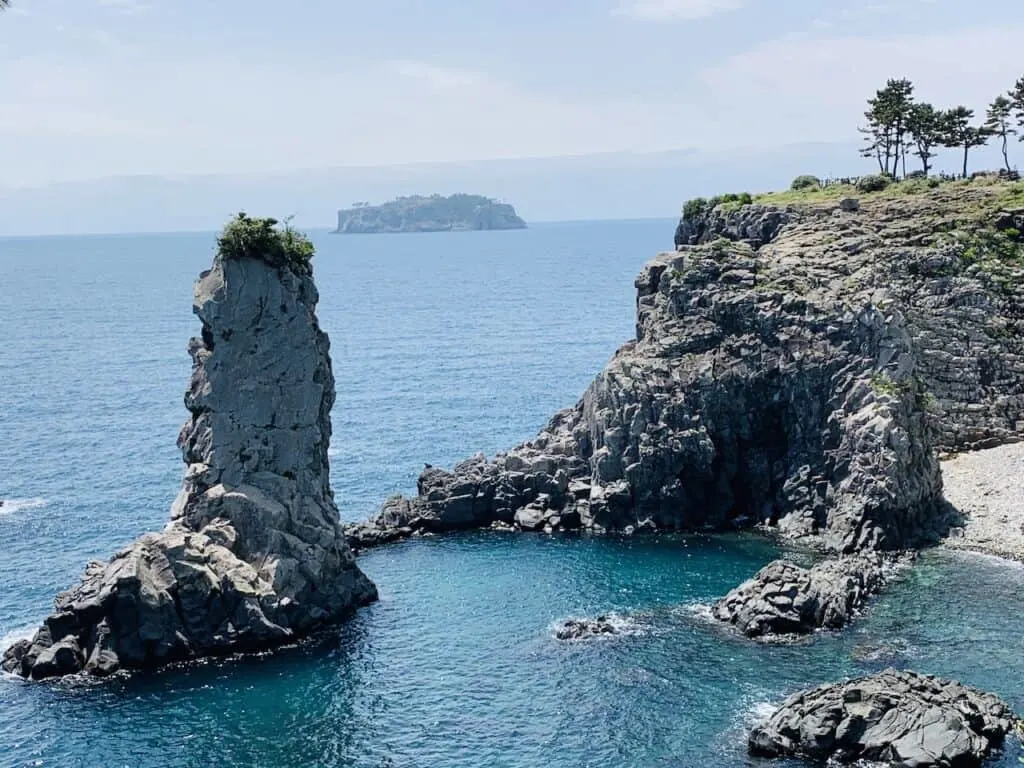 I hope you have a great time at the Yakcheonsa Temple during your time on Jeju. If you have any questions or comments, be sure to add them in below.
Also, don't forget to check out the other South Korea itineraries and guides up on the site.
Have fun out there and safe travels!