Located on the southern coast of Jeju Island are the beautiful Daeopo Jusangjeolli Cliffs.
These unique rock formations were formed thousands of years ago by the volcanic activity of Jeju Island.
Today, visitors have the chance to walk a short pathway to the seaside, where views of the Jusangjeolli Cliffs will be right out in front.
Read on to learn more about the cliffs and how to take part of a visit.
* Affiliate Disclosure: This post may contain affiliate links, which means I may receive a commission if you make a purchase through the links provided, at no additional cost to you. Thanks for supporting the work I put into TripTins!
1) Jusangjeolli Cliffs Facts & History
To gives a short background of the history, here are a some quick facts & things to know:
The Jusangjeolli Cliffs were formed thousands of years ago as a result of a Mount Hallasan eruption. The lava flowed from the volcano down to the seaside, where these cliffs took shape.
These are no normal cliffs though. The rock pillars are in the shapes of hexagons (similar to the Giant Causeway of Ireland). As a quick lesson on the scientific formation of these hexagons, this is the excerpt from the informational board:
"On surfaces of lava, hexagonal joints are formed. Columnar joints arise from contraction of molten lava during cooling, which splits the rock into polygonal columns. It is also called tortoise shell joint as its hexagonal shape resembles its shell. Columnar joints are formed at around 900 C in basaltic lava. Faster cooling leads to narrower columns and striae on the surface of the columnar joints."
Due to its unique natural landscape and history, the Jusangjeolli Cliffs were named a Natural Monument (number 443) back in 2005.
Today, visitors have the chance to walk the short trail from the entrance to see these seaside lava columns from some viewpoint lookout spots.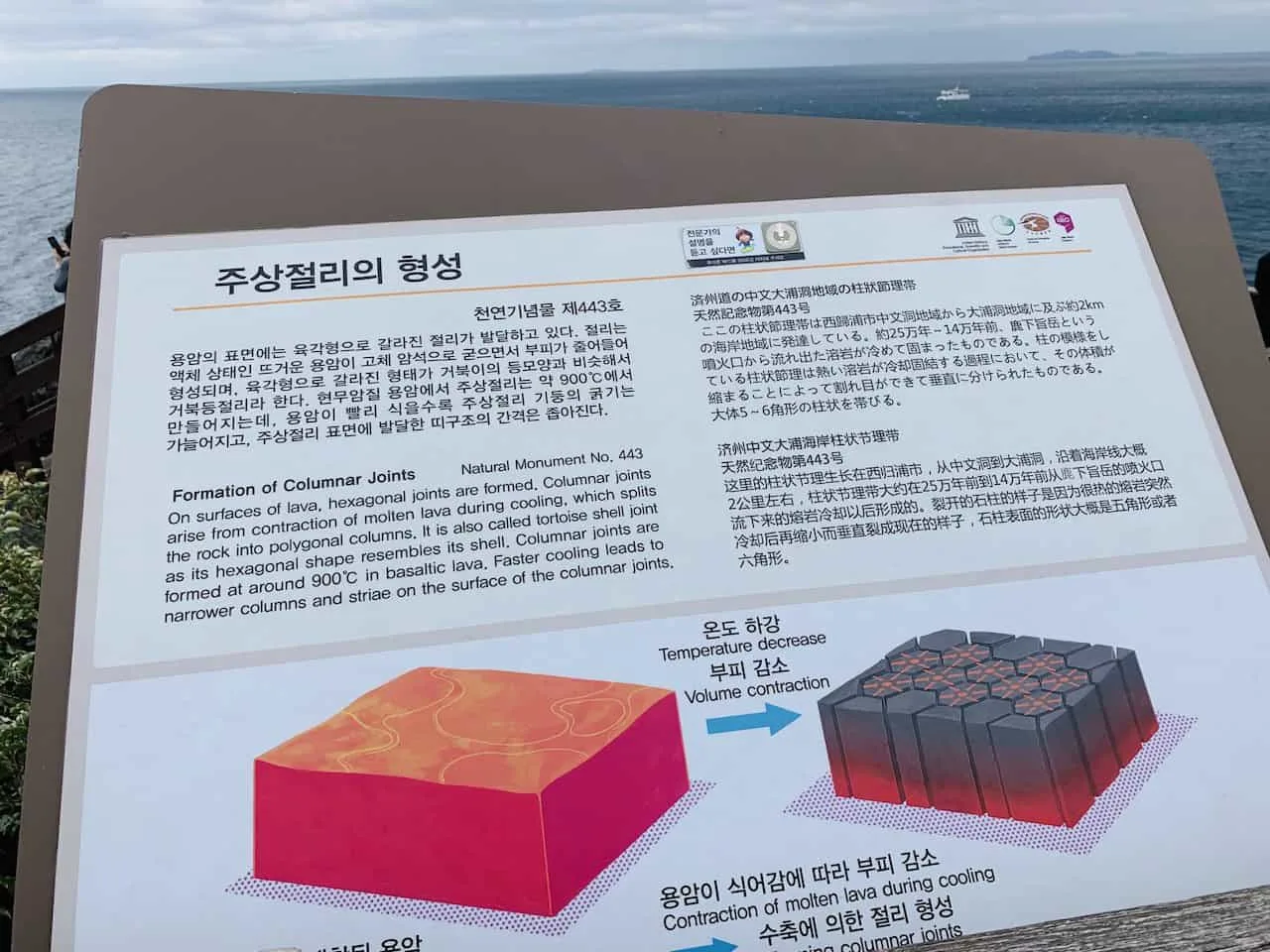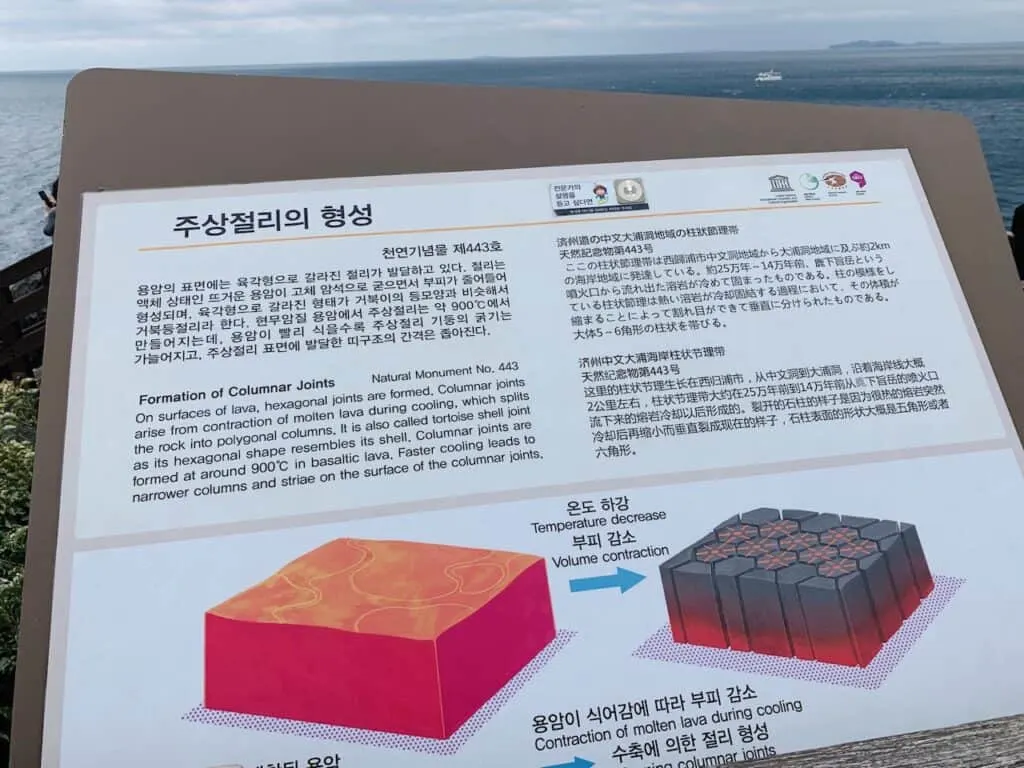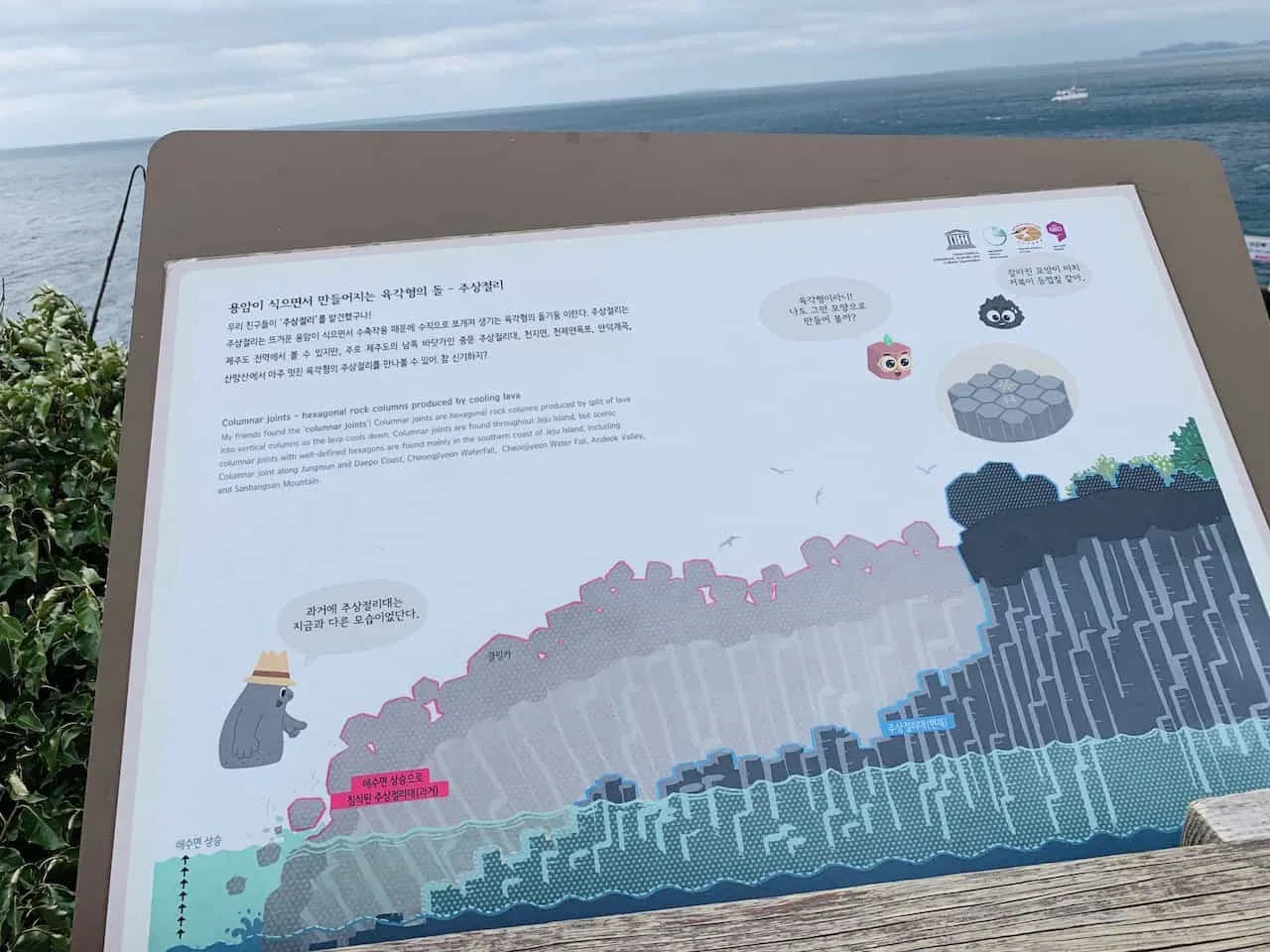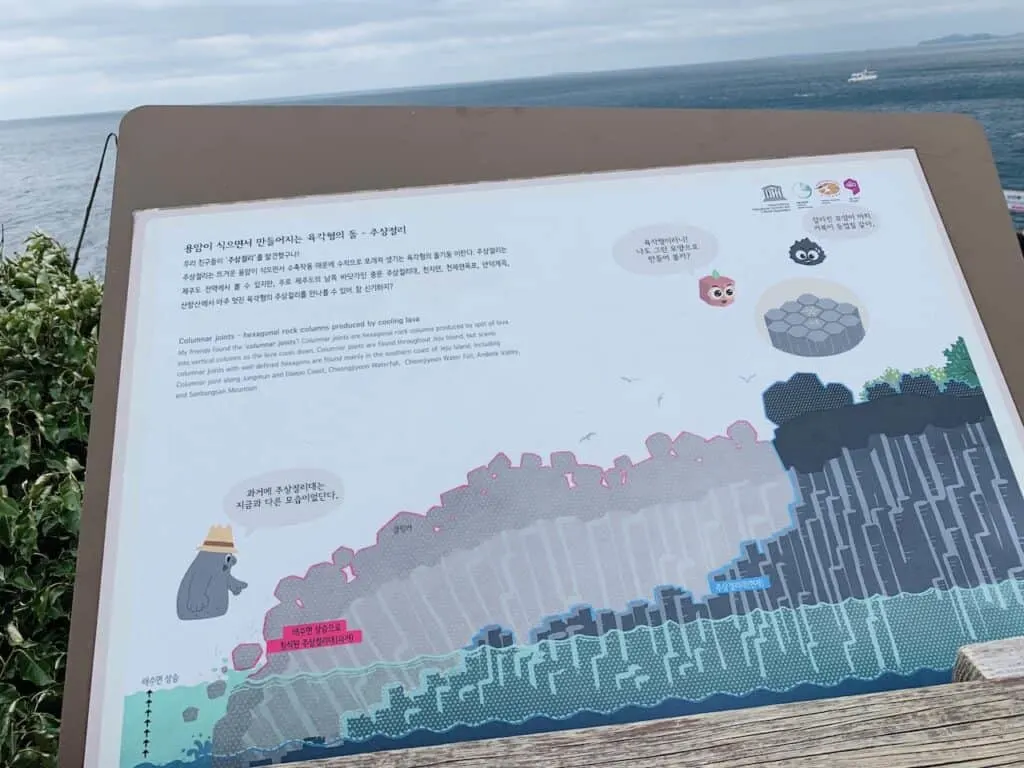 2) Jusangjeolli Cliffs Opening Hours & Tickets
Below are the opening hours & ticket prices to visit the cliffs:
Opening Hours: 9:00AM – 6:00PM (note that closing hours may vary by time of year)
Ticket Cost: 2,000 won (adult) & 1,000 won (child)
In addition to the ticket price, there is also a 500 won parking fee.
Altogether you are only looking at a few dollars in order to visit the cliffs.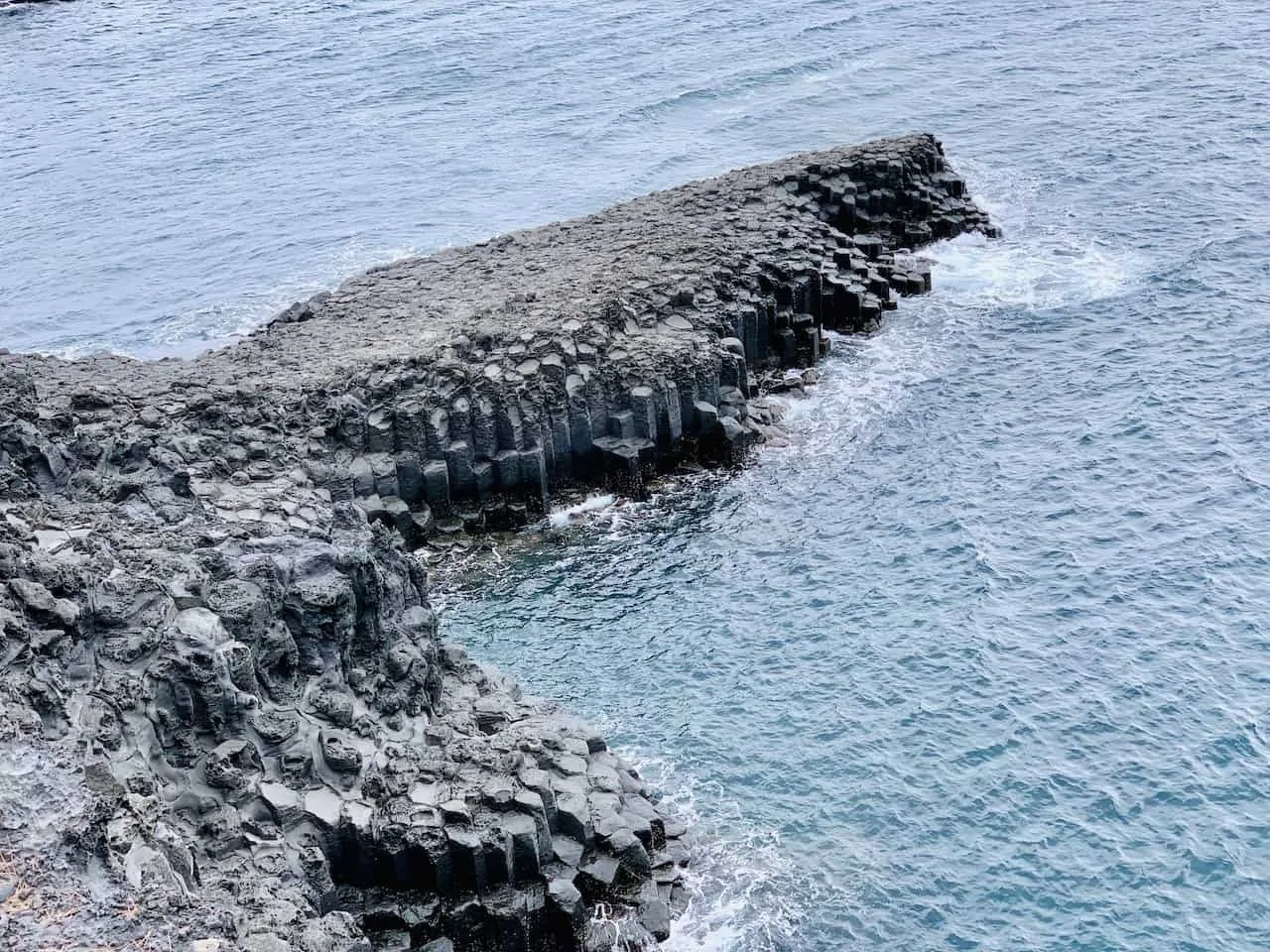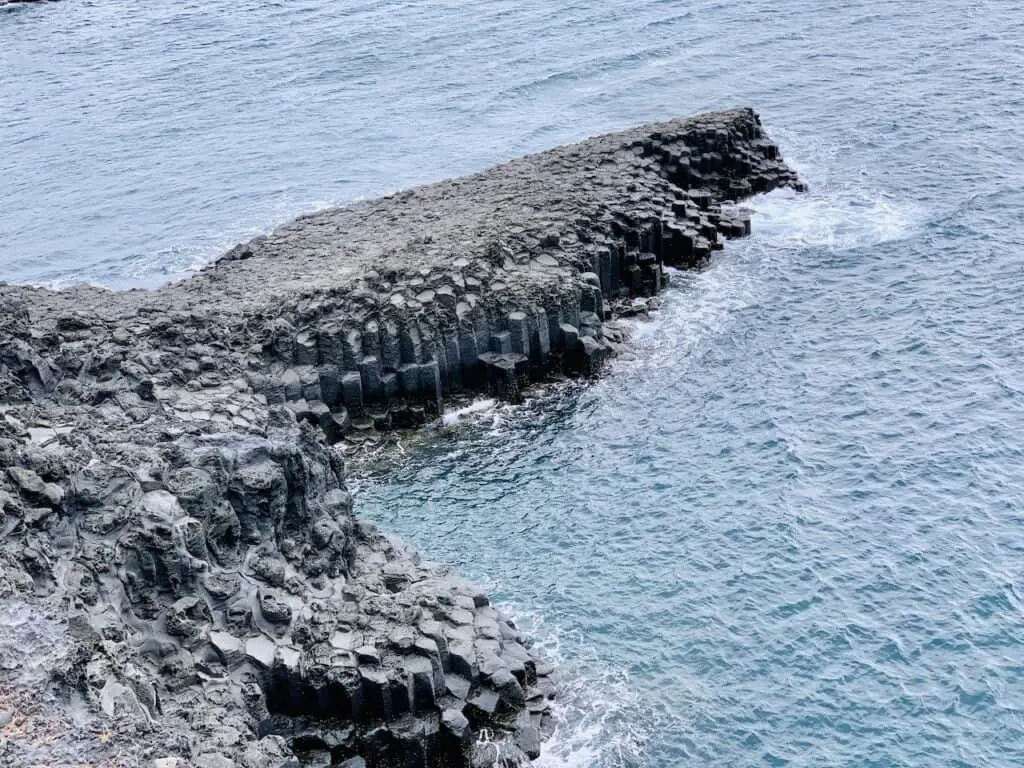 3) How Do I Get to Jusangjeolli Cliffs
In general, there are three main ways to go about a visit to Jusangjeolli Cliffs (and other places around Jeju Island) – rental car, bus, or tour.
Rental Car
When exploring Jeju, I would recommend renting a car in order to explore at your own pace. You will be able to be on your own schedule and not need to worry about public transport.
This will not only help when visiting Jusangjeolli, but also when visiting any other top spots you have on your Jeju Island to do list (like the Mysterious Road, Manjanggul Cave and Seongsan Ilchulbong).
If driving a car, you will be welcome to a parking area just by the main entrance.
Feel free to check out Rentalcars.com for potential options. You will be able to see a variety of cars by price, size, and type, so you can choose the one best for you.
Bus
There is also an extensive public transport network on Jeju Island, so you should be able to leverage it during your time there.
Below are the steps to reach the cliffs from Jeju City and Seogwipo:
From Jeju City: the easiest way from Jeju City is to hop on the hour long #600 Airport Limousine Bus that takes you right to the Jeju International Convention Center (ICC). Once there it is a quick 10 minute walk to the waterfall entrance.
From Seogwipo: you can also grab the #600 from Seogwipo (among other busses) that can bring you the 20 minutes to the ICC. Once there you can walk to the entrance as well.
Tour
Instead of worrying about renting a car or figuring out public transport, you can also make your way to Jusangjeolli and other highlights (such as Seopjikoji) by joining a group or private tour.
Also note that you could just hire a taxi to take you back & forth if you don't want to go for a tour option.
Tour Booking Option: Check out this customizable Private Jeju Tour that can take you all around the island during your trip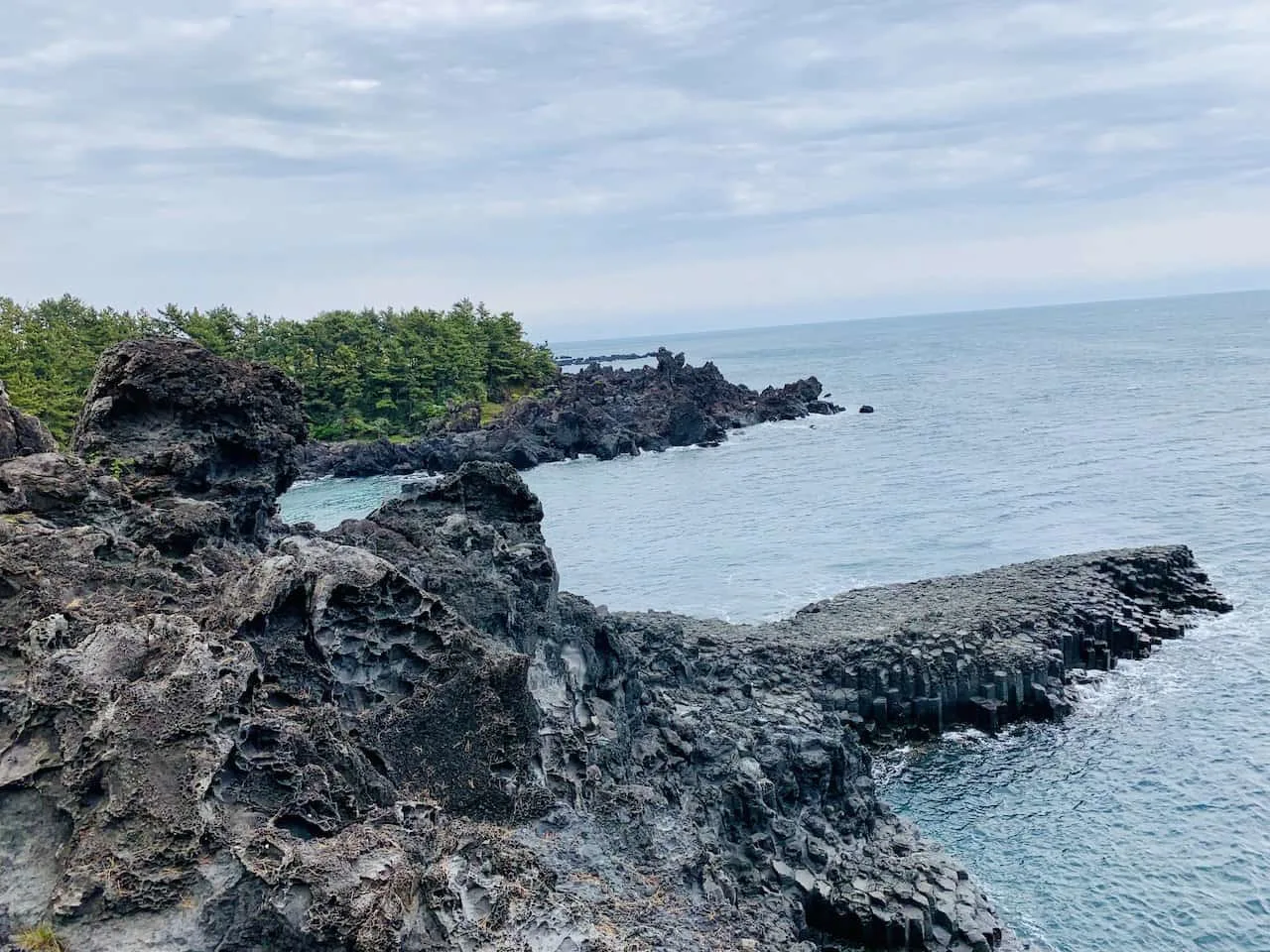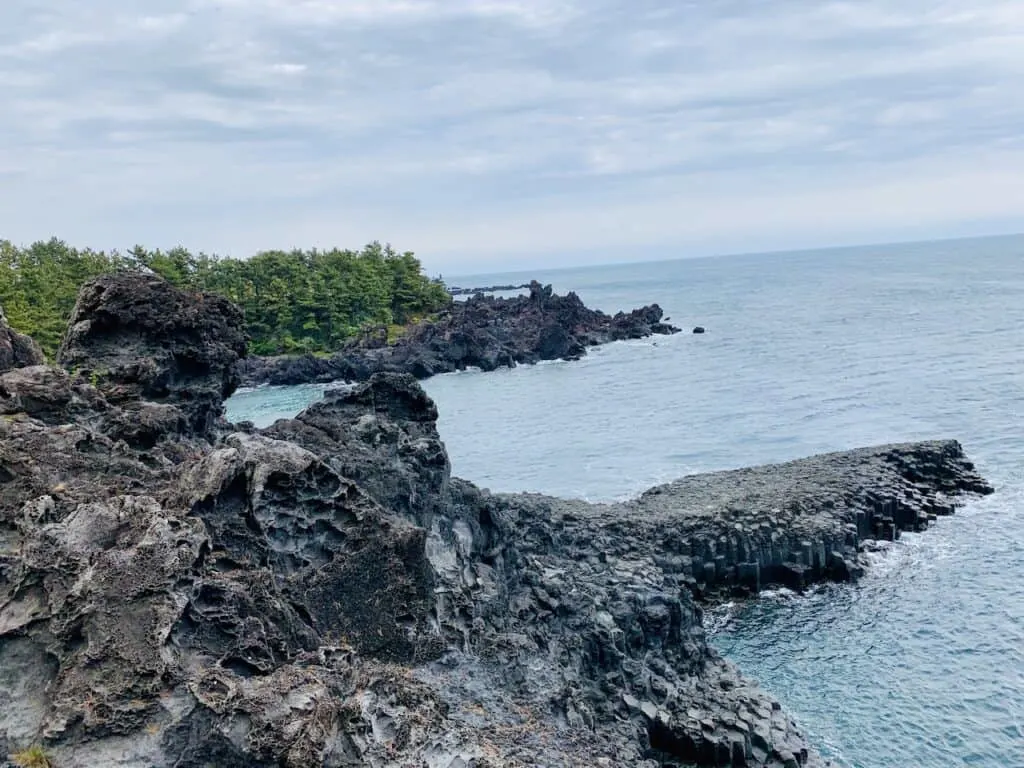 Learn More About Jeju: Check out this guide that goes over the best things to do in Jeju Island
4) Jusangjeolli Cliffs Map & Entrance
Below you can find a map of the Jusangjeolli Cliffs to get a better idea of where they are located on Jeju Island.
During a visit to the cliffs, you can also visit other nearby attractions such as the Cheonjeyeon Waterfall and Jeongbang Waterfall.
5) Visiting the Jusangjeolli Cliffs
Once you arrive at the parking lot, you will see a large plaza, which has some food vendors, restrooms, and the ticket office on the far end.
After buying your ticket, you will be able to walk through a scenic park area, before continuing on the pathway towards the tree line.
Here you will find a series of staircases & boardwalks that will lead you down towards the viewpoint area.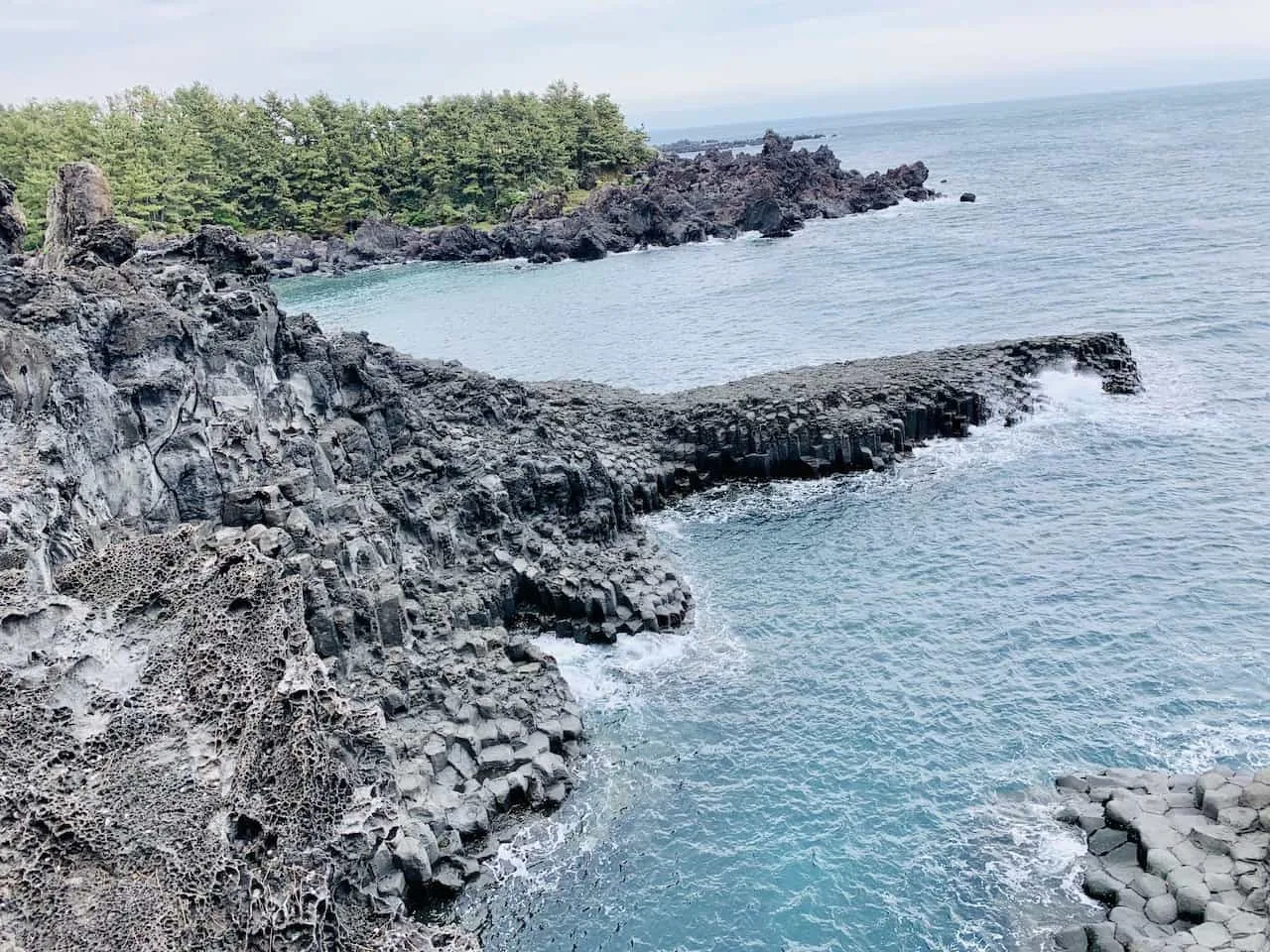 While there are some nice views in all directions as you walk along, you will soon arrive at the main Jusangjeolli Cliffs spot.
You can relax up here, enjoy the view, and take some photos of these lava columns before continuing up and along the pathway.
From there, the path heads back up through the trees and loops back around to the park area.
If you are up for it, you can explore more of the coastline within the park after visiting the main attraction.
All said and done, a visit to the Jusangjeolli Cliffs should be around 30 minutes or so. If you would like to walk around the larger park area, it may be a bit longer than that.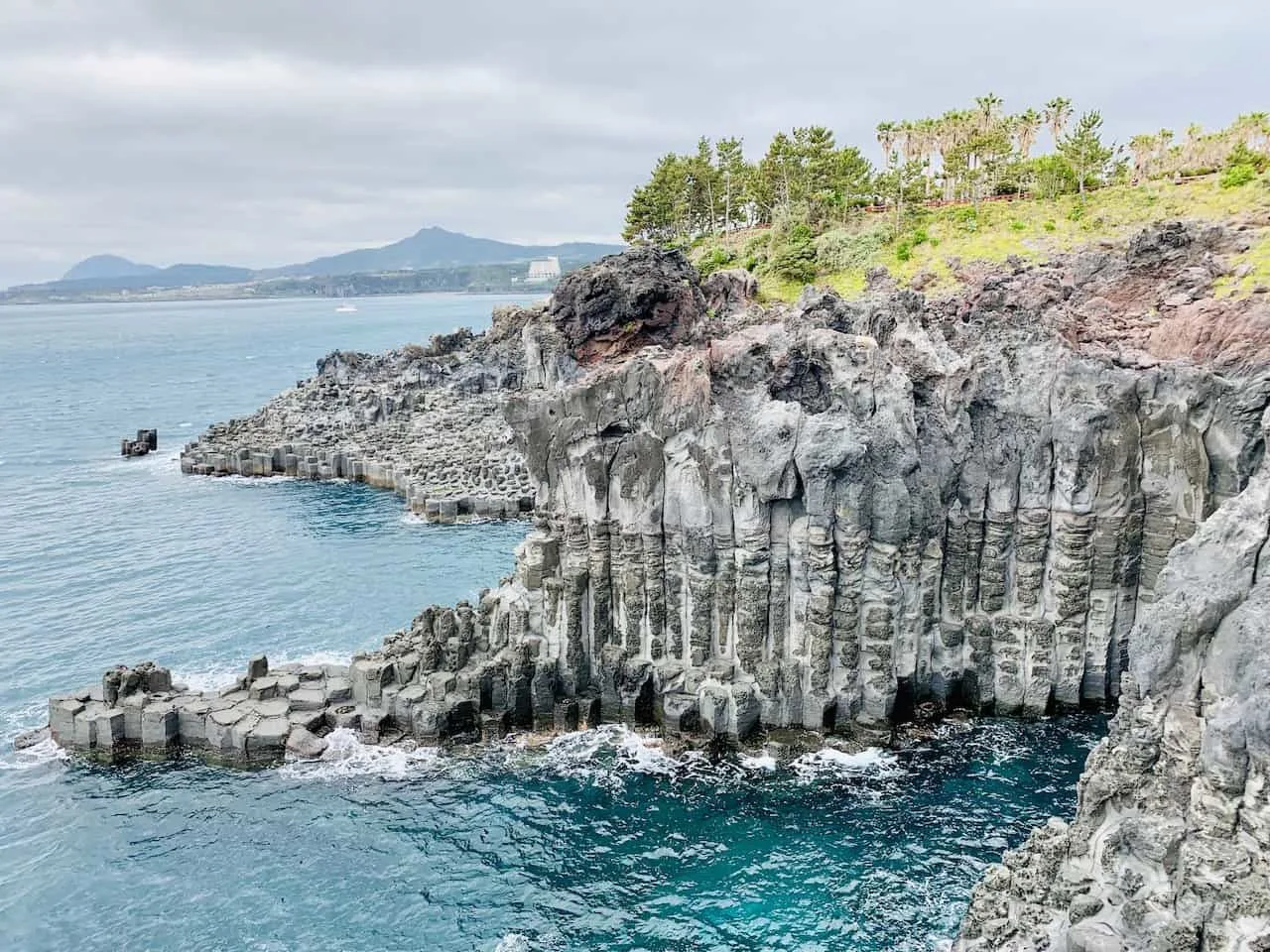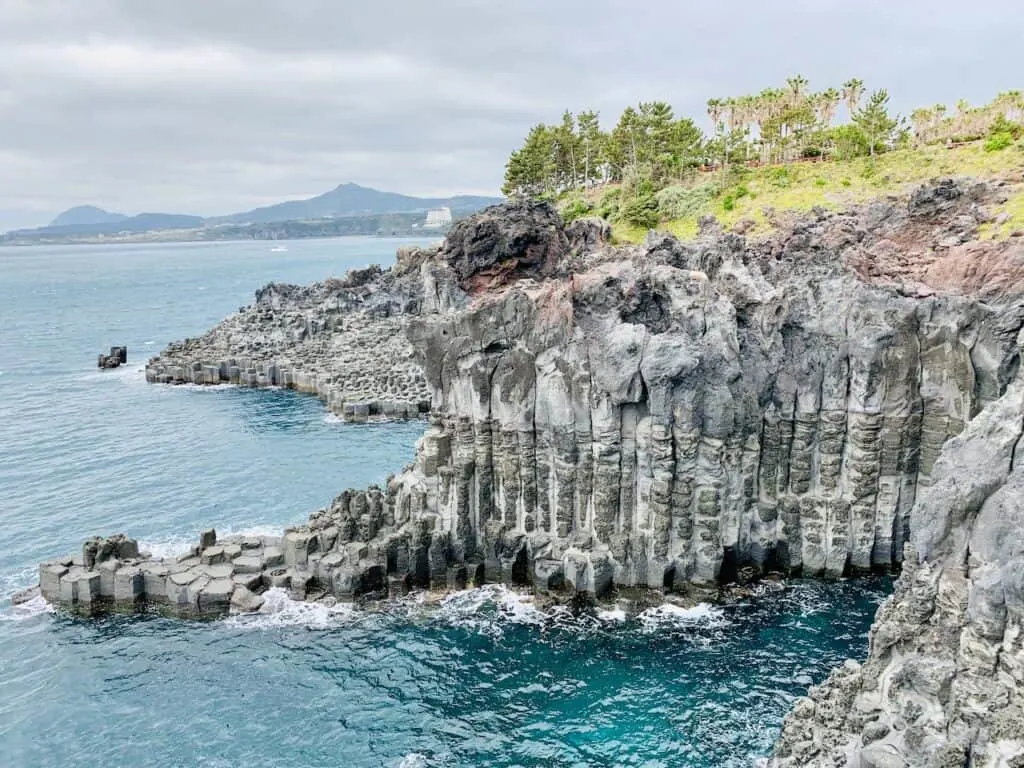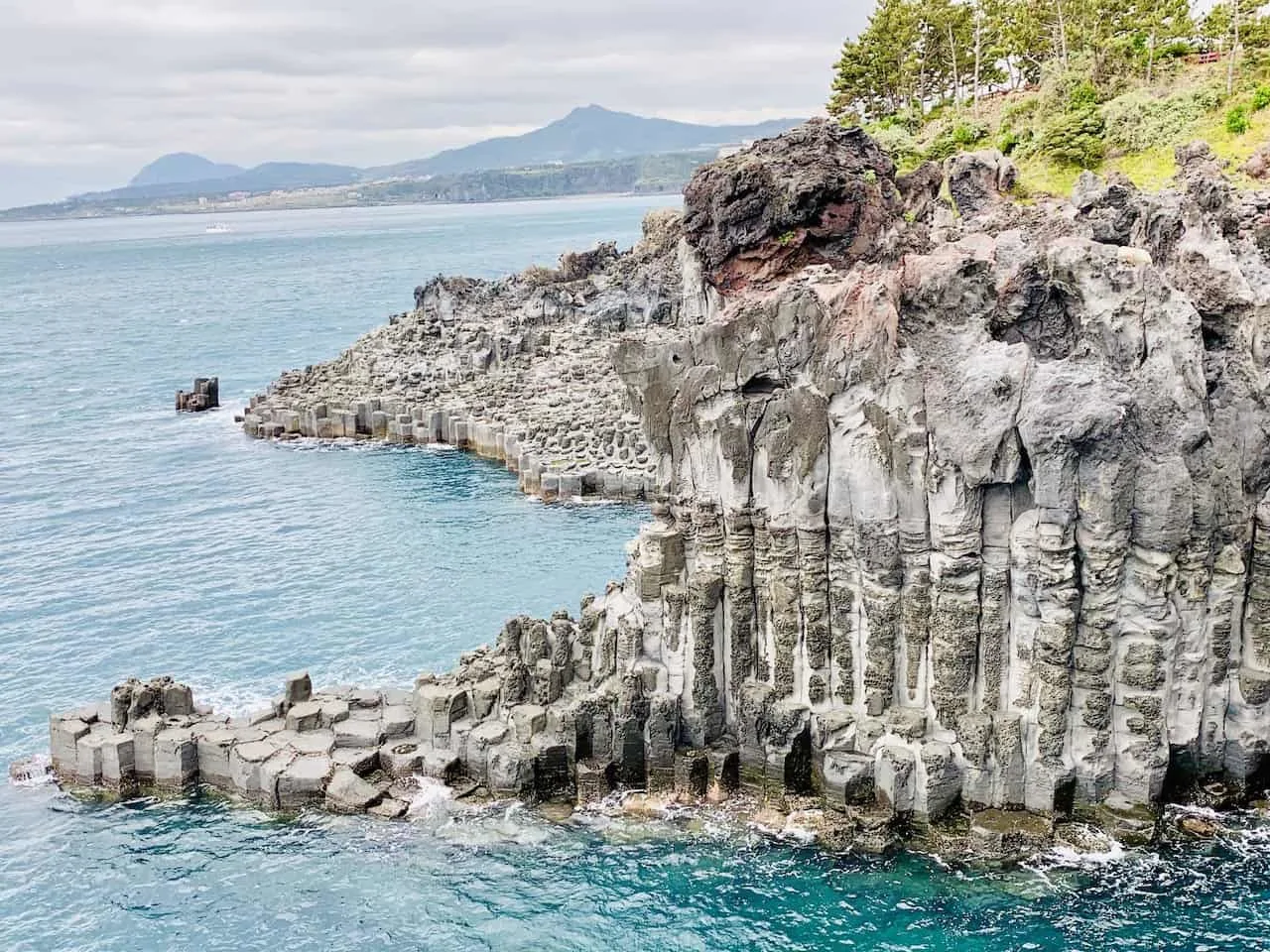 6) Where to Stay in Jeju
When planning a trip to Jeju, you can opt to base yourself in one spot (like Jeju City or Seogwipo), or spend a couple nights in various places around the island.
At the end of the day, this will all depend on your own itinerary.
Below are a few hotel recommendations for these two main places:
Jeju City
Seogwipo
During a visit, be sure to visit the nearby Oedolgae Rock and Yakcheonsa Temple too!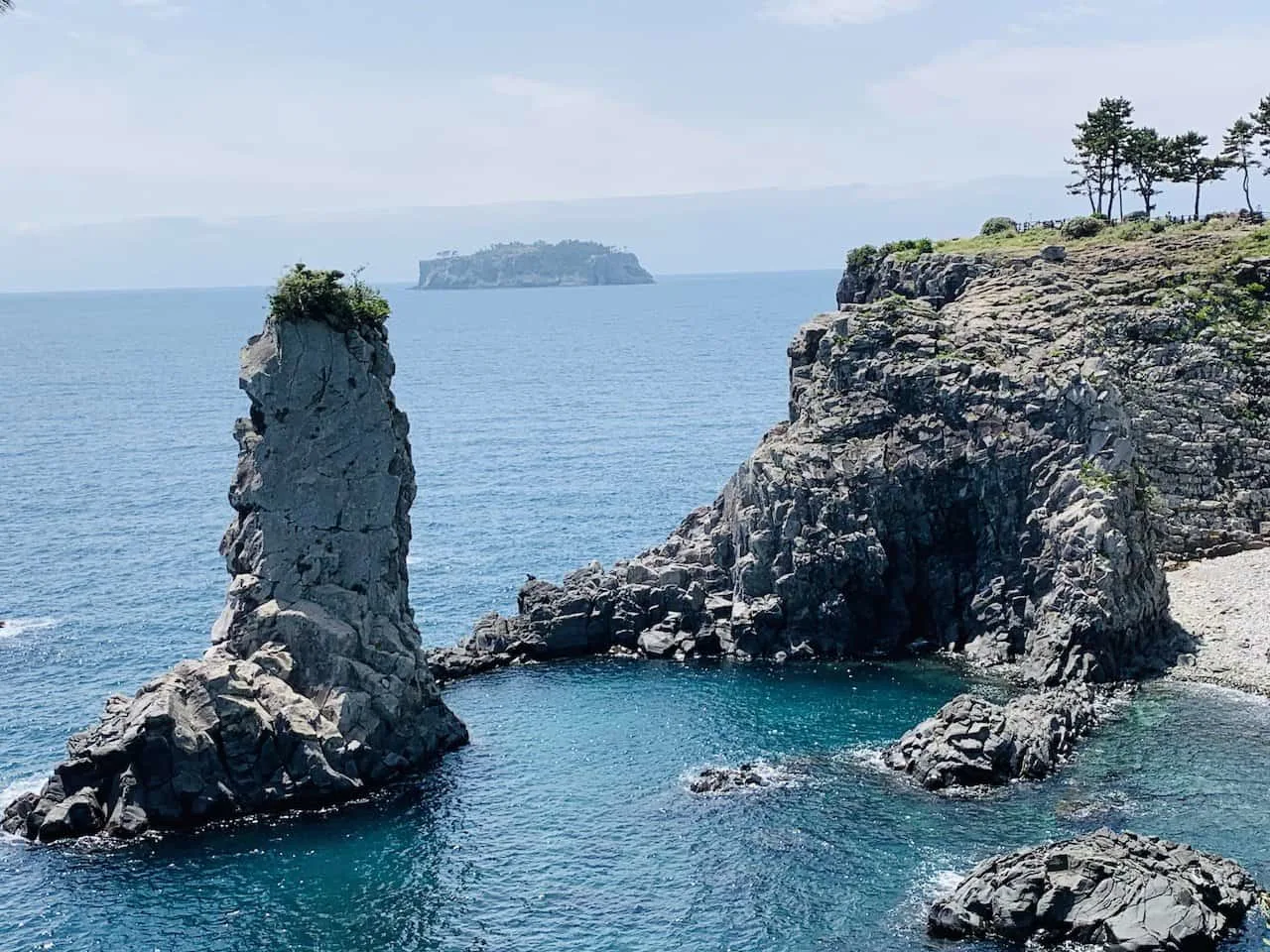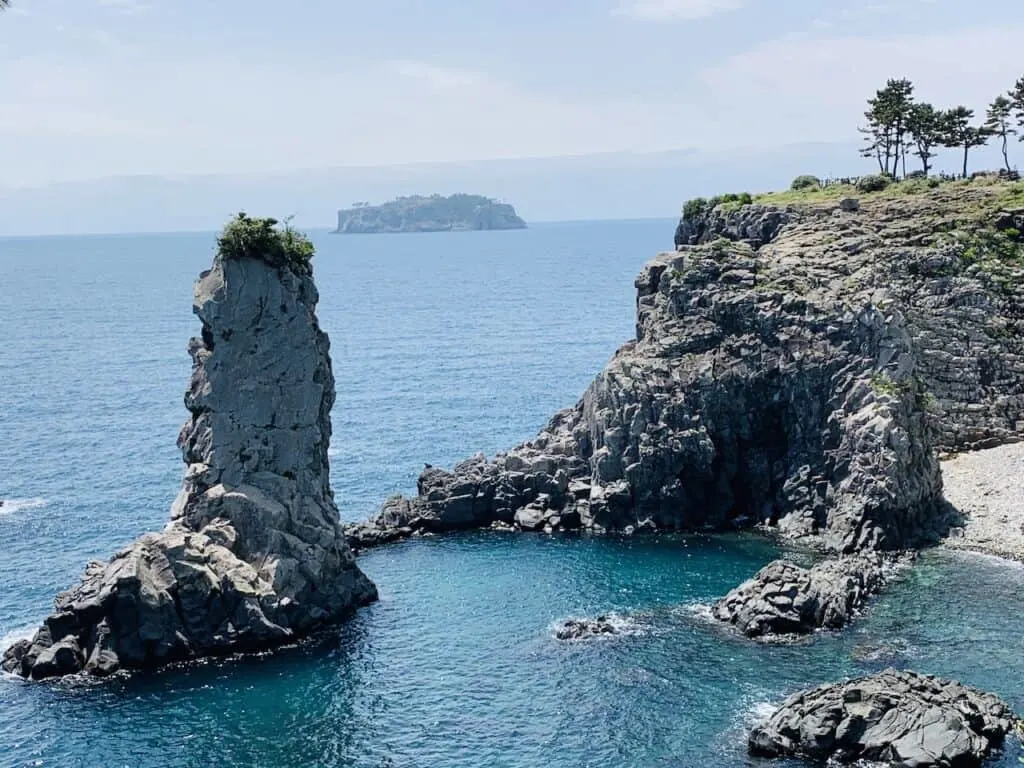 I hope you have a great time at the Daeopo Jusangjeolli Cliffs during your time on Jeju. If you have any questions or comments, be sure to add them in below.
Also, don't forget to check out the other South Korea itineraries and guides up on the site.
Have fun out there and safe travels!