Located on the eastern shores of Jeju Island you will find the beautiful Seopjikoji coastline.
Seopjikoji offers a scenic walking path overlooking the water, surrounded by unique volcanic rock formations.
During a visit, you will be able to walk along the trail, take in the views, head on over to the lighthouse, and even visit the Jeju Glass House.
Read on to learn more about Seopjikoji and how to go about a visit.
* Affiliate Disclosure: This post may contain affiliate links, which means I may receive a commission if you make a purchase through the links provided, at no additional cost to you. Thanks for supporting the work I put into TripTins!
1) What is Seopjikoji
The name Seopjikoji comes from the words "Seopji" meaning "a narrow piece of land", and "Koji" meaning "promontory". This refers to the volcanic rock formations coming out of the water.
Since Jeju Island is volcanic in origin, there is much volcanic sand and rock that can be found throughout this area. Many of these rocks around Seopjikoji come in unique shapes and sizes.
The walking path from the parking lot connects visitors to several points of interest. Theses include viewpoint spots, the abandoned All In Candy House, the lighthouse, the Glass House, among several others.
So, if you are looking for a peaceful and beautiful coastal walk while visiting Jeju Island, be sure to add Seopjikoji to the list.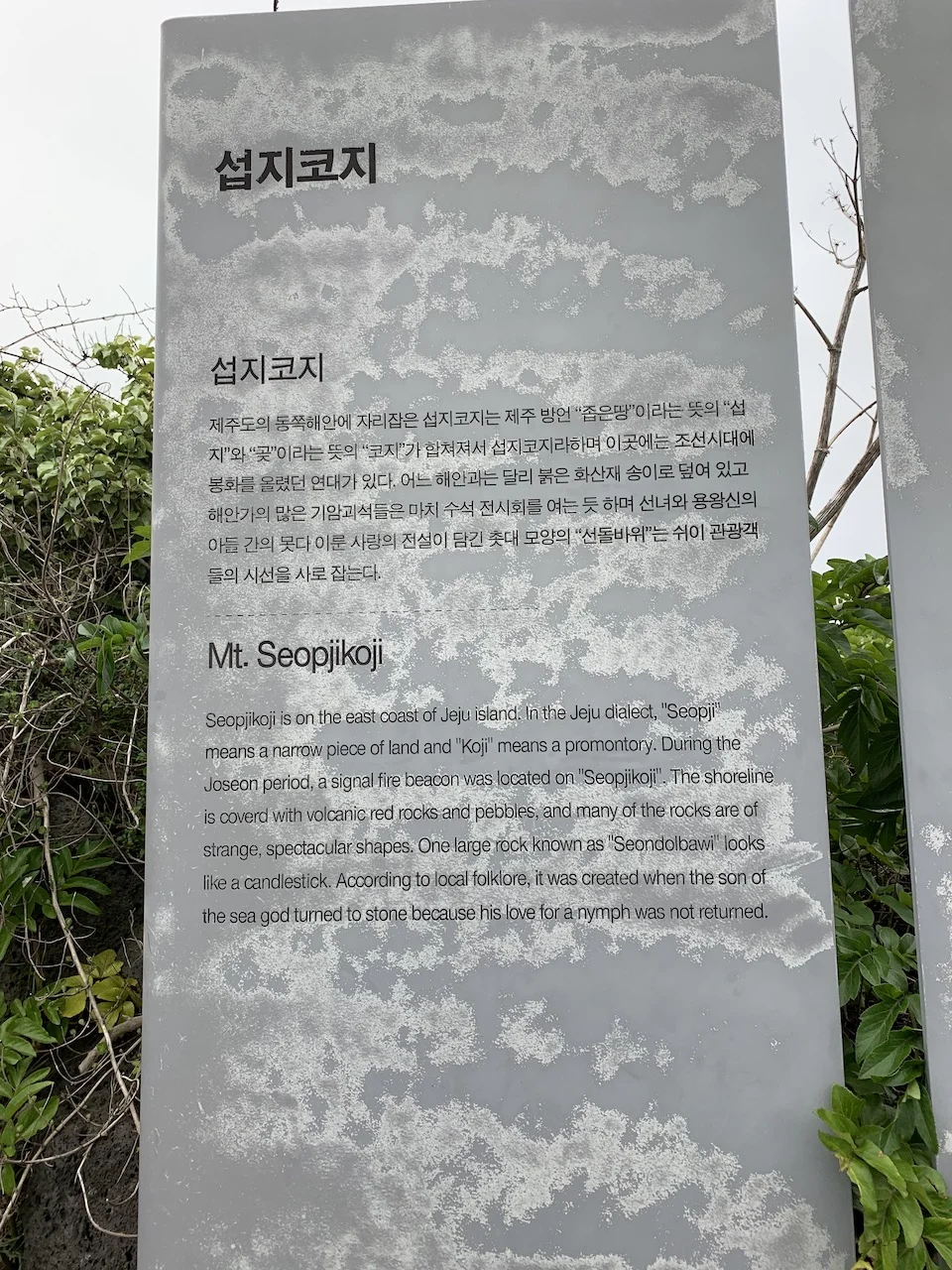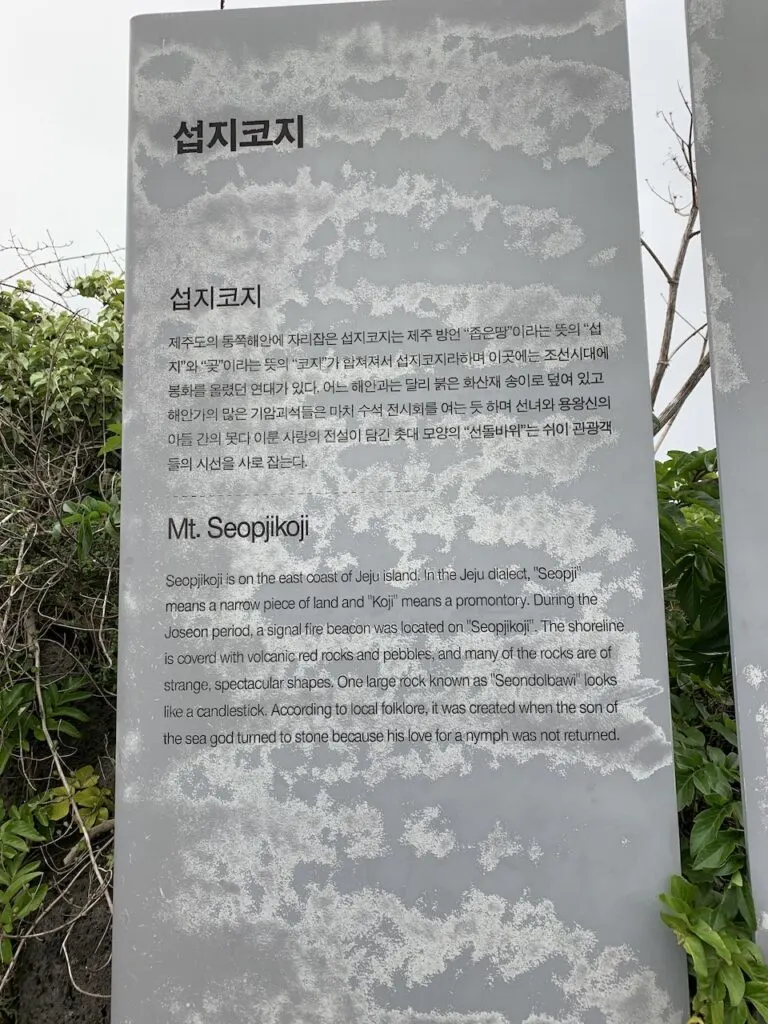 2) Location & Map
Seopjikoji is located on the eastern side of Jeju Island. It is about 45 minutes from both Jeju City and Seogwipo.
See below for a map of Jeju to get a better idea of where it is located.
In addition, I have highlighted the walkway & other attractions you will see along the way (read on to learn more!).
3) How to Get There
In general, there are three main ways to go about a visit to Seopjikoji (and other places around Jeju Island) – rental car, bus, or tour.
Rental Car
When exploring Jeju, I would recommend renting a car in order to explore at your own pace. You will be able to be on your own schedule and not need to worry about public transport.
This will not only help when visiting Seopjikoji, but also when visiting any other top spots you have on your Jeju Island to do list (such as Hamdeok Beach and Manjanngul Cave).
If driving a car, you will be welcome to a large parking area just by the main entrance.
Feel free to check out Rentalcars.com for potential options. You will be able to see a variety of cars by price, size, and type, so you can choose the one best for you.
Bus
There is an extensive public transport network on Jeju Island, so you should be able to leverage it during your time there.
Below are the steps to reach Seopjikoji from Jeju City and Seogwipo:
From Jeju Intercity Bus Terminal: take a bus heading east and get off at Seopjikoji bus stop (bus lines 101, 111, 201 as potential options).
From Seogwipo Intercity Bus Terminal: take a bus along the coast and get off at Seopjikoji bus stop (bus line 101 is one option).
Note: the bus stop is not directly at the main entrance. You will need to take a taxi 5 minutes (or walk) to get to the main parking lot.
Tour
Instead of worrying about renting a car or figuring out public transport, you can also make your way to Seopjikoji and other highlights (such as Oedolgae Rock and Jeongbang Waterfall) by joining a group or private tour.
Also note that you could just hire a taxi to take you back & forth if you don't want to go for a tour option.
Tour Booking Option: Check out this customizable Private Jeju Tour that can take you all around the island during your trip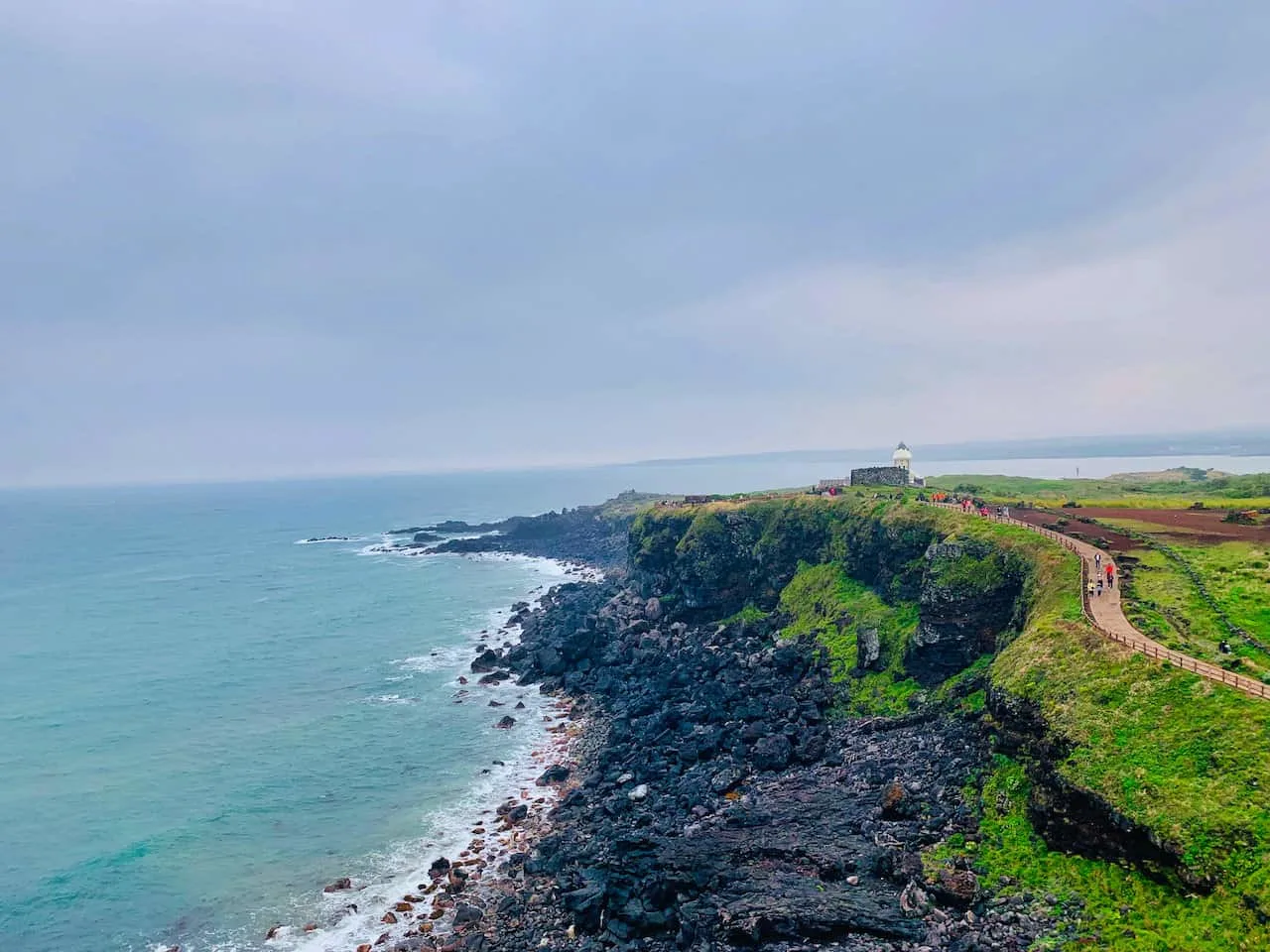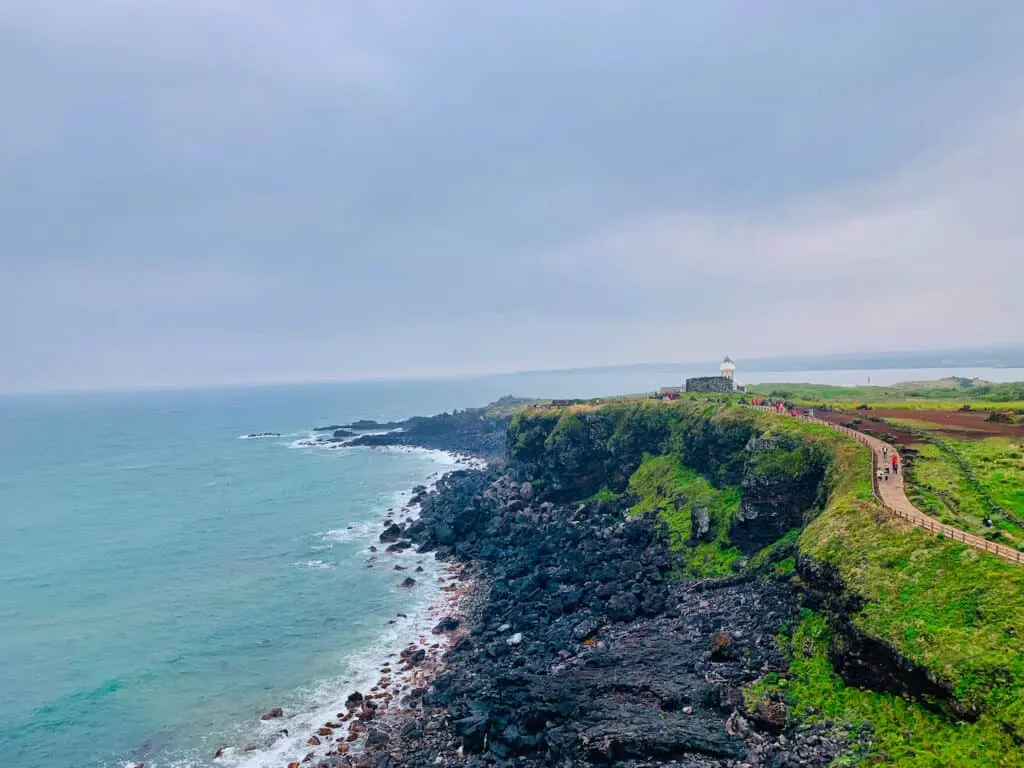 Learn More About Jeju: Check out this guide that goes over the best things to do in Jeju Island
4) Helpful Things to Know
Below are a few helpful things to know about Seopjikoji as you plan a visit:
Seopjikoji Entrance Fee
The great thing about Seopjikoji, is that it is absolutely free to visit. You can head all around the walkway and towards the lighthouse by just parking your car and heading out on your own.
It is important to note though that the parking lot does charge a fee. The latest I have seen is 3,000 Won (a little more than $2 USD). Pretty affordable if you ask me!
Seopjikoji Parking
Speaking of parking, you will find a large lot right by the entrance of Seopjikoji.
Simply follow the road around the Seopjikoji peninsula, past the Phoenix Island Resort, and there will be a lot at the end of the road.
The walkway starts right from the parking lot, so you should be on your way from there.
How Long is the Seopjikoji Walk
This all depends on how far you go along the Seopjikoji walkway, but the roundtrip walk should be around 1 mile / 1.6 km to the Jeju Glass House.
If you head out & back to just the lighthouse, it will come in just shorter than that around 0.75 miles / 1.2 km round trip.
Overall, it is a pleasant & easy walk to take part of, and should take around 30 – 60 minutes depending on breaks along the way.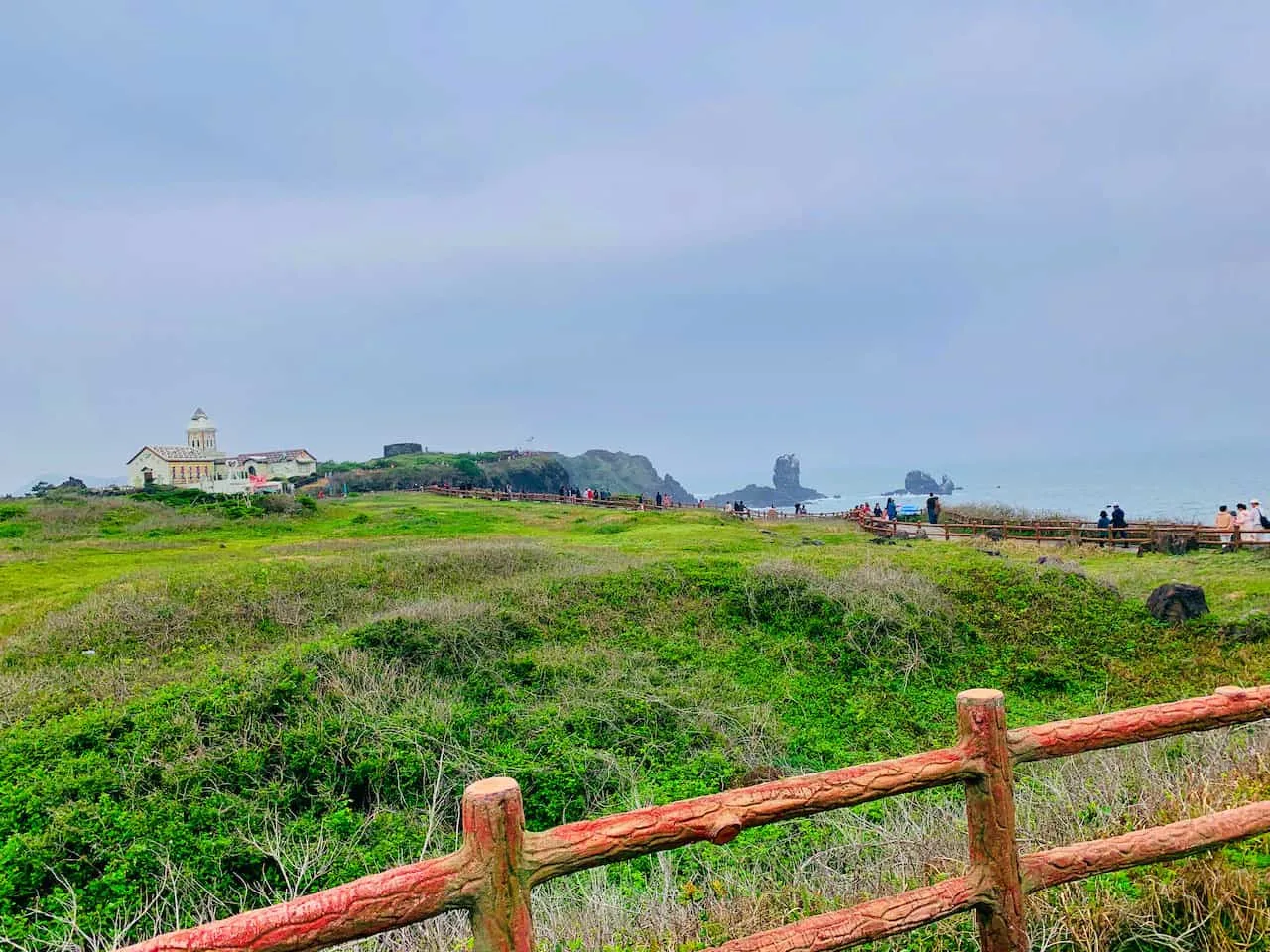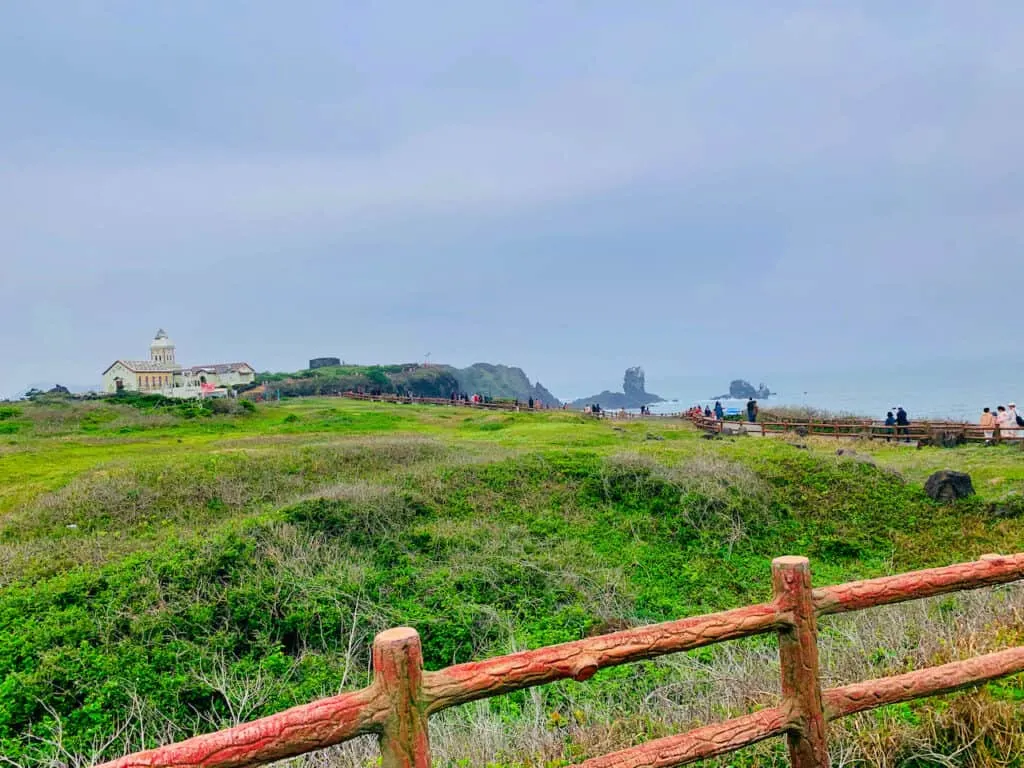 5) Seopjikoji Coast Walk
Once you have reached the parking lot, you can begin the walk out on the coastal walkway.
The pathway is nicely paved so you should have no trouble making your way along.
Coastline Views
Some main highlights of the walk in general will be those beautiful views over the water with the black & red volcanic rock out in front of you.
The walkway hugs the coastline, so you should have no trouble enjoying some views of the black rock beach, the water, and those unique black rock formations further out in the distance.
Along the way, there will be a few main lookout platforms. You can take some time to enjoy the views from these platforms before continuing along on the walkway.
Be on the lookout for views of Seongsan Ilchubong, another famous natural attraction on Jeju Island. I would highly recommend a visit before/after your time at Seopjikoji.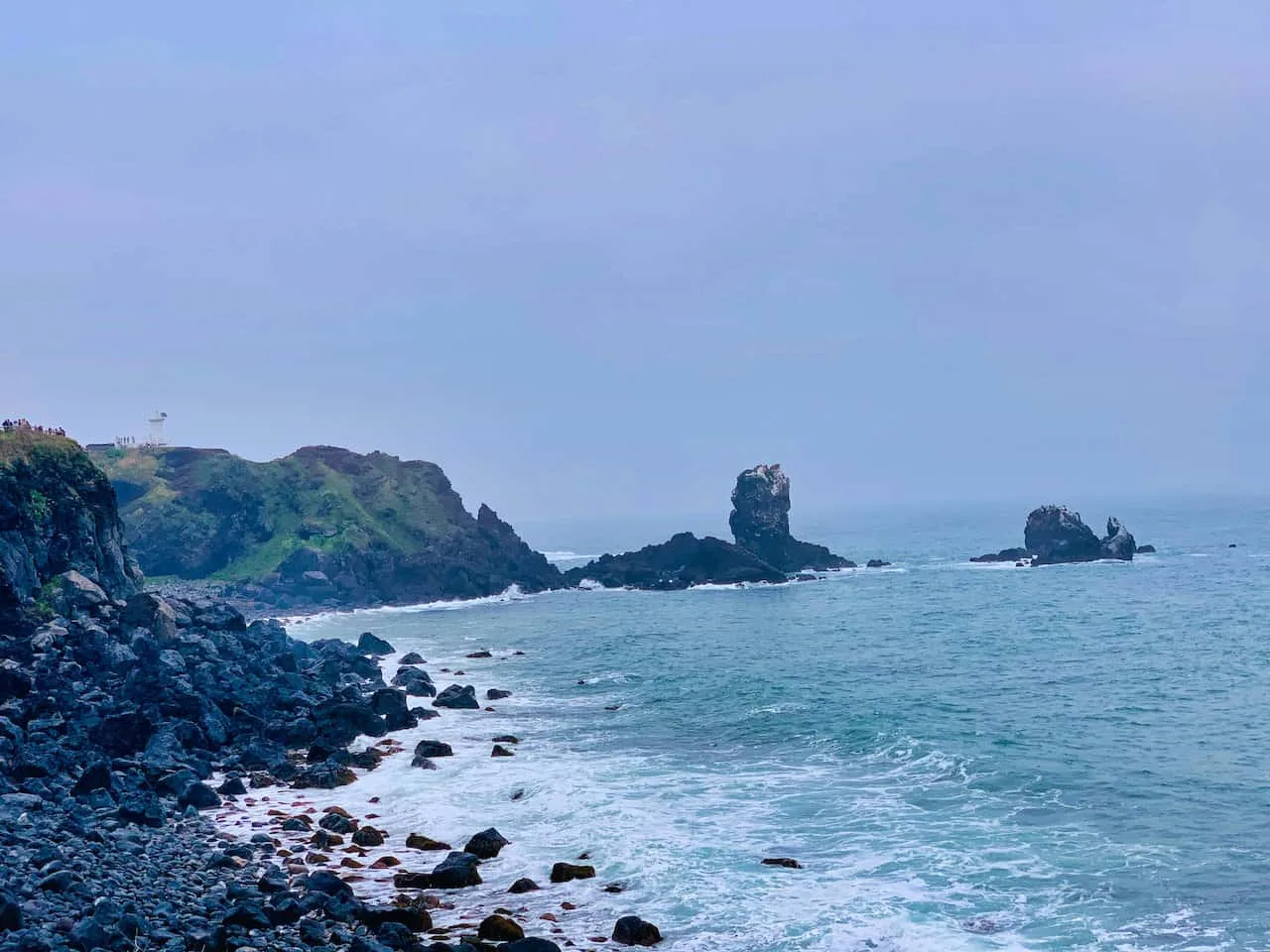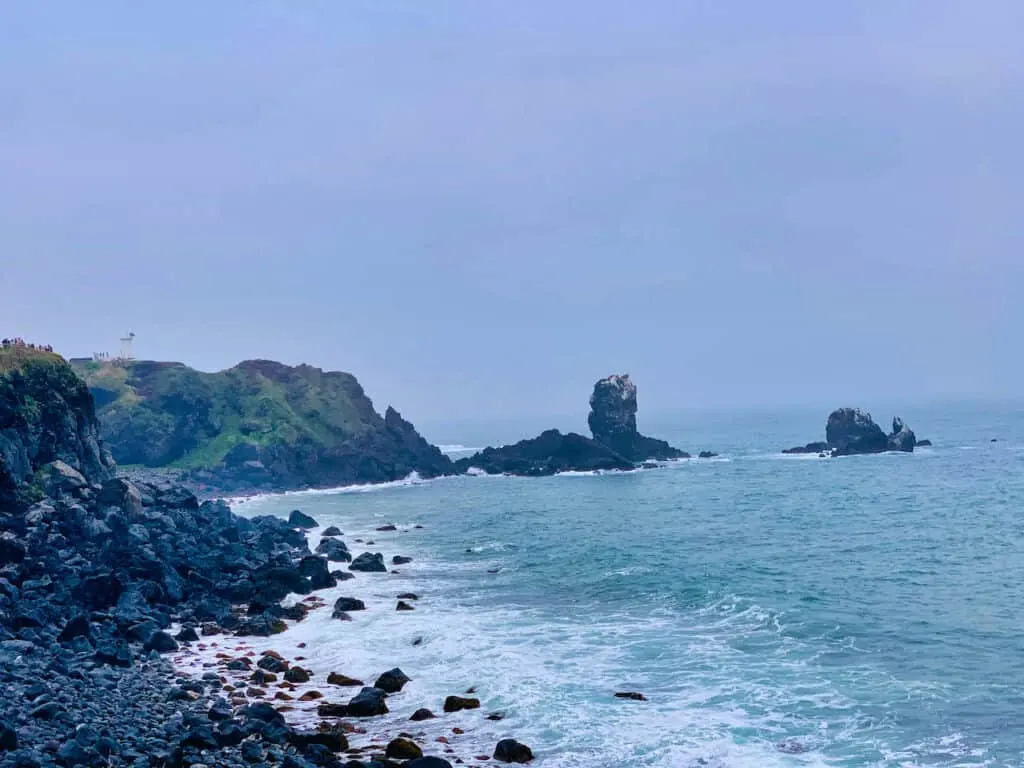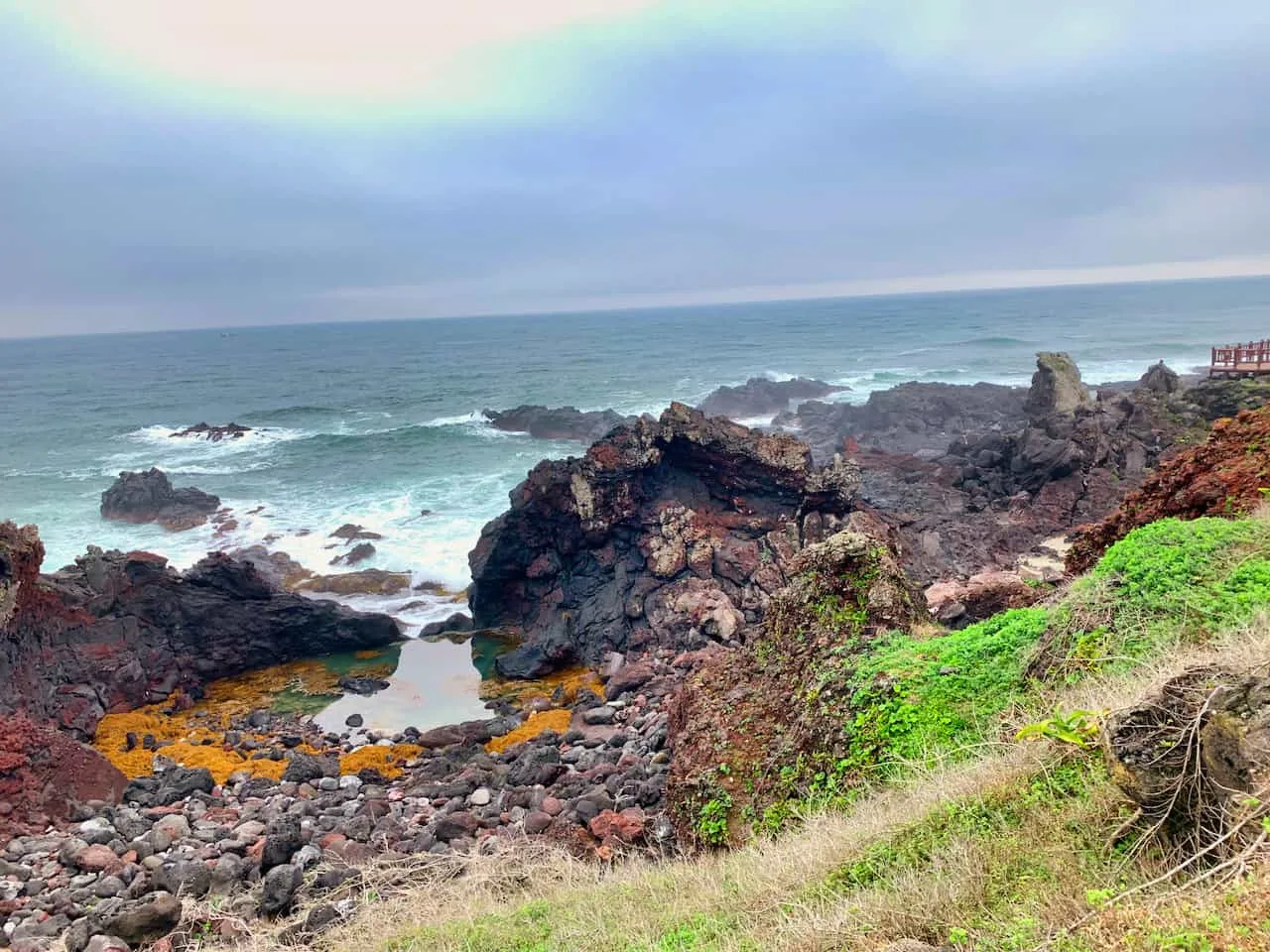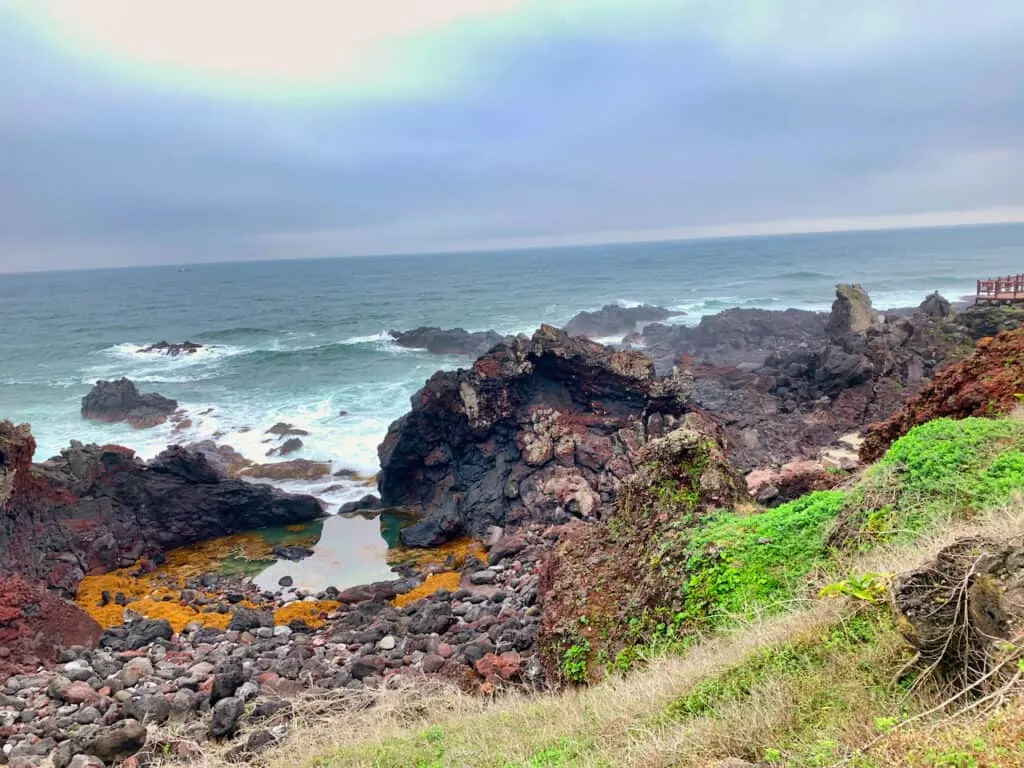 All In Candy House
As you enjoy those beautiful natural views around Seopjikoji, you will also see a rather odd structure along the way.
This is the All In Candy House, which is now abandoned. The site was made famous by a Korean drama called "All In", where they used this area as a church.
After the show, it was turned into somewhat of an amusement Candy House attraction but then was deserted.
Today, you can view the structure from the outside and explore some of the area.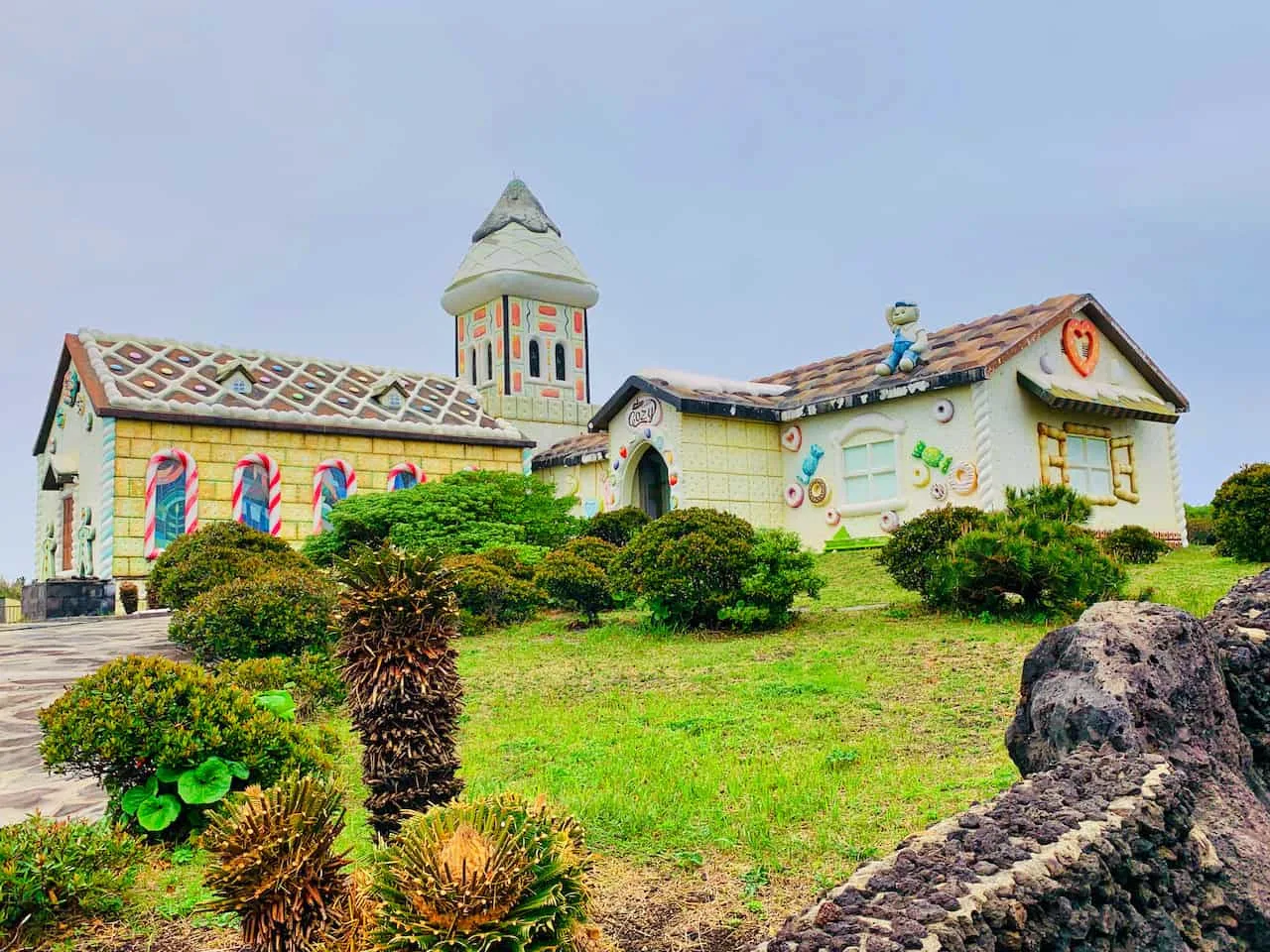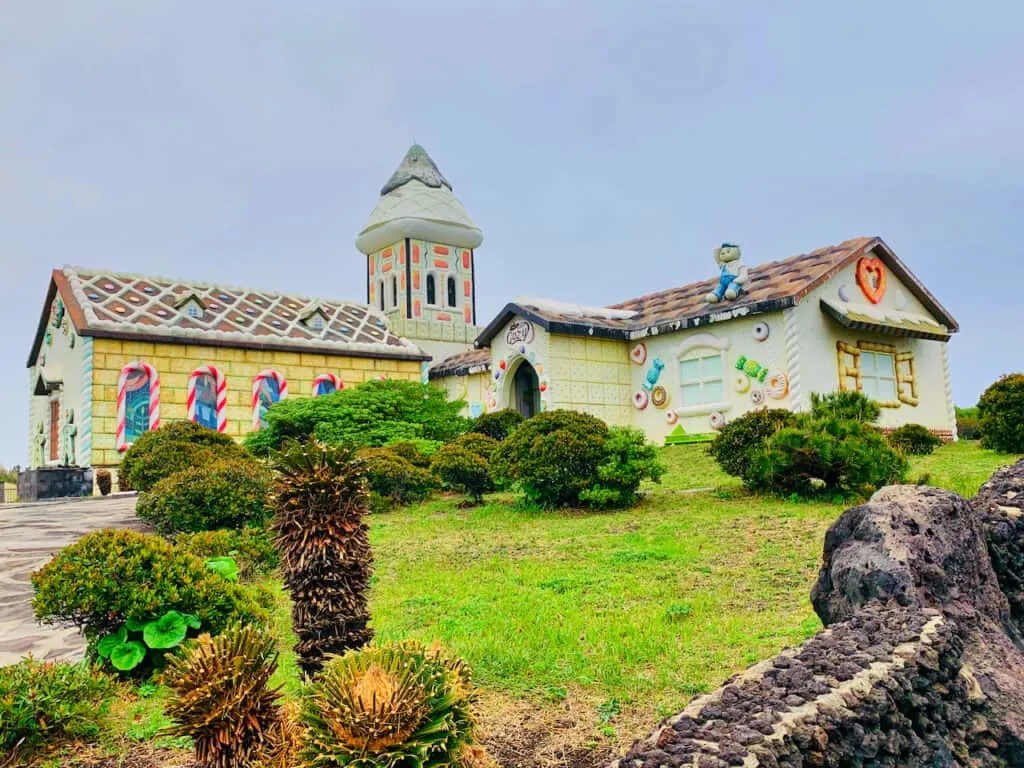 Hyeopja Smoke Mound
Just on the other side of the Candy House, is the Hyeopja Smoke Mound beacon fire mound.
It measures 4 meter high and 9 meters in diameter, and was built with volcanic rocks.
These smoke mounds were set up back in the day all around Jeju Island as part of the island's defense system.
If there were enemy invasions spotted, they were able to use these smoke mounds to warn the people on the island.
Seondolbawi Rock Formation
After passing by the Candy House and Smoke Mound, the walkway continues along the coastline.
You will begin to get closer and closer to the famous Seondolbawi volcanic rock formation jutting out of the water.
Here you will also see more black sand & rock beachside, as you head closer onto the lighthouse.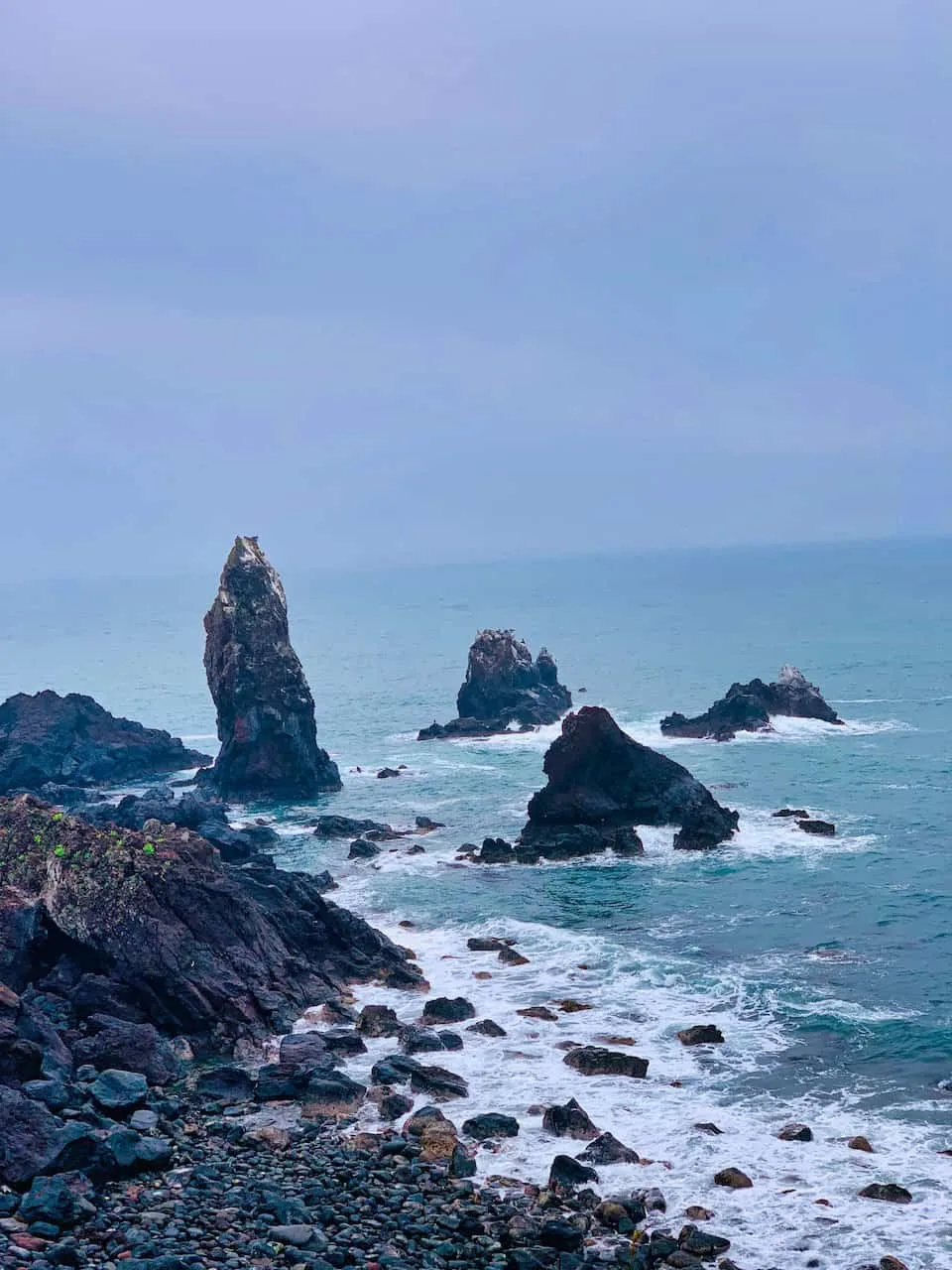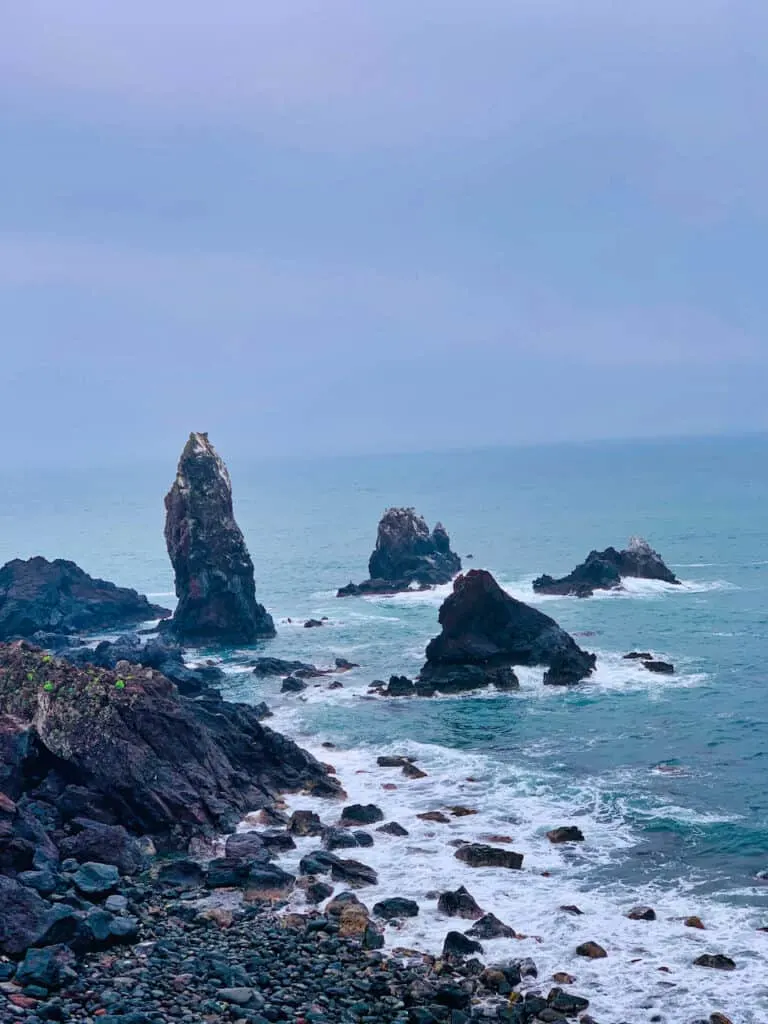 Seopjikoji Lighthouse
Soon enough you will reach the Seopjikoji Lighthouse. The trail actually heads up onto a hill, where you will find a staircase leading to the lighthouse itself.
From the lighthouse platform you will get some great views in either direction of the entire Seopjikoji area.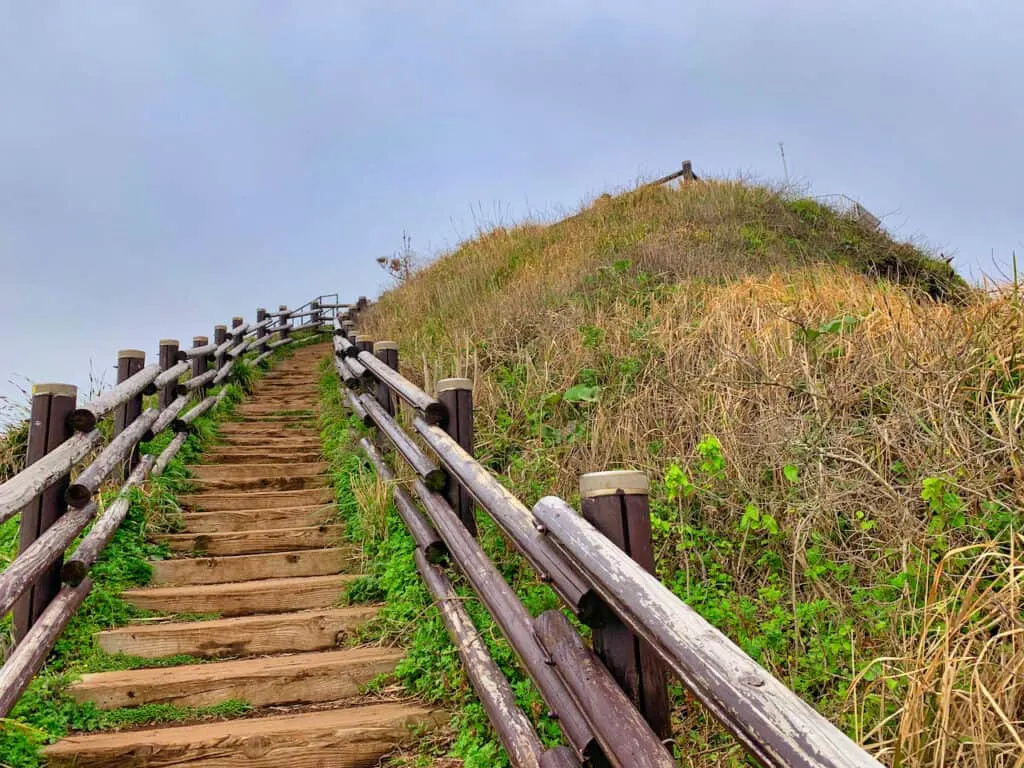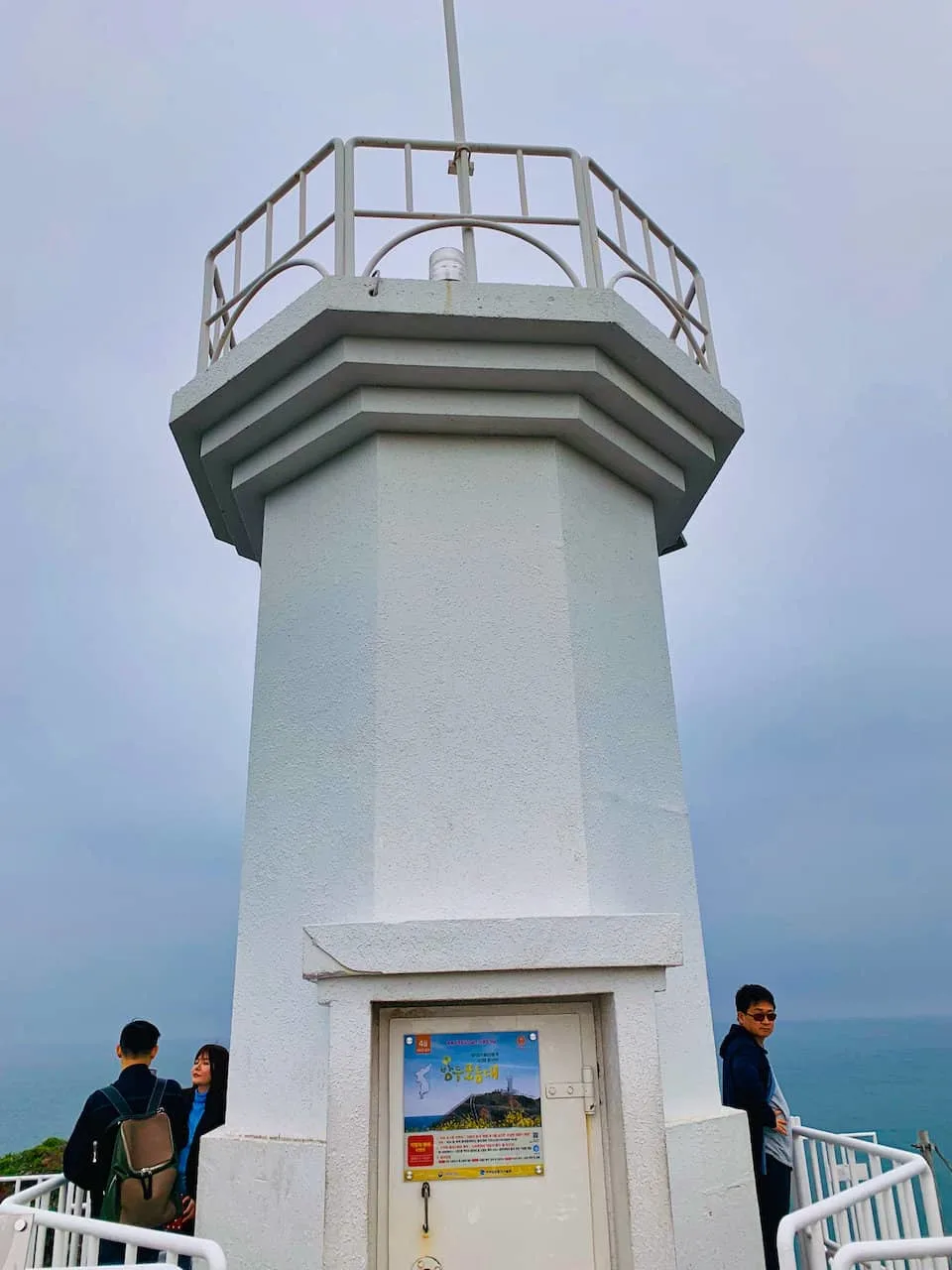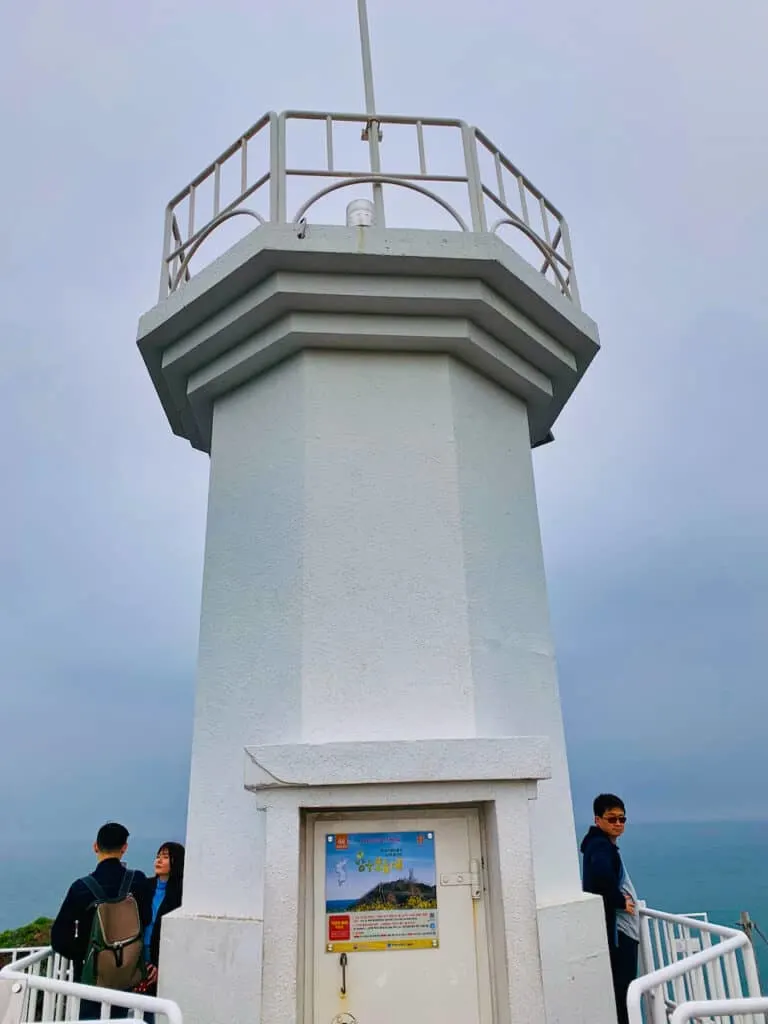 Seopjikoji Glass House
After the lighthouse, you can decide to retrace your steps back to the parking lot, or head just a bit further to the Jeju Glass House.
This modern building clearly stands out against the volcanic landscape around the area. It was designed by a famous architect named Tadao Ando, and offers some beautiful views from its terraces.
If interested, you will also find the Mint Restaurant within the complex. It is the perfect spot to sit back and relax to break up the Seopjikoji coastal walk.
Once all finished up at the lighthouse & Glass House, simply retrace your steps back to the parking lot. Along the way back, you will continue to get some great views looking in the opposite direction.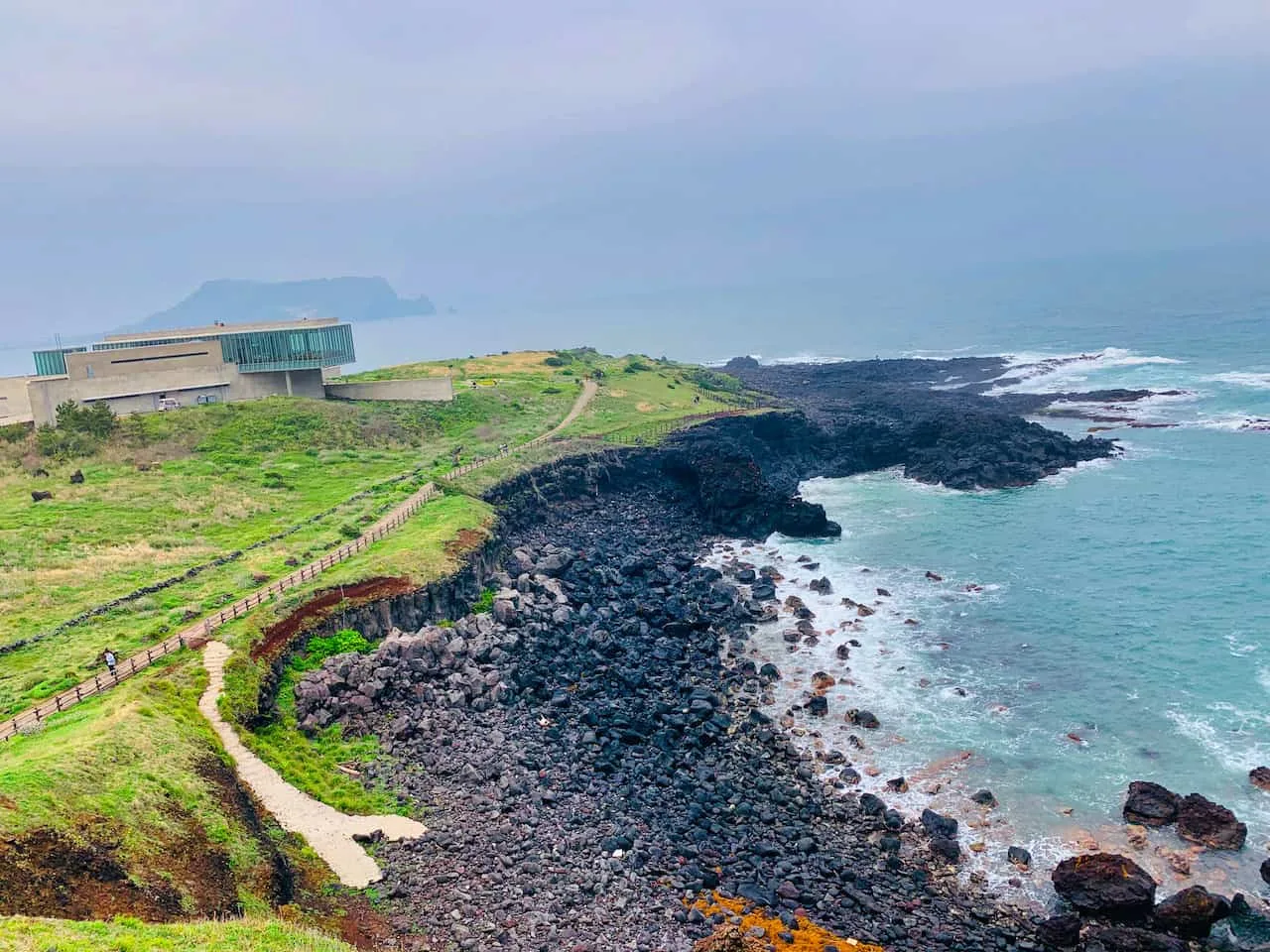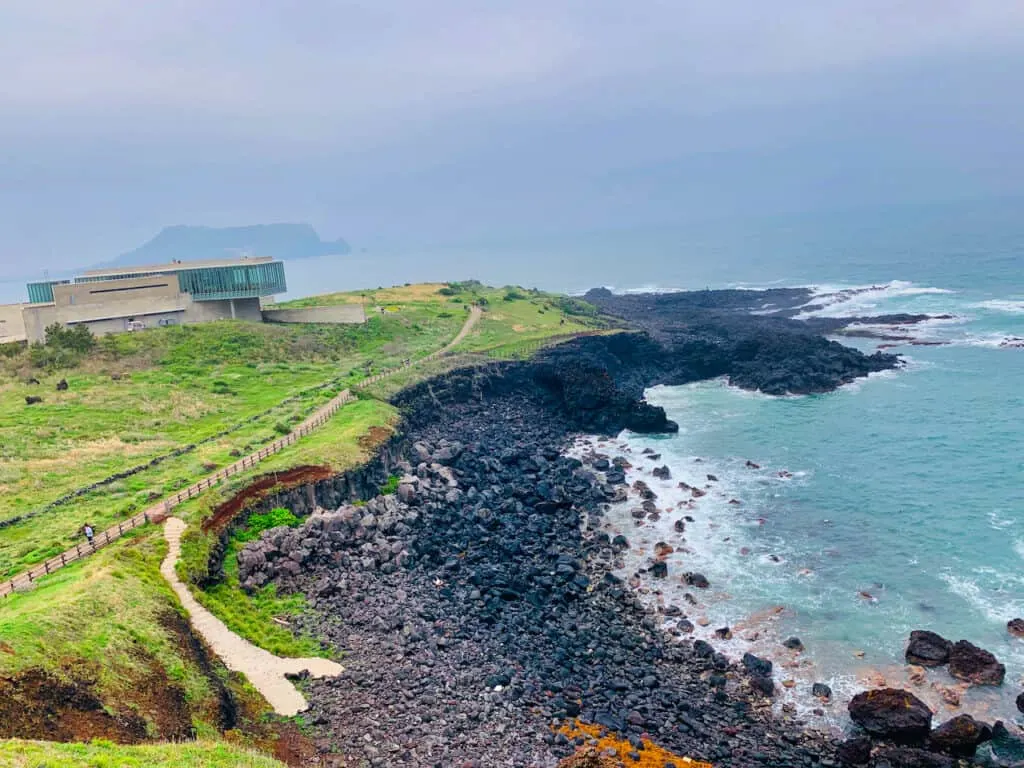 Other Highlights
A couple other highlights around the Seopjikoji area that I wanted to call out:
Seopjikoji Horse Riding
For those interested, it is possible to head on horseback around a separate short trail in the area.
This will be at an additional cost but can be a great addition to the day if you want to see Seopjikoji by horseback
Spring Canola Flowers
While I just missed them during my visit, during the spring, you will find thousands of yellow canola flowers around the area.
This makes the landscape even that much better to enjoy as you have the yellow flowers contrasted with the black volcanic rock.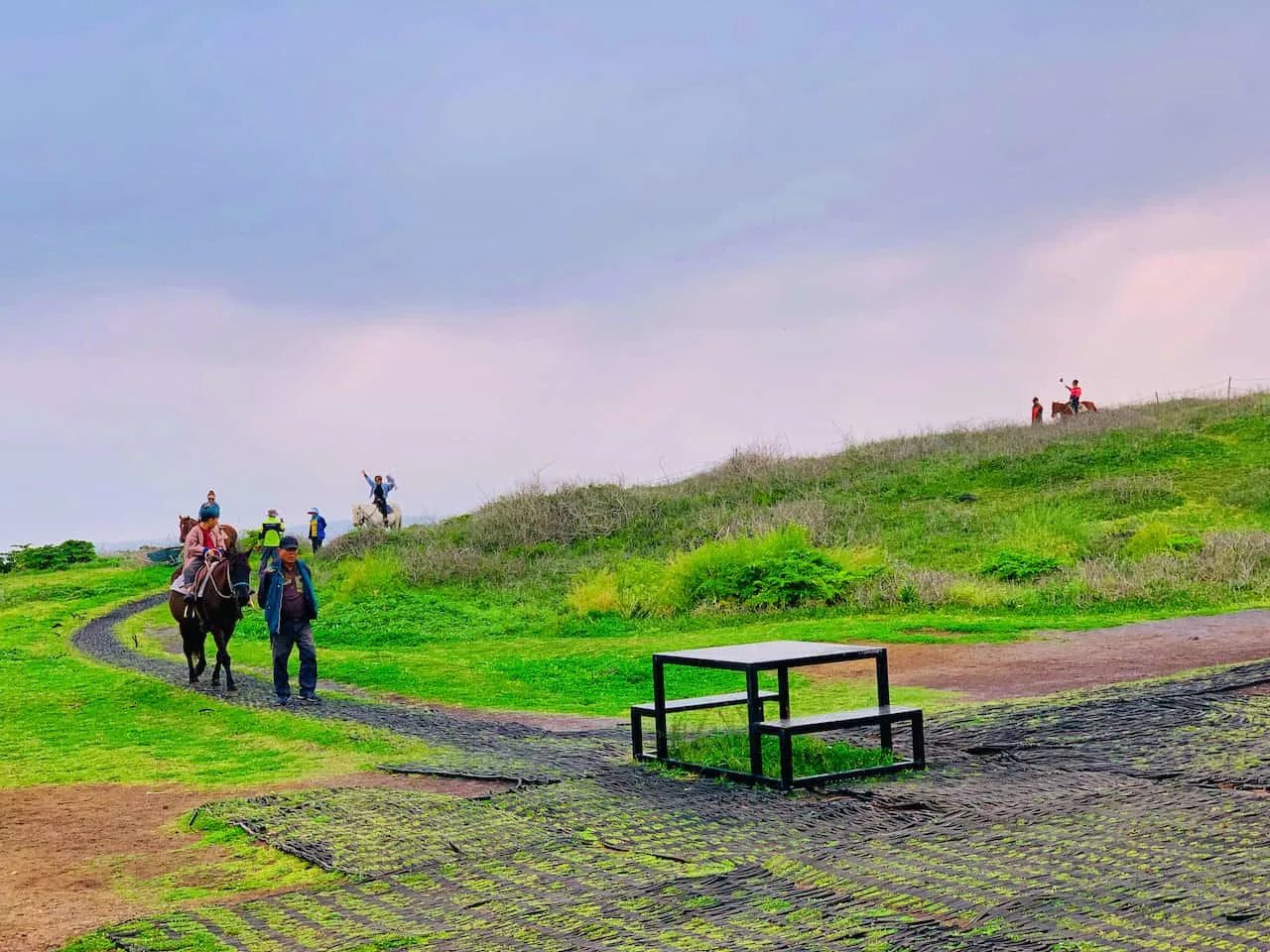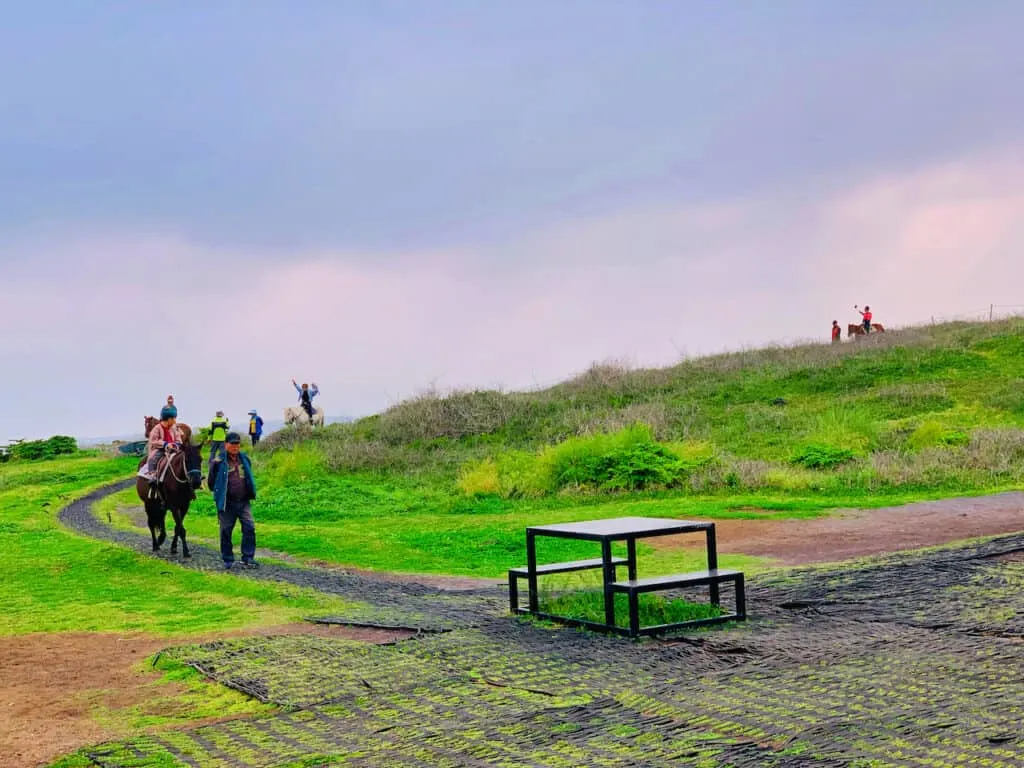 6) Where to Stay in Jeju
When planning a trip to Jeju, you can opt to base yourself in one spot (like Jeju City or Seogwipo), or spend a couple nights in various places around the island.
At the end of the day, this will all depend on your own itinerary.
Below are a few hotel recommendations for these two main places:
Jeju City
Seogwipo
Note that you can also stay at Phoenix Seopjikoji. This resort sits right nearby Seopjikoji, and is another great option to consider when visiting Jeju.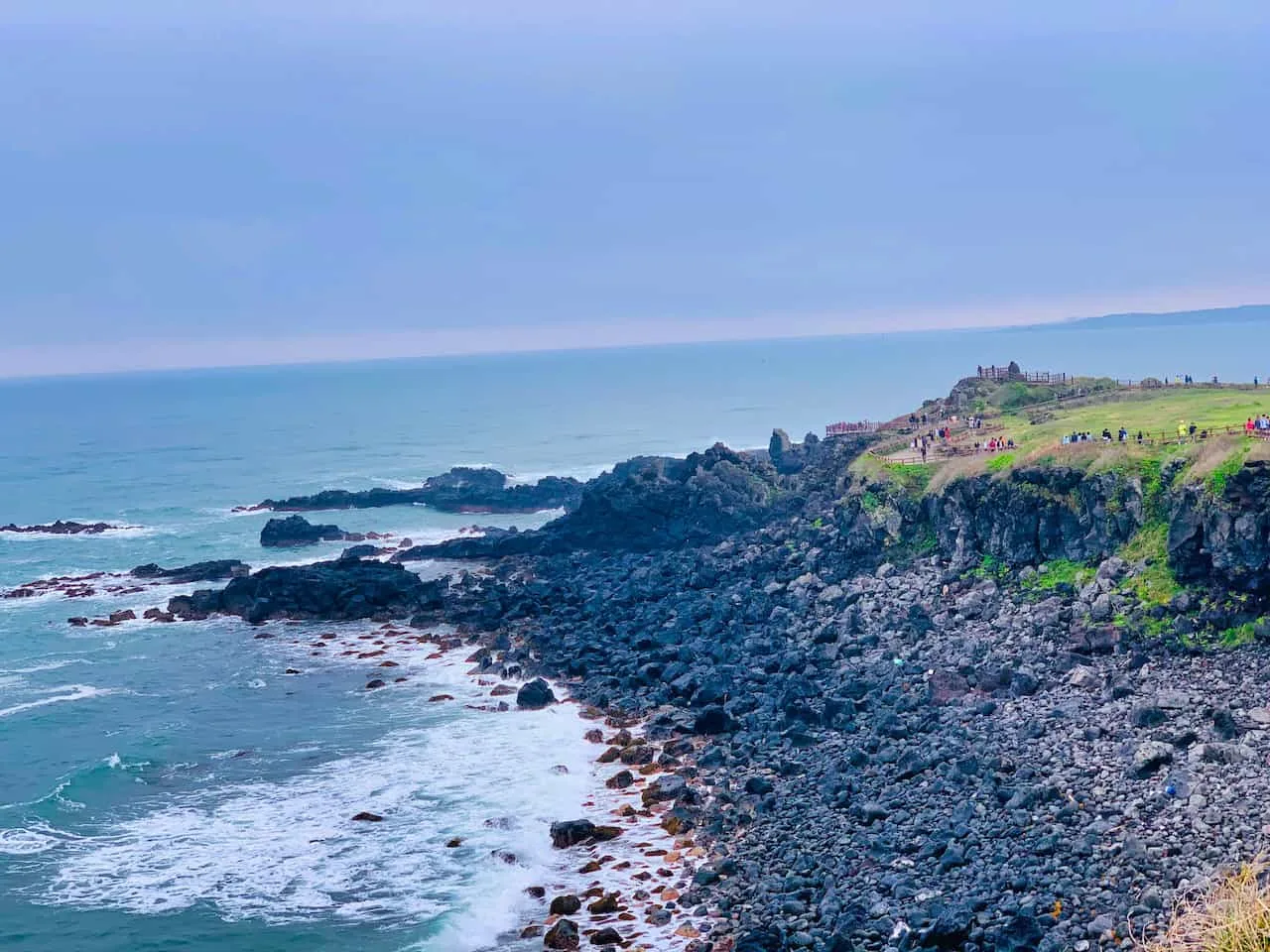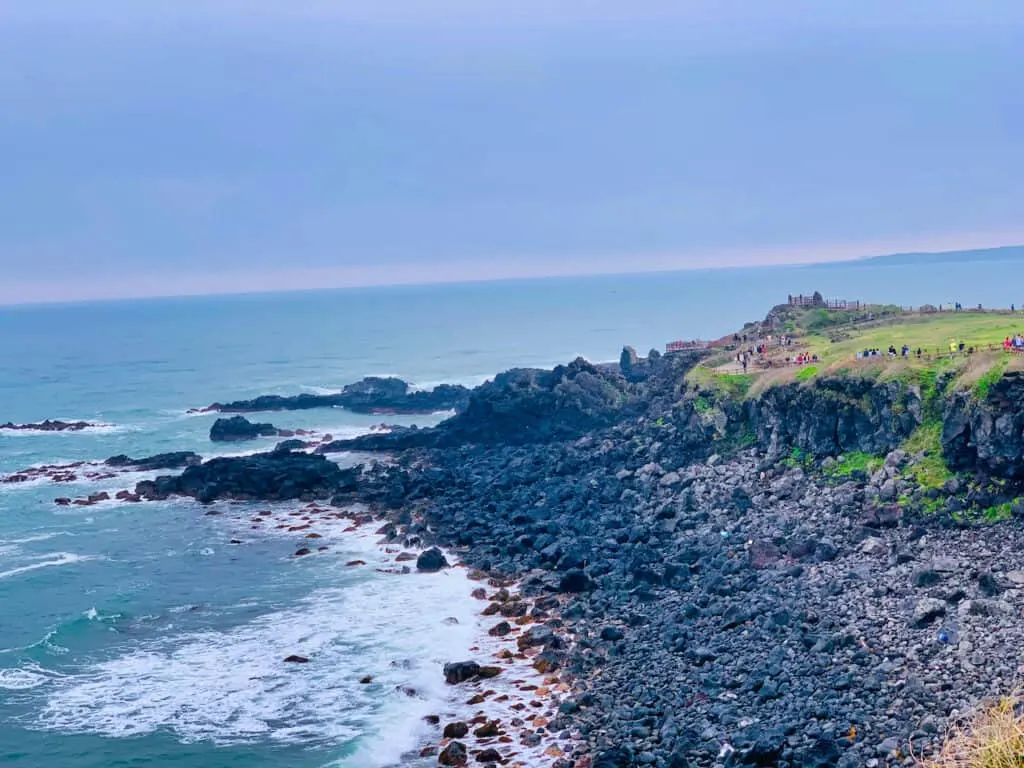 That wraps up a guide to Seopjikoji of Jeju Island, South Korea. If you have any questions or comments, be sure to add them in below.
Also be sure to check out the other South Korea itineraries and guides up on the site (like the hike up Mount Hallasan).
Have fun out there and safe travels!