If you are looking for a hiking trail that has a little bit of everything, look no further than the North South Lake hike of the Catskills.
Throughout this 7-mile loop, hikers will get to experience lakeside views, forest trails, waterfalls, and plenty of beautiful viewpoints. Just some of these viewpoint spots include North Point, Newmans Ledge, Sunset Rock, and Artist's Rock.
It is bound to be a fun filled day of adventure on the trail, and this hiking guide will go through it all for you.
* Affiliate Disclosure: This post may contain affiliate links, which means I may receive a commission if you make a purchase through the links provided, at no additional cost to you. Thanks for supporting the work I put into TripTins!
1) North South Lake Trail Details
To start, below are some high-level hiking details to prepare you for your time on the trail. Note that these metrics are representative of a full loop hike around both lakes, as well as all of the viewpoints along the way.
Trail Name: North South Lake Hike
Trailhead: South Lake Road
Distance: 7.4 miles
Elevation Gain: +1,100 feet
Duration: 4-5 hours
Trail Type: Loop Trail
Highlights: Ashley Falls, North Point, Newmans Ledge, Lookout Rock, Sunset Rock, Artist's Rock
Alternate Trail: if you bypass North Point, then you are looking at a 5-mile loop trail with around 700 feet of elevation gain. This would remove around 1-1.5 hours of overall hiking time.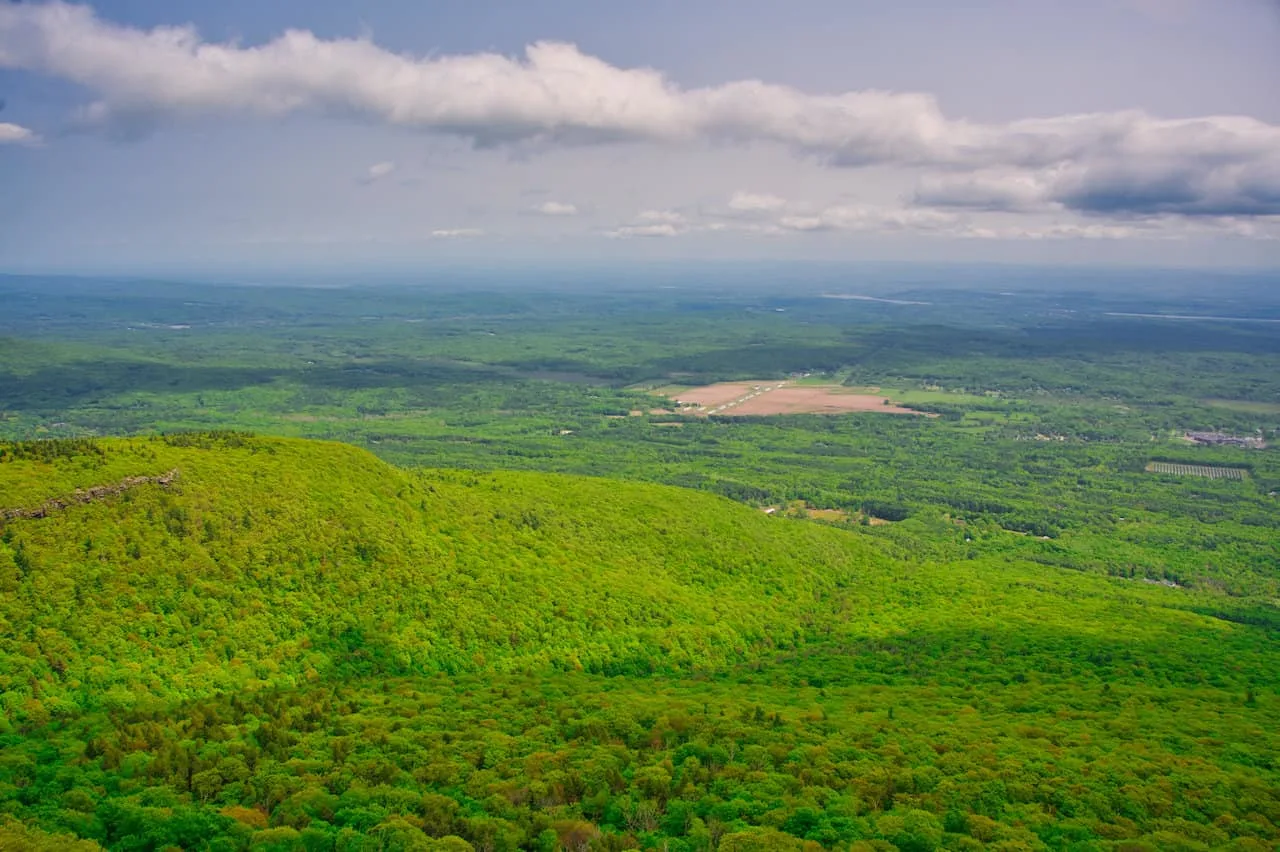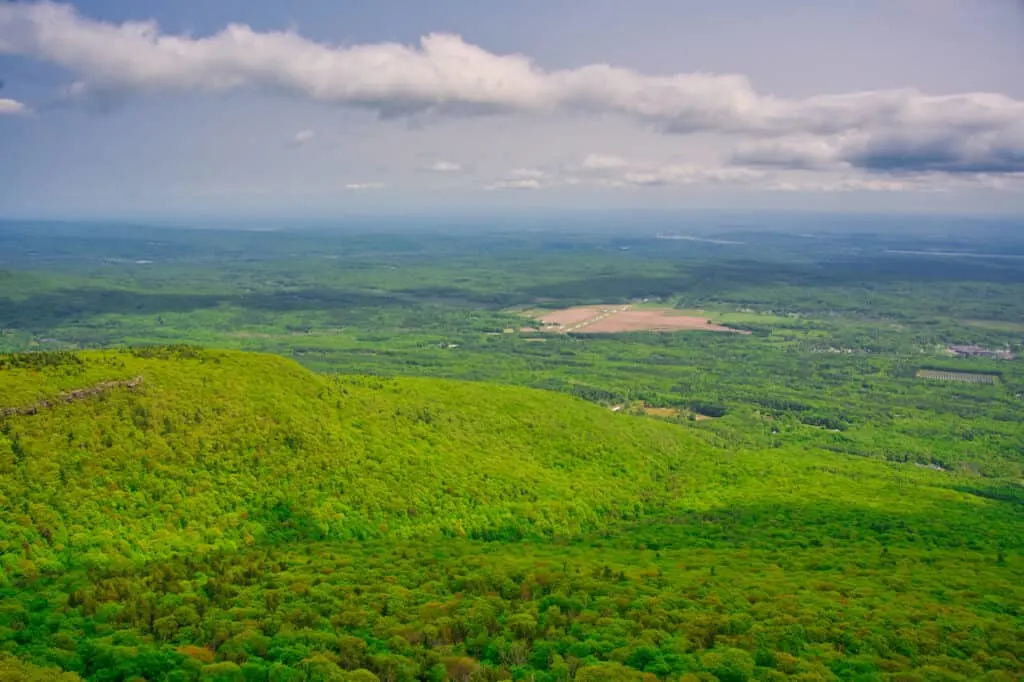 Hiking Resources & Checklist

Before heading out for the trails, be sure to read up on some of the hiking resources up on the site. These are here to better prepare you for all types of outdoor adventure.
2) Trailhead & Parking
Since this is a loop trail, you technically can start from several different locations around the lake area.
During my time on the trail I started by the main South Lake parking lot and began the clockwise hike from there.
Alternatively, you could also start the hike at North Lake, where more parking is located.
A third choice would be a smaller parking lot at the very western point of South Lake along South Lake Road.
On the map below, I have highlighted these three trailhead locations. Just note that I will be going about this overview starting from the South Lake parking lot.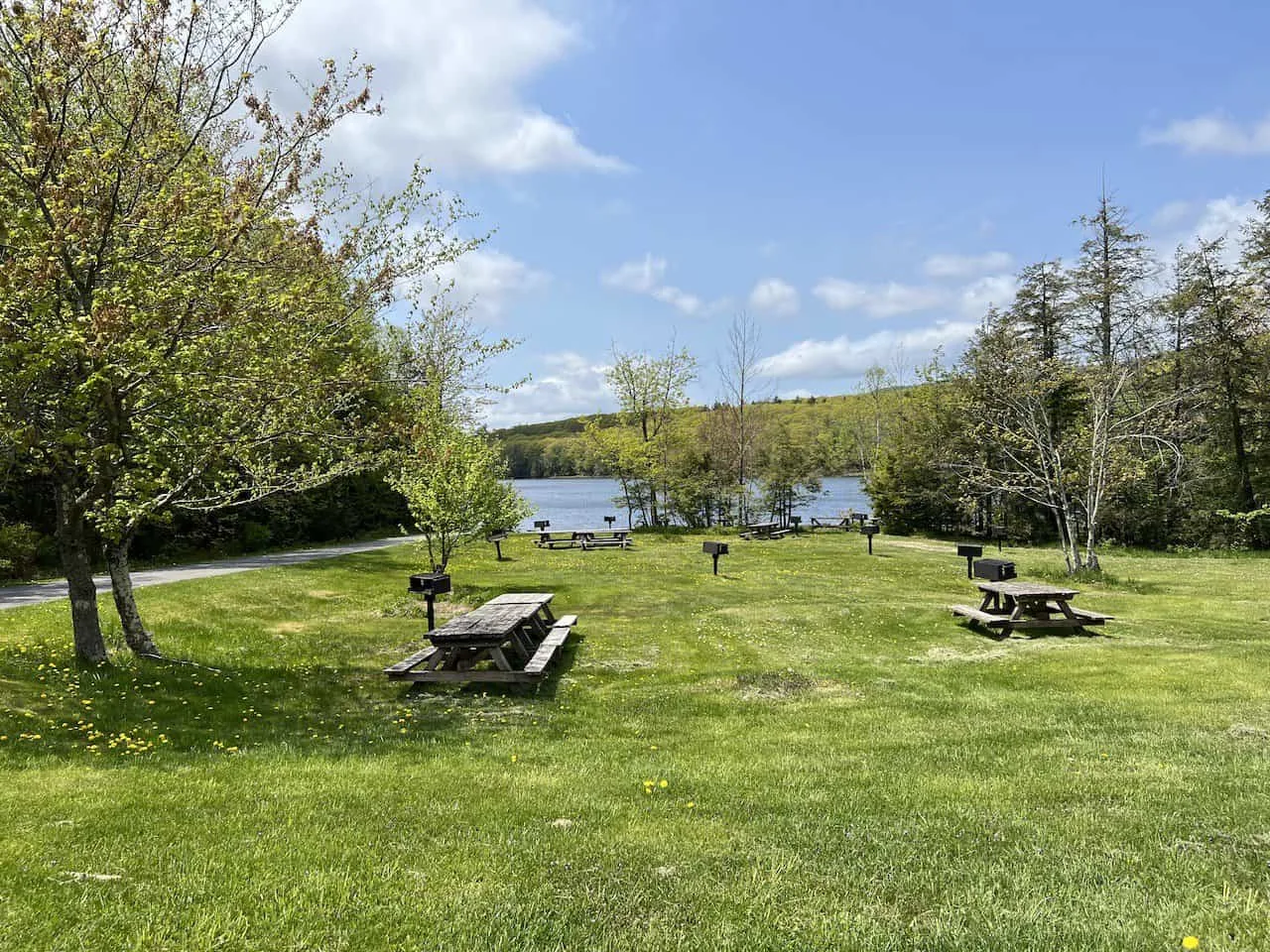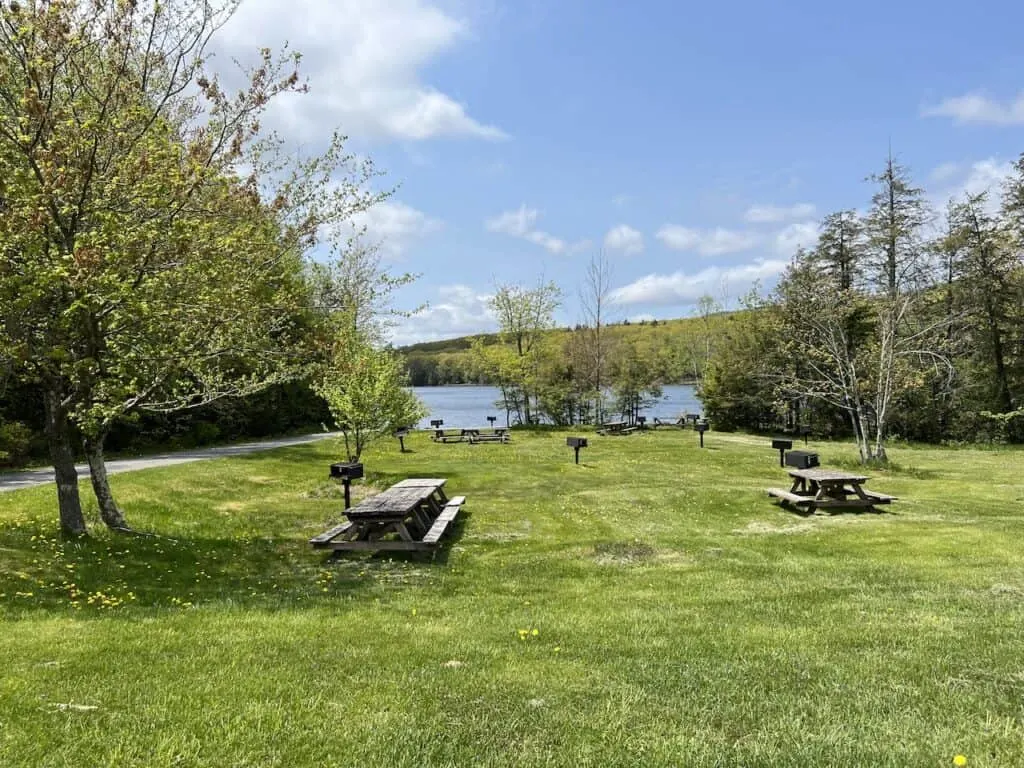 North South Lake Campground
In order to access the trailheads, you must enter the North South Lake Campground area (the entrance point is also marked on the map). As you are driving past the entrance, you will need to pay a $10 fee to access the trails.
You may also find that Google Maps does not fully understand the driving routes once within the North South Lake Campground. If following my route, simply make a right hand turn onto South Lake Road after paying your fee. From there it is pretty straightforward as you will see a large parking lot on your left hand side just a few minutes later.
If you would like to actually camp overnight at the campground, feel free to make your reservations ahead of time at the New York State Parks website.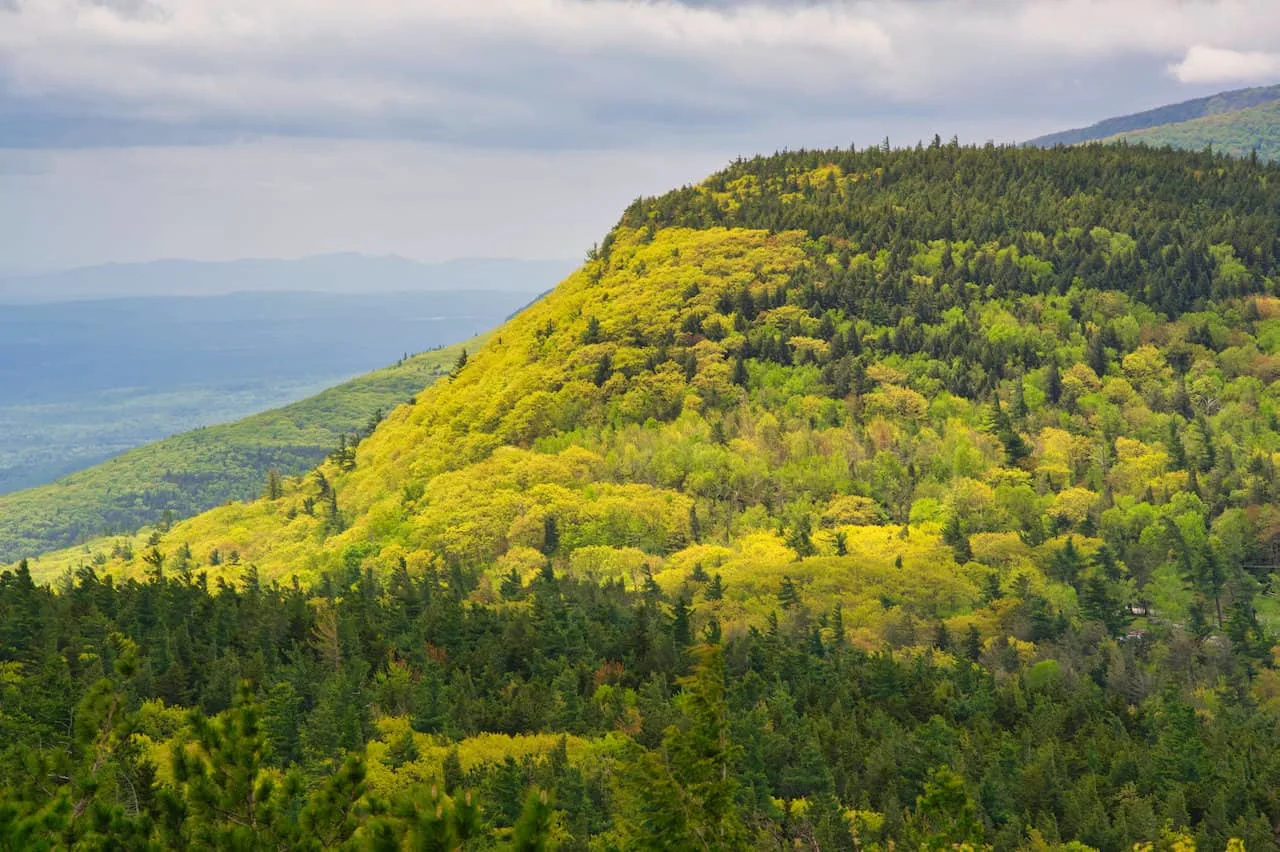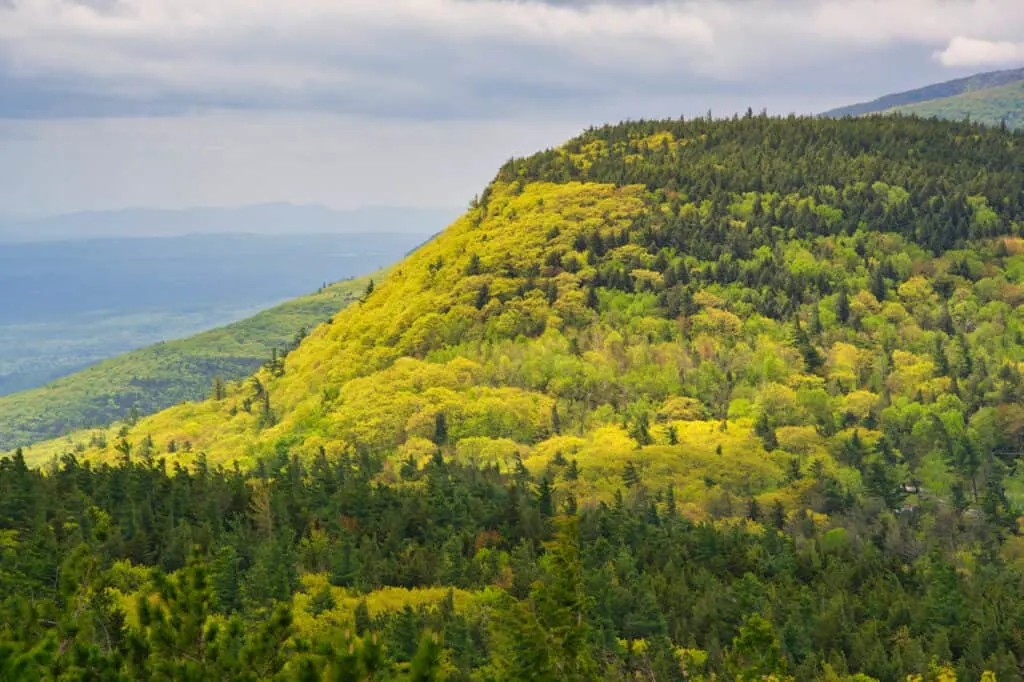 3) North South Lake Map
Before getting started on the hike overview, it is important to better understand the trail map.
Below is the map that outlines the hike, various trailheads/parking lots, entrance to North South Lakes Campground Area, and various highlights that can be found along the way.
You can see I also included the alternate route that bypasses North Point (yellow line).
Feel free to download this route onto your phone as a GPX/KML file, so you can better follow the trail during your time hiking.
4) Where to Stay
While a day trip is possible to North South Lake, it can be a lot of driving for a single day (especially if coming in from places like NYC). Instead, why not make an overnight trip out of it.
This way you can fully enjoy your time in the Catskills as you visit the lake, and take part of some other hiking trails in the region (like a visit to nearby Kaaterskill Falls or the trail up to the Giant Ledge!).
Here are some hotels to choose from throughout some nearby towns:
You can also browse through many more Catskills hotels if those don't work for you!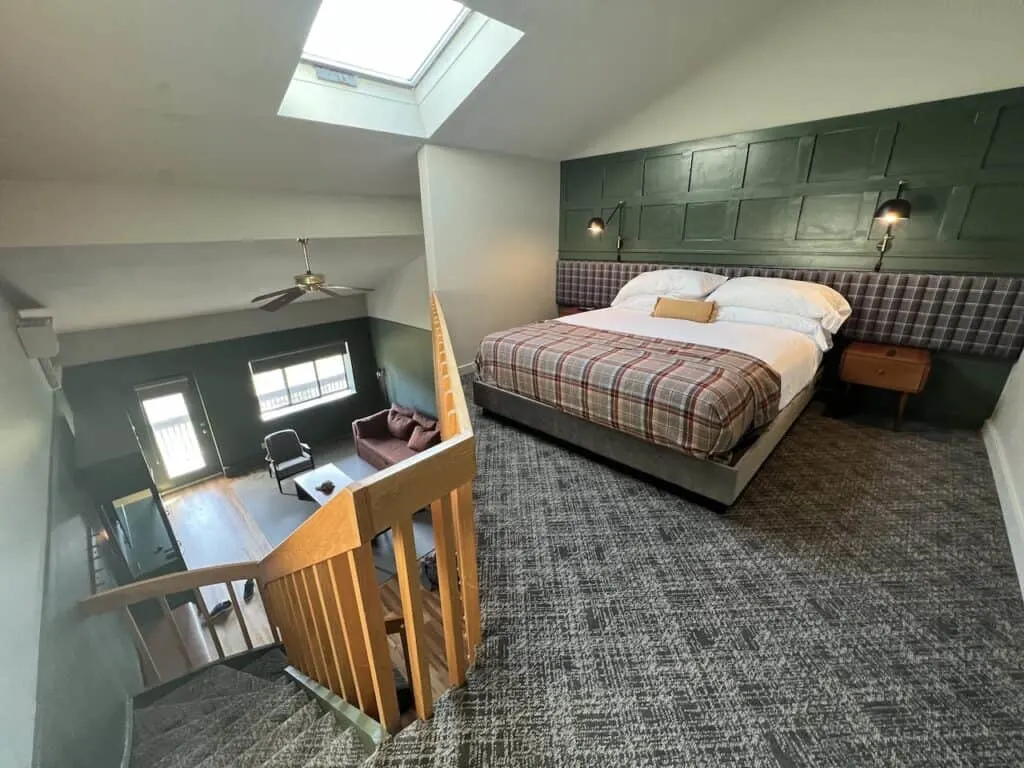 5) Hiking Packing List
If you were wondering what type of gear to take along with you on the trail, check out the hiking list overview below that can better help you out.
Hiking Packing List

In general when it comes to hiking, there are a few main aspects to consider. These includes clothing layers, hiking shoes, hydration & fuel, electronics, and other essentials.

Below in a breakdown of some of the top items, but be sure to check out the Hiking Packing List for a more comprehensive view.

Clothing Layers

Layering is going to be a top consideration when hiking. You will want to be prepared for all sorts of weather so you can be comfortable in different situations. Some items may include:

→ Hiking Shorts
→ Hiking Pants
→ Short Sleeve Shirt
→ Long Sleeve Shirt / Sun Hoodie
→ Mid Layer Fleece
→ Puff Jacket (not always needed)
→ Packable Rain Jacket (Columbia Watertight II)

Note that your layers should be made of moisture wicking material as they are breathable and quick drying.

Footwear

Having appropriate footwear will also be very important. You will want to have shoes with the necessary grip and support to keep you safe on the trail.

→ Hiking Shoes (Keen Targhee)
→ Hiking Socks (Darn Tough)

Other Essentials

Whether it is hiking gear, electronics, or just some miscellaneous items, here are some other essentials to bring along on hikes.

→ Hiking Backpack (Osprey Talon 22) & Rain Cover (Joy Walker Cover)
→ Hiking Poles (Black Diamond Trekking Poles)
→ Water Bottle (CamelBak Chute or Katadyn Filter Bottle)
→ Portable Charger (Anker PowerCore 5000mAh)
→ Action Camera (GoPro Hero)
→ Energy Bars & Snacks
→ Hat & Sunglasses
→ Sunscreen & Bug Spray
6) The North South Lake Hike
This is one of those hikes where you will always be looking forward to that next highlight along the way. I will break up the trail into different sections to give you a better understanding of what to expect as well as some logistics information.
Remember, I started the trail from the main South Lake parking lot. The remainder of this overview will be going about the hike from there.
Trailhead to Ashley Falls (1.9 miles)
Starting out from the parking lot, you can first make your way closer to the South Lake beachside. If you want to hang out here a bit before starting the hike, go for it! If not, you can save some time to hang by the beach after the 7 mile loop.
The trail begins on the left hand side of the beach, where you will see a "Trail" sign pointing you into the trees. Head onto this path through the forest as you follow the yellow trail markers.
Most of this portion will be a pleasant forest walk as you sometimes will get nice views of South Lake and its surrounding hillsides. After some hiking though, the trail will reach the roadside.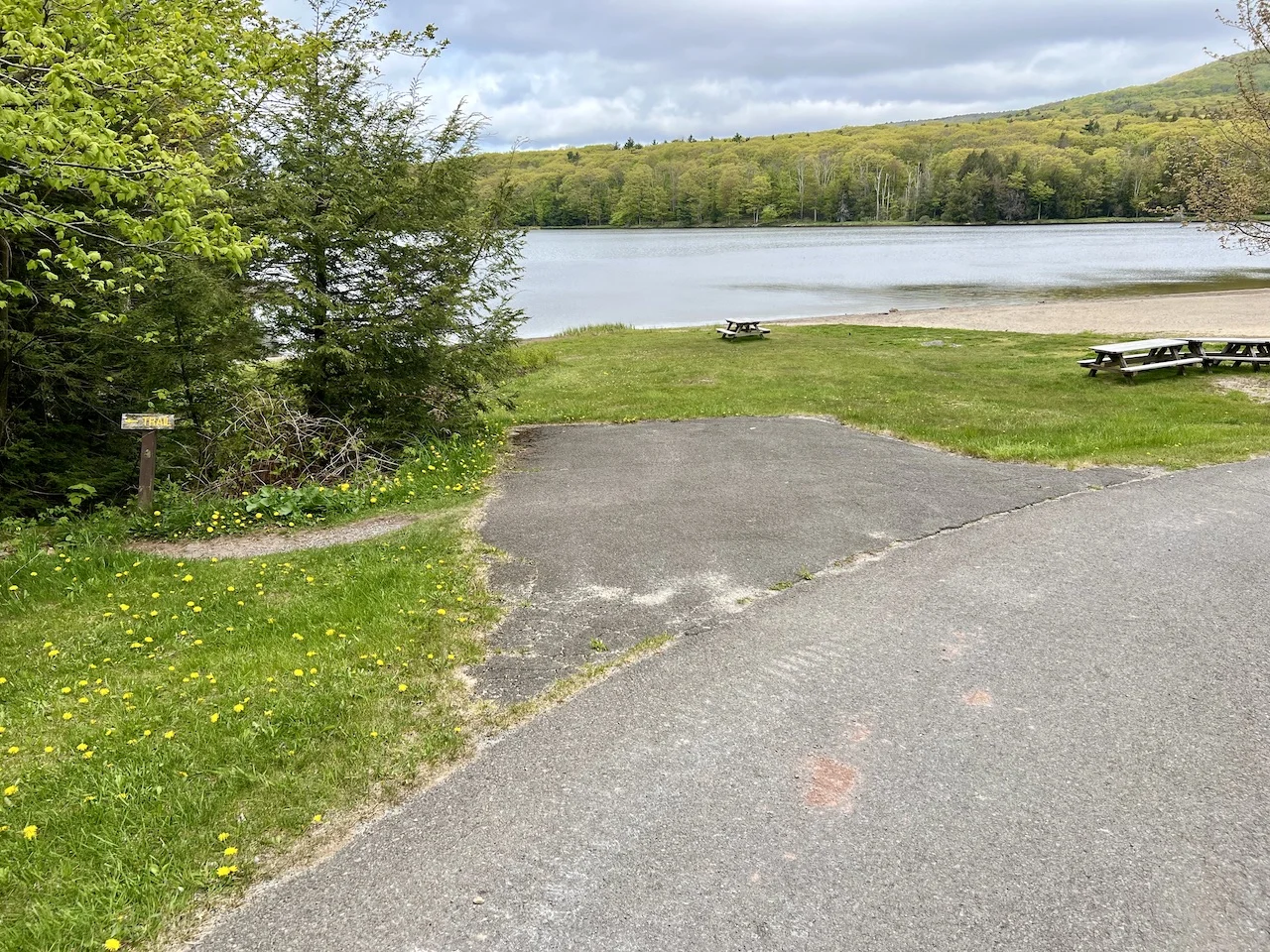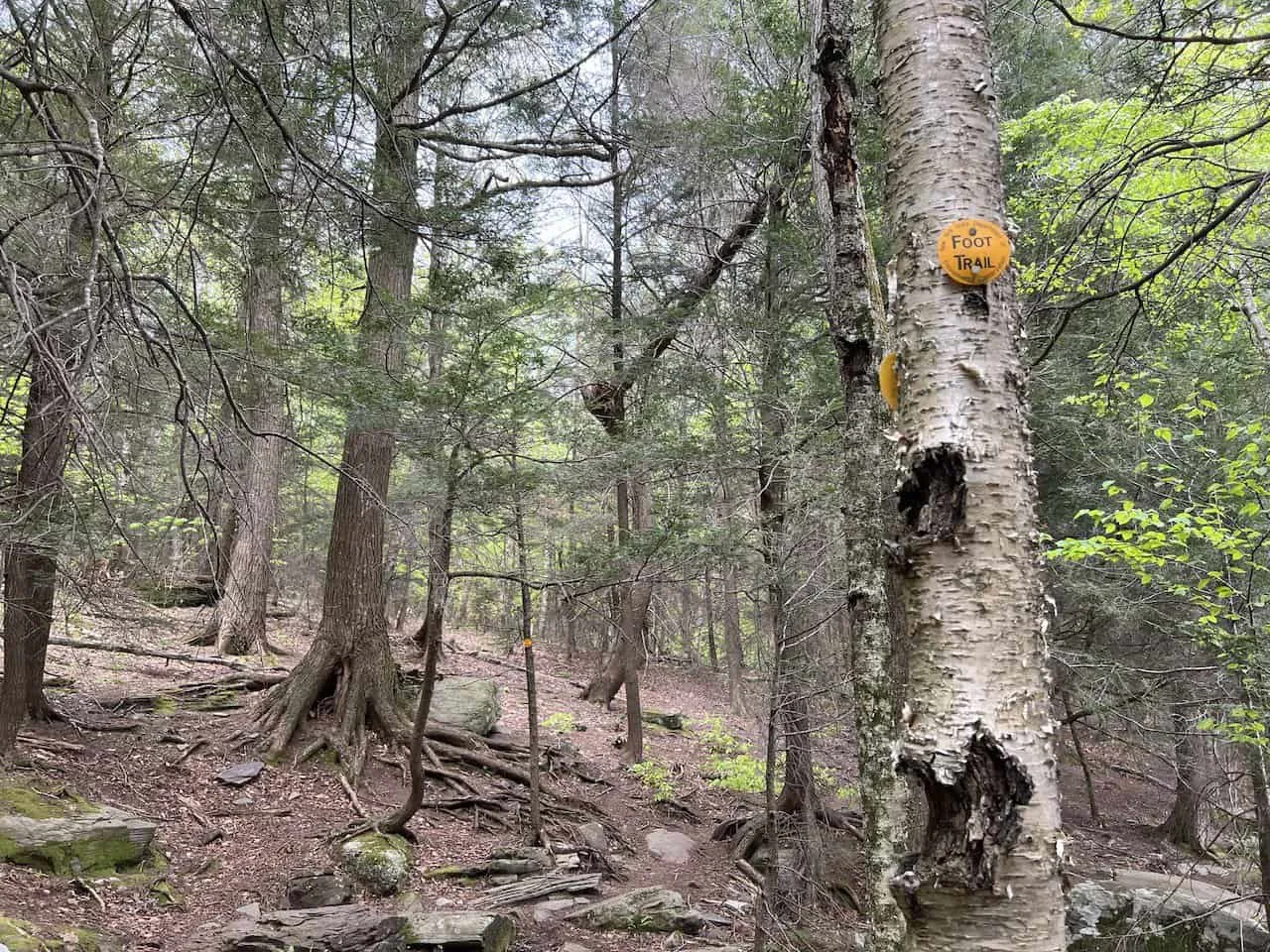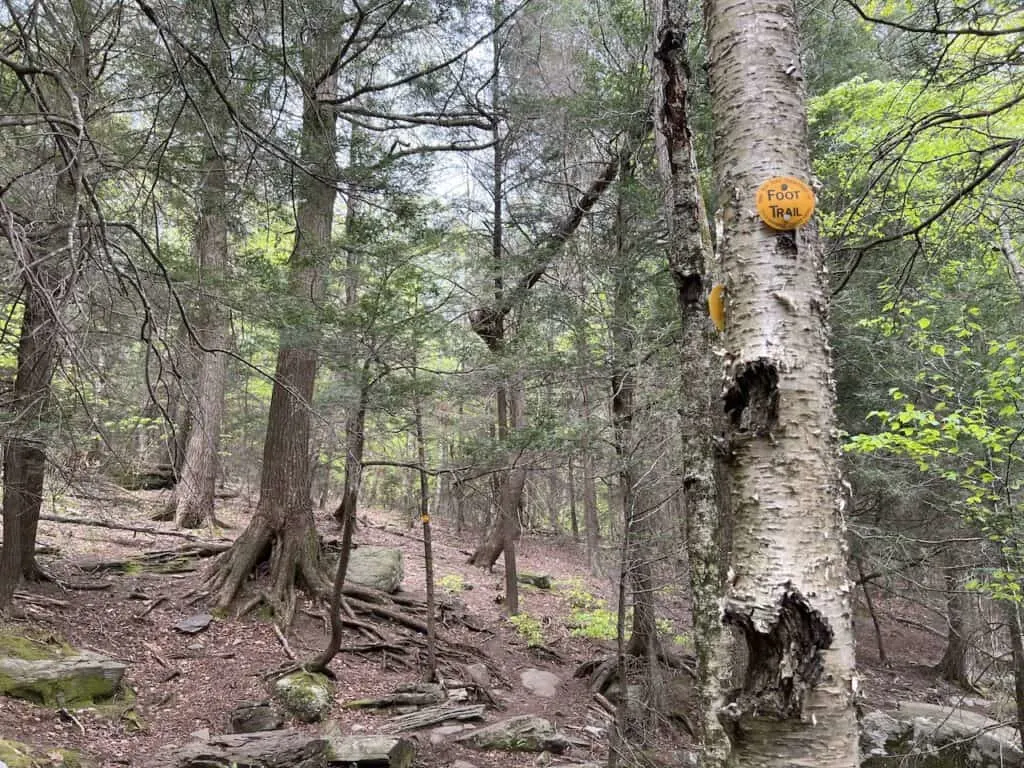 Follow the roadside to the right, where you will find a yellow gate and trailhead sign out behind it. This is the location of that alternate parking lot pinpointed on the map.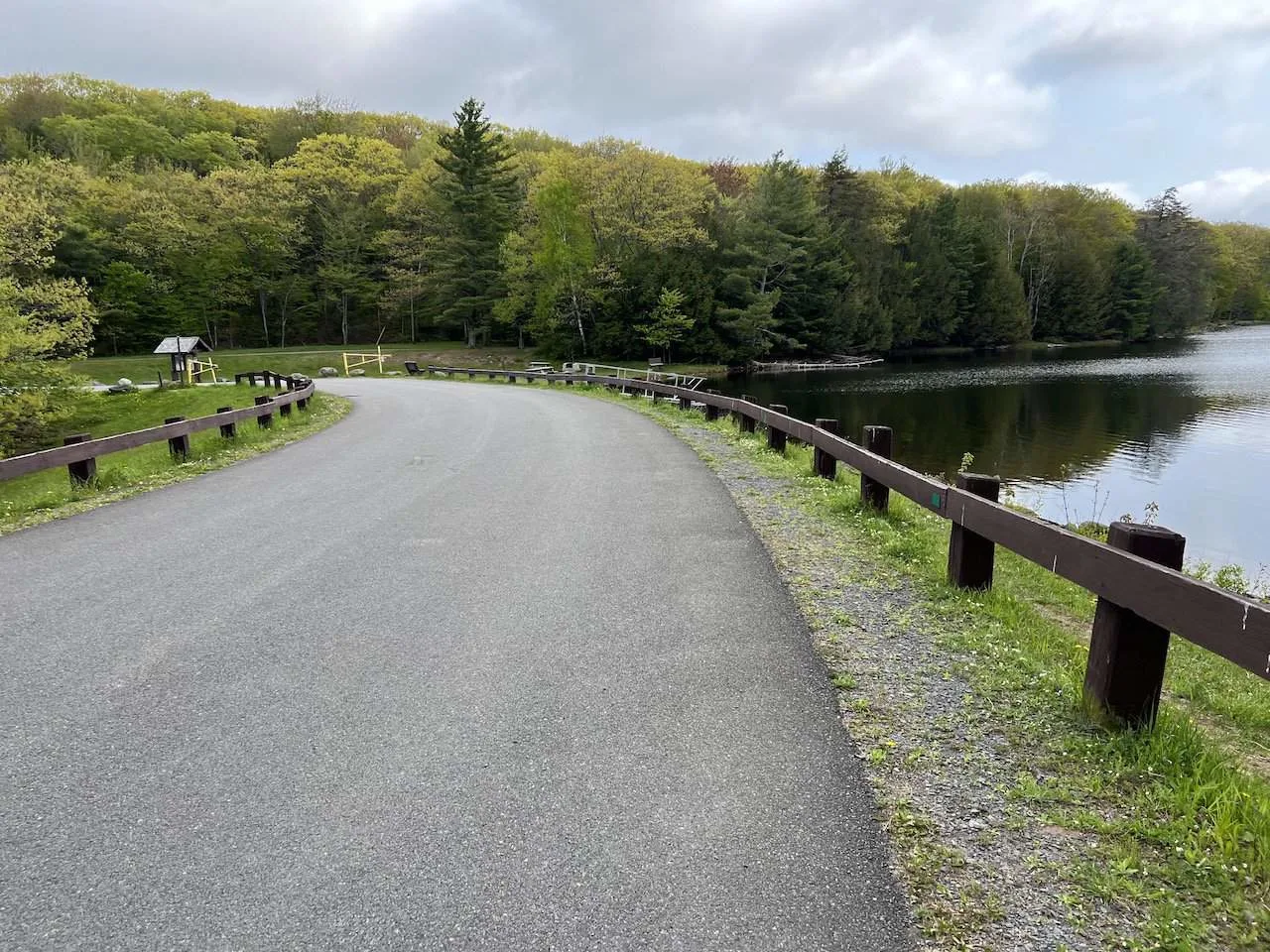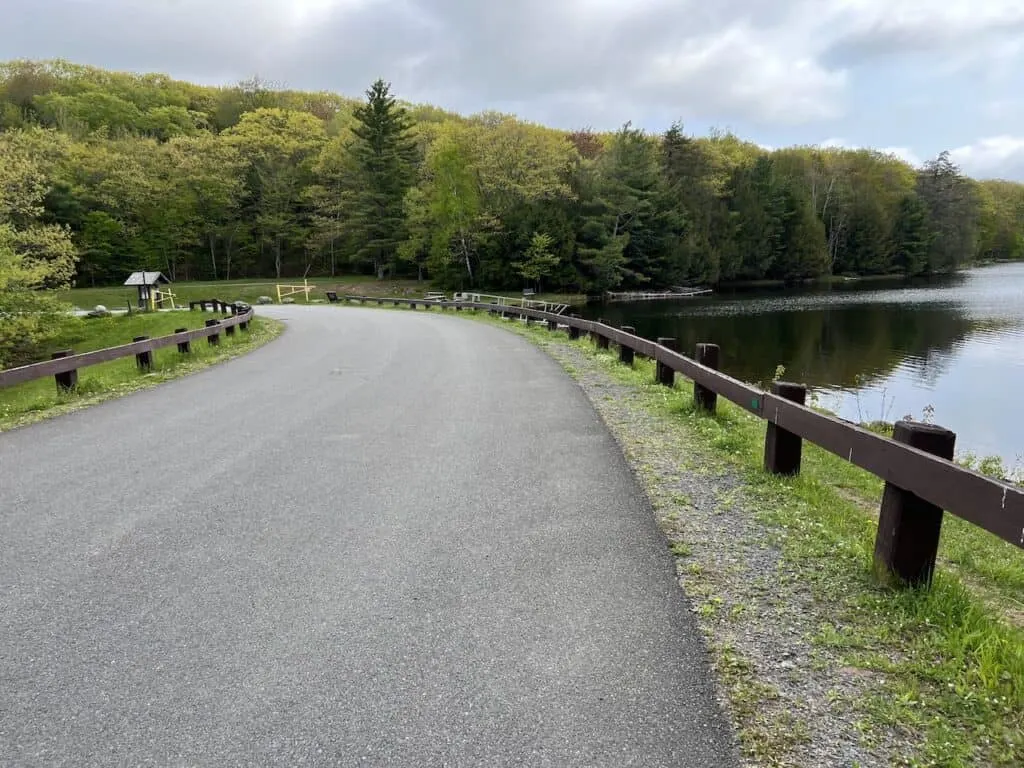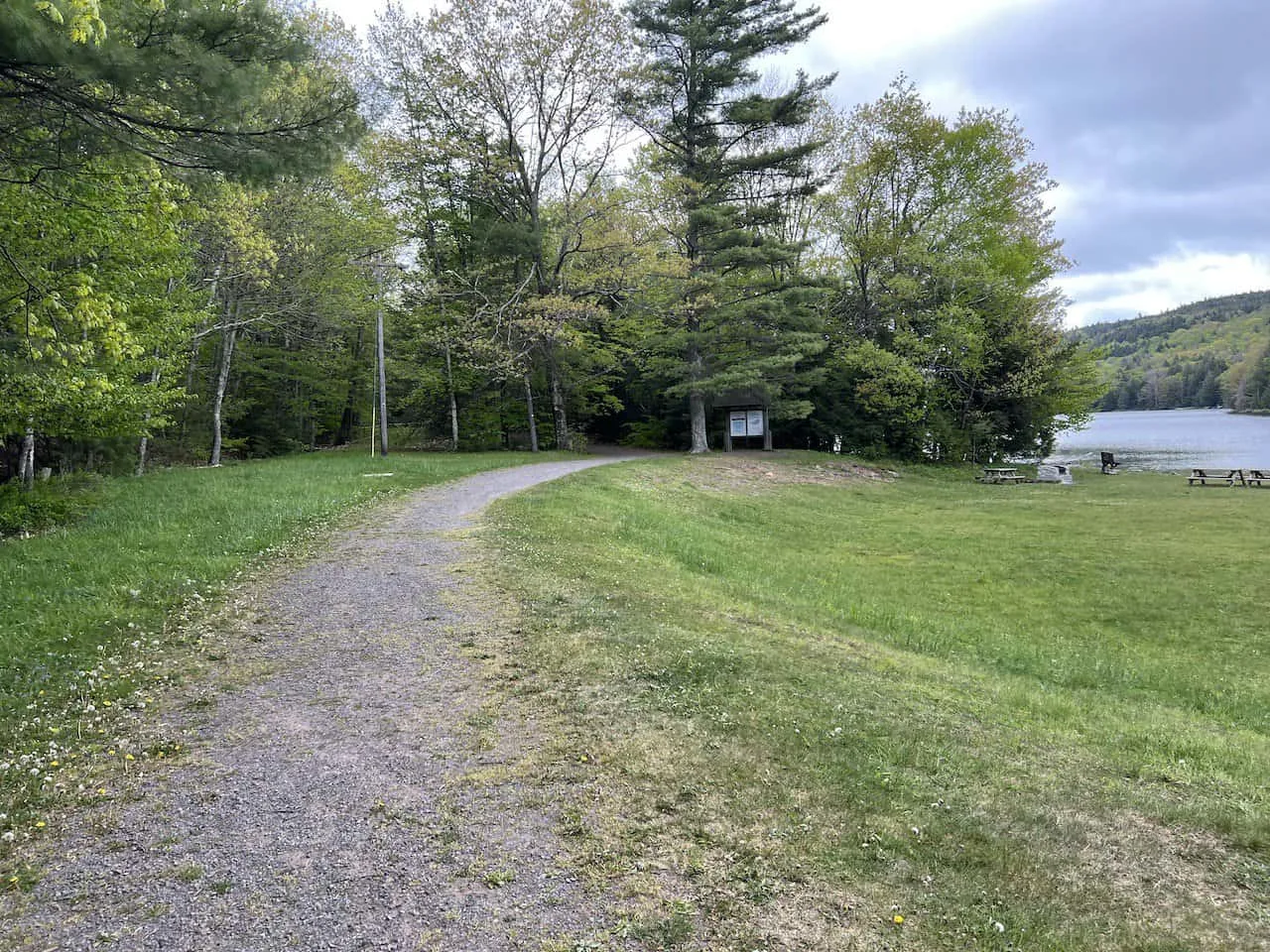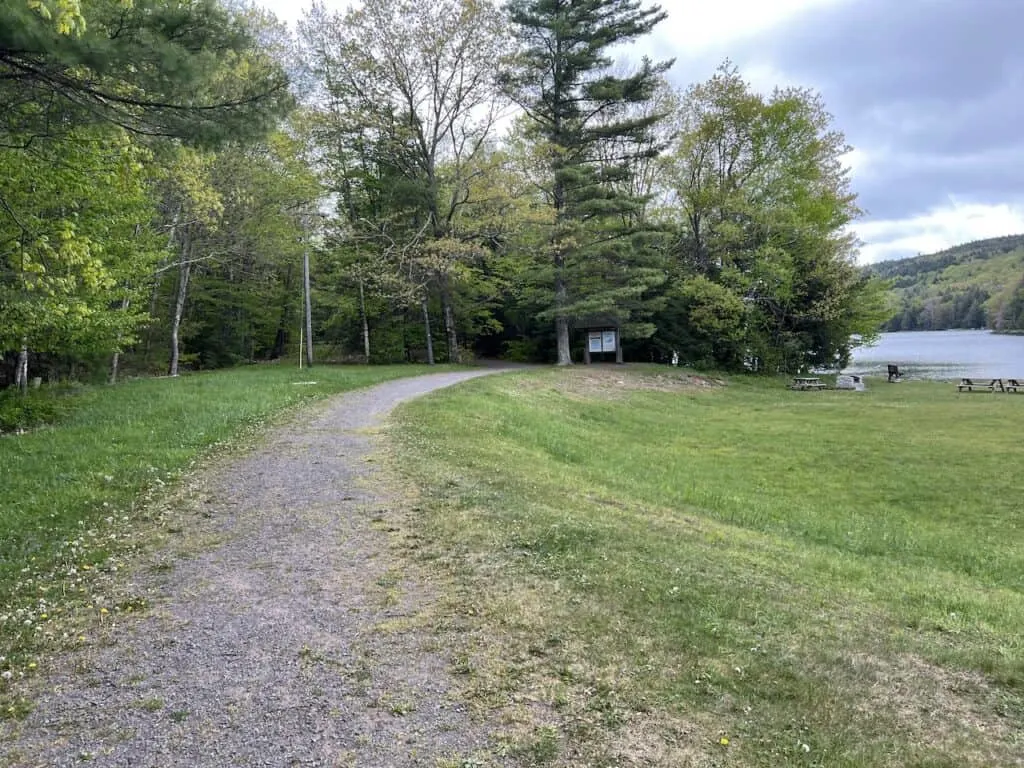 From here, head onto the gravel pathway that makes its way along South Lake. It isn't the most exciting portion of trail but it does give some nice lake views here and there.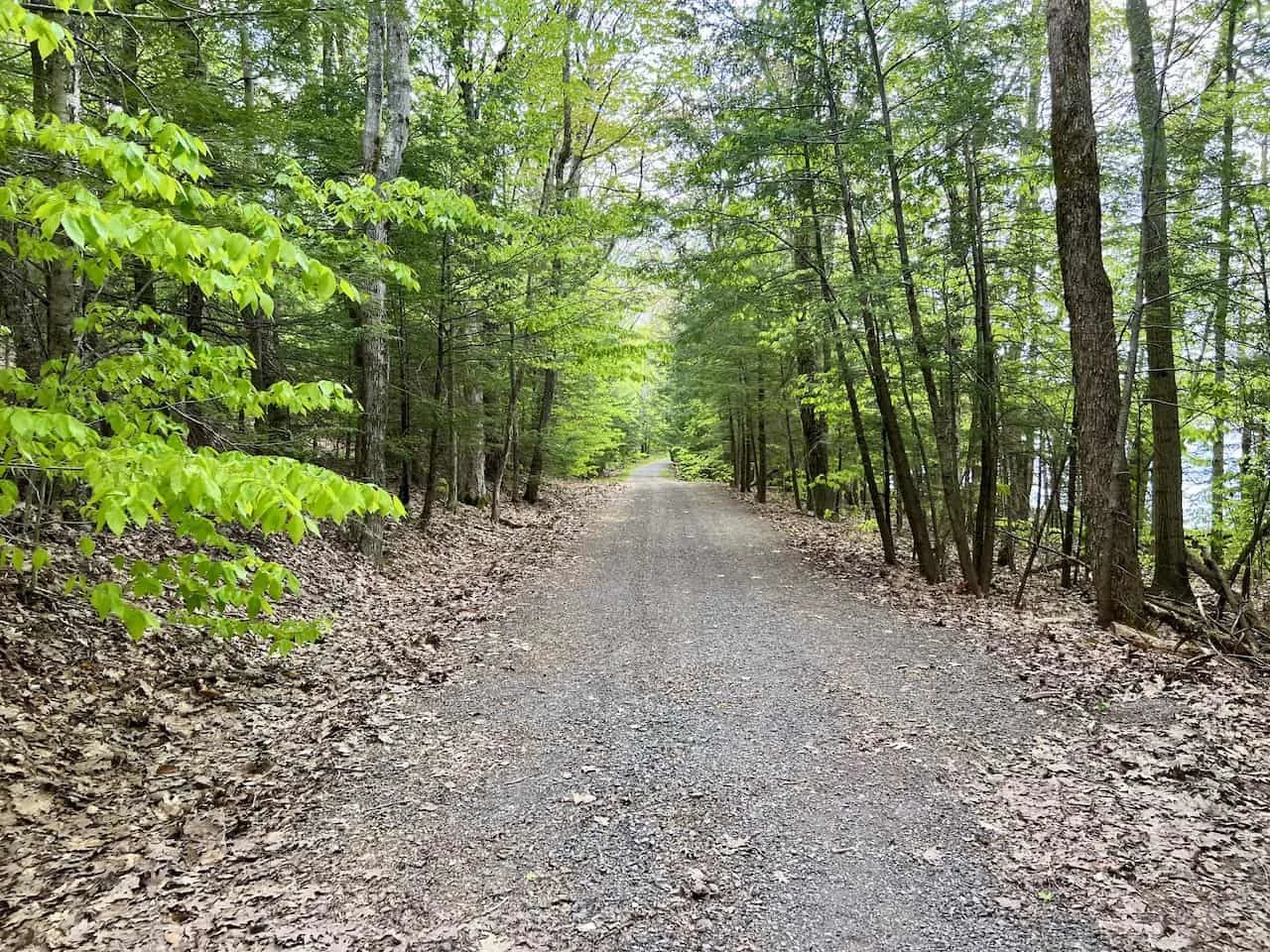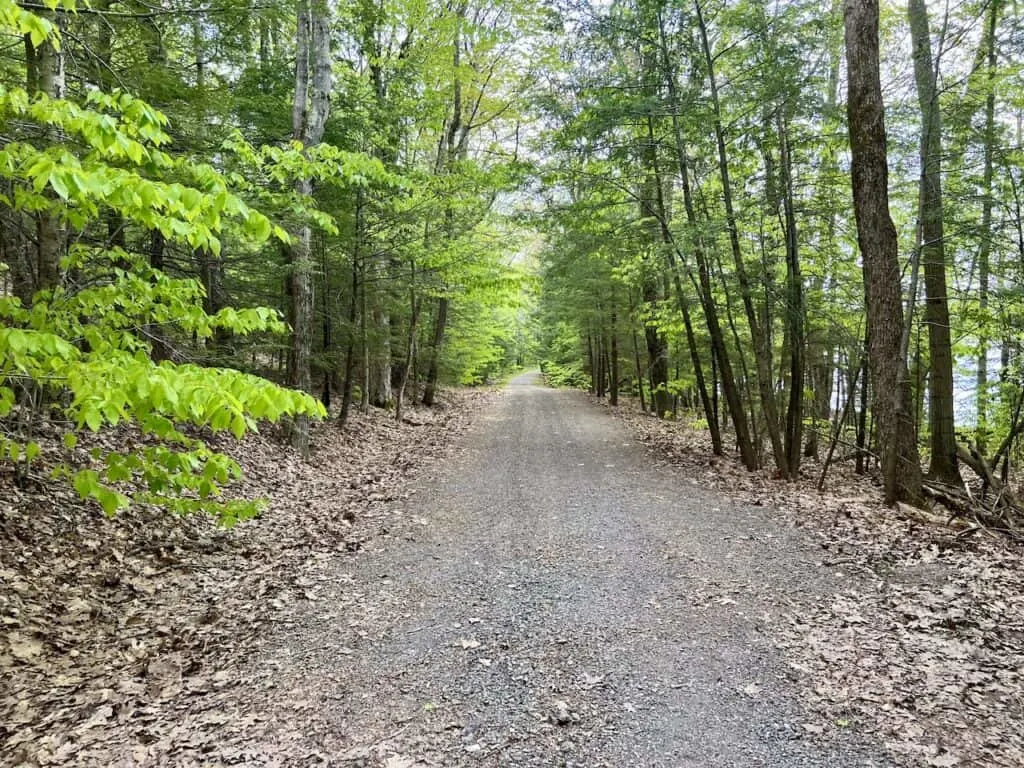 Soon you will reach the roadside, where you will need to make a sharp left hand turn followed by a right hand turn that will get you onto North Lake Road. Without a doubt this is the least desirable part of the hike as you are walking on a road.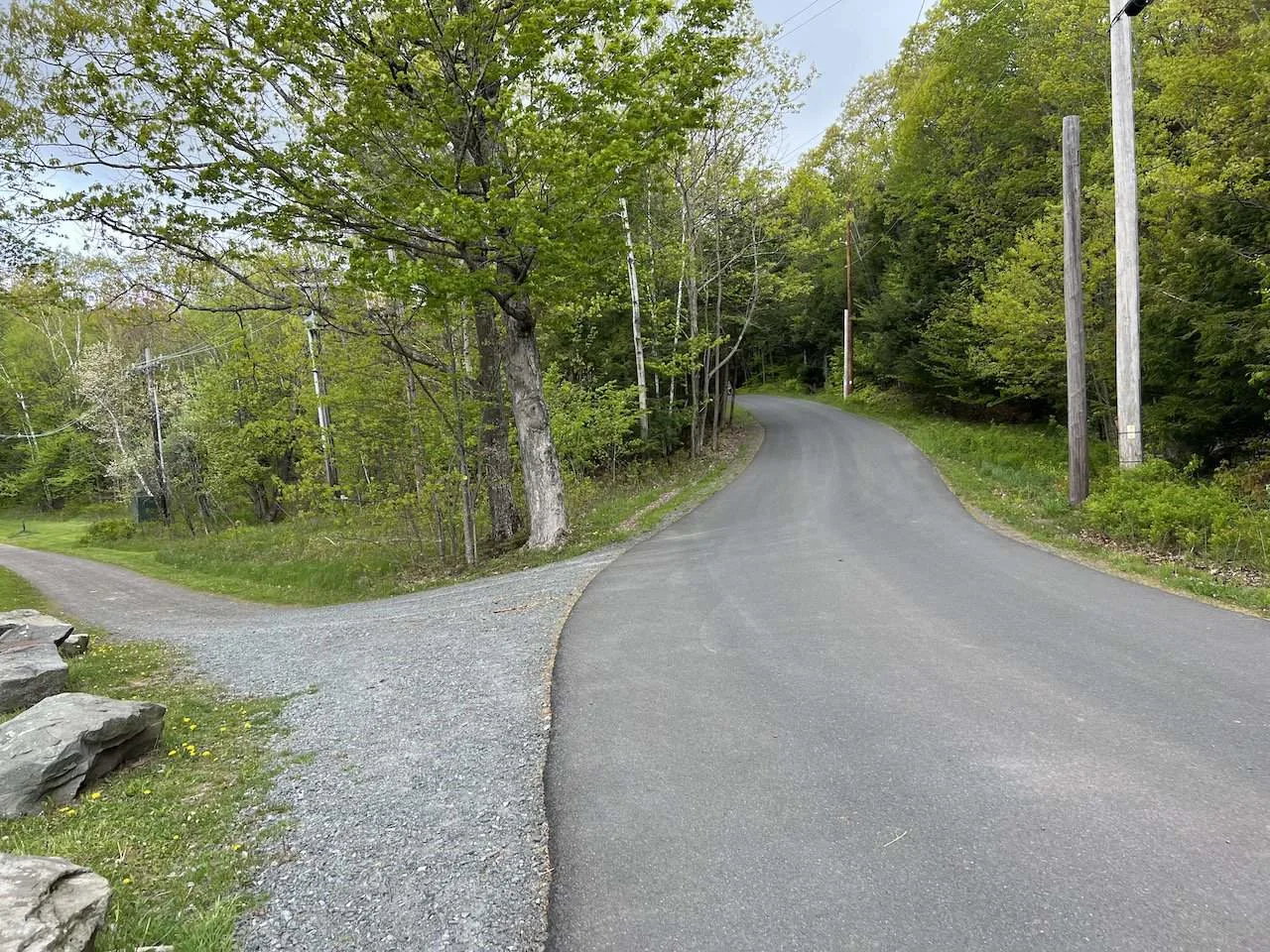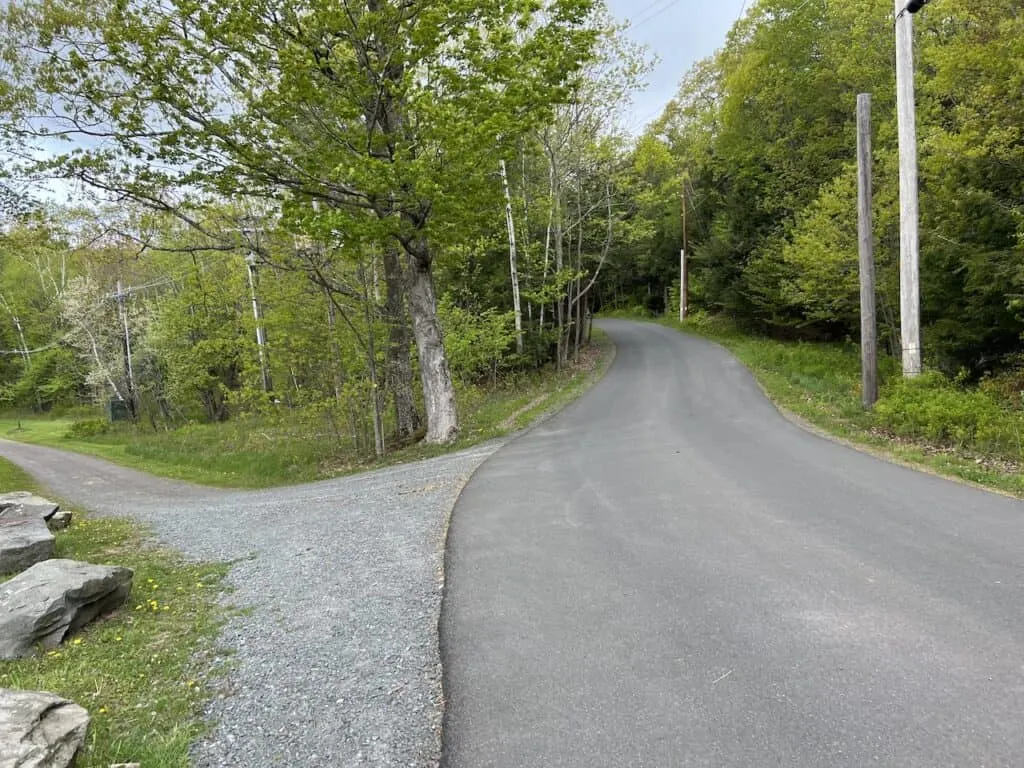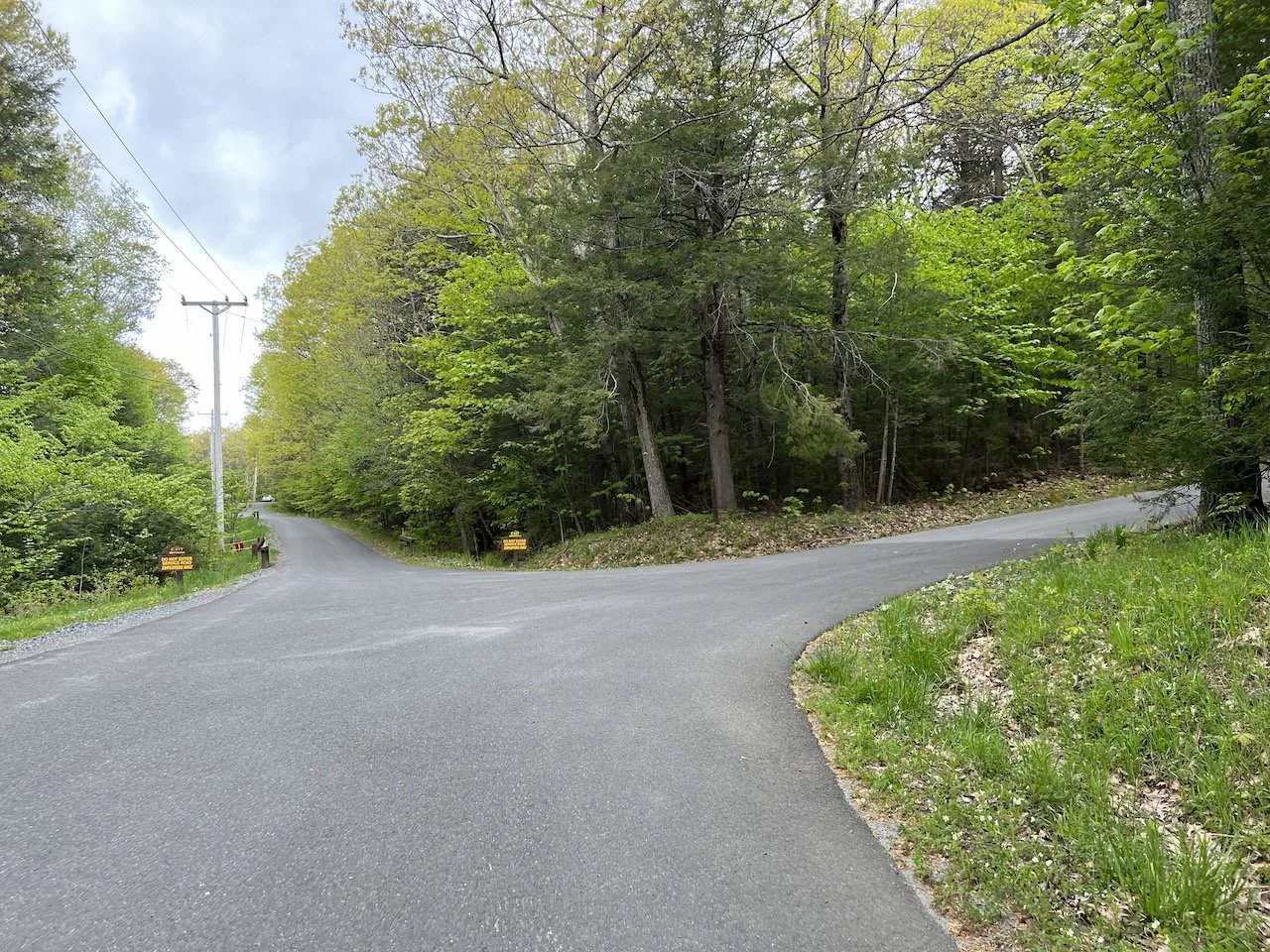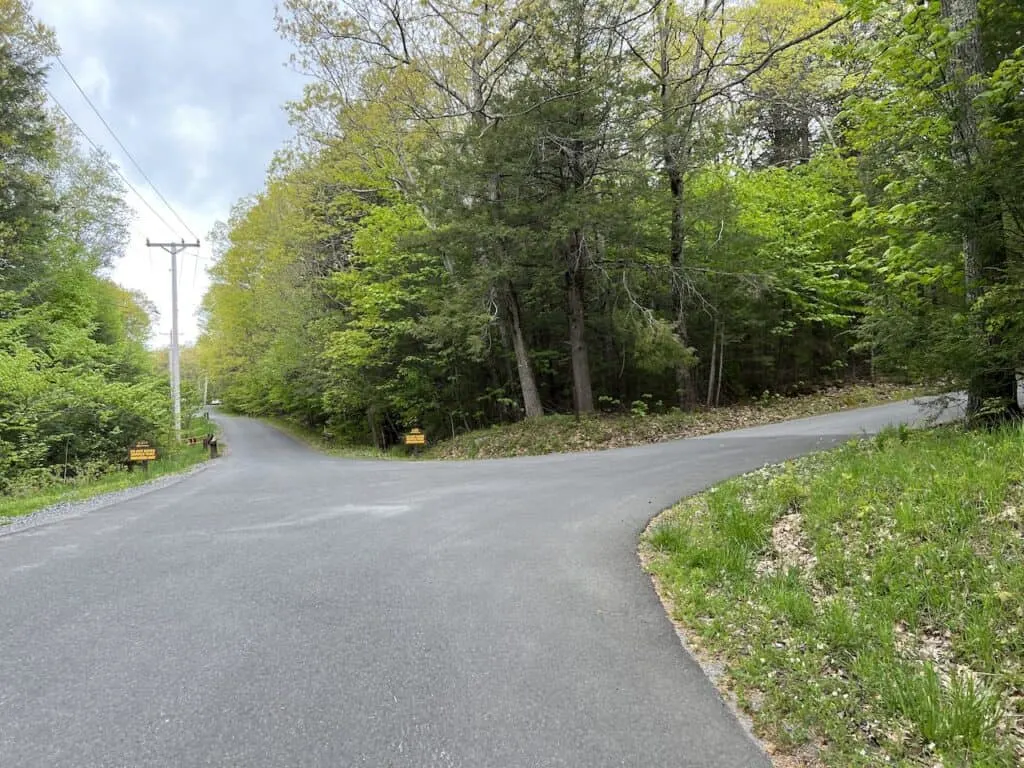 Expect this road walk to last around half a mile or so. Soon you will see a trail sign on your left hand side pointing you up to North Point. From here, begin to follow the red markers through the forest.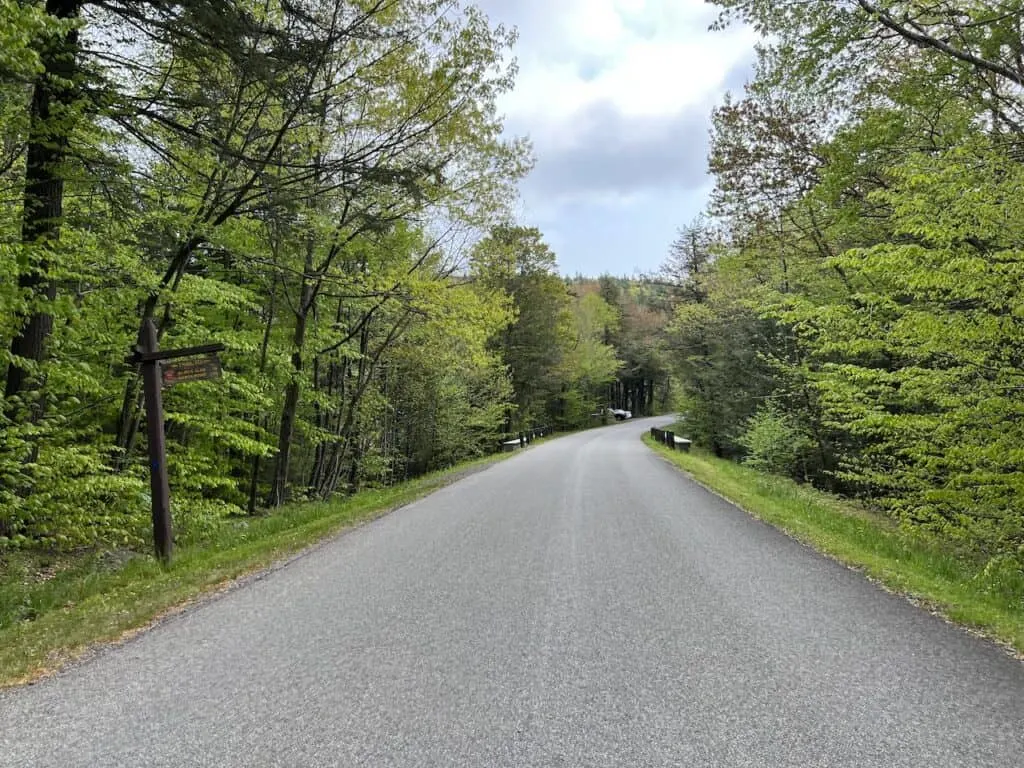 Now the real hiking begins as you are surrounding by trees and an actual hiking trail. After 5 minutes in the forest, you will reach an intersection pointing you towards Ashley Falls.
While Ashley Falls isn't the biggest of waterfalls, it is just a 1 minute detour to check out before turning back around and continuing along towards North Point.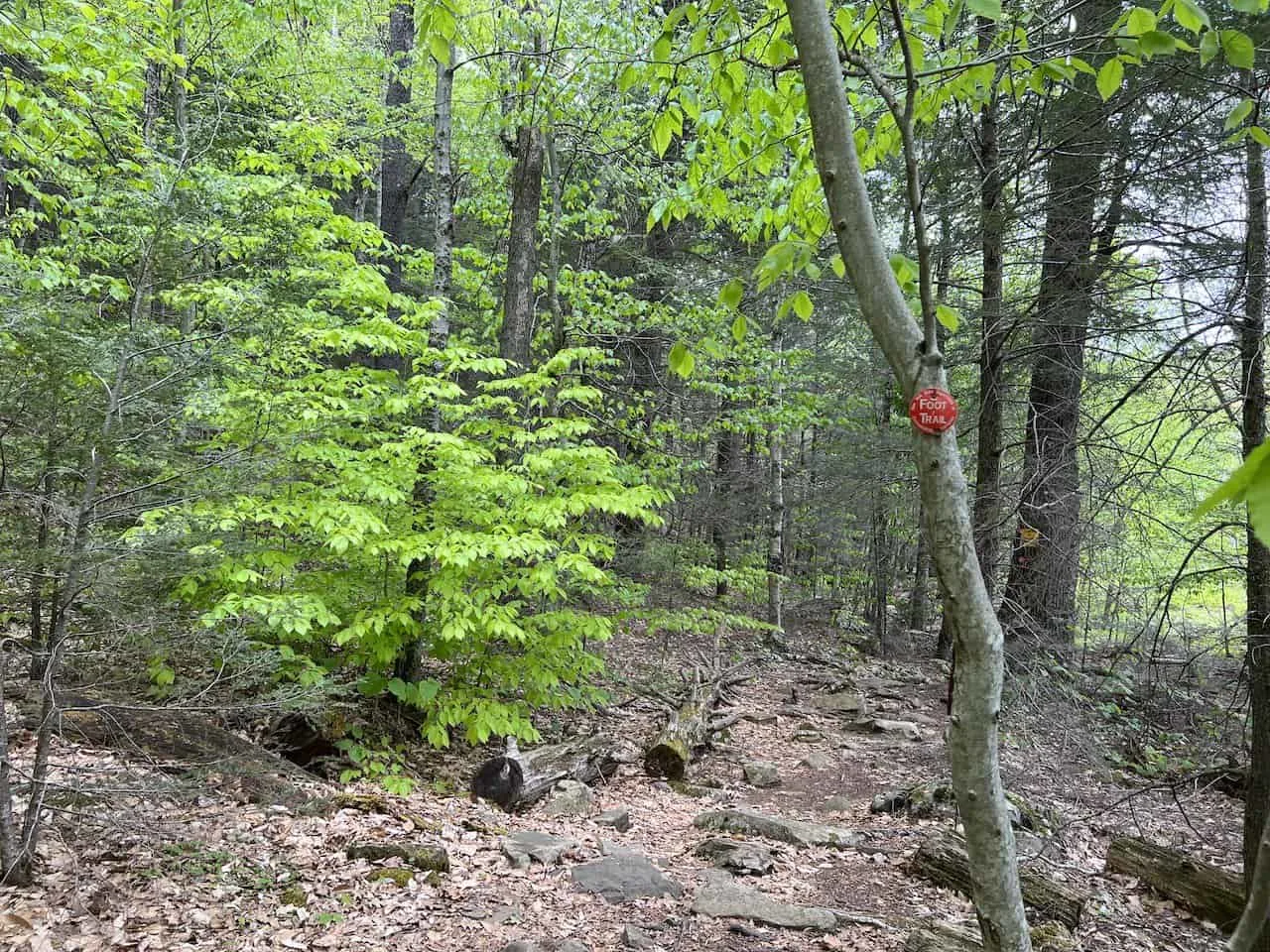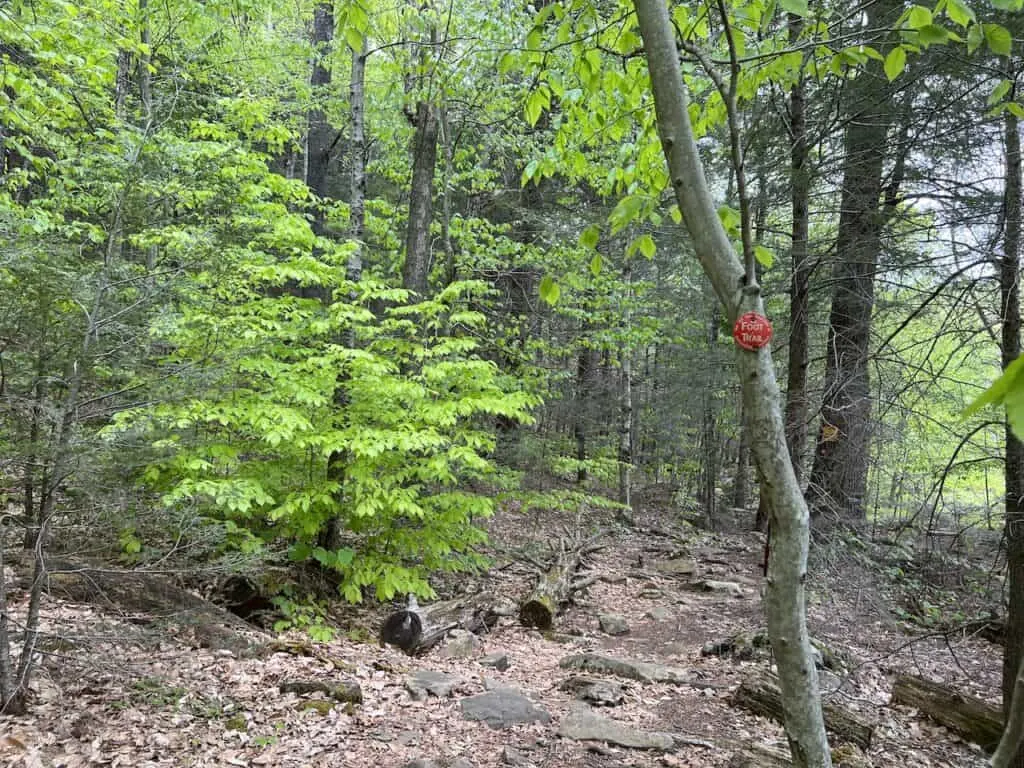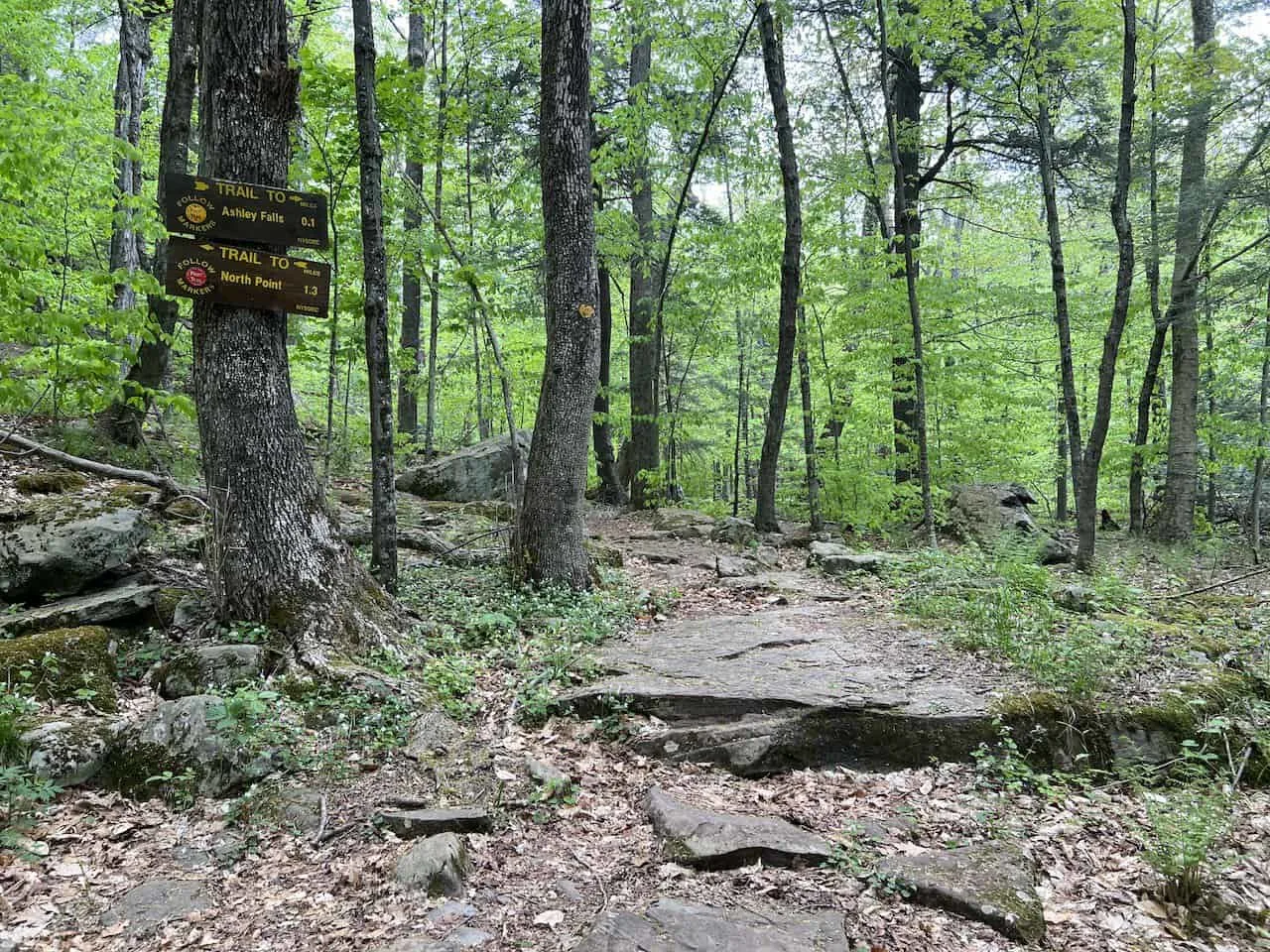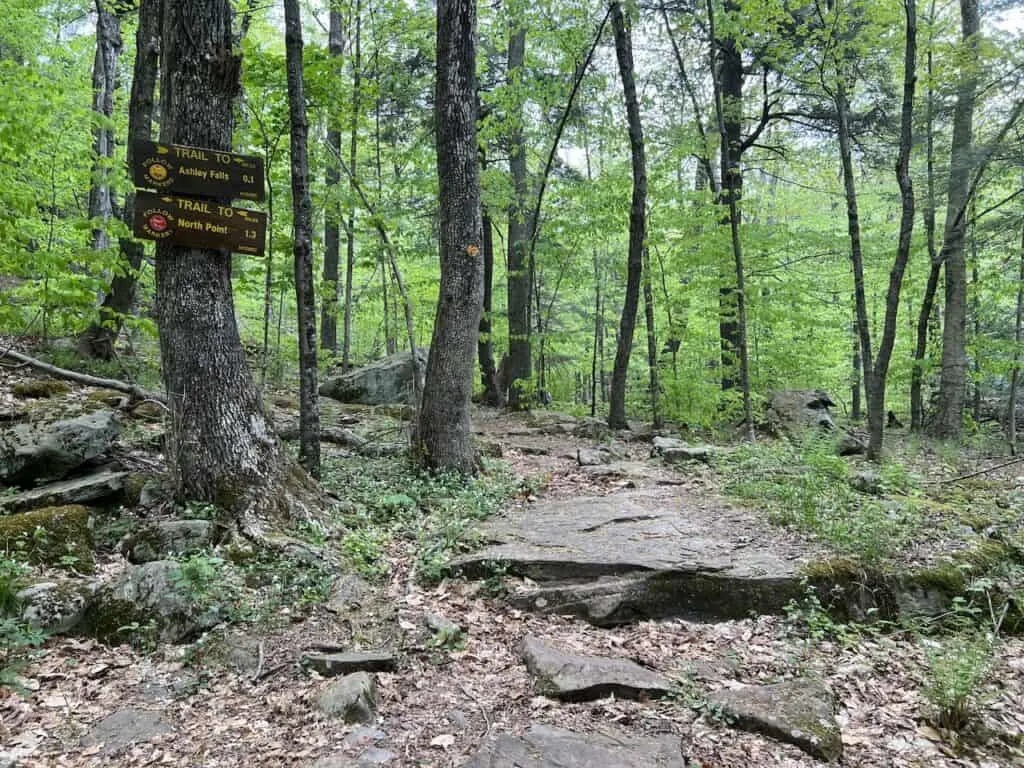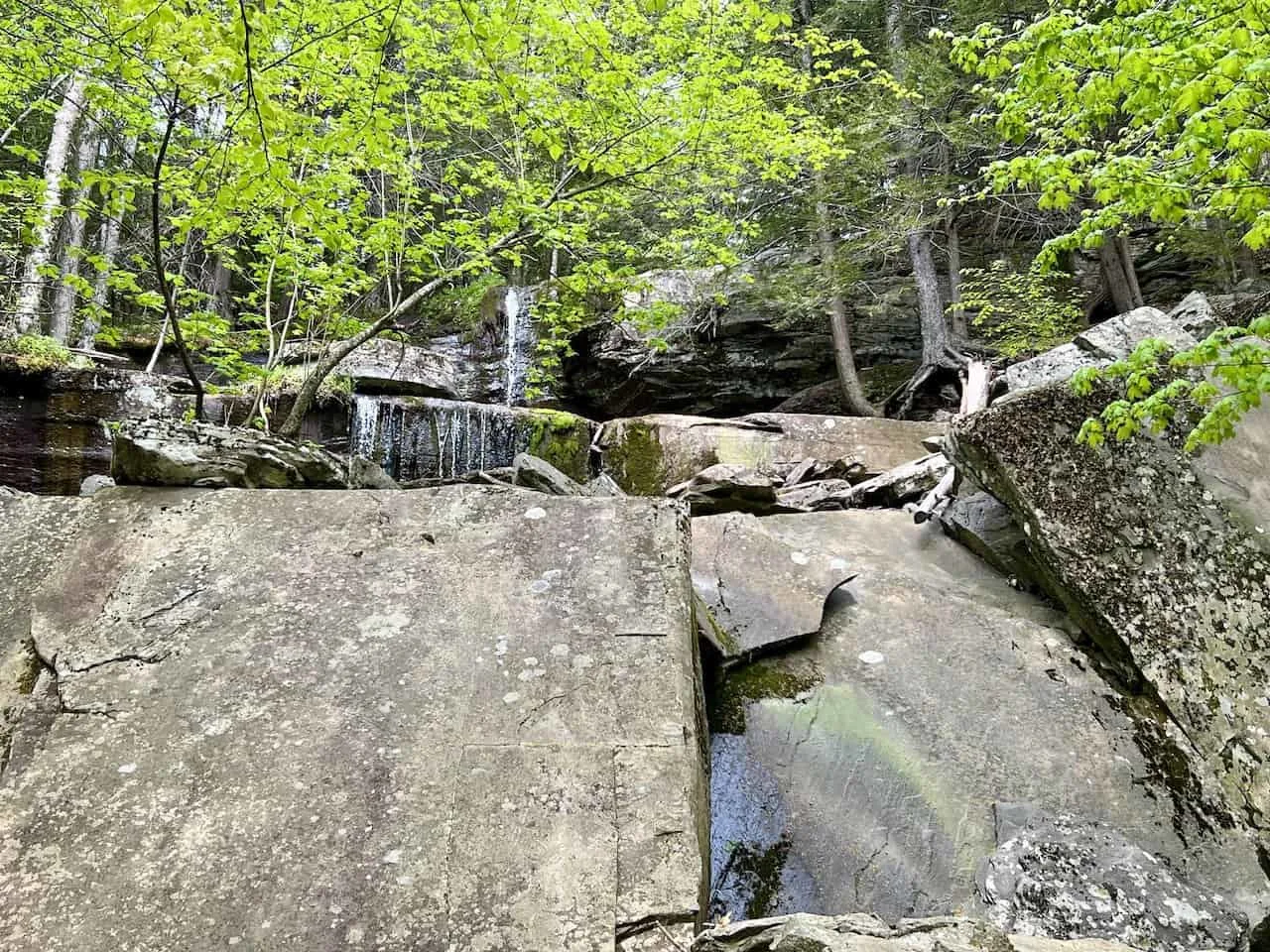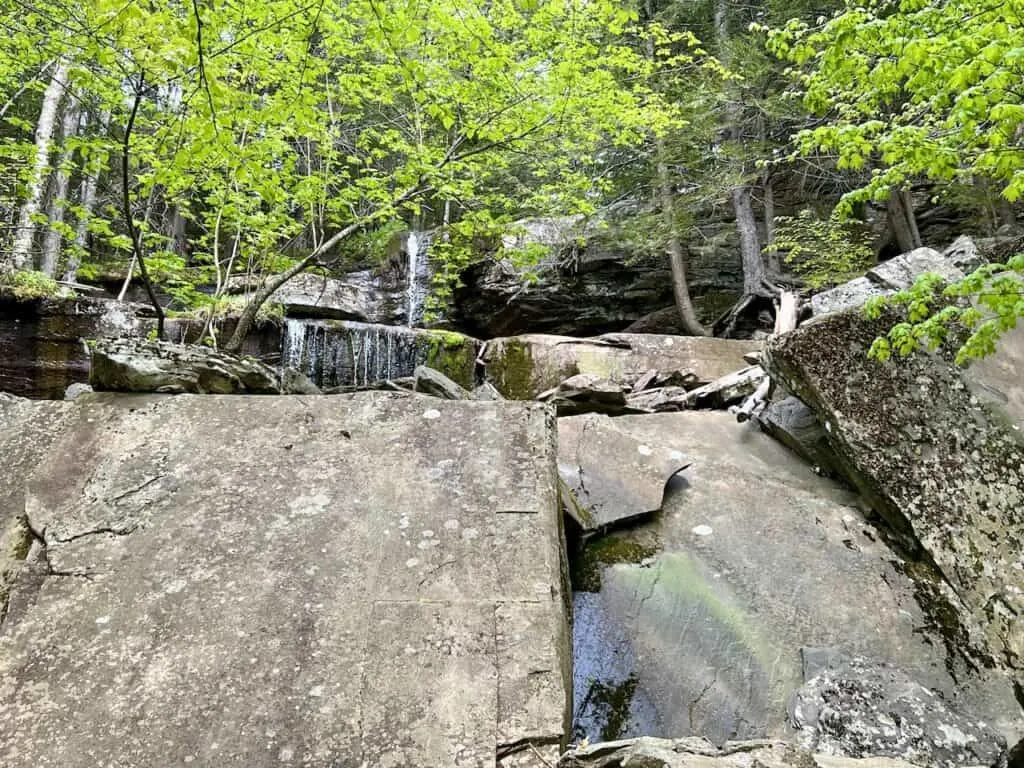 Ashley Falls to North Point (1.4 miles)
Now begins the fun part (and the hard part!). Instead of a nice flat terrain, the trail will begin to gain all of its elevation for the day. While there are some ups and downs later on in the trail, expect the vast majority of the elevation gain to take part between Ashley Falls and North Point.
The trail heads upwards, over some rocks, through the forest, with some water features along the way. Expect the terrain itself to get a bit more technical with various small & large rocks to work your way around.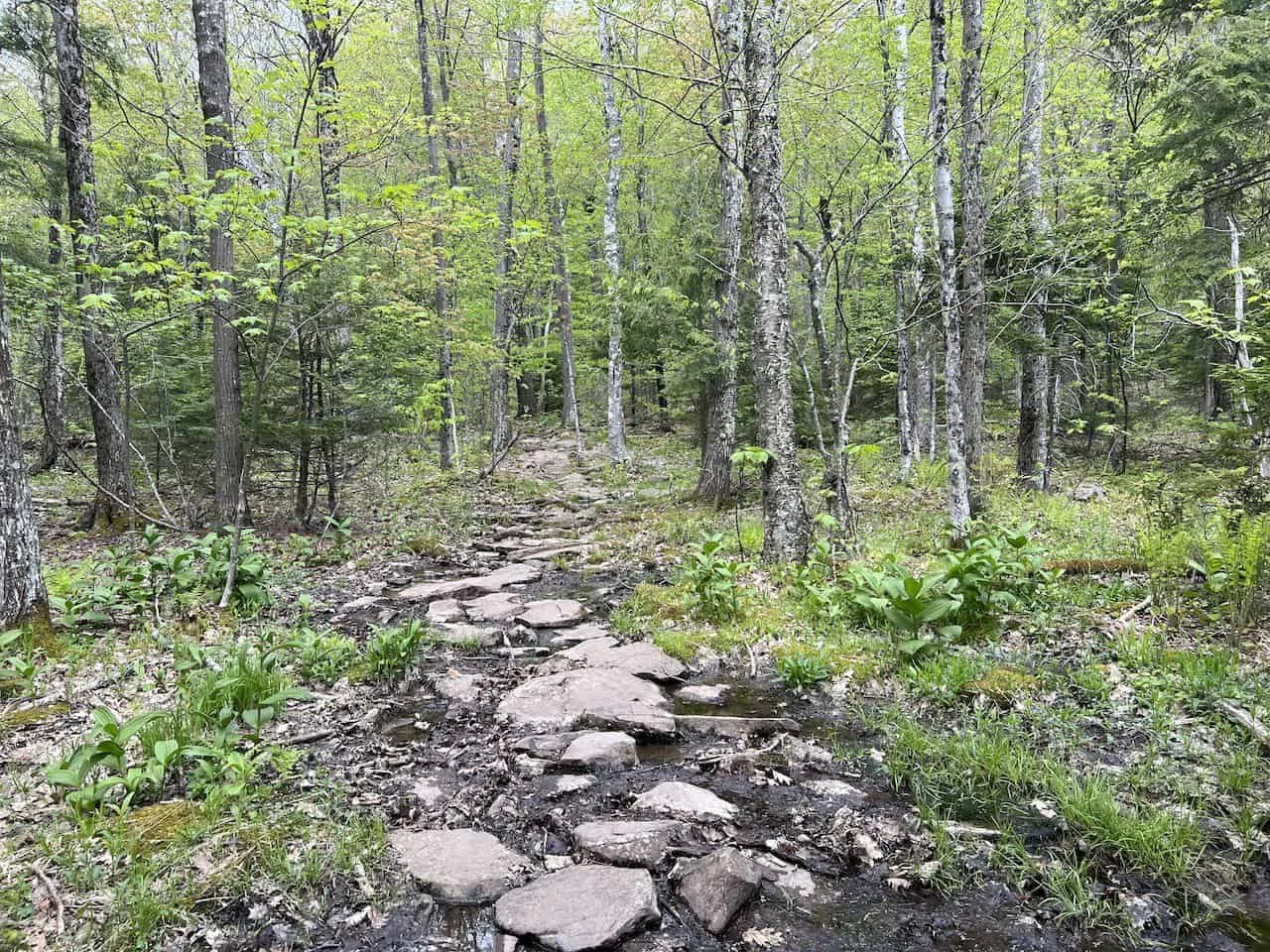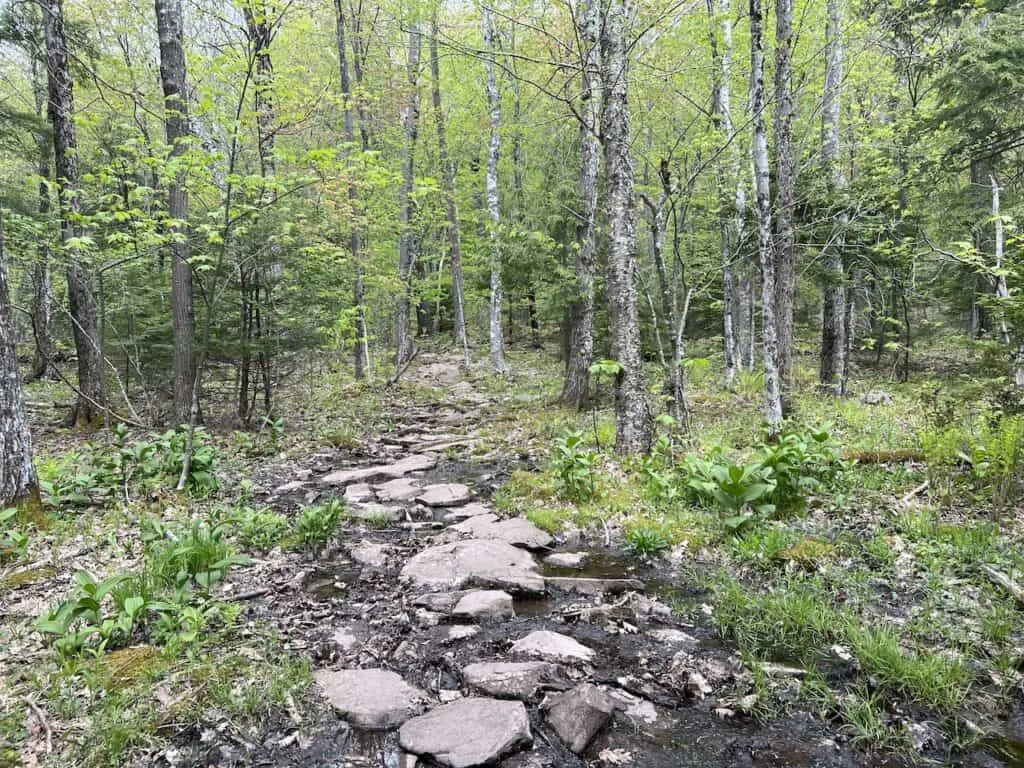 Soon you will reach an intersection – to your right is a "shortcut" that bypasses North Point, while straight ahead is the trail to the North Point view. While I would highly recommend the extra mileage to visit North Point, those who are not up for it can simply take the bypass route.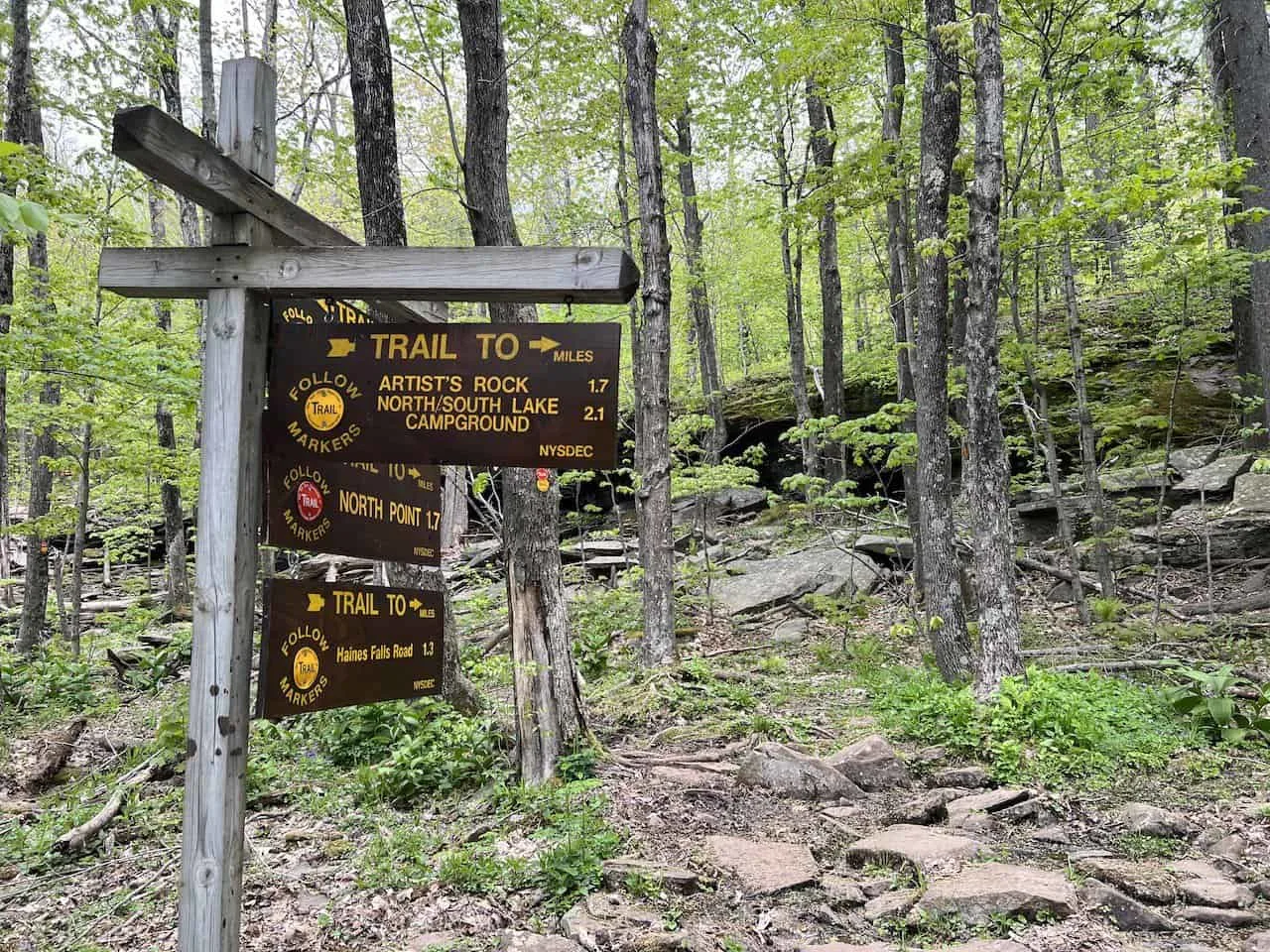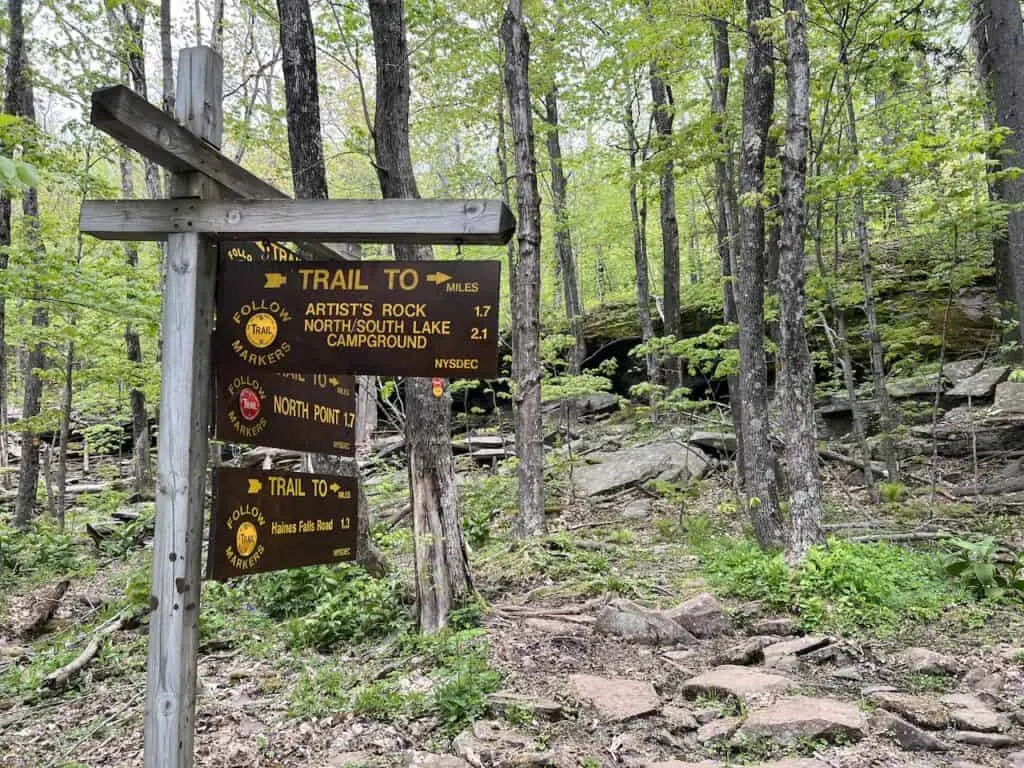 From here, the red trail to North Point continues up through the forest and along some fun & technical terrain.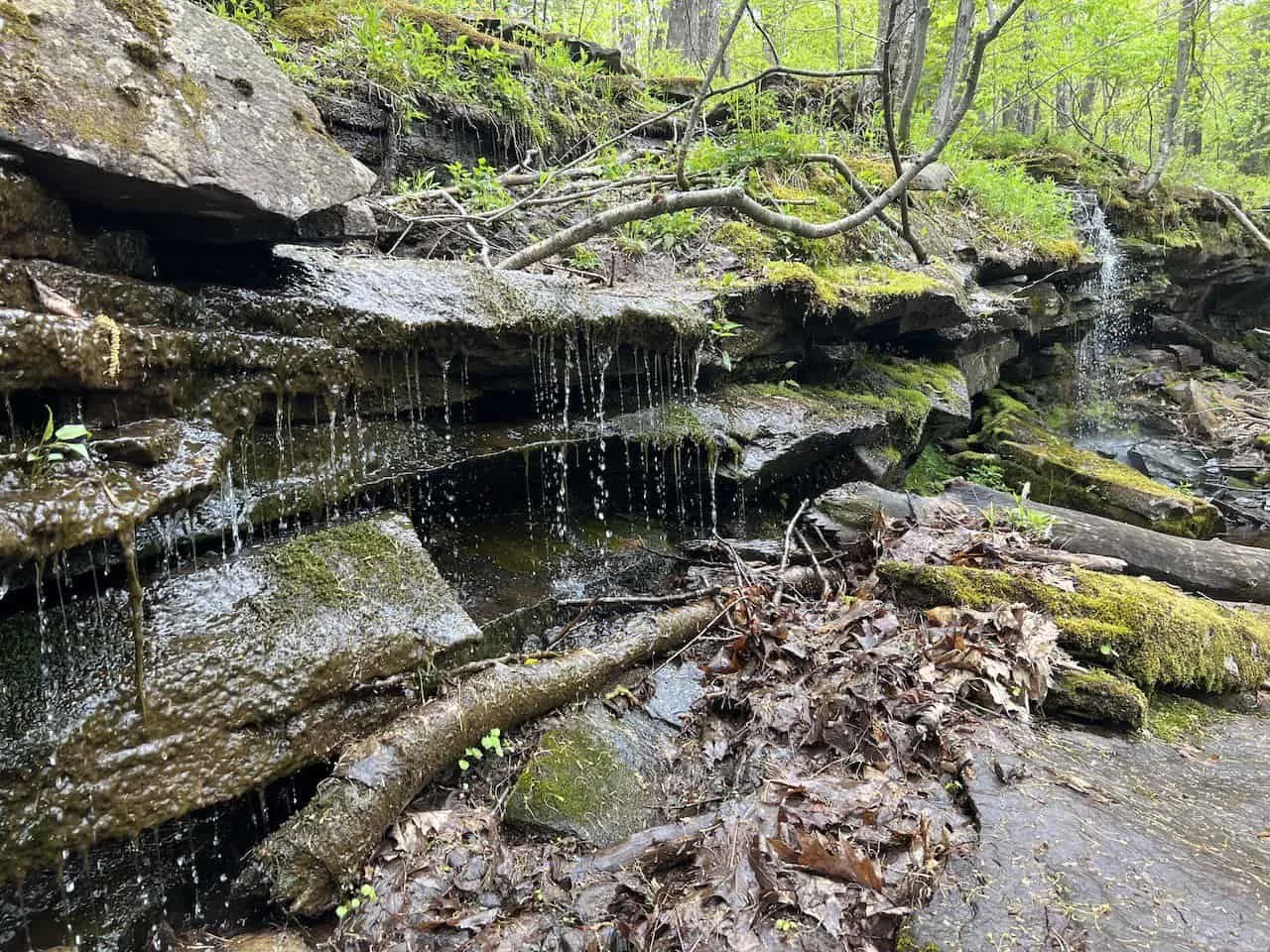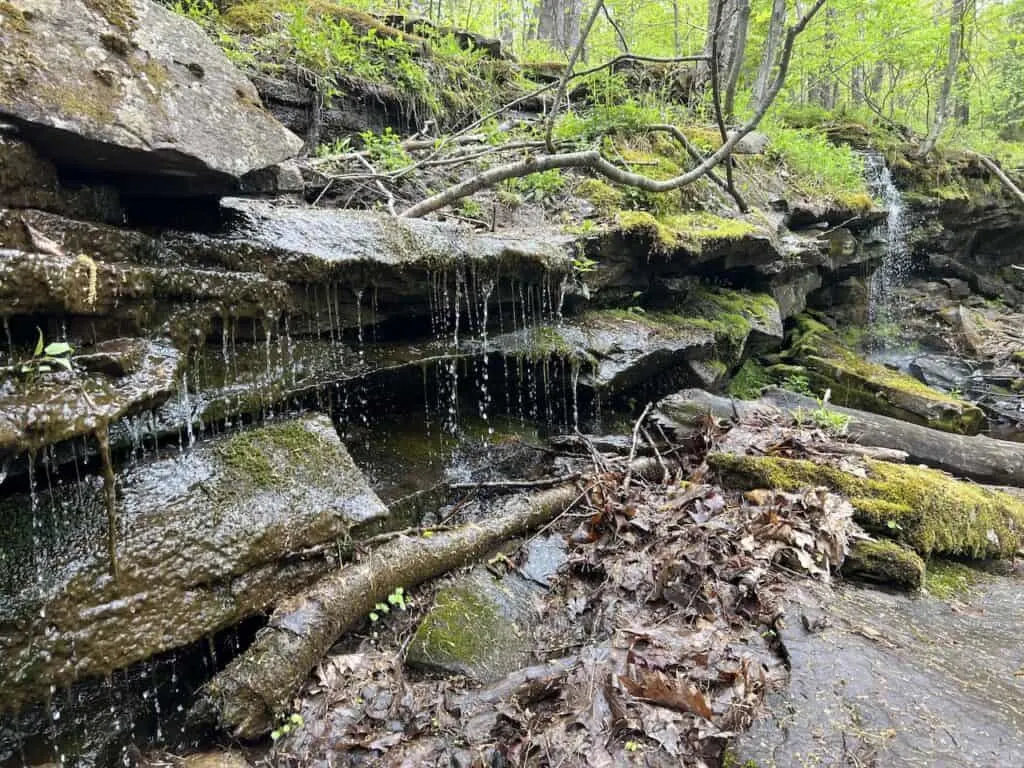 After some ascending, you will reach another intersection. Be sure to follow the staircase straight out behind the trail signs along the blue trail to North Point. You will arrive back at this intersection once you finish up with the view.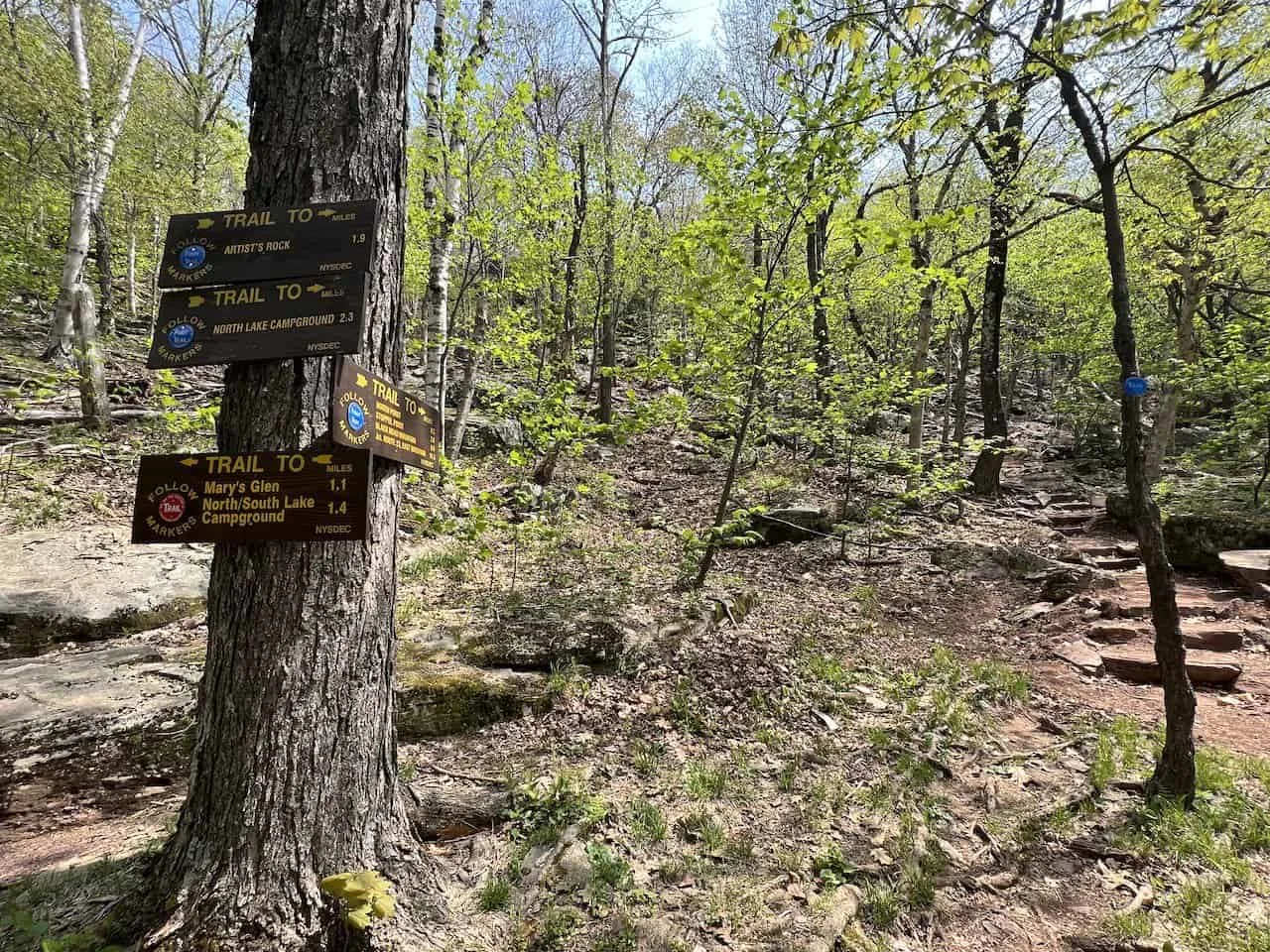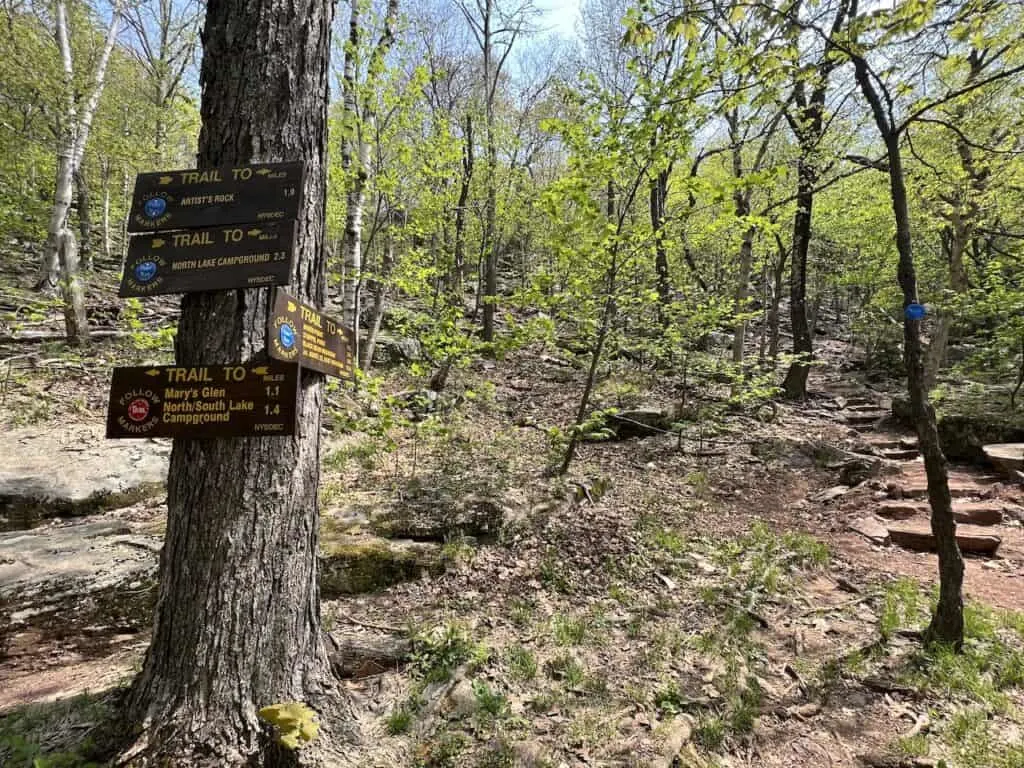 Continue along the winding staircase until you reach some larger rocks near the North Point summit. You will need to use your hands and knees to get yourself up, and then be welcomed to the first of several viewpoints.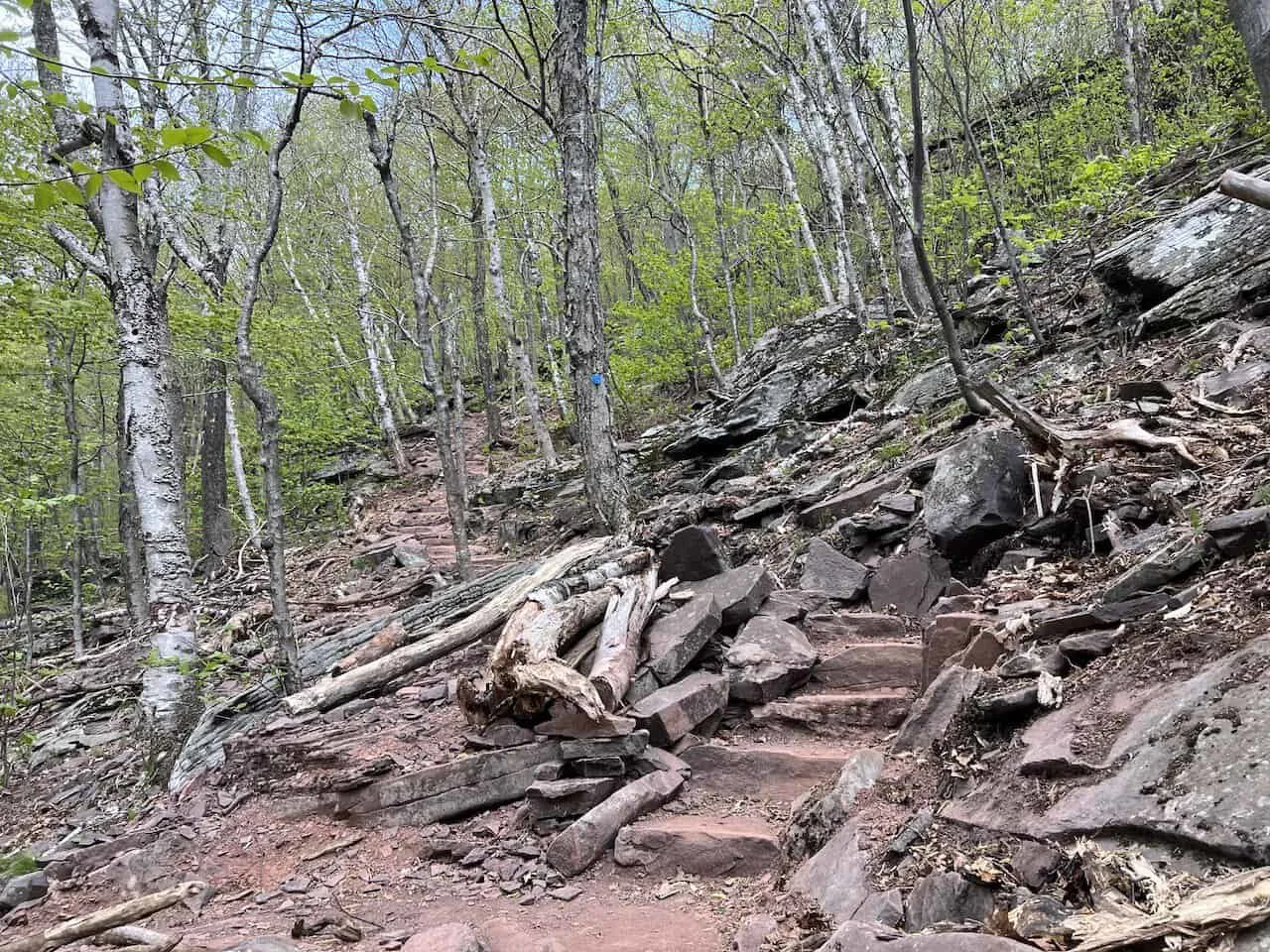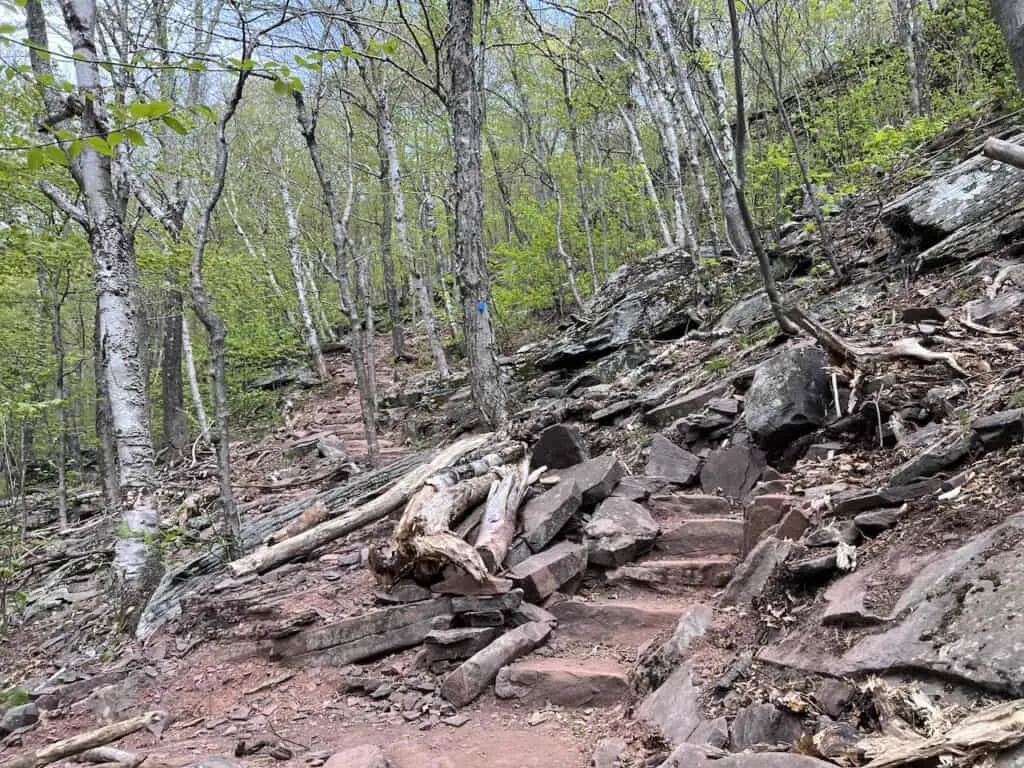 From up top, views of North South Lake, the Hudson River, and plenty more surrounding nature will be all out in front of you. Take a break here to enjoy it all, as it truly is one of the more beautiful views in the Catskills.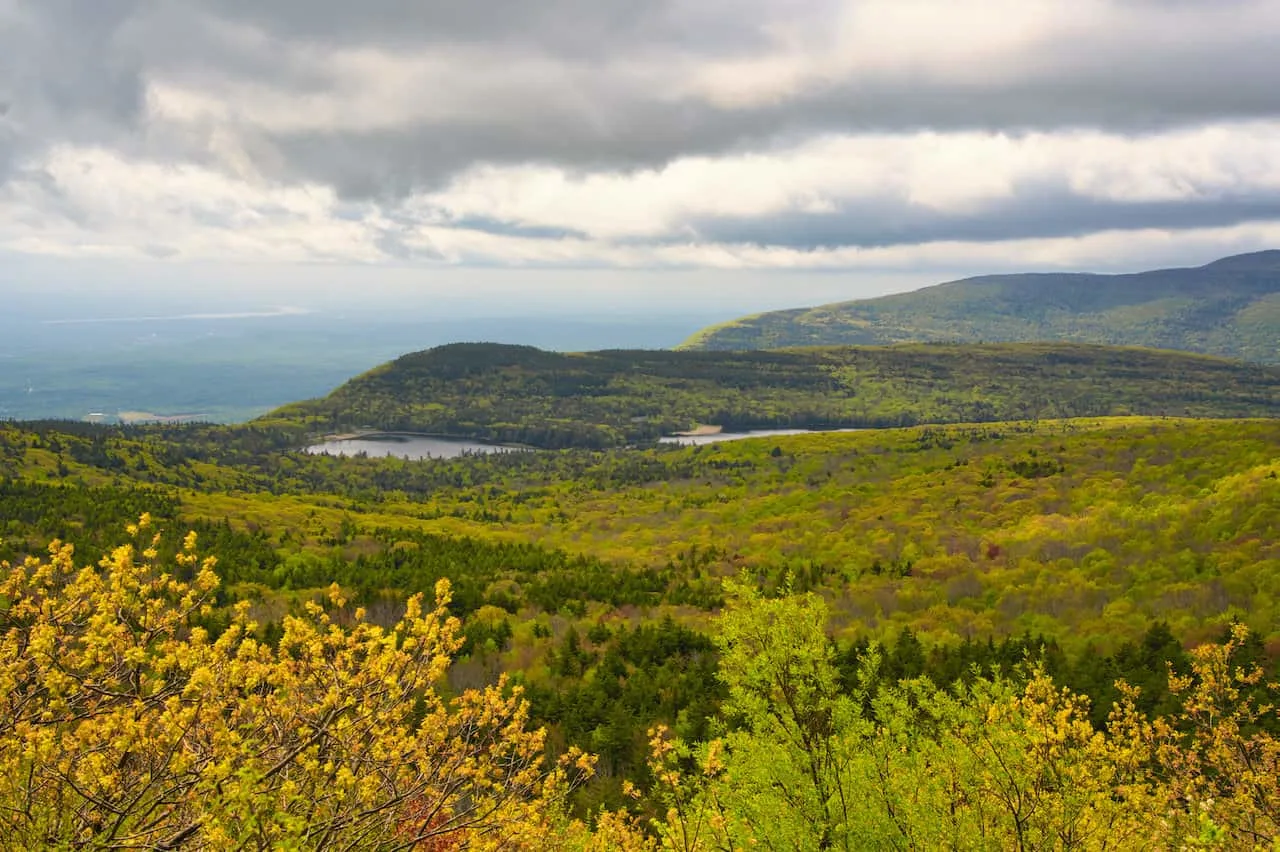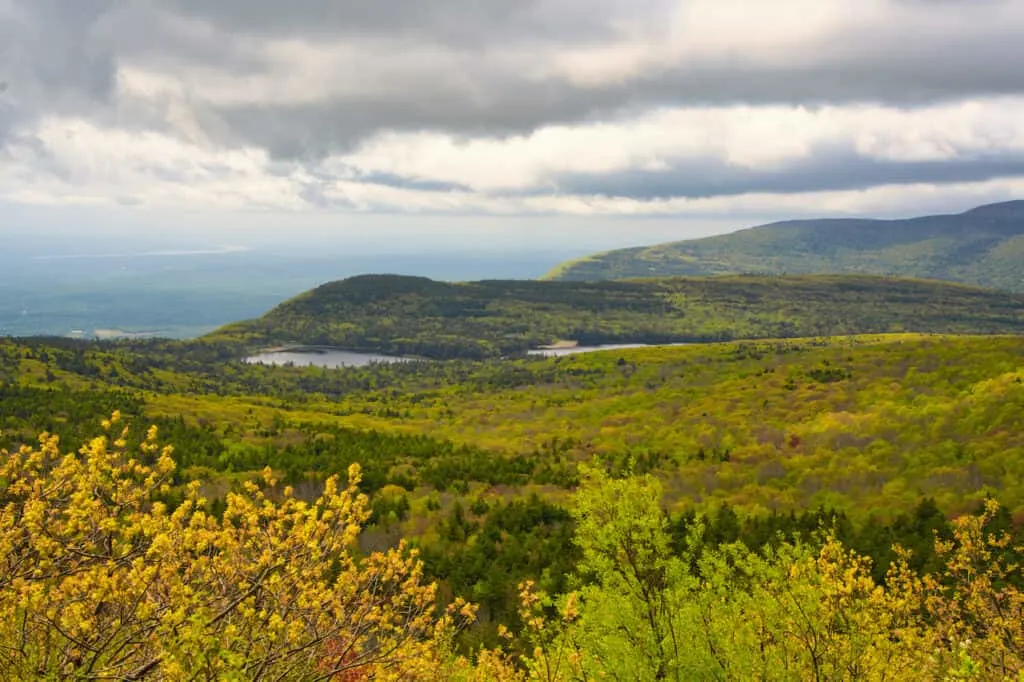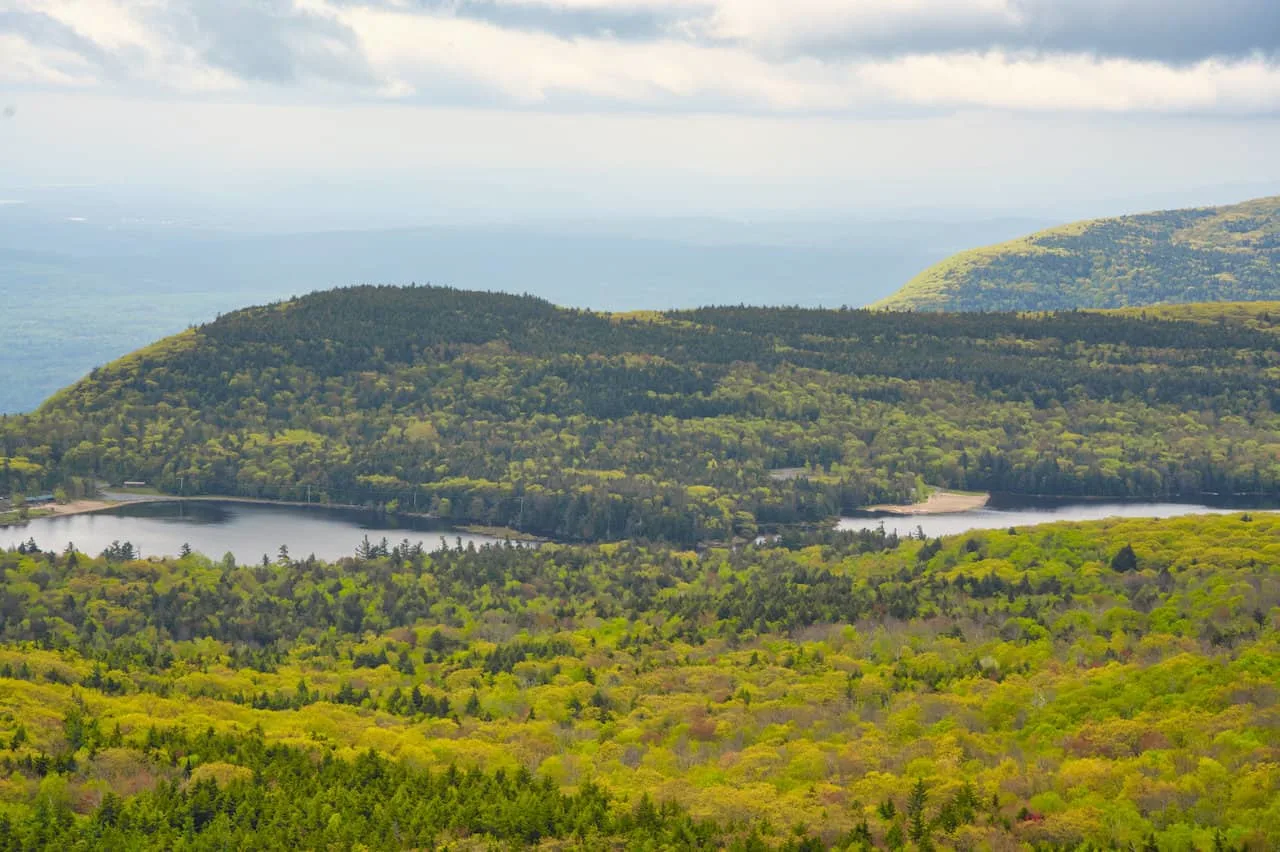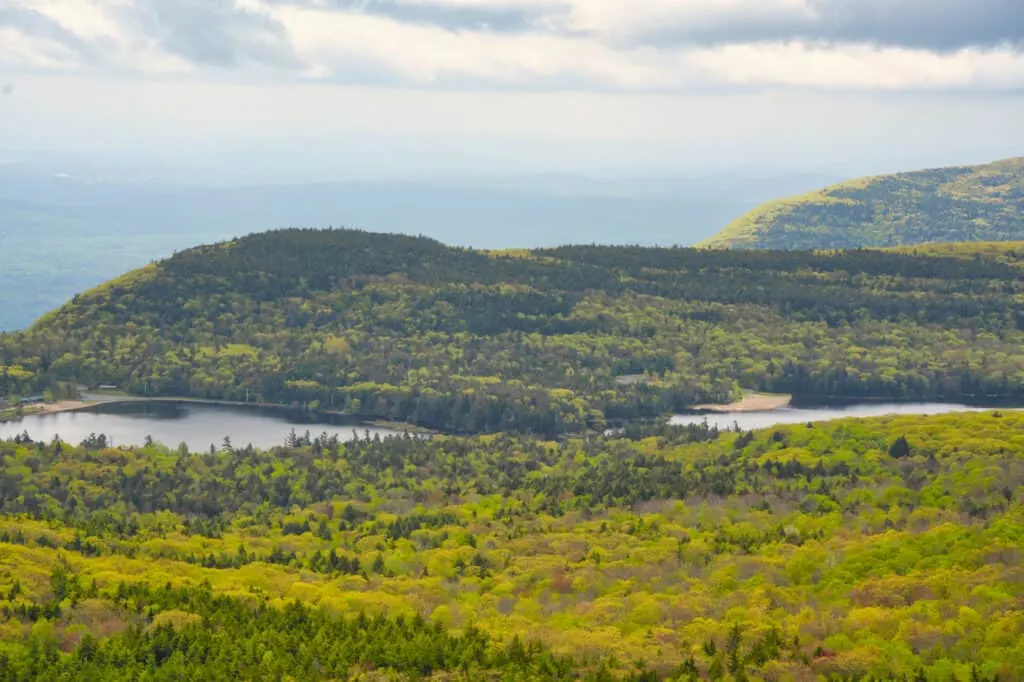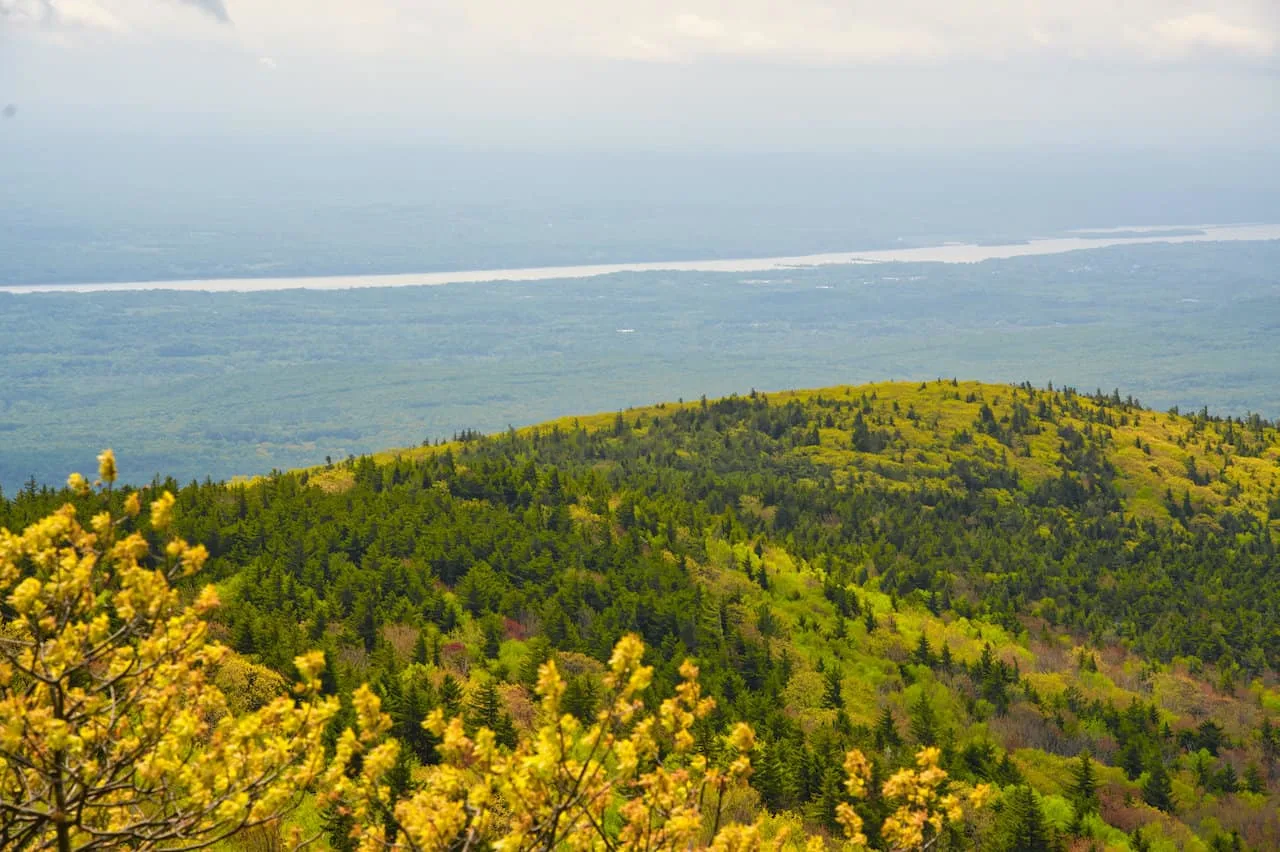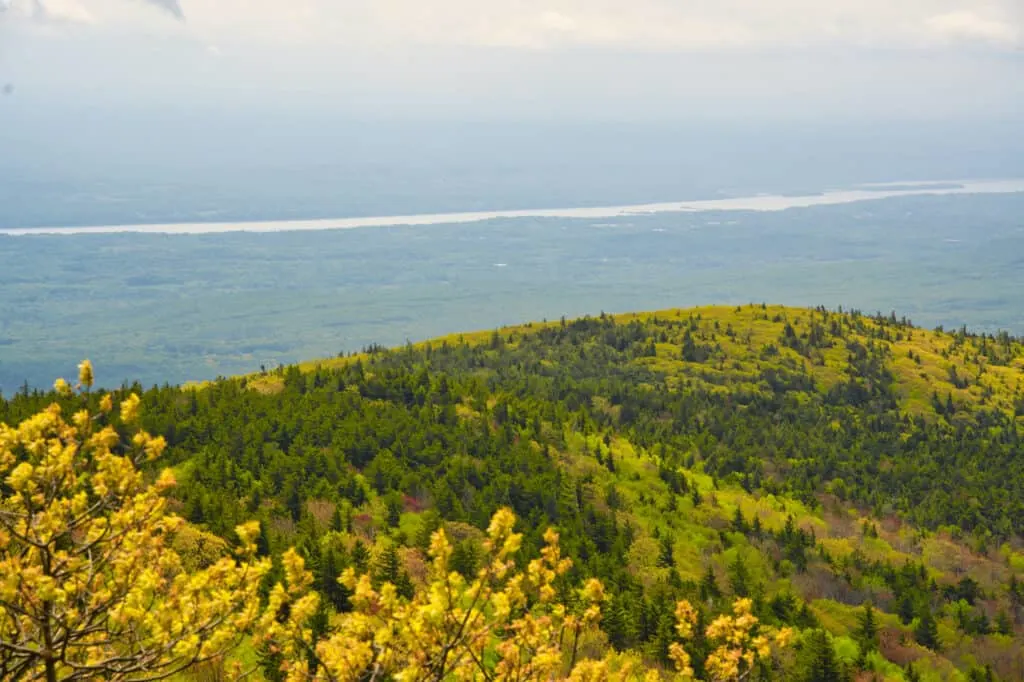 North Point to Newmans Ledge (1.4 miles)
Next up is a viewpoint that looks over the opposite direction at Newmans Ledge.
From North Point, you will first need to carefully descend the trail you just came up as you begin to lose elevation down to the intersection.
Once you reach the intersection, it is a left hand turn following the blue trail markers towards Artist's Rock (more on that soon).
The trail flattens out for about a half mile as you enjoy a nice stroll through the trees. However, then some more technical descents come into play. Be careful as you head on down as some scrambling may be required at points.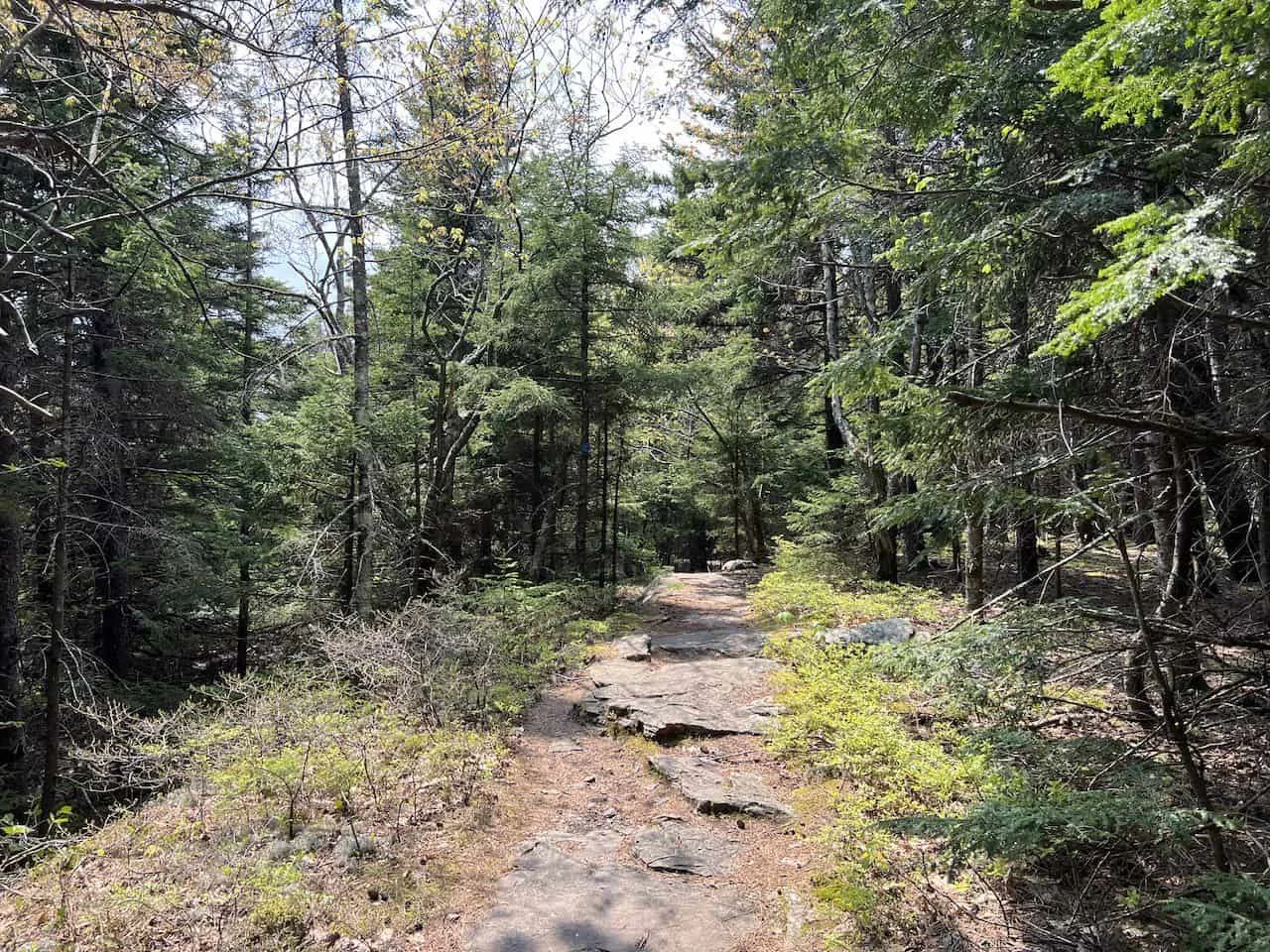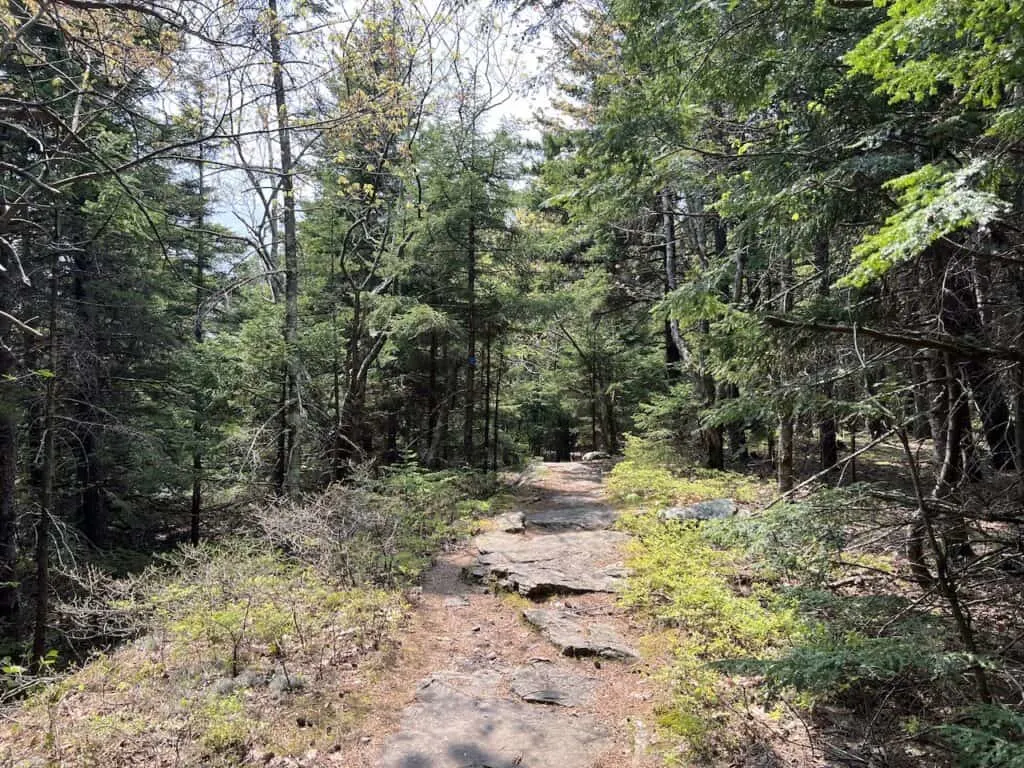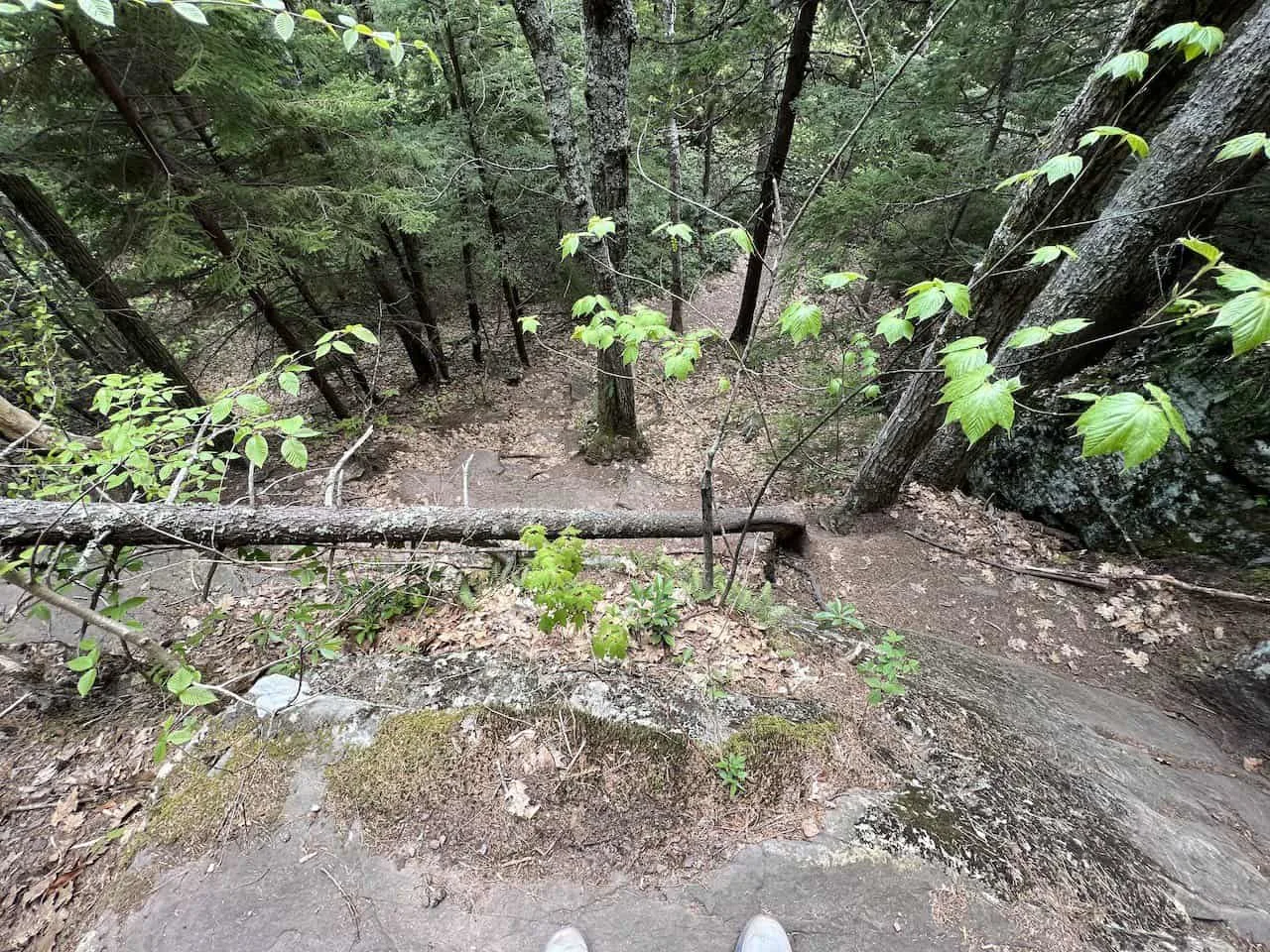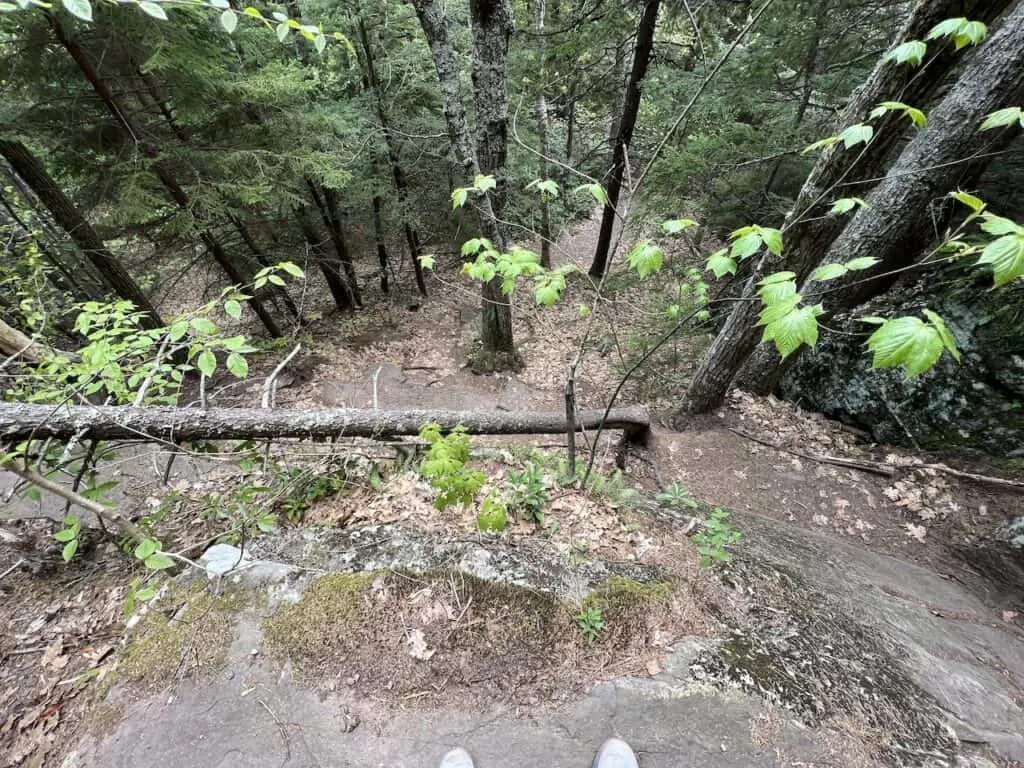 Soon enough, you will approach Newmans Ledge, an open area with expansive views looking eastbound towards the Hudson. While the views are beautiful here, just be careful of the ledge. There is no railing or any safety precautions along the edge.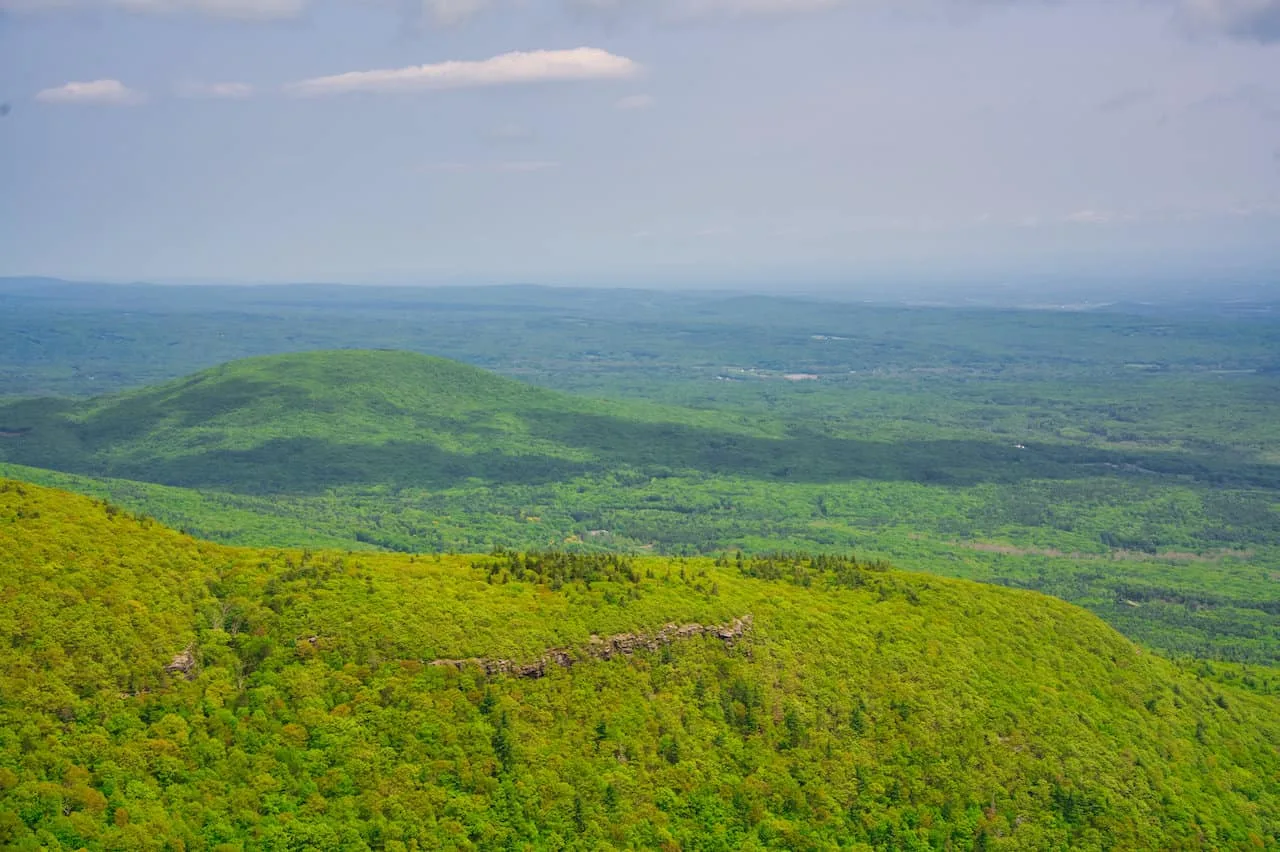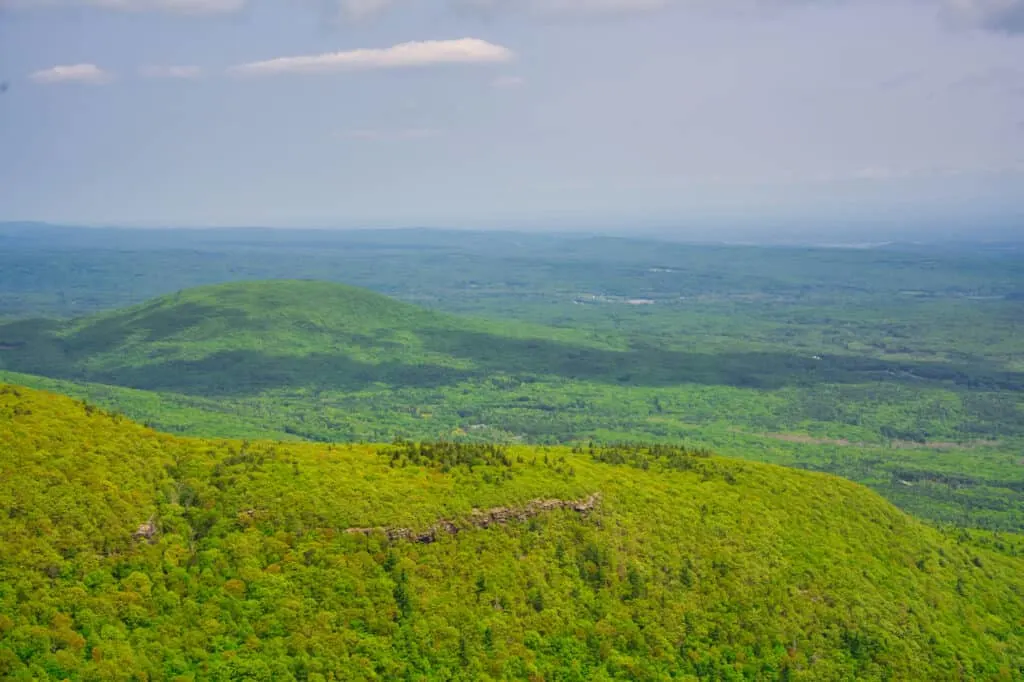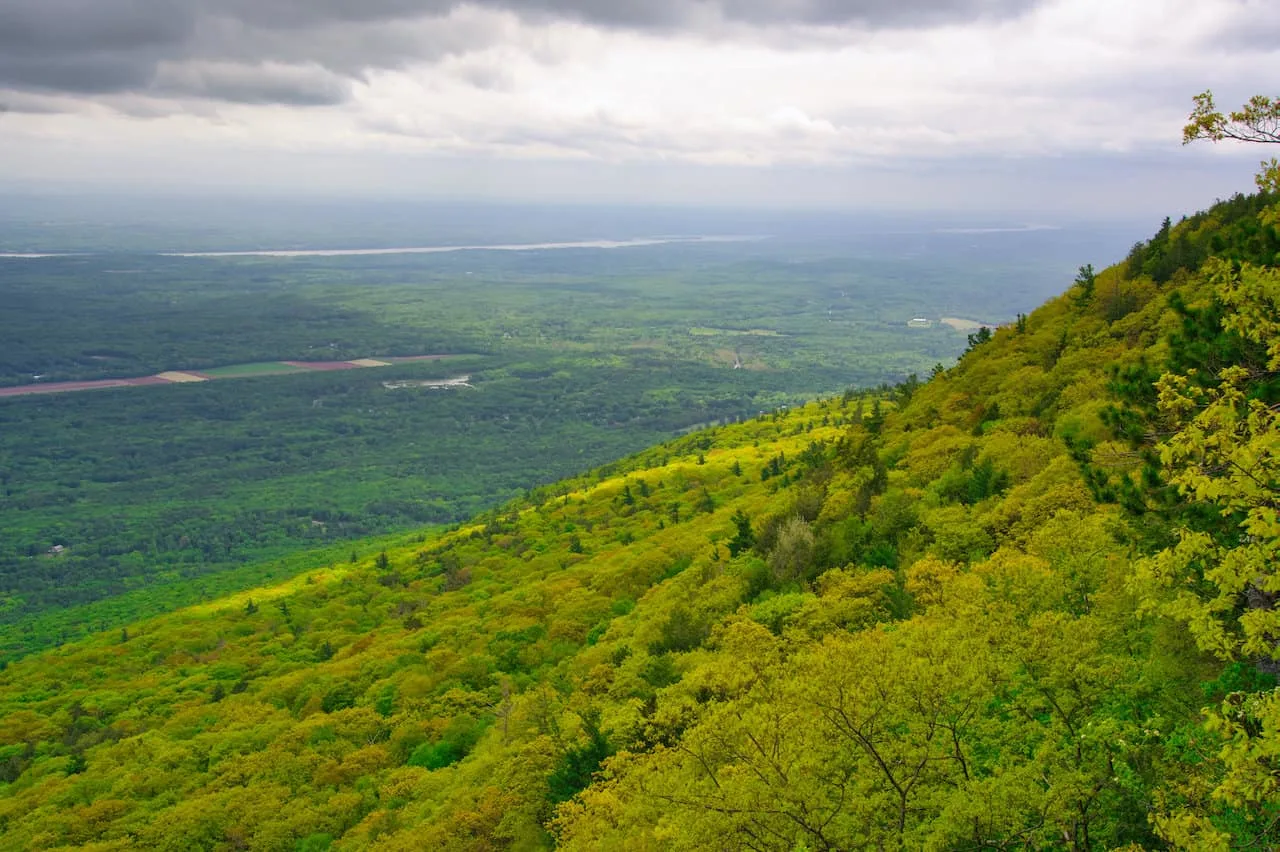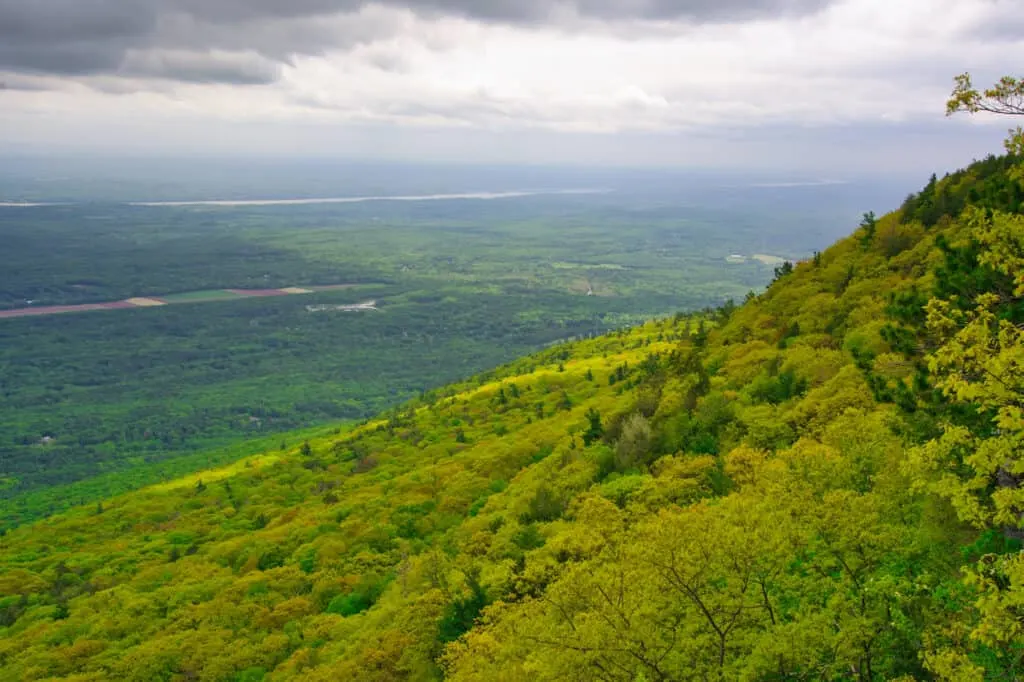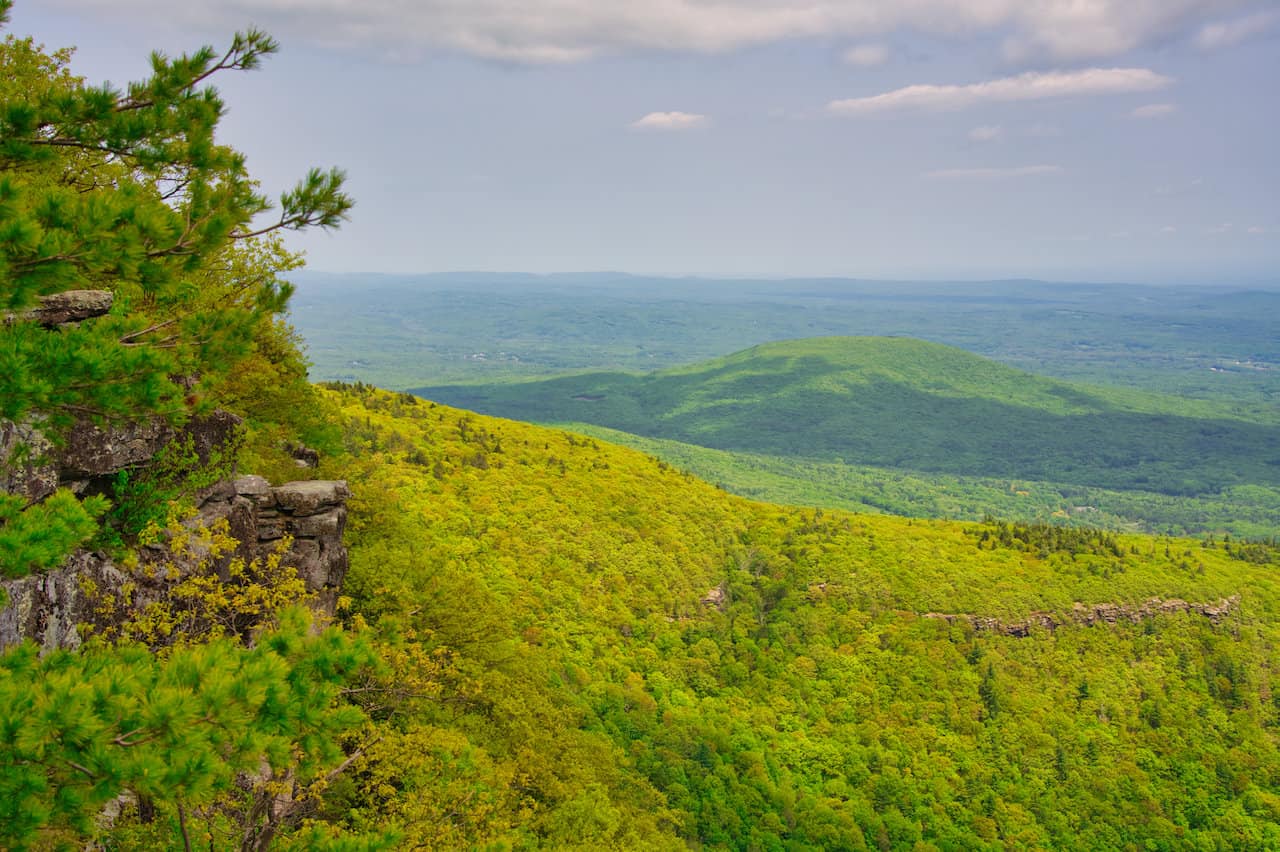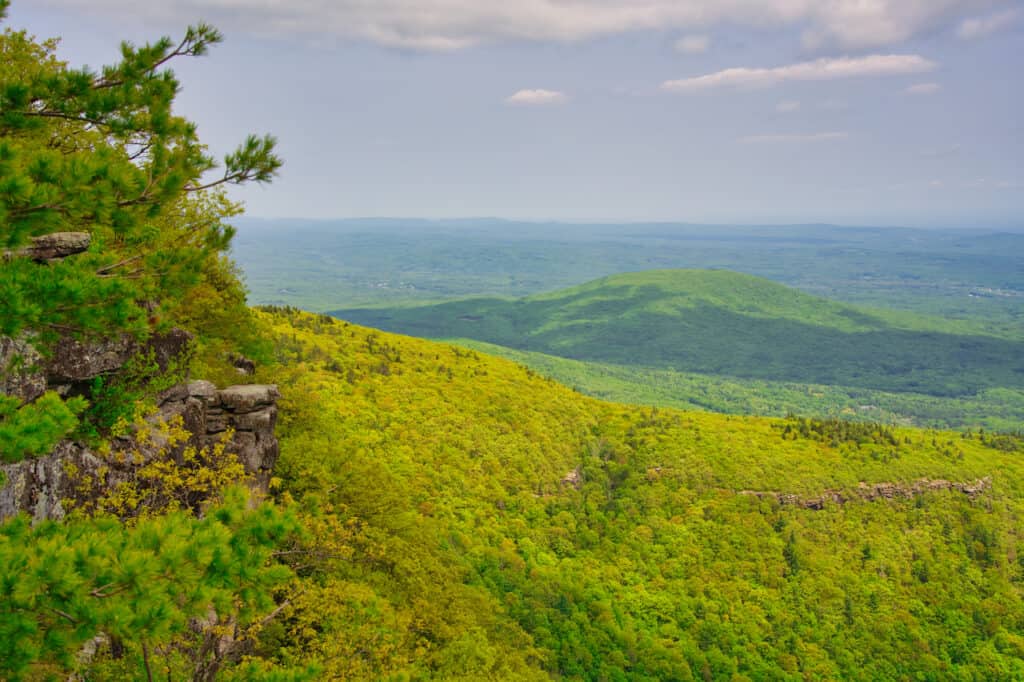 Newmans Ledge to Sunset Rock (0.5 miles)
Up next is another viewpoint at Sunset Rock, which overlooks the lake area. Continue to follow the blue trail markers until you reach an intersection pictured below.
Make a left hand turn following the yellow trail. It is easy to miss, so just be sure to be paying attention soon after leaving Newmans Ledge.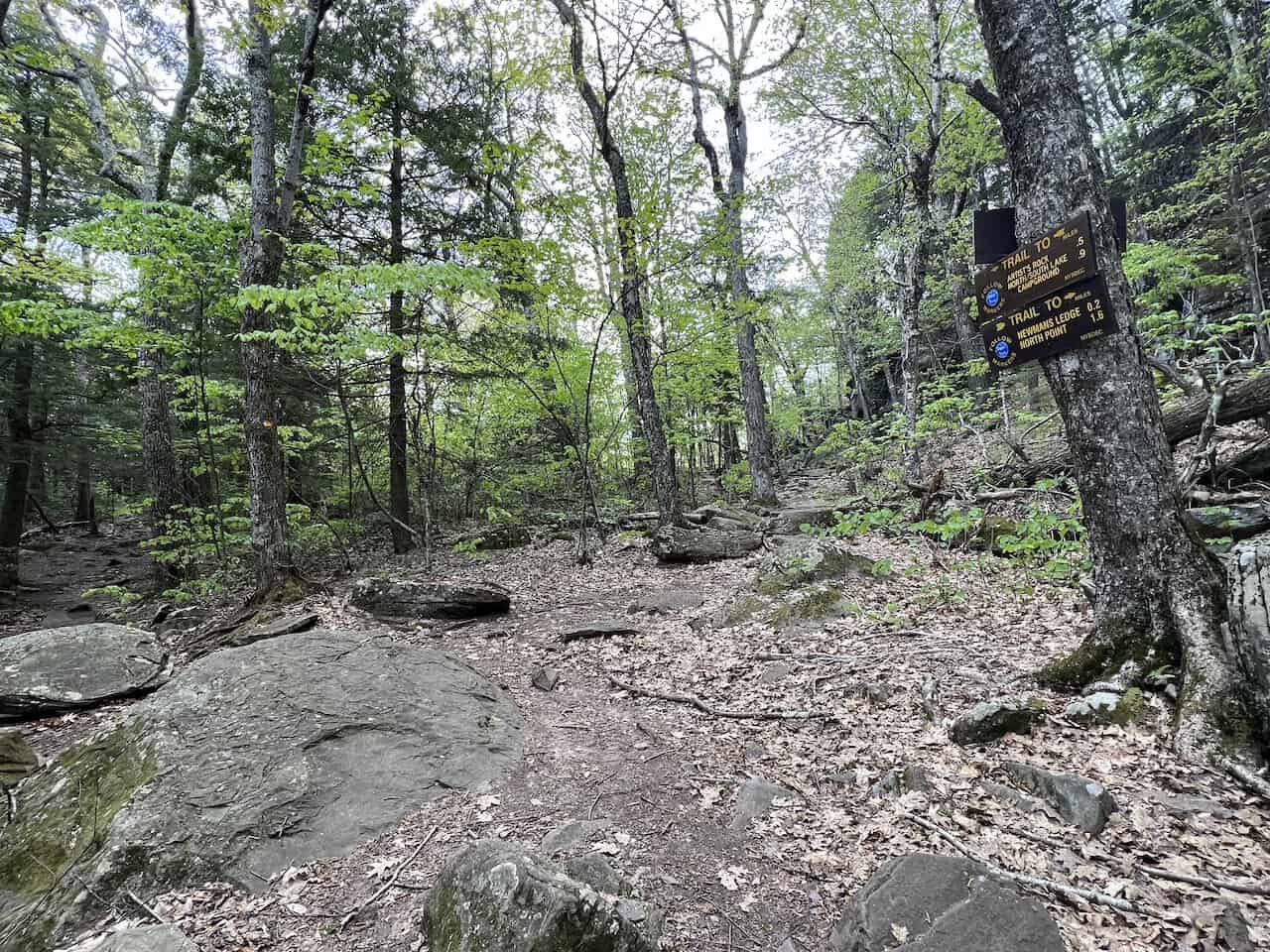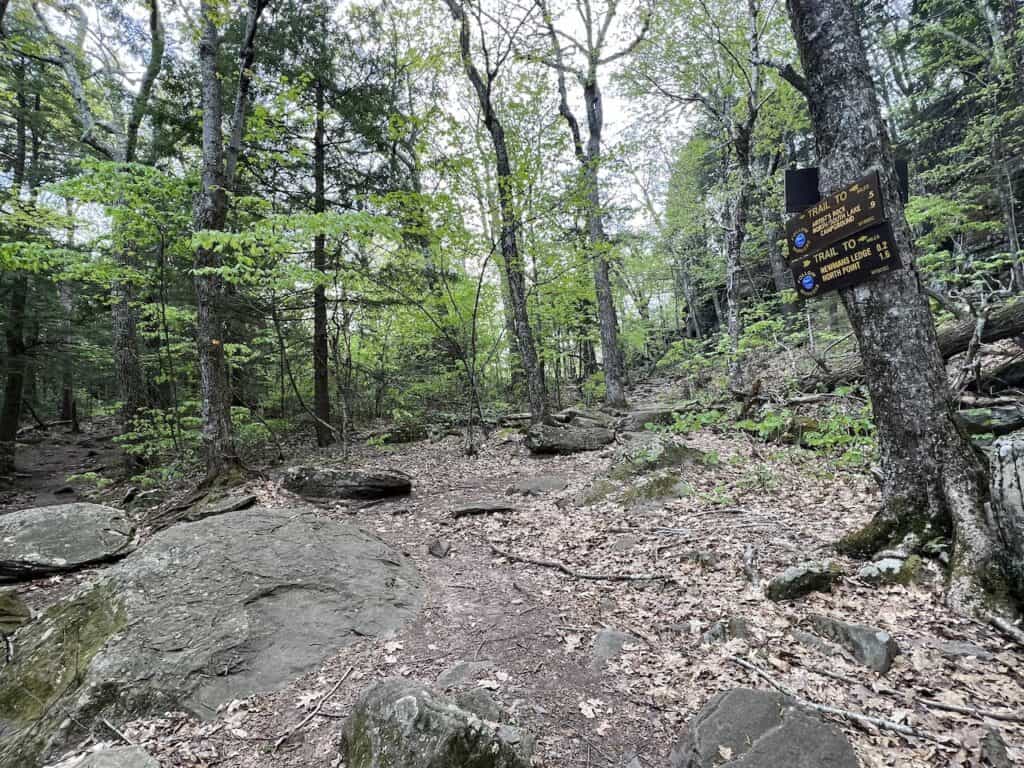 As you head along the trail, you will see an opening to your left. This is another viewpoint called Lookout Rock. It will be similar views to what you just saw at Newmans Ledge.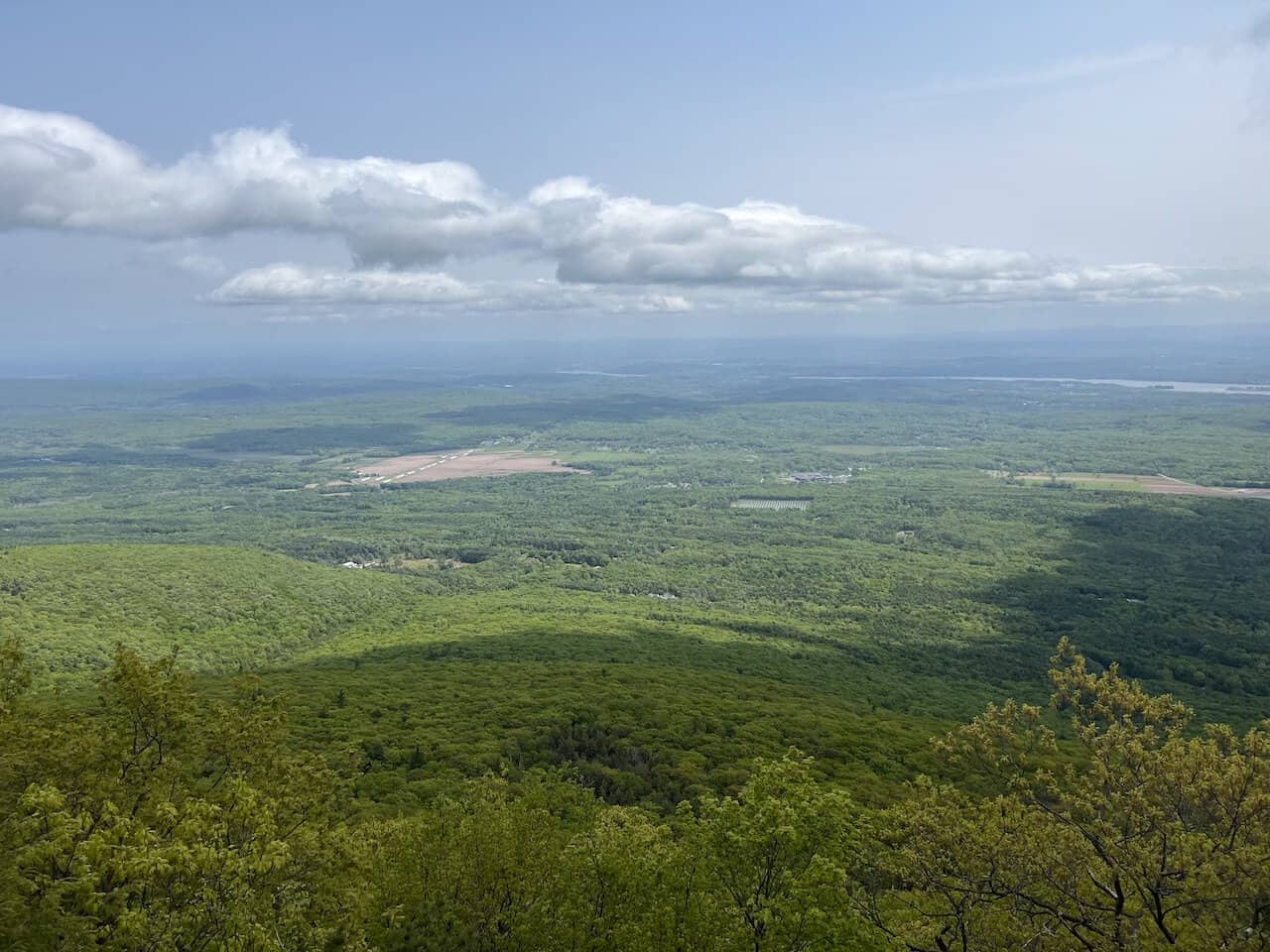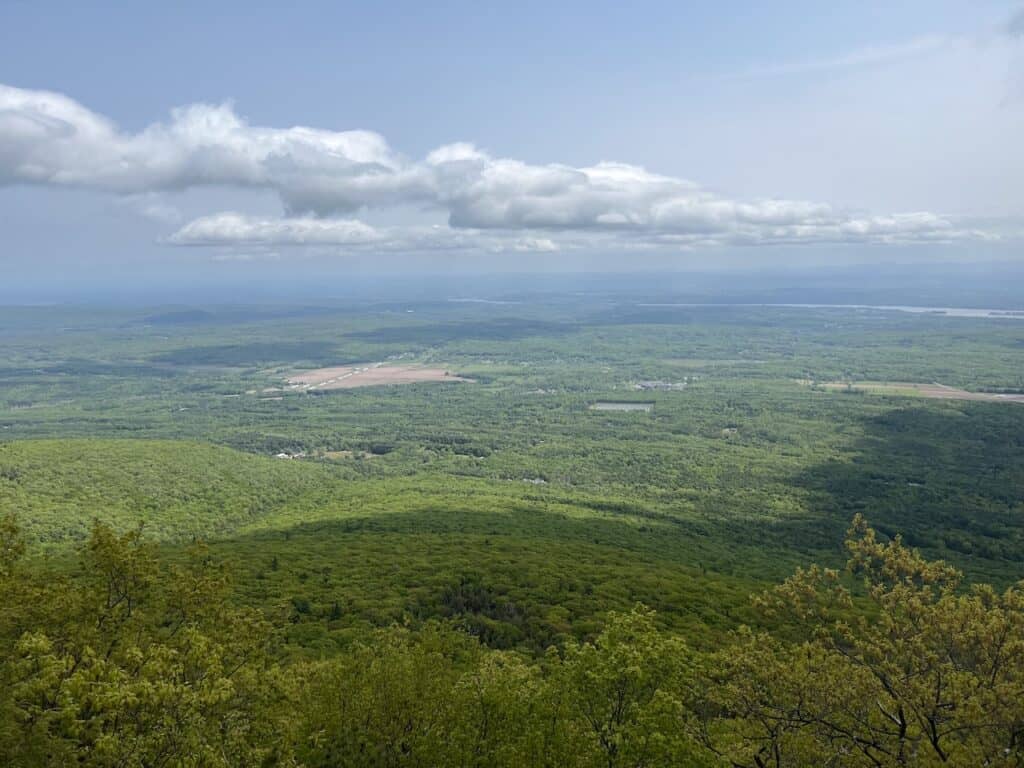 Continue to follow the path, which will soon wrap around to the Sunset Rock area. From here you will get those views of North South Lake. While it isn't as high in elevation as North Point, this is one of my favorite views of the whole hike.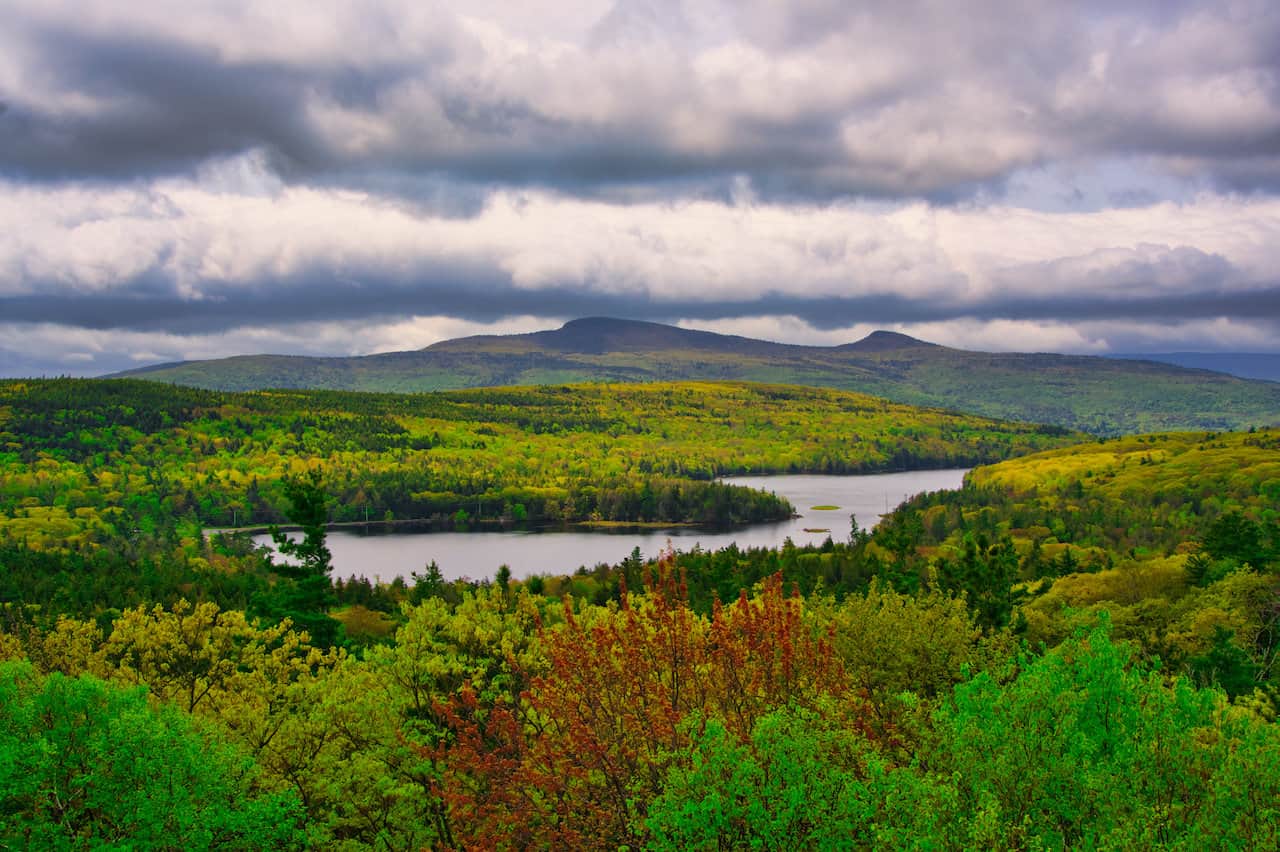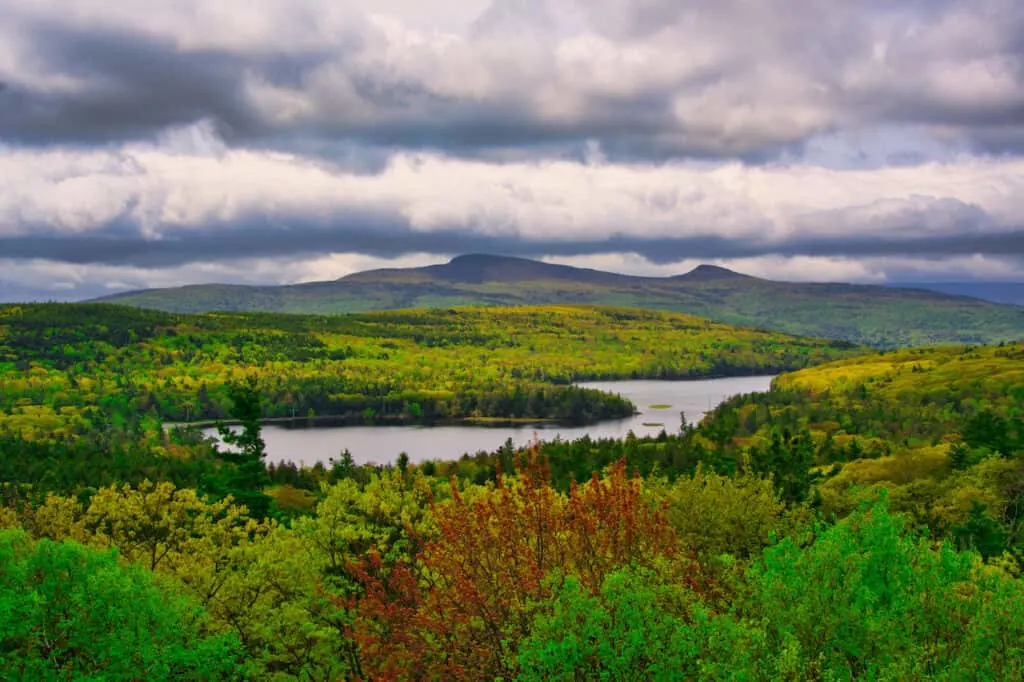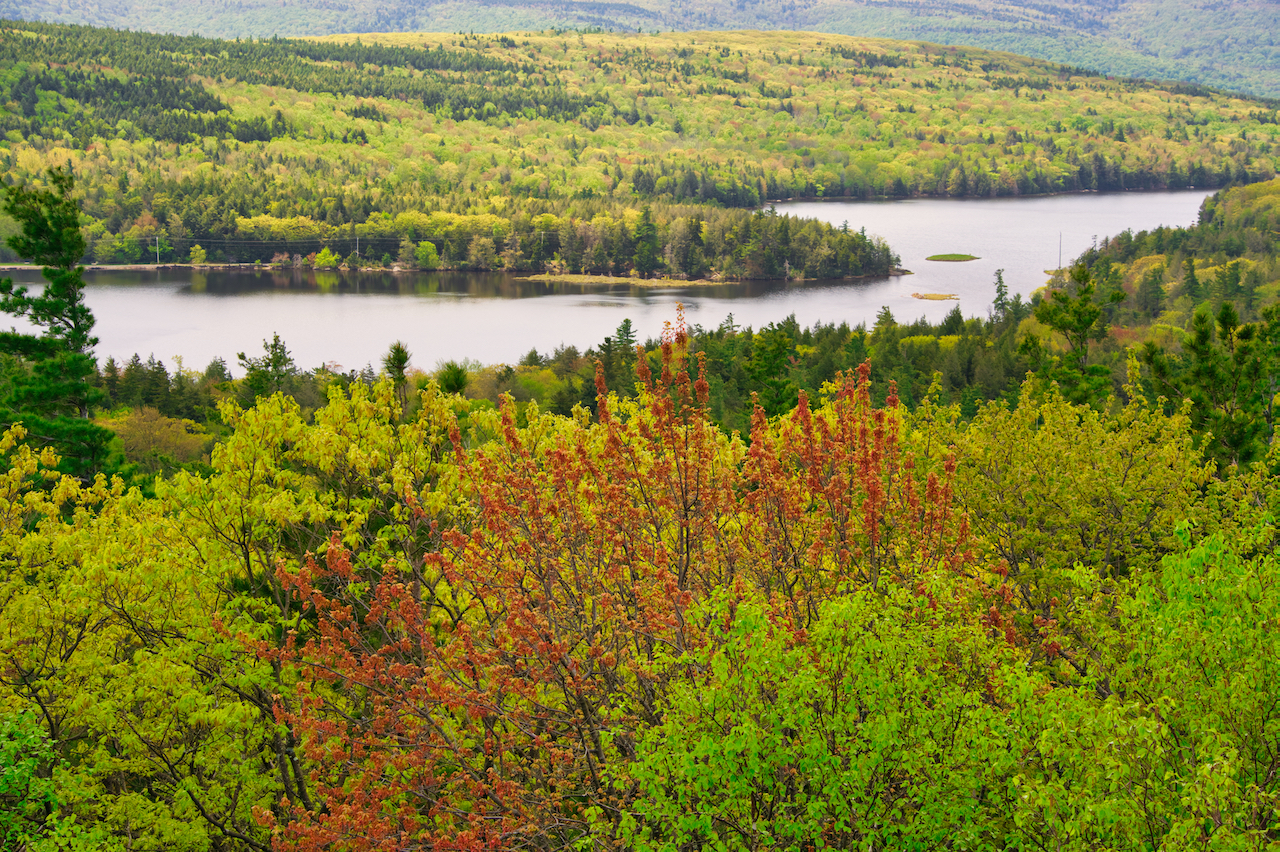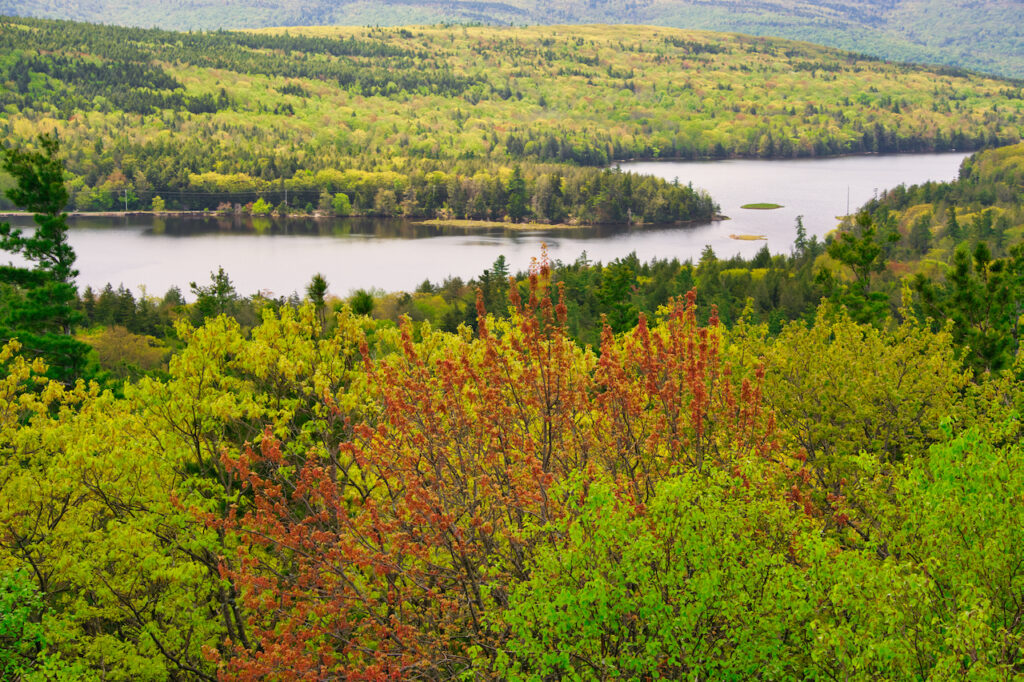 Sunset Rock to Artist's Rock (0.7 miles)
The last viewpoint for the day will be at Artist's Rock, less than a mile away. From Sunset Rock, you will need to retrace your steps back towards the intersection from before.
You will see blue trail markers pointing you towards Artist's Rock from there.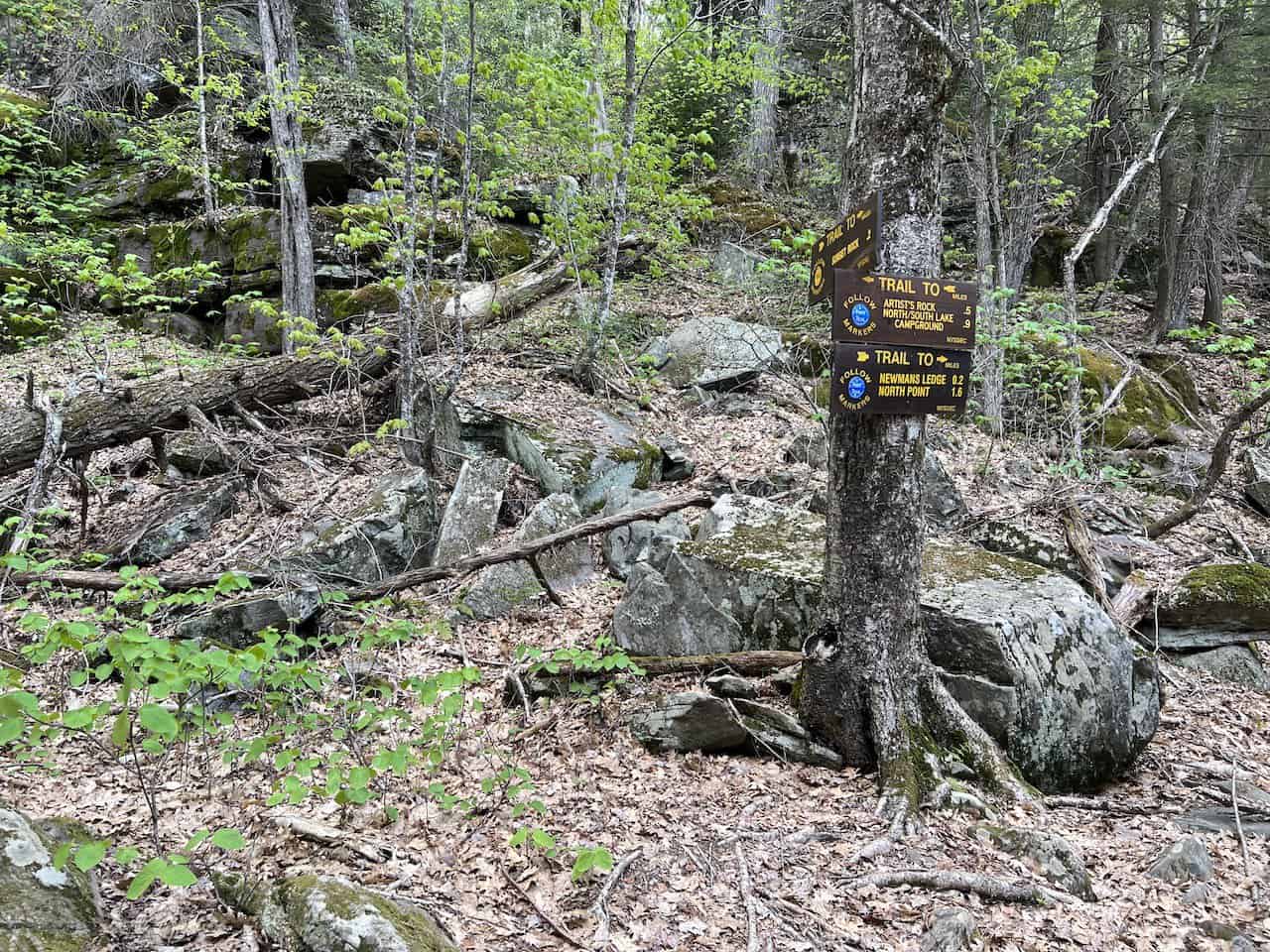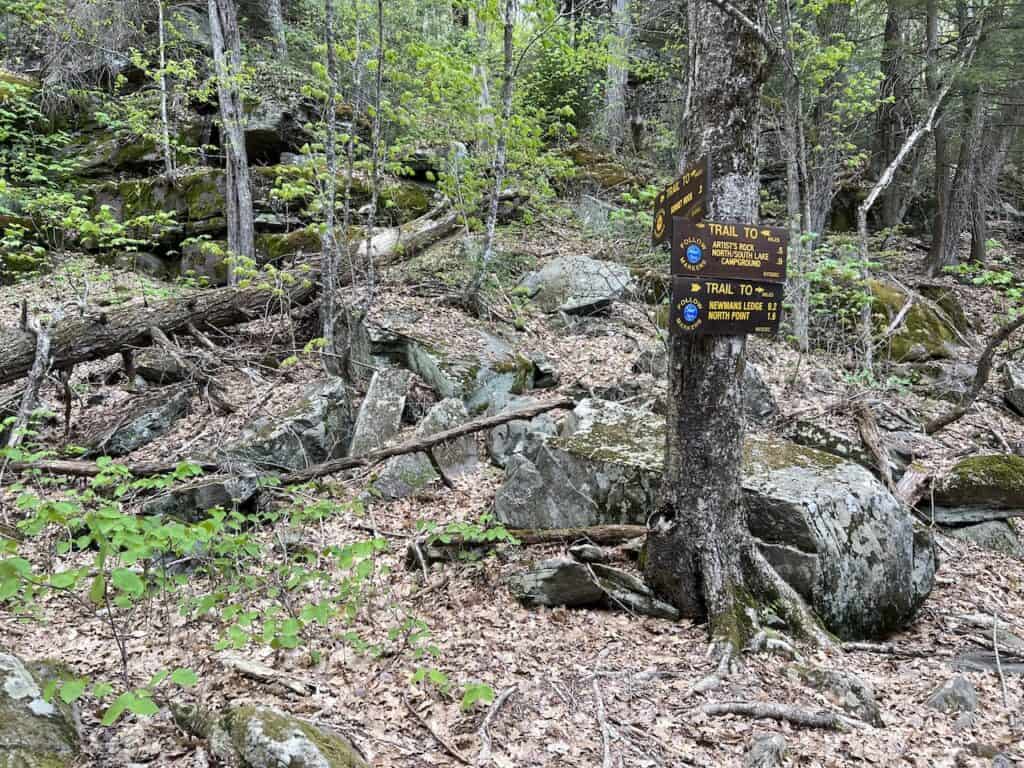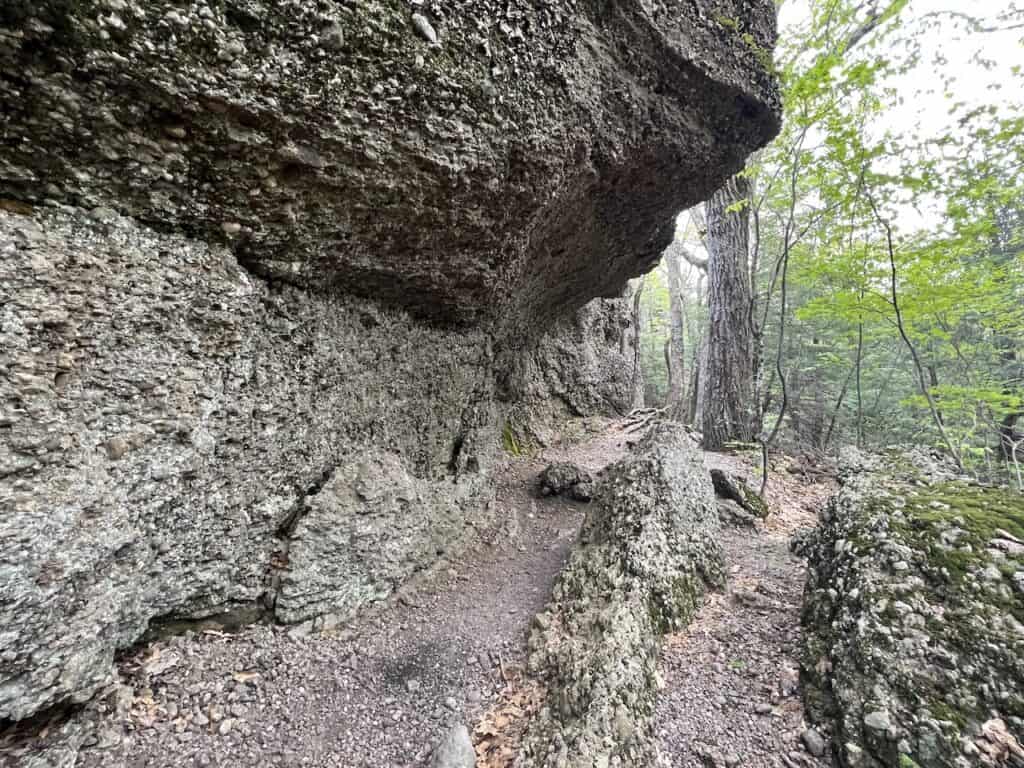 The trail will continue to descend to Artist's Rock, where you will be welcomed to more views overlooking the Hudson River and its surroundings. While it may seem similar to the views at Newmans Ledge, these views will be at a different angle than before.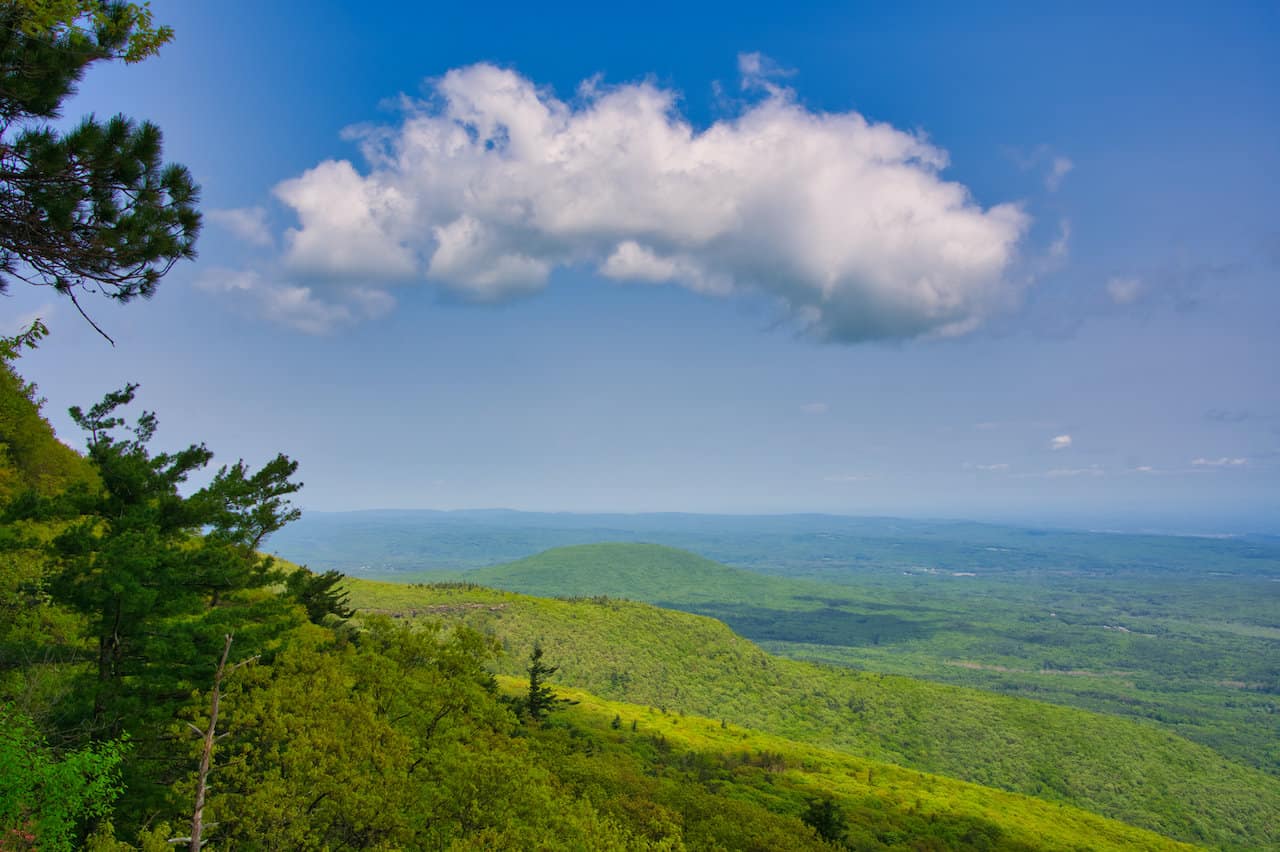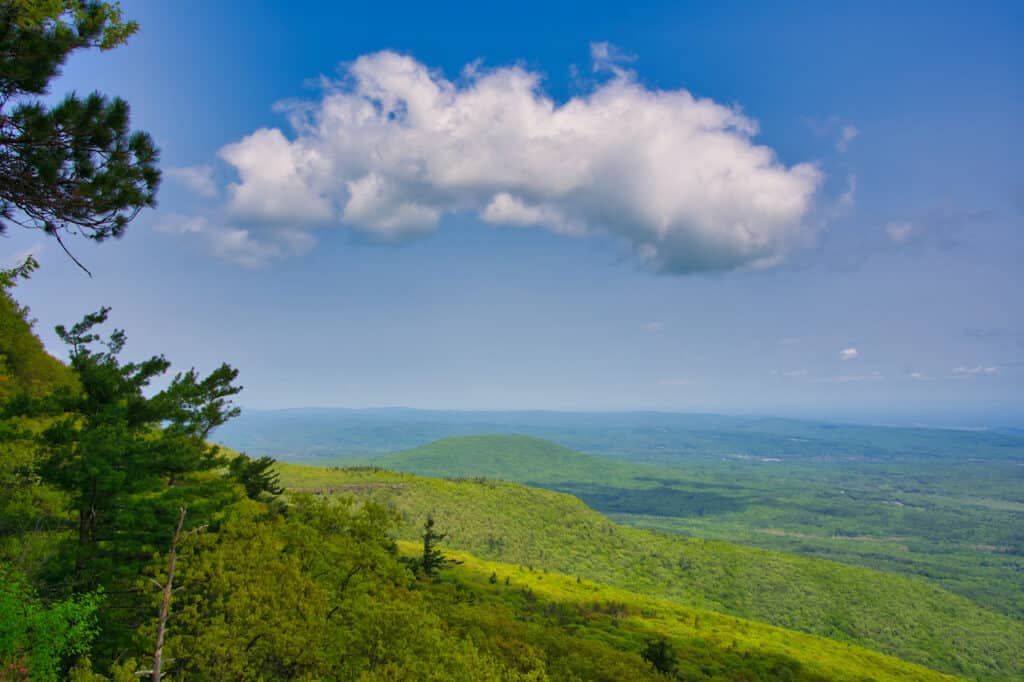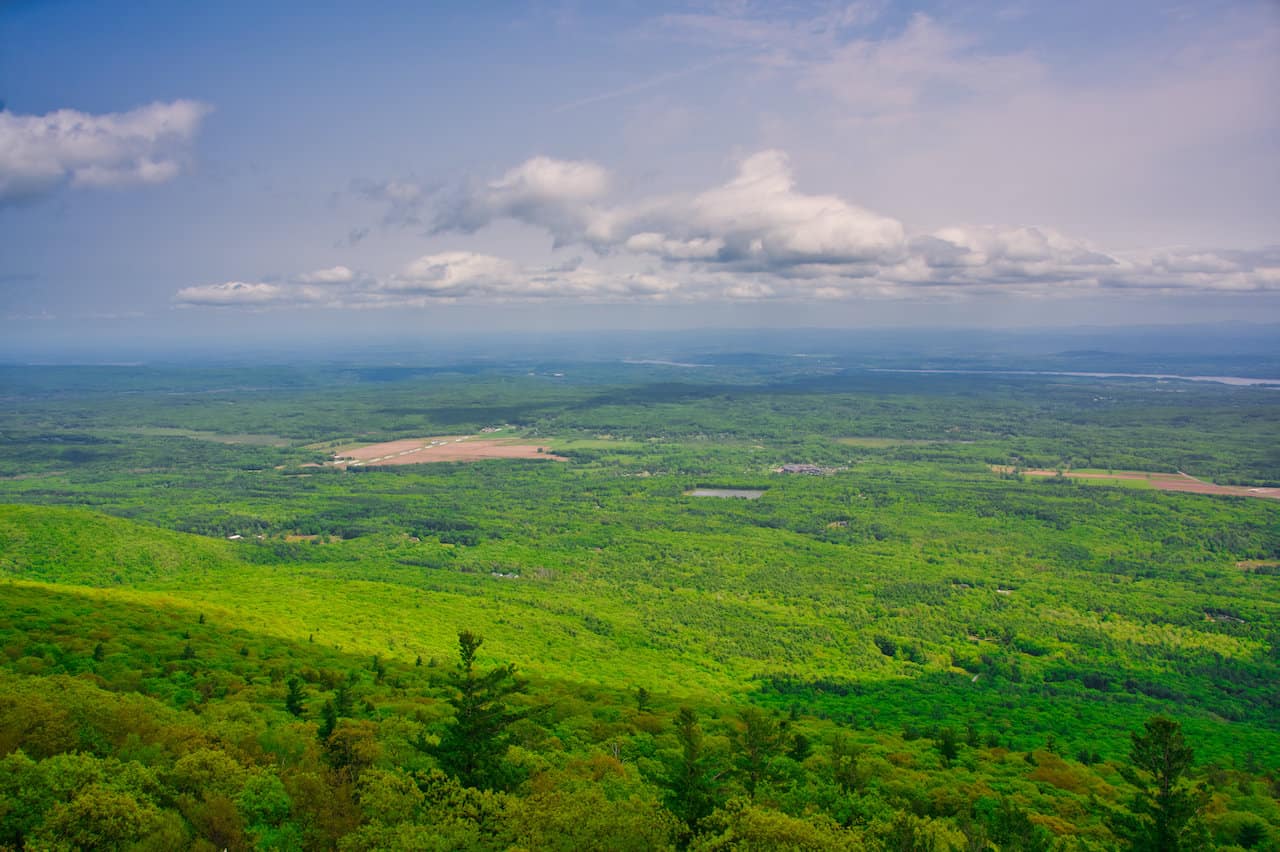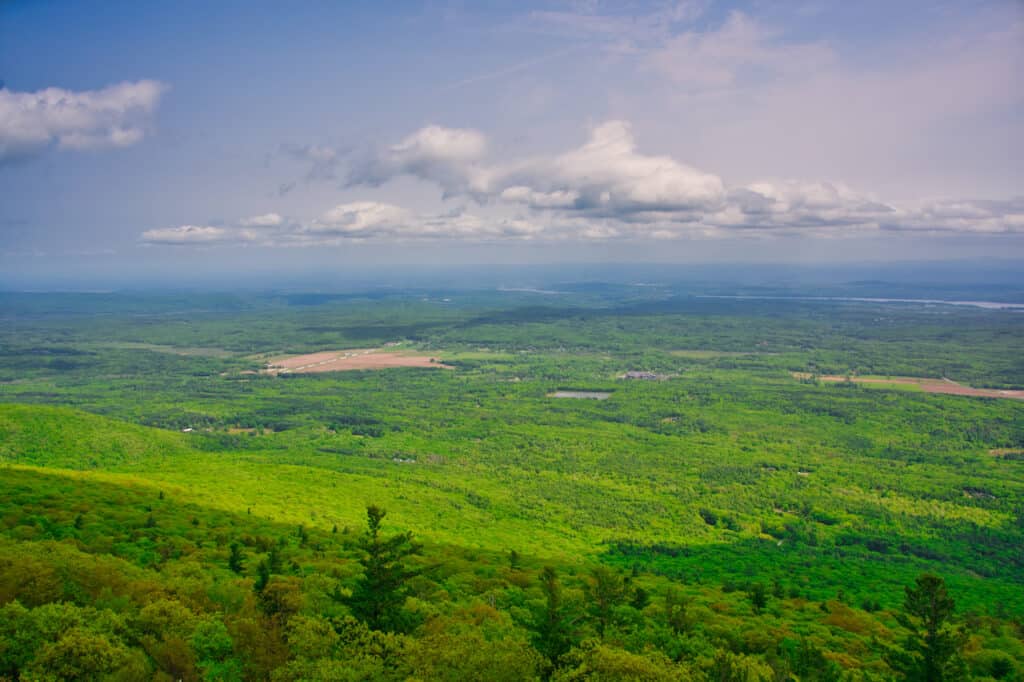 Artist's Rock to Trailhead (1.2 miles)
After leaving Artist's Rock, the trail will then descend down to the lakeside. You will come across an intersection first though, where you will follow the yellow trail out of the forest.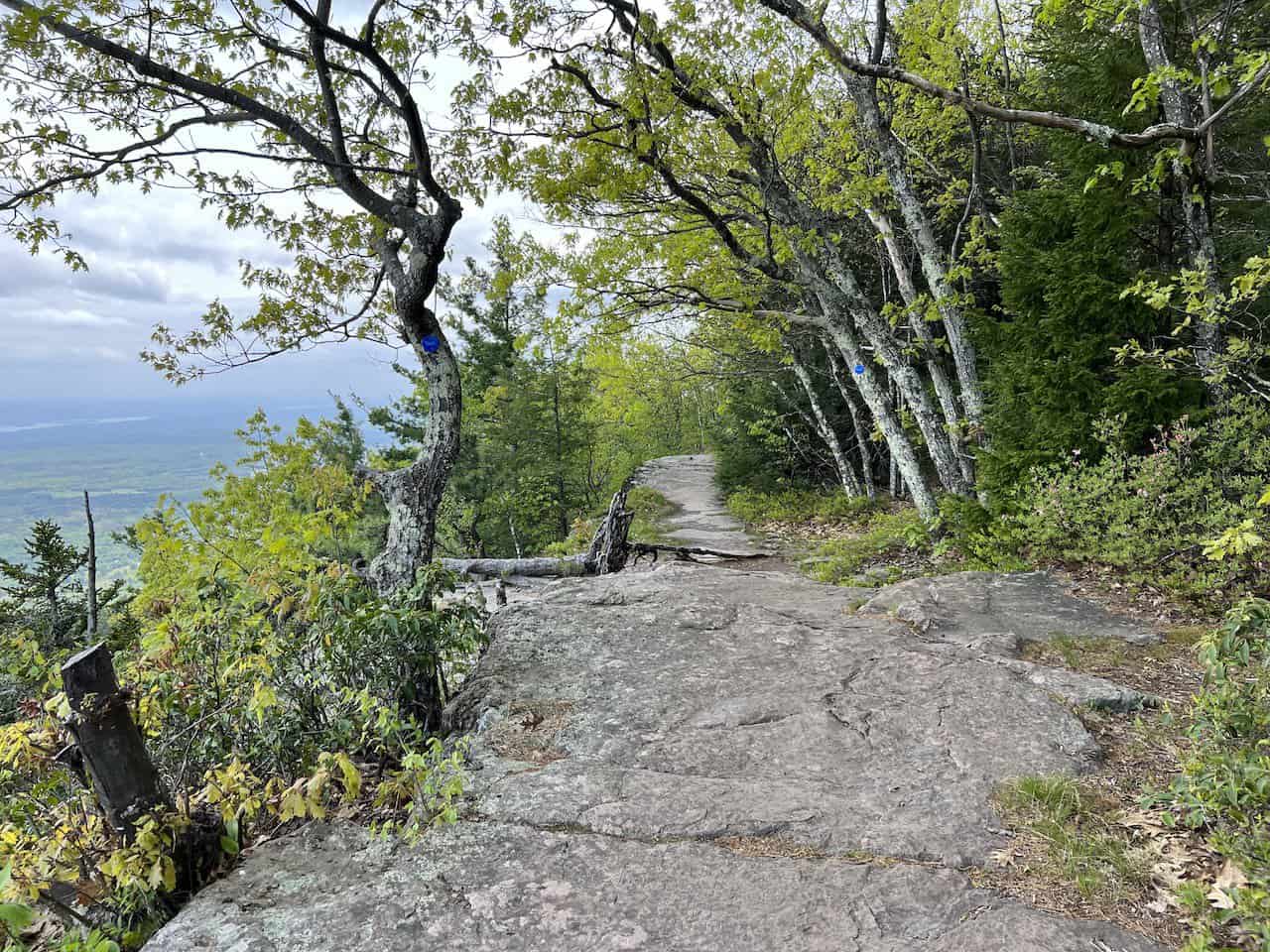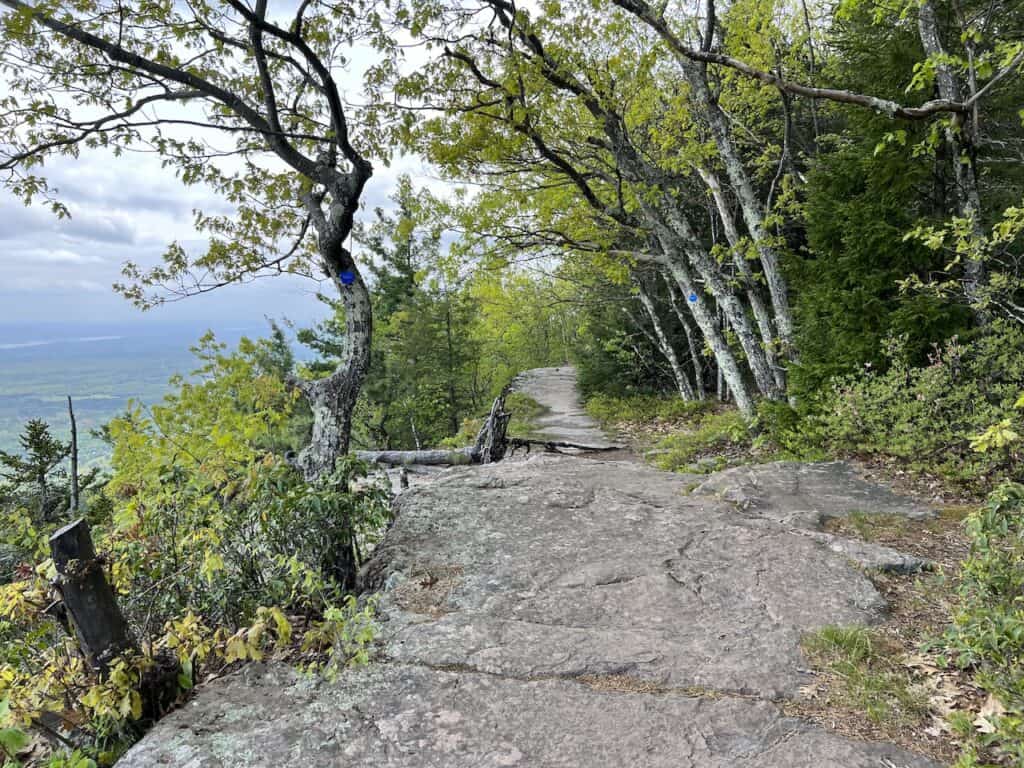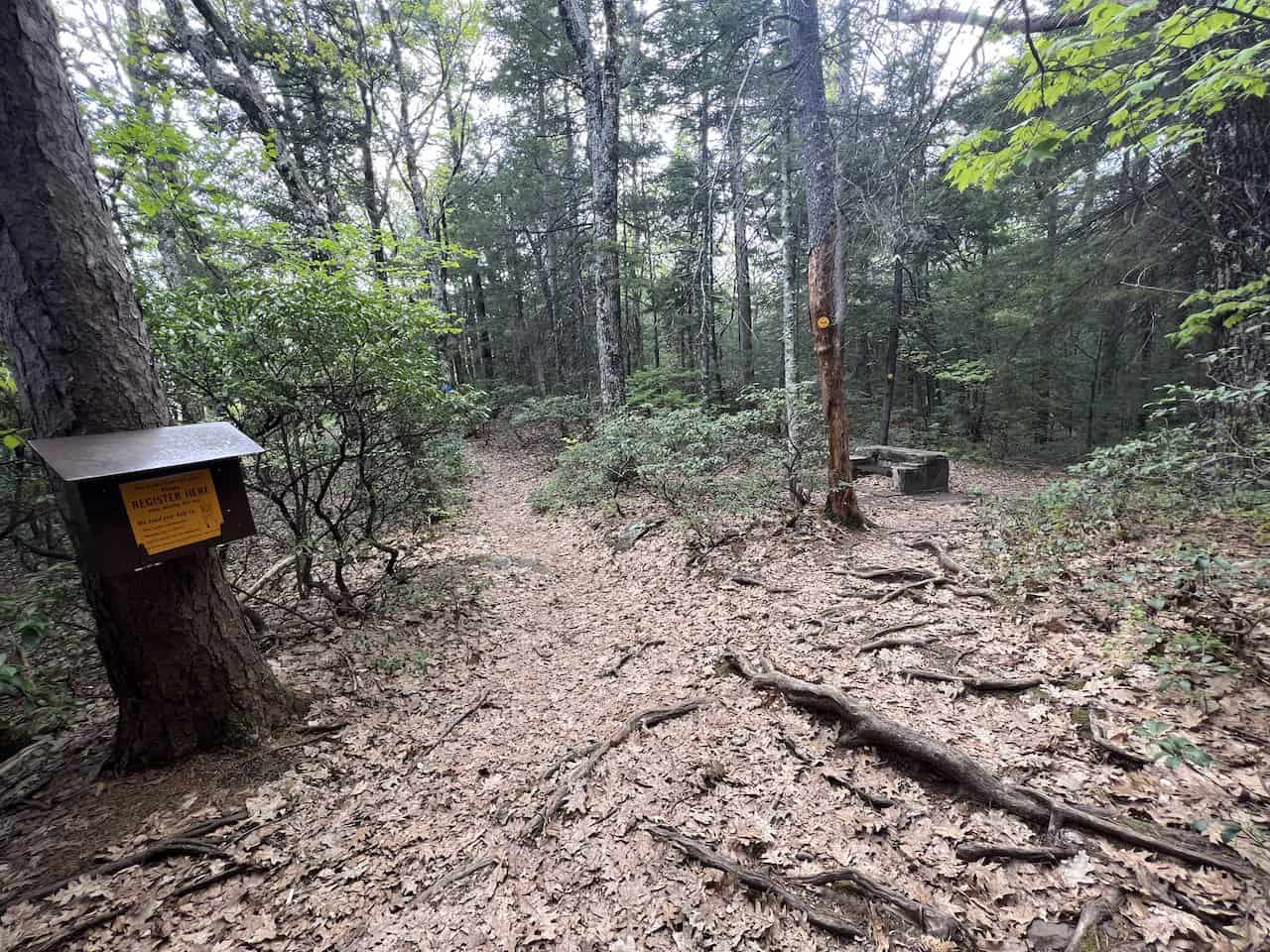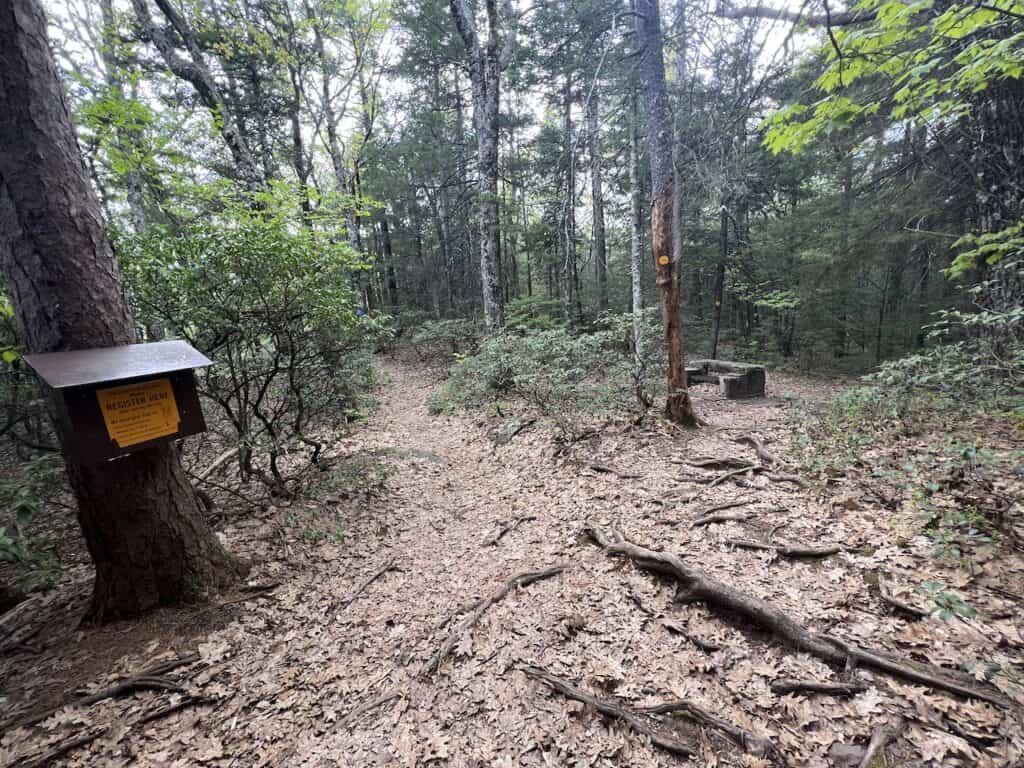 From there you will reach the road, which you can cross towards North Lake. The trail will wrap around North Lake as you get some nice lake views along the way (and be welcomed to many more people).
Continue to follow the lakeside trail as you wrap along the route closest to the lake. Soon enough, you will be welcomed back to the South Lake beachside.
This officially ends the North South Lake loop trail! Take some time to hang by the beach or in the water, and enjoy the rest of the afternoon by the lake.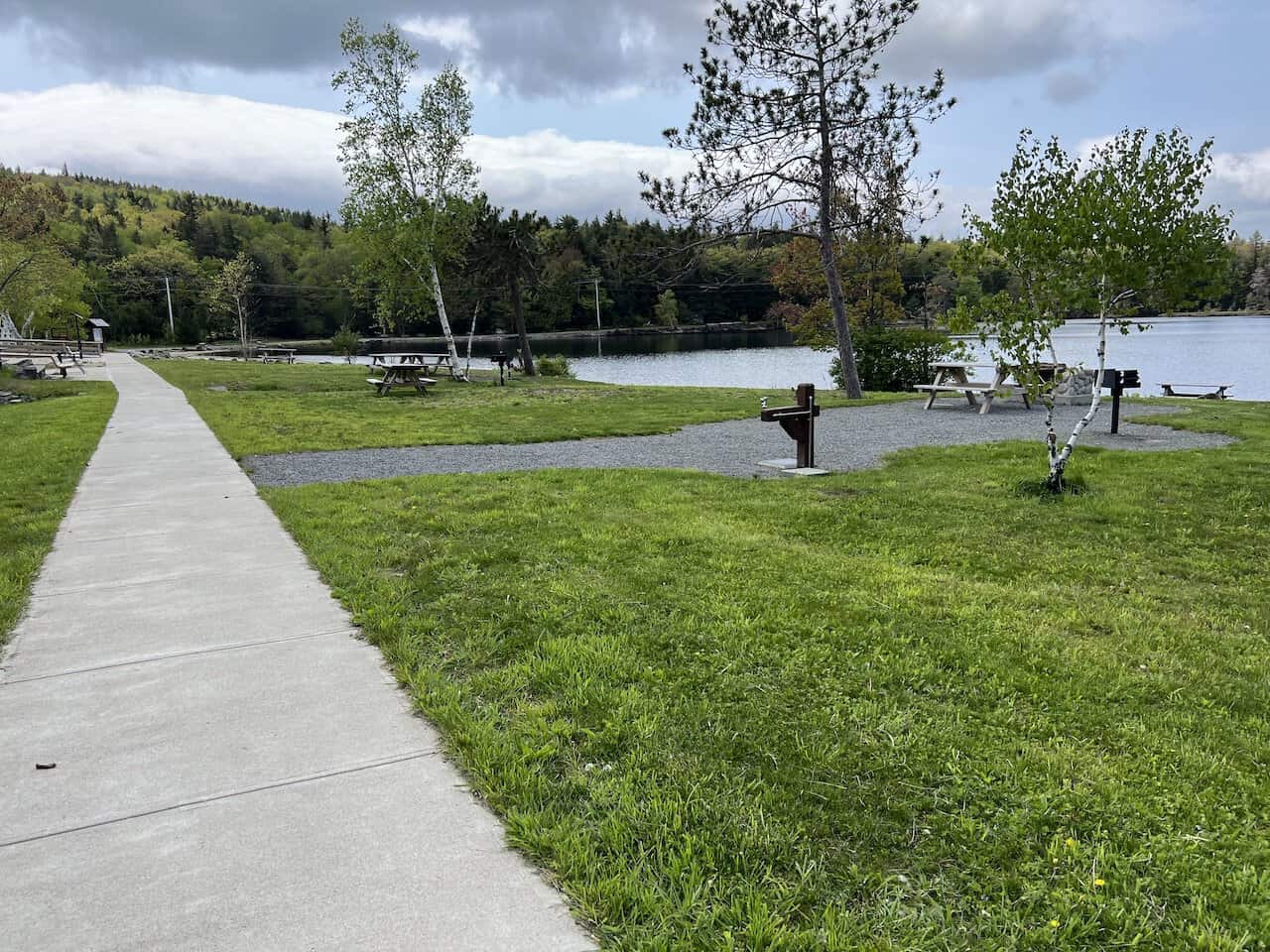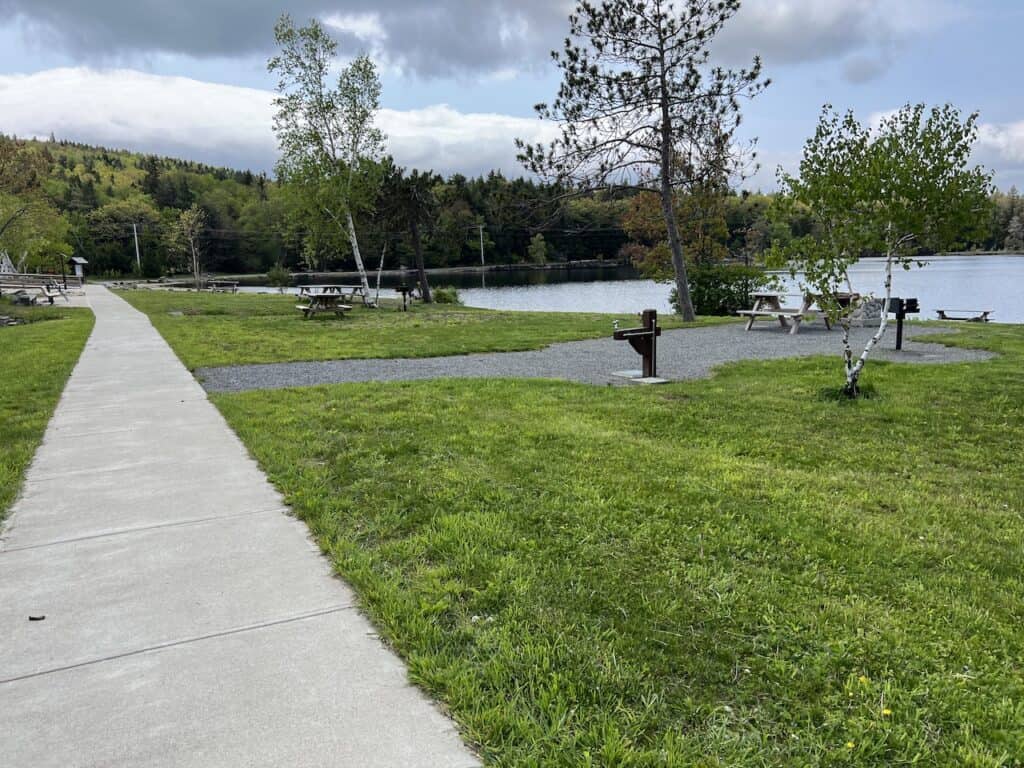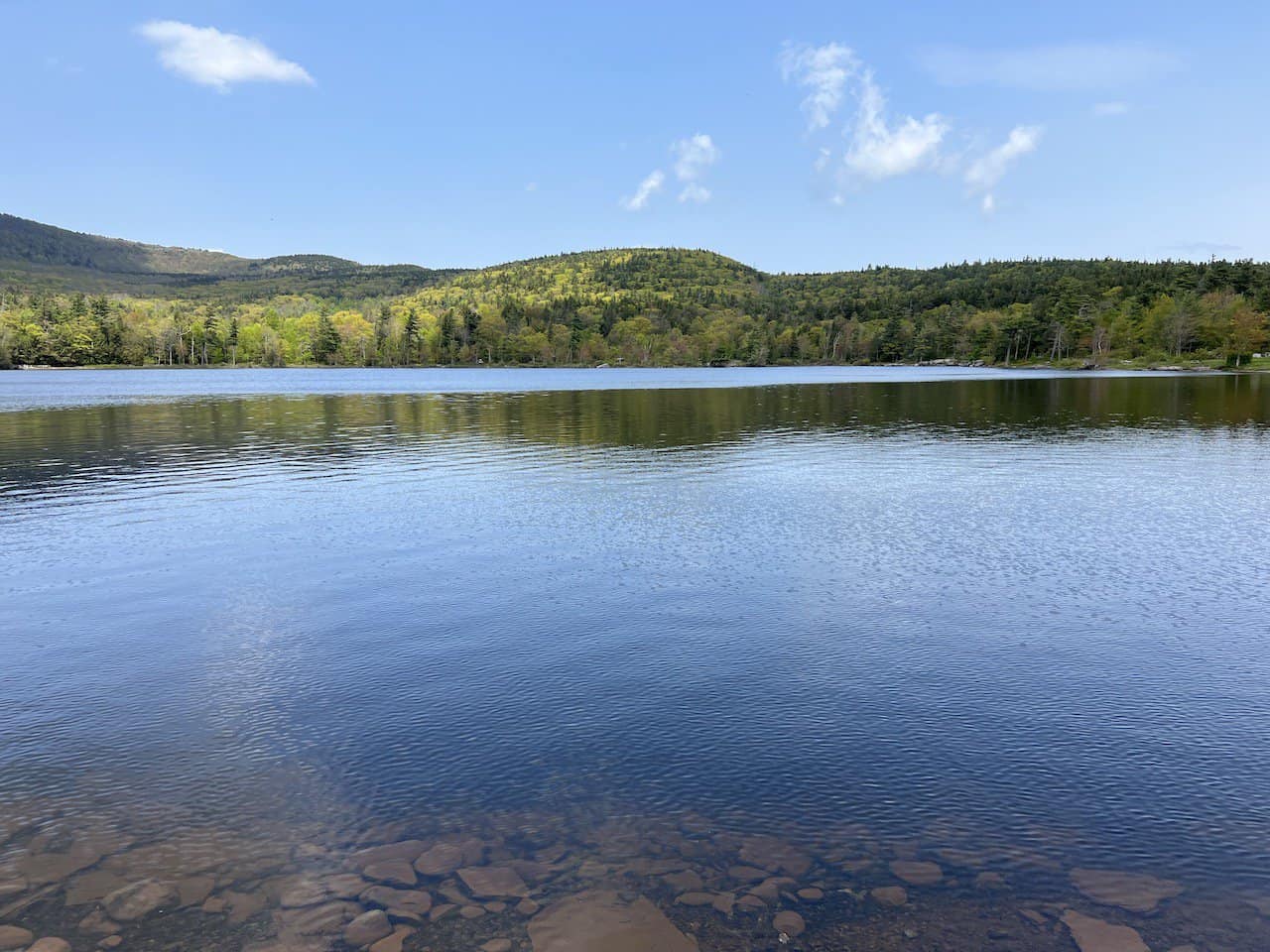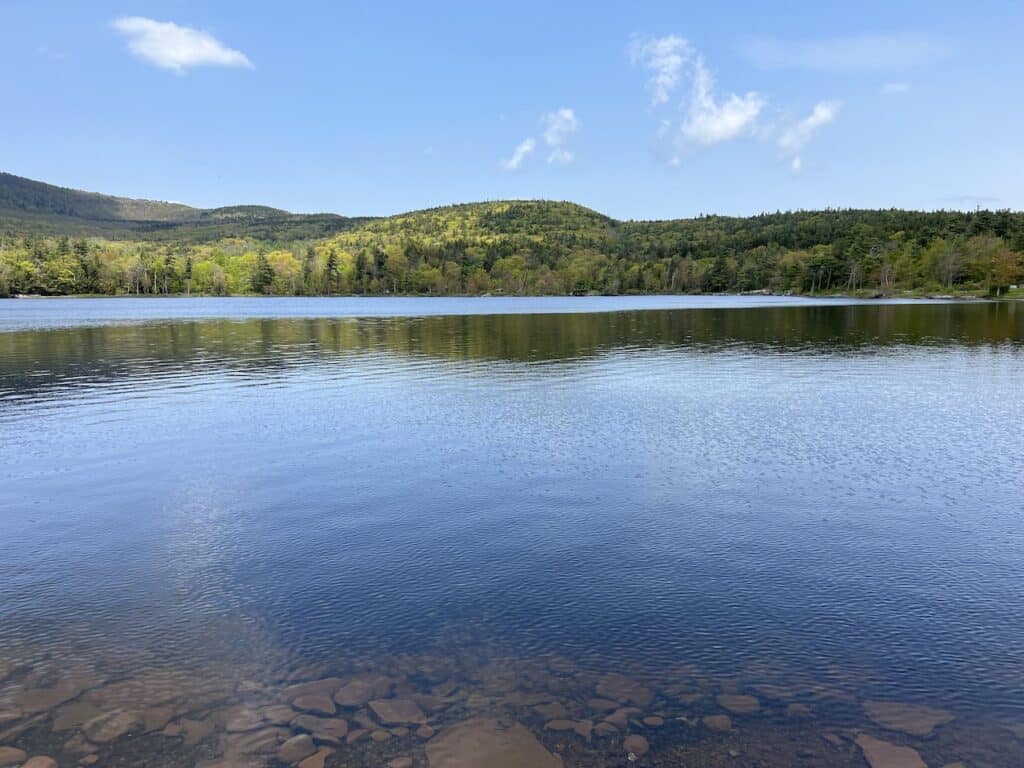 That about does it for the North South Lake hike that takes you to Ashley Falls, North Point, Newmans Ledge, Lookout Rock, Sunset Rock, and Artists Rock!
If you have any questions or comments about the hike, be sure to add them in below.
Also, don't forget to check out the other New York itineraries and guides up on the site.
Have fun out there and safe travels!