When it comes to mountain hikes in Rocky Mountain National Park, Hallett Peak is one of the top options out there to choose from.
The hike starts out by the Bear Lake Trailhead, before gaining elevation through the forest, and opening up to some beautiful views. Once past the tree line, hikers will summit Flattop Mountain before continuing on the rocky terrain towards the Hallett Peak summit. Awaiting up top are some of the best panoramas of RMNP that you can ask for.
Read on to learn more about the trail and how to take part in it during your trip to Colorado.
* Affiliate Disclosure: This post may contain affiliate links, which means I may receive a commission if you make a purchase through the links provided, at no additional cost to you. Thanks for supporting the work I put into TripTins!
1) Trail Info & Statistics
To get started, below you can find the trail stats for the round-trip hike up to Hallett Peak.
Trail Name: Hallett Peak & Flattop Mountain
Trailhead: Bear Lake
Distance: 10 miles
Duration: 6-8 hours
Elevation Gain: +3,300 feet
Flattop Mountain Elevation: 12,320 feet
Hallett Peak Elevation: 12,720 feet
Class: 2
Trail Type: Out & Back
The Hallett Peak trail starts at the popular Bear Lake Trailhead, where there is a large parking lot for visitors. From there, the trail first heads up to Flattop Mountain, before the more technical terrain awaits to get to the Hallett Peak summit.
For those contemplating whether to head up to Hallett Peak or just stop at Flattop Mountain, I would highly recommend going all the way up. While the views from Flattop are decent, the landscape really opens up on top of Hallett. Even though the terrain is more difficult between the two summits, it is well worth the climb.
Rock Climbing Note: Hallett Peak is a popular mountain for rock climbers. This overview, however, will just stick to the standard hiking route to the summit.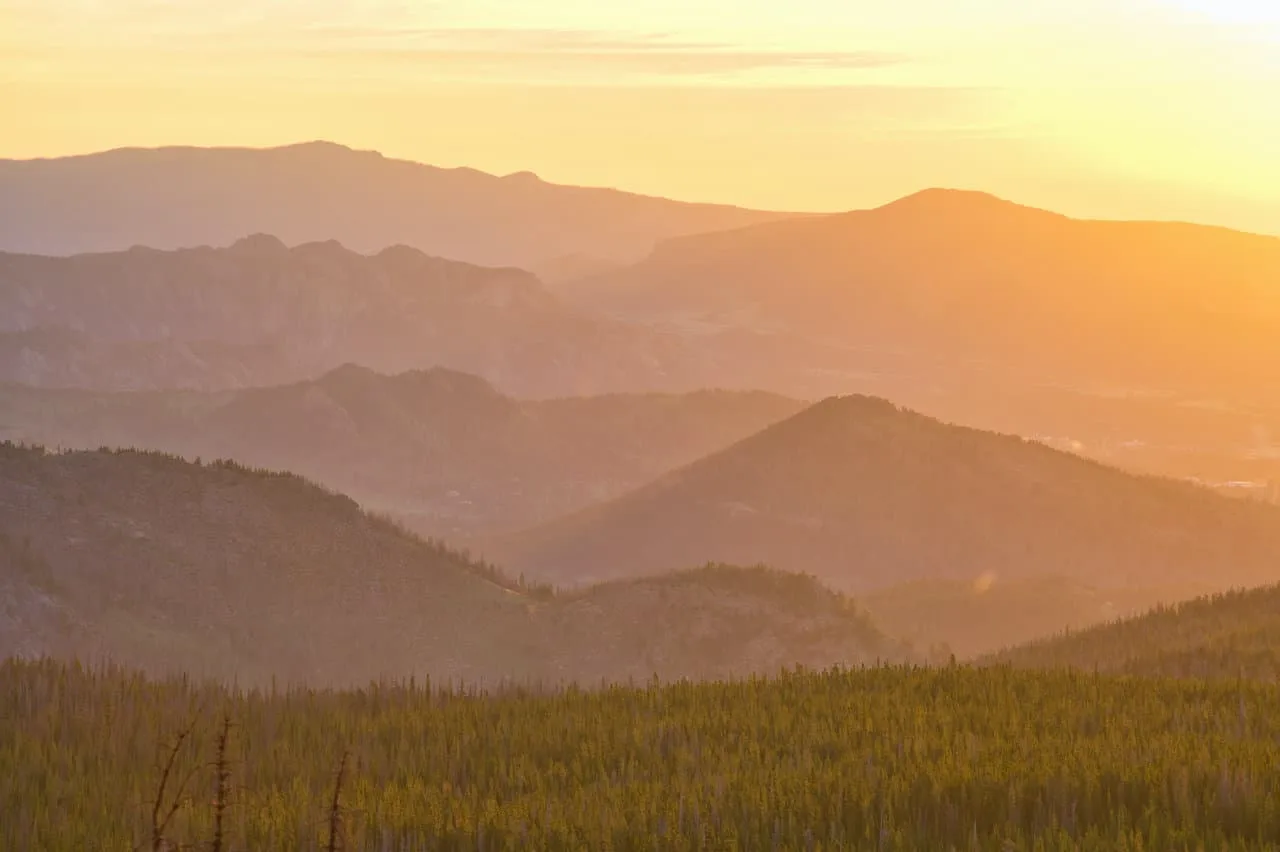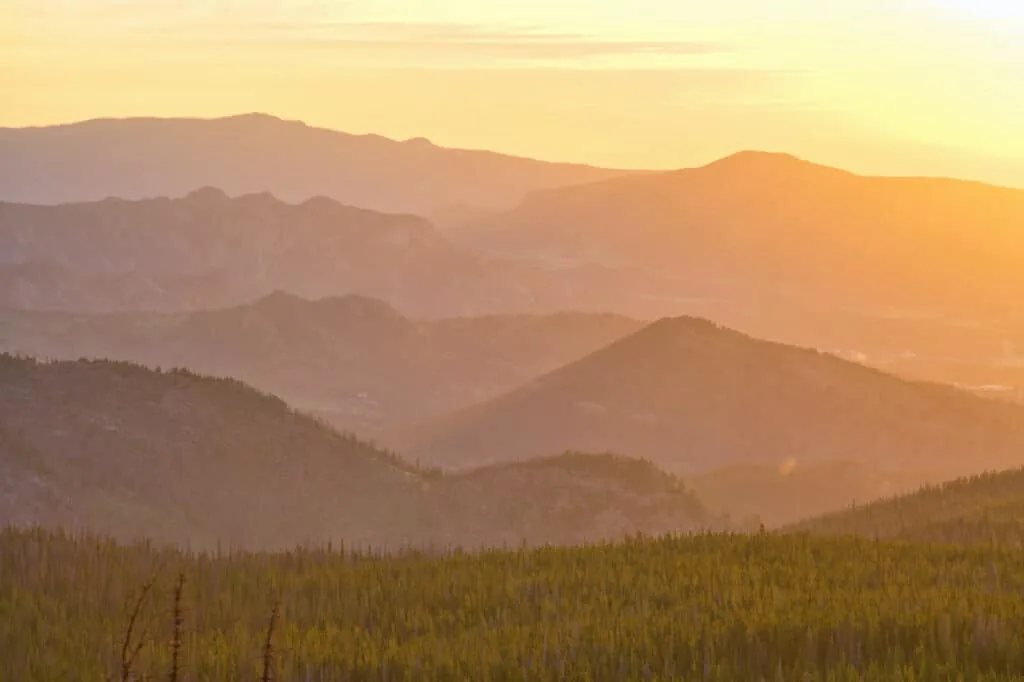 2) Hallett Peak Trail Map
Below you can find the trail map for the Hallett Peak route that starts at the Bear Lake Trailhead and heads to the summit. This was taken off of my GPS tracking, so you are able to see the exact route I took.
Just a heads up, you can also see that I took a walk around Bear Lake after getting back down from the summit. You of course don't need to add this on, but it is a nice quick stroll if you are up for it.
3) Permits & Parking
Over the last few years, Rocky Mountain National Park has introduced a permit system during the peak months. Due to this, you will need to get a timed entry permit ahead of time in order to head up Hallett Peak. The one exception here is if you arrive prior to 5:00 AM. See below for the latest:
Permits
If you are planning to hike the trail, you will be entering the confines of RMNP. Therefore, a permit will be needed during most of the hiking season. Below is a high-level overview of RMNP permits. Feel free to read through more details on the RMNP website.
Between May 26 and October 22, a timed entry reservation is needed to enter RMNP during certain hours.
There are two types of timed entry reservations available:
Park Access (includes access to the entire park beside Bear Lake Road): 9:00AM – 2:00PM
Park Access+ (includes access to the entire park with Bear Lake Road): 5:00AM – 6:00PM
The Hallett Peak hike is on Bear Lake Road, so a Park Access+ timed entry is required. However, if you arrive prior to 5:00AM or after 6:00PM, then no timed entry reservation is needed.
Be sure to reserve your spots as soon as reservations open up! This usually happens on the 1st of the month, prior to the following month (for example: July reservations open up on June 1).
Also, note that a general Park Pass is required for entry into RMNP no matter what. These can be bought online or at the entrance.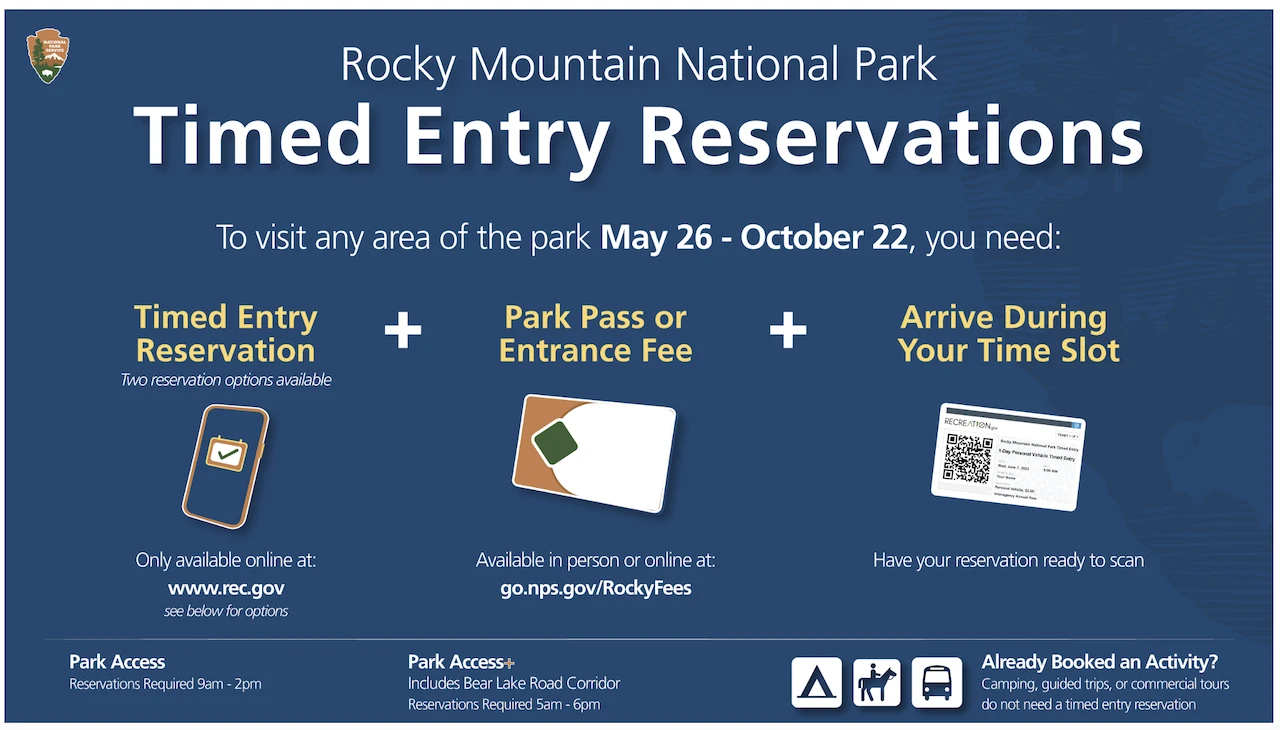 Parking
At the end of Bear Lake Road, there is a large parking lot, but this will fill up early. If you have a permit and the lot is full, you will need to park down the road at the overflow parking and hop on the shuttle to the parking lot.
I would recommend arriving at the parking lot before 6:00AM (even earlier on summer weekends), to guarantee a spot.
Note: if you do not have a car (or permit), you can take a shuttle from Estes Park to Bear Lake.
Colorado Car Rental: Looking for a rental car in Colorado? Check out Rentalcars.com for a variety of options that can work well on your trip.
4) Hallett Peak Hike
Once all parked in the Bear Lake lot, it is time to begin the hike up to the summit. Follow the signs to Bear Lake, where you will walk for a short period of time along the southern lakeside. High up above Bear Lake is the goal for the day, as you see Hallett Peak looming up high in the distance.
Be on the lookout for a trail sign pointing you up to the right to Flattop Mountain. There aren't any Hallett Peak signs here, but as long as you follow the Flattop Mountain signs you should be good to go.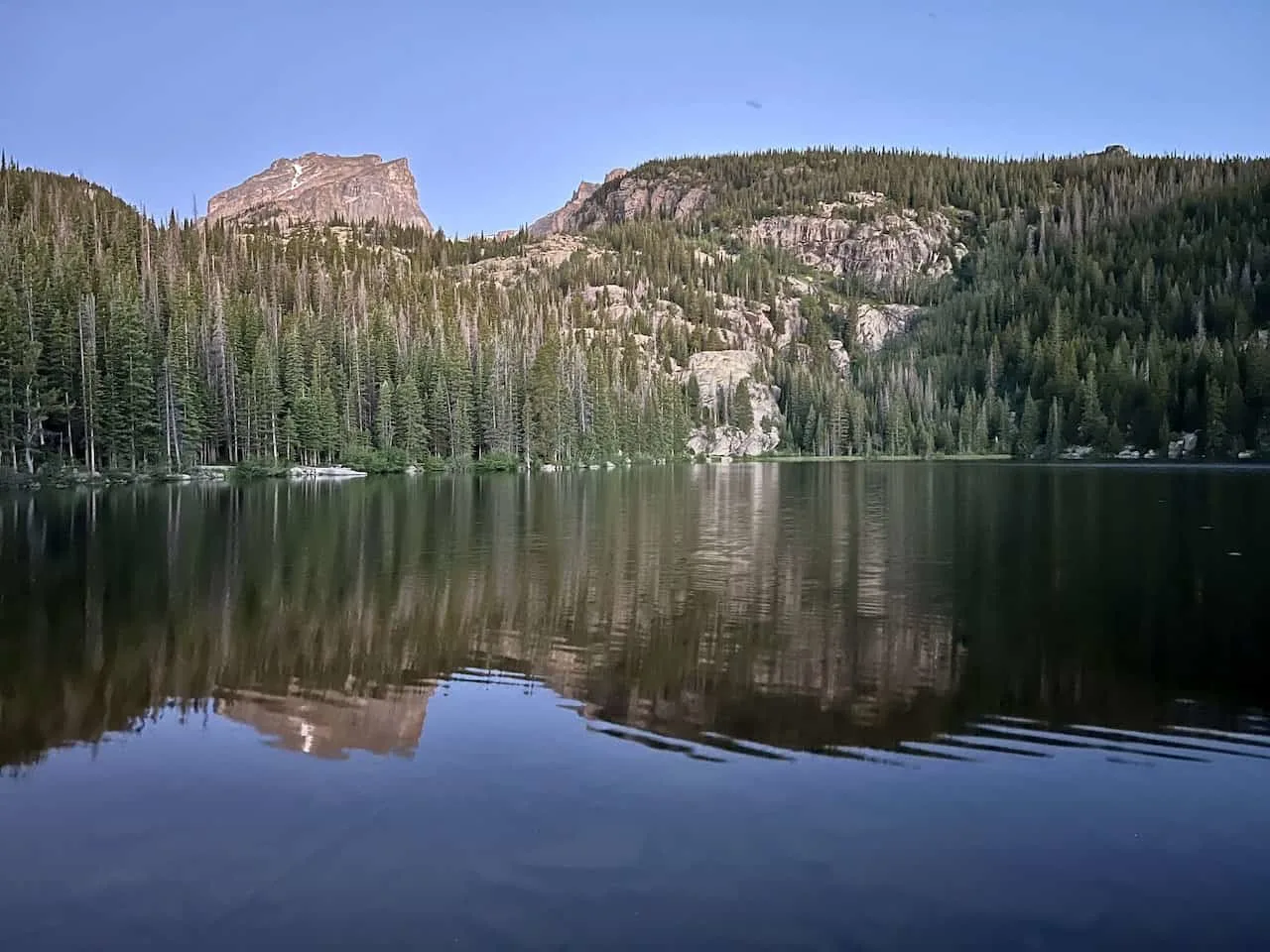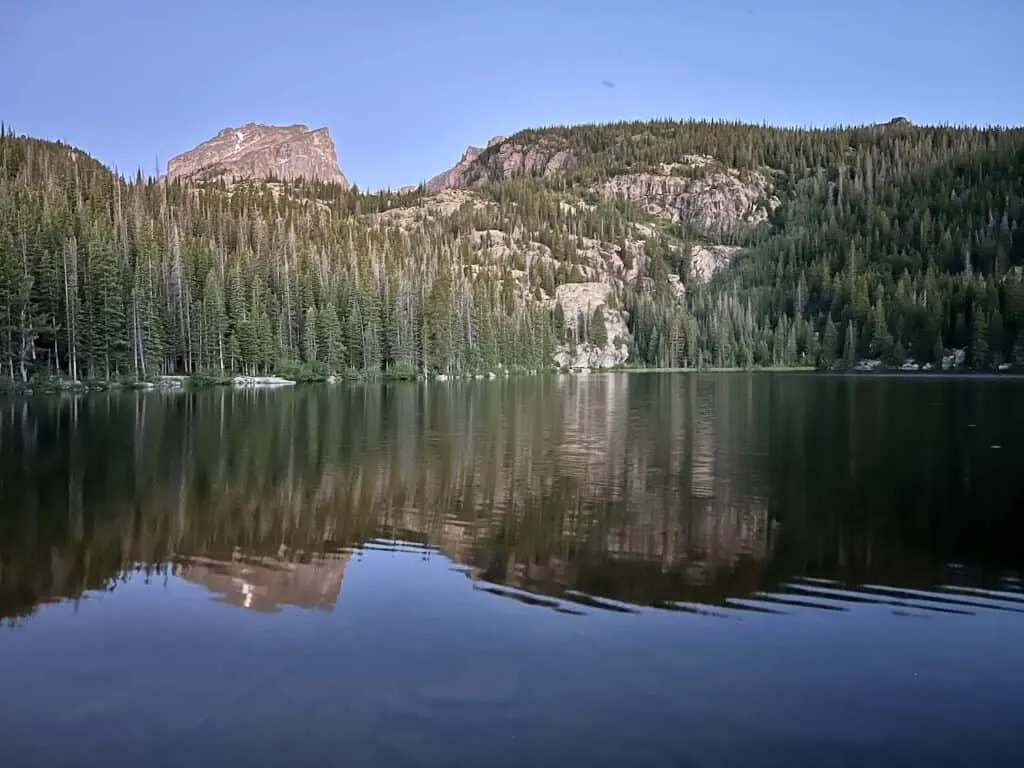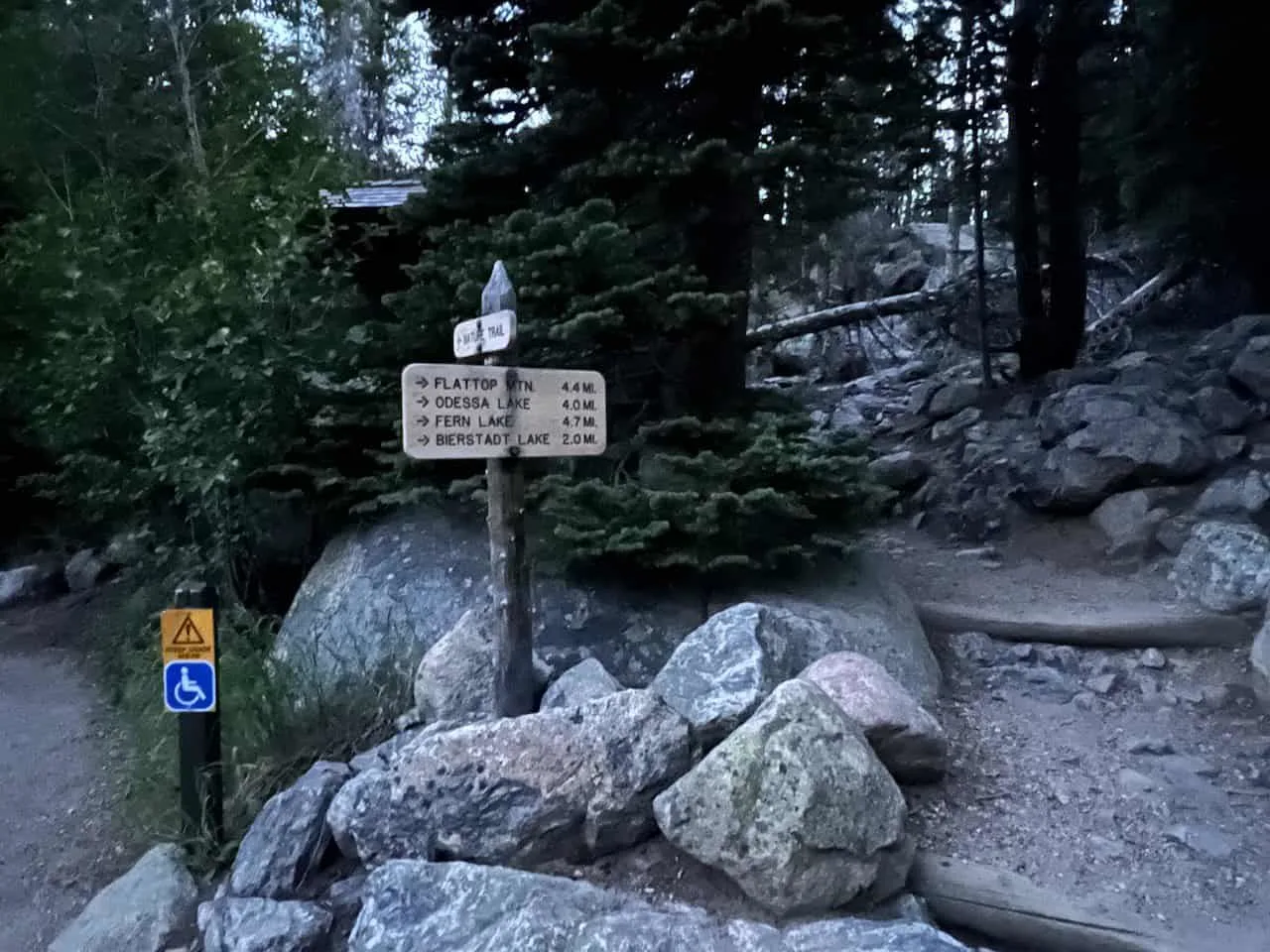 This first portion of the trail will take you along a dirt rocky path through the forest. There are a few switchbacks and intersections here as well. Just follow the appropriate paths that point you up to Flattop.
This forest section takes up a good chunk of the overall route (about 2.2 miles each way), so be prepared for a more greenery-filled walk rather than the views that are yet to come.
All throughout, expect to have nearly consistent elevation gain. It is nothing too steep here, but it is an uphill climb all the way through.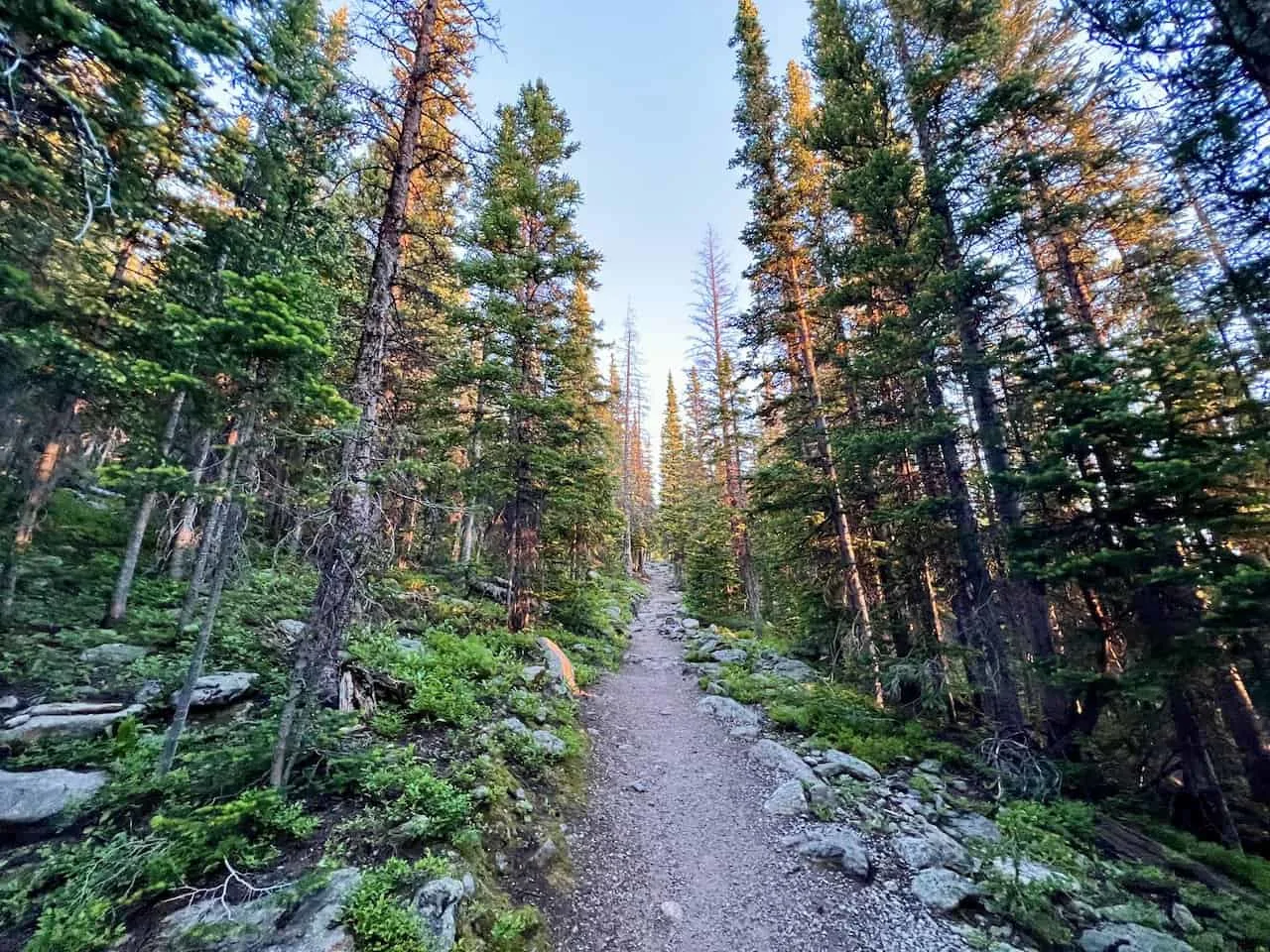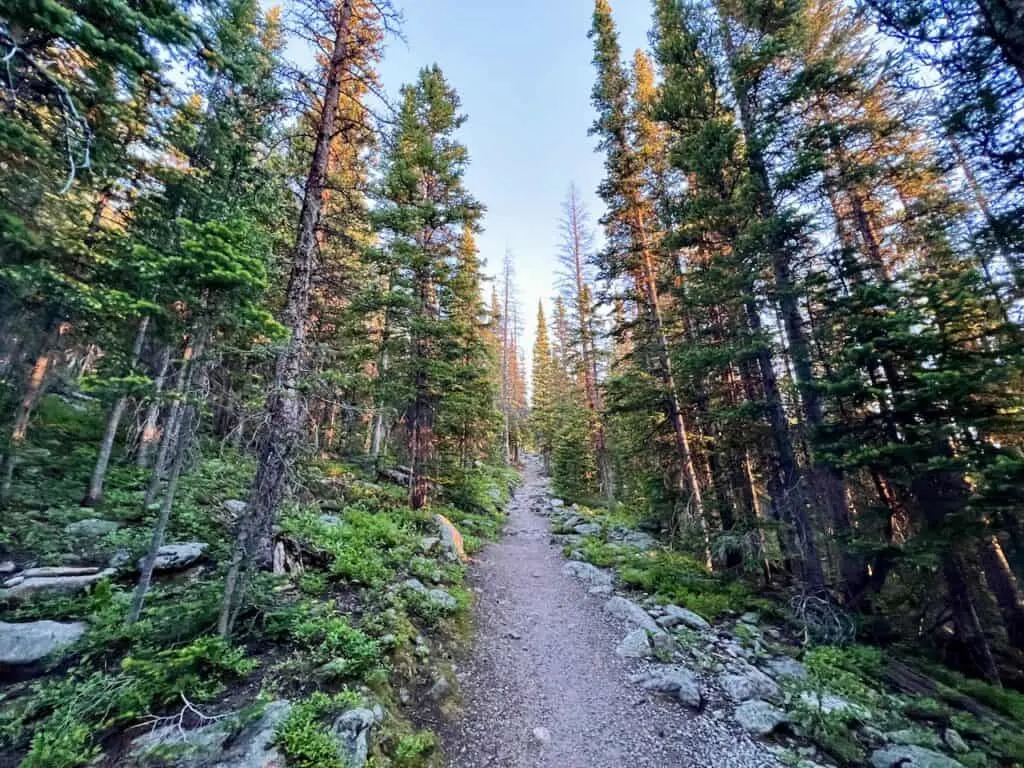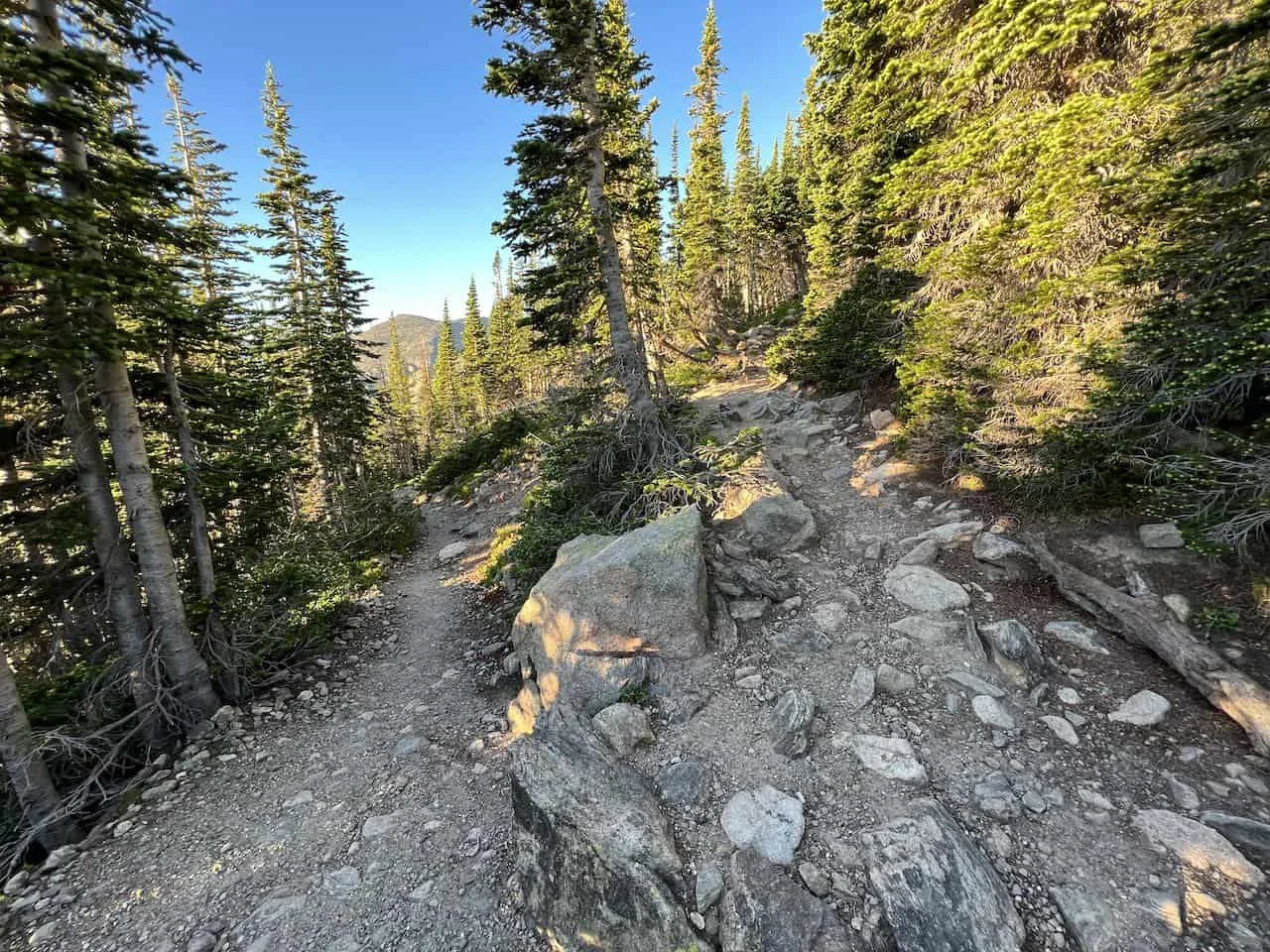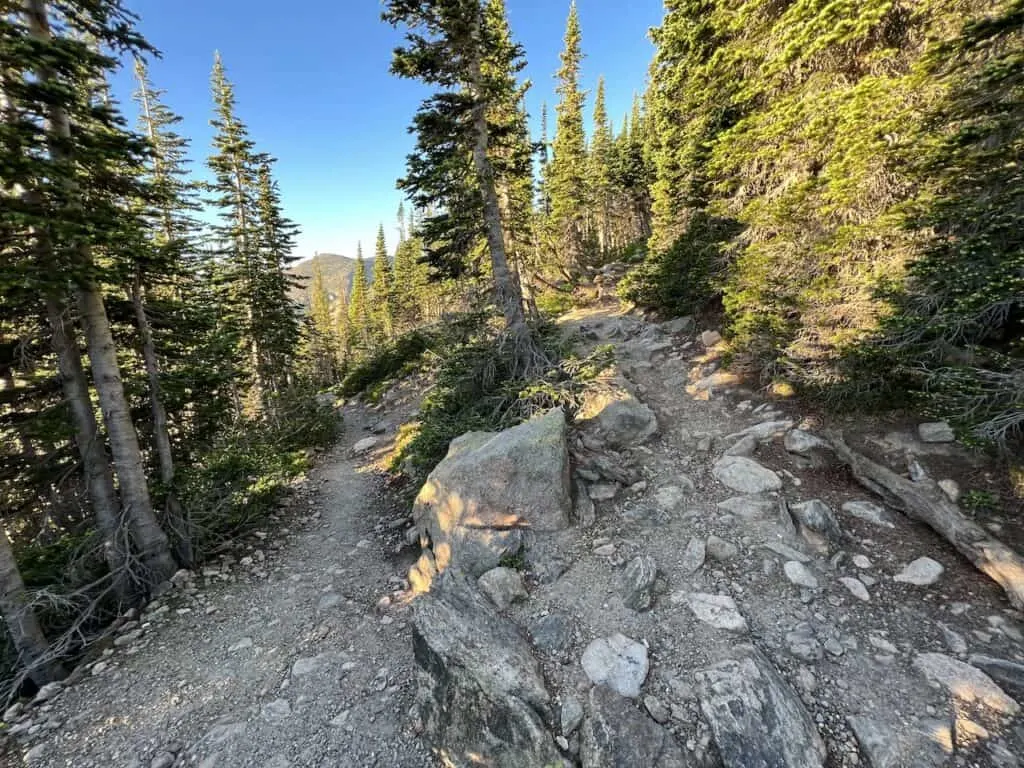 Soon enough though, the trees will begin to get less dense, and views of the surrounding landscape will come out. From here, the rolling mountains will be out in front, as you continue to gain elevation upwards.
There are also two lake overlooks to look out for – Dream Lake Overlook and Emerald Lake Overlook. Dream Lake will come first during the forest portion of the trail, followed by the Emerald Lake view a little later on. These are great places to take a break and relax during the hike up.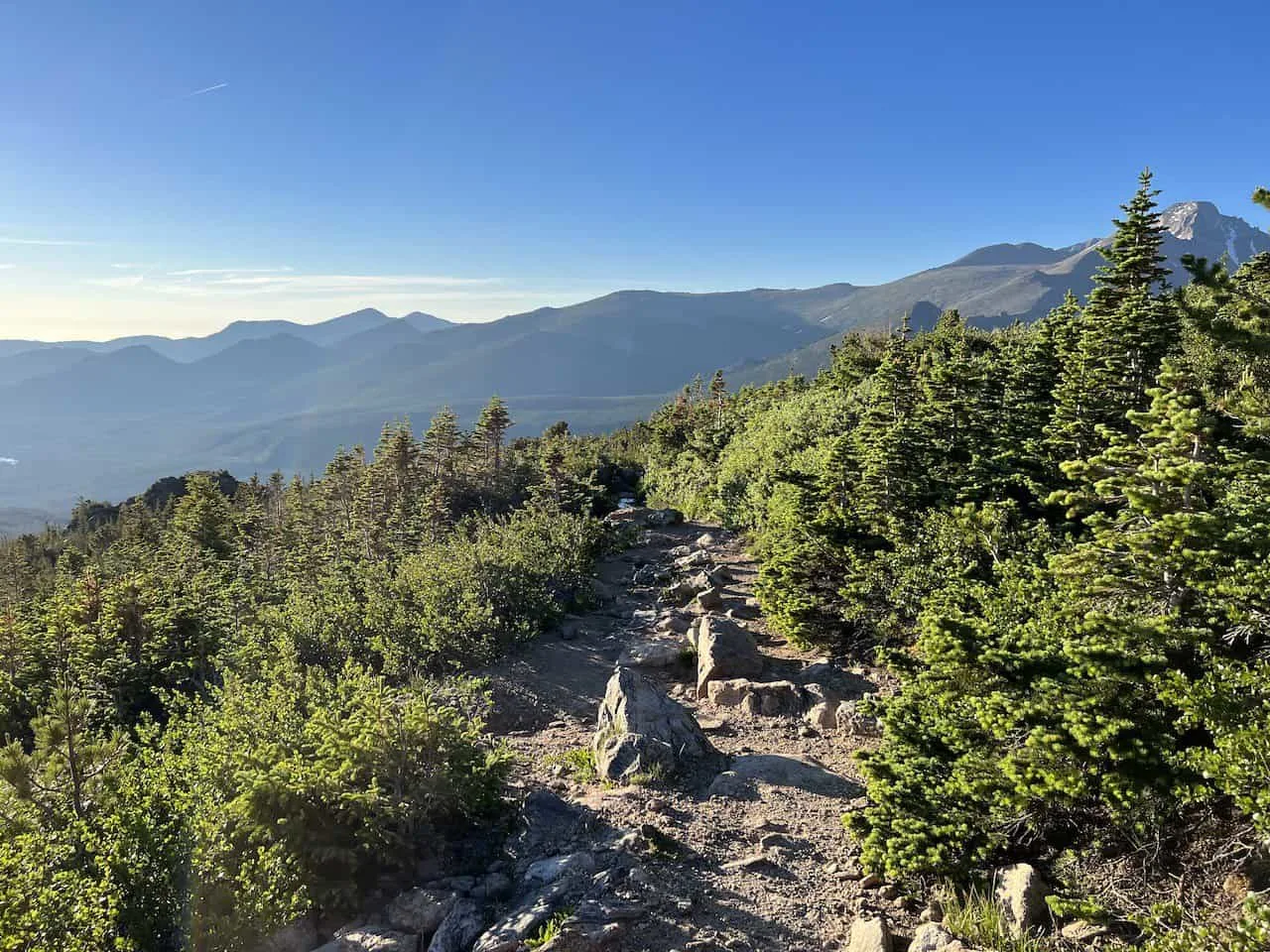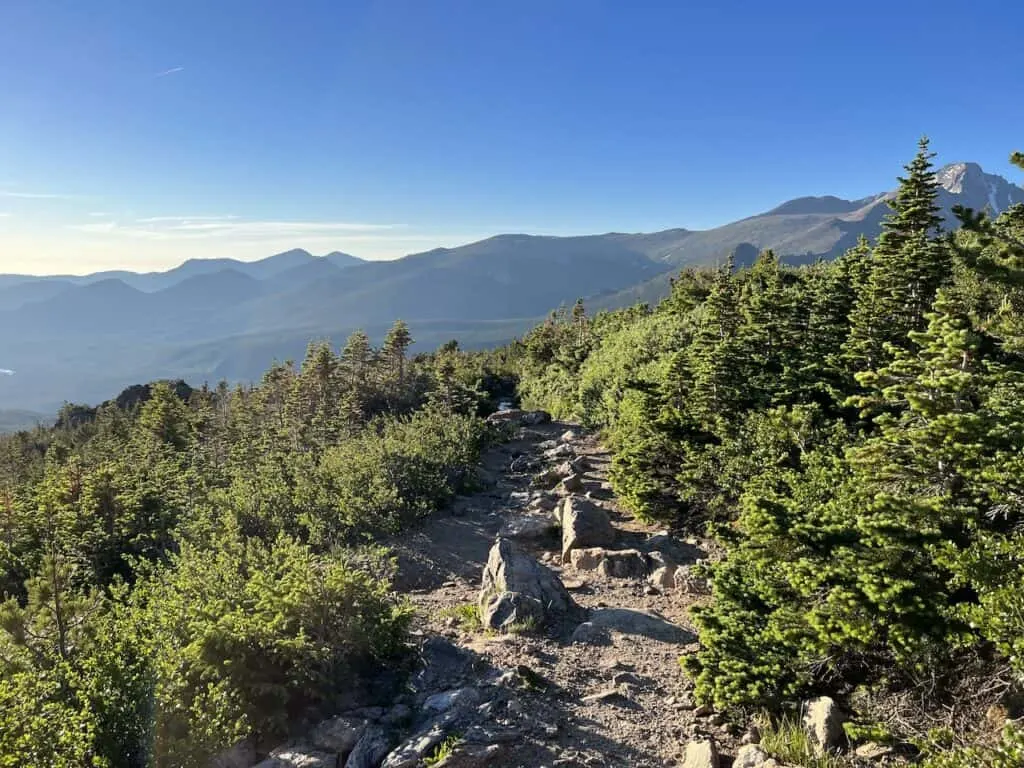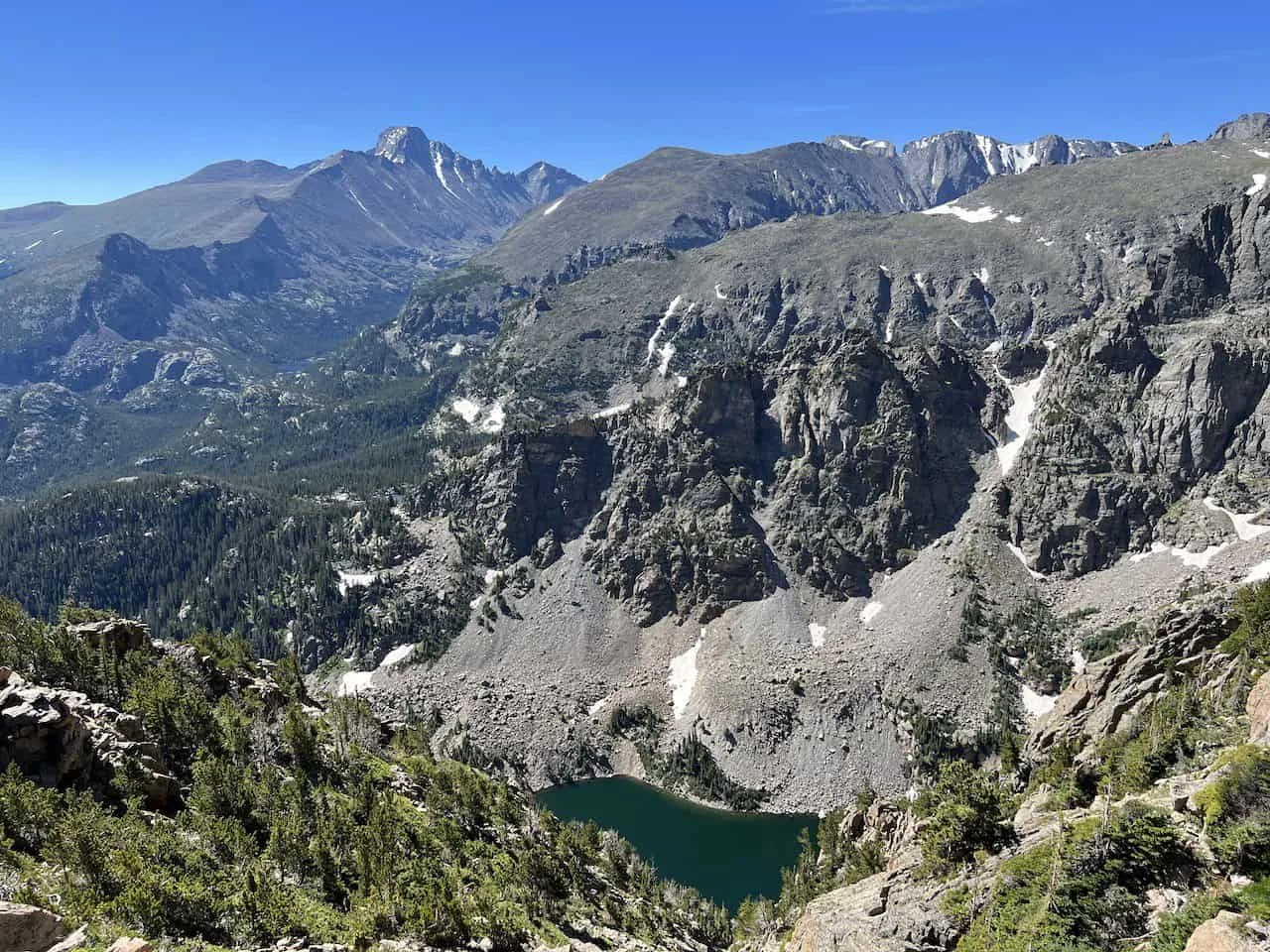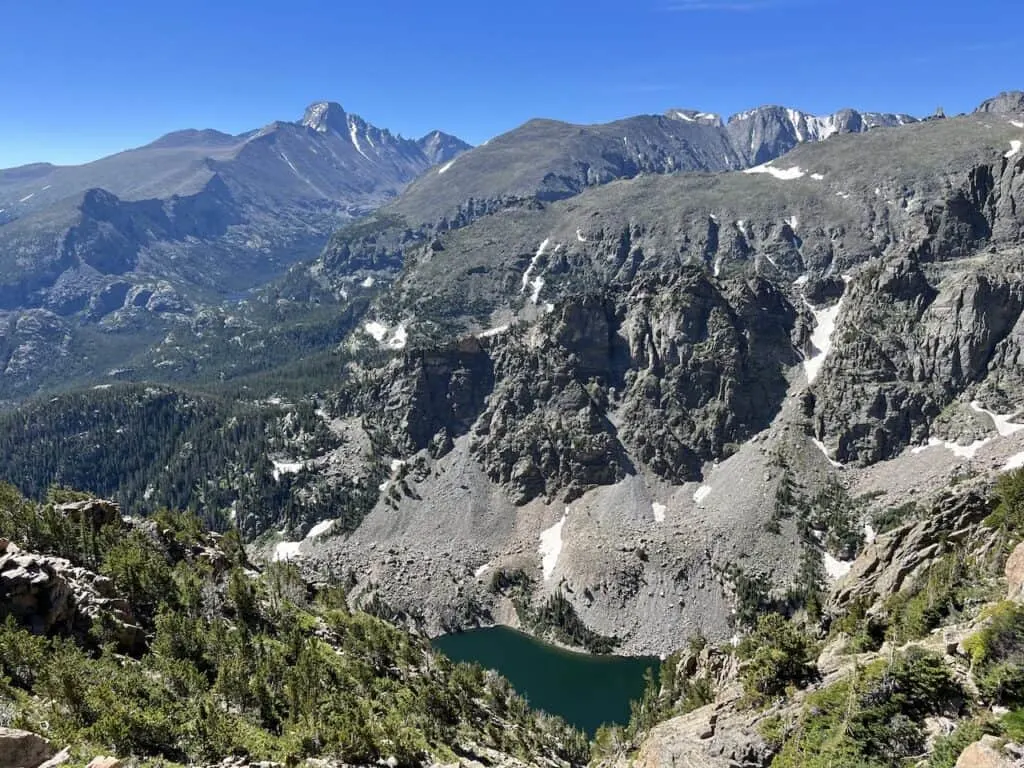 After passing the Emerald Lake Overlook, the route continues up towards the Flattop Mountain summit. There will be some beautiful views off to the side and out behind you, so be sure to take some breaks as needed to soak it all in.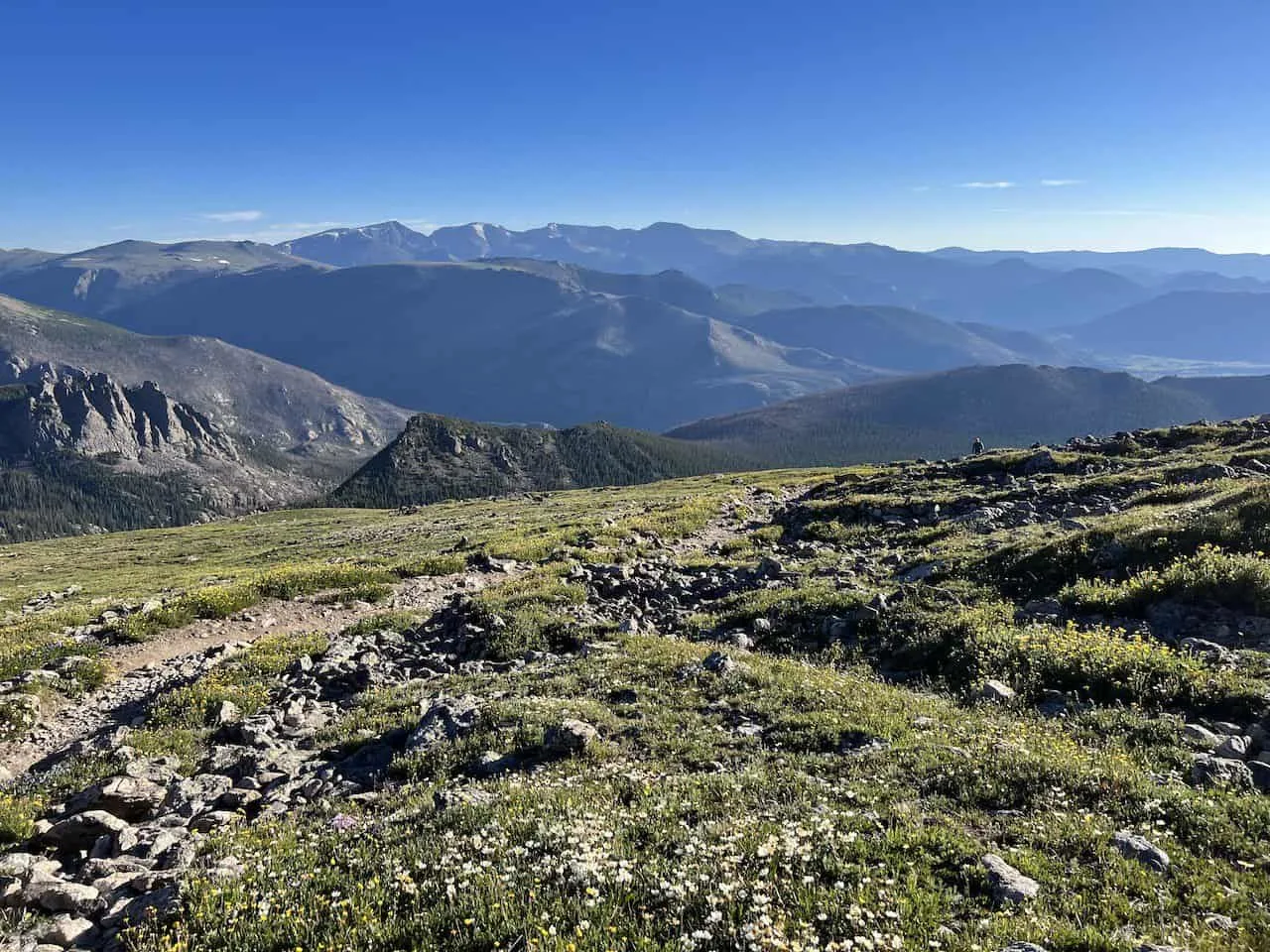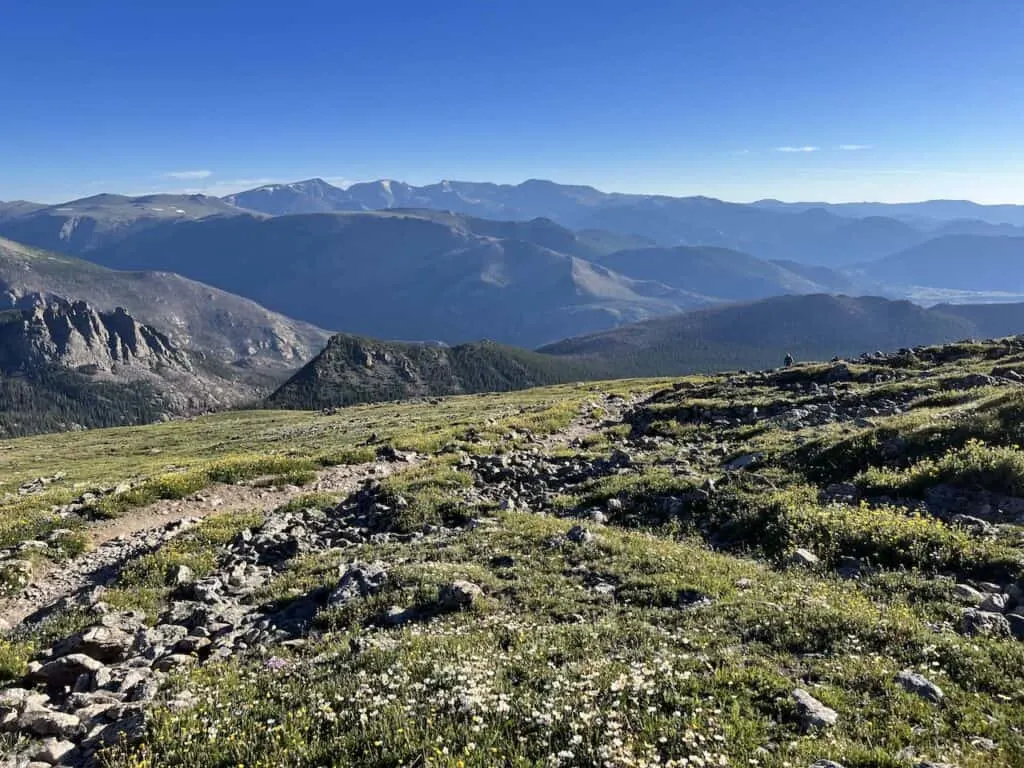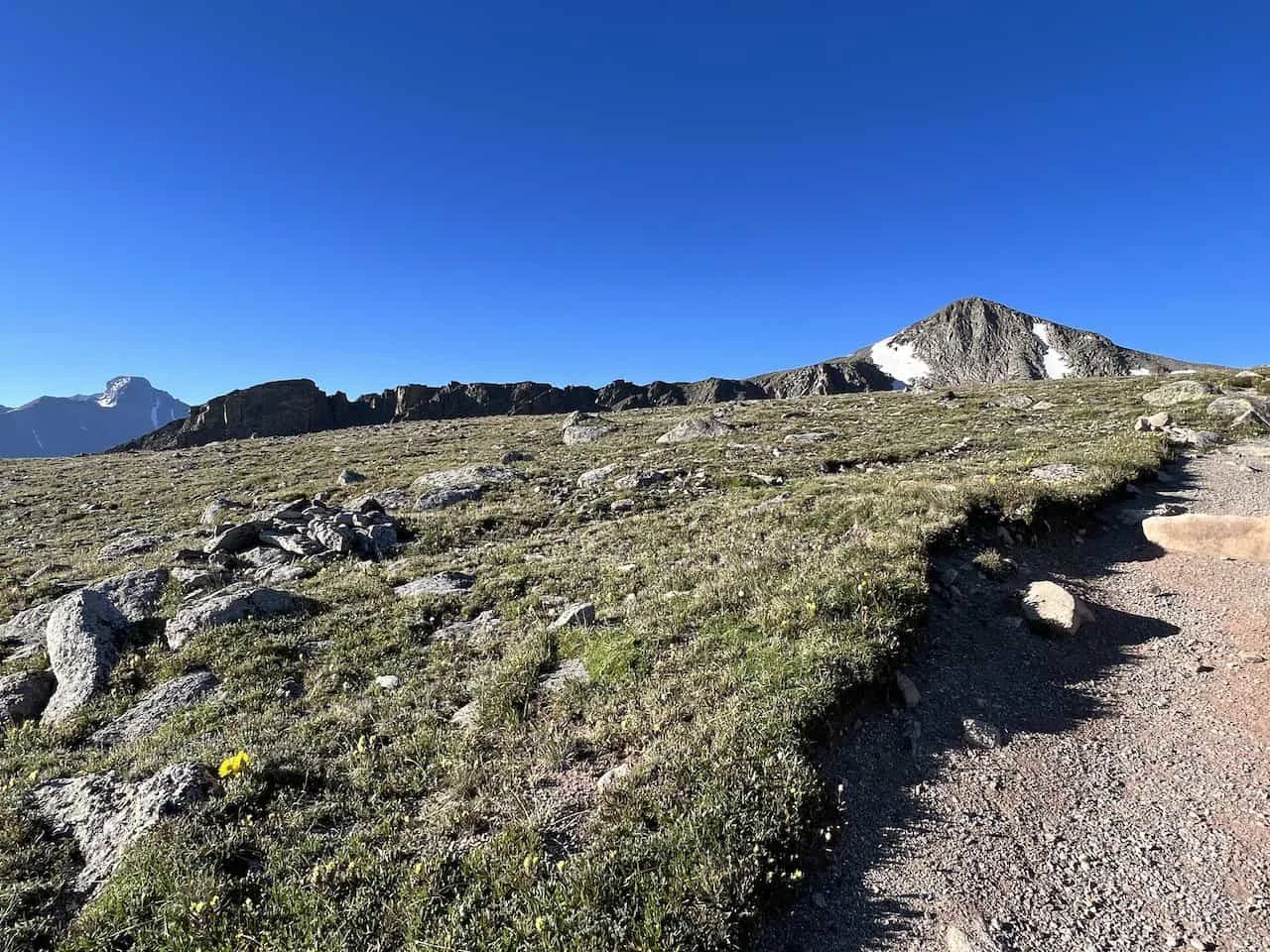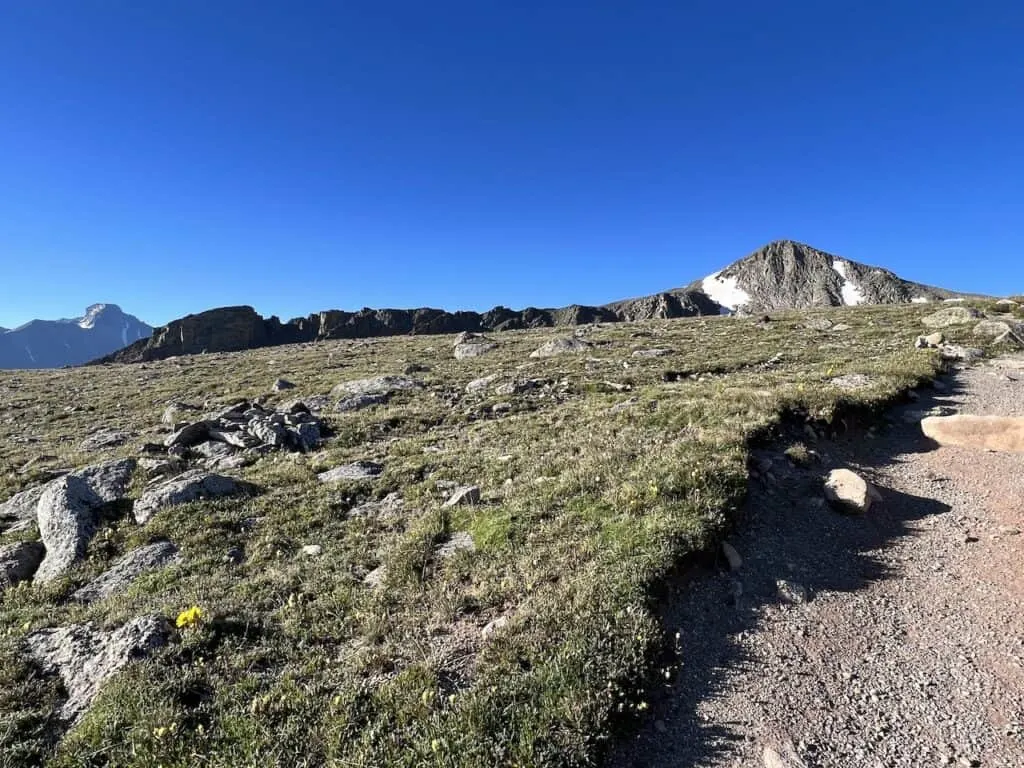 Slowly but surely Hallett Peak will begin to come more and more into view. At this point, you will not be far from the top of Flattop Mountain. Now, the reason it is called "Flattop" is because it doesn't actually resemble a standard summit. Instead, it is more so just a high point in the area.
Most will consider the signposted intersection as the Flattop Mountain summit. From here the views are fantastic, but a bit obstructed due to the lack of elevation prominence.
For those who are happy enough with the views (and don't want to take on the more technical trail), you can turn around here. But for those who want to go to Hallett Peak, it's just a bit further to go.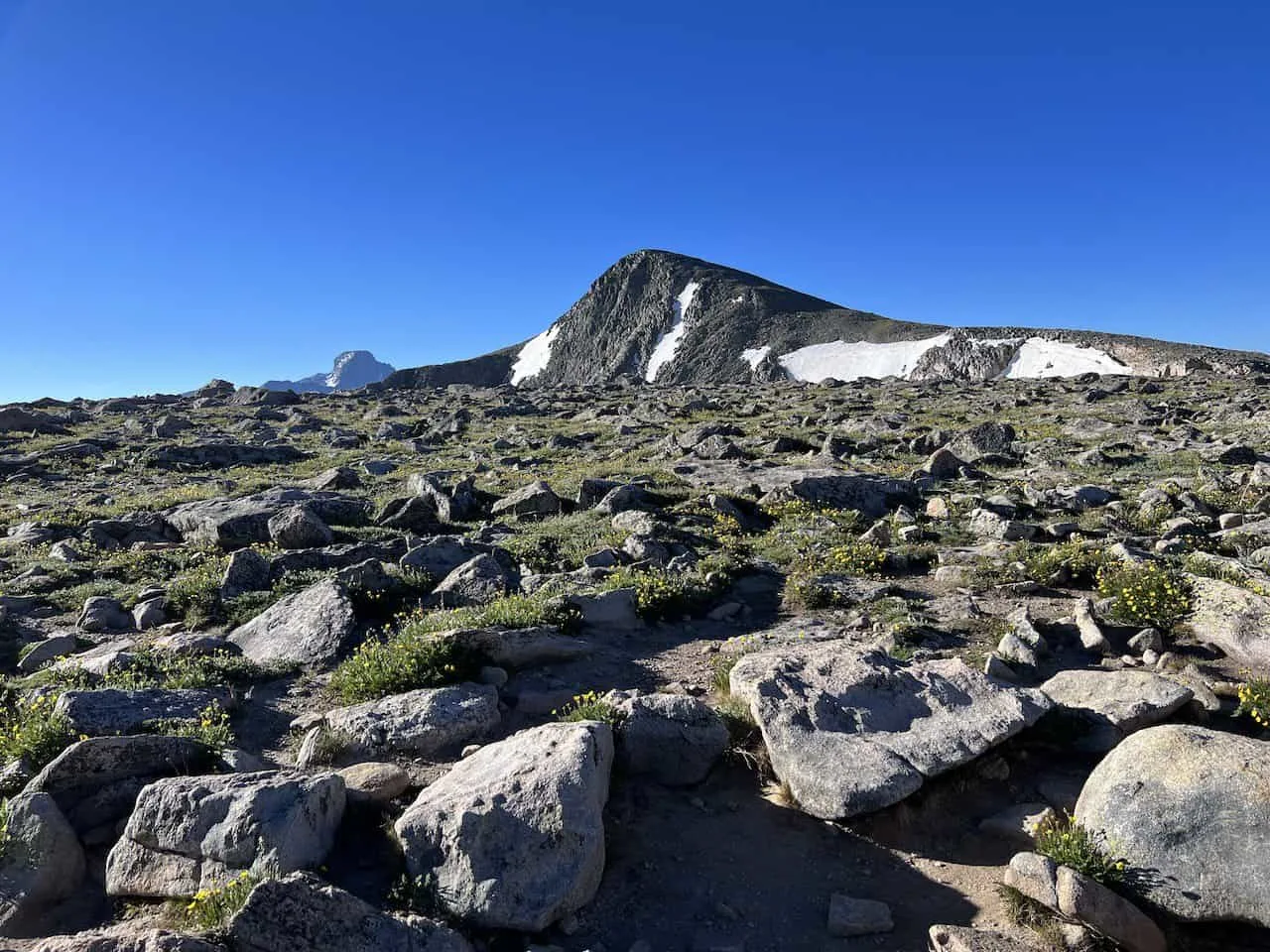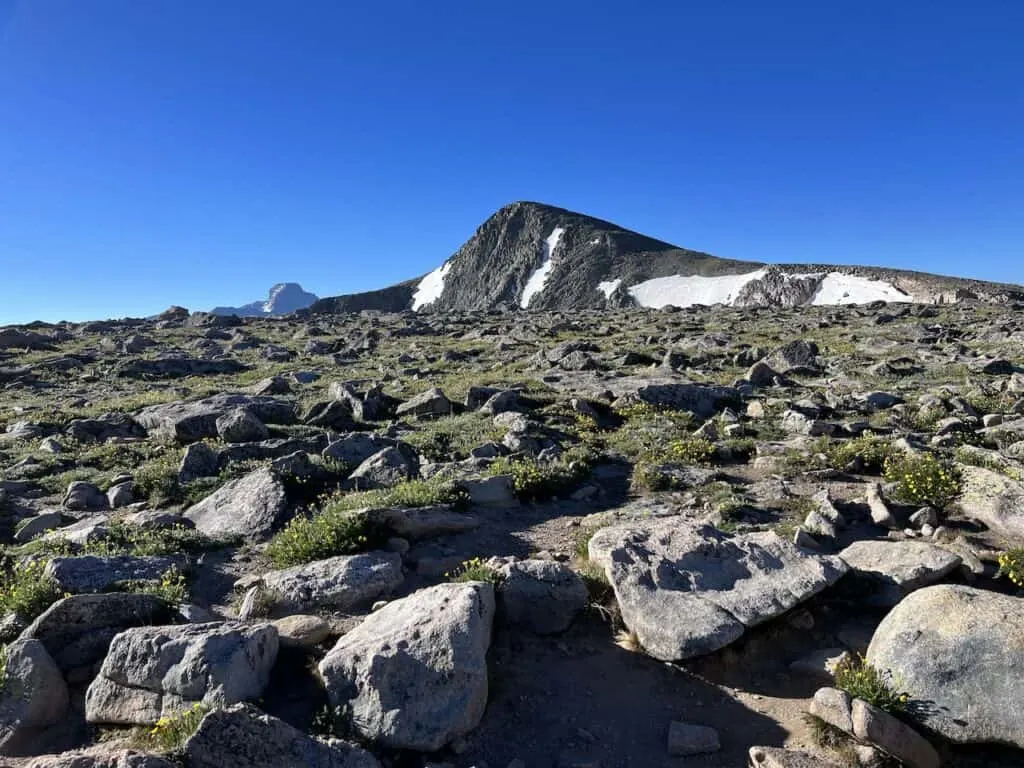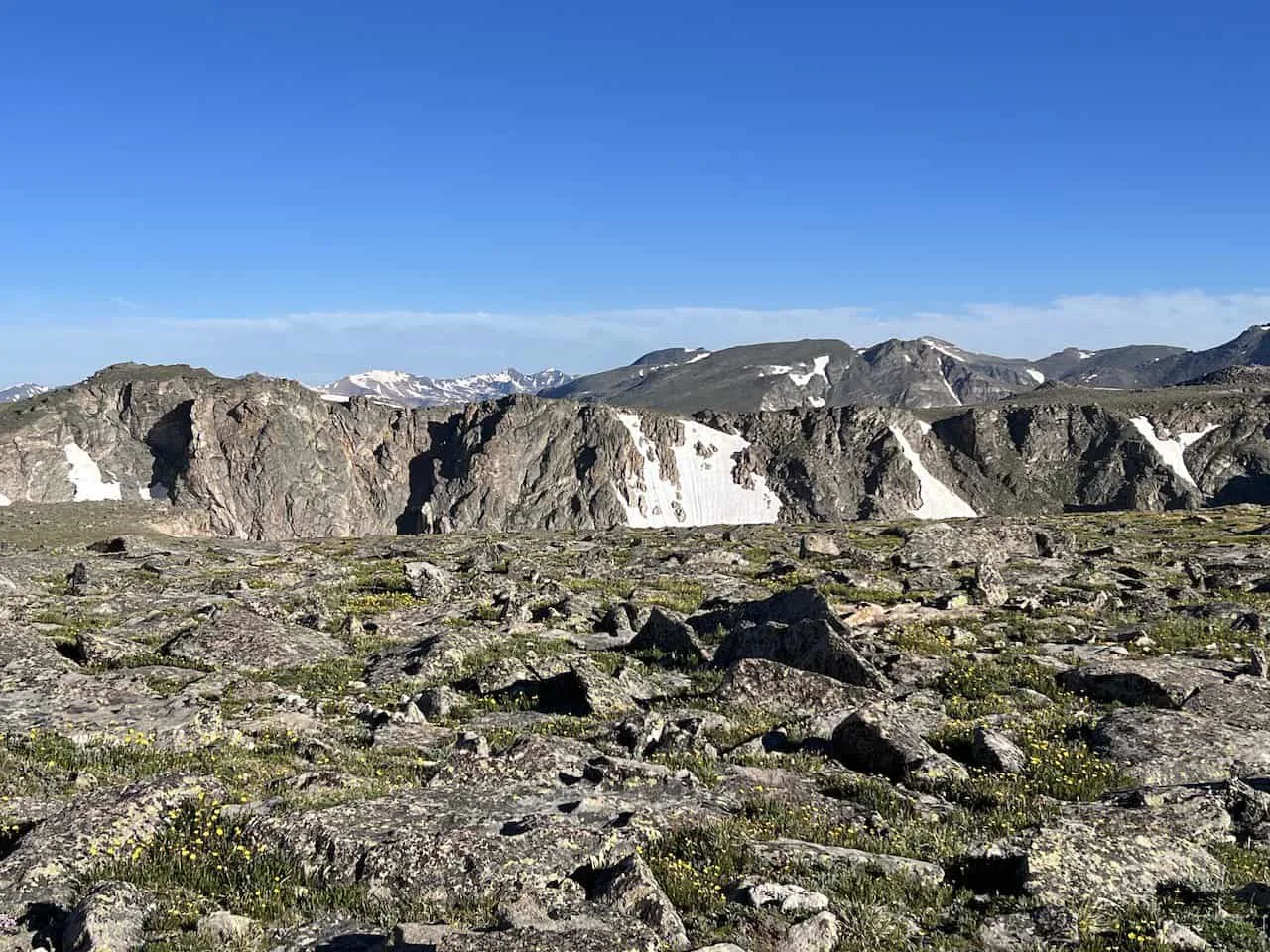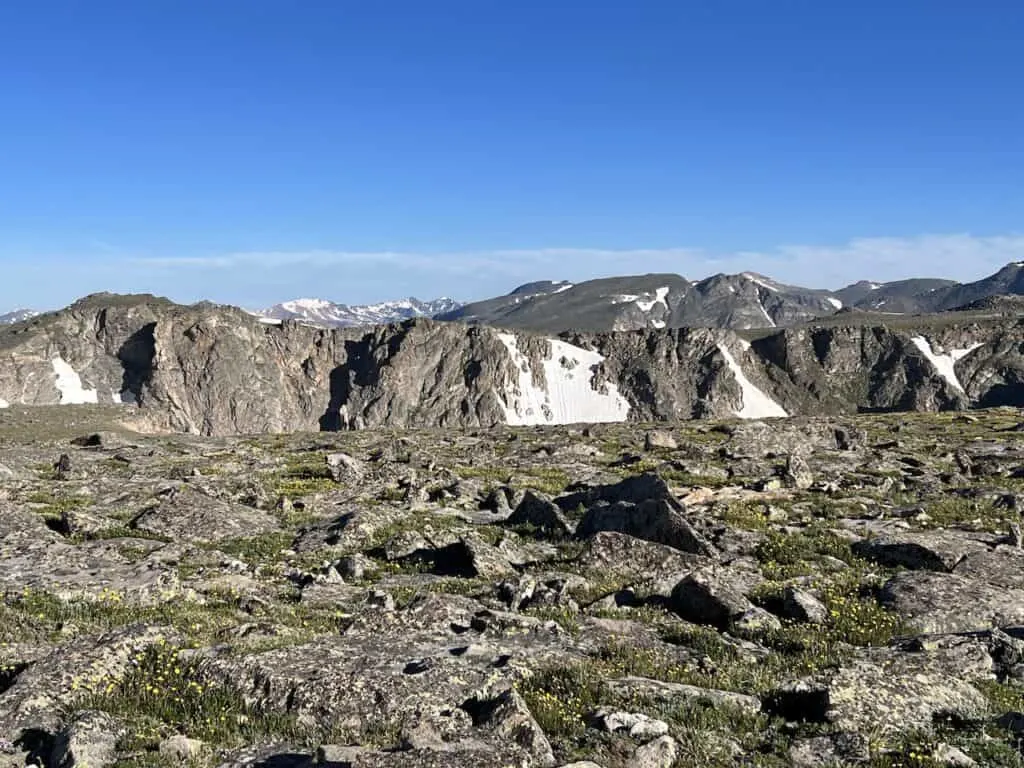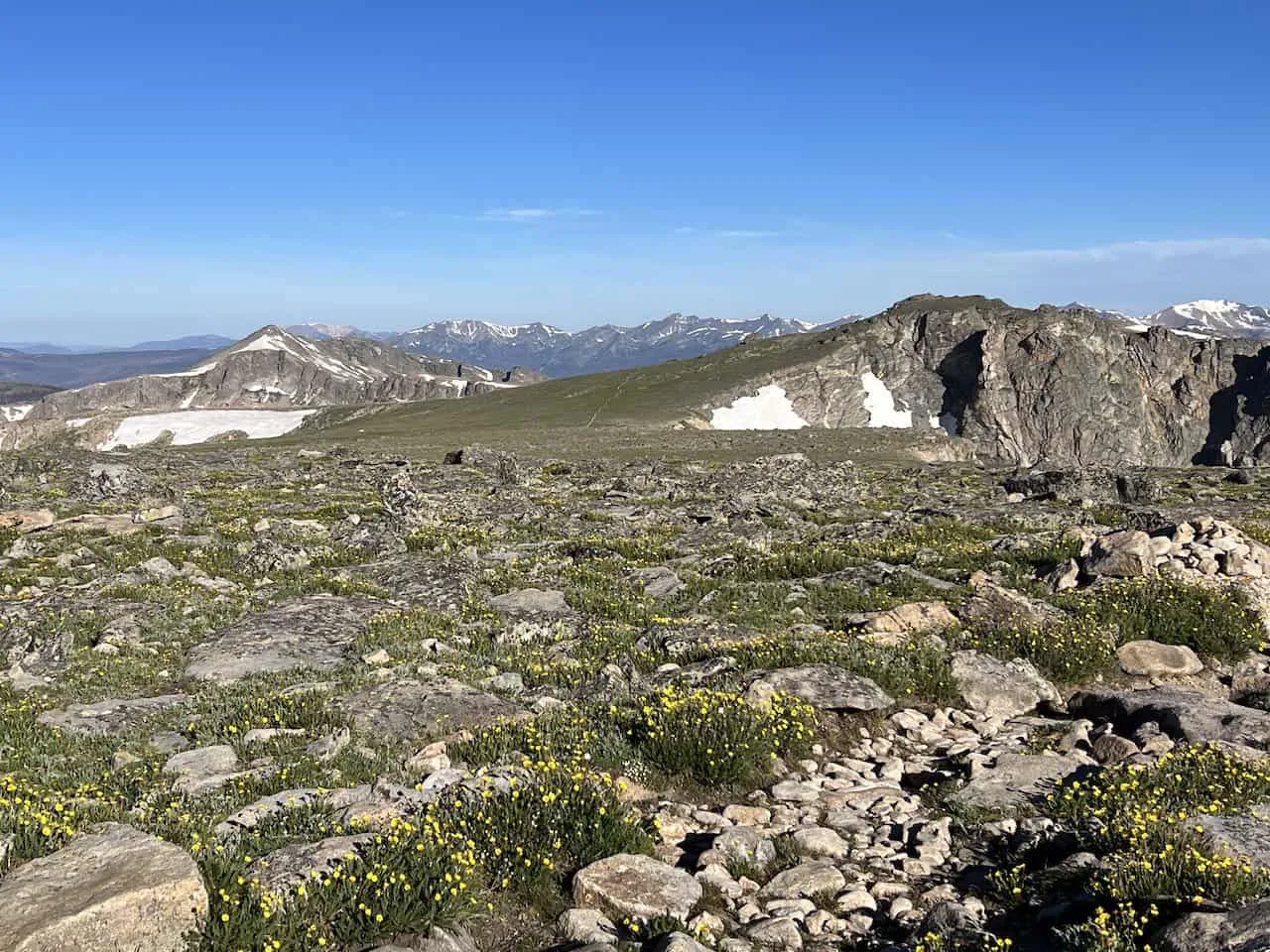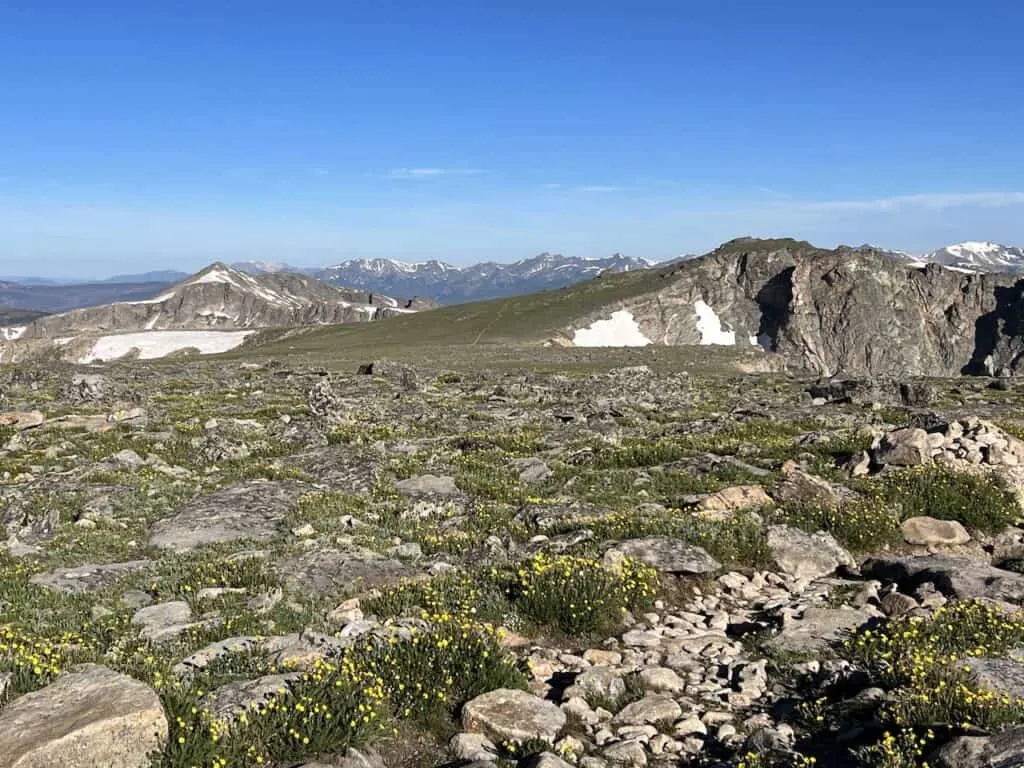 Next up is Hallett Peak, however, you will not see it signposted. Instead, the sign at Flattop just points you back to Bear Lake or onwards to the North Inlet / Tonahutu Trail. But don't worry, there still is an obvious path that continues to Hallett Peak out in the distance.
The trail here is also marked by cairns (small rock piles), so be sure to keep an eye out for them as you make your way along. Continuing up, the Tyndall Glacier will be out on the left-hand side. Be sure to check out some views before making the last push to the summit.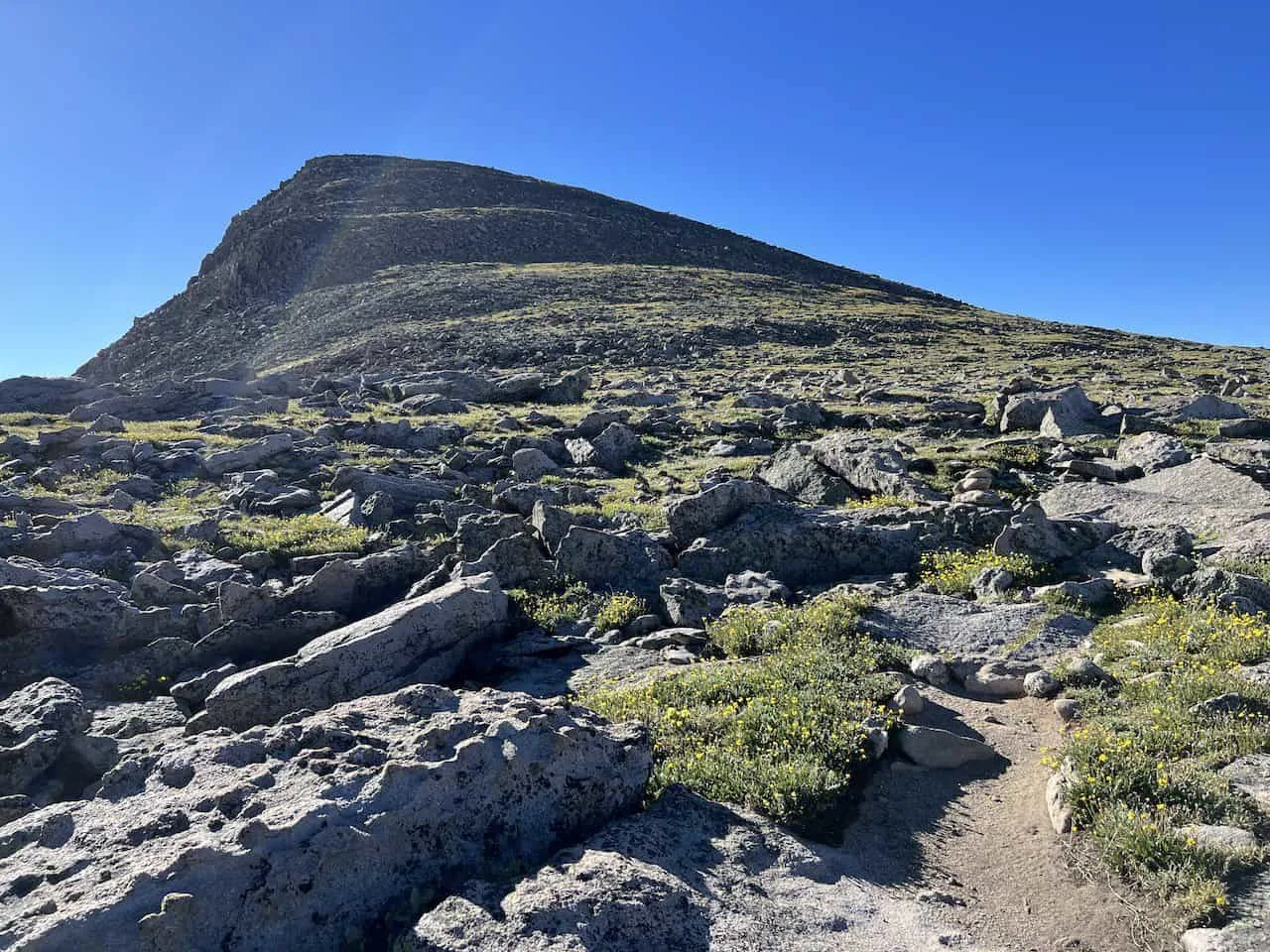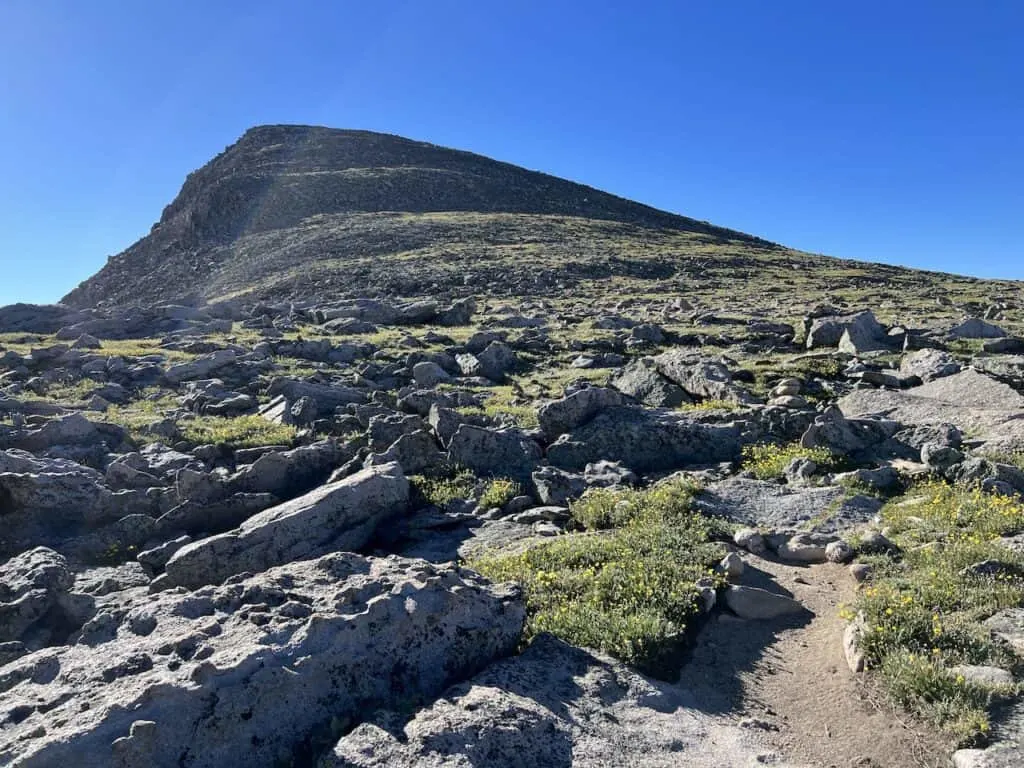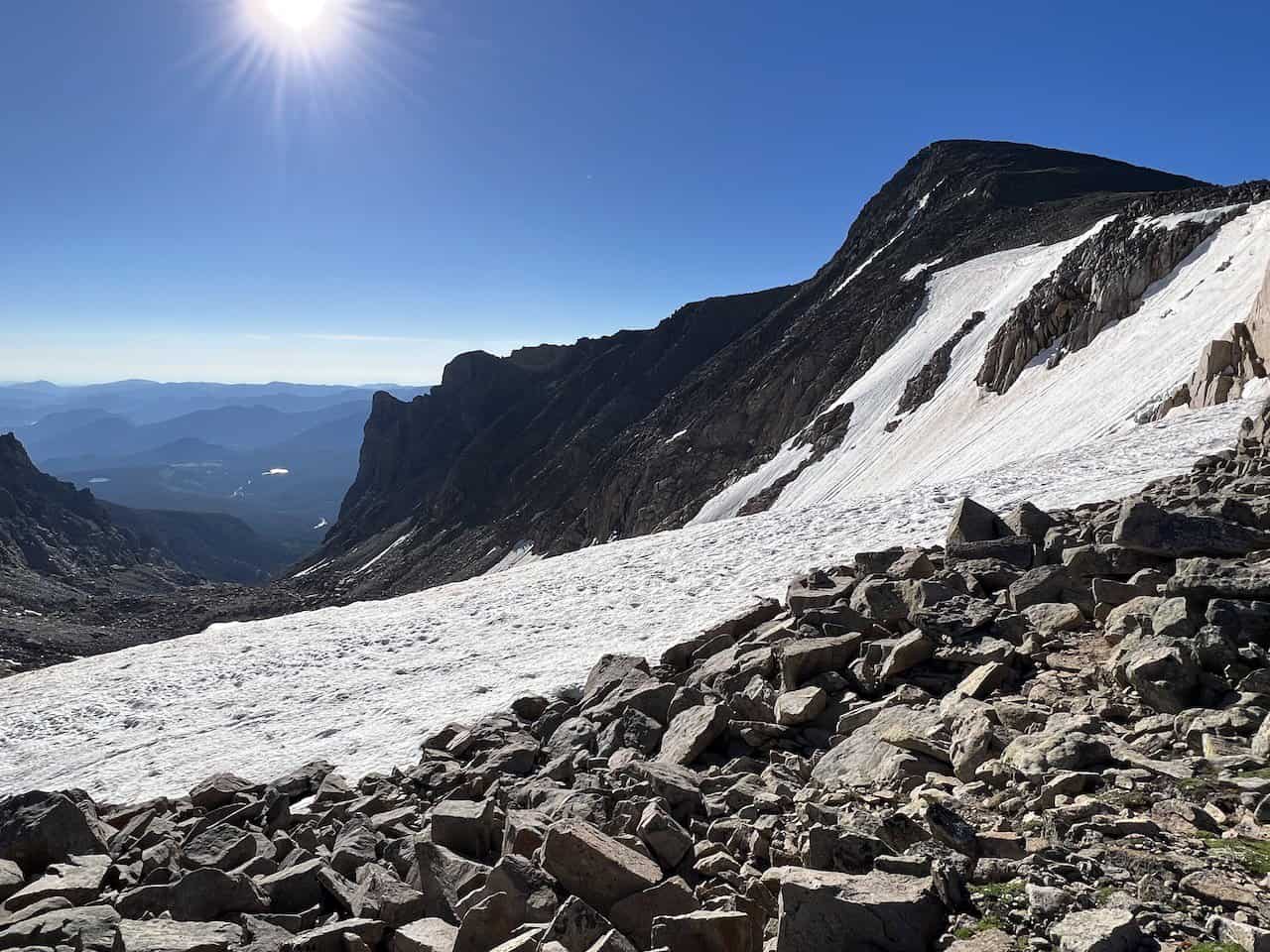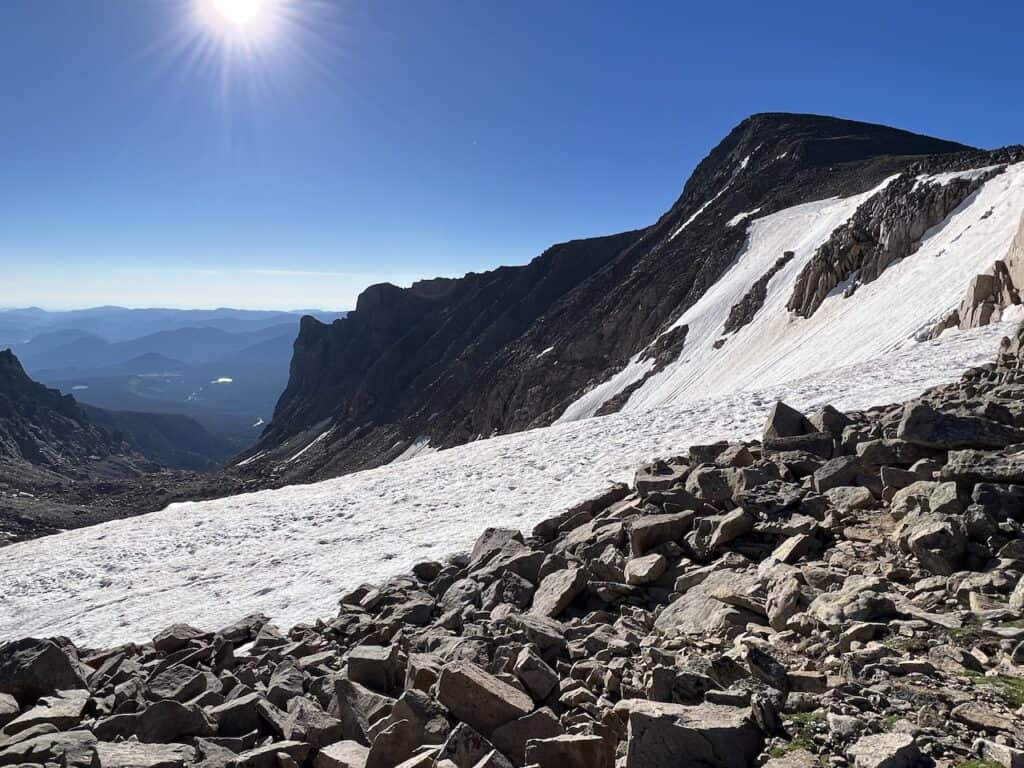 Here is where the trail gets its class 2 rating from. While most of the trail up until this point has been easy to follow on a sturdy path, the rockier terrain up the west slopes is where it begins to get tricky.
Large rock cairns will lead the way here with one or more paths to follow up the last section to the summit. Be sure to watch your step and take things slowly during this last push as the terrain can be uneven and wobbly.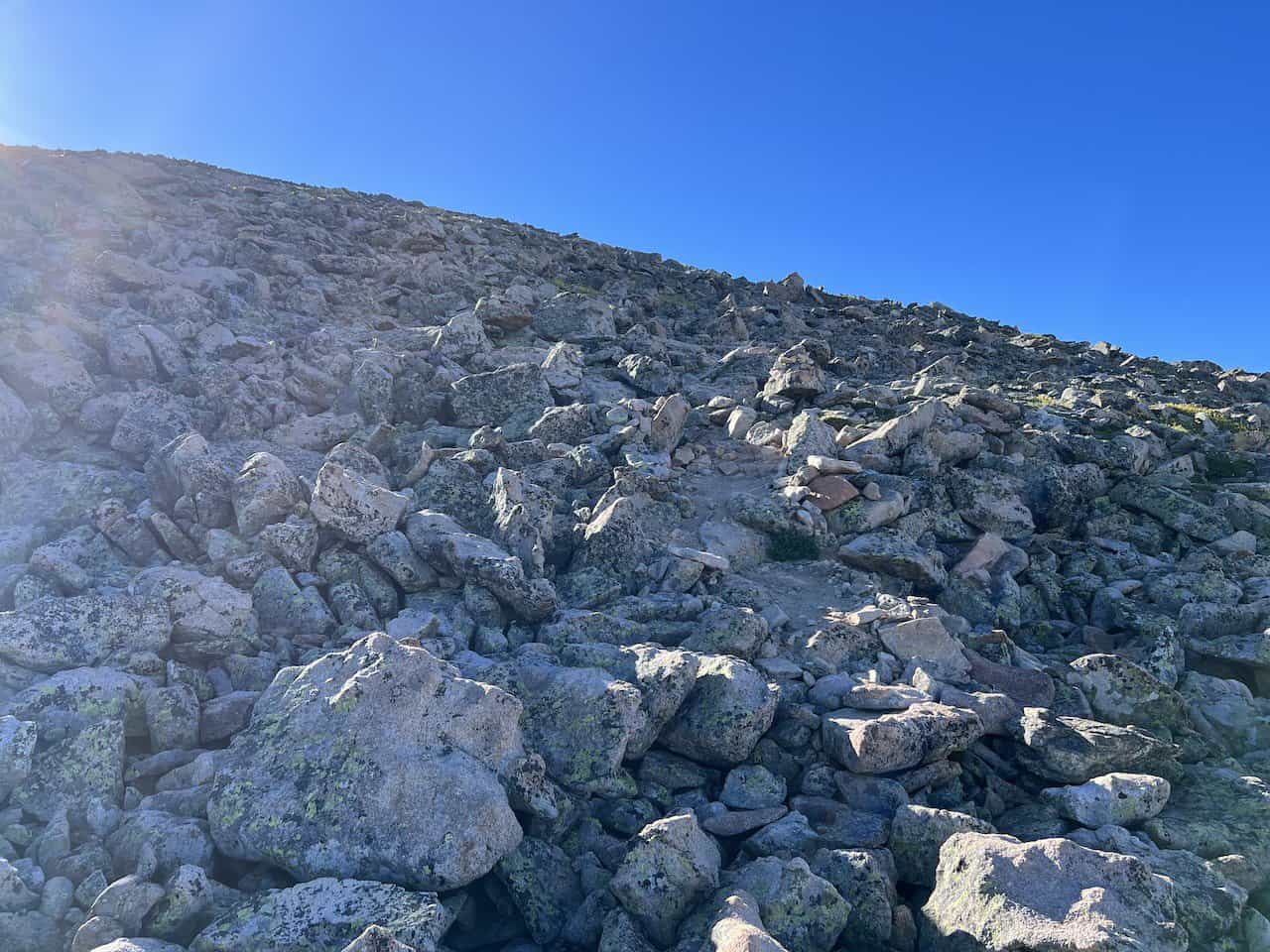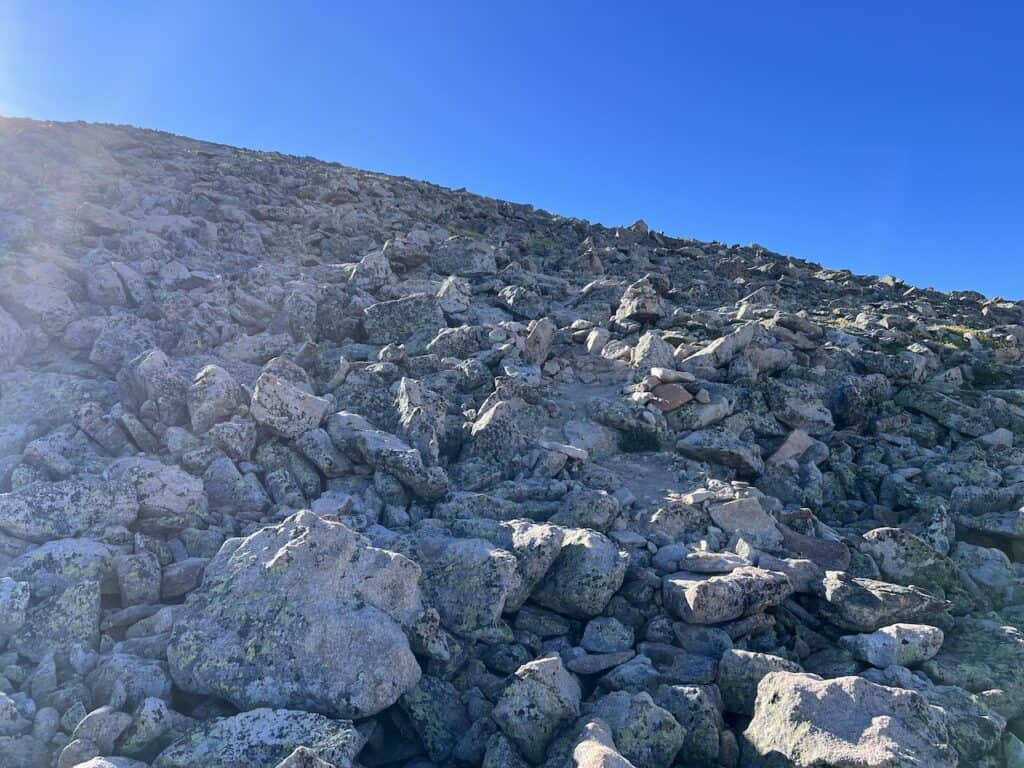 After the final push, you will arrive at the summit of Hallett Peak. It is just stunning views all around with highlights such as Longs Peak, Otis Peak, Taylor Peak, Notchtop Mountain, Never Summer Range, Grand Lake, among plenty of others out in the distance.
There are plenty of spots to find a rock to sit down and relax on as you can just take in the views after a long hike up. While there are some more technical alternatives to get back down, the majority of people should simply follow the same path back down the mountain.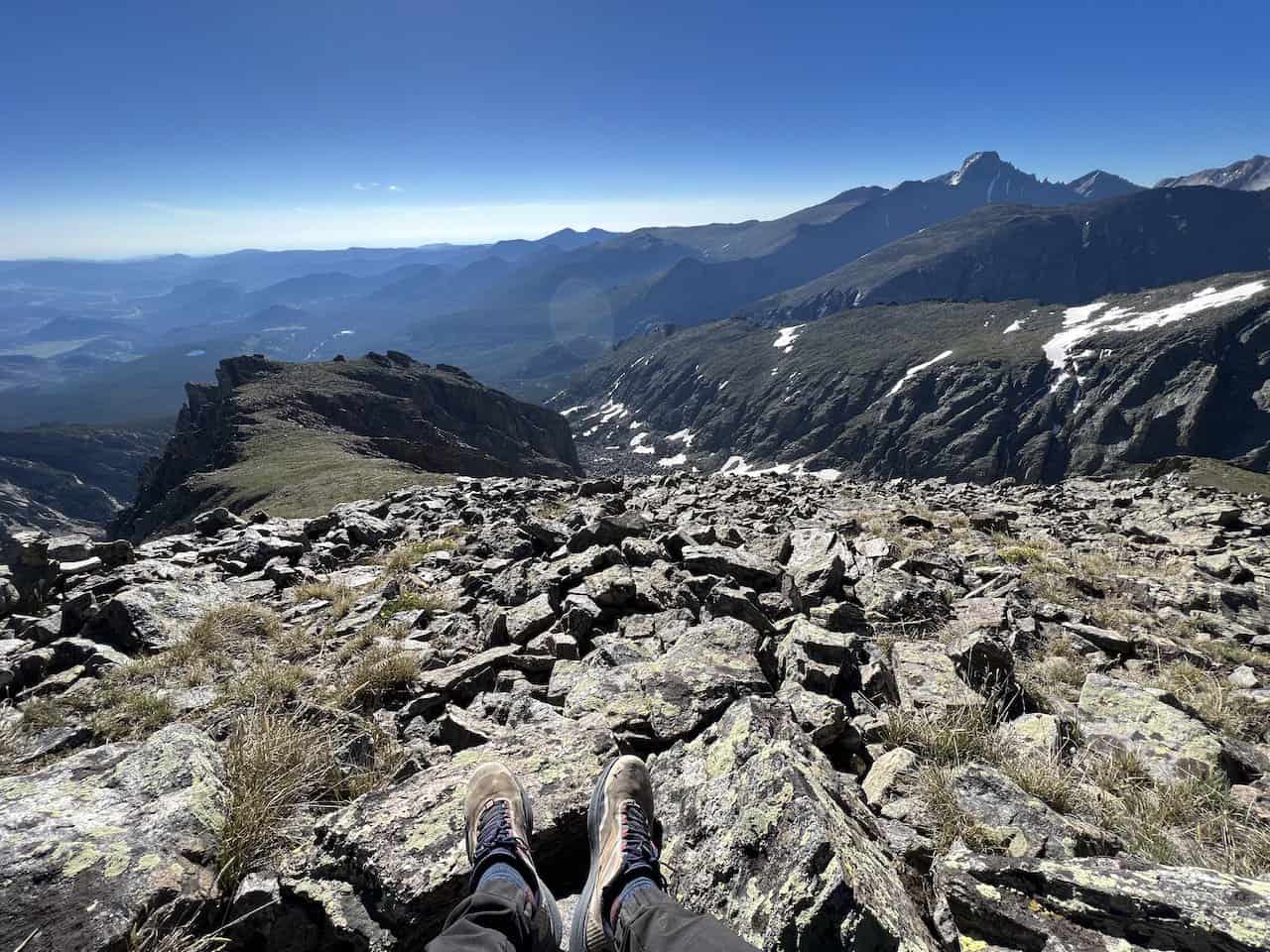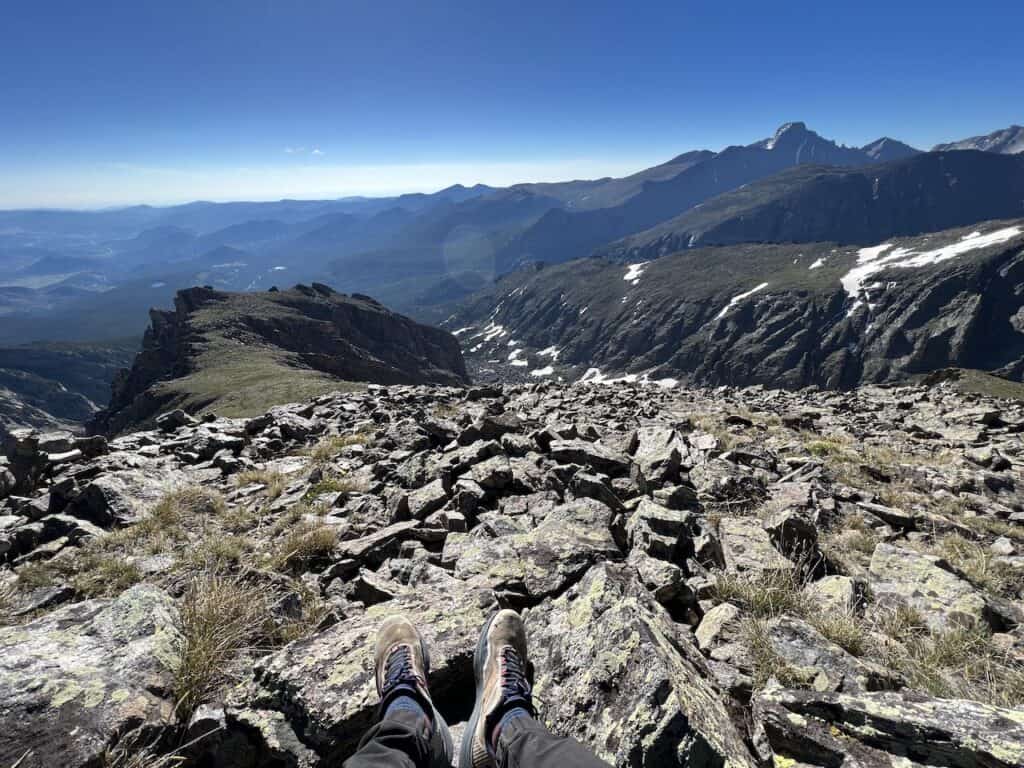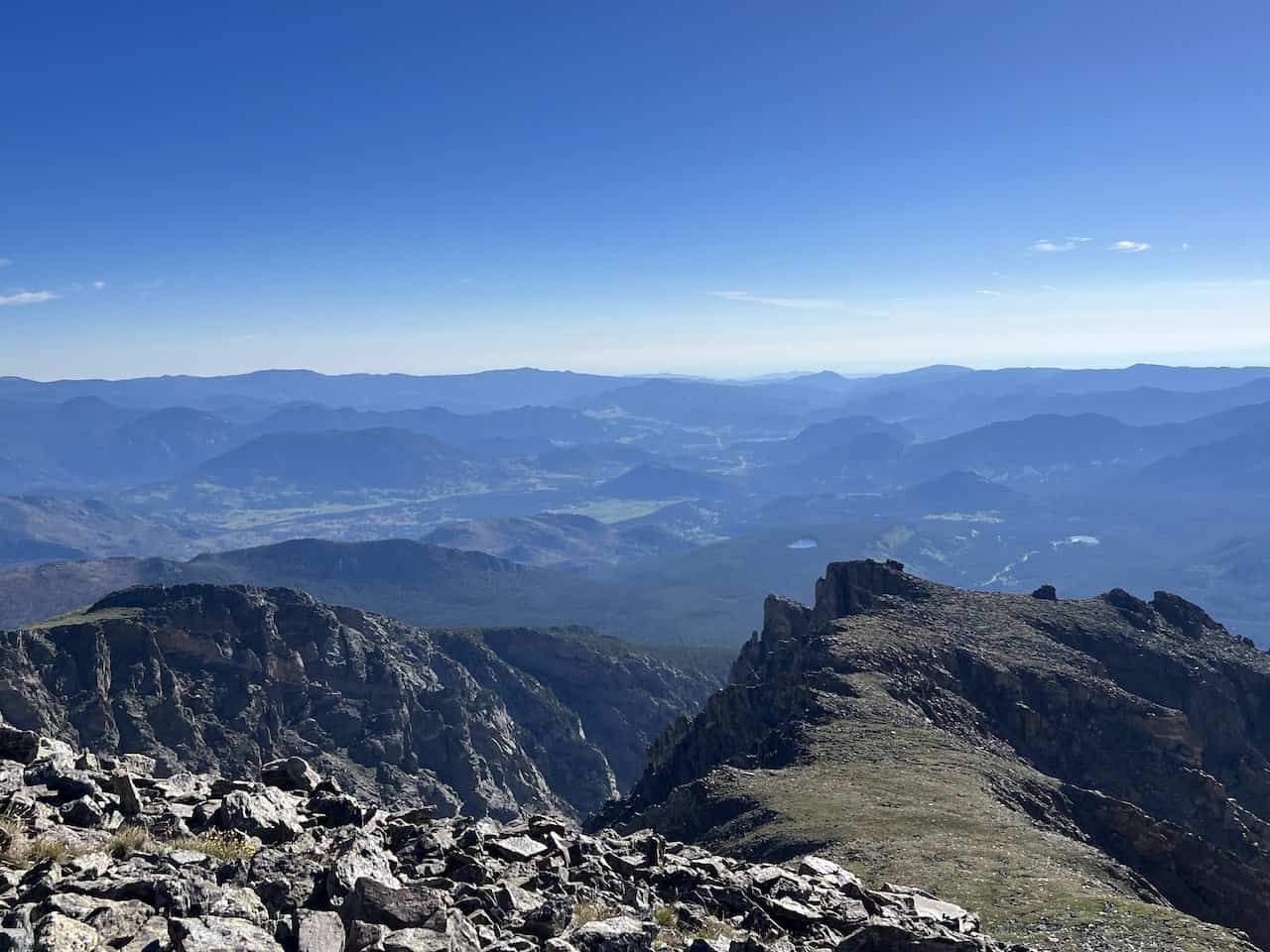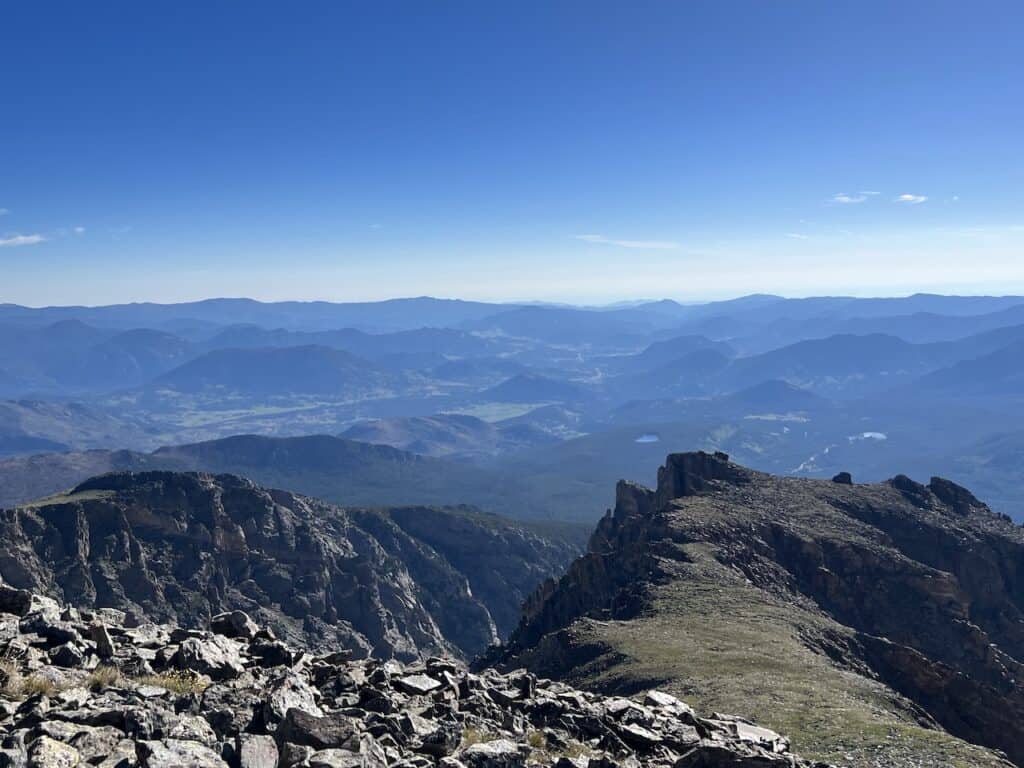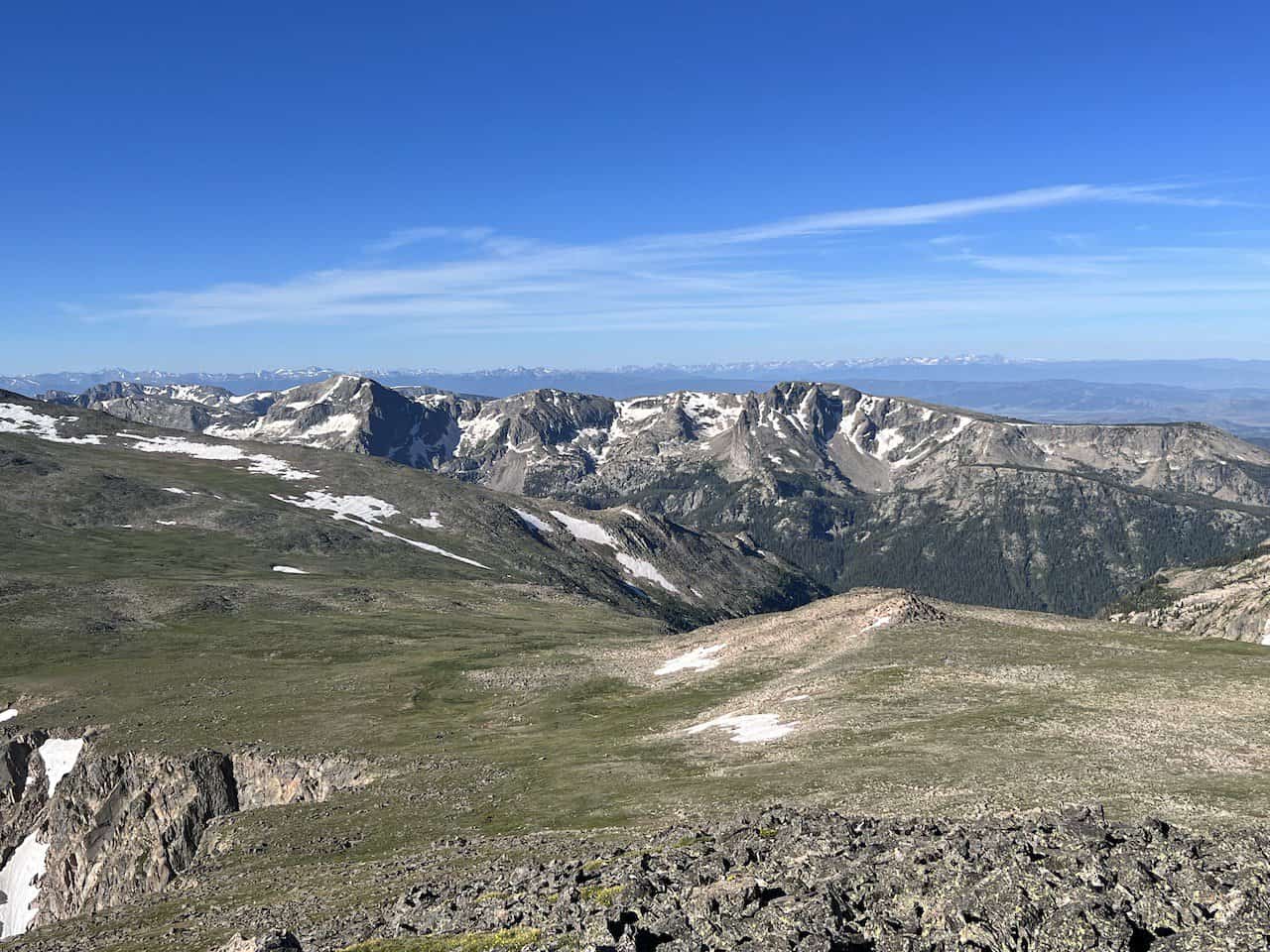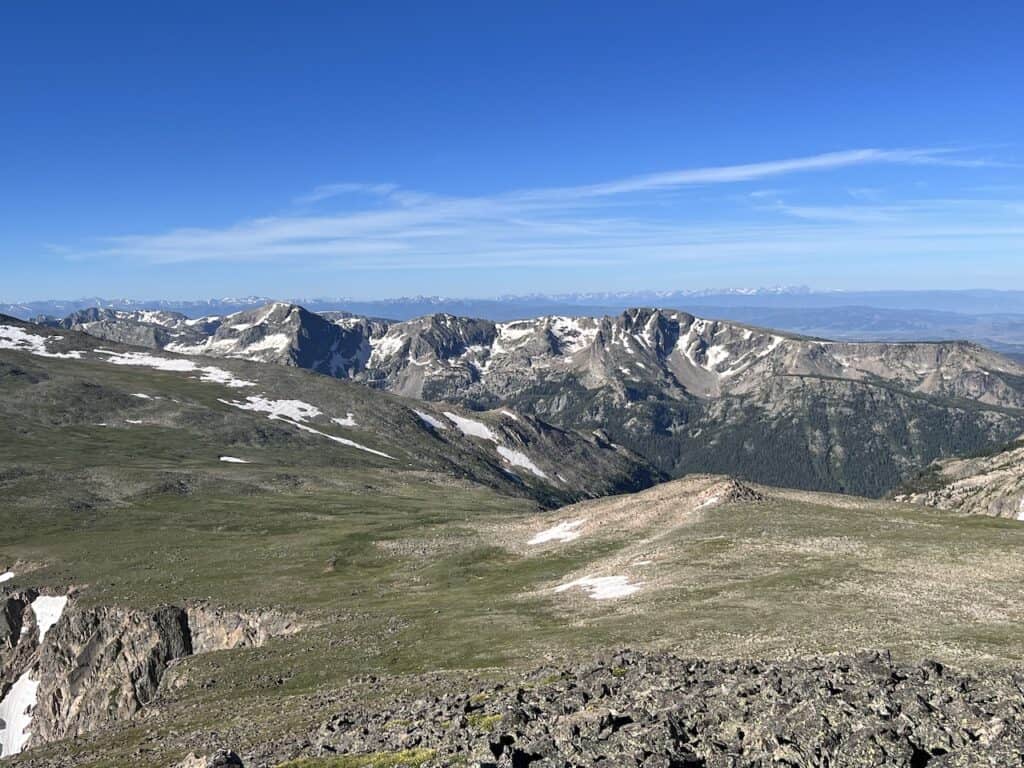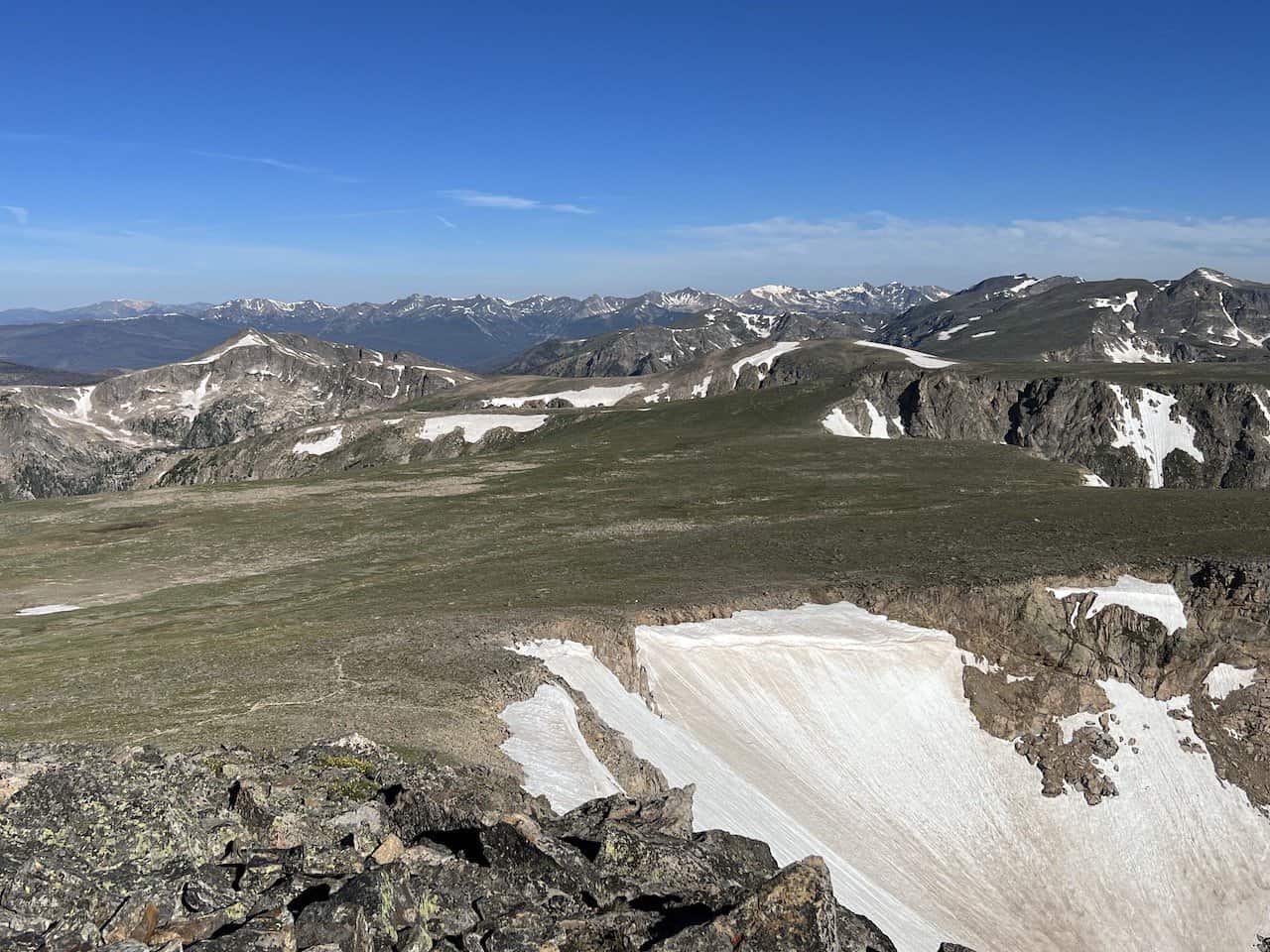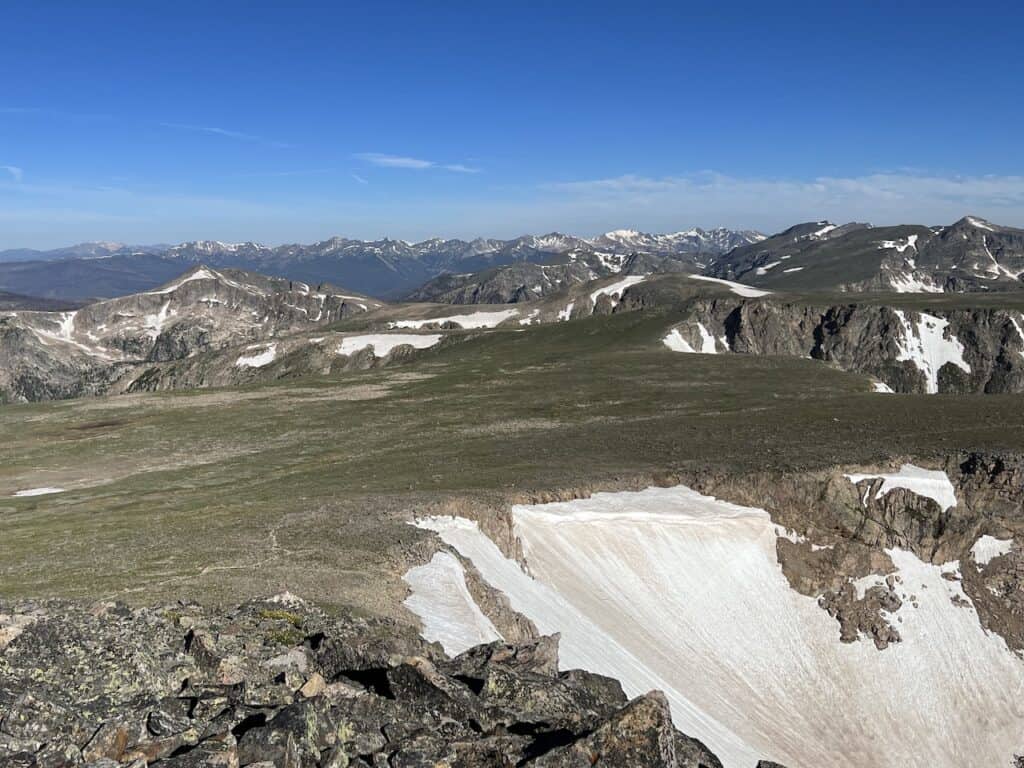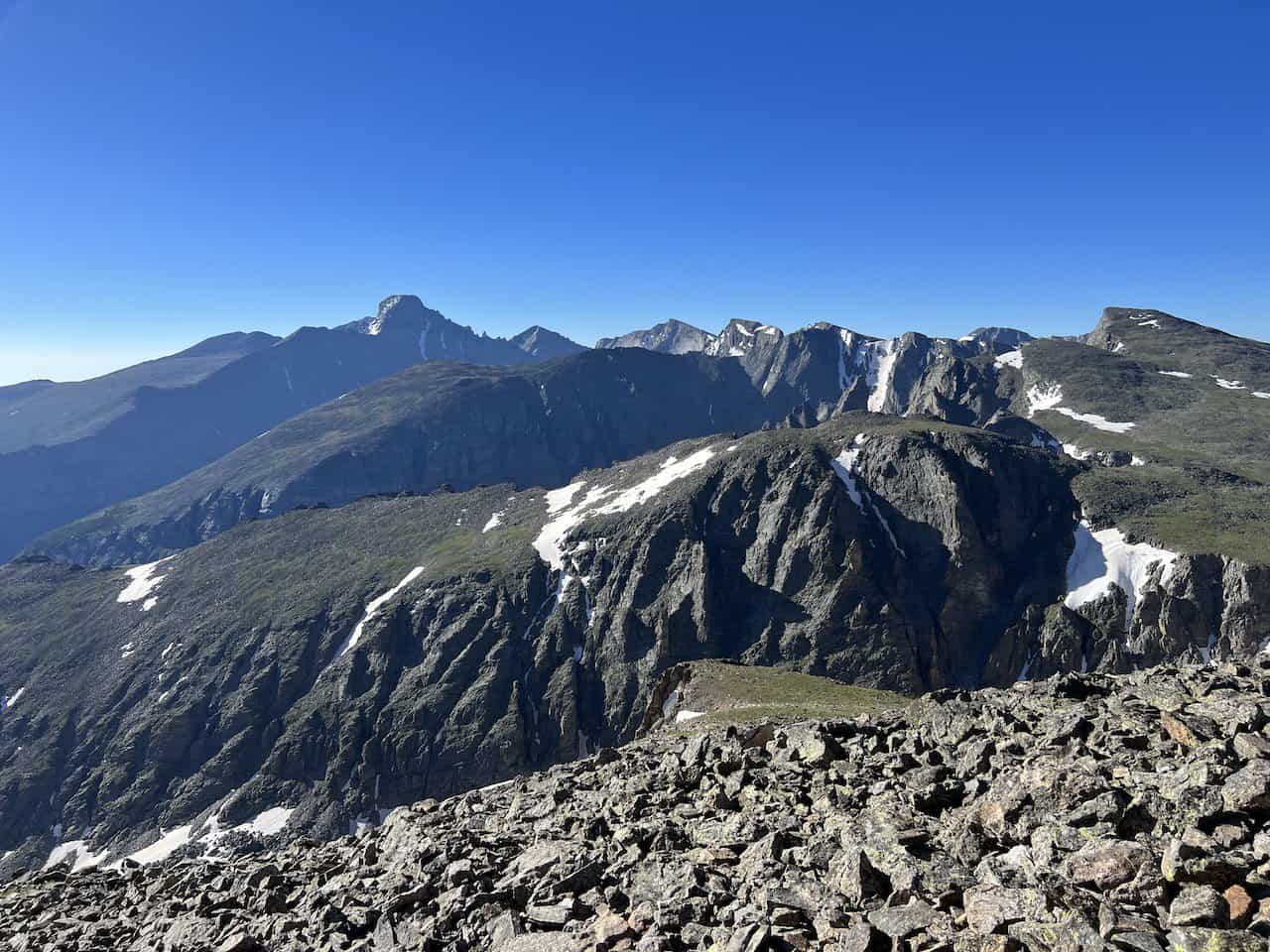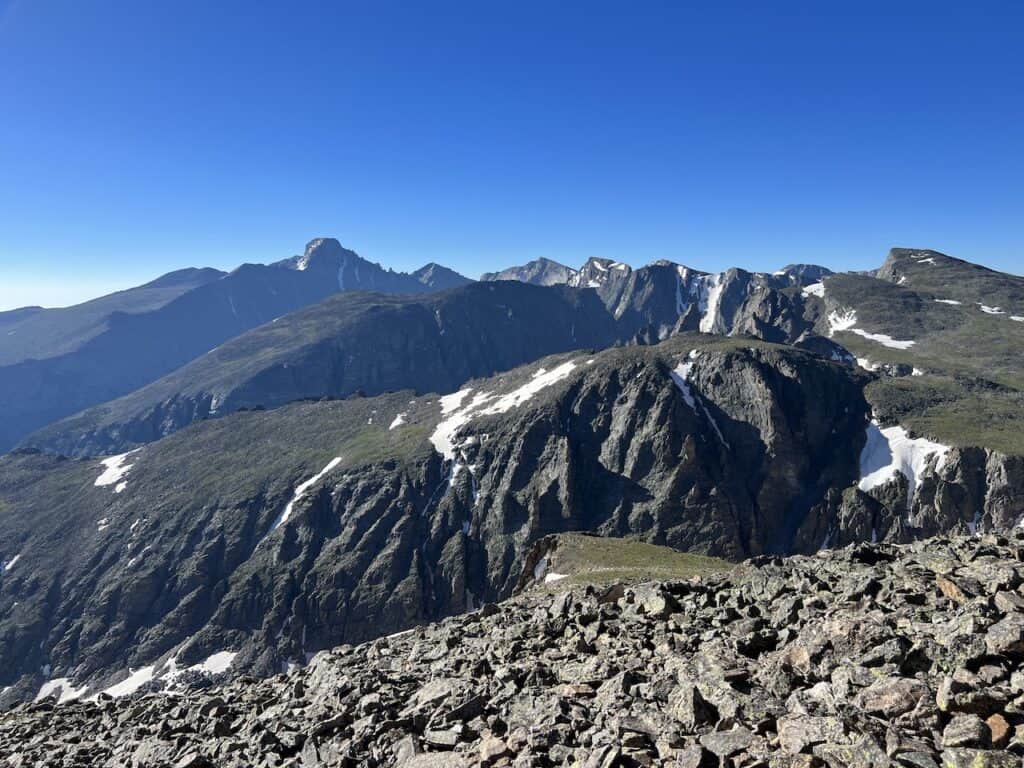 Although the hike goes along the same route, you now will be looking outward to consistent views of the surrounding landscape during the descent. This makes it even that much more enjoyable. Soon enough, you will approach the tree line and continue the zig-zagging descent to Bear Lake.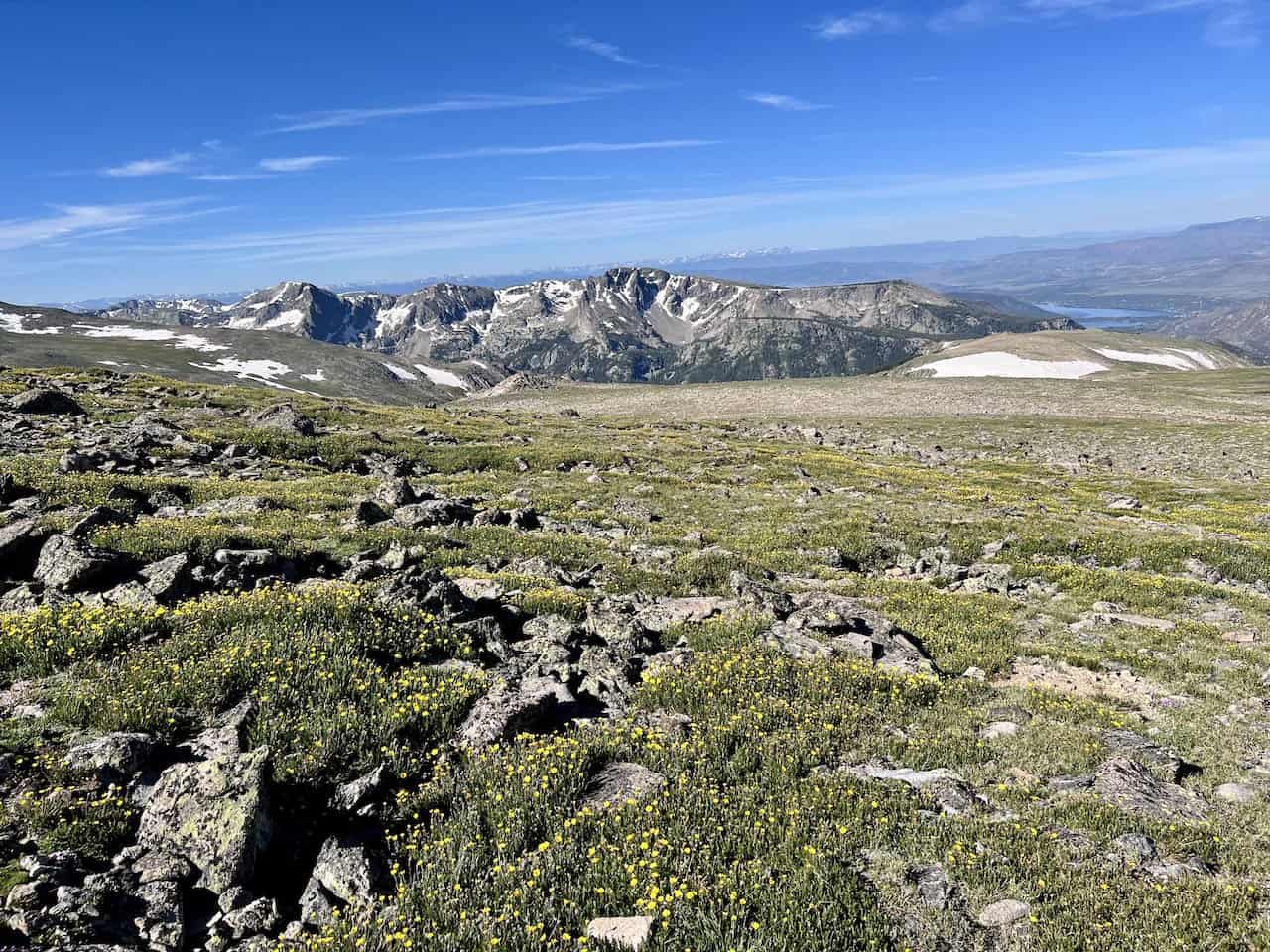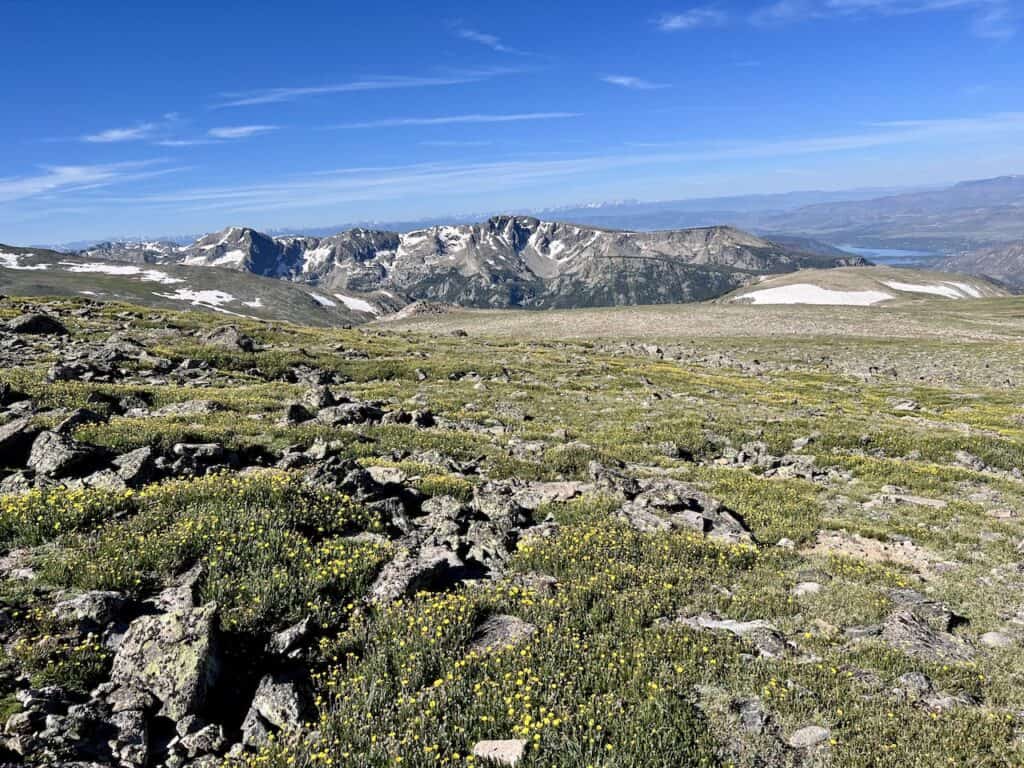 If you are up for it, you can warm down the legs with a 20-minute walk around Bear Lake, before heading back to the parking lot to end a fun-filled day out in the mountains.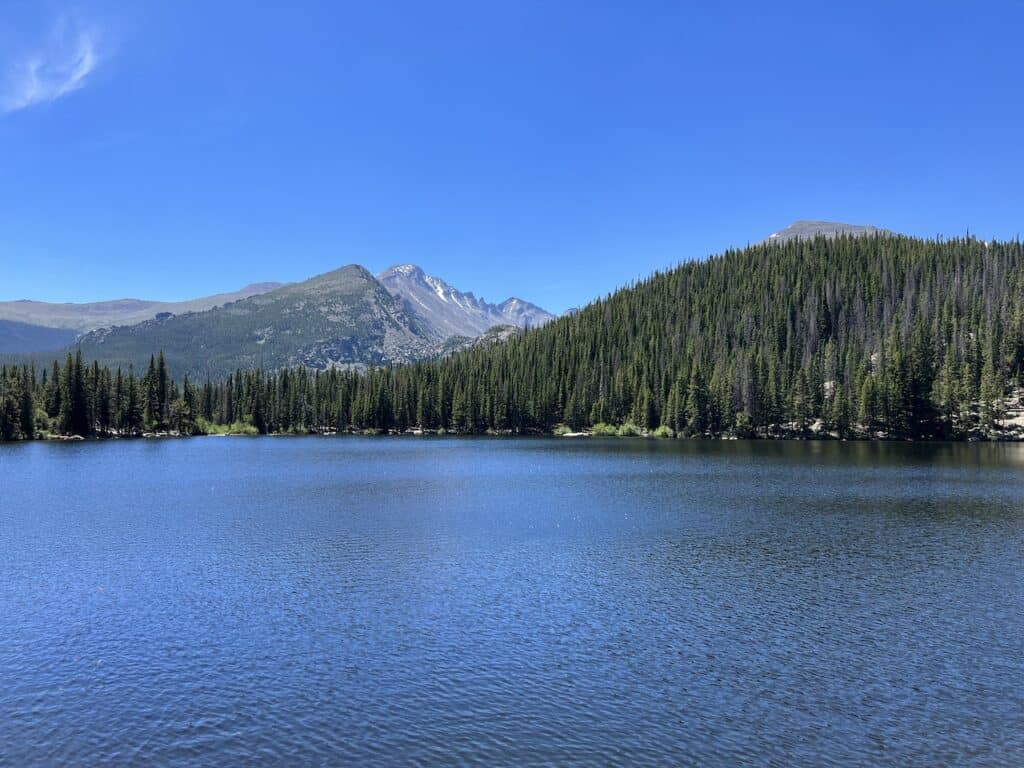 5) Colorado Hiking Tips
For some general Colorado hiking tips, check out some important things to know before hitting the trail:
Be aware of the elevation: hiking at altitude is no joke and you need to ease your way into the trails. Before taking on hikes from the start, give yourself a day or so to acclimatize.
Stay hydrated: to help with the altitude and the hiking itself, stay consistently hydrated. Take plenty of water and consider a Katadyn Filter Water Bottle for the trail.
Bring bug spray: the bugs can be out in full force on many trails. Put on some bug spray to keep yourself protected while hiking.
Apply sunscreen: the sun can be very strong in the mountains. Applying sunscreen (and wearing a hat / sunglasses), will be very important when it comes to protecting yourself.
Keep an eye on the forecast: the weather can turn suddenly out on the trails. Be sure to check the weather forecasts beforehand to avoid rain & thunderstorms. Afternoon storms can be more prominent in the summer months (so start early!).
Download offline maps: to keep yourself on track, download offline maps for the trail. This can be done by using navigation apps such as AllTrails, Maps.me, and Gaia. You should also download offline Google Maps, as cell service does not always work closer to the trailheads.
Check trail conditions: before committing to a trail, I would recommend looking at the latest trip reports on AllTrails (or 14ers.com for 14er hikes). This is more so important as the summer season starts & ends, as you can get a better idea of trail conditions & snow coverage.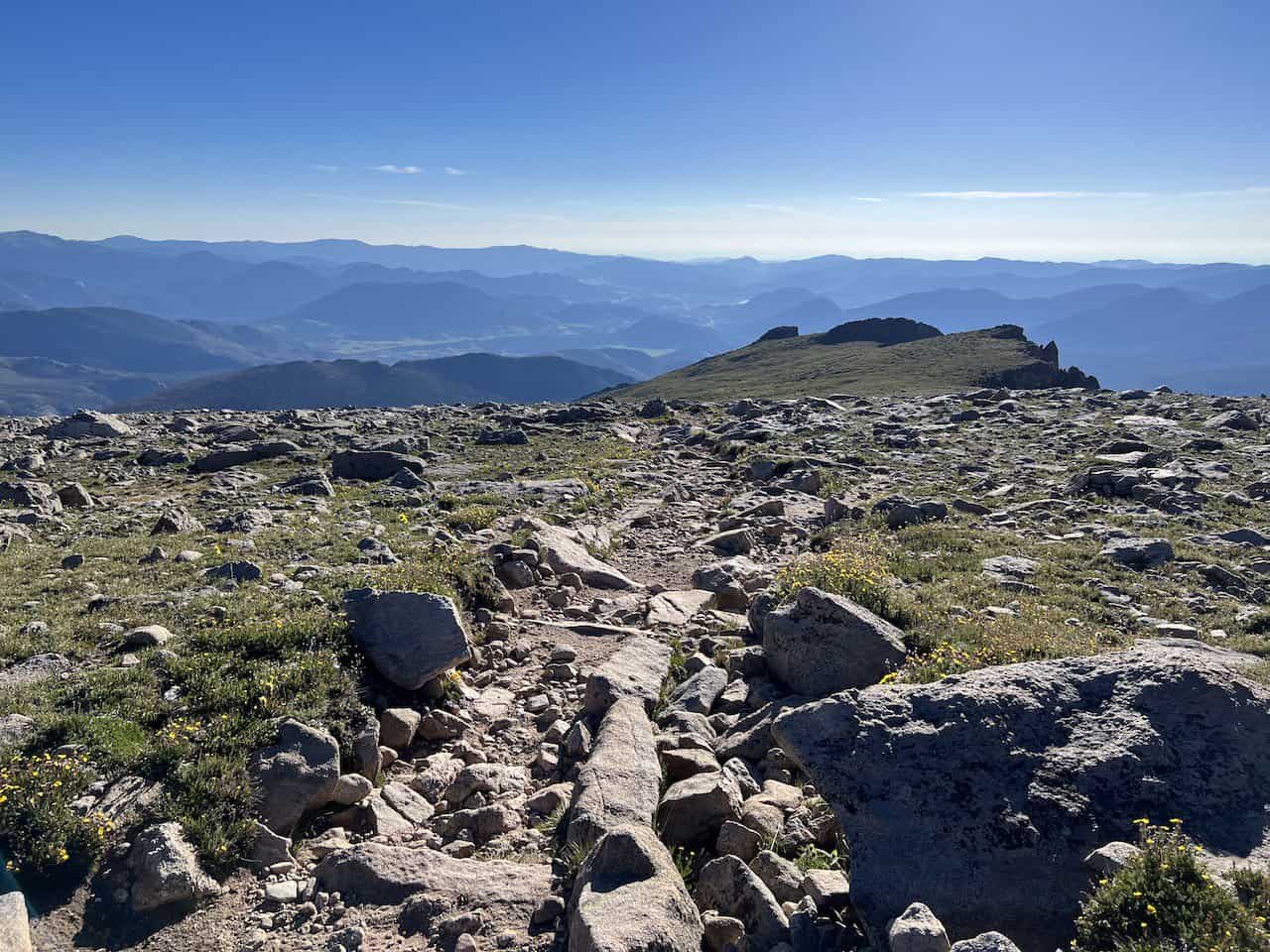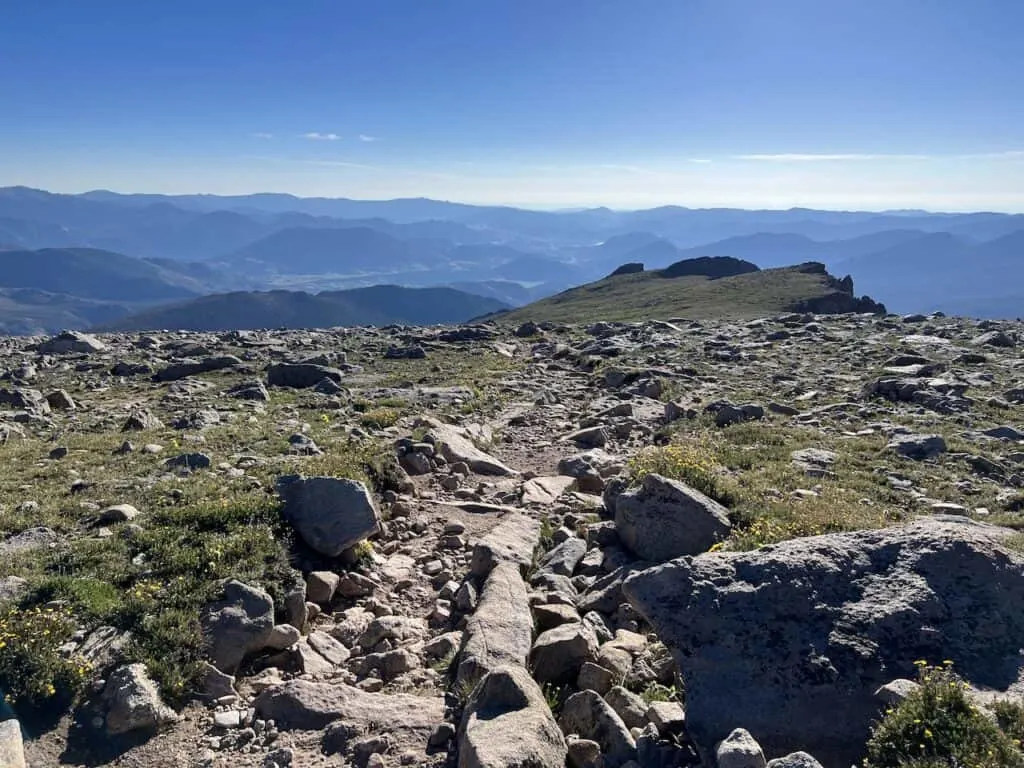 6) Weather Conditions
When it comes to hiking up Hallett Peak, it will be very important to pay attention to the weather forecast. Since much of the hike is done above the tree line, you have to be cautious about those afternoon thunderstorms that are common in the summer months.
In addition, the views are just so much better without those low-lying or thick clouds. Saving this hike for a nice weather day is your best bet.
I would recommend checking out a few different weather forecasts prior to taking on the hike:
In addition, since most of the hike is done above the tree line along a ridge, the wind can be a major factor on the trail. I would recommend paying close attention to the forecast for adverse wind conditions before taking part.
Hallett Peak Trail Conditions: for the latest trail conditions, I would recommend checking out AllTrails to gain a better understanding of what the route is looking like. During the early/late season, the trail can be affected by snowfall. Reading the latest trip reports will give you a better understanding of current conditions.
Hiking Resources & Checklist

Before heading out for the trails, be sure to read up on some of the hiking resources up on the site. These are here to better prepare you for all types of outdoor adventure.
7) Where to Stay
During a visit to Rocky Mountain National Park, most people situate themselves on the eastern side of the park in the town of Estes Park. It gives visitors easy access to most of RMNP and is going to be the best overall option.
Below are a few top accommodation options to consider for your visit – note that these can sell out quickly during the prime summer season, so be sure to book well in advance.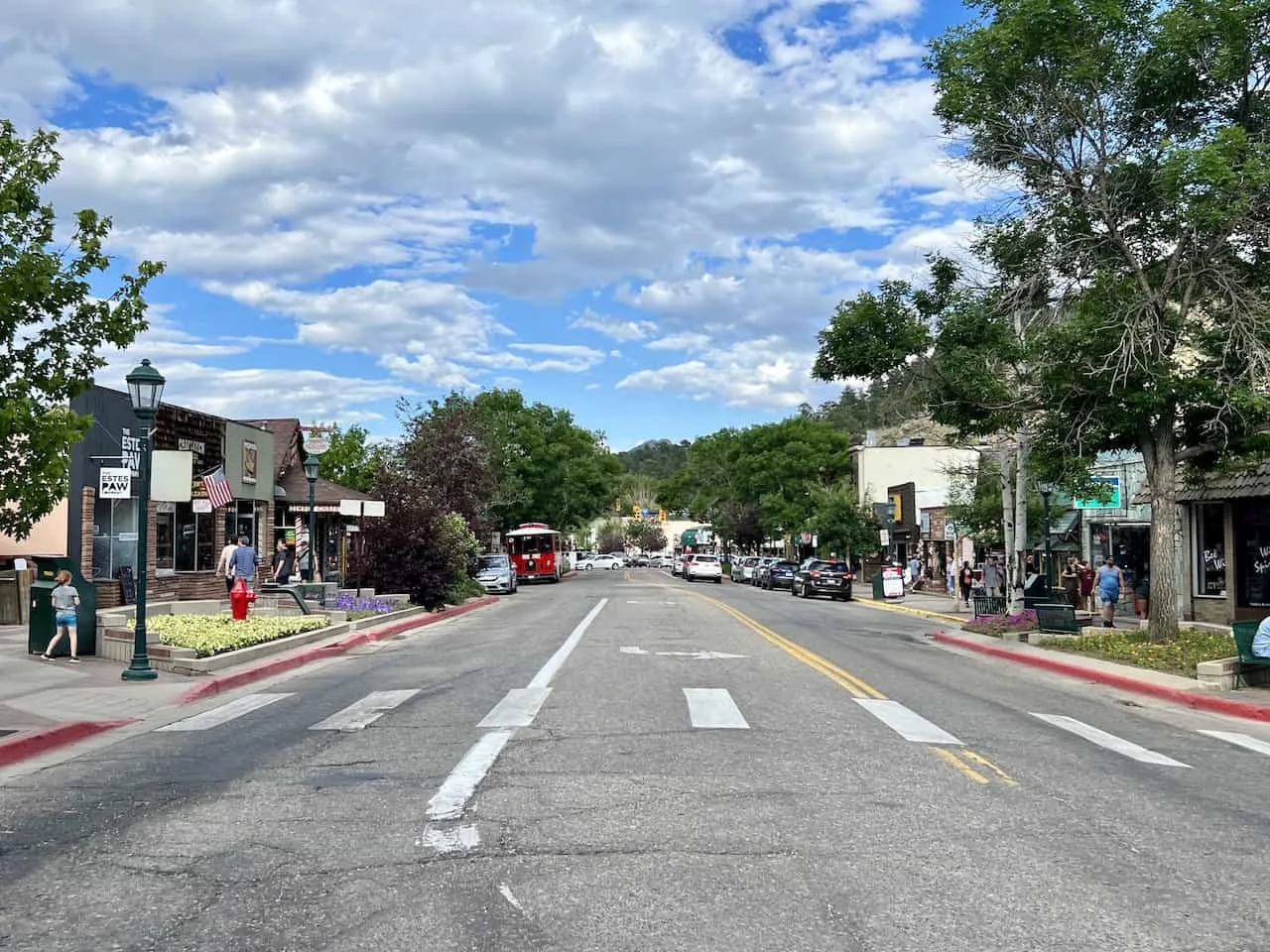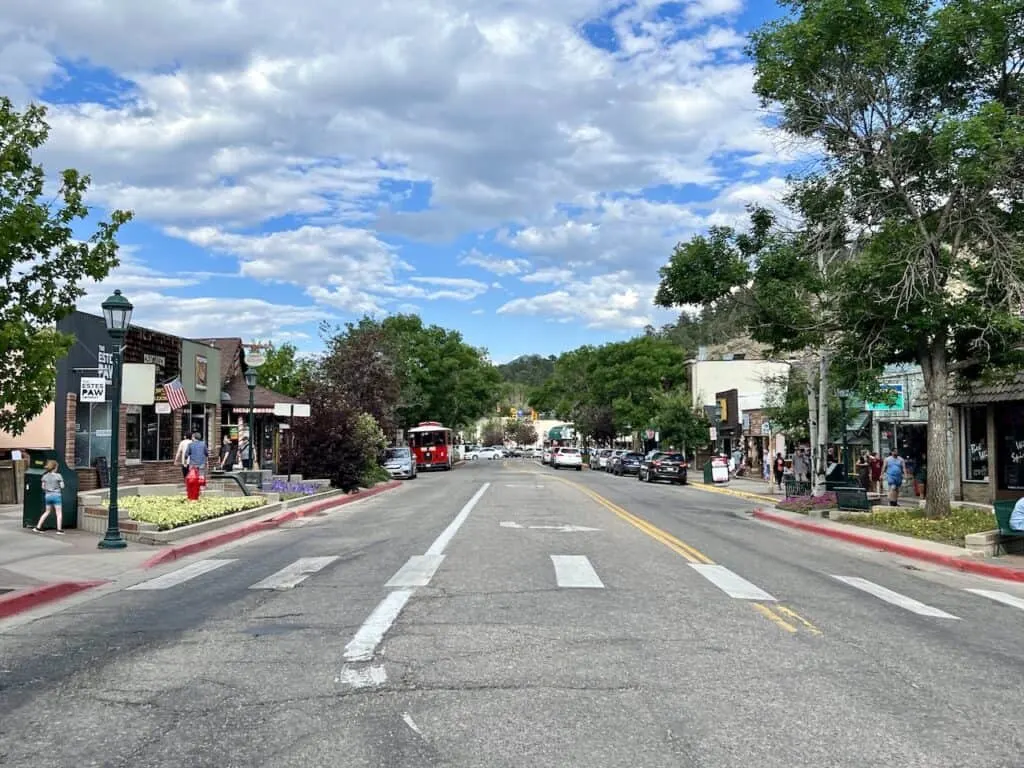 That about wraps up an overview of the Hallett Peak (and Flattop Mountain) hike of Rocky Mountain National Park. If you have any questions or comments, be sure to add them below.
Also, don't forget to check out some more Colorado hiking guides up on the site. Some of these include:
Rocky Mountain National Park: hike up Mount Ida or take a drive along Trail Ridge Road
14ers: climb some of the highest mountains such as Mt Elbert near Leadville or Quandary Peak near Breckenridge
Lakes: check out some lake hikes such as the Mohawk Lakes and Silver Dollar Lake