One of the most unique hikes I took part of in New Zealand was the one on the Lake Marian Track through Fiordland National Park.
Climbing through the forest, over rocks, and up towards one of the most scenic lakes in New Zealand was an incredible experience to take part of.
This guide will walk you through how to take part of this trail on your own and what to expect along the way.
* Affiliate Disclosure: This post may contain affiliate links, which means I may receive a commission if you make a purchase through the links provided, at no additional cost to you. Thanks for supporting the work I put into TripTins!
1) Lake Marian Track Facts
If you are looking to take part of the trail, you should consider some important facts to know about the track before you head out:
Starting & Ending Point: Lake Marian Trail Carpark on Hollyford Track Road
Mid Point: Lake Marian
Length: 7 KM / 4.4 Miles
Time: 3 Hours (+time at lake)
Elevation Gain: 426 Meters / 1,400 Feet
Track Type: Technical Rock / Dirt
Difficulty: Intermediate
⇒ The trail is marked with orange trail markers throughout. Be sure to keep an eye out for them so you do not wander off the path.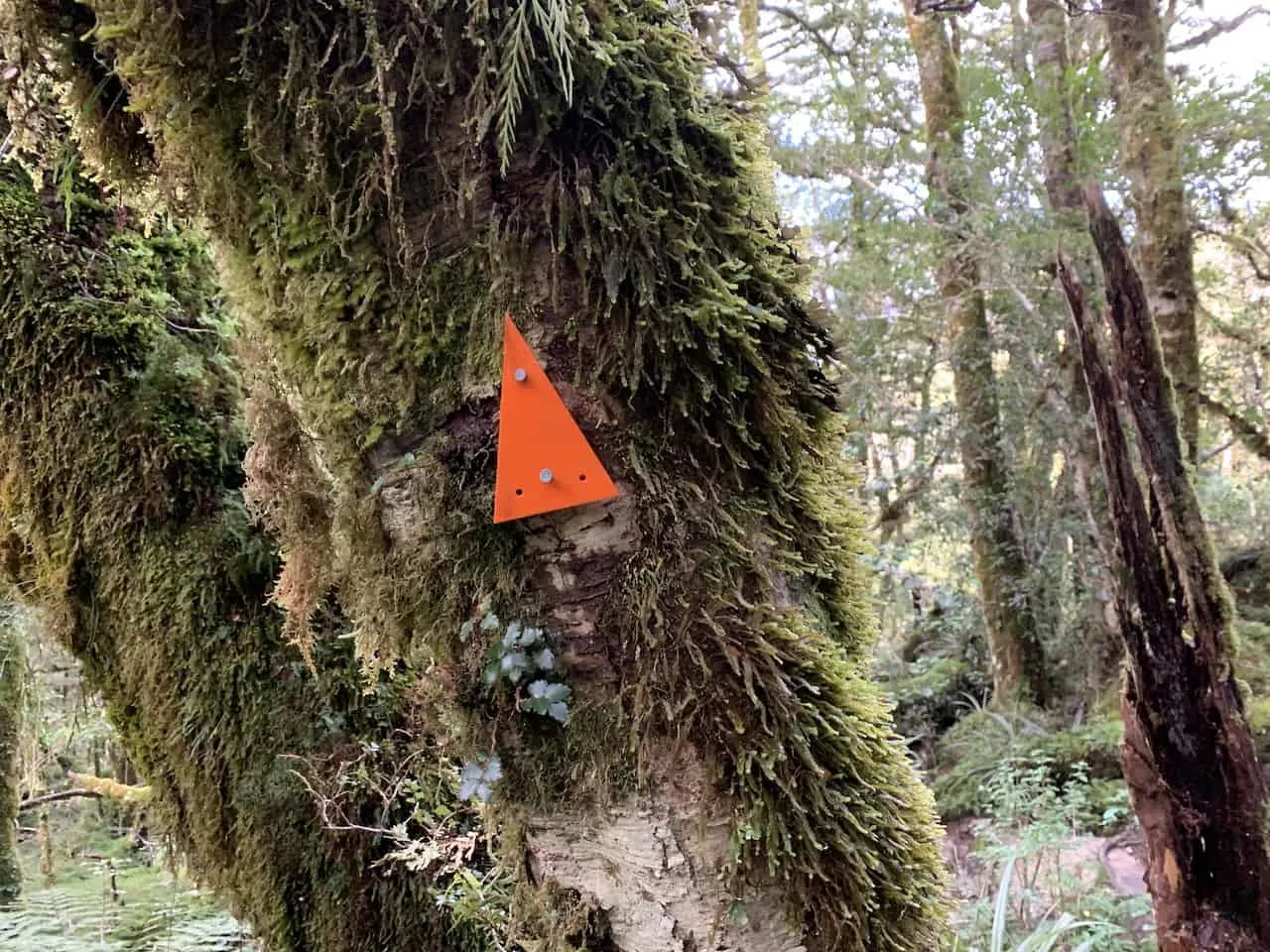 2) Lake Marian Track Difficulty
This isn't your normal "follow the dirt path to the lake" type of hike. While there are dirt paths throughout at some points, a lot of the hike is done on uneven rocky terrain.
Not only that, but also after the first 10 minutes or so, the remainder of the trail is pretty much on an incline.
This means you will be dealing both with elevation gain along with uneven terrain. Please be aware of this and very careful during your time on the track.
While I would consider this an intermediate hike, if it has been raining in the area (which is very likely), be extremely careful with your footing during the trail. The rocky terrain can be very dangerous if still wet and expect it to get a bit muddy too.
Overall, it is a great and fun hike to take part of but it does require a certain level of fitness and finesse on the trail.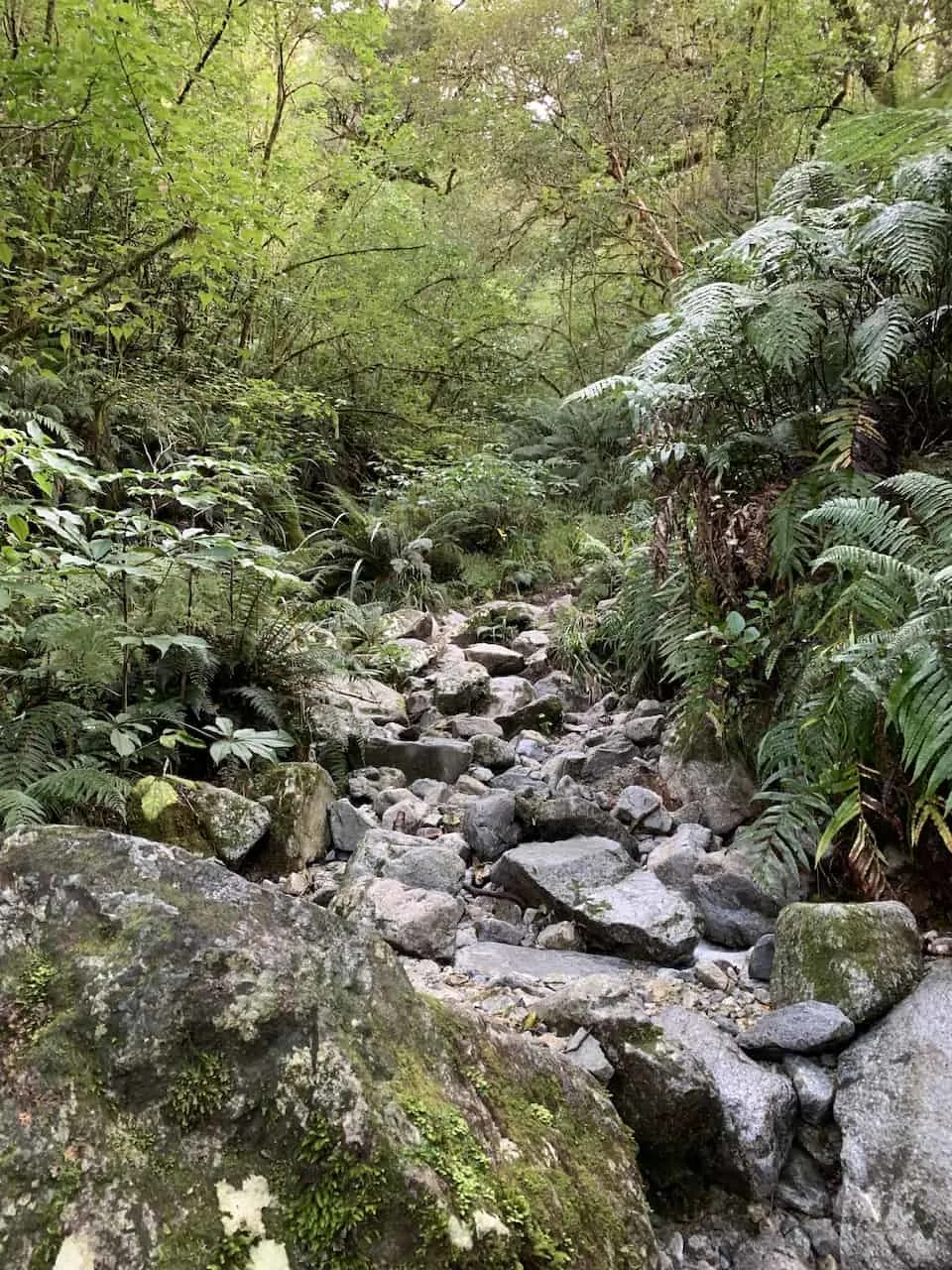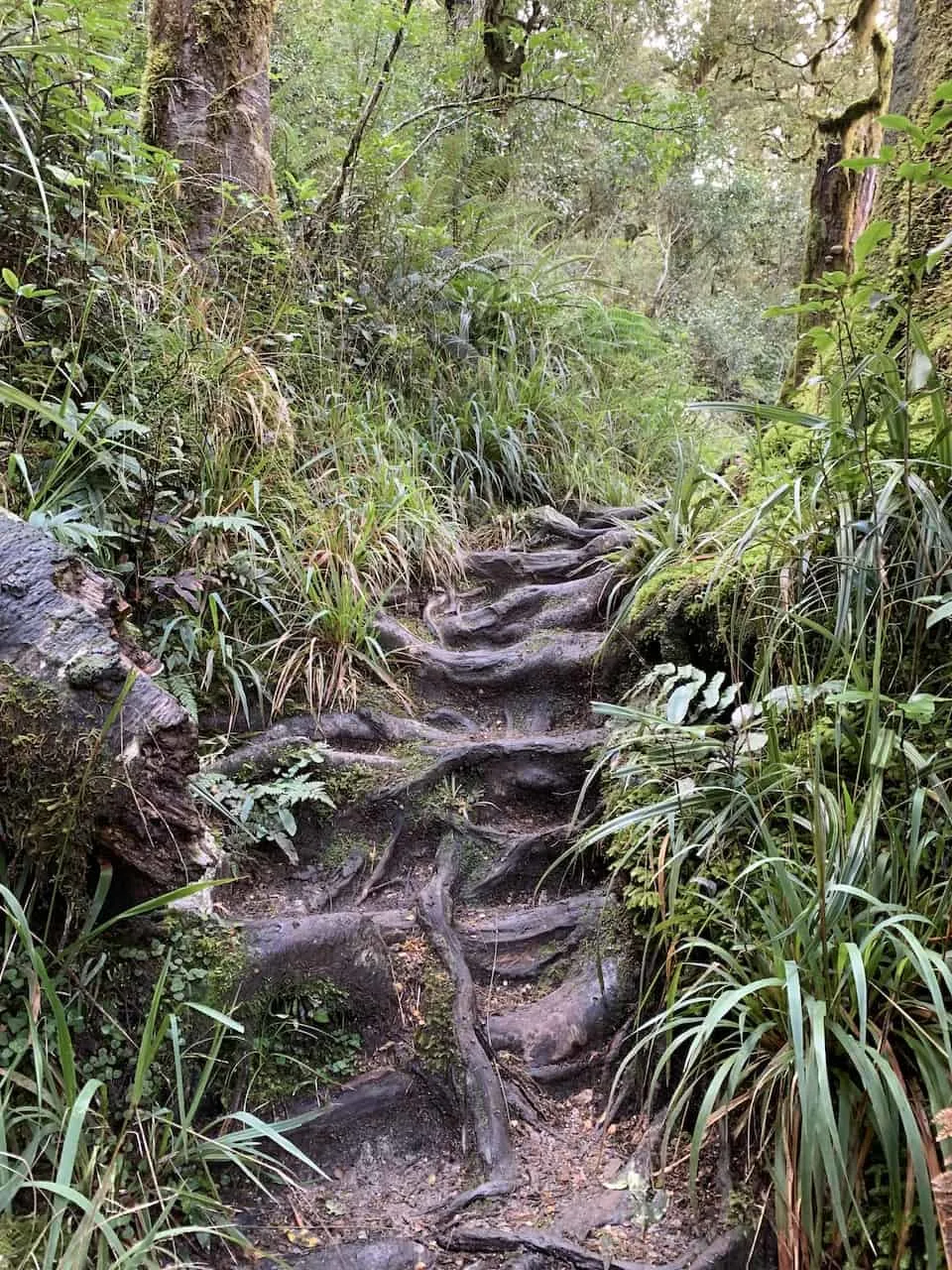 Hiking Resources & Checklist

Before heading out for the trails, be sure to read up on some of the hiking resources up on the site. These are here to better prepare you for all types of outdoor adventure.
3) How to Get to the Starting Point
The trailhead for the Lake Marian Track is located right off of Hollyford Track road. Hollyford Track road is just off of the main New Zealand State Highway 94 that connects Milford Sound with the town of Te Anau.
After making the turnoff onto Hollyford, you will just head about 1KM down it until you see a large parking area. You can park anywhere around here and follow the signs for Lake Marian from there.
To my knowledge, the only viable option to take part of the track is to have your own car. You can read more about NZ roads in the Driving in New Zealand Guide.
It is a popular option to add on the Lake Marian Track after a trip to Milford Sound. For my time around the area I stayed in Te Anau for the night, did a Milford Sound cruise early in the morning, and then headed off on the trail in the early afternoon before making my way back to Te Anau at day's end.
Also good to note – since cell service is at a minimum within this area of Fiordland National Park, I would recommend downloading offline maps to your phone so you never have trouble with directions even when you do not have service.
→ Be sure to check out Rentalcars.com when it comes to renting a car in New Zealand. The site will show you car options & prices from a variety of companies. This ensures that you will be able to choose the perfect car (and deal) for your trip to the country.
4) Lake Marian Track Weather
Fiordland National Park and the area around Milford Sound is known to receive some of the highest amount of rainfall in all of New Zealand. In fact, it rains over 200+ days a year near Milford!
While a trip to Milford Sound can be done in rain or shine, I would advise to hike the Lake Marian Track in drier conditions. As mentioned before, during rainy weather it can get very slippery and muddy on the path, making conditions a bit more dangerous.
It is also nice to have clear weather when you reach Lake Marian itself as it is a very picturesque place to hang out and relax at. During a rainstorm, I cannot imagine having that same experience.
My advice here would to take a look at the Fiordland National Park weather on Meteoblue.com to figure out which days may be best to head out to the area. The more flexible you can be here, the better.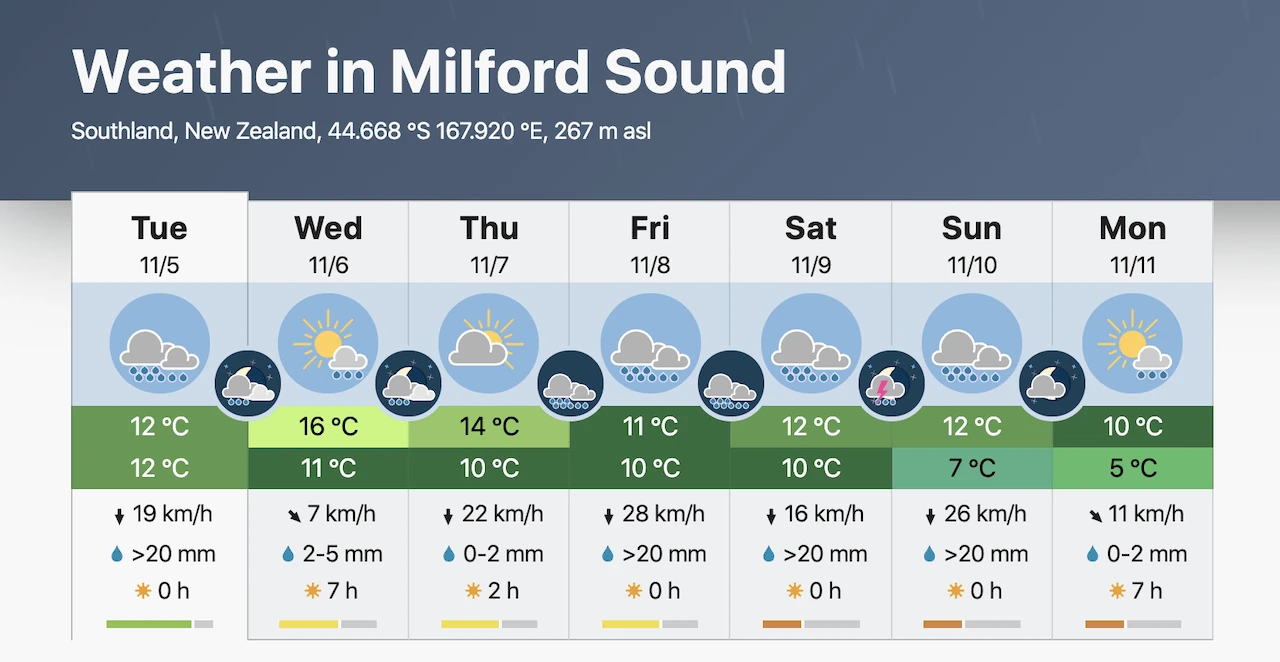 5) What to Take on the Trail
Whenever heading off on longer day hikes, I always recommend being adequately prepared when it comes to the type of gear to bring along.
Check out the below packing list to get you ready for this hike and other hikes in New Zealand.
It includes several essentials that will make hiking the South Island New Zealand trails much easier for you.
Hiking Packing List

In general when it comes to hiking, there are a few main aspects to consider. These includes clothing layers, hiking shoes, hydration & fuel, electronics, and other essentials.

Below in a breakdown of some of the top items, but be sure to check out the Hiking Packing List for a more comprehensive view.

Clothing Layers

Layering is going to be a top consideration when hiking. You will want to be prepared for all sorts of weather so you can be comfortable in different situations. Some items may include:

→ Hiking Shorts
→ Hiking Pants
→ Short Sleeve Shirt
→ Long Sleeve Shirt / Sun Hoodie
→ Mid Layer Fleece
→ Puff Jacket (not always needed)
→ Packable Rain Jacket (Columbia Watertight II)

Note that your layers should be made of moisture wicking material as they are breathable and quick drying.

Footwear

Having appropriate footwear will also be very important. You will want to have shoes with the necessary grip and support to keep you safe on the trail.

→ Hiking Shoes (Keen Targhee)
→ Hiking Socks (Darn Tough)

Other Essentials

Whether it is hiking gear, electronics, or just some miscellaneous items, here are some other essentials to bring along on hikes.

→ Hiking Backpack (Osprey Talon 22) & Rain Cover (Joy Walker Cover)
→ Hiking Poles (Black Diamond Trekking Poles)
→ Water Bottle (CamelBak Chute or Katadyn Filter Bottle)
→ Portable Charger (Anker PowerCore 5000mAh)
→ Action Camera (GoPro Hero)
→ Energy Bars & Snacks
→ Hat & Sunglasses
→ Sunscreen & Bug Spray
6) The Lake Marian Track
Now that you know about all the logistics to take part of the track, it is time to talk a bit more about the trail itself. After parking your car, start following the signs towards Lake Marian and continue along the way.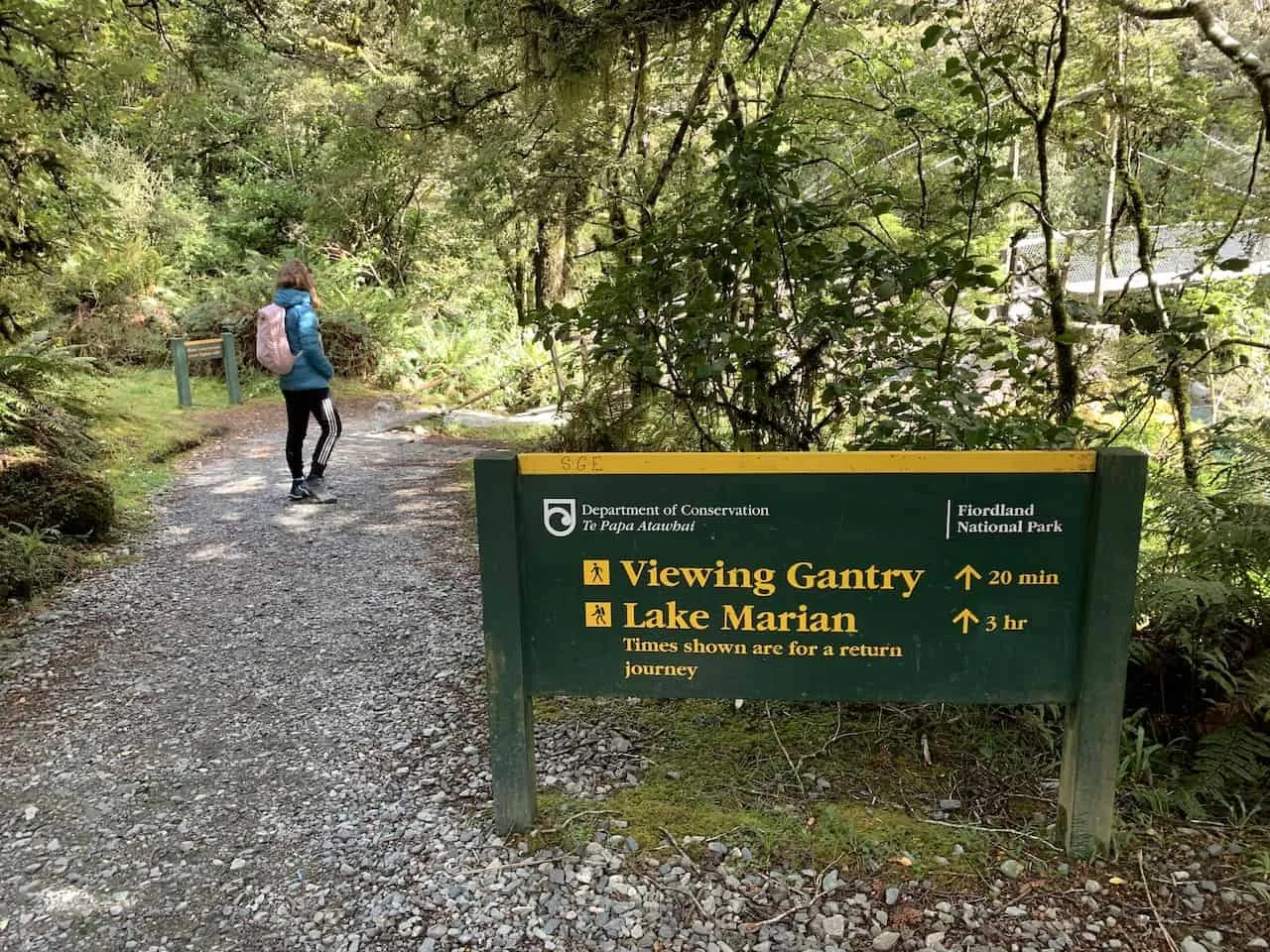 The beginning of the track is nice and easy as you make your way to the glacial river "Viewing Gantry" and along the flat pathway.
Many people actually head on the Lake Marian Track just for this 20 minute round trip journey since it is for anyone to take part of and has some beautiful views of the flowing river.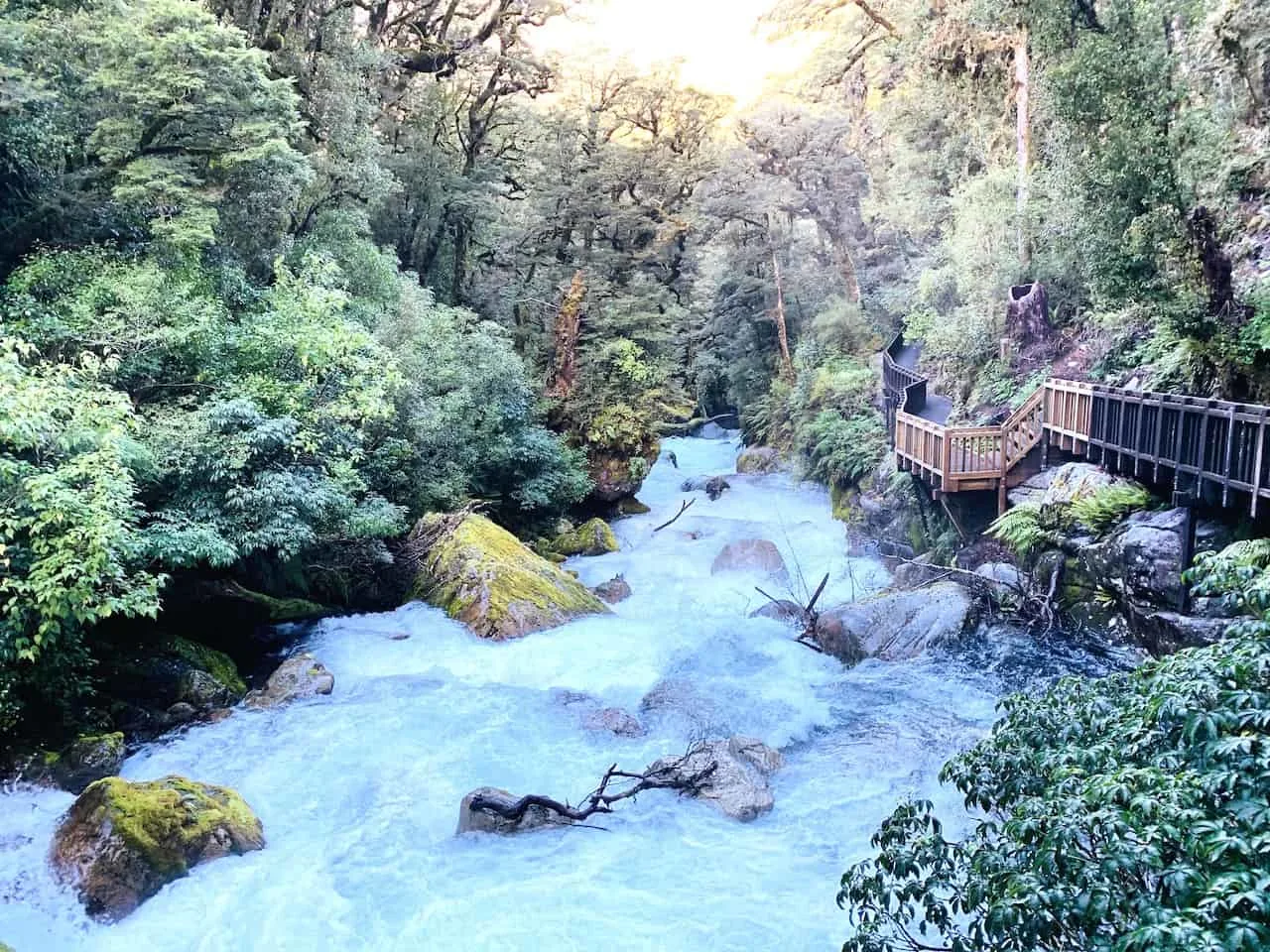 Once that pathway on the side of the river ends though, it is now time for the steady rocky climb to begin.
As you continue along the track, you are sure to see some incredible greenery surrounding you along with some views of the Fiordland National Park out in the distance.
You can also see the variety of terrain that you will be walking through. Each section of trail is a bit different here, which is one reason why this trail is so unique.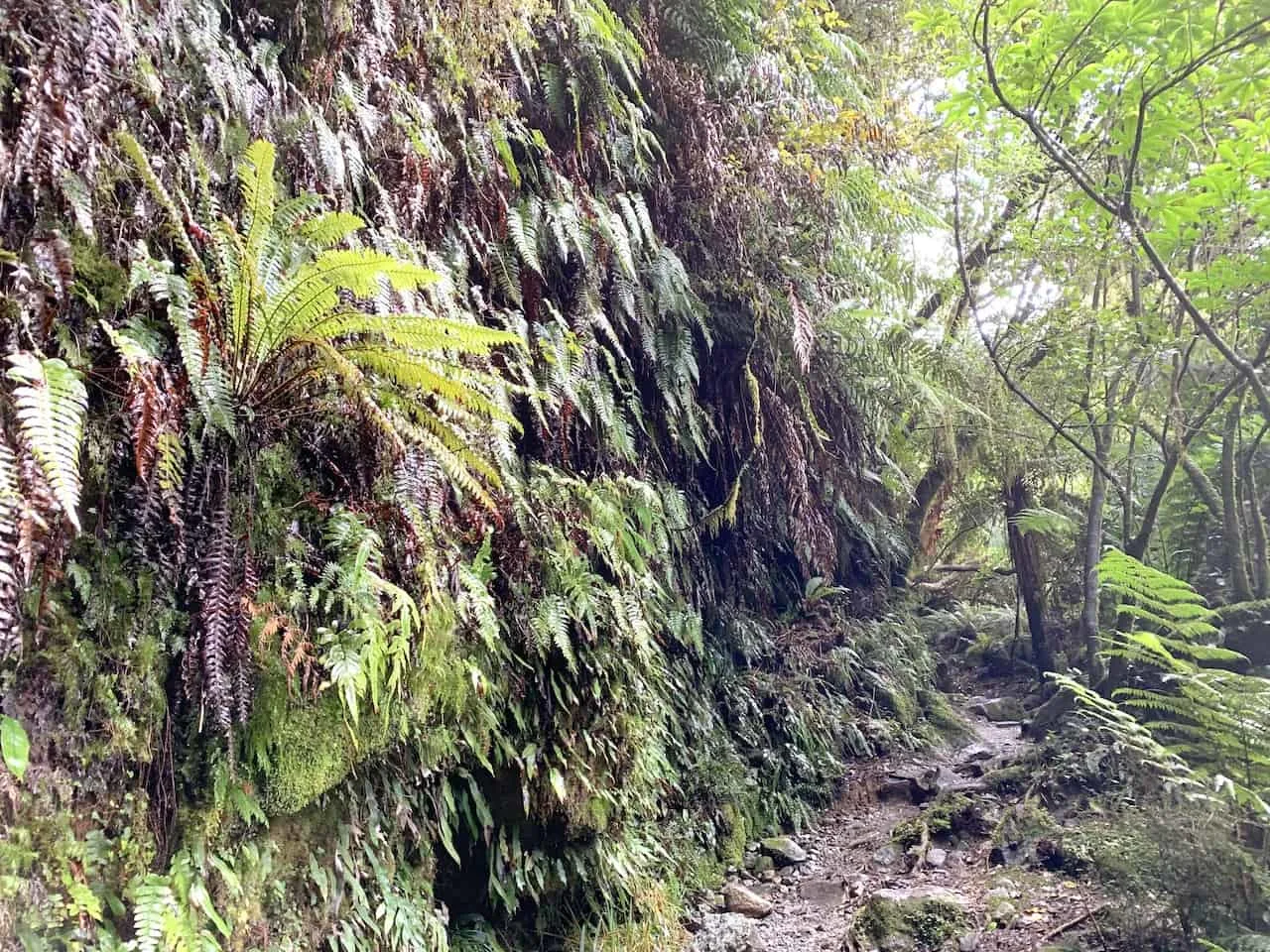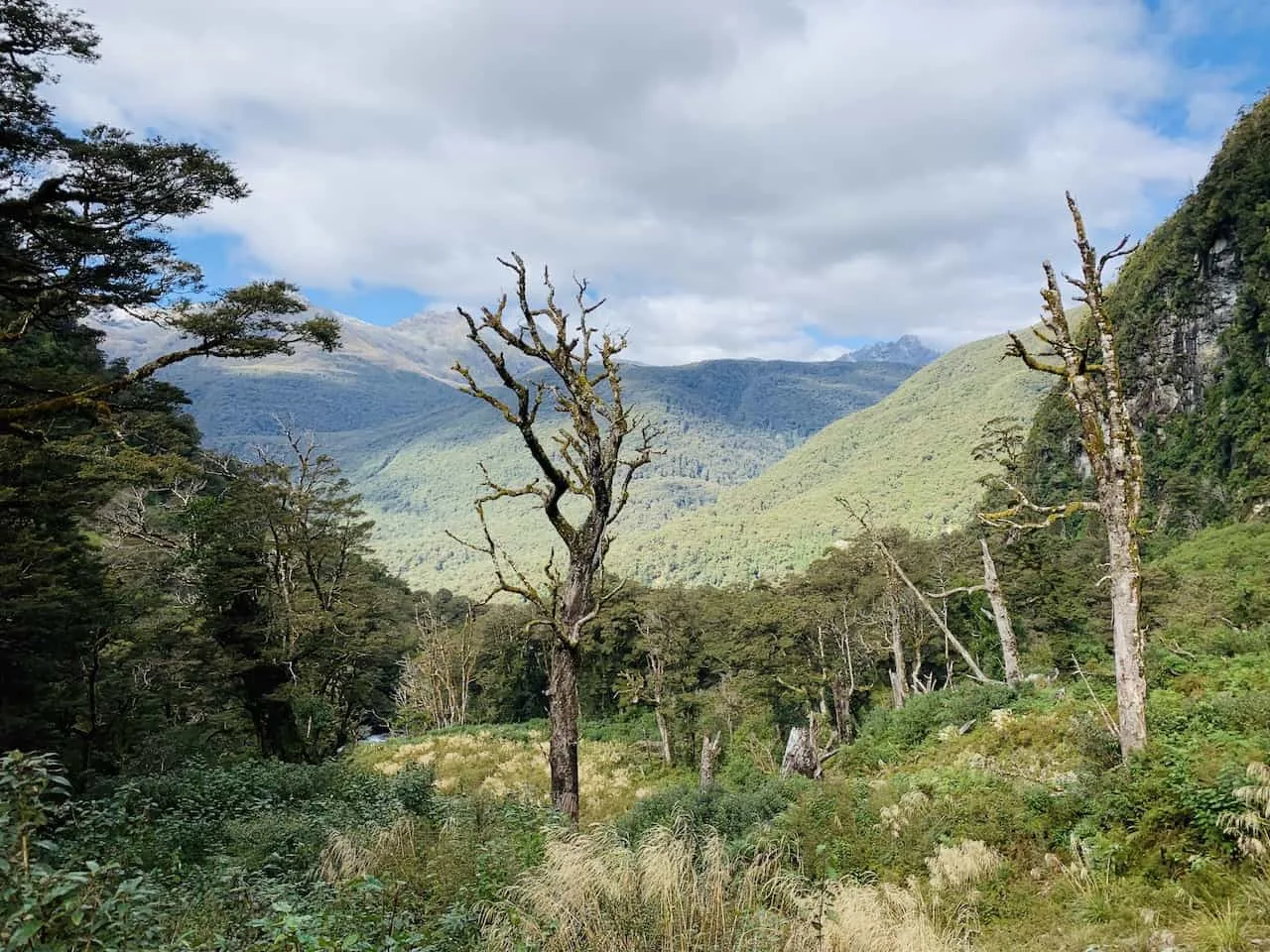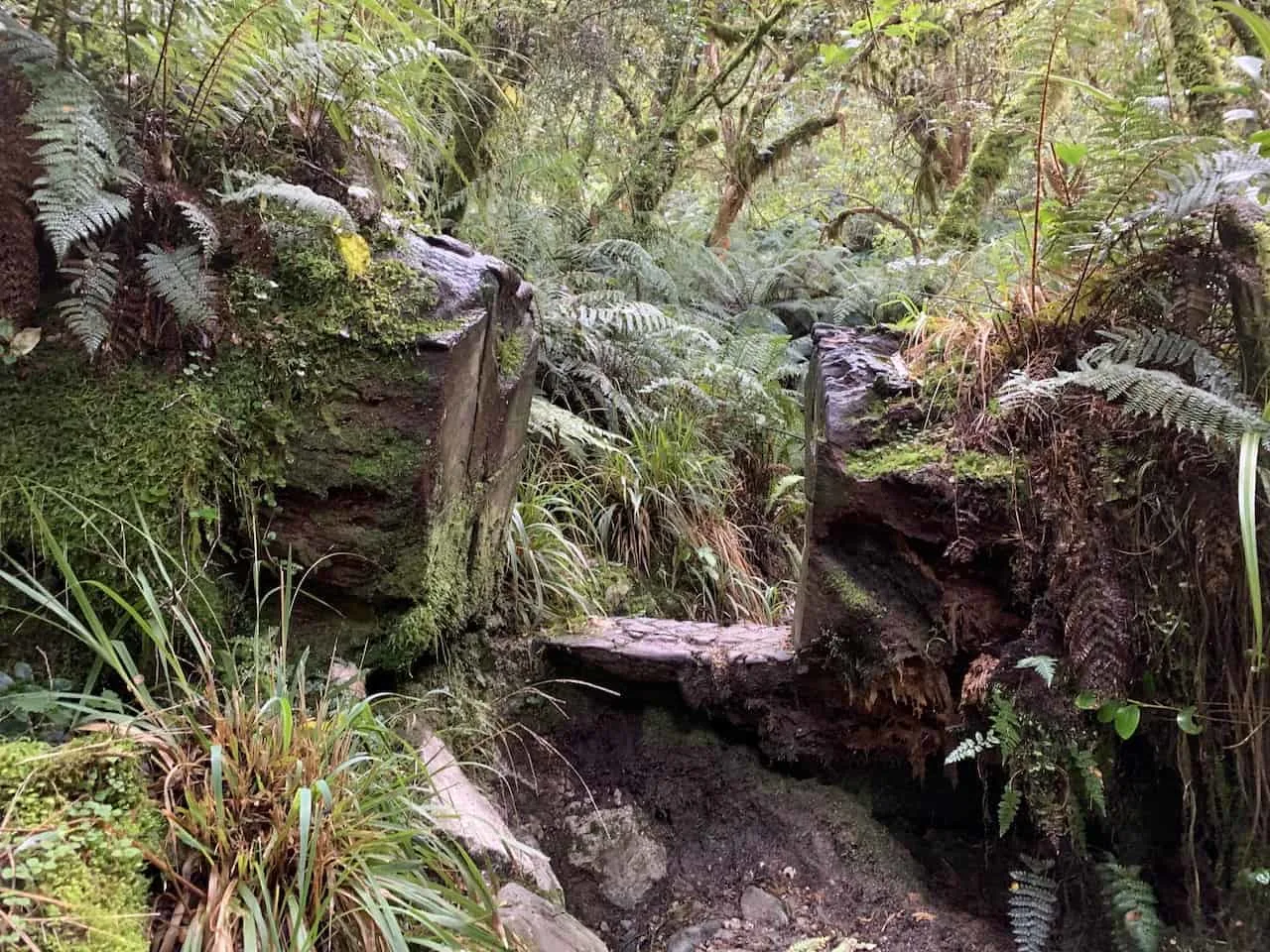 While you may need to use your hands at one point or another, there is a section of trail where you will literally be climbing up. Be super cautious here as one slip and you can seriously hurt yourself.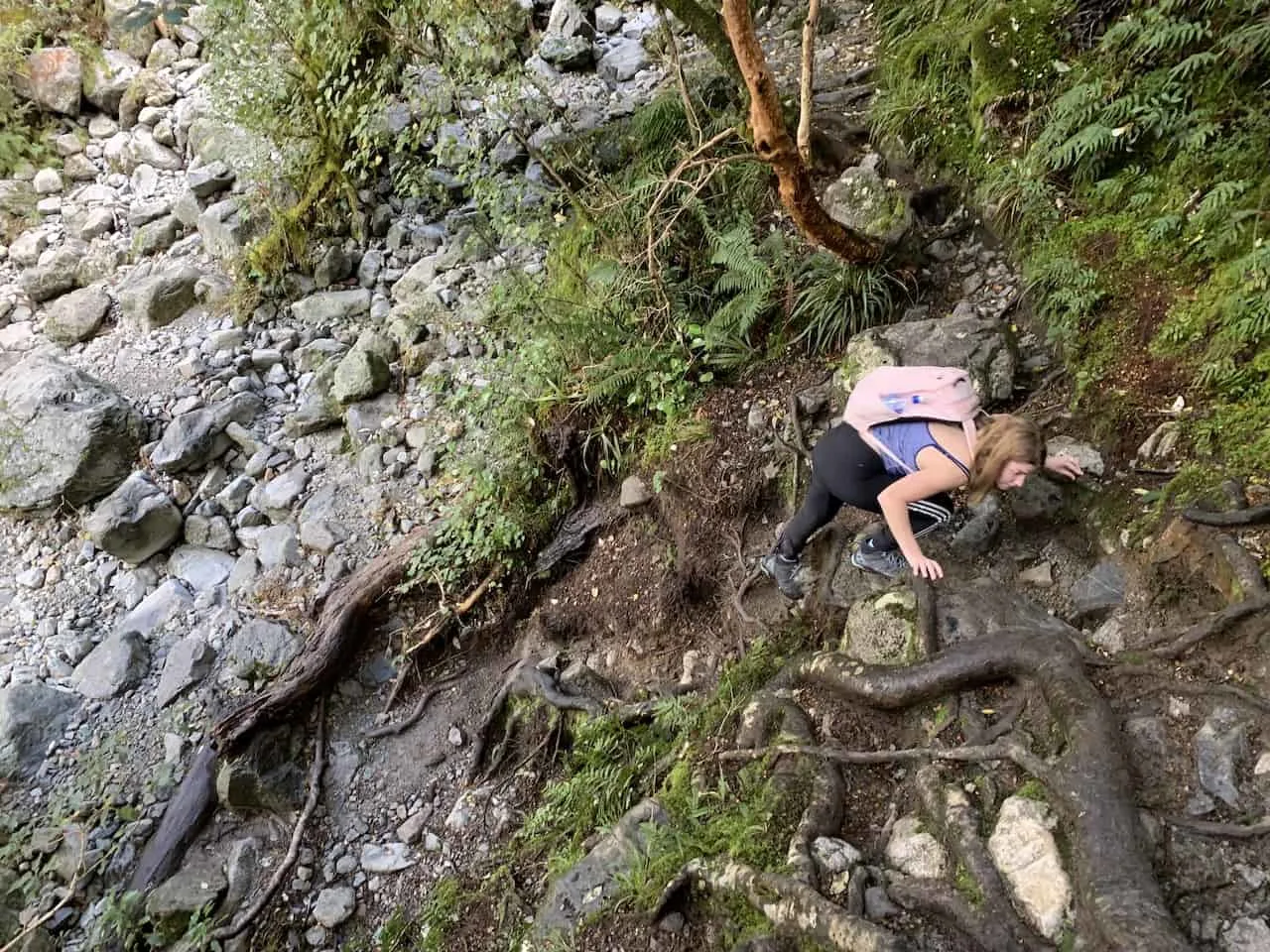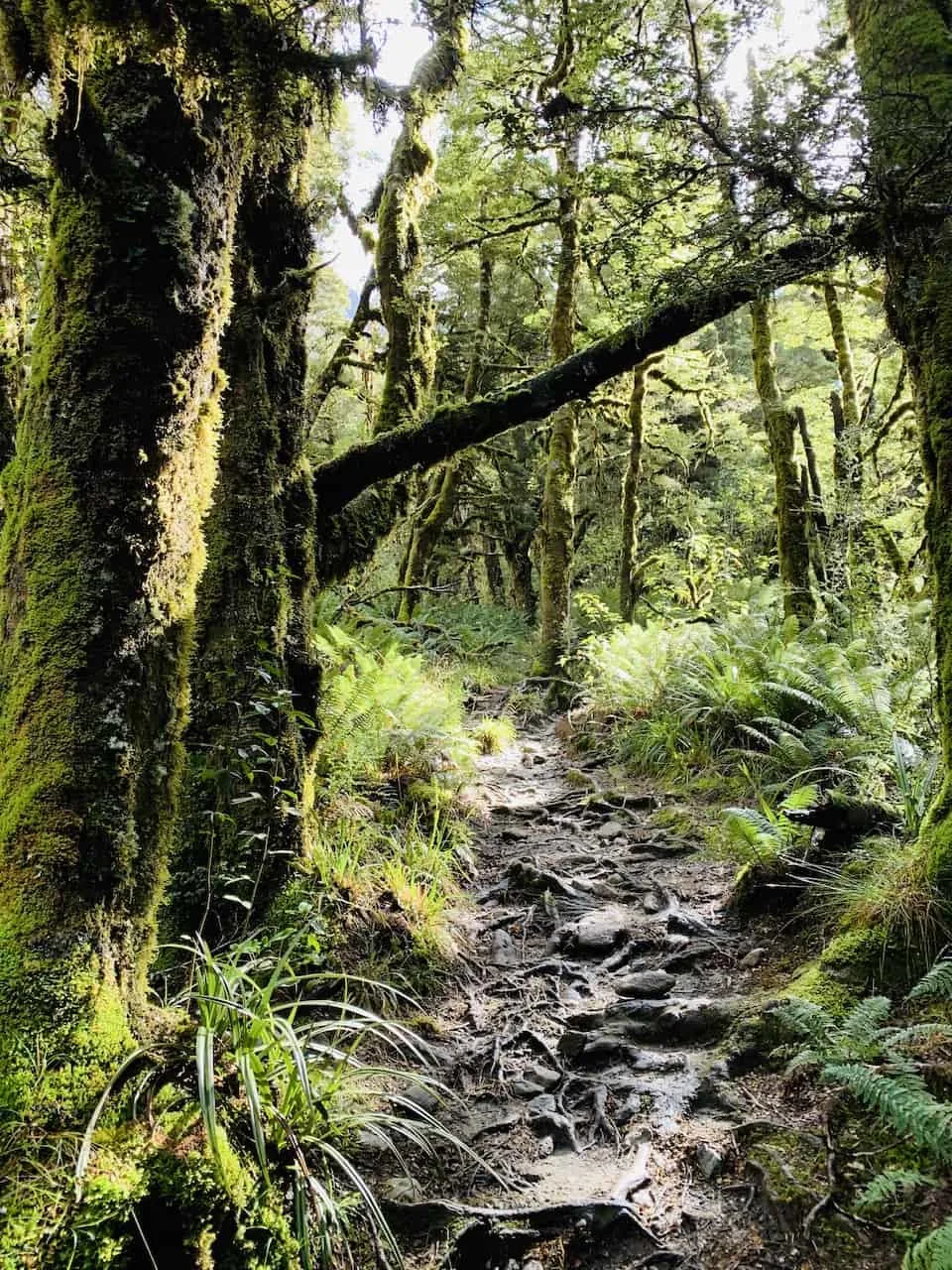 After about 1.5 hours of trekking through the forest, you will eventually see Lake Marian slowly come into view.
Depending on the weather and that sun, you should hopefully get some beautiful reflective views of the surrounding mountains on the lake. Spending some time relaxing on the waterfront is a great way to break up the hike.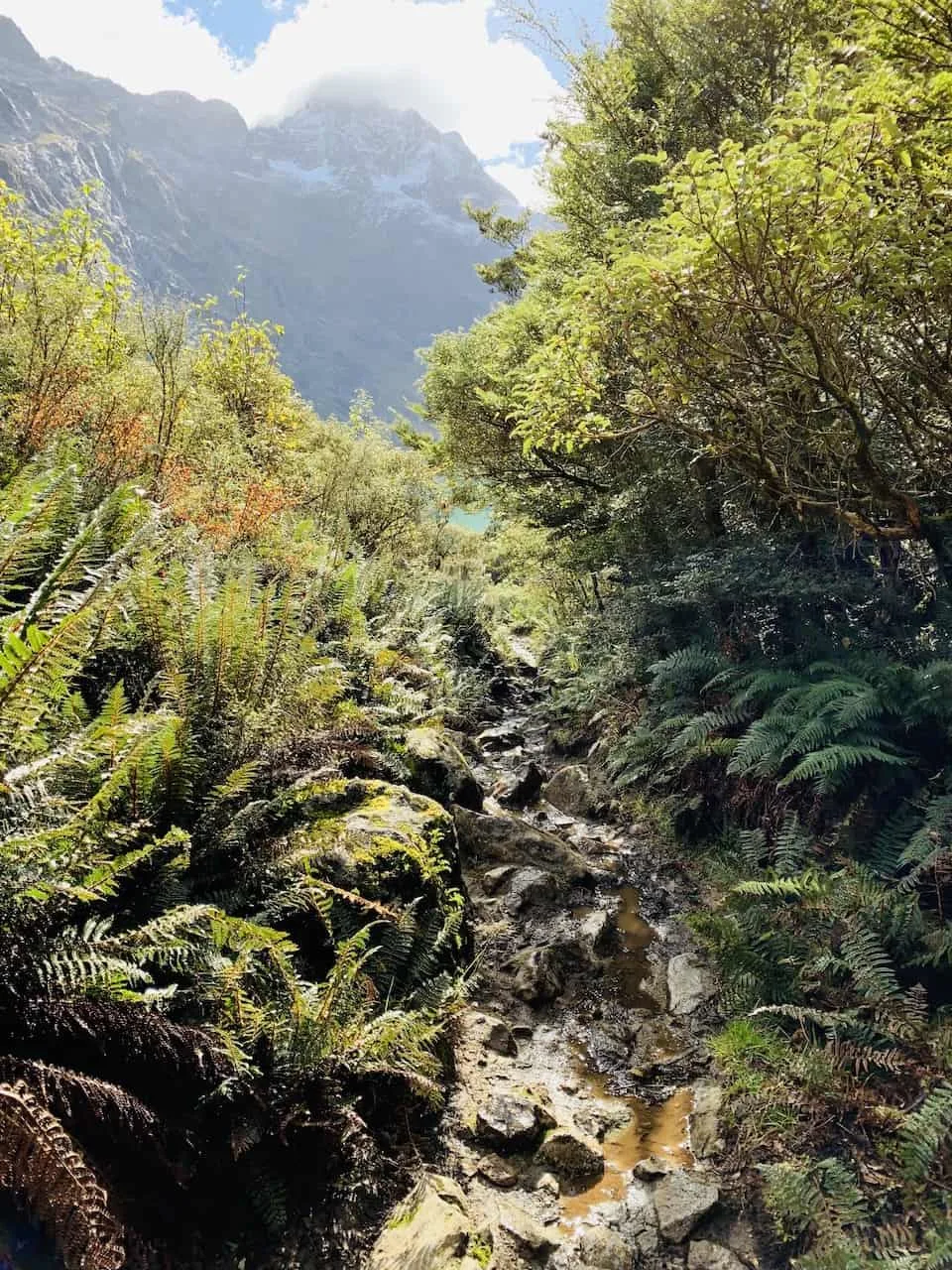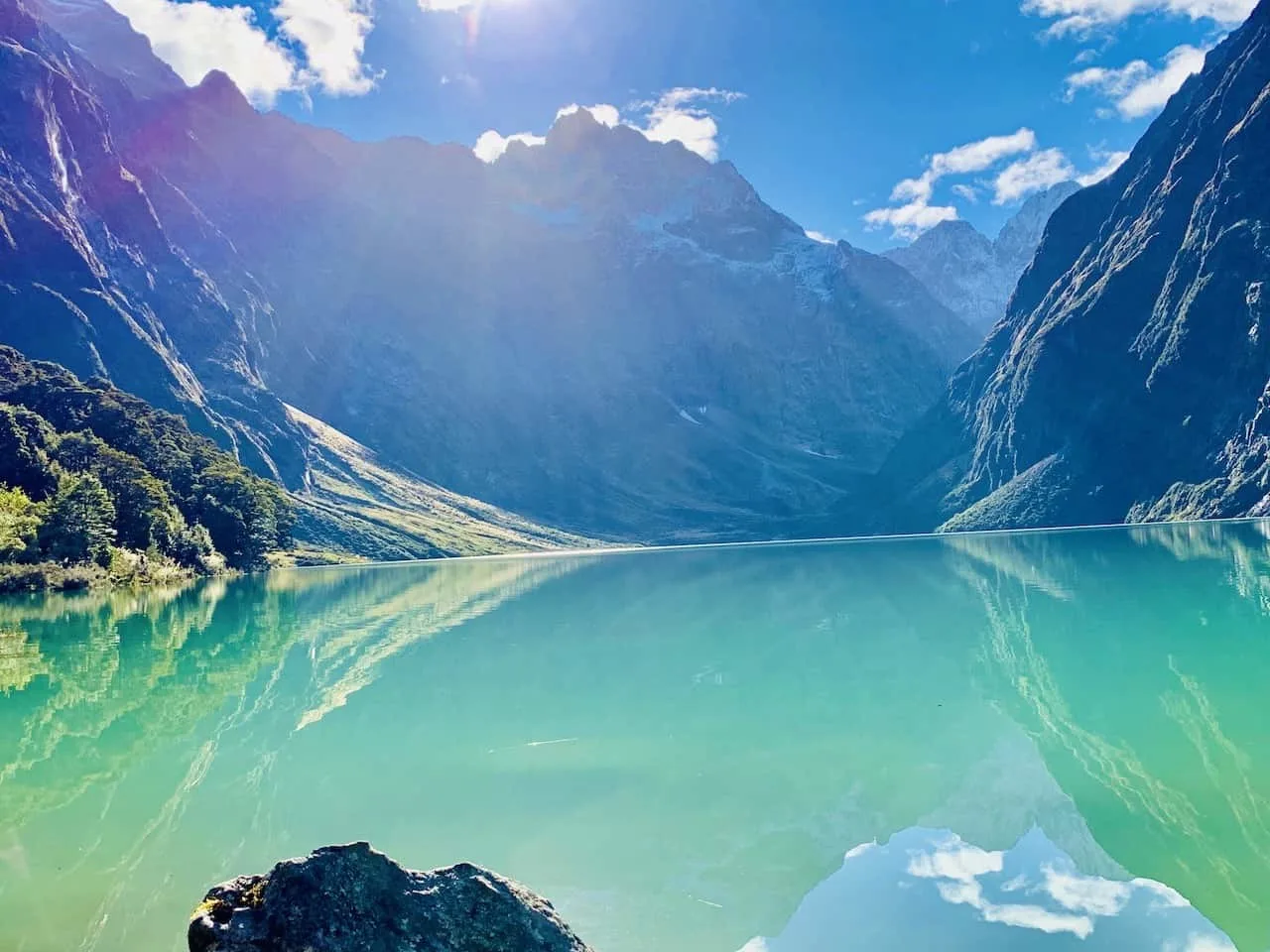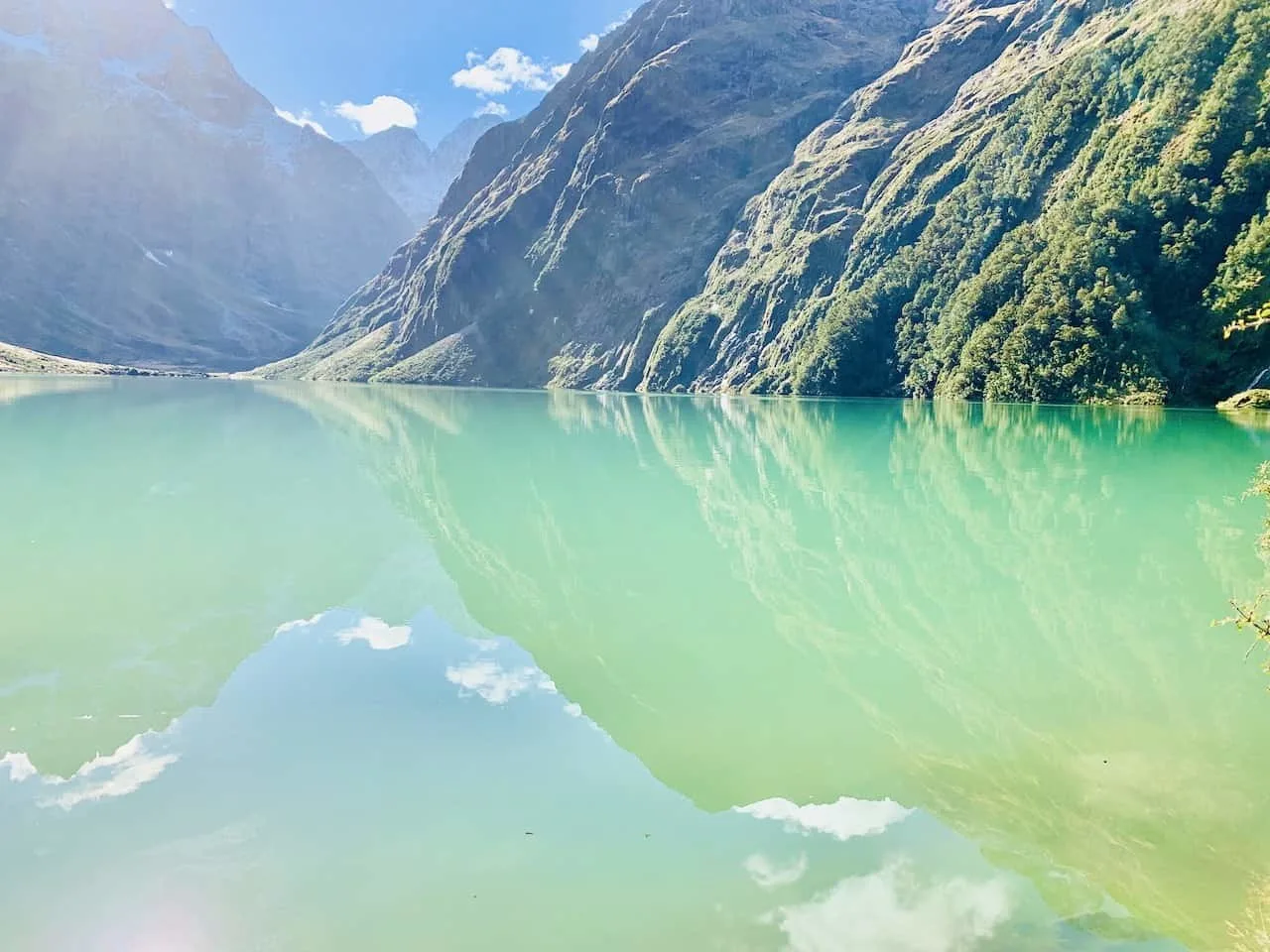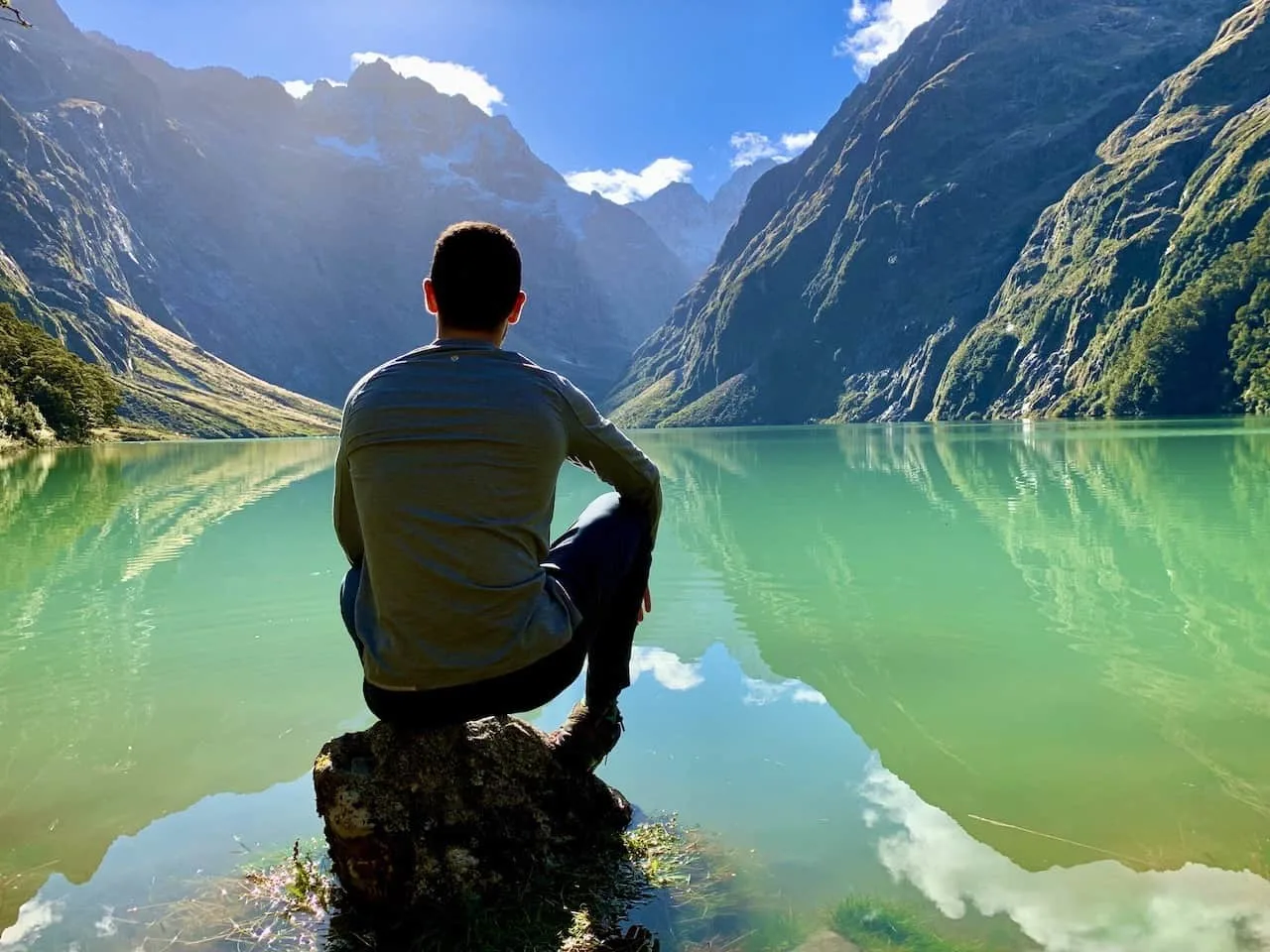 Once you have finished up at the lake, it is time to make the journey back to the parking lot. This is an out and back hike, meaning you will need to head back on the same trail you came.
While this will all now be a downhill hike, do be very careful of your footing. Heading down on rocky and uneven terrain is even more dangerous than going up it.
After heading through the forest and back towards the roaring river, you will soon get back to the parking lot, where you can then continue on to Te Anau (or your next destination) for the night.
7) Where to Stay in Te Anau
If taking part of the Lake Marian Track, I would recommend spending at least a night in Te Anau to get the most out of your time in the area. That way you can head onto the track and also enjoy some time out on Milford Sound. Below are some of my accommodation recommendations for Te Anau:
2. Arran Motel
3. Te Anau Lakeview Holiday Park
Looking for a budget option? Check out Barnyard Backpackers & Te Anau Lakefront Backpackers
I hope this guide has given you a better sense on how to go about your time on the Lake Marian Track. Take a look at the other New Zealand itineraries and guides up on the site.
Some of my other favorite hikes on the South Island include Roys Peak, Isthmus Peak, Ben Lomond, and a Routeburn Day Hike.
Feel free to ask any questions below! Have fun out there and safe travels!