While most trekkers who visit the Everest region head on the standard Everest Base Camp route, there is also the opportunity to take on alternative routes as well.
These include routes such as the Three Passes Trek and Gokyo Lakes Trek, both of which could include a visit to base camp too. By taking part of these treks, you will also be able to visit additional villages that are not on the standard route.
This guide will talk through the route from Lungde to Thame to Namche Bazaar. This route is standard on the Three Passes Trek as you approach the end of the 2+ week hike. Hope you enjoy this overview of some of the beauty that lays just off the beaten path.
* Affiliate Disclosure: This post may contain affiliate links, which means I may receive a commission if you make a purchase through the links provided, at no additional cost to you. Thanks for supporting the work I put into TripTins!
1) Three Passes Trek Itinerary
If you come across this article, there is a good chance that you may be taking part of the Three Passes Trek. While you can add Lungde and Thame as a potential side trek from Namche Bazaar, the Three Passes trek is the more likely possibility.
Below is a day by day outline of what the Three Passes Trek entails. While this is one way to go about it, there are certainly other alternatives out there.
Feel free to click through some of the links that will walk you through that particular day of the trek.
Day 1: Lukla to Phakding
Day 2: Phakding to Namche Bazaar
Day 3: Hotel Everest View Acclimatization Hike
Day 4: Namche Bazaar to Tengboche
Day 5: Tengboche to Dingboche
Day 6: Nangkartshang Peak Acclimatization Hike
Day 7: Dingboche to Chukhung
Day 8: Chukhung Ri
Day 9: Chukhung to Kongma La Pass to Lobuche
Day 10: Lobuche to Gorak Shep + Everest Base Camp
Day 11: Kala Patthar + Gorak Shep to Dzongla
Day 12: Dzongla to Cho La Pass to Gokyo
Day 13: Gokyo Ri Climb
Day 14: Gokyo 4th and 5th Lakes Hike
Day 15: Gokyo to Renjo La Pass to Lungde
Day 16: Lungde to Thame to Namche Bazaar
Day 17: Namche Bazaar to Lukla
Day 18: Depart Lukla
Based on the itinerary above, this guide will be going over day 16 of the Three Passes Trek. However, I did add several optional day hikes along the way. So, it is possible you are able to get a few days off if you don't have the time for it all.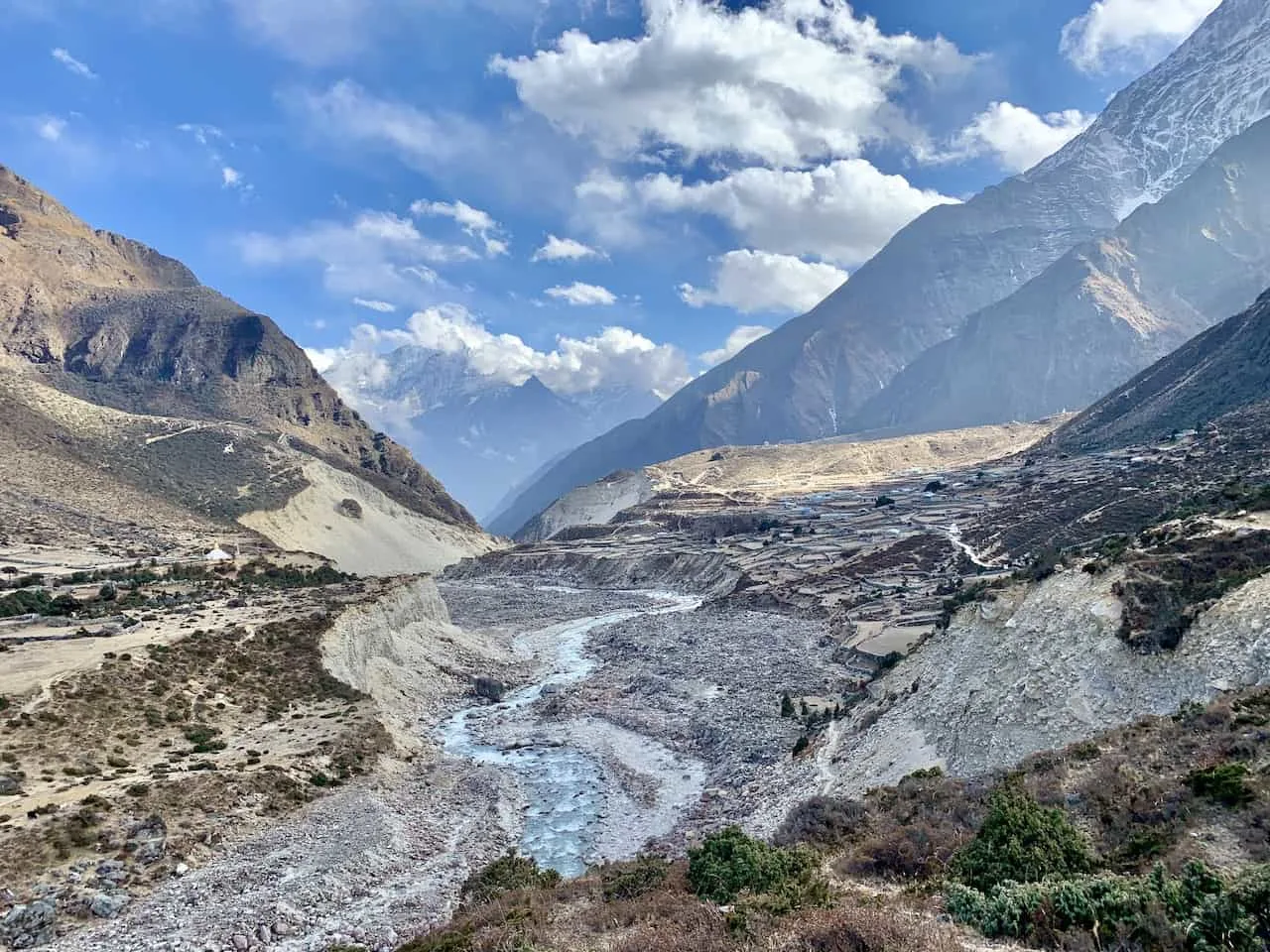 2) Lungde to Thame to Namche Bazaar Trekking Details
Below are some helpful details about the hike between Lungde (also named Lungdhen on maps) to Namche Bazaar as you pass through Thame.
If you happen to do the Three Passes Trek in the clockwise direction I would imagine you would want to spend a night in Thame on your way up to properly acclimatize.
Starting Point: Lungde
Mid Point: Thame
Ending Point: Namche Bazaar
Lungde Elevation: 14,370 feet / 4,380 meters
Thame Elevation: 12,402 feet / 3,780 meters
Namche Bazaar Elevation: 11,286 feet / 3,440 meters
Distance: 11.4 miles / 18.3 km
Trekking Time: 5-6 hours
Elevation Loss: 4,141 feet / 1,262 meters
Elevation Gain: 1,012 feet / 305 meters
Although the trek is losing elevation altogether from Lungde to Namche, there is some elevation gain as well. Nearly all of this happens over the last couple kilometers as you approach Namche.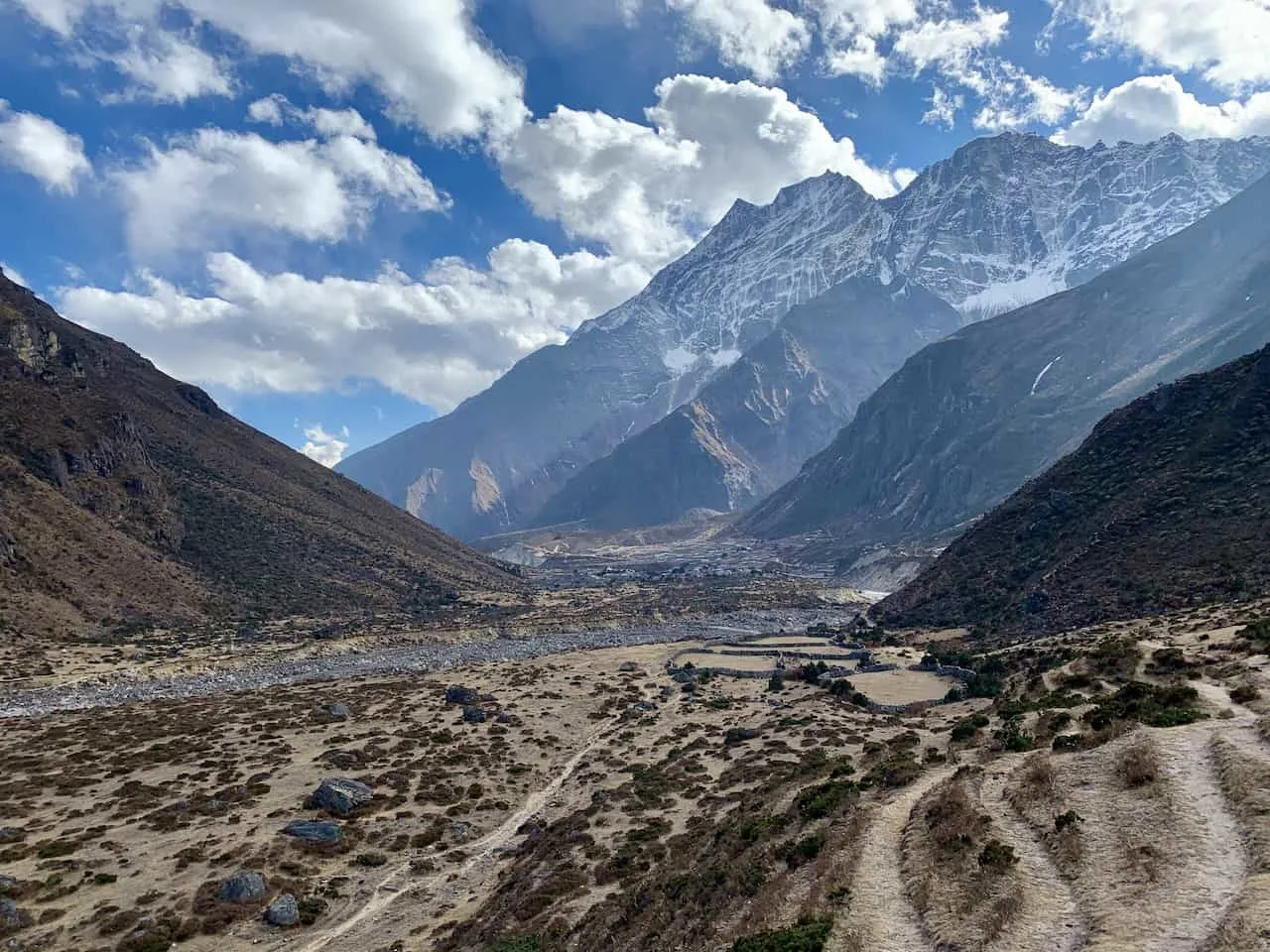 3) Trekking Map
Below is the trekking map that shows the route between Lungde and Namche Bazaar. The route is eseentially all done within the valley as you follow along the river straight towards Thame.
Once at Thame, you will continue along near the bottom of the valley and then head up to Namche Bazaar.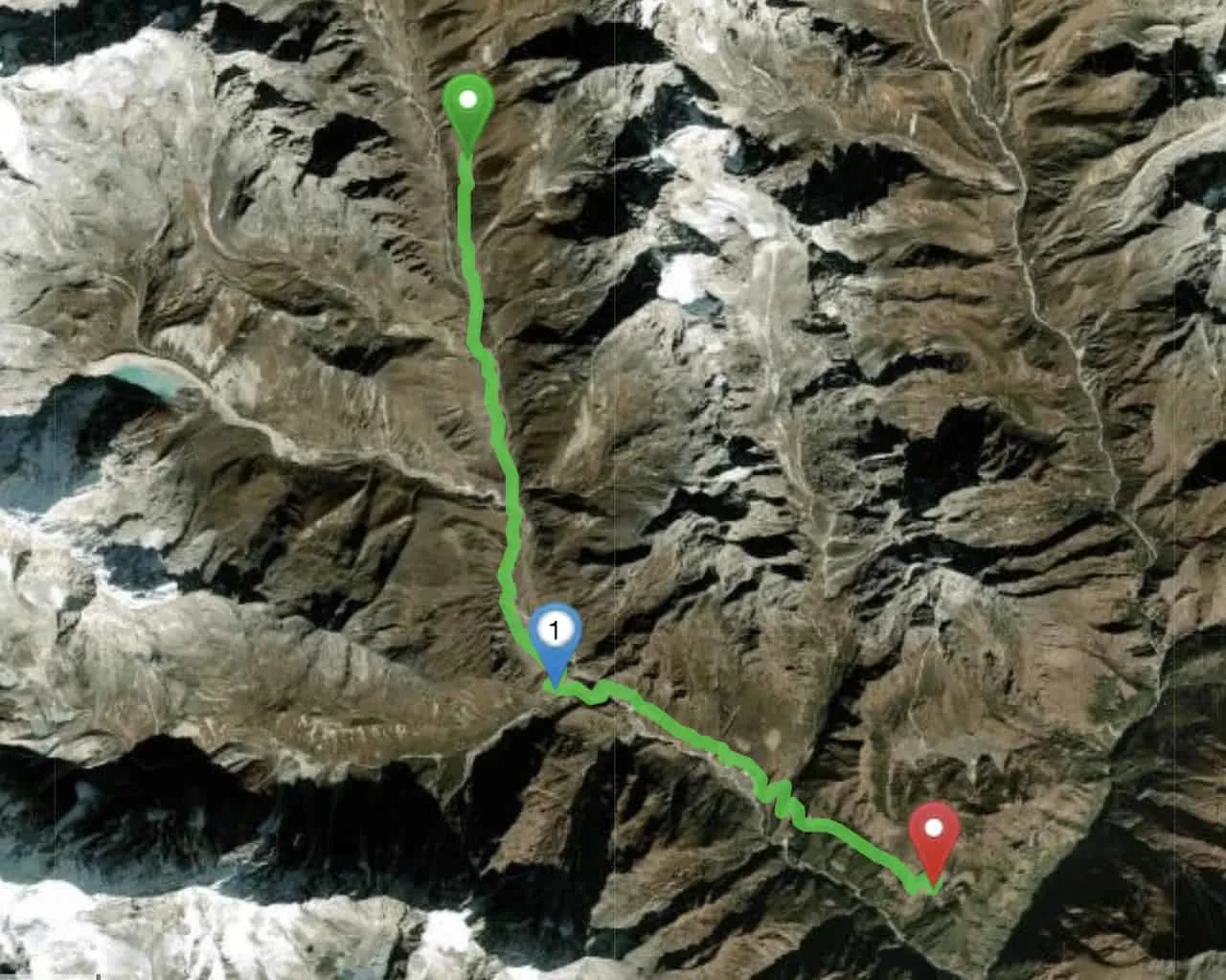 Considering travel insurance for the Himalayas?

World Nomads offers coverage for more than 150 adventure activities as well as emergency medical, lost luggage, trip cancellation and more.

For years, World Nomads has been protecting, connecting & inspiring independent travelers, offering travel insurance & safety advice to help you travel confidently. Their mission is to support and encourage travelers to explore their boundaries.

World Nomads has simple and flexible travel insurance that has been designed by travelers for travelers. Even if you leave home without travel insurance or your policy runs out, you can buy or extend out on the road.

Get a quote for a World Nomads travel insurance policy today!
4) Elevation Gain Profile
The below chart shows the elevation gain profile for the trek. Since this is towards the end of the overall Three Passes Trek, this is more so an elevation loss profile.
However, like mentioned before there are some uphill sections towards the end of the hike, as well as some shorter sections throughout.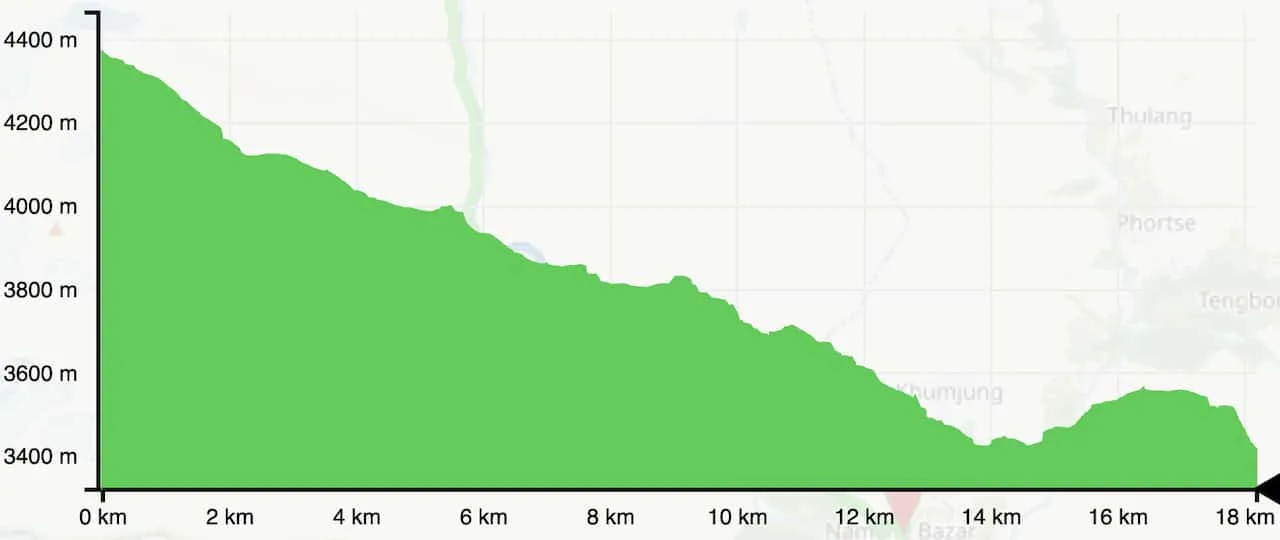 5) Lungde to Thame to Namche Bazaar
While the hike from Lungde to Namche is on the longer side compared to the rest of the trekking days, it is also on the easier side. Since it is all mostly downhill (and not very steep downhill), it will be a more pleasant hike than most.
Once you leave Lungde you will be welcomed to similar views of the day before -> stunning scenery down the valley with mountains on either side and a never-ending path etched into the valley floor.
The hike will be a mixture of downhills, flat sections, and some short uphills as well throughout. At some points you will get right up next to the river and you will even come across some bridges to head over too.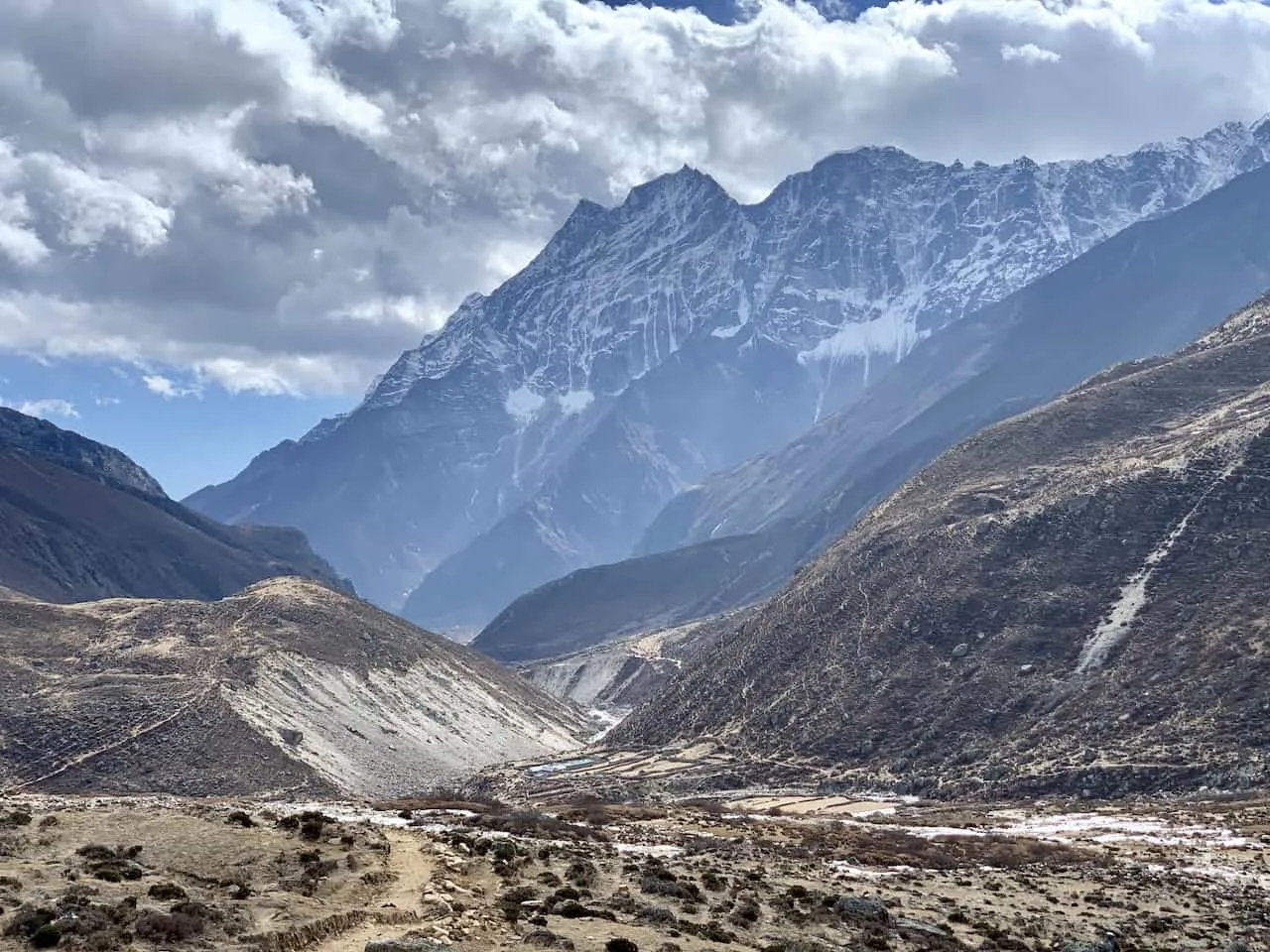 Around 2 or so miles after leaving Lungde you will come across the first bridge to cross which will take you to the opposite side of the valley floor.
This will begin to give you some different perspectives of the valley with the surrounding mountains up above and the river down below.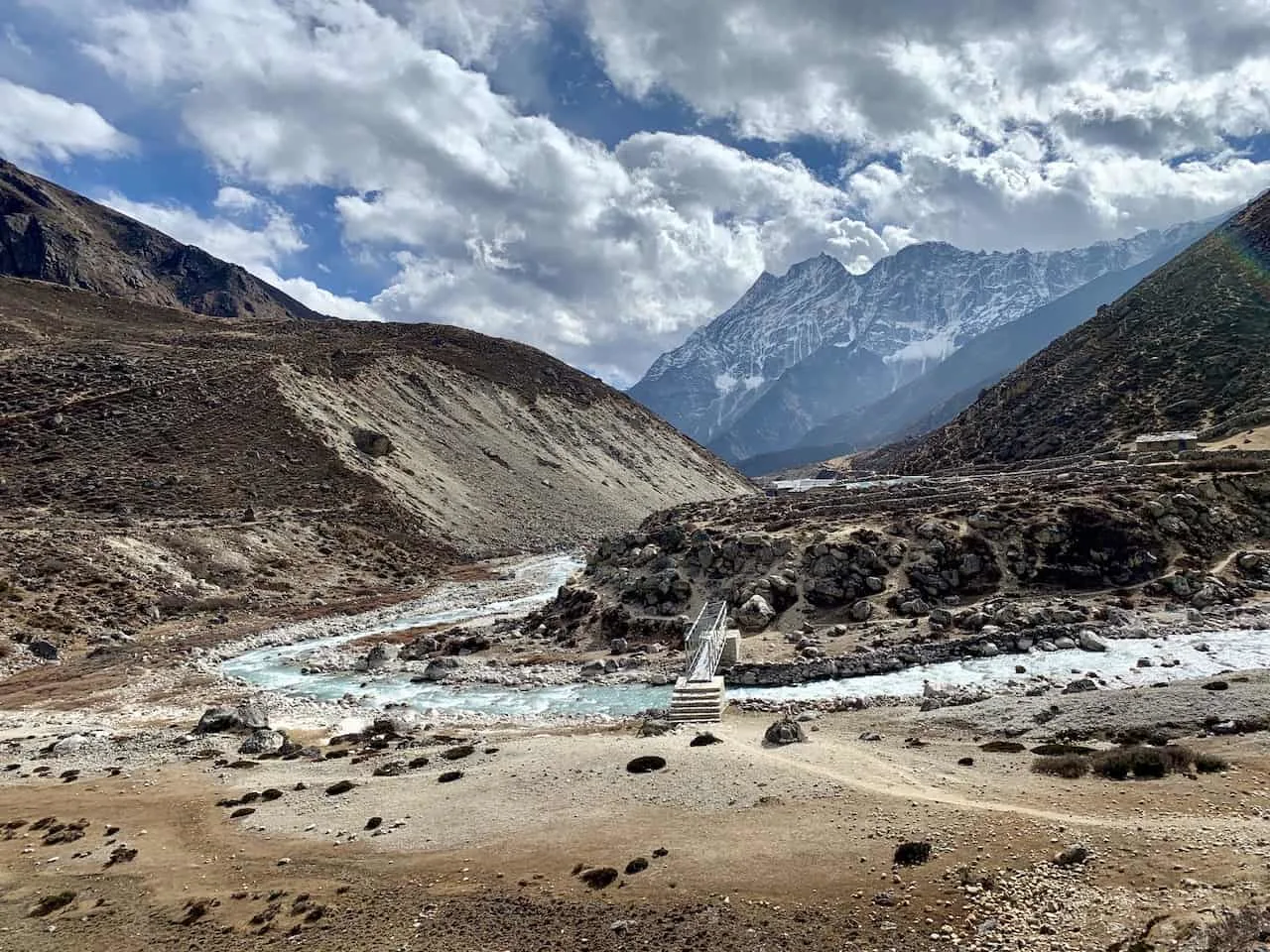 As you continue along the trail, you will come across smaller villages and farming areas that even more so enhance the surrounding landscape.
There are some truly spectacular views as you get to see these villages from a vantage point with the natural beauty all around.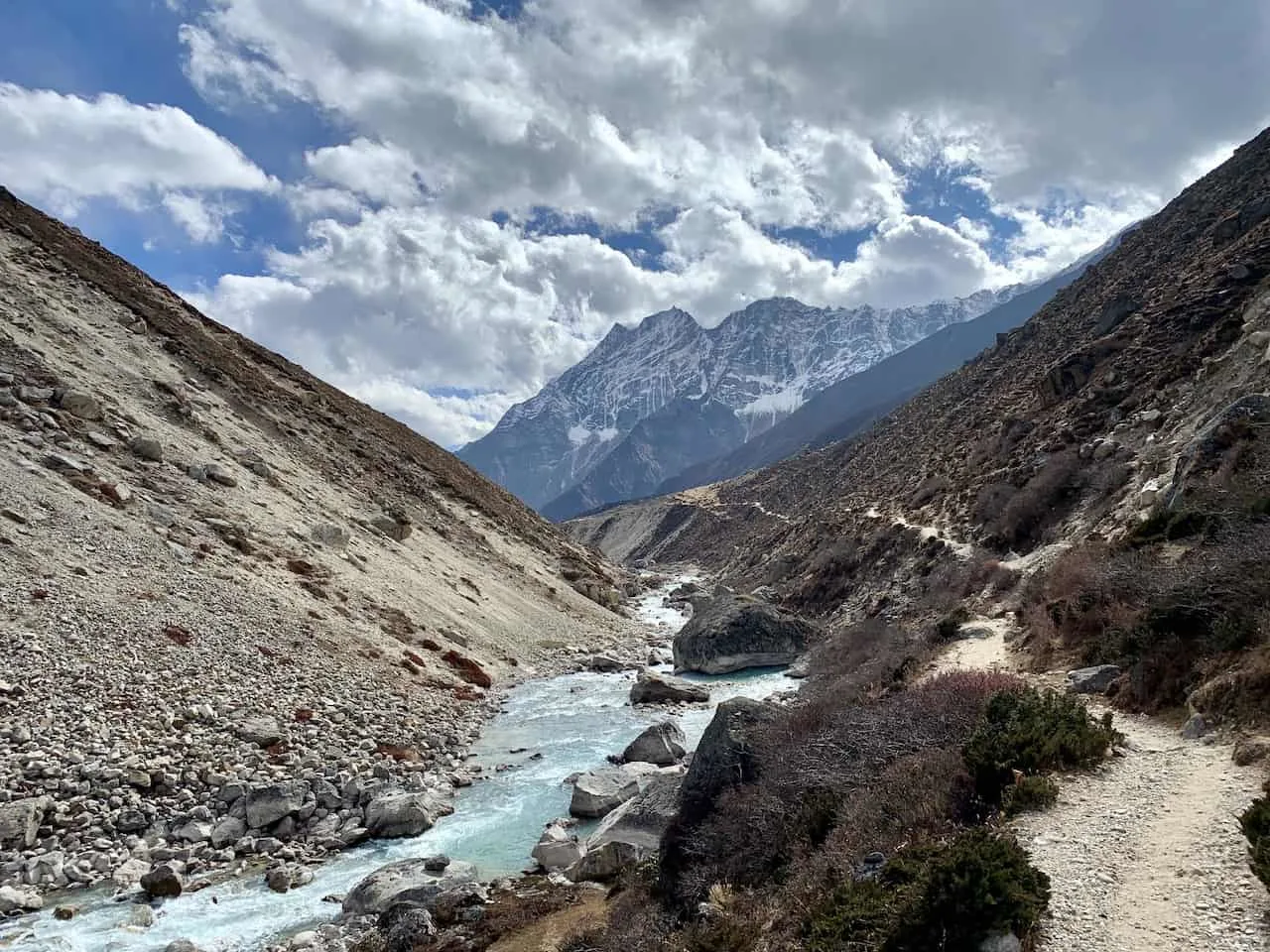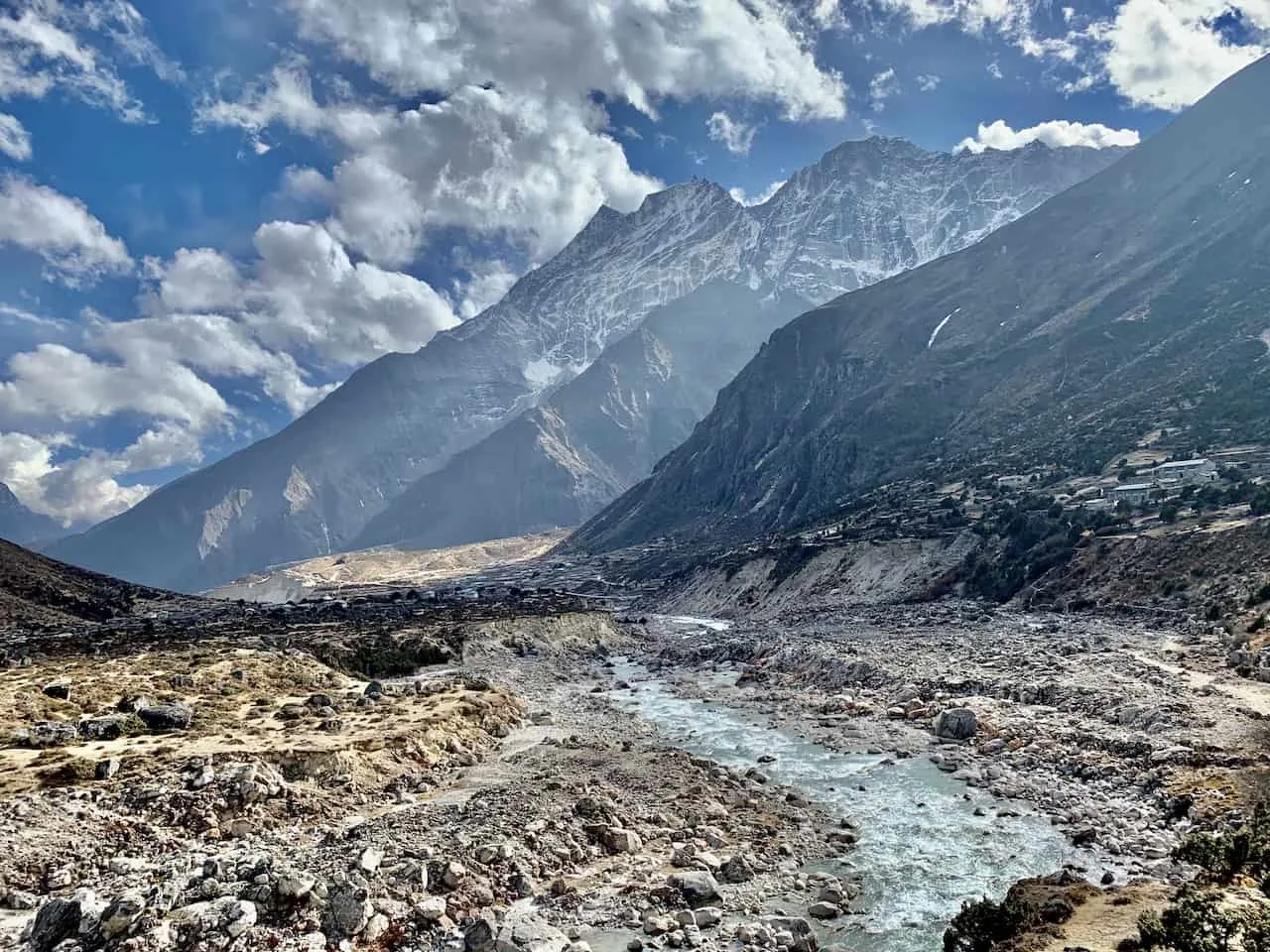 You will soon then see Thame just out in the distance as you pass a large white stupa and then descend down to the village itself.
Be sure to take some photos of the panoramic view from above with Thame down below and the snow capped peaks out in the distance! Once here you can find a teahouse to have some lunch and take a break if you would like.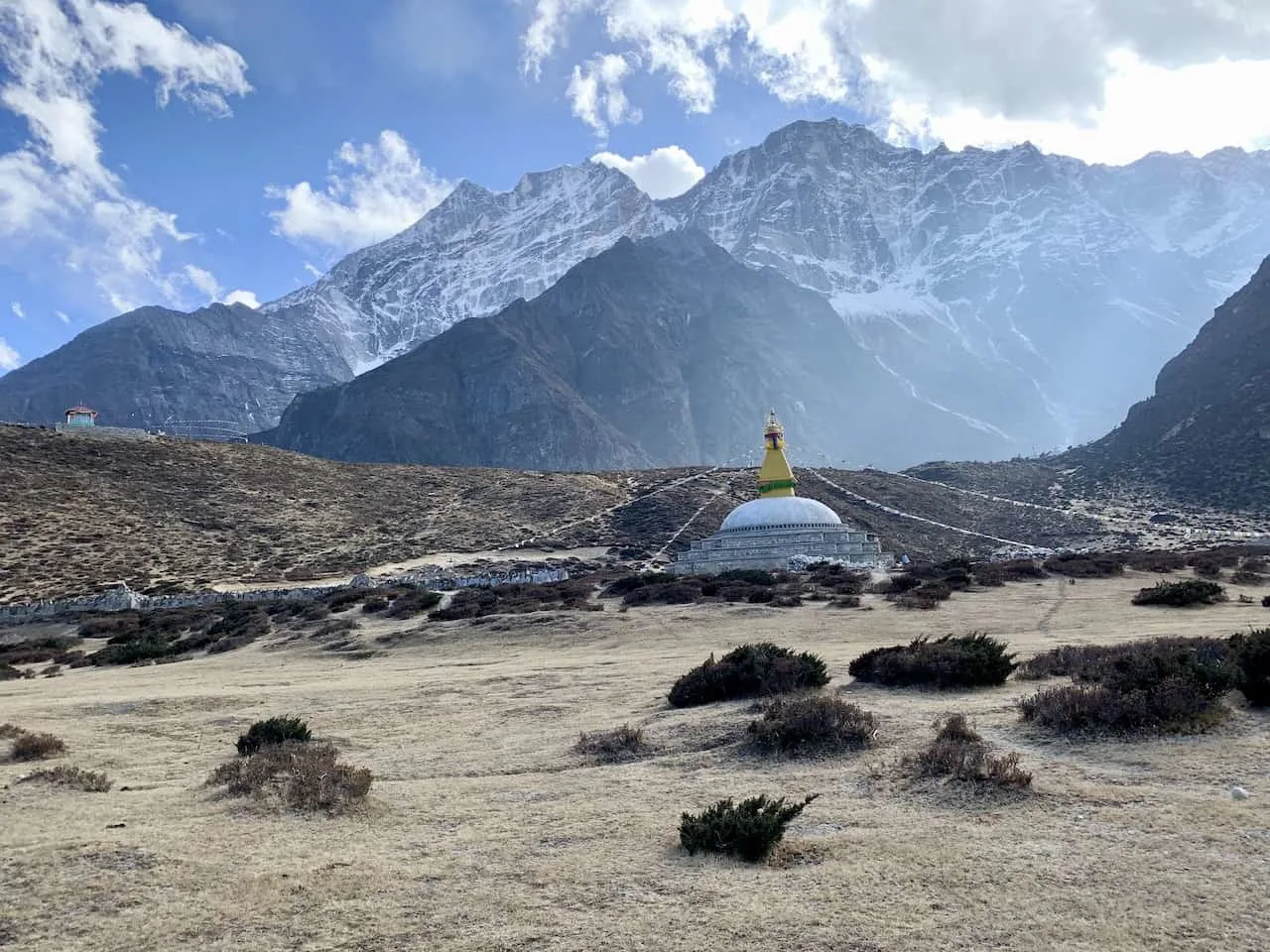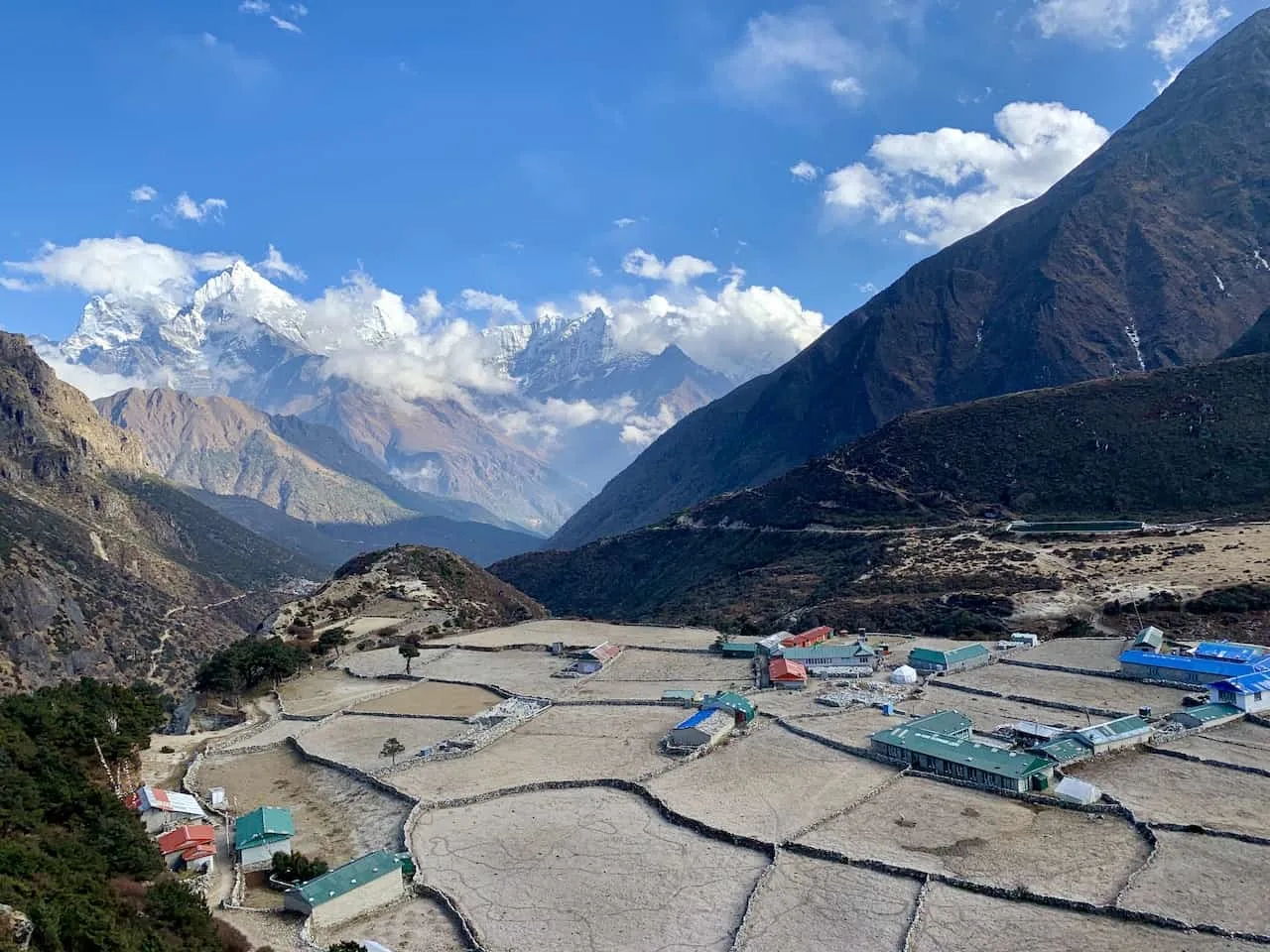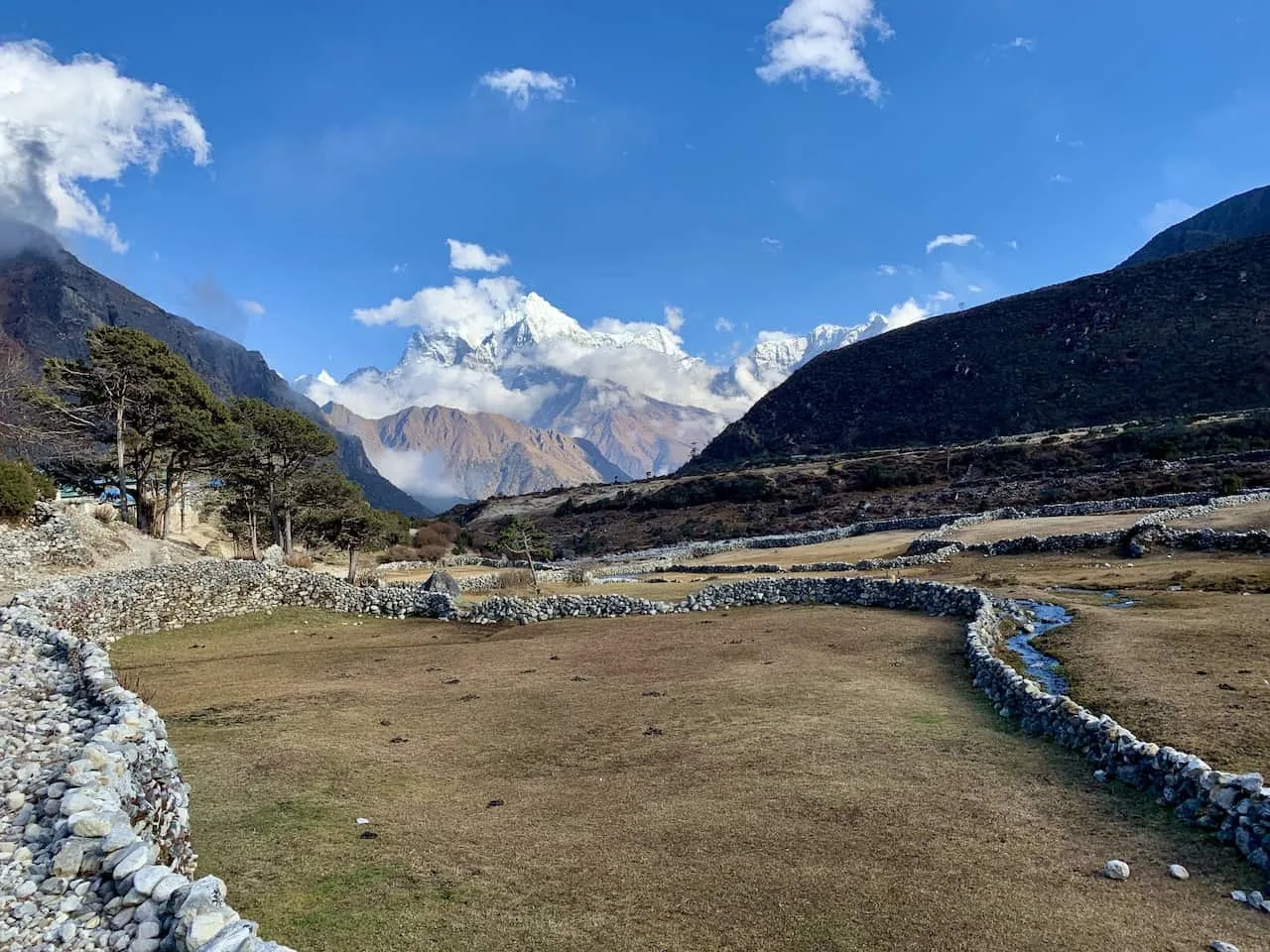 It is then just another couple hours to Namche Bazaar as you follow the path that leaves town and heads further down the valley.
Not too long after heading out of town will you cross over the river once more (to the left hand side of the river) and continue towards Namche.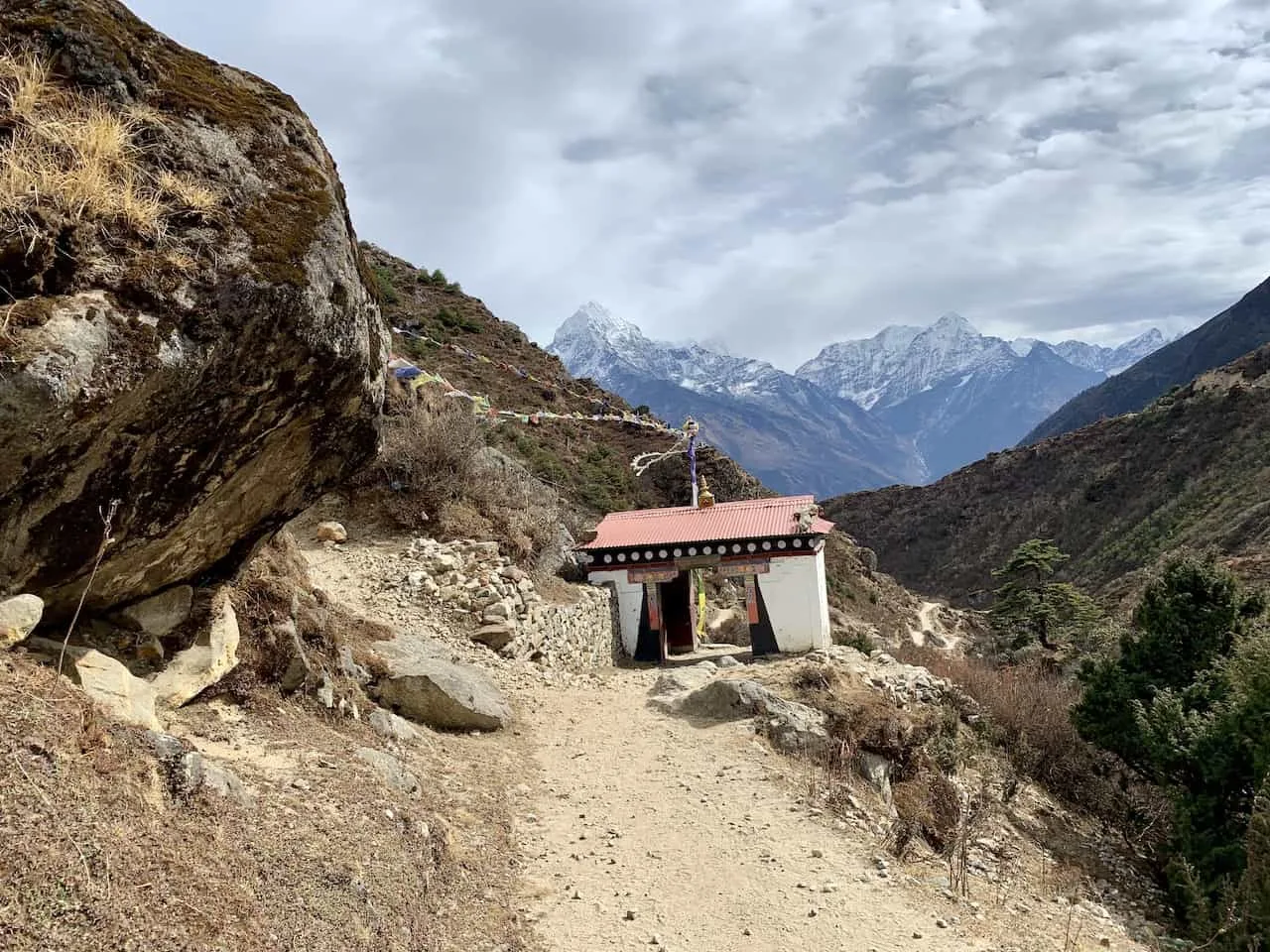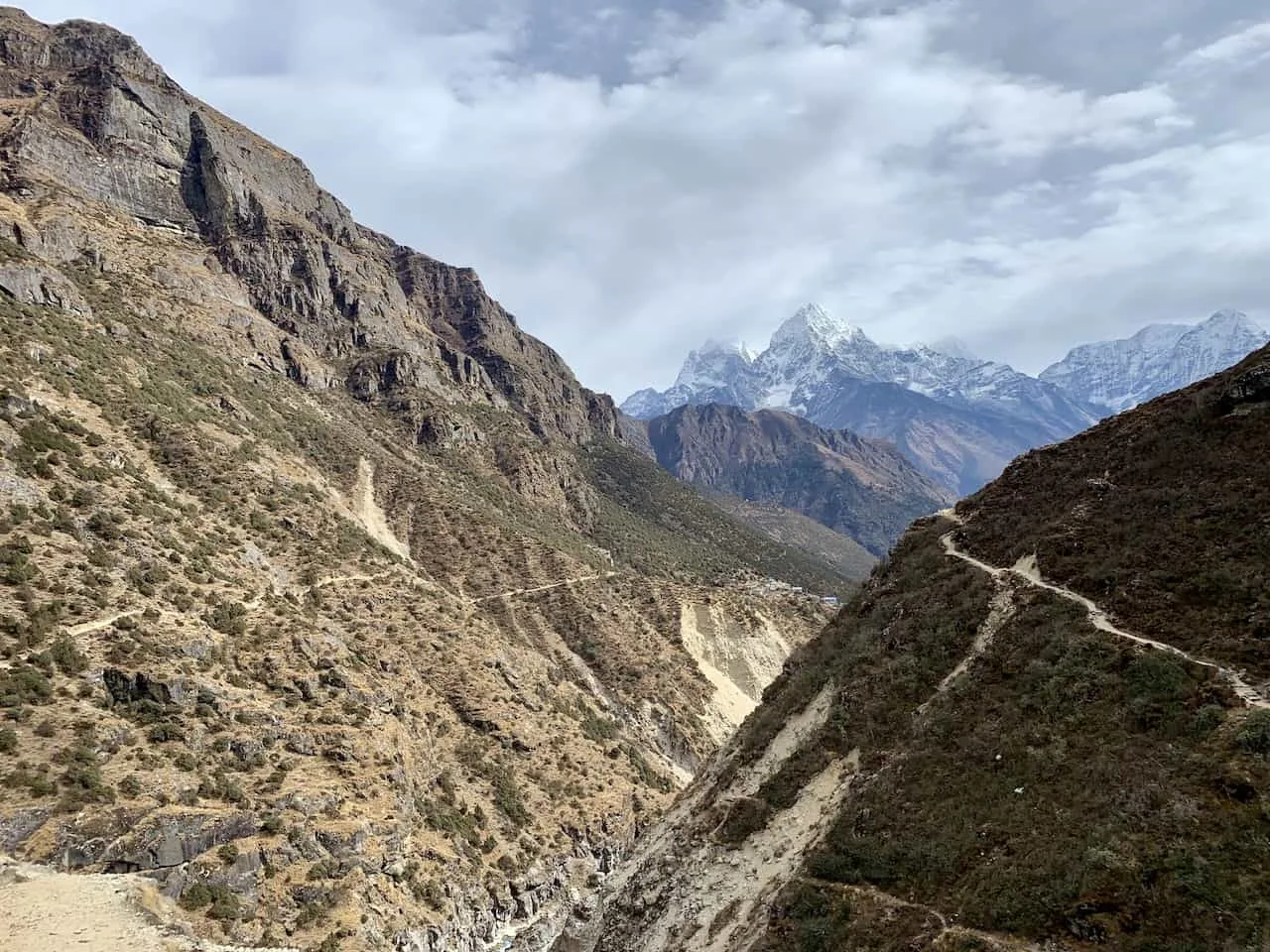 As you head along the path you will pass by a few smaller less visited villages etched on the valley walls. The scenery will soon turn a bit more forested than before as you then begin to gain a bit of elevation towards Namche.
Just as you are approaching Namche you will first come across a whole variety of Sherpa shrines before turning the corner and seeing the village come into view.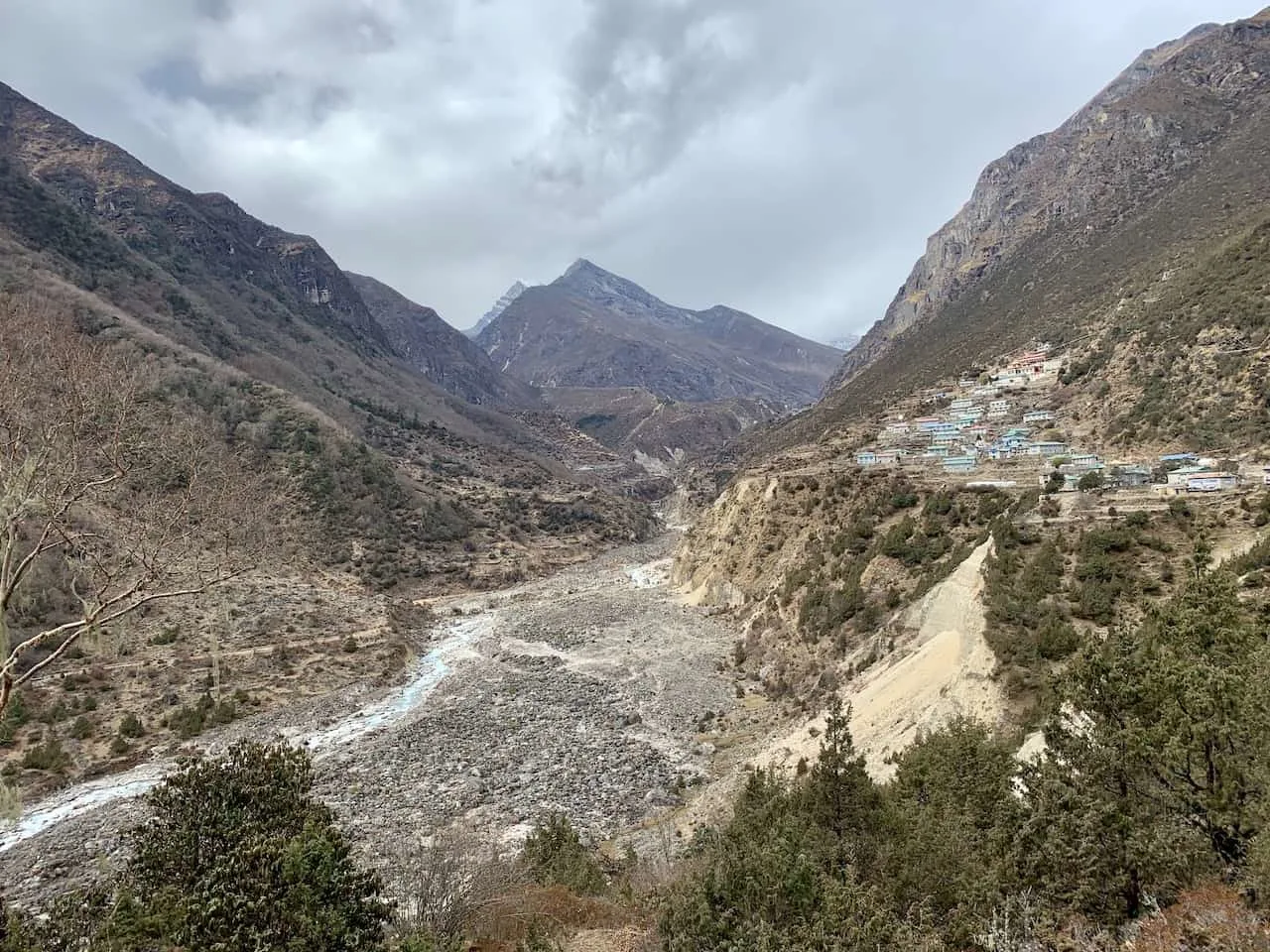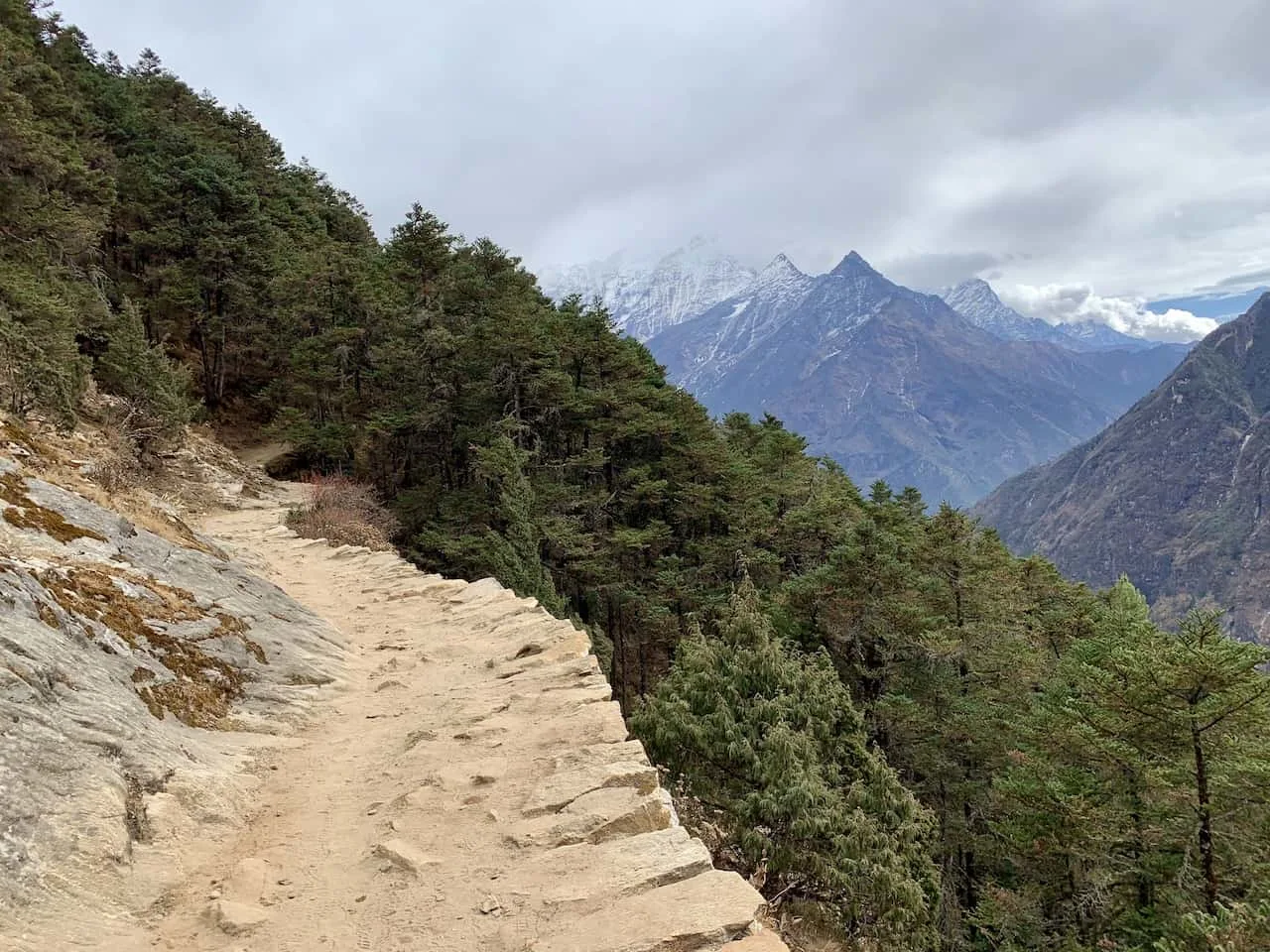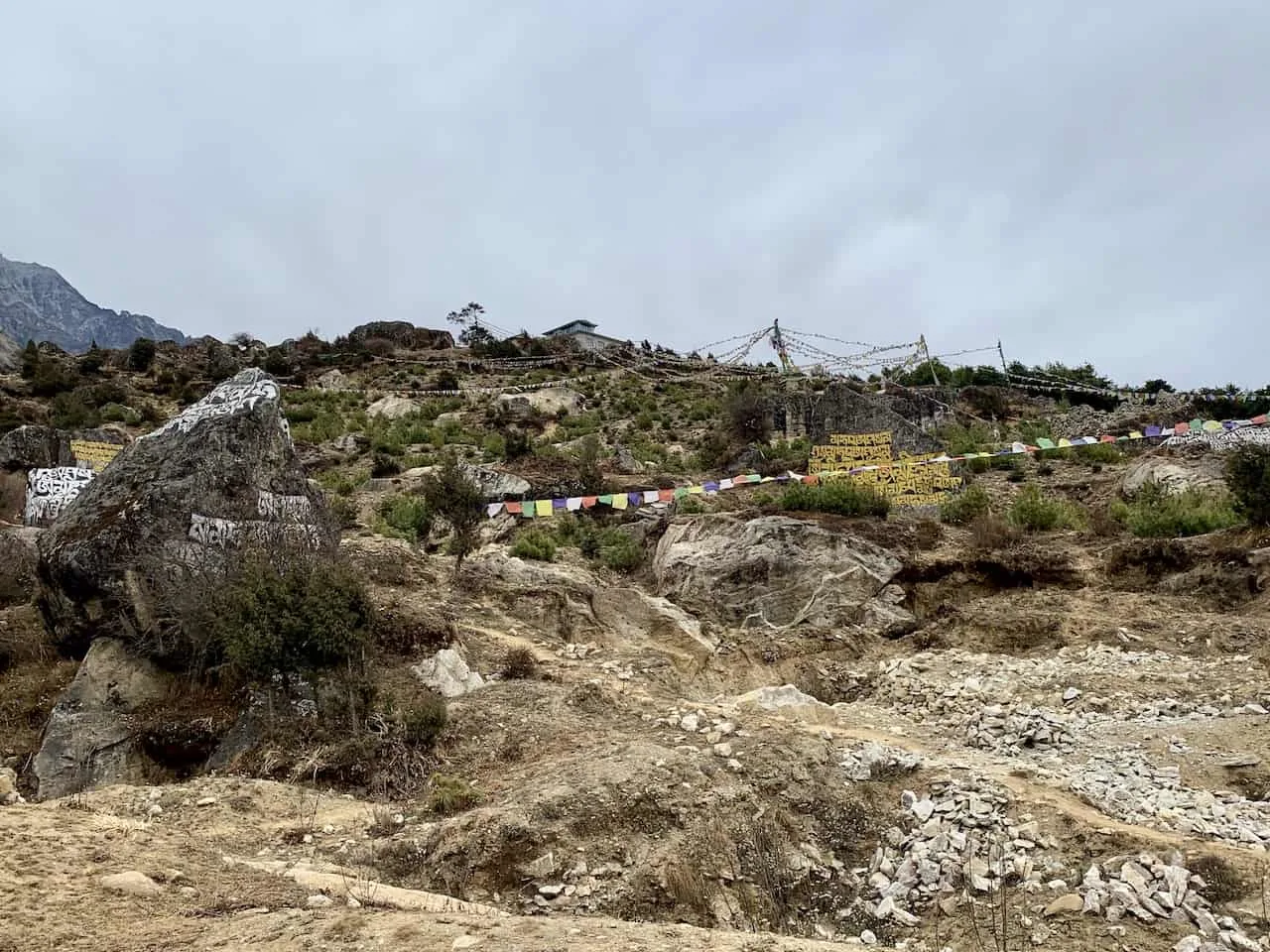 This is actually one of the best views of Namche Bazaar from above. At the beginning of the trip I had went up to the opposite side of the village to take in some views.
But this one was just as good if not better! On a clear day you should even get a nice view of the top of Ama Dablam out in the distance. From there you will head down the steps and into Namche itself.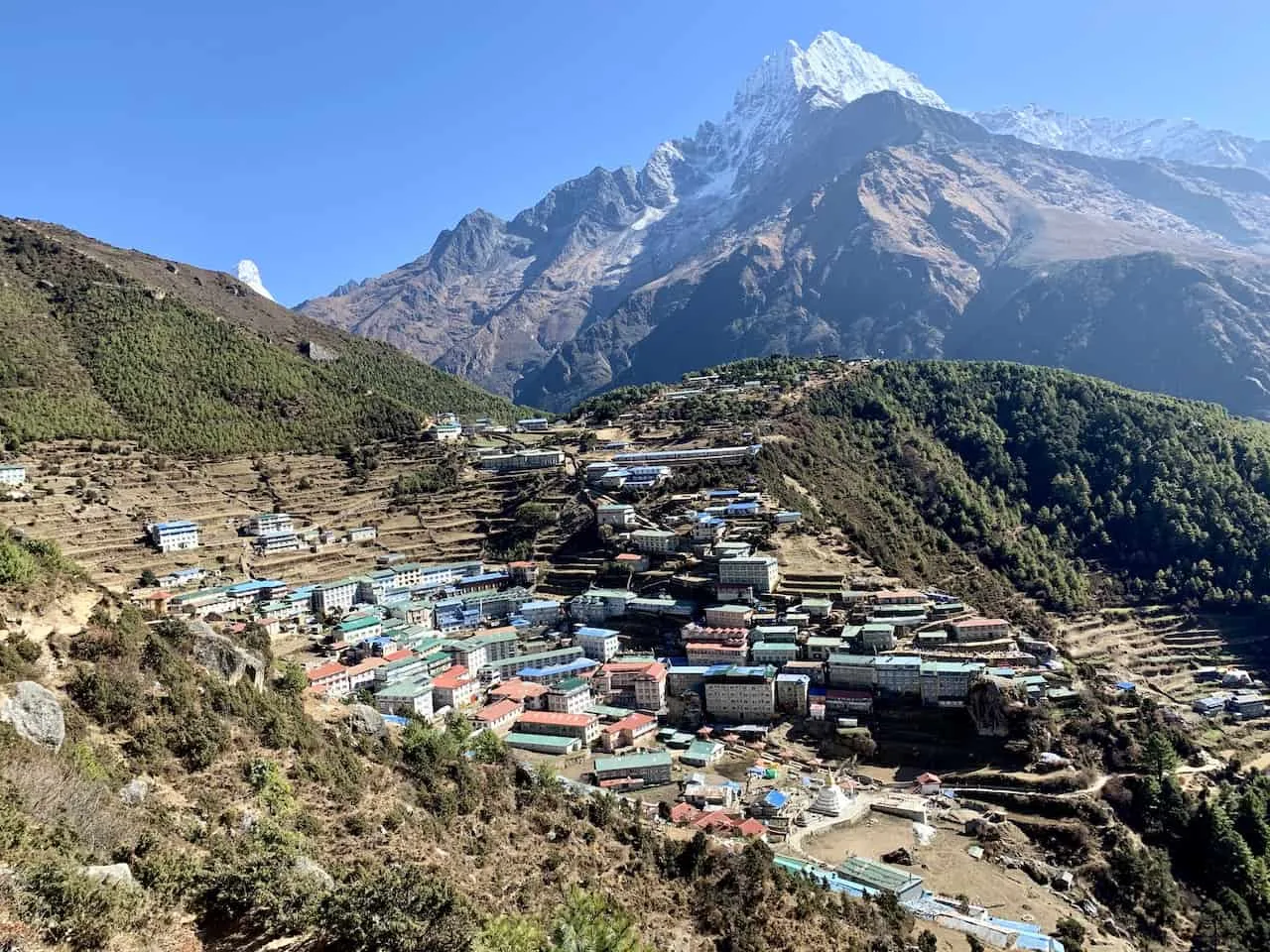 Since you will already be familiar with Namche, you can simply head to the guesthouse which you stayed at towards the beginning of your trek.
Once there, have a nice meal, rest up and get ready to complete your trek the next day as you head back to Lukla.
That wraps up a trekking guide to the hike between Lungde, Thame and Namche Bazaar. If you have any questions or comments, feel free to add them in below. Also don't forget to check out other Nepal guides up on the site.
Have fun out there and safe travels!